Paper flower bouquets, buttonholes and décor are becoming more popular for weddings, particularly for those brides and grooms who are opting for something different.
But why would you choose paper flowers over real flowers? Today we catch up with C&E Designs to find out more about why they feel that you should choose paper.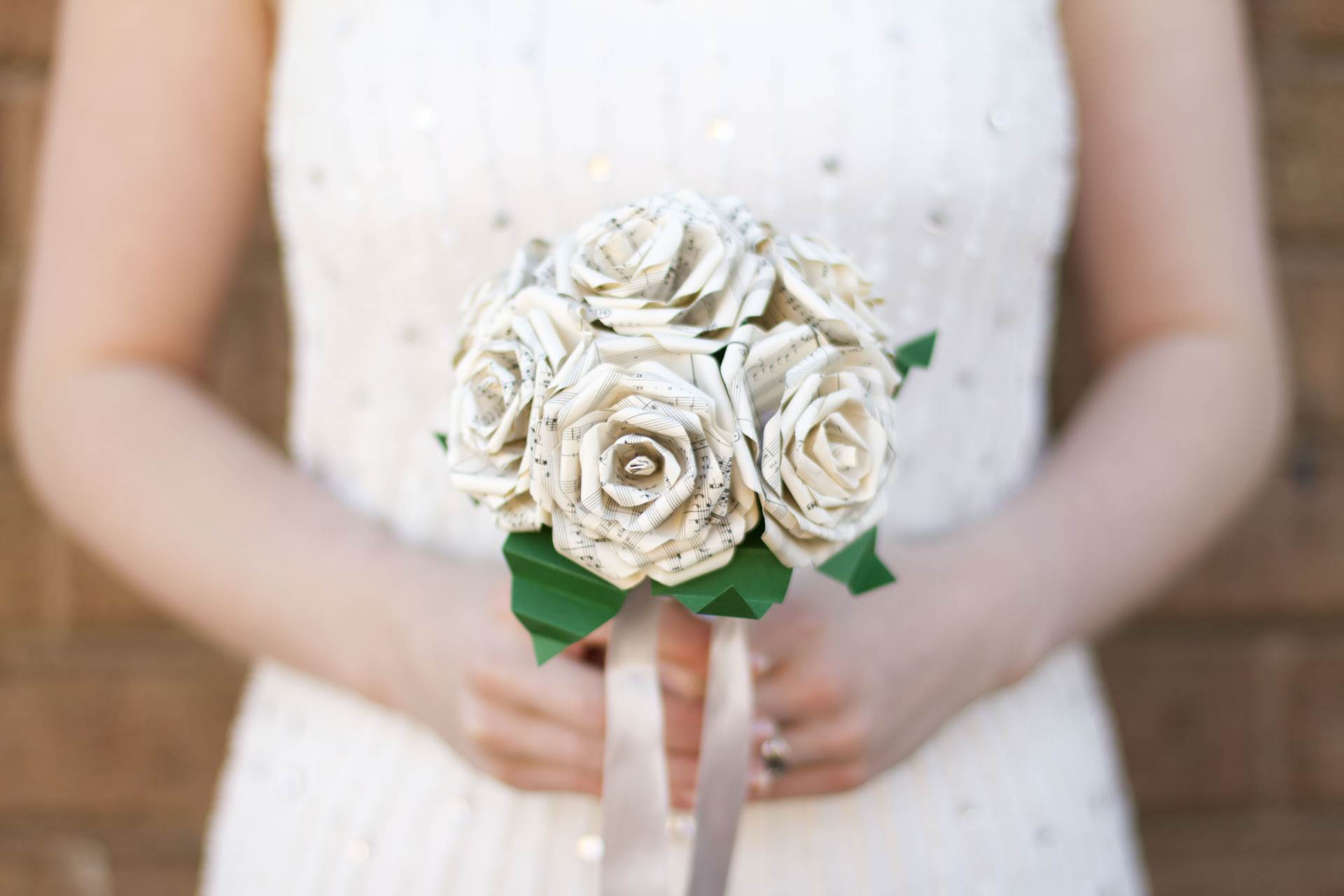 "People often ask me 'why?' Why would you opt for paper flowers over real flowers?
My answer is always that you can keep them after your special day. For most people, their wedding day is the most special and amazing day, it's the day you want to remember forever, the day that you want to keep as many memories from as possible.
Having paper flowers means that this is possible for your bouquet too. Whereas real flowers would have died within a few days to a week, your paper flowers will live on after your day and for many many years to come!
Of course there are ways to preserve your real flowers but paper flowers offer a fantastic alternative to having to preserve your bouquet, without having an additional costs too.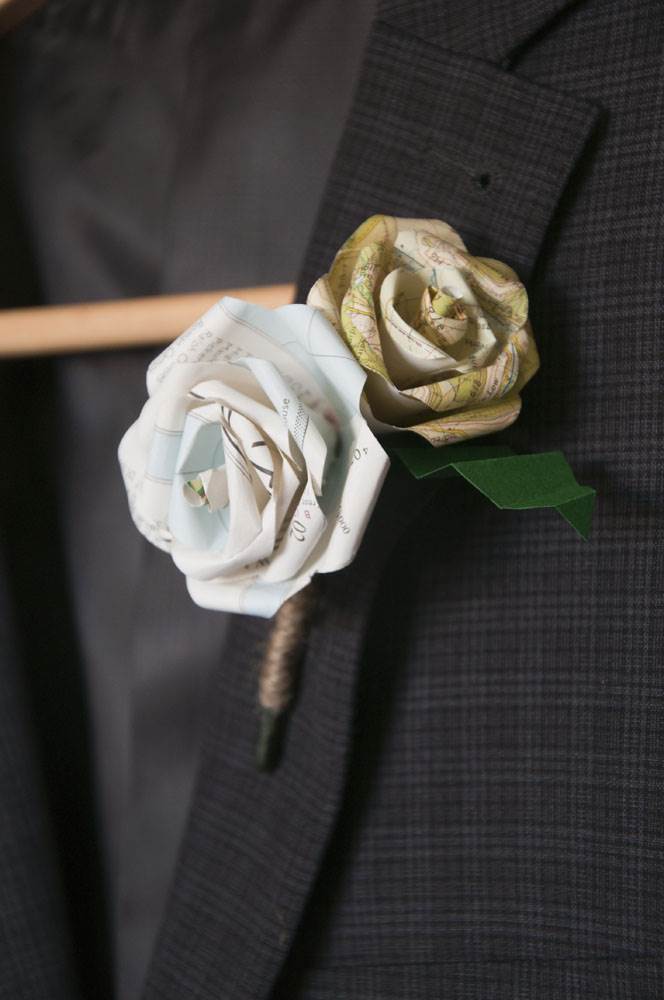 Paper Choice
There are endless possibilities with paper flowers, from coloured paper, to crepe paper, to books, sheet music, maps, comics, patterned paper to photographs. There are so many options and so many flower choices too.
Over the past few months we've seen an increase in brides asking for map roses, created from places they've been together, where they live, where they got engaged and even where they are getting married. These roses are added in with colours matching the Bridesmaid dresses and created wonderful gifts and keepsakes for the Bridesmaid too.
Paper flowers are also perfect for Page Boys and Flower Girls because although they can be delicate they can also be pretty robust.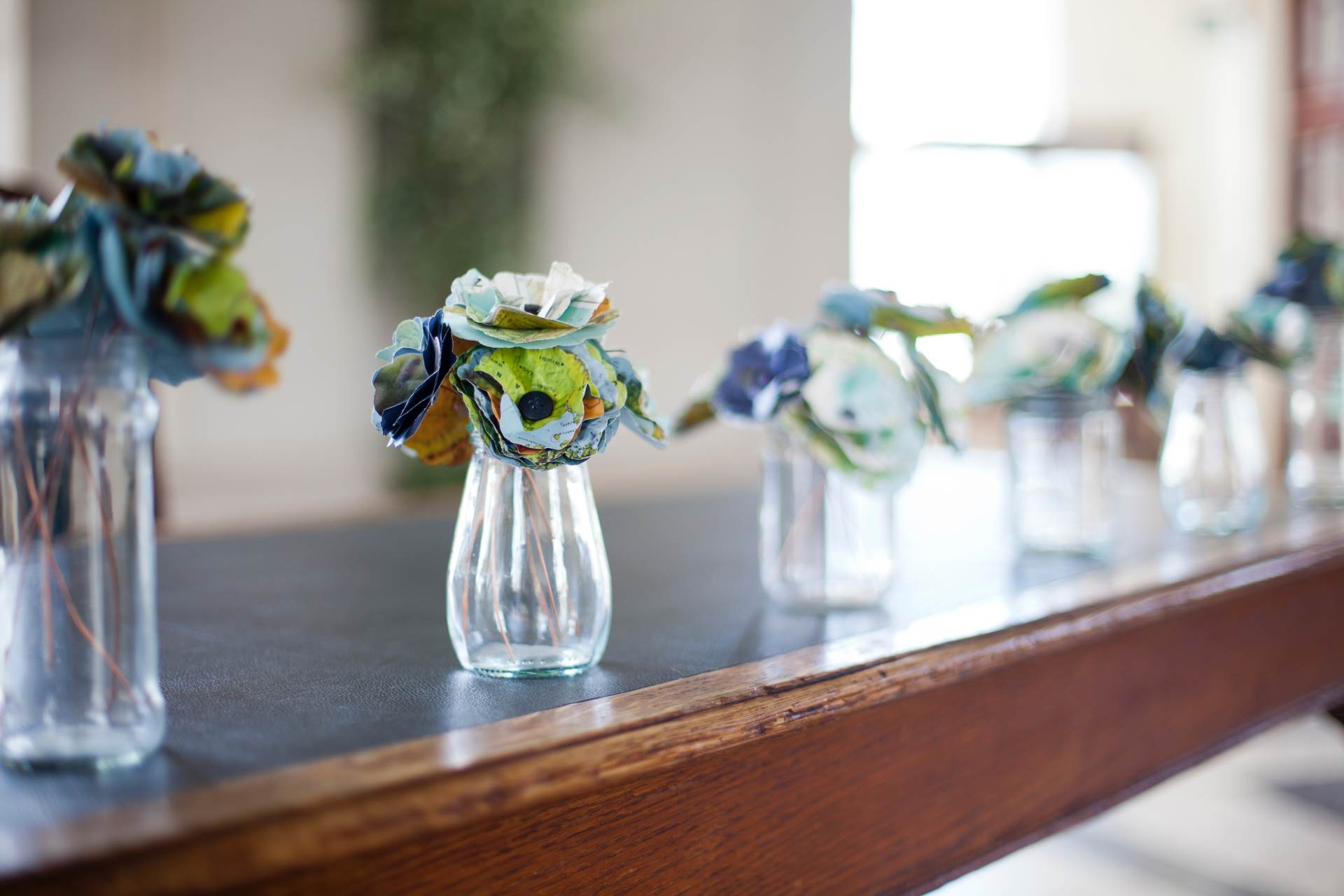 So many options
There are so many options when it comes to paper flowers that you don't just have to opt for a full bouquet.
If you still wanted to have the option of real flowers you could have a selection of paper flowers made up to fit within your bouquet or within the buttonholes. In fact this is an option we are increasingly seeing. Brides get the feel of the traditional real bouquet alongside a couple of paper flowers as the perfect keepsake.
You may also have a paper bouquet made up after your wedding to match your real flower bouquet, which you may have thrown at your wedding or given to a family member so that you can keep the bouquet after. They do make the perfect home décor too!
Paper flowers also make great table decorations, chair décor and are even the perfect wedding favour! When planning my own wedding I opted for paper flowers due to hay-fever allergies caused by real flowers. Although I liked the idea of a real bouquet I decided that I didn't fancy sneezing all day on my special day.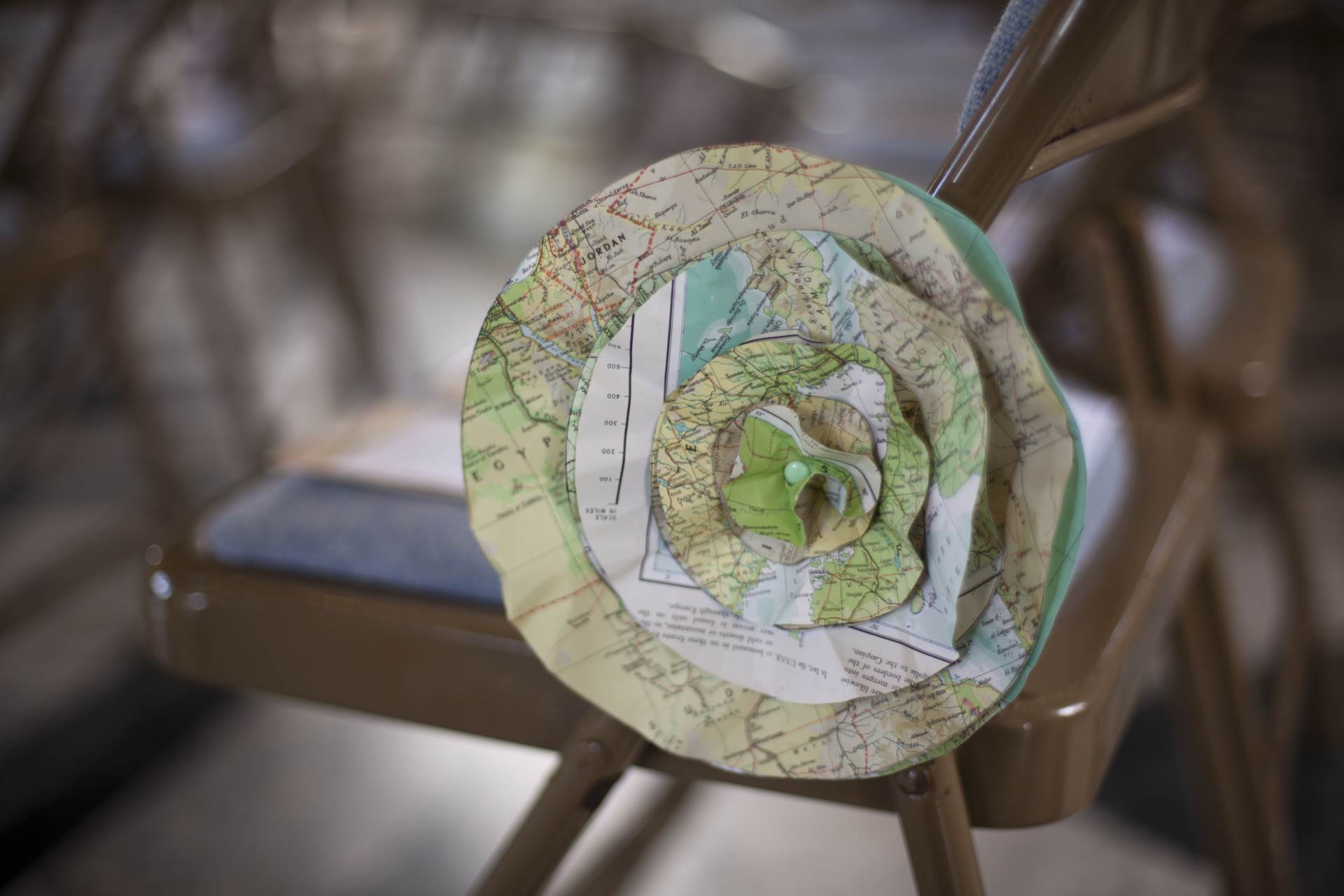 I opted for a paper bouquet made from mine and my husband's favourite books – Harry Potter and Lord of the Rings. I also added some purple hand rolled roses to add some colour. The bouquet was beautiful and fitted well with the style of wedding that we wanted.
Cost
One things all brides want to know is the cost and as always the cost is down to what you want and how much you want to spend.
Paper flowers can be cheaper than having real flowers but remember there are many different suppliers so it is important to find one you like the style of, particularly when something is going to be hand made.
The cost is not just about the end product, it's about the paper choice, ribbon choice, flower choice and also about the bespoke service you receive. From consultations, to regular updates to flowers being delivered on the morning of your wedding day.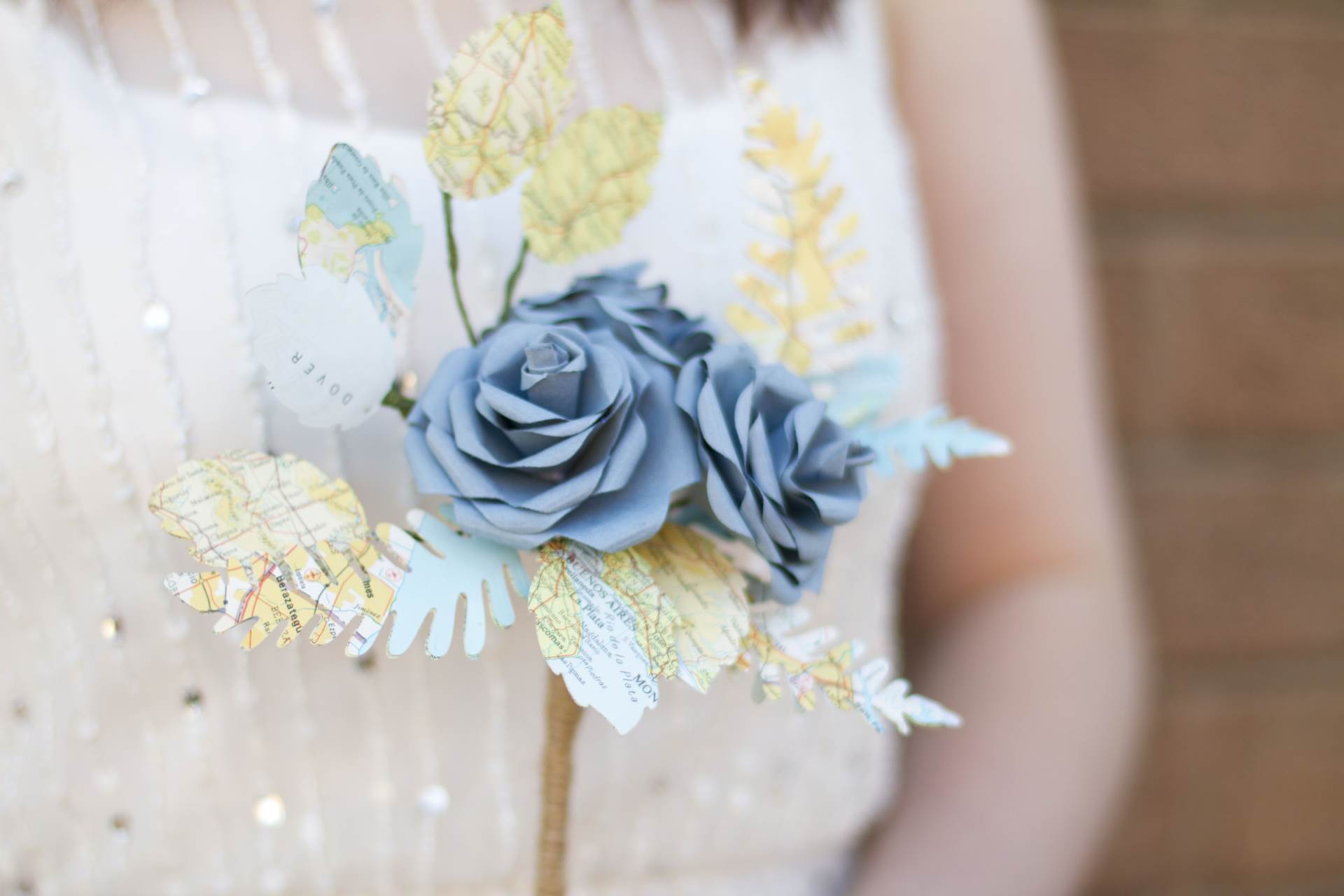 Advice
When looking for a paper florist, look for someone who can work to your specifications and it is also worth meeting them in person to see the designs too. Creating paper bouquets, buttonholes and décor can have a long lead up time too so remember to book early to avoid disappointment!"
Have we convinced you yet? If you think paper is for you then check out C&E Designs here or get inspired on their Instagram page