Today it is all about your stationery! Here are 5 gorgeous themes for 2017 from Herta's Creative and her thoughts behind them
Village Fete
Have an outdoor wedding, that you want to bring a touch of the English country life to? Then village fete is the stationery design for you; think little twee villages on a summers day with a gorgeous bike and bunting illustration against a brick wall and hessian background complete with flower colours of your choice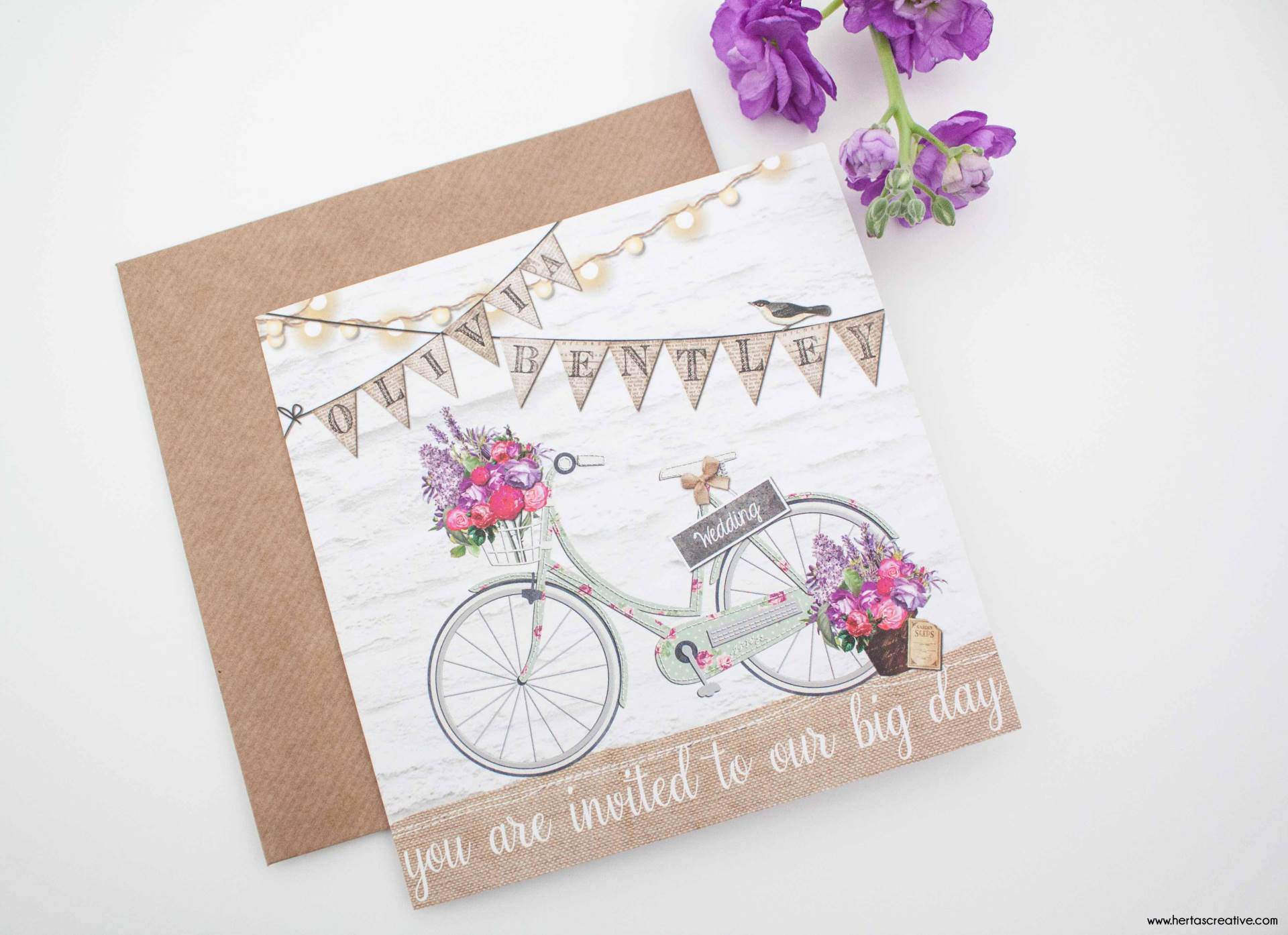 Warm shade
Warm shade is for those of who are a little bolder and colourful! These feature on trend vintage lamp shade illustrations in various bold flower prints, inspired by my travels in New Zealand having many a cup of tea in retro cafes! This stationery collection has bright white text against a Kraft card colour background.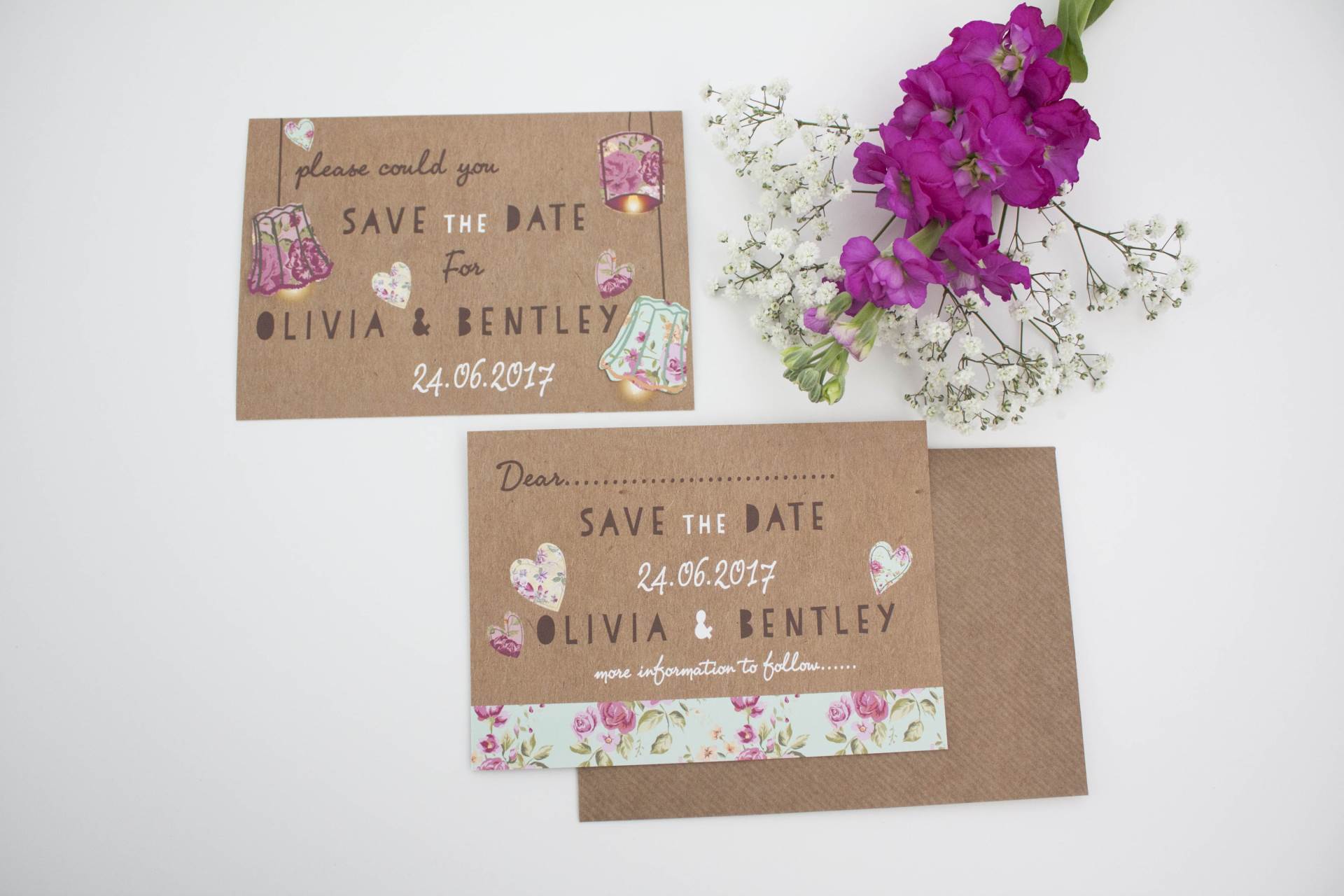 So Succulent
I have a very big crush on succulent plants and think the world over does too if Instagram is anything to go by! This stationery collection is very classic in design, with bold swirly script text against a chalk board background, watercolour succulents and precious stones in earthy tones. A nice surprise with this collection is the reverse of each item is a classic white with tonal grey text. Perfect for a boho bride!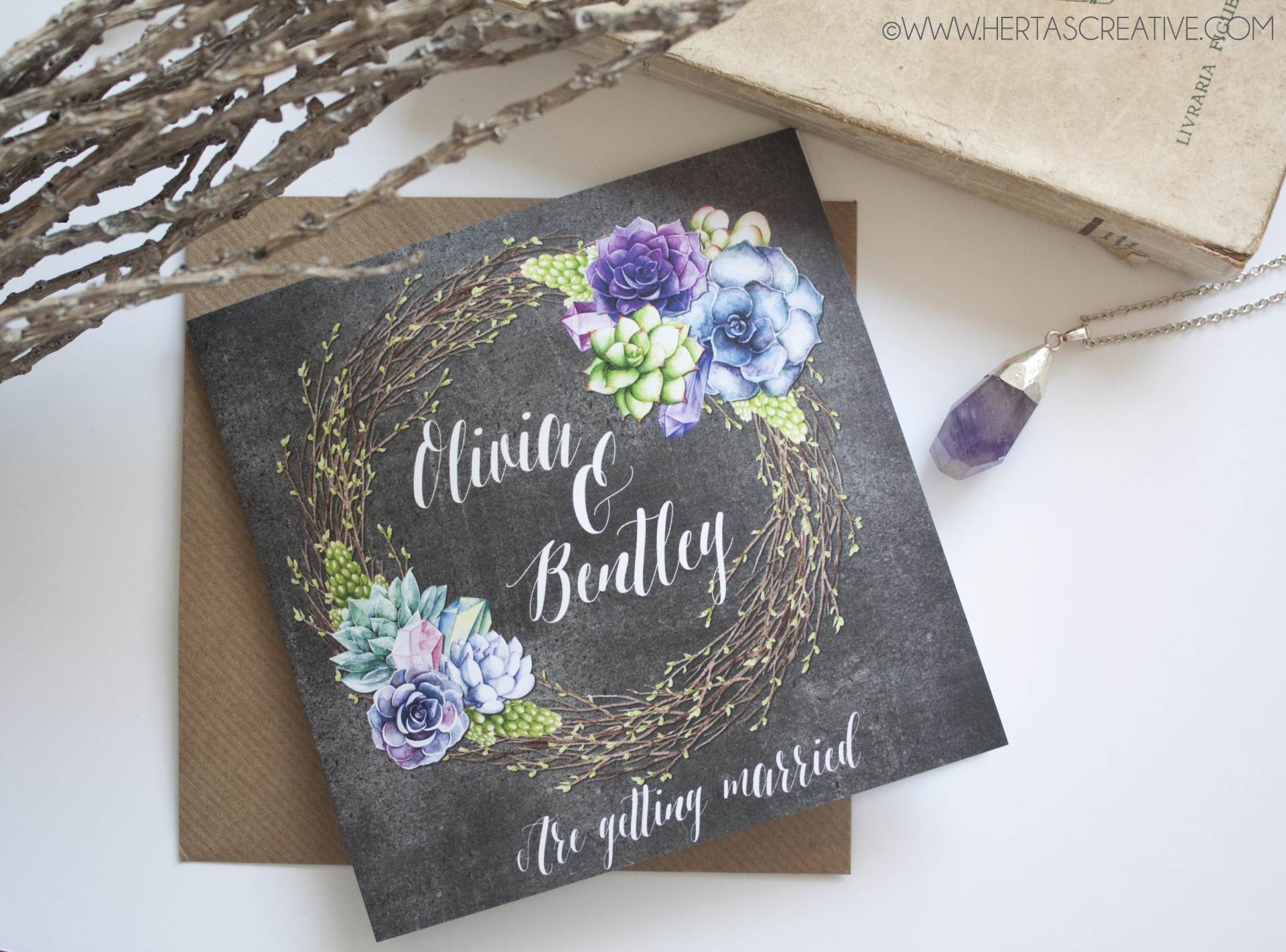 Park Avenue Dot
I got the idea for this stationery collection from a trip to the big lights of New York. It's classic in its design with a texture blossom pink with glitter gold spot background with bold clear timeless charcoal text all neatly tied up with a satin bow. This collection taps into the era of the 1920's, it is so versatile and can be recoloured to match any brides theme; go serious and change the background to a navy and the spots to a silver glitter or for a summer bride change the background to a pretty on trend lilac and the spots to a rose gold. This collection is sophisticated like the 1920s – all twinkly and clean, perfect for the classic bride and groom.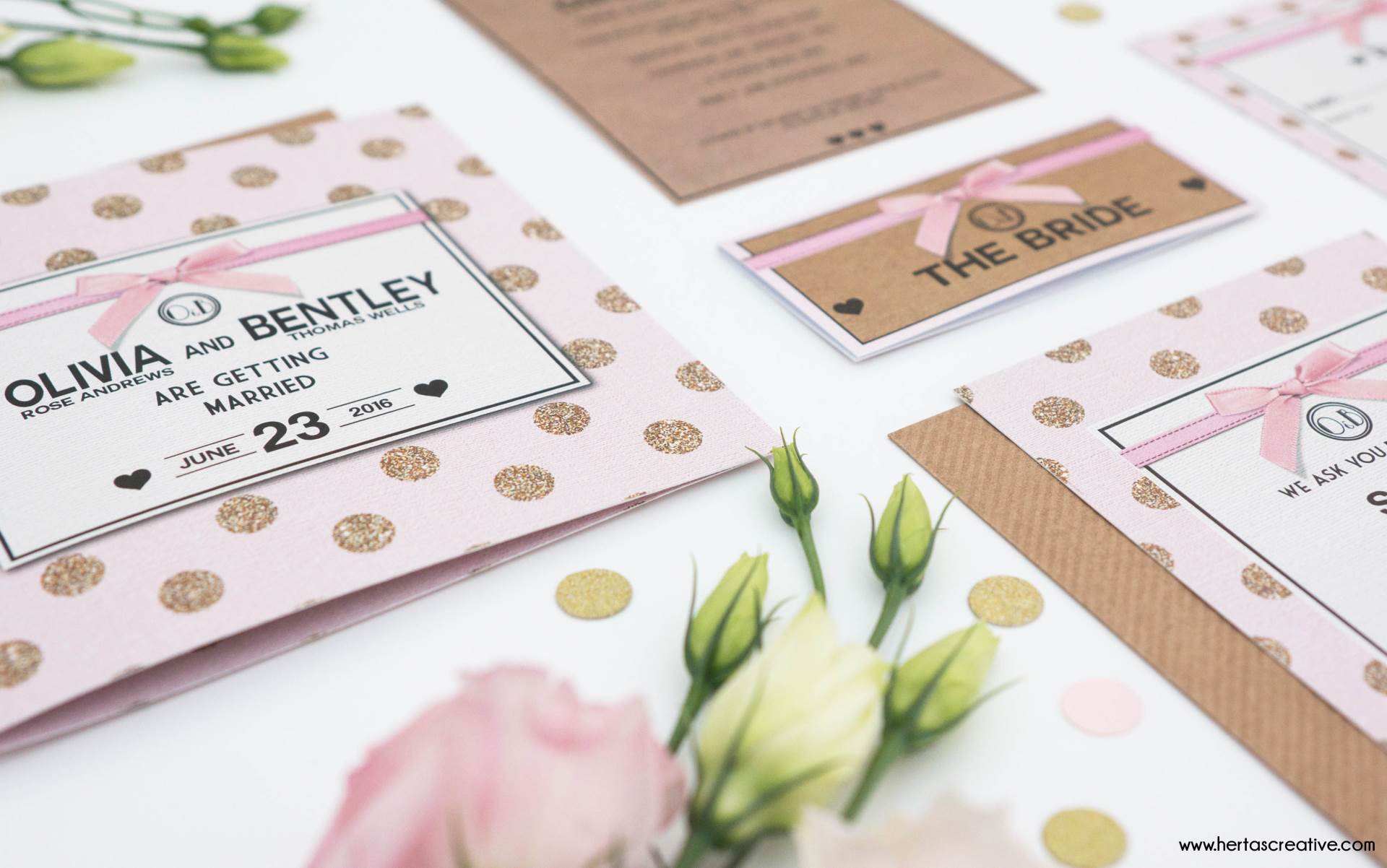 The happy couple
Why not have something completely different and "out of the box" in terms of what every other couples sends out, such as cute digital illustrations which can be changed to look like you? Have a rockabilly day planned and want the theme to be as bold as you are ? Why not have the colour scheme around your unique tattoos? Another nice theme is a vintage 40's dress where the couple illustration has the bride in a vintage tea dress and the groom in a smart shirt and tie, harking back to your grandparents era. The idea is to give you the freedom to have what you want. Alternatively, a watercolour hand painted portrait of you both will be wonderful.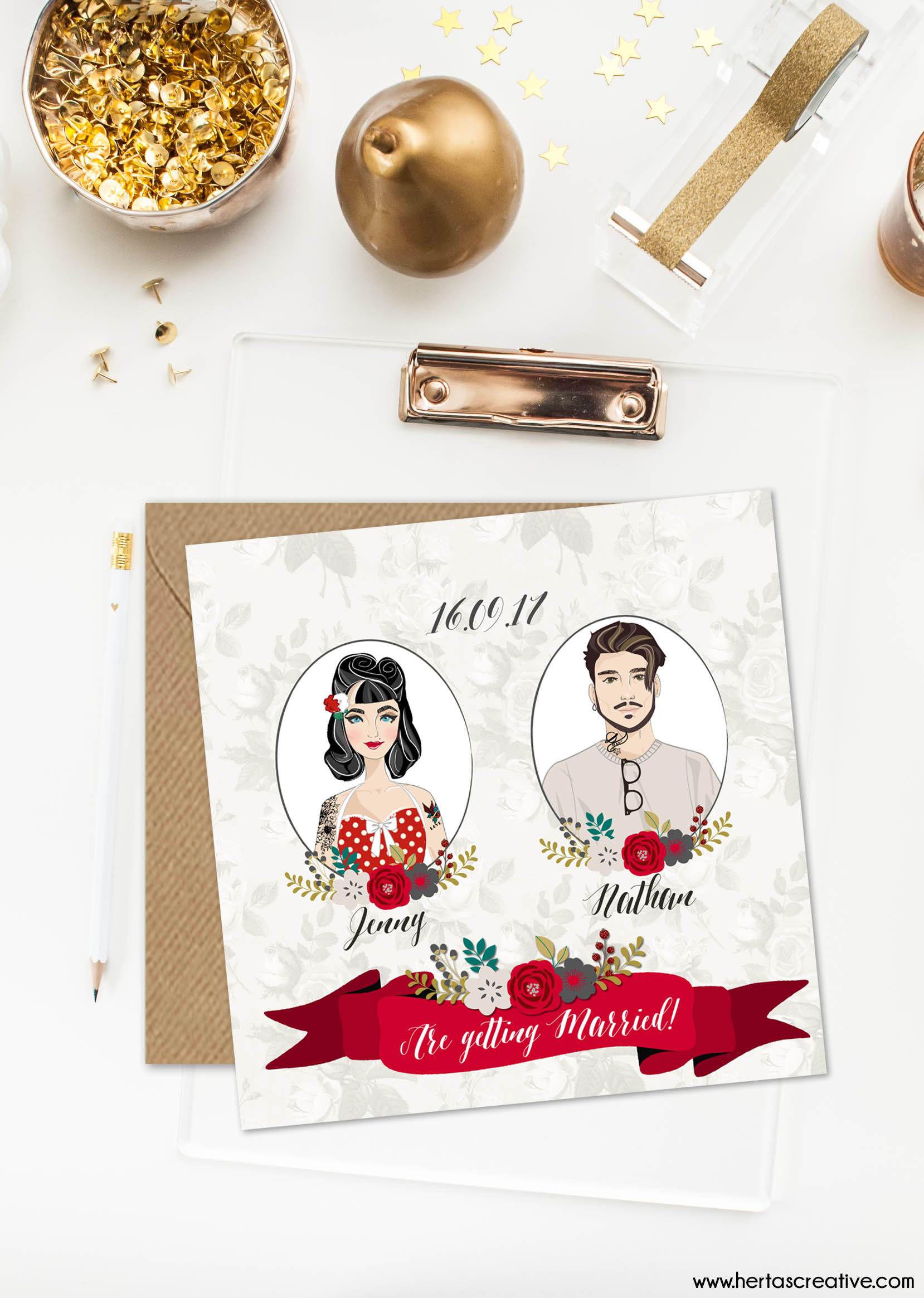 All 5 of these are lovely don;t you think? Check out Herta's Creative website to see their other ideas and designs.