The perfect vintage style bridesmaid dress should make you both feel and look fabulous. With a variety of shapes, sizes and styles, trying to find that harmony can be a daunting process. Luckily, the team at Joanie have created a vintage lover's dream with a Wedding Shop collection designed to flatter each and every shape and size. They will be with us this Sunday in Manchester, so come along and try on their designs.
Here are some ideas on how to choose the perfect vintage style bridesmaid dress.
Fit and Flare
The Classic vintage cut, fit and flare is a vintage staple and complimentary silhouette. The Dita is a classic example, in a vibrant retro red, it features the signature nipped in waist with fuller skirt. The all over jacquard pattern and pockets are details that set this dress apart. Added charm resides in the large 50's bow sitting at the back of the dress and the wide, ruched straps are particularly flattering on those with a fuller bust and helps balance the full skirt. Perfect number for dancing the night away!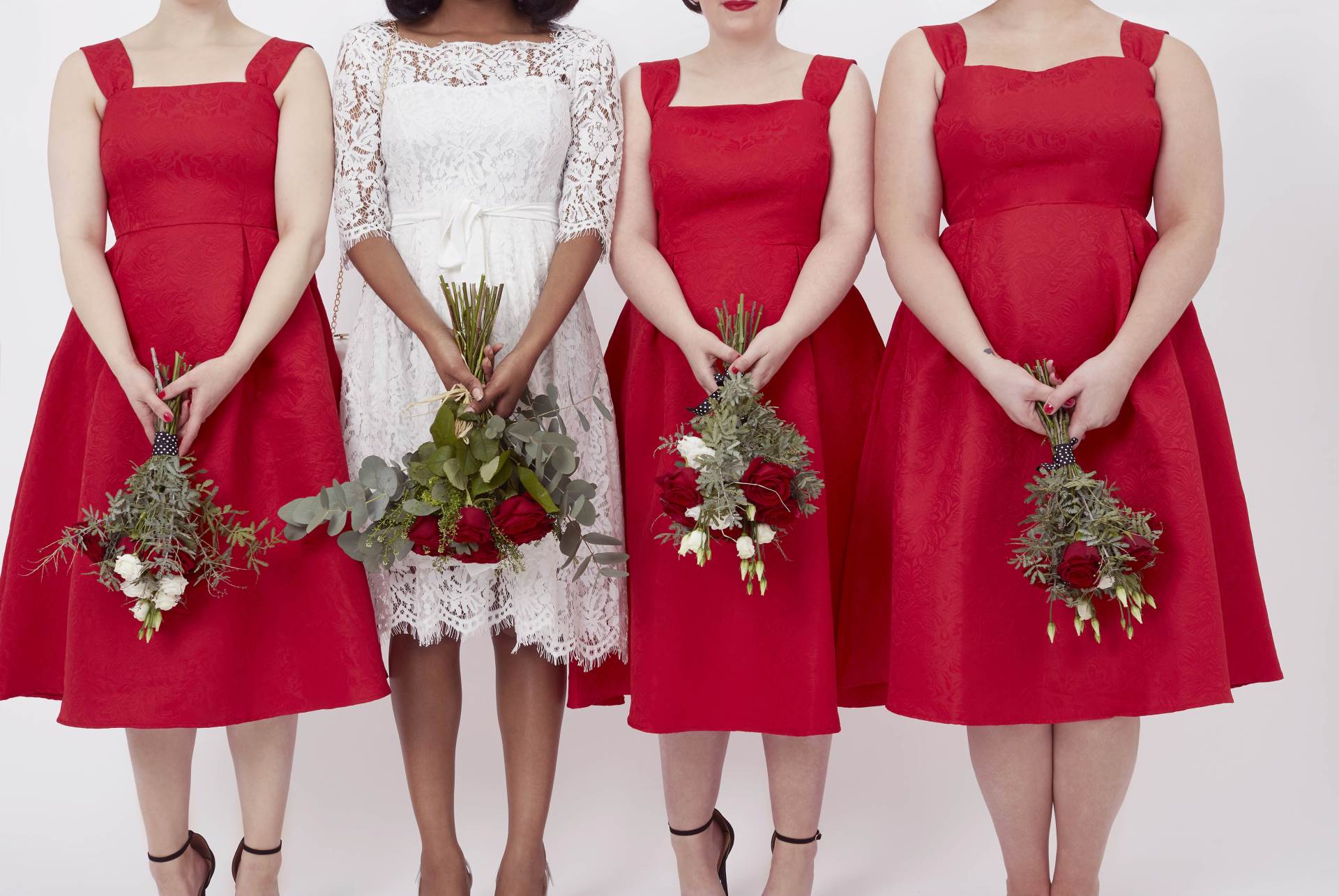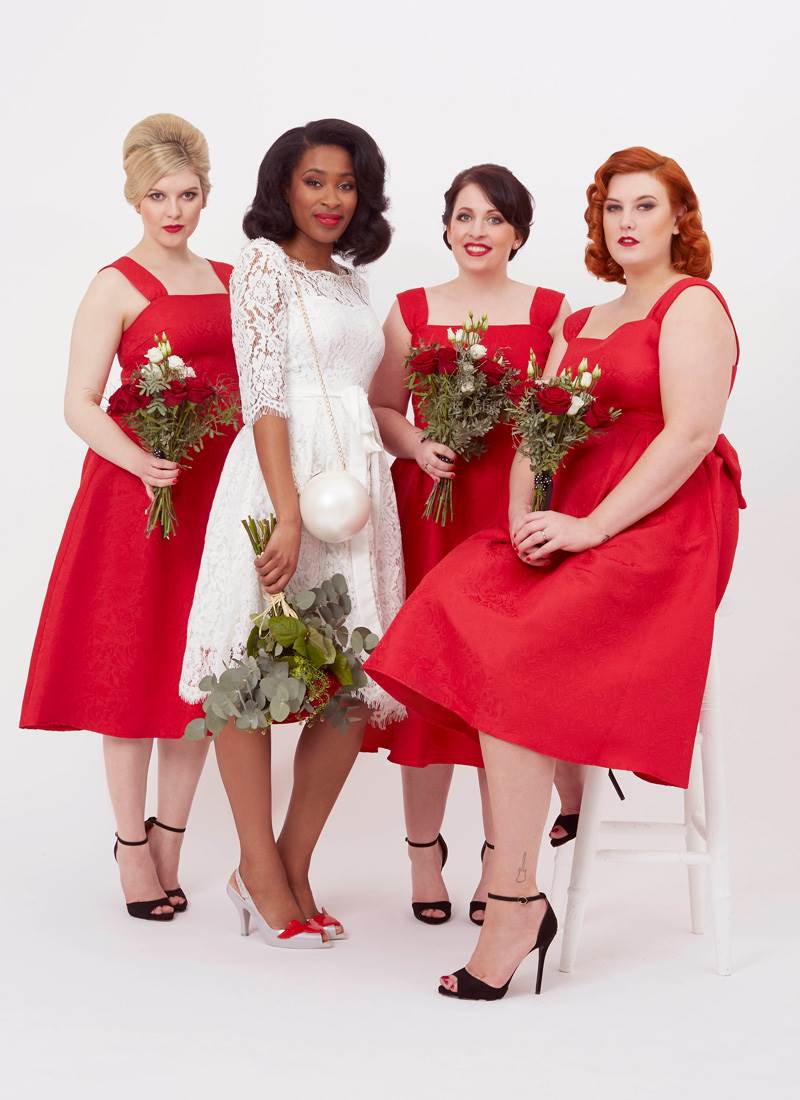 Sleeves
The Audrina is a little lace number with ¾ sleeves which beautifully showcase the wrist and conceal the upper arms, creating a flattering appearance. Fitted with a satin sash to highlight the waist, another detail is the eyelash edging framing the neckline and v neck shape at the nape of the neck. An elegant and classic dress, guaranteed to always be in style. (This dress also comes in Whisper White and Tap Shoe Black.)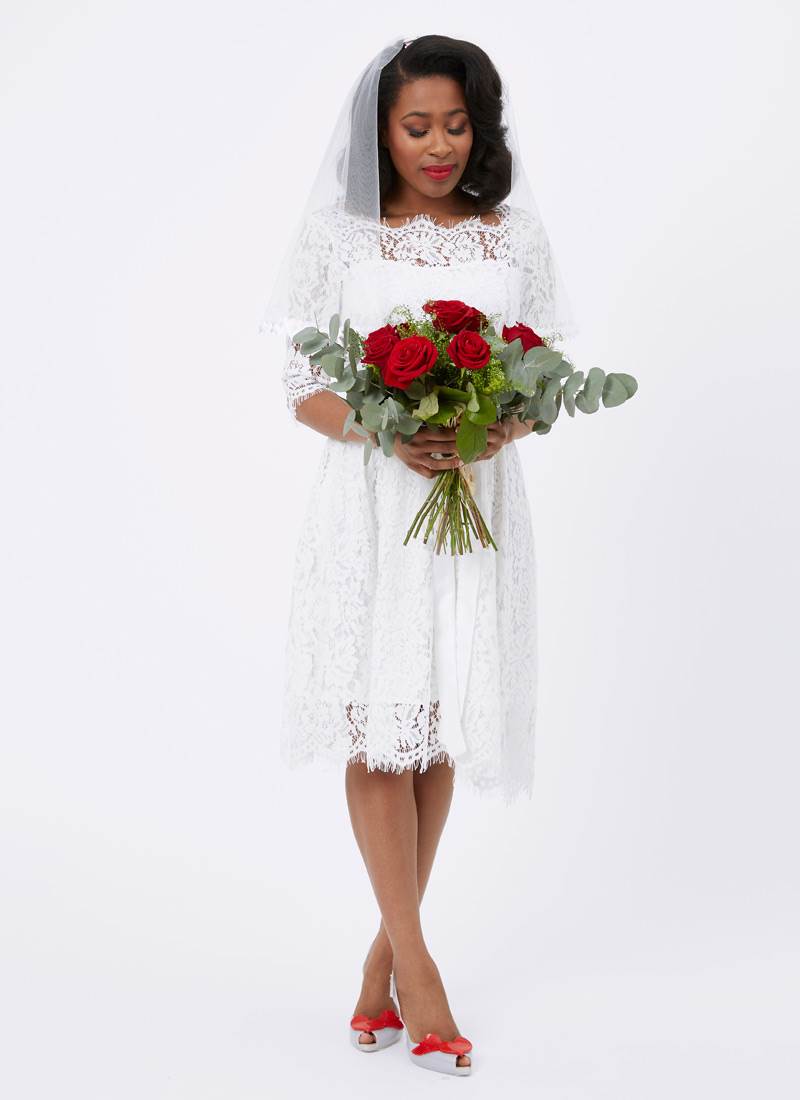 Complementary Styles
Complementary bridesmaid dresses are the perfect solution if each bridesmaid has a completely different shape and style. It also adds individuality and a chance to be creative with your colour palette and style.
Pretty in Pink, Starr is an A- line, blush dress, soft and floaty. The v shape neckline elongates and lengthens the silhouette. Cross over bust helps to break up a fuller bust and emphasize a smaller one. The length is perfect for those who are petite and for showing off your legs. Adorned with tiny star details, Starr is a feminine, dreamy number for those romantics at heart.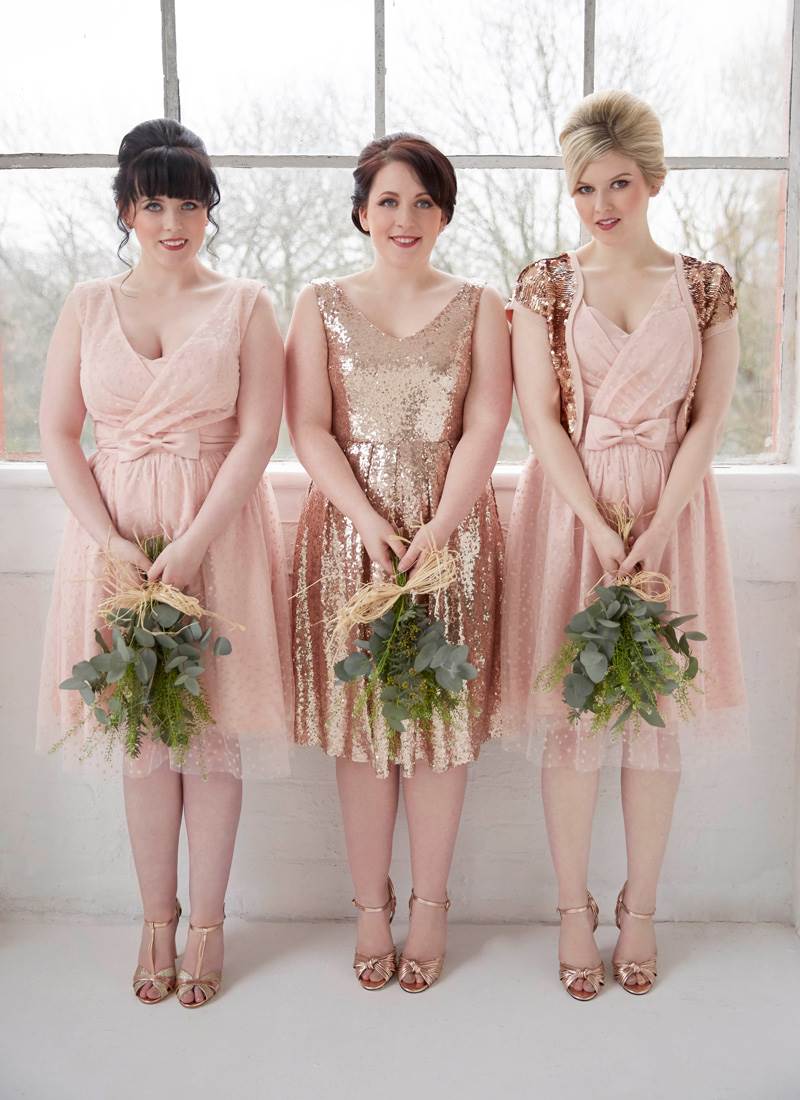 All that glitters is not gold – but rose gold! Uma is a skater style, rose gold sequined dress. Flirty and feminine, this shape accentuates your waist, whilst showing off your pins. The knee length floaty skirt falls in pleats, ready to shimmer. Give 'em the old razzle dazzle in this eye catching sequined number.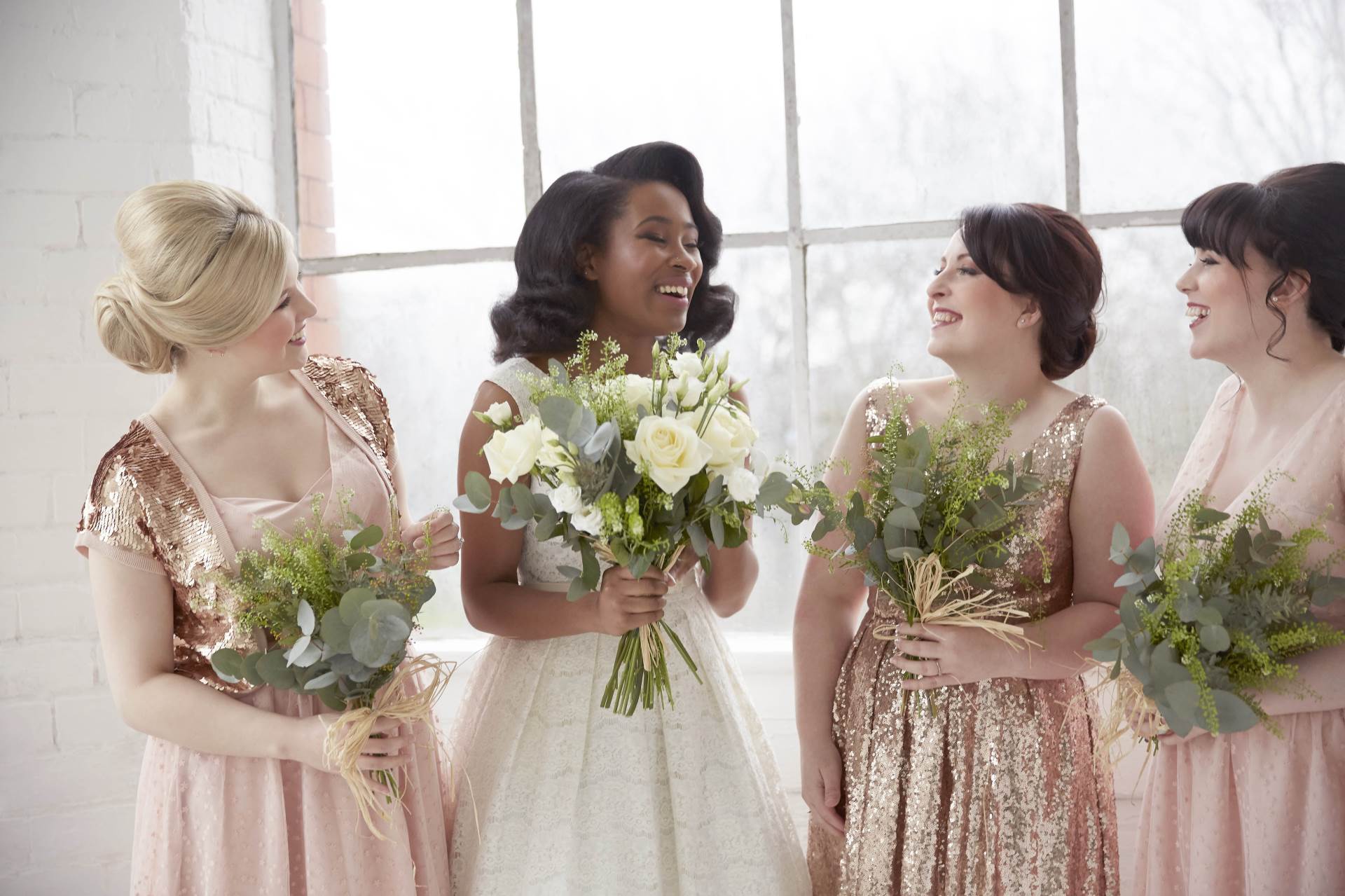 These two combined, perfectly complement each other with blush, rose gold hues. Together they create a fairy tale like, romantic, nostalgic theme. There is something for everyone to shine.
Mix and Match
Sometimes you see that perfect shade, that perfect print, but the shape just isn't a winner on everyone. A fan of mix and match dresses, Joanie's signature ruby red vintage rose print is available in two very different and equally stylish shapes.
The Ria is reminiscent of those fabulous fifties style prom dresses. The wide, scoop neckline is particularly flattering on those with curves and a fuller bust, as it helps elongate the neck and creates length, which in turn draws your eye. Clinched in at the waist, it then falls out to a full skirt with pleats – crying out to be twirled! The Rhia is an easy to wear vintage number that is effortlessly glamorous.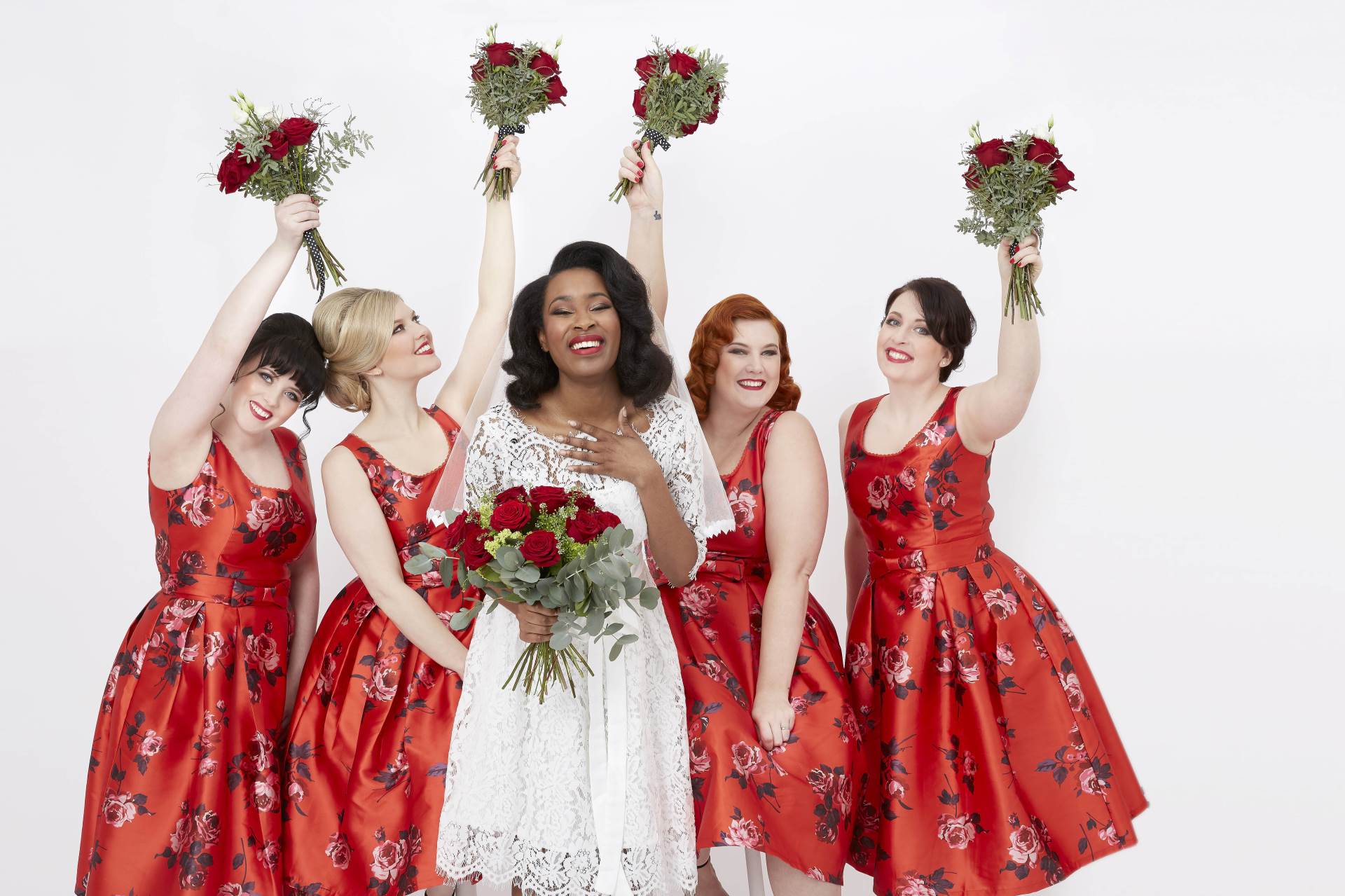 If you're looking to show off and highlight your figure, Sybil is the one. A throwback to the Mad Men era, the wiggle, pencil dress shape exaggerates and flatters curves. A Bardot neckline shows off one the most attractive and underrated parts of a woman's body – Shoulder is the new cleavage. A pin-up look for every shape and size. Be careful not to upstage the Bride as in this dress you are guaranteed to turn heads.
For all your wedding inspiration needs, you can view the full collection here