An explosion of colour today with this neon bright shoot set in The Northern Monk Refectory, Leeds. Created by a talented bunch of suppliers this tropical neon wedding inspiration is sure to give you lots of ideas for your big day. It's bold, fun and full of modern bright styling to set your wedding apart from the rest… after all your wedding day is reflection of the two of you, so go for it! Here we catch up with shoot coordinator Jen from My Pretties and the rest of the team who tell us all about how this tropical neon wedding inspiration was created…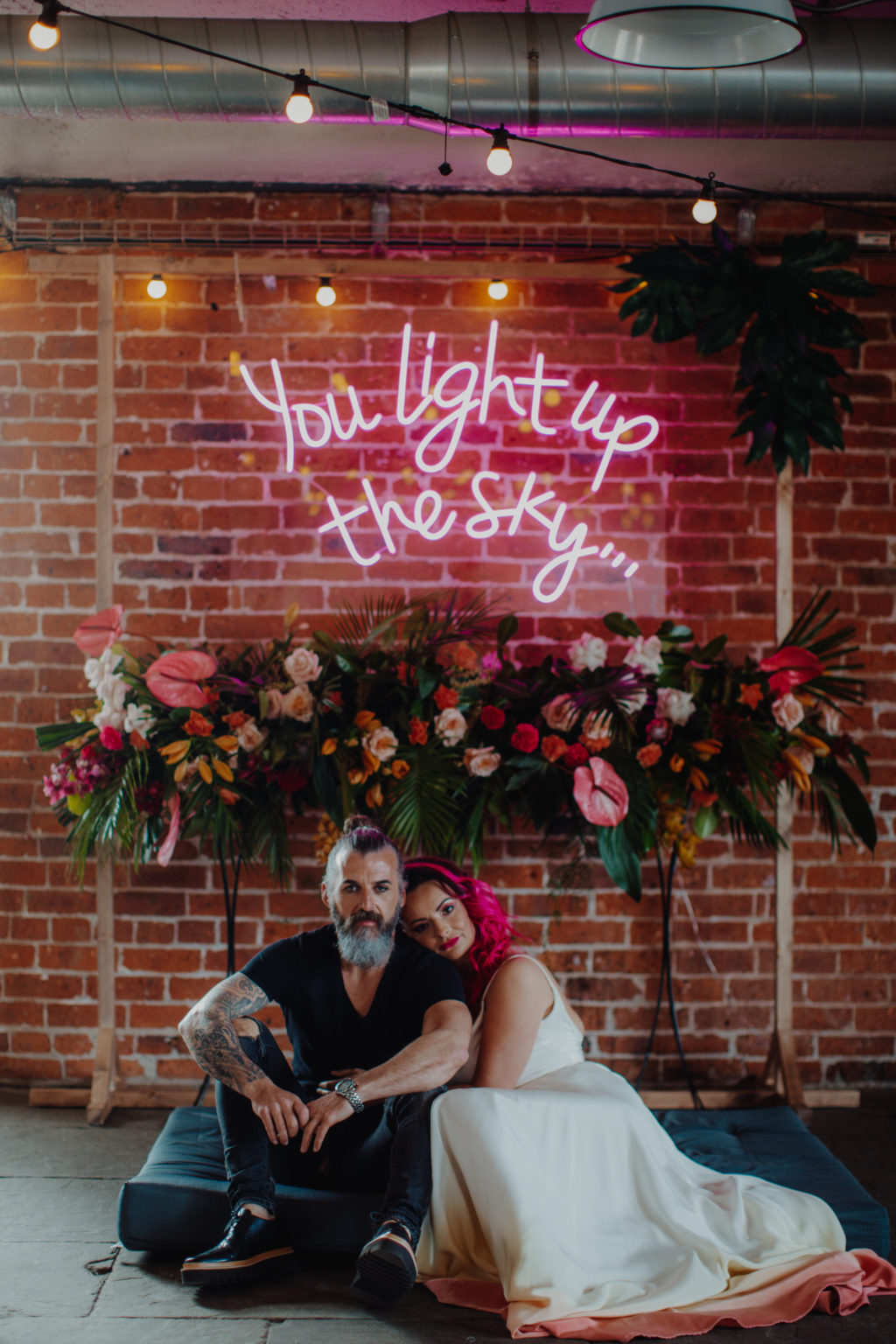 "The design came together quickly, I'd been looking to do something bright and vibrant for a while and when Katie from The Alt Wedding Co approached me to collaborate, I knew this was a great opportunity. Katie's style is all out fun and alternative so I knew we could create something awesome together."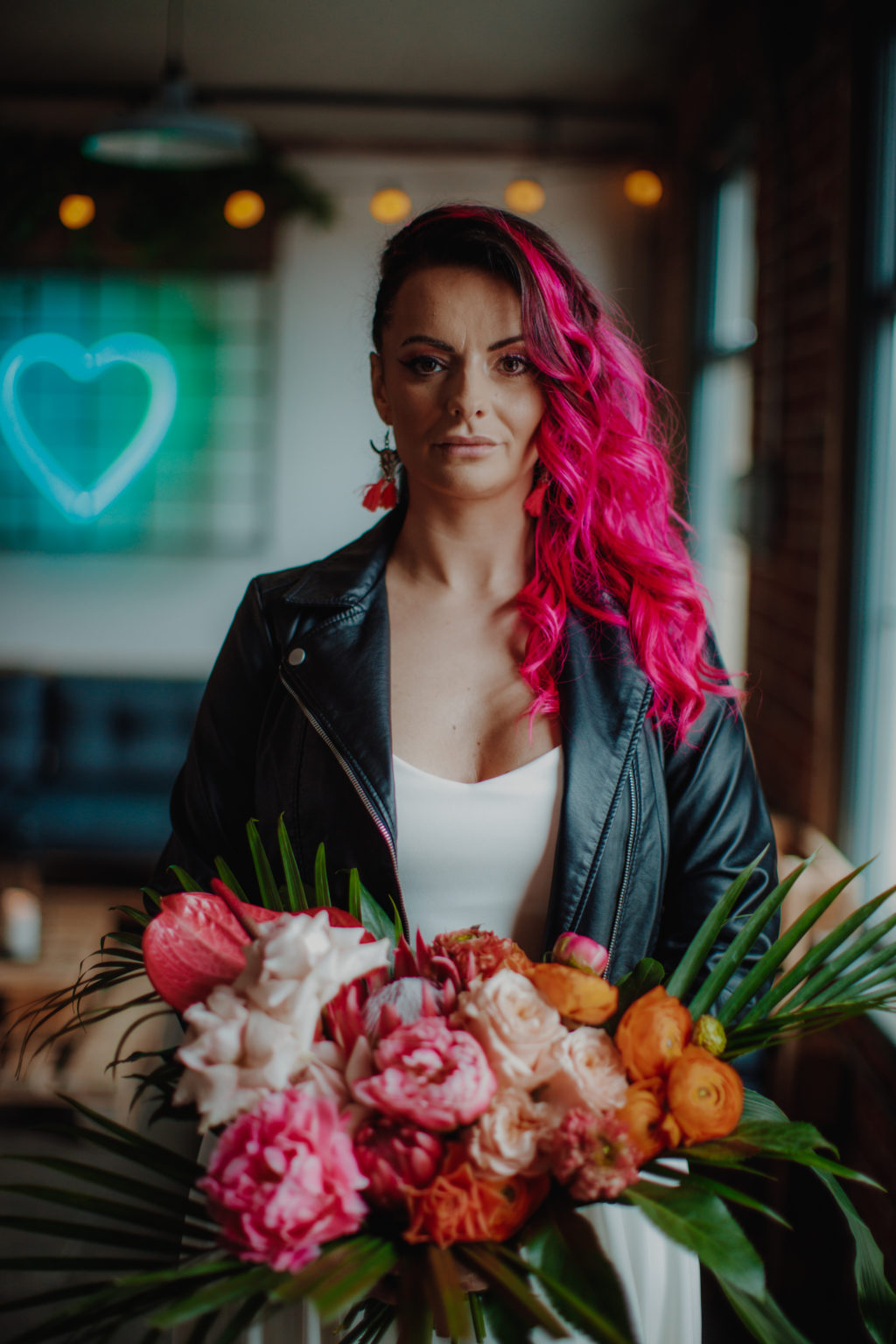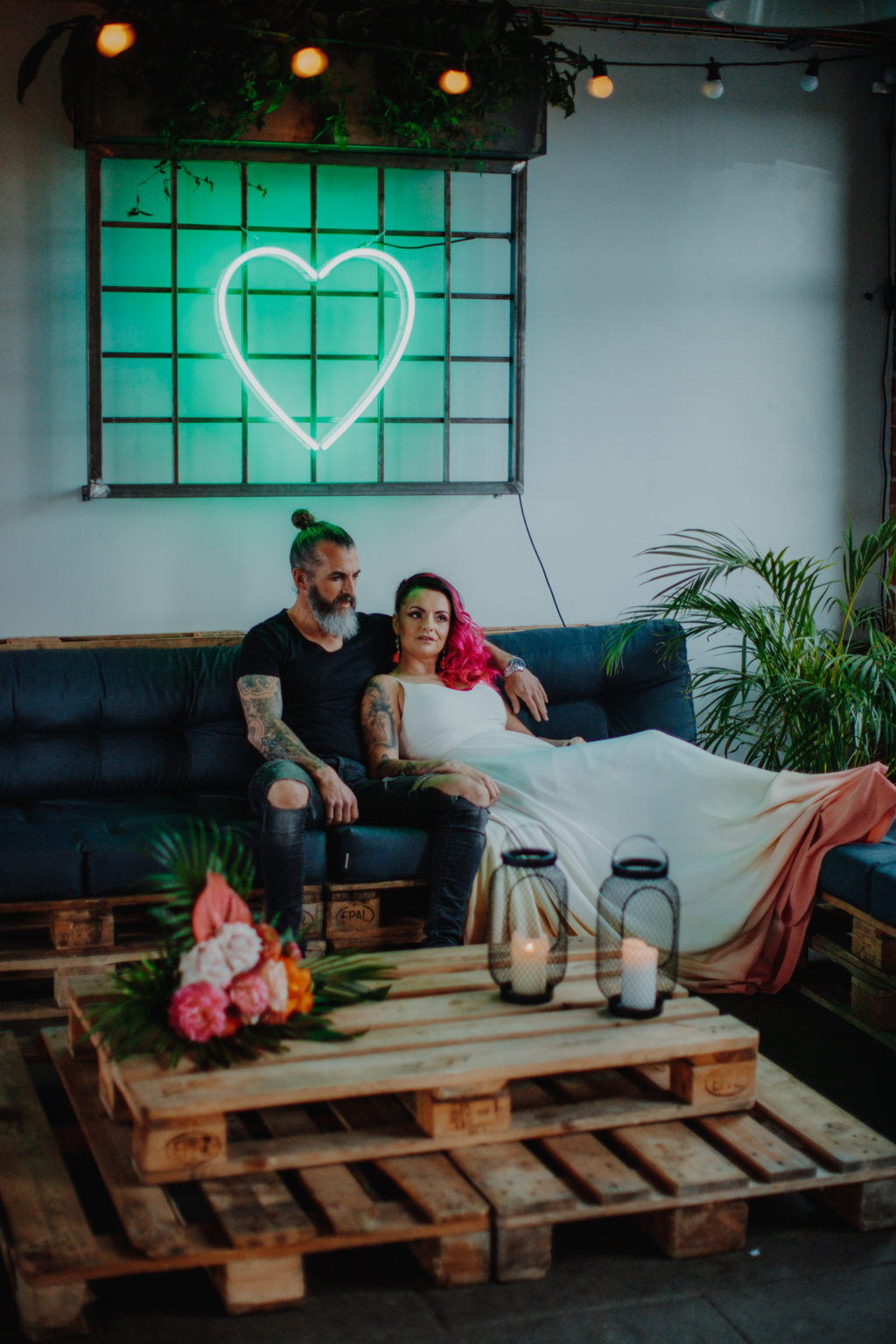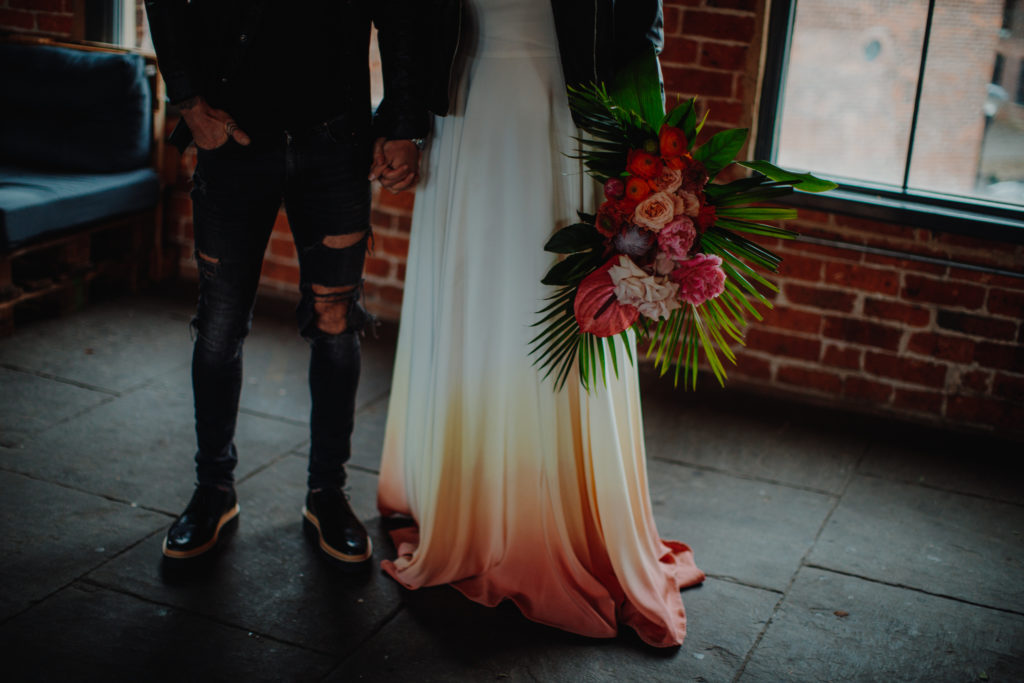 "Neon is becoming huge for weddings, a number of my brides for 2020 have requested fun neon lights and cute quotes. I love the girls at Love Lights The Way so it was a real pleasure to work with them. They brought a number of there neon signs and we thought heck, why not use them all! I love the neon wings, it's such a fun backdrop for photos."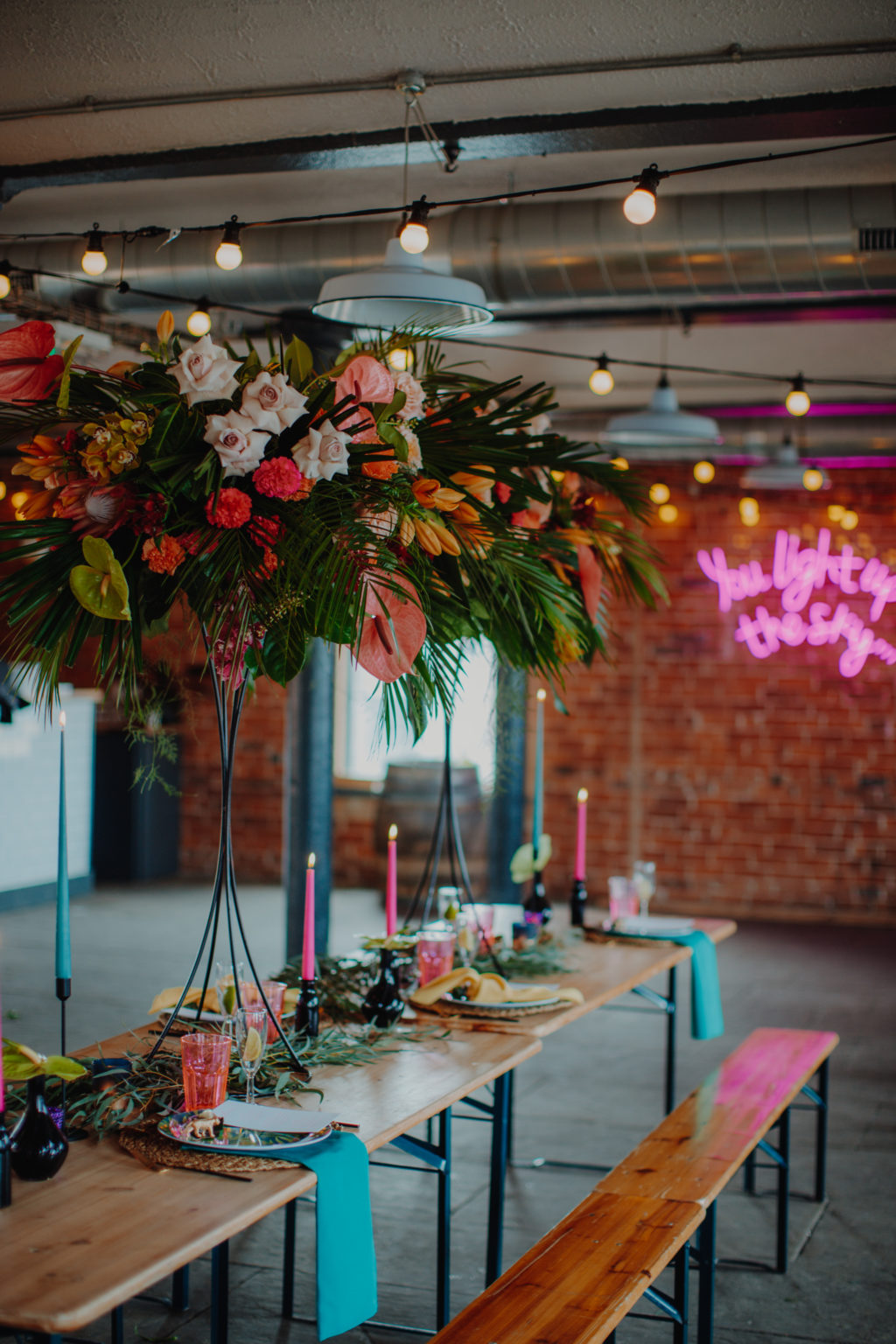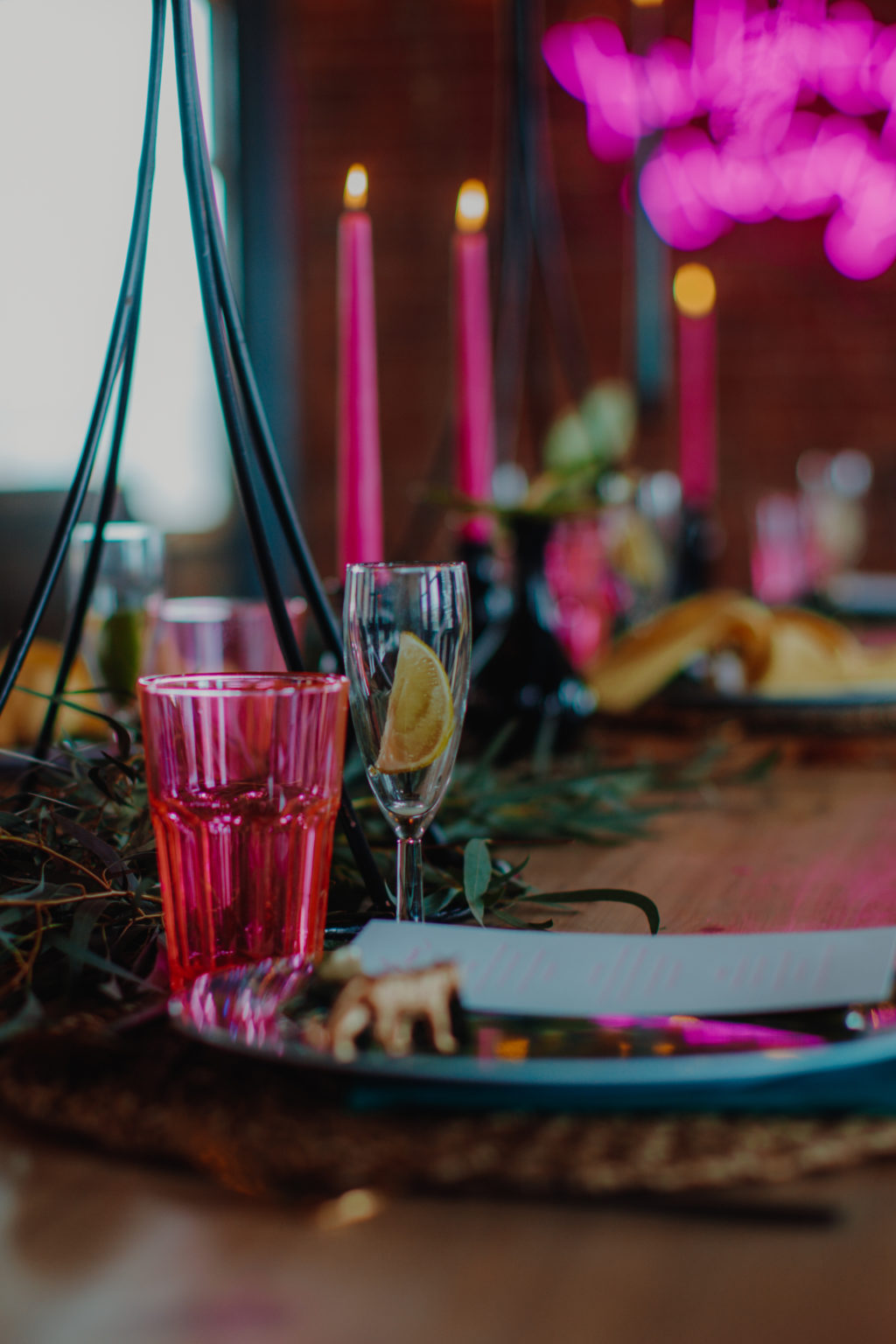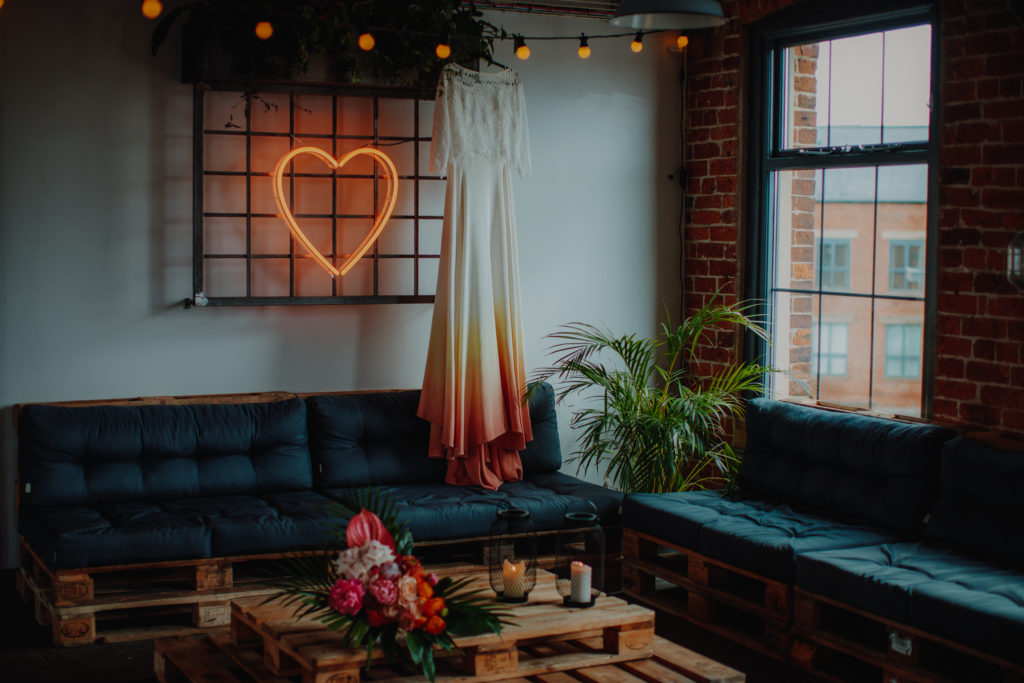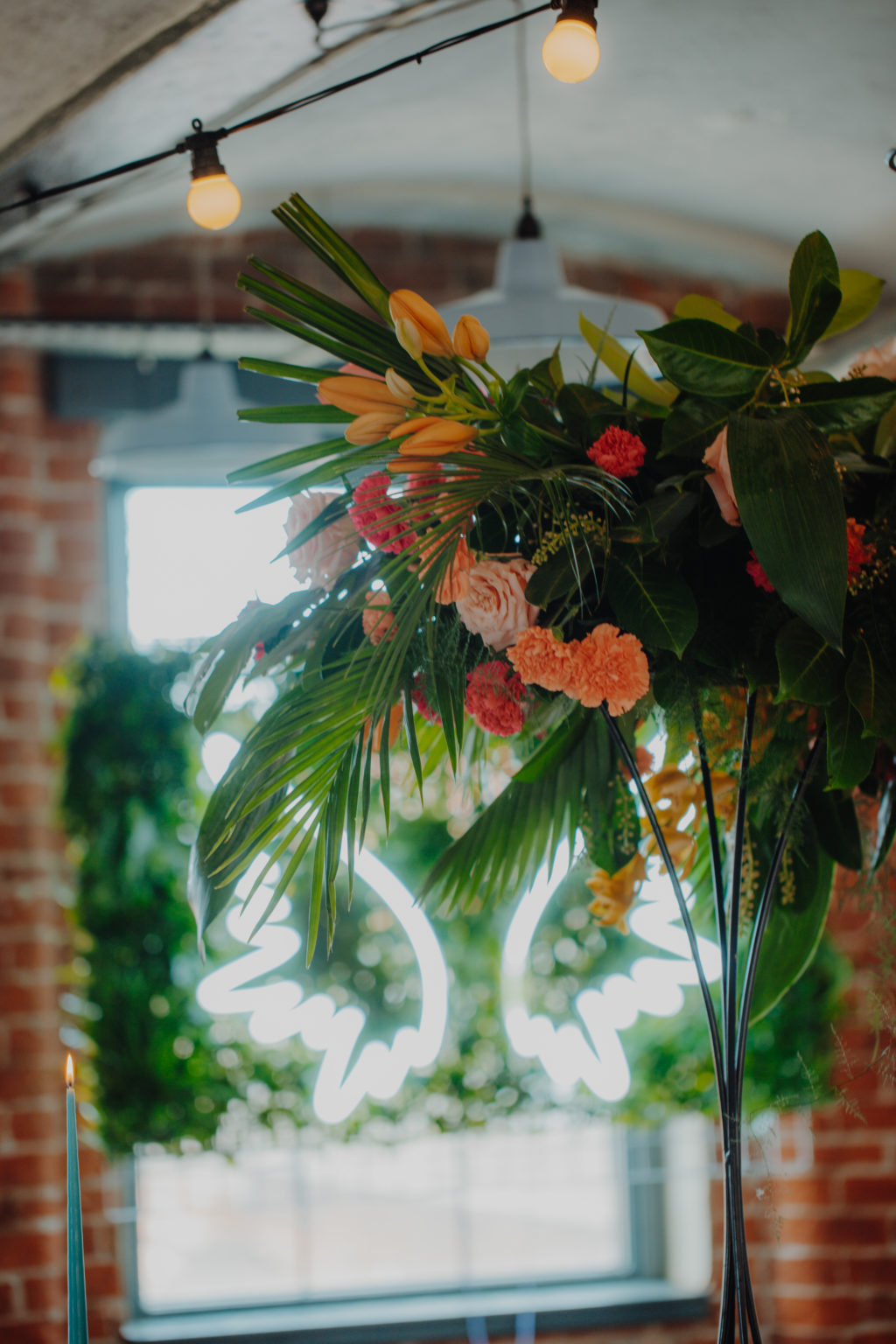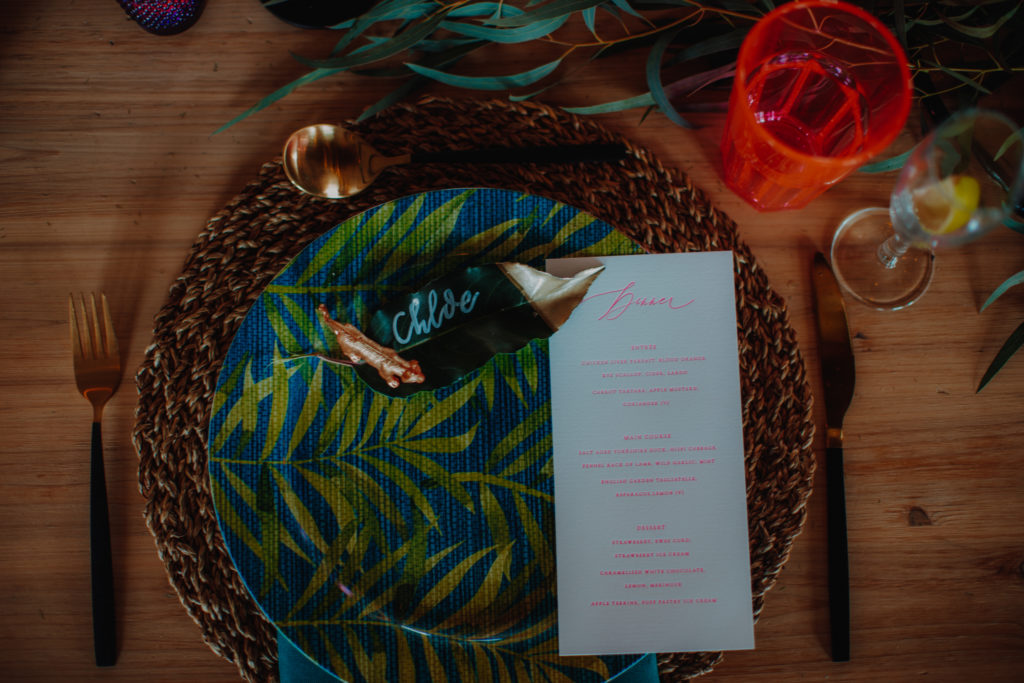 "Huge, bright, jungle florals are what I asked for and exactly what I got from the very talented Jaymie from Forge Events. She created the most amazing raised table arrangement which brought some serious drama to the blank canvas of Northern Monk Refectory in Leeds. Here's what Jaymie has to say"
"To achieve this vibrant shoot I used bright orange, hot pink and vibrant deep green. These colours were also reflected with other elements of the shoot, in the table styling, cake and neon signs. To give the florals a high-style look, tonal colours were used between the bright orange and hot pink to tie the scheme together seamlessly through colour blending. Tropical flowers and foliage were mixed with more traditional wedding flowers of roses, peonies and ranunculus to give a softer, more romantic look. To achieve this look consideration needs to be given to balancing the different textures, shapes and colours whilst creating different heights and depth to the floral arrangements to create a jungle look".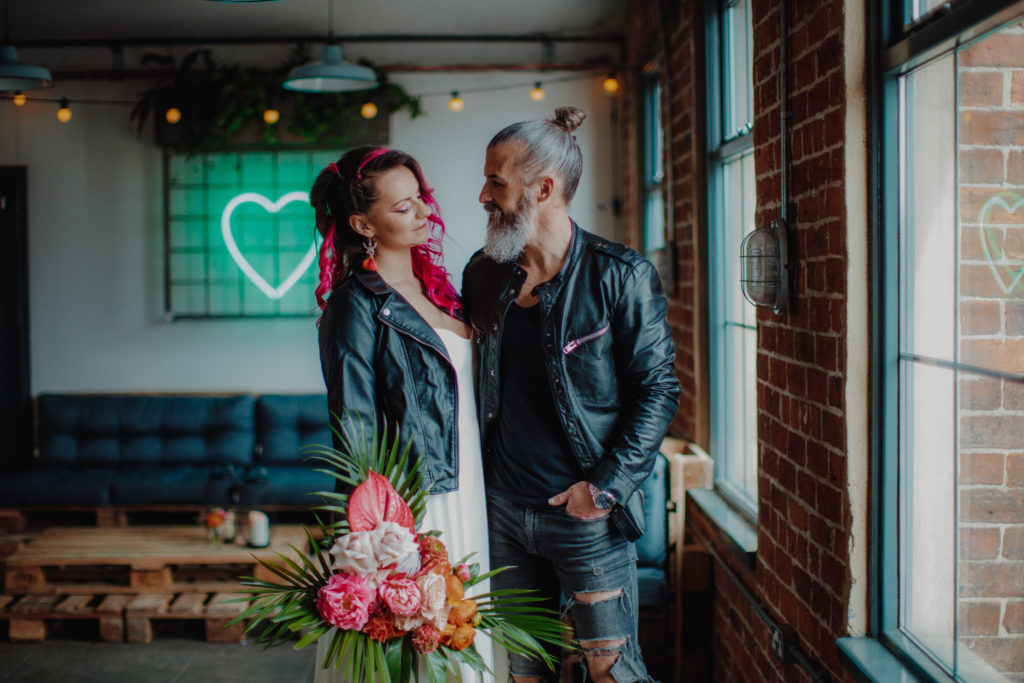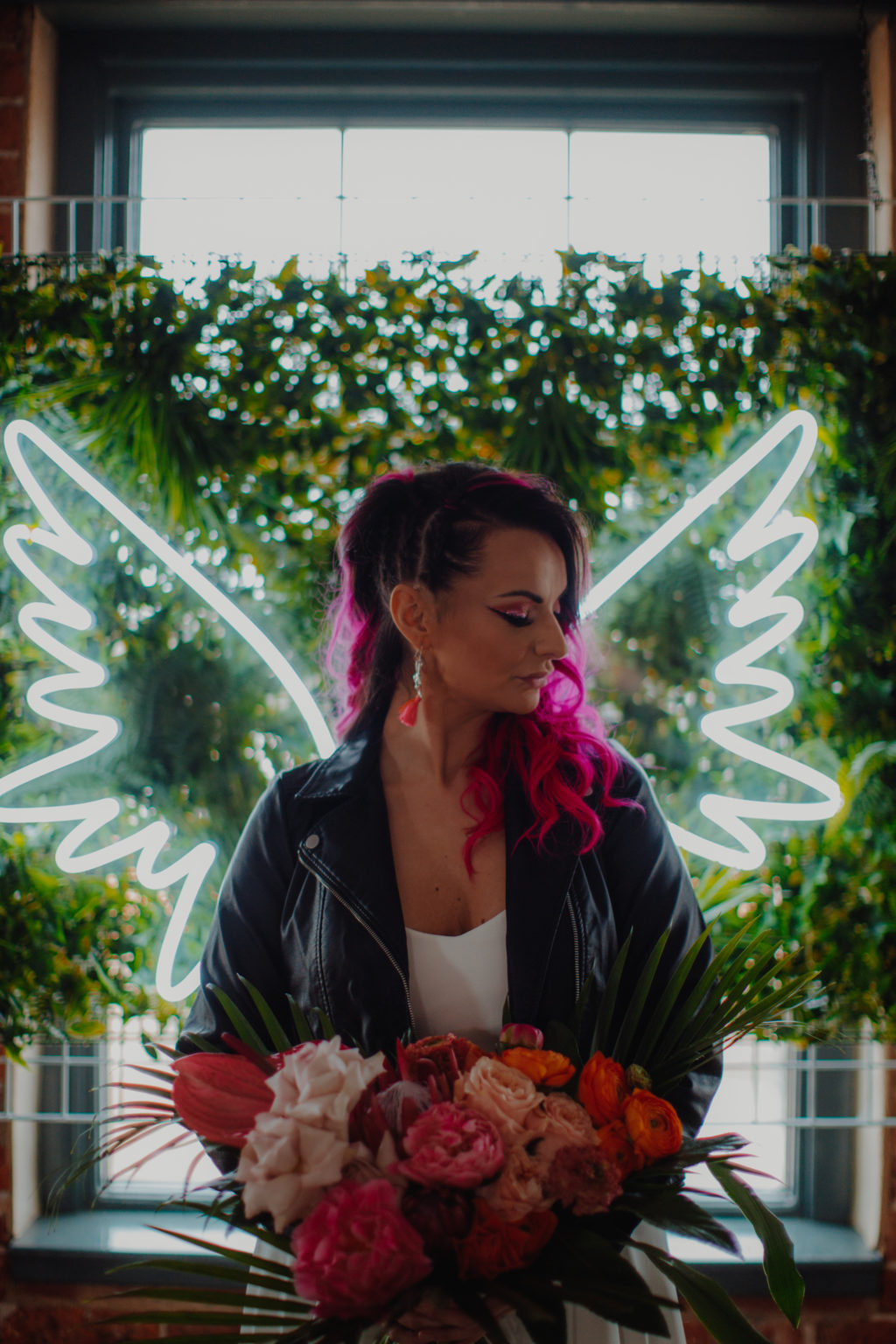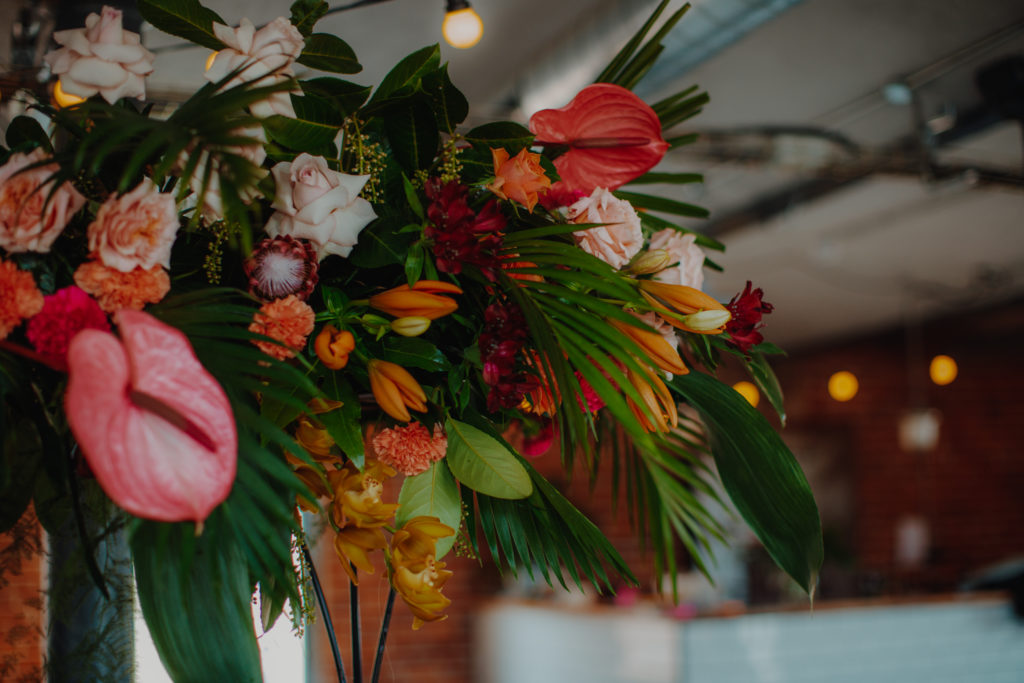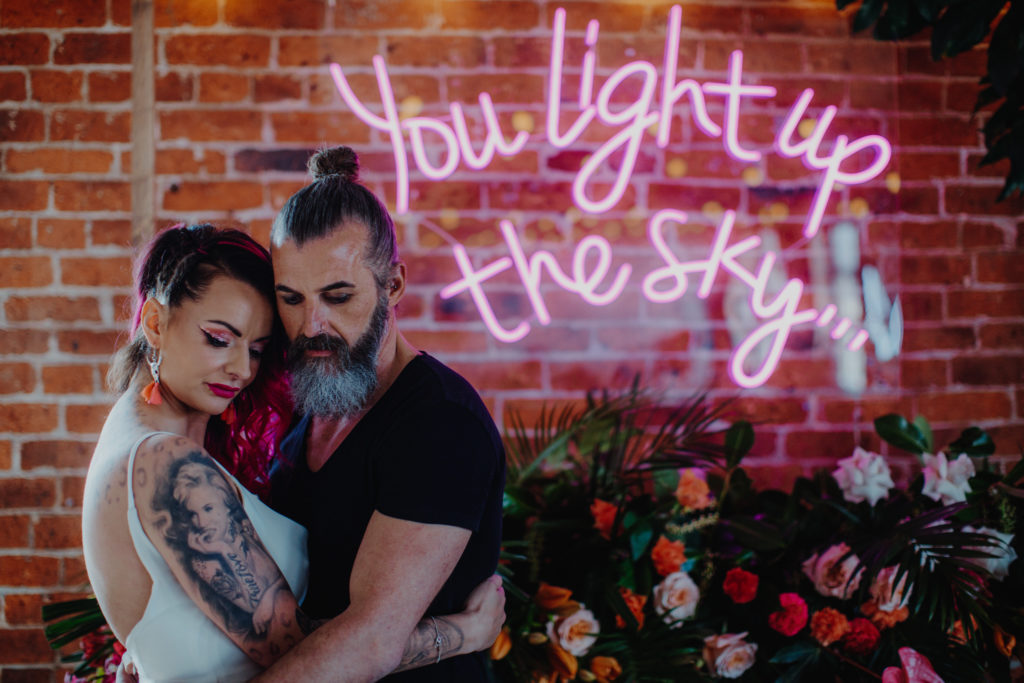 "I knew I had to have a Lucy Can't Dance dress and this Tequila Sunrise dip dye number looked like it had been made for our gorgeous model Michelle 'Barbie' Webb. We did shots with and without the lace coverup because Michelle has some amazing tattoos we wanted to show off."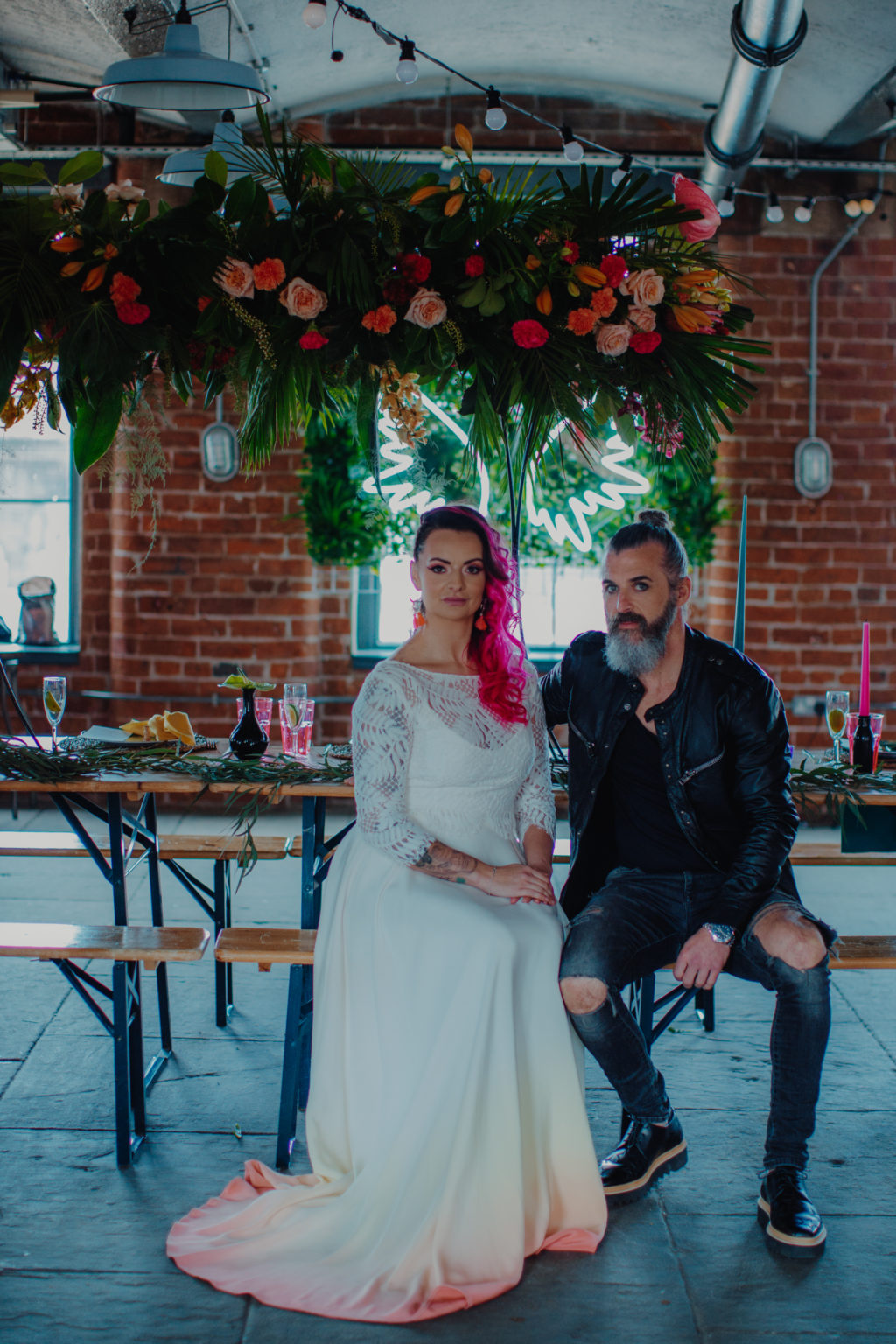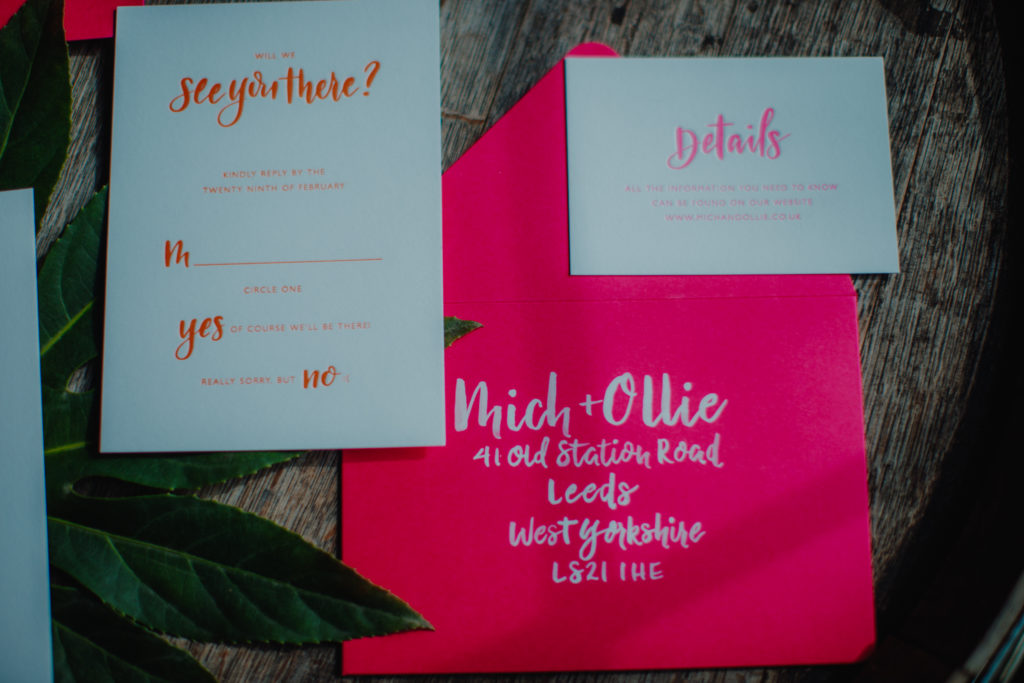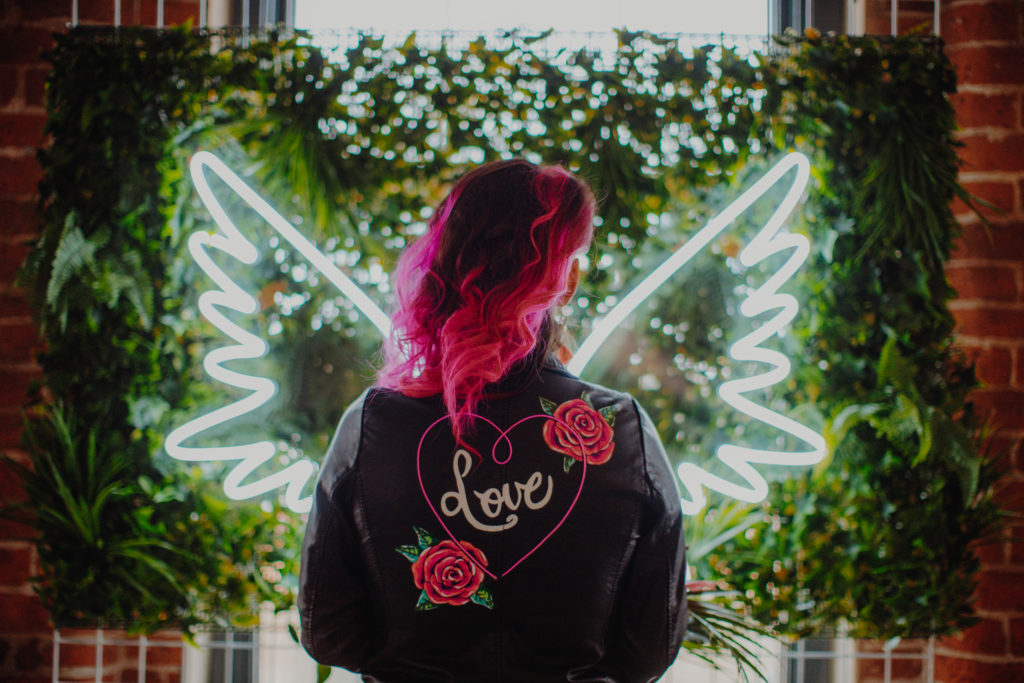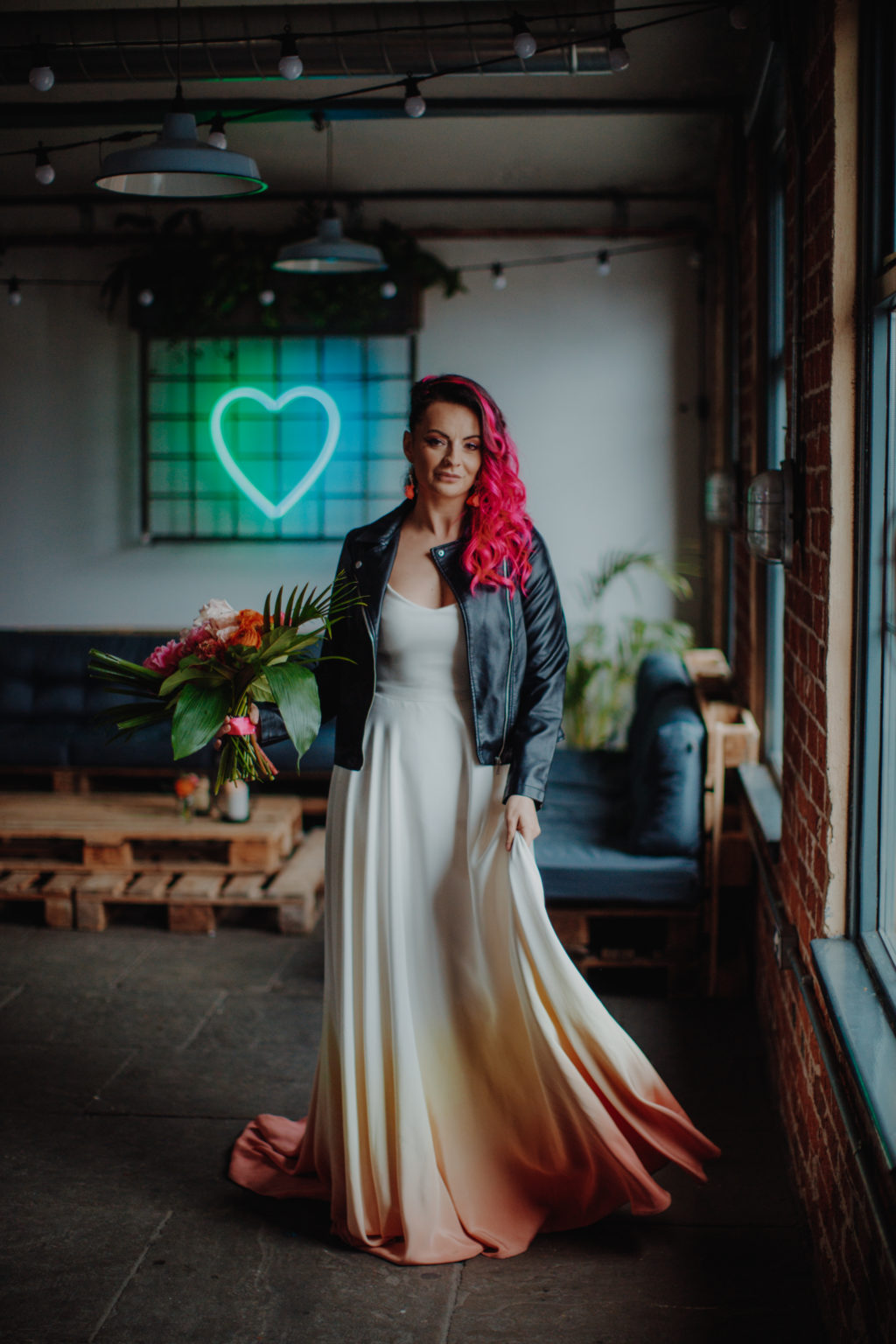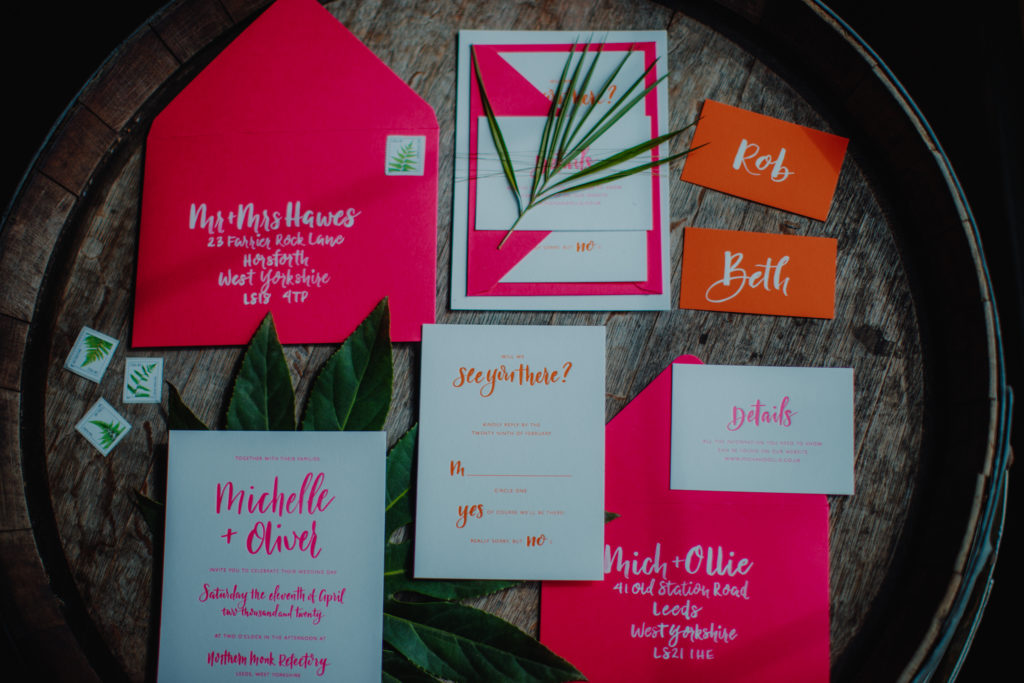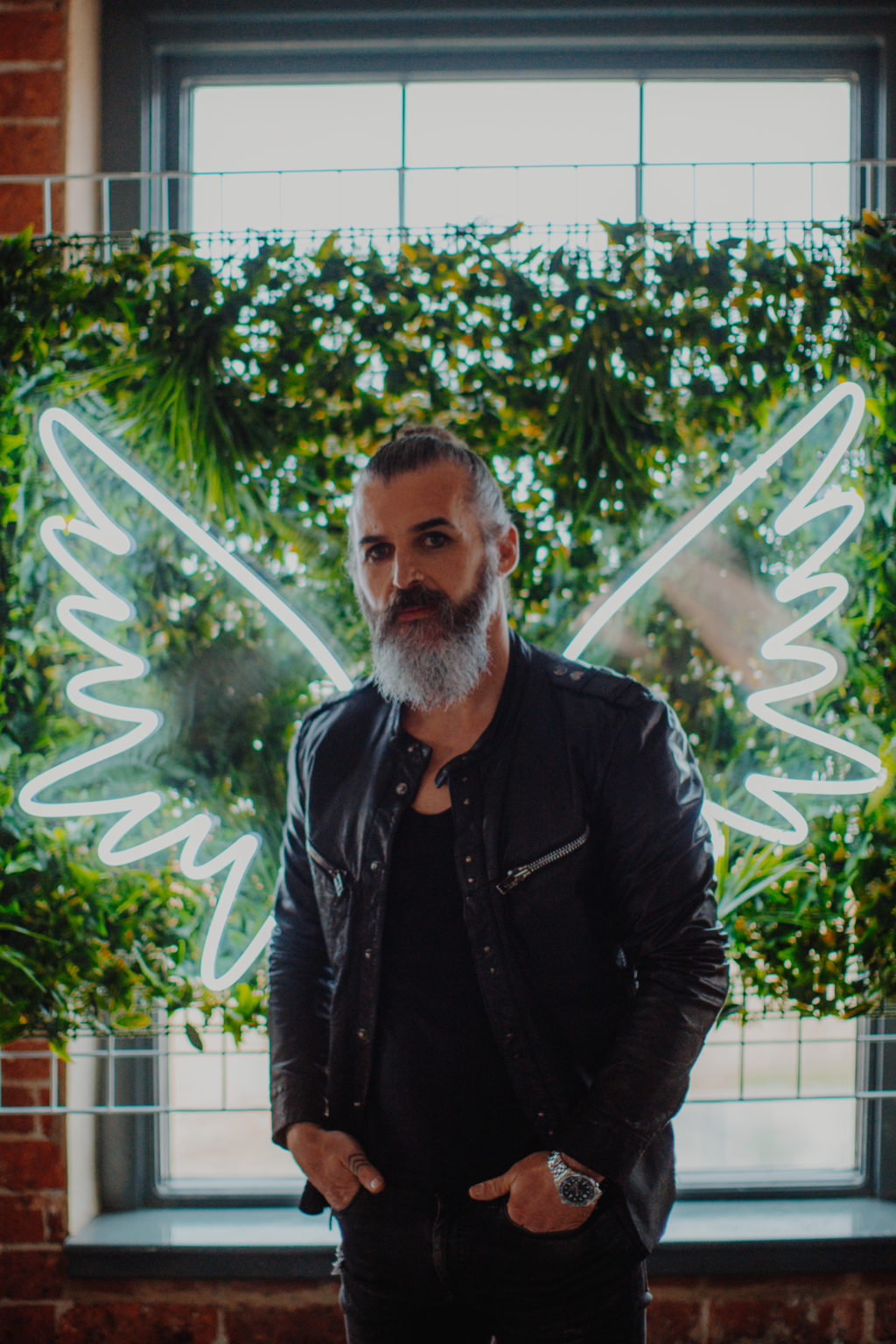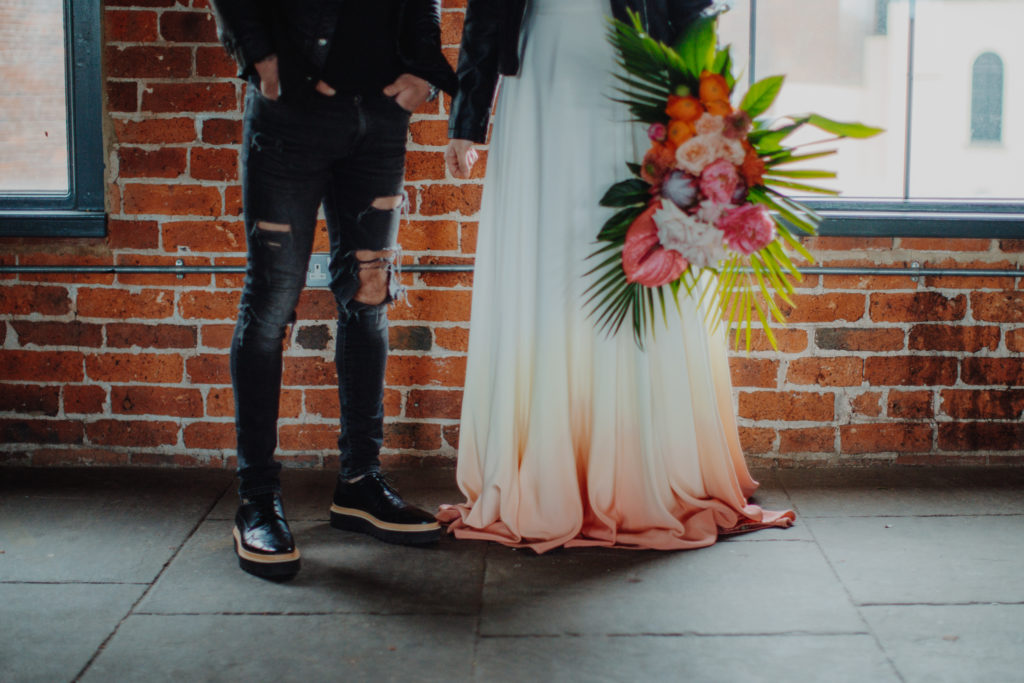 "We had one of Sammy's (Sammy Lea's Retro Emporium) famous painted leather jackets, but this one has a twist. The heart on the back was actually a neon light that lit up, which was perfect for this shoot."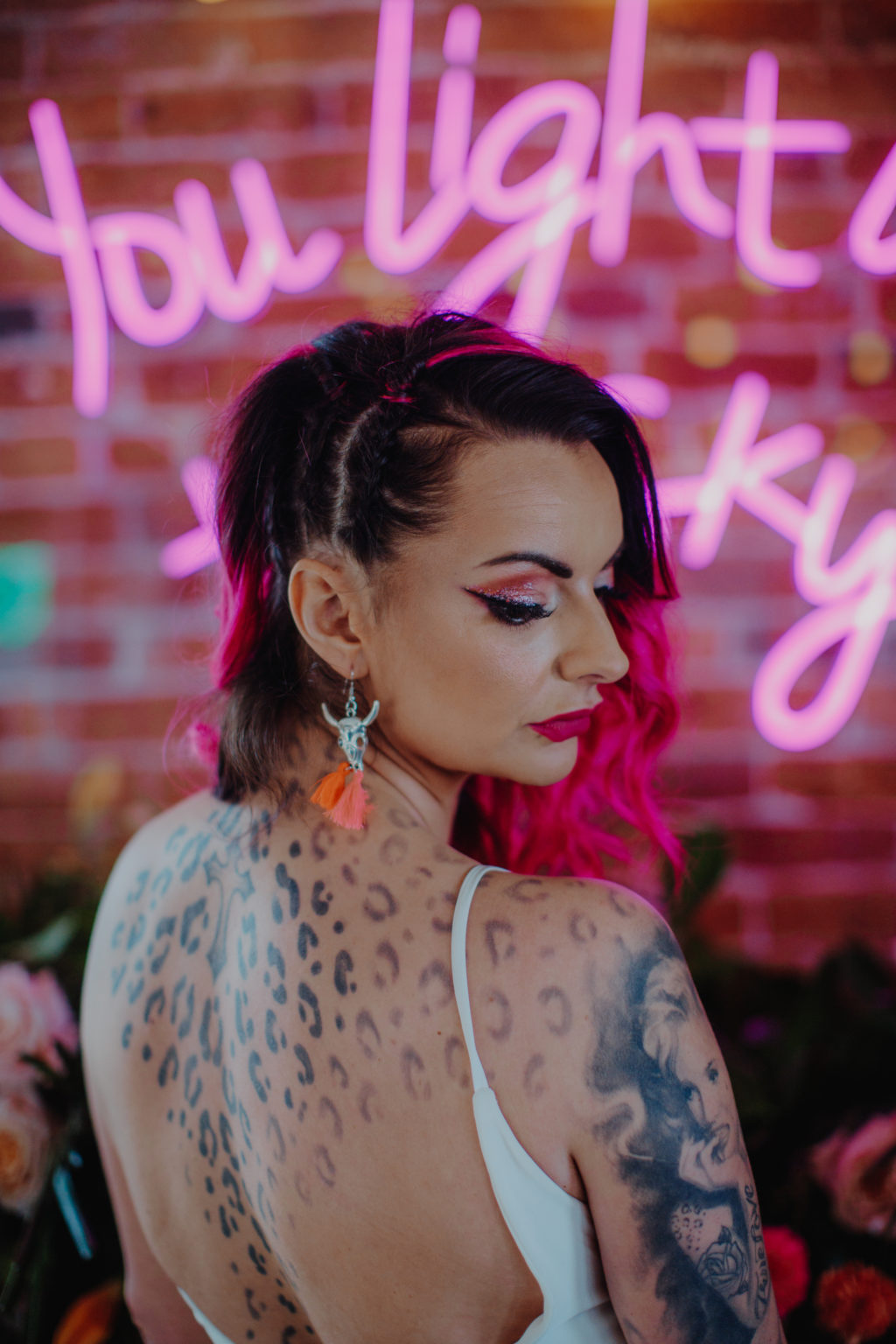 "Hair and makeup were an important part of creating the right drama, it needed to be bold and fun. I think what Leigh (MU By Leigh) created was exactly right. I loved the hairstyle and it really made our brides bright pink hair pop."
Here's some more information from Leigh. "As a bridal hair and makeup artist, the opportunities to experiment with bright colour and bold styles are few and far between. So, when Jen sent me the mood board for this shoot, asking if I wanted to be involved, I HAD to say yes! I LOVE braids and knew I had to incorporate them in the hairstyle, but I wanted to steer away from my usual relaxed, bohemian style. Taking inspiration from punk and 'faux-hawk' styles, I created a do that incorporated braids, volume, and texture whilst still having a bridal feel."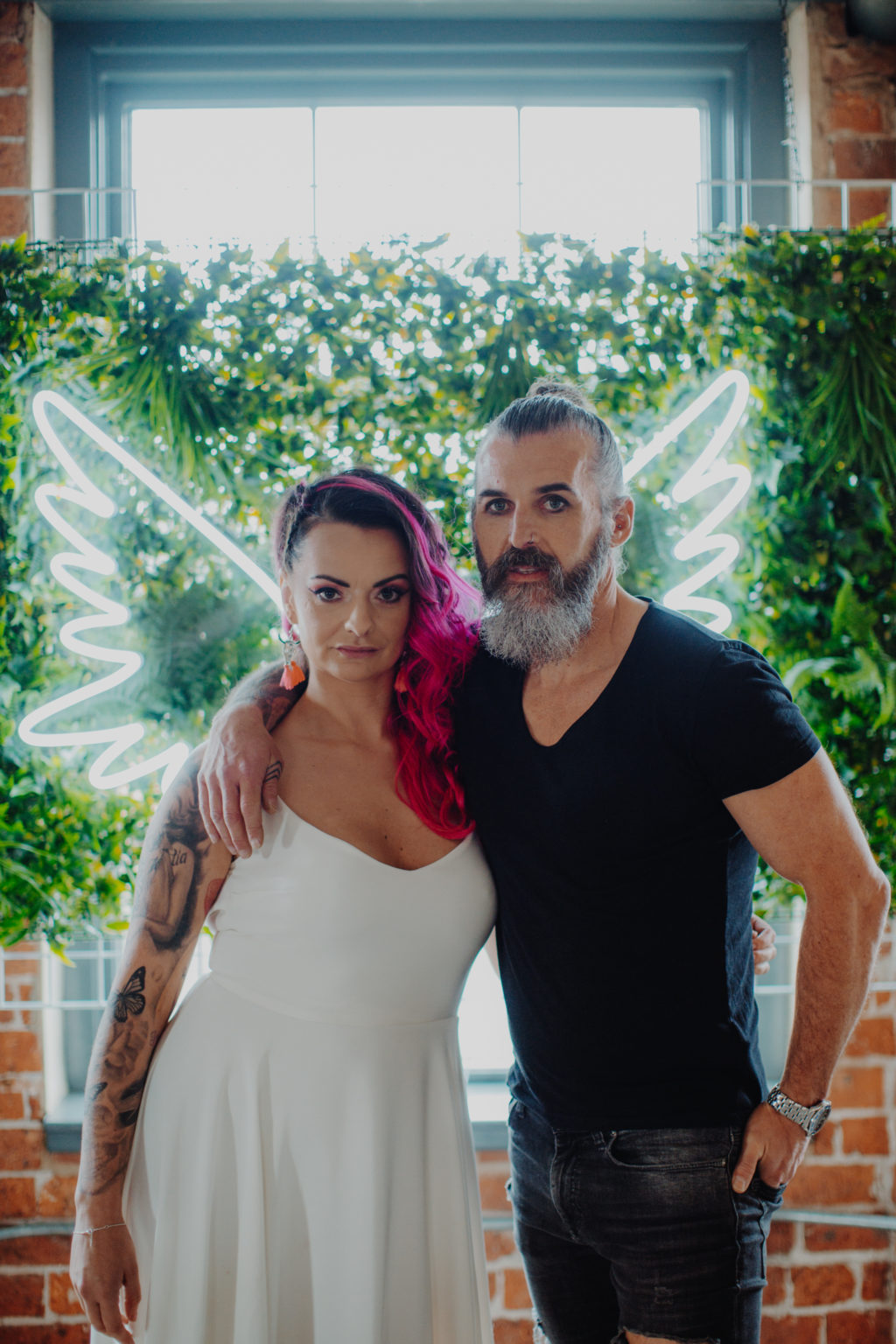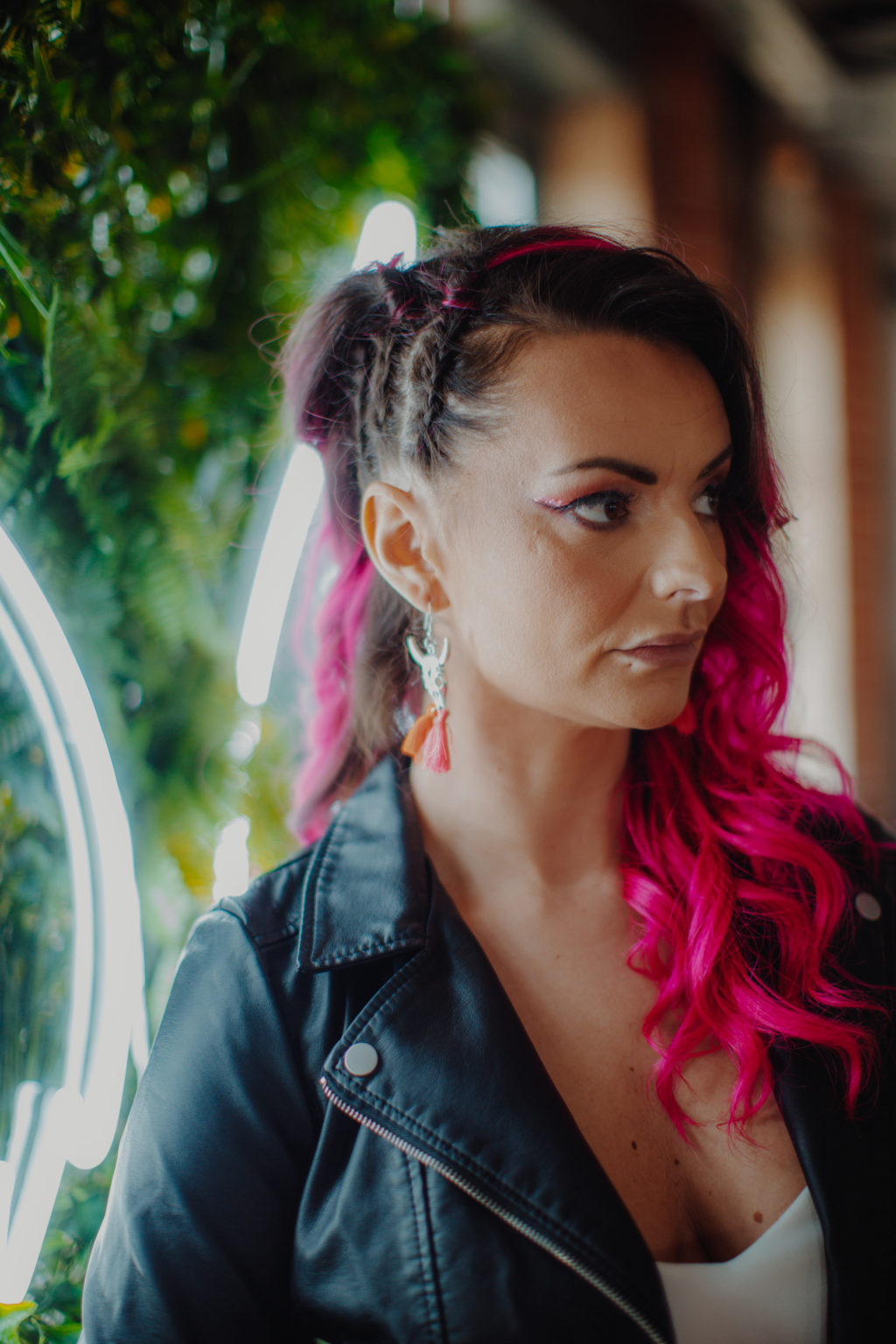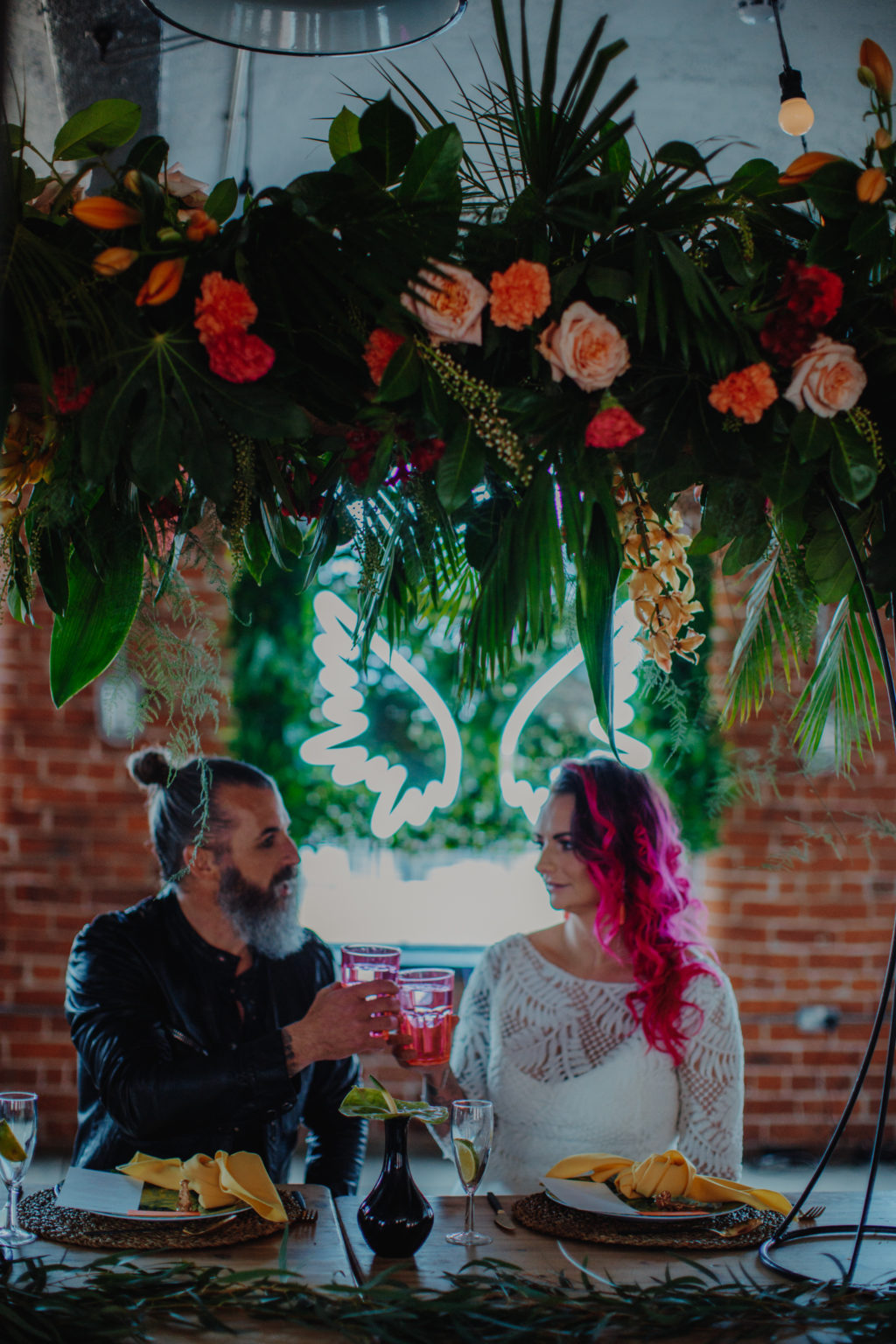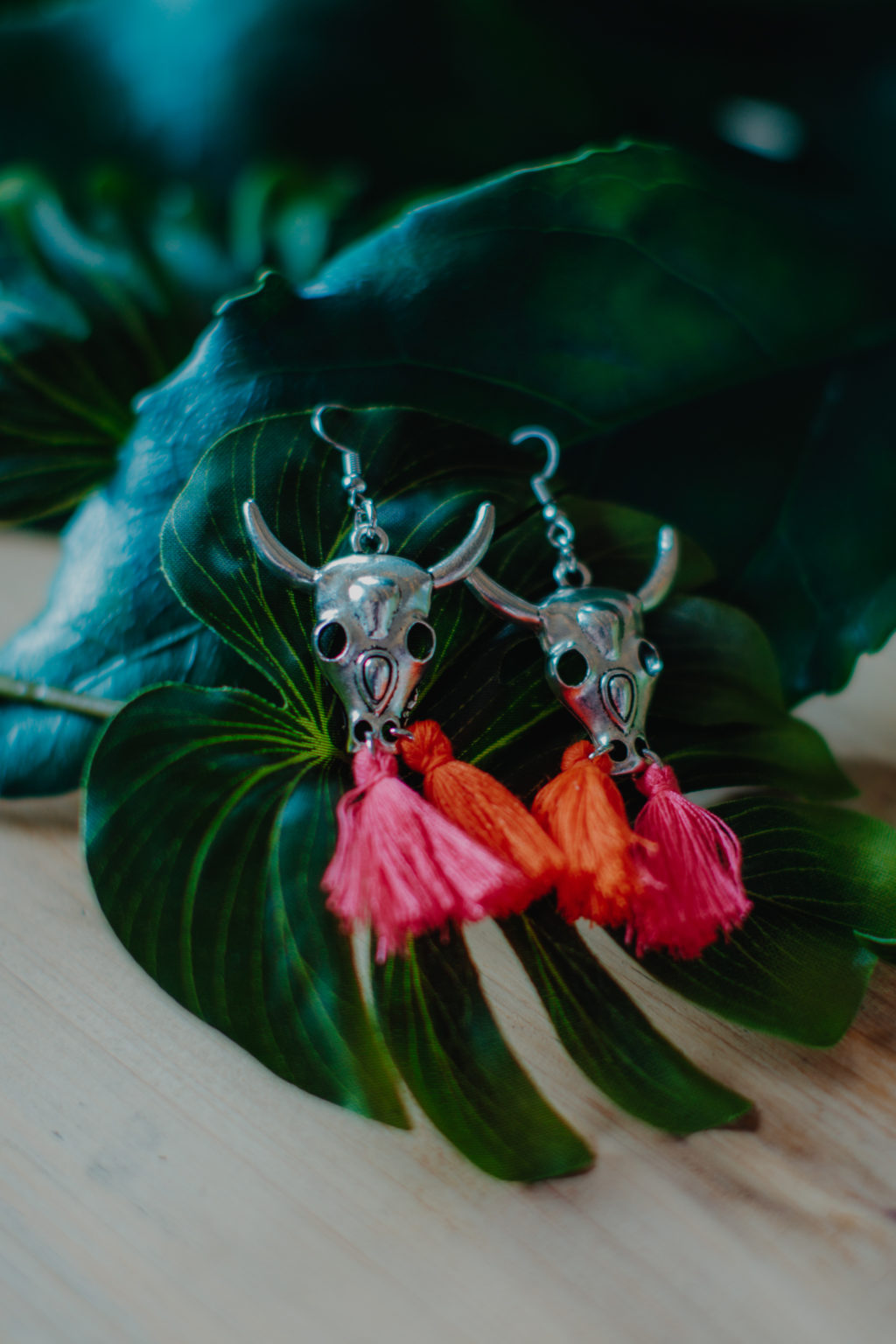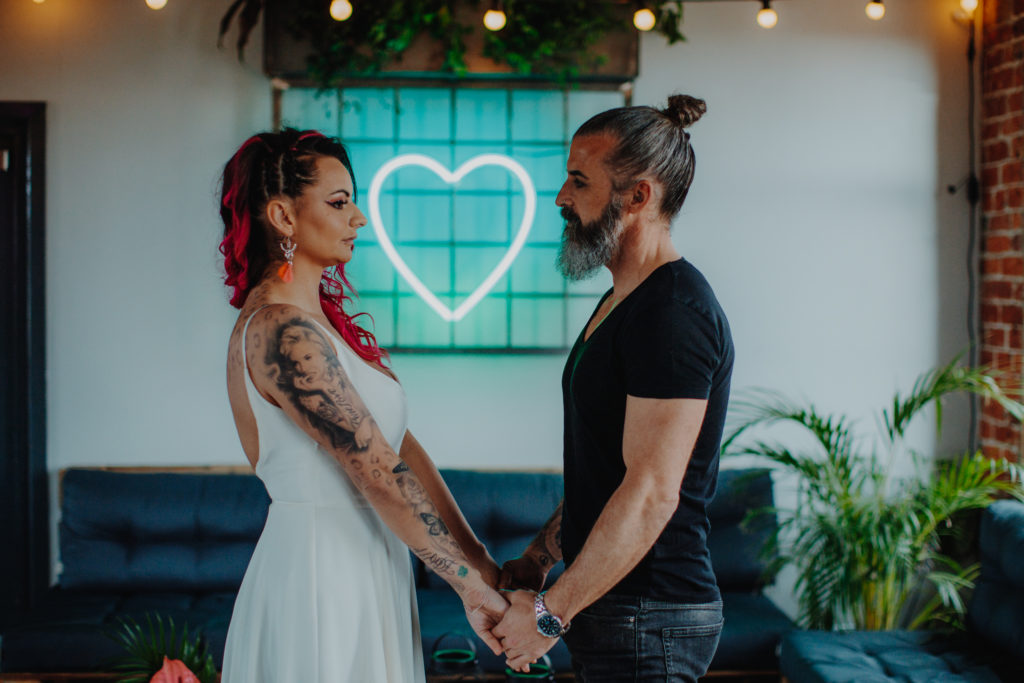 "For the makeup, I went pretty extra with the pinks and the glitters! I added a bold winged liner and fluffy lashes. As always, I focused on creating a flawless base and finished off with a nourishing lip oil, before applying a bold pink lipstick in later shots".
If you're looking for your wedding day hair and makeup artist, whether you're going for classic bridal, boho vibes, or crazy colourful, I'd love to chat!"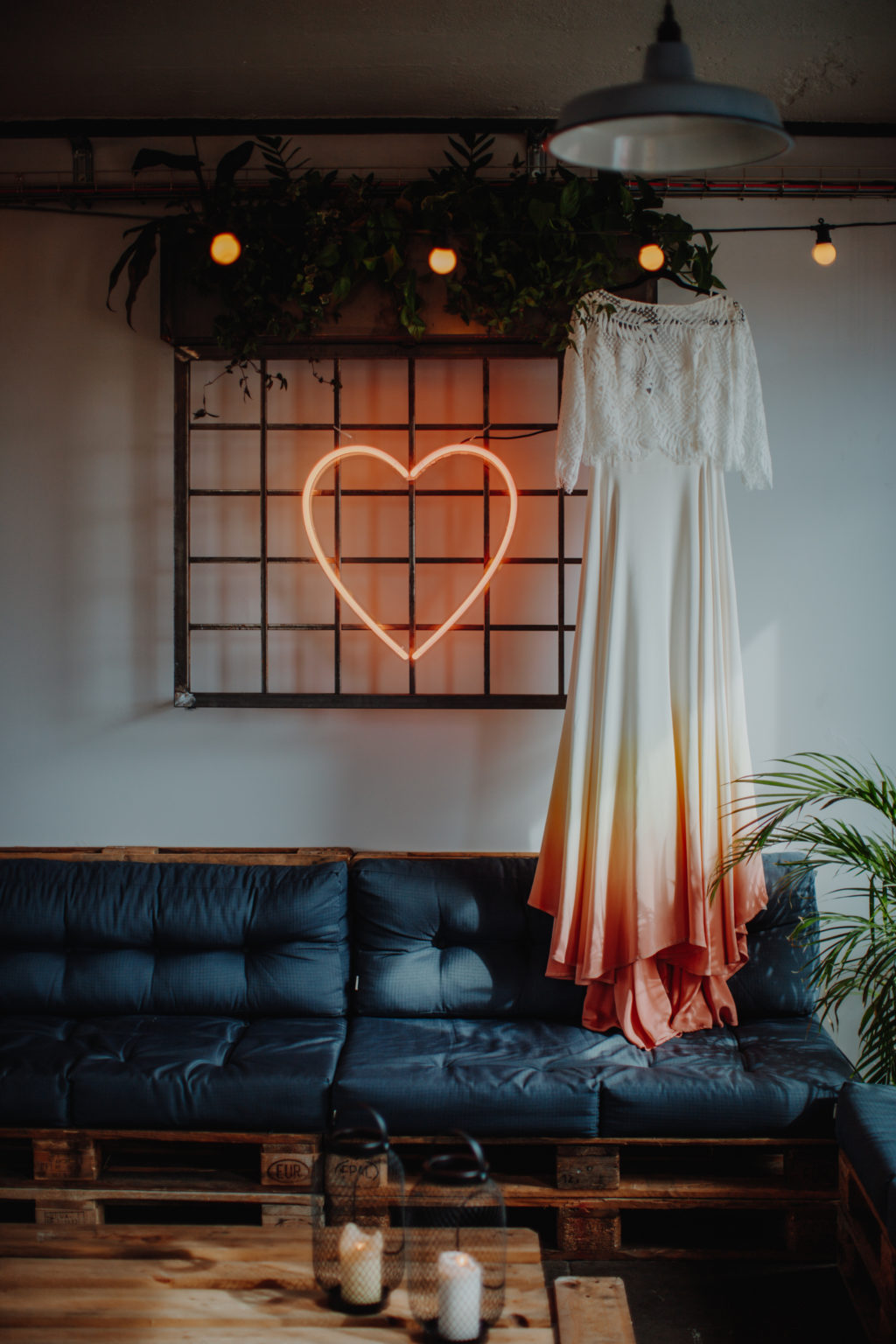 "The super cool cake was made by alternative cake maker, Debbie Gillespie Cake Design. I loved the design, here's a little about Debbie's inspiration."
"My inspiration for the neon jungle shoot was actually from an illustration on a candle of a tropical bird amongst palm trees. Black and white stripes created a strong background and the hand-painted parrot is surrounded by bright tropical flowers and foliage that really pop. And then add a set of neon wings!".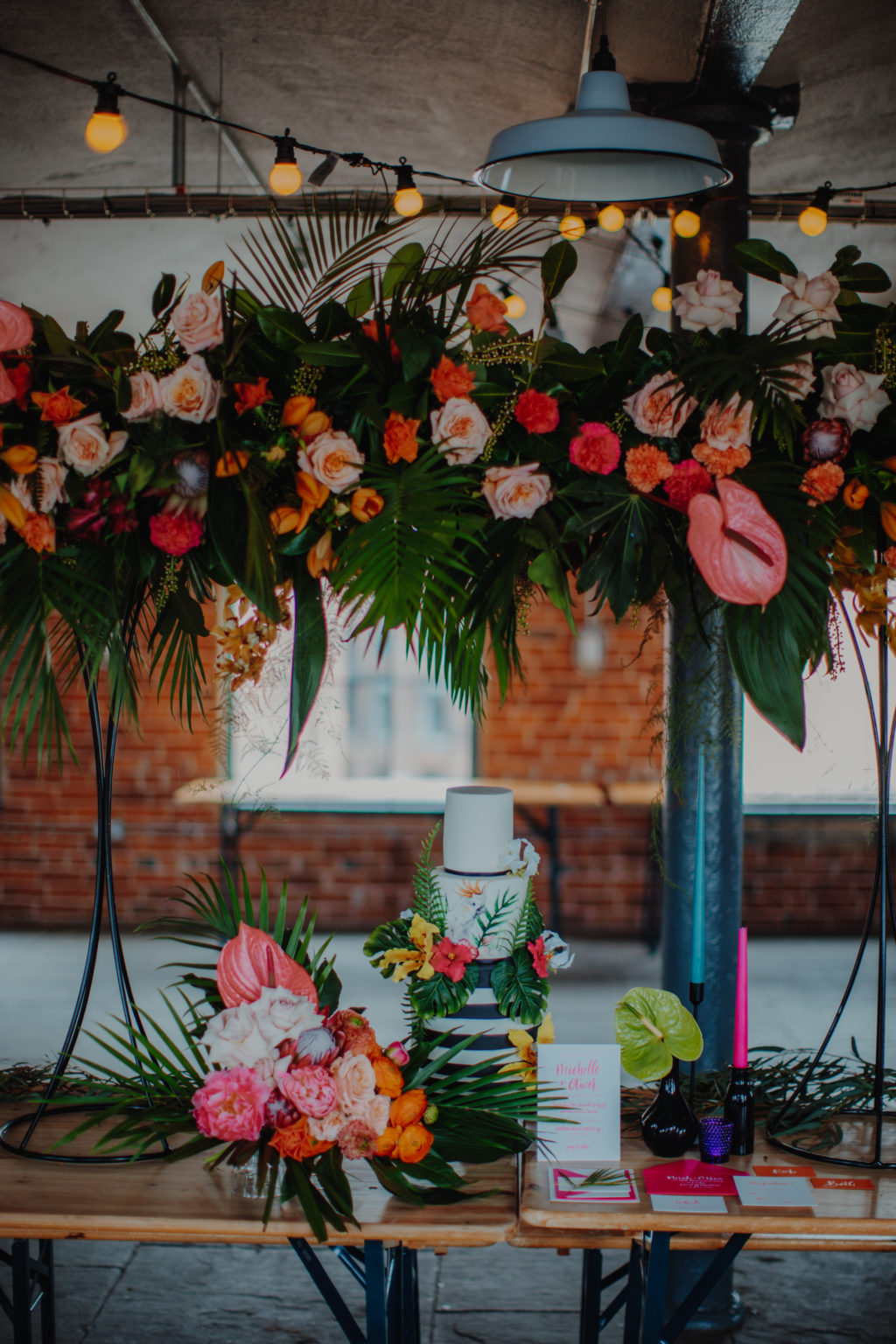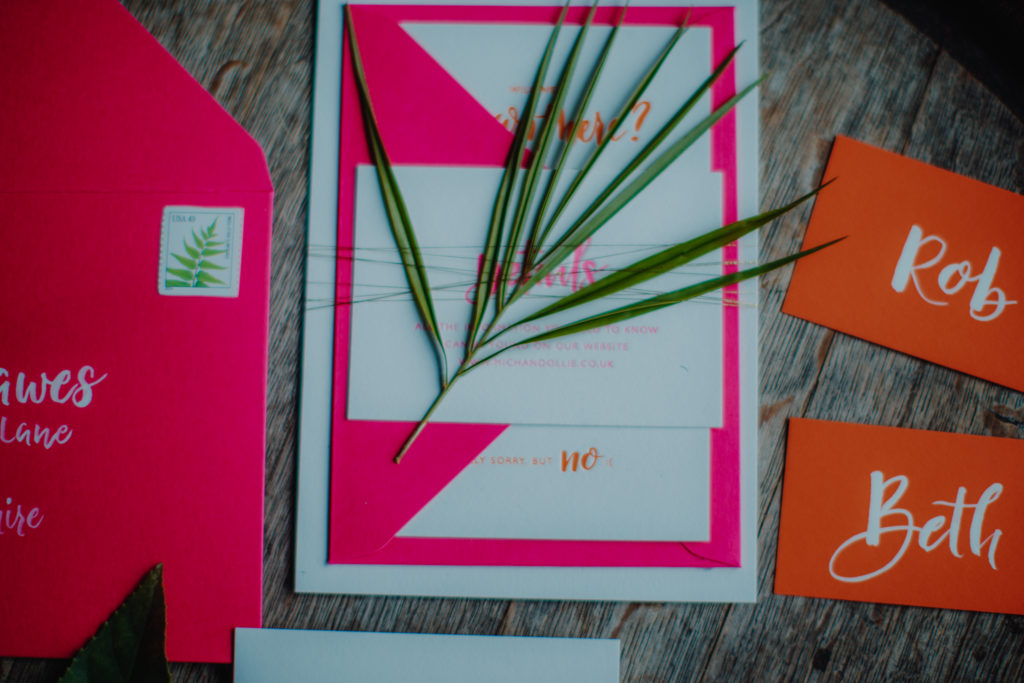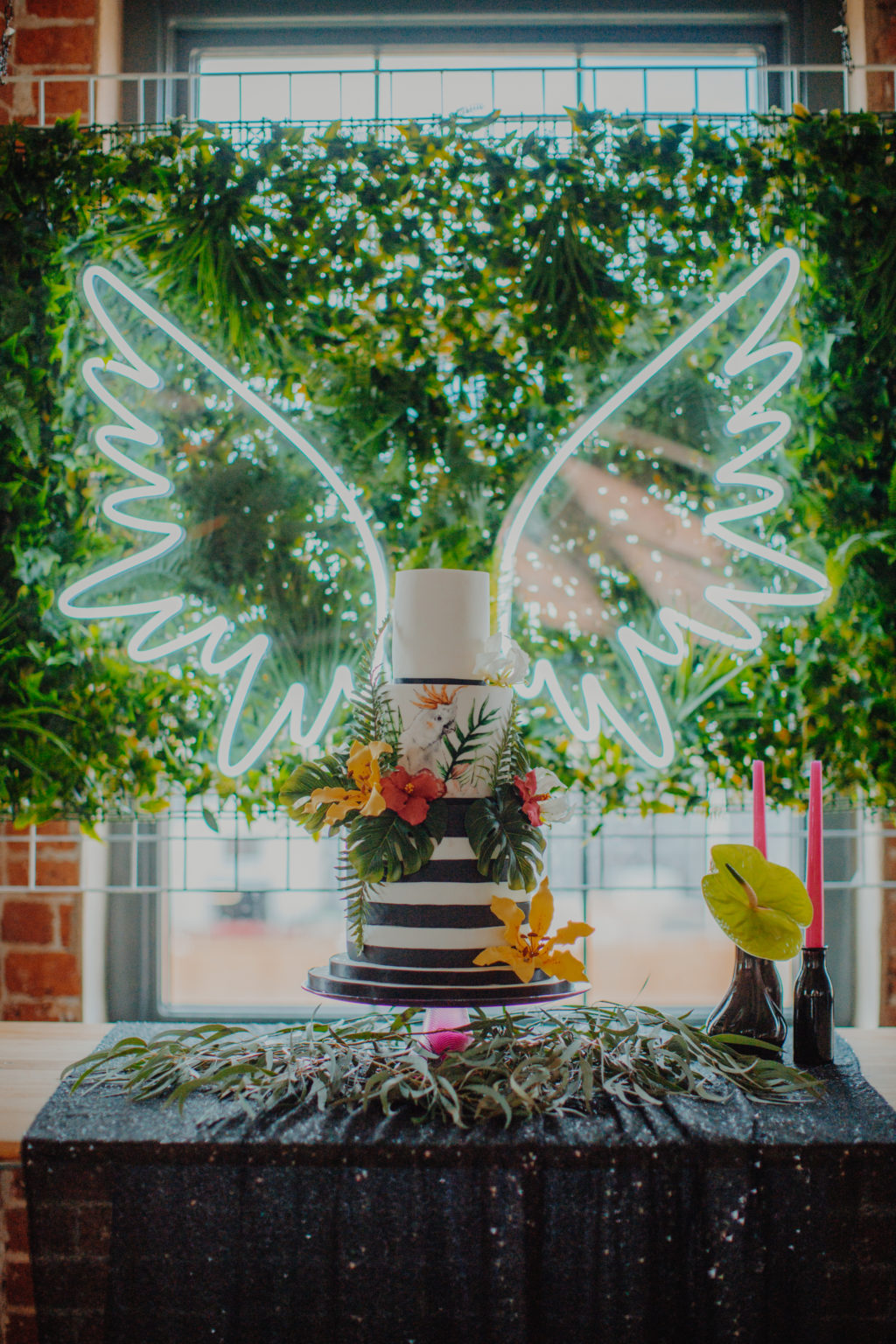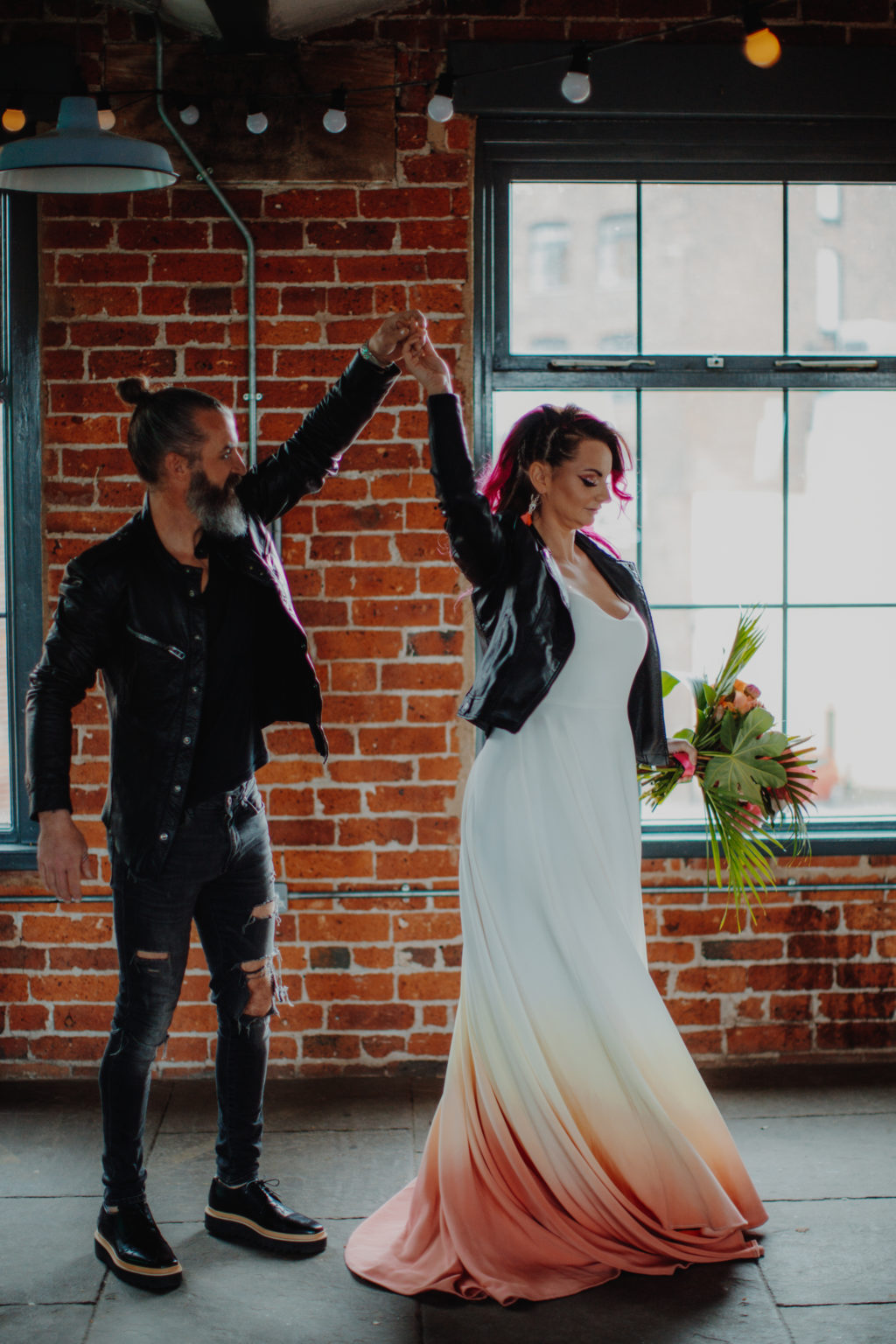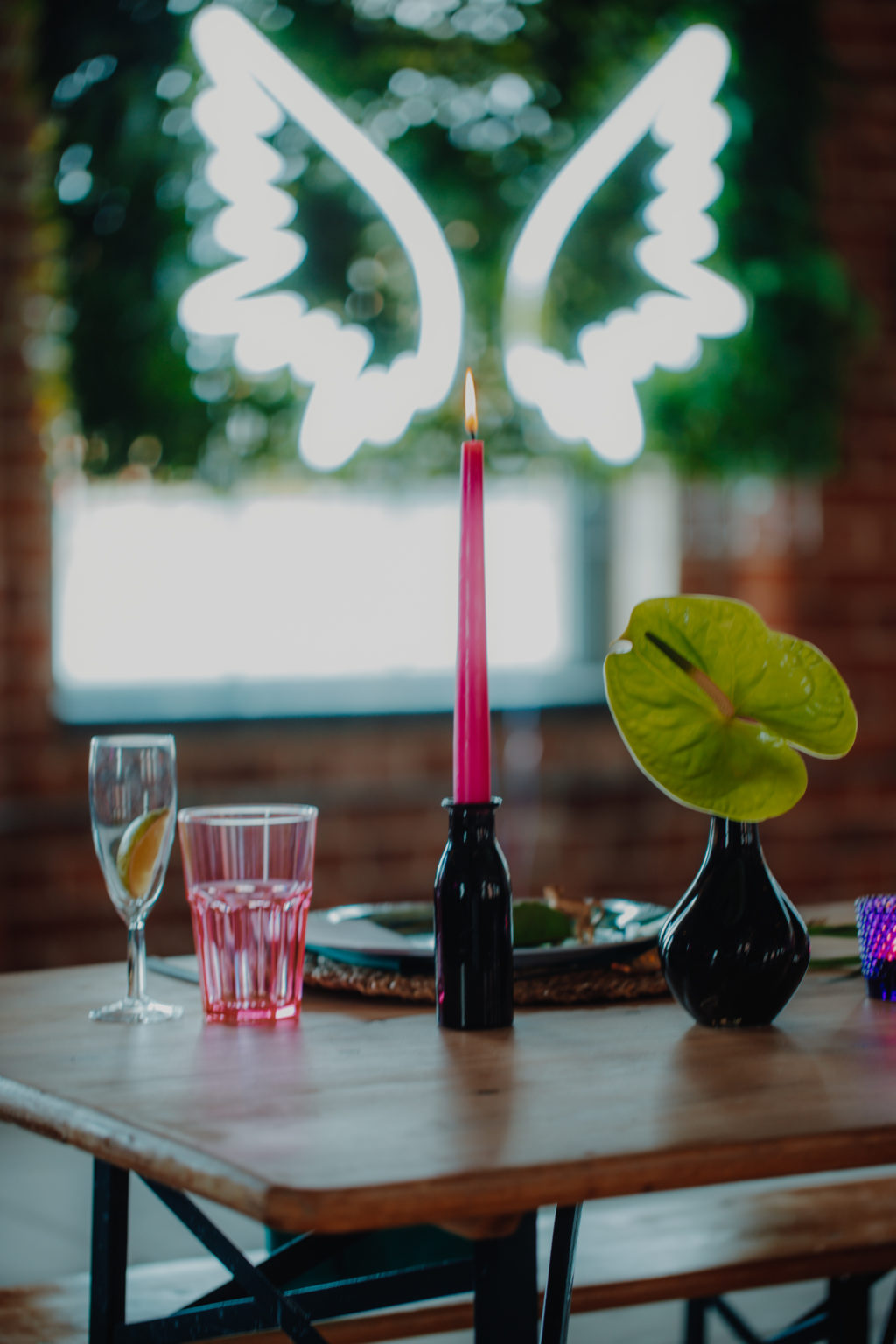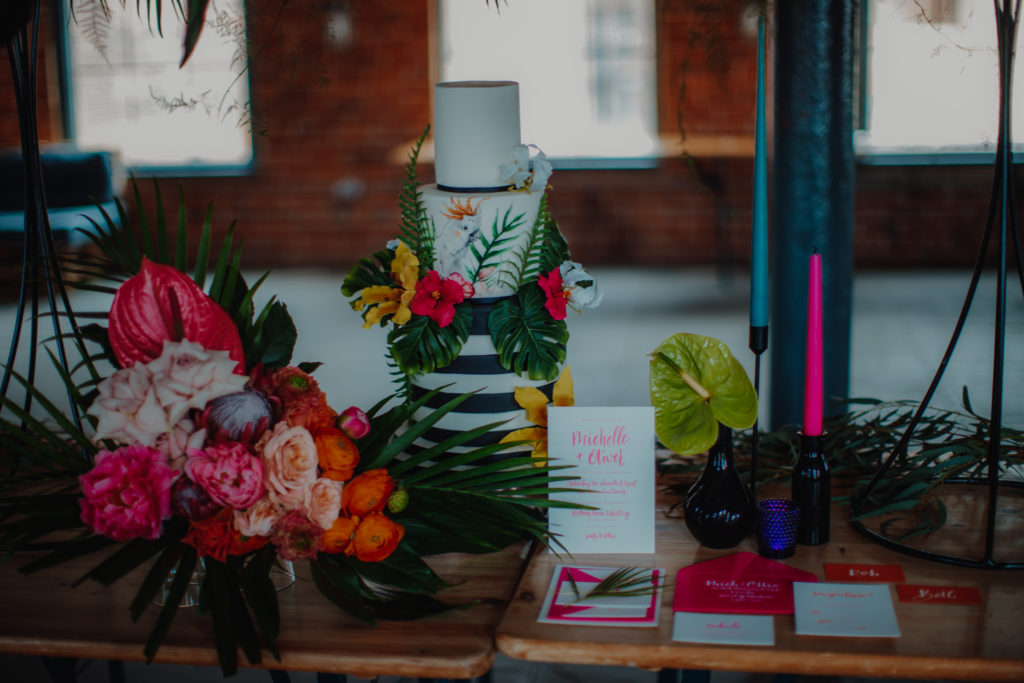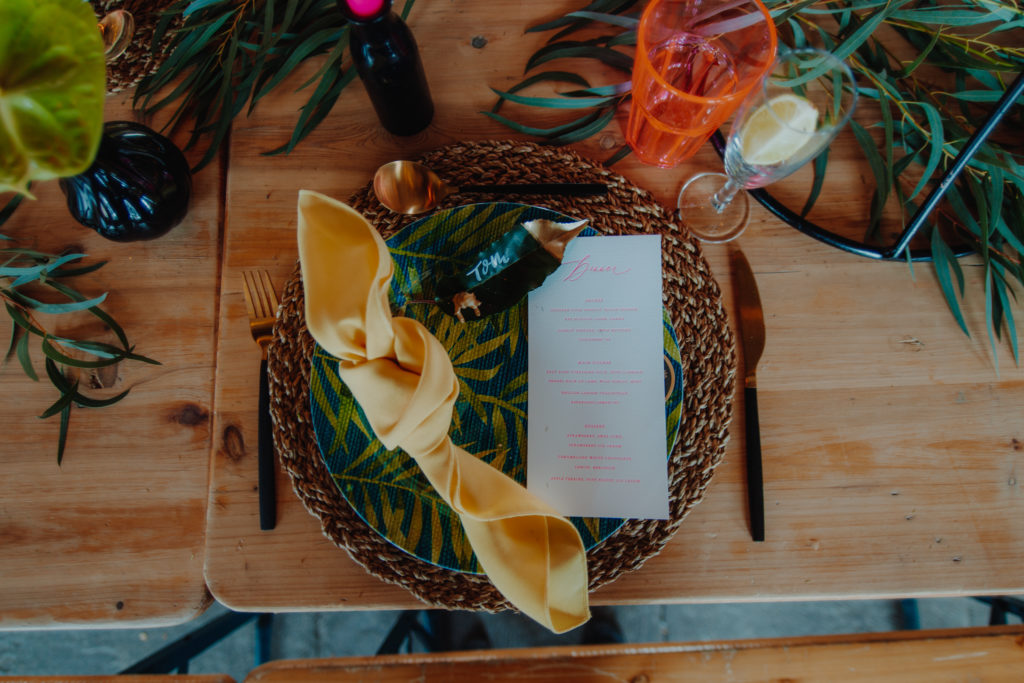 "There was natural chemistry between our gorgeous couple as well as lot's and lot's of laughter. A great day was had by everyone, having fun and creating some swoon worthy wedding inspo! It was lovely to do a shoot in my home town for a change. Leeds is such a cool and vibrant city, it has a lot to offer for couples looking for a modern wedding."
"I absolutely love this design and hope it inspires couples to have a wedding that's a true reflection of themselves."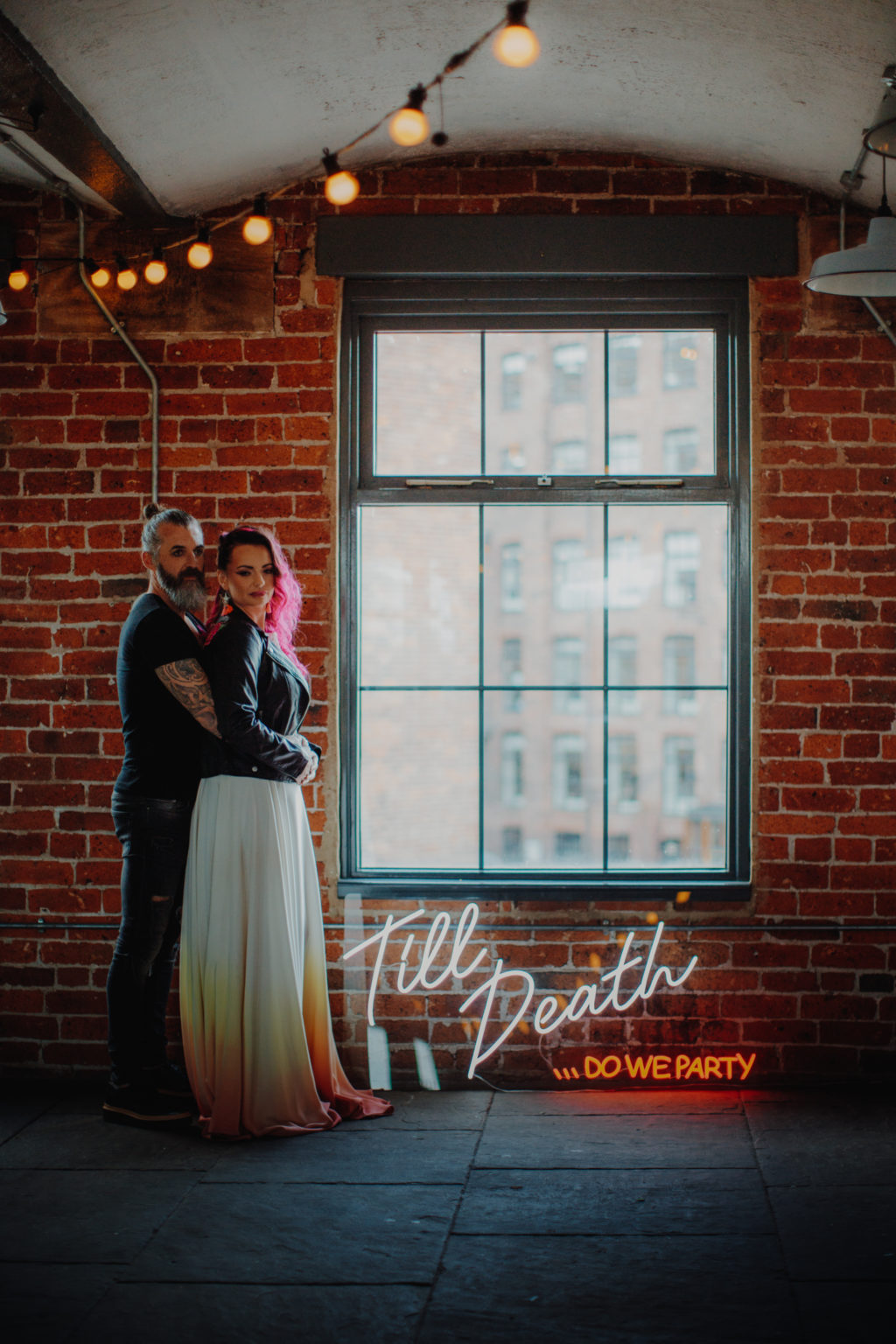 The Team – Tropical Neon Wedding Inspiration with Colourful Jungle Vibes
Planning & Styling – My Pretties UK I:@myprettiesuk F:@myprettiesukevents
Photography & Video – Alt Wedding Co I:@altweddingco F:@altweddingco
Dress – Lucy Cant Dance I:@lucycantdance F:@lucycantdance
Cake – Debbie Gillespie Cake Design I:@debbiegillespiecakedesign F:@DebbieGillespieCakeDesign
Hair & MUA – MU By Leigh I:@mubyleigh F:@mubyleigh
Neon Signs – Love Lights The Way I:@lovelightstw F:@lovelightstw
Florist – Forge Events I:@forge_events F:@Forge_Events
Stationery – Phylecia Sutherland I:@phylecia_sutherland
Painted Neon Jacket – Sammy Lea's Retro Emporium I:@sammyleasretro F:@sammyleasretroemporium
Bridal Accessories – Luna Celeste I:@lunacelesteaccessories F:@LunaCelesteAccessories
Bride – Michelle 'Barbie' Webb I:@barbiewebb82
Groom – Oliver Hemingway I:@authenticsince1970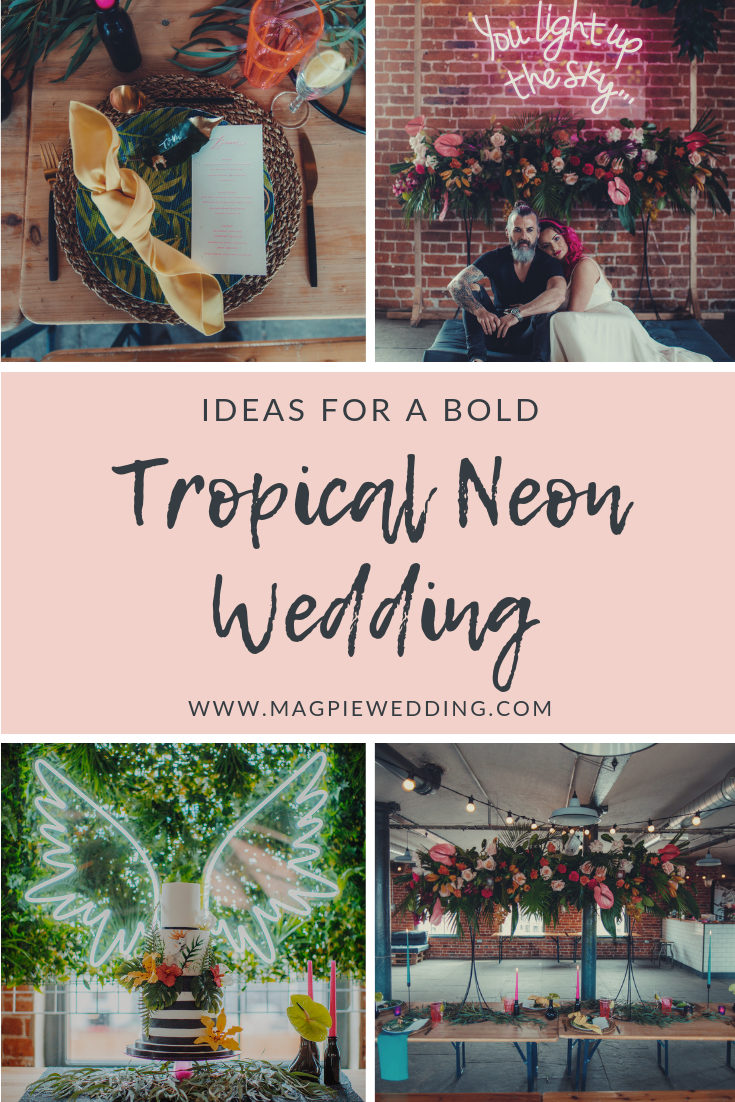 Love this tropical neon wedding inspiration and want more inspiration for your big day? Check out our online magazine BOND Bride