The 1970s wedding dress continued where the 1960s finished; with long, floaty gowns and wide romantic sleeves. The mood of the day was bohemian which continues to be a key trend today.
Dresses were designed with layers of polyester chiffon, creating large capes and handkerchief edged details. They were generally high necked with front bibs, covering the bride's modesty to contrast with the sometimes sheer skirts and sleeves. Many chose to cover up completely choosing historical looks such as the Tudor maid.
An alternative to this was the trouser or maxi skirt suit, worn by Bianca Jagger. In fact as divorce rates increased many brides were marrying for the second time, choosing to wear non-traditional wedding dresses such as coloured dresses and suits.
To get the 1970s look now, wear hair long with floppy hats, flower crowns and large head pieces made from feathers, silks and even small bells. Go bare feet or choose clogs or jewelled slippers.
Credits
Photography: Binky Nixon
Model: Natalia
Hair and make up: Sarah Dunn (Sarah's Doo Wop Dos)
Styling: Kate Beavis
Dresses: Glory Days Vintage, Your Vintage Life
Flower crown and bouquet: Water Baby Flowers
Feather headpiece: Minna
Vintage Brooch Headpiece: Cherished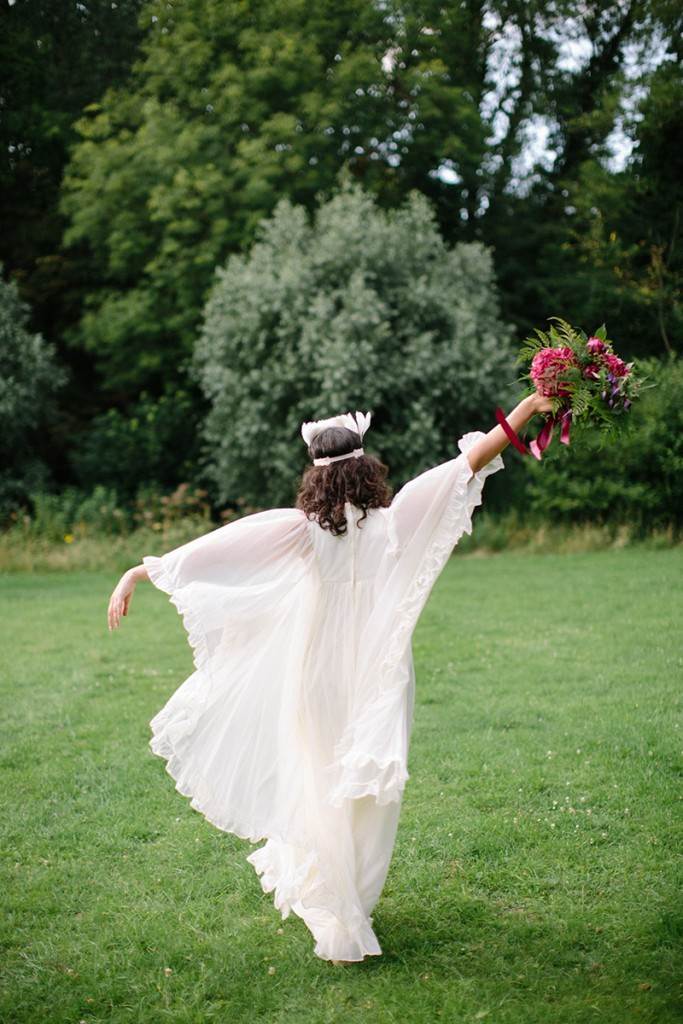 (disclaimer)
This article first appeared in Vintage Life magazine in 2014 written by us.