While writing this blog post I am sitting underneath a blanket with the heating on (It's June!) and definitely dreaming of holidays in the sunshine. So it feels only right to share some sunshine with you, from Lee and Leton's destination wedding in Spain photographed by Amber Marie Photography. I really love the feel of this wedding, and the red touches stand out beautifully against the Spanish stone brickwork. And as for the giant red flower….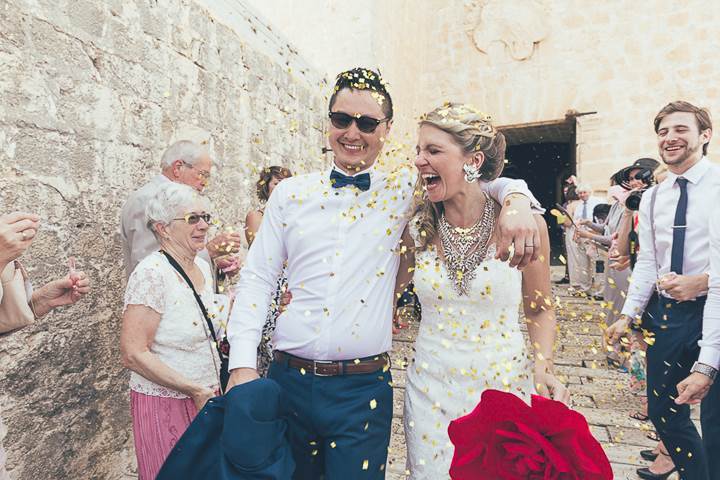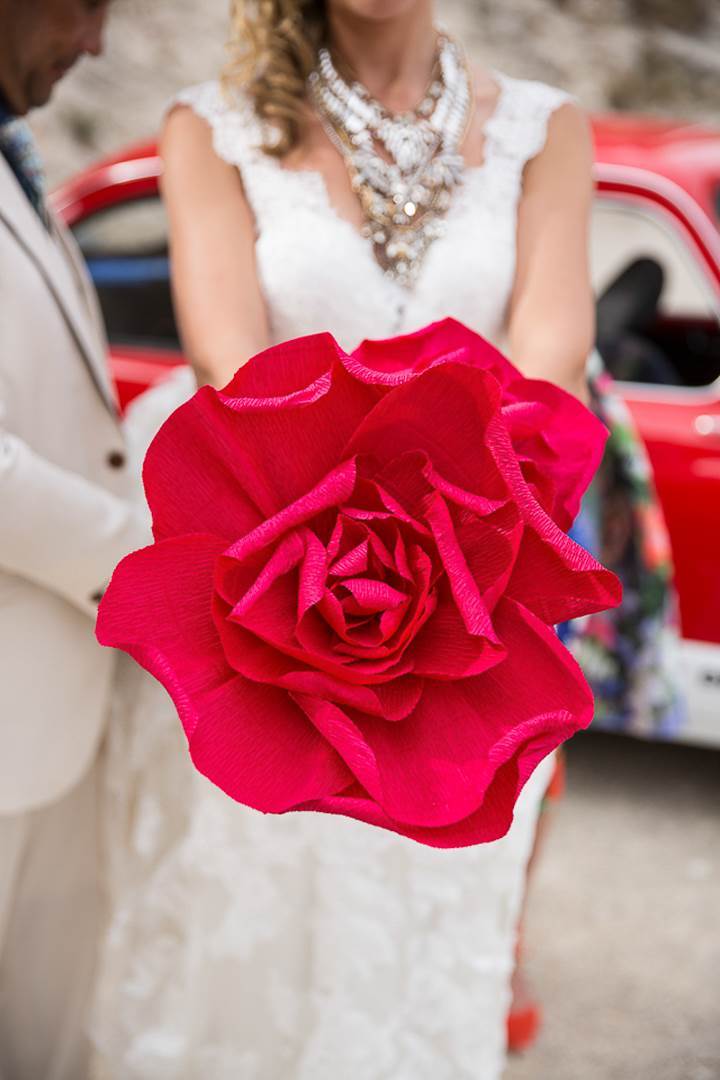 I caught up with couple to find out more about how they met, their style and influences for their wedding.
"I moved to Qingdao, China in 2010 to work for a UK based company called DCK. One night a group of us went there for a friends birthday and we had one of those fabulous candles that is shaped in a flower and is supposed to open when lit and sing. We all started singing Happy Birthday as we lit the candle and a few moments later when the candle didn't open it started to catch on fire and create a bit of a scene very quickly! This is where I saw Leton for the first time as he raced out from the kitchen, picked up the candle and raced back to the kitchen to put the fire out in the sink!
A few months later a friend of mine and myself went to our local bar and were just having a drink and a chat when I saw Leton pop over to the bar and order a drink. Now this time I did pay attention to this strapping young man, who to me looked Japanese, but he quickly got his drink and left. Probably around 5 months later I got all dressed up for a fancy dress Halloween party where I went as a zombie bride. When we arrived to the party I went around taking photos of all of the amazingly dressed people and quickly noticed the killer chef outside on the balcony! Then for the rest of the night this killer chef (Leton) proceeded to be in all of my photos in the background of all of my shots! Finally we both happened to bump into each other at one of the worst/ best bars in town 'Jazz Corner' and after thinking he was walking towards one of my friends he turned towards me and headed over to talk to me! Well the rest is history and we have been together ever since. We now also have a Cat together called Jazz!"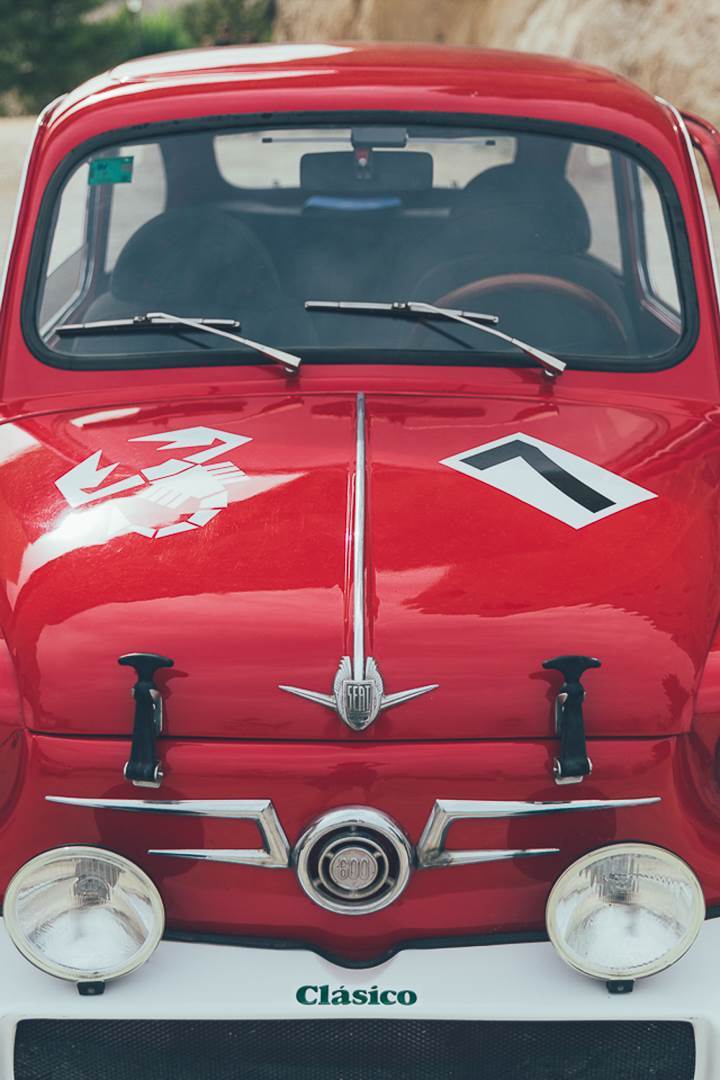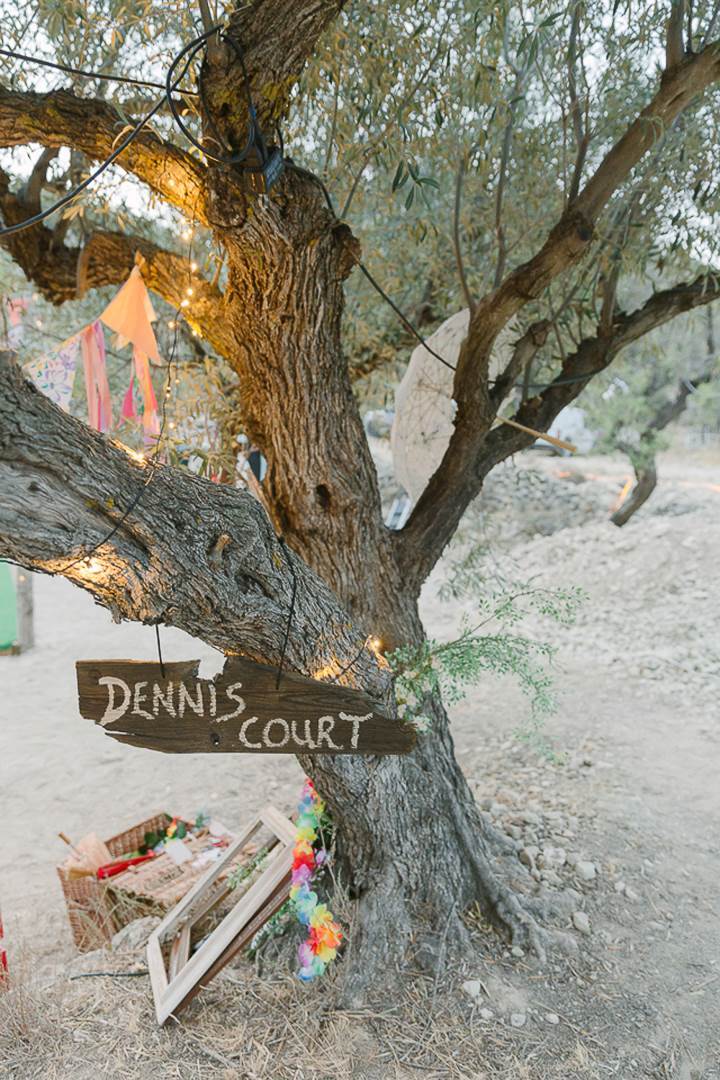 "4 years later Leton and I went on holiday to Bali and Lombok during the Australian winter months of August. One night we were out near the end of the holiday, we sat down on the beach and I proceeded to take photos while I heard a slight rustling down beside me . I turned around and Leton had laid out some beautiful flowers around a ring box!Leton opened the box and proceeded to speak…. I wish I could remember exactly what he said as I know it was beautiful however I just was focused on this giant amazing blue and mixed metal ring shaped so beautifully and organically like a shell! I didn't even give Leton a chance to put it on my finger…I just took it and placed it on my own hand and couldn't stop saying WOW this is amazing! He even had to ask me if that meant yes! Which of course it did."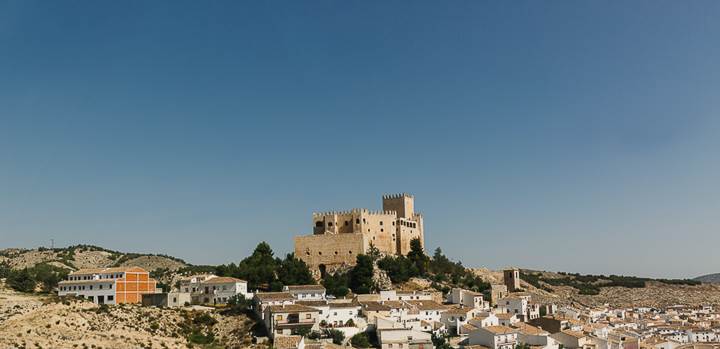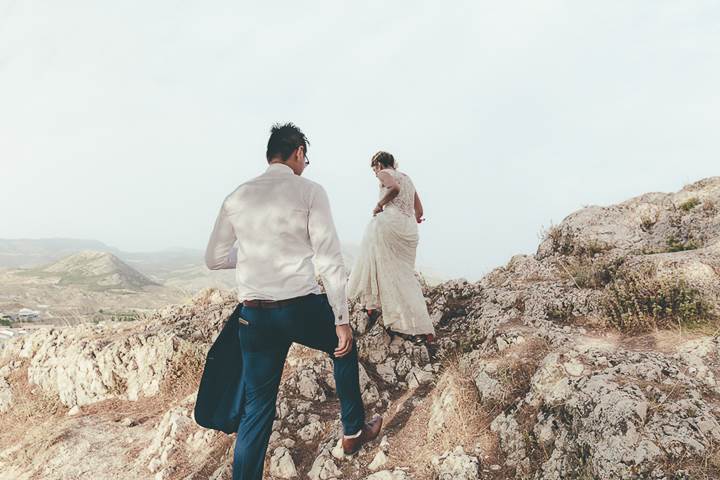 "Our wedding was in the beautiful region of South Spain in a Moroccan white washed town called Velez Blanco. My parents Nick and Claire Gill have lived there for 10 years or so now and I had always imagined that the castle on the top of the hill would be a beautiful location to get married in. When we looked into the castle as a venue we found out that for the first time since my parents had moved to Spain, the town were finally going to start work on the castle and that we may not be able to have this as a venue for our special day. Years ago the inside of the castle was sold to America and it has been a ruin for hundreds of years. So we of course looked at other options as a backup and what better place than my parent's olive grove in their home Rio Claro which is situated just a 8 minute drive from the town."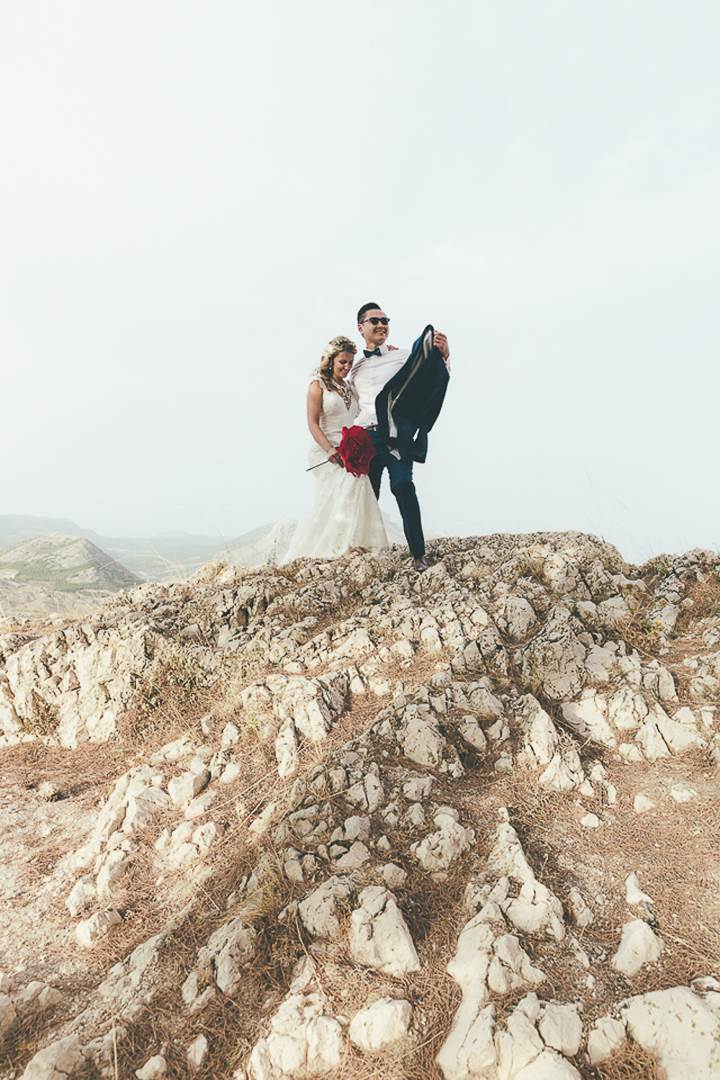 "My lace wedding dress was from Hills of Hollywood, Armadale. I knew from all the Pinterest research that I wanted a lace dress and ideally a beautiful back feature. I just knew this was the one and my two bridesmaids also knew it. I am very lucky to have one of my best friends, Lily Harper as a shoe designer! She offered to design my wedding shoes and after a couple of meetings and a few different sketches and decisions on the colour and shape she came up with my funky shoes. My necklace and all of the bridesmaids necklaces were handmade by myself."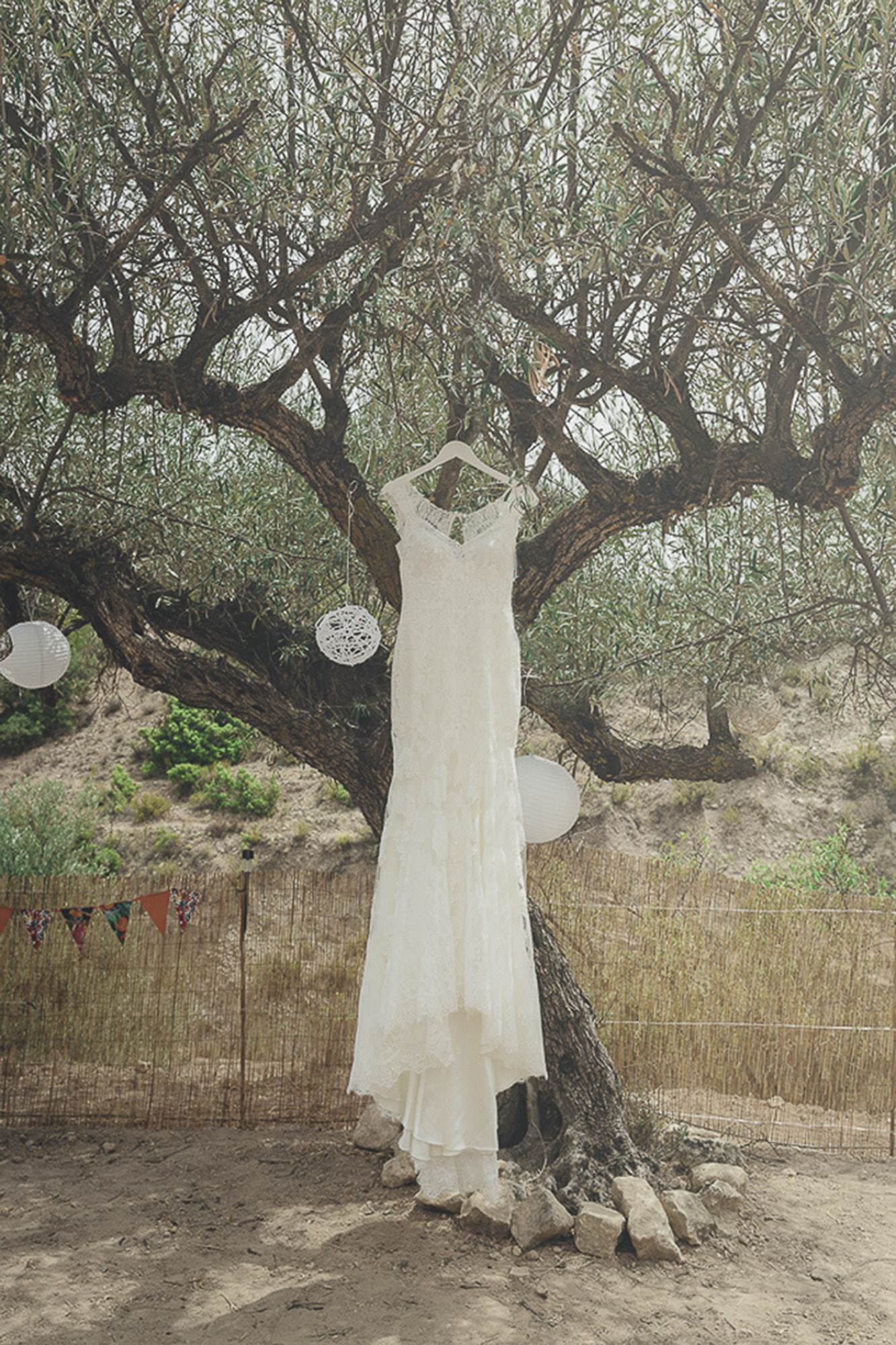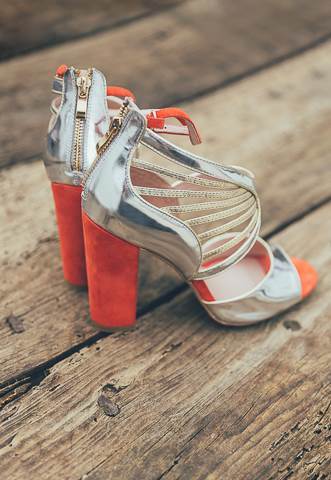 "Our colour scheme was blue to match the amazing engagement/ wedding ring that Leton designed for me, red to represent the China and Spanish element and white for the English part of the wedding and the Moroccan Spanish feel too.
We wanted to make sure that this day captured all the elements of us as individuals and as a couple. I am from England, have always handmade everything I could and love colour and all that is unusual. Leton is from China and much more structured and selective in his taste and often prefers less colour to myself. We also both love Spain and wanted to include the Spanish feel to the day by creating more of a fiesta celebration than a traditional wedding. We wanted everyone to have fun and celebrate with us."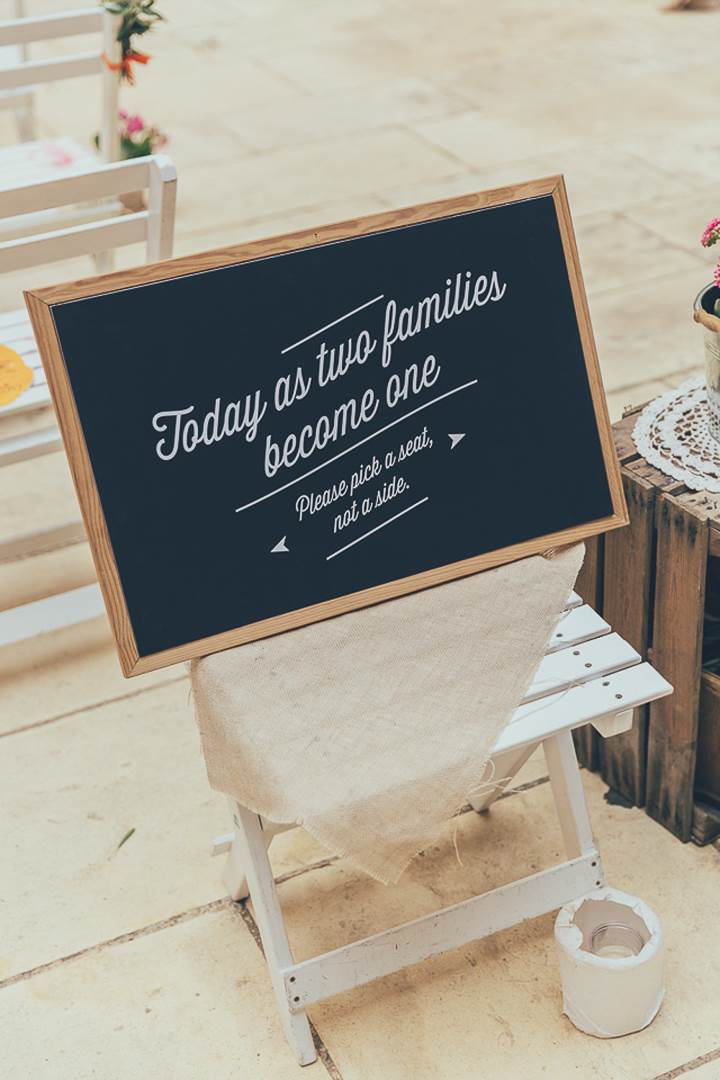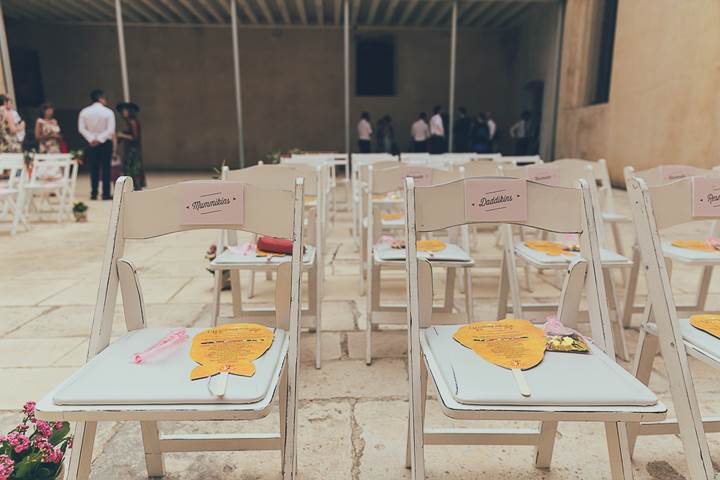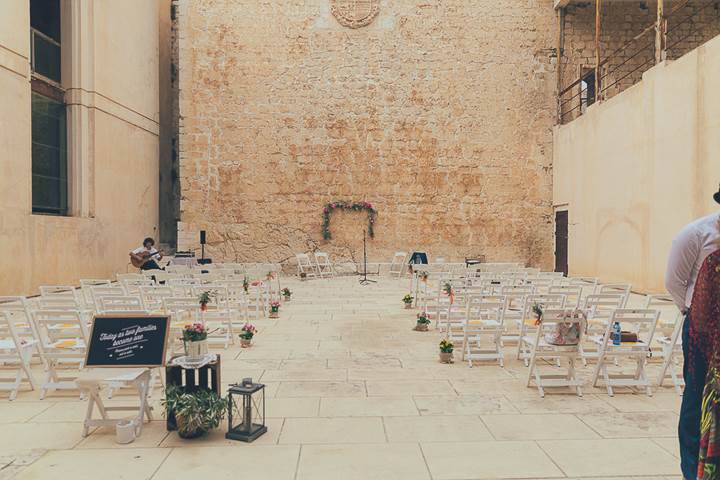 "The great thing was that as I was designing the many elements around the wedding they all started to work well as a concept. The colour red in China is lucky, in the UK the red rose is a traditional flower for love and in Spain, it represents the flamenco dancing and fiestas. Then blue was chosen initially to match my beautiful engagement ring which Leton designed himself, and the colour represents the love of the ocean that we both have."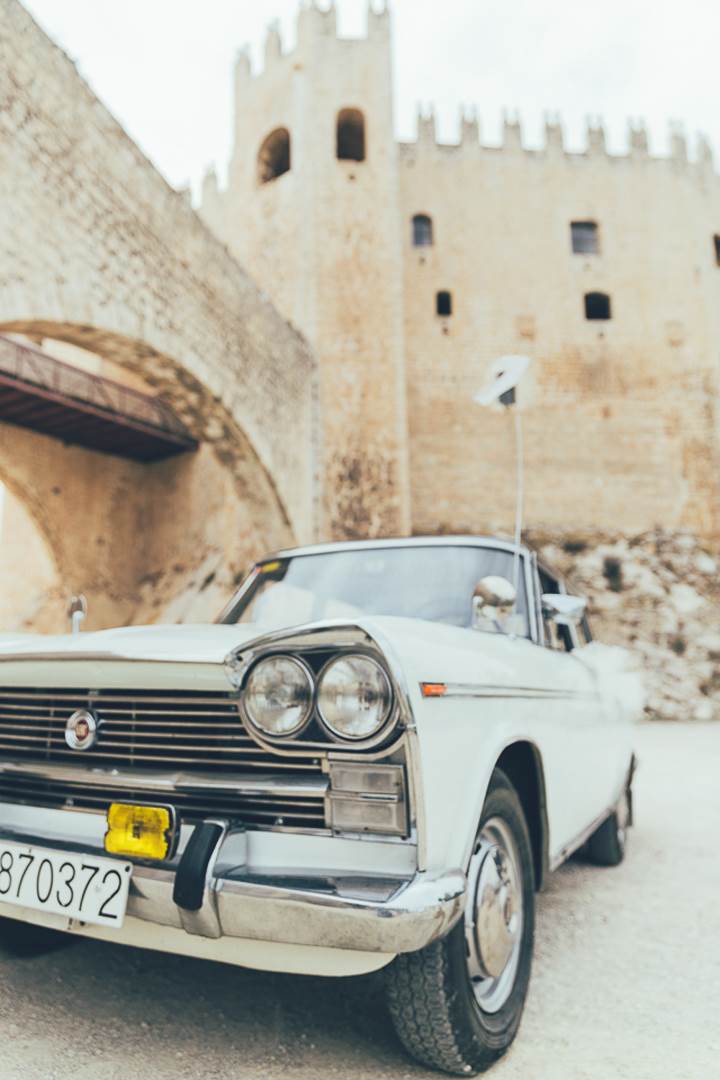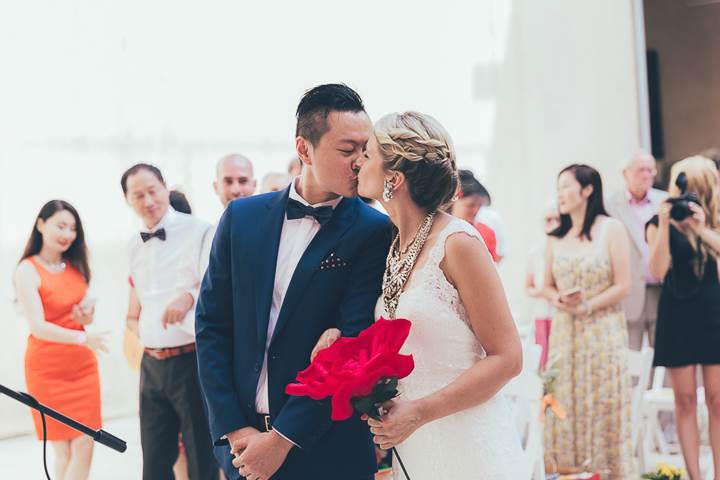 "The bridesmaid dresses were a little harder to decide on than I had initially imagined. Originally I had wanted each bridesmaid to be in a different dress. I wanted them to look different depending on what shape and colour they preferred but wanted accessories to tie them all together. However after spending a lot of time trying on several colours and styles of dresses we finally found the perfect ones in Alannah Hill! They were just plain blue but were beautifully shaped and when the girls tried them on they both loved them. I knew that these were the starting point but now had to find two different dresses that complimented each other for my two Maids' of Honour who were in Israel and England! In the end it worked out perfectly because I think we really captured both Leton, with his clean, structured and less complicated taste, and my fun, colourful and floral taste.
For the whole wedding I was on Pinterest checking all of the amazing ideas and gradually made folders of the key styles and features I wanted to create for the day. Luckily Leton loved all the ideas and was happy for me to proceed, which made it a lot easier that we were on the same page and I could pretty much do what I was thinking."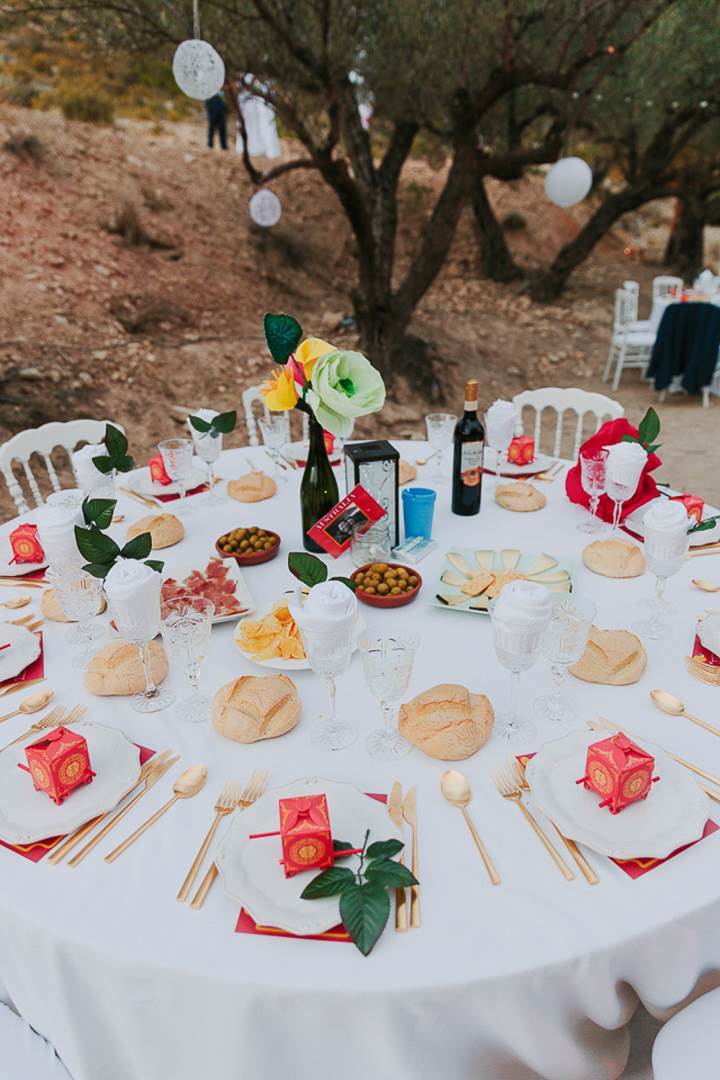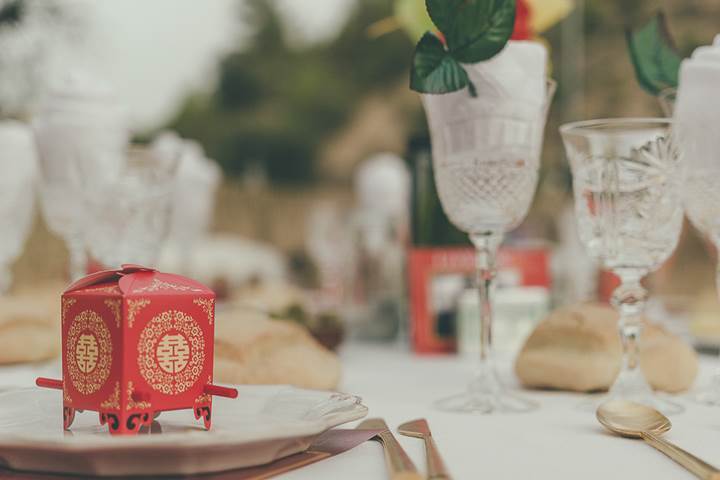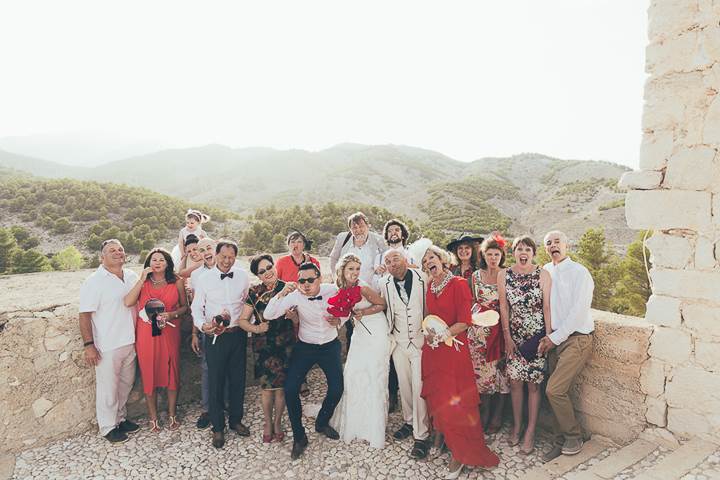 "So many moments of the day were special to us such as practicing my vows with my Dad on the way up to the castle…with everything going on I had not long before written them!
Seeing Leton's reaction as I walked with my father down the aisle and the little moments where he would whisper how beautiful I was or 'can you believe we are finally doing this'. Seeing the traditional outfit our officiant wore which represented the castle and history of the town! Letons reaction again when I played the guitar and sang his favourite Chinese song called Cinderella! Getting a lump of glitter thrown in my mouth by accident by my Uncle as we walked out of the castle…very funny! The speeches at the reception…everyones were just so amazing, personal and not too long so I think everyone loved them and didn't feel too bored!
DJ Gary's lighting for the night in particular the star effect he projected onto the mountain behind us! I think most people mentioned how amazing that was! Our first dance which was actually a dance for everyone. We had a screen and projector where we played a video of a dance game so everyone had to get up and try to copy the moves to Queen ' Crazy Little thing called love'. Very entertaining! My parents very unusual and funny dance for Leton and myself on the dance floor. Our best friends amazing rap that they made up and sung to us half way through the night"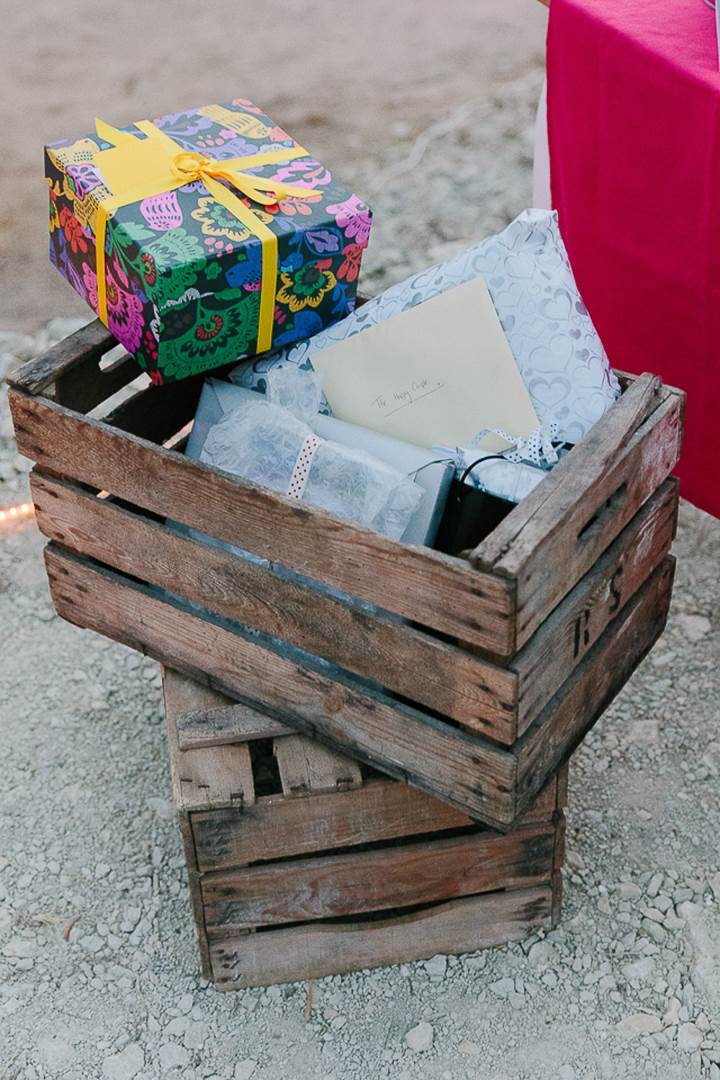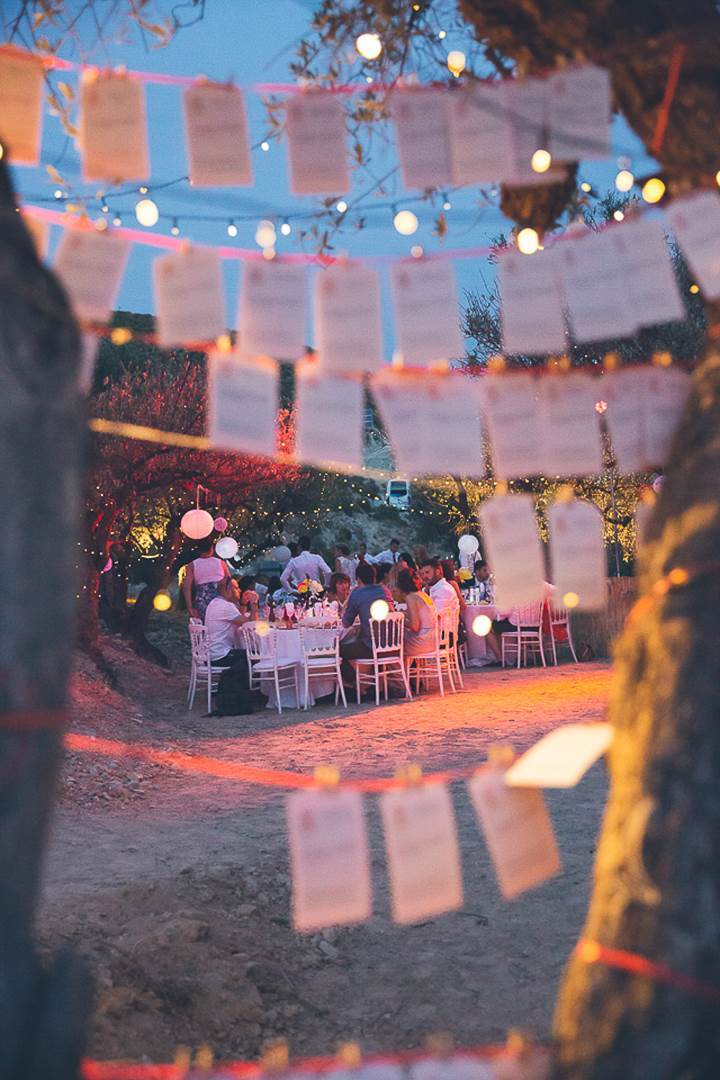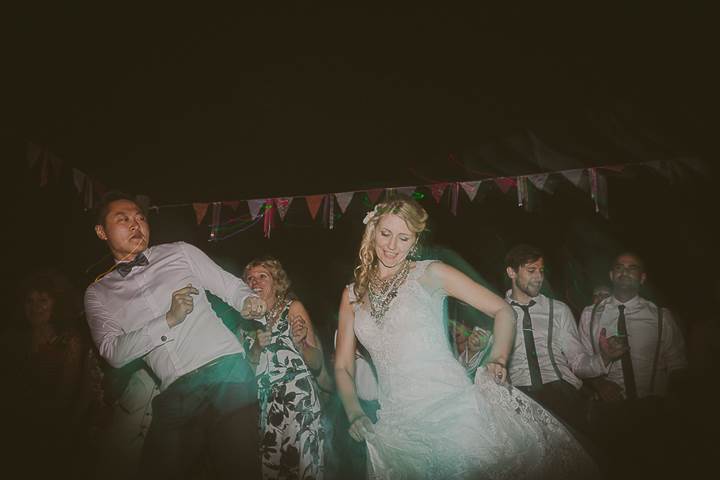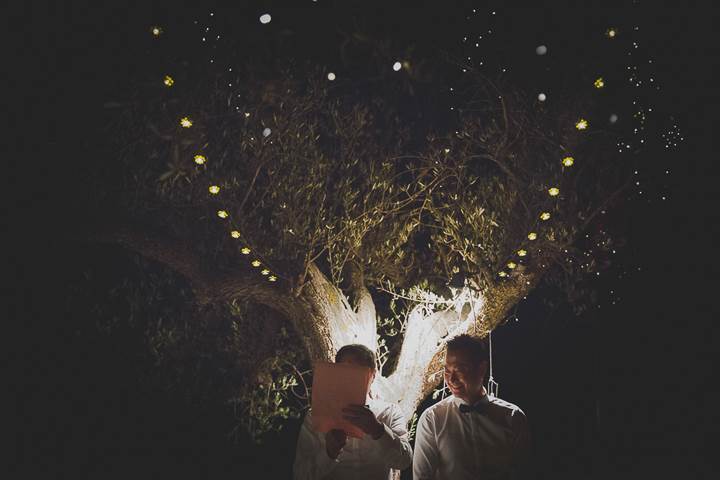 A huge thank you to you both for sharing your wedding with us today.
Credits:
Venue – Mum and Dads Olive Grove Rioclaro
Photographer – Amber Marie Photography
Wedding dress 1 – Hiharmadale
Wedding dress 2 – Alice and Olivia
Wedding shoes – Lily A Harper contact at lilyaharper@yahoo.com
Bridesmaid dresses – Alanna A Hill
Maid of Honour Dresses – ASOS
Flower girl dress – Etsy
Dads tailored suit – Mijosu contact at mijosu@live.hk
Our wedding cake – Contact ramondulcesvb@gmail.com
Spanish guitarist – Contact info@pedronavarro.es
Wedding planner – Miss Saturday
Wedding invites and graphic design – Daata
DJ – Gary
Food – contact www.alfonsoarj@gmail.com
Car hire – contact talleresbenitez@hotmail.com
Officiant – contact dietmarroth@gmail.com
Hair and makeup – contact lorenaluna84@hotmail.es