Looking forward to 2019, we take a look at the trends that stormed the 2018 bridal catwalks and give you a sneaky peek of what to expect when shopping for your bridal outfit in the new year. Bridal fashion is all about expressing yourself and being who you want to be on your wedding day. The bridal capelet, although not new, featured hugely within the shows this year and gives us an alternative to the veil, or the traditional fur bolero – here we catch up with our new contributor, the Bridal Designer Clare Szabo from River Elliot Bridal to take us through what this trend has to offer, so sit back, and take a look at these super cool and modern takes on the bridal cape…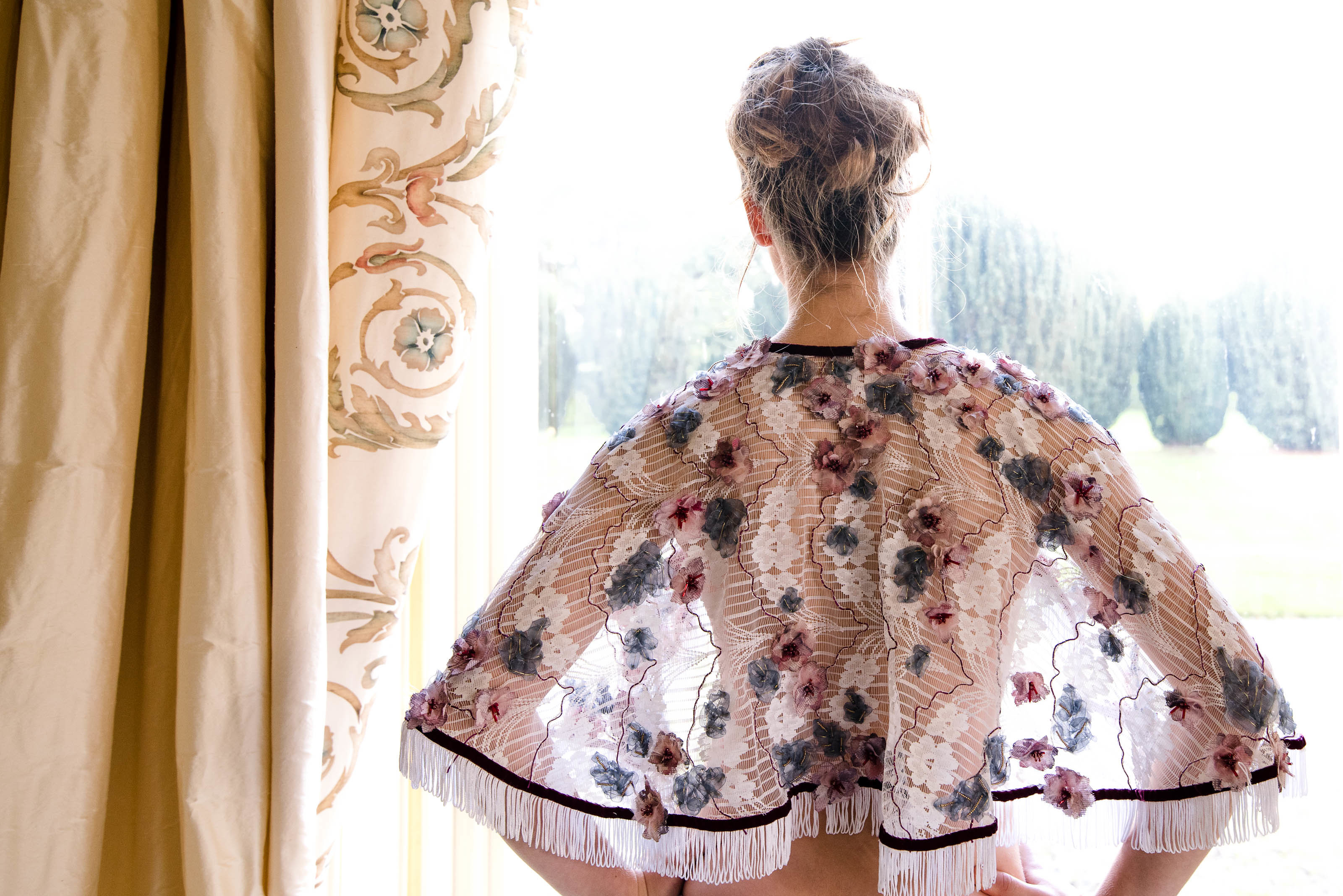 Fear not brides-to-be, we're not about to introduce you to the bridal version of the super hero cape, but instead the wonderfully chic bridal capelet. Recently spotted in some of the 2019 bridal catwalk shows, the bridal capelet offers an alternative style to the traditional shrug or veil.
The Bridal Capelet – Trend Report with River Elliot Bridal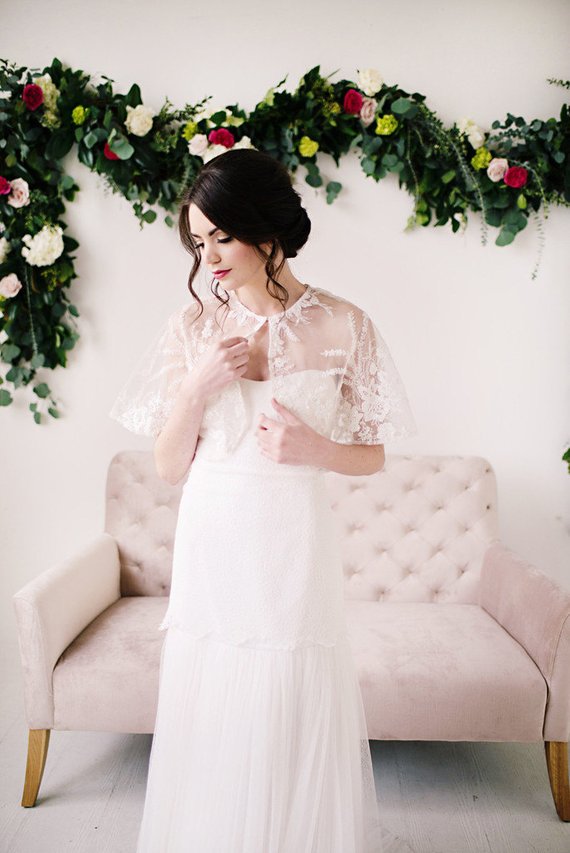 A capelet is a mini version of the cape. Whereas the cape is often dramatic and floor-length, the capelet is its pint-sized version, offering a more delicate finish to your wedding look.
Why would you wear a capelet?
For some brides, they want to wear a wedding dress that shows their skin, yet may want some extra coverage. If you're getting married in a church with a formal ceremony, you may feel more comfortable covering your shoulders. On the other hand, you may try your wedding dress on and decide that it simply needs something 'extra' for your arrival and ceremony, yet the idea of a shrug just doesn't cut it, or you've never liked the look of a veil.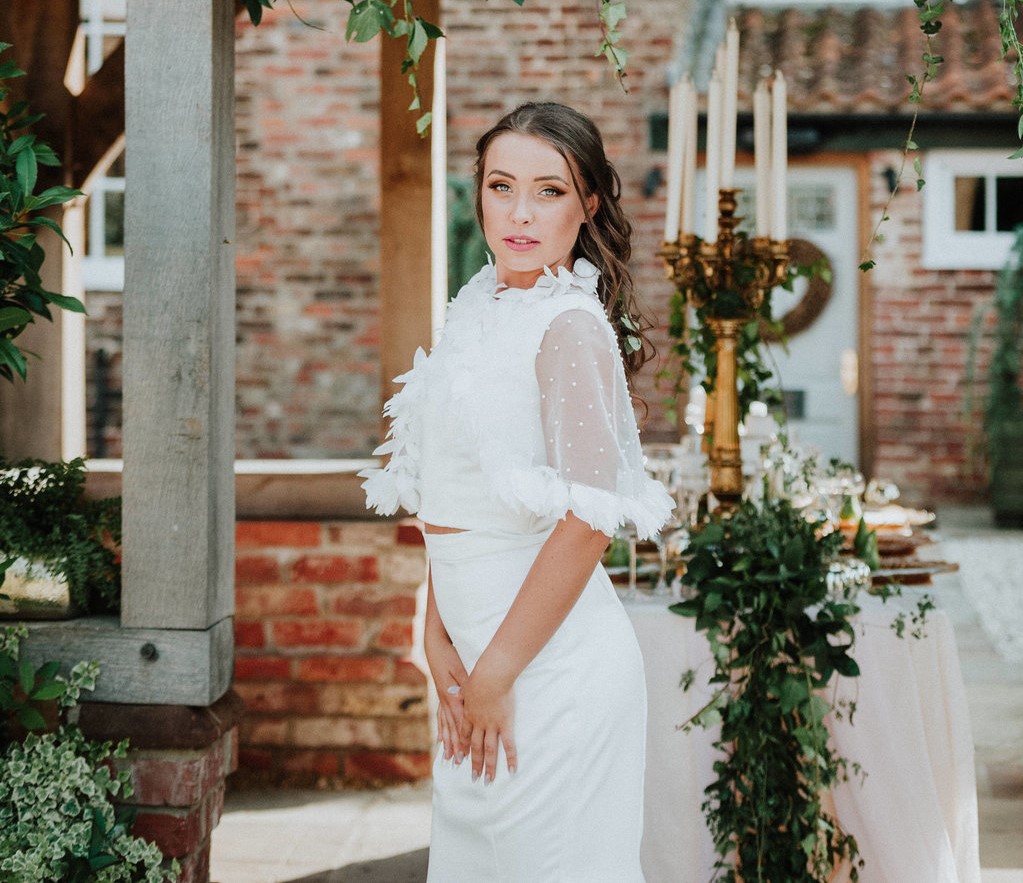 So, what do you do? In the past, brides have opted for the short, cropped bolero style shrug. However, it's perhaps become a dated look, which doesn't quite work with modern wedding dresses. Recent alternative styles may include contemporary veils, which feature soft ombre tulle, unusual embellishments and bold embroidery, or the personalised leather jacket that gives an edgy, rock-chick look when slung over shoulders.
But, what if you want a little middle ground? Not quite a shrug, not quite a veil; not quite a jacket and not quite a cape. Does that exist and does it work for bridal?
The answer is yes.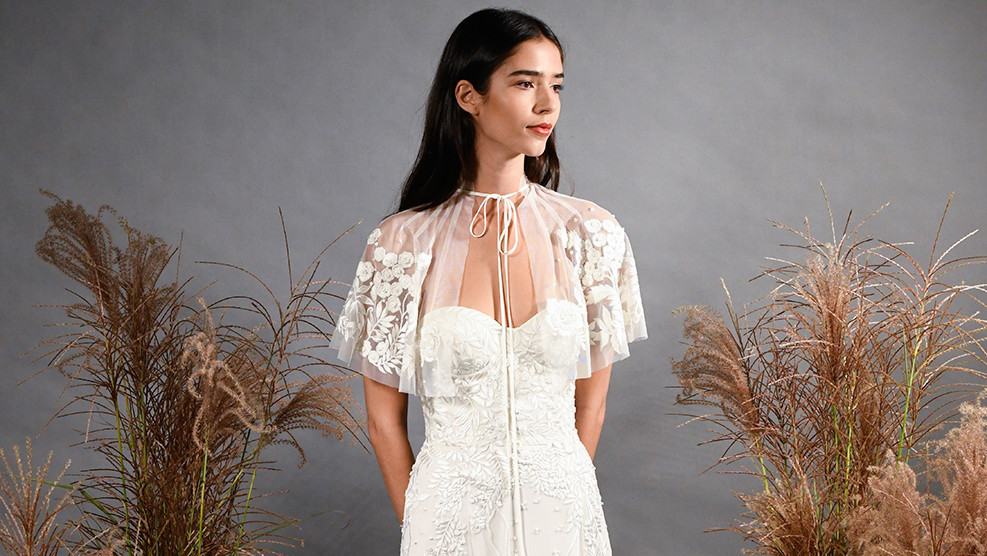 The Designer Capelet Inspo
The capelet trends from the Autumn 2019 catwalks featured both embroidered and super sheer fabrics, with the overall capelet varying in lengths. Capelets resting on and below the shoulders seemed most popular, offering a rather regal look for brides whereas capelets graduating in length appealed to the boho, alternative bridal style.
We love this look from London-based designer Hermione De Paula. Gathered at the neck with a simple draw-cord, a capelet in this style offers the bride some extra options for incorporating embroidery or embellishment. If your dress is more minimal in design, perhaps your capelet could be the showstopper, featuring eye-catching beading and embroidery to elevate your whole look. What's more, if you love this style but want more colour, the same collection includes a hot pink capelet. Talk about making a statement!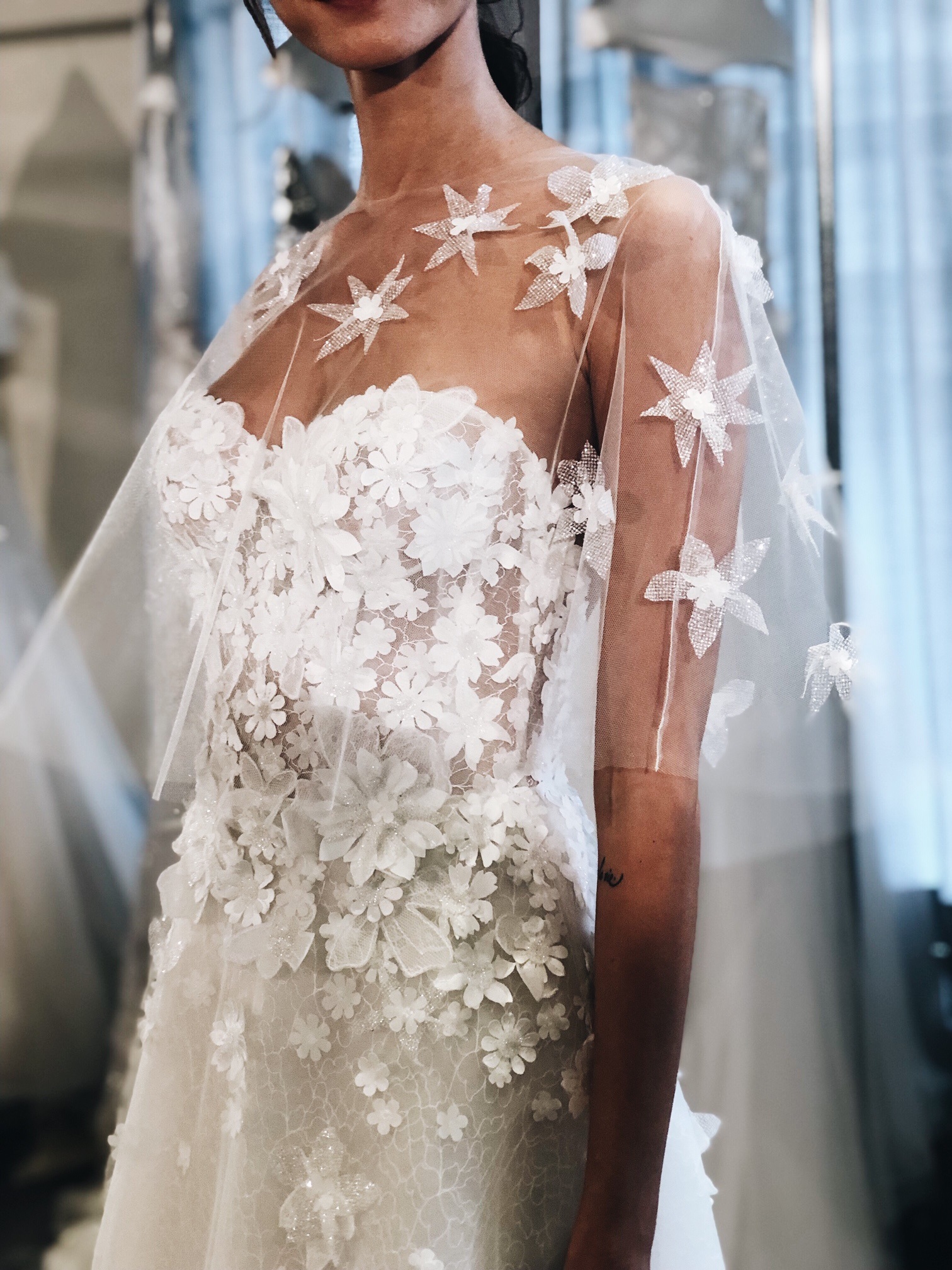 The capelet from Mira Zwillinger's AW 19 Queen of Ice collection is one of our favourite's. A beautiful sheer capelet finished with shimmering floral stars, it works with so many styles and colours. In this pic, the cape has been matched with a textured tulle gown embellished with 3D organza flowers, demonstrating that you don't have to match your capelet exactly to your dress. Additionally, if your dress is more minimal in design you can choose for your capelet to bring the sparkle, or it could be completely sheer serving only to offer that hint of coverage and texture over your dress.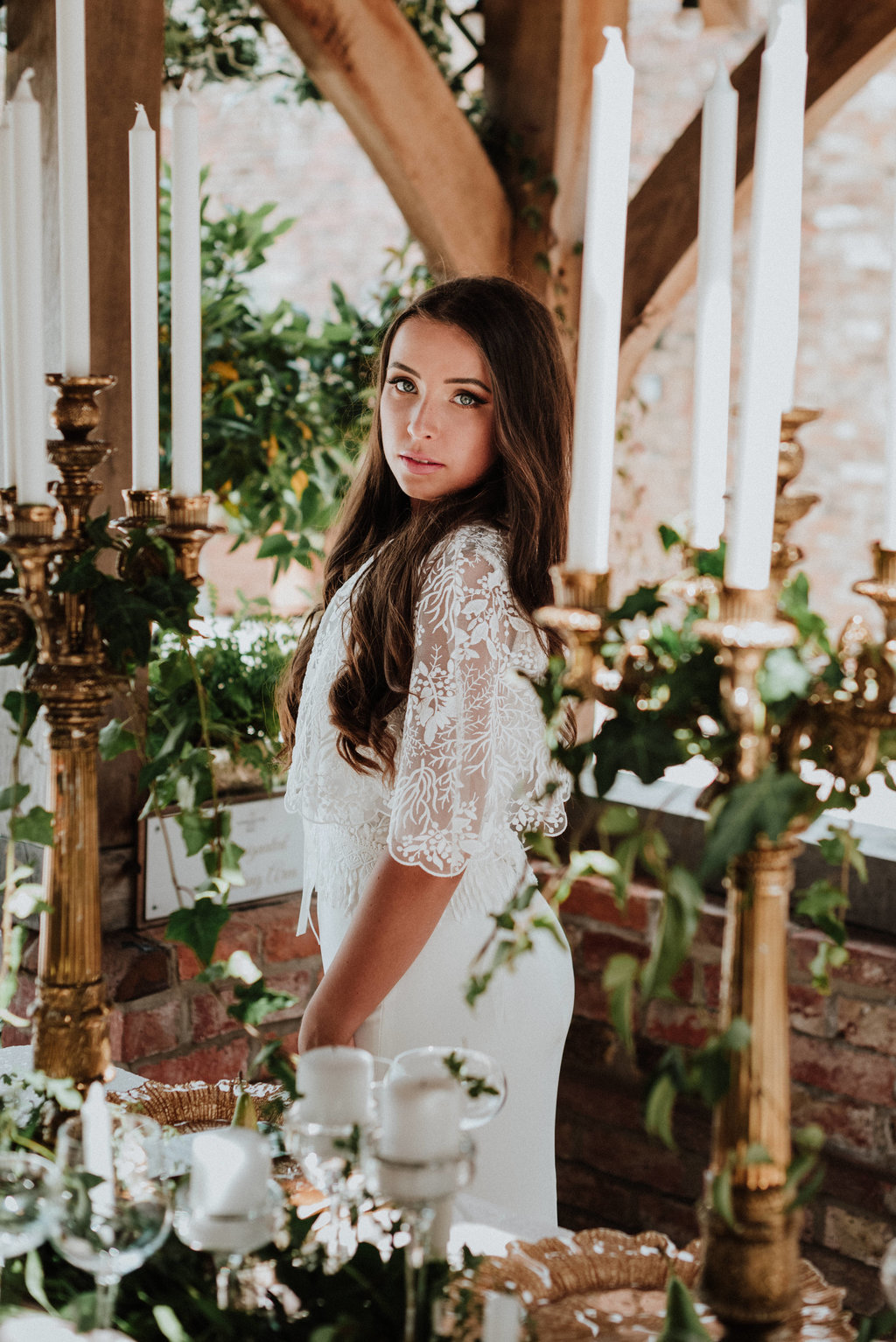 Stephanie Moran Couture
British Bridal designer, Kate Halfpenny, is never short of beautiful capes and veils in her collections. This Honeysuckle cape from The Garden After the Rain collection shows how different your capelet can be. If you're not a fan of traditional bridal fabrics such as tulle and organza, you may like to think outside the box and look for more unusual fabrics, such as handcrafted laces or delicate fringing. (This picture shows the Juniper Dress: £1,300 paired with the Honeysuckle Cape: £975 ).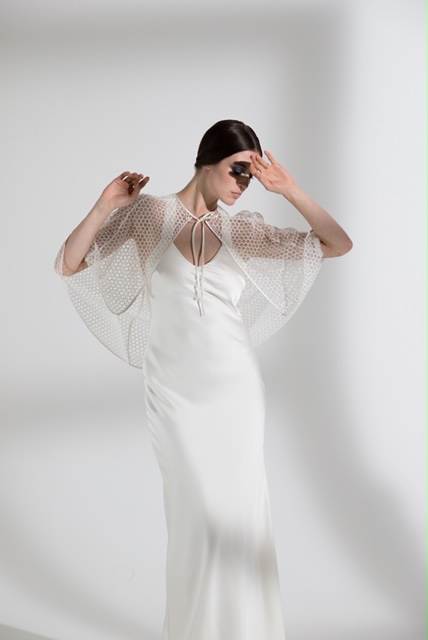 Where To Find Your Capelet
Most bridal boutiques and online retailers now offer capes and capelets, but independent bridal accessory makers are some of your best sources for capelets as they can offer you more creative and unusual designs. Furthermore, if you find a professional dressmaker experienced in bridalwear, you can choose to have your capelet made bespoke so that it ties in well with your wedding dress and/or bridal theme.
As an alternative to a veil and shrug, we love the capelet for versatility and style. But what do you think? Would you wear a cape or is it just too different for you?
Love our bridal cape trend report and looking for more wedding inspiration? Check out our new online magazine BOND Bride