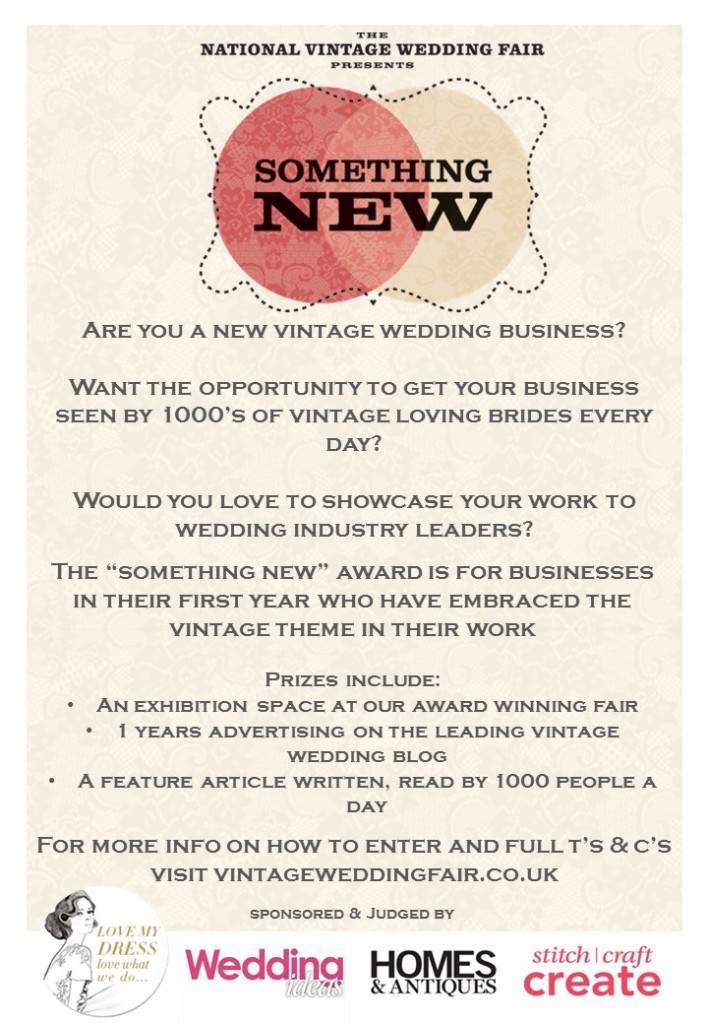 The team behind the original UK vintage wedding fair have launched an award to celebrate the exciting, new, fresh talent in the vintage wedding industry today. They have recognised that it can sometimes be hard to get your foot in the door, or even to know where to start to get promotion in the early stages of a business. It can also be difficult to get the funds to advertise and to be able to meet and network with more established businesses which can really help to get your brand recognised.
The "Something New" award has been created by Kate and Adam Beavis from the National Vintage Wedding Fair, to celebrate early successes and to offer a helping hand on their journey.
Kate explains, "We want to give an opportunity for new wedding businesses who have embraced the vintage style, to showcase their work to others in the industry as well as to thousands of vintage loving brides and grooms. The winner will receive an exhibition space at one of our events, free advertising for a year as well as a promotional blog feature. "
"Our fair is recognised by our couples as celebrating true vintage style, with 100s of original vintage gowns at every event. We also showcase the best florists, cake makers, photographers, musicians, stationary designers and more, so this competition is open to anyone in the wedding industry. There's only 2 rules: their business must be less than 12 months old and must be vintage or vintage inspired" Adam continues.
Excitingly the award is judged by industry experts who immerse themselves in vintage, design and weddings daily. Annabel Beeforth, the lady behind the leading wedding blog, Love My Dress and writer of the book, Style Me Vintage, Wedding joins Sophie Grabham the Deputy Editor from Wedding Ideas magazine, Kiera Buckley-Jones, the stylist from Homes and Antiques magazine and finally the team from Stitch, Craft, Create – an incredibly popular craft blog.
Kate adds, "Our judges are recognised as creative women who have successfully achieved in their chosen field and we are honoured to have them on board. This is a great opportunity for newcomers to be noticed by some of the best which usually takes years."
The awards name plays on the traditional wedding rhyme, "Something Old, Something New, Something Borrowed, Something Blue", and this could be the perfect chance for your new business to shine in the vintage world which celebrates wonderful things from the past
And our winner is…. Paper Tree Design. Watch this space for more information on them!