In the previous century most people got married in church or in a register office, but as you know, there are so many choices now for you when choosing how and where you are going to actually get married. We often get caught up in all the prettiness of styling the day, but before you start your pinterest board, you will need to decide where you are getting married. Lorna Nunn from Willow Celebrant Services will be with us at our next fair in Bedfordshire on April 17th exhibiting as well as "marrying" our fake couple, and today shares some thoughts on how to choose the best wedding ceremony for you.
The 21st century couple have more choices available to them than ever before, more than they are often even aware of. Are you struggling to decide which options are best for you? Are you aware of the options available? Hopefully this will help clarify things for you.
Church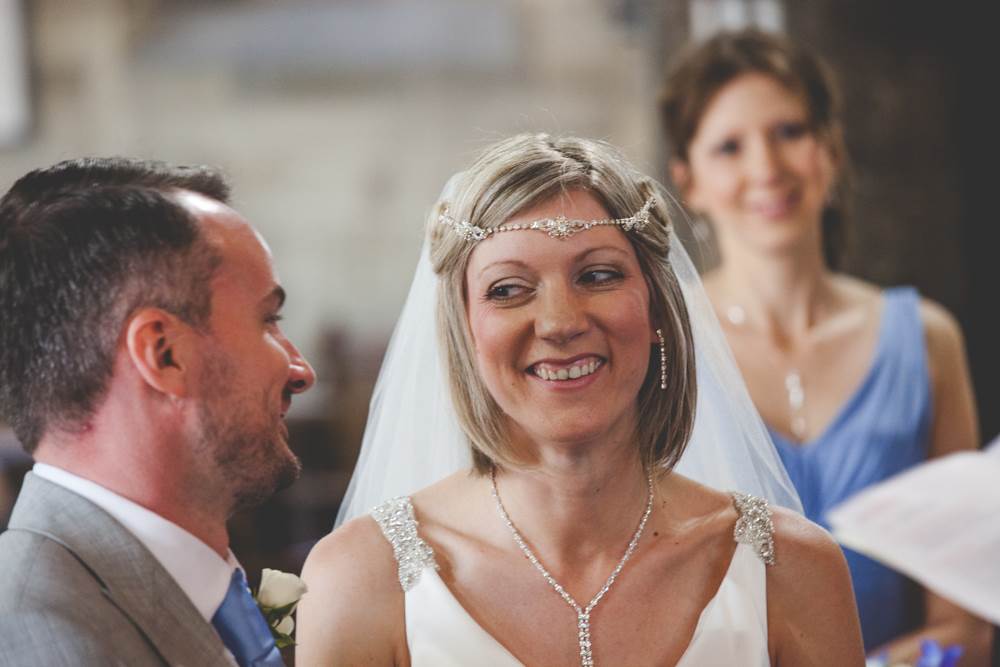 A church wedding photographed by Ragdoll Photography
Church weddings often bring one word to the mind, tradition. Getting married at a church can be very special for a number of reasons. If you are religious you may well feel this is the obvious choice for you. It is likely you will be married by someone you have known for many years, maybe even your whole life. You will be in familiar surroundings and of course you will be married in the eyes of God. If you are not particularly religious and don't attend church regularly you will have a few hoops to jump through in order to have your day in church. Some churches are stricter than others and there are many variations depending the denomination. The cost can also vary quite greatly. It can depend on the popularity of the church, your relationship to the church, the location and so on. This option is quite often a heartfelt one and most couples who are getting married know quickly if this is the choice for them.
Here is more information on a Church of England wedding
Registrar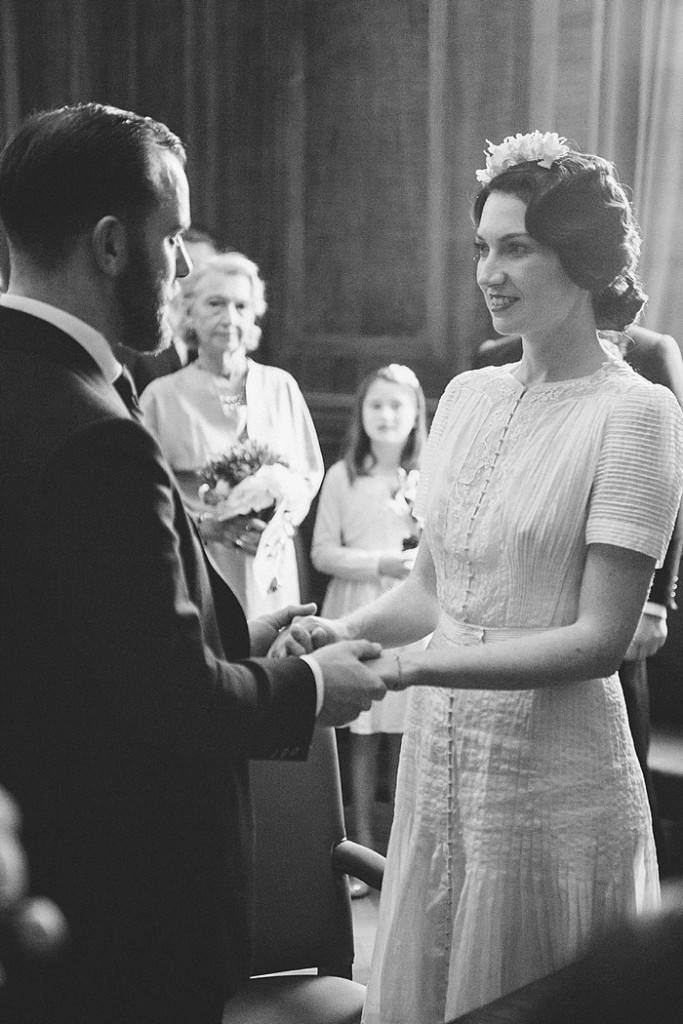 Wedding performed at Hackney Town Hall by a registrar, photographed by Claire Macintyre
Registrars are currently one of the most popular choices and are a good option for those who are looking for something legal, simple and without too much fuss. Although the registration service has come a long way with regard to ceremony content there are still considerable legal constraints in terms of content, location and time. They are, however, seen as an alternative to the church wedding for those who are not religious and wish to get married elsewhere. A Registrar can marry you at the local registration office which can consist of just two witnesses for a small fee or for larger parties you can use their marriage room for a more substantial fee. They are also able to come out to licensed venues and perform your marriage there but the cost for this can be very high. Due to the number of Registrars, the work load and the nature of their job it is quite unlikely you will meet your Registrar before the day of your ceremony. Some people find this impersonal and can add to their anxiety about the day.
Here is more information on a Register office wedding.
Celebrant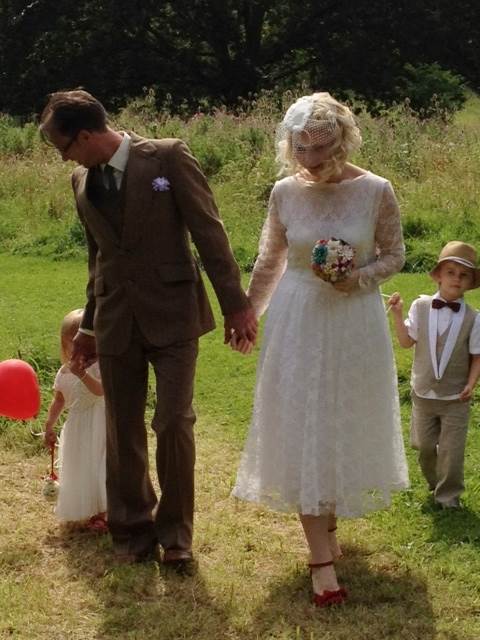 Our wedding, in a meadow!
Celebrants are the new kids on the block. If you are looking for a truly unique, individual and personal ceremony they are your best choice. A celebrant is not able to legally marry you under current law however, this happens to be the advantage. As they are unable to marry you legally this means they are not tied down or held back by law. They can perform your ceremony at any location, at any time, with the content of your choice. But what about the legal part? You can attend your local registration office to perform a legal marriage ceremony with two witnesses for as little as £50. This can be done by appointment at a time that suits you and will mean you are legally married. You are then free to have your celebratory wedding at the time and location you wish. You are able to have your ceremony anywhere you choose, anywhere. This can be at a hotel, woodlands, a beach, your own garden, anywhere you wish. It is also possible to include religious content or even have a Humanist ceremony and you will have much more say in what's included in your ceremony and how it's delivered. As you will work closely with a Celebrant you will be able to form a relationship which will constitute a very personal and unique ceremony. One last additional bonus, it's quite often much cheaper than a Registrar.
Here is more information on celebrant led weddings.
As you can see there are 3 choices listed here, but there are choices within them also. A minefield on top of all the other choices a couple need to make and I apologise for that. Prices for each of these options can vary greatly so it is worth having a look each option that interests you and compare prices for your exact requirements.
We wish you all the best for your wedding planning and we hope that this has helped clarify things a little for you.
Come and meet Lorna at our Bedfordshire fair and talk some more about your choices.