When you think of a Halloween themed wedding, I imagine you would think of skulls, Gothic looks, filled with pumpkins and black lace. Now, if that really isn't your style but you LOVE Halloween and an autumnal vibe, then here are some ways you can create an incredibly stylish luxe wedding day that reflects your love of Halloween and all things spooky and atmospheric.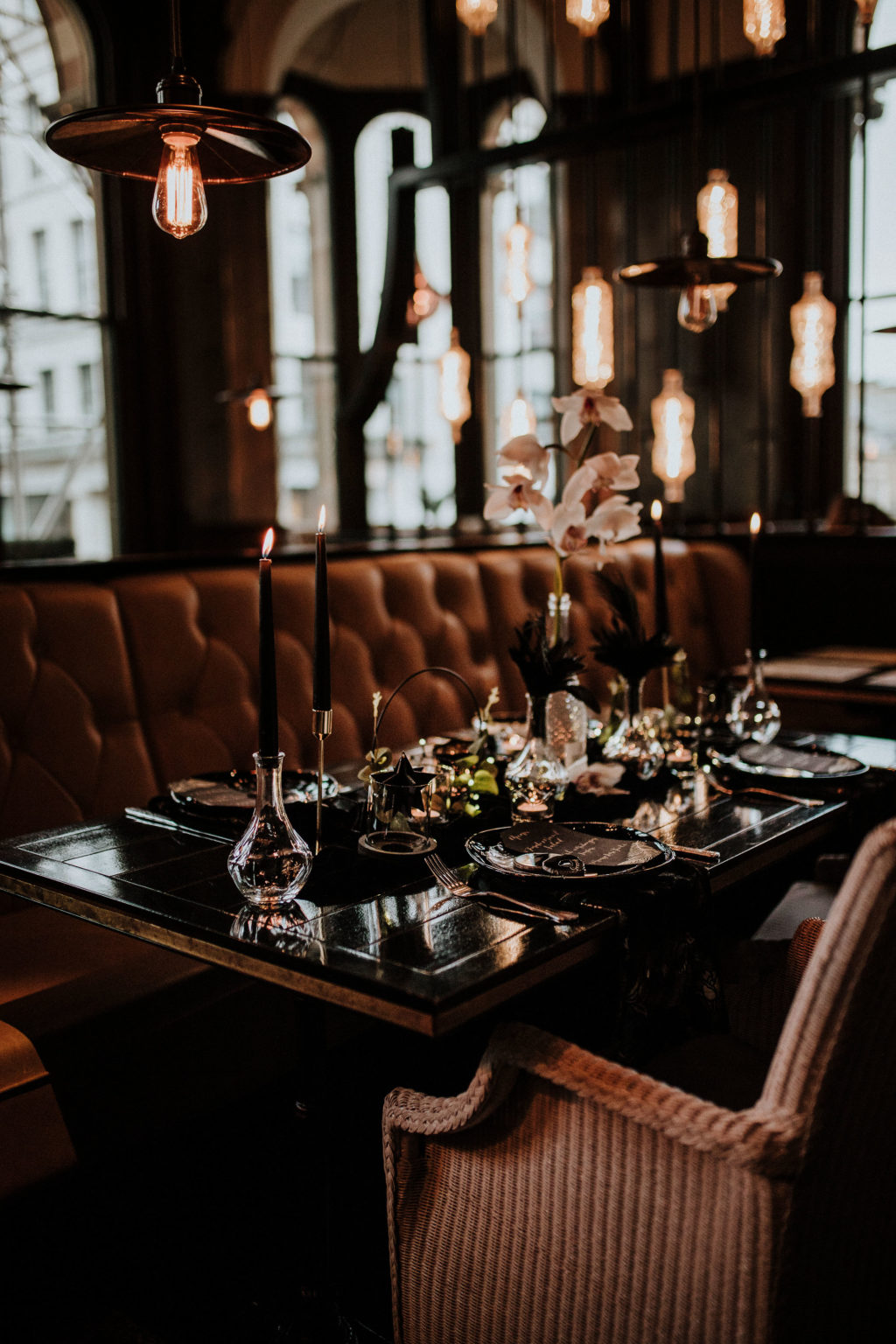 Styling your Halloween dream
There are so many ways that you can add in elements of Halloween into your styling and decor. My advice would be to consider the following elements first to build up your stylish halloween look;
Colours
Textures
Symbols and Images
Senses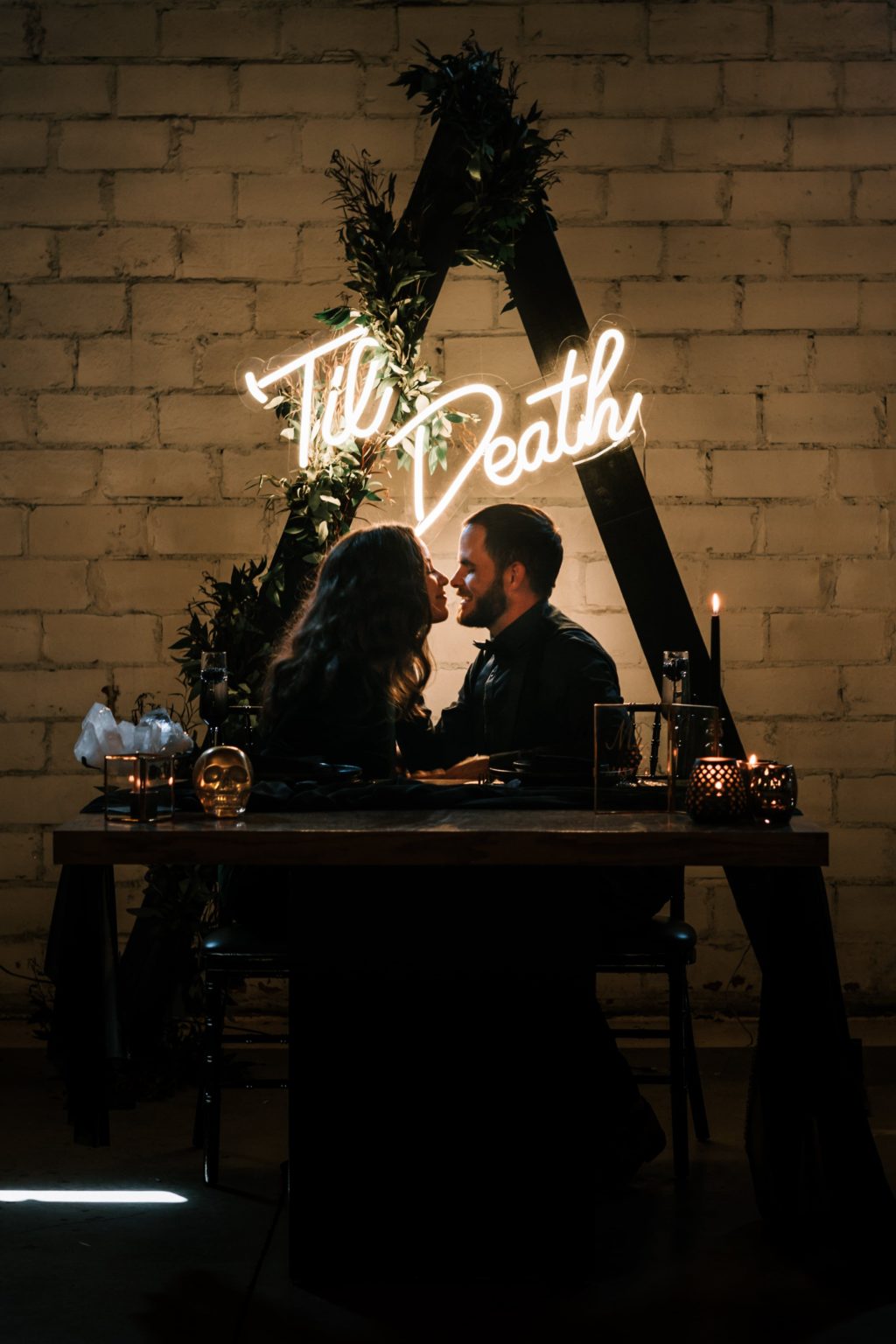 These are the ways I would start to consider your Halloween inspired wedding styling.
Starting with colour; the use of richer, bold and dark colours will absolutely give that Halloween vibe. Next look at the textures you want to use such as luxe velvets, chenille and tulle to add drama and create a feeling of haunted beauty and feeling. Consider all the symbols and imagery you love to do with Halloween and autumn such as falling leaves, pumpkins etc and look at how you can use them. They can be everywhere for a full maximal style that really showcases the theme OR you can use them in subtle ways – embroidered onto your clothing, woven into your stationery or on your cake or food elements. Last but not least – SENSES! Halloween and autumn are all about the senses. It's a shift in season and a shift in feeling so utilising this can help you create that dream vibe.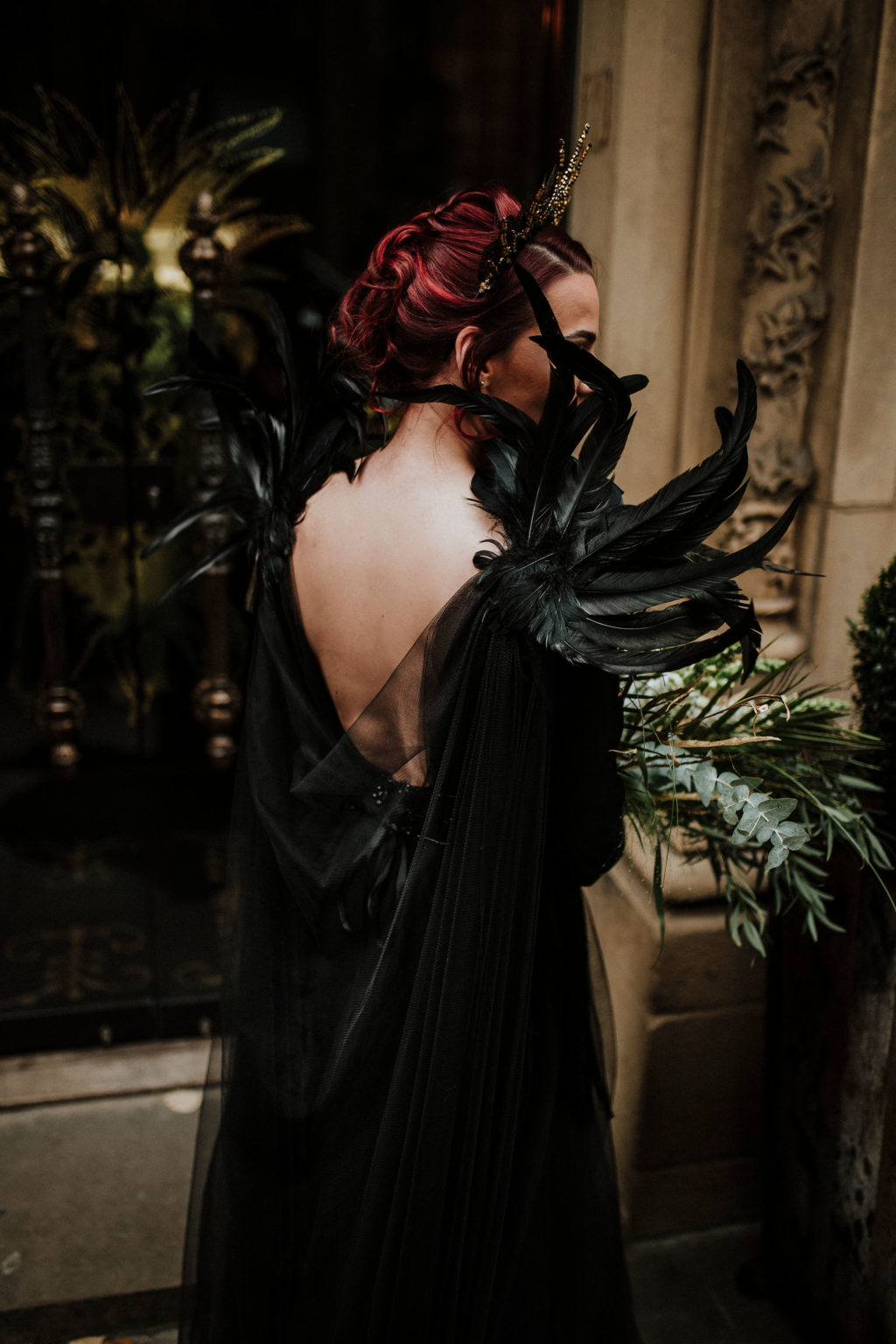 Halloween Colour Palette
Autumn has such stunning colours, from the deep orange and red turning leaves to the darker purple sunsets as the nights draw in. So, if you love darker tones use them in your colour palette. Blacks and oranges are synonymous with Halloween and can create a real impact. If you don't want to go too 'spooky' looking then consider a more rusty colour orange combined with elements of black. You can tone them down by adding in whites and pops of green or burgundy to break up the colour block. Your colour palette will be the initial starting point for creating your Halloween inspired wedding style so think about the colours that you are drawn too and connect with personally. It will make it so much easier to get your style and vibe right if you love the colours you are working with.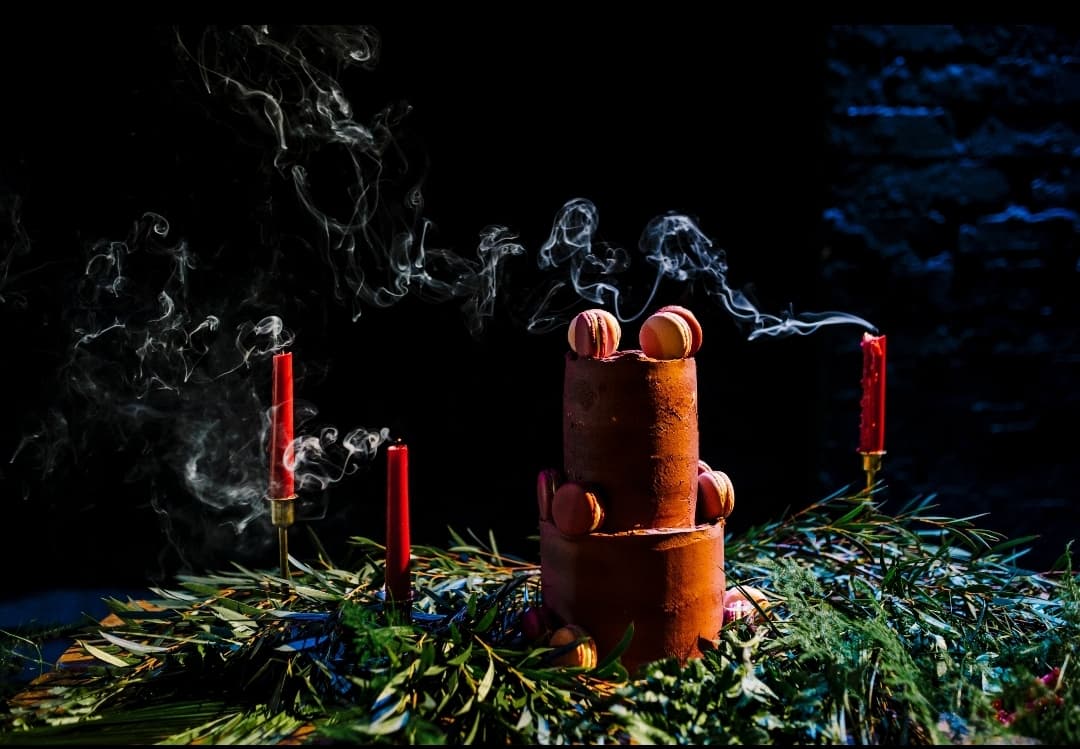 Halloween Table Settings
Your table/s are the perfect way to add in some super stylish Halloween elements. Those colours you choose will really come into play here. Think about the textures – velvets and luxe fabrics that add a dramatic feel. Adding velvet – as a tablecloth, runner or napkins, will add a dramatic feel to your table. People love to touch so hit them right in the senses! It will give a luxe style and that feeling of indulgence and drama. You can add in coloured tapered candles, mixed into the velvet to create atmosphere. Also consider your place settings. Add in some dramatic elements. From gold or black cutlery to rich coloured charger plates. The table settings are also the perfect place to add in those sneaky little elements that show your love for halloween. If you love pumpkins then add some into your table styling. They can be velvet DIY pumpkins or even small ornaments. The possibilities here are endless – It all comes down to how you place your elements.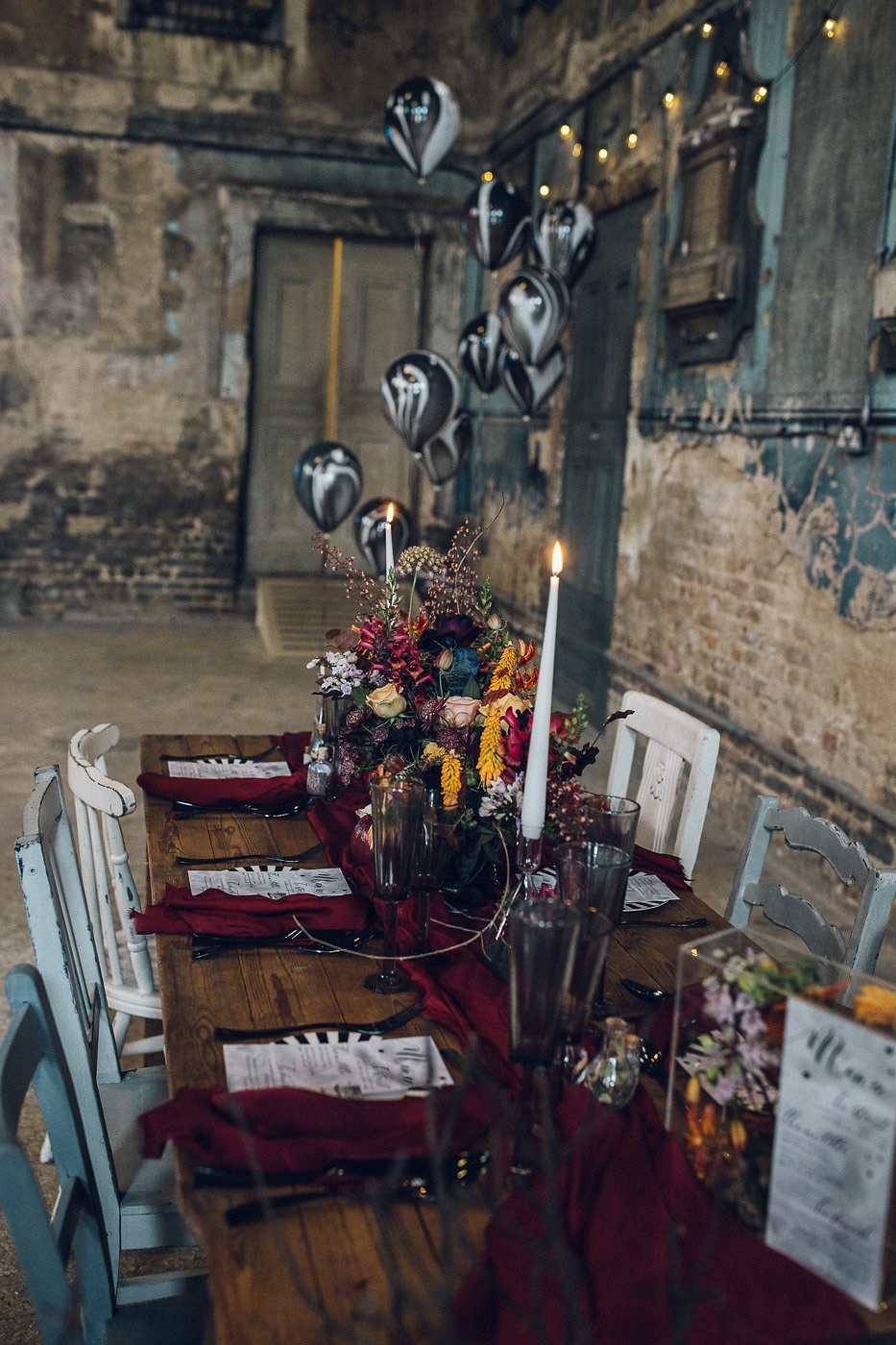 Stationery and Invitations
There are so many options of stationery and invites now from paper goods to online E-vites. However, don't forget that these are one of the very first things people will see when it comes to your wedding. When considering your initial invites why not consider adding something into your design that gives a hint to your theme? It can be something subtle from the choice of paper and texture you choose to the colours or even a symbol that makes people think about what your wedding will be like. It's such a great way to give people some suspense plus it means excitement will build. You can then carry this through into your on the day signage or personalised items such as welcome signs and place names. It is perfect for those of you who might want to keep the Halloween theme more subtle but still want it to be part of your style.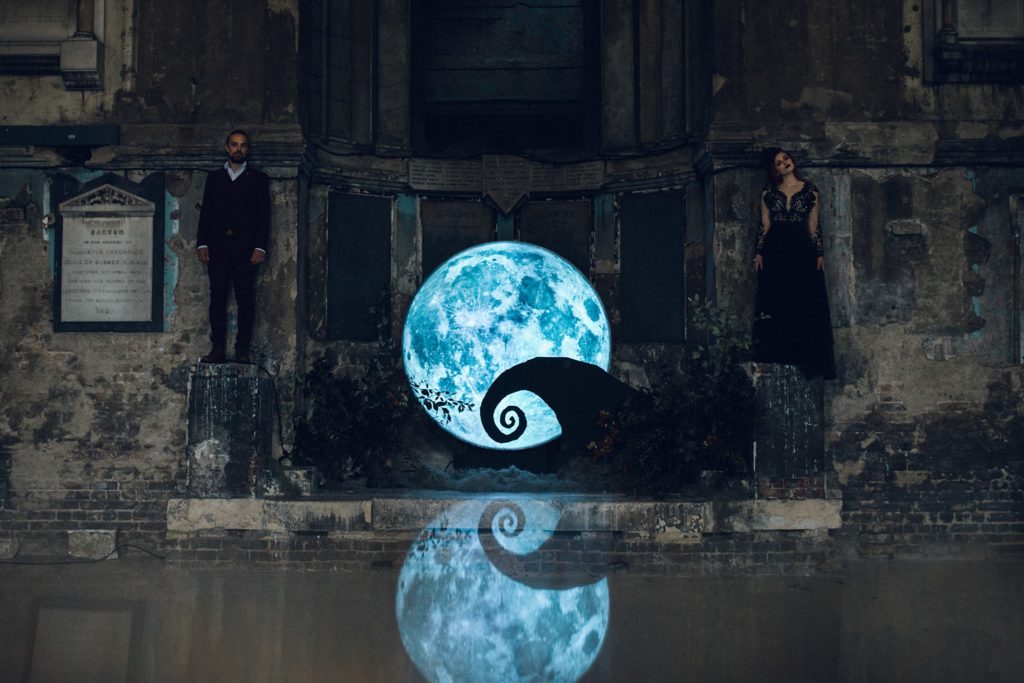 Personal Style
Halloween inspired style has moved on so much from black lace and gothic elements. If black is your colour then why not incorporate this into your own wedding day style? There are some incredible black dresses out there that are super stylish and perfect for adding that extra dramatic and theatrical flair that Halloween is so synonymous with. Wearing black can even be perfect for a grooms style too. It can be paired back with a white shirt and printed tie or for a bolder look – Go for a printed shirt that works perfectly with a slick black suit. Ladies you can even go for a statement dramatic headpiece with detailing of your favourite halloween elements. Consider a spiked headpiece with jewels of your favourite dark colours. You can even go for a full on stylish halloween look with a feathered cape, or black veil. The ultimate Halloween style!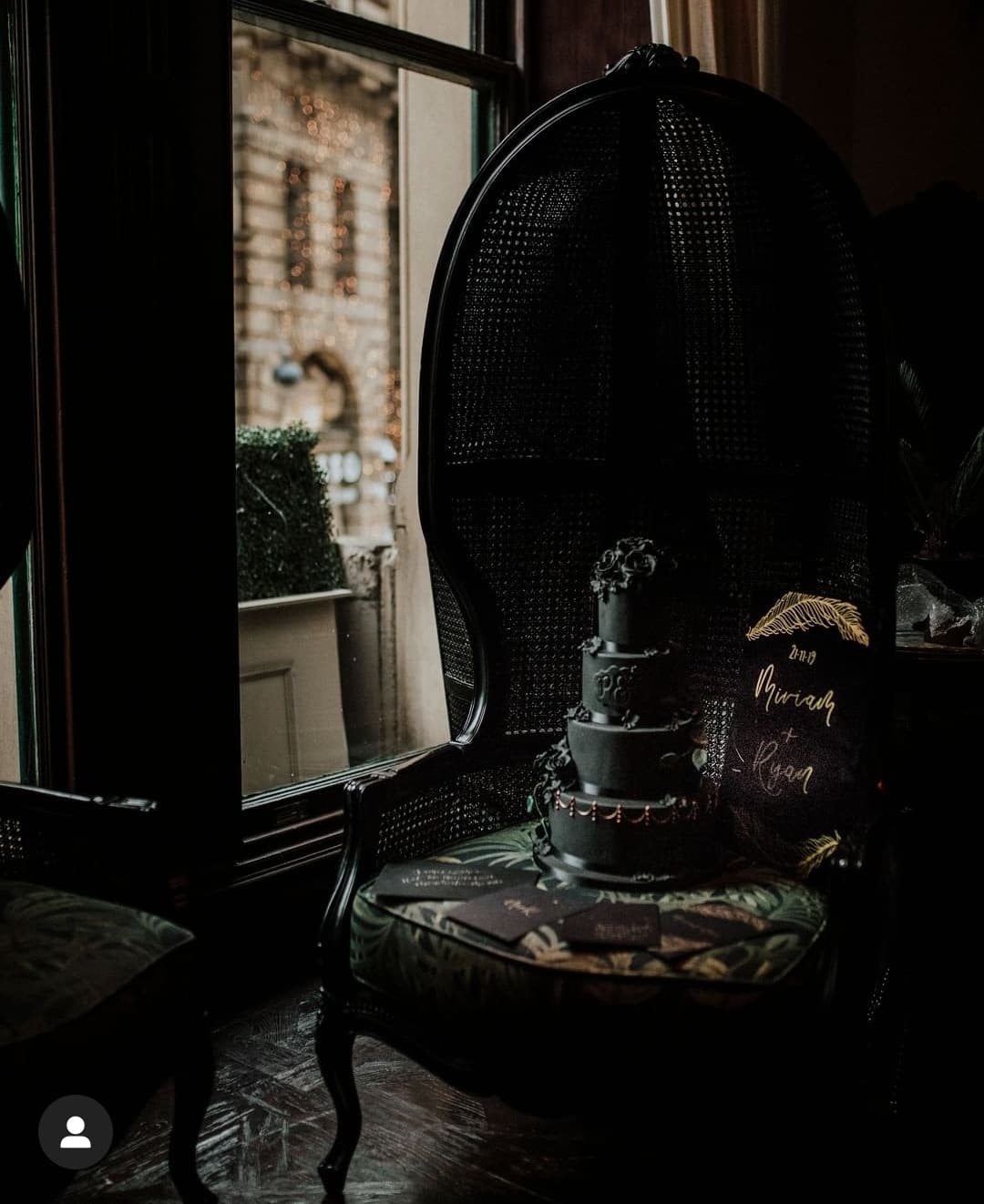 Atmosphere
Nothing symbolises Halloween more than a spooky, haunting atmosphere. The key to nailing down your Halloween vibe lies in how you and others feel. It doesn't have to be 'scary' or 'spooky' but creating some kind of theatrical atmosphere will absolutely create an incredible Halloween inspired vibe. There are several ways you can do this but the most effective ways come via lighting and emotion. They trigger the senses. If you walked into a room that was lit only with candles it would trigger an emotion inside of you. You'd not only be seeing it but you would feel it too. That's the key to creating an atmosphere. How do you want people to feel? What lasting impression do you want them to take away from your wedding?
Creating an atmosphere can come through how you set up and style. When you walk down the aisle create a statement backdrop that people will look at. Create areas people can explore so that their senses are triggered. Looking at your venue choice will also play a huge part if this. What will they allow? Some wedding venues also allow external lighting which could be an amazing factor to add in to create that haunting atmosphere. Even adding in little elements to all of your touch points (guestbook table, entrance, seating, tables, dancefloor, food areas) will ramp up the atmosphere.
There are so many ways you can adapt your wedding style to reflect your love of Halloween. Considering all the points above will put you ahead of the game when it comes to creating your dream style. No matter how extreme or how minimal you want to go – This will help you create that perfect Halloween vibe that nobody will ever forget.
IF YOU LIKES THESE IDEAS AND WANT TO REMEMBER THEM, WHY NOT PIN THEM TO YOUR WEDDING BOARDS?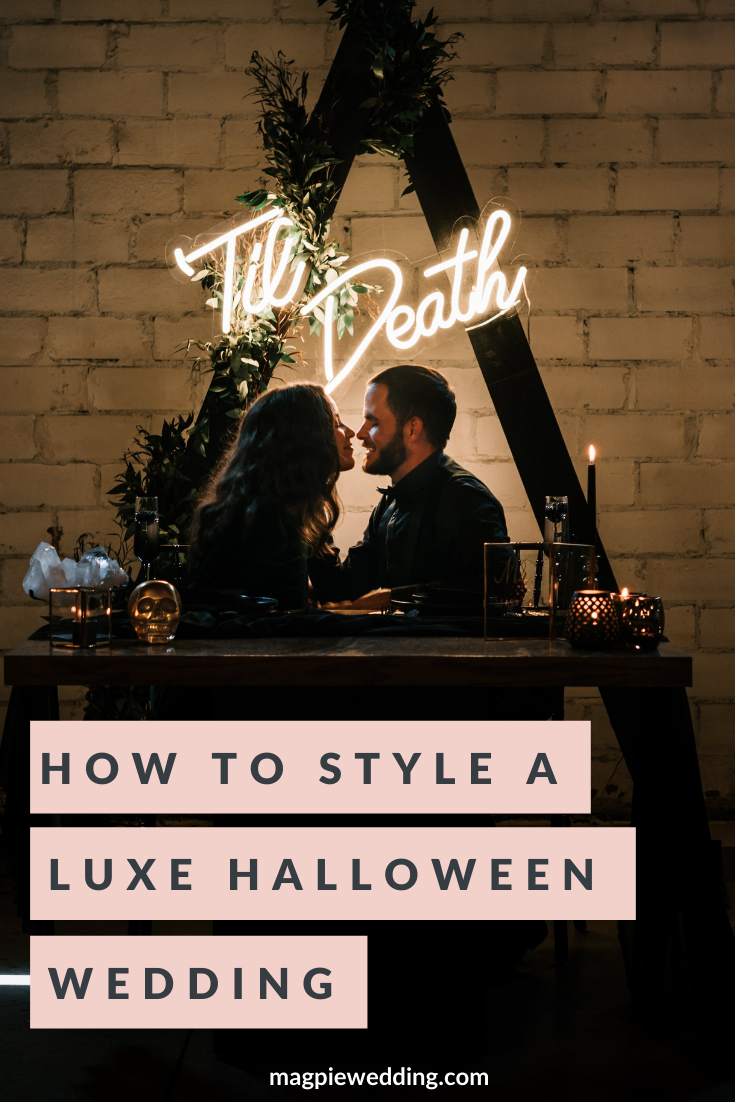 For more Halloween Wedding ideas then have a look at these recent blog posts:
Autumnal Halloween Cocktail Recipes That Your Guests Will Love
Halloween Wedding: Grown Up Glam Styling Ideas For Your Wedding Day