Halloween is nearly upon us so to celebrate we thought we would share a Halloween cocktail recipe or two! These yummy recipes are perfect for a Halloween wedding but can easily work with an Autumnal vibe or a themed wedding day too, and for the teetotals amongst you (or the drivers) simply swap out the booze! Enjoy!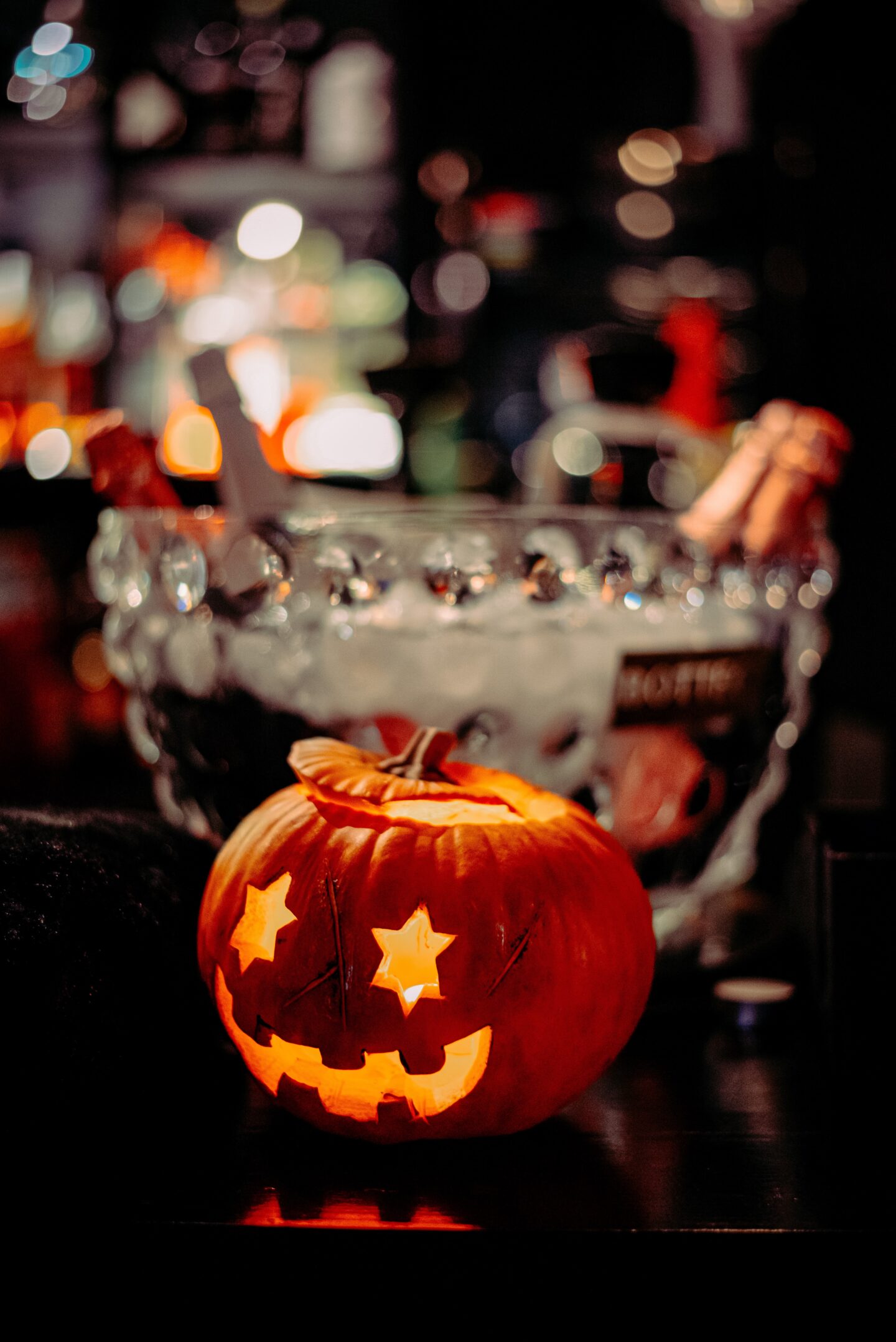 Honey and Pomegranate Cosmopolitan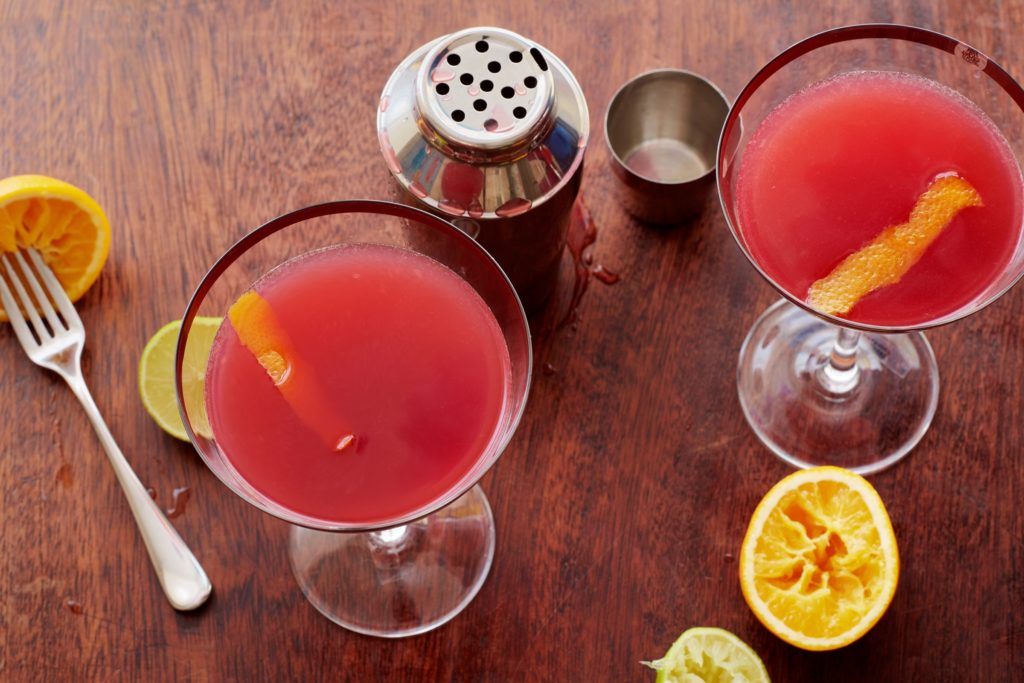 Ingredients:
4 tbsp pomegranate juice drink from a carton
4 tbsp orange juice
4 tbsp freshly squeezed lime juice (3-4 limes)
2 tbsp Rowse Clear Honey
6 tbsp vodka (optional)
Handful of ice cubes
Twist of orange peel, to garnish (optional)
Method
Honey and pomegranate make a great alternative to the classic cosmopolitan. You can leave out the vodka for a mocktail. This amount makes 2-3 cocktails depending on the size of glasses.
Put all of the ingredients apart from the orange peel into a cocktail shaker with the ice. Shake vigorously then strain into two or three cocktail glasses. Drop a twist of orange peel into each and serve.
The Spicy Lugger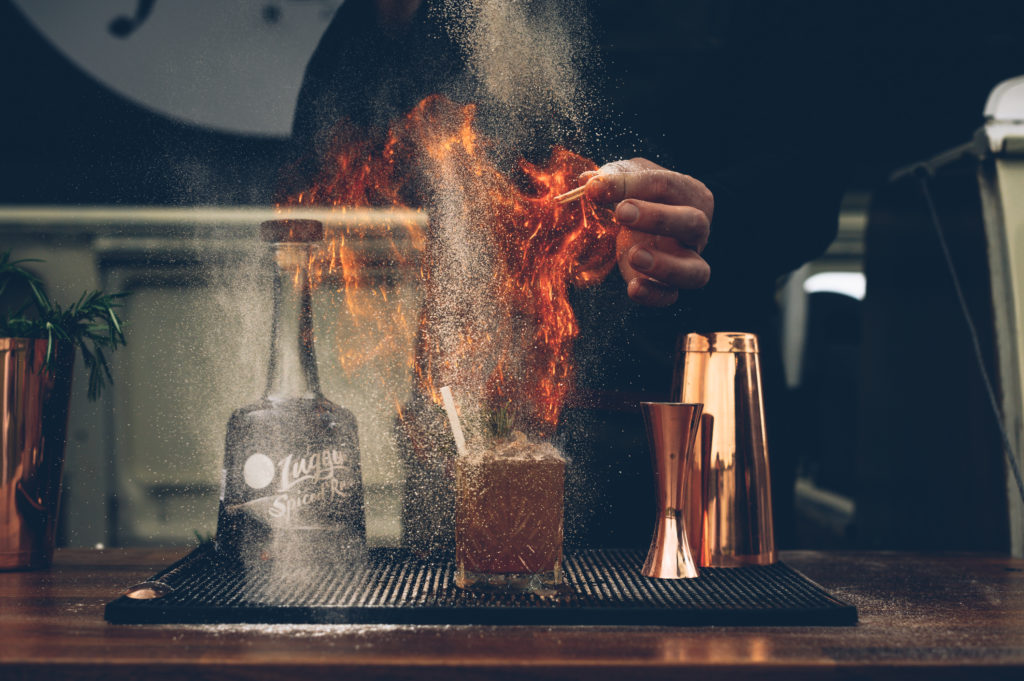 Ingredients
Lugger Rum 50ml
Strawberry & Lime Syrup 20ml*
Angostura Bitters 2 dashes
West Country Cider 30ml
Sprig of Rosemary
Spiced Powder**
Method
Fill up the cocktail mixer or directly into a rocks glass with all the main ingredients and stir
Fill the glass with crushed ice and stir 5-10 times to chill the drink
Top up with more crushed ice and top up with cider rosemary and straw
Light a match and hover this over the cocktail, with your other hand take your pre-batched spiced powder & gently dust this on top of the cocktail which will result in a fire pit effect
*Strawberry and Lime Syrup: In a bowl, muddle 50g of sugar, 10 strawberries, the skin of two limes, and the juice of one lime. Leave for 10 – 30 minutes in the fridge and strain syrup through a sieve.
**Spice Mix Powder: Mix equal parts of icing sugar, cinnamon powder, and nutmeg powder.
The Cornish Corpse Reviver
With Tarquin's Distillery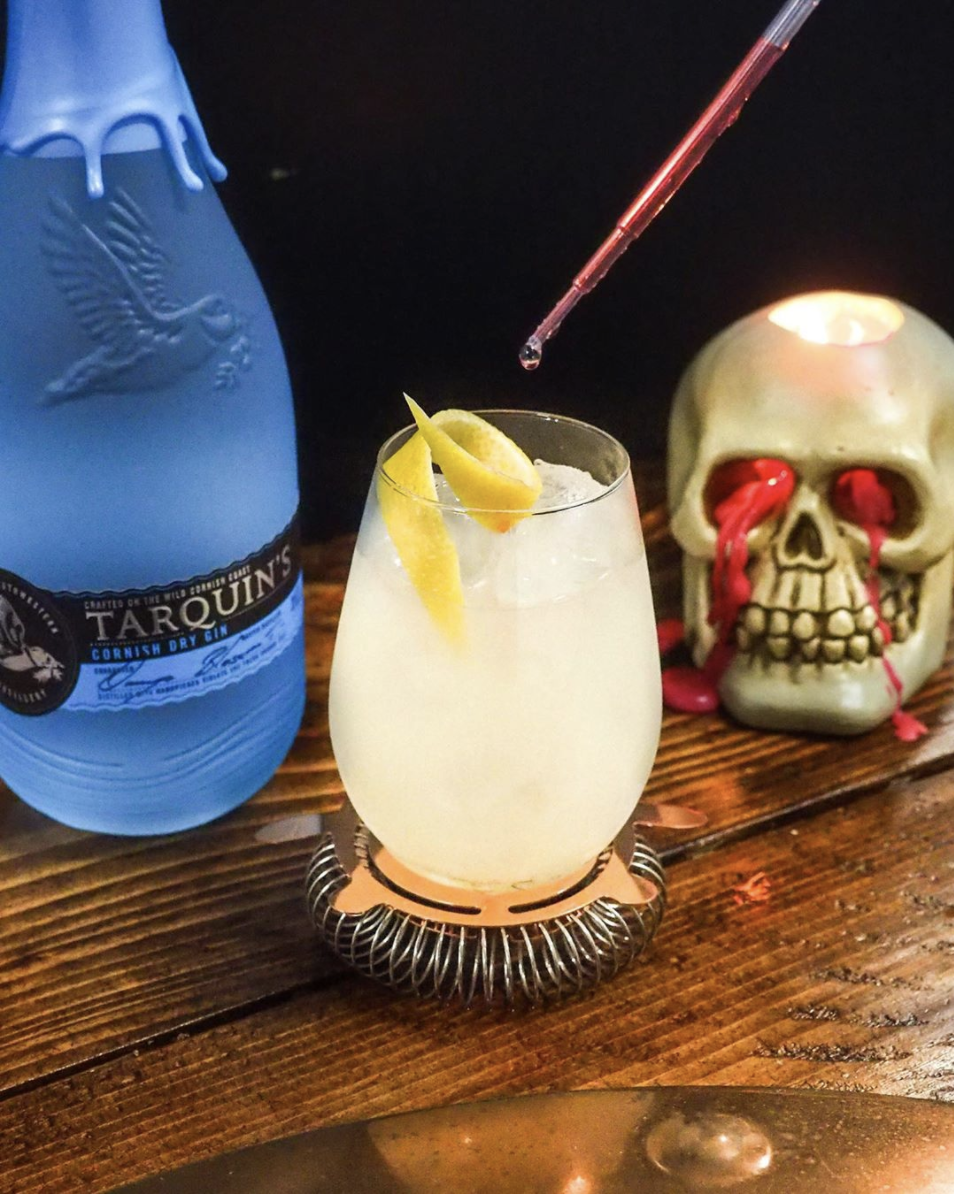 Ingredients
40ml Tarquin's Cornish Dry Gin
25ml Cointreau
25ml Dry Vermouth
25ml Lemon Juice
10ml Tarquin's Cornish Pastis
5ml vial of Tarquin's Blackberry Gin
Method
Place all of your wet ingredients, apart from the vial of Blackberry Gin to an iced cocktail shaker and shake hard for 20 seconds.
Double strain into a rocks glass filled with ice, garnish with a lemon twist and then slowly drip over the Blackberry Gin.
Apple Dookin'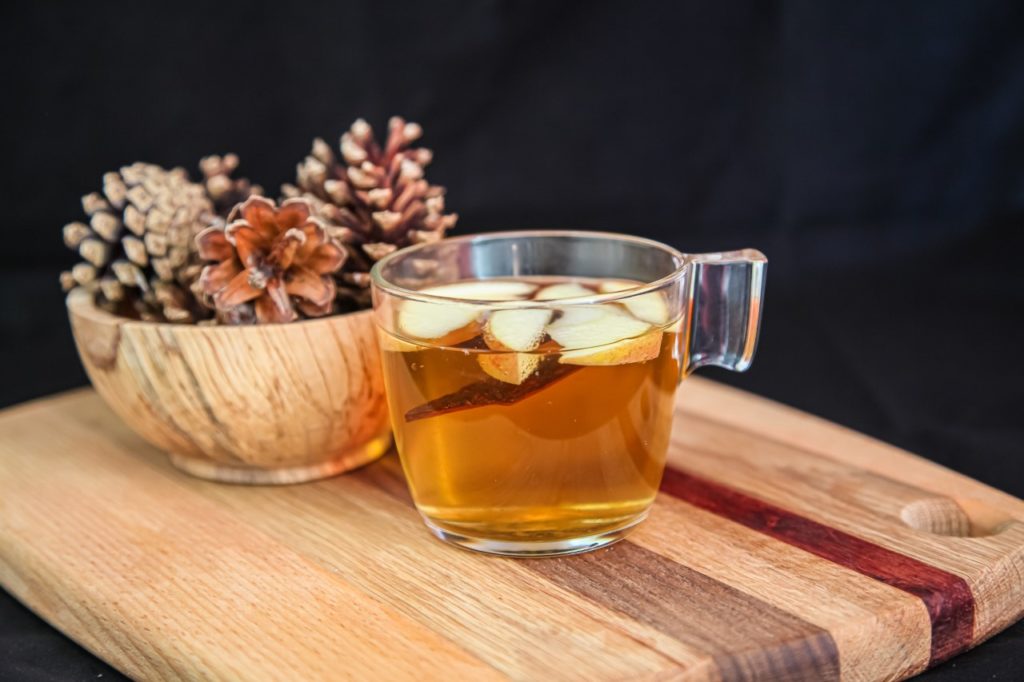 Ingredients
200mls clear apple Juice
25mls Birch and Elderflower Wild Scottish Spirit
50mls Birch and Elderflower Wild Scottish Liqueur
Small cinnamon stick
2 large orange slices
Apple slices for garnish
Method
Add all ingredients except the apple slices into a saucepan and warm slowly trying to avoid boiling. 
Once heated through for a few minutes, to allow flavours to develop, pour into a serving cup.
Add small apple slices as garnish.  
Please drink responsibly and enjoy!
IF YOU LOVED THESE HALLOWEEN COCKTAIL IDEAS WHY NOT PIN IT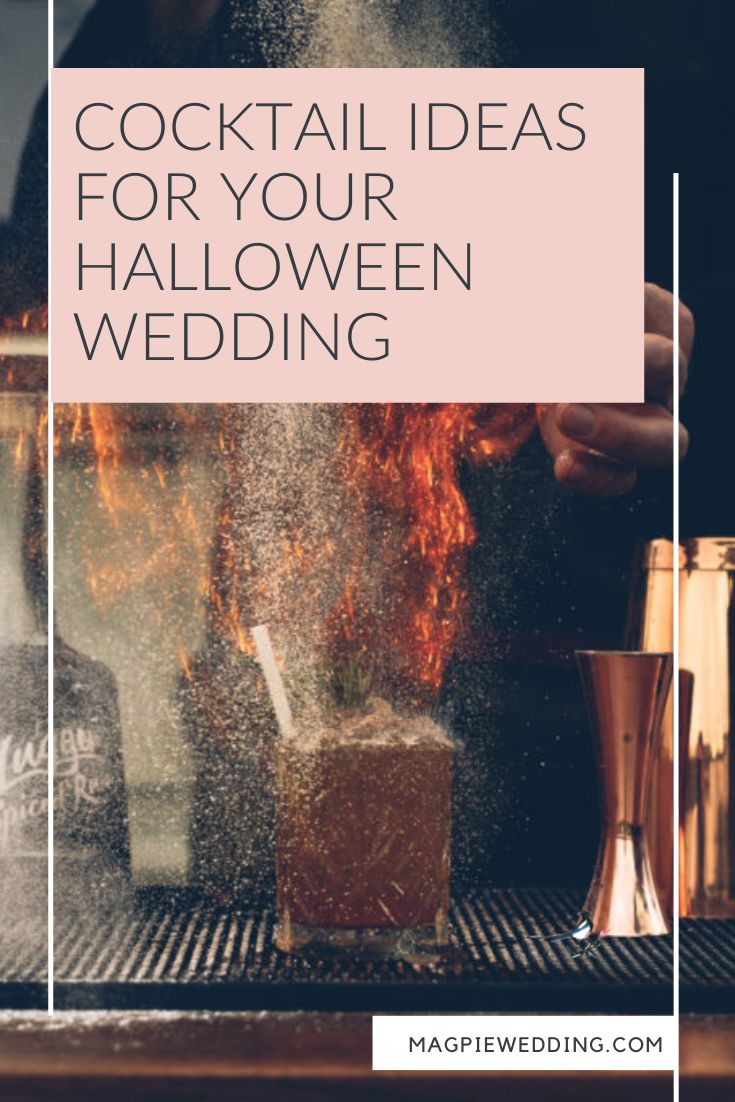 If you loved these Halloween cocktail recipes for your wedding you may also like;
Halloween Wedding Grown Up Glam Styling Ideas
Halloween Wedding Inspiration: Our Favourite Dark and Dreamy Halloween Weddings
How To Style A Halloween Wedding In A Luxe Autumnal Way