​The wedding DJ is often a fairly overlooked wedding supplier, with the uninformed possibly thinking that "a DJ is a DJ, they are all the same aren't they?"
They may all play music but they certainly aren't the same, and their level of service can vary considerably. Many couples seem to leave booking a wedding DJ until later in the planning process, possibly because it falls at the end of their timeline planner, or maybe due to how important it is perceived.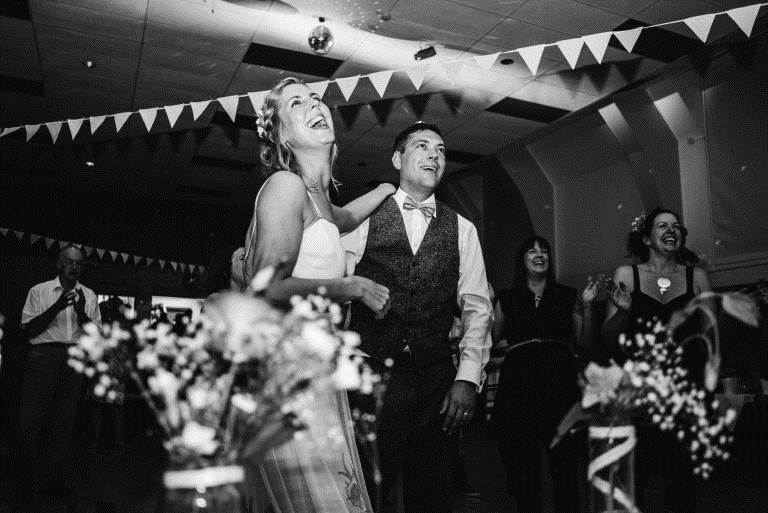 Photo by Esme Mai Phototography as featured in this real vintage wedding.
But the entertainment is arguably one of the most important aspects of a wedding when you think about it and should be considered seriously. Ask yourself; Which part of a wedding does everyone look forward to the most? Which part will be most fun? Which part will be remembered the most?
So with that in mind it is time to find your DJ. And to help you in doing so, we have selected what we feel are the 5 most important questions to ask when booking a Wedding DJ.
"Do you have public liability insurance and is your equipment annually tested?"
Any reputable wedding venue will usually require a DJ to provide valid Public Liability Insurance (normally at least £5 million cover) and PAT (portable appliance testing) certificates before they can perform there. So if it is not clear that a DJ has these then this is the first question to ask.
"Can we meet up with you first, and will it be you there on the day?"
Would you book a photographer without meeting them first? Unlikely! DJs play an integral part of weddings, particularly if they are also acting as host/MC. It is very important to meet up with them and get to know them, and let them get to know you. Be sure to explain exactly what you want entertainment-wise for your day, and then listen to what they have to offer. You'll soon know whether or not they are the right wedding DJ for you.
Some larger entertainment companies have numerous DJs working for them so they can cover more than one wedding at a time. Ask if you can meet the actual DJ who will be at your wedding, not just the person in charge.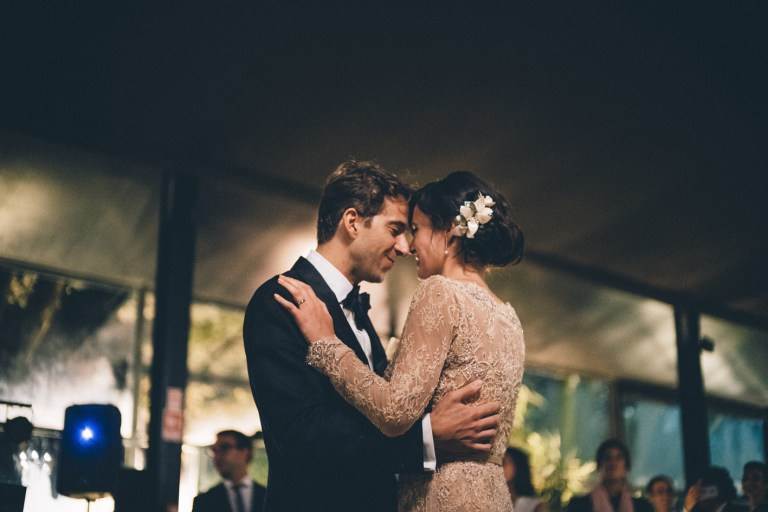 Photo by Joao Medeiros Pamelaleite
"What can you offer that other DJs don't?"
Unless you are looking for an average DJ for your wedding then it is vital to ask what they bring to the table compared to other DJs. There are many DJs out there, and unlike other suppliers like photographers and videographers you can't truly see examples of their work unless you have been at one of their weddings.
So what makes them different to other DJs, what makes them stand out?
Do they have a unique style?
Do they provide a range of services?
Can they also act as a host/MC?
Most importantly can they provide exactly what you want for the most important party you'll ever attend?
A professional, experienced wedding DJ should be able to personalise the entertainment to your desires, and in doing so provide you with memories of a wedding reception that will last a lifetime.
Top tip: If you are struggling to find a DJ don't just rely on Google. Try and get recommendations from friends, venues and other wedding suppliers, and then read over the DJs testimonials and reviews for first-hand feedback.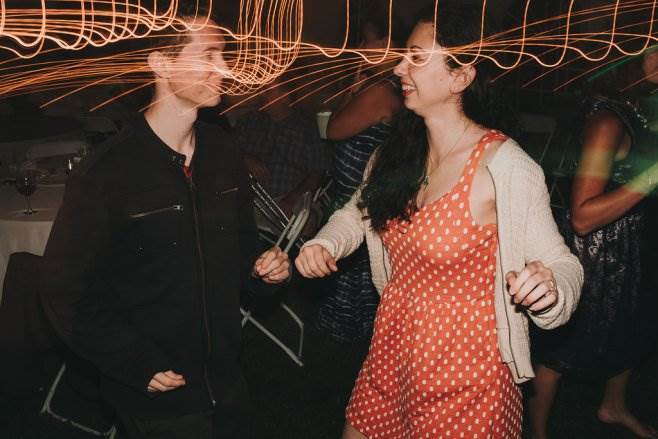 Image by Kate McCarthy Photography
"Can you provide entertainment for the whole day, not just the evening?"
As well as the evening reception entertainment it is a good idea to consider music during the day, and even the ceremony.
Who will provide background music while you eat?
Who will control the volume of the music while you walk down the isle?
While venues may be able to provide this service it is great to have the option of your DJ being able to do this. A good wedding DJ will have the expertise to provide music for any part of the day, using professional equipment which will more often than not sound better than venue sound systems.
Many wedding DJs also offer a host/MC service, providing introductions for speeches and ensuring smooth transitions between different parts of you wedding. Some will also incorporate unique and fun elements to keep you and your guests entertained throughout the whole of the day.
"Can we supply a playlist?"
Music is of course an important aspect of a wedding and it very much helps personalise your day. So make sure you will get the chance to provide musical input at any stage where music is required, day and/or evening.
For the evening disco some DJs don't like to be given a playlist, but we encourage it. It is your wedding so you should be able to request your favourite artists, songs and genres for you and you guests to party and dance to. It shouldn't be a long list to cover the whole night – in fact this this can actually make things quite difficult for a DJ. But just enough to give them an idea of what you like, and also don't like!
A professional wedding DJ should then be able to work with your list, read the crowd, and produce an unforgettable night of music and partying!
HUGE thanks to JN Sounds for today's blog – so many things to consider when choosing your wedding DJ. They won the 4 Counties Wedding Awards (which I help judge!) so are worth checking out. You can find them here.