If you're thinking of building a wedding website for your big day then you're going to want to go through this article with a fine-tooth comb! It's full of detailed advice and top tips on how to smash it to create the perfect wedding website! Mell Magment of Gettin' Hitched Rocks is the brains behind it and she shares her wealth of knowledge and experience with you lovely lot! She helps couples stay whelmed with wedding websites that change for every guest, send automatic reminders to the guests who need them and match their stationery, what more could you want! We hear about how to create the perfect wedding website…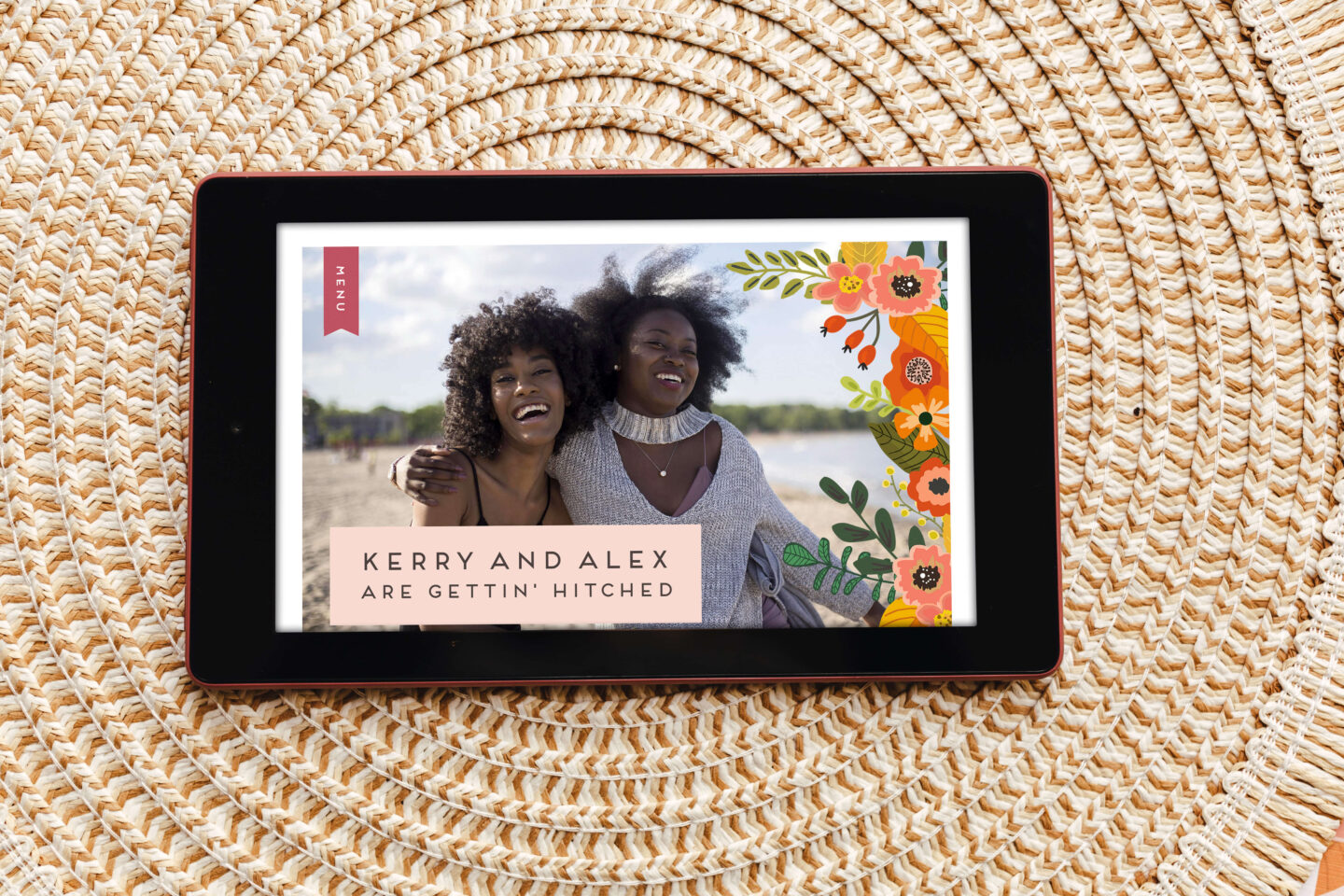 "If you set it up right, a website with the details of your wedding can help organise your guests, hugely cut down on the amount of wedmin you need to do, reduce the number of 'I just wanted to check' phone calls you get and make the day run smoothly. A wedding website isn't a gimmick – it's a tool to plan the day. I've been a professional website developer for 18 years and, for the past 4, I've been helping couples getting married organise their guests and plan their wedding, stress-free, with wedding websites that handle the boring bits for them. I've seen everything, from the parents who don't think they need to RSVP because 'you know I'm coming, to the evening-only guests who don't know they're meant to be evening-only. And I know what to do to avoid it happening!"
When it comes to creating your perfect wedding website, one of the most important elements to consider is the entertainment. Wedding bands for hire can elevate the atmosphere of your special day, and provide unforgettable moments for you and your guests. When searching for the perfect wedding band, be sure to do your research and find a band that aligns with your musical preferences and fits within your budget.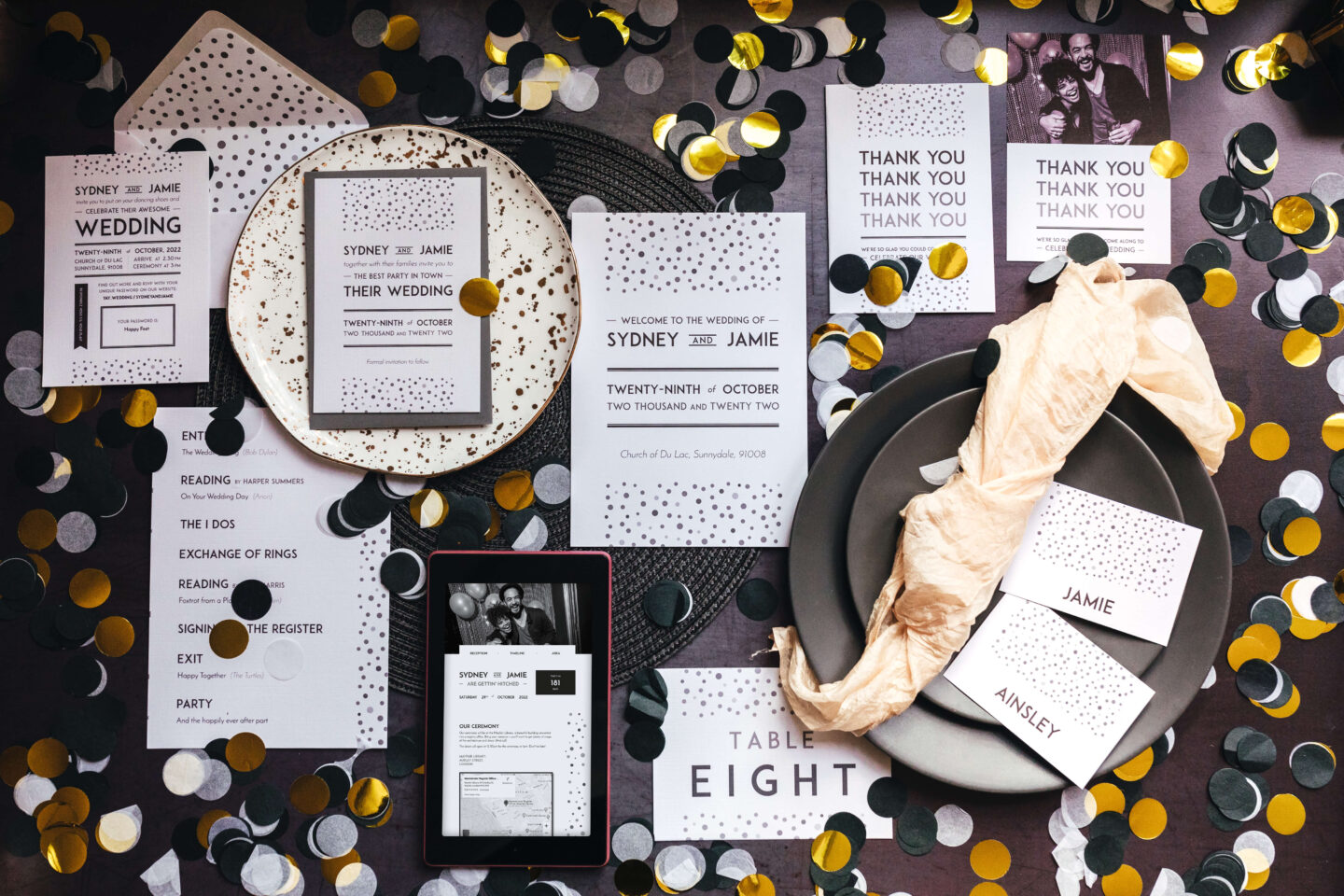 Do Give Your Guests A Rough Timeline Of The Day
"By the time your wedding rolls around, you'll have been planning for months – or even years. But your guests don't know the ins and outs of the day the way you do. They don't know what to expect and when to expect it. When my sister got married, she planned an elaborate surprise for the first dance, where the whole wedding party crashed the dance floor to perform a choreographed dance routine. It was one of the most memorable and talked about parts of the day – for the people who saw it. Because she hadn't told anyone when the first dance would be – or even that she and her husband were having a first dance – some guests left to take their kids home to the babysitter and missed the whole thing. Telling your guests when to expect activities through the day ensures they'll be present – as well as comfortable."
"Your diabetic friends need to judge if they're able to have a glass of bubbles or if it'll be too long until they can eat. Your friends with young children need to know if the ceremony is short enough that they can bribe their kids into sitting still with snacks, or if they'd be better arriving late. No one expects a wedding to run to military time – not even military weddings! But giving your guests a rough plan for the day – even if the times are all 'ish' – will make it run as smoothly as possible."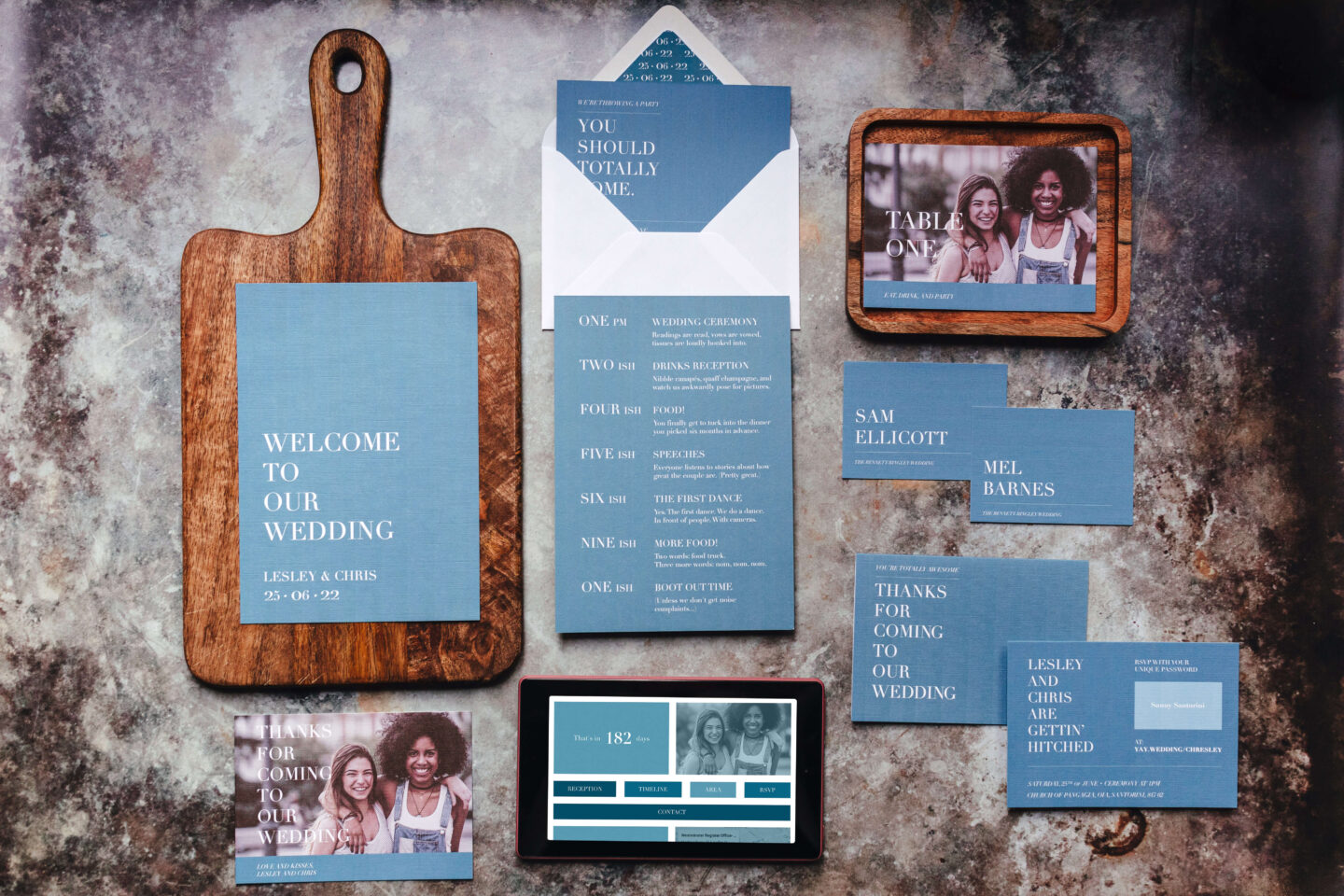 Do Add An RSVP Form To Your Wedding Website
"Having an online RSVP form is a huge advantage. There's no risk of your guests' answers being lost in the post. (Or, more likely, 'lost in the post'.) You can see each answer as it comes in. You don't need to count (and recount, and re-recount) your guests' meal options. The website will keep track of who asked for the vegan option or who needs gluten-free and show you the final tallies.No one will be able to write in extra guests – you can choose which families (if any) have a plus one, and only they will be asked if they're bringing someone along. Everyone else will be named, so it's clear exactly who's invited. And you can show different questions to different guests."
"Rather than showing everyone the same RSVP options – or paying for multiple different RSVP cards – you can ask different groups or even individual people particular questions. You can ask your evening-only guests what songs they'd like to hear on the dance floor while the guests coming to the full day will be asked to pick a three-course meal. You can ask your wedding party if they're coming to drinks the night before, and ask your auntie if she can bring her famous pavlova to the potluck the day after. The perfect wedding website lets you control exactly what each guest sees in a way it just wouldn't be practical – or affordable! – to do with paper invitations."
Do Add The Details For Your Gift Registry
"Most people feel awkward around gift registries. It feels uncomfortable to ask your guests for gifts – and downright squeamish to ask for money. But your friends and family want to celebrate your wedding with you. It's a huge occasion and one most people will want to mark, pushing the boat out with an expensive gift. An expensive gift they'll want to make sure you'll love. If you don't link to a gift registry on your wedding website, you'll be in for a lot of phone calls, asking your thoughts on cream jugs versus sugar bowls and which thread count is better. Listing a gift registry is less awkward – and less time-consuming! And you don't need to say much about it. 'All we ask is your presence, but if you would like to get us something, we have a wishlist here,' or, 'All we want is for everyone to turn up and enjoy the day, but if you would like to give us a gift, a small contribution to our honeymoon would be massively appreciated' is more than enough."
"If you'd rather have money and don't feel you can say you'd rather have money, Patchwork will let you create a gift registry of experiences. Your guests can pick and choose from a list of different things to buy you – whether it's new dinner plates or champagne on your honeymoon – which feels more personal than giving you money. (Even though that's what you'll wind up with!) But, if you categorically don't want anything at all, make sure you say so. Have a gift registry section and explicitly tell your guests you have everything you need and all you want is for them to come along. (Though that's still not going to quell everyone's urge to mark the occasion – so you may want to list a couple of your favourite charities to donate to instead!)"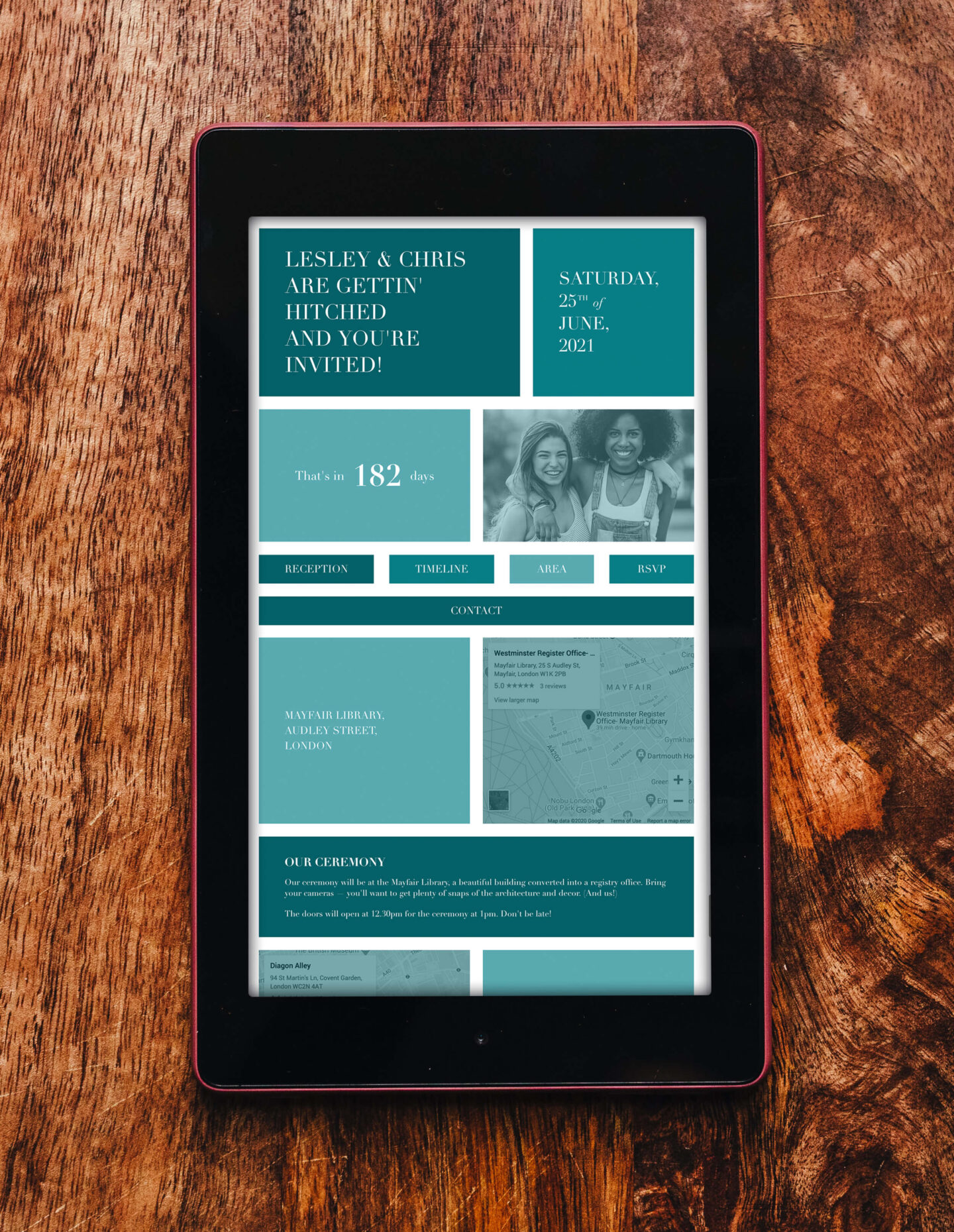 Do Give Your Guests A Little Information About The Area
"A lot of your guests will be travelling to come to your wedding. They'll want recommendations for local hotels, numbers for taxi companies, and ideas for things to do in the area while they're visiting – and they're going to ask you for them. If you're getting a married local to where you live, people will assume you're a walking Wikipedia of information on the area. And, if you're getting married abroad, they'll think you'll have already done so much research on it, that you're the best person to ask – better than Google. And they'll assume they're the only ones asking you. To make sure you don't get overwhelmed with questions, I'd recommend adding a few links to your website. You don't need to read like a travel guide, but linking to a couple of hotels near your venue and listing a local taxi number will give most people the information they need – and remind the rest you're not on commission!"
Do Have Space For Your Guests To Leave Messages
"Like LiveJournal and MySpace, online guestbooks got left behind in the early 2000s – and rightly so. Online guestbooks – which show every message everyone has left publicly – can make people self-conscious. You don't need pages of generic 'good luck' messages like your guests are signing a yearbook for someone they half-remember was in the same biology class. But you'll always appreciate getting a private, meaningful message from your guests – especially if they can't make your wedding. Having a space on your RSVP form where people can write a message straight to you gives your friends a space to send their congratulations, their love, their tips for a happy wedding, their joke tips for a much less happy wedding, and their heart-felt well wishes for you. It's something to look back on and remember afterwards, and something you'll be glad you have."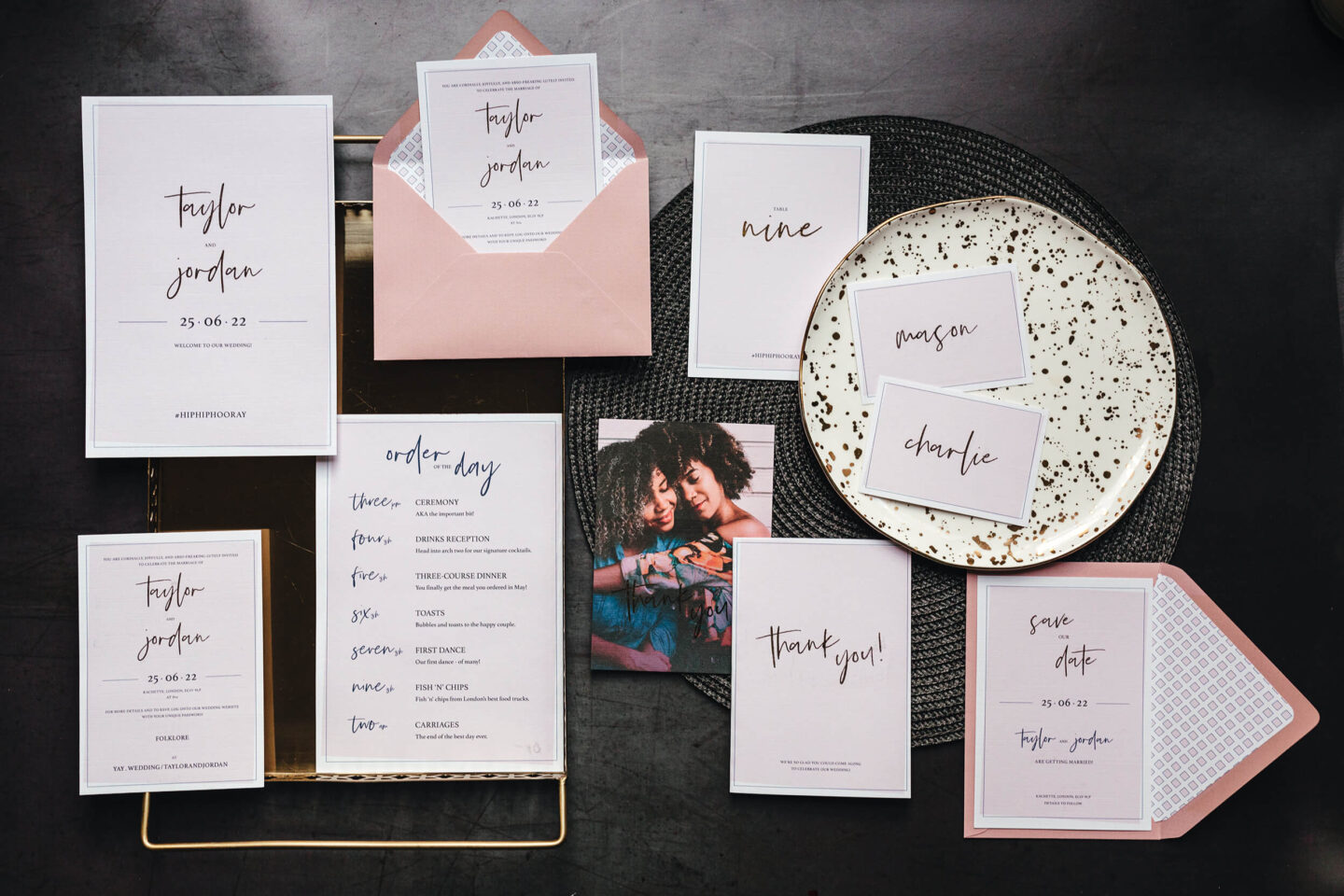 Kirsty Mackensie Photography
Do Not Put Contact Details On Your Website
"One of the big reasons to get a wedding website is to have room to list all the details people need so they won't all ring you with the same questions, over and over. But there are always going to be genuine concerns you'll want to hear about and plan for, like accessibility requirements, and you'll want to make sure people can get directly in touch with you. I would recommend listing your and your partner's phone number and email address – or your shared wedding email address, if you've set up a special account – so people know how to contact you before the wedding. But you do not want to be the person people contact on the day. That goes double for wedding suppliers! You don't want your glass of nerve-calming bubbles with your besties interrupted by someone telling you they're lost on the M25. You don't want to leave your professional hair appointment to track down the security code for the florist. You want to relax and finally enjoy the day you've been planning and organising. Ask a friend to be the contact for the day itself, or list your on-the-day wedding planner, if you have one, and make it clear that they're the person to talk to if anything crops up on your wedding day."
And speaking of things you don't want…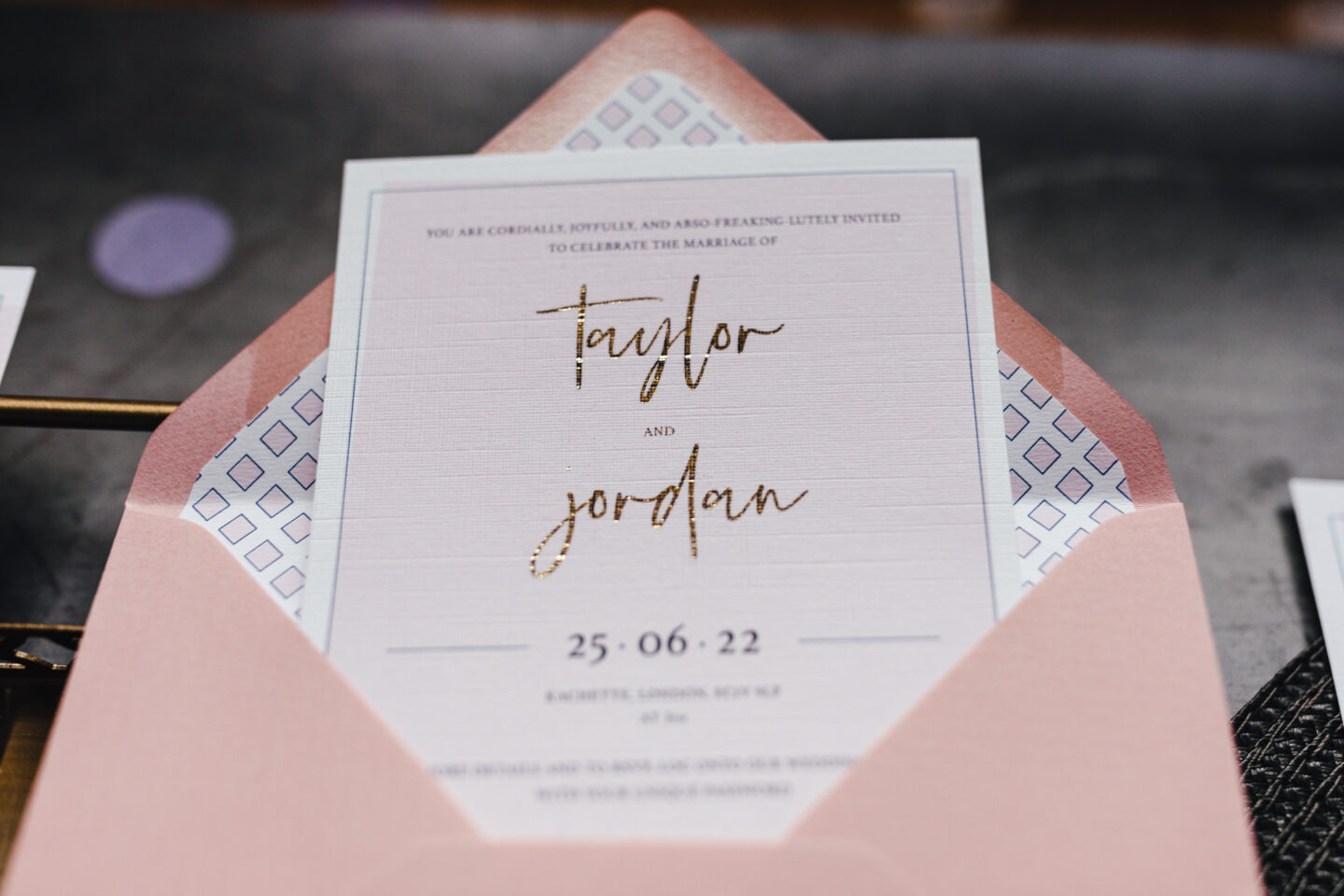 Kirsty Mackensie Photography
Don't Wait Until You Have All Of the Details Before Going Live
"There are a lot of advantages to having a wedding website rather than posting all of the details in a paper invitation. It's a lot less expensive. You can customise what every guest sees. And you can update the details any time – and let everyone know about the changes. Instead of waiting until just before your wedding when you have all of the details nailed down, you can send your guests to your wedding website early on in your planning and start getting their RSVPs in while you work out other details. That means you can get your final headcount first and then ask your guests to revisit the website to give their meal choices, rather than holding out until you've chosen your menu and risking some people not being able to come. Or you can work out what budget you've got left before you commit to hiring a coach to travel between hotels and update your website a couple of weeks before your wedding with details on the pick-up. Or the local taxi firms."
"The best wedding websites will let you send bulk messages to your guests by email or text message when you want to let them know about an update too, so they know to check back on your website. Instead of individually messaging everyone or running a WhatsApp group, your website will let you send each guest – filtered by if they've RSVP'd as attending – a personalised message, that you only need to write once. (Which is doubly handy to make sure all your guests know your venue's rules for COVID!)"
Don't Feel You Have To Be Overly Formal
"There is no 'right way' to word your wedding invitations, no 'correct order' to list your mates' names on an envelope, and no 'must haves' on your wedding website. (So you can take and leave what you like from us, too!) At the end of the day, you're asking your pals to come to a party. They're not going to care if they're 'cordially' or 'joyfully' invited. They're just going to be happy they were invited at all. If you use formal wording on your website – giving both your full names when you normally go by nicknames, requesting your guests' attendance at your joyful union, and asking everyone to 'répondez s'il vous plaît' – people will expect a formal day. Your perfect wedding website will set the tone and everyone's expectations. People will take their cues from you. If you sound formal, they'll lean more formal – and be baffled when they turn up in tails to a ceilidh in a farmhouse. So, unless you're inviting the Queen, don't stress about the wording and don't use formal, stifled language that doesn't sound like you. Just tell your mates the details."
"A helpful trick to get outside your own head when you're feeling the need to write everything in Shakespearean sonnets is to speak out loud, instead of writing. Voice-to-text apps like Otter will transcribe everything you say, so you can pop it straight on your website. You'll sound more natural and more like yourself – which is what your guests are expecting."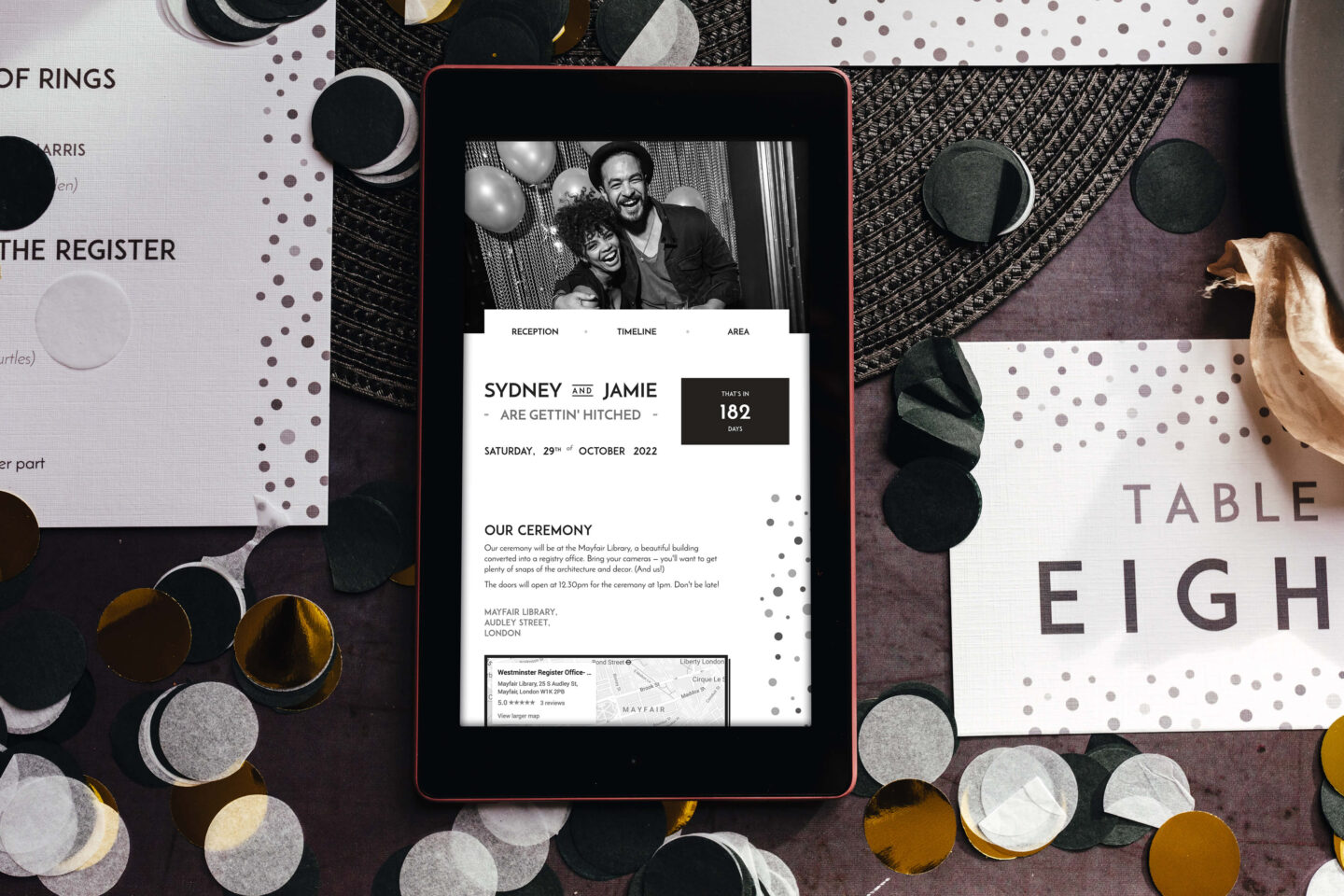 Kirsty Mackensie Photography
Don't Make A Start On Your Autobiography
"While a wedding website will give you a lot more space (at much less expense!) to give your guests the details of your day, you don't need to tell them everything. People tend to skim – especially when reading online – so if you fill your website with a long history of you and your partner, the story of how you got engaged, and lengthy bios for your whole wedding party, it's going to be difficult for your guests to find the important details they need to know about your day."
"After they've RSVP'd, the vast majority of your guests will only look at your wedding website again when they need to know something urgently – like when the ceremony starts. If you bury that, you'll risk them getting there late and following you up the aisle! Pop the most important details in bullet points, split the information out into clearly labelled pages or titled sections, and remember you don't need to write a dissertation. You're giving your friends the details of a party!"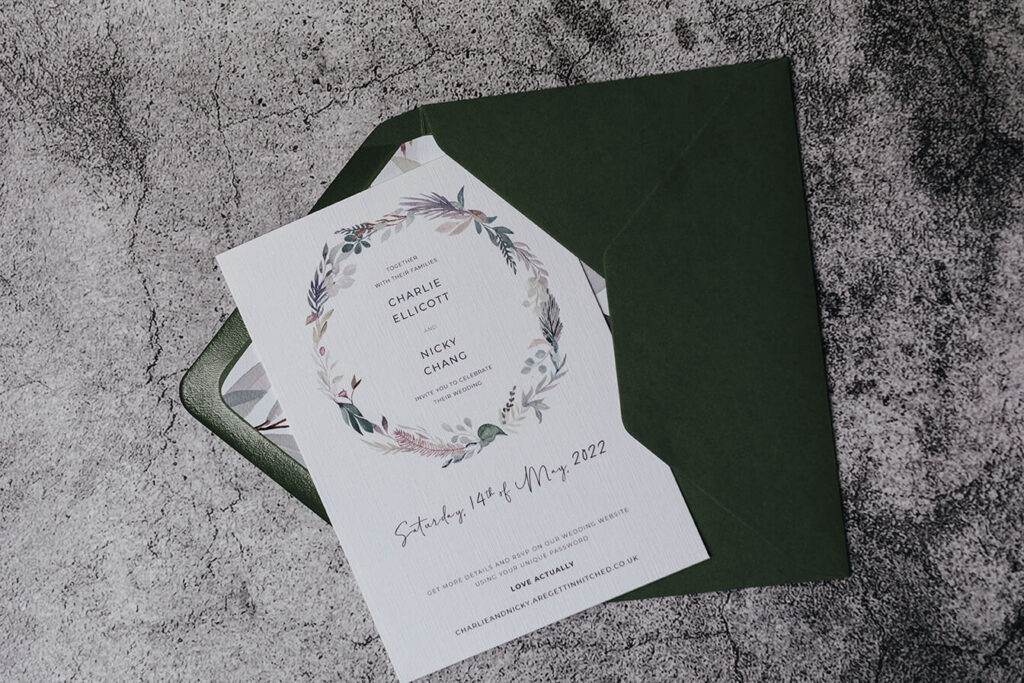 Kirsty Mackensie Photography
Don't Upload Every Photo That You've Taken Of The Two Of You
"I'd always recommend having a photo or two of you and your partner on your website. It's a great way to introduce your partner to your more distant relatives, who may not have had a chance to meet them yet, and a great excuse to show off the pictures from the couples shoot with your photographer. (Bonus tip: do the couples shoot with your photographer! It's a low-pressure way to get comfortable with them and the camera ahead of the big day.) But your guests aren't going to spend their weekend scrolling through hundreds of pictures. Having a huge gallery of photos is just going to take up lots of your time – when you probably have a lot of other things to be getting on with! – slow down your website, and make it harder for your guests to find the details they're looking for. Pick a few pictures that are truly special to you – maybe one for every year you've been together, photos from your proposal, or pictures taken by your photographer – and only put those on your website. Better yet, most wedding websites will let you incorporate a photo into the design, even showing different photos on different pages, which will let your guests see a few favourite memories as part of navigating your website."
Don't Get A Free Wedding Website
"Okay. I know what you're thinking. 'The person who sells wedding websites for a living doesn't want me to have a free website. How surprising.' But whether you're looking at my business or any of the other wedding website services out there, like Riley and Grey, I'd highly, highly recommend paying for your website rather than opting for a free service. The old adage 'you get what you pay for' is true: free websites just don't have the same features. It costs money to run a website. It costs money to have people visit a website. Free websites have to limit the number of guests you can have, the design options you have, and the support you have. They won't password protect your website to make sure only your guests can see it. They won't hide the ceremony details from your evening-only guests – which will lead to FOMO at best, and mass confusion at worst. They won't even let you do sensible things with your RSVP, like only insisting on everyone who can actually attend your wedding giving their meal choices.
The point of an online RSVP is to take work off of your shoulders. You don't want to wade through every response to work out if it's a real order you need to pass on to your caterer, or an answer your great uncle was forced to put in to be able to RSVP at all. But, even worse than that, these free wedding website services are still businesses. They have to be making money somewhere. If you're not paying them to set up and host your website, what's making it worth their while to spend that money themselves? Pay very close attention to their privacy policies – especially if they're based outside of the UK or Europe, where GDPR protections don't apply – and advise your guests to update their spam filters! But – better yet – don't run the risk at all."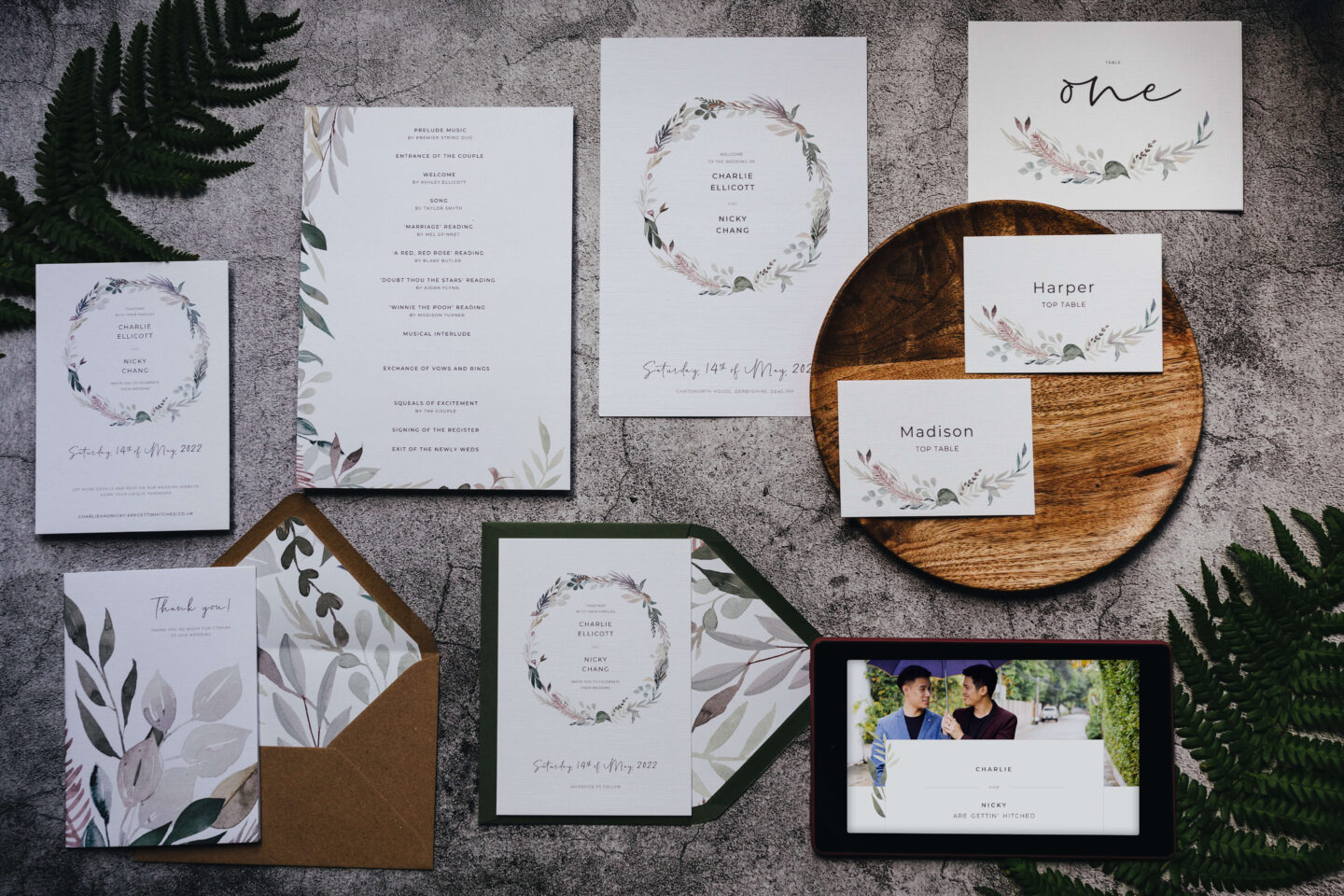 Kirsty Mackensie Photography
Don't Feel You Have To Go All-In On Digital
"Wedding websites do the dull part of wedmin for you. They're an incredible tool, meant to free up your time and make planning easier. But choosing to have a website doesn't have to mean choosing purely digital wedding planning, relying on e-card invitations or a WhatsApp group to give everyone the details. You can have the ease of a wedding website and the tradition of paper invitations as well. People love getting things in the mail. Getting something through the postbox feels special and luxurious – especially if that something is a beautiful invitation to a friend's wedding! Plus, giving them a physical reminder they can pop on the fridge and see every day also gives your guests a countdown to the wedding. It gets them as excited for it as you are! The best wedding website services will make paper invitations that match their designs. You can post your guests a paper invitation with the details of how to log onto the website, giving you the best of both worlds: the excitement of getting an invitation through in the post and the ability to update details in the run-up to your wedding. The very best wedding website services will also make signs and other stationery that matches the website design, like orders of service, table plans, and place cards, so you can carry the same design across every part of your wedding.
And there you have it – the best things you can have on your wedding website (and what to avoid) to make your wedding planning run smoothly. If you want more advice on wedding websites, check out what I do over at Gettin' Hitched Rocks!
IF YOU FOUND CREATING THE PERFECT WEDDING WEBSITE ADVICE USEFUL PIN IT TO YOUR WEDDING BOARDS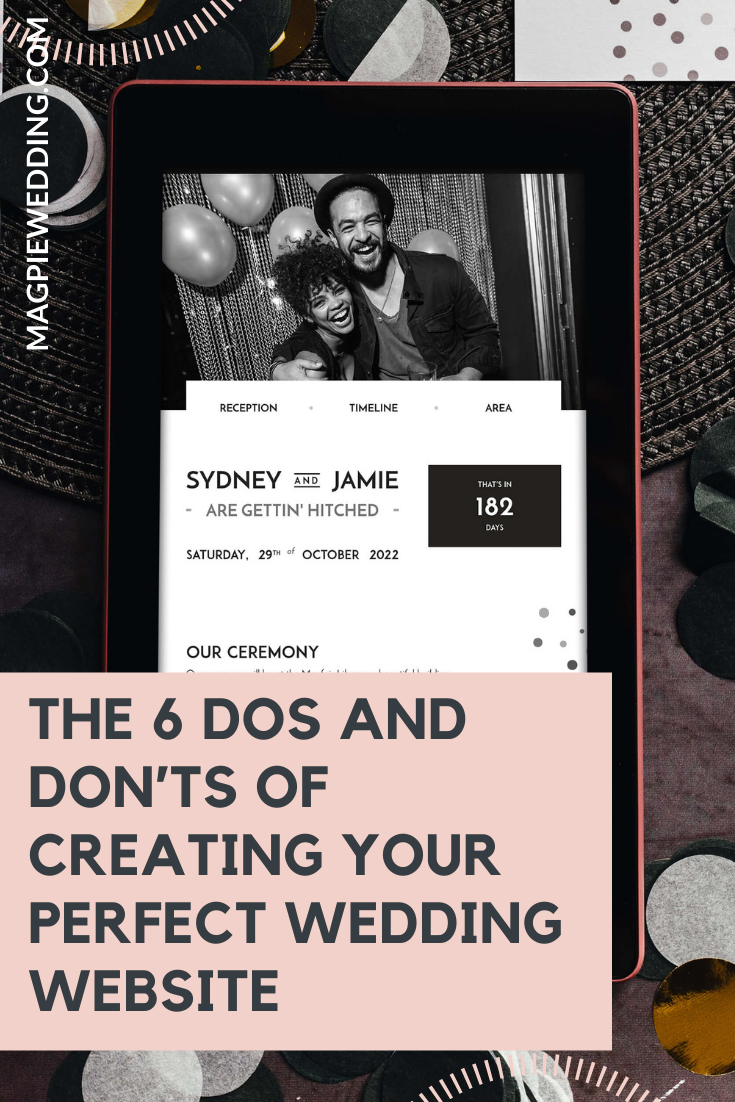 If you found creating the perfect wedding website useful you may also like;
How to be body confident on your wedding day – Real Life Advice with Lina Orsino-Allen
5 Reasons Why You Need An Online Wedding Gift List- Expert Advice with Zankyou Weddings
Industry Expert Advice – Why you need to hire a Wedding Planner