Body confidence, wouldn't it be great if we all had it 100% of the time? In today's world, there are numerous pressures on women to look and be a certain way and sometimes this can lead to anxious feelings and thus lack of confidence in our bodies and ourselves. Real-life advice and real-life stories of how women overcame their confidence issues are the topic of today's article. Lina Orsino-Allen of Lina and Tom Photography shares with us her journey from wedding planning to the wedding day. She also catches up with some of her real-life client brides to talk about the different body confidence issues and how they dealt with them on the lead up to their wedding day…
Wedding Body Confidence
For us women in the 21st century, we are bombarded with imagery of perfect bodies, even in the wedding industry, and there is a temptation to feel we need to look perfect, the best we've ever looked on the wedding day. This is nothing new, everyone talks about it, but we still feel the need to be slim, toned, plucked, contoured and tanned, like our future spouses are meeting us for the first time on Love Island.
But here's the thing, you know that person you're marrying? They've seen you not looking your best, whatever that is. They've seen you dribbling over the pillow whilst in a deep sleep, last night's makeup smudged down your cheek; on your wedding day, you will look the best you've ever looked, even without all the extra primping, because true radiance comes from the inside. Yes I know it's cheesy but, in almost ten years of shooting weddings, I swear to you it's true. Happiness is the best makeup of all.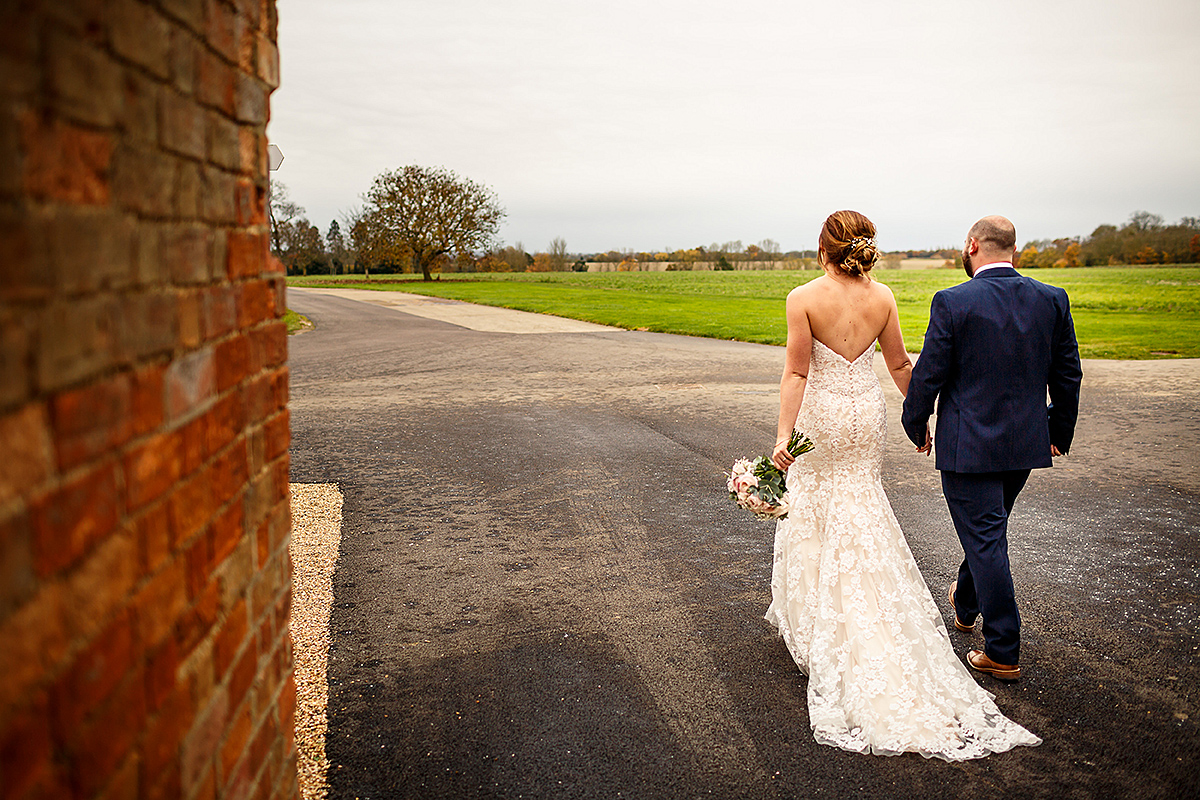 Image: Lina and Tom Photography
Breaking Stereotypes and Traditions
My sister got married in 2003, she saw a dress by an American designer and fell in love with it, so I suggested we call their one UK stockist and see if they had it. They did. She put it on and I cried, it was perfect for her. Then came the question, 'are you planning to lose weight?' My sister, a general size 16 most of her adult life like me, shook her head. "He met me this way, proposed to me this way, and this is how I'll marry him." What Jo didn't realise is that massively hit a chord with me and I've been inspired by it ever since. She went on to say that she didn't want to look back at her wedding photos in years to come, having likely put it all back on and feel sad. Since then I have heard this subject come up so many times, women regretting they don't still look how they looked on their wedding day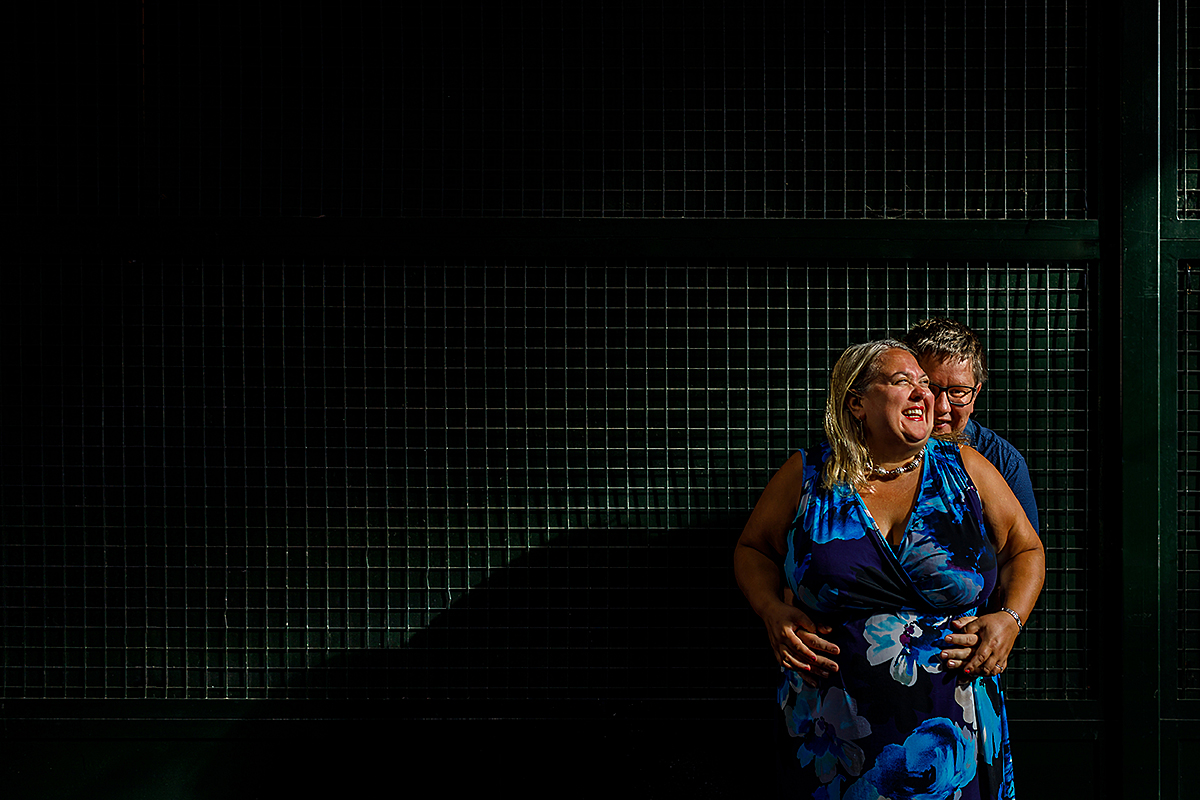 Image: Lina and Tom Photography
"These days, I feel we're at polar opposites when it comes to opinion on weight in the media. If I'm bombarded with images of supposed (thin) beauty at one end, telling me I should be slim, tanned and beach-body ready, then at the other end there is a movement brewing which seems to suggest that losing weight is succumbing to the pressure, going against the sisterhood. Well, I like the middle ground thanks, and that middle ground says "I'll do what I damned please with my body". If I want to keep my body as it is I will, but if I am feeling a bit heavy and want to get slimmer and fitter as I tumble towards my forties, I will."
"For my own wedding to Tom in 2014, I didn't lose weight for the wedding. I was a 14-16 when he met me and have never been slim in my adult lifetime. I knew when I walked up the aisle I wanted to just look like the best version of myself. I had a small wobble a couple of months before as my dress was strapless and I've never had particularly small arms, which resulted in me talking to a personal trainer friend, and picking up some weights to try and tone them up a bit, but it's actually still something I do now. I look back at my wedding photos and those arms hold my husband and hug my friends and family, so they look good to me."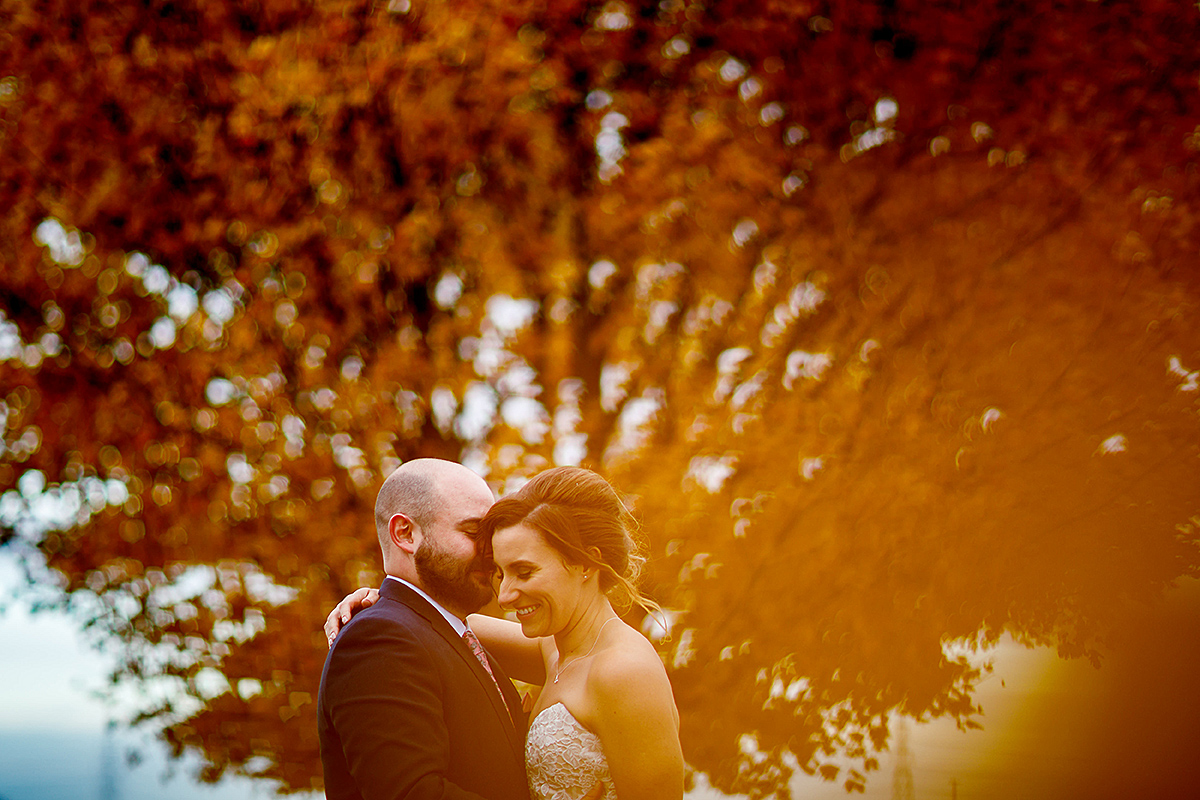 Image: Lina and Tom Photography
Finding Your Ideal
"The wedding industry is very guilty of feeding the ideas of perfection of your wedding day. Let's face it, as soon as you're engaged people start referring to the day being 'perfect.' What does that mean anyway? Personally, I think the perfect wedding is a couple in love, great food, drink and music. Done. They are the best weddings without a doubt.
But maybe you have decided to lose weight; you might have been feeling down about it for a while and have decided the wedding was the push you needed? That's perfectly OK, you go for it! Because as women we have a choice, it's up to you to not lose weight for the wedding or indeed to lose it. Having met hundreds of women getting married over the years, I decided to talk to a couple who made decisions on their weight for the wedding."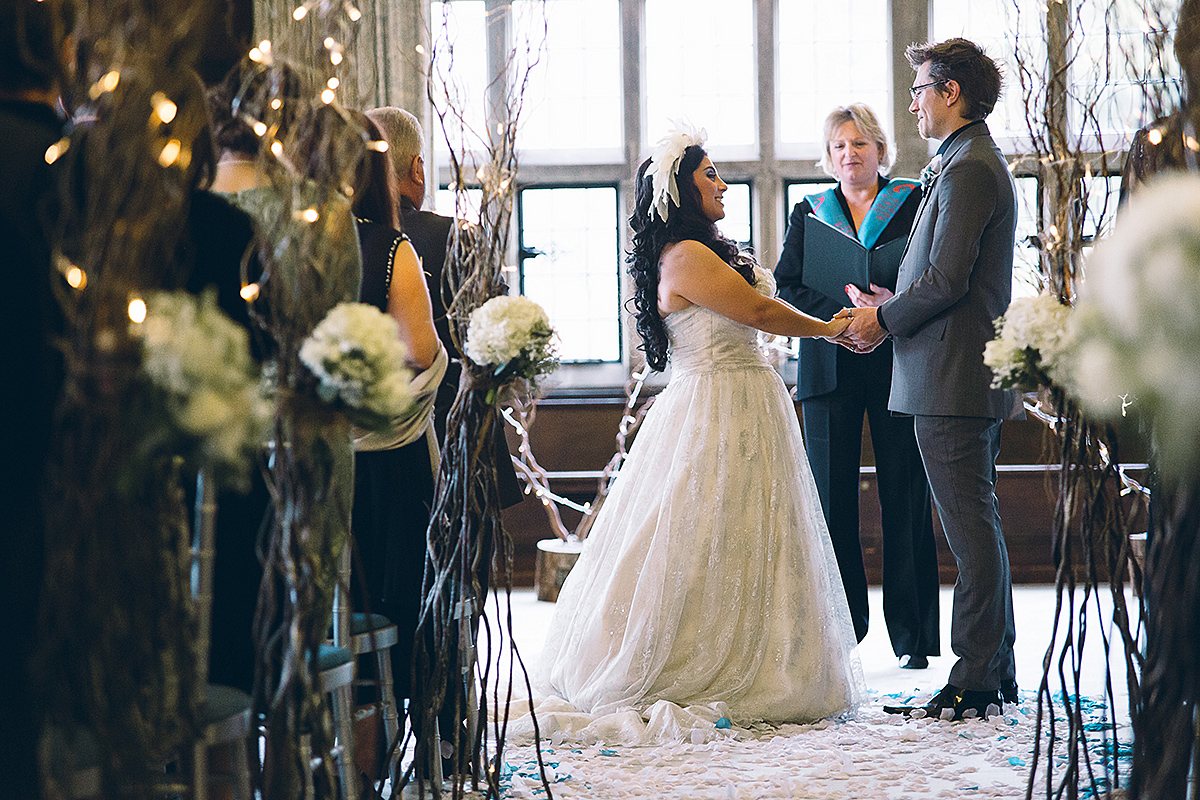 Image: Albert Palmer Photography
Real Life Bride Becki on Wedding Body Confidence…
Becki married Matt in November 2017. I'd followed Becki on Instagram and knew she was on a weight loss journey and getting super fit.
"I am generally quite a confident and self-assured individual and had been trying to lose weight for years for all types of reasons – Then literally one day something clicked (I know people say that all the time, but it did), I realised that I was the only one that could shift the way I was feeling and it never really sank in before. In September 2014 I did my first ever Park Run. I started running but would reward myself with food afterwards. The weight still wouldn't move and actually, I gained weight after exercising due to the cycle I was in."
"After this realisation, I started to plan more and realise that I needed to make the choice about what was important for me, and that was being healthy and I became my own competition. My reward became seeing myself become stronger, faster and that was then reflected on the scales. I became happier and exercise was my therapy, you cannot replicate the feeling of crossing the finish line after a really tough race."
"Matt proposed in September 2015 and I was already 2 stone lighter; I wanted to get to a goal weight for the wedding but not just for that, it was for me. I wanted to feel the best I could on the day."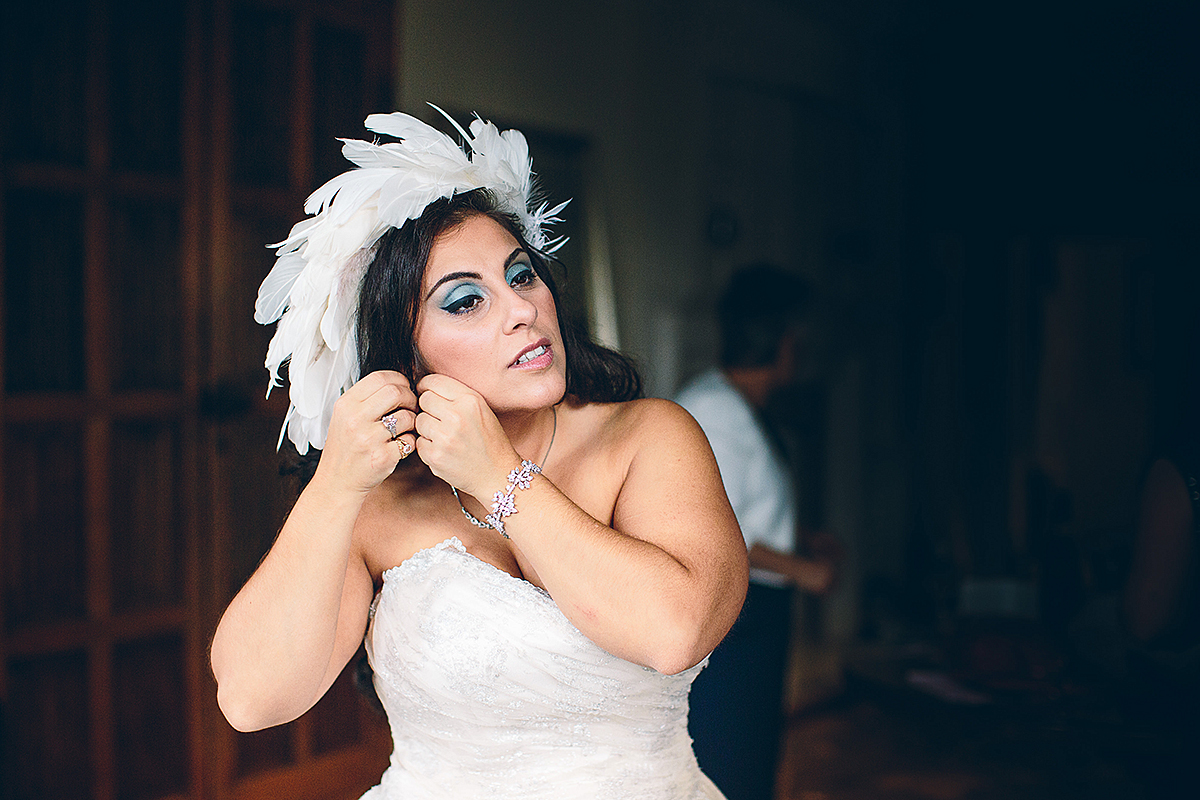 Image: Albert Palmer Photography
"How inspirational is Becki? Certainly for me. I now go to a Bootcamp and seeing Becki's achievement was certainly a factor. I found myself shooting images at her wedding where I could see her muscle definition in great light – I wanted to create images for her that further validated her click moment."
"If you are curvier and losing weight hasn't even crossed your mind, and you're happy as you are, unfortunately choosing a bridal gown is where you might have a wobble. It can be a nightmare if you're a plus-size bride, but it is getting better. [I'm just going to insert here that I hate the term 'plus size' – why can't it just be the size?] The best thing you can do is ask for recommendations from similar-sized people. Some bridal shops just do not cater for curvier women, and you'll need a thick skin to brush off the fact that they might not have any samples anywhere near your size and everything you try on will need a bit of imagination as to how it will look actually done up at the back. Look for the stockists of the labels who do recognise women can be bigger and beautiful, such as Justin Alexander and David's Bridal and there are now bridal shops exclusively for curvier women."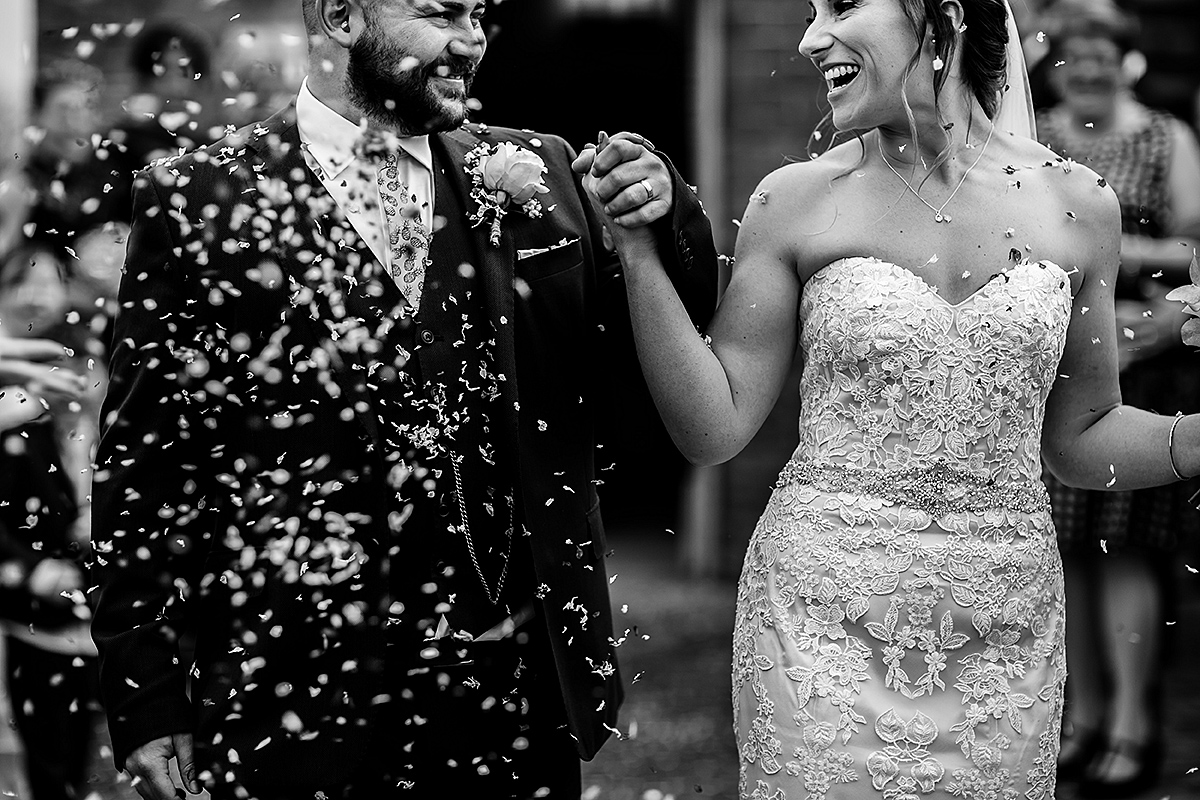 Image: Lina and Tom Photography
Bride to Be Emma on Wedding Body Confidence…
Our bride-to-be Emma has also been considering her weight up to the wedding and felt the prospect of dress shopping to be one thing that made her concerned.
"Dress shopping filled me with dread, so that made me feel like I "needed" to lose weight, but there are also the health benefits, and also for me wanting to be slimmer. The media can be quite contradictory at times, they encourage people to be "happy in their own skin" but then two minutes later are using stick-thin models. I think that media pressure overall can result in you viewing yourself differently, and sometimes doubting yourself."
"And that's the thing, isn't it? You can be merrily on your way and there will be just something that makes you reconsider. Like my 'arm wobble' because I had a strapless dress. Recently Cosmopolitan featured plus-size model Tess Halliday on the cover too much controversy. Hurrah for a normal body many said. It's glorifying being fat! The other side said. But maybe, just maybe, a woman may have looked at her and felt NORMAL."
I'm going to give the final word to Emma as she is spot on here; "There is so much pressure to lose weight from so many sides, but the important thing is to do what feels best for you. We all want to look our best on our wedding day, but we are marrying the man or woman we love, and no matter what that will shine through. Do what makes you happy, life is too short!"
IF YOU LOVED THIS ADVICE PIN IT TO YOUR WEDDING BOARDS!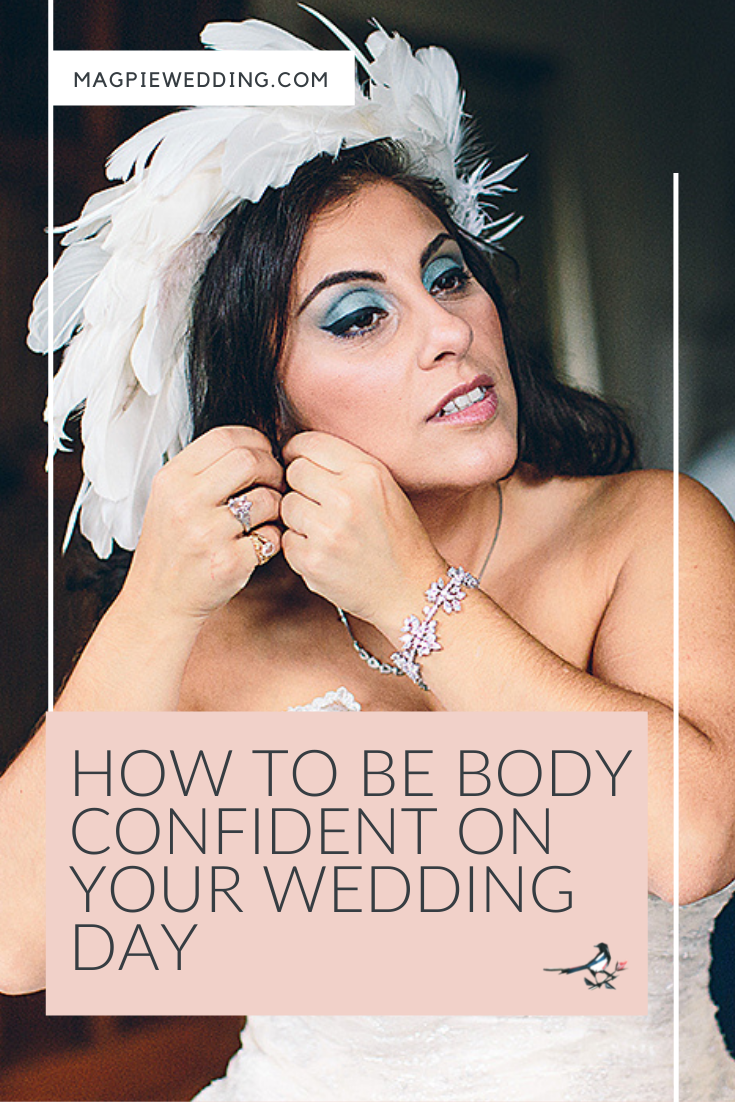 If you loved this wedding body confidence article and are looking for more advice you may also like;
How to find the perfect wedding dress for your body shape with MaudiKa Bridal
7 Ways To Support Your Mental Health; Wedding Planning and Wedding Day Advice
First Dance Advice: 5 Ways To Add Confidence To Your First Dance