When planning a wedding, you have to juggle a lot of different decisions and input from other people. It can all seem very overwhelming, especially if you are trying to stay within a certain budget, especially a small wedding budget. Determining big decisions like guest lists and venues mixed with all the little decisions like the song you dance to for your first dance sneak up on you sometimes. We at Magpie Wedding love creative weddings, no matter what the size of your budget, and with this in mind, we want to share some ways you can plan your wedding if you need to work within a tight or smaller budget.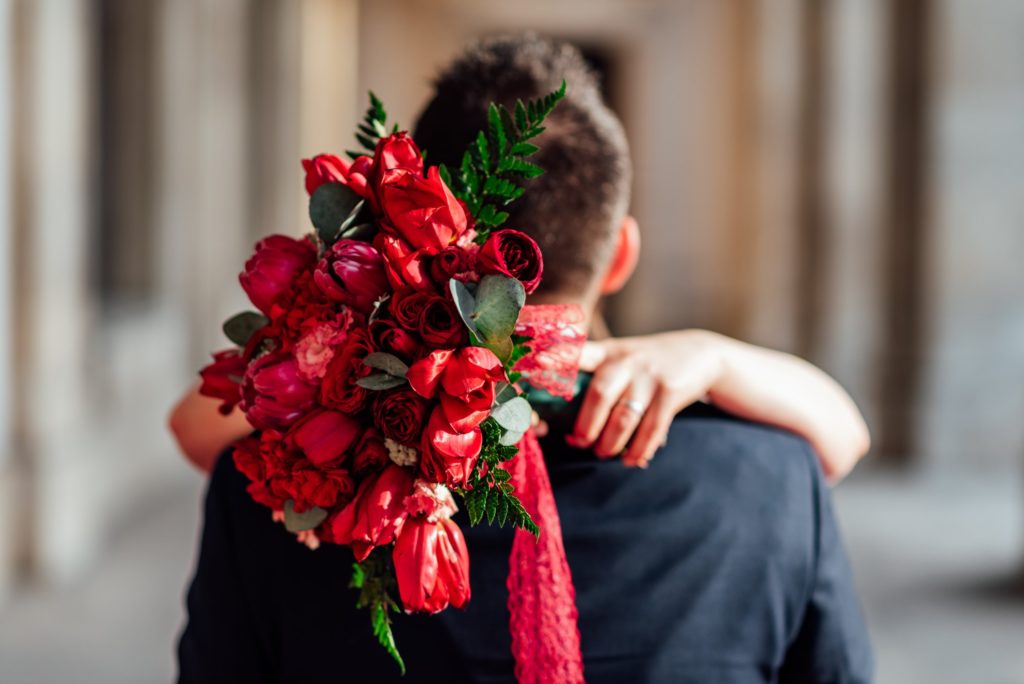 The Guest List
One of the big things that will impact your budget is the number of people you invite to the wedding (we are talking after restrictions are lifted obviously here!). It can be very tempting to add everyone you know to the guest list. You don't want to leave anyone out or cause any hurt feelings. Knowing where to draw that line can be difficult, which means the guest list can sometimes get overcrowded. Even though it is a nice thought to include everyone, the more people on your guest list, the more expensive your wedding is likely to be. If you are looking to cut down your budget a little bit, cut out some of the invites that you are only sending because you feel obligated.
You can start by making a list of "essential" people that you must have at the wedding to make it a special day for you. This will help you realize what is truly important and create a more intimate and personal element to your wedding.
Wedding Gifts
You may want to even consider asking talented friends to help with the wedding in some way instead of getting you a gift. Musical friends can help to accompany the ceremony or provide the music for the reception. Bakers can help cater the wedding and create a beautiful cake.
Asking these friends to help with an aspect of the wedding can be beneficial for everyone. They don't have to spend money on an expensive gift and spend the time trying to find the perfect gift because you are telling them exactly what you want. You also save money in your wedding budget by eliminating or lessening the costs for some essential items. But make sure that it won't impact them having a good time – for example, a friend taking all the photos will mean they won't get to relax on the day! You can also reduce spending by making gifts for your bridesmaids or buy groomsmen gifts at groomsmengiftsmart.com.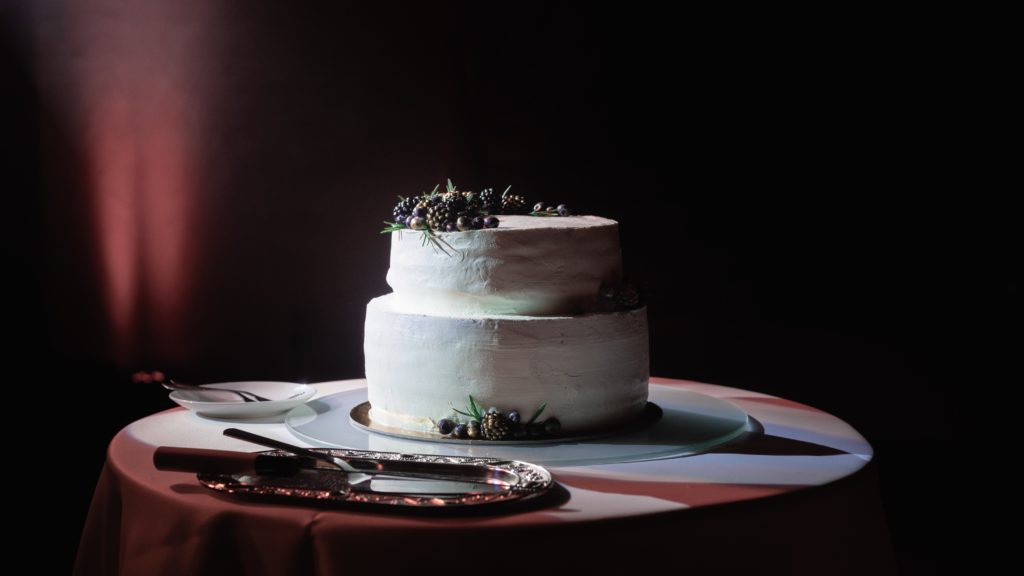 The Venue
The place that you hold your wedding will also have a big impact on your budget. You can rent a building or ballroom for your ceremony and reception if you can find a good deal, but that can be sometimes out of your price range. You can also use the home of a friend or parent that lives in a beautiful place for the ceremony and reception. You may also want to consider holding your ceremony and reception outdoors in a location with a beautiful view. This will also eliminate a lot of need for decorating since Mother Nature will decorate for you.
One thing you should consider if you are planning an outdoor affair is to have a backup plan if the weather doesn't cooperate. You don't want all your hard work, beautiful gown, and guests to get soaked. Renting a tipi or marquee can help keep everything dry and fans can help with excessive heat. Whatever the case may be, you will feel more at ease if there is a backup plan.
The Food
The food you serve at your wedding will be another expense. You could consider asking a friend to cater as a wedding gift, get takeaways delivered (we had a fish and chip van at our wedding), or hire a family-owned restaurant in the area to cater the event. All of these options will cut down on the amount of money you will spend to feed your guests while still giving them an amazing meal.
You should talk to whoever is helping with the food to determine a budget-friendly meal that will be delicious without ruining your budget. Talking to them about their specialties will help give you an idea of what will be the best course of action for your big day. However, be careful if you are asking a friend as they will need to have insurance – you don't want a case of food poisoning do you?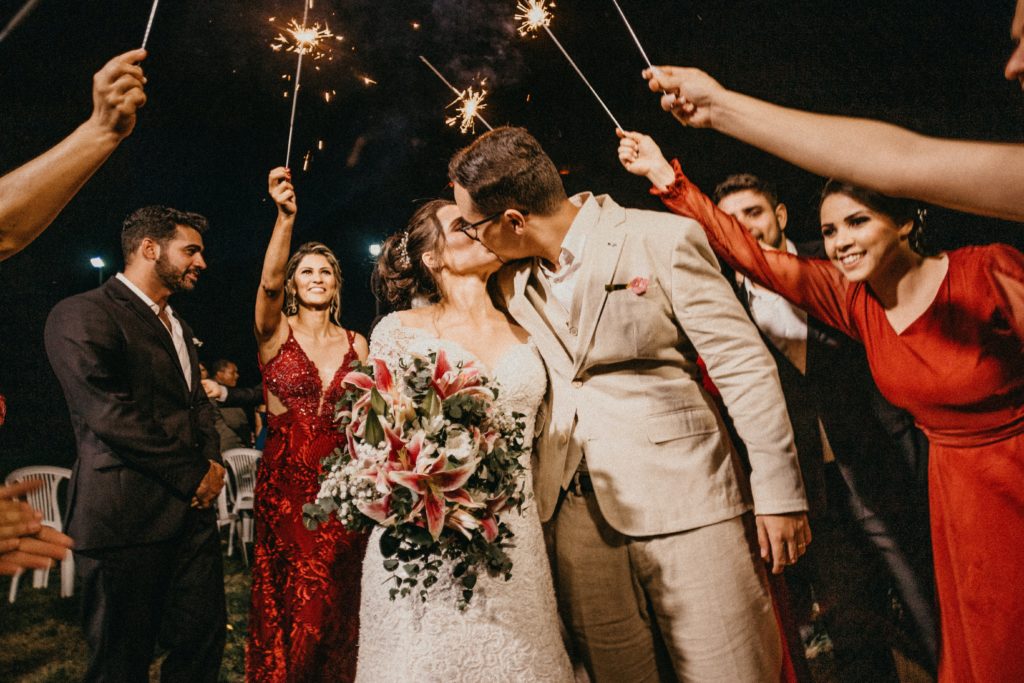 Flowers and Decorations
Consider taking a minimalist approach towards decorations, especially when it comes to the flowers. Decorating can add a lot to the wedding space, but it can also be very expensive. Luckily, a minimalist approach to things is trendy, so going light on the decor will look elegant and modern while still supporting the wedding flower industry.
When it comes to flowers for your wedding, there are several ways you can save money. You may even want to consider a single flower for bridesmaids instead of a full bouquet. You may even want to consider using fake flowers instead of real flowers. They can be done ahead of the ceremony so you don't feel rushed and will last long after the ceremony. Nobody will be able to tell the difference, and they will not get as easily damaged or wilted.
Groomsmen and Bridesmaids
While you may have a lot of people that you feel close to, having a lot of groomsmen and bridesmaids can really add up over time. When it comes to giving gifts to them, you may want to consider taking a minimalist approach or forget it all together. Instead of buying a gift, you can write them a personal letter explaining how much they mean to you.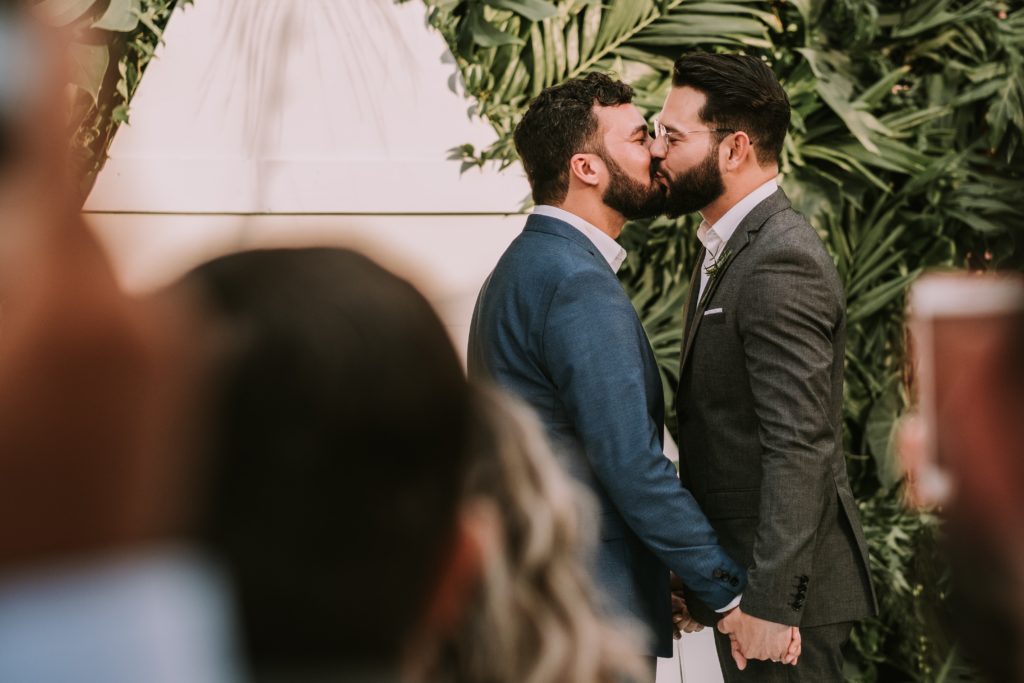 The Invitations
Invitations are another expense you will have to consider. You can look for places to order them online that will save you money. You can find all kinds of design options from using pictures of your and your significant other to foil wedding invitations. Ordering them online can save you a lot of time and money.
You can also consider making the invitations yourself. Using quality printers and a little bit of time, you can design your own wedding invitations that look professionally done. You just have to decide if the time spent designing them and printing them is worth the money you will save. It all comes down to how you want to spend your time and money.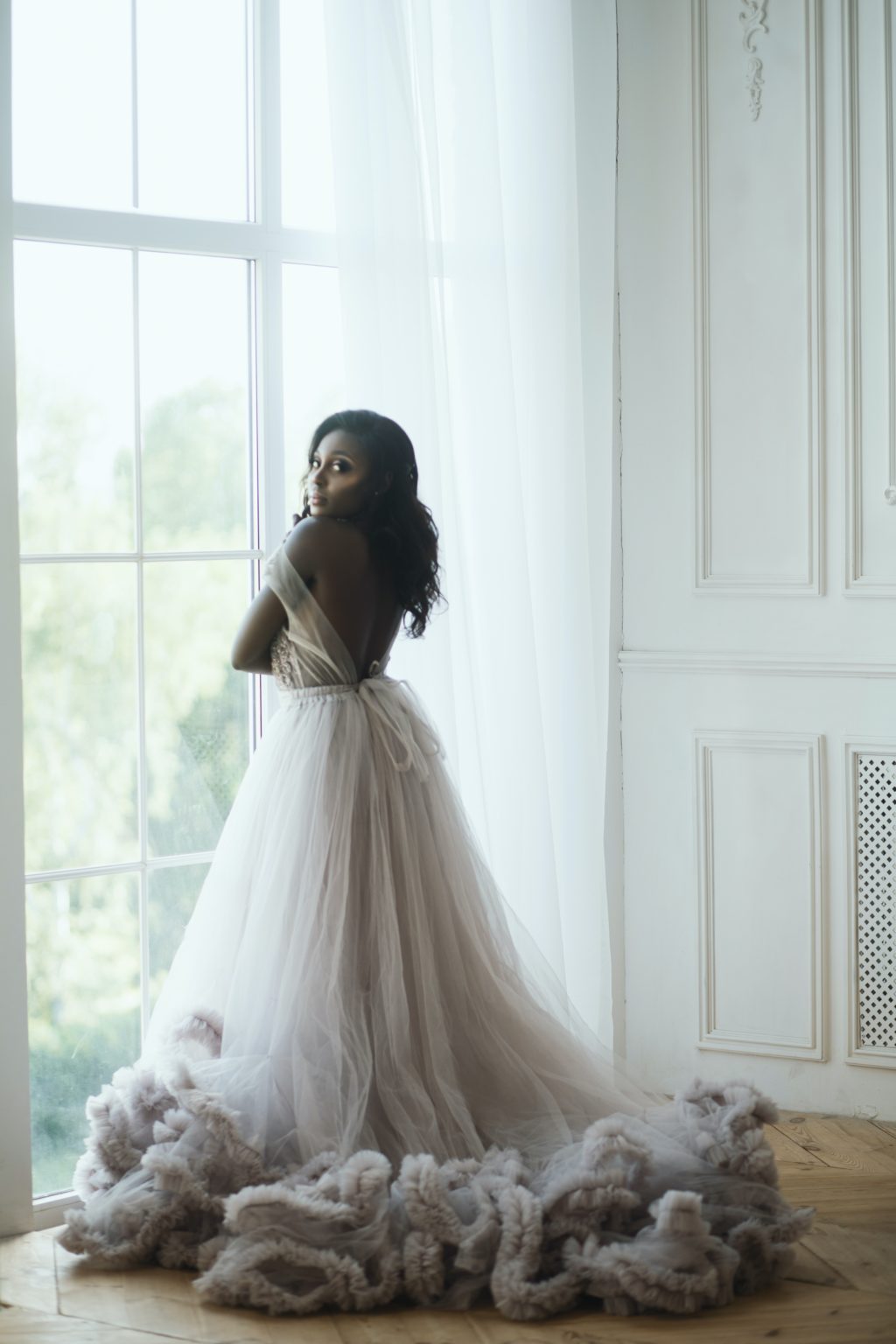 Gowns and Suits
Another big expense for your wedding is what everyone will be wearing during the ceremony. Dress prices, tuxedo prices, and alteration fees will all add up. If you want to save some money, try to look for sales going on at local stores and see if you can find something off the rack that will work.
Choosing your colors ahead of time so you know what you are looking for will help this process. It will also be important to make sure that the store carries a variety of sizes. It will be disappointing if you find the perfect dresses for your bridesmaids, but they don't come in the right size. Renting a suit is a better option than buying one. It doesn't make sense for most people to own a suit or tux since they will not use it very often. If you rent them as a group, you can often save money. You may even want to consider wearing matching suits instead of tuxedos.
The Honeymoon
Most people don't consider the honeymoon in their wedding budget, but they should. The money you spend on the honeymoon is money you will not be able to spend in your life together. The honeymoon is more about spending time with your significant other and settling into your life after the chaos of planning a wedding. This can be done from anywhere.
You should consider what is most important to you when planning your honeymoon. If you are adventurous and want to have things to do on your honeymoon, then you should look for destinations that will provide you with the chance to explore and try new things. If you are more intent on relaxing and unwinding after the wedding and spending quiet time together, then you will want to make sure that you have a comfortable place to unwind with relaxing amenities to enjoy. No matter what your preference is, you are likely to be able to find the perfect honeymoon destination that isn't too far from home and will save you money.
The Planning
The most important part of staying on budget for your wedding is to plan ahead. You should detail exactly what your budget is and keep careful records of the money that you spend. It is easy for small amounts spent on things to add up without you realizing it. If you are not keeping careful track, then you will find yourself going over budget without realizing it.
Planning ahead also lessens the chance of having to spend more to compensate for a mistake at the last minute. Usually, if you plan ahead, you can find ways to spend less on the same things. If you wait until the last minute, you will be scrambling to catch up, and there won't be time to budget.
Finally, if your budget is small then don't shy away from talking to wedding professionals. They are here to help and have so many ideas at all price ranges.
IF YOU FOUND THIS USEFUL, WHY NOT PIN IT?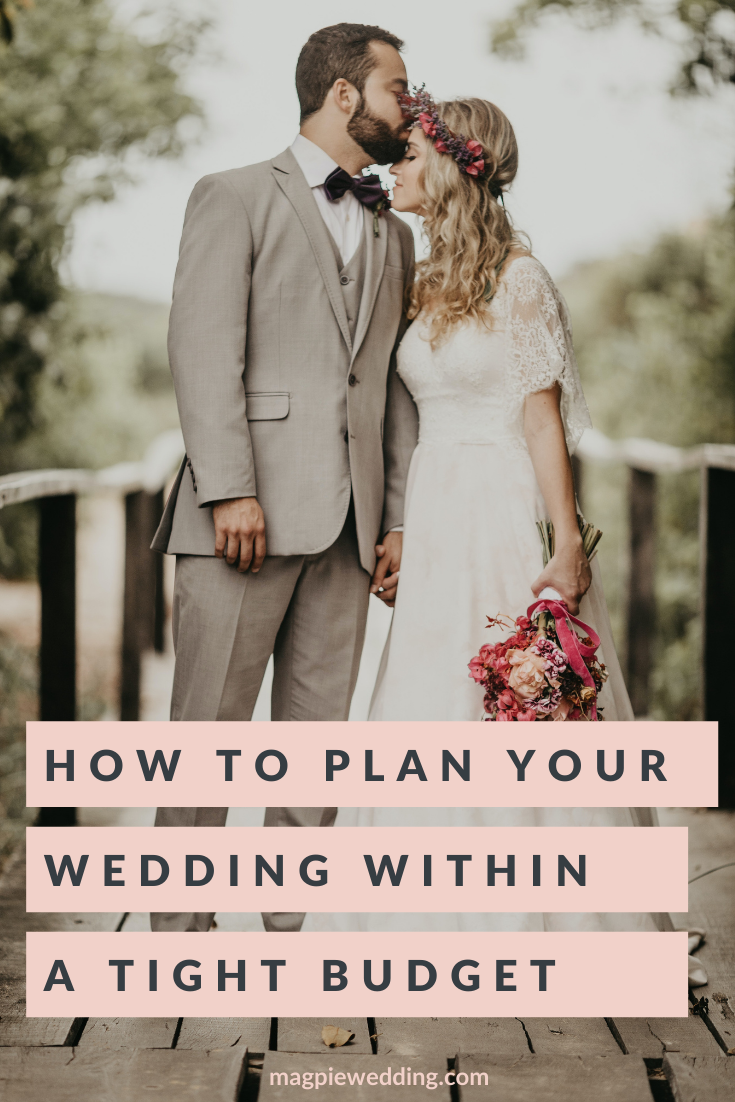 (This is a collaborative post)