Our Wedding Taboo Talks are exactly that, the things we don't talk about or indeed write about… BUT we absolutely should be talking about AND writing about too… wedding day period is just one of them!
We found that some of your biggest worries are not whether the flowers will arrive on time, but whether your period will arrive at the same time. What will you do? Where will you keep your tampons? What if you leak? What if you bloat? What if you have a tummy ache? What if your skin breaks out? And more. Let's tackle this taboo subject and get wedding day period advice from professionals as well as to speak to a bride, to hear how she feels.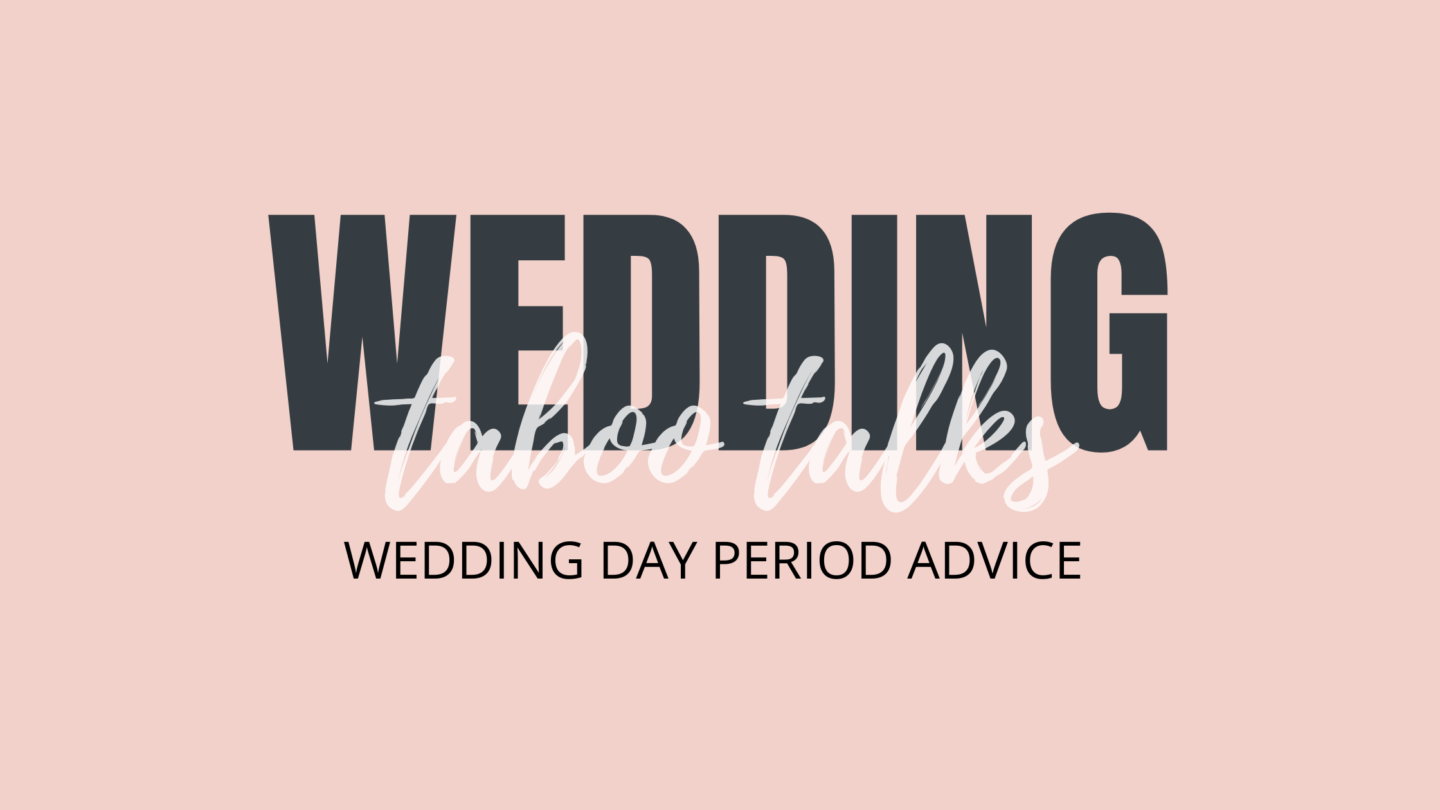 Wedding Day Period Advice
Speak To Your Doctor
To delay or not delay? Speaking to your doctor or women's health advisor is a good idea, as they can advise on whether you can delay your period altogether. We speak to Narendra Pisal, consultant gynaecologist at London Gynaecology to ask whether it is a good idea to delay your period so as to avoid it happening on your big day, or the honeymoon afterward.
"It is now quite common for women to use contraceptives as a way of skipping periods. Many women have heavy and painful periods and are keen to avoid periods if possible. Several women also do it for convenience to avoid disruption in their normal day-to-day work and life – or for special occasions such as a wedding. Under these circumstances, I recommend tri-cycling the pill (three packs taken back to back) with a view to having 4-5 periods per year at convenient times. There are no long term or harmful effects on the body, but this way of taking the pill can occasionally cause breakthrough bleeding."
However this can cause side effects; Abbas Kanani, a pharmacist at Chemist Click explains more
"You can take up to three packets of the combined pill back to back. This will delay your period, however, can be associated with side effects including bloating. This may be a problem for women that wish to feel their best on their wedding day. Other side effects include stomach cramps and breakthrough bleeds, which also may not be ideal for a wedding setting, especially if you're wearing a white dress!
It's probably logistically very difficult to time your wedding according to your cycle. It's more viable to time your pill around your wedding. This may take planning a few months in advance, but is a lot more cost-effective, and will most likely have fewer side effects."
With this in mind, it is maybe a good idea to take time off it now or stop the week off now, to make sure your wedding falls while you are mid-cycle.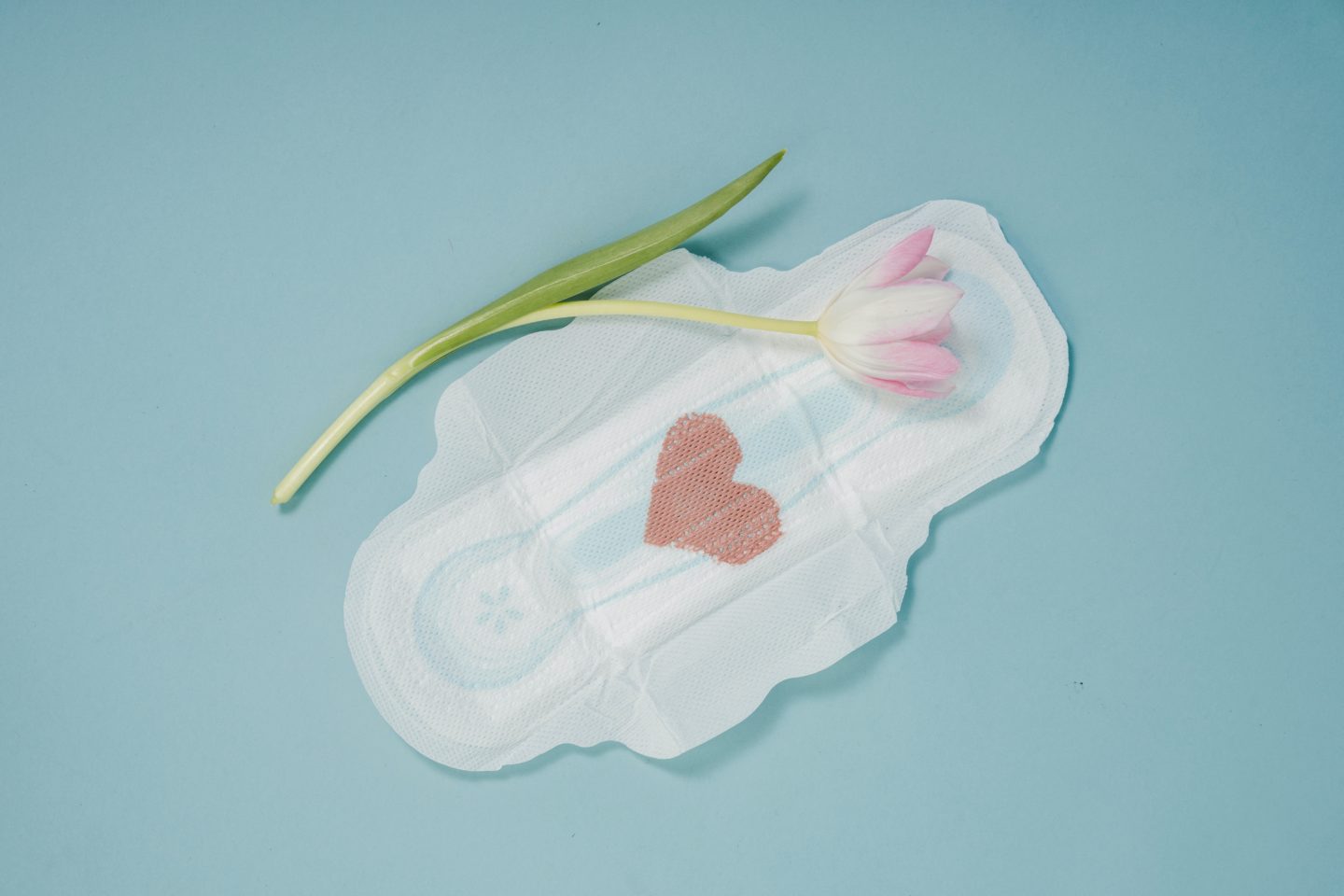 Speak To A Homeopathic Consultant
Angie Litvinoff is a wedding celebrant and modern-day medicine woman who suggests considering a more holistic approach with wedding day period advice.
"Here are a couple of my top period tips as a homeopathic consultant and savvy celebrant: firstly remember that full moon days mean heavier blood flow so PREPARE.
Caffeine and grains can bloat – a detox of these from a couple of weeks before will help with bloating symptoms.
There are specific homeopathic remedies that you can get from a homeopathic consultant for exhaustion, PMS, heavy bleeding and much more – invest 3 months before to get 3 sessions booked in to change your cycle so that it's pain-free."
A Bride's Perspective
Ella Delancey, a freelance copywriter, has postponed her wedding two times this year had planned the dates carefully to ensure she was period free for the wedding day and her mini-moon afterwards. But her new dates aren't at the right time for her cycle which brings worry.
"We've now postponed our big wedding twice. We're going ahead with a small ceremony on Oct 3rd and the big wedding in April 2021. Our original date was 23rd May and I was not due on my period for that date, nor our mini-moon following it. Annoyingly, my period now falls on BOTH of my new dates! I'm very regular as well, so I can't cross my fingers and hope for a shorter / longer cycle."
"I never usually mind having my period, but it's definitely a worrying factor in terms of my wedding day(s). Where am I going to keep my tampons? My dress is tight and I don't want to look bloated. I don't want to deal with feeling crampy and sick on what's supposed to be the best day of my life. And of course…I want to consummate the marriage. Again, a huge advocate for having sex at ANY point in your cycle, but putting a towel down on the hotel bed is not exactly what I had in mind when I imagined my wedding night!"
"My plan is to wear a menstrual cup as I am quite experienced with them so I'm not worried about leaking. I can also wear one for up to 12 hours so I won't have to be going back and forth and worrying about where to keep my tampons. If for some reason I want to wear a tampon, I would ask my bridesmaid to kindly keep a couple on her. In terms of other things, I'll likely take a Feminax in the morning to avoid cramps and in the lead-up, eat foods that I know help with my bloating, such as whole grains and celery. I'm hoping that I'm going to be so happy I'll barely think about it, but there's no harm in being prepared!"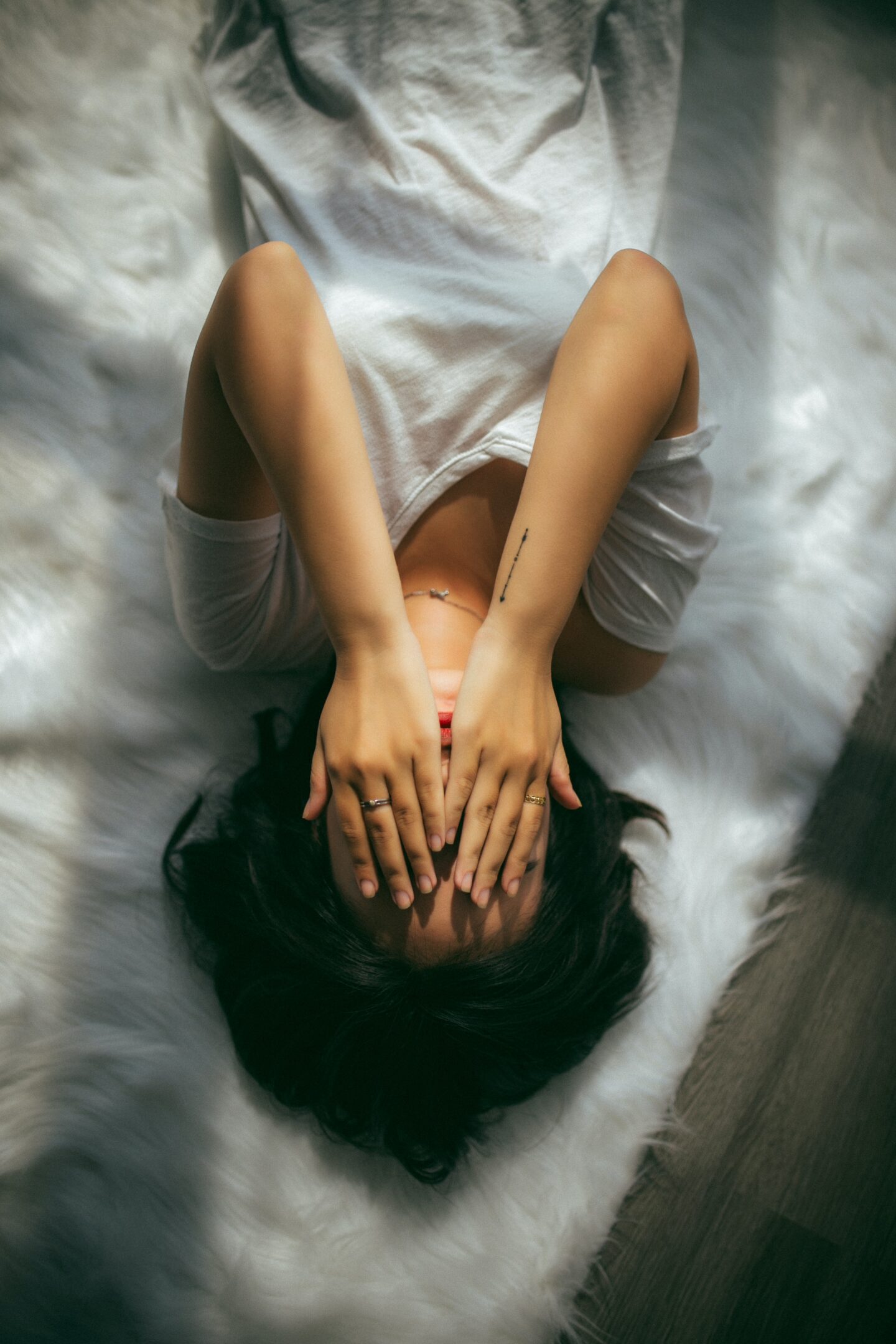 Using Period Cups Instead
There are of course products that can stay inside longer to stop the bleed such as cups. We have just found a new cup called Saalt.
New feminine care brand Saalt was born when founder Cherie made a call to an aunt in Venezuela and learned that pads and tampons had not been available on store shelves for years. Cherie immediately thought of her 5 daughters and what she should do if she found herself in that situation. Saalt Cups are designed to fit snugly inside your vaginal canal so you can maintain the same level of activity that you do when you're not menstruating. You can dance, eat and exchange vows free of bulky pads, annoying dangling strings or fear of leaks. It's made from a super smooth silicone as well for ultimate comfort.
We caught up with founder Cherie Hoeger to find out more about her product and the good work they are doing.
"As a college-educated mother of five daughters, it's hard to imagine my daughters' education being limited by something as basic to the human condition as a period. Yet, so many girls are halted early in their educational pursuits because they lack access to hygienic, long-term period care. The loss of potential is heartbreaking, and yet the solution is simple. A low-cost donation of reusable period care options like our Saalt Cups has the power to help a girl finish school, provide for her family, and afford her the confidence to care for her needs. I have found my greatest potential for impact as an entrepreneur comes by empowering others through education, and women and girls as a global demographic still have the largest strides to gain.
Being a female founder in the menstrual care industry has given me a first-hand view into the glaring needs in a market stifled by stigmas that have limited innovation in period care for centuries.
At Saalt, we make sustainable period care products, but our real drive is to create massive change for women and anyone who menstruates. We not only create products that literally change lives, but as a certified B Corp, we also commit 2% of our revenue to fund educational scholarships for underprivileged girls, educate about reproductive and menstrual health, and improve sanitation facilities by funding clean water sources and private latrines for schools. By empowering others with long-term menstrual hygiene solutions, we're able to help keep girls in school, and help women rise to their career potential and provide for their families.
But we don't stop there. We ingrain our mission right at our home office by addressing the needs of women in the workplace with a free, on-site preschool for our working mothers (and fathers!) and by encouraging conversations on social media that break stigmas and barriers surrounding menstruation.
To know I can play a small part in creating a difference in the world through our work at Saalt makes it worth every effort."
You can wear Saalt Cups for up to 12 hours, so it's a fantastic option for a wedding as they don't leak either.
And Finally – Be Prepared
If you are going to get it on your wedding day, it is best to be prepared. Speak to your Maid of Honour, your mum or a good friend and ask them to carry any tampons or pads plus anything else you may need just in case such as pain relief and a spare pair of knickers. This will make you feel calmer and you won't have to carry any of it about with you. Also, ask them to remind you to change your tampon so you can forget about it!
Our main advice, however, is to not too let it worry you and ruin your wedding day. Speak to your partner too, and be open about it so they can fully support you if needed. We promise, that when you look back on your wedding day, you will only remember the amazing day and partying with all your friends!