Are you confused by all the wedding stationery options out there? Not sure what the difference is, and not even sure what options are out there! To make it a little easier, here, we catch up with stationery expert Claire Mcdivitt from Lost Heritage who tells us all about what's available and how to make it unique to you.
"Recently engaged and looking for wedding stationery but puzzled by all the choice and terminology? Of course you are! Sometimes it can be so overwhelming but at the same time its so important to know all the options and to get your personality as a couple across as well as incorporate your theme. Here, I've put a glossary of everything you need to know about with regards to personalising your wedding stationery"
Print/Cut Processes and Terms
Blind deboss: A type of printing where text or design is impressed into the paper with no ink.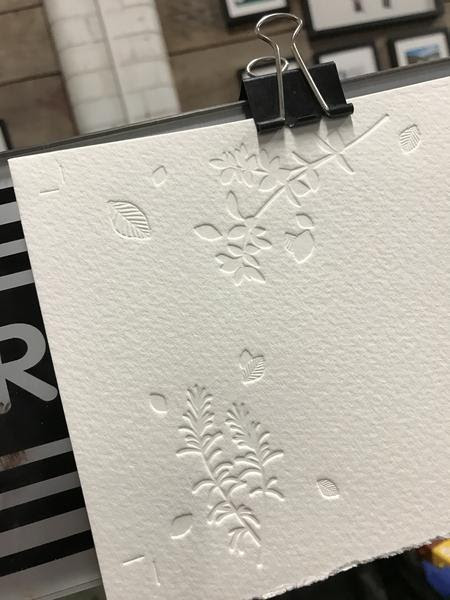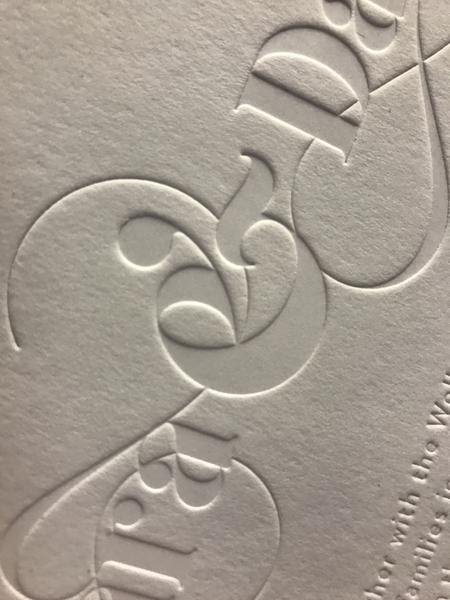 Images: Lost Heritage
Deboss/debossing: To stamp a design into the surface of an object. This is when an impression is push into the paper. A lot of people get deboss and emboss completely mixed up so please make sure you are aware of the difference as you can get a surprise with your invitations and its an expensive mistake to make!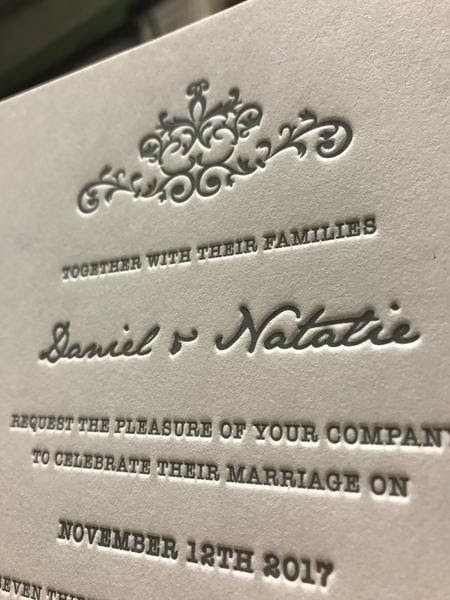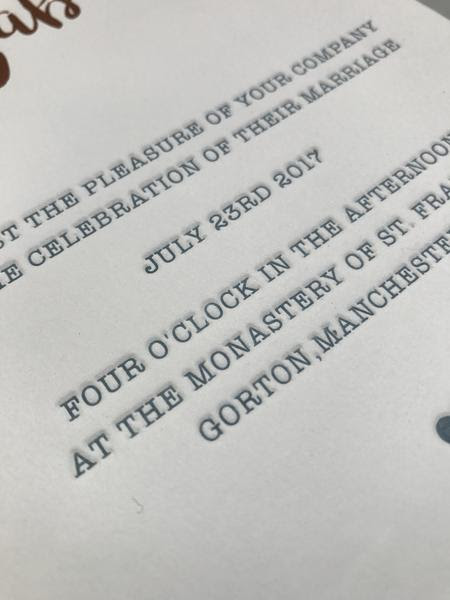 Images: Lost Heritage
Diecutting: A sharp piece of metal aka 'a die' is used to slice letters or designs into a piece of stationery.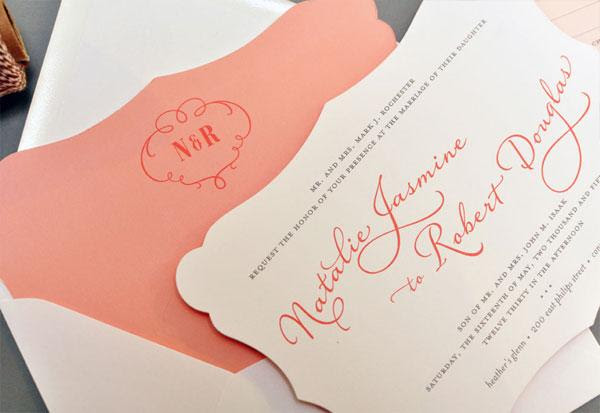 Image: Invitation Crush
Emboss: If a surface such as paper is embossed with a design then the design is raised and stand up from the material.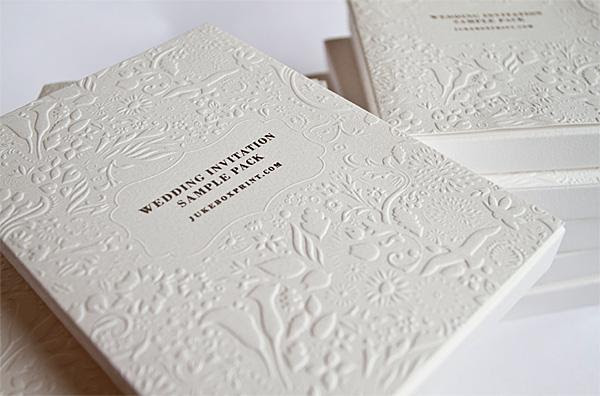 Image Jukebox Print
Foiling: Also commonly know as foil stamping or hot foiling. Sheets of metallic paper used to give a rich reflective sheen. Very popular to create a luxurious effect. Can use thicker paper stocks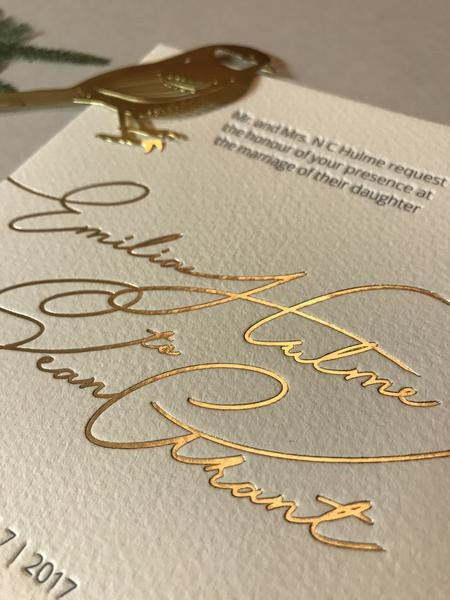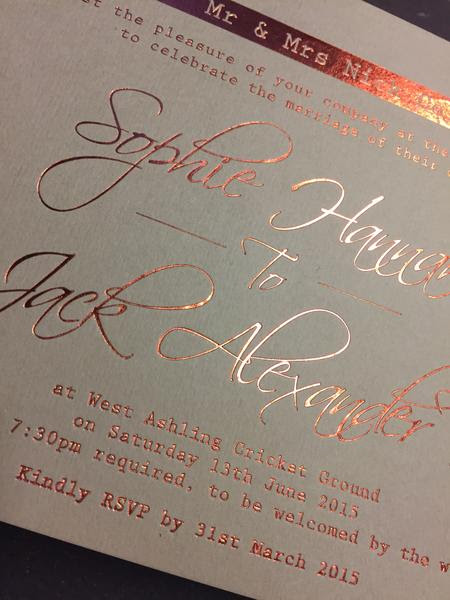 Images: Lost Heritage
Lasercut: Uses a laser to cut out images, shapes and details onto most materials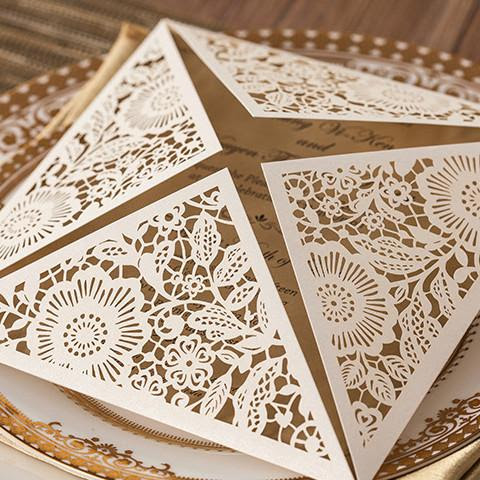 Image: Elegant Wedding Invites
Letterpress: A handcrafted vintage look. Letterpress prints tend to have a tactile quality with a deboss effect. A very hands on and creative process that create a high quality and luxurious look. Even though it is the oldest form of printing it can now be used to print basically anything- images, monograms, motifs and most text making it very versatile. Can use thicker paper stocks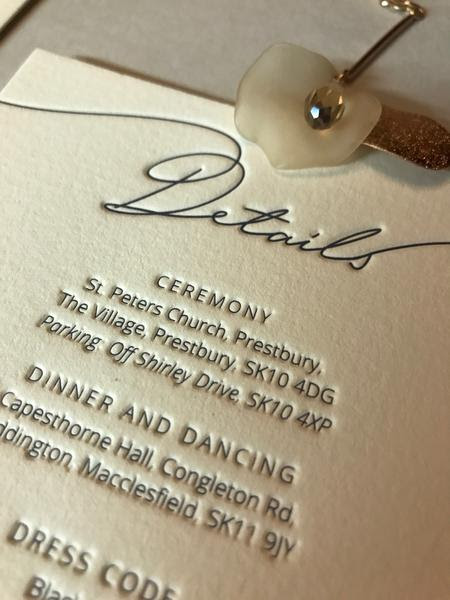 Image: Lost Heritage
Offset printing: Also know as flat printing. Great for delicate materials and a cheaper option. You can add highly textured paper to add dimension. Ideal for more casual weddings or for tight timelines and/or budgets.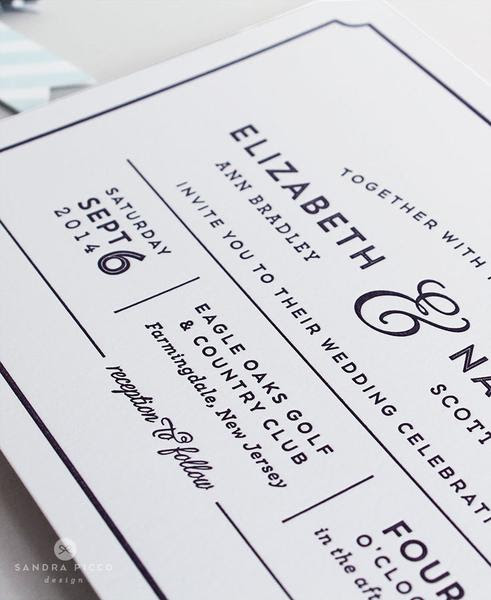 Image: Sandra Picco Design
Screen-printing: Ink is passed though stencilled woven mesh to create a hand- painted design effect.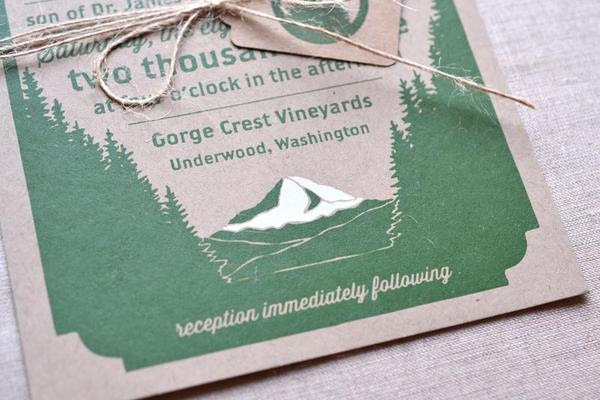 Image: Oh so beautiful paper
Stock-GSM: The higher the number of the GSM the thicker the paper. Thicker paper is best for more traditional print processes such as letterpress and foiling. Stock is basically the paper that it is being printed on. Generally the heavier the stock the better to convey quality.
Thermography: Ink applied to paper, dusted with powder and heated. This liquefies and hardens the powder resulting in raised ink that can be felt.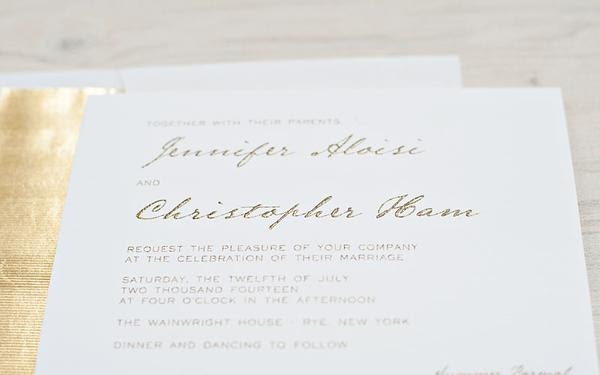 Image: Suite papierie
Typeface: A particular design of type also known as a font family. Very important to creating the style of invite.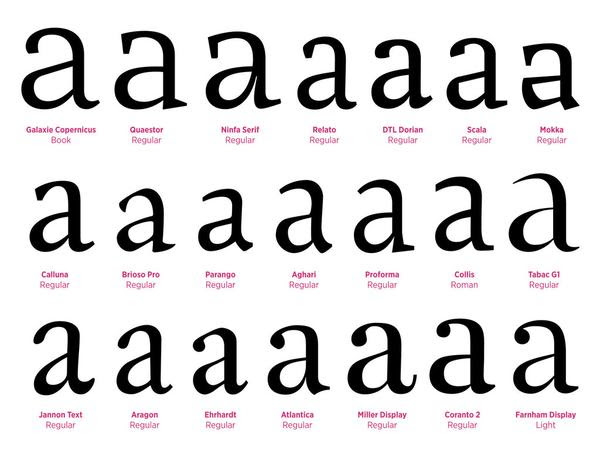 Print/Invitation finishes
Add-ons: Extras such as maps/directions, itineraries.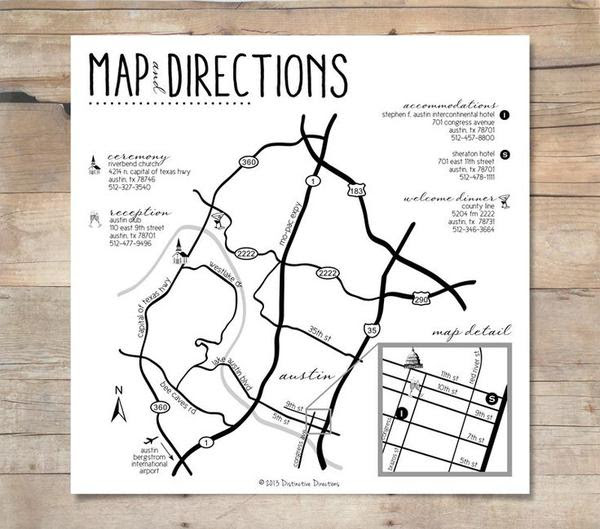 Image: Etsy
Bellyband: Decorative band of paper, fabric or ribbon that wraps around your invites to tie or hold together.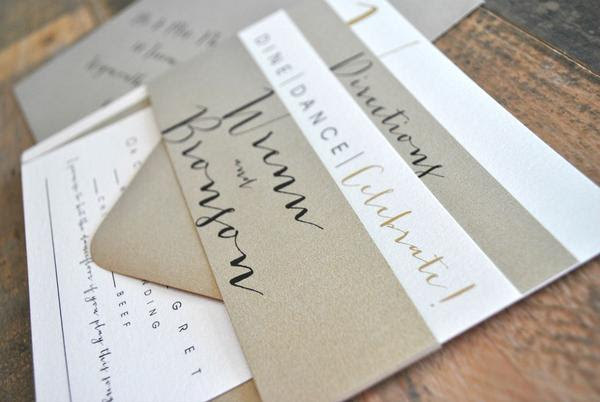 Image: Ivandy
Beveled edges: Slanted edge of heavier stocks that show thickness and dimension of the invitations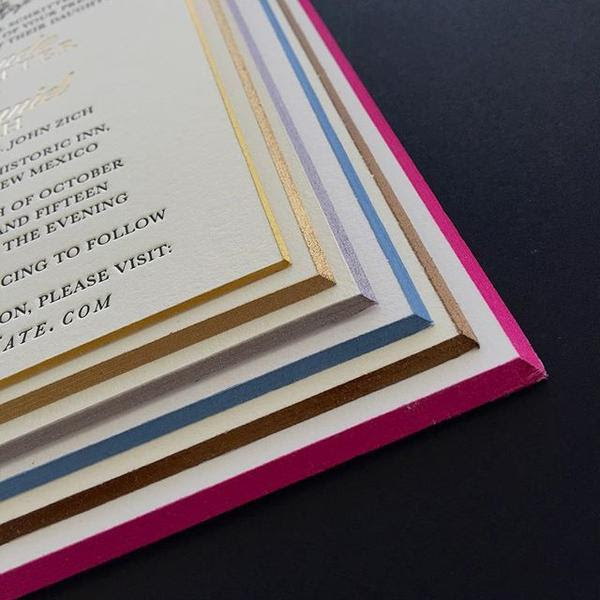 Image: Cotton Paperie
Bookbinding: Whether it be perfect bound, singer sewn, screw bound or saddle stitch bookbinding is great for wedding guest books, order of services or any other wedding related literature.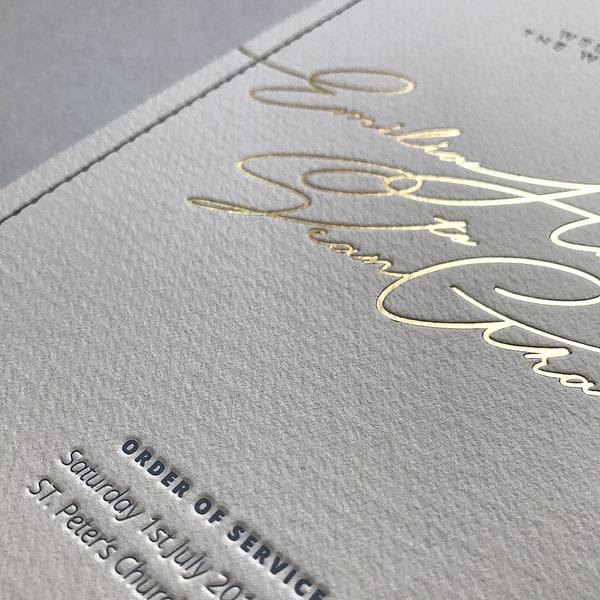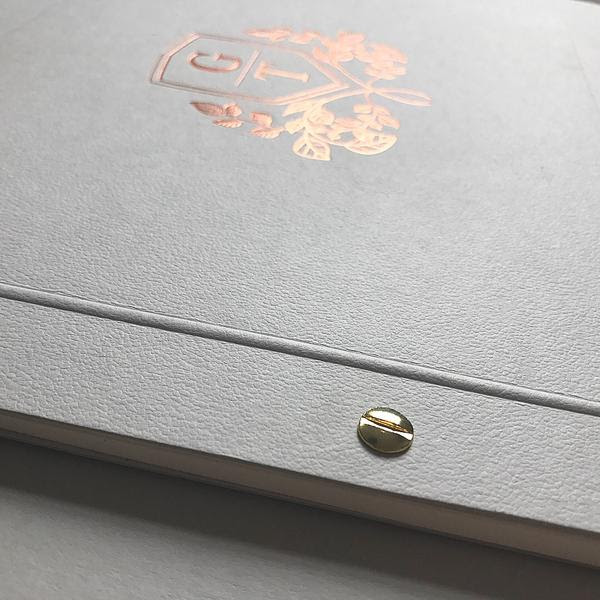 Image: Lost Heritage
Calligraphy: Artistic handwriting. A specialist practice and is great for personalisation e.g Place cards and envelope addressing.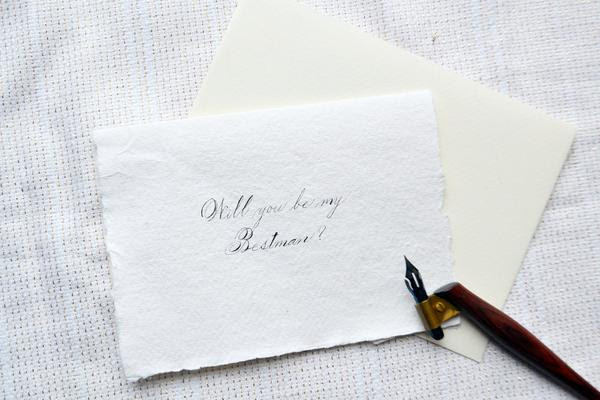 Image: Artsynibs
Edgepainting: This is a process where colour is applied to the edge of your cards. Edge painting can add a beautiful colour pop to any stationery. Can be used using any pantone colours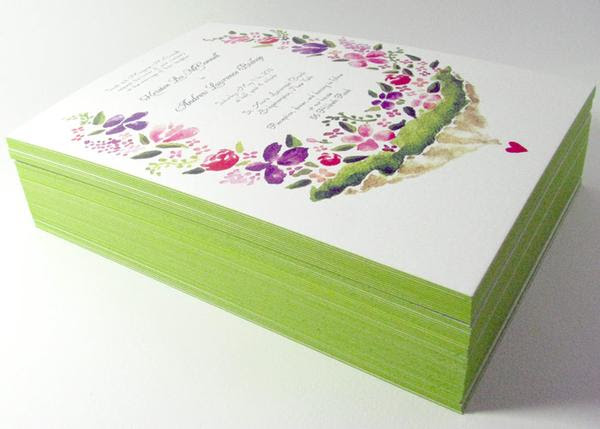 Image: Digbyrose
Envelope lining: A skilfully lined envelope can hint of a elegant invitation inside. Its like a sneaky peek of what is to come. Its basically where an envelope is embellished inside and can co-ordinate and compliment your wedding stationery design.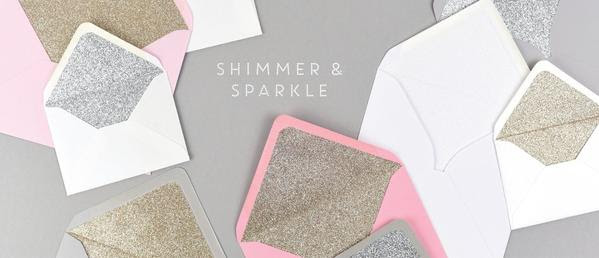 Image: Dimitria Jordan
Gilded edge: Adds a touch of class to wedding stationery. Commonly done with a gold or silver edge. Created using a gold leaf effect.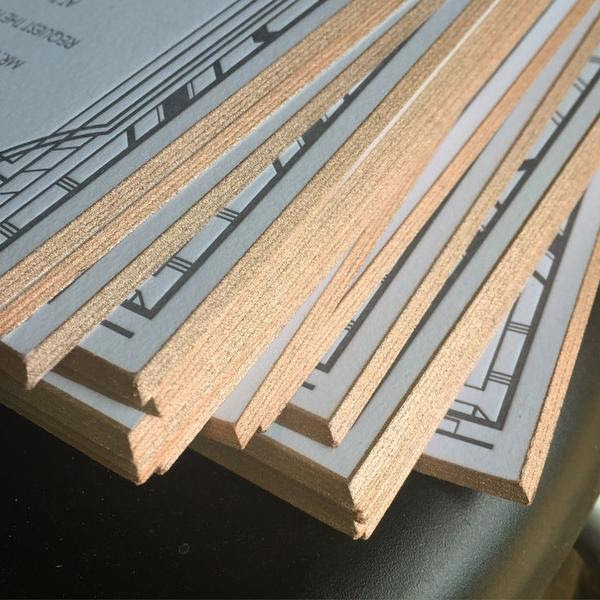 Image: Bellinvito
Monogram: Classic way to personalise stationery- could be the 1st letter of your new last name, initials of you and your partner or a combination of them both.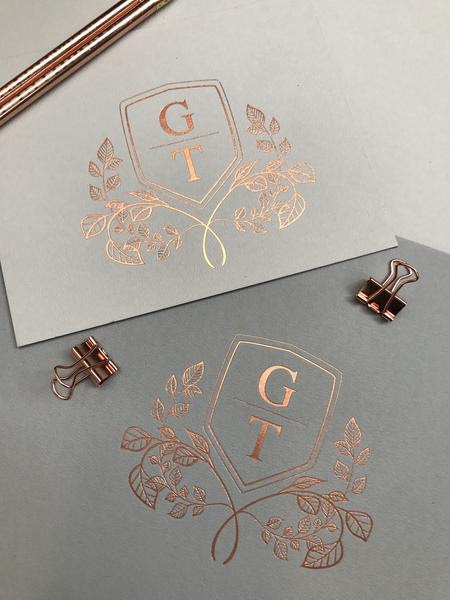 Image: Lost Heritage
Motif: A single design element that appears throughout-a decorative image or design. Usually something personal to you. Whatever you want (e.g. Beach huts if you are from neat the coast) can be printed and adds a lovely personal touch.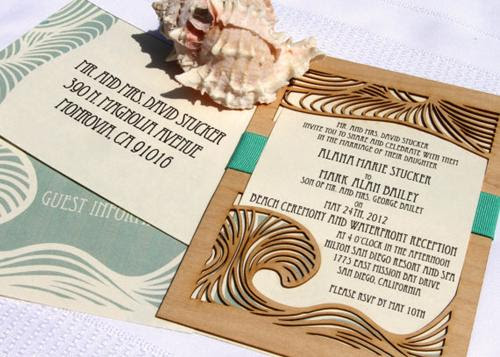 Image: Madeline Drive
Perforations: Line of small holes that allows paper to be torn. Typically used on reply cards so that they can be torn and partly returned.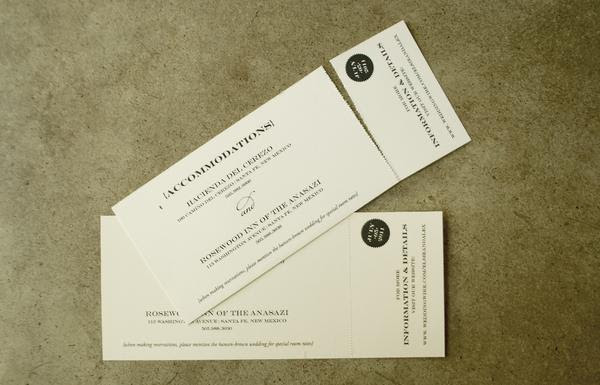 Image: Oh so Beautiful Paper
Rounded corners: Can add an elegant twist to the normal squared edges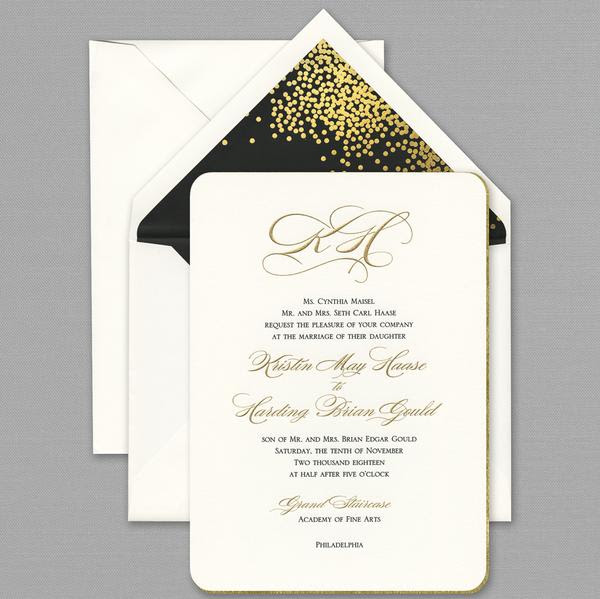 Image: Vera Wang
Wax Seal: Hardened wax to close an envelope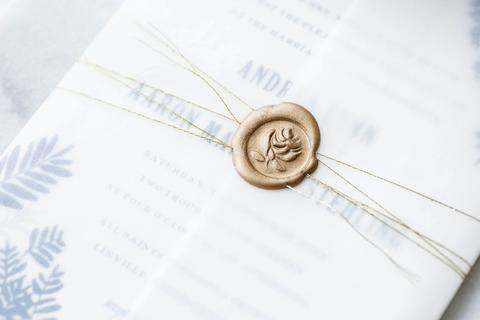 Image: Hello Ten Fold
Wraparound label: Printed stickers that make addressing envelopes easy and cost- effective. The front can display the return address and the back can bear initials.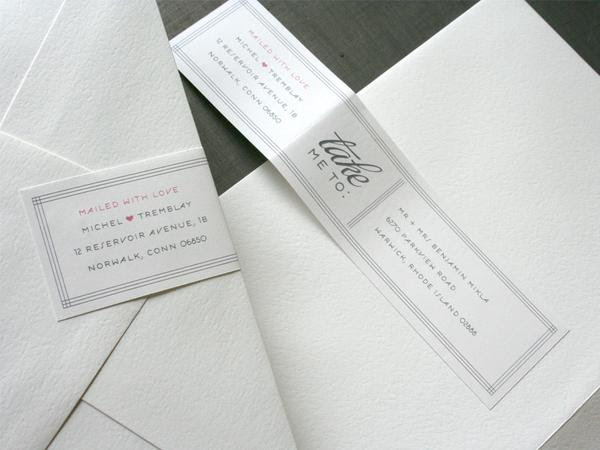 Image: Studio on Fire
Looking for more Wedding advice? Check out our blog on Why you need to hire a Wedding Planner