Brides have always veered towards real wedding flowers as their first choice for their big day, whether that's for their bouquet, table centrepieces or hair accessories. Flowers are a fundamental wedding detail, but that doesn't mean they have to be real. We're going to take a look at the limitations and advantages of both real and artificial flowers.
Real wedding flowers have a wonderful natural scent and an undeniable beauty, so for a lot of brides it can be difficult to even consider artificial flowers. However, because they are so delicate there is the risk that they can wilt in hot weather – which is often considered bad luck by some couples. This is definitely something to consider if you're tying the knot in the warmer months. They could even become damaged when being transported from the florist to the wedding venue. If you do opt for real flowers, ensure you can trust your florist to take great care with your bouquet or flower crown, and to ensure it's delivered with perfect timing.
For couples who suffer from hay fever or allergies, real flowers can be a real nightmare and can even ruin a wedding day. If you suffer from pollen allergies, artificial flowers are definitely the right choice for you ¬– no one wants watering eyes or sniffling noses in their wedding photographs!
Price can really vary with real and artificial wedding flowers – if you go for an extremely elaborate bouquet of silk flowers the price could easily be just as costly as buying real flowers. This is because the quality of silk flowers is getting better and more realistic each year, and can often be to tell apart from real flowers. If you're planning a wedding on a budget, it's best to discuss with a florist the cost of your bouquet or flower crown.
One of the huge advantages of using artificial flowers for your flower crown or floral arrangements is the fact that they will last forever. You can keep your wedding bouquet as a keepsake, and it will look just as beautiful on your 10th wedding anniversary as it did on your special day. This is ideal if you're a sentimental bride who would love to cherish their flowers.
Another fab advantage of using artificial wedding flowers is that you aren't limited to the bloom you choose, as they're not seasonal. If you're saying 'I do' in Winter, but you're dreaming of Peonies, then you can have them! You could create the flower crown of your dreams, with any mixture of silk flowers you wanted. You can also add a touch of glamour to your wedding bouquet or flower crown by creatively working in crystals or embellishments – the choice is yours!
First image by Lieb Photographic
Although real flowers have a unique beauty and an authenticity that brides adore, that doesn't mean artificial flowers can't replicate that. It's always worth considering alternatives, or maybe even mixing and matching. For instance, use silk blooms for your wedding bouquet but using the real thing for your table centrepieces, or silk floral crown and real bouquet.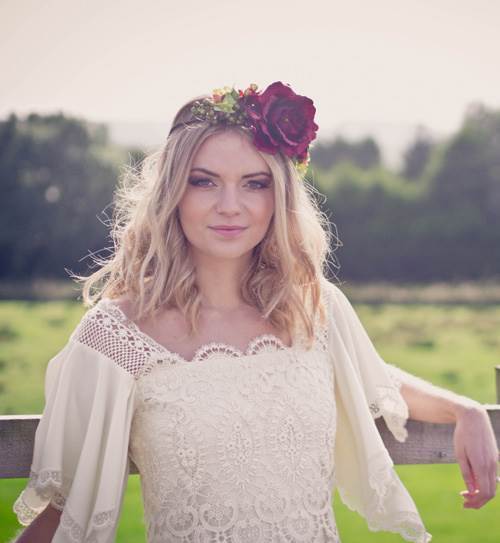 A huge thanks to Marie from Flash Floozy for today's blog. She will be with us in Manchester on October 16th.
Credits: