At Magpie Wedding, we run creative luxe wedding shows, ethical wedding shows as well as curating the Eclectic Boutique at the National Wedding Show in Manchester and London. Our ethos is to give our couples something interesting and fashion led to look at – whether it is at a vintage event, an urban event, or a luxe event.
Our shows do not promote teeth whitening nor weight loss, or more traditional items such as chair covers or chocolate fountains. But we love UK indie dresses, artisan jewellery, stunningly different cakes – you get the picture!
Our Ethical Shows aim to share ethically minded businesses with couples who care about the planet as well as each other. There is a criteria you need to fulfil to be part of the show which can be seen in the Application Form below.
We are always looking for new businesses to work with so if you are interested in our shows generally, please join our mailing list by filling out the Enquiry Form.
The ways it works is this…..
You complete the application form, telling us a bit more about yourself and which show you are interested in. We will then get in touch and tell you more about it and whether we feel you are a right fit for our couples. We are not just about bums on seats – we want to create perfect matches between wedding suppliers and couples, so it is important we get it right.
We also make sure there are only a certain amount of each supplier at every event – this amount depends on the size of the venue and exhibitor numbers.
Our 2020 Shows
The Ethical Wedding Show – Manchester Victoria Baths March 29th 2020
This is our first Ethical Wedding Show and we are very excited as we know that our couples care about the planet and want a wedding day that doesn't impact it. They are what we call "ethically minded" – they still want the day to be beautiful, and creative, they just want to be able to add vegan canapes or locally sourced booze! They don't want items flown in from the other side of the world. They want to know that everything will be recycled either and don't want an single use plastic anywhere!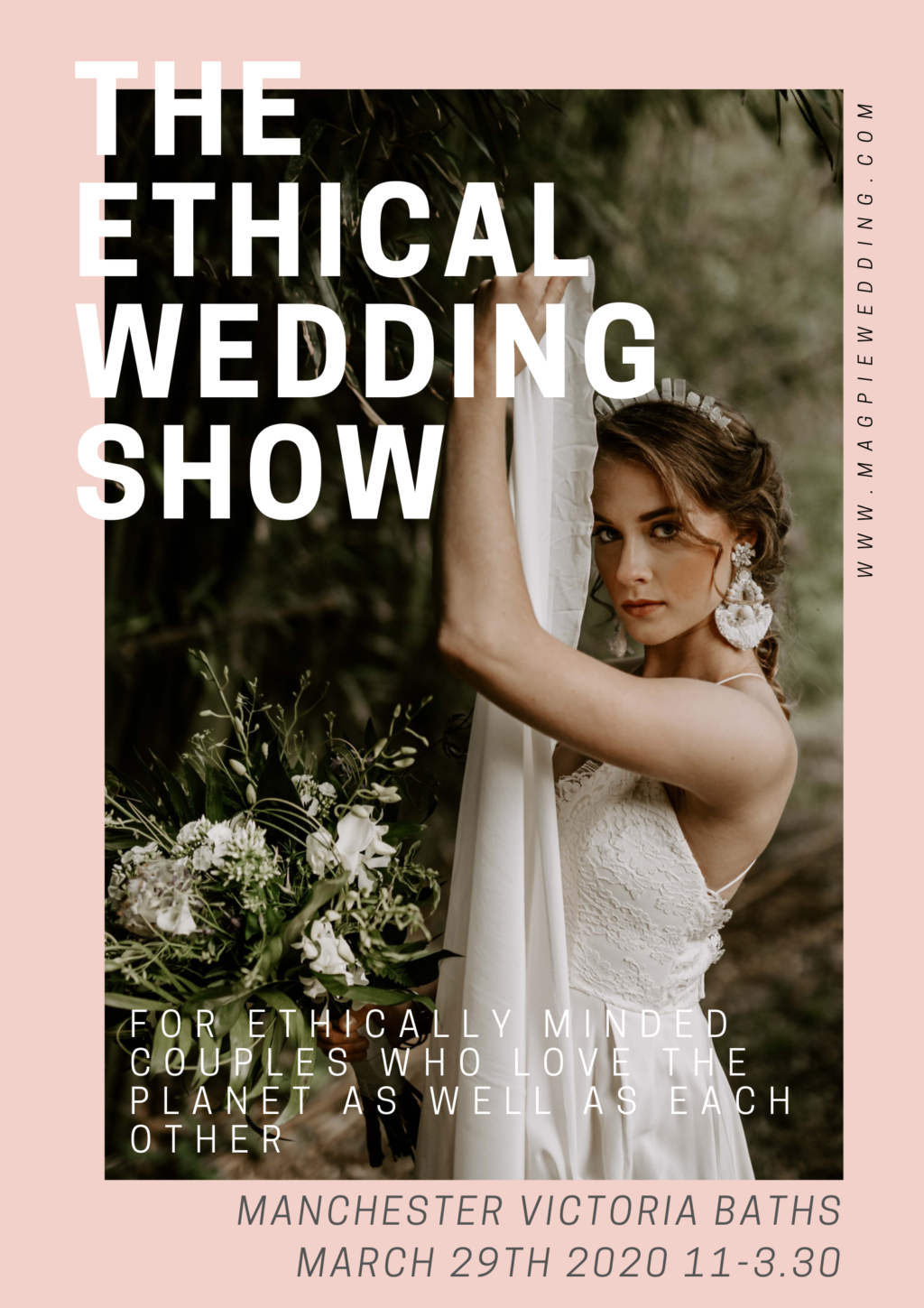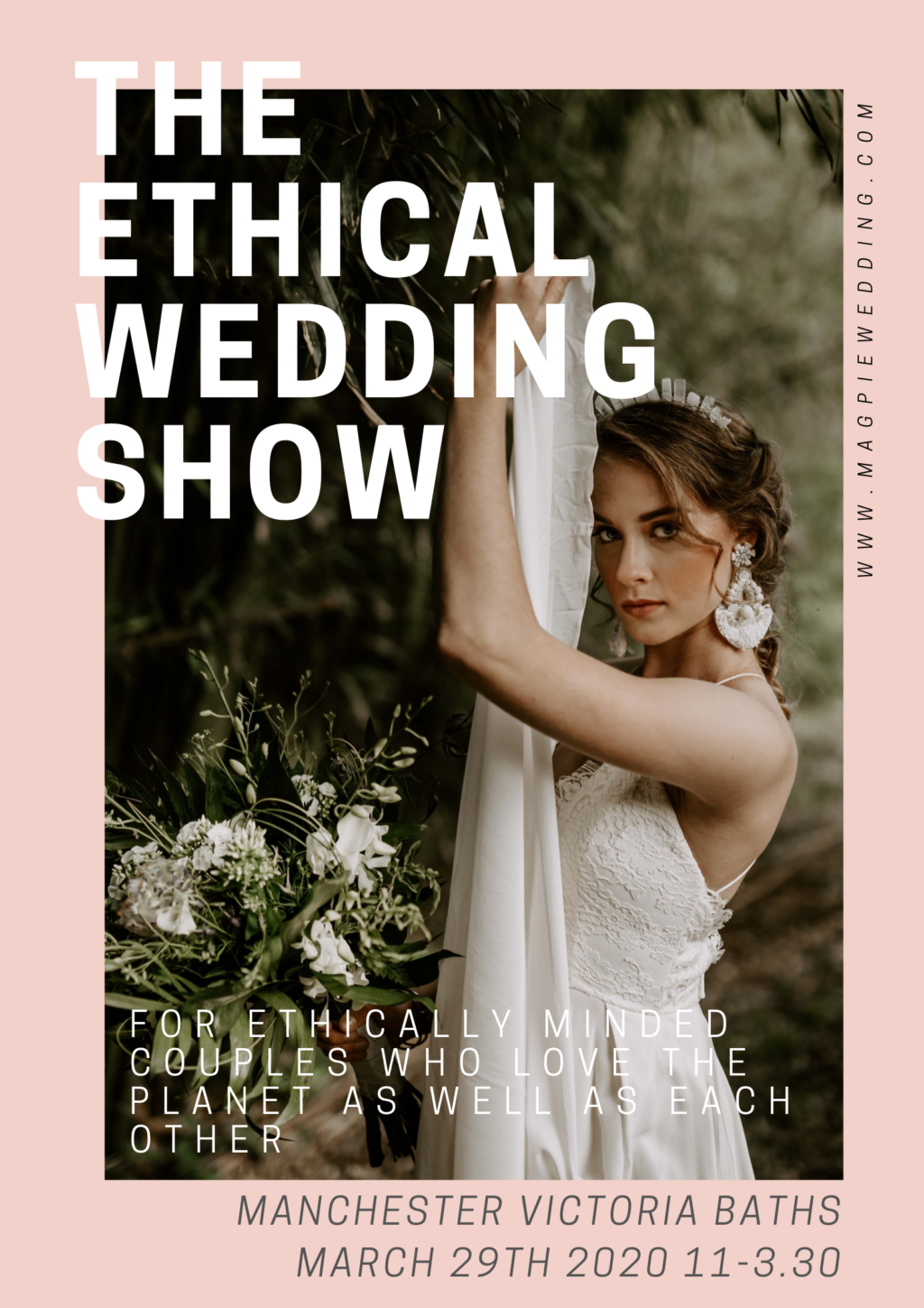 The show will also have talks and demonstrations, and we have some exciting sponsors to announce very soon.
As you can expect we need to make sure that everyone involved really does care about the planet so there are some questions added to the application form below that you need to complete!
STAND PRICES
Fledgling Single 8 foot Stand (for businesses less than a year old) – £100 SOLD OUT
Single 8 foot stand – £150
Double 16 foot stand  – £280
Upgrade Options
A single stand plus a standard directory listing (worth £100) – £200
A single stand plus a blog post dedicated to you (worth £200)  – £250
A single stand plus a social media 24 hour takeover (worth £300) – £300
PLUS every exhibitor can join our standard directory for half price before or after the show within the next year!
We are now full for photographers.
We will also be offering webinars for you to learn more about being ethical – more of this to follow!
Finally – we will not be producing flyers for this event. We therefore will be introducing a competition for all exhibitors who share the show on their social media. The person who does it the most and the best will win a half priced stand off the same show! More details to follow.
[line]
Eclectic Boutiques at The National Wedding Show
We return to the National Wedding Show in the Spring with our Eclectic Boutique. This is the creative alternative area, which we have now organised for 5 years! The dates are:
Manchester Event City March 14th and 15th – We are now full for photographers
London Excel April 4th and 5th – we have a photography space!
Please note – all exhibitors have to be agreed by the main organisers and cannot have exhibited directly with them before. Power costs extra at these events. We are now full for photographers.
[line]
The Virtual Wedding Fair
This is where couples can sit back from the comfort of their sofa, or maybe even stay in bed, and watch our hand picked suppliers coming live through their phone, their tablet or pc.
Launching on Valentine's weekend, a whole 9 YEARS since we originally launched as the first vintage wedding fair in the UK, The Virtual Wedding Fair is a live experience via Facebook and Instagram (that's 58K people) where you will share your products, hints and tips in your chosen field (think how much wedding cake do you need, or should you get an engagement shoot) and then you will launch an online competition or promotion to gather email addresses.
The couples can ask you questions there and then, or afterwards. You can then engage with them and invite them to a consultation.
You will have an hour slot on your chosen day which you have control over. So you can spend one whole hour coming live to Facebook and Instagram at the same time, or you can do 20 mins on each – it will be up to you but we will agree this beforehand so we can tell the couples. You will get: advertising and PR before and on the day, full training on how to do a brilliant live a month before, your video will be boosted/advertised after the event to increase reach and also there will be an opportunity to download the video to be shared elsewhere i.e. to our mailing list, again to get more couples to see it. In the background we will continue to grow our numbers: followers, email list and brand awareness as usual.
And if you cannot stand the thought of going live, you don't actually have to go on camera – you can get models!
What you need to do
This is an application process rather than going straight through to booking. Please apply using the form below sharing as much info about you as possible. We will then invite you to a 10 min Facetime call so we can chat further. It is important we get the right people for our brand and our brides as we want this to work for us and you.
[line]
Please read our full T's and C's before completing the form.
APPLICATION FORM
Please note that by completing this form you will not be added to any mailing list. We will only use this information to be able to process your application and booking. Please read our Privacy Statement for more information.