At Magpie Wedding, we run creative luxe wedding shows, eco wedding shows as well as curating the Eclectic Boutique at the National Wedding Show in Manchester and London. Our ethos is to give our couples something interesting and fashion-led to look at – whether it is at a vintage event, an urban event, or a luxe event.
Our shows do not promote teeth whitening or weight loss, or more traditional items such as chair covers or chocolate fountains. But we love UK indie dresses, artisan jewellery, stunningly different cakes – you get the picture!
The ECO  and Ethical Wedding Show are for couples who care about the planet and want a wedding day that doesn't impact it. They are what we call "ethically minded" – they still want the day to be beautiful, and creative, they just want to be able to add vegan canapes or locally sourced booze!
They don't want items flown in from the other side of the world. They want to know that everything will be recycled either and don't want any single-use plastic anywhere!
Each show will also have talks and demonstrations, and we have some exciting sponsors to announce very soon.
As you can expect we need to make sure that everyone involved really does care about the planet so there are some questions added to the application form below that you need to complete!
We are always looking for new businesses to work with so if you are interested in our shows generally, please join our mailing list by filling out the Enquiry Form.
The way it works is this…..
You complete the application form, telling us a bit more about yourself and which show you are interested in. We will then get in touch and tell you more about it and whether we feel you are a right fit for our couples. We are not just about bums on seats – we want to create perfect matches between wedding suppliers and couples, so it is important we get it right.
We also make sure there is only a certain amount of each supplier at every event – this amount depends on the size of the venue and exhibitor numbers.
Our Wedding Shows
The Ethical Wedding Show, London October 23rd 2022, Ecology Pavilion, Mile End. 
This is our flagship show so will be slightly different from the rest with seminars on topics that matter such as relationship advice and body confidence. There will also be key talks on wedding planning and craft workshops with of course awesome suppliers like you!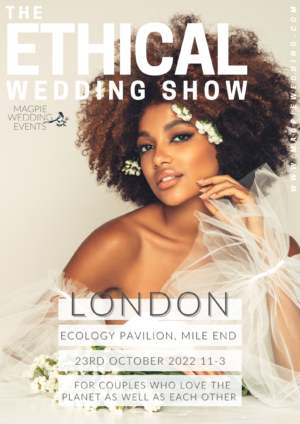 There are two tiers of prices – standard and premium.
Standard is £200 (including VAT): You get a single stand space (2.5m by 1.5m) and a share on our social media channels (90K people).
Premium is £275 (including VAT): You get a single stand space (2.5m by 1.5m), and social media takeover and a Virtual Flyer Drop to our newsletter audience.
We also have 3 fledgling stands available at £150 (including VAT)
Upgrade Options
Book a stand and get 10% off a year's directory listing (a directory listing already has 15% off when paid for the year so that's 25% if booked with a show stand
Installment plans are available on all shows – this is a £50 deposit on booking with a balance to be paid at a later date to be confirmed at time of booking.
We are aiming to not give out tables at our shows – we believe a row of tables at wedding shows is a bit boring!  We will host a webinar beforehand to give you ideas of what to do instead – but for now, we urge you to think out of the box with your display.
THE BOOKING FORM IS BELOW
FOR ALL SHOWS AND EVENTS – Please read our full Ts and Cs before completing the form.
---
Eclectic Boutiques at The National Wedding Show
We are back at London's ExCel on October 15th / 16th with our creative area called the Eclectic Boutique. We have space for just 6 suppliers. There are 10K visitors to the show across the 2 days who are serious about planning their wedding. The price is £935 plus VAT and you can pay in installements.
Please note the following –
Power costs extra at these events. 
Parking costs extra at these events.
THE BOOKING FORM IS BELOW
FOR ALL SHOWS AND EVENTS – Please read our full Ts and Cs before completing the form.
---
The Virtual Wedding Fair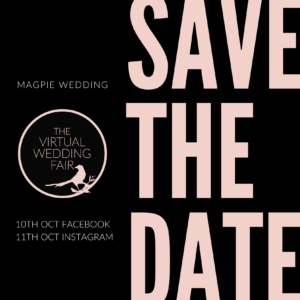 The Virtual Wedding Fair is where couples can sit back from the comfort of their sofa, or maybe even stay in bed, and watch our hand-picked suppliers coming live to them through their phone,  tablet, or pc.
Launched in early 2019 (long before any lockdown) The Virtual Wedding Fair was the first Virtual Wedding Fair in the UK and is where we bring all the suppliers our couples are looking for. You will share live your products for them to drool over, you will give them hints and tips on your chosen field (think how much wedding cake do they need, or should they get an engagement shoot) and you will launch an online competition or promotion too.
As it is live they will have a chance to ask you questions there and then, but if they are watching later they can always send you a message.
Now we know this means that they can't actually try the cake (as we can't teleport cake through a phone but we are working on that!) but they can always do that when they arrange to go and meet you to chat further and hey, to book you!
The next fairs will be week commencing 15th February and last throughout the 7 days. They will be a one-hour show daily (no death by Zoom calls here!) fully branded with Magpie Wedding logo and colour, with guests appearing throughout the show. We are working hard to make this look and feel more professional and interesting for the end-user.
The aim is to have themed shows such as Style The Bride (bridal and accessories), The Finishing Touches, Making Memories (photograph) – and these will be decided nearer the time when we have chosen the businesses involved.
What you need to know
The booking is for a 10-minute live interview via video conferencing but you will be needed for the hour as we ask you all to appear, then we will cut to one supplier at a time. It will be at 6 pm.
There will be set questions so you can fully prepare. We will ask you to tell us about your business, showcase a few products, give one tip for couples booking and finally an offer just for our couples. You will have a chance to share your website and contact details. Your name and business will be written on the screen.
This will appear on Facebook then be put onto our YouTube channel afterward. We will also create a page on the website with the videos and links to your businesses. Of course, your business will be shared across social media channels and our newsletters.
You will need to be available the week before for a dress rehearsal so you understand how it works and for us to check your lighting and sound so the finished show is as good as it can be
What you need to do next
This is an application process rather than going straight through to booking. Please apply using the form below sharing as much info about you as possible. We will then invite you to a  FaceTime/Zoom call so we can chat further if needed. It is important we get the right people for our brand and our couples as we want this to work for us and you. We can share hints and tips with you too if you are new to video.
---
APPLICATION FORM FOR ALL EVENTS
Please note that by completing this form you will not be added to any mailing list. We will only use this information to be able to process your application and booking. Please read our Privacy Statement for more information.
FOR ALL SHOWS AND EVENTS – Please read our full Ts and Cs before completing the form.