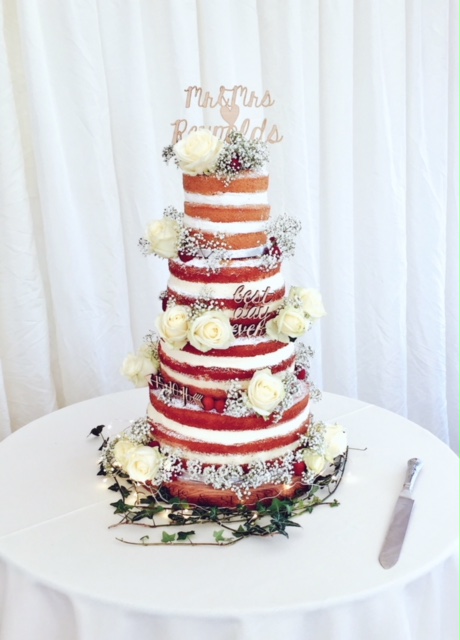 COMPANY OVERVIEW
I'm Alison and I'm an eco-conscious wedding cake designer making truly unforgettable wedding cakes. Little Chelly Cakes is run from my farmhouse kitchen in the village of Chelmorton (Chelly for short!) in the Peak District. I use locally and ethically sourced ingredients in all my baking and reuse/recycle everything!
DESCRIPTION
At Little Chelly Cakes the emphasis is on creating stunningly delicious, eco-friendly wedding cakes to wow your guests. Unlike any other cake you have tasted, each one is individually designed and handmade with love in my farmhouse kitchen in the Peak District. I use locally and ethically sourced ingredients in every bake to create light and flavourful sponge layers. Each one is then generously filled with curds, jams, buttercream or ganache. Vegan and Dietary options are also available too. Decorating your cake is a serious business and so by using light and silky Swiss meringue buttercream I can ensure your cakes are a delight to eat. Design inspiration comes very much from your personalities, style and dreams for your special day, but I am also inspired by art, nature and architecture. There is no limit to what can be created and I love nothing more than incorporating textures, bold colours, shapes and style into a cake. Adorning your cake with unique decorations in keeping with your wedding style brings the whole look together. On the day I personally style your cake until its perfect and I leave you with a truly unforgettable wedding cake that looks and tastes divine.
Ethically Minded
Here at Little Chelly Cakes, being eco-friendly, ethical and sustainable is not just a passing trend, it's a way of life. In a previous life I was a Sustainability Officer in Local Government, and I have degree in Climate Change & Sustainable Development! (I'm an eco-geek!) So making sure my cake business has as little impact on the environment as possible was a no brainer for me! Weddings were once (and still can be) a source of much waste caused by poorly thought out extravagance, but this doesn't have to be the case anymore and I strongly believe that you can have the wedding of your dreams without negatively impacting the planet.
​
Support Local
To help you have a planet friendly wedding, first and foremost I source as many of my ingredients as possible from local producers. The Peak District & Derbyshire has some amazing food producers so I strive to support them wherever possible. For ingredients that can't be sourced locally (think coffee, chocolate, sugar etc.) I use ethically or fairly traded products wherever possible.
​
Reduce/Reuse/Recycle
I do not use single use plastic in the kitchen and all my packaging is recyclable cardboard, reusable wool packaging from WoolCool or made from compostable plant based material or biodegradable cellophane. I print all my stationary even down to the stickers on recycled paper and all the cake and my logo illustrations you find on my website are created by my super talented friend who lives up the road from me The Ilustrated Wisp (go check her out she does commissions for weddings!)
​
All my cakes are baked fresh to order and I only have a small kitchen with limited storage, so no bulk buying of ingredients happens here, no batch baking and freezing. Not only does this mean nothing goes to waste, it guarantees that all the ingredients I use are as fresh as can be.
​
Cake for Everyone!
I believe that the whole point of having a wedding cake is for everyone to enjoy a slice of something truly divine. I can offer vegan options, gluten free cakes and other dietary requirements as requested. You can choose to have your whole cake egg and dairy free or you can have different cakes for different tastes, the choice is yours.
Send Message to listing owner