What's a vintage photo wall I hear you cry? Well it's a photo booth in a wall of course! Maybe this video will help to describe it to you better.
Fun huh? Plus it's a great way to improve your group photos!
This photo wall is from Andrew Gleed Photography who is offering Unique Bride Club members an exclusive offer throughout January and February 2016. I caught up with Andrew to find out more about himself and of course, the wall!
"I have been a wedding photographer for around 20 years and there have certainly been a few weddings with a vintage theme lately. There are plenty of little sepia and black and white images in small frames on the photo wall with a vintage inspired theme and the idea is to stand in front and behind the wall (peeking through larger ornate frames from the back). My wedding couples think the vintage wall is extremely different and it can be booked as part of a wedding photography package (at a substantially discounted rate) or stand-alone if you have already booked your main wedding photographer.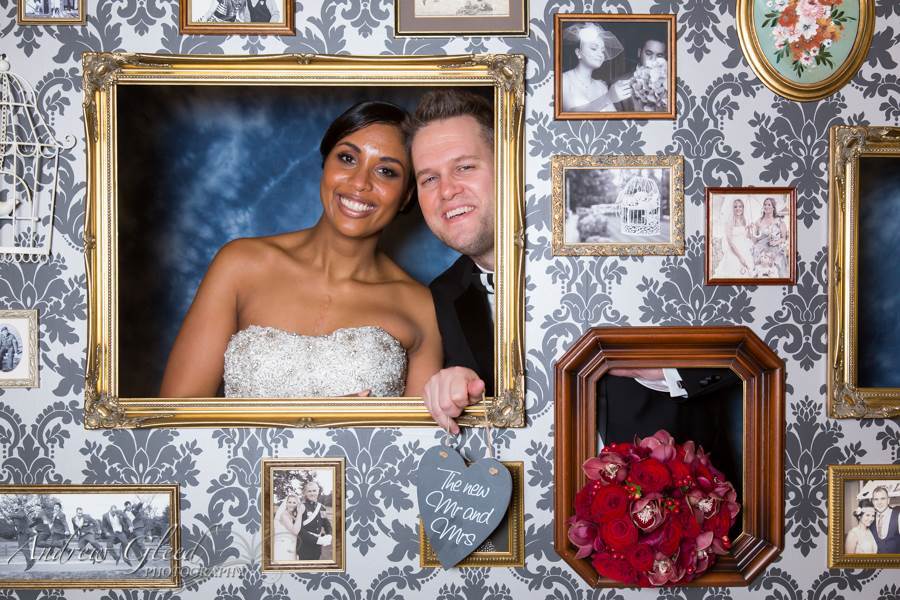 The offer
For new bookings received in January and February 2016, Andrew is offering a £50.00 discount to bring it down to £475.00 for 3 hours attendance, with Andrew Gleed taking the photos for that period. Andrew will arrive about 30 mins beforehand to set up and then, after the 3 hours, there will be another 30 minutes at the end to dismantle the wall. Please see Terms and Conditions for any mileage and parking charges on top (if applicable).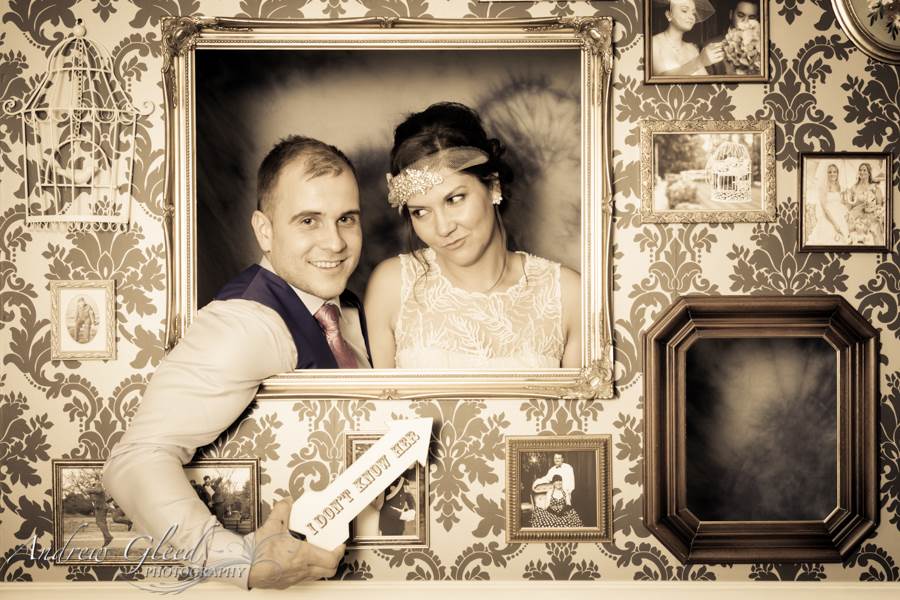 WHAT YOU RECEIVE WITH THE VINTAGE WALL PACKAGE:
Professional photographer's time with the wall taking photos and post processing time.
Use of our props box with vintage and other style hats, wigs, lips and moustaches on sticks, feather boas etc. along with other non-vintage style wigs and other props. We also have a collection of silly signs in the shape of arrows saying things like "I don't know her", I'm with stupid", "under the thumb" and so on plus a couple of slate hearts for the Bride and Groom to hold saying "Just Married" and "The New Mr and Mrs".
The provision of all photos taken as high resolution files, with permission to print and crop as needed, on USB stick for printing after the event, to be supplied to the Bride and Groom;
All photos taken to also be supplied as Facebook-ready low res files for sharing on social media and viewing on mobile phones etc, (with my company watermark bottom left of each photo)
Fifty 6" x 4" unmounted prints to be supplied after the event and chosen online from a secured area of the company website. These can be given out to some of the guests if wanted (in their 'thank you' cards for instance) or inserted into an album by the Bride and Groom.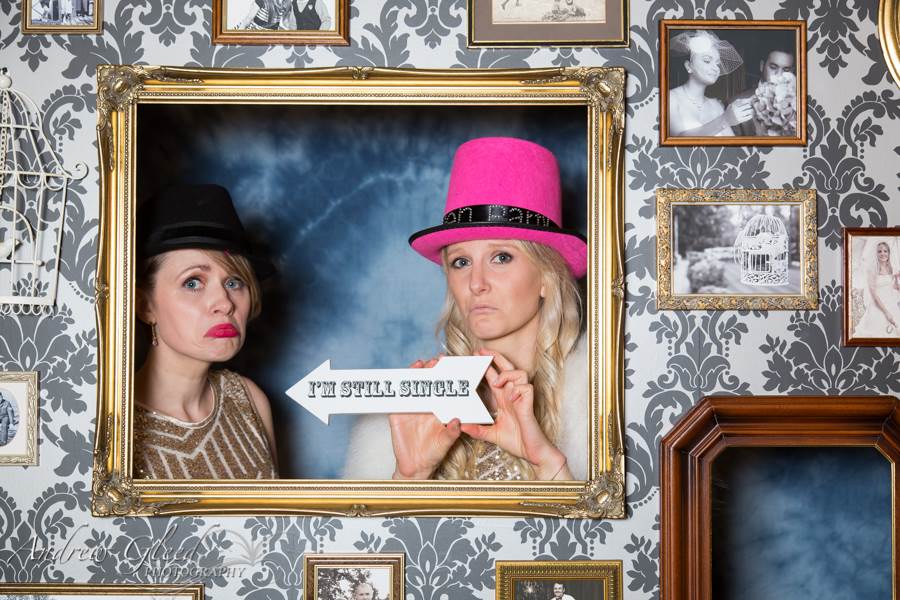 TERMS AND CONDITIONS
Travel within a 25 mile radius of Andrew Gleed Photography's office (HP15 7AT) is free of charge. After that it will be charged at 50p per mile. Andrew Gleed Photography will travel up to 50 miles away from his office for a vintage wall booking request. If the booking is for wedding photography combined with the vintage photo wall then he would consider further distances. Any overnight accommodation charges for weddings further away, if needed, would need to be factored in to a tailored quote.
Parking Fees to be paid by the client up front or on the day of the booking if there are any.
A booking fee of £200.00 for the vintage photo wall will be asked for at time of booking and the balance is to be paid up to 4 weeks before the event. The purpose of a booking fee is to secure the photographer's services for the time and date and will not be returned in the event of a cancellation or postponement, it being the agreed loss suffered by the photographer due to cancellation.
If the photographer is unable to attend the photographer reserves the right to appoint another photographer to attend on Andrew's behalf.
In the unlikely event of a total photographic failure or cancellation of this contract by either party or in any other circumstances, the liability of one party to the other shall be limited to the total value of the contract. Neither party shall be liable for indirect or inconsequential loss.
The photographer will work with you and speak to the venue to do his/her best to ensure there is sufficient space available and appropriate access, if using our Vintage False Wall. The photographer reserves the right to bring along an alternative background with stand-alone frames and props box if there is a problem using the wall at the time for any reason.
Idle time may be charged if the photographer is unable to start taking photos at the agreed time, due to delays of any kind. This would be charged at £40.00 per hour (if only delayed by 30 minutes after the agreed timings then that would be £20.00 – we would not charge a whole hour). The alternative to extra charges would be to take photos for less than the 3 hours booked, so the Bride and Groom can decide that at the time if they would prefer this to be the case.
Negatives/Digital Files remain the property of the photographer.
The Client may cancel this contract at any time by giving written notice to the photographer but in doing so shall forfeit any booking fee paid.
In the cases above "the photographer" refers to Andrew Gleed Photography.