After 2018 featured not one but two televised Royal weddings, it's hard to imagine how the Bridal Trends 2019 will follow in its footsteps. But, there's definitely some rather impressive trends that will be making the spotlight in the year to come. In this month's special trends report, I will make my predictions on whats new to come in the world of Bridal, what's influenced the coming trends, and what favourites will still be around in the world of Bridal…
Bridal Trends 2019 – Magpie Wedding's Top Ten New Year Trends
Bridal Trends 2019: The Meghan Effect
It would be impossible to write about 2019 trends without mentioning the nation's favourite Duchess. Meghan Markle's wedding to Prince Harry in May, injected a huge dose of wedding fever worldwide. The Royal wedding dress was much anticipated with various designers being touted as 'the one', but it was Claire Waight Keller from Givenchy that took the helm. The design was a white tailored couture gown made from a double bonded silk cady fabric. It was notably simple yet utterly beautiful. What's more, the royal wedding dress featured the Duchess' signature style of boat-neck and fitted bodice, which is part of her staple wardrobe when attending royal engagements.
As a result, the bridal catwalks for 2019 have predicted some serious Meghan-effect dresses, from similar minimal styles to more detailed lace boat-neck dresses. The neckline is such a flattering, feminine style highlighting the collar bone, which is considered one of the most attractive features on a woman.
Style advice: Perfect also for larger busts because it shows a hint of décolletage, which keeps the body and wedding dress fully proportioned.
For a modern take on Meghan's royal wedding dress, check out The Meghan from Canadian bridal designer & For Love. Featuring a slim silhouette and boatneck, the back of this dress is utterly beautiful. What's more it's available in either white stretch satin or white micro sequins. Swoon!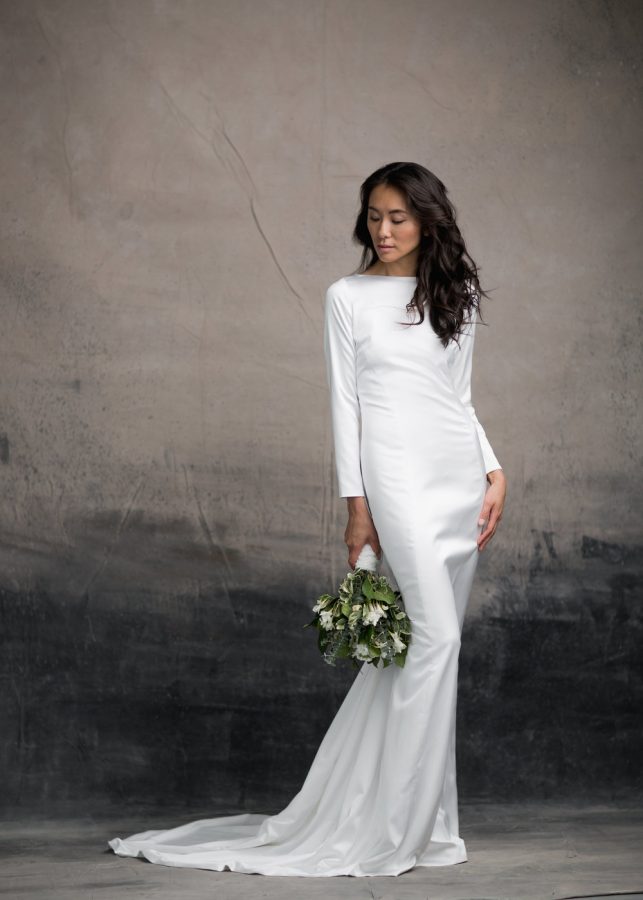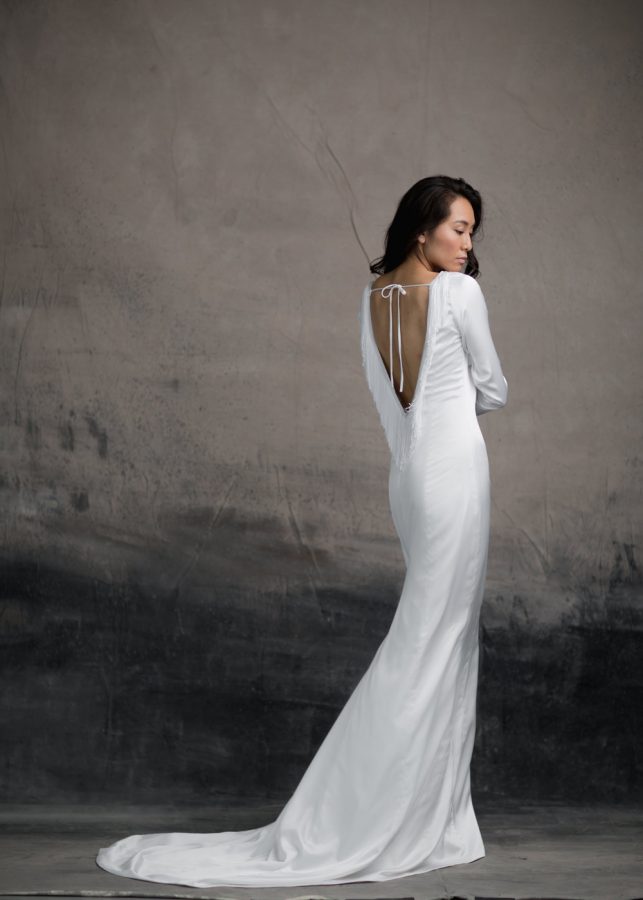 And For Love – Meghan Dress
Bridal Trends 2019: The Meghan Halter Neck
Staying on the Meghan trend, we side-step to the halter neck. The new Duchess of Sussex emerged wearing THE sexiest evening dress created by Stella McCartney and it wasn't long before the halter neck wedding dress started trending. It's definitely a modern style that will stay popular in 2019, especially because it offers brides a compromise between the strapless or sleeved/strap wedding dress.
There are so many ways a bride can wear a halter neck wedding dress. An alternative is choosing for the halter strap to be more ornate, such as this gorgeous dress from The New White. It's the perfect alternative to the chunky, bold halter neck that is not necessarily flattering for all shapes.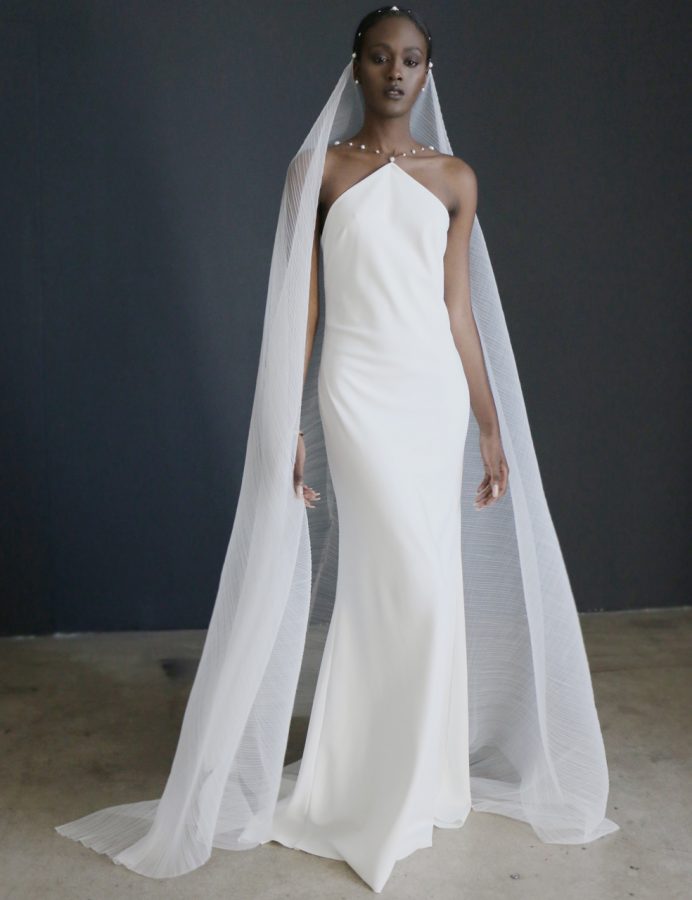 Bridal Trends 2019: Get Smart With The Bridal Blazer
The bridal blazer is definitely creeping into the look-books for 2019. Perfect for modest wear, mature brides or modern brides looking for that city-look, the blazer is the new go-to cover up. I love how a classic blazer works against softer fabrics such as lace and satin. It can be cinched in with a belt, slung over shoulders or paired with wide-leg silk trousers for that cool Bianca Jagger style.
This look from Spanish brand, Yolancris, features a beautiful tailored blazer cinched at the waist with an ornate belt. I love the cut of this blazer, particularly the slightly raised sleeve cap, which elevates the style making it more elegant and occasion-ready. Paired with a simple lace dress, the bridal blazer is definitely the modern bridal look that packs a massive fashion punch without the fuss.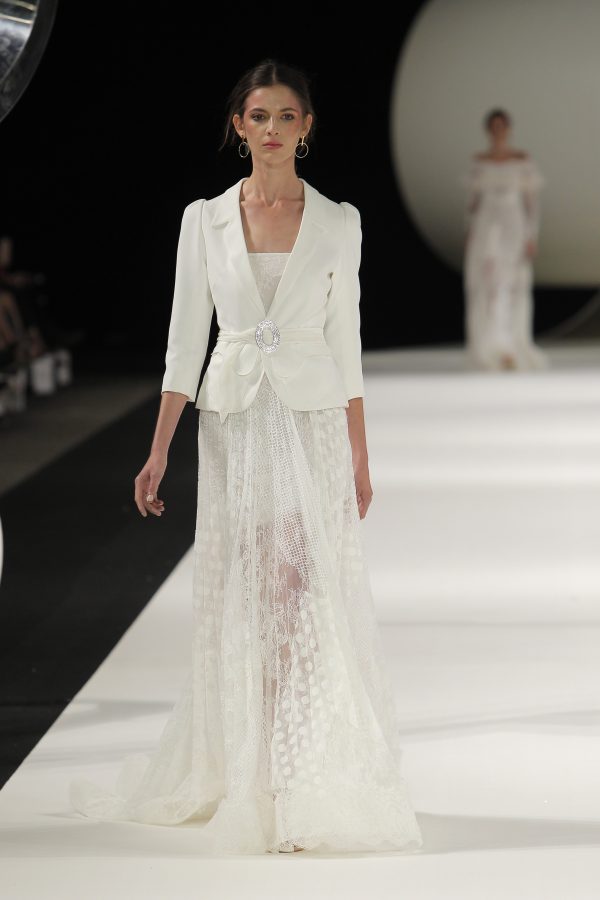 YOLANCRIS – Rumblar/Grosella Coat
Bridal Trends 2019: Introducing The Bridal Hat
There is such an incredible range of bridal head-wear available, from tiaras to boho flower crowns, but one trend that we definitely need to see more is the bridal hat. From demure fascinators to glorious Isabella Blow-style headpieces, the bridal hat could make all your style statements.
One trend that I am particularly excited about is the bridal turban. It's cropping up in various couture looks, as well as the collections of new exciting bridal designers. It's ideal for chic modest wear as well as brides looking for an alternative to classic bridal hair styles. This look from Sophie et Voila is heaven to look at. I love the contrast of the black head-wear against the tailored white dress and cape.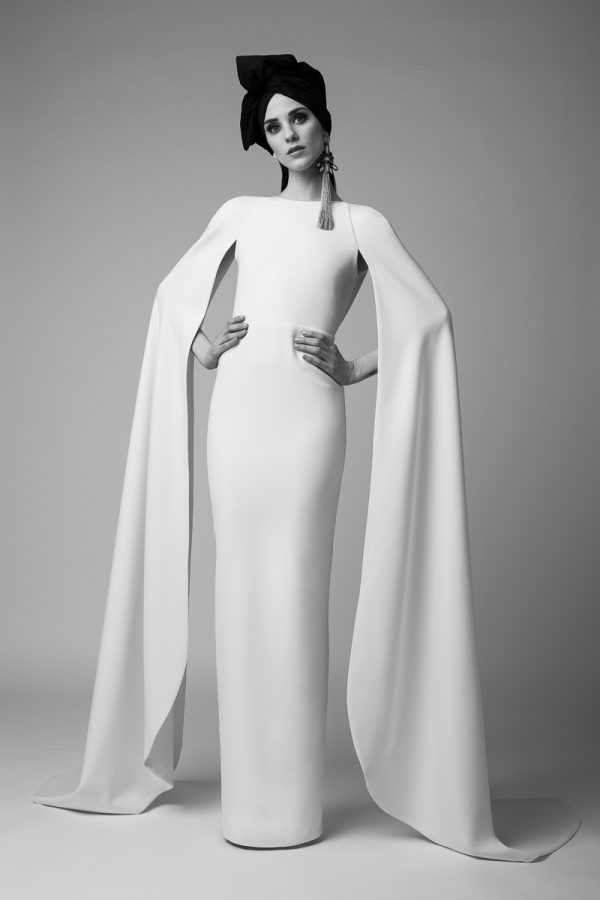 Sophie et Voila – Icon Collection
If turbans aren't your thing, you may want to channel your inner Gaga with the pink cowboy hat. I love this styling by Chantel Lauren for the scallop lace gown. Evoking echoes of Lady Gaga's iconic Joanne album cover, this look is definitely for the individual bride who knows her own style.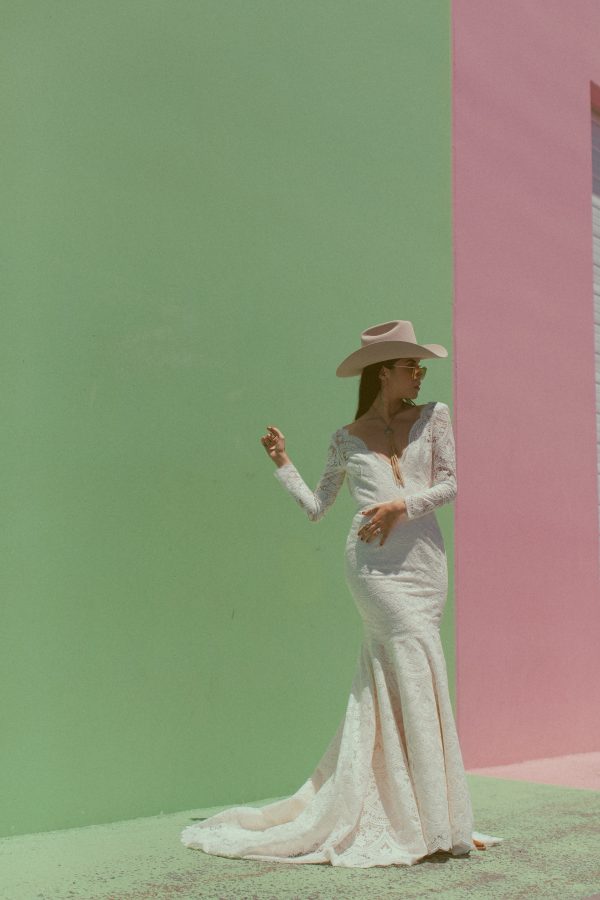 Chantelle Lauren – Barbara Scallop Lace Gown Image: Tyfrenchphoto Hat: Stetsonus
Bridal Trends 2019: The Statement Wedding Dress
Amongst the sea of classic bridal wear, there's always the unmissable statements. Designed for the bride looking for that something different and unique, the statement wedding dress summons any bride's inner Carrie Bradshaw.
By statement, it doesn't have to be full on catwalk avant garde. Don't panic! The statement wedding dress can include a variety of elements that take it from ordinary to extraordinary.
For instance, I predict a lot more love for texture in 2019. I love wedding dresses that go a little outside the box with embellishment, such as feathers and fringing. London-based designer, Charlie Brear's Piora skirt is a great way to include some feathers in your wedding look, especially when paired with a simple lace cropped top.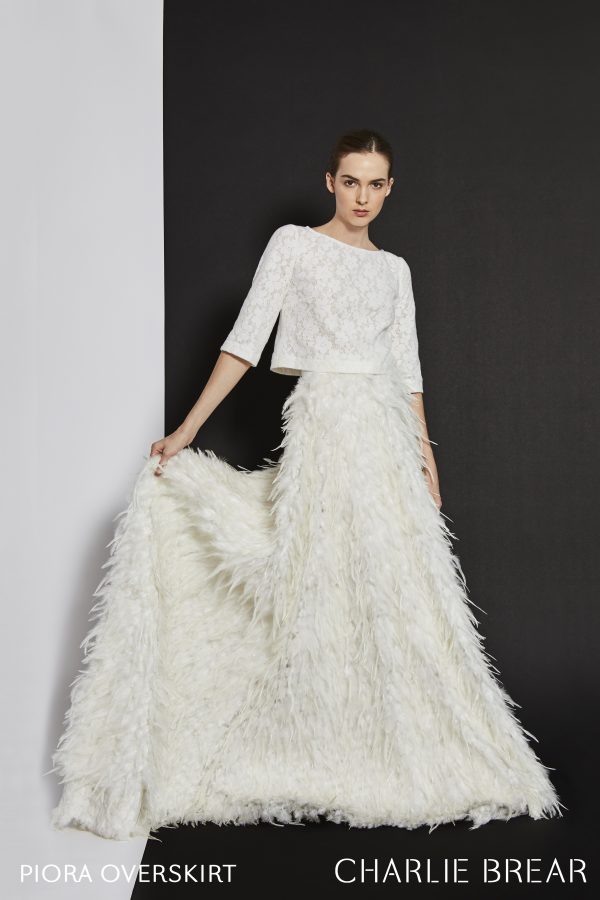 Charlie Brear – Piora Skirt
The River skirt from my 2018 collection also packs a huge statement and has been designed to work with a variety of tops. In this photo, I've paired it with the Elliot peace silk slip dress, which means you can slip off the skirt for your reception. Two outfits in one!
River Elliot Bridal – River Skirt
Fringing never tires or goes out of fashion. A trend setter since the 1920s, fringing instantly catapults a wedding dress into the glamour division. But, you don't have to be 2019's flapper girl. Fringing can be demure, delicate and very bridal. The Grace dress from my 2018 collection is inspired by the silhouette of the 1930s, featuring flutter sleeves, low back and an elegant waist trim.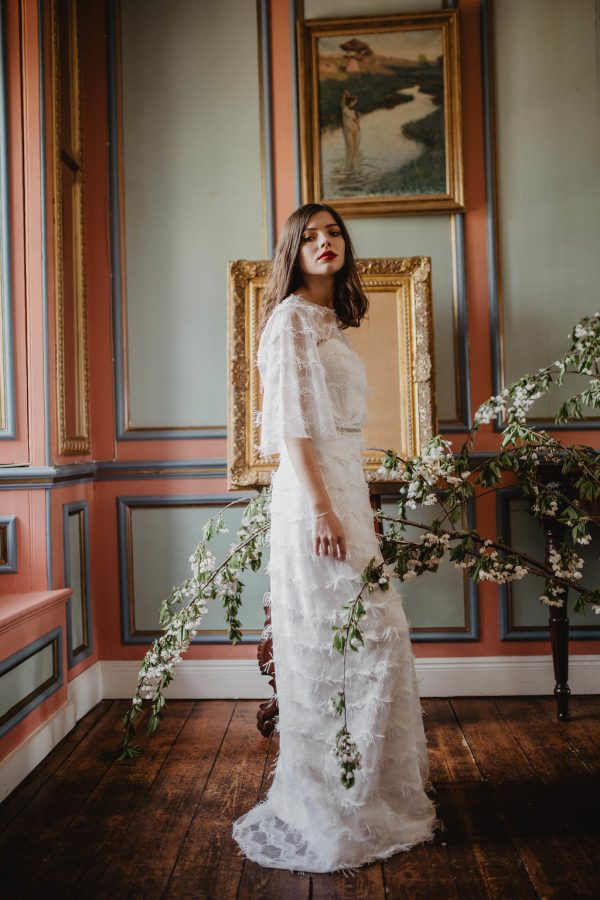 River Elliot Bridal – Grace Fringed Dress
Bridal Trends 2019: The Metallic Wedding Dress
There's going to be some serious shimmer in 2019 with the metallic trend having dominated some of the 2019 catwalks. It's a fantastic alternative to traditional bridal fabrics and guaranteed to turn all your guests' heads.
Key looks feature delicate micro sequins or soft metallicised chiffon, which offer a subtle glow without looking like the wedding dress disco ball.
My favourite look has to be from The Vampire's Wife. One of my favourite fashion houses, The Vampire's Wife is a cult brand with a rock n' roll following, and this divine silver metallic dress from its latest collection would be the ultimate in bridal style.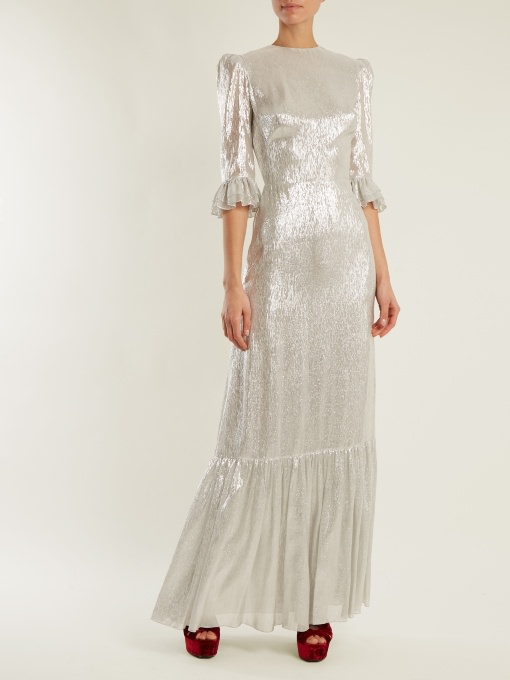 The Vampire's Wife – Caption Silver Metallic Festival Dress
Bridal Trends 2019: The Bride In Blue
Bridal journalists report a surge in the blue wedding dress and it's been spotted in various collections on the bridal catwalks. I think overall, however, we'll see various colours in 2019, with more brides side-stepping from the white wedding dress towards soft pastels and nudes.
For inspiration, consider a modern vintage inspired wedding dress such as this look from Cath Telle, which ticks all the trend boxes with both its colour and beautiful cape. The same collection also features a stunning nude batwing wedding dress, which definitely shows that there are fabulous alternatives to the traditional white.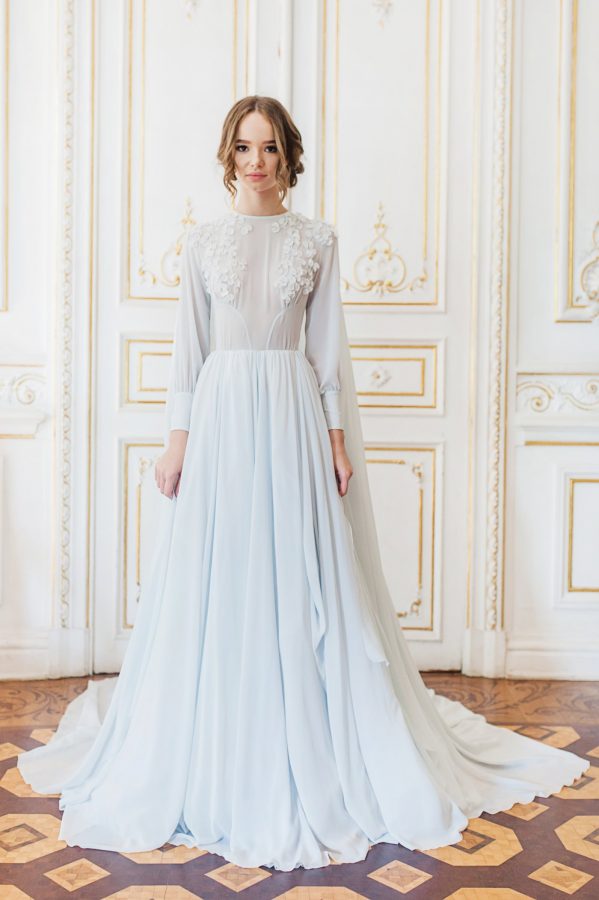 Cathy Telle – Blue Cape Wedding Gown
It certainly looks like there's going to be some incredible bridal looks gracing the aisles in 2019 and I can't wait to see what the most popular styles are with real brides. If you're planning to get married next year, are you going for a classic style, or are you wanting to set some trends? Leave your comment below and let's chat bridal trends!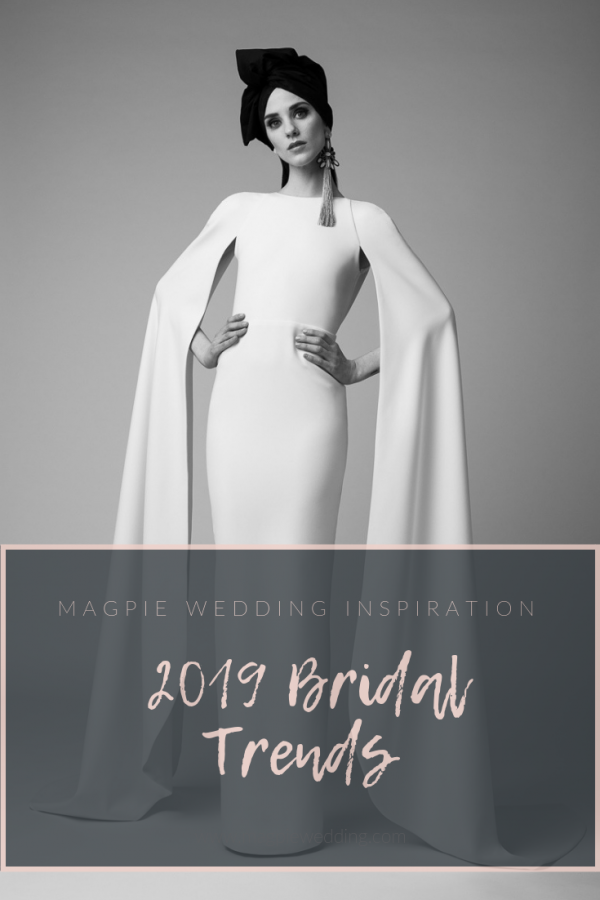 For more trend news and Bridal inspiration check out our online edition of BOND BRIDE