Your wedding day should be a blissful and tranquil experience, where you and your guests can relax and savour every moment. Creating a tranquil relaxed wedding space not only sets the tone for a serene celebration but also allows everyone to feel at ease and fully present in the joyous occasion. Today we are exploring 10 ideas to help you design a calming and peaceful ambiance for your special day whether it is for the whole wedding or just a chill-out area.
Leading wedding and events planner Lavinia Stewart-Brown loves the idea of a tranquil wedding space: "A chilled and relaxing space in your venue is a really nice touch for those less keen to dance the night away or even for guests with babies or children!"
"My recommendation when creating this sort of space would be to try and create it away from the dance floor (this is space dependent) and try to create a secondary bar space in the area. I would always recommend small 2-seater chairs or armchairs to make sure people can sit together – big sofas and seats don't work as well in my experience."
""These sorts of spaces work well with low lighting and candles to create an intimate and inviting space – flowers aren't essential however, if you have floral arrangements left from other spaces, popping these into the chill-out space offers good continuity amongst spaces. Signage isn't absolutely key either as the space should have its own identity in comparison to the main dance floor!"
Kate Bader, wedding panner and stylist at Florence and Vera Events, also loves relaxed spaces at weddings ; "As a wedding stylist, it is absolutely fascinating and wonderful to be a part of so many different wedding days, ideas, cultural traditions and creative ideas. Alongside styling, we also provide OTD Coordination and elements of partial planning – whether it be from a supplier point of view or maybe pulling together the aesthetic collaboration. Because of this, I get to see a lot of new trends, those which work and those which don't. One of the most successful ideas I have seen has been to create a chill space. Not just to add a bolt-on trendy statement to your day but to genuinely serve a purpose too."
"Creating a space like this can be done using scent, different textures and contrasting textiles, calming colours, candles, low lighting and velvety florals. Comfortable, low-level seating and even an entirely different playlist perhaps- all elements lending themselves perfectly to a place of serenity, within the fun and hustle of your day. It's particularly brilliant for guests who like to indulge a bit of quiet time, guests who are neurodiverse or even for you two to take a moment of pause and reflection. It really is a space that keeps on giving."
Here are 10 more ideas for your relaxed wedding space: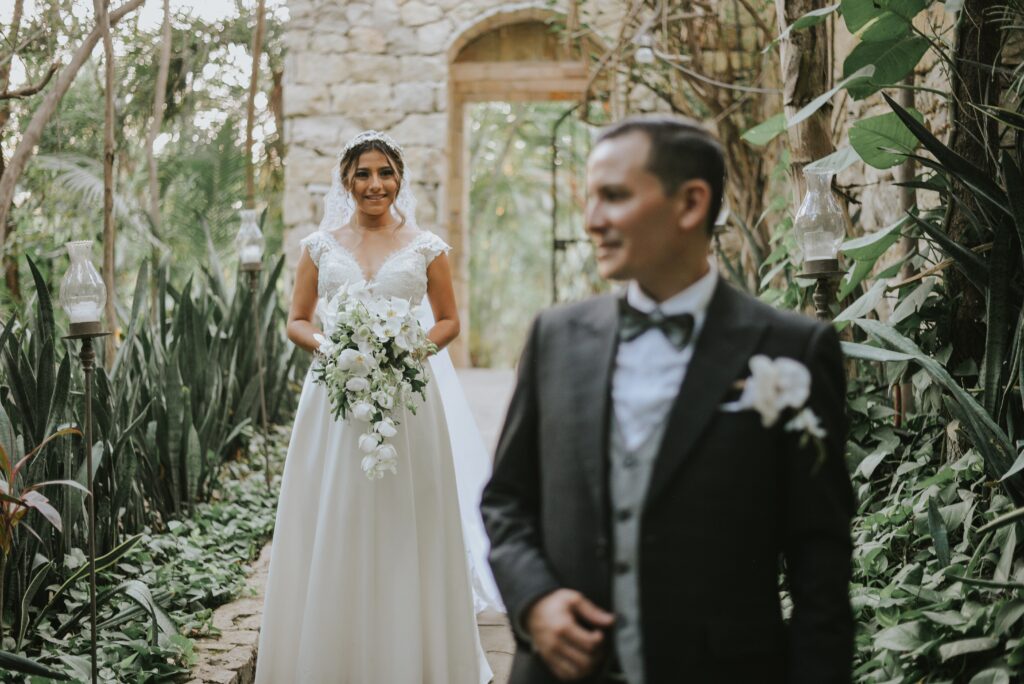 Natural Elements and Greenery
Incorporate natural elements and abundant greenery into your wedding décor. Consider using potted plants, hanging vines, and floral arrangements with lush foliage. These elements not only add an air of tranquility but also create a refreshing connection with nature.
Soft Colour Palette
Choose a soft and soothing colour palette that complements your vision of a tranquil wedding. Pastel shades, gentle neutrals, and muted tones can evoke a sense of calmness and elegance throughout the venue.
Candlelit Ambiance
Opt for soft, flickering candlelight instead of bright overhead lights. Candles create a warm and intimate atmosphere, perfect for a tranquil wedding space. Scatter candles strategically around the venue, and consider incorporating floating candles in water for a serene touch.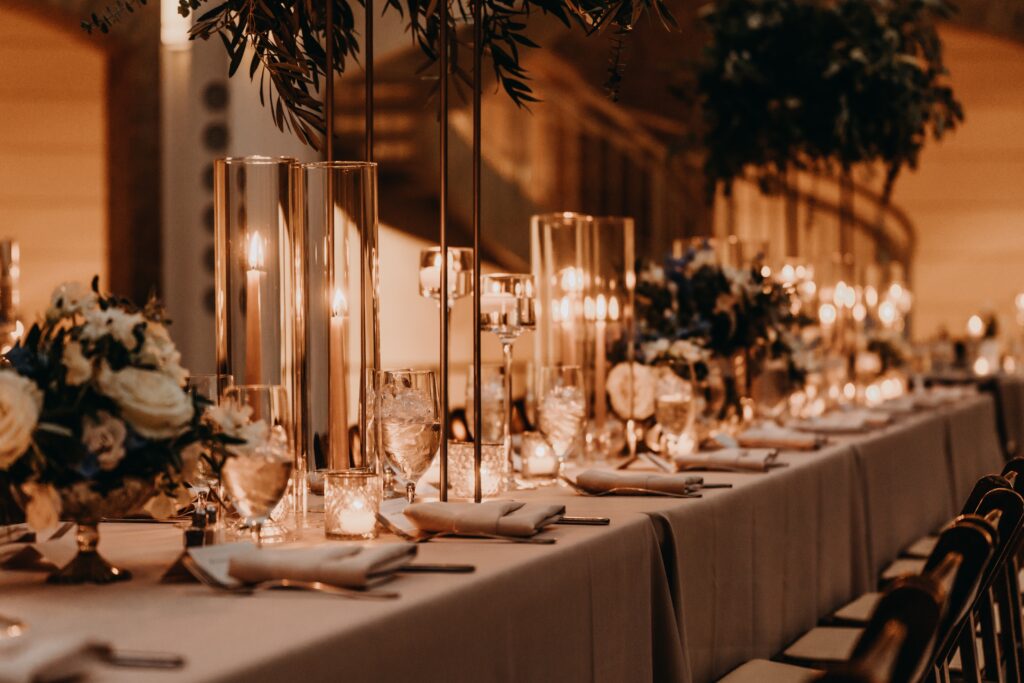 Relaxing Music
Select a playlist of soothing and relaxing music to set the mood during your ceremony and reception. Soft instrumental melodies or gentle acoustic tunes can create a peaceful ambiance, allowing everyone to unwind and enjoy the moment. Check out our Chill Out playlist.
Cosy Lounge Areas
Set up cosy lounge areas with comfortable seating for guests to relax and take a break from dancing. Include plush cushions, throw blankets, and low tables to create inviting spaces for mingling and conversation.
Mindful Seating Arrangements
Plan seating arrangements strategically to foster a tranquil atmosphere. Group guests with similar interests and relationships, allowing them to feel at ease with familiar company.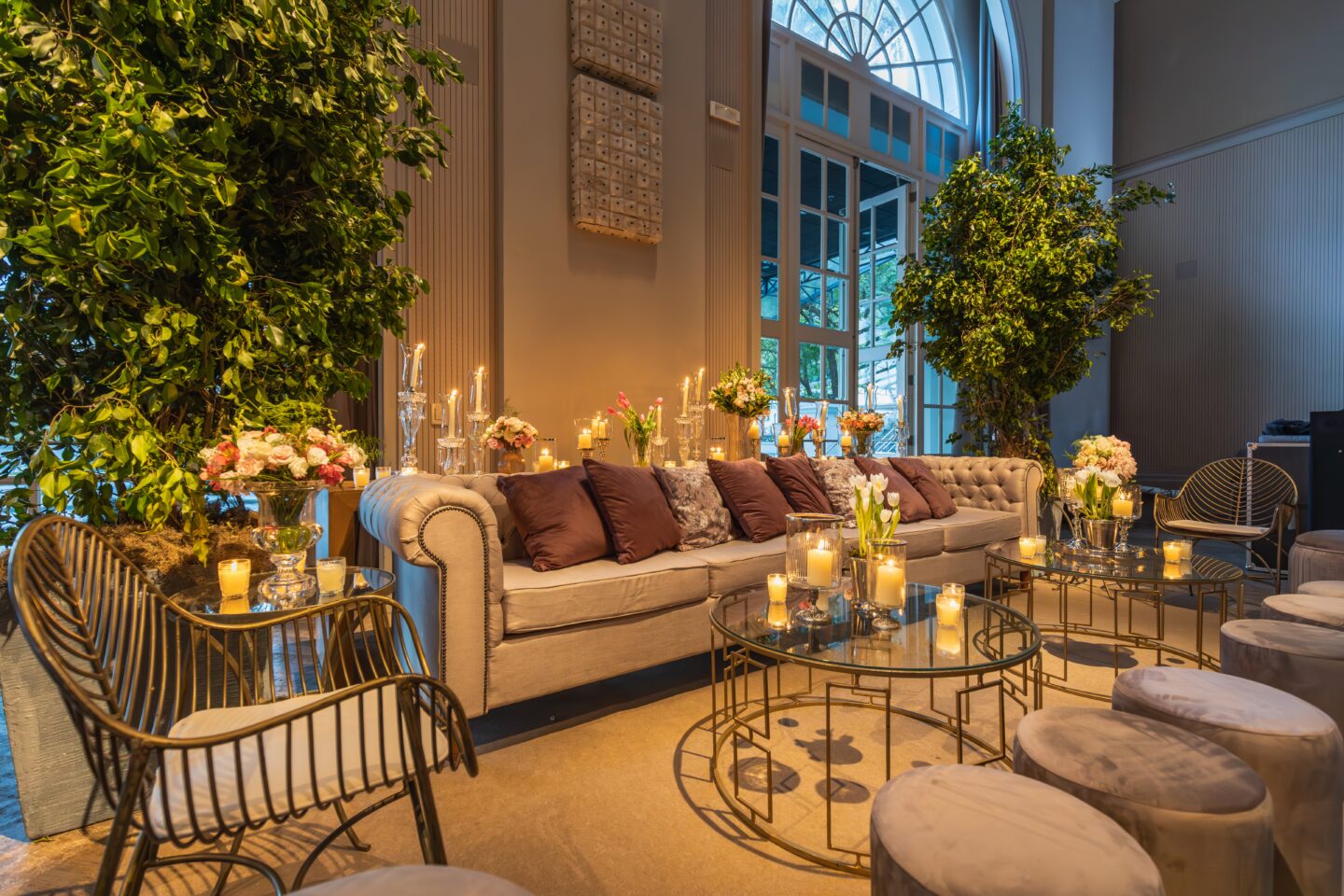 Water Features
Incorporate water features, such as fountains or flowing water elements, into your wedding space. The gentle sound of trickling water can have a calming effect, providing a peaceful backdrop for your celebration.
Mindful Dining Experience
Curate a mindful dining experience with a focus on delicious, fresh, and nourishing cuisine. Opt for menu options that promote relaxation and comfort, and offer plenty of refreshing beverages.

Minimalist Décor
Embrace a minimalist approach to décor, focusing on quality over quantity. Streamlined and uncluttered decorations can create a serene and tranquil environment, allowing your guests to appreciate the beauty of simplicity.
Tranquil Retreat Space
Designate a quiet and secluded area as a tranquil retreat space for you and your partner. This space can serve as a private haven where you can steal moments of peace and intimacy throughout the day.
IF YOU FOUND THIS USEFUL THEN WHY NOT PIN IT?