If you and your partner are looking to add a touch of glamour, elegance, and uniqueness to your wedding, consider embracing a maximalist approach to styling. Maximalism is all about boldness, abundance, and embracing the idea that more is more. In this article, we will explore five maximal styling ideas that will make your wedding a visually stunning affair.
Opulent Floral Arrangements
Flowers are an integral part of any wedding, and when it comes to maximalism, think big, bold, and breathtaking! Opt for opulent floral arrangements that overflow with an abundance of blooms, cascading greenery, and exotic foliage. Incorporate a variety of vibrant colours, textures, and sizes to create a captivating visual display. From lavish centrepieces to grand floral arches and hanging installations, let the flowers take centre stage and create an enchanting atmosphere for your special day.
Lauren Goodman Wedding Expert and founder of Bluebird Creative comments: "It's all in the details! They may not seem like the big things but elements like your lighting production, signage and even the stationary can really take your wedding up to another level so be sure to put some effort and thought into these. Flowers are another big way to amp up the wow factor – be it through over-the-top big displays or more colourful arrangements! For your guests, however, I would have to say entertainment is where you can really impress them – this is also a nice way to incorporate more traditional or cultural elements to create a really unforgettable day."
Photos by Lee Allison
Luxurious Textures and Fabrics
When it comes to maximalist styling, don't be afraid to play with textures and fabrics. Incorporate sumptuous velvet drapes, richly textured linens, and luxurious fabrics such as silk and satin. Choose tablecloths, chair covers, and napkins in bold colours and intricate patterns to add depth and visual interest to your wedding decor. Layering different textures and fabrics will give your venue a lavish and indulgent feel.
Statement Lighting
Lighting can transform any space and set the mood for your wedding. Embrace maximalism by incorporating statement lighting fixtures that captivate and enchant your guests. Chandeliers dripping with crystals, cascading fairy lights, and extravagant candelabras are all excellent choices for creating a luxurious ambience. Consider creating a breathtaking light installation as a focal point or adding fairy lights to outdoor spaces for a magical touch. Speak to your venue to see how they can help with this.
Lauren continues, "If you're going all out you need a venue that can accommodate your vision – although smaller venues are lovely for more intimate weddings, they may struggle to support with bigger events with lots of different elements. Be sure to enquire about this early on as you'll need somewhere that is used to bigger production – this is where having a planner comes in handy as they can lead on this from the get-go and make sure nothing arises later on!"
Bold Colour Palettes
Maximalist weddings are all about celebrating vibrant and bold colour schemes. Move away from traditional muted tones and embrace rich jewel tones, vibrant hues, or even a riot of colours. Combine contrasting shades to create a visually striking palette that reflects your personality and adds a sense of excitement to your celebration. Don't shy away from incorporating metallic accents like gold, silver, or copper, as they can add a touch of elegance and opulence to your wedding decor.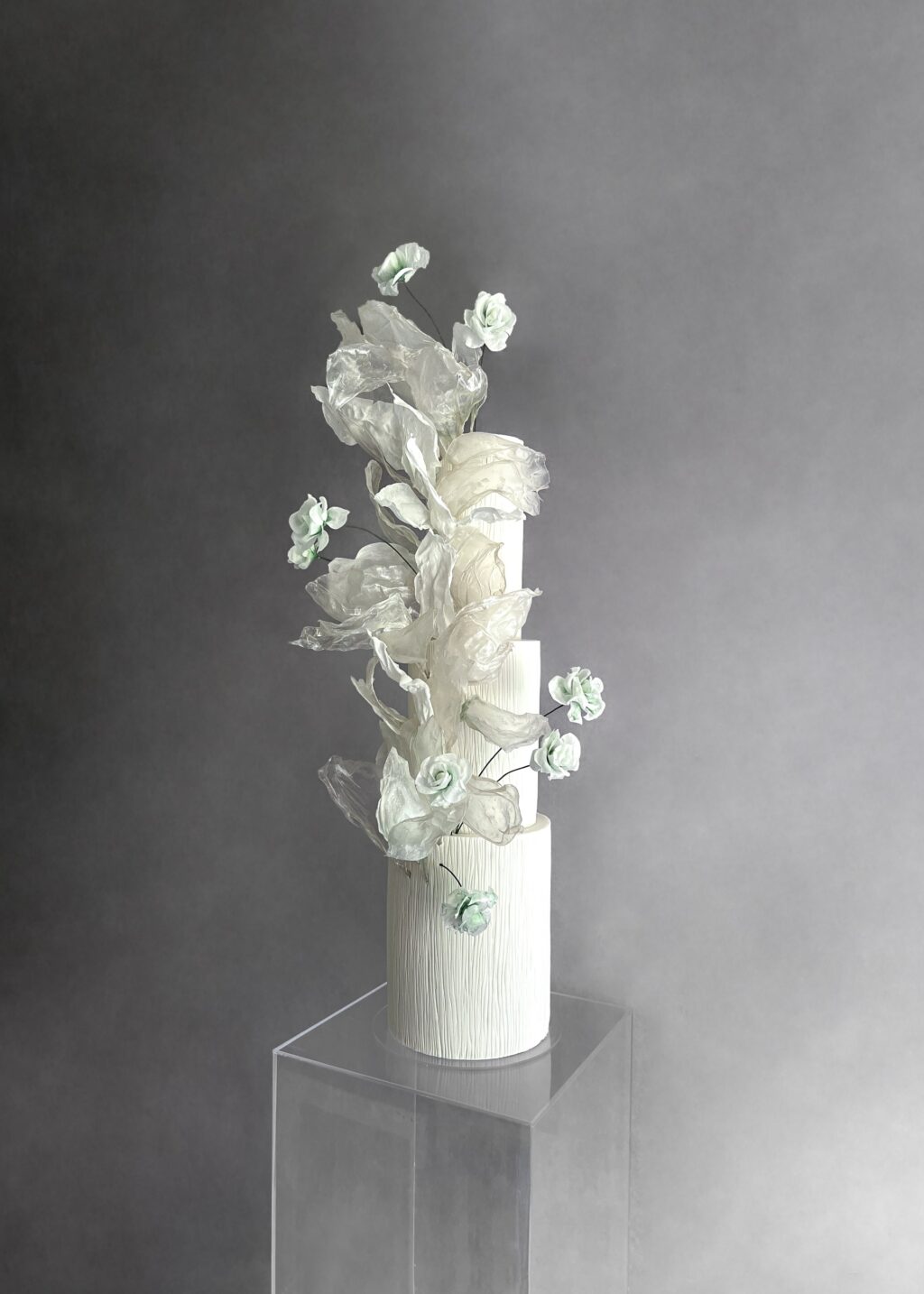 Cake by CakeBuds
Creative Cakes
Maximal cakes can come in many forms; from large (think 5+ tiers) to layers of bold decorations. Liz Wood from CakeBuds shares her advice on tiers: "When it comes to crafting an unforgettable wedding cake, there are a few key elements that play a significant role in transforming a simple dessert into an awe-inspiring masterpiece. Firstly, height plays a crucial role in creating a maximal wedding cake as a tall cake immediately creates a wow factor and grabs attention. It becomes a focal point at the wedding reception and adds a sense of grandeur and extravagance. Height elevates the overall design and becomes a statement piece that impresses guests.
While multi-tiered cakes have long been popular for creating height in cake designs, more contemporary and modern designs have introduced the concept of extra deep tiers, also known as double-barrel or triple-barrel tiers. Using extra deep tiers on a wedding cake allows for a design that is elegant and towering, rather than appearing over the top and wide. The additional height provides a proportional balance to the cake's width and diameter, ensuring a visually pleasing aesthetic. By focusing on verticality, the cake maintains a sense of elegance and sophistication, creating a striking presence at the wedding reception. While multi-tiered cakes remain a classic choice for creating height, the use of extra deep tiers adds a contemporary twist to maximalist wedding cakes. By utilising these deeper tiers, cake artists can create visually impressive and intricately designed cakes that elevate the overall aesthetic and become a memorable centrepiece at weddings.
Remember, going maximalist means embracing extravagance and pushing the boundaries of design. It's about creating a cake that leaves a lasting impression on guests and becomes a memorable part of the wedding celebration."
Eclectic Tablescapes
Create an eclectic and visually captivating tablescape by mixing and matching various elements. Use mismatched vintage china, crystal glassware, and vibrant linens to add a whimsical touch to your reception tables. Incorporate unique and eye-catching table centrepieces using a combination of candles, flowers, and intricate ornaments. Layer textures, colours, and patterns to create a dynamic and visually stunning dining experience for your guests.
Jane Geoghegan www.janeyannaphotography.com
Get immersive
Lauren suggests, "Guests love to get involved and feel part of the big day, and an experiential wedding can allow you to really connect with them in a way that isn't possible with a smaller-scale wedding. A maximalist wedding should engage your guests' senses through immersive experiences – think amazing lighting, production, music and unique food stations/cuisines – by thinking outside the box and booking unique suppliers couples will create an atmosphere your guests will never forget!"
A maximalist wedding allows you to celebrate your special day with exuberance and extravagance. By embracing opulent floral arrangements, luxurious textures, statement lighting, bold colour palettes, and eclectic tablescapes, you can create a visually stunning celebration that is both memorable and unique. Remember, your wedding day is a reflection of your love story, so don't be afraid to let your imagination run wild and create a wedding that truly represents your style and personality.