One of the most important (and fun) aspects of choosing the right engagement ring is choosing the setting. While the stone and metal colour of your band are important, your engagement ring's setting is how you can truly show off your personality! That said, choosing the right engagement ring setting can present a major challenge – there are just so many options to choose from! If you're stumped, check out this guide to learn how to choose an engagement ring setting and get the most out of the experience.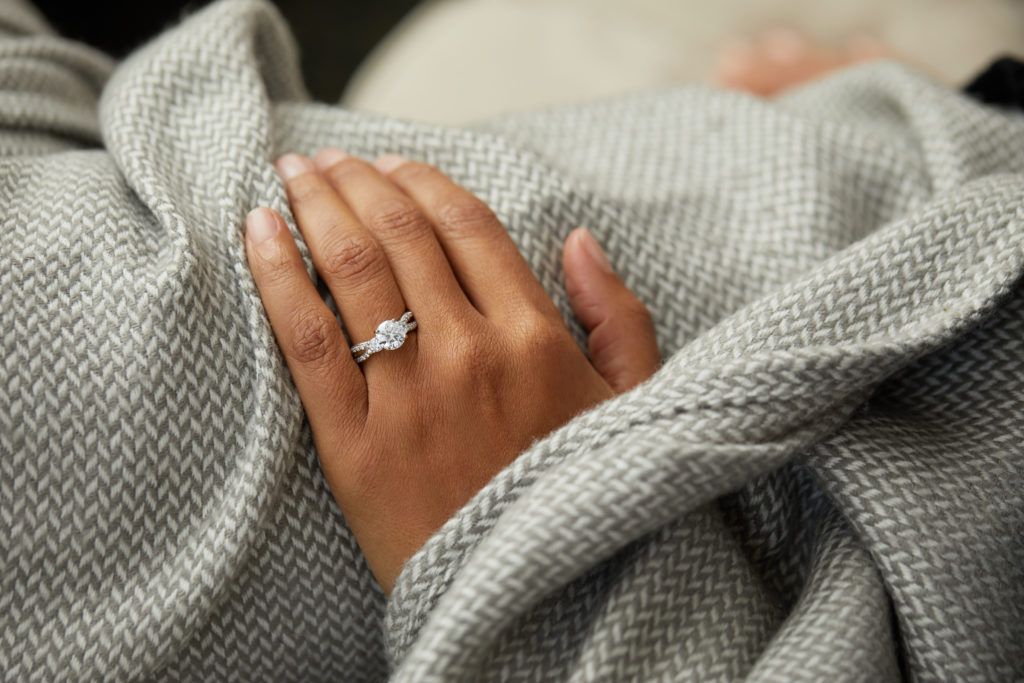 Setting Types
There are many engagement ring setting options. Whether you're getting brand-new or want a timeless secondhand engagement ring, these settings span several decades and take their inspiration from different style eras. Here's a breakdown of the most popular engagement ring setting types.
Halo
Halo settings are unique in that they feature smaller stones that completely encircle the centre stone on a ring. The halo setting dates back to the 1920s, as a part of the Art Deco movement in the jewellery industry. As with all settings, the halos can be customised to suit your needs — some buyers create a halo of alternating stones such as white diamonds and sapphires to create a unique look.
Choosing a halo setting can be a great way to maximise your centre stone's size, especially if it's on the smaller side. The halo of diamonds makes any centre stone look larger and enhance the rings brilliance by adding extra sparkle in the form of micro-pavé stones.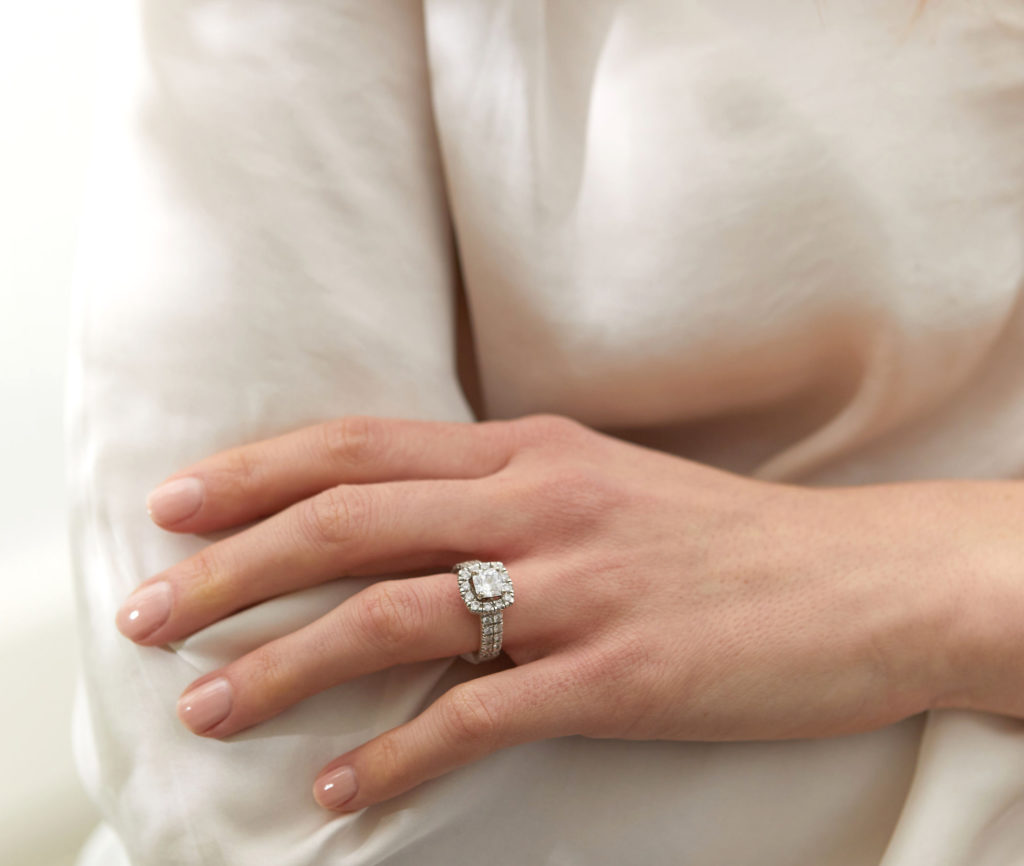 Pavé
When it comes to the pavé setting, the ring band, also known as the ring shank, is truly the star of the show. The pavé setting encrusts the ring band with jewels that create an elegant vision of continuous brilliance. Typically, pavé settings are complete with diamonds. However, any gem may be used.
Small prongs are used to hold the stones in place around the band. Generally, the pavé stops around mid-band, so that the fingers don't cover the diamonds. Pavé settings can be layered with many rows of diamonds on a ring band or used on a thin band with micro-pavé stones.
Solitaire
The solitaire setting is probably the most timeless and classic of the modern era. It's a setting that thrives on simplicity featuring a lone centre stone as the only form of sparkle on the ring. There are no other gemstones on solitaire ring bands.
However, solitaire rings are far from boring. Although there are simple metal bands, many jewellers also offer bands with beautiful metalwork or intricate motifs. Flower engagement rings are extremely popular, as they give the solitaire more detail and complexity.
Different diamond cuts, colours, and sizes can also make a solitaire diamond bold and beautiful. Traditionally, solitaire rings feature a round-brilliant diamond and a gold ring band.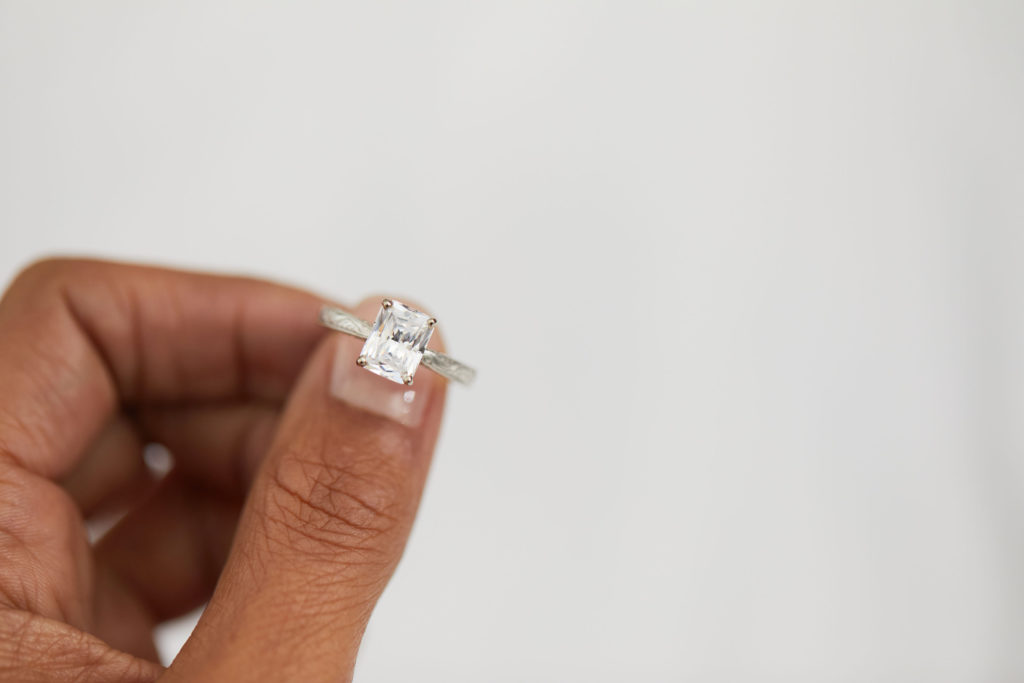 Vintage
Vintage ring settings hail from the Victorian, Edwardian, Georgian, and Art Deco eras. They are varied, as each era has brought its own flavour to the mix. Some of the most popular vintage settings are as follows:
Cluster

:

This ring setting is exactly what it sounds like, a cluster of gemstones that act as the centre stone. Stones can be of various sizes, but generally form a single cluster with an outline of a geometric shape.

Box

: The box setting is a true throwback setting with a four sharp cornered box in the centre stone, forming an encased look.

Bezel

: This setting features a continuation of the ring band encircling the centre stone. A bezel setting can be complete or partial, where the stone is not fully encircled.
3-Stone
The 3-stone setting is another simple setting where the centre stone is flanked by two additional stones, either the same size or slightly smaller. These stones run parallel to the ring band and create a widened focal point.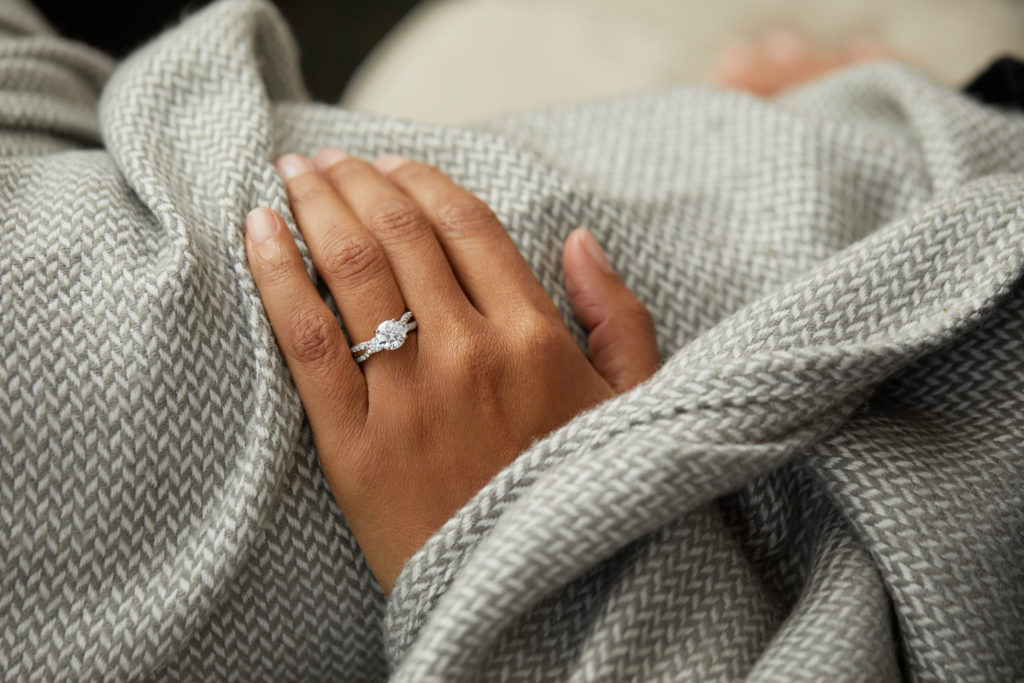 Unique vs Traditional
Choosing between a more traditional setting and a unique one can be challenging, but it comes down to your tastes.
Traditional settings tend to be simpler and more commonly requested. Generally, traditional engagement rings feature pavé or solitaire settings.
If you want a more unique engagement ring, look for less common settings such as three-stone or cluster settings. Unique engagement rings also boast distinct features, such as milgrain, filigree, intricate metalwork, lavish adornments, and coloured gold.
Final Thoughts
Choosing the right engagement ring setting is just one part of the puzzle. However, it's an essential step. Though there are a lot of options to choose from, starting with the right setting is a good way to determine your preferred style as a whole.
Still not sure what's the best engagement ring for you? Check out Stefano Navi's 2021 engagement ring guide.
If you found this useful then please pin it!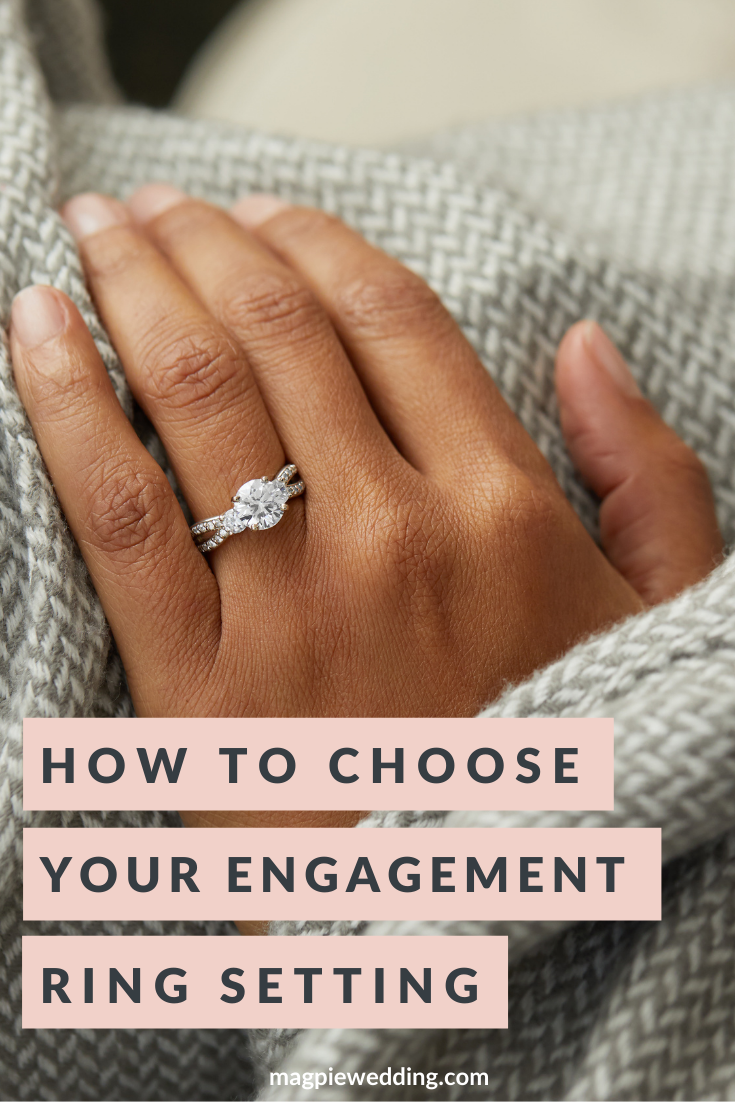 This is a sponsored post with Clean Origin