It is only when you're closer to popping the question that you realise you need to do some research to find the right engagement ring. And it is only when you get to the research part that you realise there are plenty of options you would've never known. One such thing in the world of engagement rings is bridal sets. If you're new to bridal sets and would want to know more to make a better decision, here are all the common questions related to bridal sets that you'll find answers to.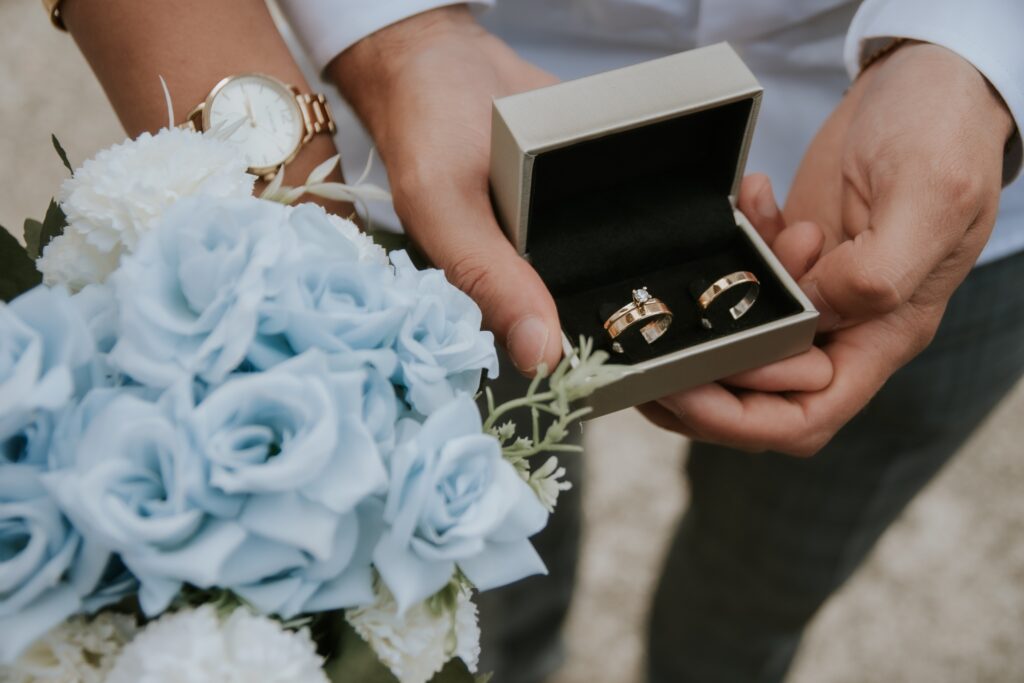 What Is A Bridal Set?
A bridal set is a set of an engagement ring and a wedding ring that is generally worn together. While most traditional bridal sets consist of a single wedding ring, making it a set of two, some have three rings as well. One of the reasons why bridal sets are a growing trend is that they're far more convenient to shop for. Most people find the whole experience of buying an engagement ring quite stressful. And when you plan your entire wedding, with it comes the pressure of setting time aside to also select a wedding ring or use the engagement ring. This is when a bridal set can come in handy and save you some major time and effort while you get to focus more on other aspects of the wedding.
Bridal Sets Vs. Wedding Sets: What's The Difference?
While bridal sets comprise an engagement ring and a wedding ring for one, a wedding set consists of an engagement ring and two matching bands – one for each of you. While the biggest difference between a bridal set and a wedding set is that one additional matching band forms part of the wedding set, the decision to prefer one over the other depends on various factors. A wedding set is a worthy choice if you're okay settling for a band that matches the engagement ring in design rather than purchasing it separately. And of course, if there are two brides, you may well want two engagement rings meaning that the wedding set wouldn't work for you. Instead, you could choose two bridal sets!
Wedding sets can offer a range of other benefits over bridal sets. First of all, they make for a more budget-friendly buy compared to bridal sets. When you buy a wedding band separately, chances are that the band and the bridal set might cost you more than a wedding set. Therefore, if budget is a constraint and you would also want the added advantage of uniformity in terms of having matching rings with your partner, wedding sets are an ideal pick.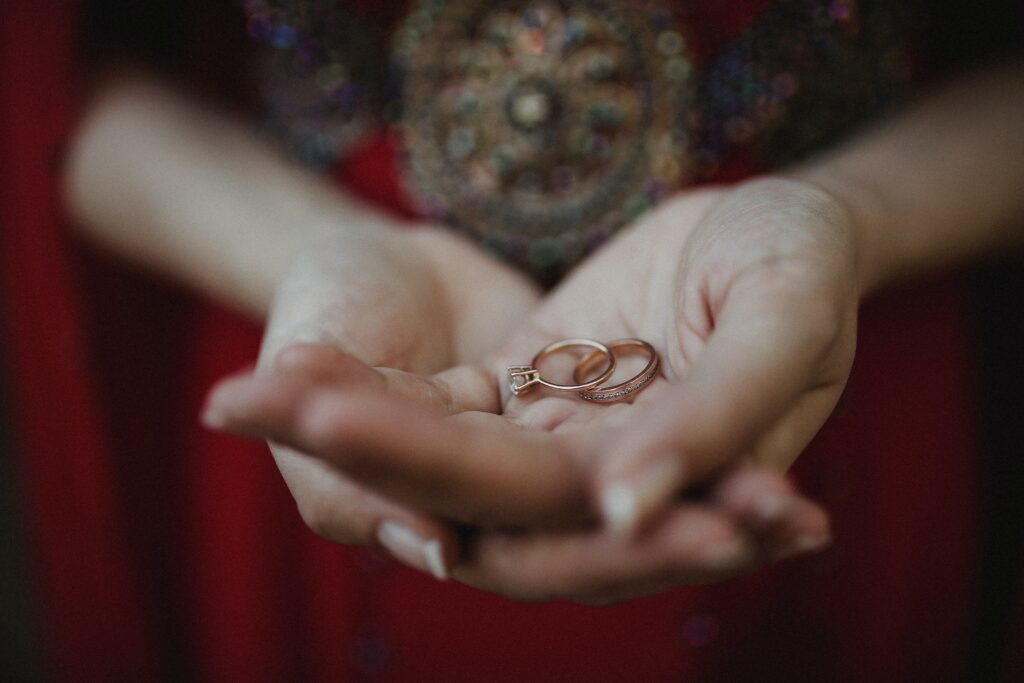 Bridal sets are a better choice when you have preferences and would want to have a wedding band that is customised per your liking. It is also worth mentioning that wedding sets make it easier to shop for a band for your partner when they're not, particularly into ring shopping. And while bridal sets and wedding sets are different, the term wedding sets may also be used for bridal sets. Therefore, when you're meeting a dealer, it is best that you specify your preferences and choose the right one.
Why Do Some Bridal Sets Have 3 Rings?
While conventionally designed to have only two, jewellers have started selling bridal sets that feature two bands in addition to the engagement ring. However, what sets a bridal set with three rings apart from a wedding set is that all the three rings that make up the bridal set, as the name suggests, are for the bride. The two bands are supposed to be worn on either side of it. Since the only difference between a bridal set with two and three rings is that one additional band on the other side, it is a matter of preference and budget when you choose one over another.
Why Should You Buy A Bridal Set With Wedding Ring?
If you're conflicted about whether buying a bridal set would be a better decision, knowing a little more about their benefits can help you have some clarity. There are many advantages of picking a bridal set that comes with a wedding ring, which are as follows-
Convenience – When you buy an engagement ring and a wedding ring separately, it involves two rounds of shopping, going through options, and spending a lot of time in the process. Bridal sets eliminate all the additional steps involved in hunting for the perfect wedding ring. And when you choose a bridal set that suits your partner's taste, you get to make sure that the wedding ring would match their preference as well.
Uniformity – The wedding ring and the engagement rings in a bridal set are made to be a perfect match and complement each other. With this, you get to create a more uniform and cohesive look. Another advantage that results from this uniformity is that the wedding ring would be perfect and effortlessly compatible with the engagement ring while fitting well.
Value for Money – When you buy two rings rather than one, jewellers generally have offers and discounts that help you save some money compared to when you purchase both the rings separately.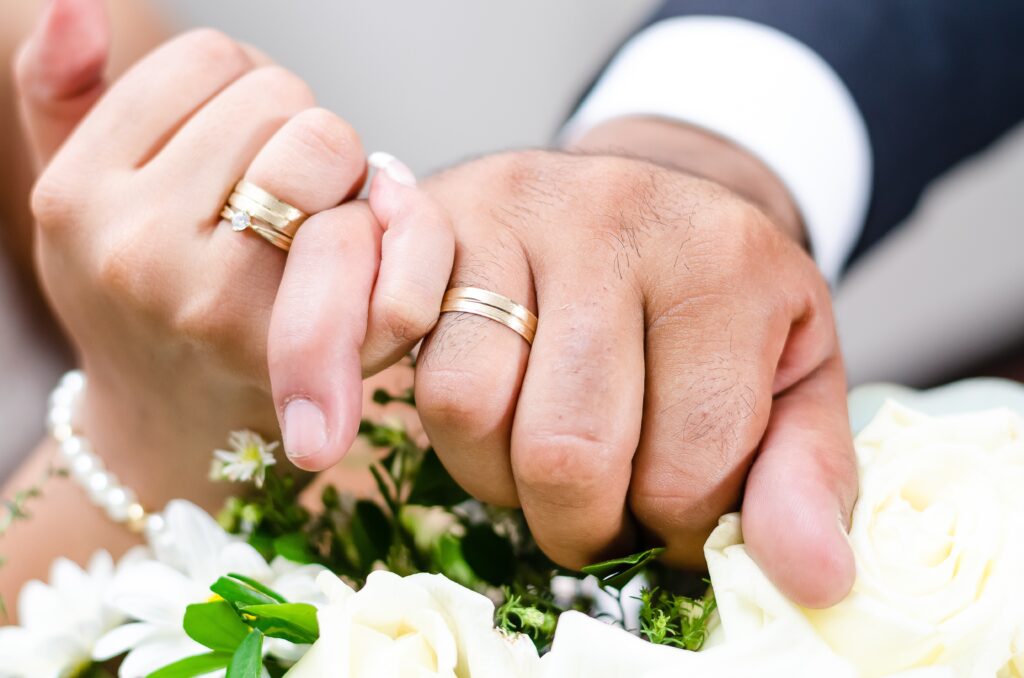 Unconventional – If you are more into jewellery and styles that set you apart and give a touch of uniqueness, a bridal set is the right option. Since most people still shop for engagement rings and leave it at that, a bridal set gives you two rings that fit the finger seamlessly. And since a lot of work goes into designing two rings that create uniformity, they are also extremely beautiful, elegant, and graceful.
Comfort – If wearing a wedding ring layered with your engagement ring has always been a part of your plan, it is way better to settle for a bridal set. This is because the engagement ring and wedding in a bridal set are designed to fit naturally well, which makes it a lot more comfortable. When you buy a wedding ring separately, you might have to make some compromises in terms of fitting, design, or uniformity as finding the perfect ring may get a little tricky.
Whether you decide to buy an engagement ring, a bridal set, or a wedding set, there's no right or wrong choice and good or bad decision. It all comes down to your preferences and the resources, whether time or money, that you have. If you enjoy the whole process of shopping, making two trips to the jewellery store for the engagement ring and wedding ring would work for you. However, bridal and wedding sets offer you plenty of benefits, such as affordability and uniformity. And they're a great blessing for people who live busy lives.
IF YOU FOUND THIS USEFUL THEN WHY NOT PIN IT?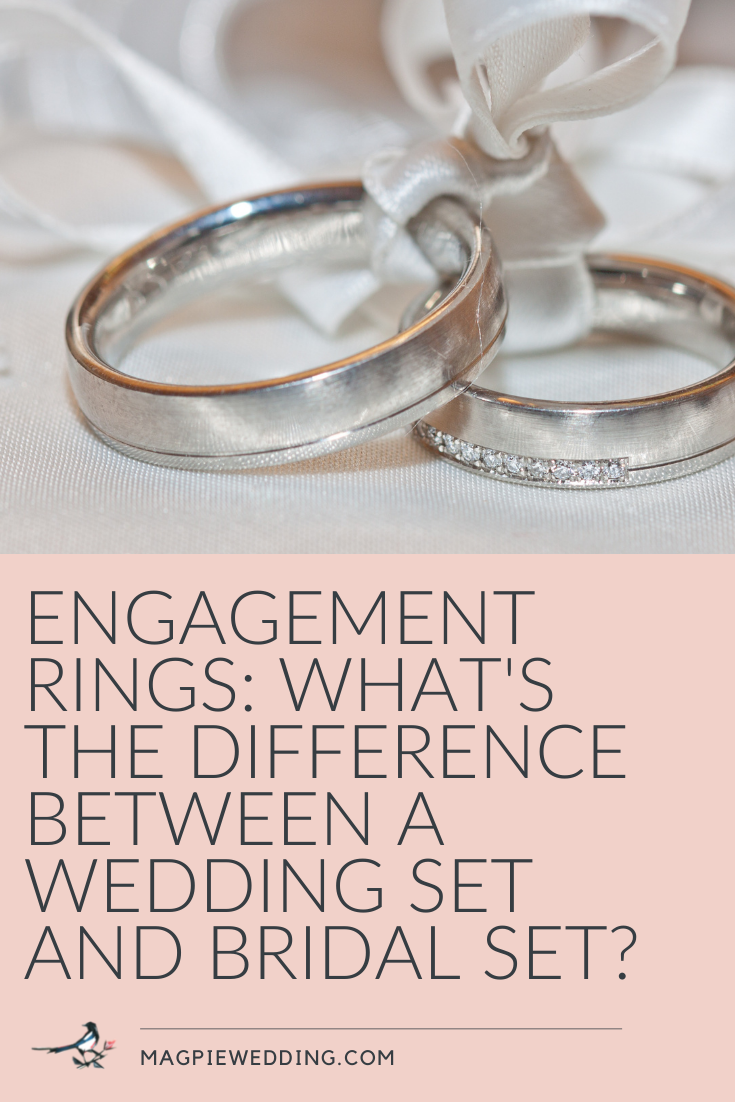 This is a collaborative post