So you know what style of wedding cake you want after extensive research on Pinterest and blog posts like our one featuring our favourite cakes of the moment but how do you know how big it needs to be for all your guests. Today, Laura Moyle from Pudding Fairy shares everything you need to know when ordering wedding cake as well as some of her beautiful designs.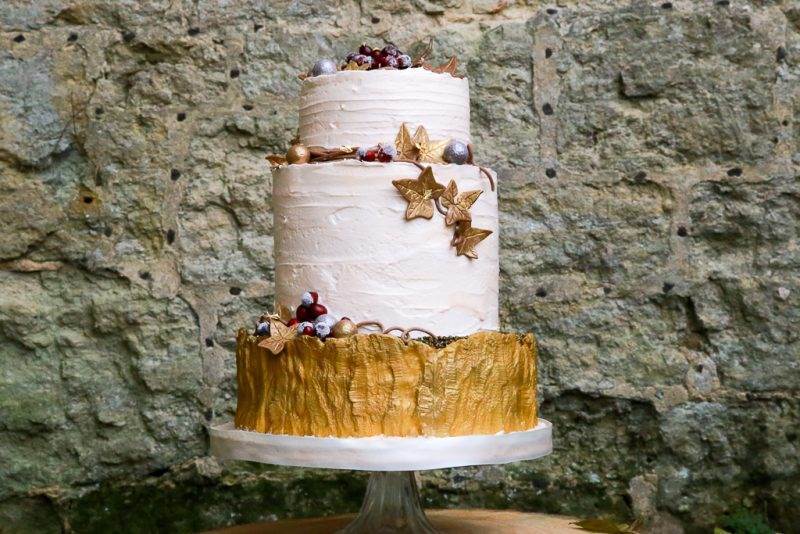 image credit: Velvet Storm
How much wedding cake do you really need?
Are you wondering how big your wedding cake needs to be? Are you debating whether part of your beautiful cake might go to waste and trying to avoid this when ordering wedding cake? Are you worrying about whether you might be overspending on your wedding cake by ordering it too big? Read on…
A word though, before we dive into the points you need to consider. I am talking here about how much wedding cake you need from a point of view of having enough for all your guests to enjoy, rather than how big you might want it to look, to have the right WOW factor. Speaking from professional experience, here are the aspects you need to consider first.
Are you having your wedding cake as dessert?
For wedding cake as a dessert I recommend a 2×2 inch portion per guest. You can go a little smaller, such as 2×1.5 inch if the recipes you have chosen make for a cake that will allow neat portioning at that size. For example, light sponges using Genoese sponge (I use a lot of those as they are so delicate and airy at the end of a meal, and really let the filling flavours sing) are more delicate therefore cutting 1×1.5 inch portions with these type of cakes doesn't always look very neat and presentable. If you are likely to ask your caterer to plate your wedding cake to use as a dessert, it needs to look the part on the plate, and not look too small either; even if you are going to have fresh fruits, cream or ice cream next to it.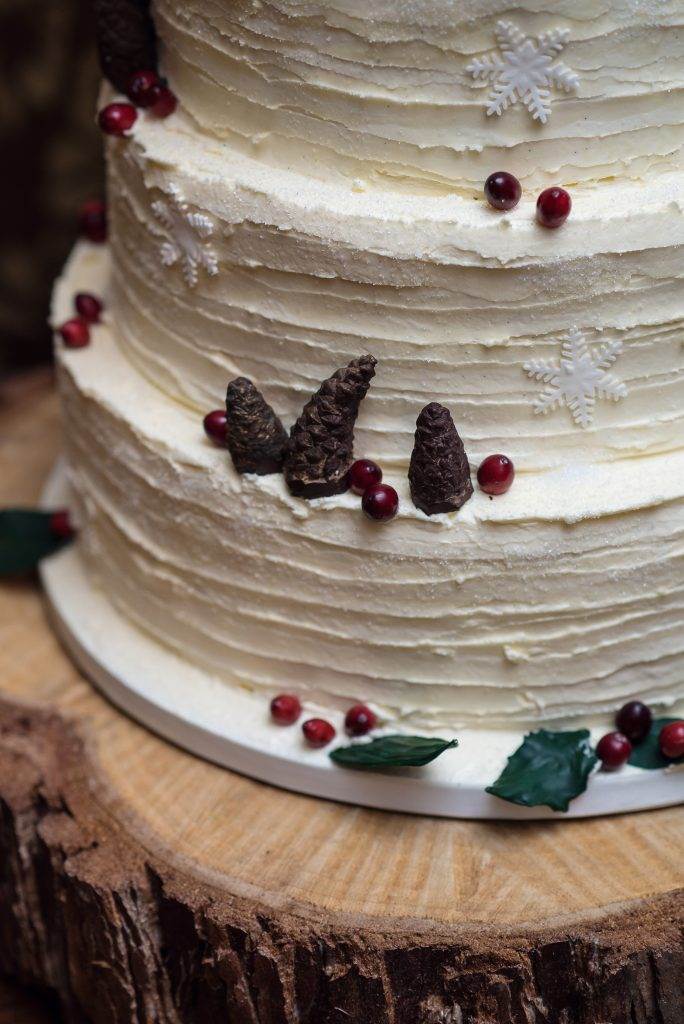 Image credit Sara Reeve
Are you ordering wedding cake for after dessert?
In this case, I normally recommend a 2x1inch portion. I know some wedding cake makers go for 1x1inch size no matter what the cake recipes are but I am going to stick to my opinion that I think it's too small. Why? Because I LIKE my cakes so I want a portion that's worthy of enough deliciousness. At least 1×1.5 inch of it! The only exception for me is fruit cake (see below) as it's really rich.
Does your choice of recipe influence the overall size of your cake?
The portion size when ordering wedding cake depends on the recipes a little. So for example, if you are having a beautiful Marjolaine cake; almond meringue sponge layered with rich and indulgent chocolate ganache and hazelnut French buttercream, you can probably go for 1×1.5inch portion. For a lemon zing or a Victoria sponge, I'd say go for 2×1. But if you are opting for fruit cake, then 1x1inch is OK in my opinion. It will cut neatly, due to the nature of a fruit cake, and make a delicious "cake finger" to go with tea, coffee, or a glass of bubbles.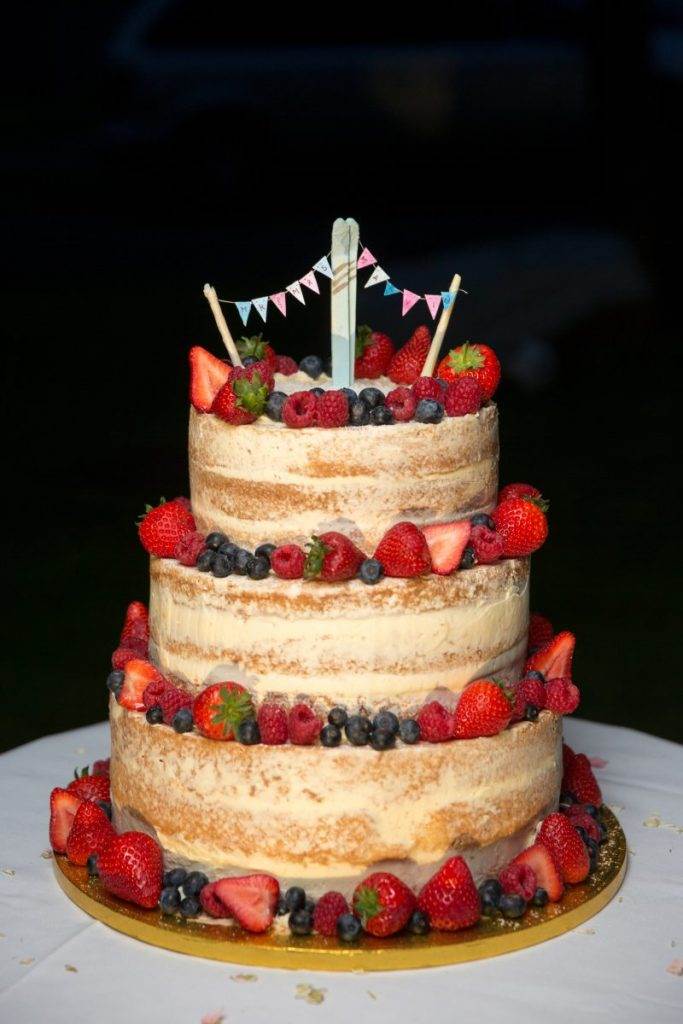 Are you having a tiered wedding cake?
There are lots of options to combine tiers (having two tiers the same size) to get close to your ideal number of portions but you might have to round up a little up or down. Which way you go really depends on you; how much of a cake lover crowd you are inviting to your wedding. Think also whether you might want some extra cake for the next day if you are having friends or family staying. I often deliver extra "kitchen cakes" (cakes that go straight to the kitchen, and are not seen by the guests) to my customers for this reason. They are boxed, single tiered, and perfect for the day after your wedding. It's also a great solution if you like more cake flavours than you have tiers!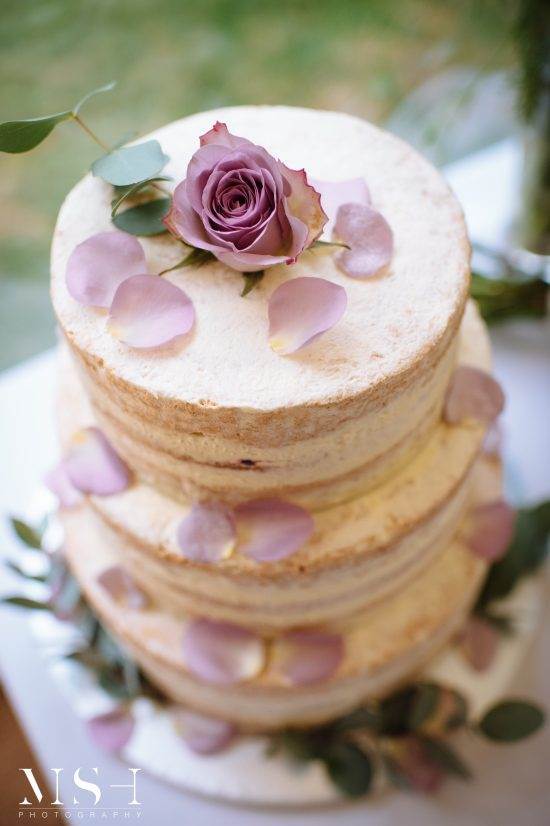 Images credit Matt Scott
When are you cutting and serving the cake?
Think about this as it might mean you only want enough cake for your wedding breakfast guests, or need to add your evening guests. Personally, I always suggest you wait until all your guests are there to cut your cake, as it's a real "milestone" moment. And even if you don't (or can't – for example if you are having your cake as your dessert and need to have your "cake cutting" moment during your meal), then surely it's a nice gesture to have some extra wedding cake portions to offer to your evening guests either on arrival with a drink, or individually boxed for them to enjoy at home.
What about the people who can't come to your wedding?
A few years ago, I created a tiered chocolate "tree trunk" and honeycomb wedding cake for a couple who have quite a lot of friends living abroad. Several of their guests couldn't come but they wanted to be able to send them a delicious token from their wedding but the chocolate cake would have not travelled well. So we decided to opt for a smaller tiered cake with just enough portions for the wedding day. And individual fruit cakes, boxed and ready to post, for the ones who couldn't make it which is such a lovely gesture.
Are you having individual cakes with a topper for "cake cutting"?
In this case, you really need 1 cake per person. You might still want to cut the cake, in which case, ask your cake maker for a single tier topping cake. You can share it with your top table guests and reduce slightly the number of individual cakes if you'd like.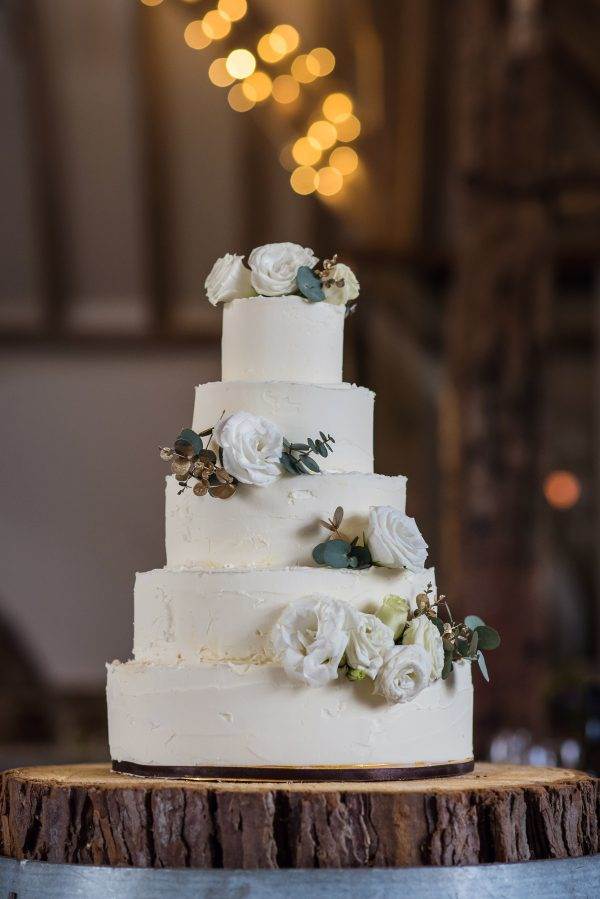 Image credit Sara Reeve
Are you having an unconventional wedding cake or a dessert table?
Have you decided to ditch the tiered wedding cake approach? If so here are some guidelines:
If you are "going French" with a croque-en-bouche, go for 3 choux per person
Brownie mountain? A 4x4cm square is a generous portion, especially if you have a super rich chocolatey-very gooey recipe!
Macarons towers – I'd say 2 per person at least….3 possibly. Depending if your guests come and help themselves or you plate them. When plated, odd numbers look better!
Are you having "table" cakes?
Now those are so cool! The idea is to have a smaller wedding cake – for photos, cake cutting moment and generally for the top table – then have single tier cakes brought to each table, to be cut "live" if you want, by one waiter or waitress, in front of your guests. Those cakes can all be the same, or be personalised for each table. I love the added sense of theatre of this option. You can also present each cake on a beautiful vintage cake stand, wine boxes, logs, floral display with a hidden cake support in the middle……the possibilities are pretty endless here. Cake portion wise, in this instance, base yourself on the number of guests per table: for 8 guests a 6 inch round cake, for 10 or 12 guests an 8 inch round.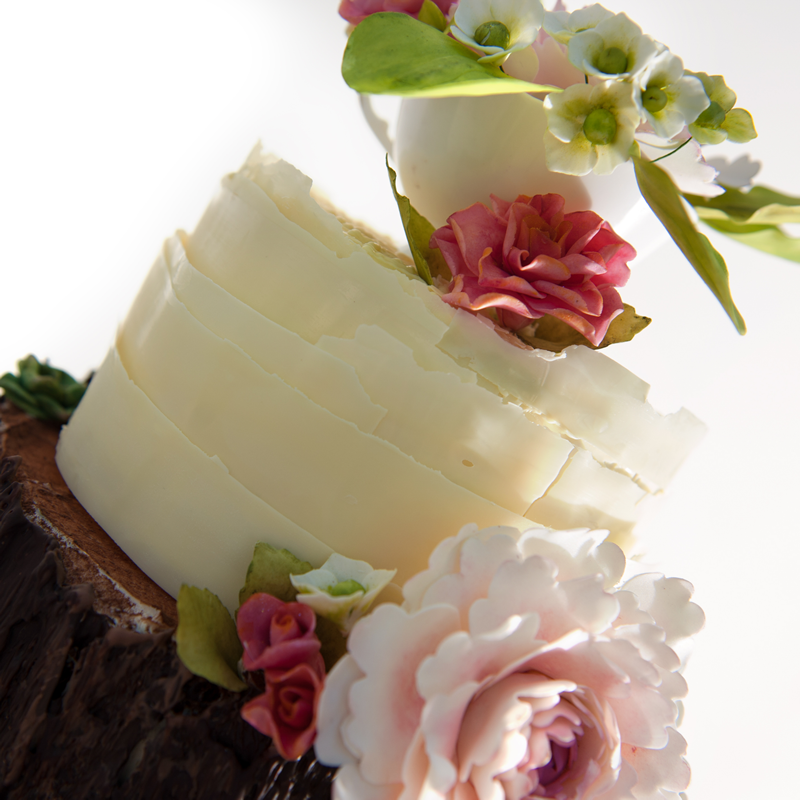 Image credit Owen Mathias
Here are more ideas if you are worried about some of your cake going to waste when ordering wedding cake
If you'd like to know what options you can go for, tailored to your number of guests, just drop me a line at wishforacake@puddingfairy.co.uk and I'll be delighted to help you.
Finally, remember when you are ordering wedding cake it doesn't mean you can't have a cake bigger than it needs to be, if you want to have a big WOW factor, I can also show you lots of creative (and a little magical) clever "size cheats" …again, just drop me a line and I'll be more than happy to help and share my tips.
Visit The Pudding Fairy at her website and get some inspiration on her Instagram page.