We've got something exciting to announce today for all wedding businesses- something that will help you all up your content game, get found and ultimately get more bookings! Which we all want right?
It's called The Magpie Wedding Social Club – our new monthly membership where we share our vast experience in digital marketing so that you can create posts daily without the headache! For only £12!
So if you own a wedding business and feel overwhelmed with what to say on social media and in your blogs – this is for you.
If you go to write your posts but can't think of what to write – this is for you.
Maybe you have a good presence there but you just find it hard to stay consistent resulting in your Instagram feed being a bit hit-and-miss – – this is for you.
Or maybe you really want to work with us, for us to create your social media and write your blogs but you can't afford it right now – this is for you.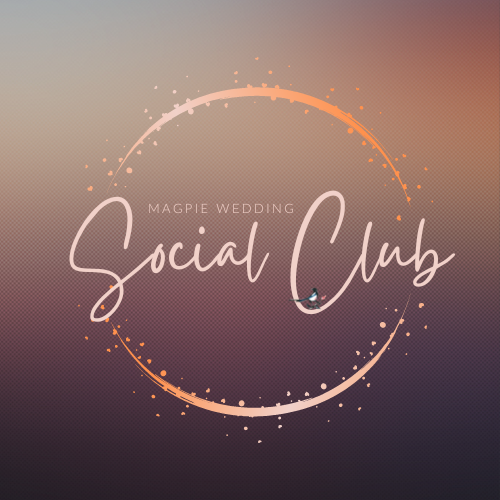 The Magpie Wedding Social Club is a monthly membership where you receive, weekly, prompts, caption templates, and ideas for your social media and blog. In fact, you will receive over 40 a week which you can pick and choose from.
They are designed for all wedding businesses wanting to capture the attention of couples and potentially the press as they've been designed with our Wedding Content Calendar in mind.
The content prompts and templates are focused on different types of content including inspiration, education, values-driven content meaning that when you pick and choose your feed will be a good mixture of eye candy and selling too.
Think of it as getting into our experienced marketing brains and using our thoughts to create your own posts!
Here's what is inside the Wedding Social Club:
🖤 A Google document sent to you every Friday with content prompts for the week ahead with example hooks, captions, call to actions and hashtags. This will be a minimum of 40 for the whole week and includes social media, Reels, Stories and blogs. You can then pick this up and plan the week ahead content.
🖤 These will be a mix of specific posts and more general wedding posts that will give you the best chance of being found by your couples.
🖤 A video training at the start so you understand what it is and how to use it.
🖤 Invitation to join our Facebook group so we can support each other.
All for the introductory price of £12 (inc VAT).
Want in? Want to know more? Click here for all the details.
It starts this Friday so if you want immediate support with social media – come join us!