Are you thinking of having a vow renewal? We have the perfect inspiration for you today! This beautiful eco-friendly ceremony at
Clophill Eco Lodges
Bedfordshire proves that love has romantic substance and stands the test of time. Aptly titled 'Say it with Snowdrops' this romantic mature couple says their 'I dos' once more. With ethical details an epic team and a stunning venue, it definitely caught our eye when it landed in our inbox. We catch up with planner Hannah Mullens of
Green Soul Weddings
and the rest of the suppliers to find out about this beautiful eco-friendly vow renewal in Bedfordshire…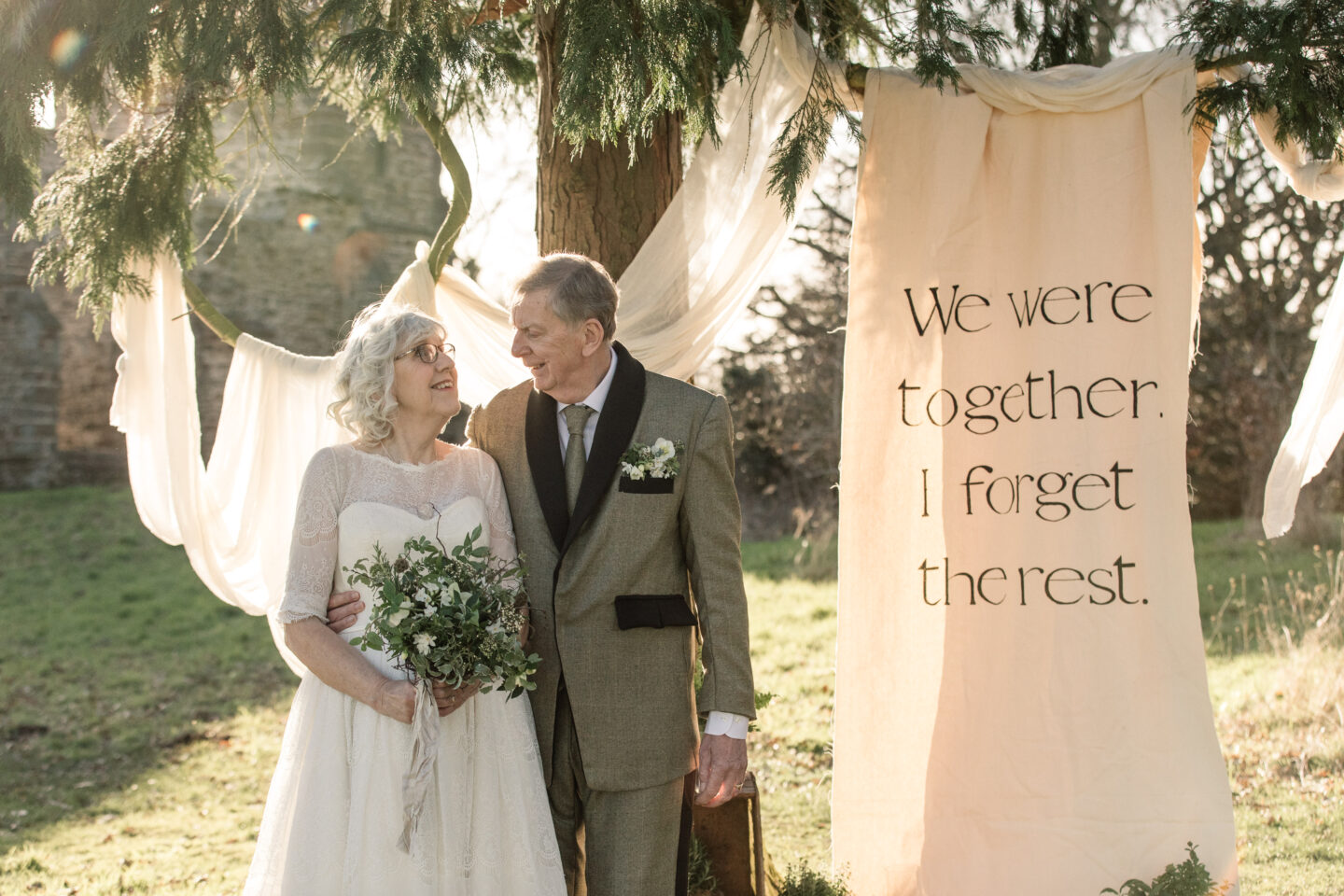 "This shoot was founded on a desire to showcase a mature, delicate and romantic love, a celebration of the true long-lasting love we all hope for. We also wanted to demonstrate the possibility of creating a stunning seasonal and sustainable celebration in the winter months! Inspired by the elegant, timeless and delicate beauty that snowdrops bring to our winter days, the resulting shoot has a minimalist, rustic yet modern vibe, and is sustainable in nature, showing respect for our natural world and emphasising the beauty within it. We hope this vow renewal shoot will be able to inspire couples of all ages in some way, showing that love knows no bounds and doesn't discriminate on age! This shoot also provides ideas for how we can work with nature, rather than against it, to produce beautiful and sustainable seasonal weddings, even in winter! By being open to new and different ideas and talking to experts for advice, weddings can make use of all of nature's seasonal offerings and inspiration."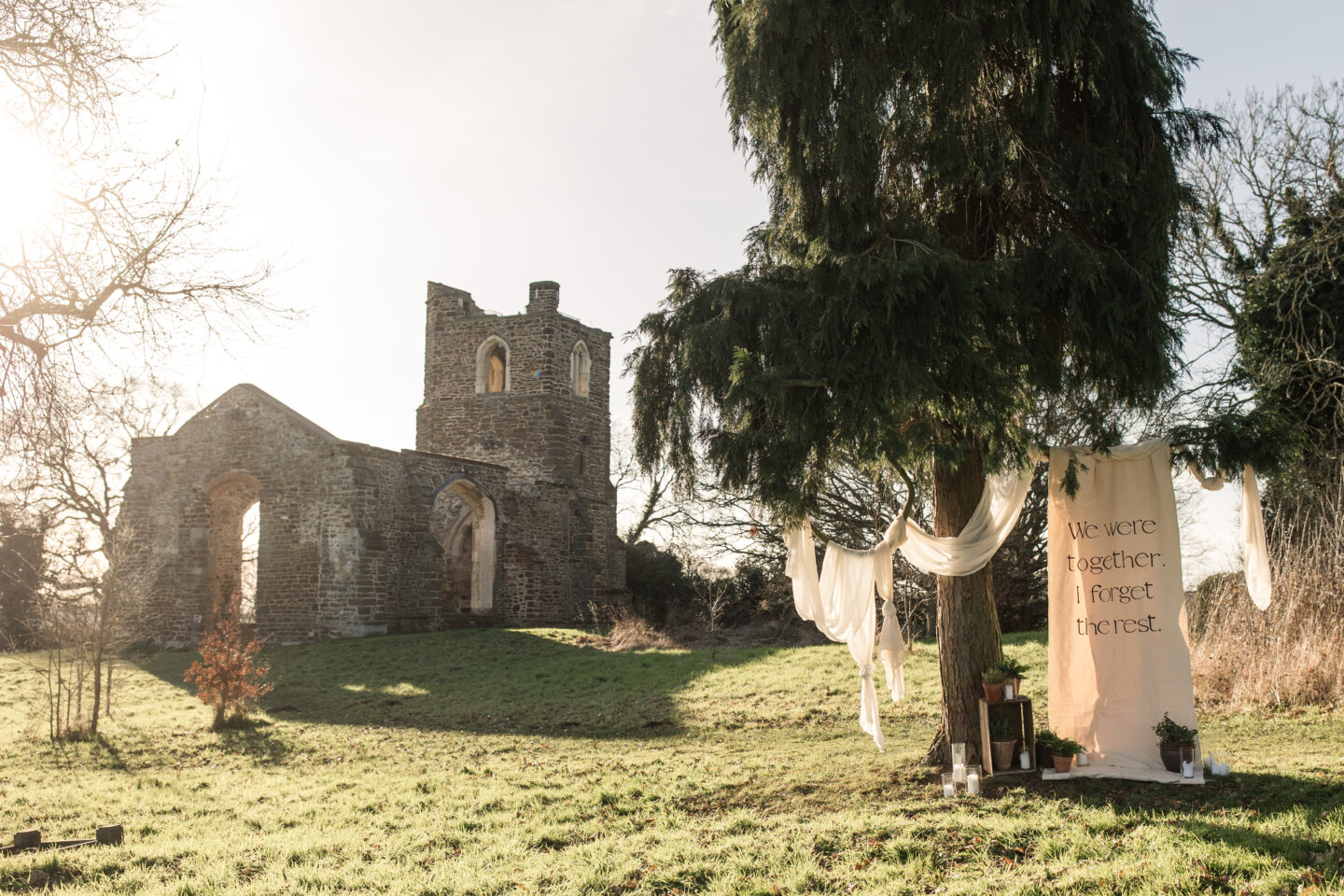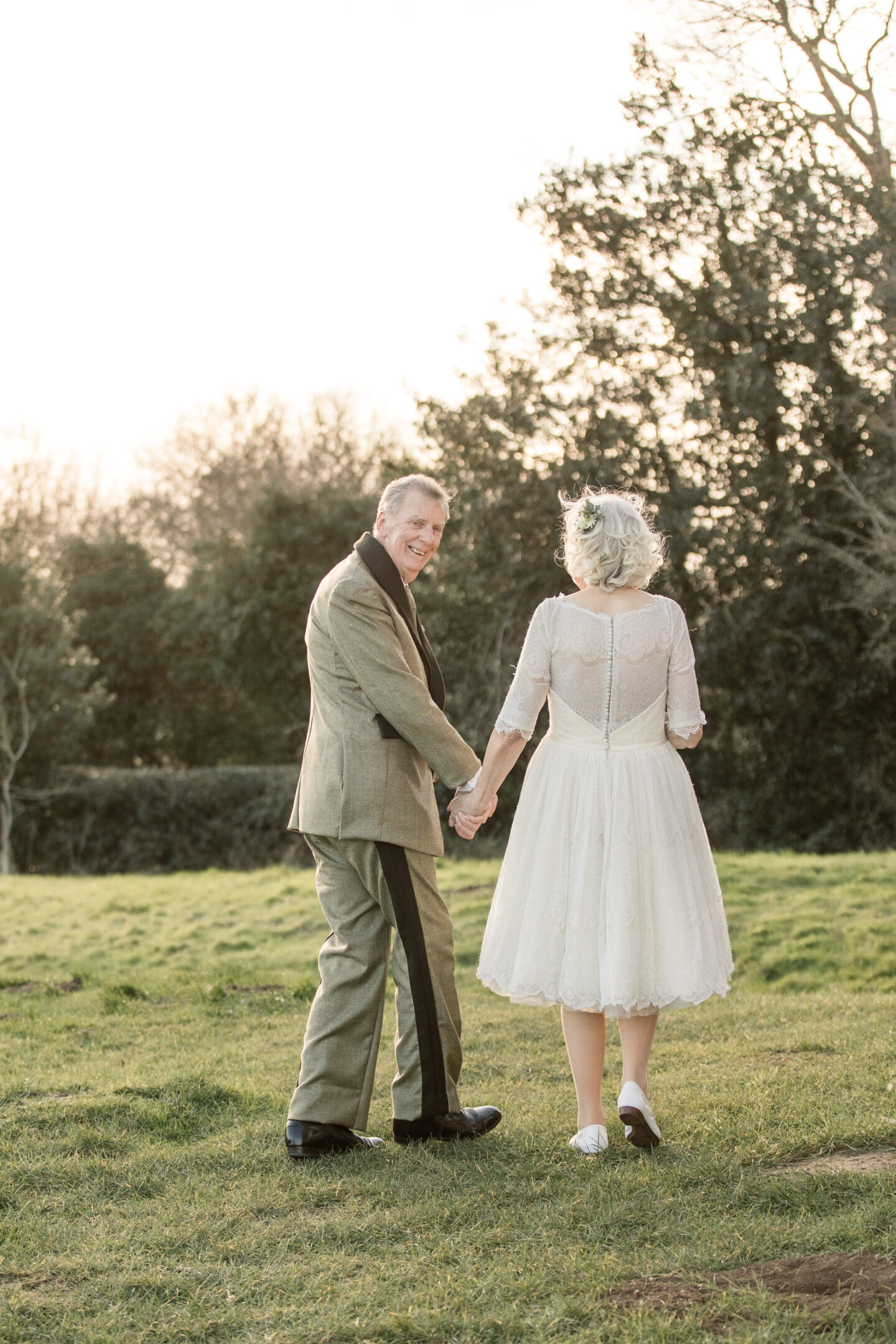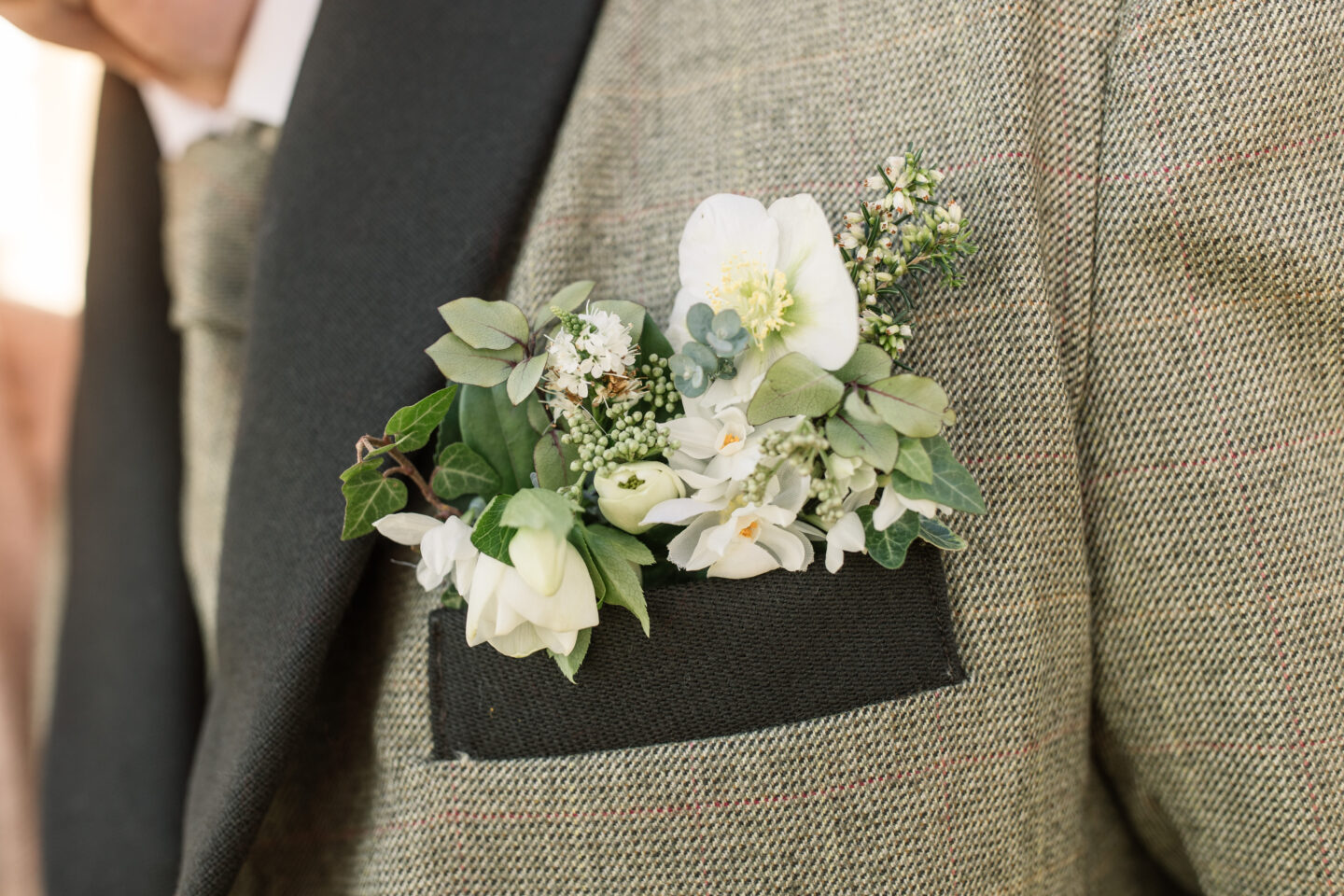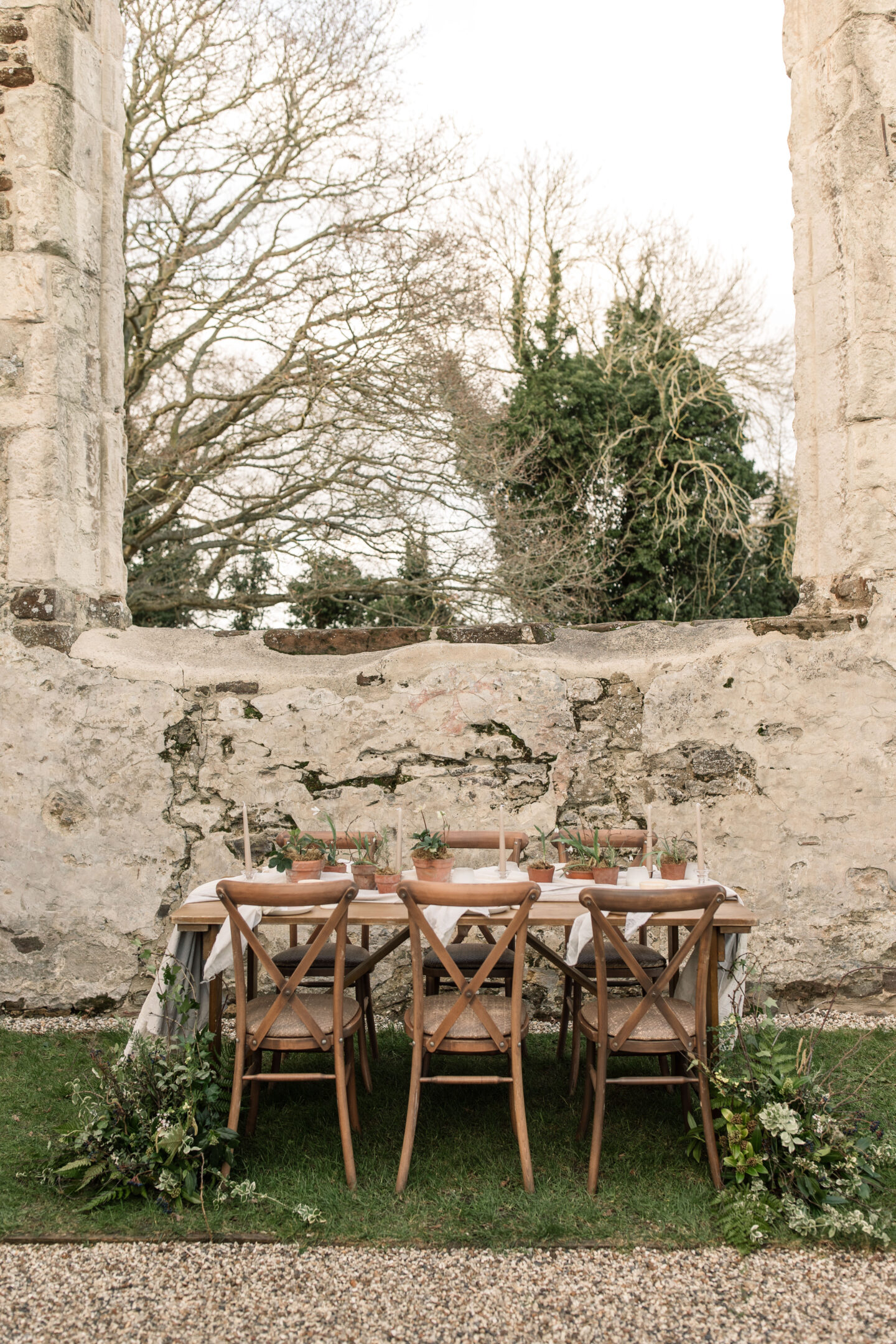 Venue
"Clophill Eco Lodges is a unique venue sat high on the Greensands Ridge in Bedfordshire. With amazing views, the remains of Grade II listed Church, and eco-lodge accommodation onsite that is all run by a charitable trust, this venue is full of sustainability credentials and character. Clophill Eco Lodges works really well for intimate celebrations but can also facilitate larger weddings through the addition of marquees and creative use of the space. It is primarily an outdoor venue."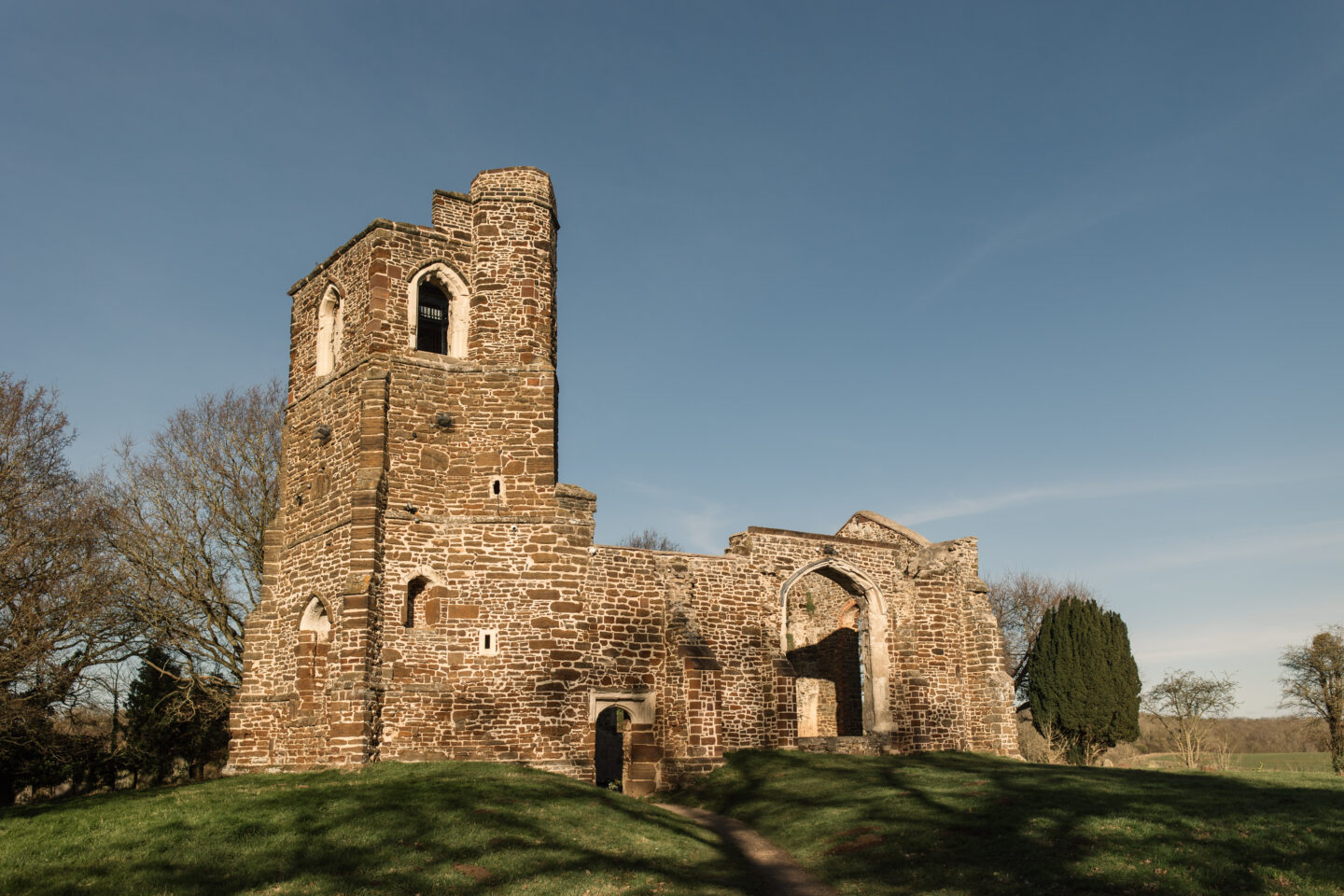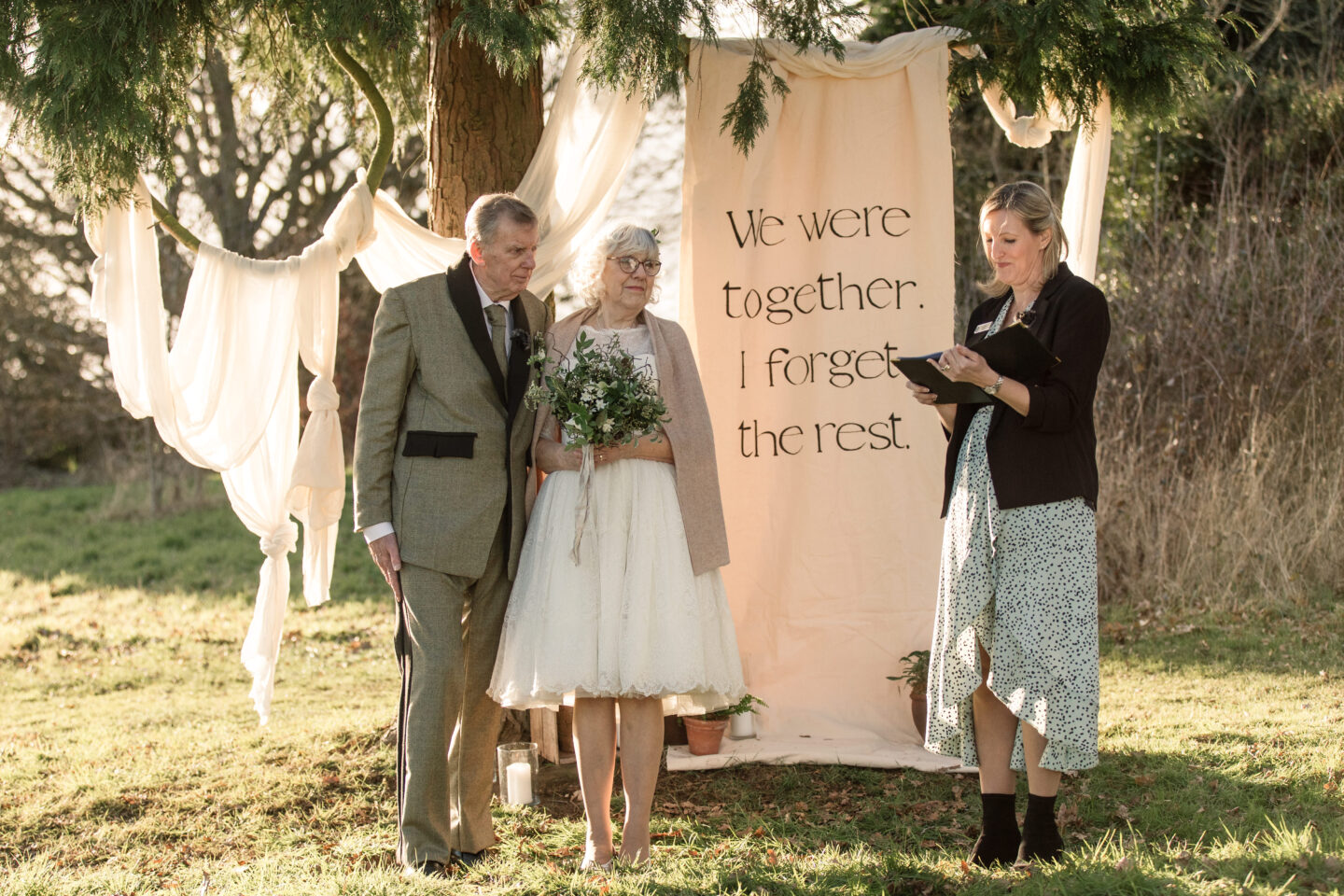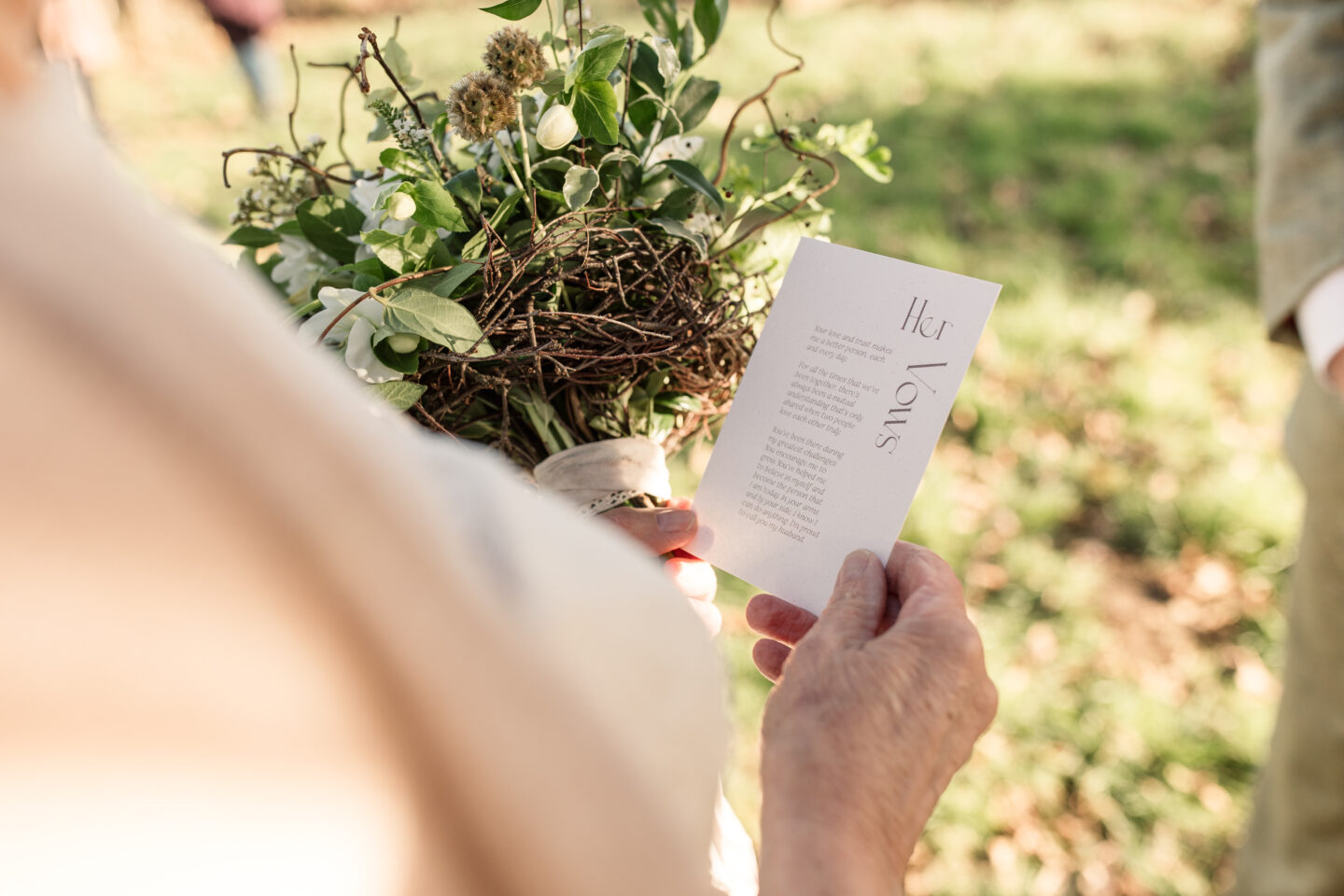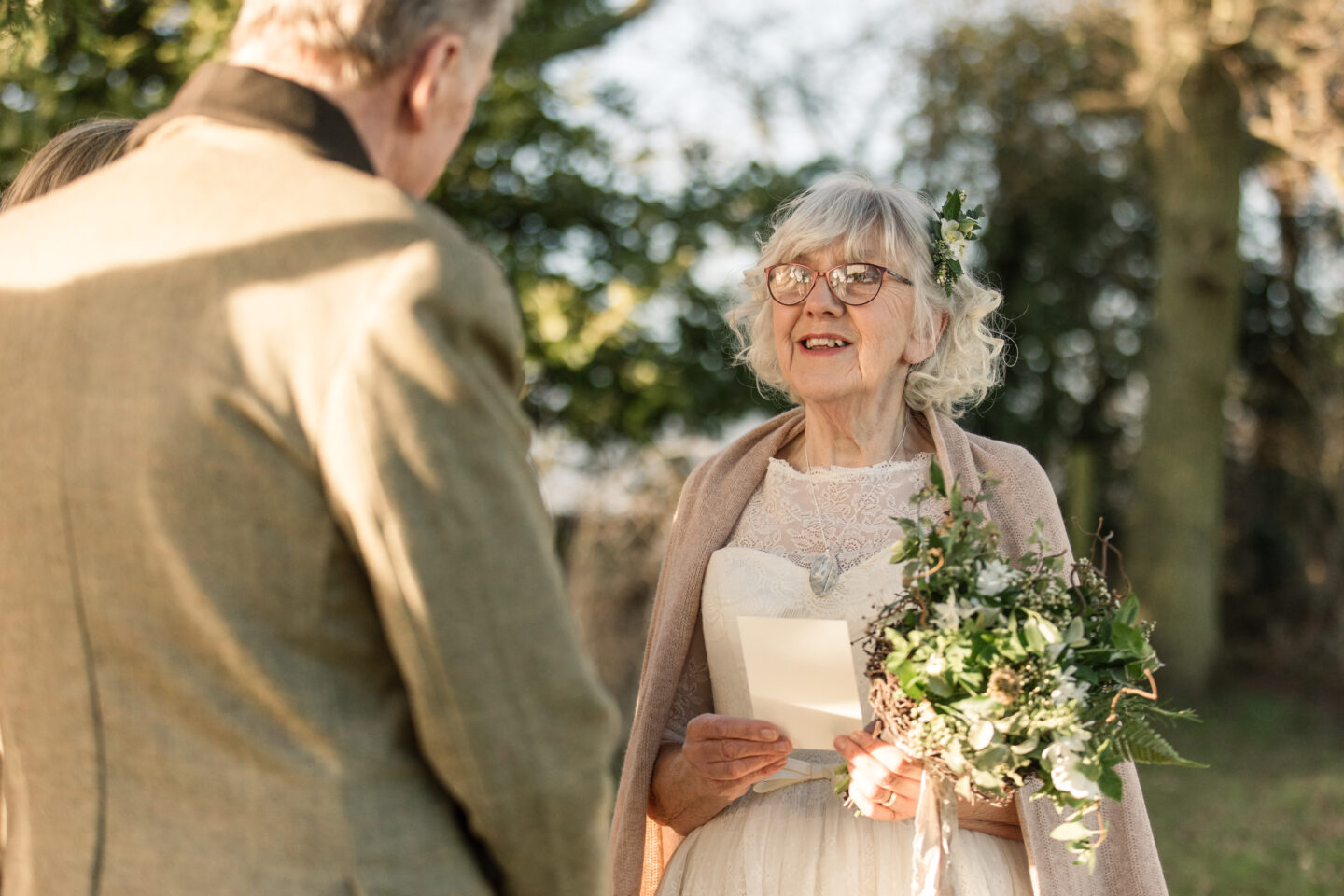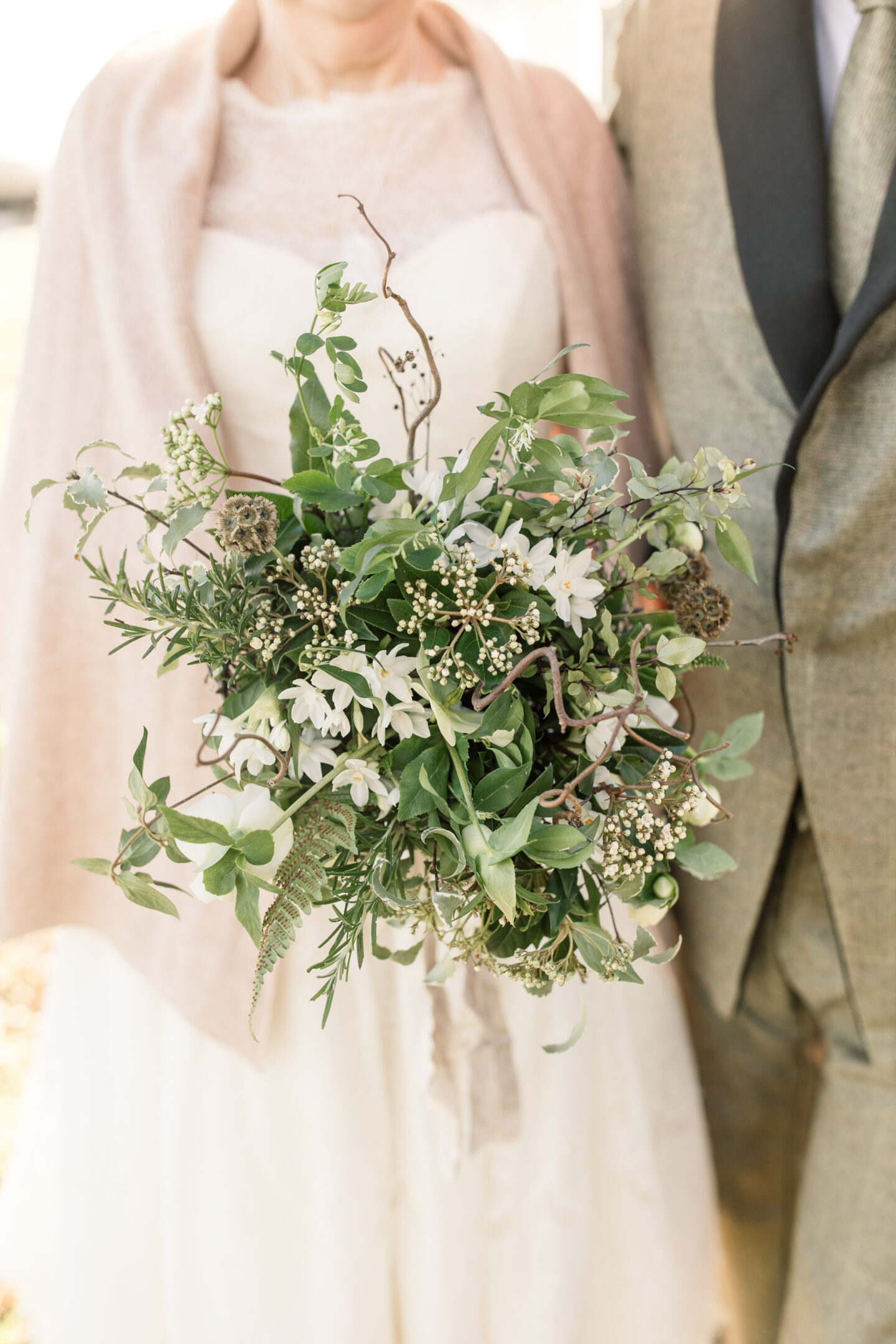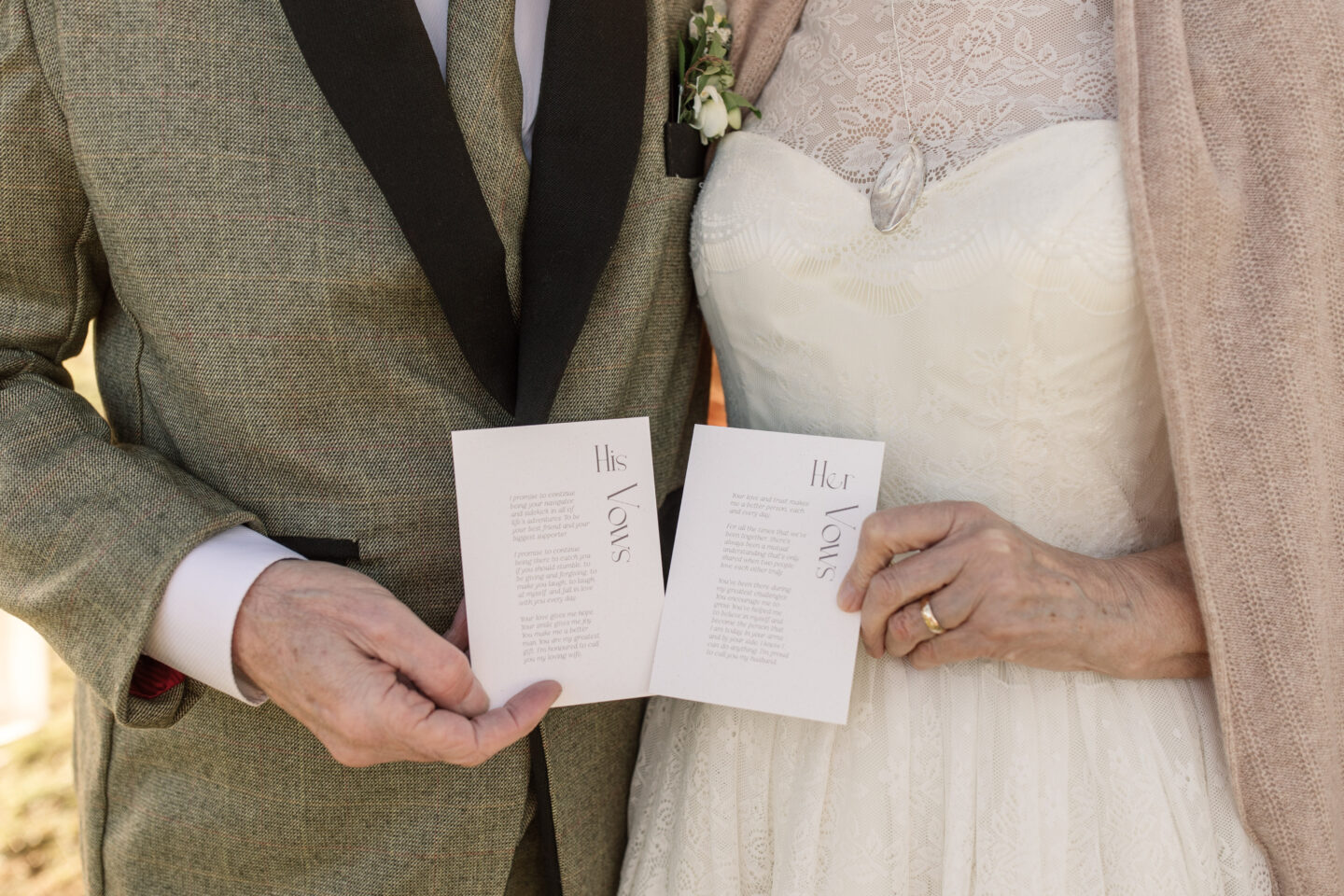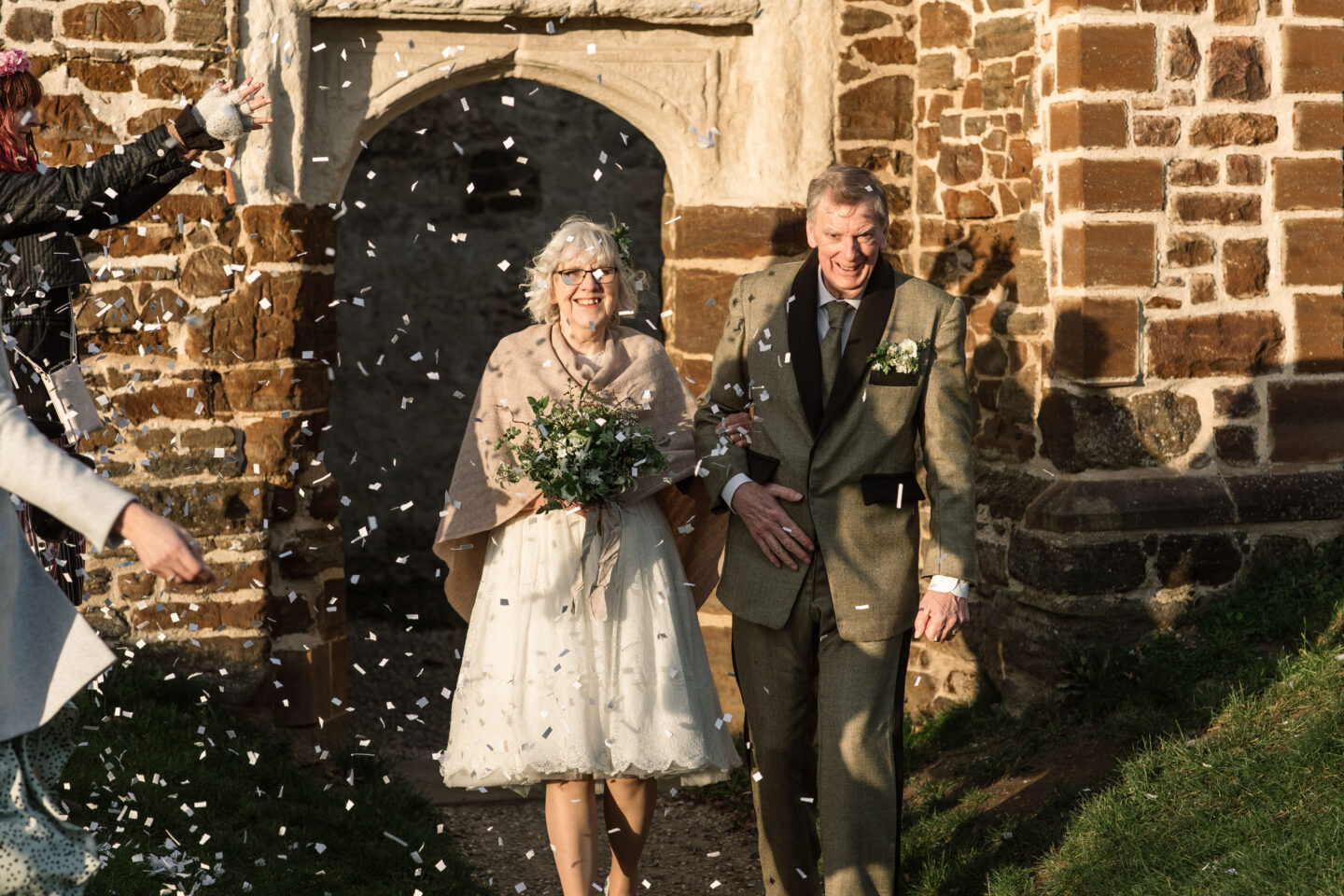 Styling
"We wanted our styling to reflect the soft and delicate appearance of the snowdrop combined with the hardiness of this winter plant. Throughout the shoot, we combined draped natural fabric with worn terracotta pots and bare wooden tables and crates. For the ceremony backdrop, stylist Catherine hand-painted a romantic quote onto natural fabric provided by Mia Sylvia, using the natural landscape of the venue to display this backdrop. This could easily become a beautiful fabric hanging for the home afterwards! We kept a minimalist romantic feel by adding only a few muted candles to the potted plant table decor and used locally made ceramic crockery that enhanced the earthy yet delicate vibe."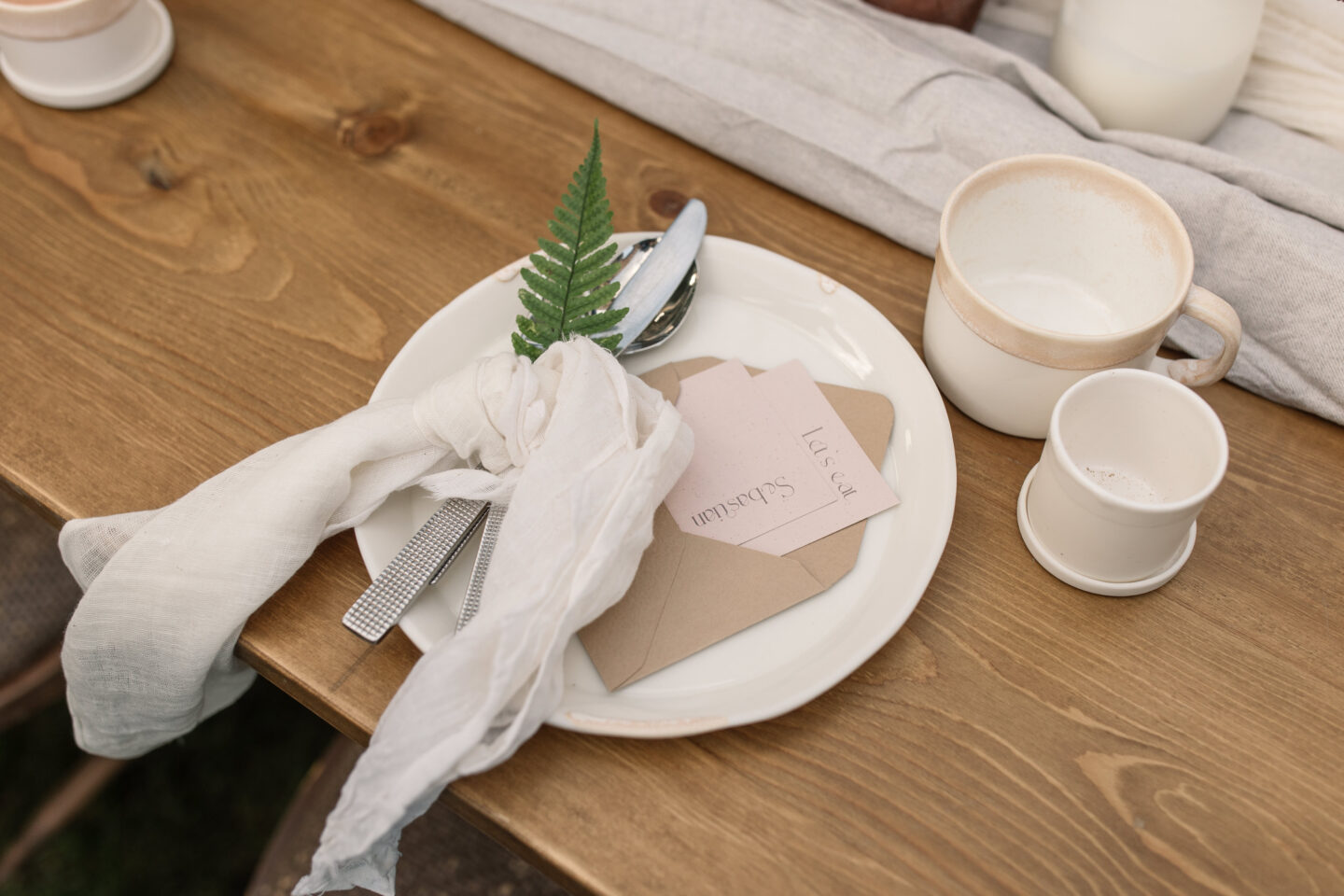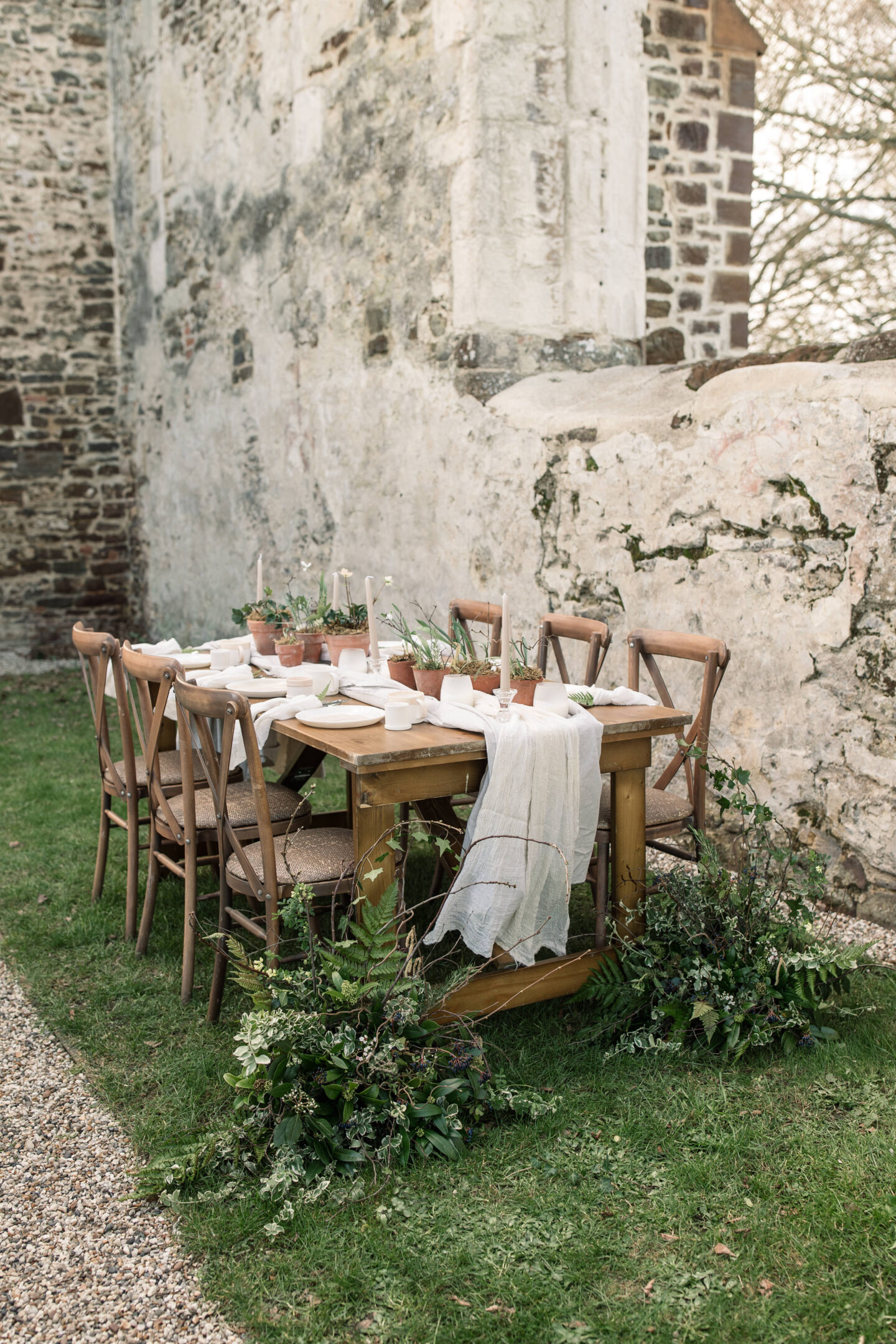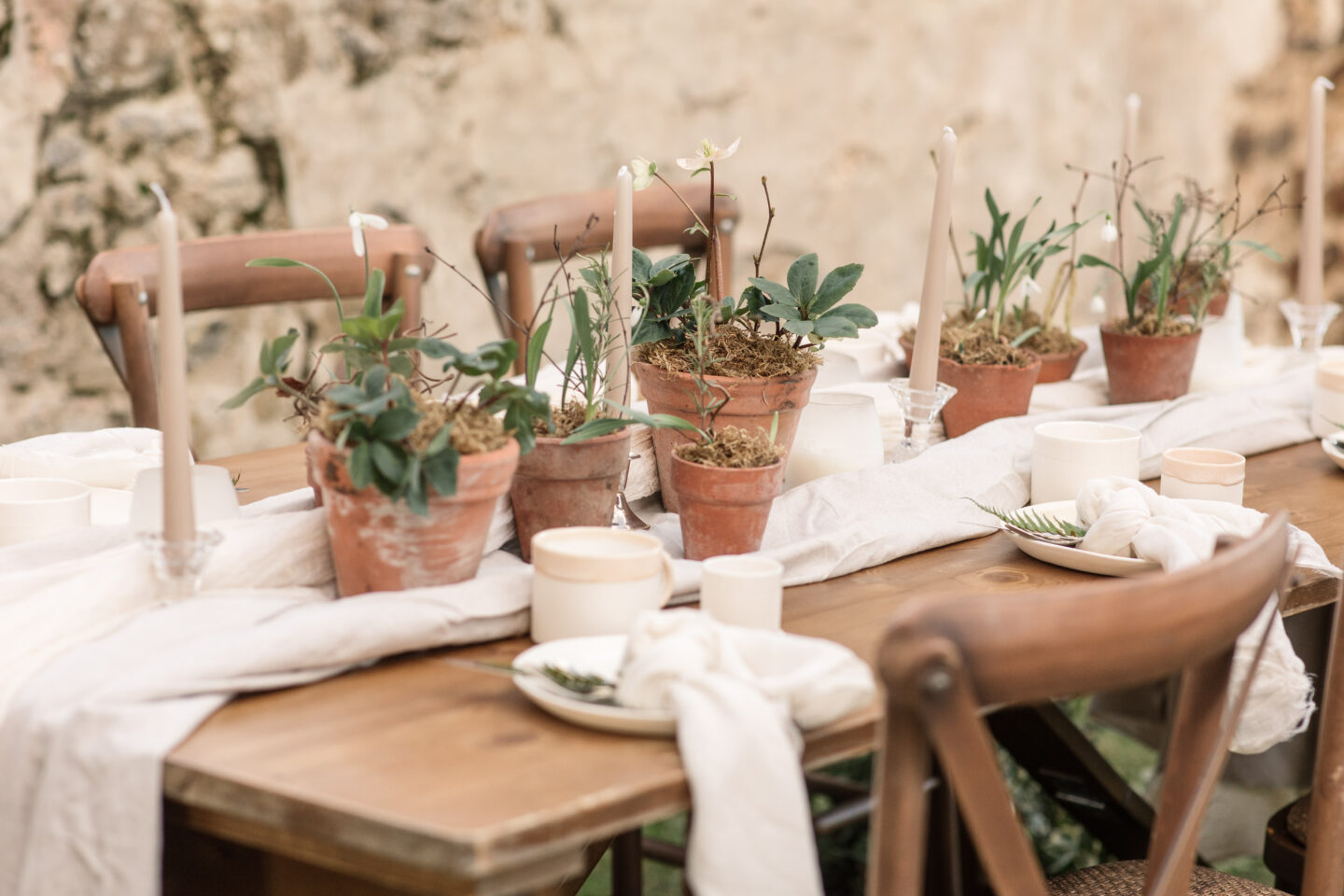 Photography
"For this shoot, it was important to choose a photographer who would capture and embrace the beautiful low light you get in Winter – something that is important to consider when planning a winter wedding as you're likely to have limited windows of light before the night draws in early so make sure you like their low light photography skills! We also wanted a photographer whose style would work well with the earthy and muted theme of the shoot, without creating a 'washed out' finished result. We all absolutely love the photos Becky Harley (she/her) captured from this day!"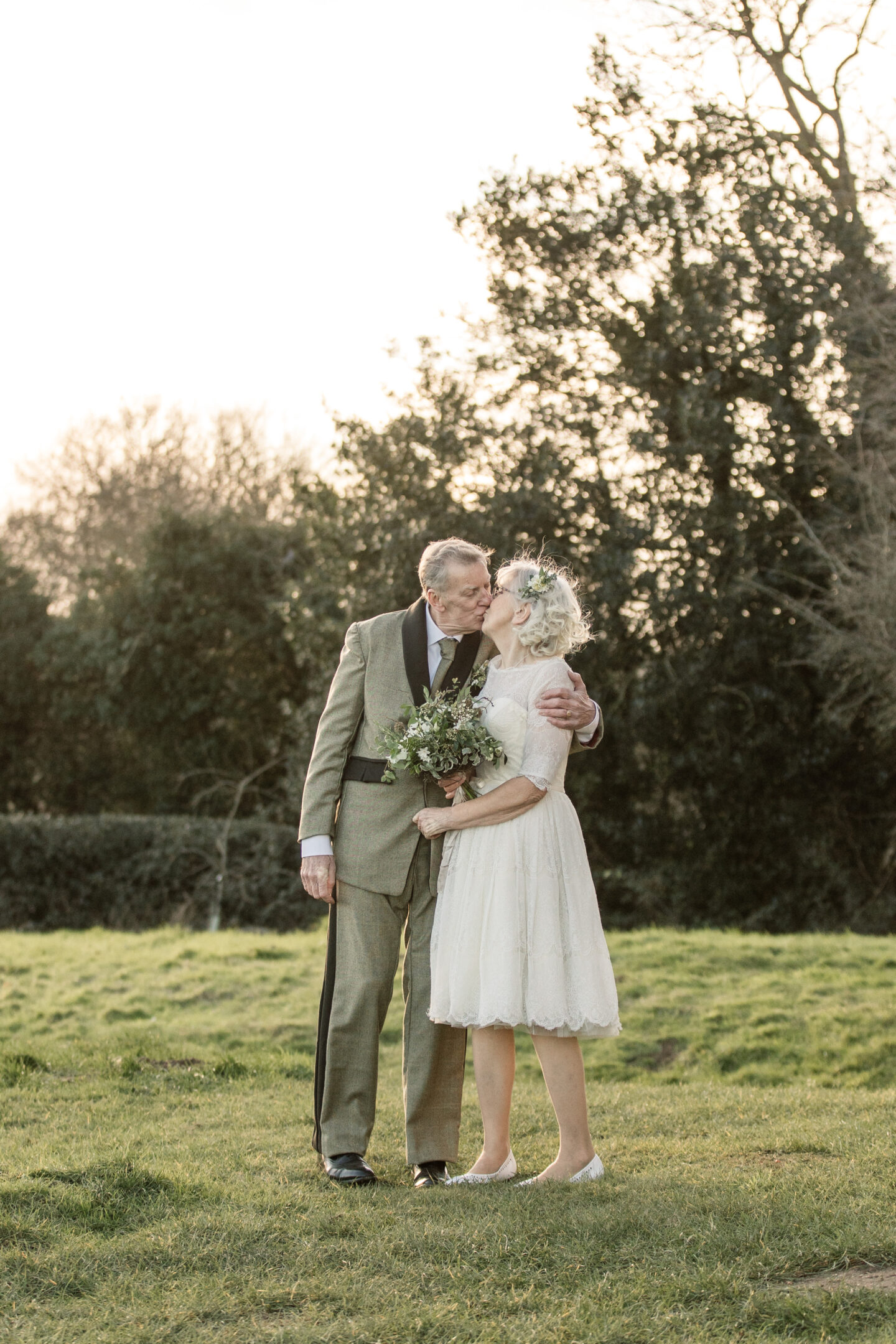 "We opted for a preloved knee-length tea dress style for this shoot with half-length sleeves and a high lace neckline. This flattered our model and respected how their body confidence had changed as they had matured, ensuring they felt comfortable yet glamorous. This was paired with a handcrafted cape made in the UK from delightfully soft British wool to add the perfect warm finishing touch for our winter shoot. The jewellery used on our Snowdrop shoot is by the independent UK brand Cast & Found. The cast Snowdrop Wrap Leaf Ring is part of the ethical designer's base collection and was paired with a large 'Treasure your story' pendant personalised with a pressed snowdrop. This jewellery is made by casting tiny pieces of nature including those specifically sent in by customers, creating wearable connections to the natural world that often evoke special memories. Hair and makeup styles were kept very natural with a relaxed glamorous look to compliment the romantic, intimate and minimalist vibe of the celebration."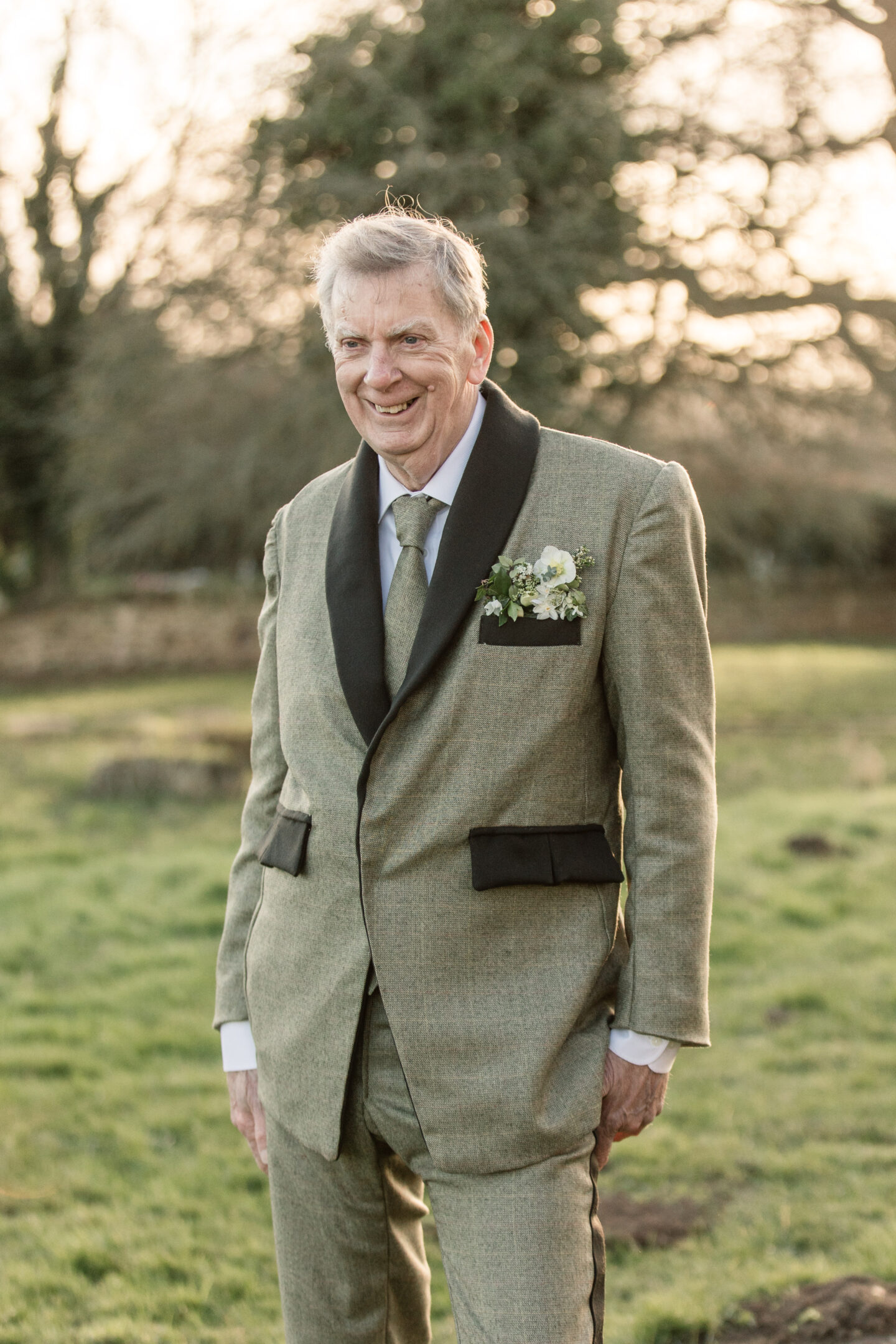 "Our groom's suit was made by ethical tailors Couchman Bespoke. They made a British tweed tuxedo suit with accents of brown wool for the lapel, top pocket and lower flap pockets. The trousers had a side strip in brown that curve around the hips to form the back pockets and meet squared on at the back. The look was then styled with a tie made from the cloth off-cuts to finish off the outfit."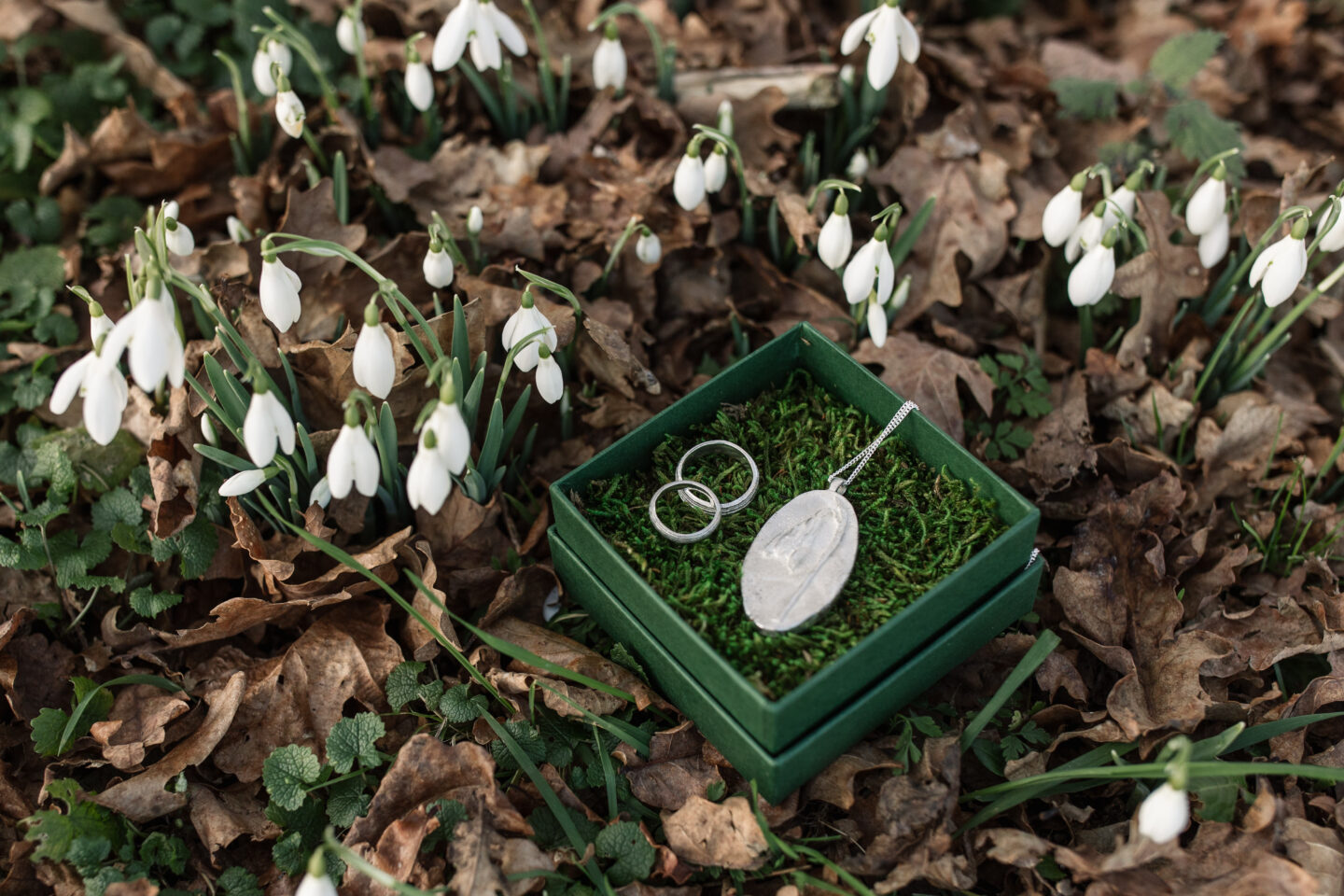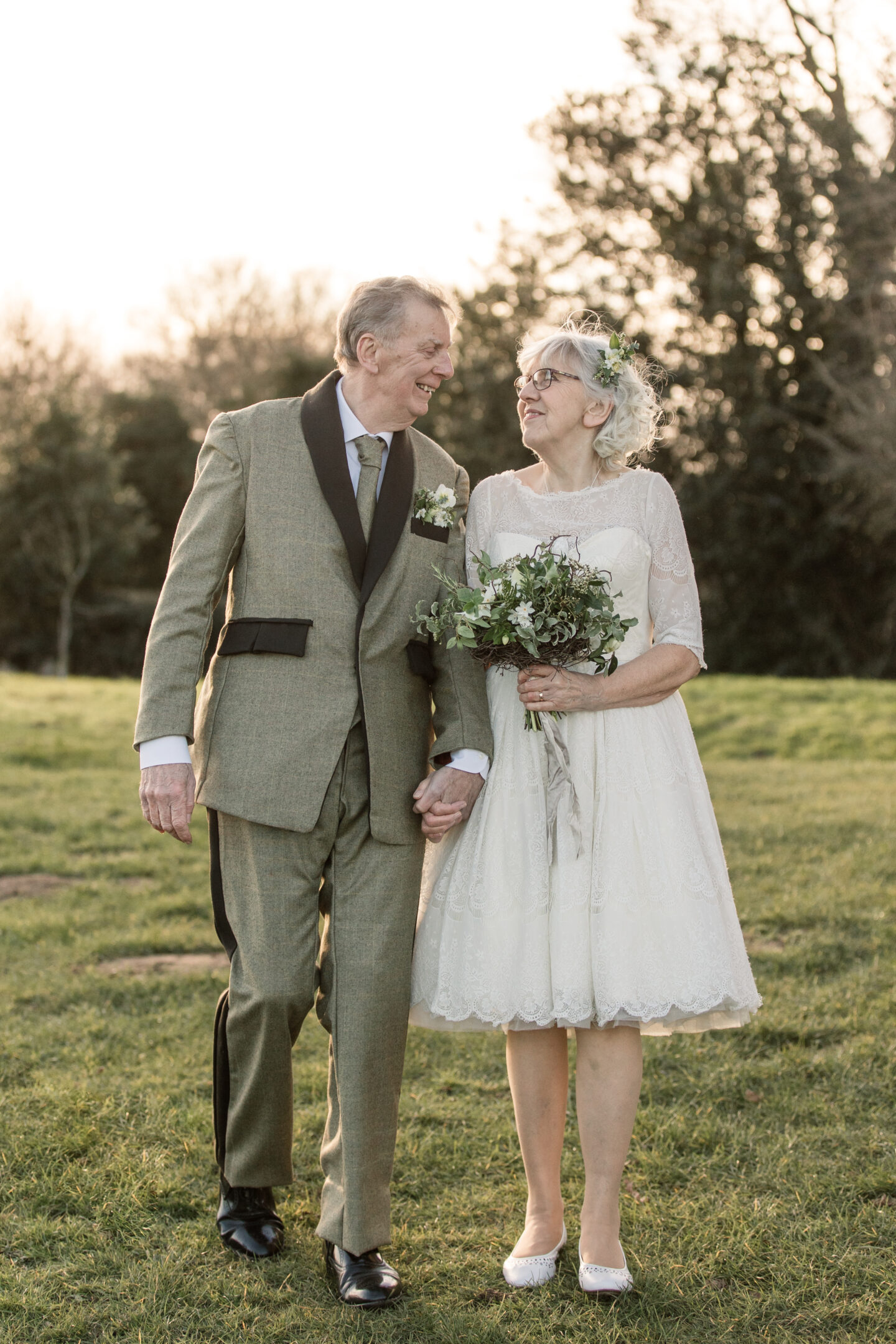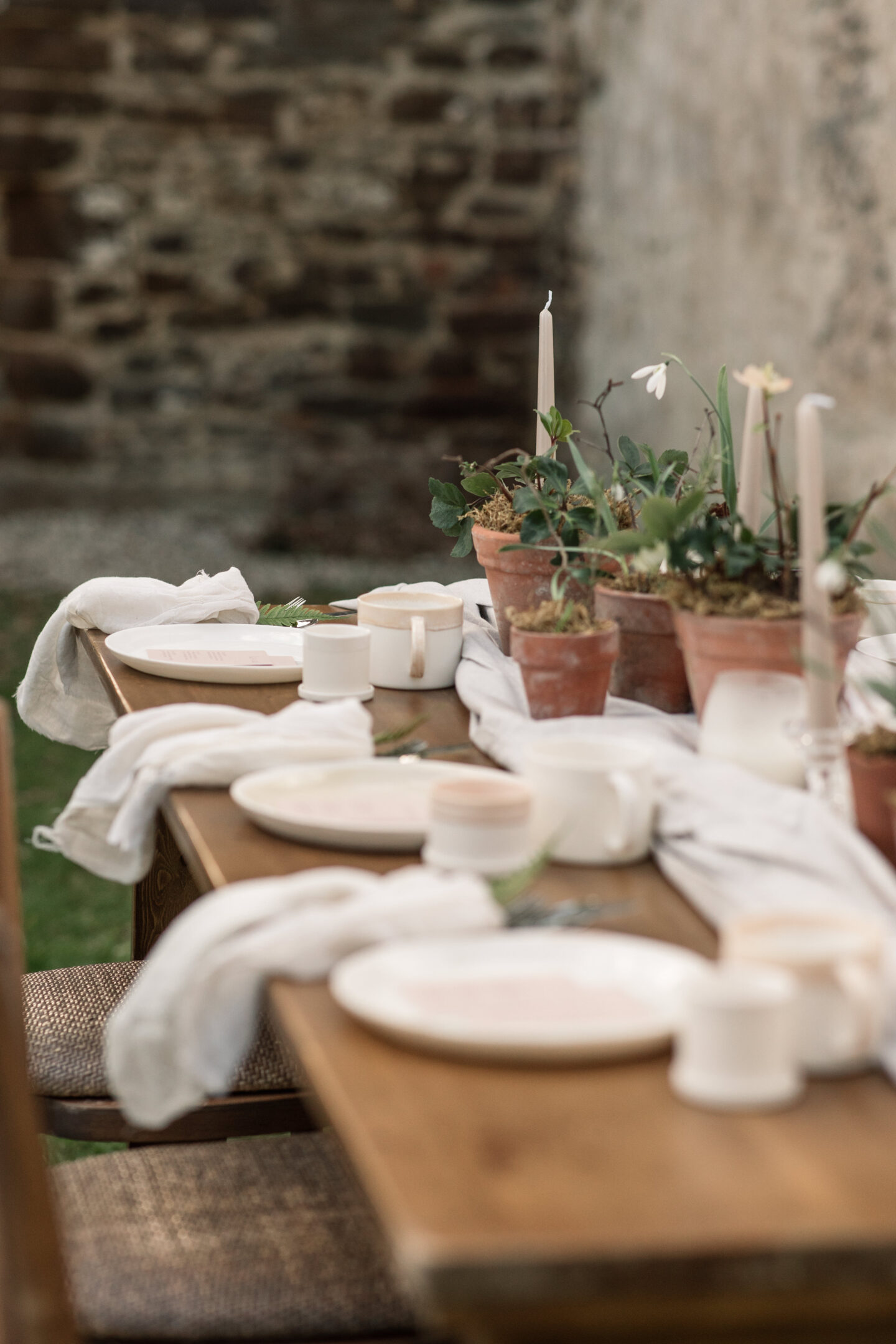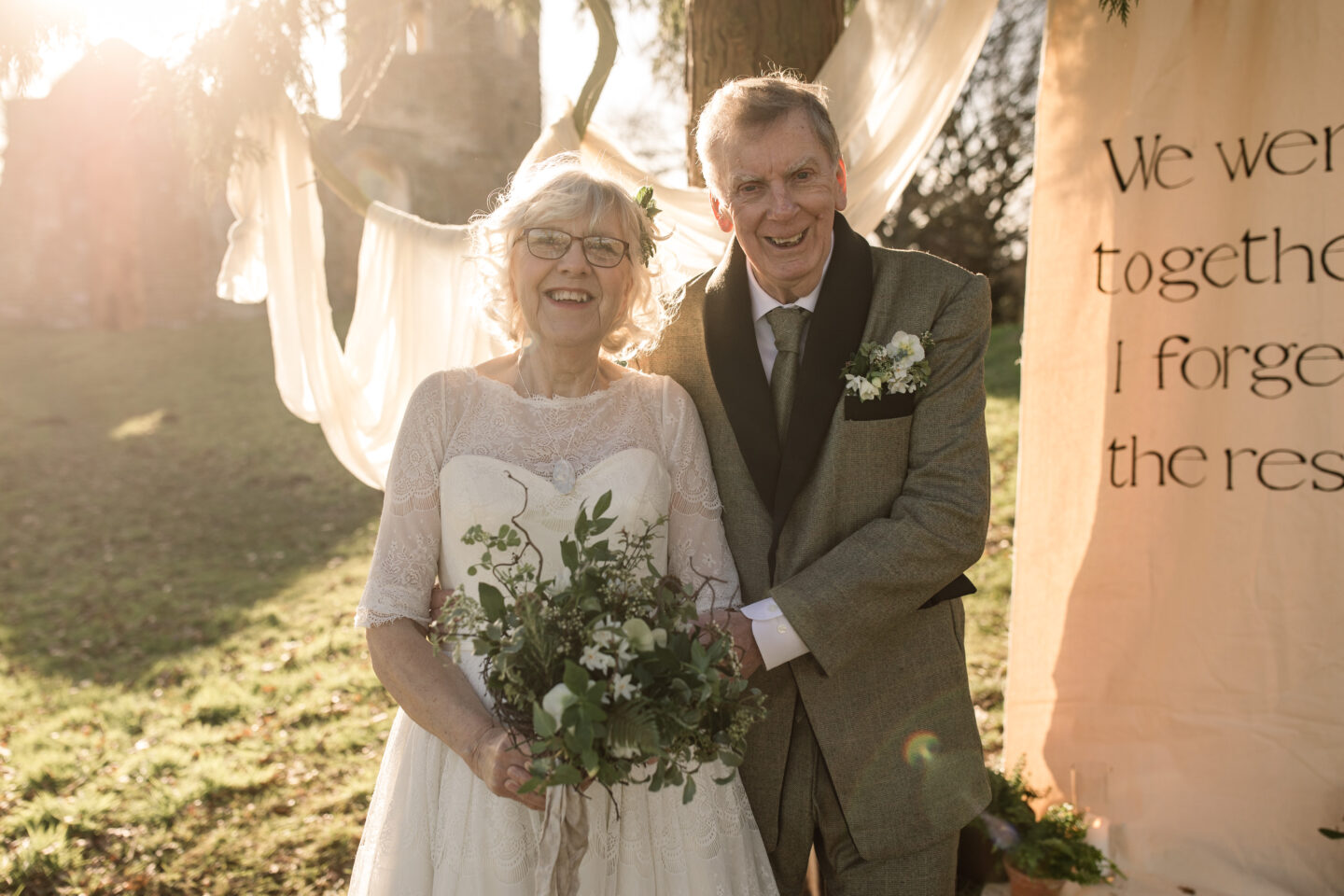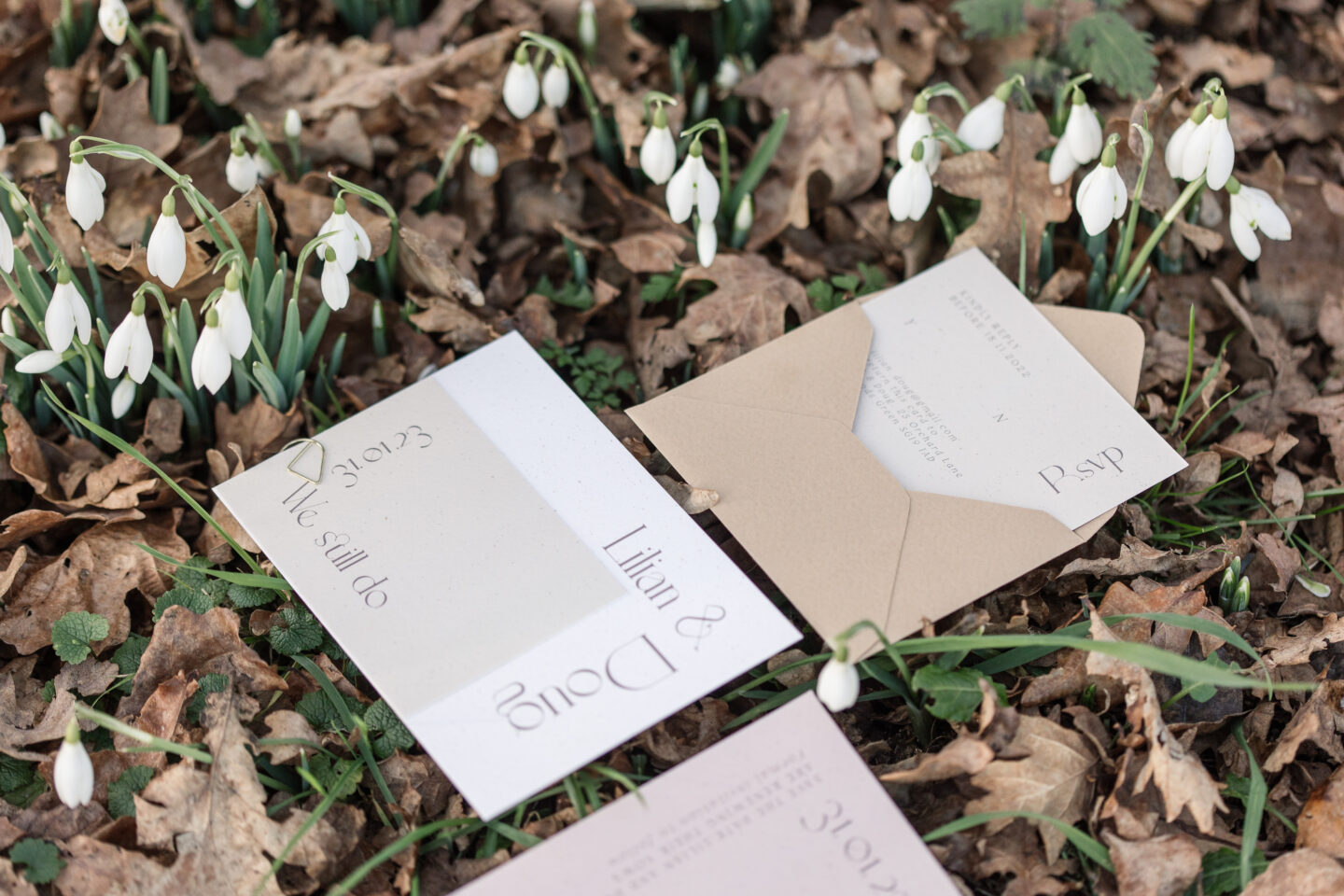 The Details
Flowers
"Creating wedding florals using only British-grown flowers and foliage in the winter requires imagination and determination, but this shoot set out to prove that it is definitely possible! Ali of Rambling Stems says "I created a hand-woven willow and birch stem 'collar' for the base of the bouquet to protect the delicate stems it included. I incorporated viburnum, narcissi, hebe, winter box, winter jasmine and hellebores. I then created a matching hair-slide piece for our bride, and pocket flowers for our groom" The simple tablescape of potted herbs, hellebores and snowdrops added seasonal texture and interest whilst meaning there was no floral foam used and the plants can continue to live and bring joy long after the celebration"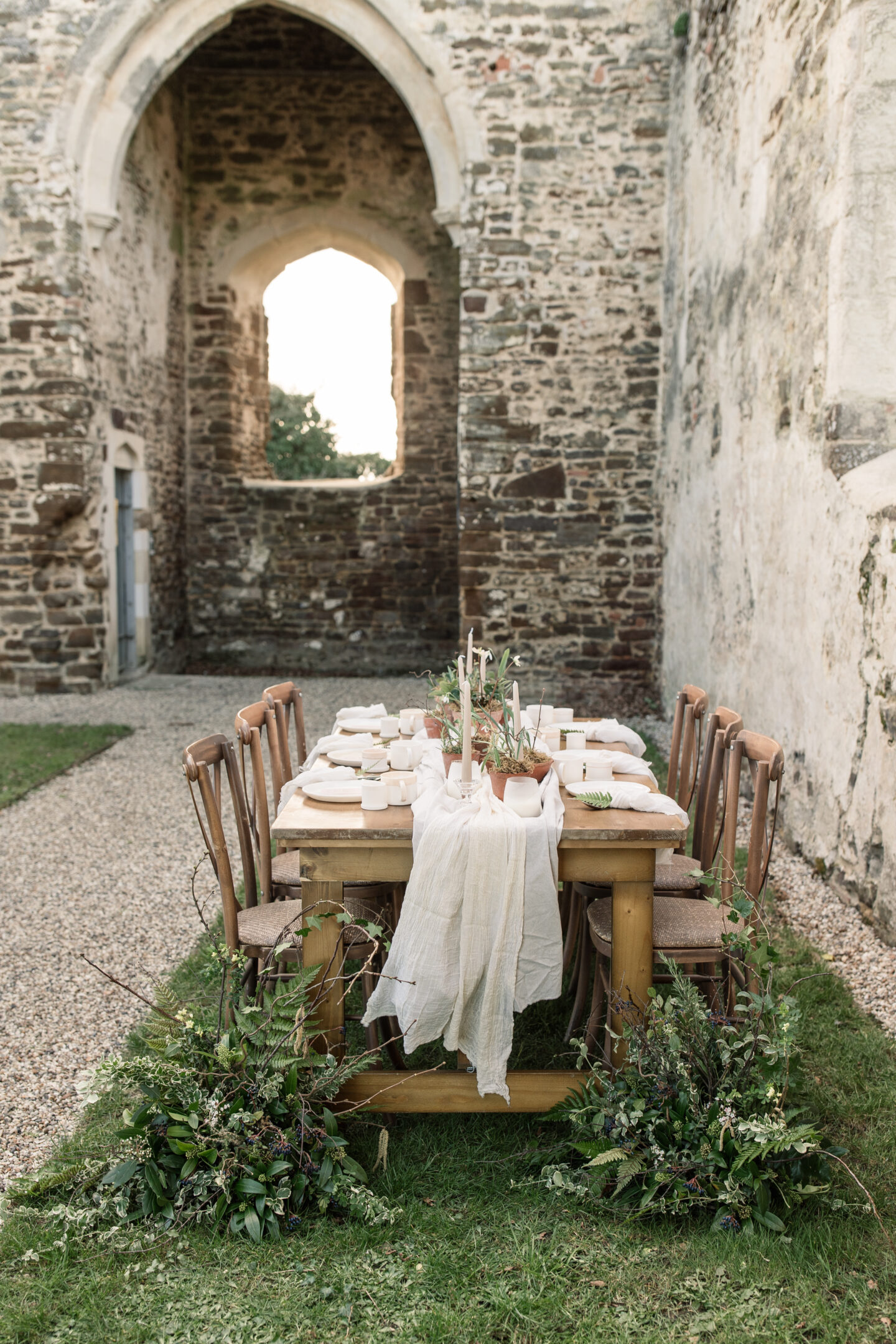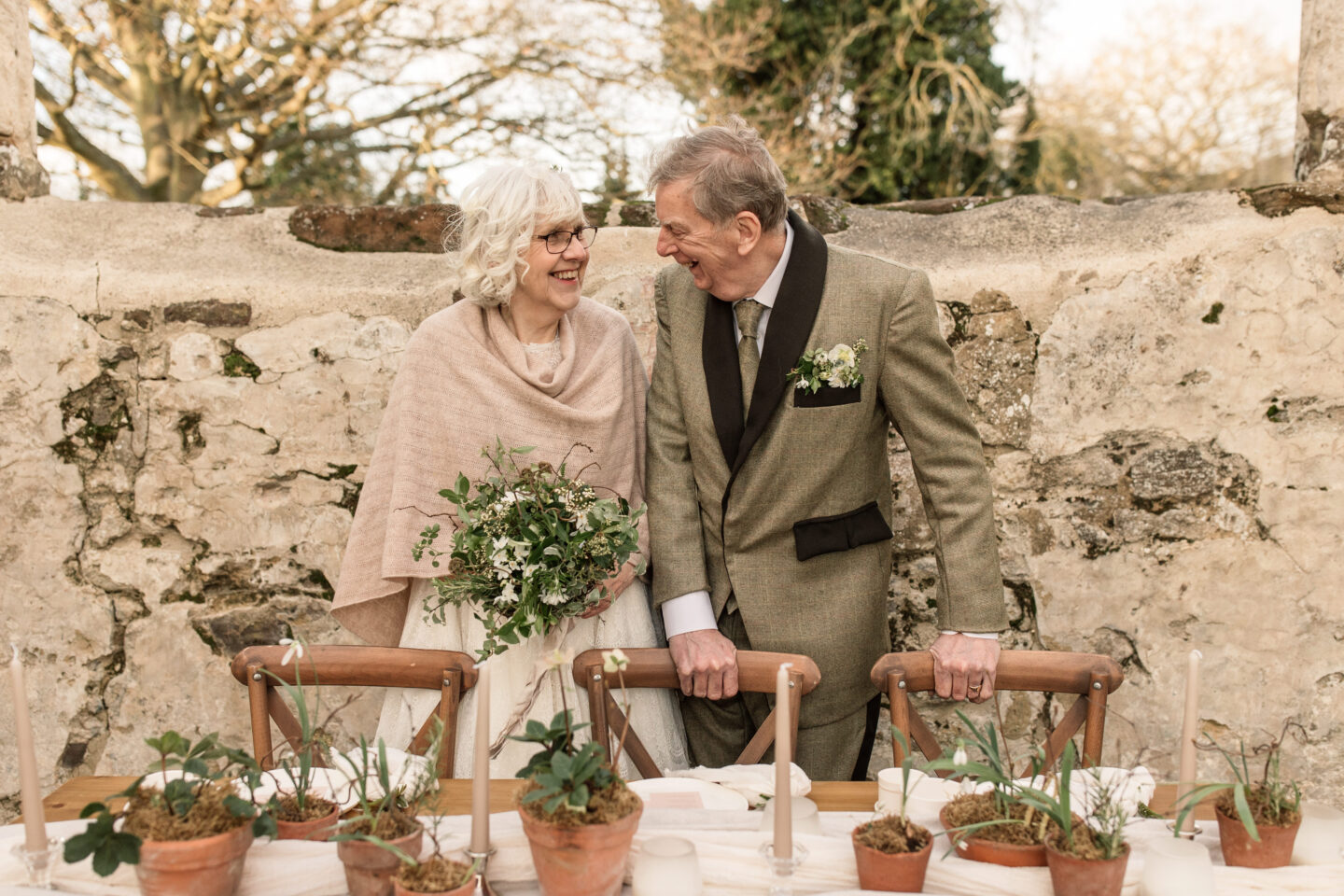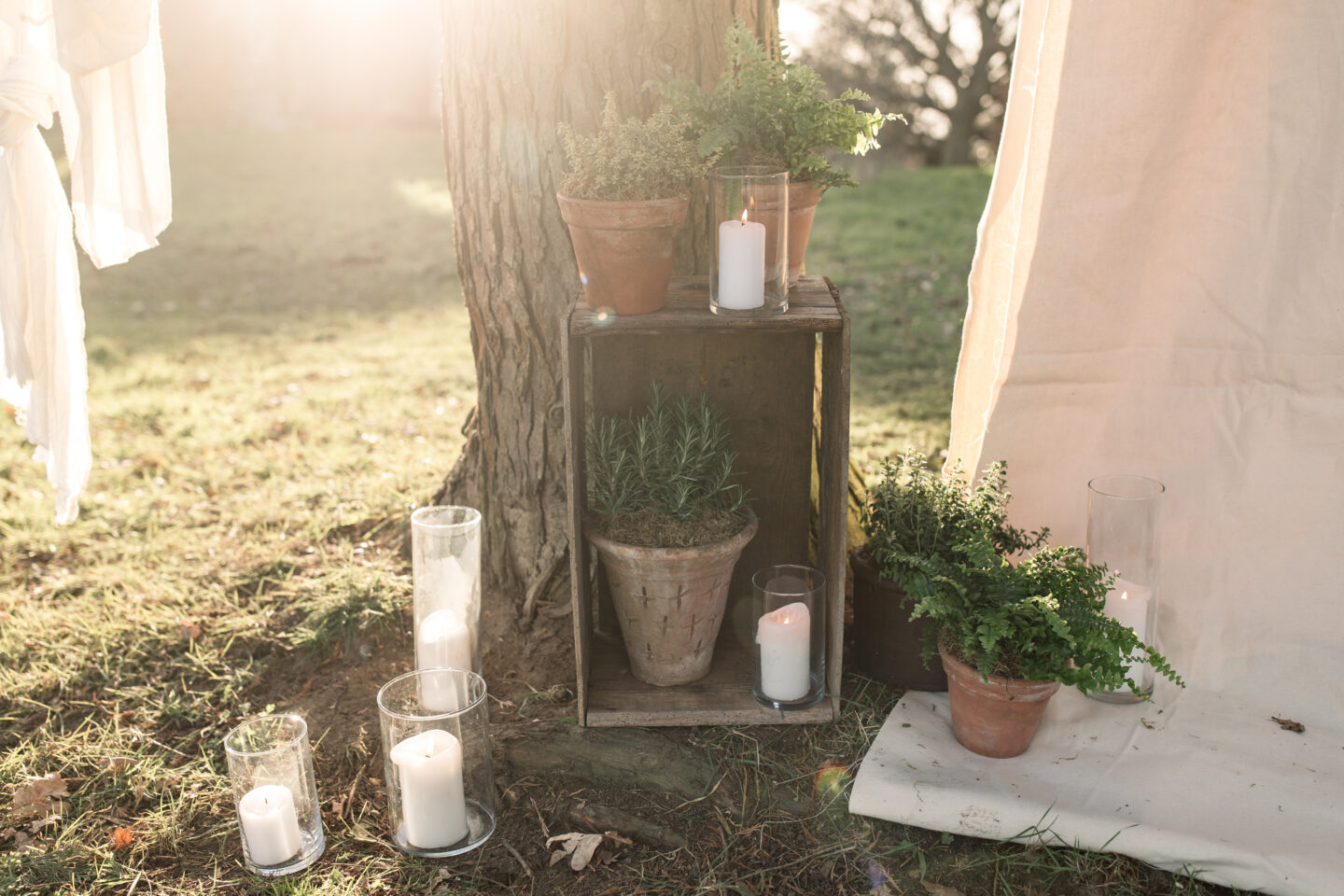 Stationery
"The stationery choices were all very consciously made for this shoot, as Chloe says; "All of the stationery was printed on sustainably sourced paper stock and designed with minimal wastage in mind. The invitation card features the event details on the reverse to avoid the need for additional pieces of paper. Mini RSVP cards were designed to layer and fit snuggly within the layout of the invitation. Mini menu cards and name cards were created to sit inside envelopes. The front of the name cards includes a message of appreciation and informs guests that a charitable donation has been made in lieu of favours. The reverse of the name card invites guests to share a few words of wisdom or memory and place it back inside the envelope for the couple instead of a guest book. I avoided the typical book format with ribbon for the vows, instead designing single-sided vow cards to act as functional keepsakes which can be used during the ceremony and then arranged in a frame as a pair or individually at home."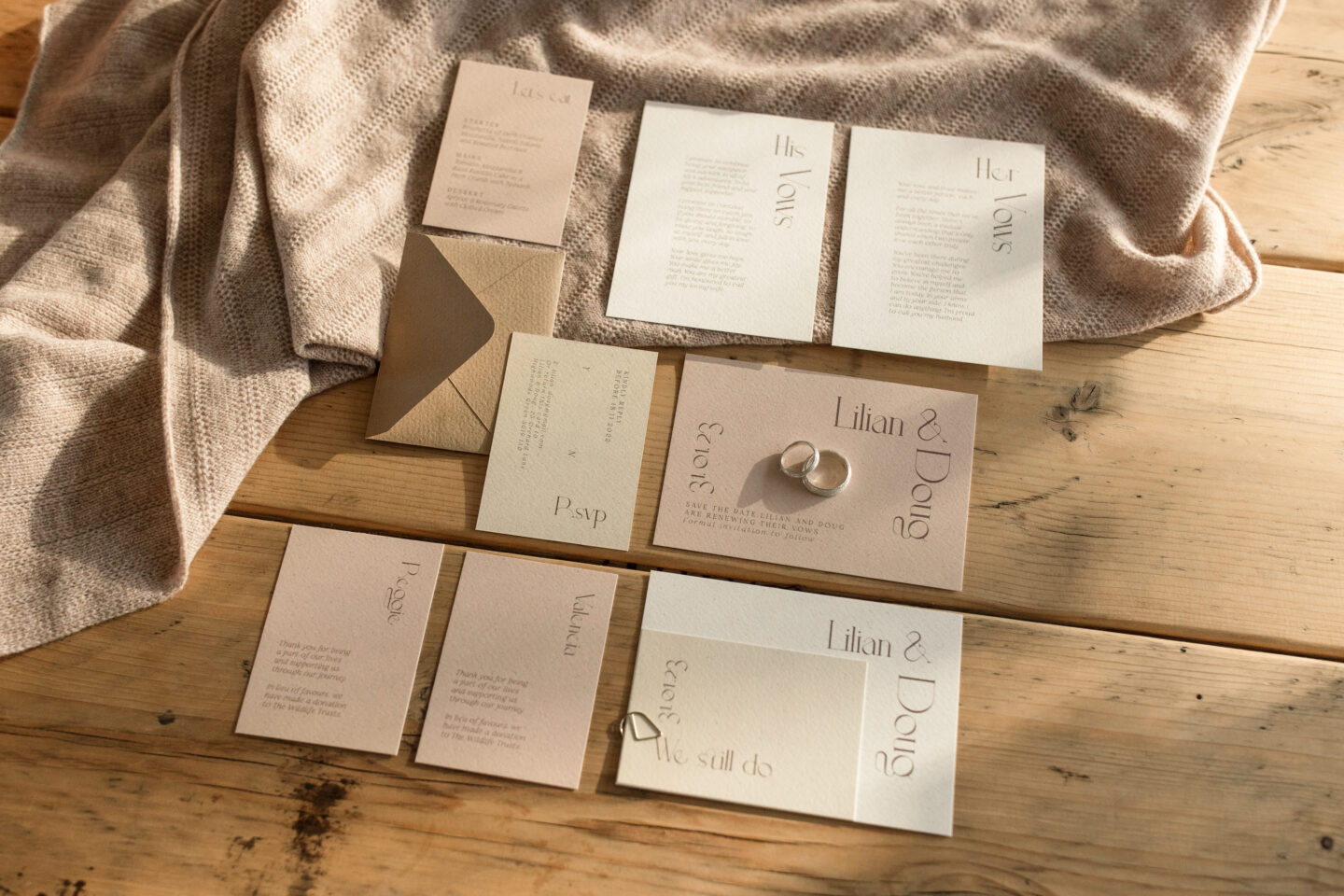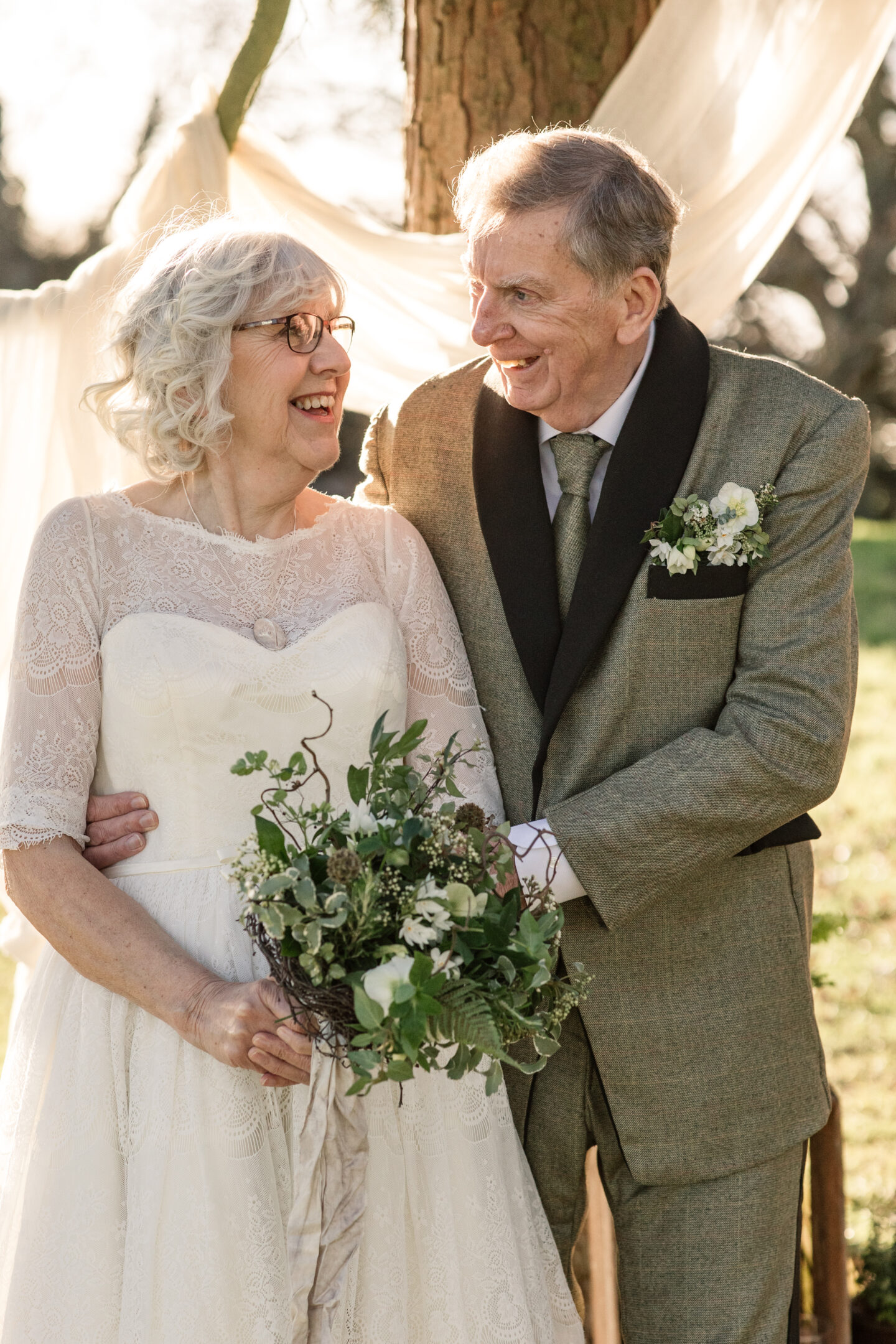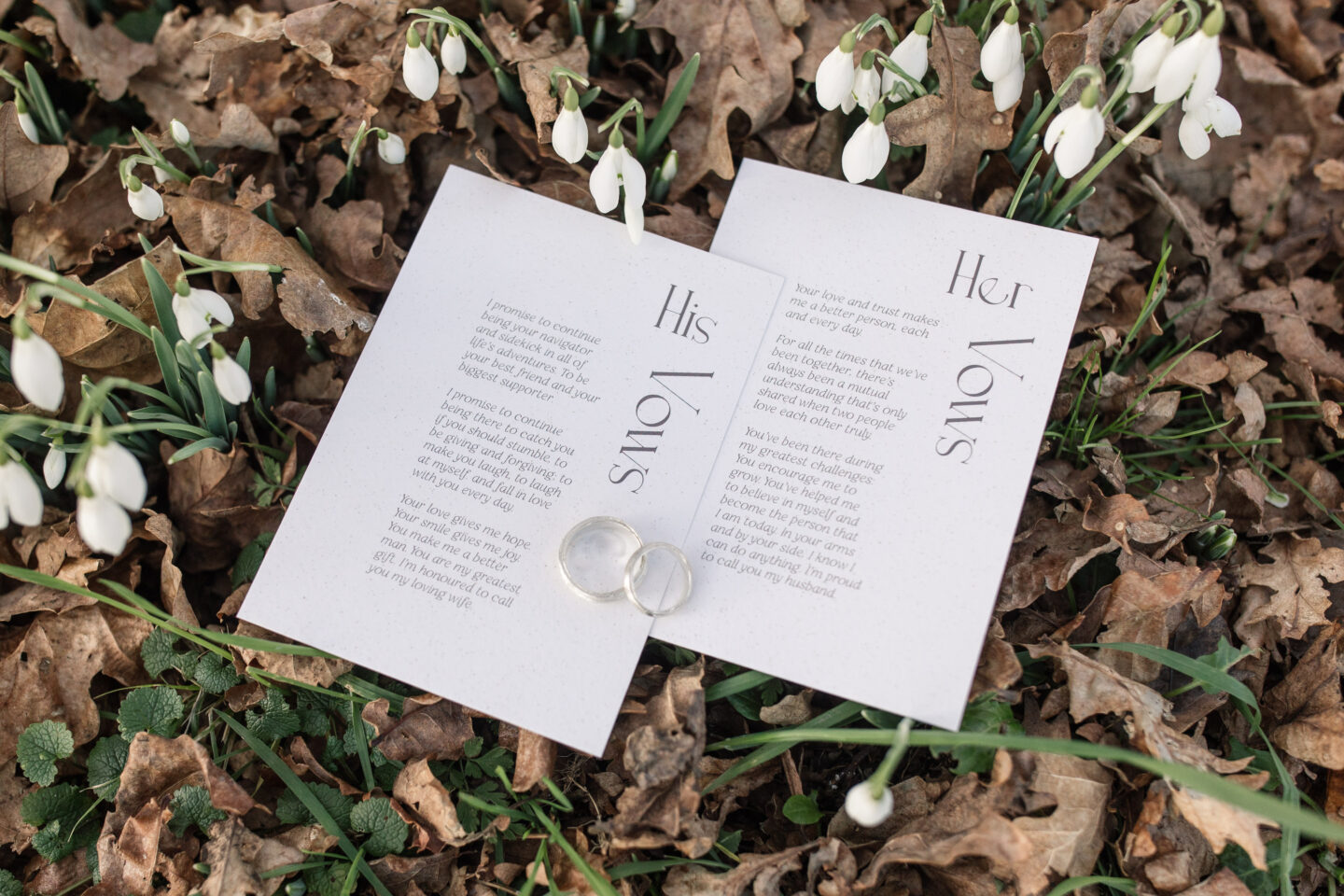 Celebrant
"Our Celebrant for the shoot was Kelly Hawes. Kelly is a local, modern Celebrant who specialises in writing very personalised and lighthearted ceremonies and shares our passion for working locally and caring for the planet. She was a perfect fit and put together a lovely Renewal of Vows ceremony which highlighted and celebrated the joys and realities of a long-lasting marriage"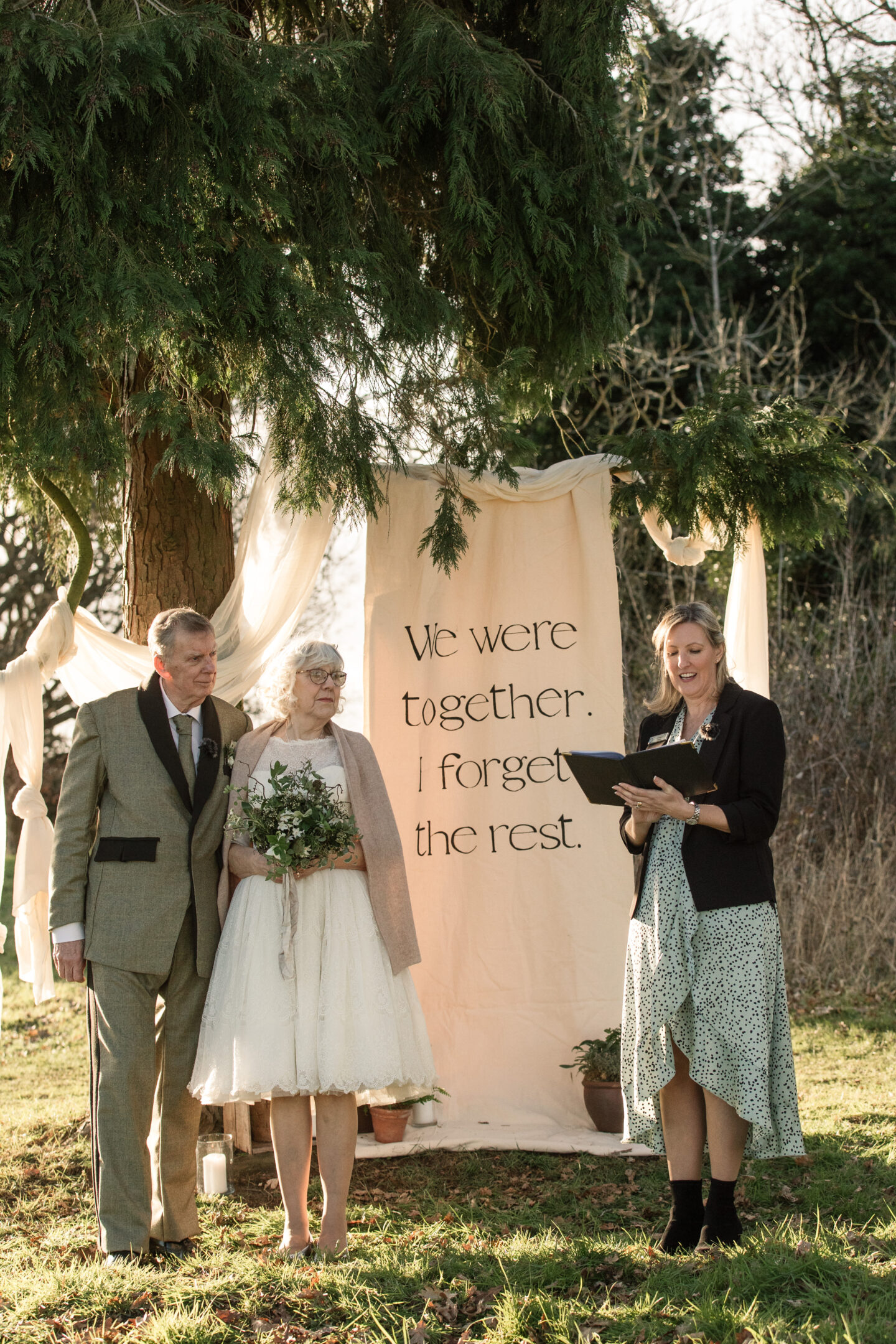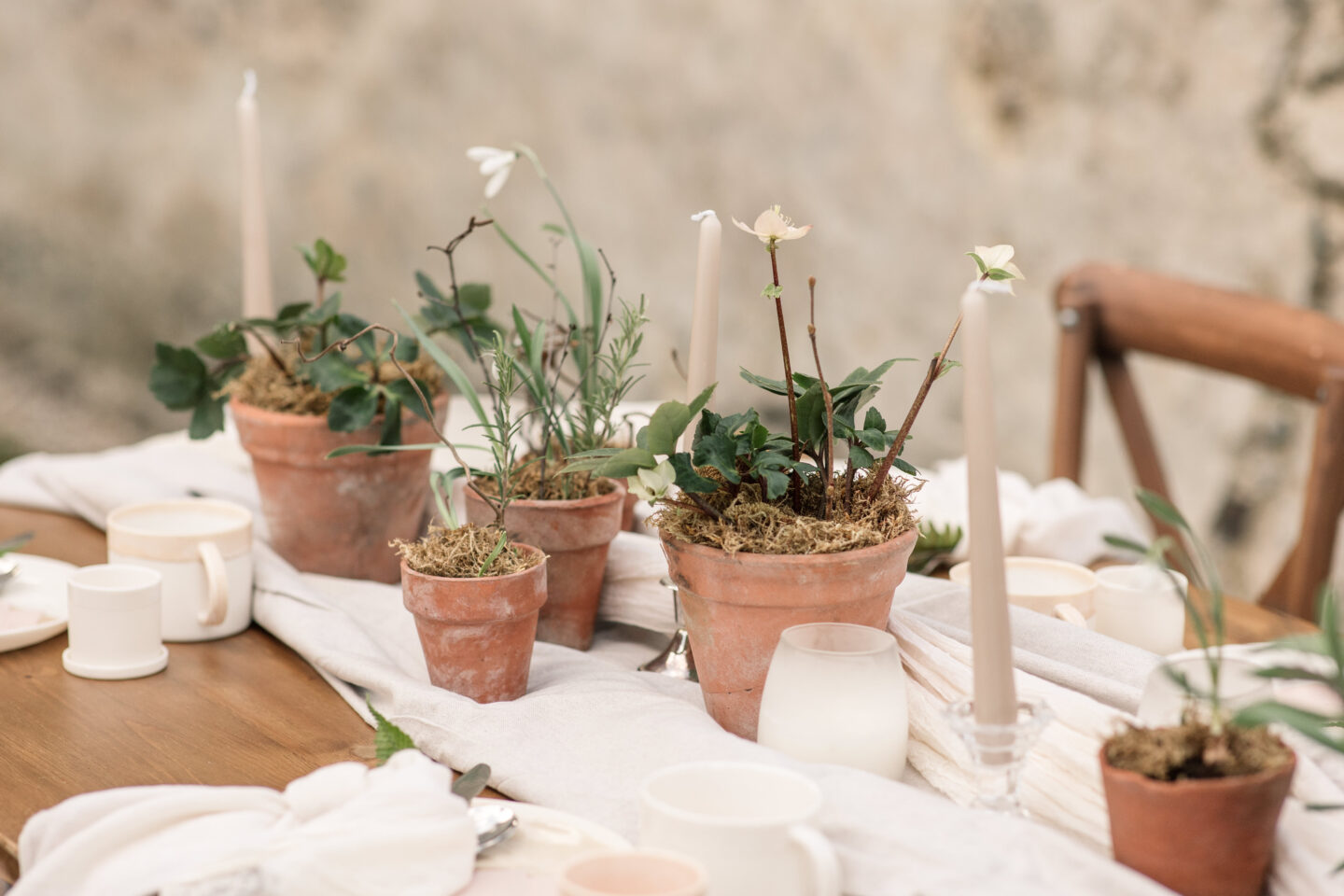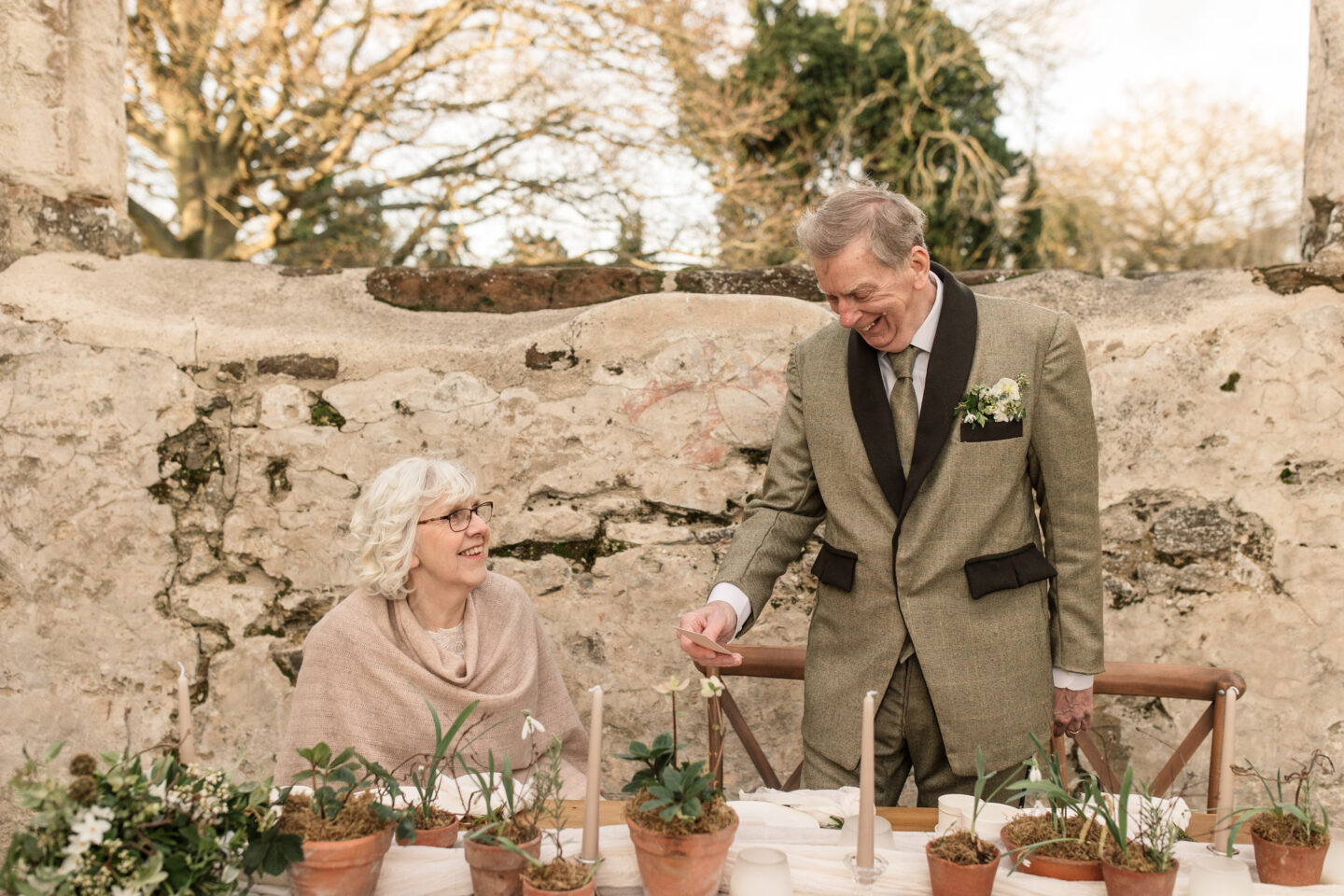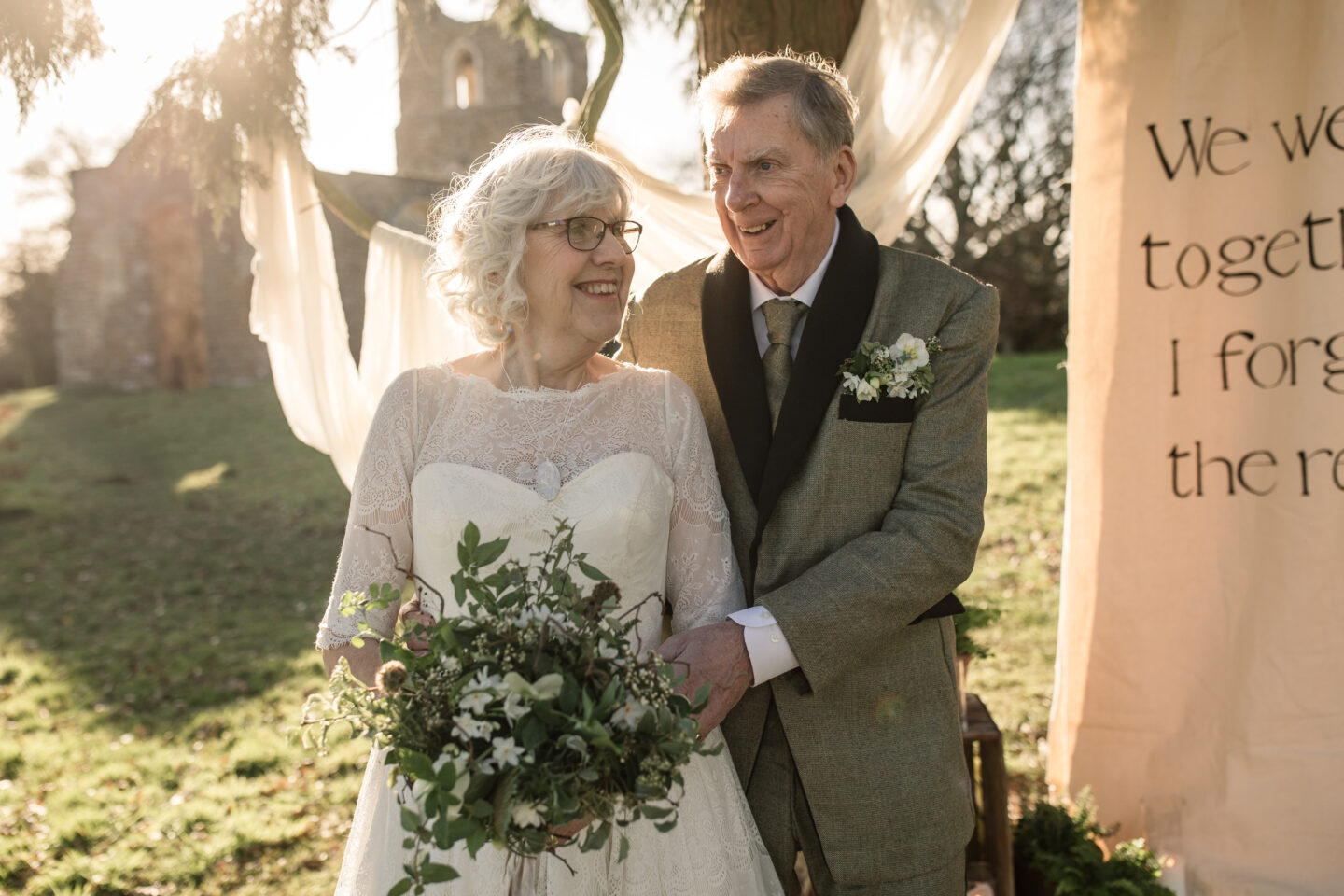 Videography
Laura of Laura Baker Productions captured the vow renewal beautifully in this video. Laura prides herself on her ethical promises, powering her wedding videos with renewable energy, from the editing to charging the many batteries! She uses sustainable packaging, and she plants a tree for every couple she films to offset her journey to and from venues.
IF YOU LOVED THIS ECO-FRIENDLY VOW RENEWAL PIN IT TO YOUR INSPO BOARDS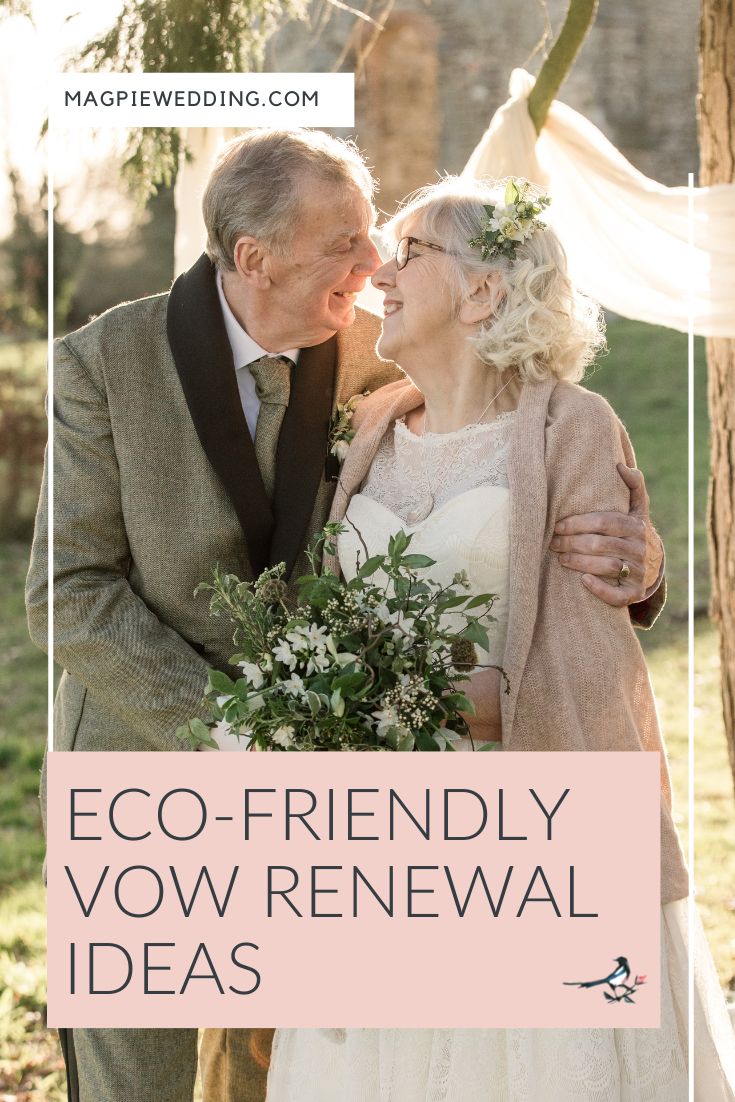 If you loved this eco-friendly vow renewal you may also like;
How To Choose The Perfect Wedding Dress And Honeymoon Wardrobe As An Older Bride
Should The Mother of the Bride Have To Wear a Hat To A Wedding?
An Ethical Elopement At Horsley Hale Farm Cambridgeshire