Being ethical is so important to us at Magpie Wedding, especially in the way we support smaller local designers who have embraced sourcing locally. So today we are starting to share ways you can have an ethical wedding, and to show you that ethical is still beautiful. Pragya Agarwal, from Hedge and Hog Prints, shares with us 10 ways to add ethical elements into your big day.
Couples are increasingly bringing their own ethos to their wedding preparations, and personalising it to reflect their beliefs. If you are a passionate environmentalist or an advocate for organic, natural and a green eco- friendly lifestyle then you can design your wedding to stamp your own identity on every element of the wedding, and ensure that every action is environmentally sound.
Here are 10 wedding categories where you can make a green, eco-friendly choice.
Ethical wedding stationery
Work with an ethical, eco-friendly wedding stationery designer who has a green business ethos or certification, and knowledge of eco-friendly options from design to finish who use recycled paper, or handmade paper, available in several beautiful finishes and textures. You can also make your own invites with made to order stamping kits, and use calligraphy to write your own invites and thank you notes. Choose a tree-free paper such as bamboo, rag or cotton, or paper that has not been sized with gelatin during the manufacturing process and other eco-friendly art materials. Ensure you find printers who work with soy or environmentally-friendly inks and help the environment by using plantable, seeded paper for wedding stationery.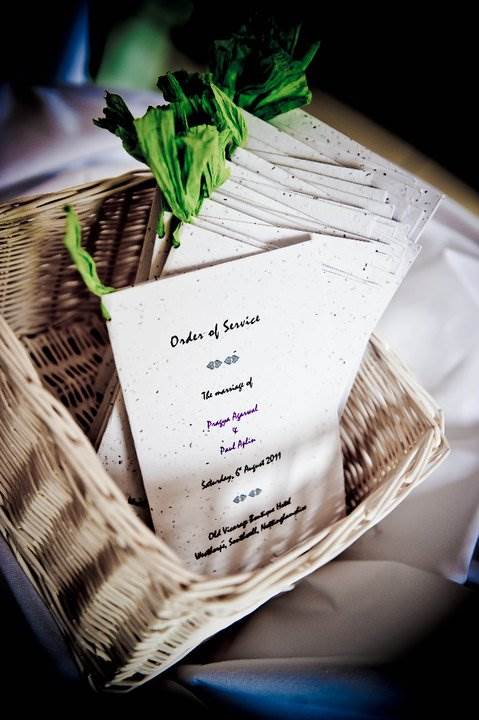 Ethical bridal wear and make up
Work with sustainable and ethical businesses focusing on beautiful re-wearable bridal wear or choose a vintage wedding dress and accessories. Work with bridal designers working ethically with genuine vintage and certified organic/fair trade fabrics, and have an environmentally friendly production techniques including local manufacturing and zero waste pattern cutting policy. At the very least, choose a dress where the fabric is locally produced rather than shipping it in from the Far East. The renting of tuxedos, bridesmaid dresses, veils and jewellery is another eco-friendly option to minimise waste and impact on the environment.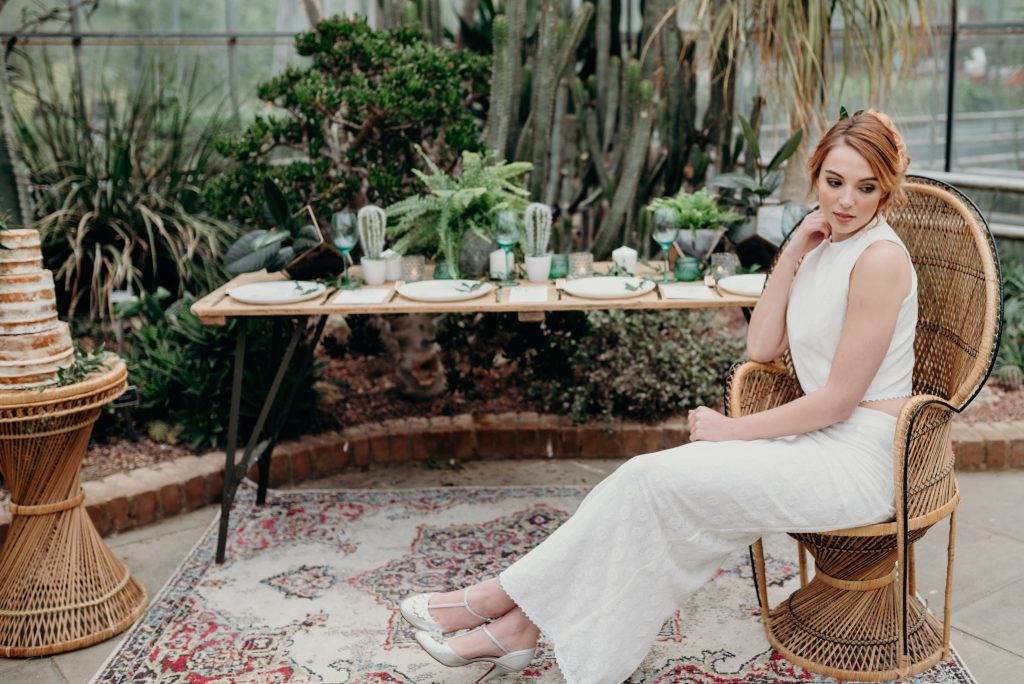 ethical dresses by Rock The Frock
Consider wearing non-leather 100% vegan bridal shoes.
Use cruelty-free ethical makeup products and look for the leaping bunny label. This website has an exhaustive list. Also find salons that have a green policy and use cruelty-free makeup.
Ethical wedding jewellery
Choose an ethical jewellery designer who works with fairtrade and fairmined ecological gold and silver, non-mined conflict-free diamonds and ecological packaging. Use recycled silver or gold for your wedding rings or choose vintage jewellery or rhinestones. Consider alternative materials such as these wooden rings lovingly crafted from salvaged and sustainably grown wood.
Ethical wedding flowers
Work with florists that source local and seasonal flowers or maybe one that grows their own. You can find your local growers on collective such as theflowercollective.co.uk and www.flowersfromthefarm.co.uk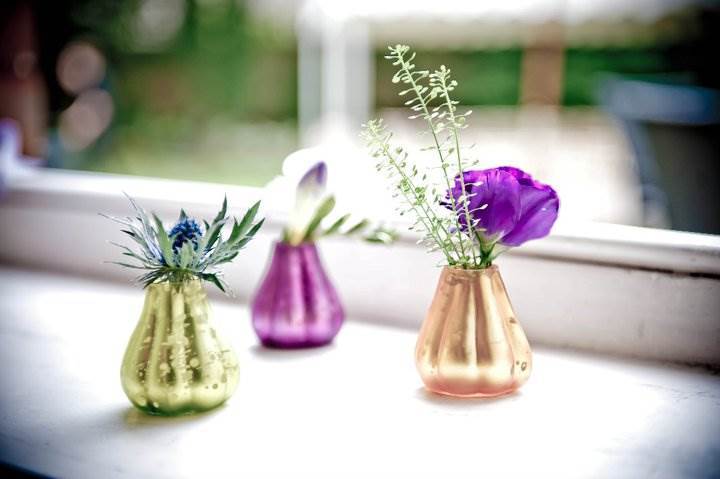 Use natural foliage and cuttings for table decorations. You can also use succulents which will be long-lasting and reusable. Find local organisations, nursing homes and hospitals who will be willing to take the floral decorations away at the end of the day. Some advanced planning and research might be needed, but it will be so worthwhile. Alternatively choose a bouquet made from a different material such as recycled paper, which you can then keep forever!
Also, use fresh or dried flower petals as confetti which is biodegradable and more environmentally friendly.
Ethical wedding venues
Look for venues that are a green business, have a recycling policy, and support local producers and economy. Many businesses have a Green Tourism business certification, and you can ask about their sustainable policies, and whether they use energy saving equipment.
Do you have a big garden, or know someone who has? You can rent tents and yurts and create your own dream personalised wedding venue! Who said that camping isn't chic?! You can find outdoor wedding venues with woodland ceremonies and civil service license. Read our tips for hiring a marquee published last week for advice.
Another good idea is to use live instrumental music rather than a DJ or recorded music.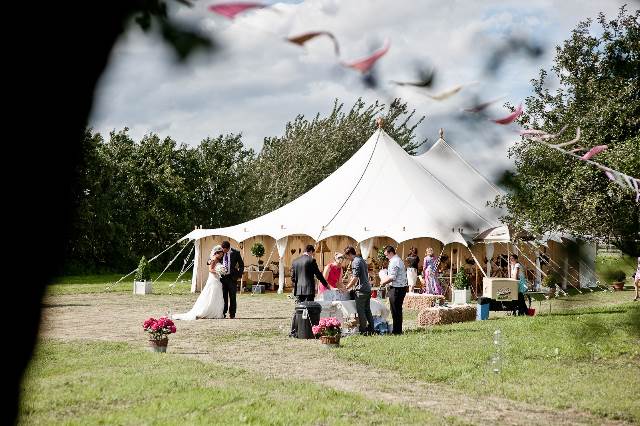 Ethical wedding gifts
Rather than setting up a gift registry ask your guests to contribute to a charity of your choice. You can set up a wedding page on Justgiving. Organisations such as Wordforest can create an online digital gift list, plant a wedding forest for you and send a commemoration certificate to mark your special day. Or have fairtrade registry options such as Oxfam.
Registries such as 'So Kind' encourage giving of homemade gifts, charitable donations and secondhand gifts. Think of things that will form a part of your journey together for a long time rather than ephemeral objects, choosing consciously rather than mindless consumerism.
Request your guests to bring a handmade object or offer help during the wedding preparations and on the day itself as a wedding gift. For instance, we asked each guest to send their favourite family recipe as a gift to us on our wedding.
Ethical wedding food
Work with suppliers that are local to reduce footprint/food miles and choose organic or biodynamic wines from local vineyards in the UK. Opt for organic food produce that is grown with more environmentally-friendly processes too. Forage for your own food such as berries for desserts and then make your own cake with organic ingredients. Serve filtered water rather than bottled mineral water too.
Think about what you serve you food and drink in for outside weddings: instead of plastic containers, use glass and recycle or use biodegradable and compostable tableware and bamboo utensils. Afterwards, it is a great idea to donate excess food to local hospitals, care centres or homeless shelters after the wedding to help others.
Ethical wedding decorations
Use linen or vintage fabric as table covers which can be reused afterwards. Light outside with solar powered lights, organic soy candles, or LED lights for an ethical day but also a pretty one!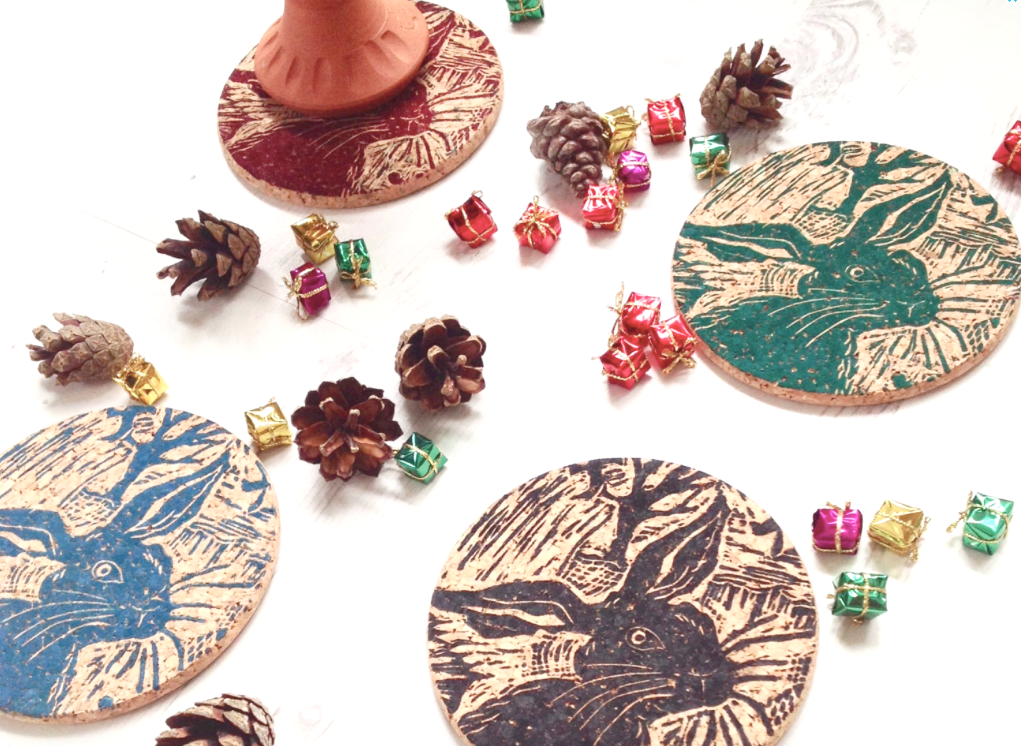 Use handmade buntings and decorations with recycled paper or plantable seeded paper and use recycled glass jars for vases and containers. Try to incorporate natural elements that can be eaten, composted or recycled at all times such as cork or bamboo decorations, coasters and pinboards. Use guest albums with handmade recycled paper and unique handmade linocut prints notebooks as wedding favours.
Ethical wedding photography
Work with photographers that have a green business policy; they should write about that on their website and if in doubt just ask. Use digital format where and as much possible to cut down on paper; however use sustainable, eco-friendly or recycled paper for photo albums. Only print out photos that you would use in the album. Proof, view and share digitally as much as possible.
Ethical honeymoons
Travel with a green and sustainable travel company such as Earth Changers that research and showcase the best positive impact, transformative tourism. They ensure that your money goes into the destination and its sustainable developments. Use websites that base their sustainable tourism ethos on peer-reviewed research or travel and honeymoon within the UK to reduce carbon footprints
Compare carbon emissions and environmental impact of your journeys and calculate the footprint of your flights. Alternatively, offset your carbon footprint by planting a forest with Woodland Trust or Trees for Life
Being green does not mean having a low-key wedding day. Instead, it is the more socially responsible choice, which means that you can enjoy your day with a joyful heart and a clear conscience.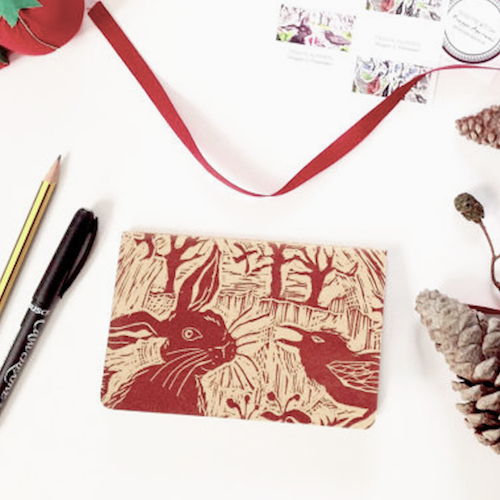 Such a HUGE thanks to Pragya for this advice and all the useful links. Check out her website Hedge and Hog Prints to see her beautiful ethical products.