This beautiful Christmassy wedding styled shoot at The Hundred House was the brain child of Stephanie from SJM Beauty and photographer Becky Wright. Their inspiration for the shoot was to create something wonderfully festive, incorporating deep reds, golds and greens, to help winter brides see how they make their weddings look Christmassy while still looking stylish.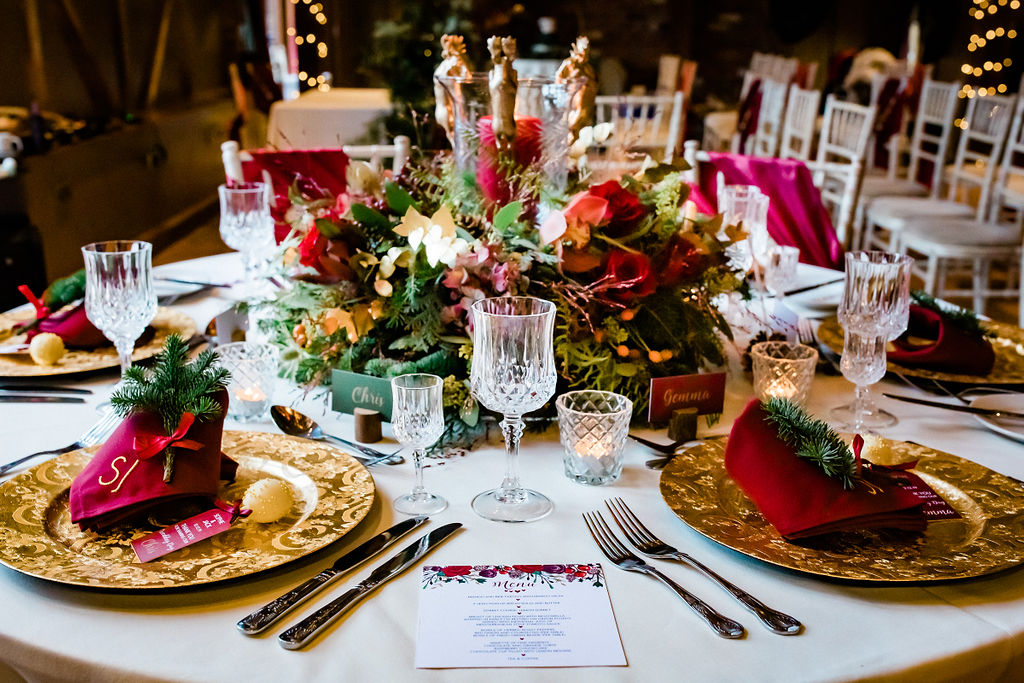 Steph told us "Christmas themed weddings are becoming ever more popular these days and therefore as suppliers, we wanted to showcase what we can do to compliment this theme. We chose the Hundred House Hotel to hold our photoshoot because of the stunning tithe barn which is attached to the hotel. It has twinkling lights draped from the ceiling and gives you that instant warm wintery feeling when you walk inside. The colour scheme for the shoot was burgundy and forest green as these colours go so well together and really symbolise that true Christmas feeling. We hope that you find some great wedding inspiration from some extremely talented wedding suppliers…."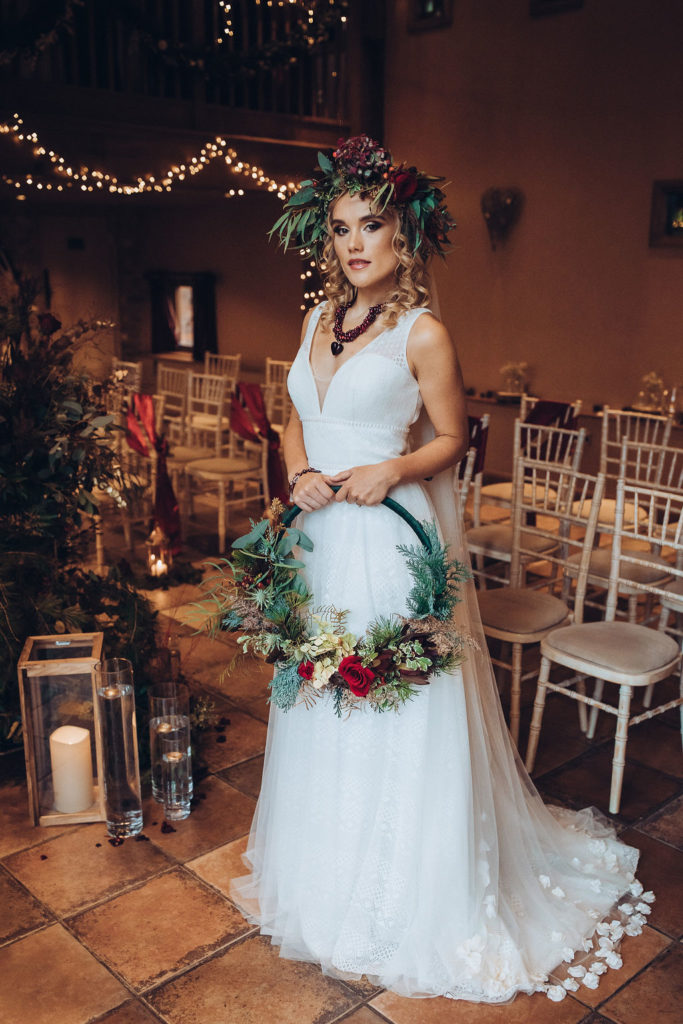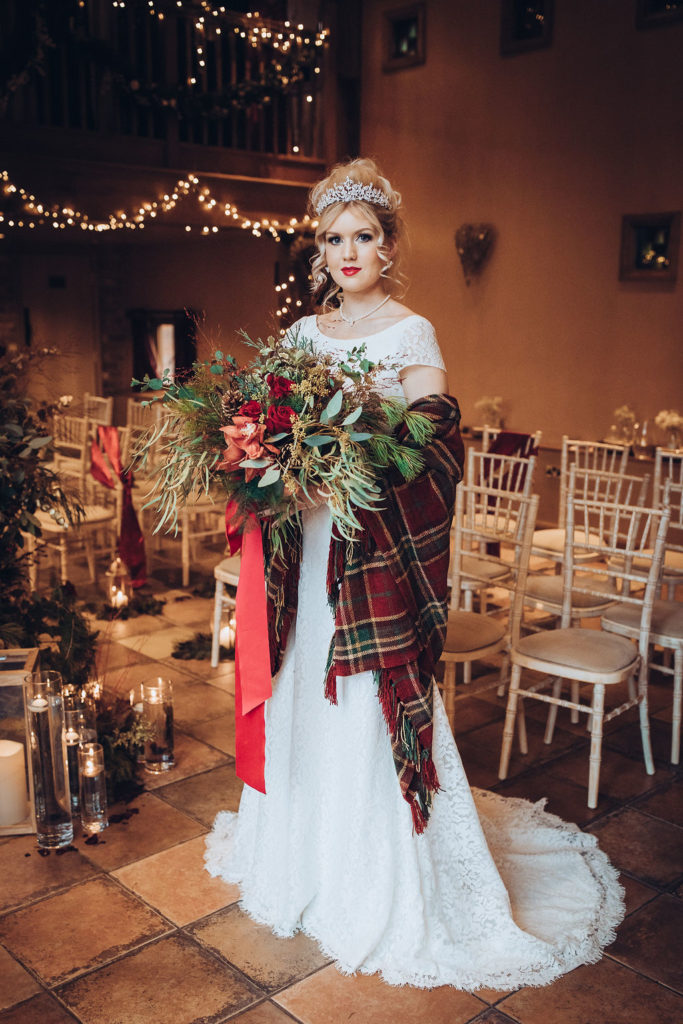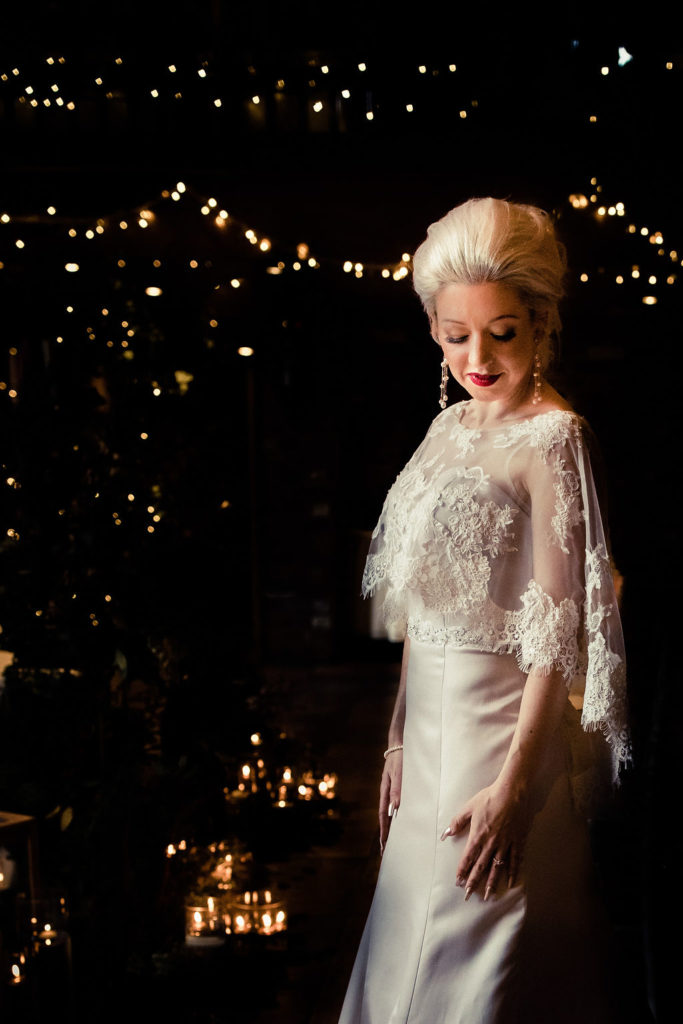 Becky Wright, from Becky Wright Creative tells us, "The shoot was epic and I loved capturing beautiful seasonal shots to show brides how their winter weddings can feel so pretty and cosy. The fairy lights in the Hundred House made everything look so magical."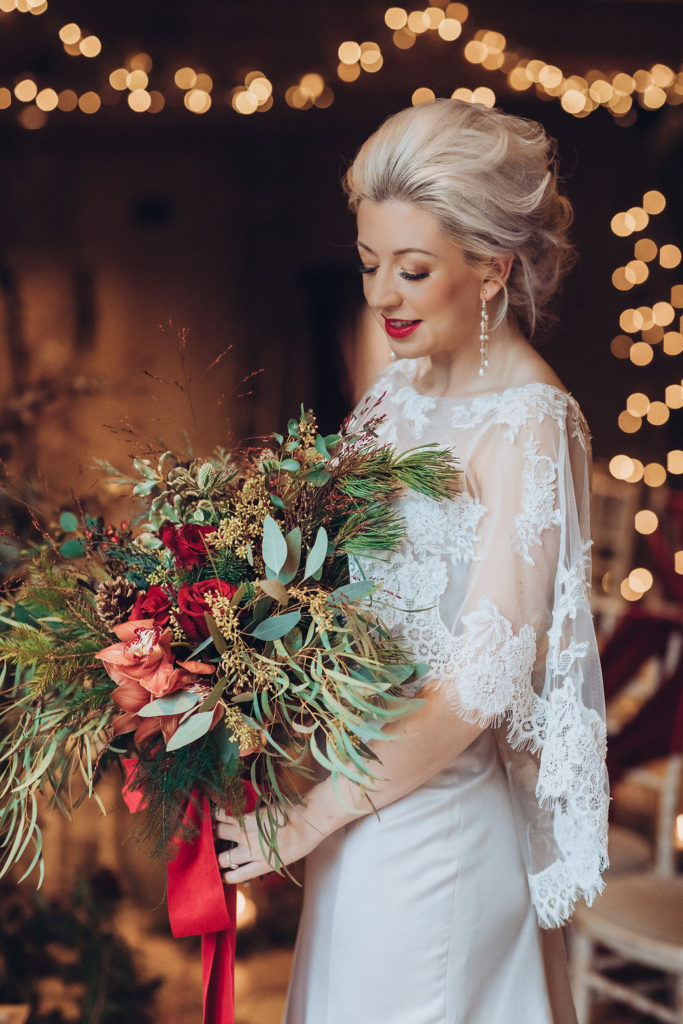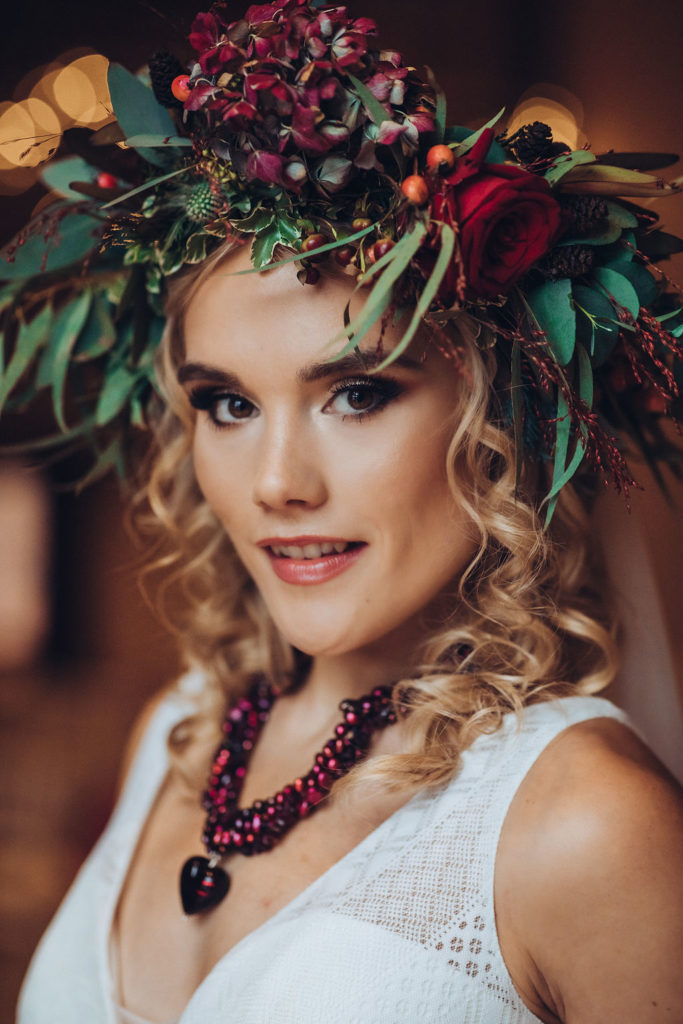 The Hundred House venue is a 17th century Tithe Barn in Telford, Shropshire, which is fully licensed for civil marriages, and full of rustic charm. From its bespoke chandelier and thousands of twinkling fairy lights and exposed brick and beams, it's a magical setting to have your wedding ceremony all year round, but was absolutely perfect for our Christmassy wedding shoot.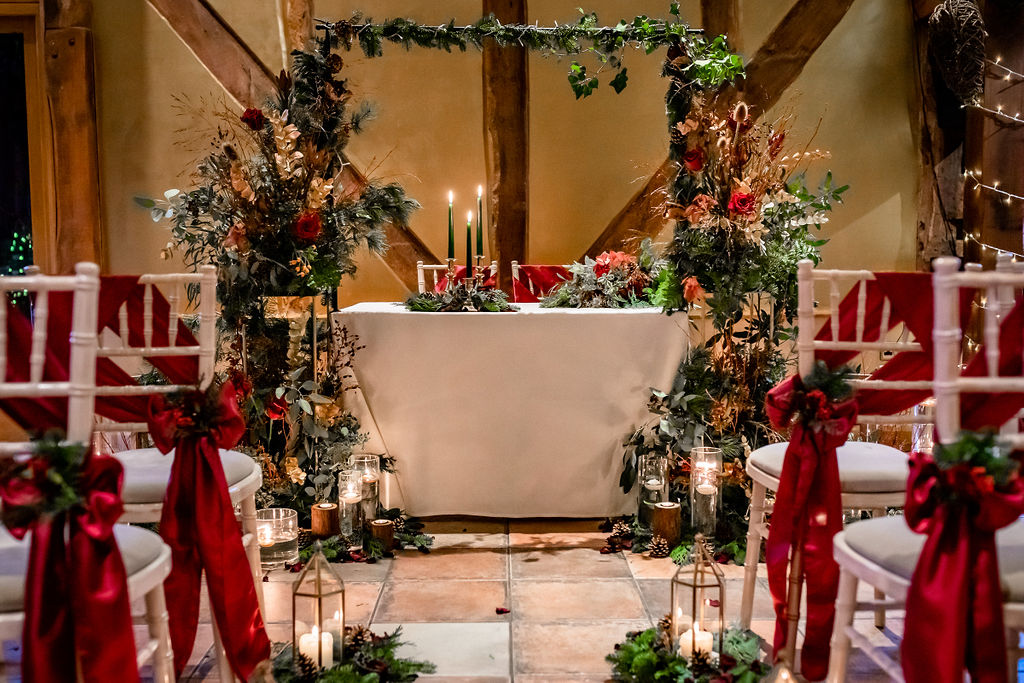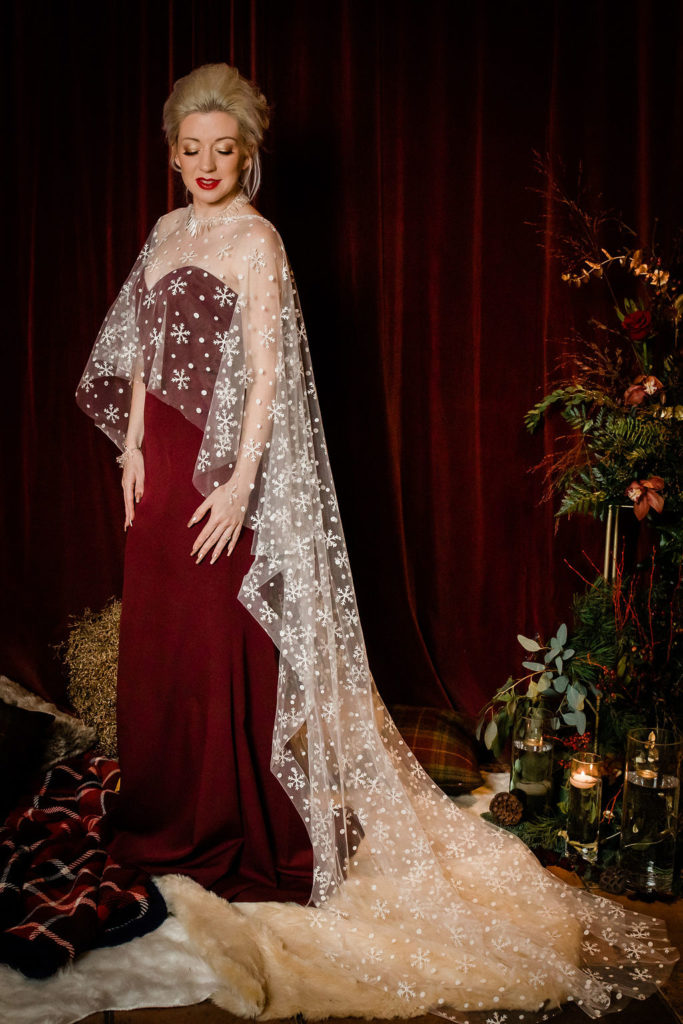 For the ladies, the dresses were provided by Heavenly Wedding Belles, an award winning bridal boutique in Telford, and Deborah shares with us a little bit about why she choose these pieces.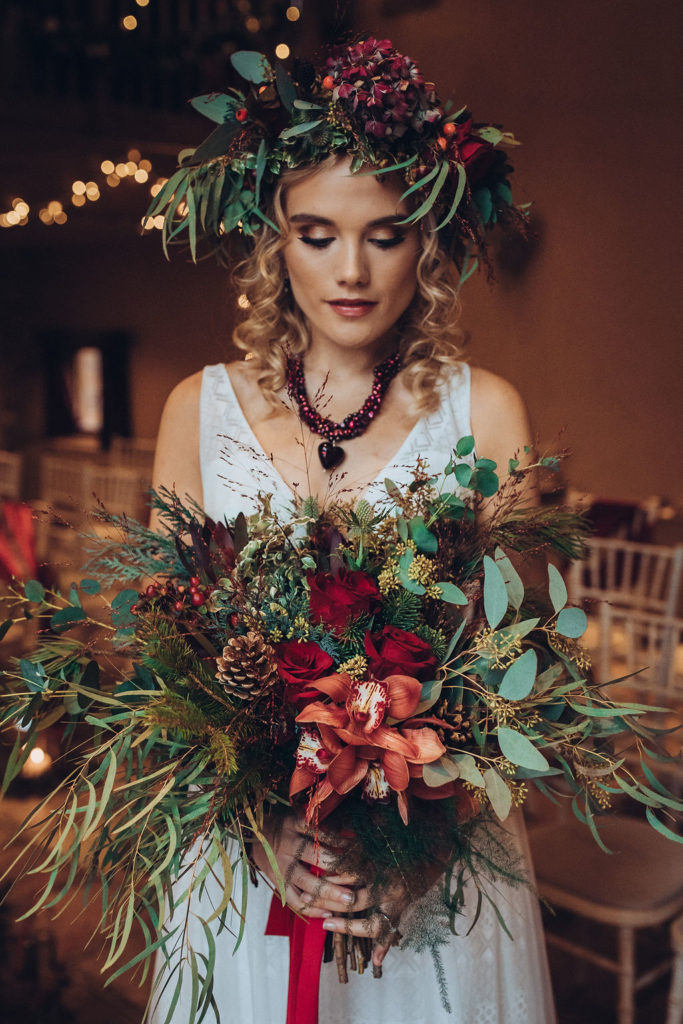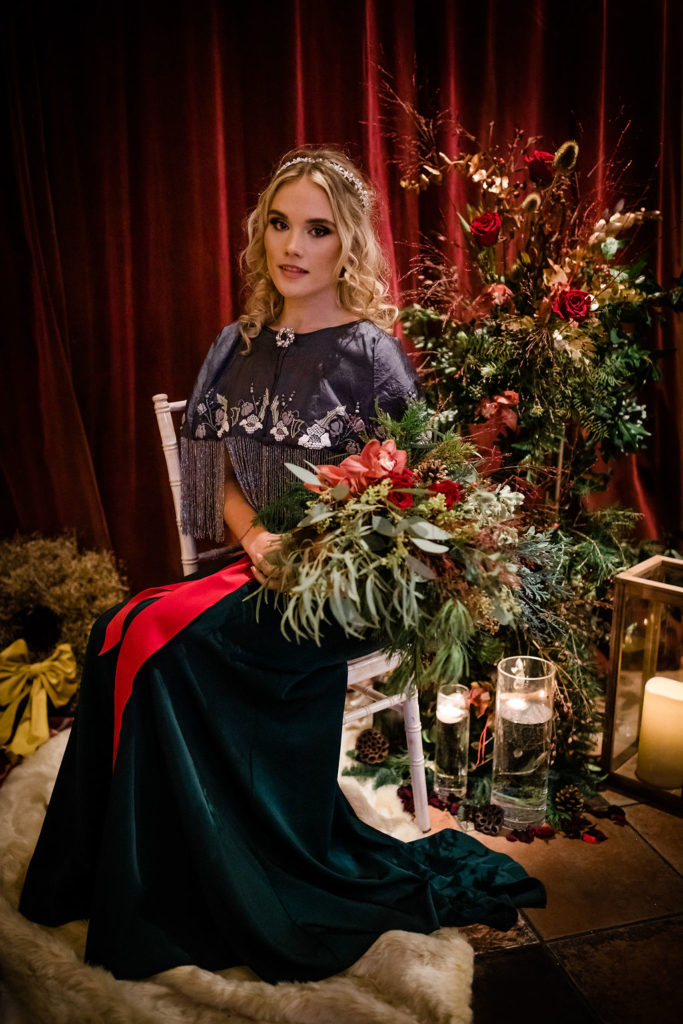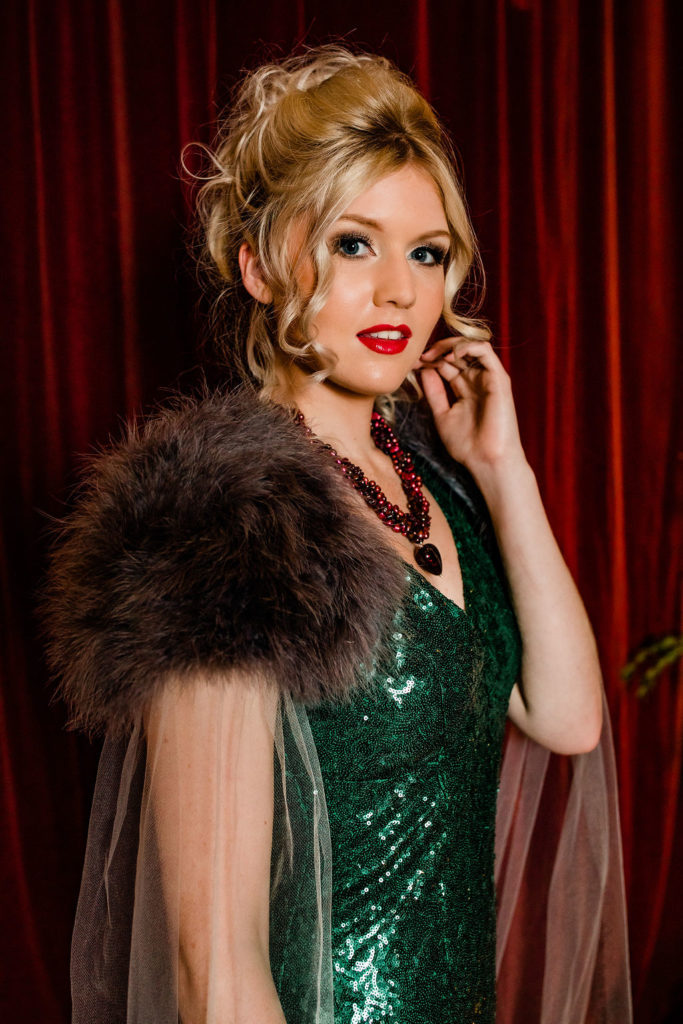 "Some of the dresses used in the photo shoot were our own label bespoke dresses which are unique to our boutique. The dresses were from our Millie May Bridal collection. We chose dresses with bling and sparkle to keep in with the Christmas spirit and elegant flowing fabrics to make the shoot look magical."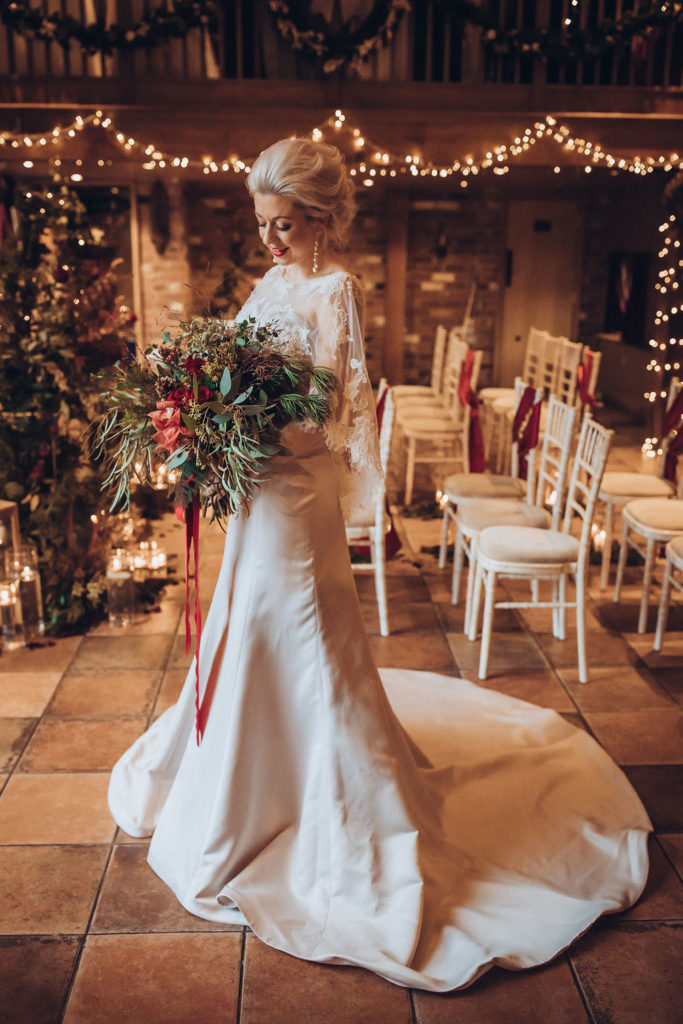 Deborah also runs a men's suit hire company from her boutique in Telford, and she chose a traditional navy suit with red festive handkerchief for the groom.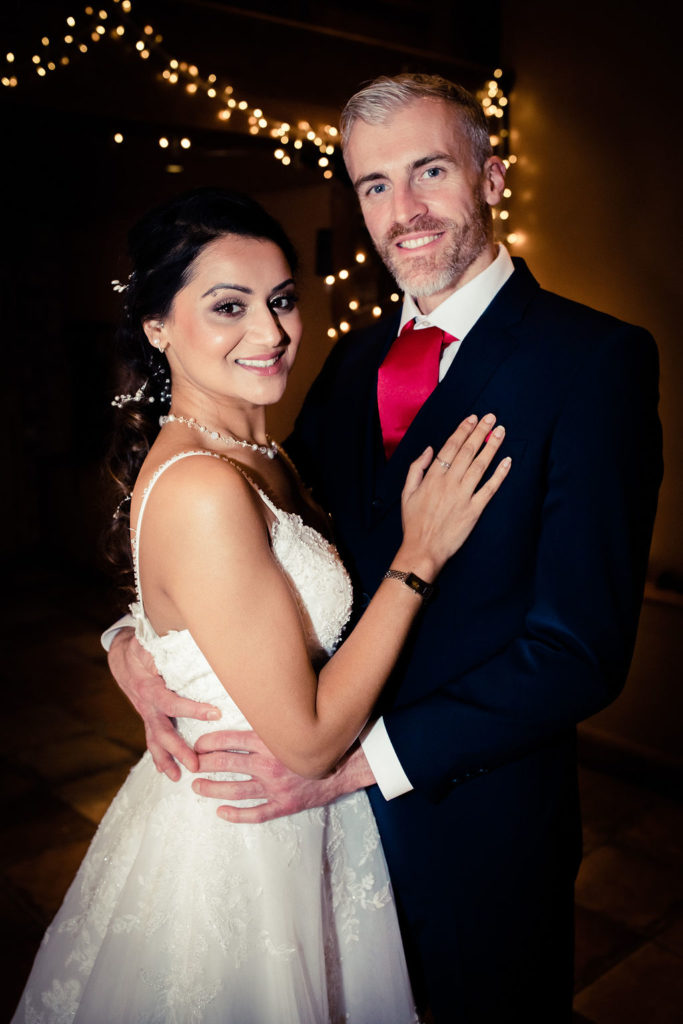 Here, Cat and Denise from Ginger Moon Wedding and Event Hire Ltd, tell us how they styled the Christmassy tablescape and flowers for the shoot.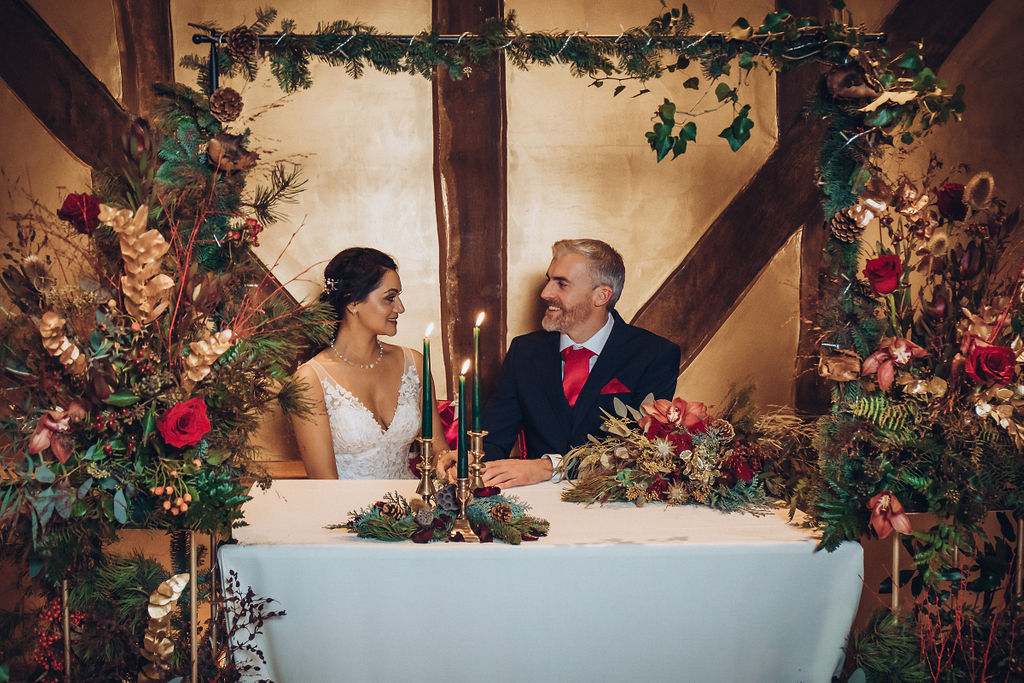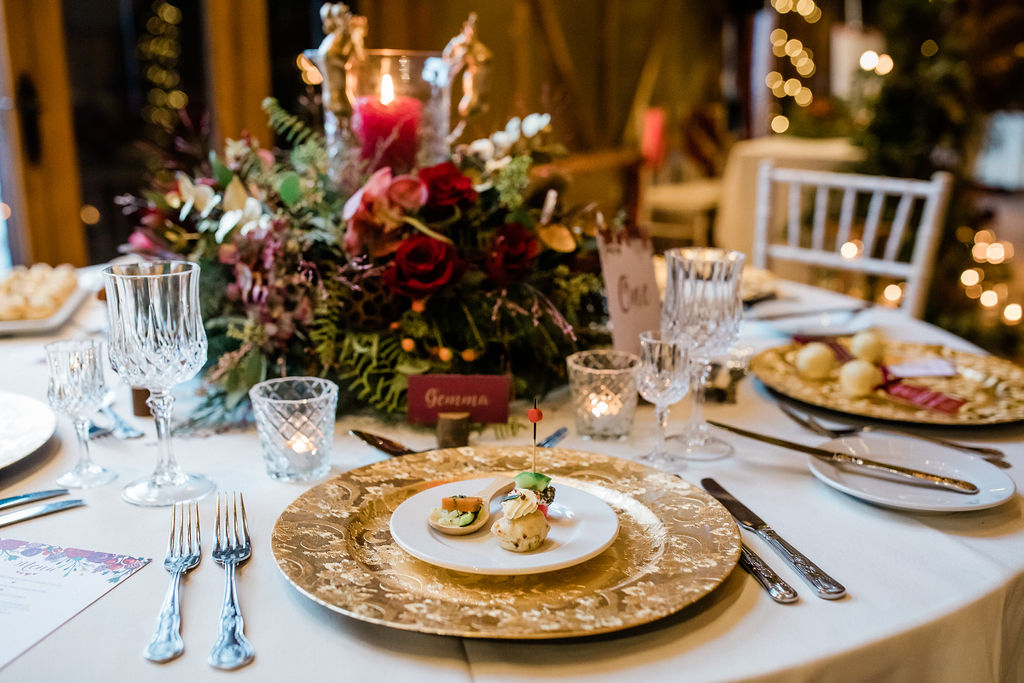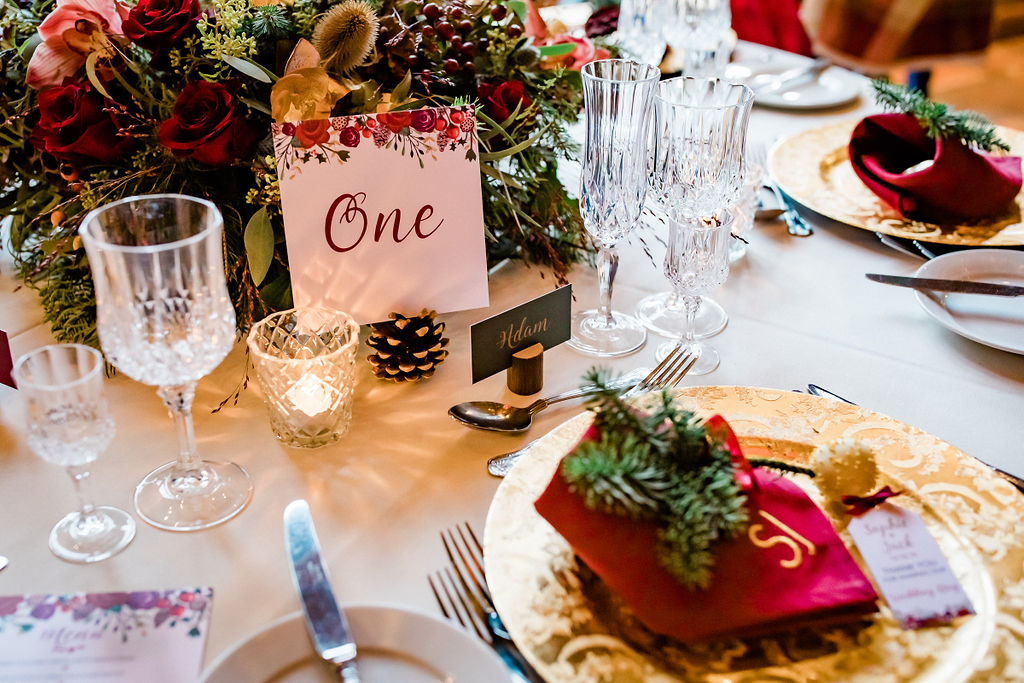 "The Hundred House is a venue we work at a lot and feels very special to us at Ginger Moon and Ginger Lily, so when we were approached about the shoot and found out some of our favourite suppliers were already on board, we jumped at the chance to be involved! Our aim was to create a traditional Christmas theme in a non-traditional way. We used the classic colours of red, burgundy, green and gold then threw in a touch of our very own wild flair and natural style to create the different areas used for the shoot. Together we created a luxurious tablescape, a spectacularly wild ceremony area, a beautiful cake table to display the amazingly detailed cake from Hunkington House Kitchen and a cosy Christmas 'snug'. We specialise in creating unique wedding flowers and bespoke styling packages, so this shoot put us right in our element!"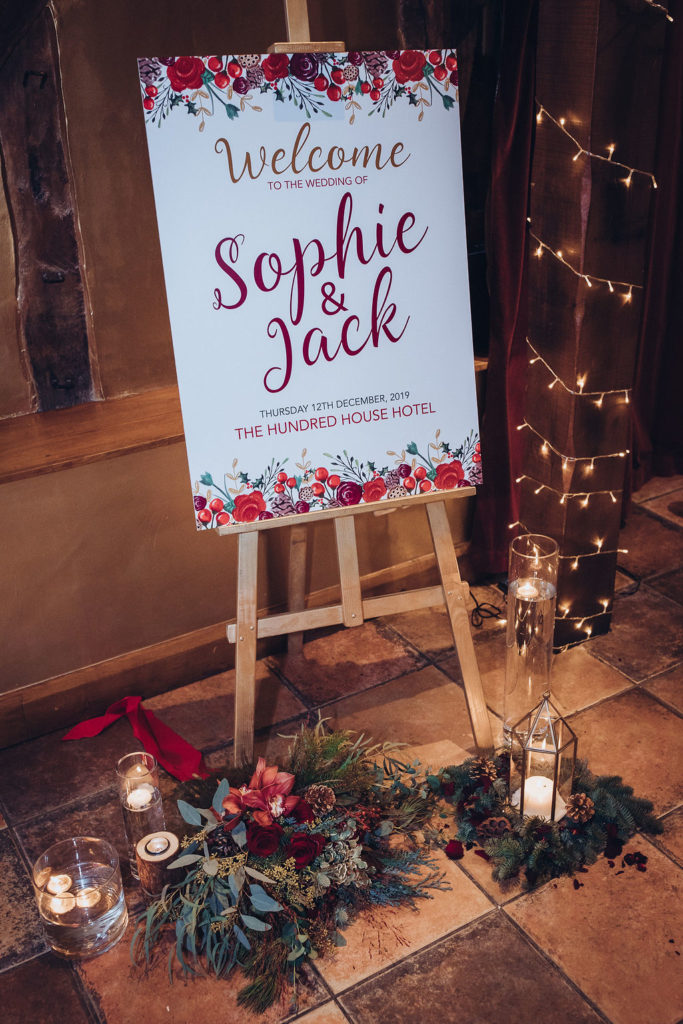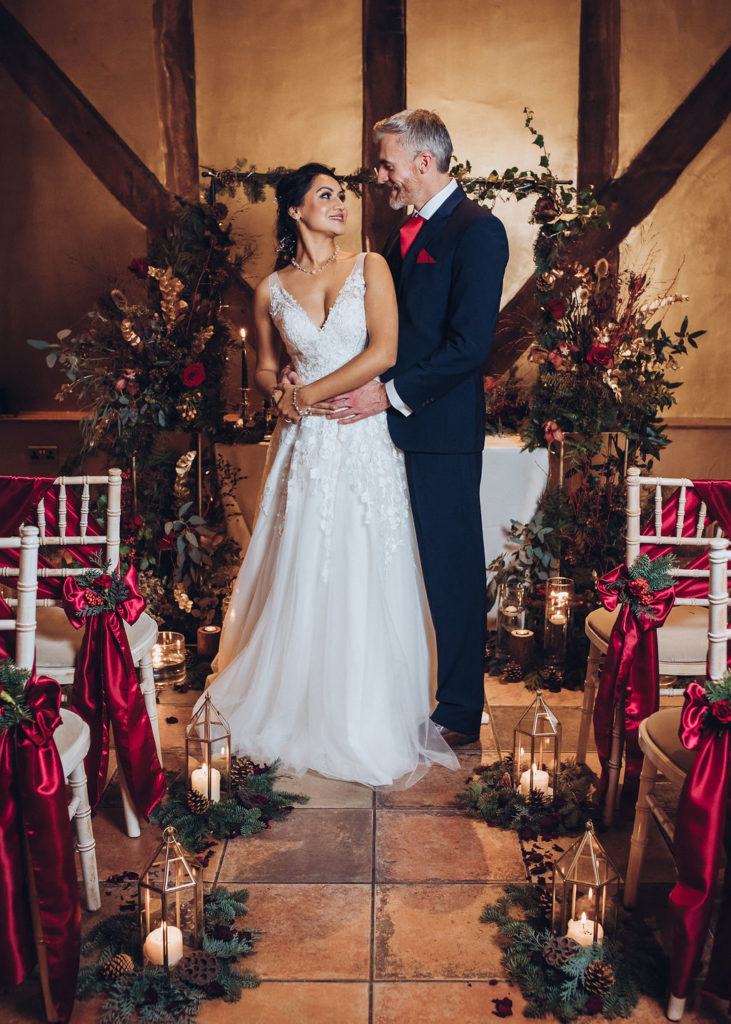 "As an extra detail to the winter wedding tablescape, Heidi from The Embroidered Napkin Company provided bespoke monogram napkins, " our burgundy napkins embroidered with metallic gold monogram fitted the festive wedding theme perfectly, and I'm so pleased with the way Cat and Denise styled them on the tablescape".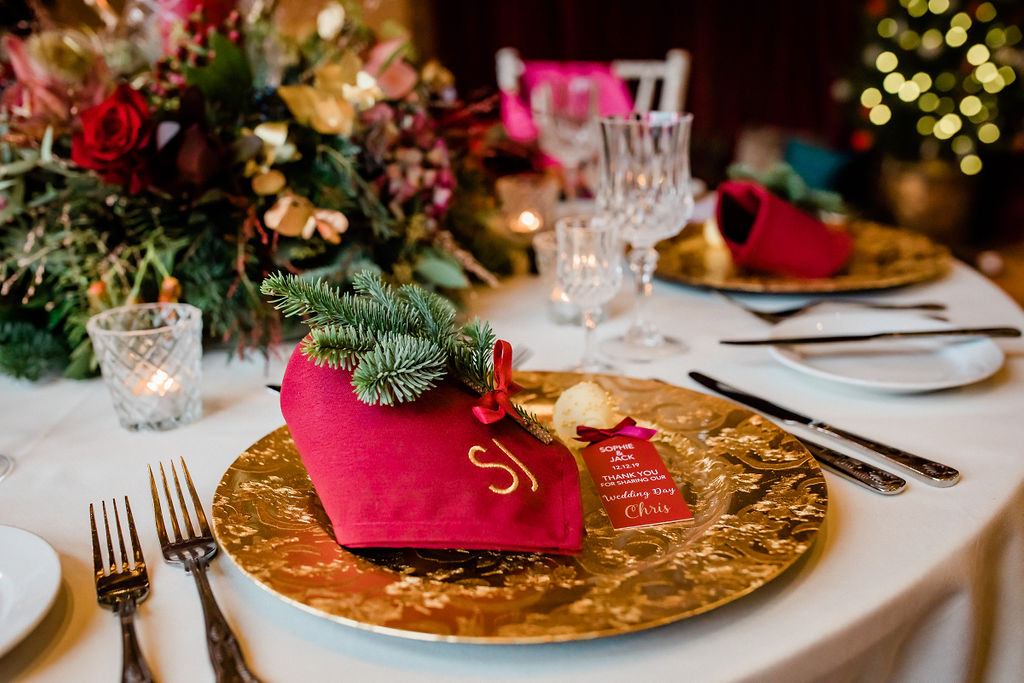 Caroline from Hunkington House Kitchen tells us her inspiration for the Christmassy wedding cake, "This festive styled shoot was super exciting for me, and I wanted to create something extra special. To get the best results I worked really closely with Ginger Moon Hire and Ginger Lily Florist and together we created the showstopper. We made sure that the colour scheme for the styled shoot all interlinked in with the cake and table display and the trailing sugar paste Ivy design on the cake was then complemented by the stunning real flower trailing display on the wedding cake table. The cake pop favours were also a fun addition to the table and something that is proving really popular at weddings. The name tags for the cake pops were created by the talented Anna from Evelyn & Elliot and from this styled shoot I can now show one of my 2020 brides-to-be how they will look fabulous on her wedding day."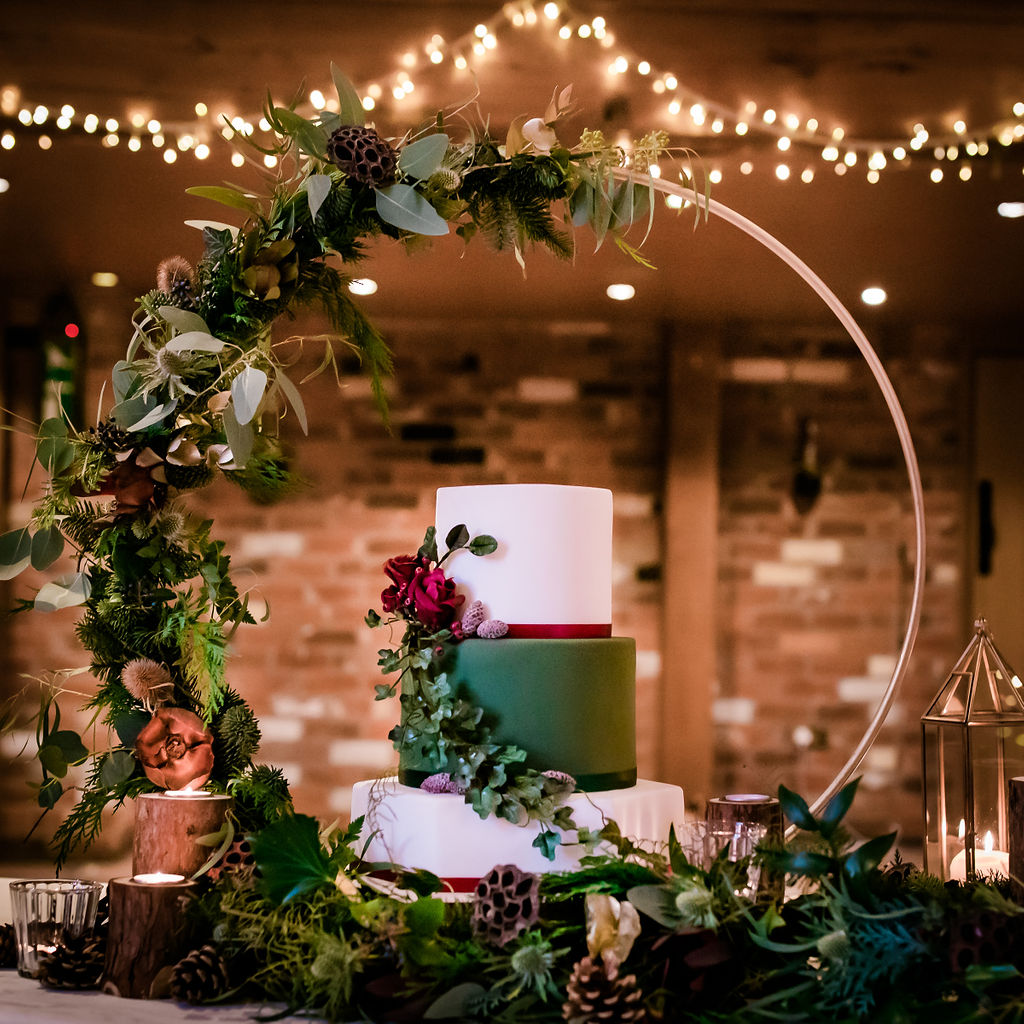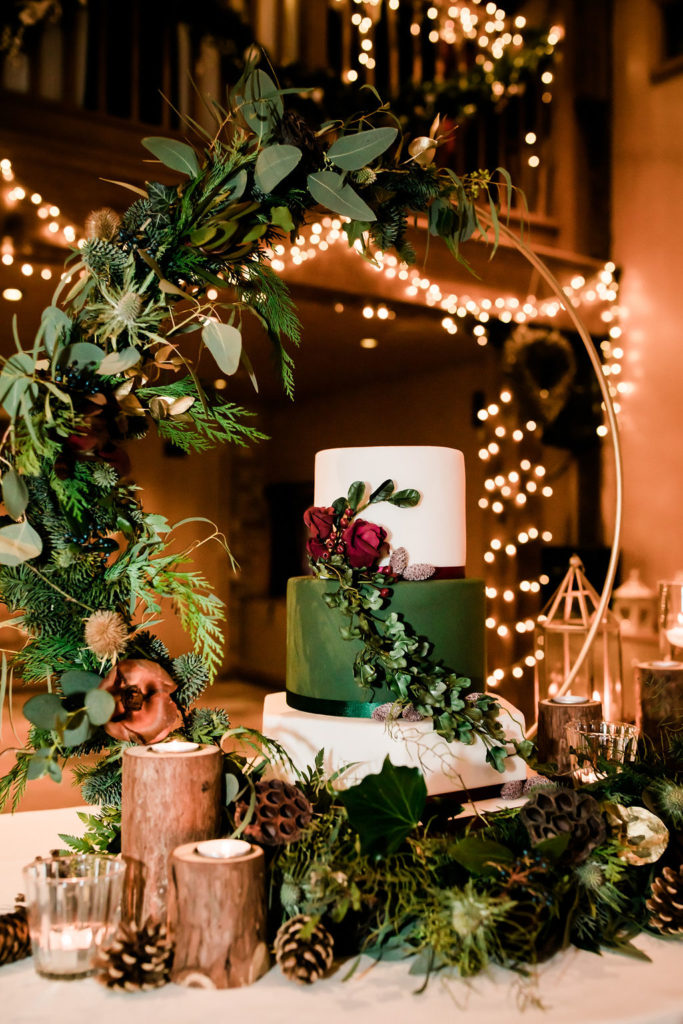 Anna from Evelyn & Elliot created a bespoke range of stationery for the festive wedding and tells us here about her inspiration, "I was so excited to provide the Wedding Stationery for this fantastic festive Styled Shoot along with place name cards, menus, personalised favour tags and a welcome sign. I used rich traditional colours and hand drawn Christmas florals to complement the styling provided by Cat and Denise at Ginger moon. I really wanted to make the invitations extra special so added a little gold sparkle too. Part of the design included a personalised tag tied with twine as an alternative idea to address your guests. The favour tags were made especially for Caroline's tasty cake pops from Hunkington House Kitchen and added to the beautiful table display perfectly. It's always a pleasure to work with so many talented suppliers to create something so magical."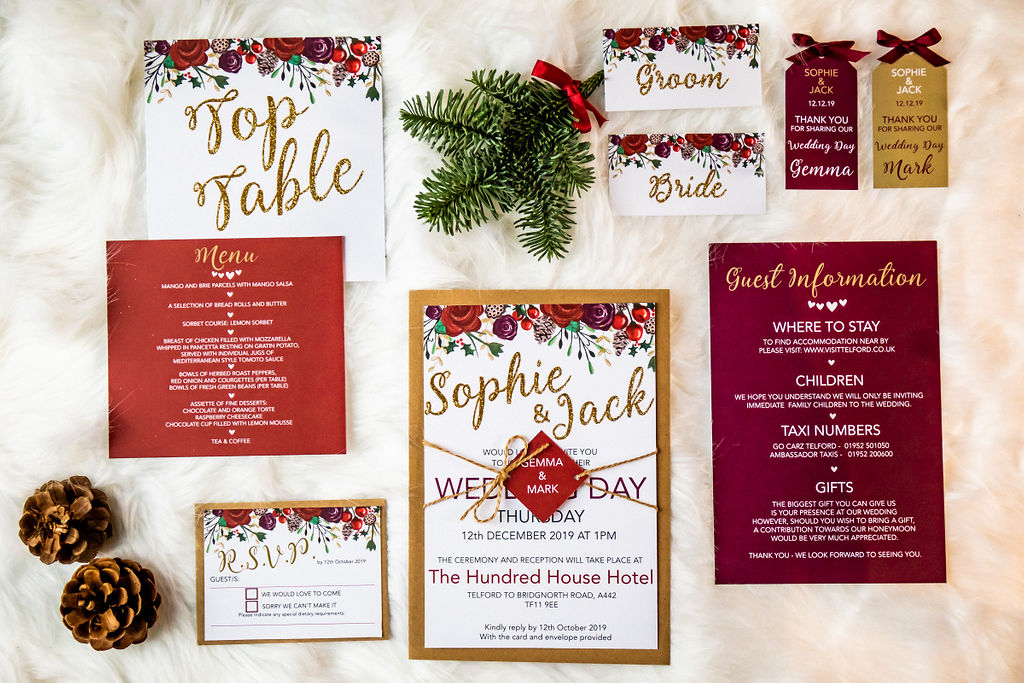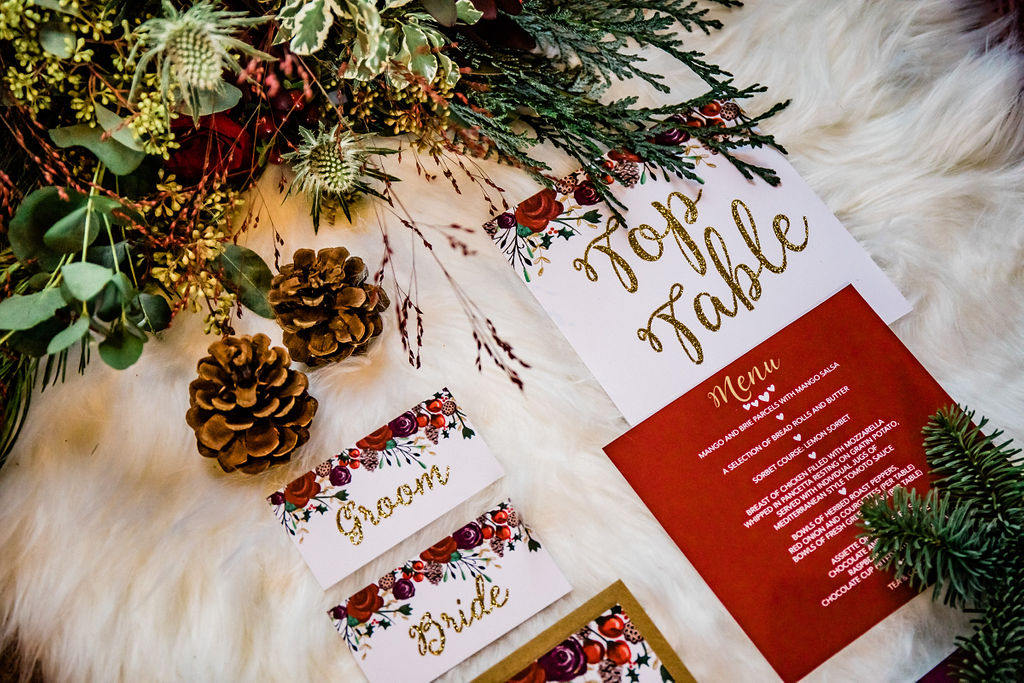 Make-up is so important to make a bride feel special and confident on her big day, and Steph gave us some tips for winter brides,
"I chose two different looks, the first was quite a strong look for two of the models opting for a deep red lip with warm undertones and a golden smoky eye. This fit in perfectly with the Christmas theme of the shoot – these colours are always a great option in the winter when everything can feel dull and bleak. For the second look I opted for a more natural look with a gorgeous nude lip and subtle smoky eye – this look fit perfectly with the boho theme that was also present and complimented the bright colours from the flower crown beautifully."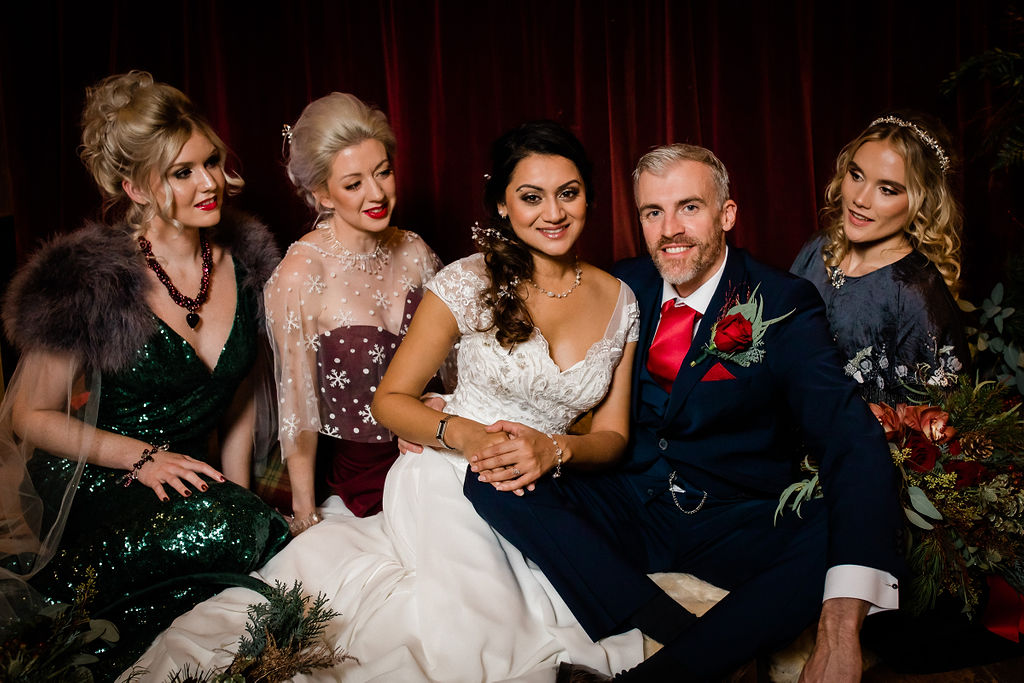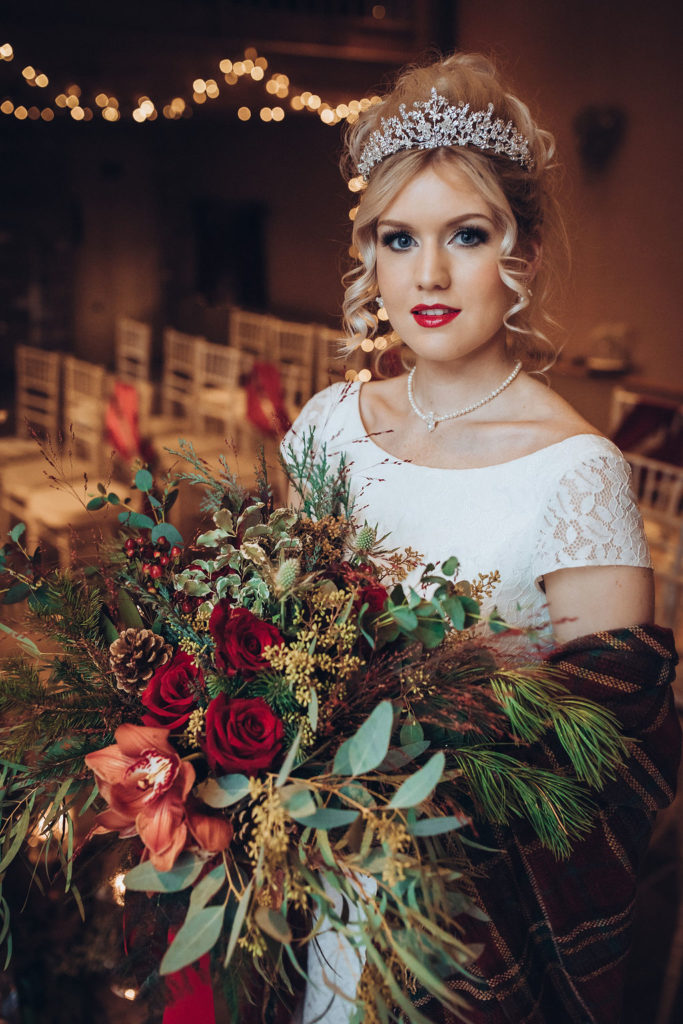 Sarah-Jane from Bish Bosh Becca, shares why she chose the jewellery pieces for the shoot. "Having seen the wonderful dresses for the shot and liaising with other suppliers I sent over a wide range of jewellery, from the dramatic red Murano heart and pearl necklace with matching pearl bracelet, the spikey quartz point necklace and the delicate modern pearl choker necklace with matching earrings. These fitted the festive theme of the shoot, in particular the red Murano necklace as it just shouts Christmas! The quartz points are like icicles and pearls ….because I just love pearls!"
I am sure you'll agree this is a beautiful look for a festive wedding……and hopefully has got us all in the Christmas spirit!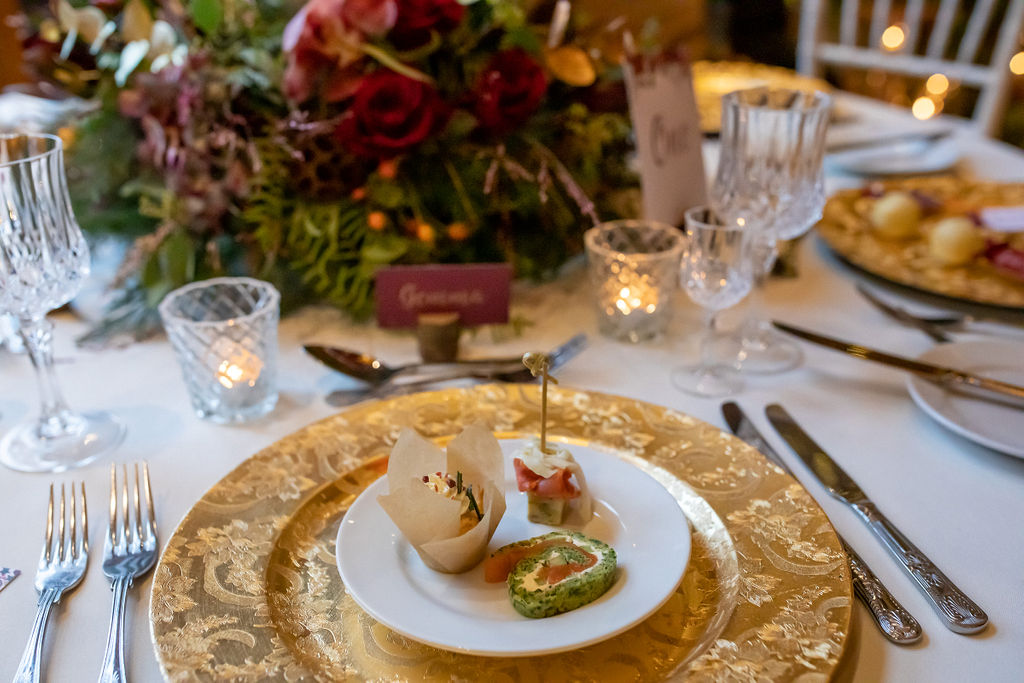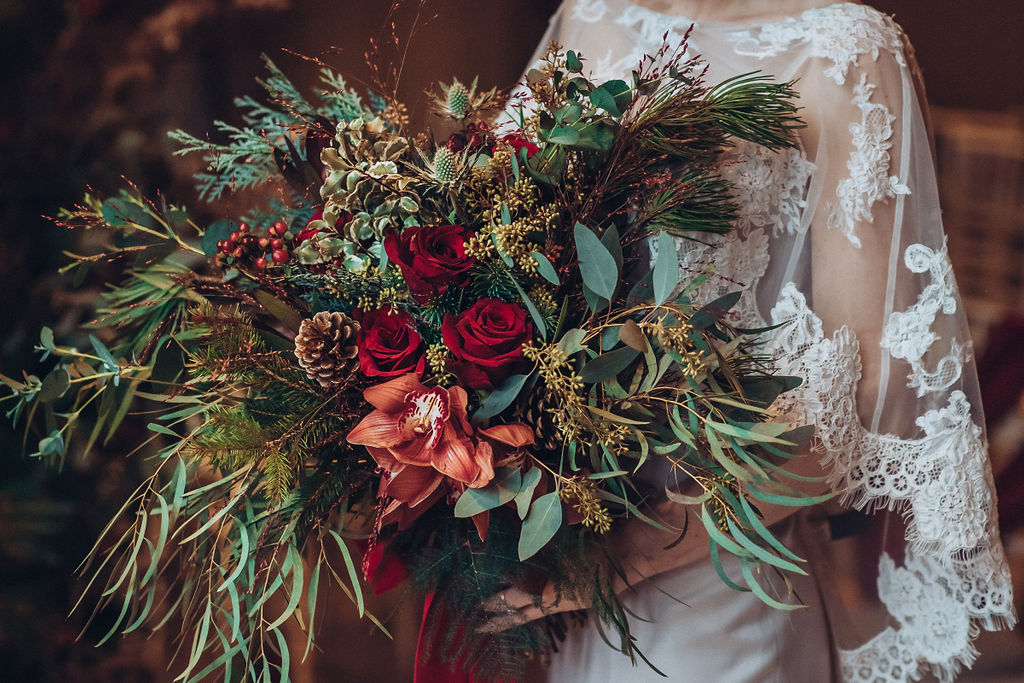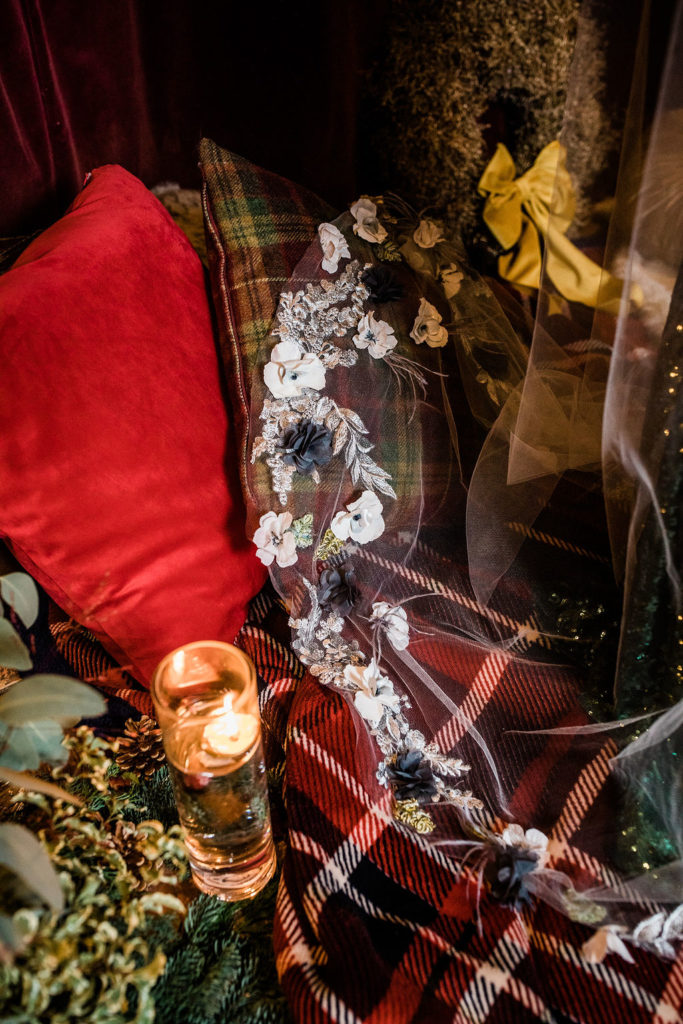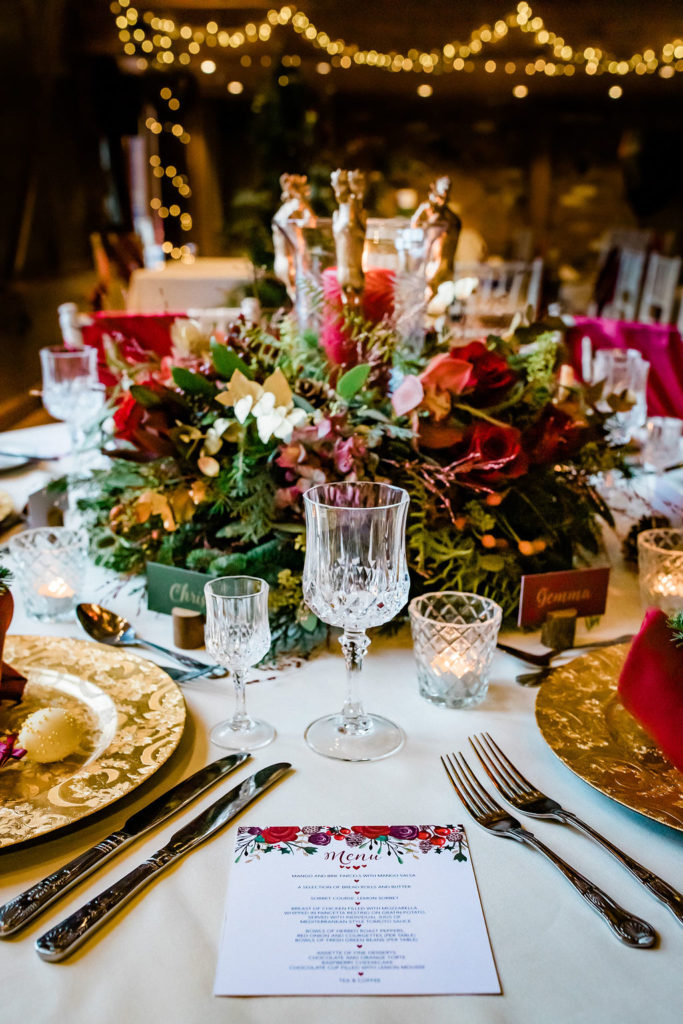 CREDITS:
Photography Becky Wright Creative @beckywrightcreative
Make up SJM Beauty @SJM_BEAUTY_ / Dresses and Suits Heavenly Wedding Belles @heavenlyweddingbelles @heavenlymenswear / Flowers Ginger Lily Florist @gingerlilyflorist / Venue styling Ginger Moon Hire @ginger_moon_hire / Cake Hunkington House Kitchen @hunkingtonhousekitchen / Venue Hundred House @thehundredhouse / Stationery Evelyn and Elliot @evelyn_and_elliot / Hair @elegance_hair_design / Jewellery Bish Bosh Becca @bishboshbecca / Capes and veils Adorn By Ashley @adornbyashley / Chairs Little Gemfx @littlegemfx / Napkins The Embroidered Napkin Company @theembroiderednapkincompany / Models @chelseamarieactor @jaskealey_ @kirtsyvictoria_kinkfixer
IF YOU LIKES THIS THEN PLEASE PIN IT!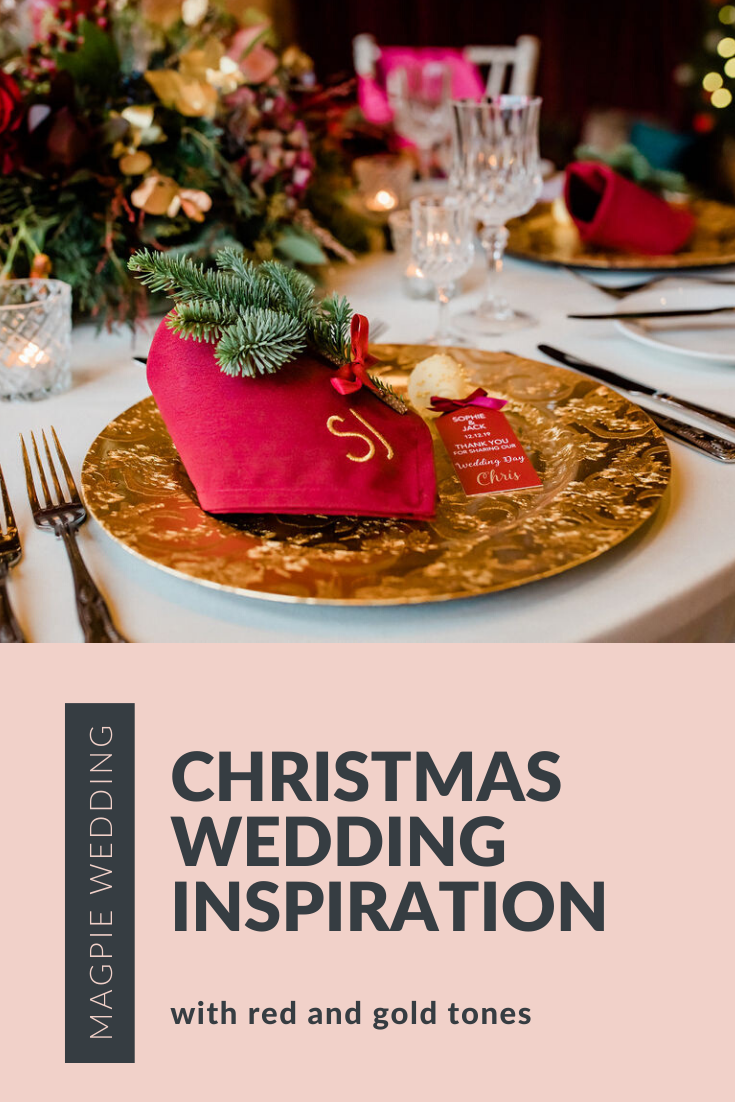 For more Christmas inspo have a look at these blogs: