I love Christmas; the festive spirit, the scents, the rich colours and luxurious textures. However, there is something a little challenging and daunting about styling a Christmas wedding, making it warm and cosy but modern and inspiring. Not making it too Christmas overkill whilst filling the atmosphere with the energy of the season. Here are some ideas if you are having a Christmas wedding next year.
Christmas Wedding Lighting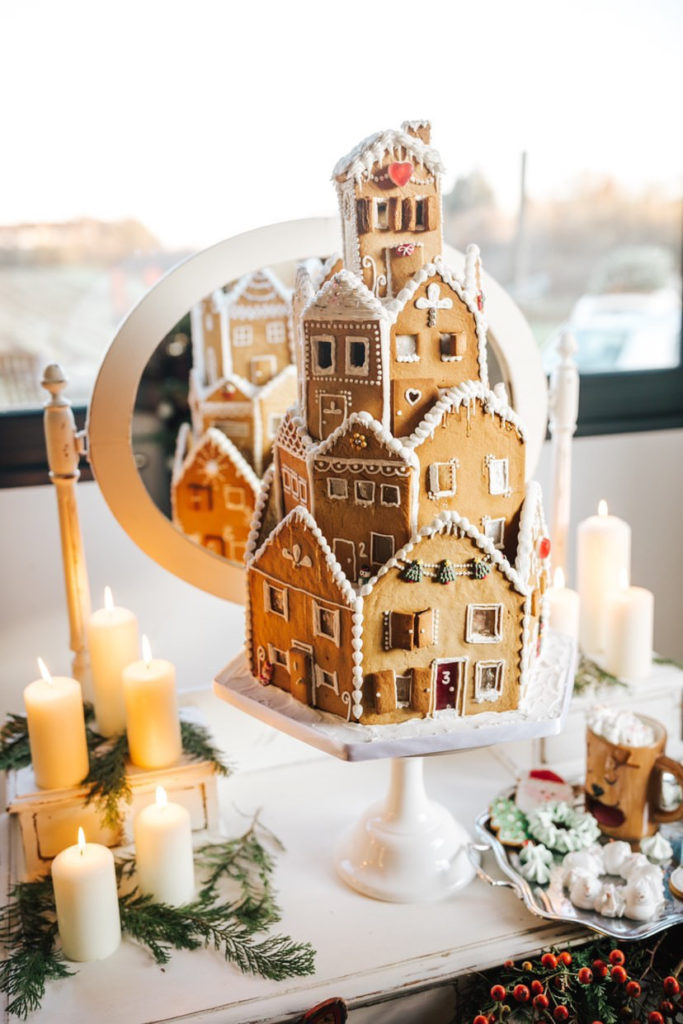 Credit: Nikkis Moments and Dream Capture Workshops
There is something romantic about a winter wedding; the shorter days make for wedding receptions filled with candle light, keeping blooms seasonal lends itself to moodier, deeper colours, atmospheric photos become almost natural.
With very little time spent outside, the focus is solely on the indoors; create inviting spaces filled with warmth and detail to counter the cold weather. Go big on lighting through the use of fairy lights and festoons, turn the main venue lights down low and dine amongst candle light.
Christmas Wedding Decorations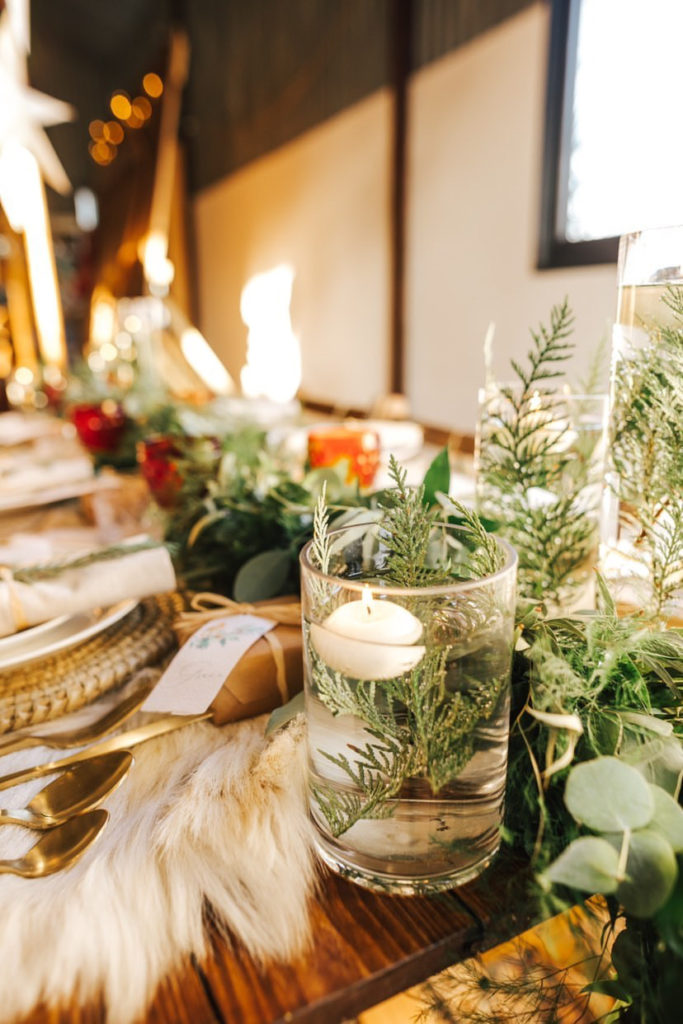 Credit: Nikkis Moments and Dream Capture Workshops
Decorations don't have to be obvious to Christmas; you don't need to hang icicles from the ceiling or fill the room with fake snow, but adding in textures such as faux fur and velvets in berry tones straightaway adds a luxe and rich feeling. Contrast this with copper and gold metals for the perfect festive colour palette or for an edgier palette add in concrete and slate.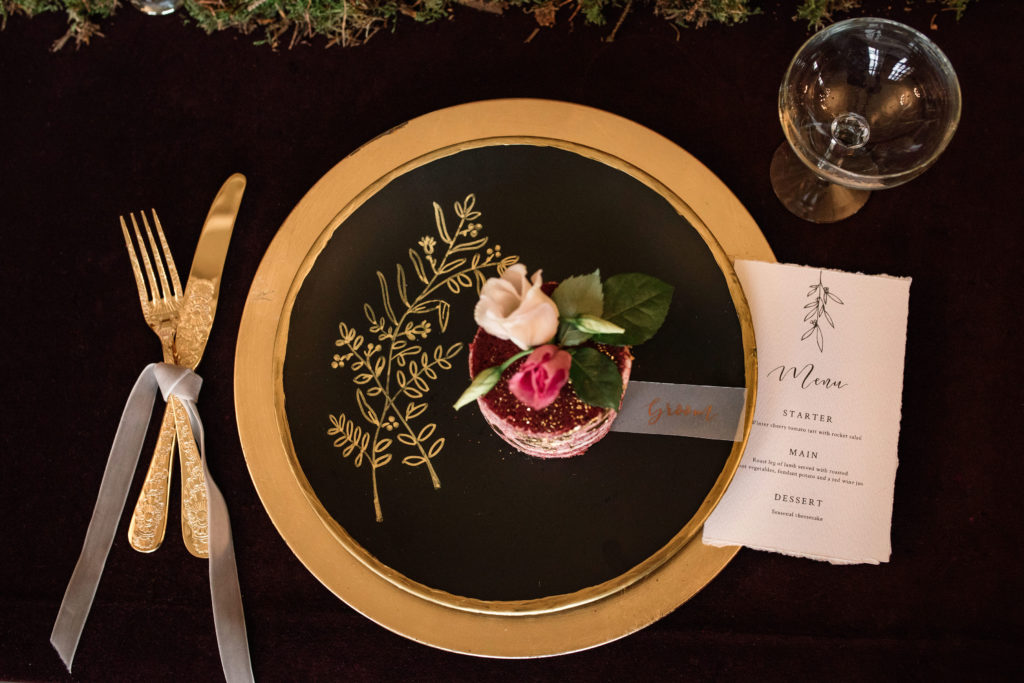 Photo Credit: Becky Harley Photography | The White Emporium | Meadow Sweet Cakes | Olive and Millicent .
Christmas foliage is dark and varied; your flowers and table designs will work best if you stay in keeping with seasonal availability such as spruce varieties, holly and ivy. They not only look effortlessly amazing but they also fill the room with that nostalgic smell that just encapsulates Christmas.
Christmas Wedding Tables
Embrace Christmas head on with your food choices and style them accordingly. Think about layering textures to create depth- this isn't time for cool minimalism – this is a time for making spaces seem smaller, creating an atmospheric blanket to keep people warm. Loose greenery and candles cover empty surfaces, whilst layered place settings feature calligraphy place names in metallic and berry tones. Favours have become marmite to the wedding world but incorporate them into your design by tying napkins with hand crafted decorations that invite guests to take home and hang on their tree.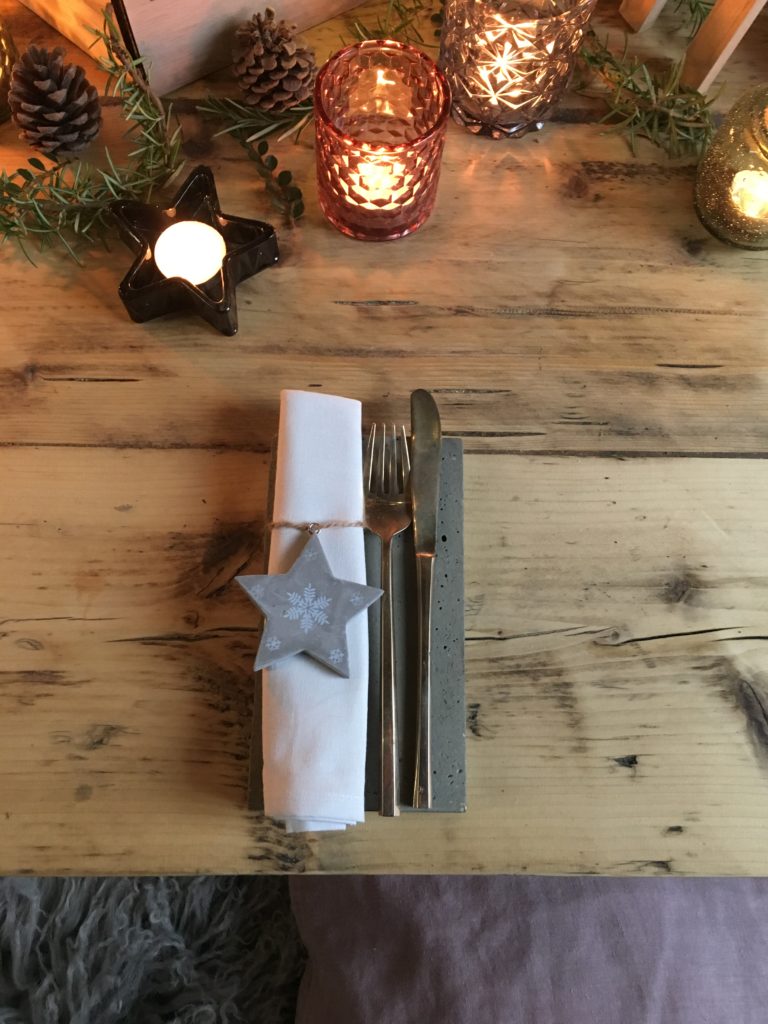 Picture Credit: Nikkita Palmer Designs and Neat Homeware
Christmas is a time for wow and installation pieces can be a key attention grabber, transform fireplaces into statement pieces and don't be afraid to being the outside in with hanging branches and greenery helping to bring the height of a ceiling down.
For more styling advice visit my website at The White Emporium
IF YOU LIKE THIS PLEASE PIN IT!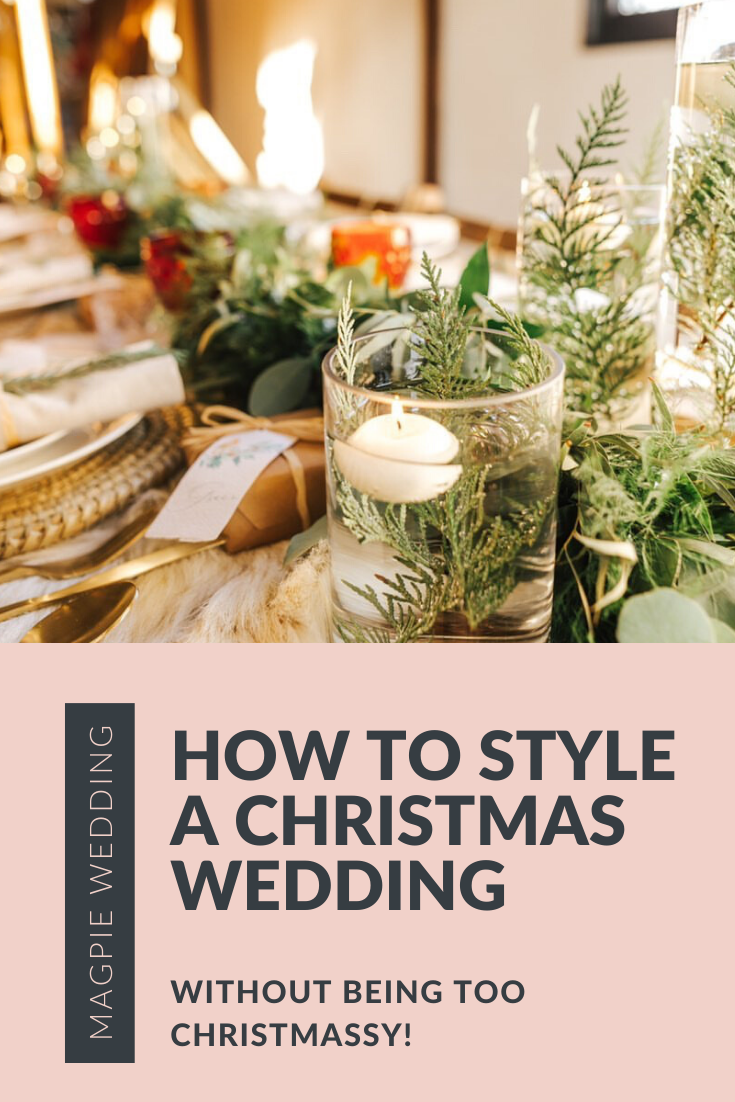 For more Christmas ideas check out these blogs:
1960s Christmas wedding inspiration with pom poms & baubles galore!
Festive Wedding Favours For Warming Winter Nuptials
Vintage Christmas Wedding With Opulent Red and Gold Touches