It's Christmas eve! So what better way than to get into the festive spirit than this regal red and gold Vintage Christmas wedding inspiration! Using deep jewel tones with touches of gold detailing, set at Lanwades Hall in Suffolk, and co-ordinated and styled by Jo Thorndike of VV Raven Florals It's traditional Christmas vibe is sure to give you all the Christmassy feels! Here we catch up with the team behind it, who tell us all about this Opulent Red and Gold Vintage Christmas Wedding.
Opulent Red and Gold Vintage Christmas Wedding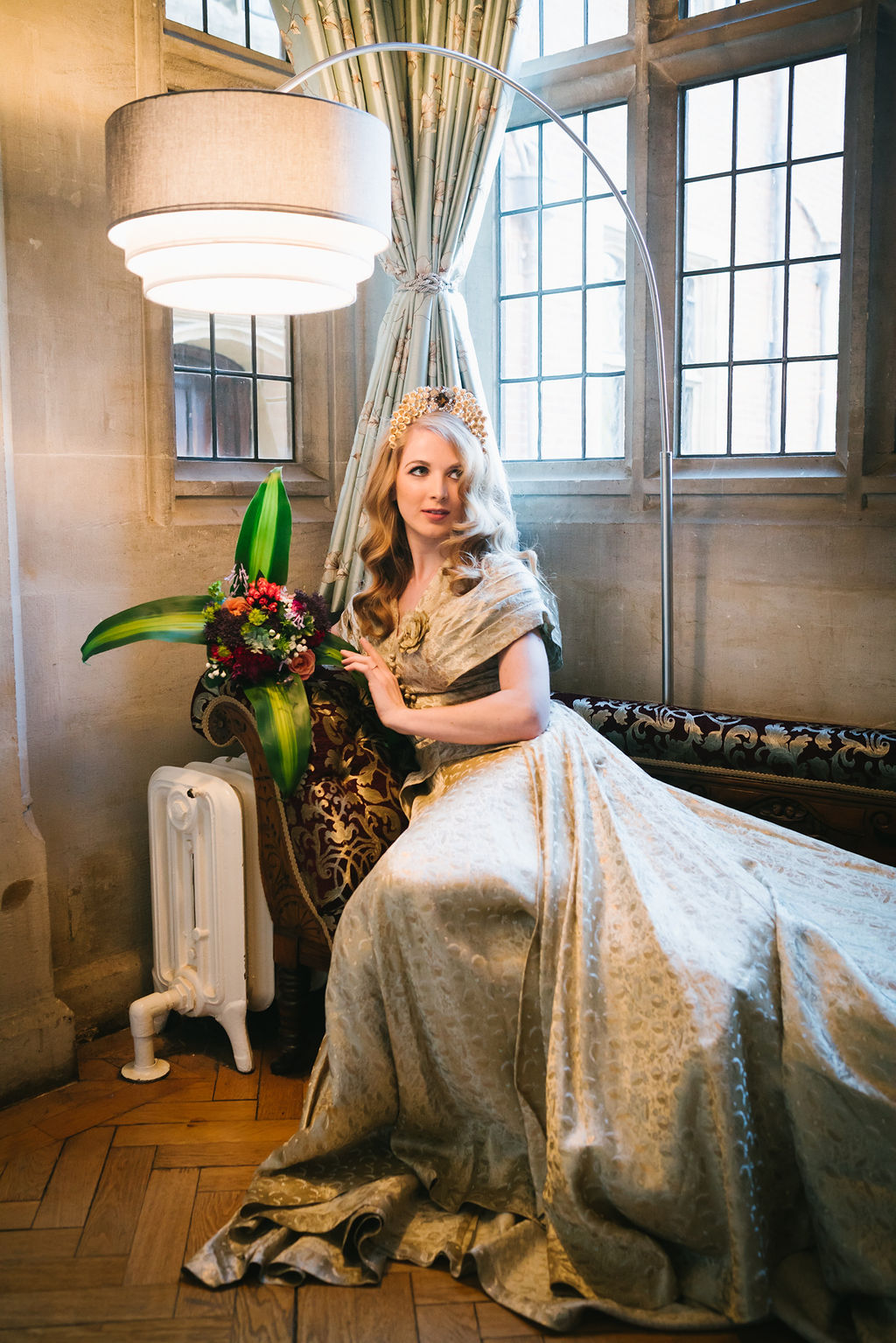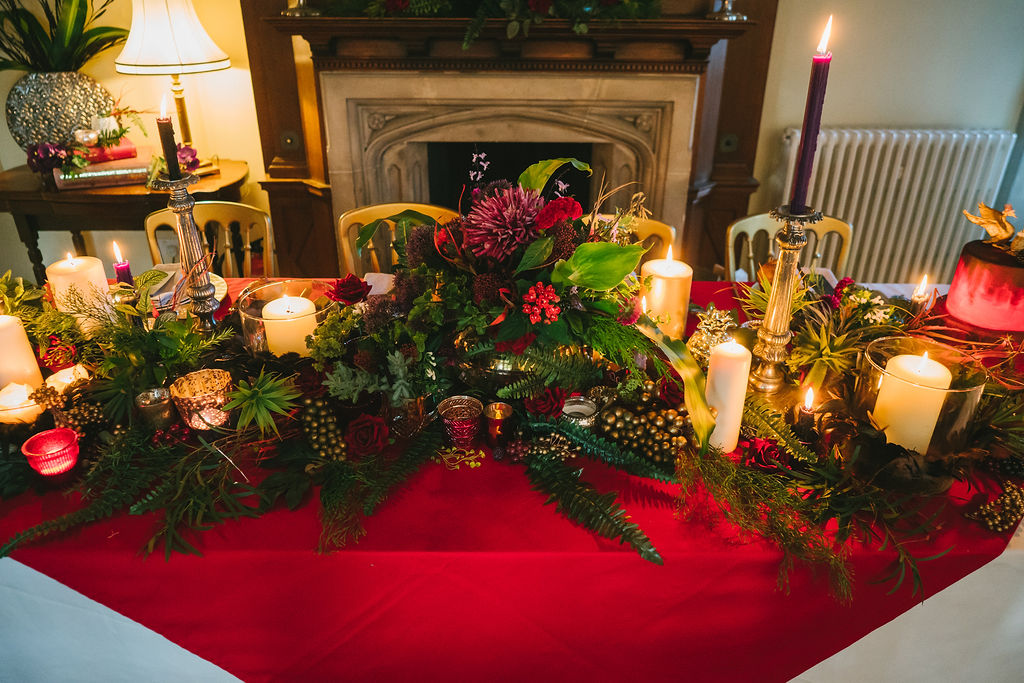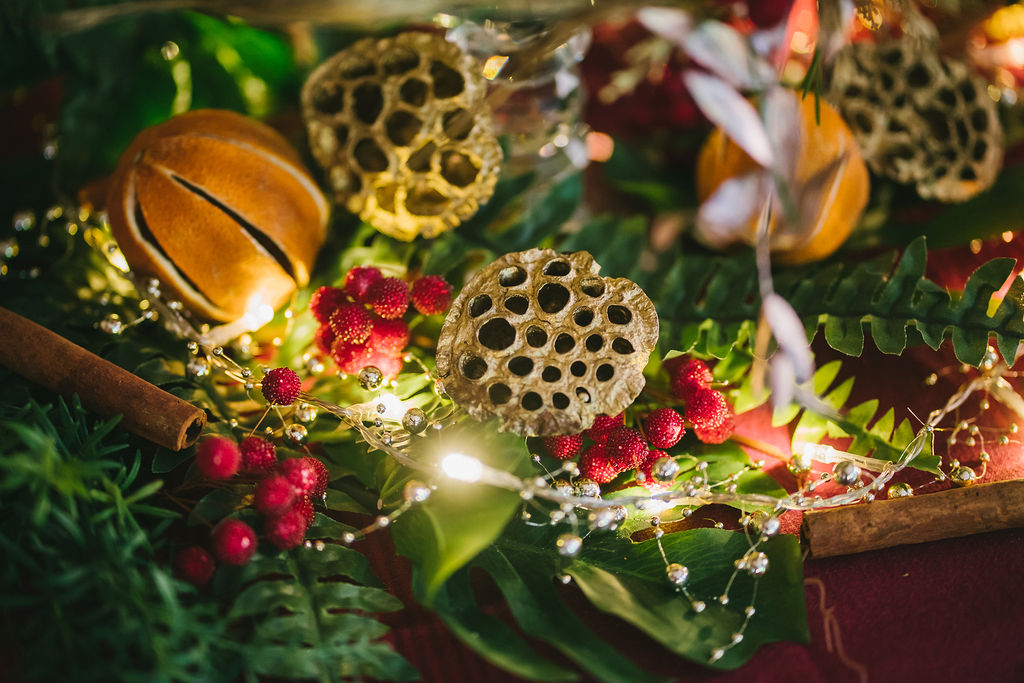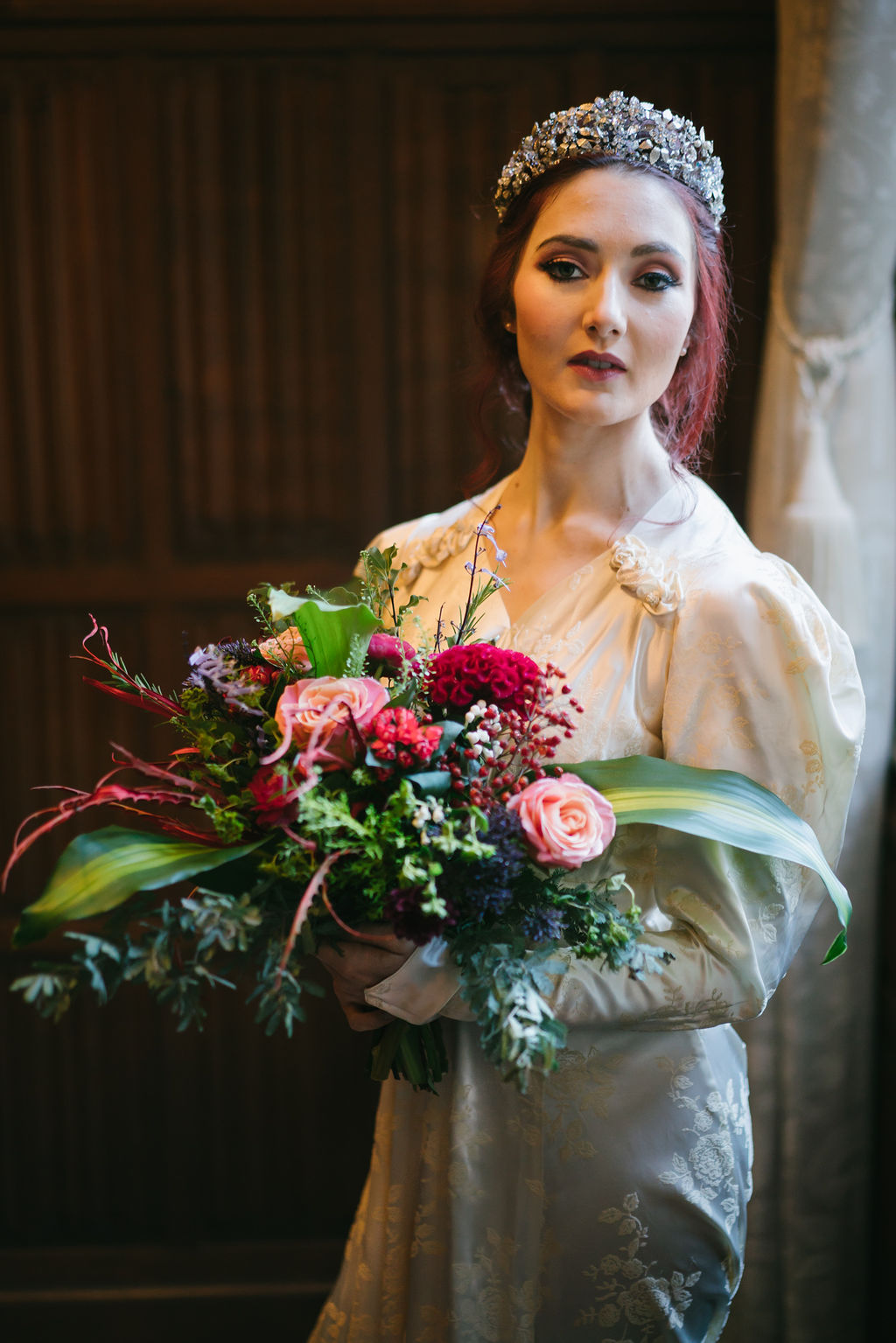 Photography – Matthew Dartford Photography
"As a wedding photographer I'm always looking for new challenges and experiences, so when the opportunity to work with a collection of people all at the top of their game came round, it was too good to miss! We had a beautiful location, with fantastic models, hair, makeup, dresses and accessories; everyone was doing what they do best."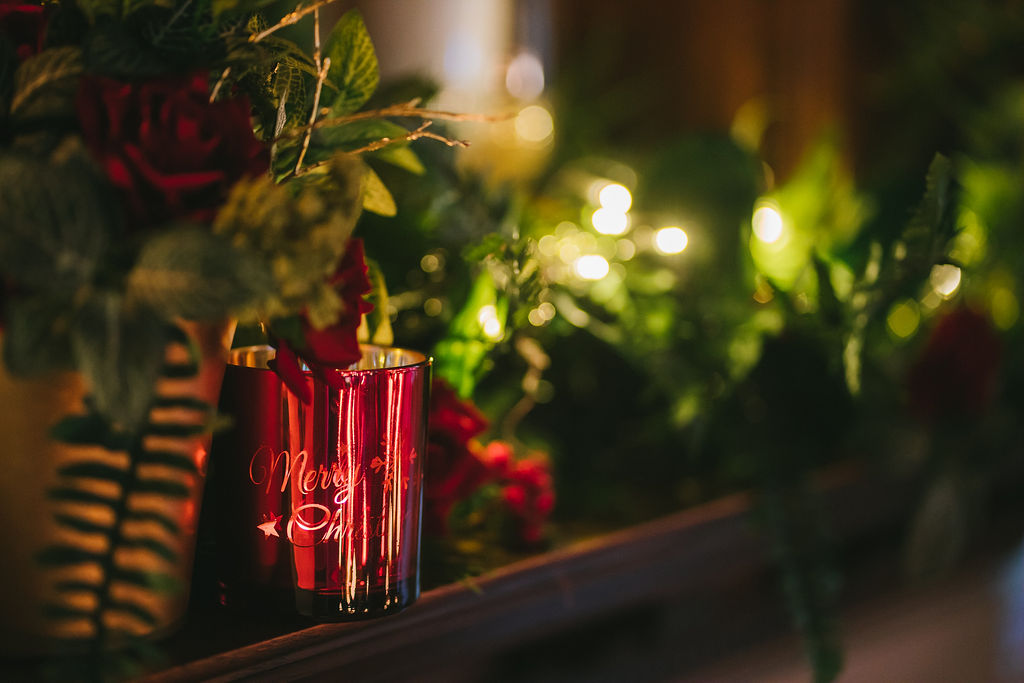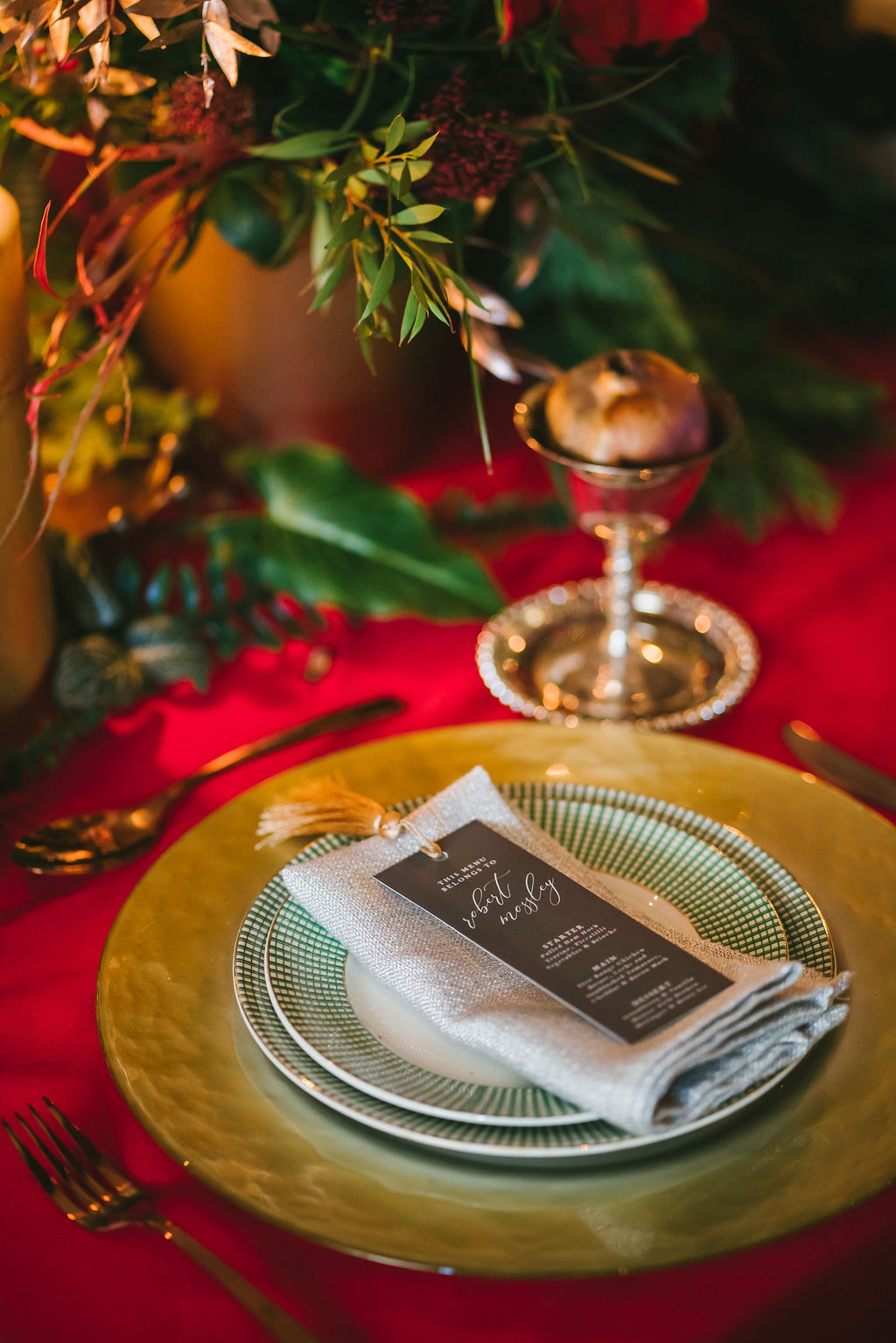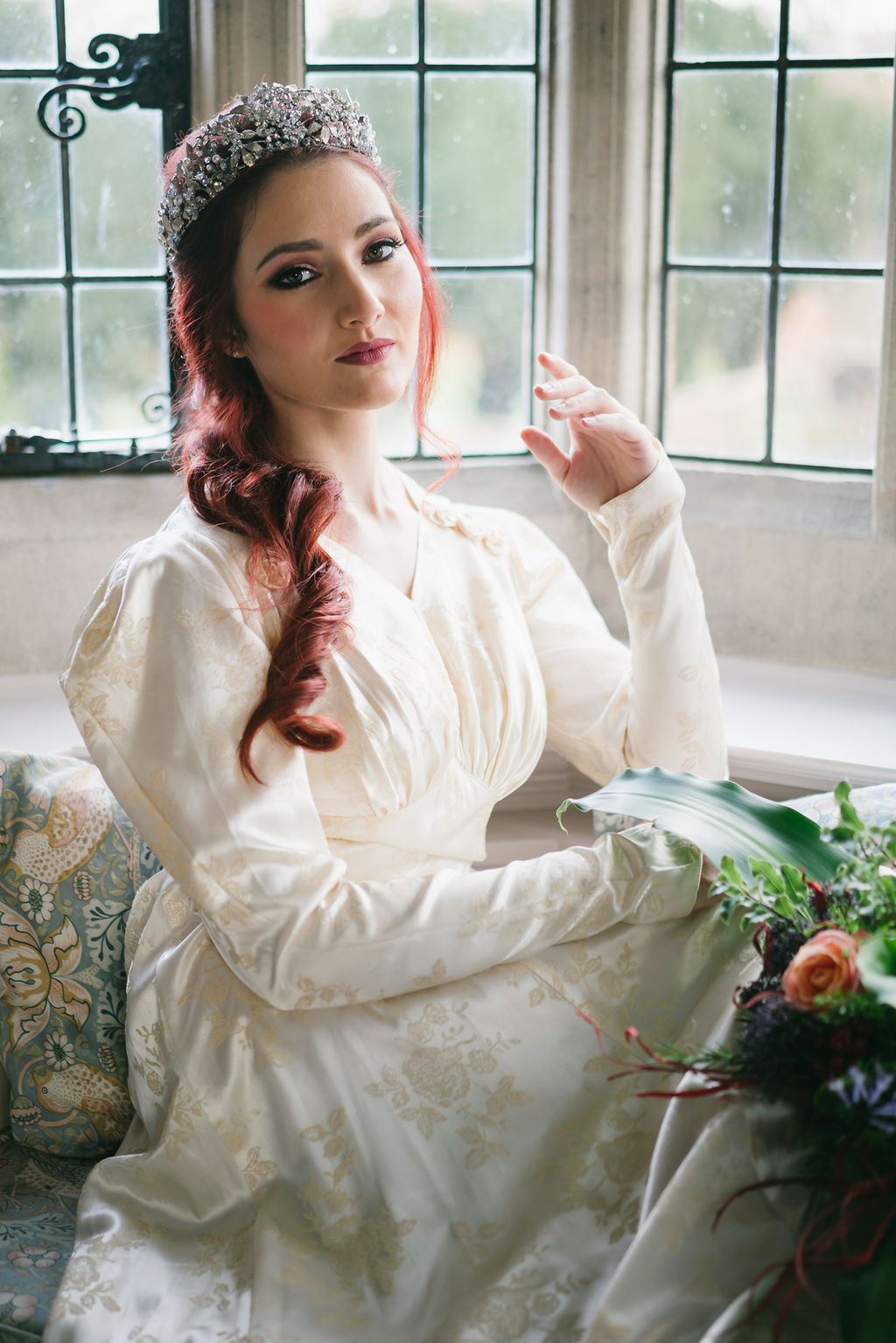 Styling and Florals – V V Raven
"The concept of the shoot came from working with Lanwades Hall's wonderfully opulent interior, we wanted to showcase their library and created a vibrant tablescape styled using moody deep jewel tones in reds, purples and golds. Using a mixed palette of fresh and faux florals we created a maximalist loaded table groaning with sparkling tealights, candles in dark feathered candleholders and gold plate chargers."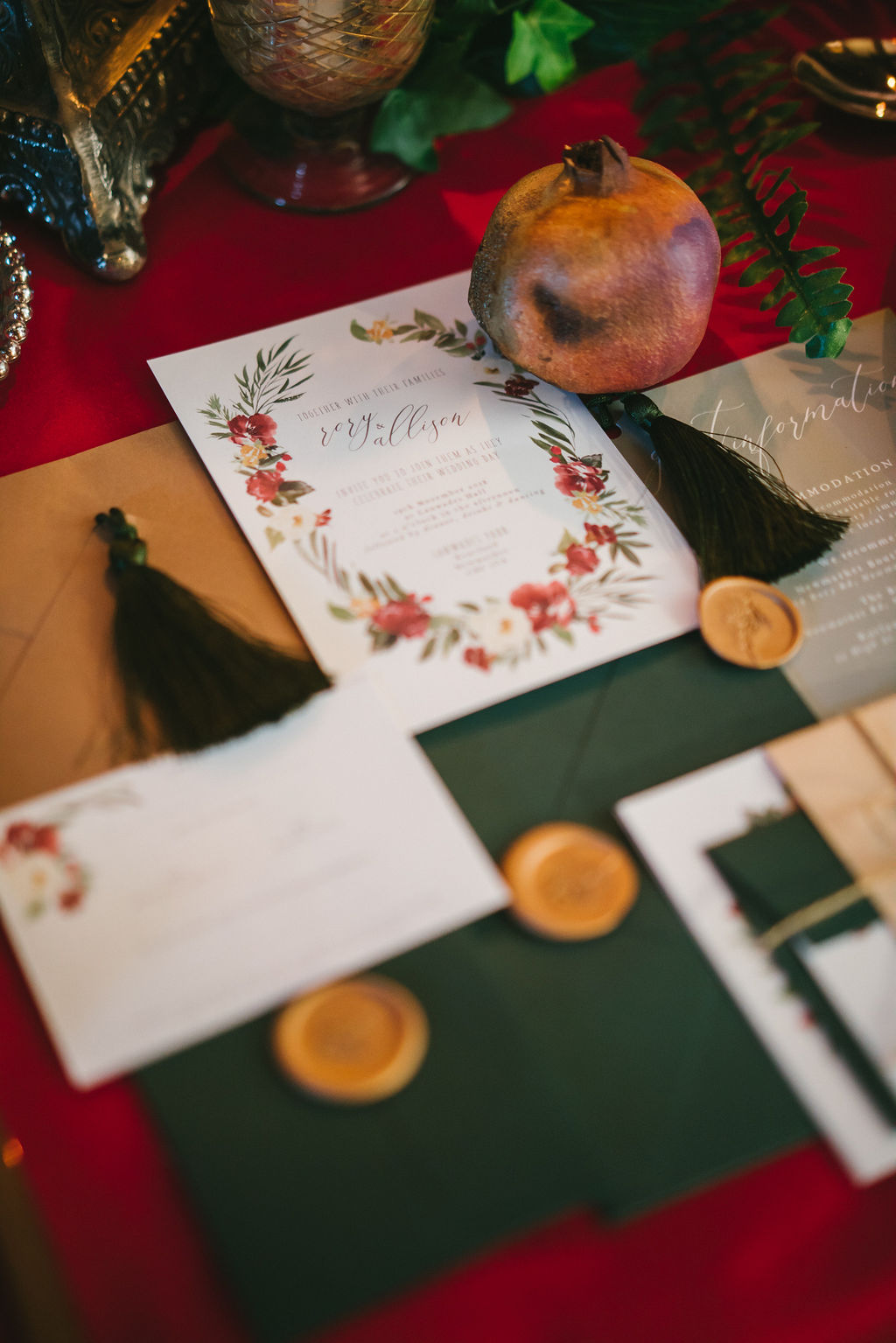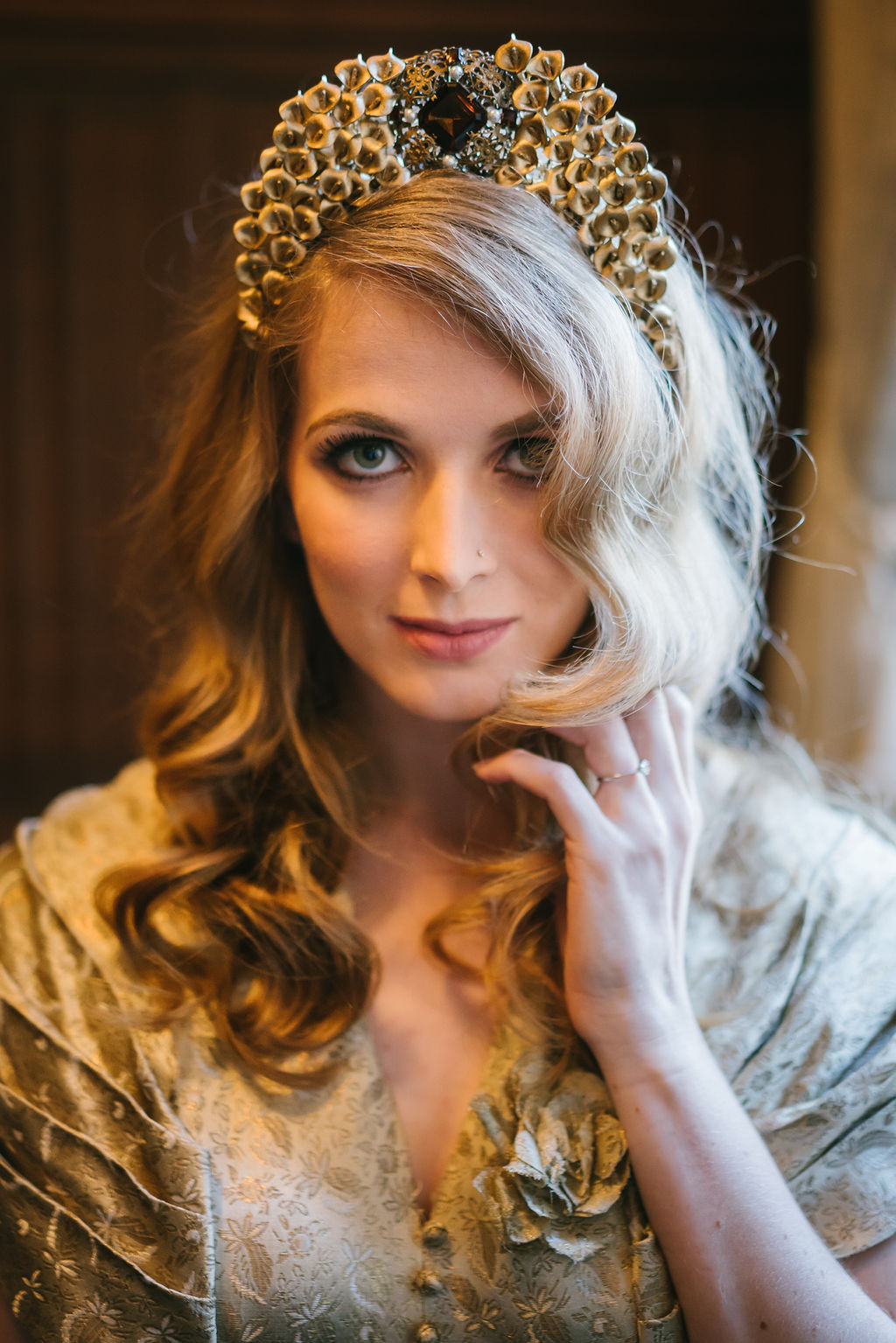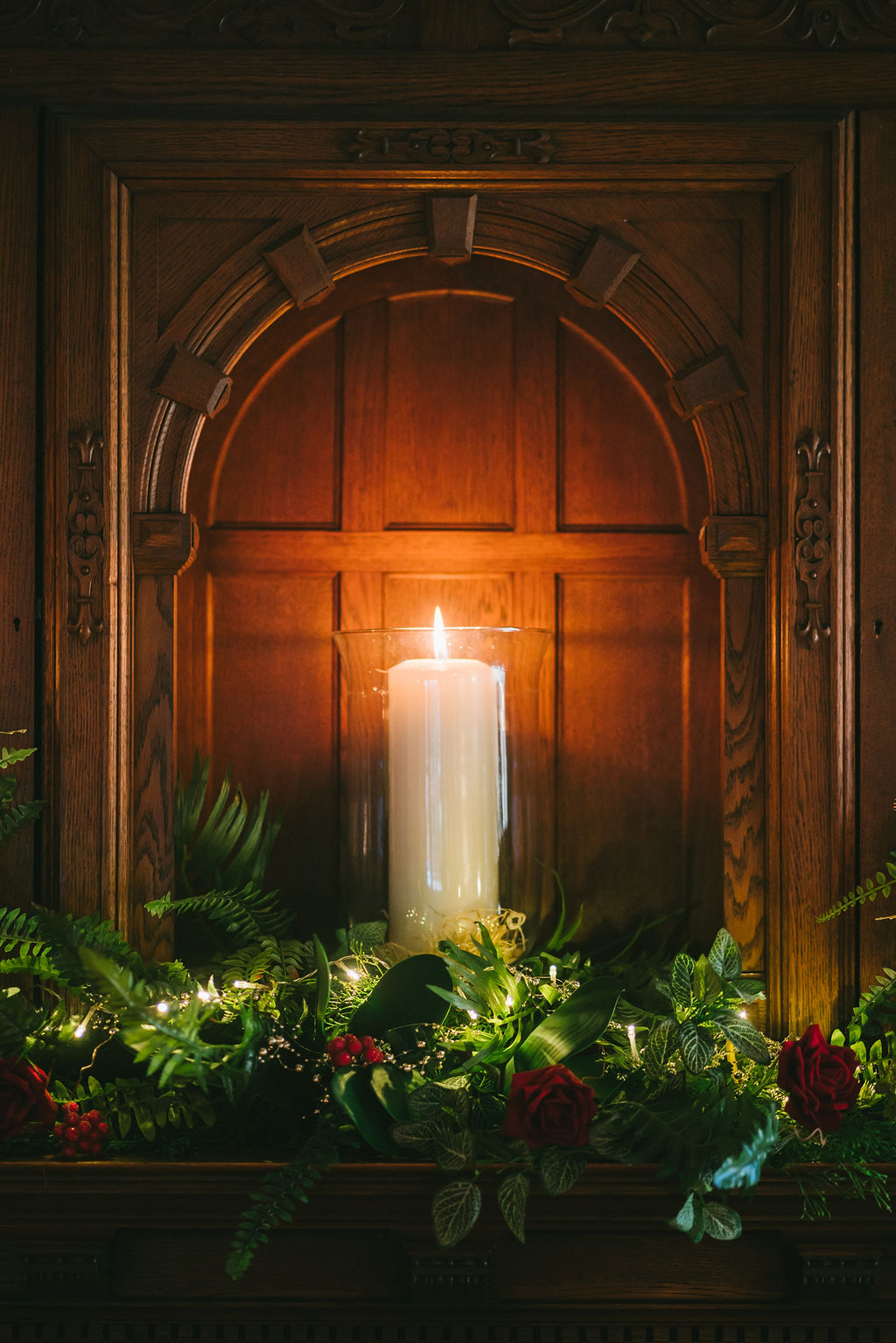 "The florals used lots of dramatic exotic shapes with berries, bouvardia, scabiosa, celosia, calla lilies, amaryllis, skimmia, Miss Piggy roses, in reds and greens with mixed textures of foliage to set them off. The Christmas table used dried whole and sliced oranges, pomegranates, gold lotus pods and grapes."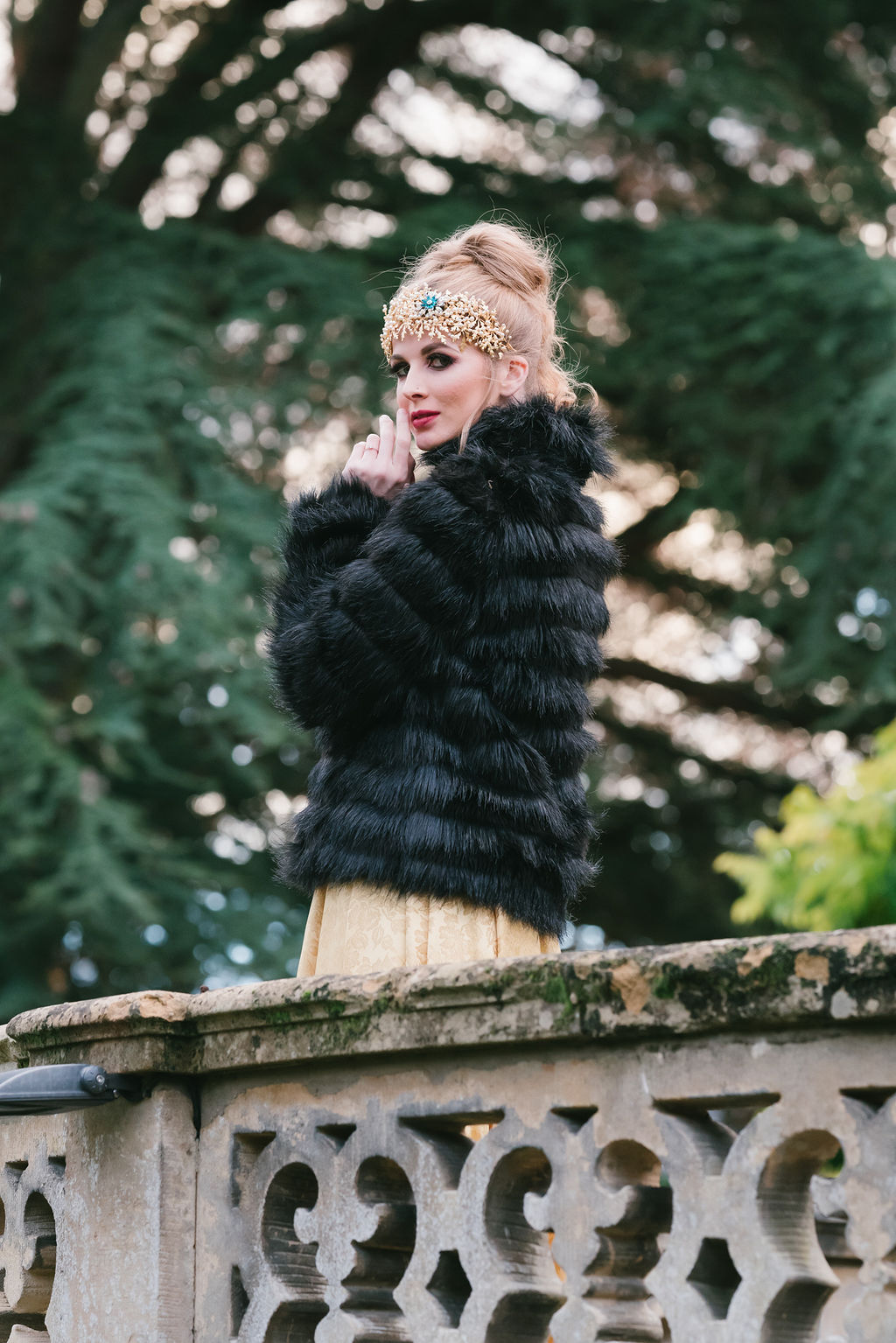 Dresses – Cambridge Vintage Bridal
"What better way to convey a sense of vintage opulence than with gold, original vintage wedding gowns. The full length gowns are original 1940s and 1950s and pay homage to Hollywood legends such as Lana Turner and Lauren Bacall with intricate tailoring and beautiful detail which amplify the feminine form."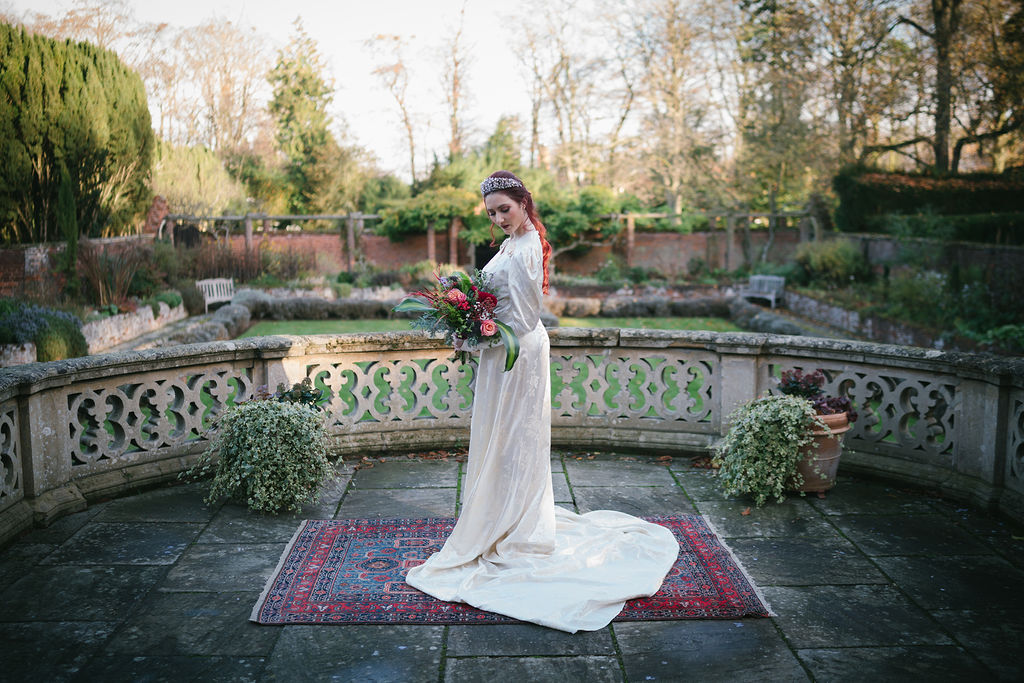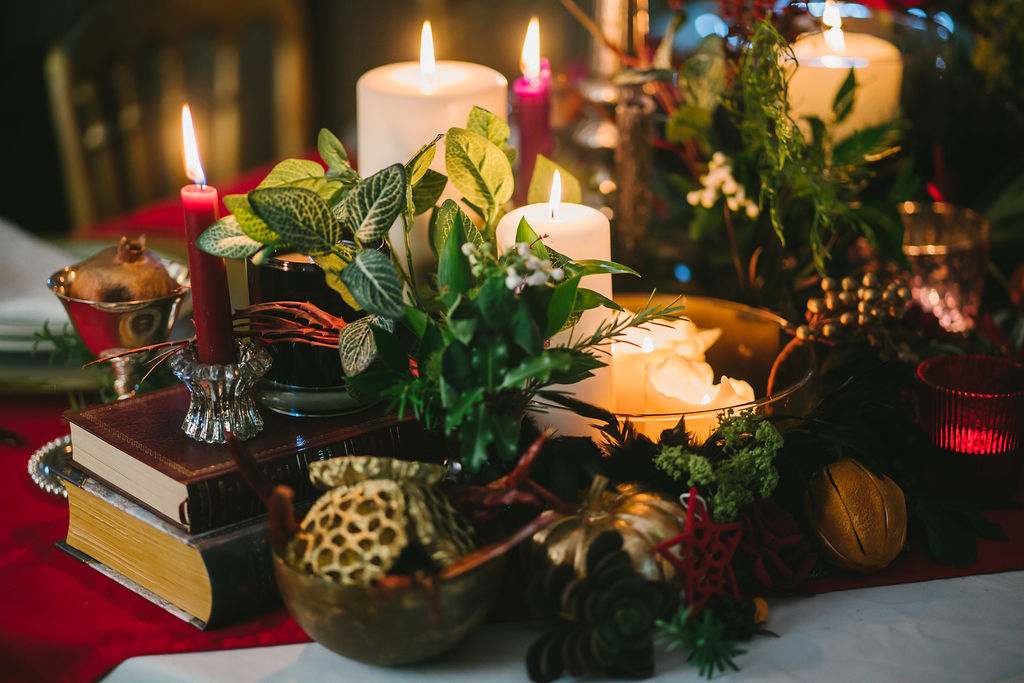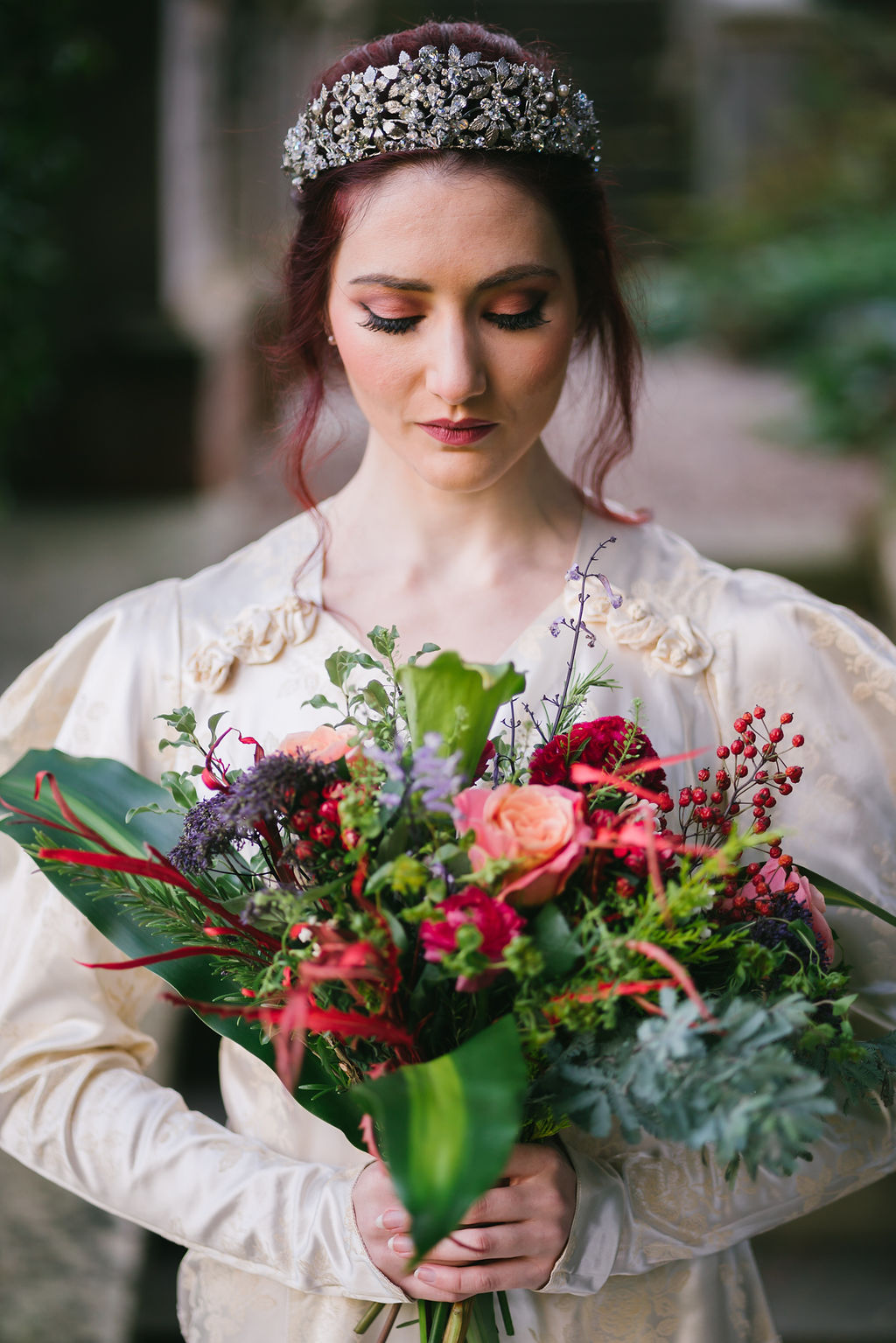 "The long sleeved dress is a stunning 1940s traditional wedding gown, made from liquid satin which helps it glide and move beautifully. The short-sleeved gold brocade is more structured and holds the bride's shape and stature well – it comes with detachable long sleeves too, should it be chilly – a lovely, functional 1950s touch. Don't be afraid of vintage – it's affordable and eco-friendly and as for GOLD, it's a fantastic alternative to traditional tones but still subtle and classic."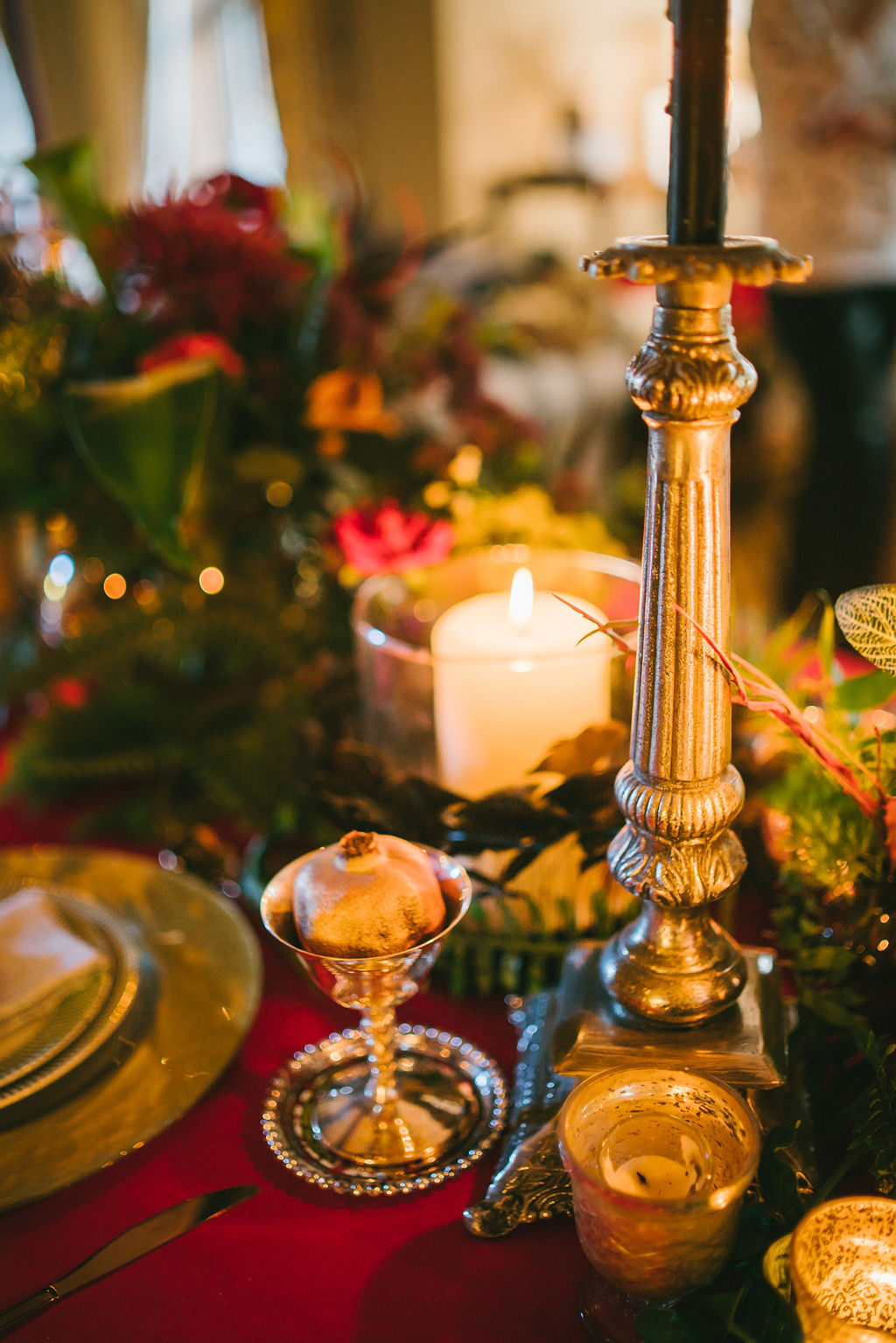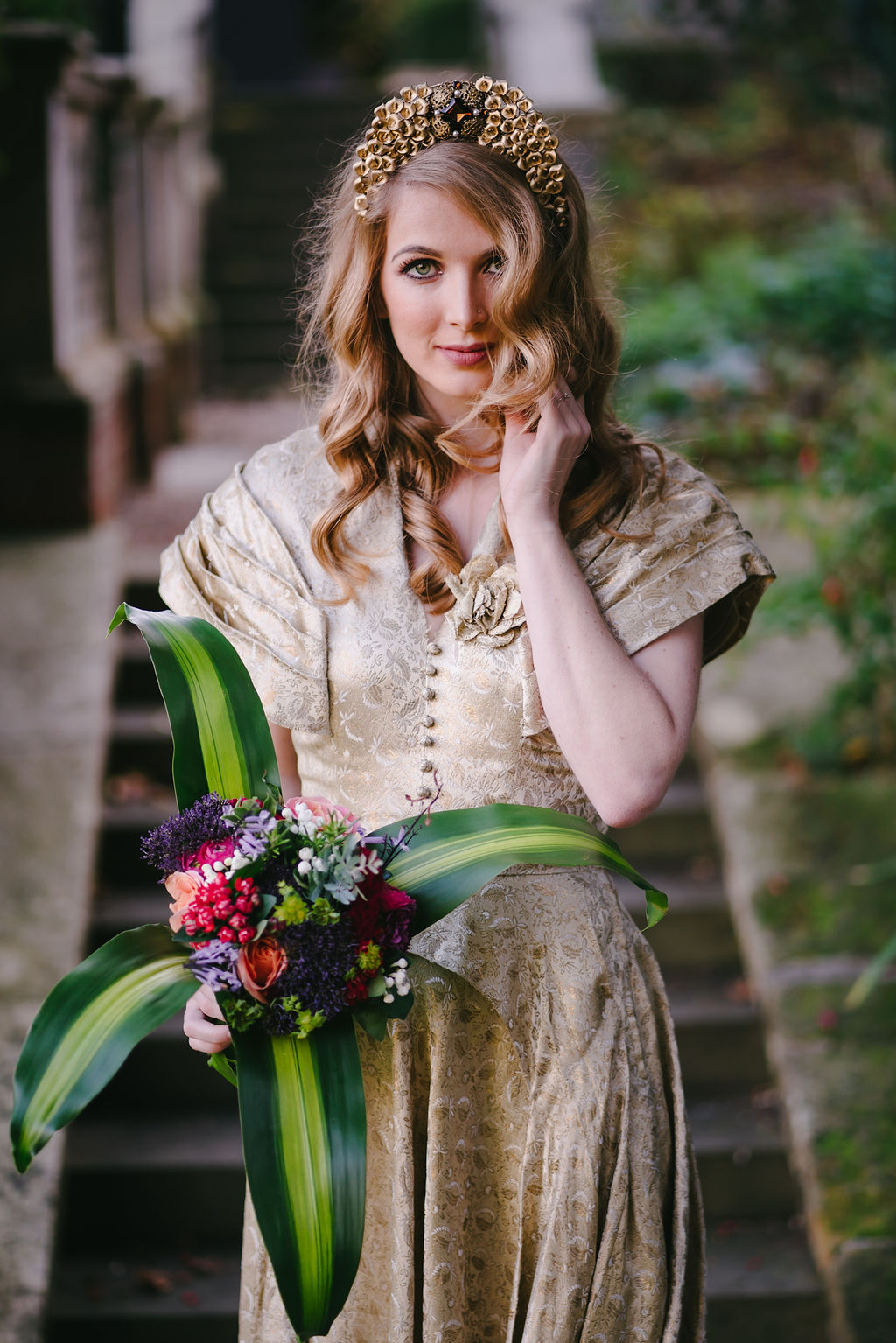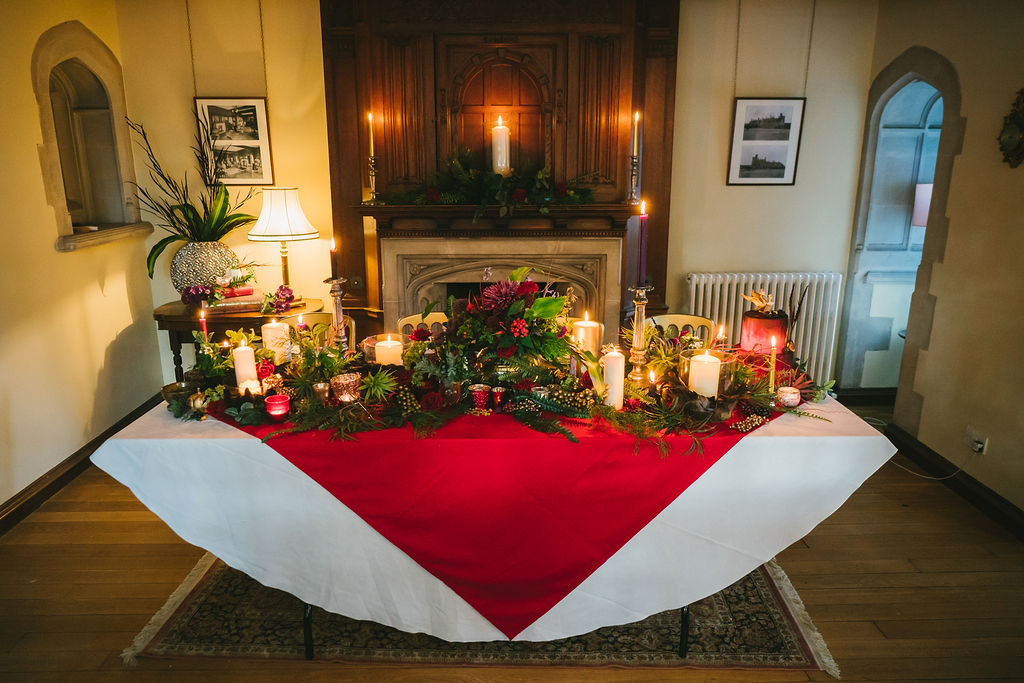 "The shorter dresses are both variants of gold brocade and really fun; offering a bride that classic silhouette from the 1950s – it just depends on how much petticoat you are prepared to wear! The dresses work well as winter wedding gowns with a range of faux fur cover-ups and because of their length, they also make fabulous, cooler summer wedding gowns."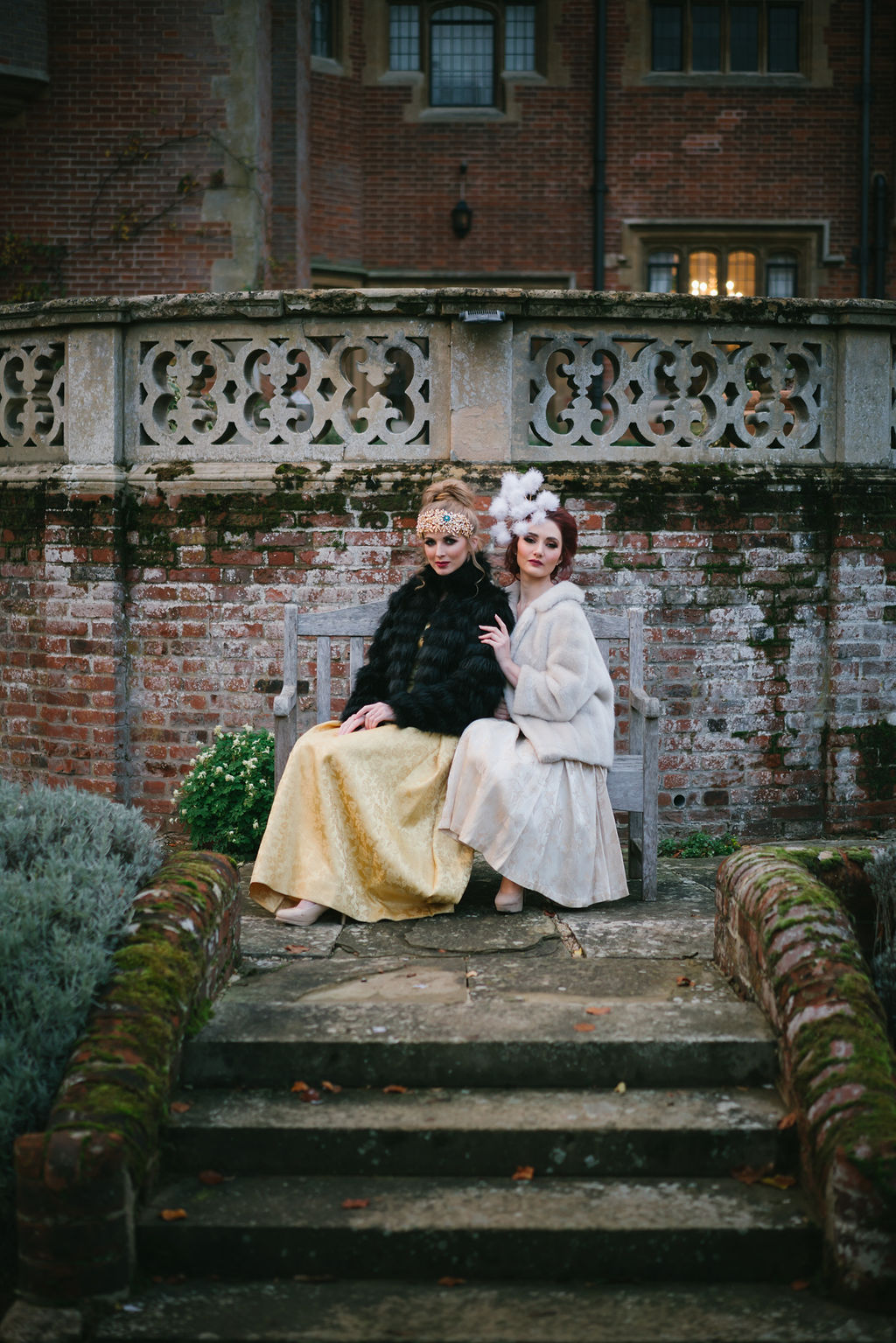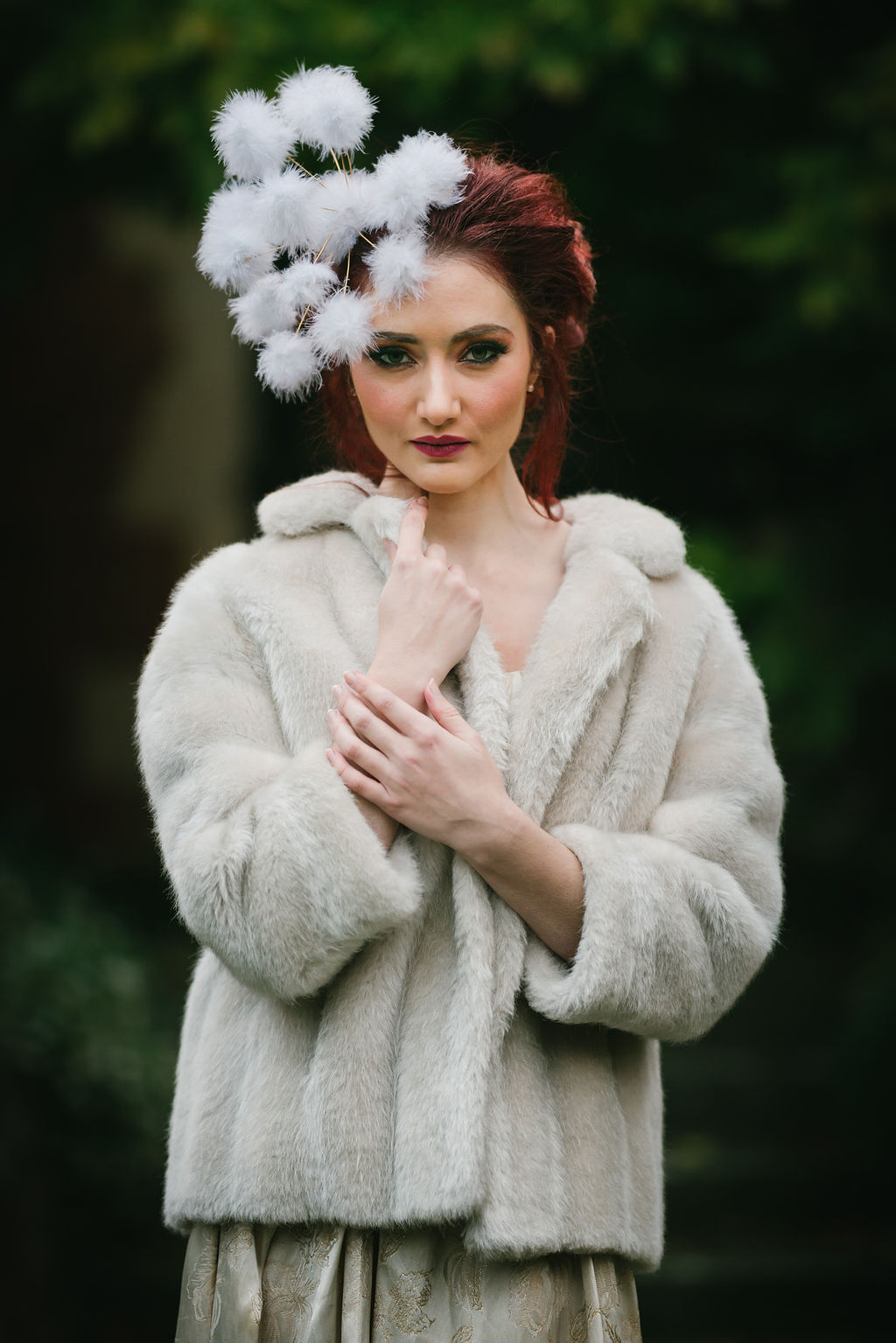 "Don't be afraid of thinking about a shorter dress – especially if you are having an outdoorsy element to your big day and thinking that you'll probably end up as a bride in boots!
Likewise, if you are planning on sourcing an amazing pair of formal shoes – a shorter dress will show them off much better!"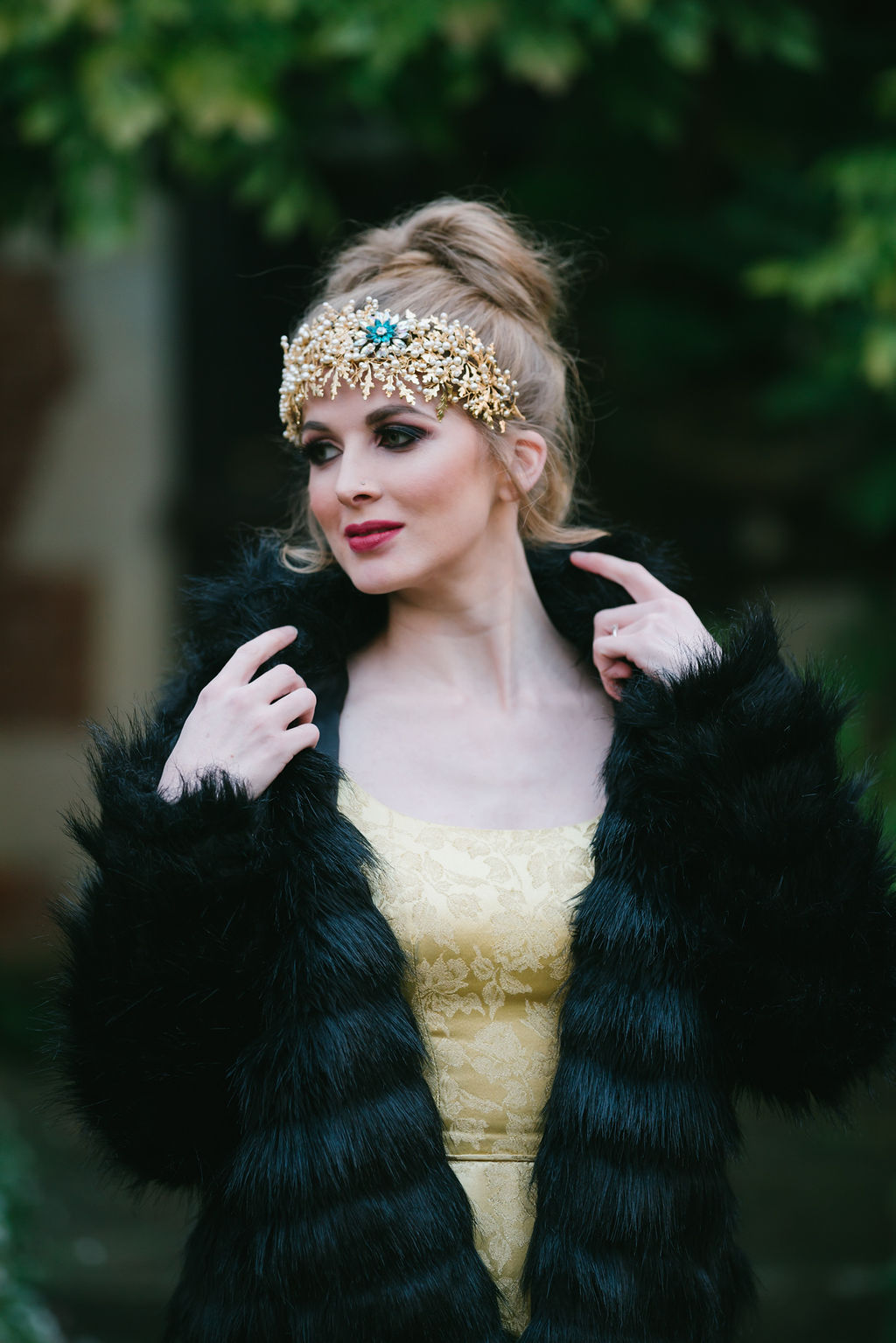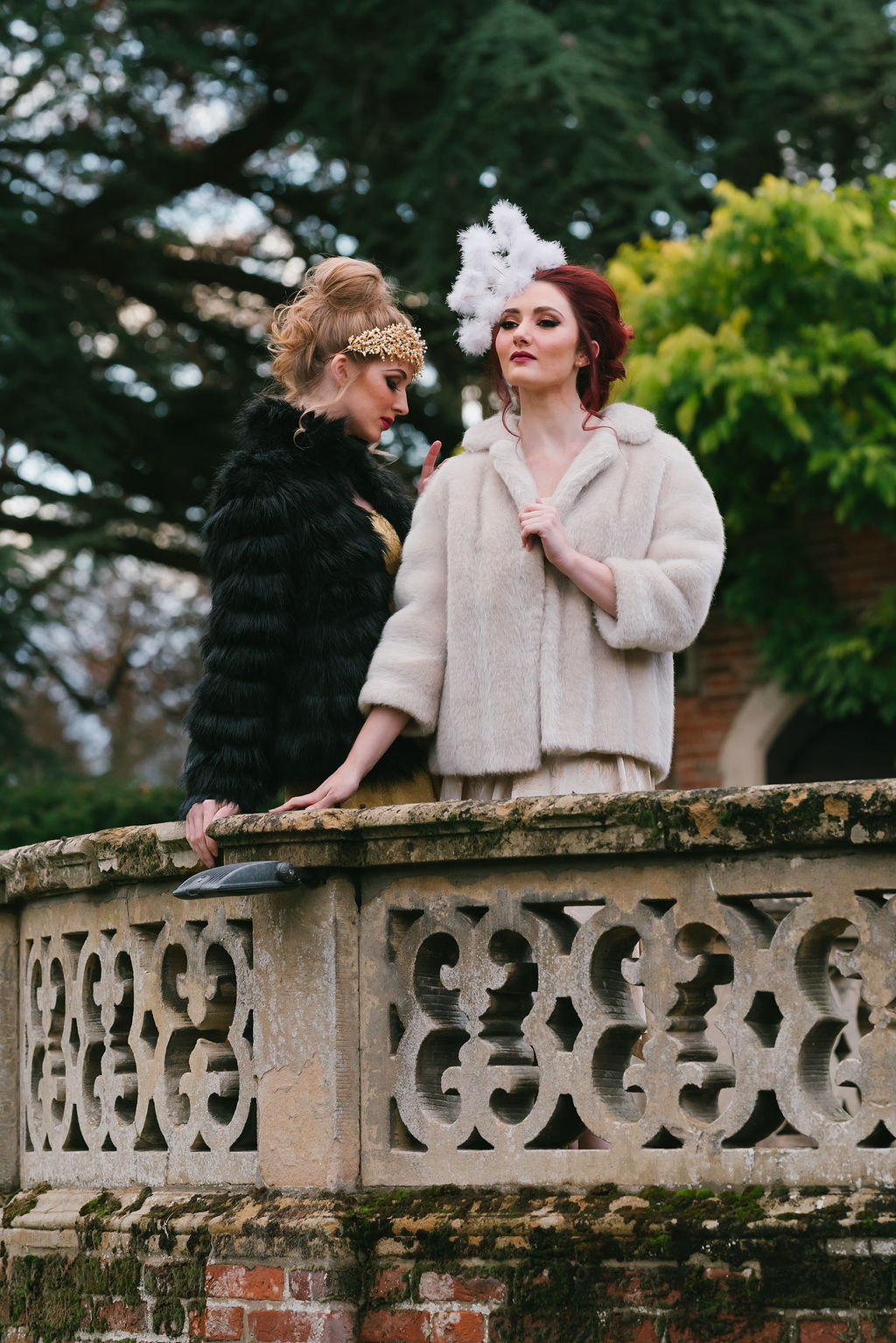 "Having a gold dress is definitely a style statement and gives you a fantastic starting point to plan your theme and colours for the big day."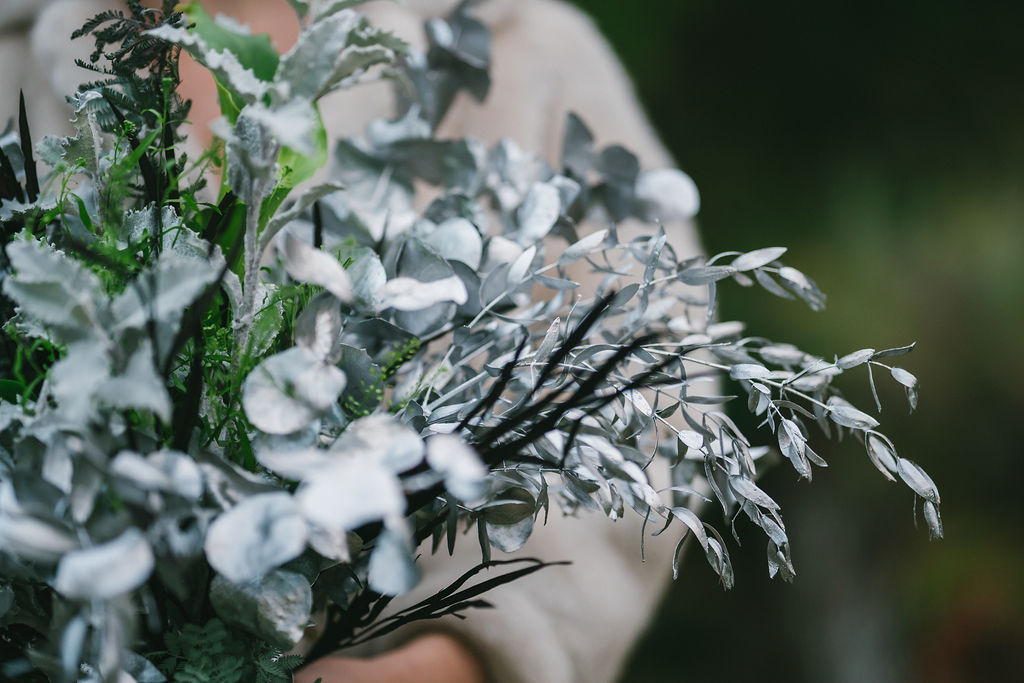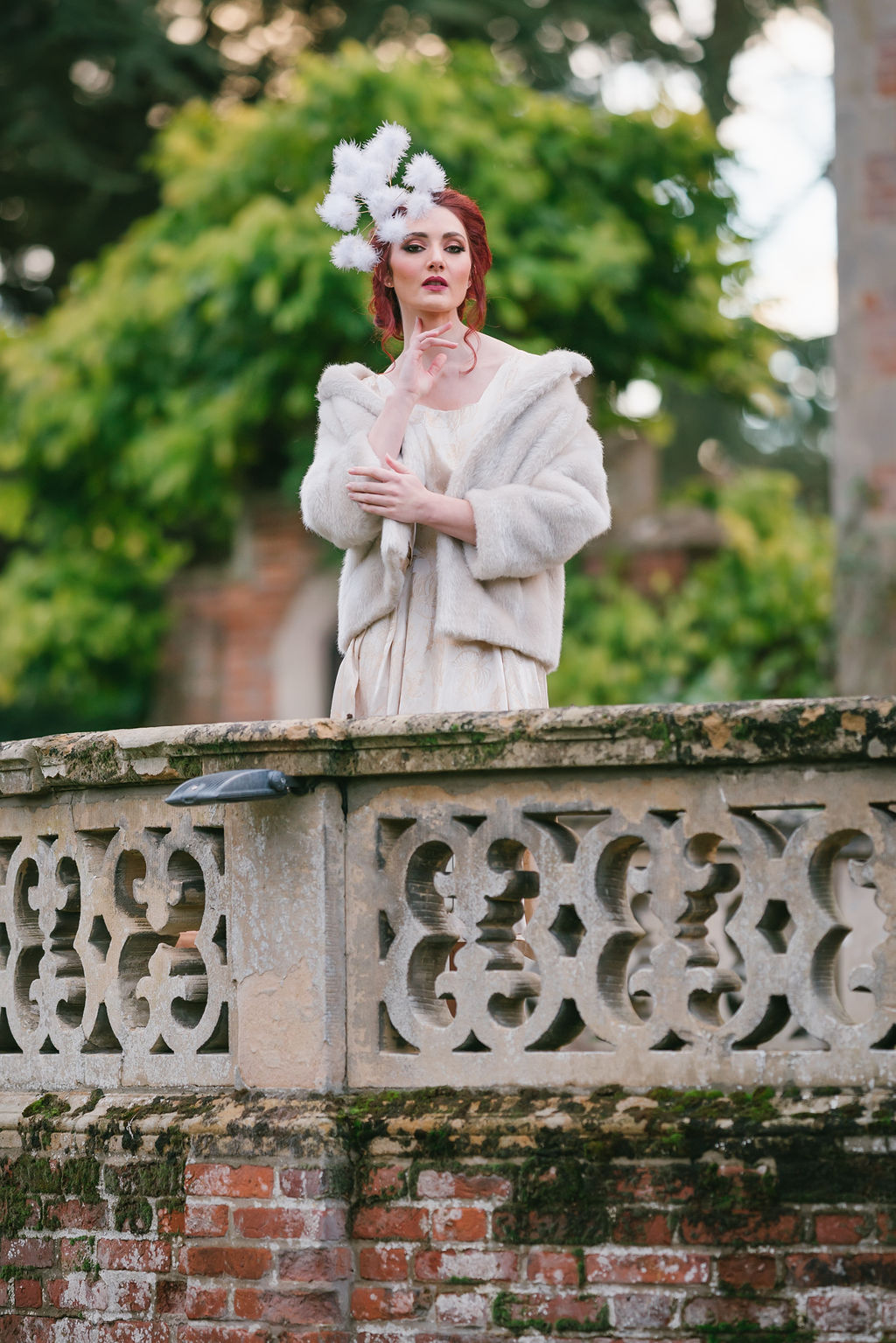 Tiaras and Headdresses – Samantha Walden
"Bernadette wore the Miss Havisham tiara, a silver handmade piece made using antique jewels and crystals, which shimmered in the candlelight. She later wore the elegant Dandelion headdress, which with its pure white feathers suited the Christmas theme perfectly, but also had a playful edge that fitted in with the beautiful short 1950s dress."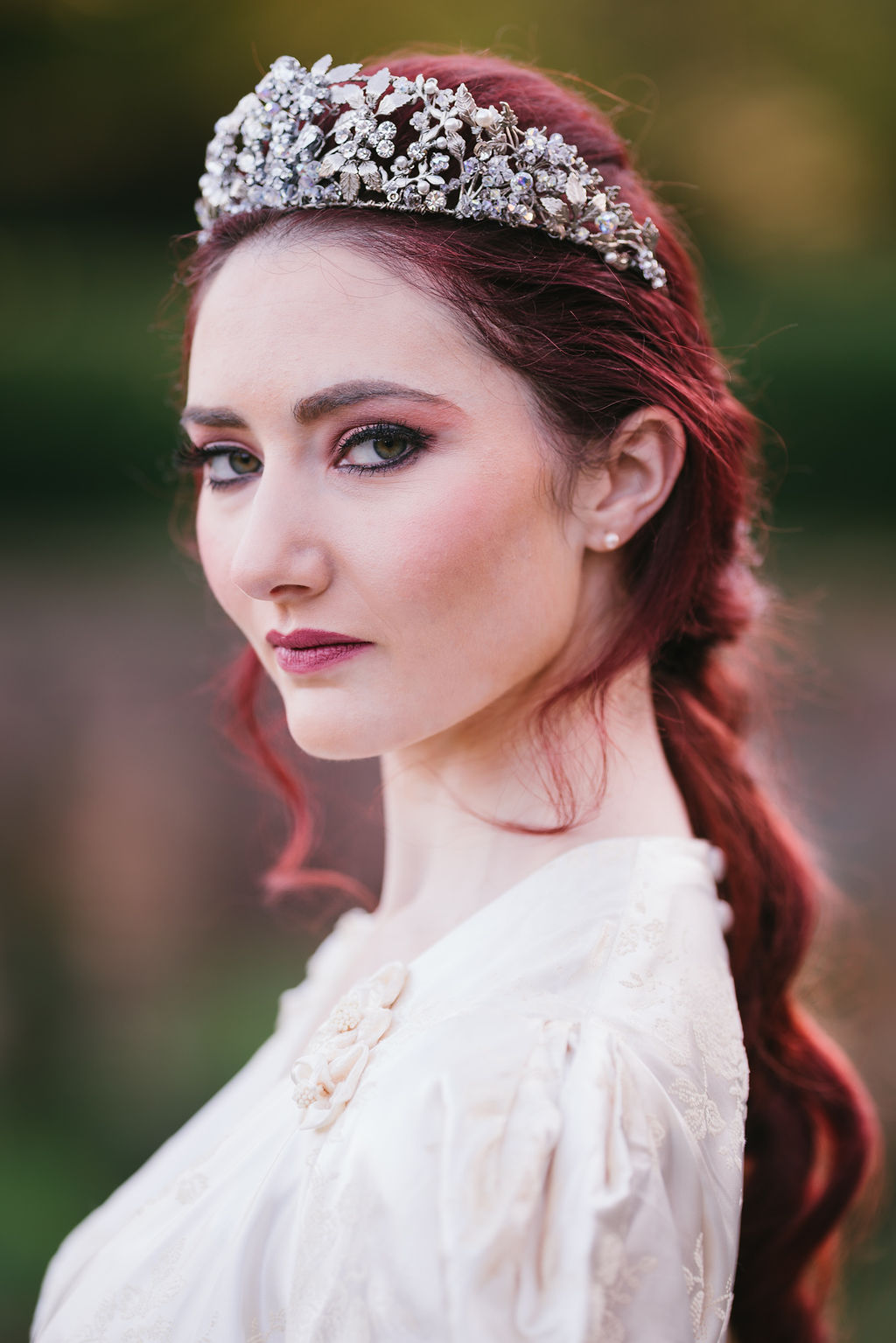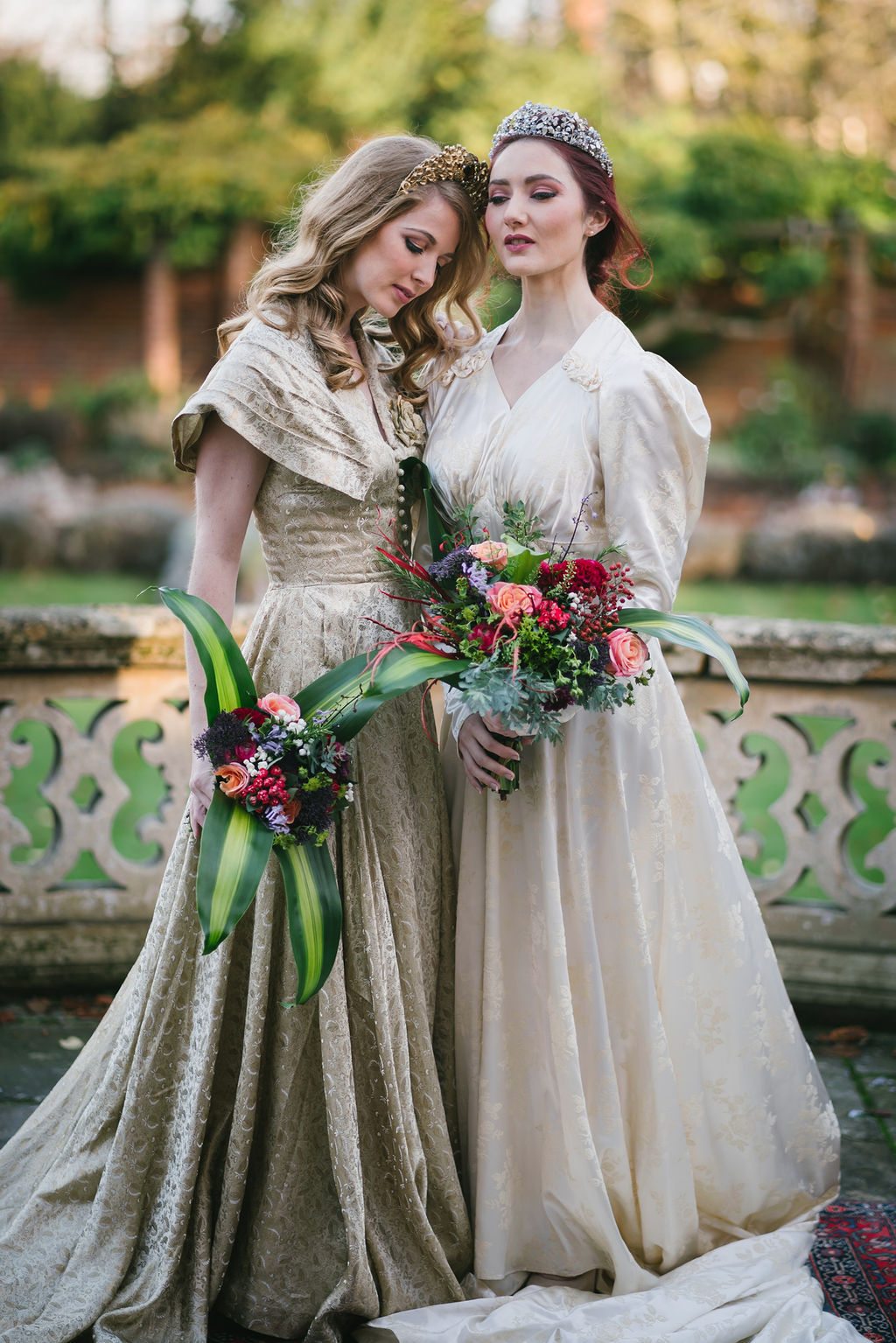 "The gold bridal gown worn by Cathy was breath-taking, so I picked out my striking gold Roman headdress, with an eye-catching amber jewel at the centre, to accentuate the golden tones of the gown. Cathy later wore the elaborate gold Bernadette tiara, which perfectly suited the simple outline of the fifties dress."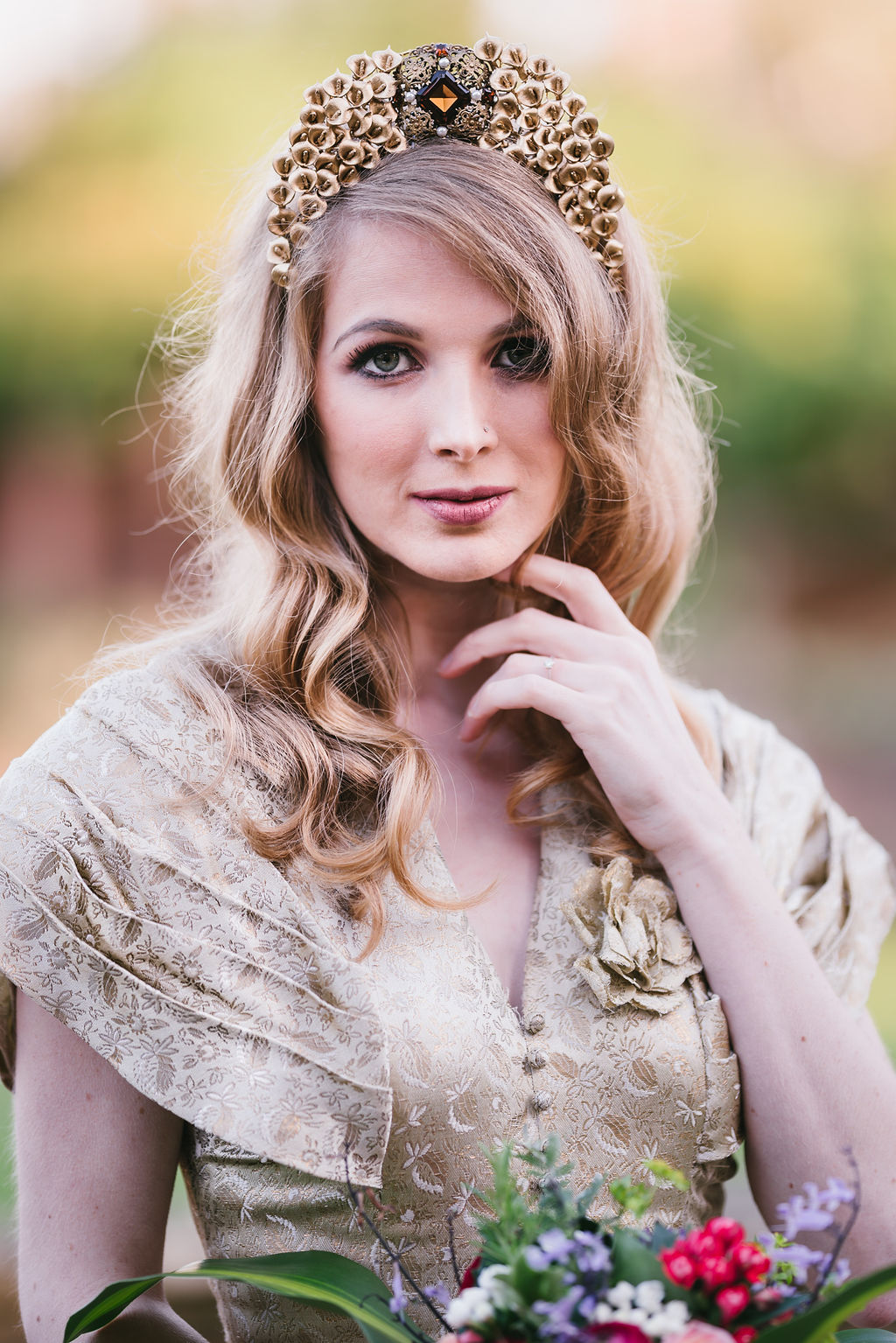 Cake – Two Little Cats Bakery
" We went for a deep jewel colour scheme which was hand painted on to the cake before adding gold leaf and metallic foliage for that opulent touch. To stop the look being too heavy, we added some dried orange slices – perfect for adding a natural pop of colour (and giving off an incredible scent too!)"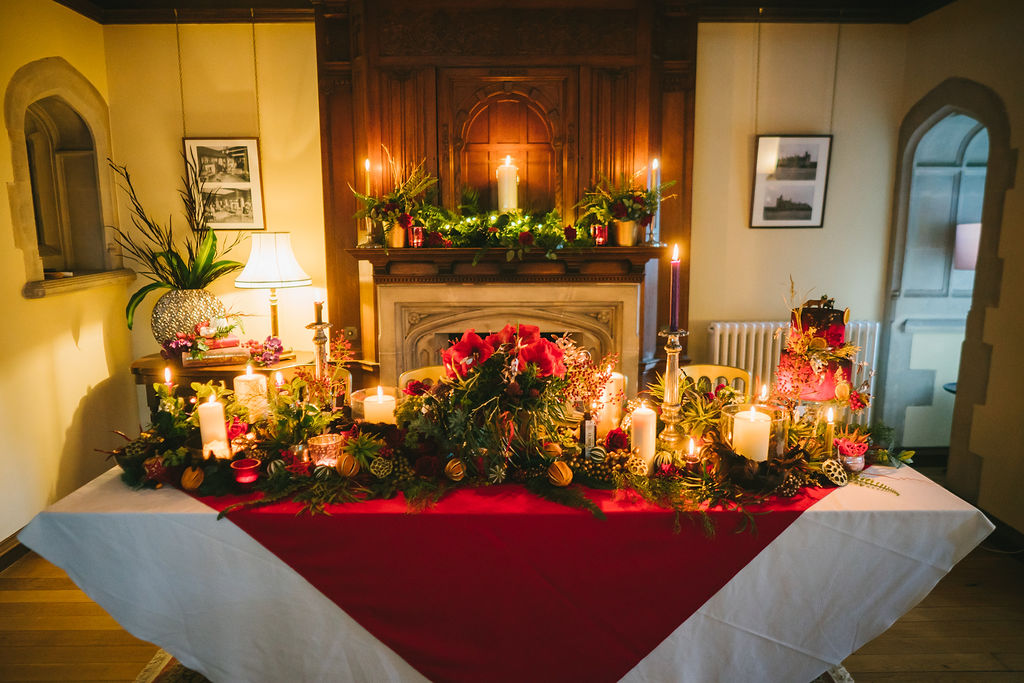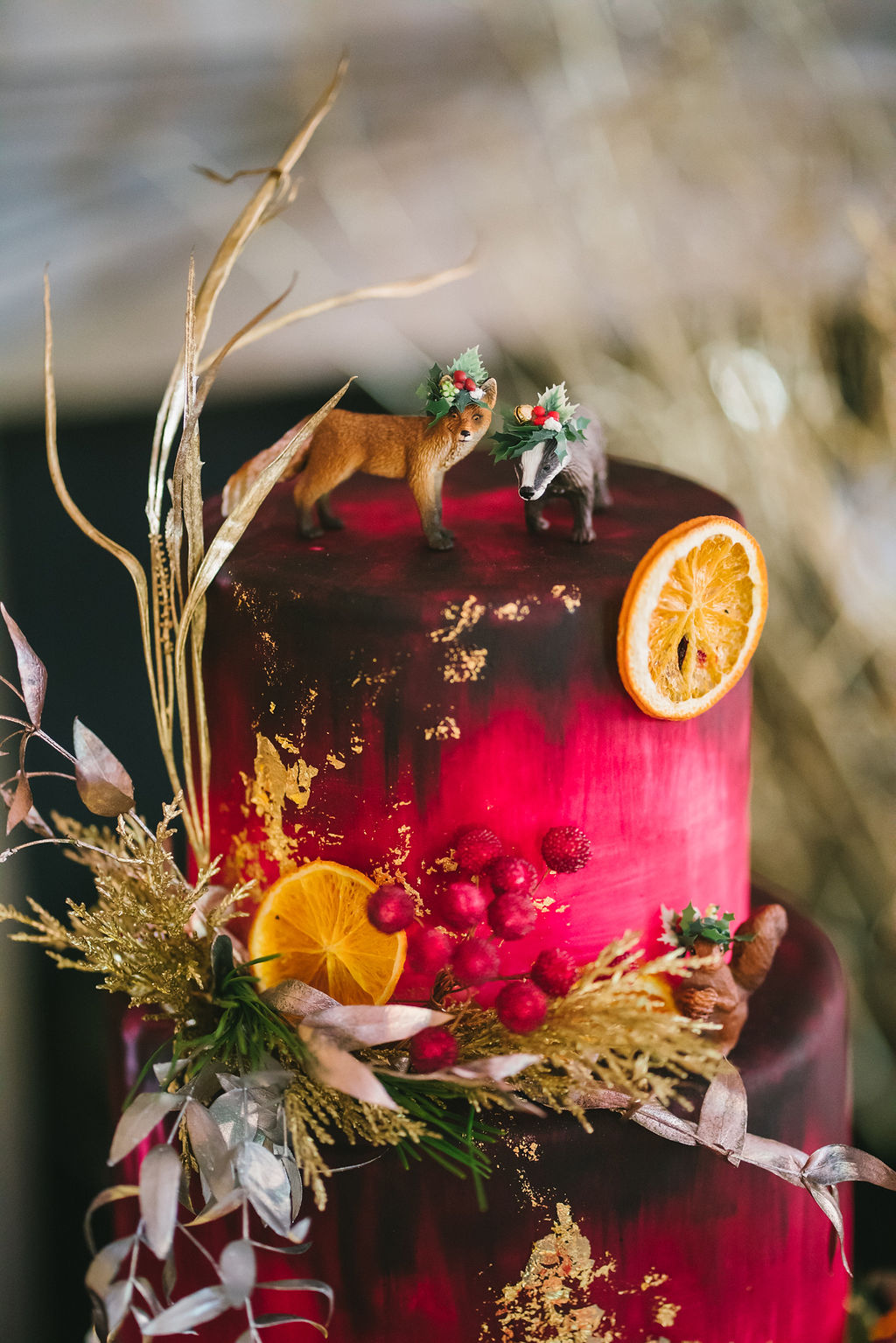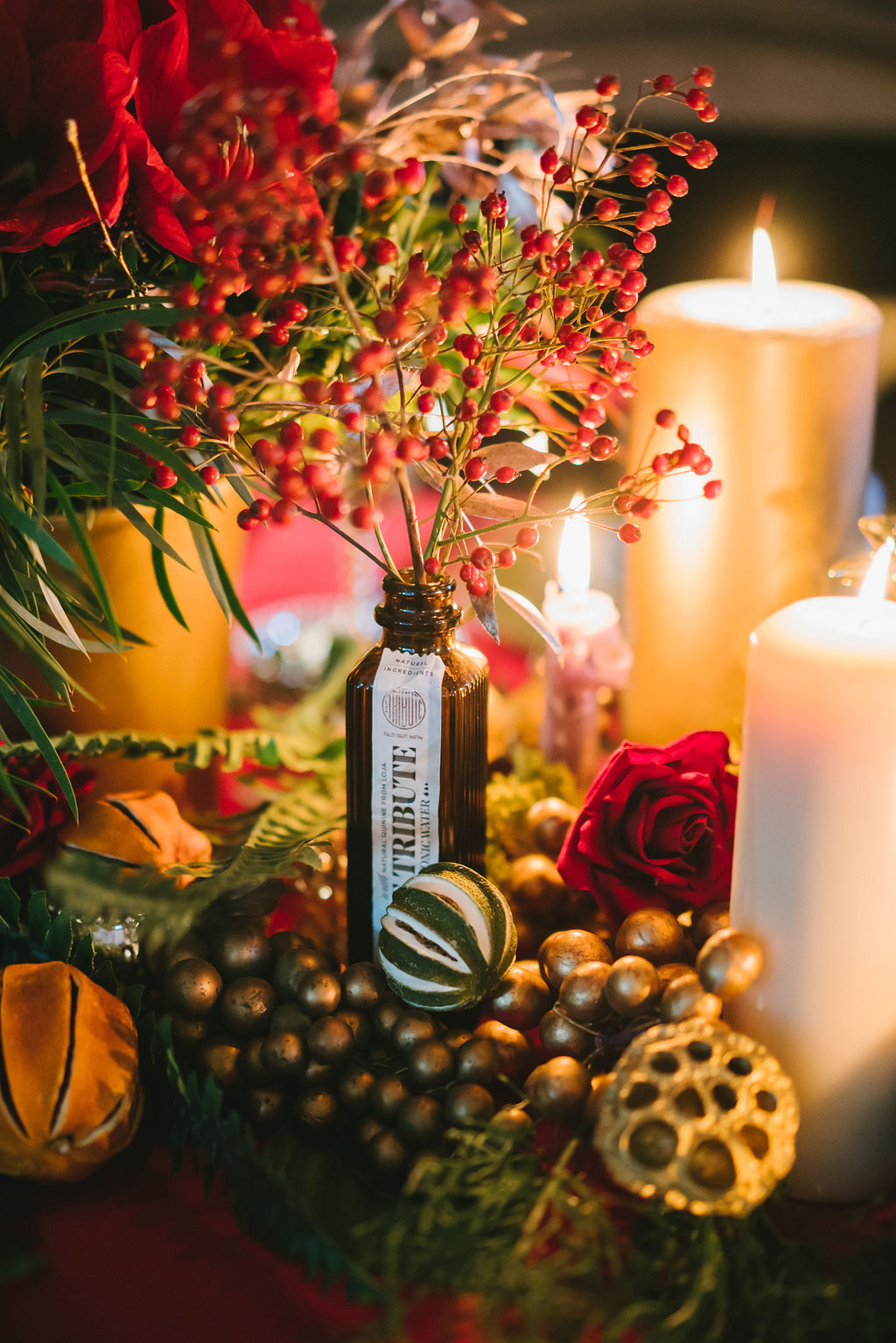 "The design was finished off with adorable cake toppers from Cake Topper Animals which added just the right amount of Christmas nostalgia (who remembers the plastic animals that always decorated Christmas cakes?!) as well as being bang on trend for 2019 cakes. Designing an opulent wedding cake is all about carefully layering up textures and colours to create depth. Don't feel like you need to go for a massive cake – this two tier cake shows you can create drama on an intimate scale too!"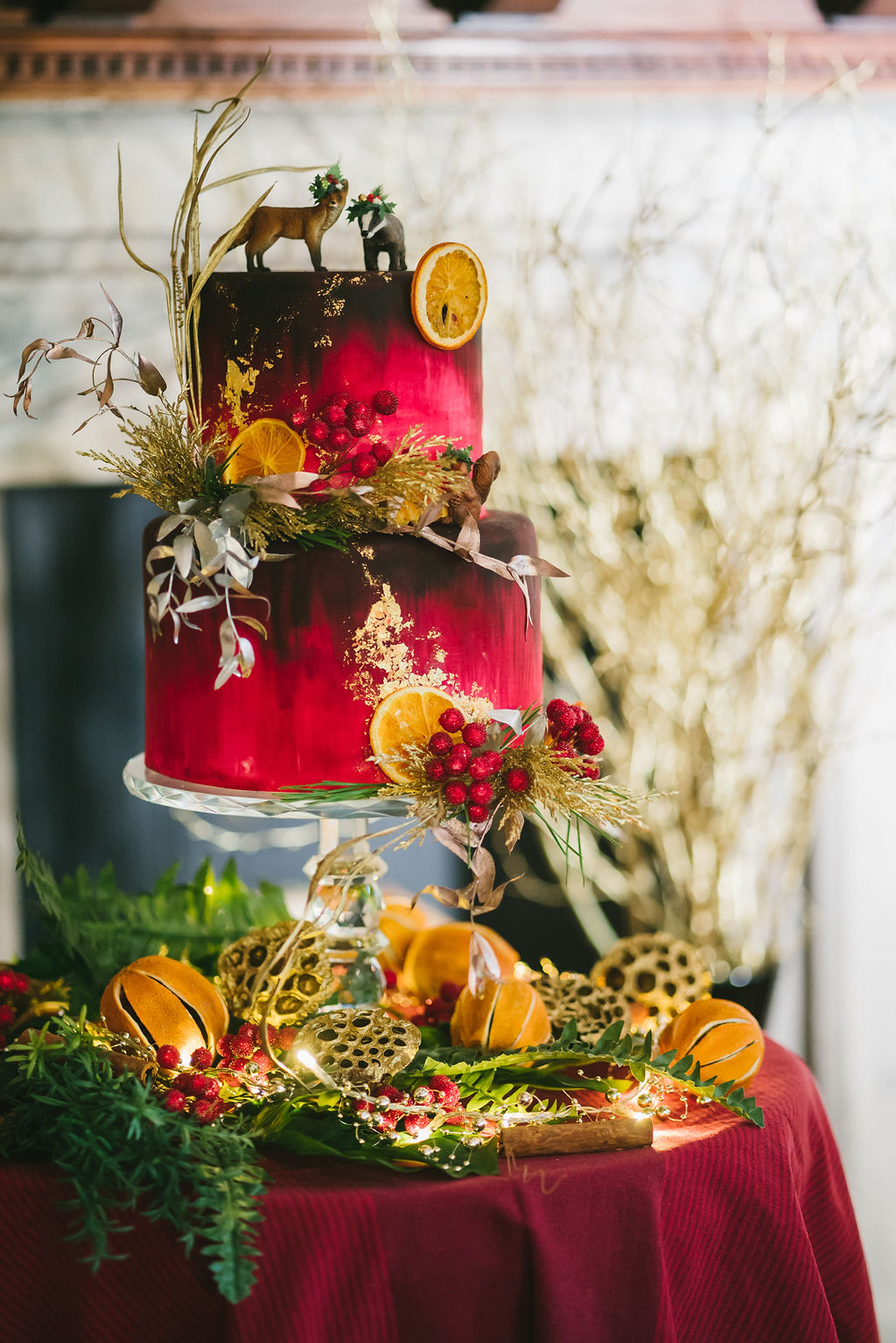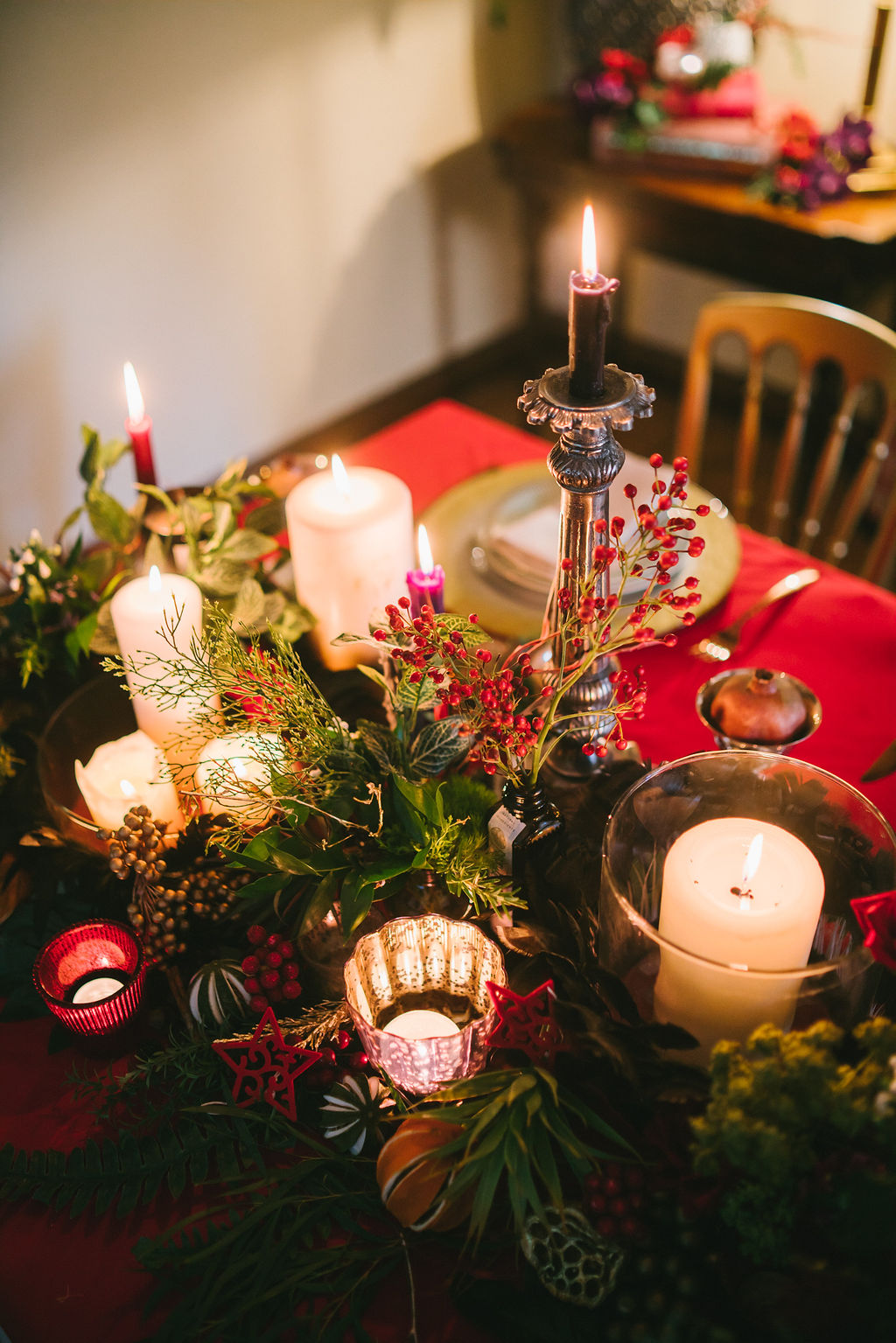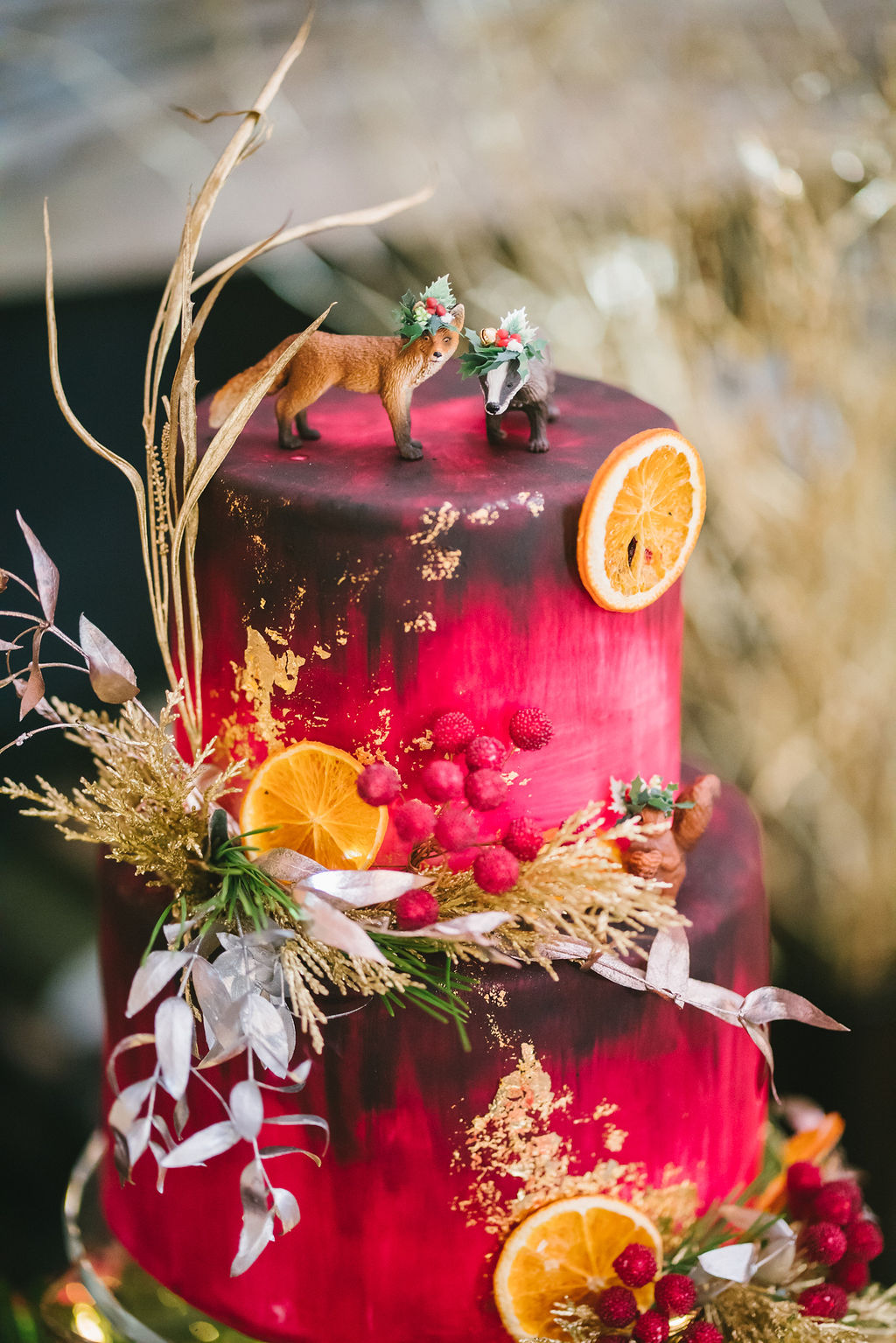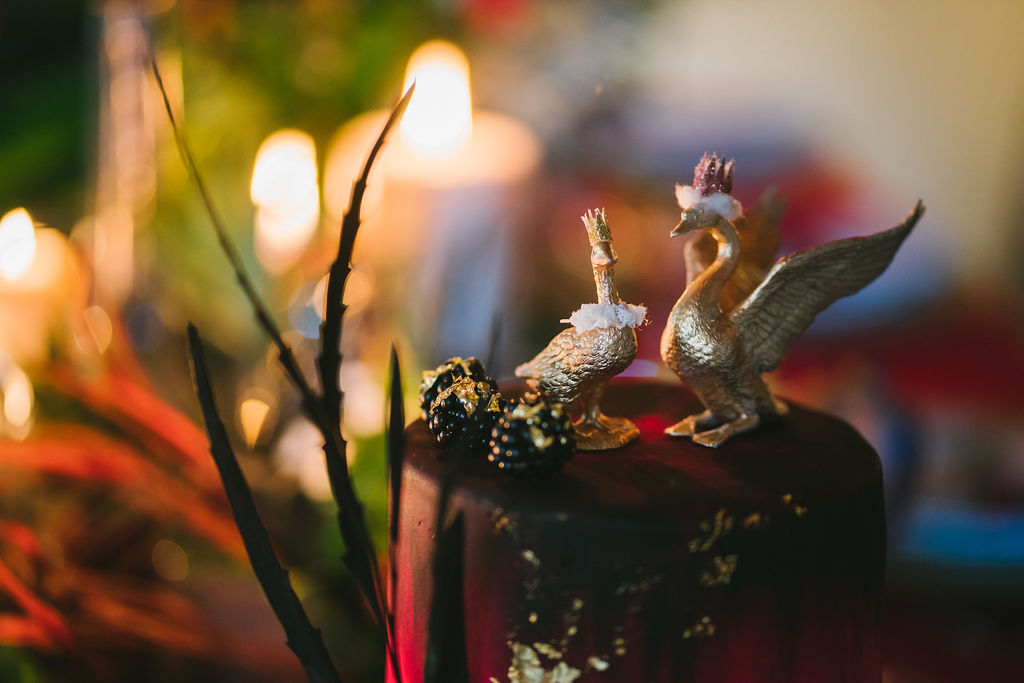 Cake Toppers – Cake Topper Animals
"My cake toppers were inspired by the Victorians, the little ruff around the goose's neck to the rich colour and furry trim of the swan's crown all how I imagined a rich and opulent Victorian's dinner party would have looked! For the Christmas shoot I tried to capture the quintessential essence of a traditional Christmas with golden bells, rich red flowers and sweet little holly leaves all adorning the woodland animals wreath flower crowns."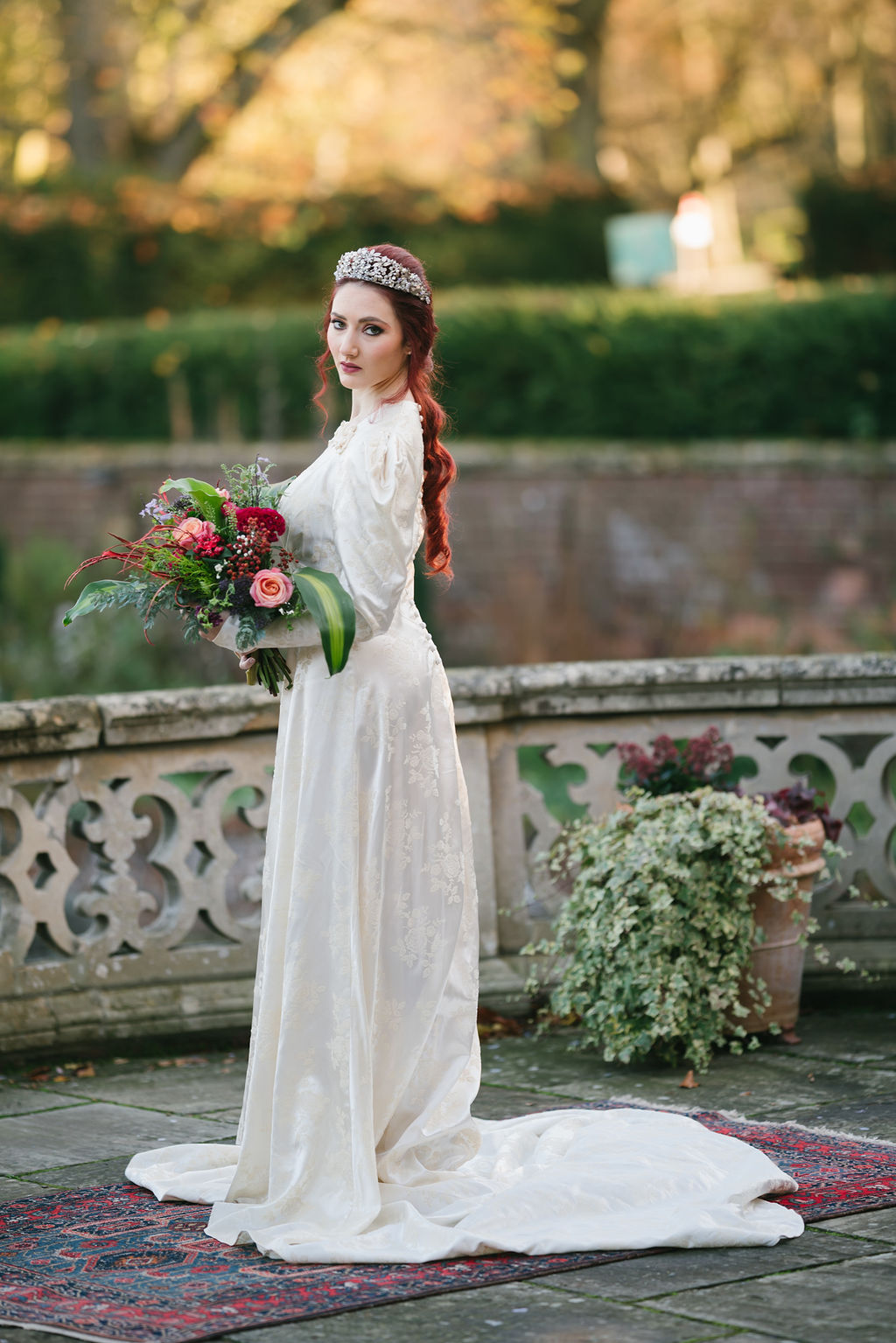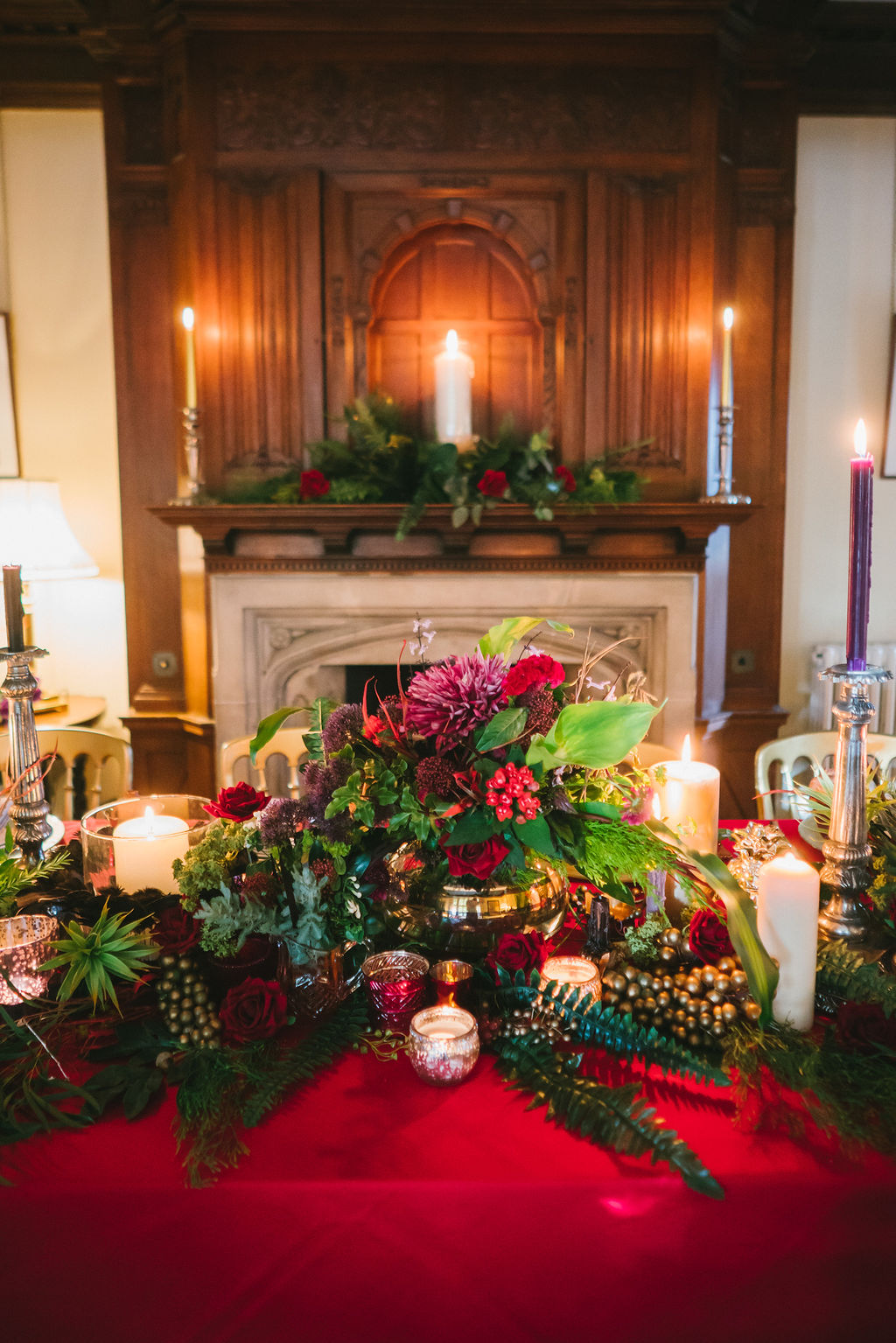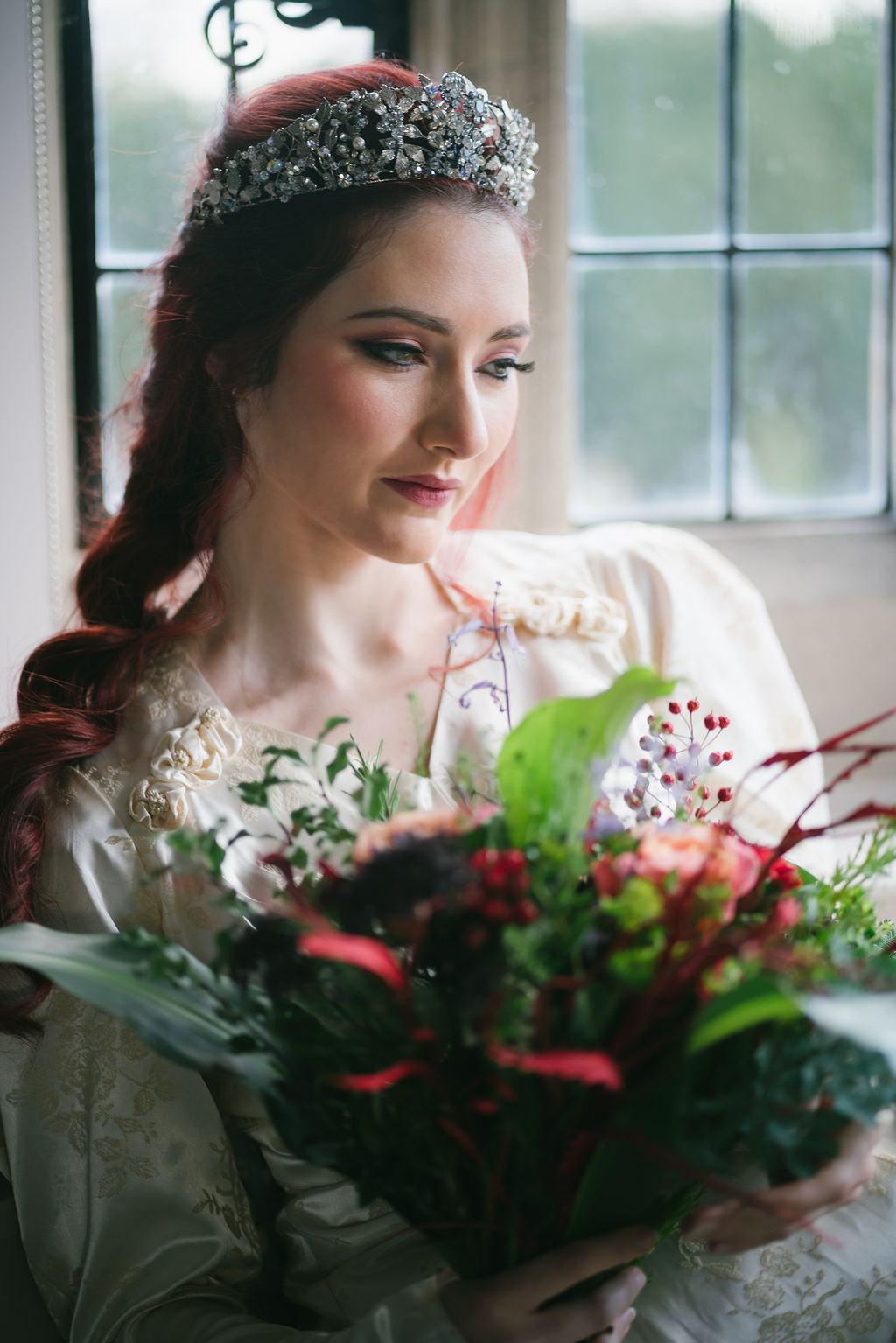 Hair – Cara Hubbard
"I really wanted to have an opportunity to show some alternative, vintage hairstyles on this shoot and used four different looks. I used Bernadette's hair length to show a classic ponytail with an elegant vintage twist, boasting less volume and a more sleek style to compliment the tiara. Then an alternative up do, to show that all hair lengths can be pinned up. I used volume on the side so that when the head piece was placed on it didn't make the hair flat.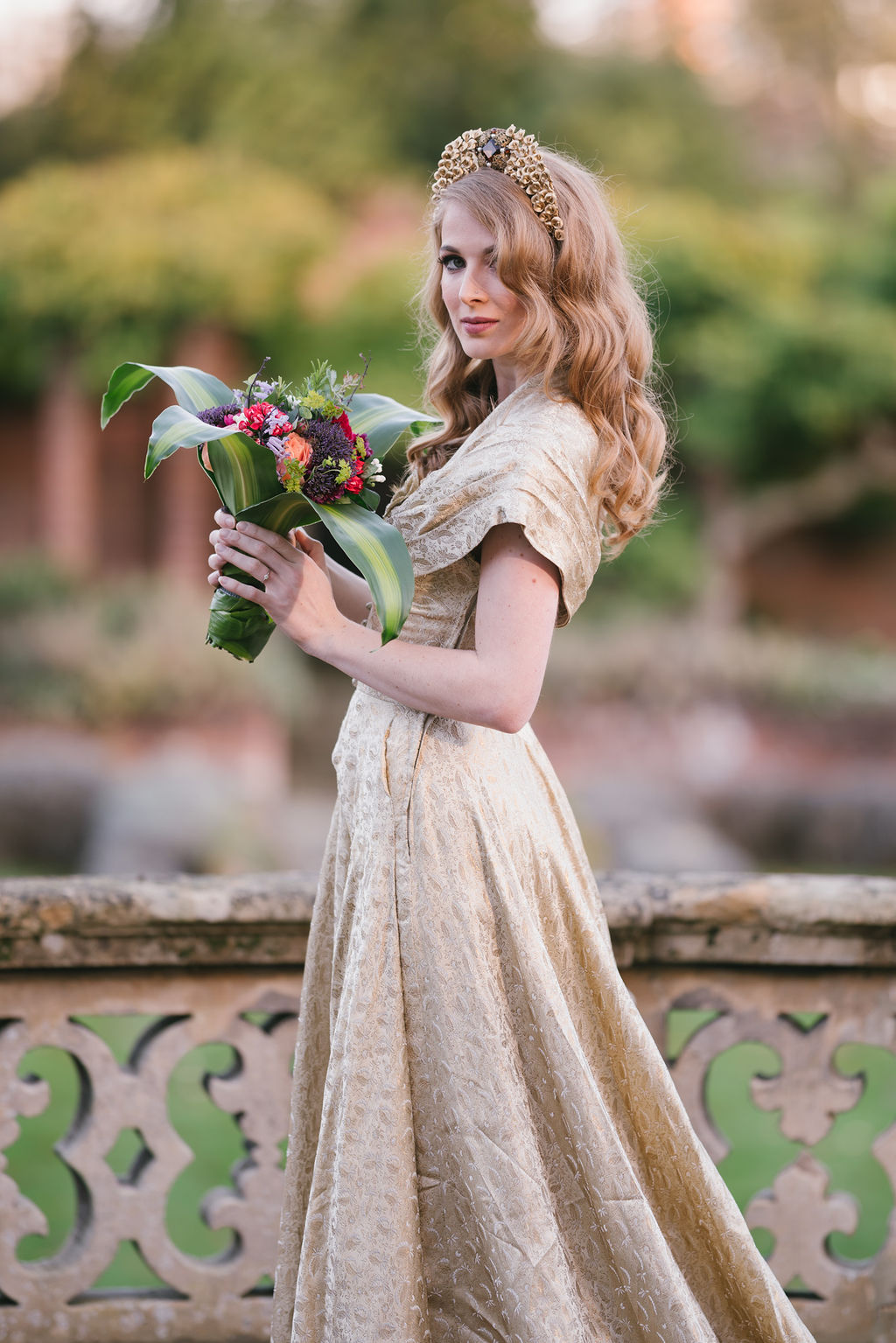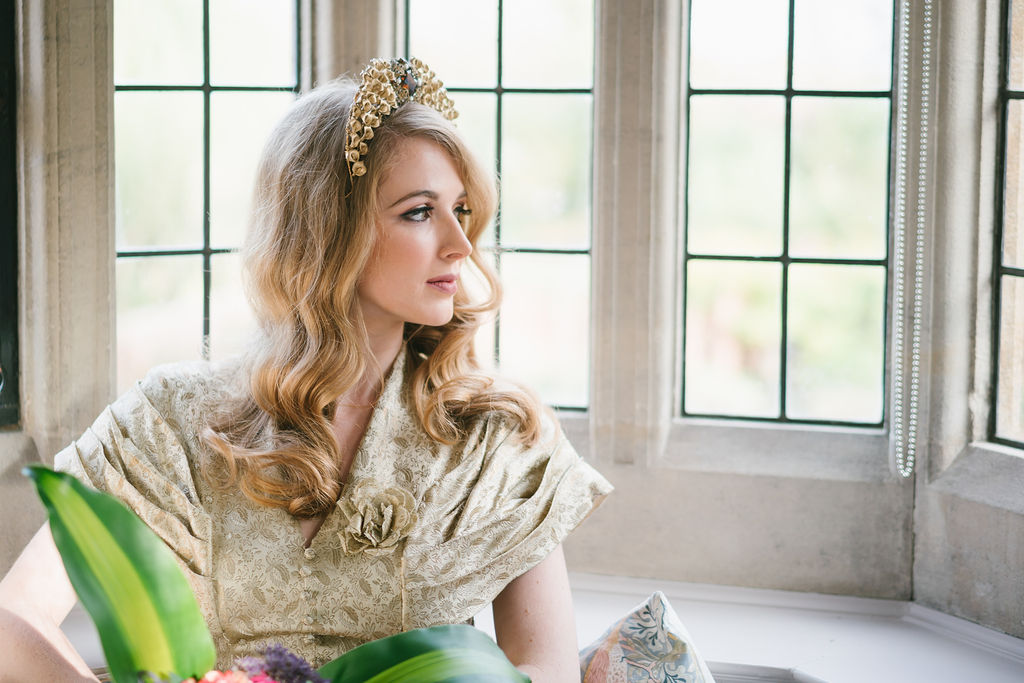 "With Cathy I decided to do classic Hollywood waves, this style is so adaptable for weddings, they have a vintage glamour feel and you can add or reduce volume to suit they style of wedding dress. For the second look we used a headpiece which stayed close to the head, so I wanted to add some height and kept it simple so the focus was on the headpiece."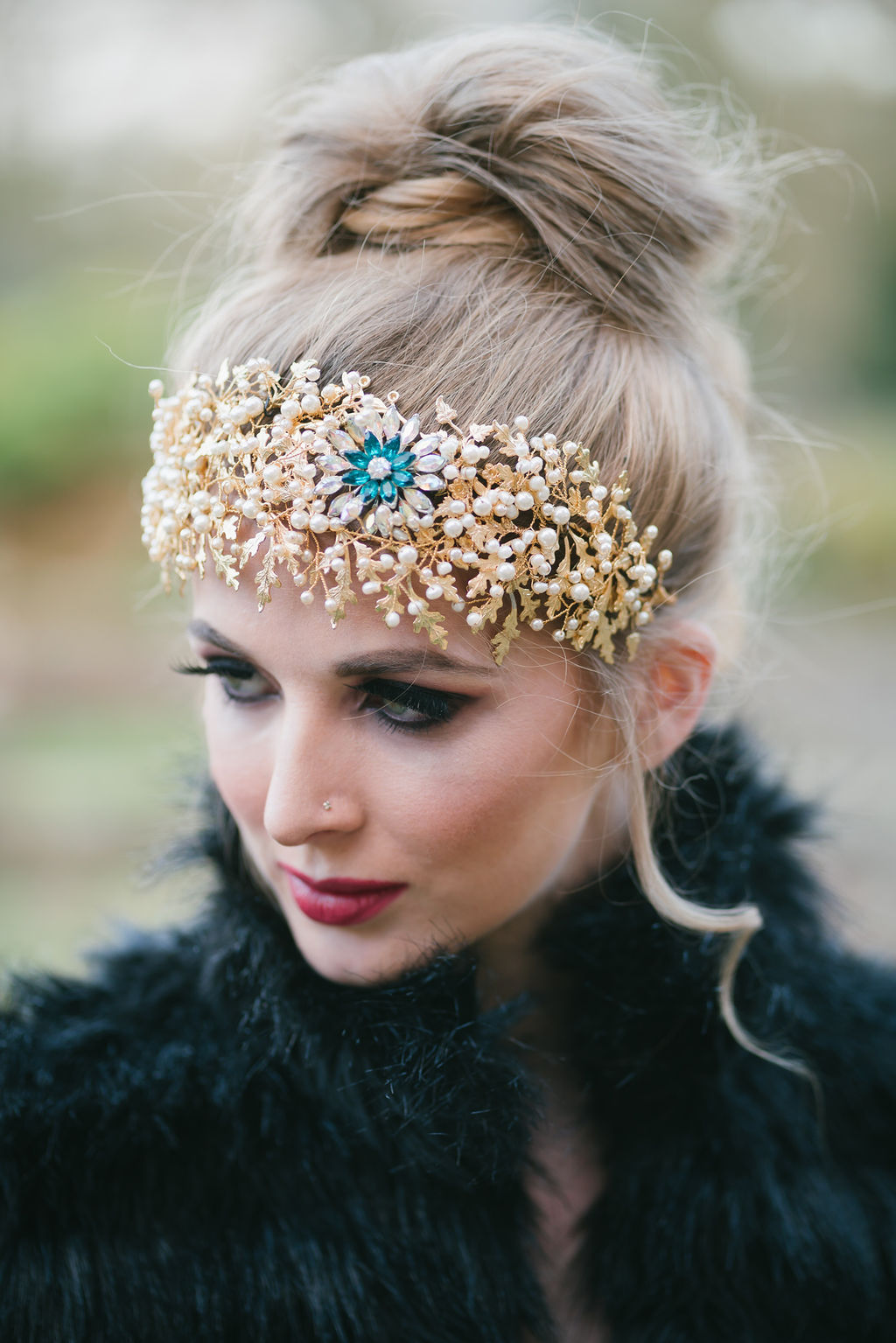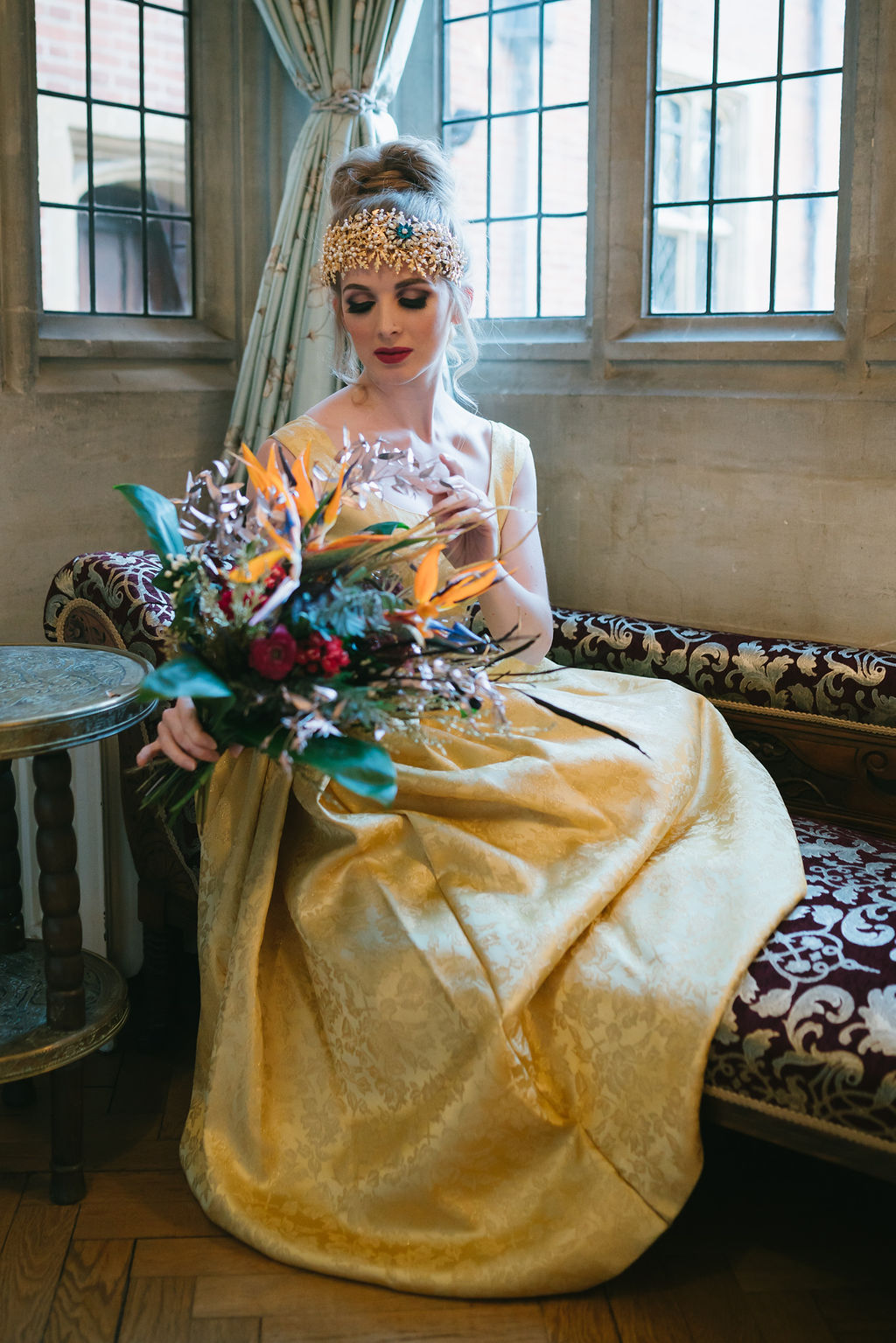 "When choosing your hairstyle and hair accessories for your wedding day it's important to think about limitations of your hair and themes. Trials are perfect so you and your hair artist can create the perfect hairstyle for you and try different hair accessories. I always help and advise brides where I can in how to look after your hair before your wedding day, this helps us create the flawless version of you."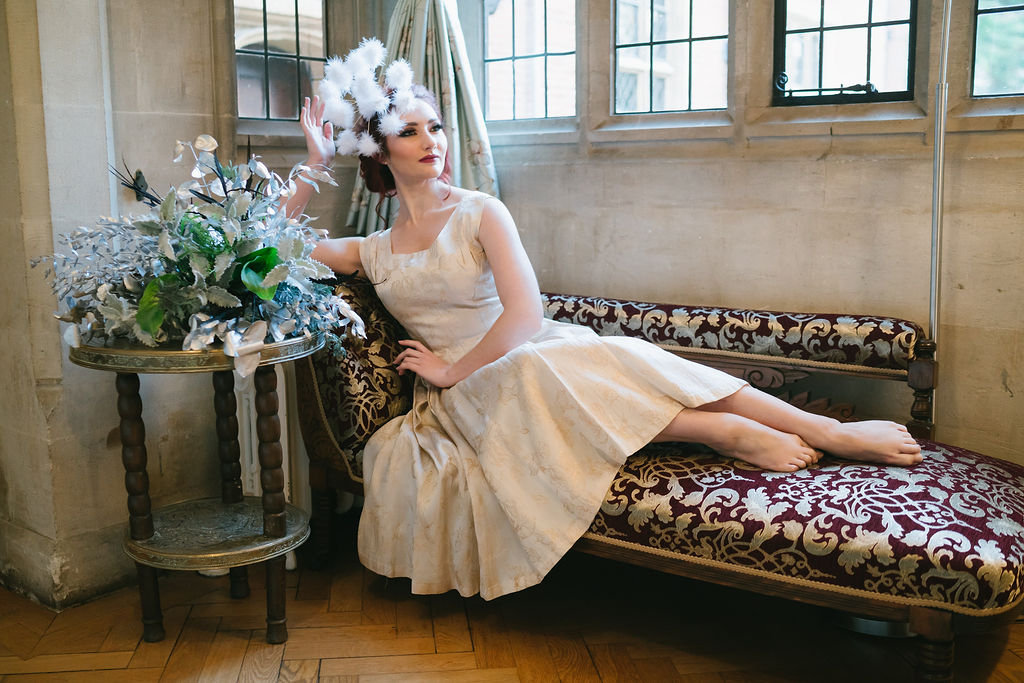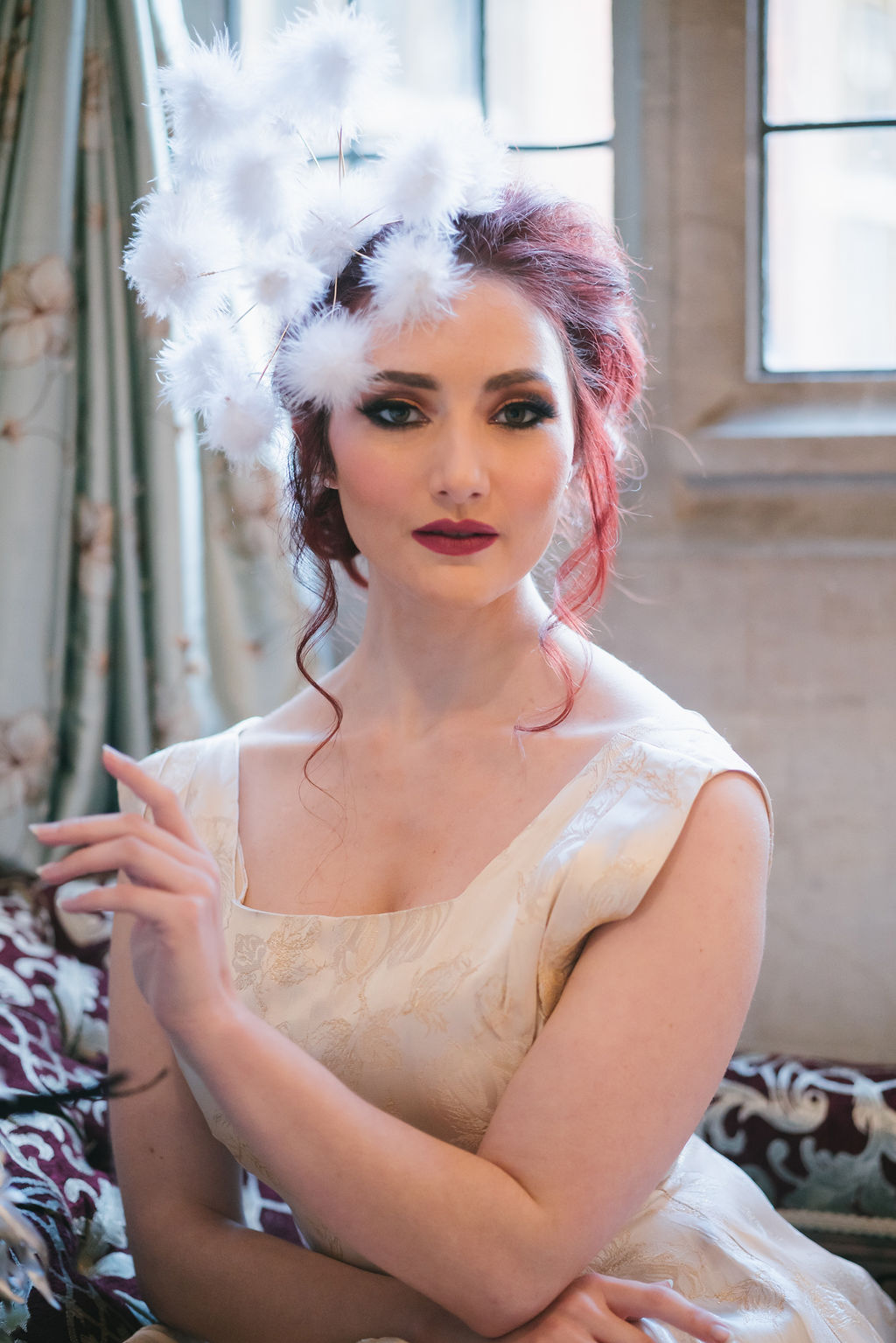 Make up – Elaine Marie Makeup Artist
"For the different looks I gradually enhanced and defined the features of each model, creating a stronger look with a 1940s feel to the makeup. Lip shades of berry and burgundy added more definition to the looks. Eyeliner was elongated to enhance shapes of the eye depending on the different angles the models were looking to capture the true Essence of this styled shoot."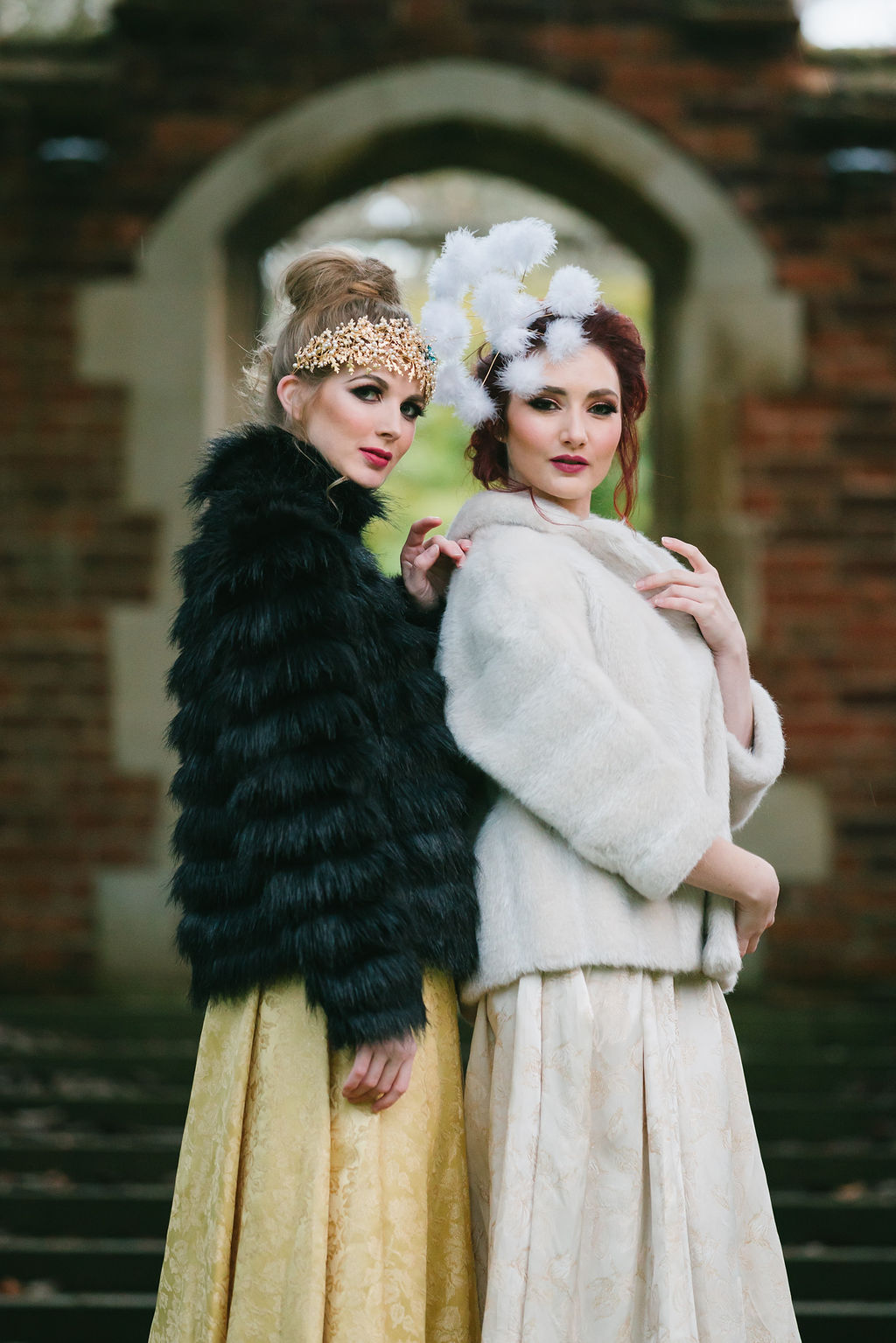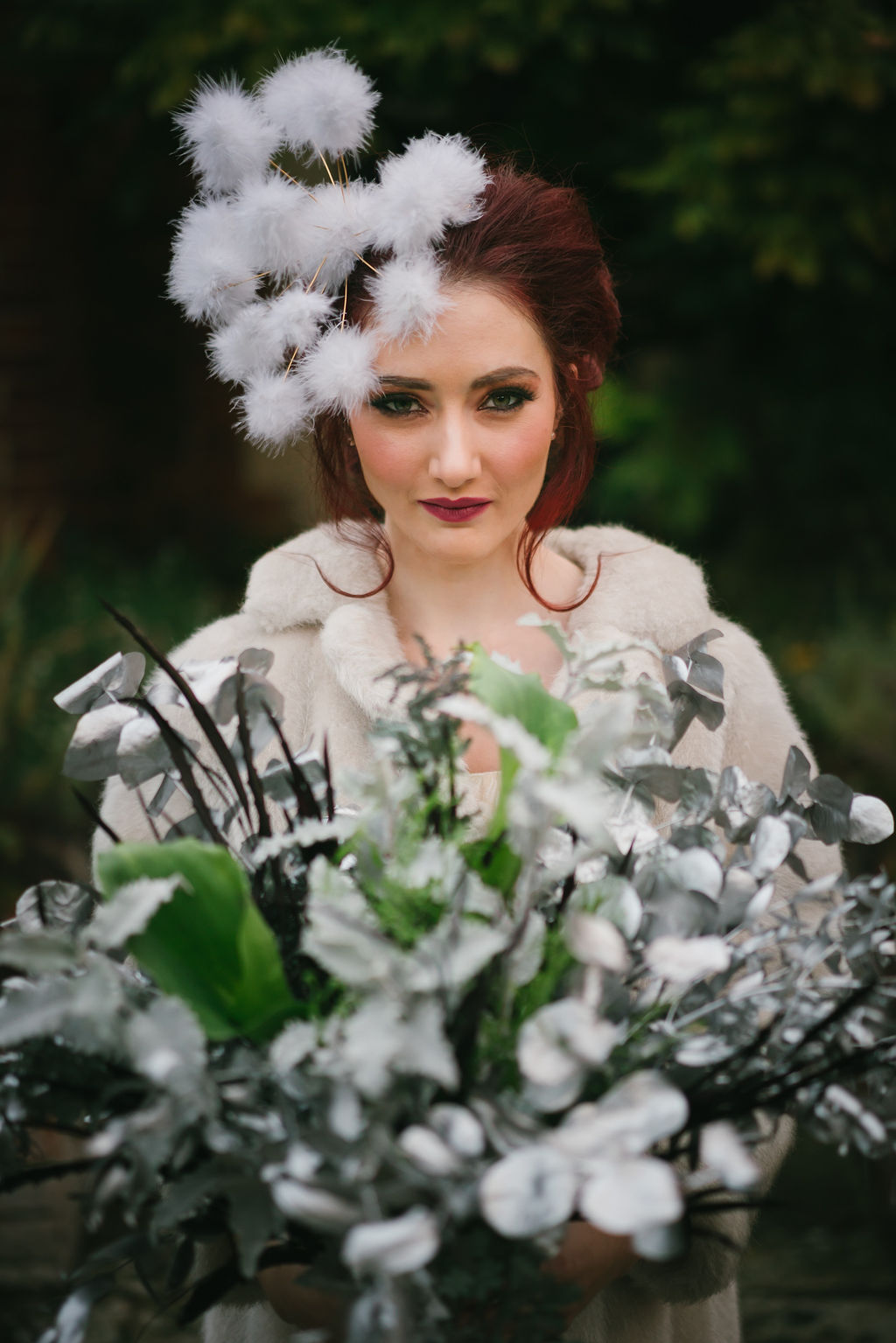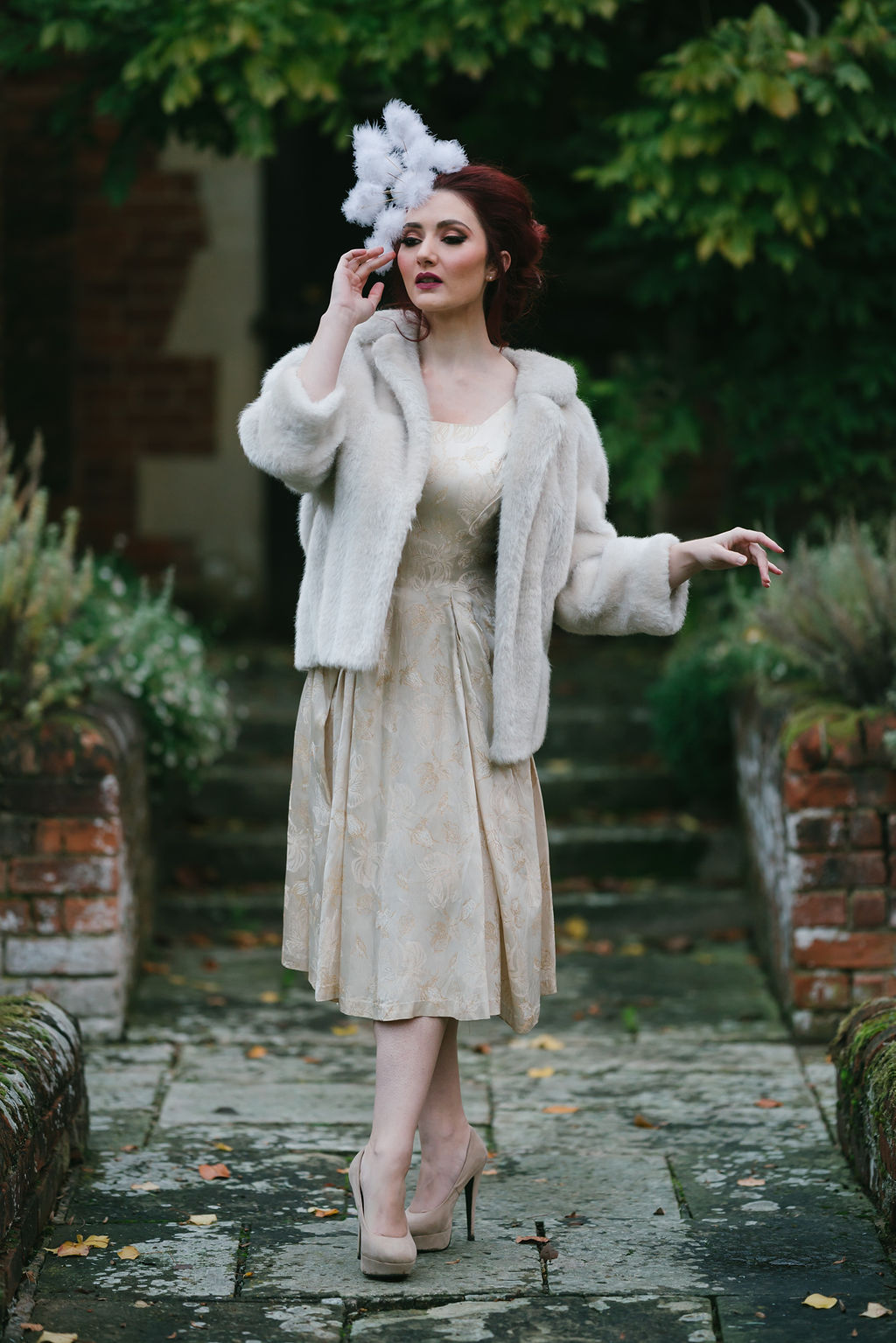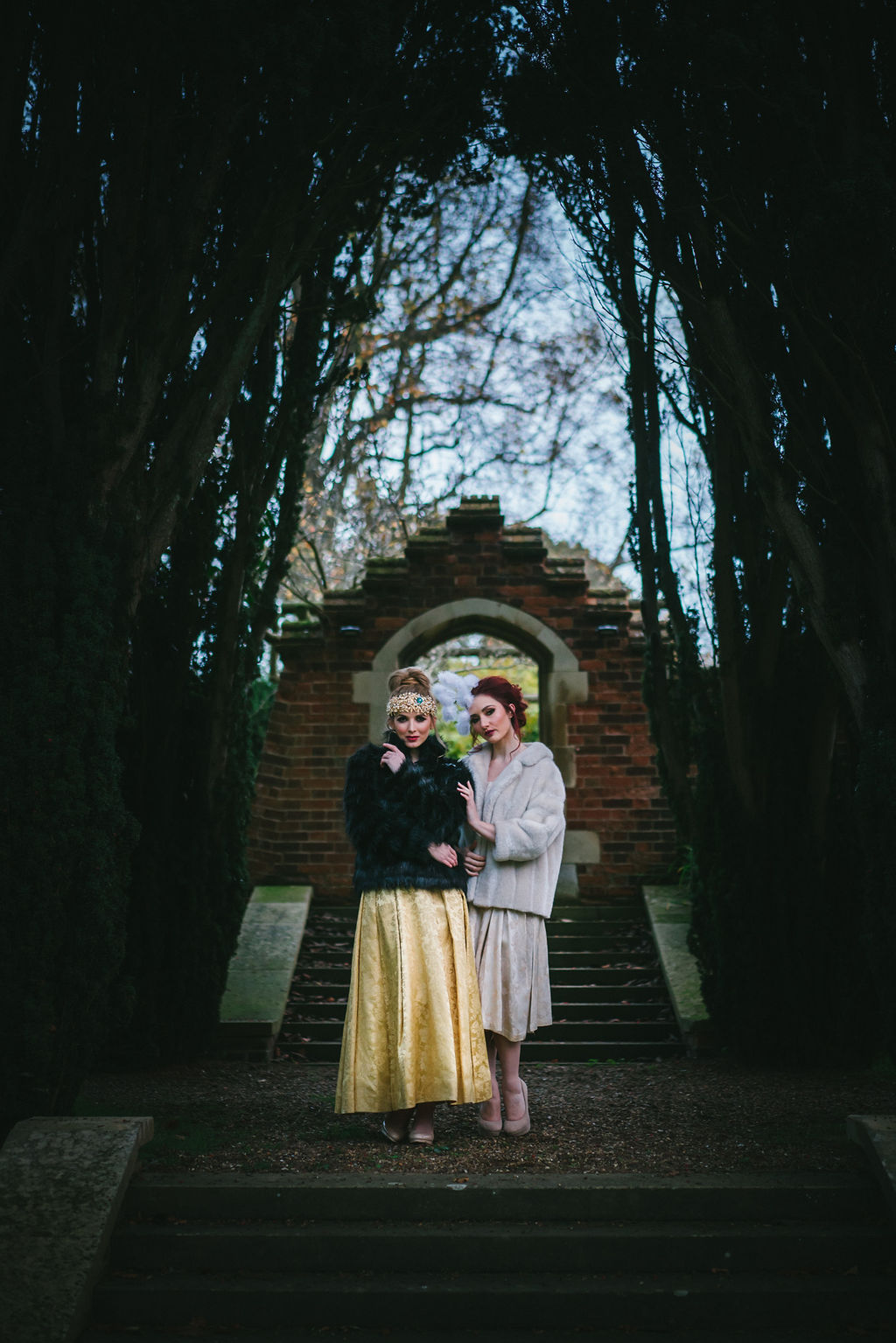 Stationery – Jenna at Wonderland Invites
"For this suite, I utilised a dark grey background with a vintage wash to dull down the edges and add an air of vintage. I paired this with purples, plums and dark green florals and foliage. I added depth with white wax seals, tactile vellum wraps and crimson hand dyed silk."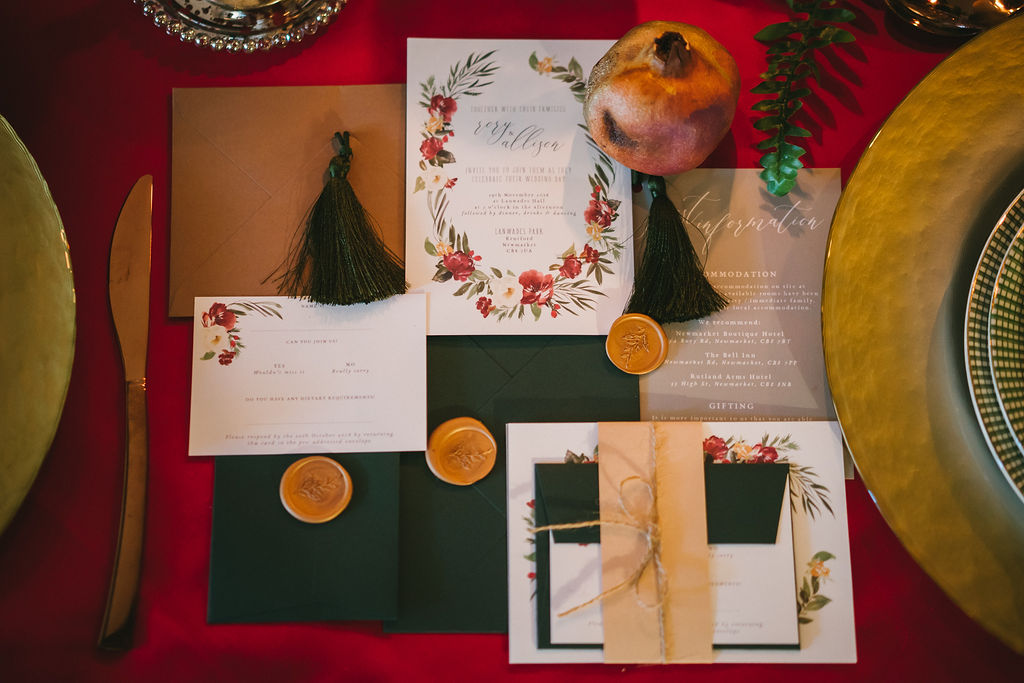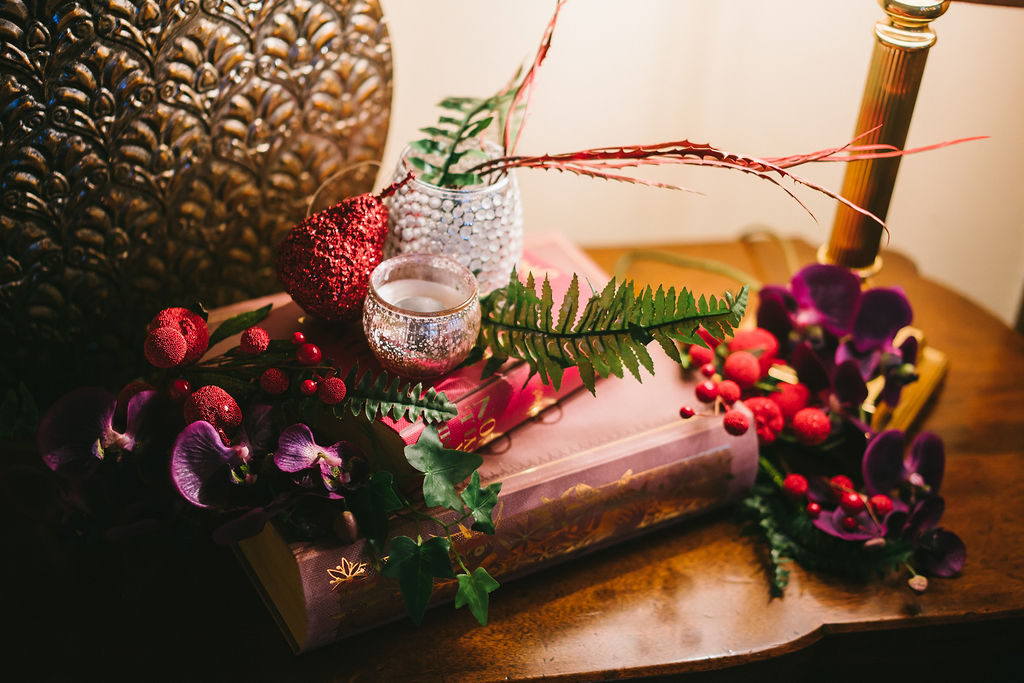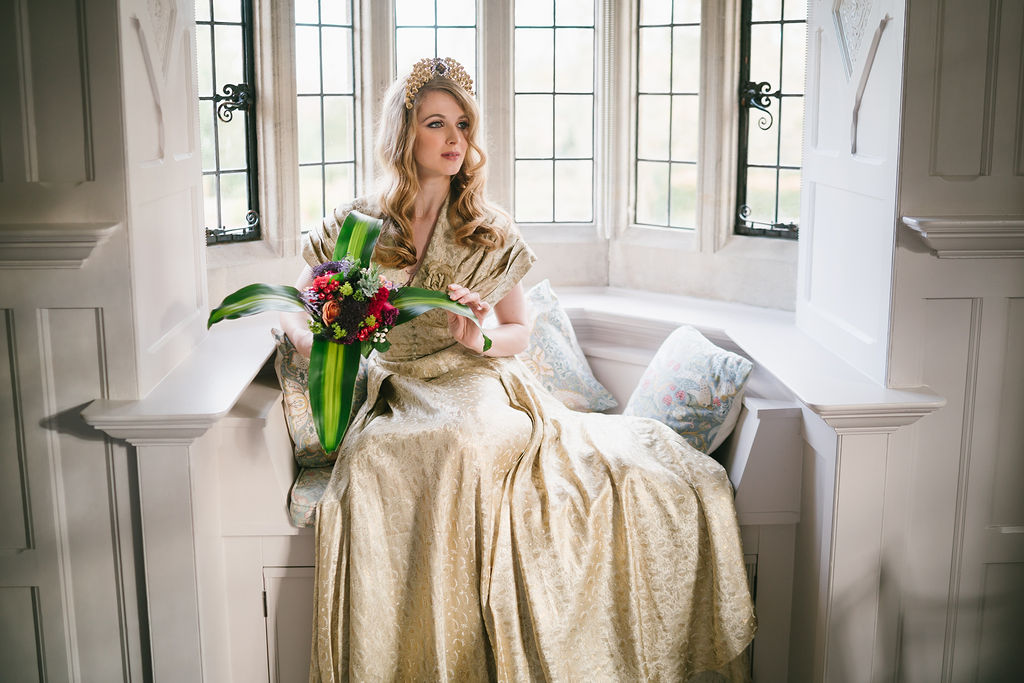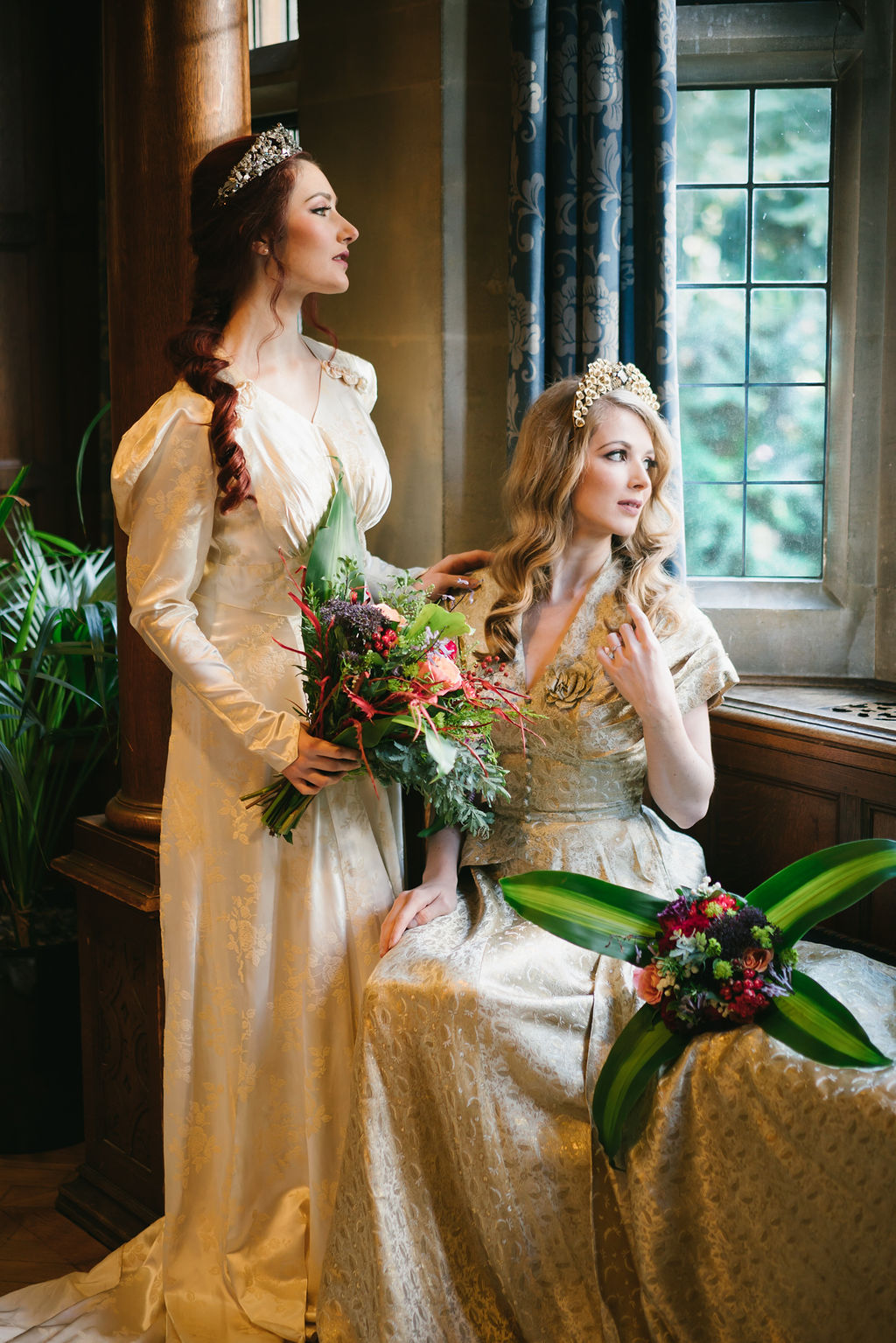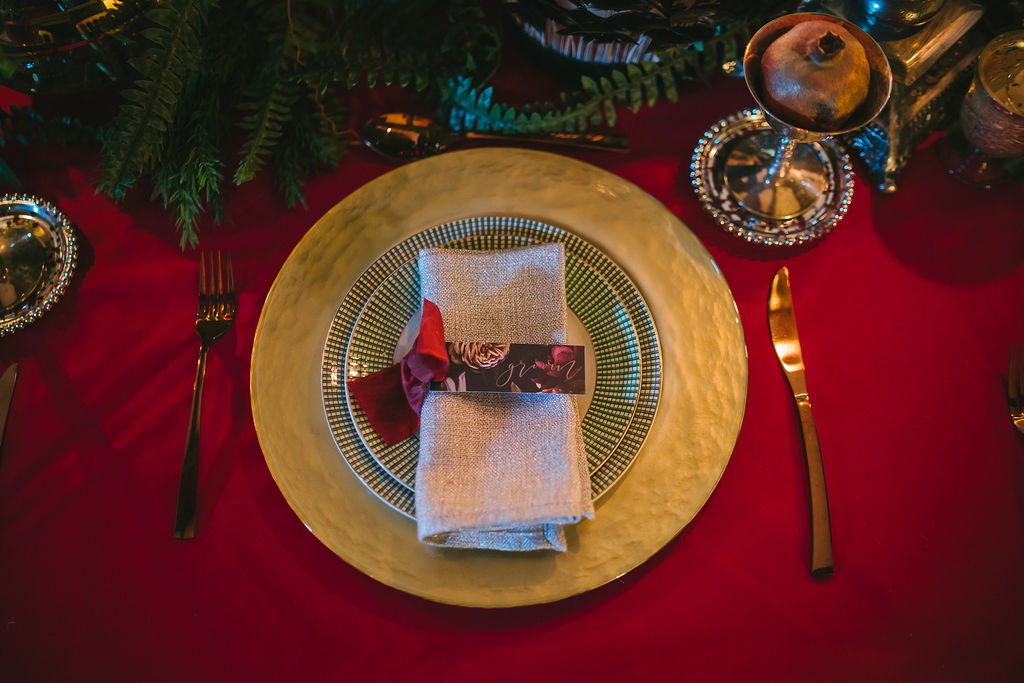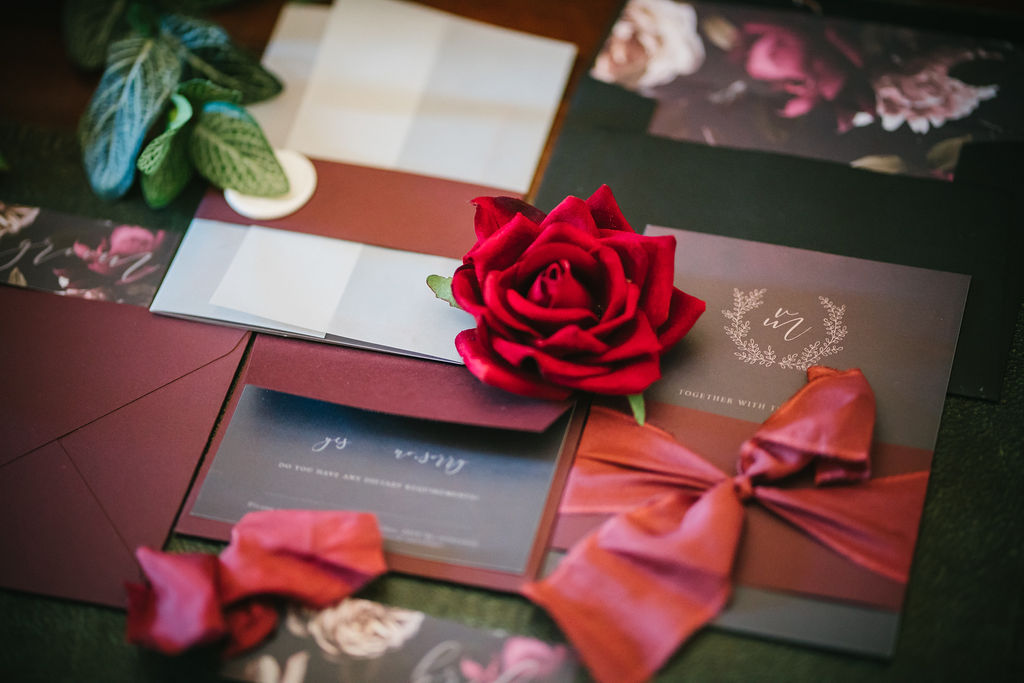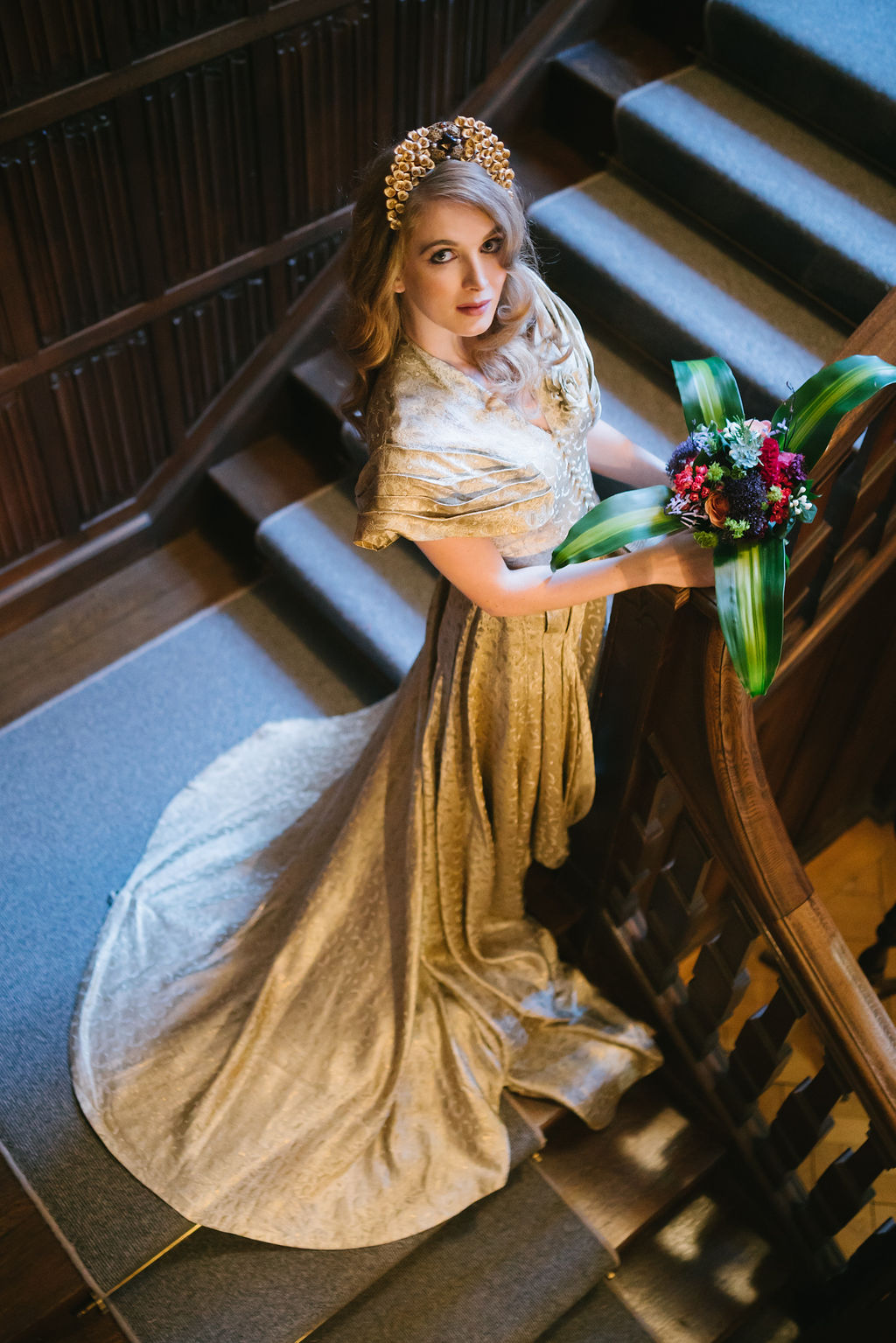 "For the stationery, I created a bespoke wreath akin to the traditional Christmas wreaths you'd find on doors. With lush greens, hints of white and pops of red, I juxtaposed the invitation cards against warm brown envelopes with tassels for added texture."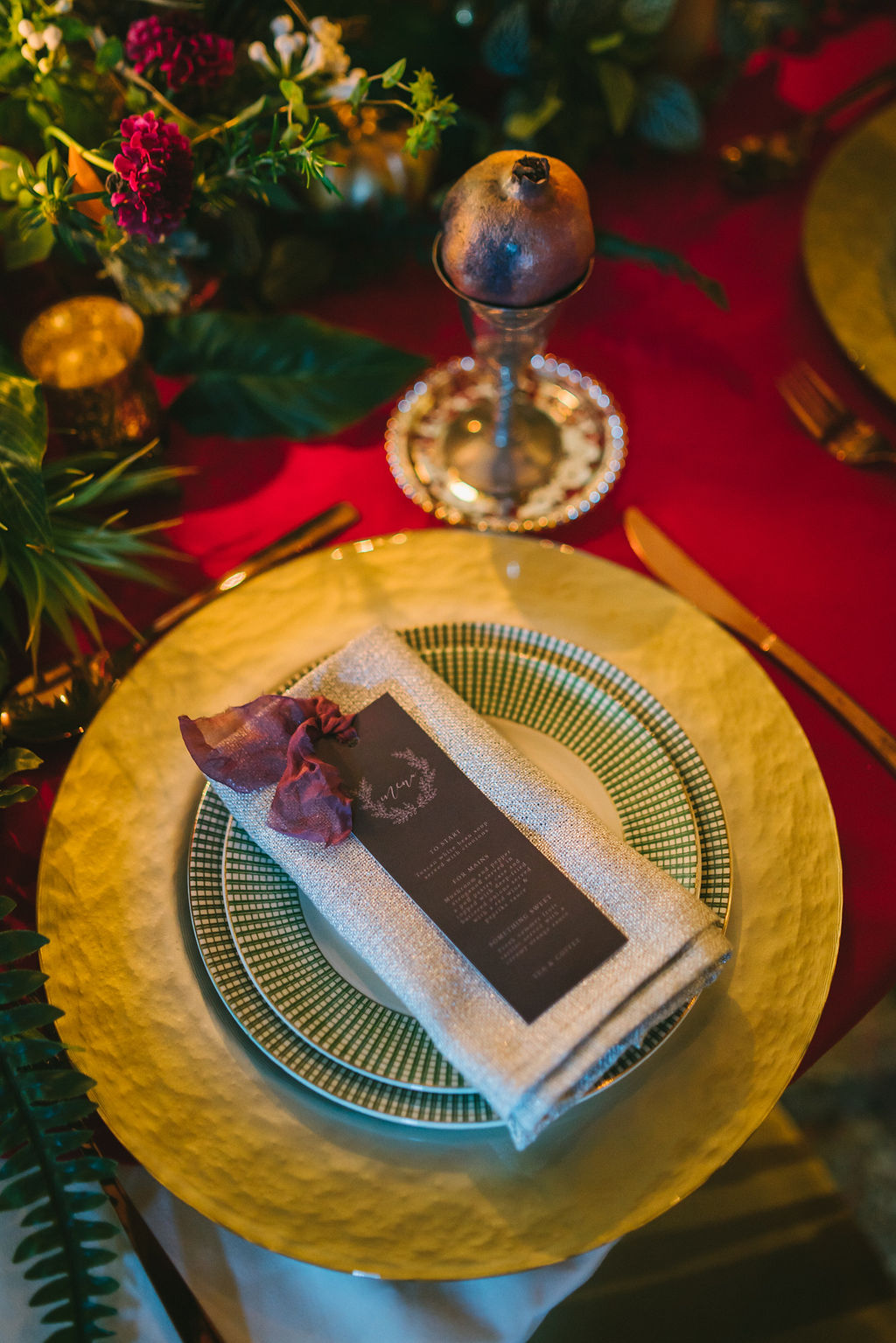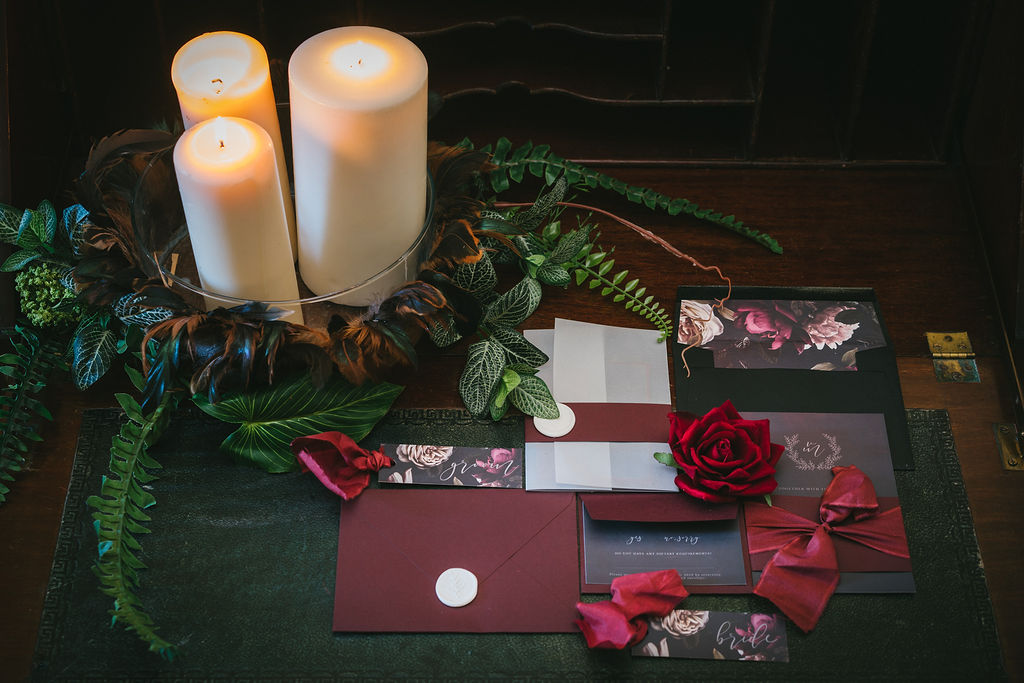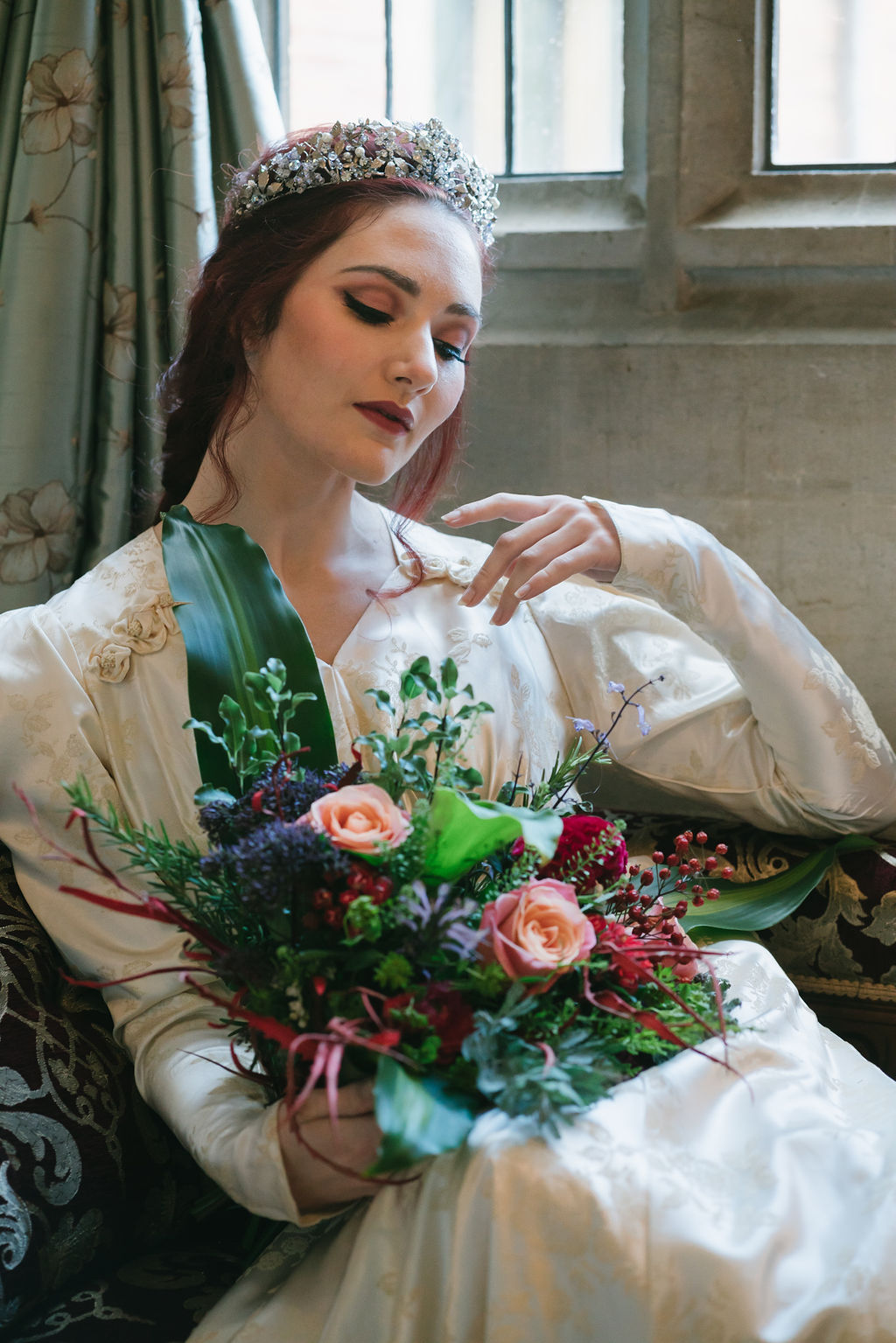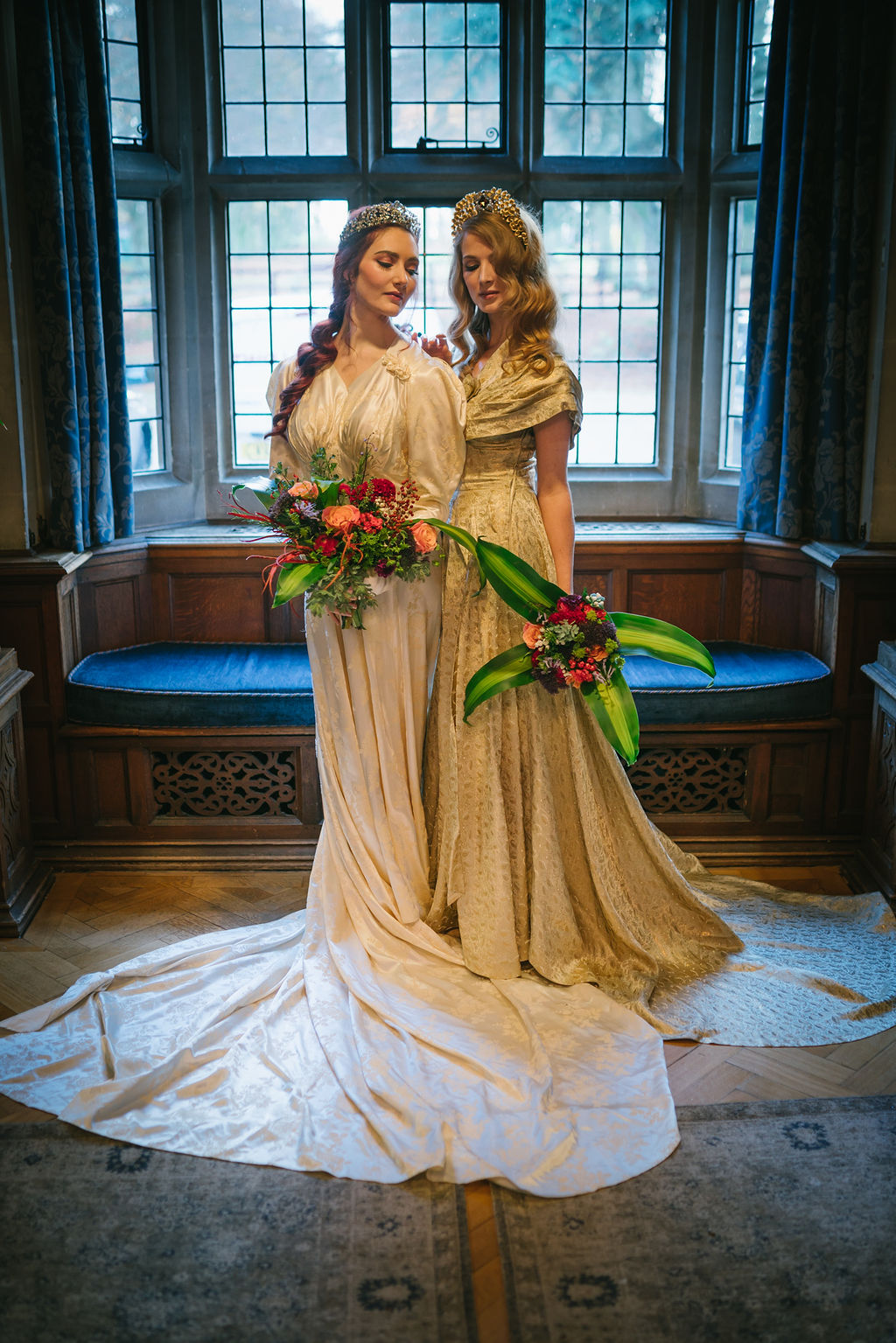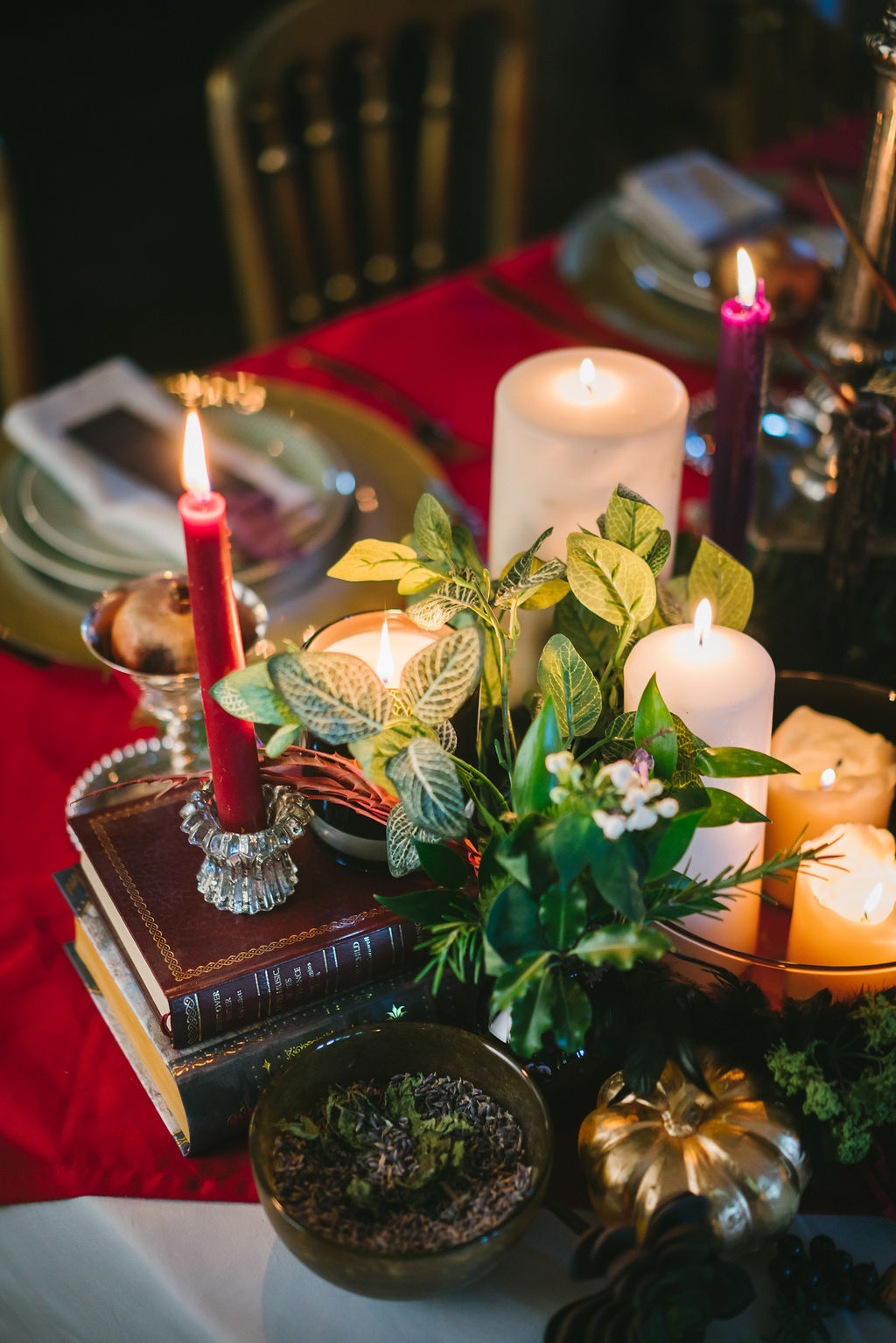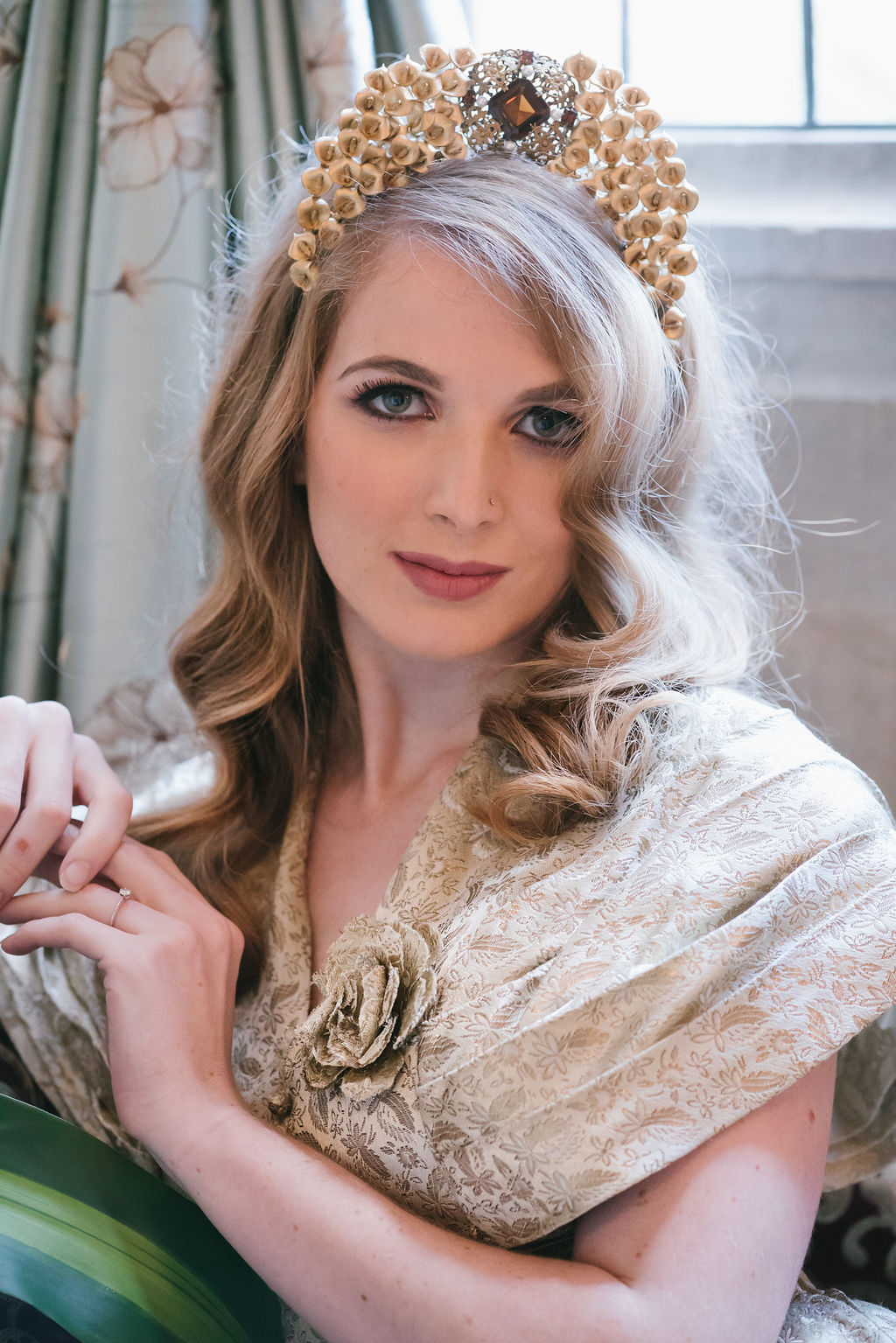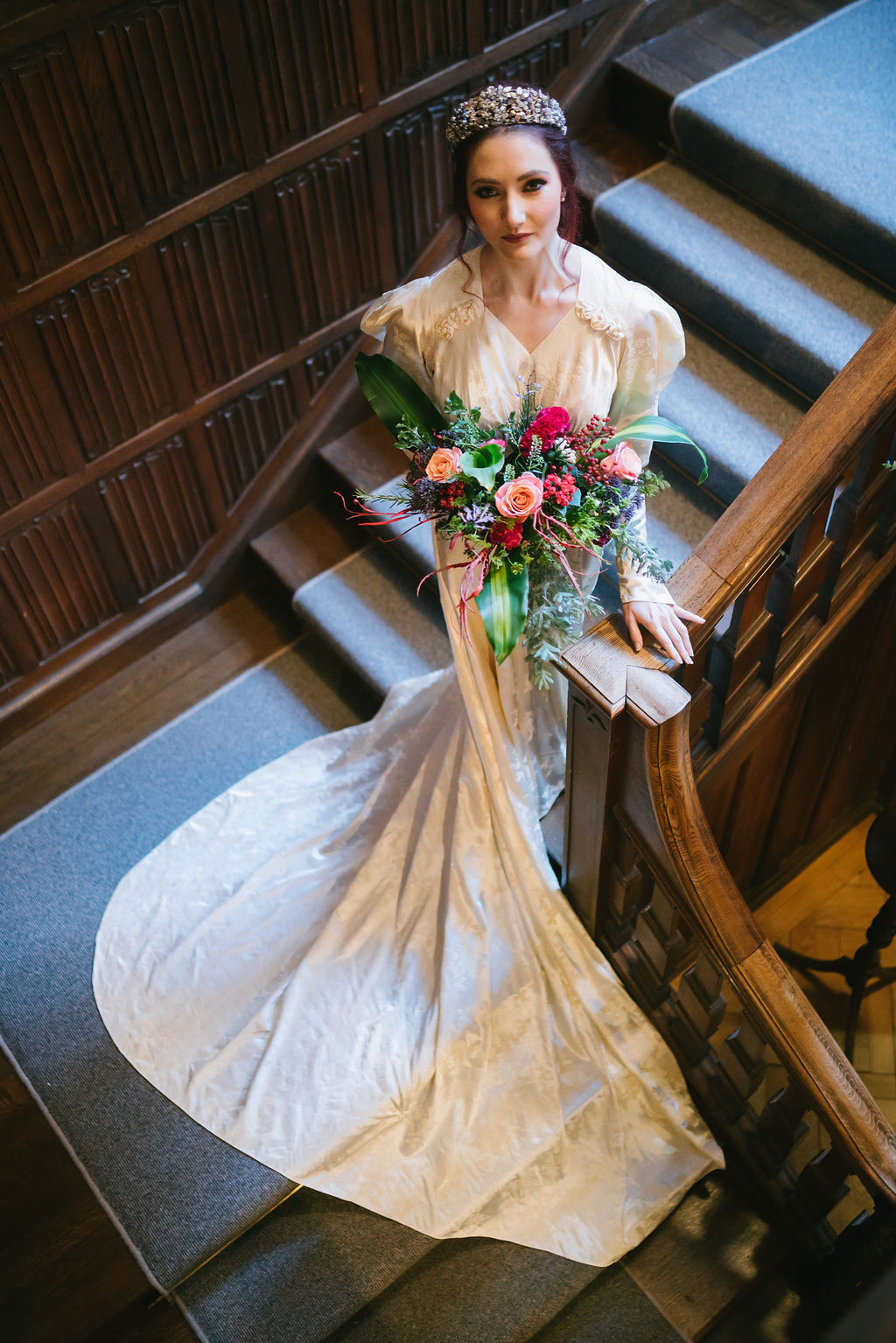 Feathers – Plucking Fabulous
"Our brief was to provide autumnal tones, which were able to readily do, as the cock pheasant fit the brief perfectly. We also created a glorious peacock and ostrich piece, which is a showstopper"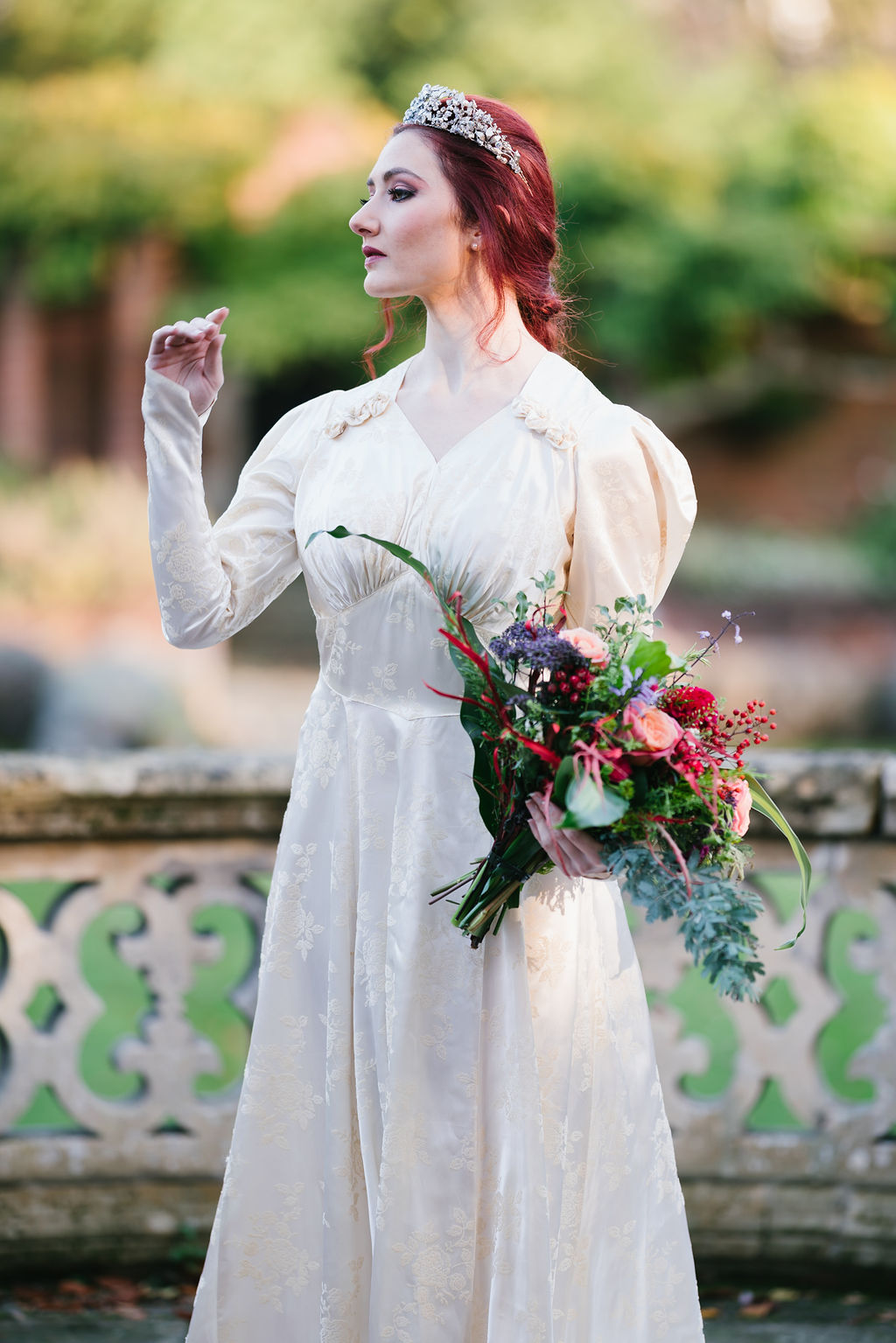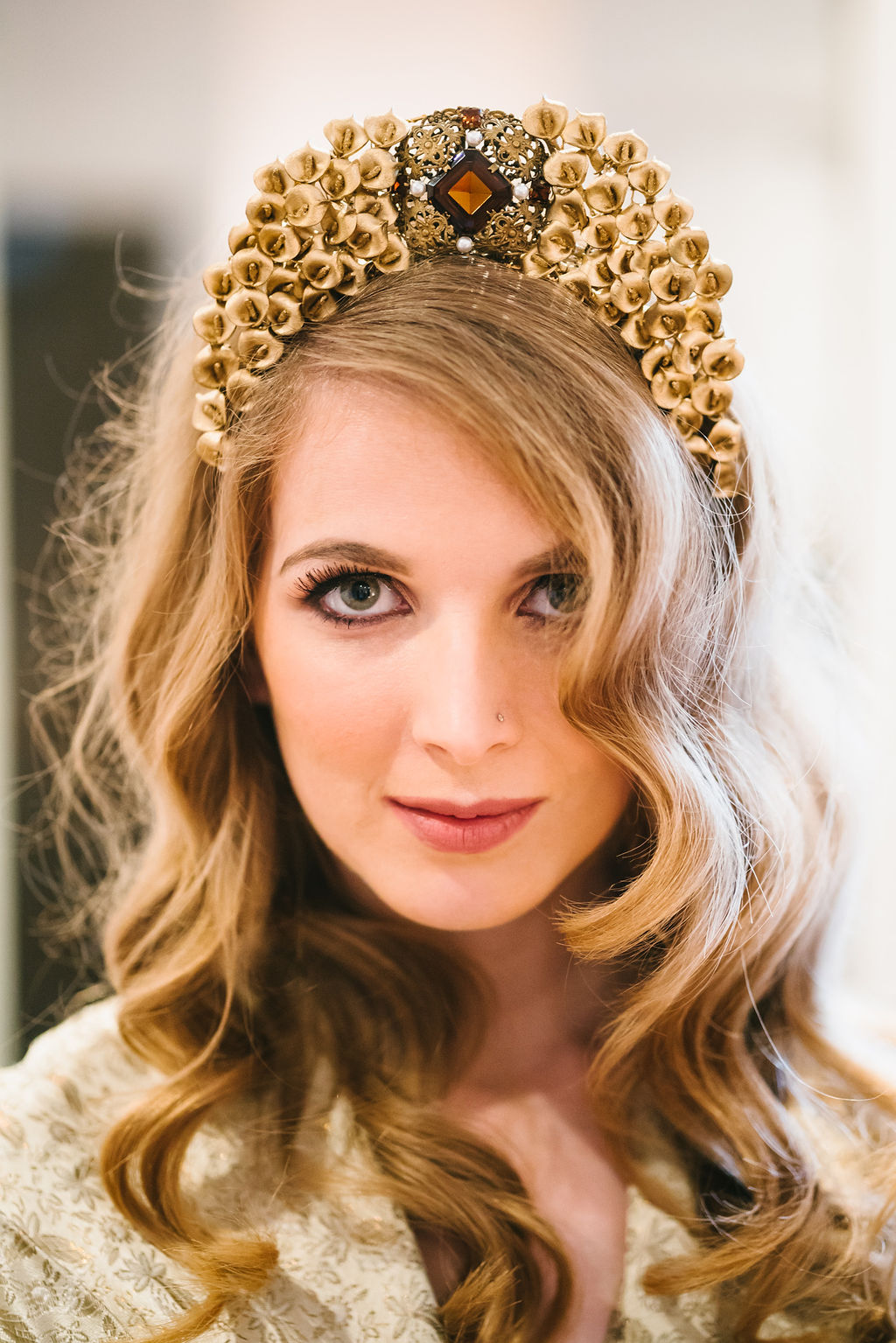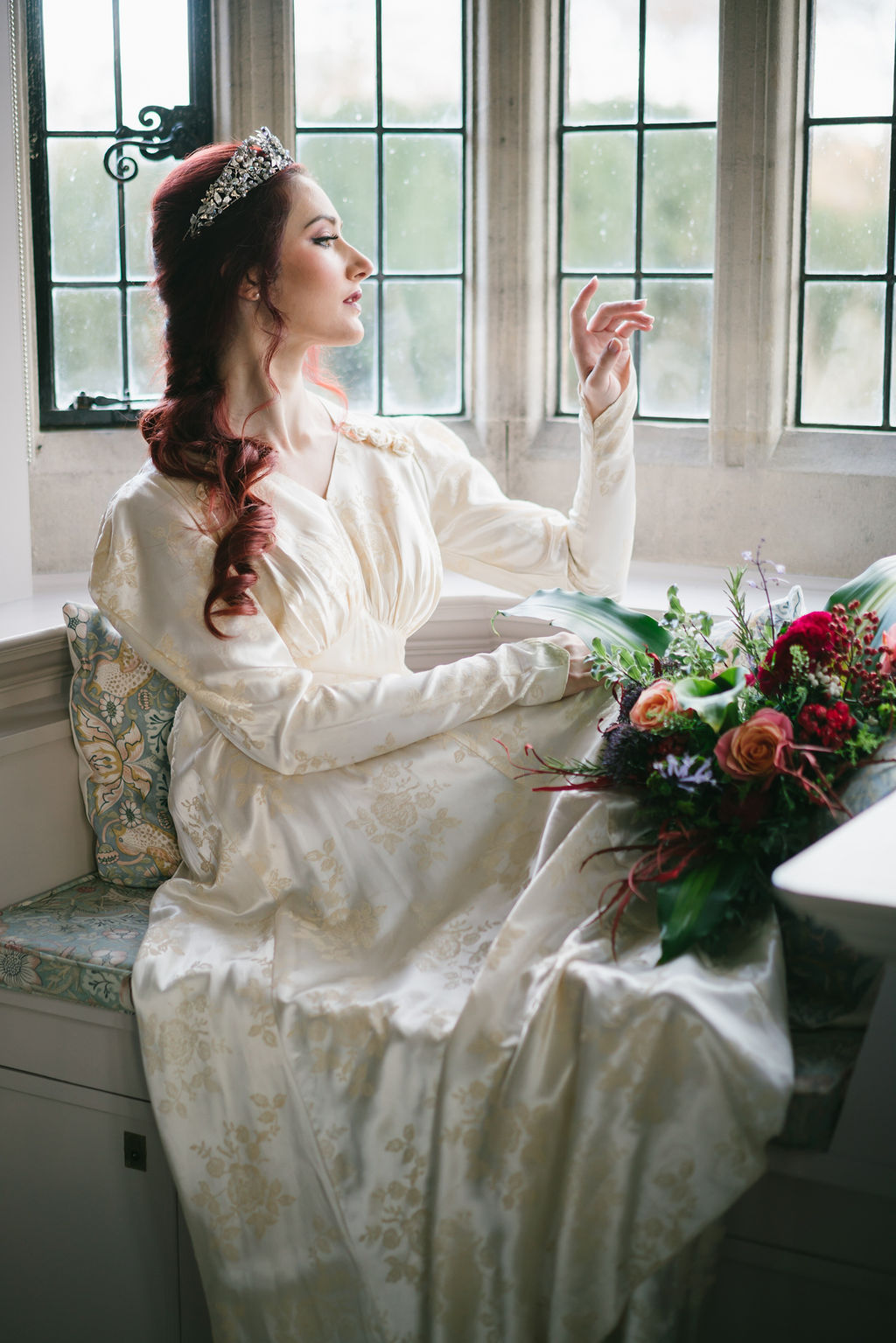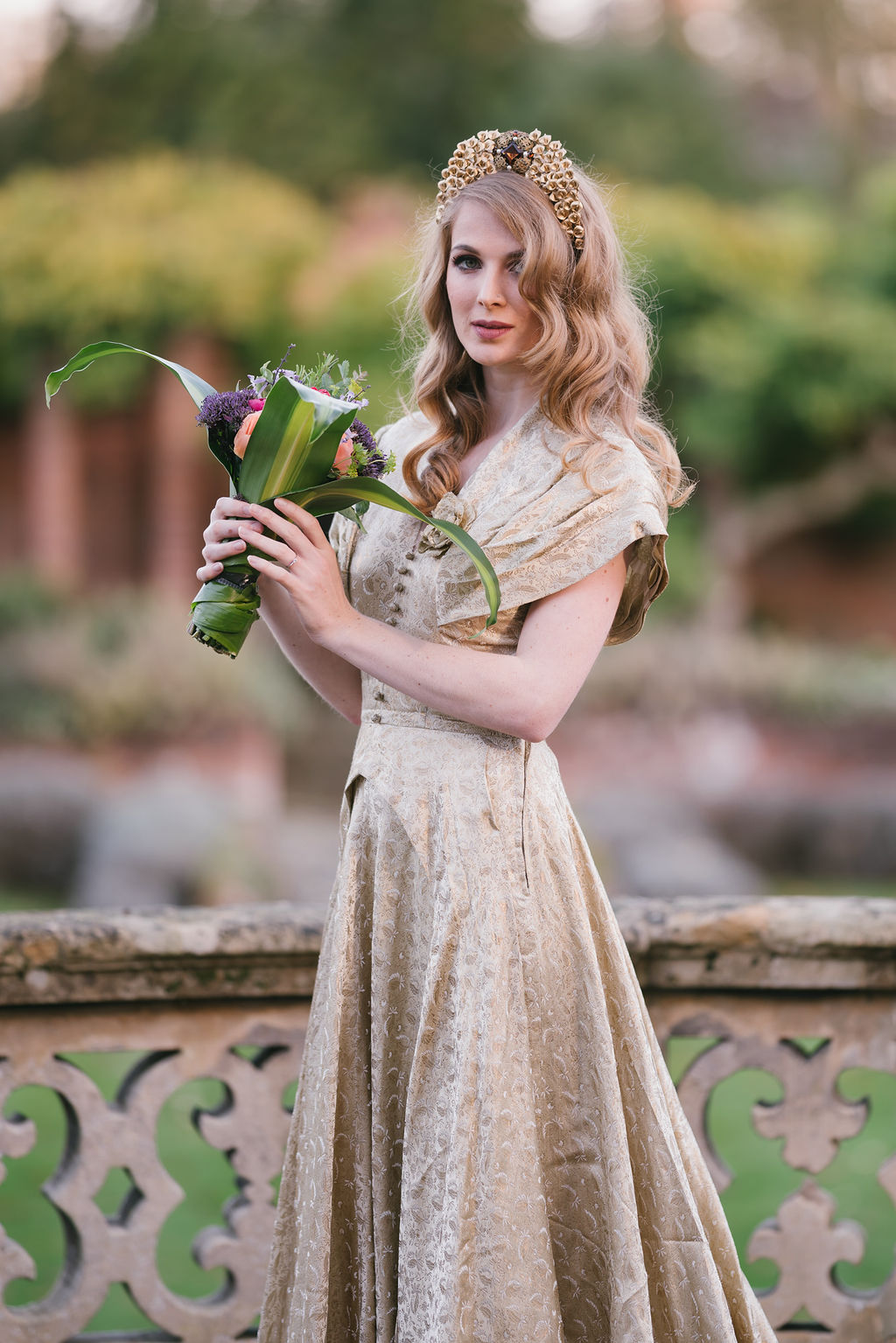 The Team – Vintage Christmas Wedding With Opulent Red and Gold Touches
Concept, Florals and Styling: V V Raven @vvravenfloral
Photographer: Matthew Dartford Photography @mdartfordphoto
Dresses: Cambridge Vintage Bridal @cambridgevintagebridal
Tiaras and Headdresses: Samantha Walden @samanthawaldentiaras
Cake: Two Little Cats Bakery @twolittlecatsbakery
Cake Toppers: Cake Topper Animals @caketopperanimals
Hair: Cara Hubbard @carahubbard_hairartist
Make up: Elaine Marie Makeup Artist @elainemarie.makeup
Stationery: Wonderland Invites @wonderland_invites
Feathers: Plucking Fabulous @pluckingfabulous
Models:
Bernadette Lemon @bernadettelemon
Cathy Wilson @ceemeandtea
Venue: Lanwades Hall @lanwadeshall
Looking for wedding inspiration? Take a look at our latest edition of BOND BRIDE full of inspirational ideas for your big day!