A woodland setting, winter warming tablescapes and a real life reindeer! What more could you ask for! This winter wonderland wedding inspiration is full of beautiful and original touches that are sure to give you lots of inspiration for your own winter woodland wedding. With beautiful burgundy, gold and red touches throughout and mixed with seasonal foliage and pine-cones it ticks all the boxes! Here we catch up with the team behind the shoot to ind out how this winter woodland wedding was created.
Winter Woodland Wedding Inspiration with Burgundy and Gold Touches
"Initially myself and Lou at the Old Milking Parlour had the vision of an Autumnal shoot after
meeting our model Gemma who was the hairstylist at another shoot. We started to build a
team of suppliers but we needed a talented stylist to bring our vision to life. We arranged a
meeting with Lynne from Rustic Rentals whose work we had admired on social media.
During that meeting we discussed how the shoot could start with an Autumn theme and
evolve to incorporate a more Wintery Christmas feel. We were able to hand the reigns over
to Lynne who has such an amazing eye and imagination for styling to co-ordinate the shoot"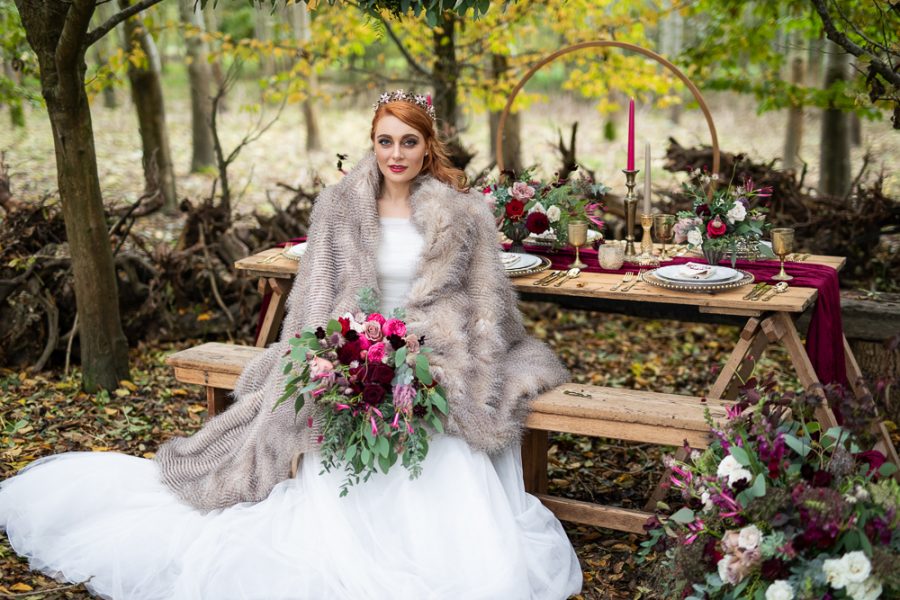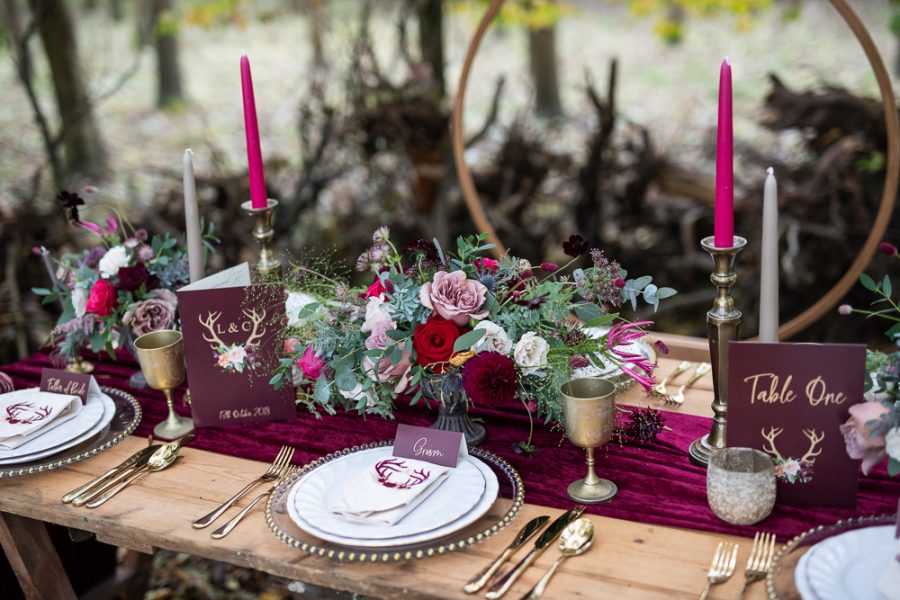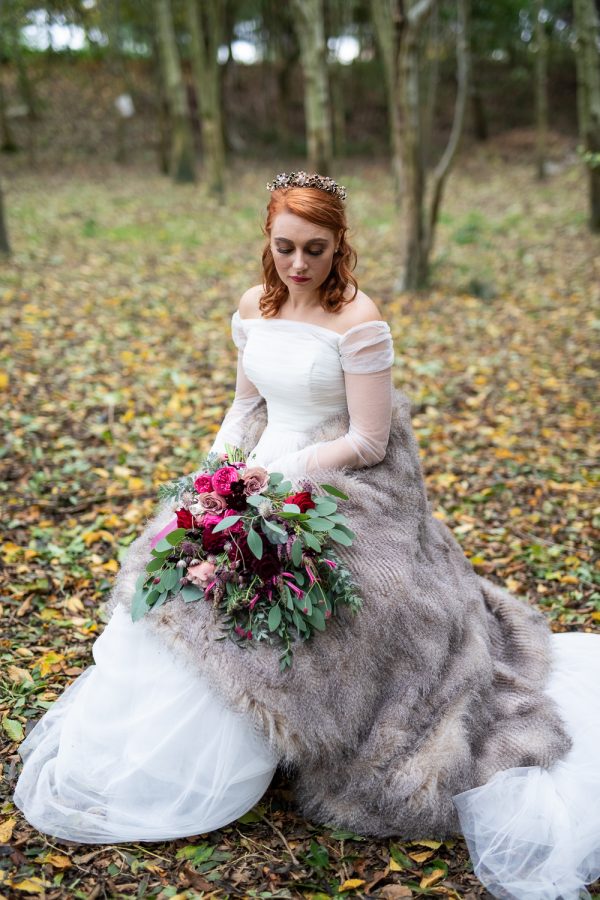 Winter Woodland Wedding – Stylist & Décor & Props – Rustic Rentals
"As both the stylist and décor hire company I set out to create a shoot with a talented group
of suppliers which would be both inspirational and aspirational. We wanted the designs
used to be achievable for real weddings. We also wanted to encourage couples to consider
reducing their impact on the environment by showcasing designs that incorporated re-used
items. Highlighting options such as hiring the décor and props, beeswax candles, British
grown flowers, recycled paper within the stationary and the re-use of jewels and copper
wire within the tiara design. The Venue The Old Milking Parlour at Cavokay House was
chosen as it is a converted dairy farm incorporating large woodland areas so perfect for our
theme."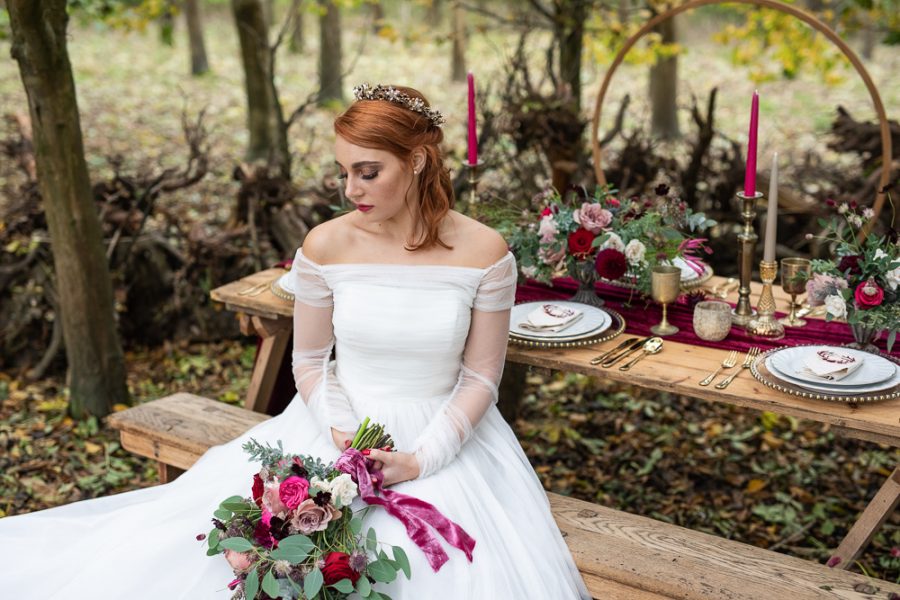 "I elected to keep the props and styling very minimal with the focus on the re-use of vintage
and modern décor items to highlight how both vintage and modern hire items can be
incorporated and upcycled. My style tends to be minimal, rustic chic where I love to
combine different textures such as velvets, chiffons and metallics paired with vintage
pressed glass, vintage brass and gold modern accessories alongside candles in different sizes and tonal colours."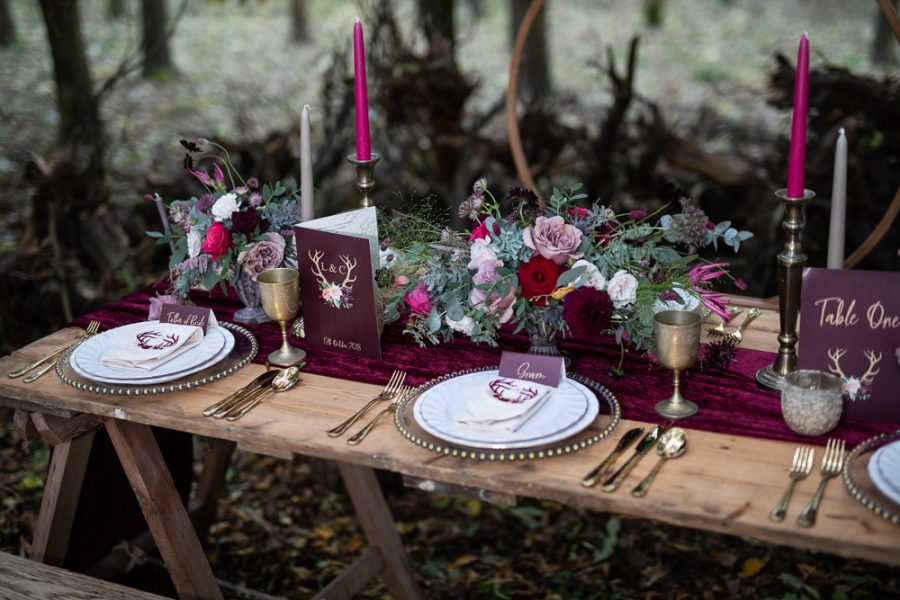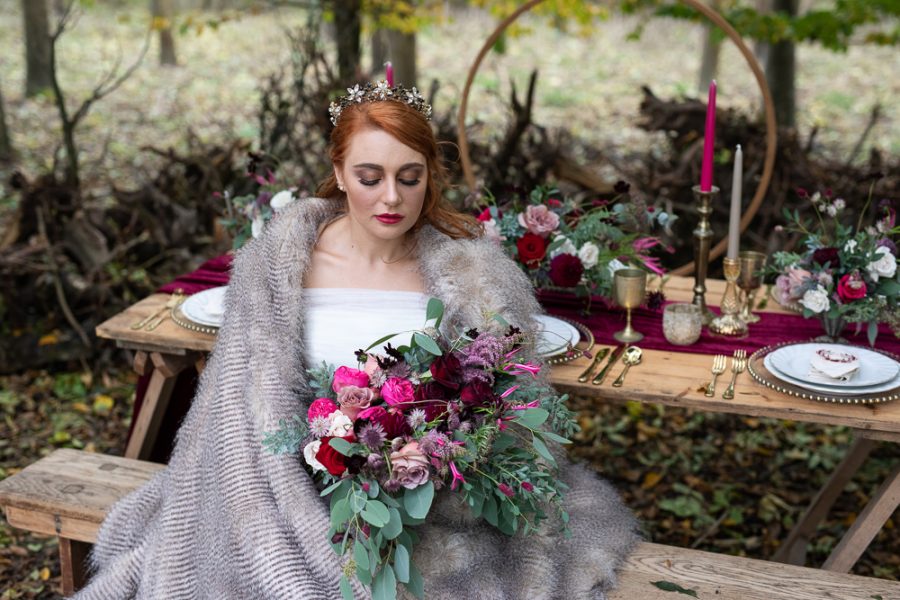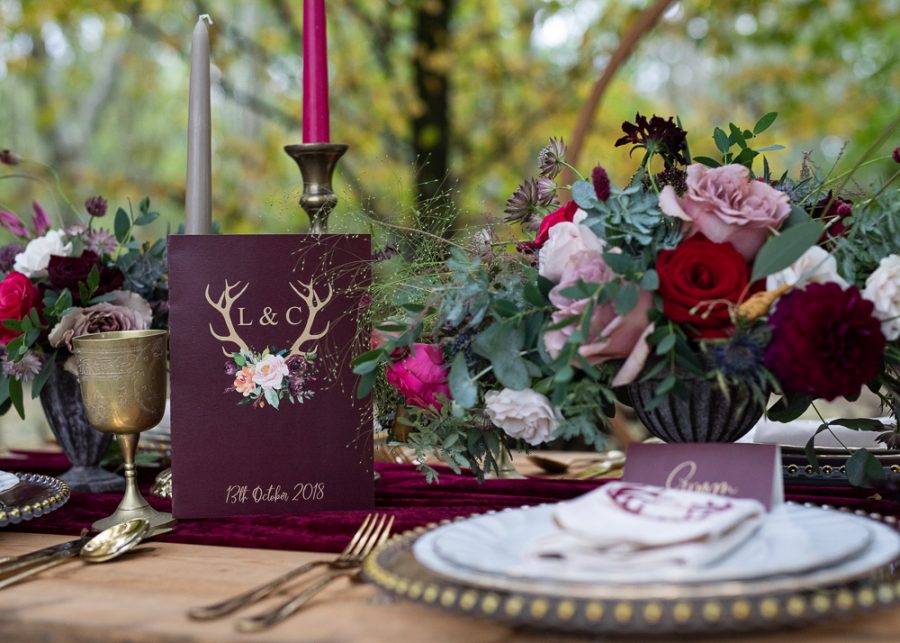 "I also like to use items not always used at weddings such as the Vintage Indian cart made from a Vintage Indian door, a vintage door from The Old Milking Parlour used as a table on vintage builders trestles and a beautiful vintage peacock chair. The natural beauty of the woodland created the mood and tone for our outdoor shots whilst the Milking Parlour creating an interesting indoor setting."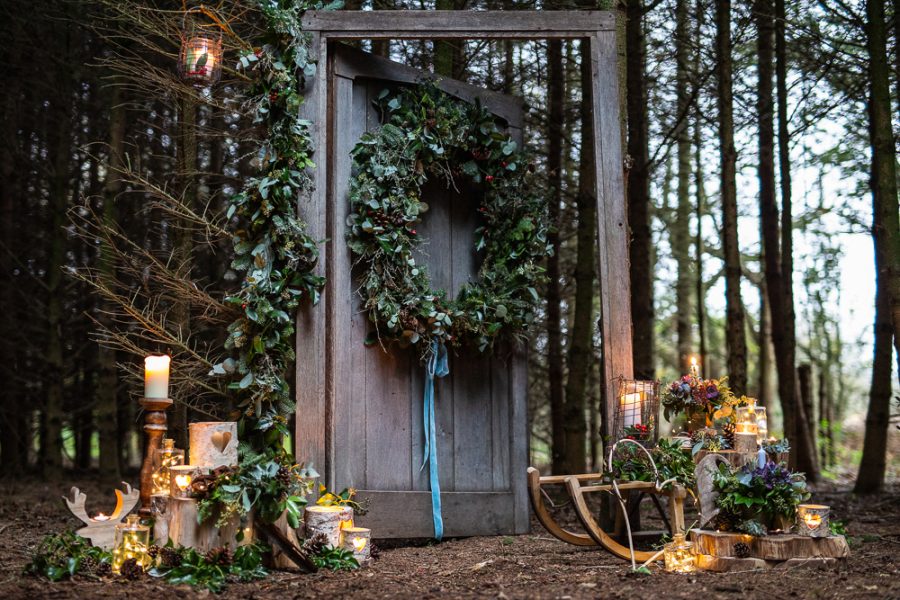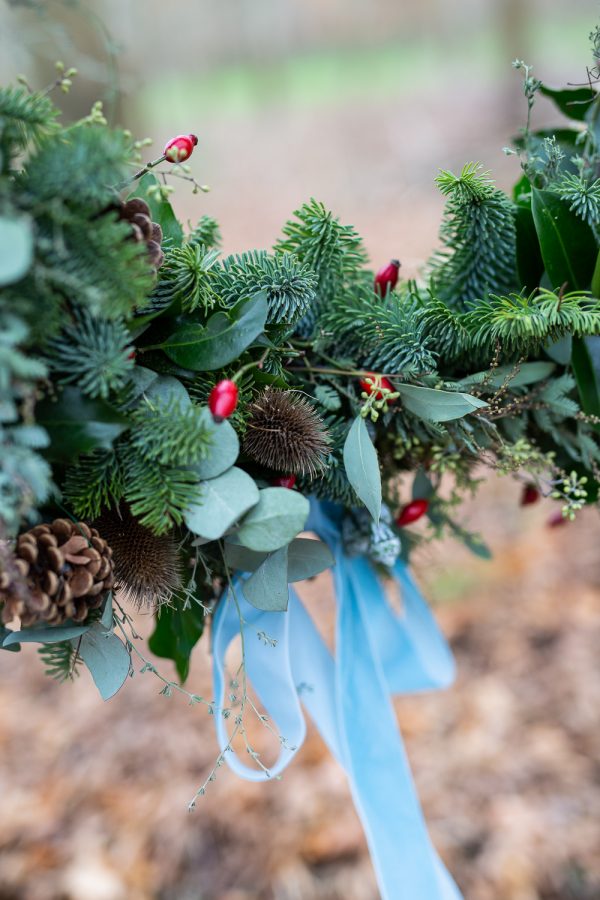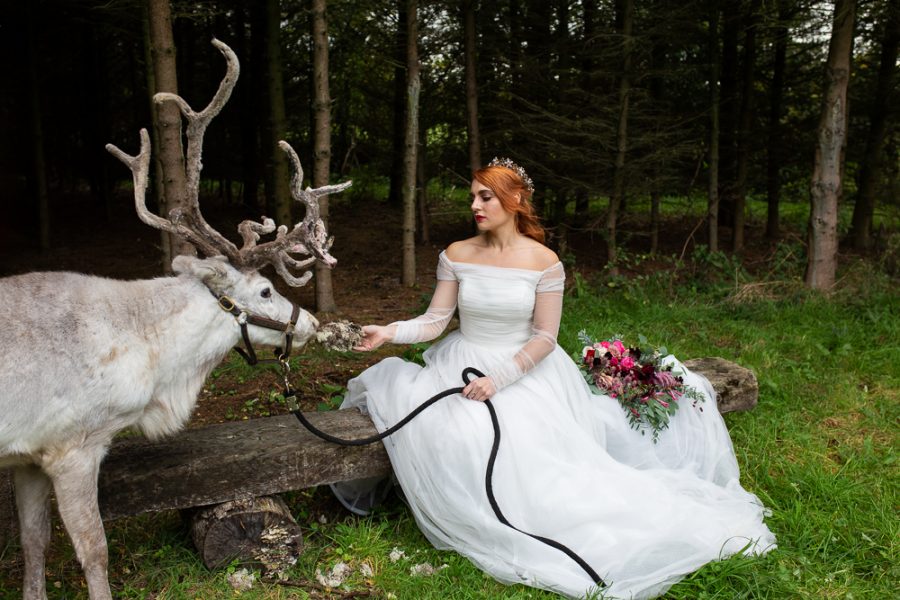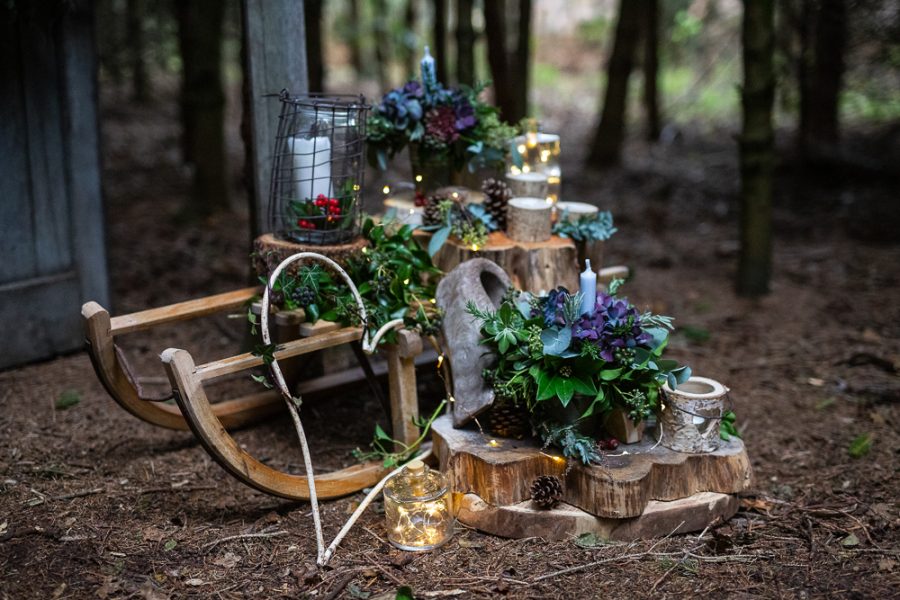 Winter table
"Burgundy velvet runner with rich jewel coloured florals in grey vintage style metal urns
paired with brass vintage candlesticks with pink and taupe taper candles of varying heights,
brass vintage drinking goblets. The place setting comprised gold glass beaded charger
plates, white gold rimmed bone china crockery, monogramed napkins, stag design place
names and menus, accessorised with gold toned tealight holders."
Christmas table – Indian Cart
"Christmas Foliage garland with wooden pillar candlesticks, silver and mercury silver vintage
style candlesticks with different colour, grey, green, ivory, burgundy taper candles of varying
height, candles are beeswax where possible. Place setting with faux ivory boned handles,
vintage style glass charger plates, monogrammed napkins, vintage style pressed glass
tumbler accessorised with silver rimmed and silver toned tealights, dressed with pine cones
and bark wooden hearts."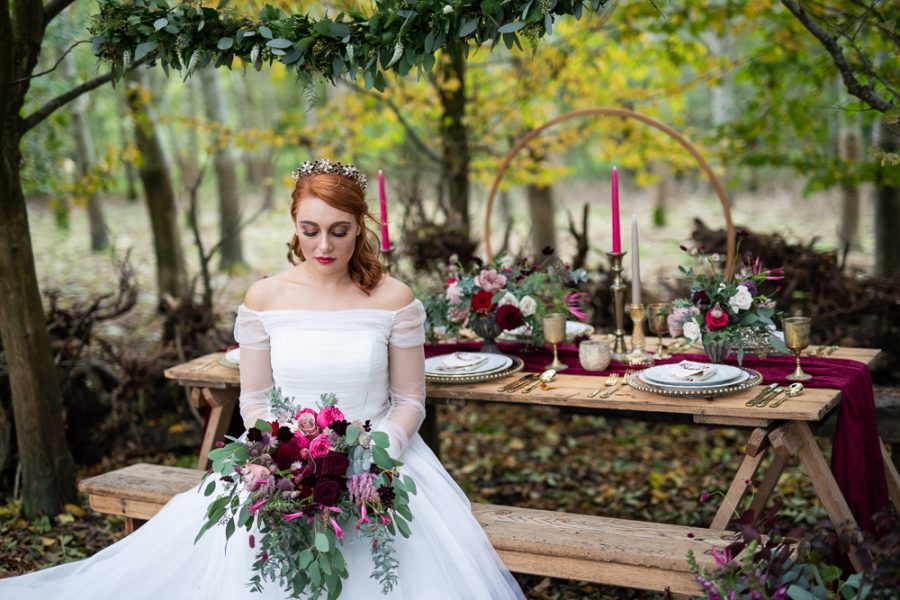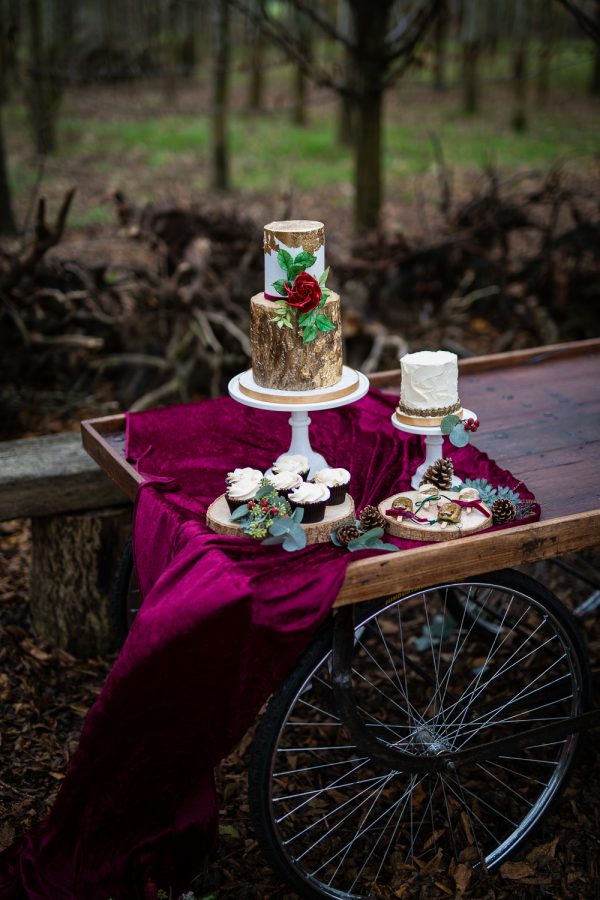 Winter Woodland Wedding Photography – By Chantel

"My style for the shoot was natural and romantic, celebrating the rich colours and textures
created by the wonderful team of suppliers. It was a pleasure to photograph our model
Gemma with her gorgeous red hair and blue eyes I was drawn to capturing intimate
portraits and the magic of the woodland."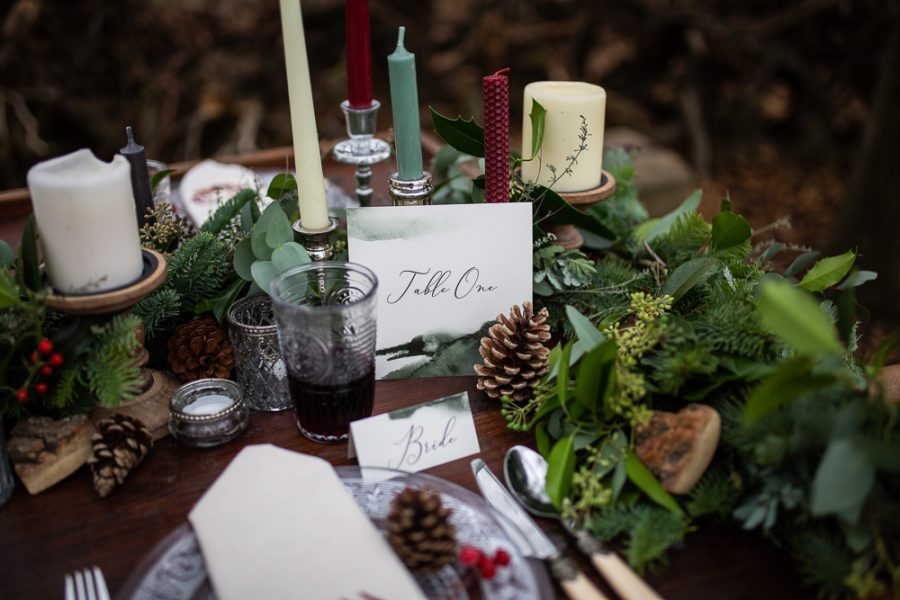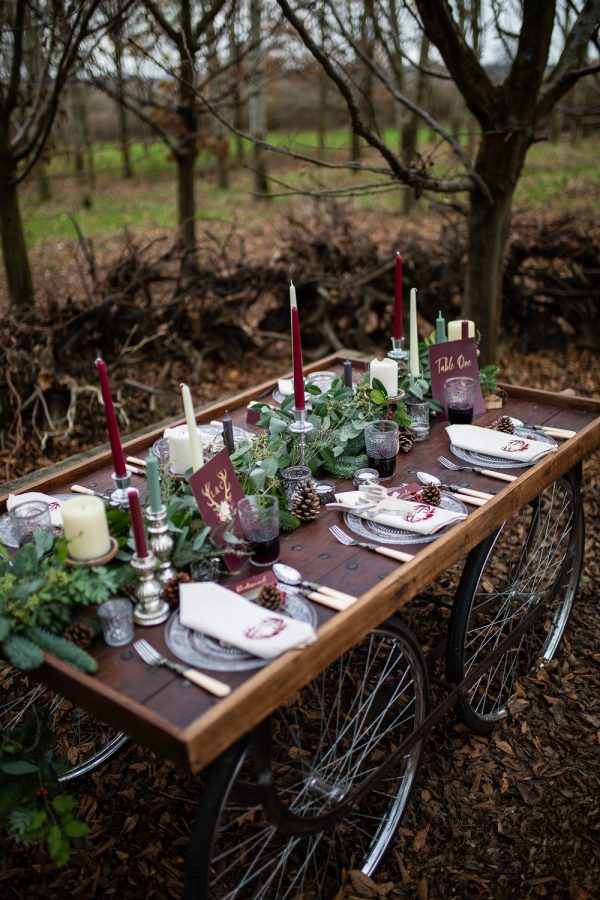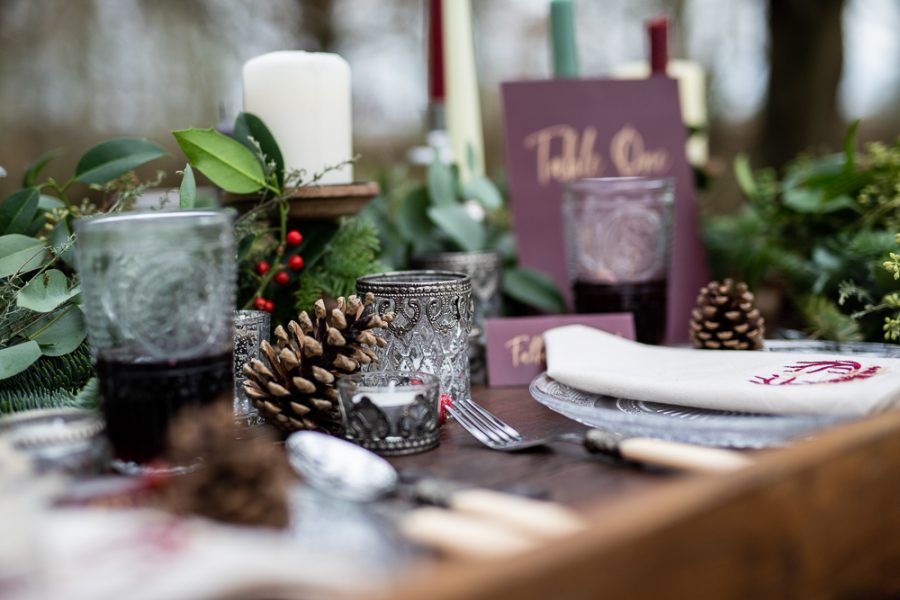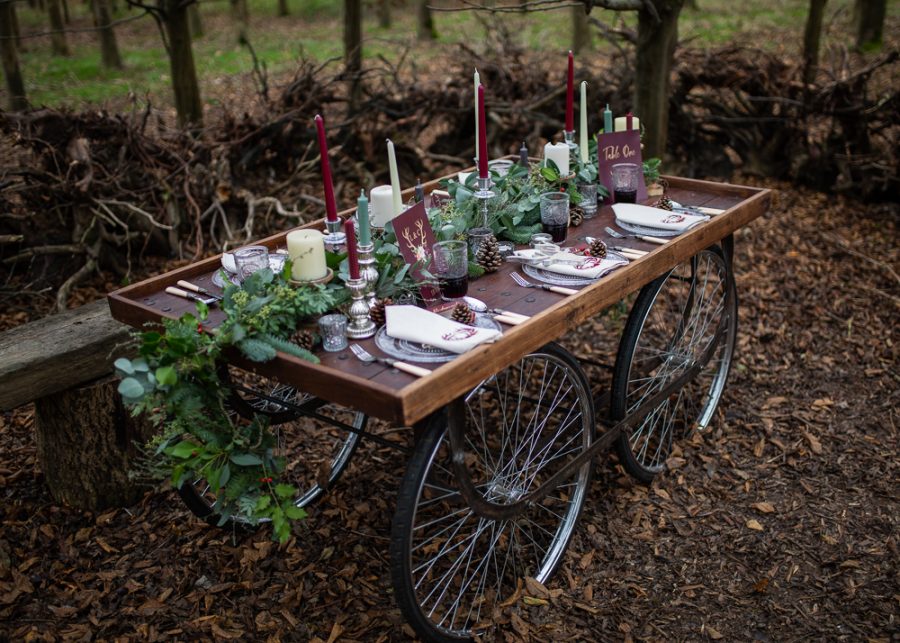 Winter Woodland Wedding Venue – The Old Milking Parlour
"The Old Milking Parlour at Cavokay House is a DIY venue on the Somerset/Dorset border,
your wedding reception your way, where you are free to choose your own suppliers and the
hire period is for 3 days. Beautiful milking parlour, with meadows and woodland areas
including a stumperey, doorway and seating areas."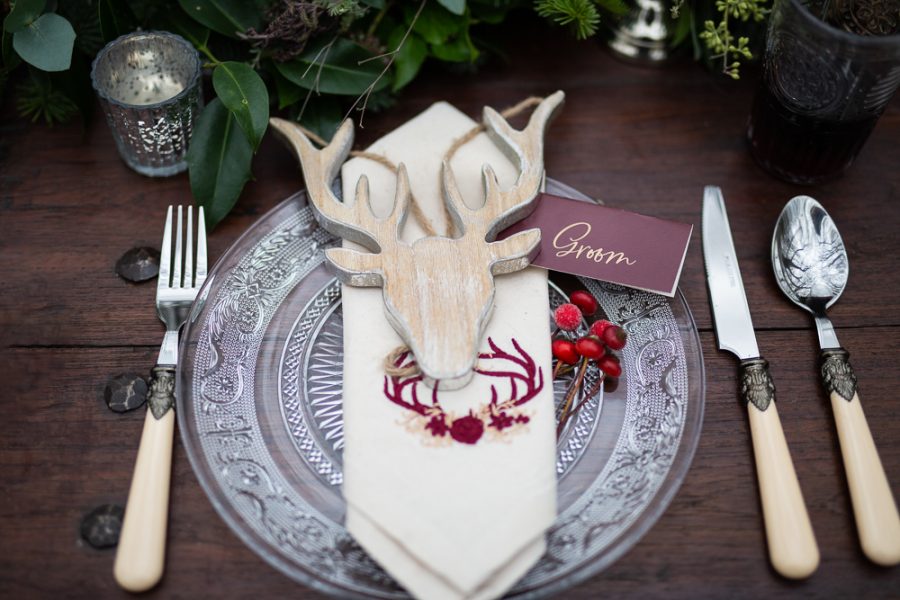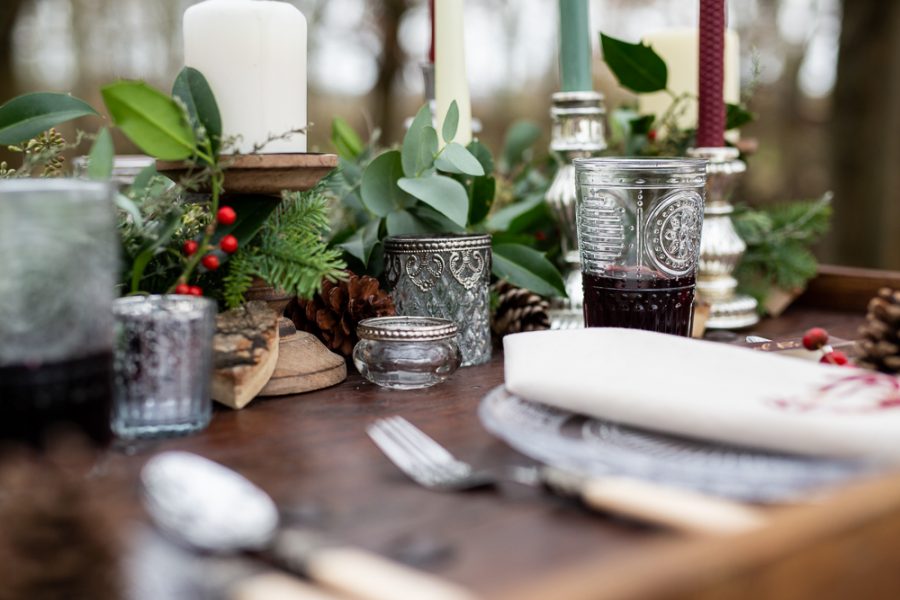 Winter Woodland Wedding Flowers – Caroline Clements Flowers
"The florals for this shoot reflected the wintery theme, using jewel like colours, deep pinks
were toned with reds and softened with muted tones. The arrangements were natural with
a slightly wild look, hinting at the ethereal. For the woodland area an oversized wreath was created using foraged local greenery and eucalyptus to give a luxurious dramatic effect.
Similar tones were incorporated in the garland with details to draw the eye to the detail of
berries and textures."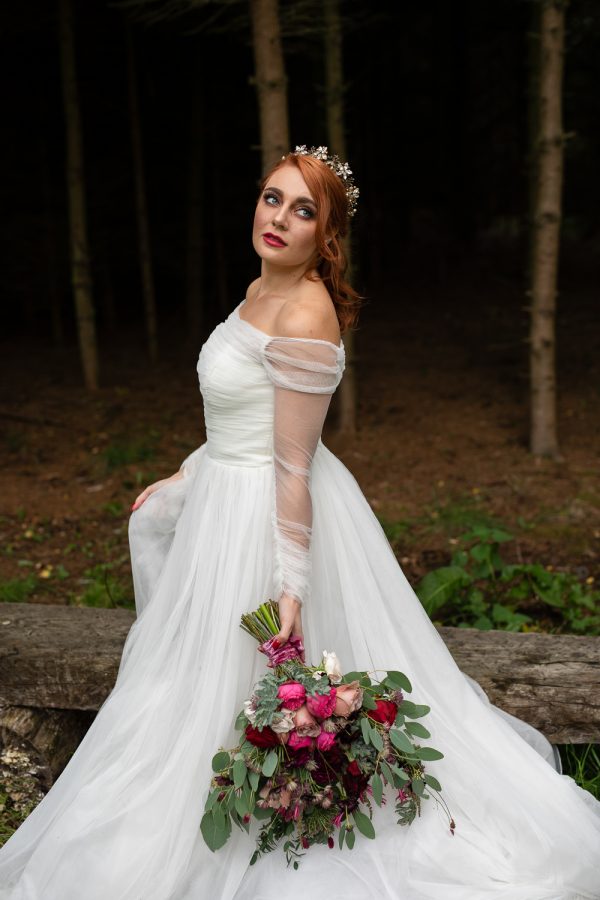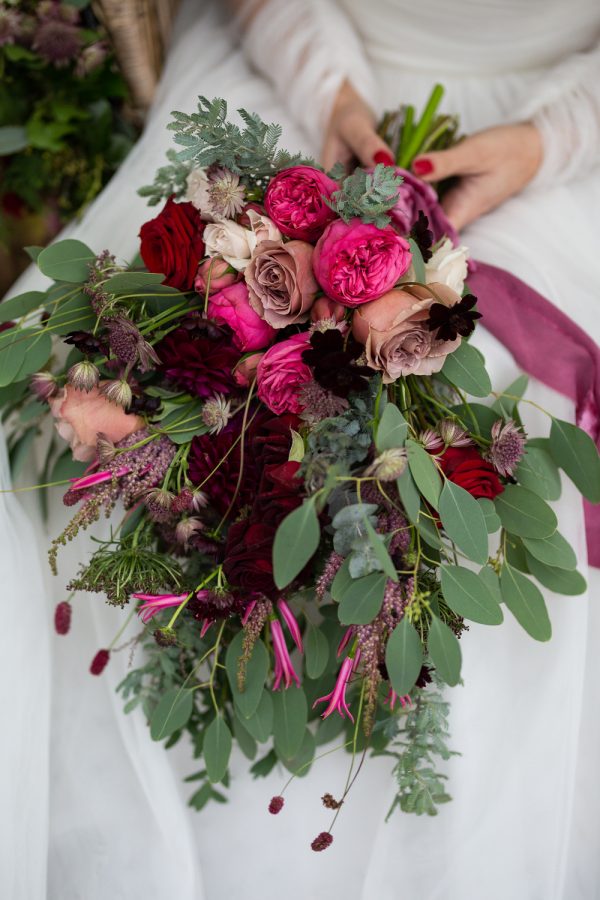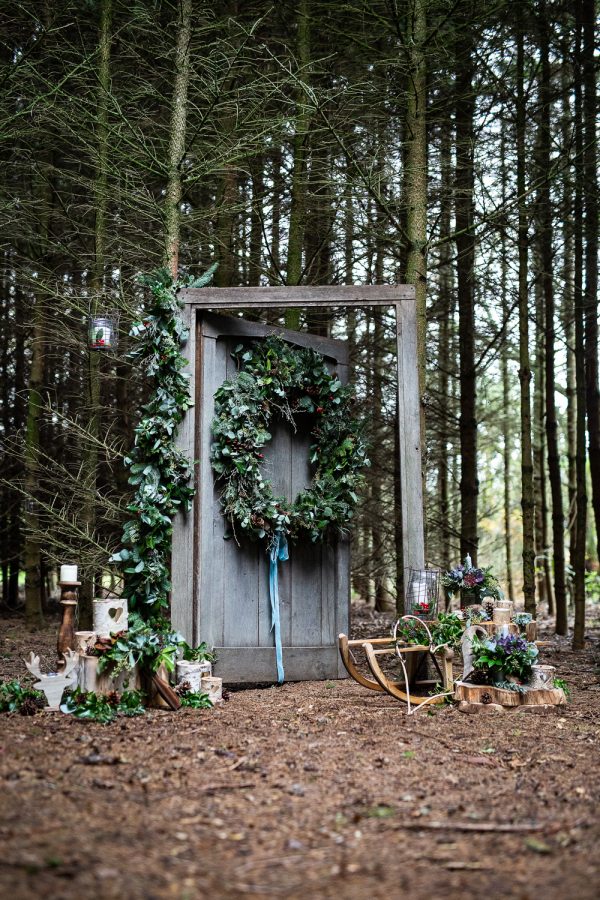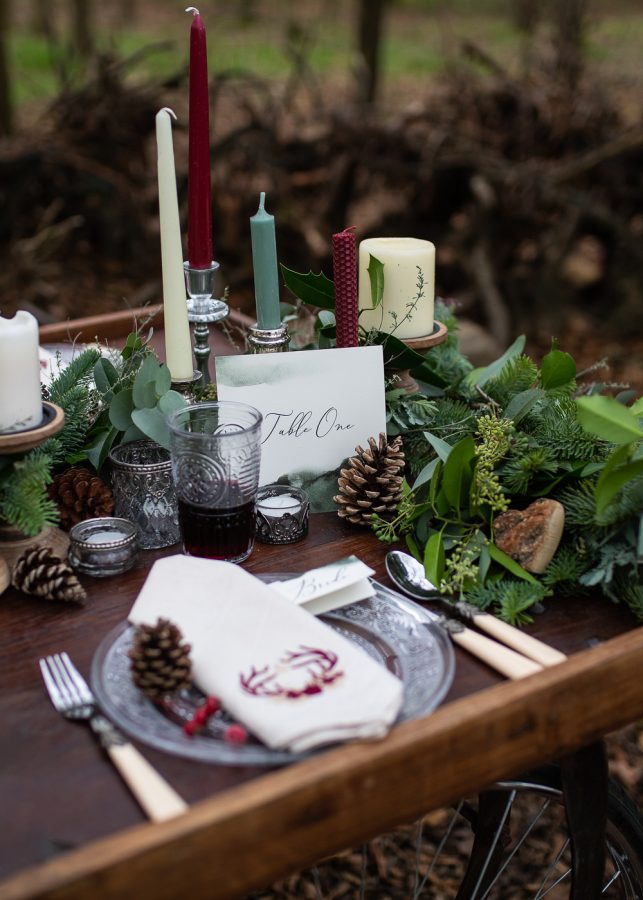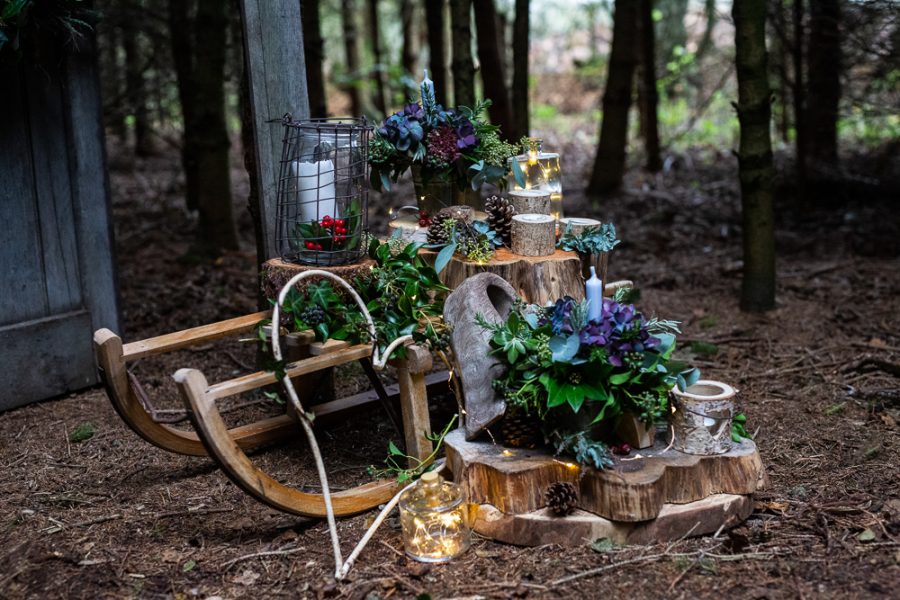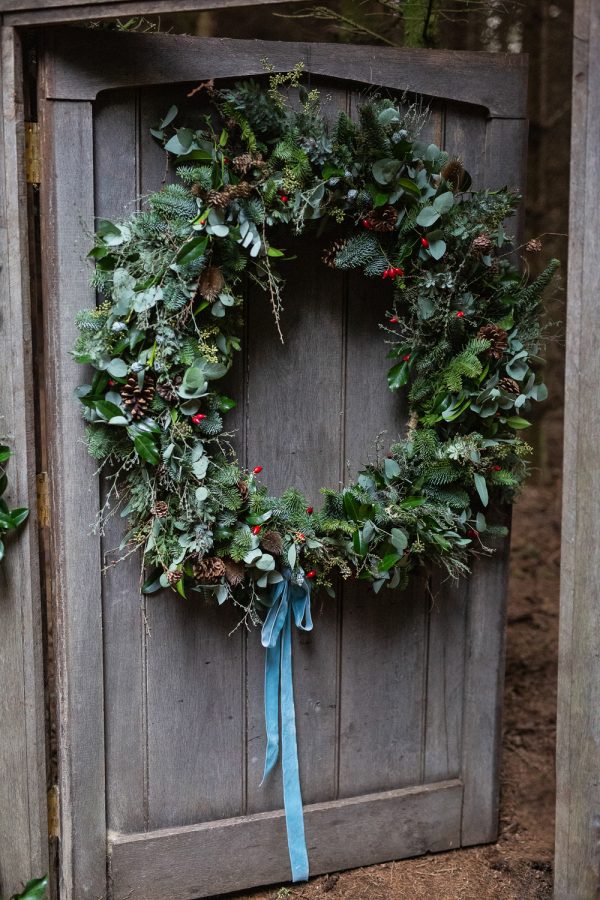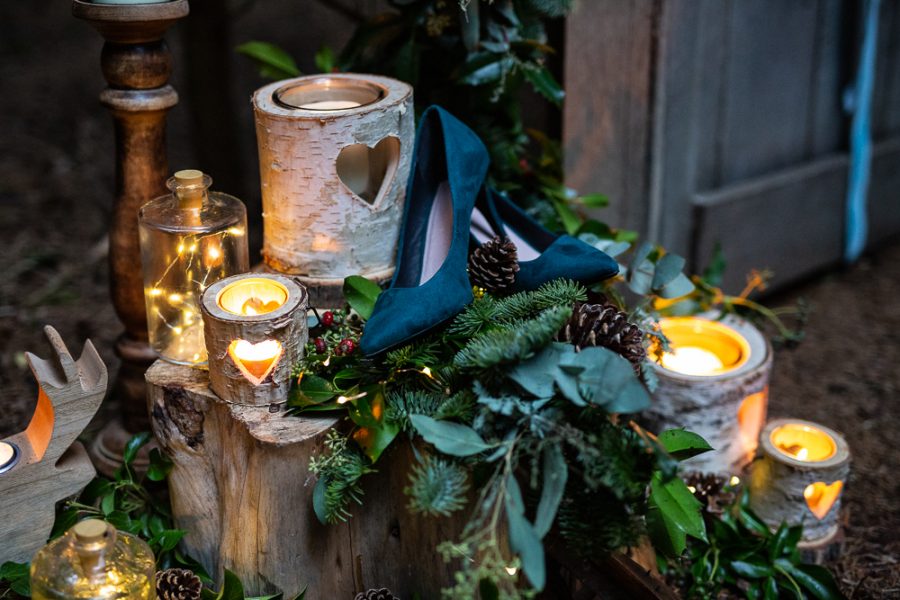 Winter Woodland Wedding Dresses – Bridal Reloved Street
"I provided 2 reloved dresses for the shoot, initially we wanted to ensure that the dresses we
selected would suit the models body shape. The first dress was a pale ivory Pronovias gown.
The dress features an A-line skirt made up of several layers of tulle to create an ethereal
look."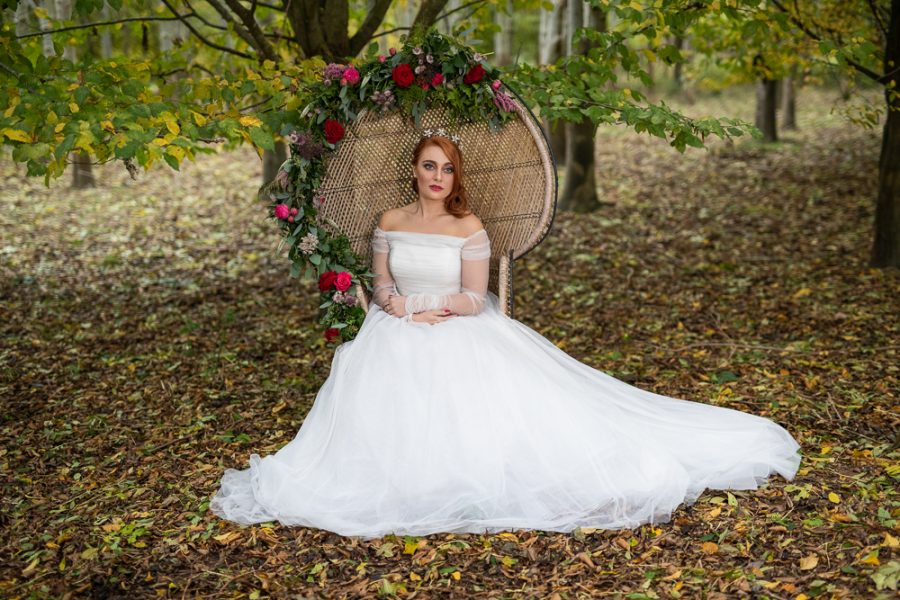 Tiaras – Tessa's Tiaras
"I created an opulent crown using rich seasonal colours. I upcycled some broken jewellery,
mixed with Swarovski crystals, blackberry pearls and re-used old coper wire from dis-used
electrical cables."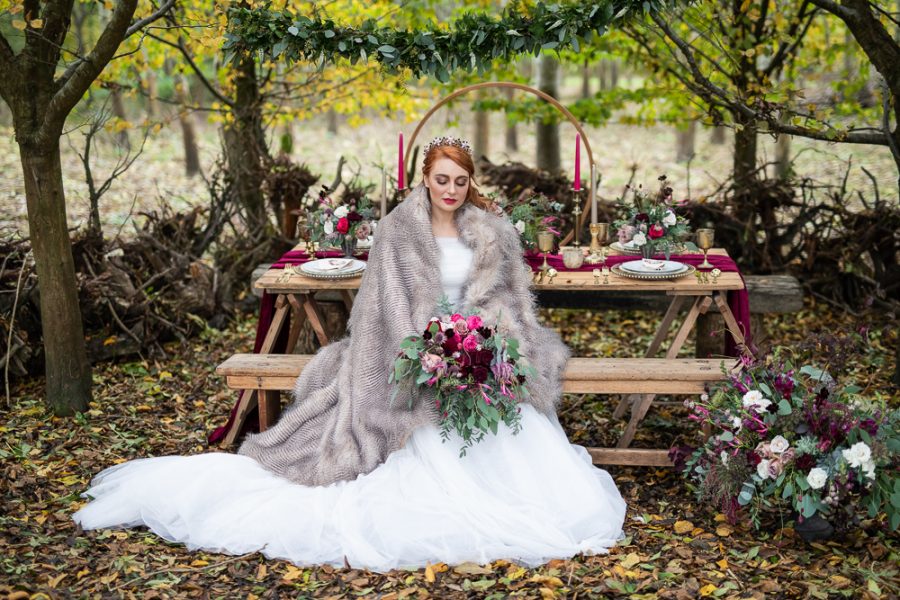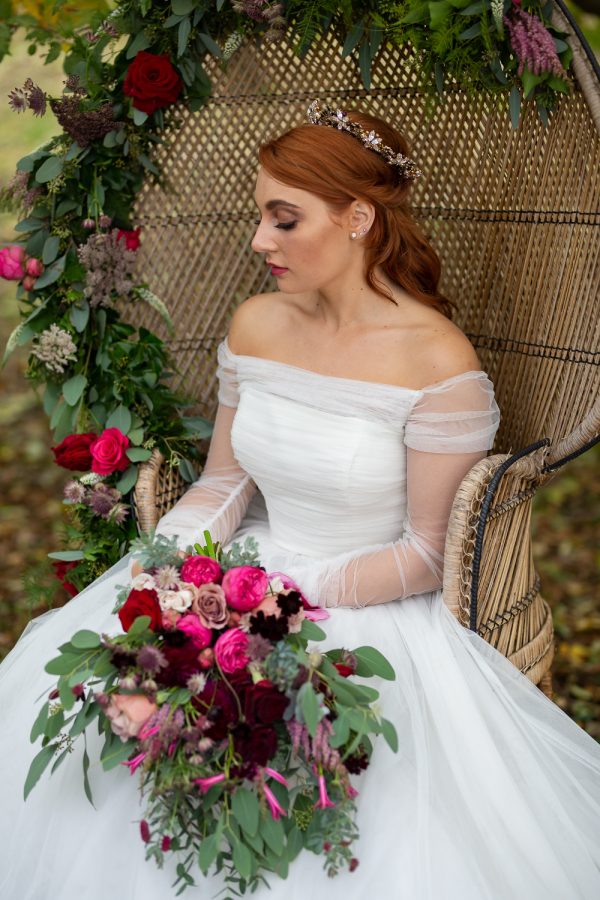 Winter Woodland Wedding Stationery – Pastel's Designs
"When I was asked to do the Winter Christmas shoot I had so many different ideas but
working with the other suppliers we decided to create a deer monogram in rich winter
warm colours which flowed through the design. The stationery was printed on high quality
uncoated paper which added to the rustic feel. Typography was subtle to make the
monogram stand out."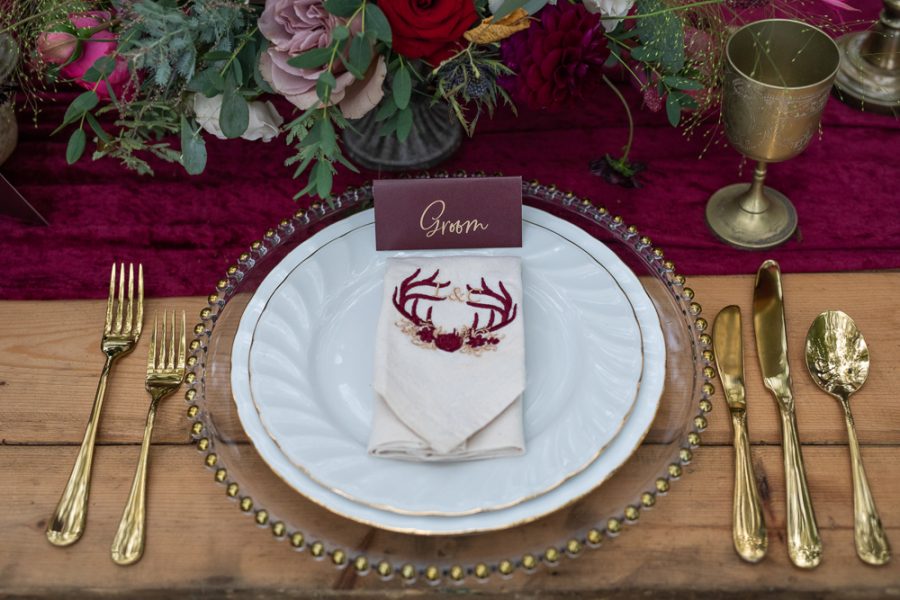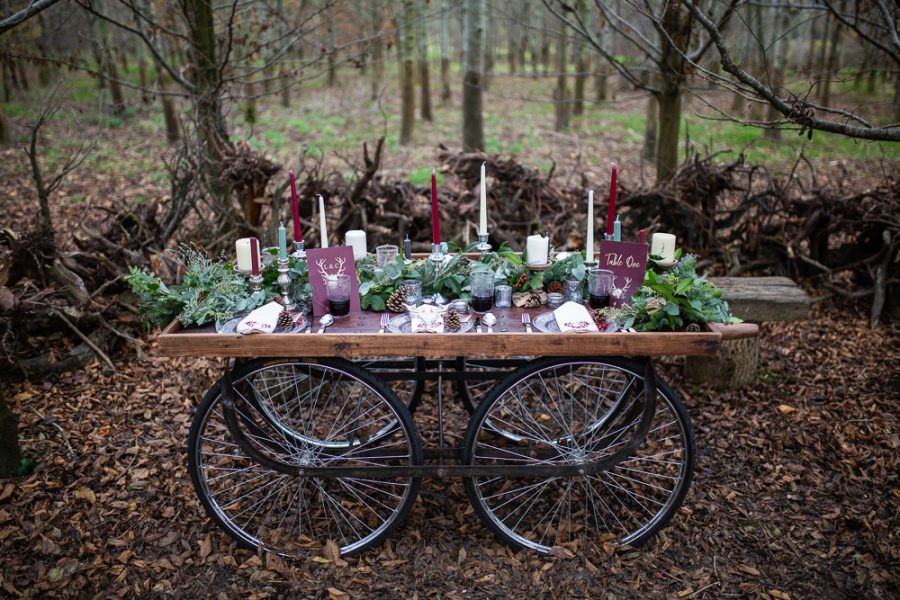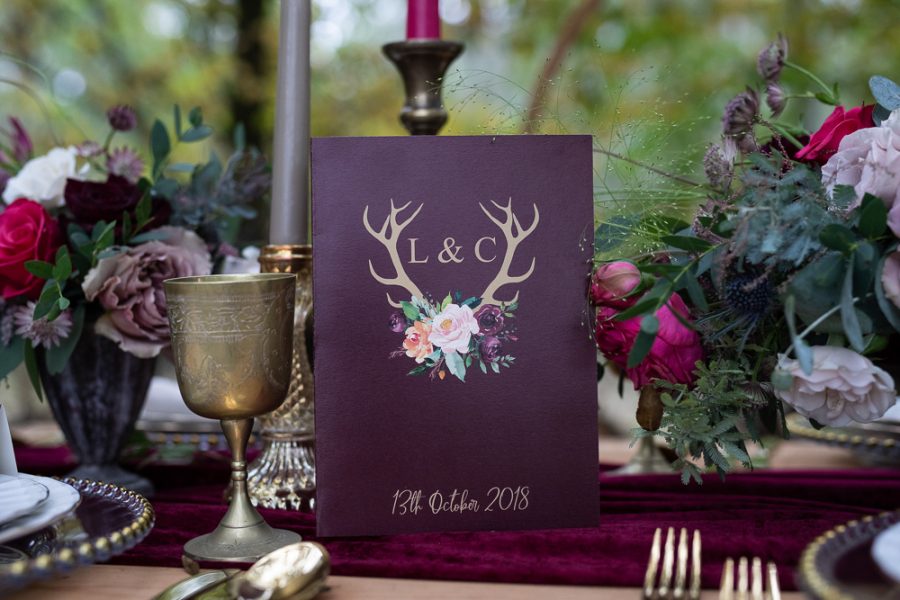 Cake – Joanna Pyda Cake Studio
"The dessert table I created for this styled shoot consisted of a rustic 2 tier cake decorated
with handmade sugar flowers as well as a wood bark effect on the bottom tier. A single
buttercream mini cake and cupcakes accompanied this decorated to match. The gold leaf
cake popsicles created a beautiful addition."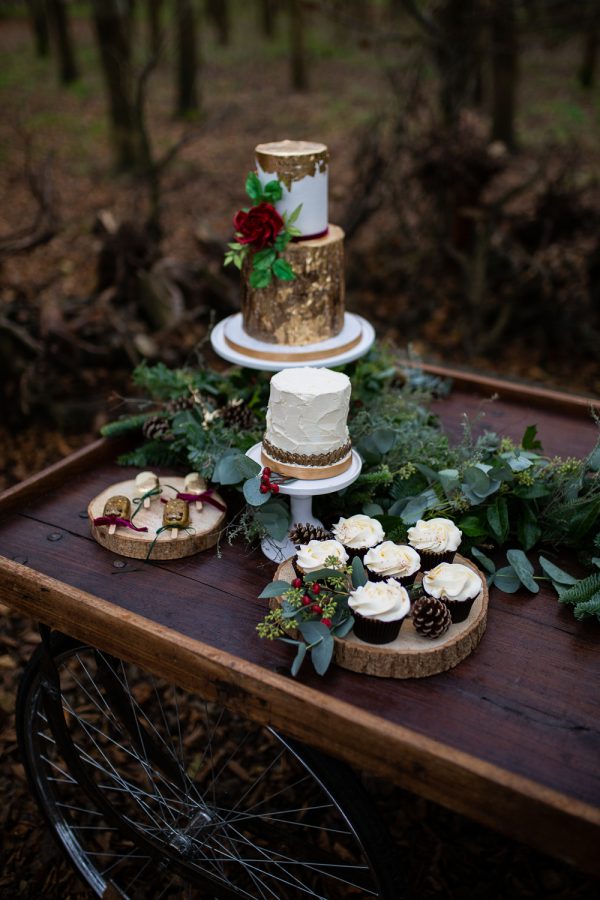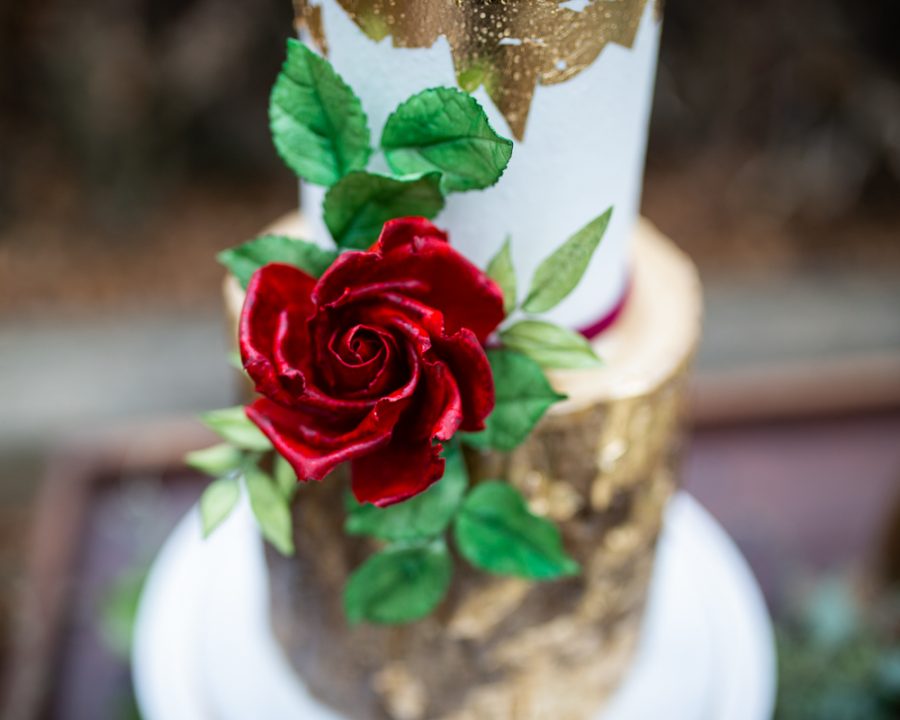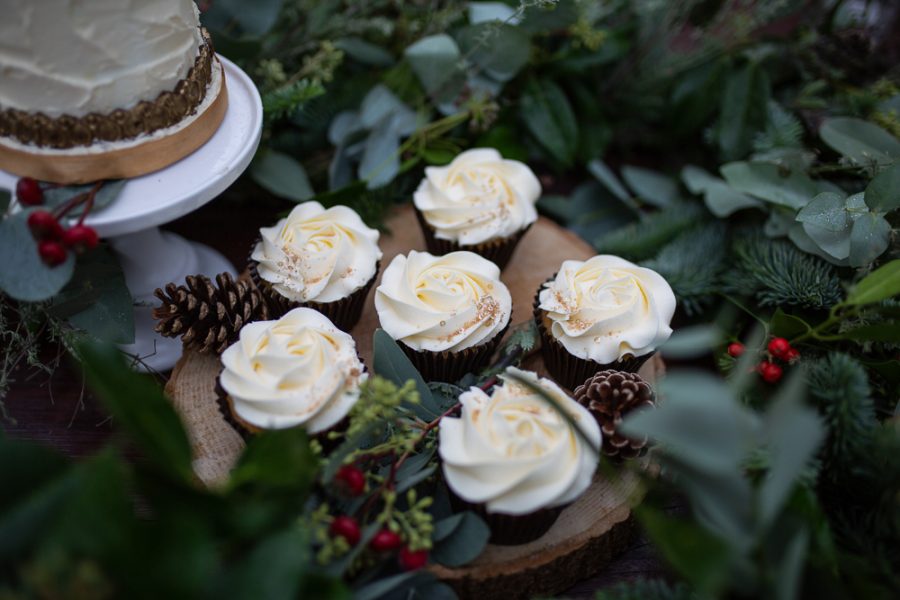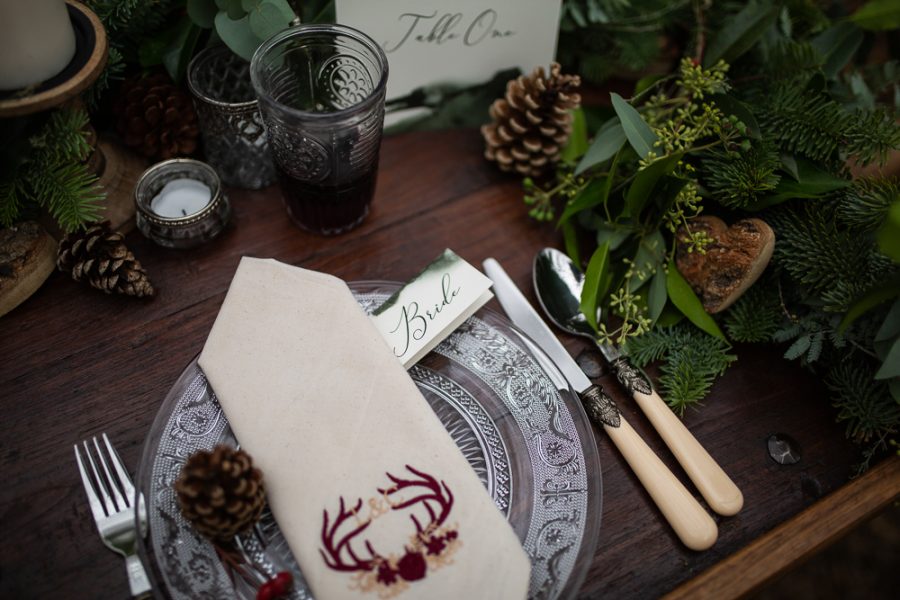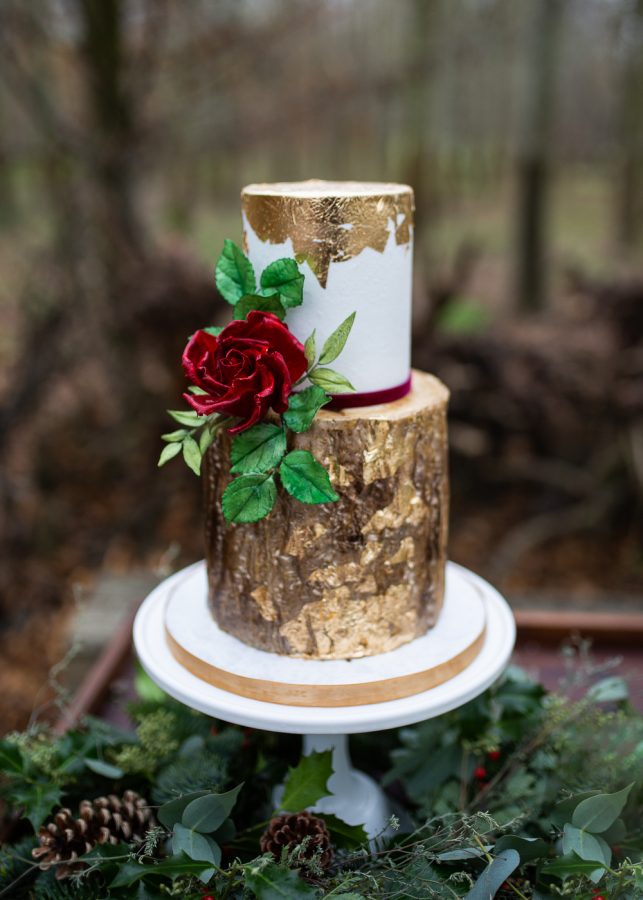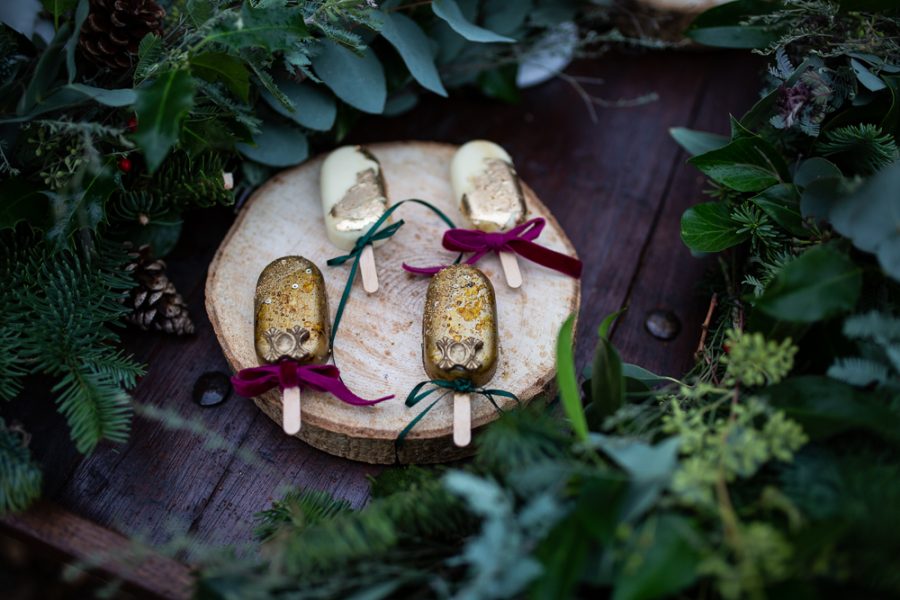 Winter Woodland Wedding Hair – Hepcats Barber Shop and Beauty Parlour
"Our model, Gemma, had gorgeous copper red hair which was really suited to a soft,
romantic style. I felt her natural beauty ought to do the talking, rather than anything overly
elaborate. I created soft gentle waves which I swept up into an updo with some volume
around the crown, allowing the tiara to sit perfectly."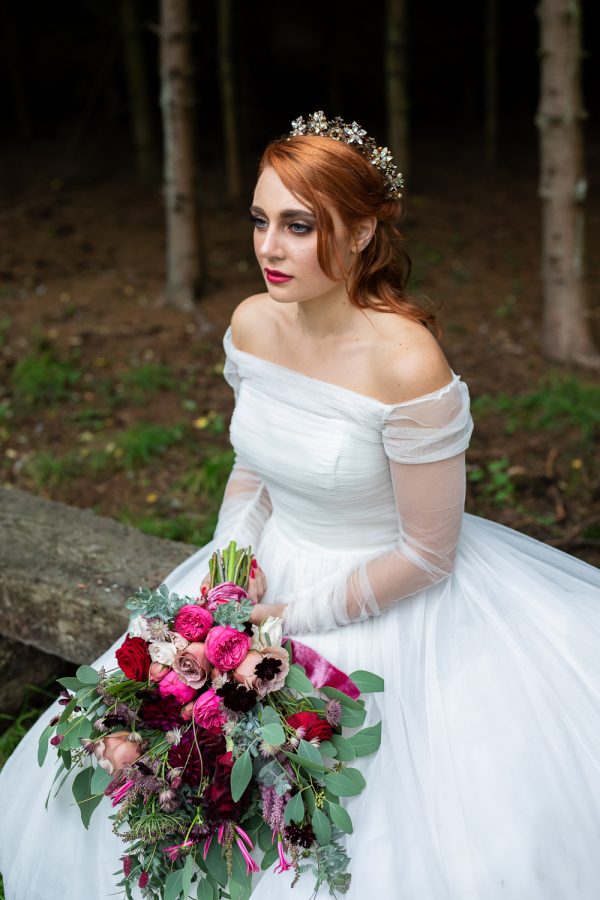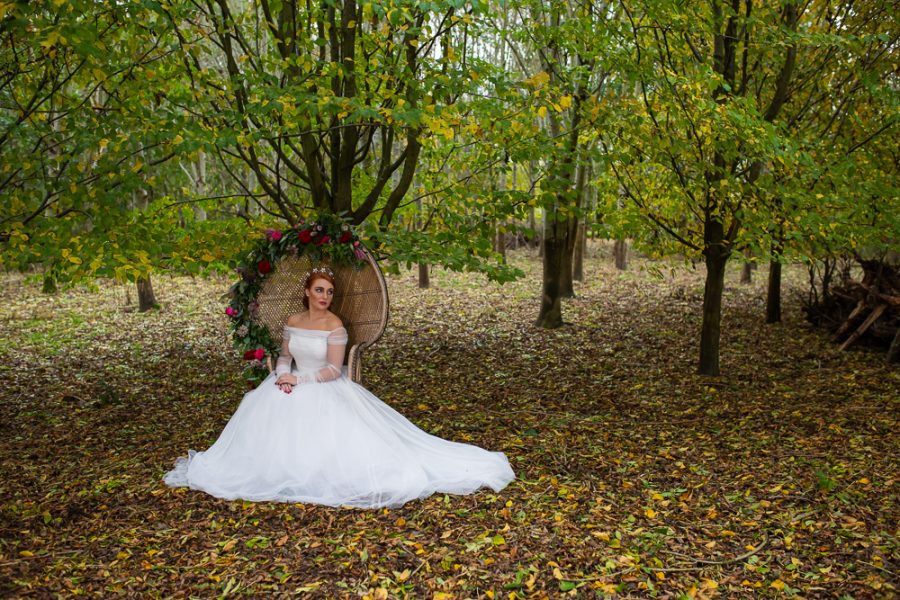 "As the updo was soft and natural, it was easily taken down later in the shoot, with gentle
curls framing Gemma's face and giving a different look. I used products with texture such as
dry shampoo to create the initial style, and then finished with a shine spray to really show
off her gorgeous hair colour."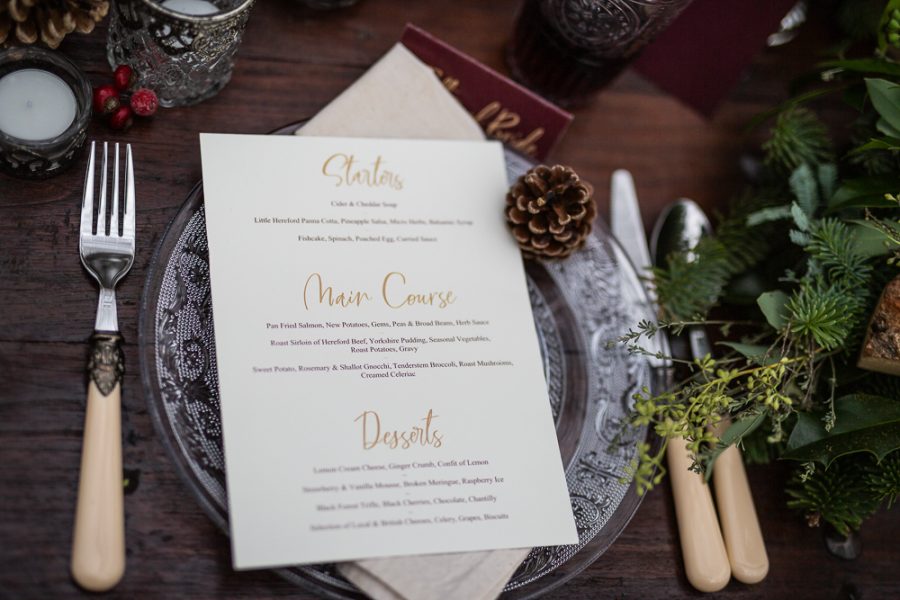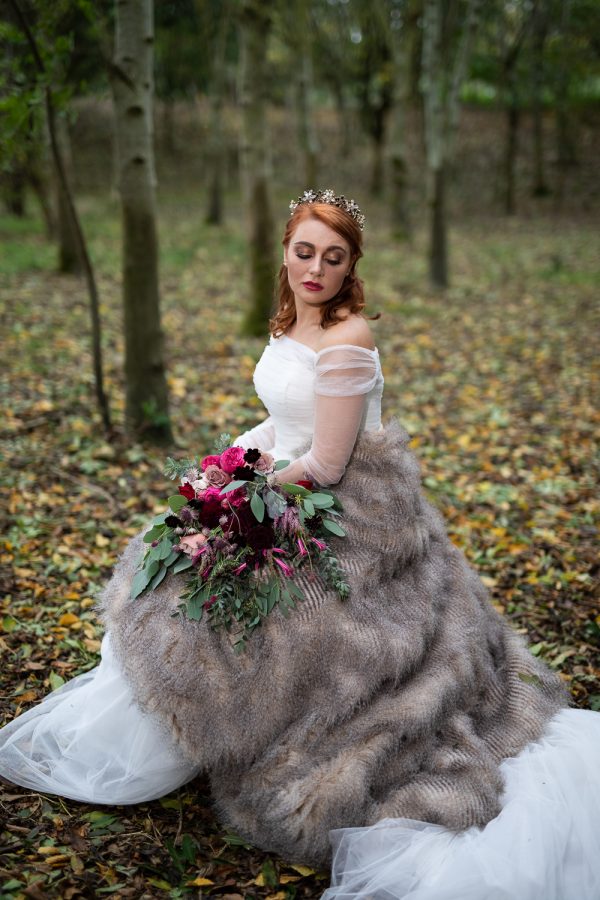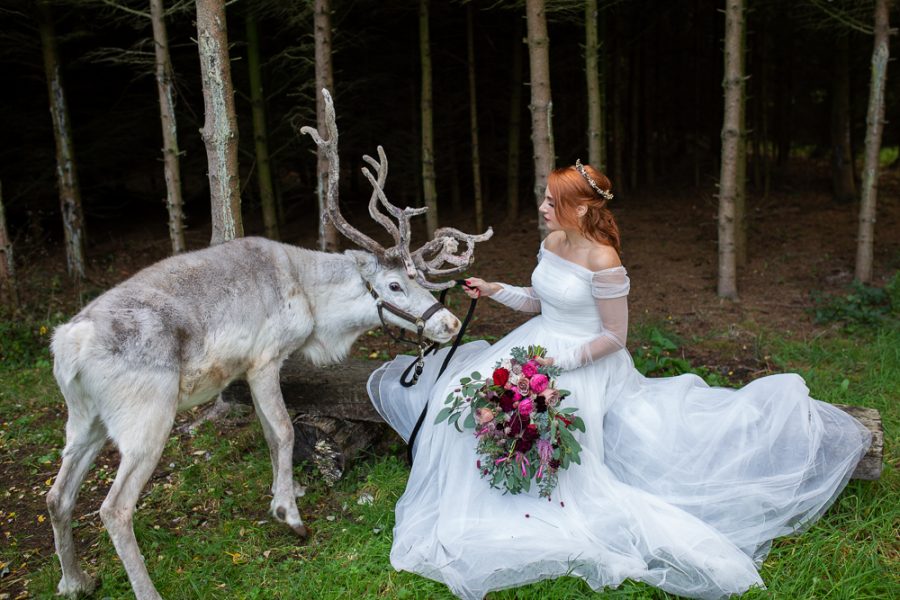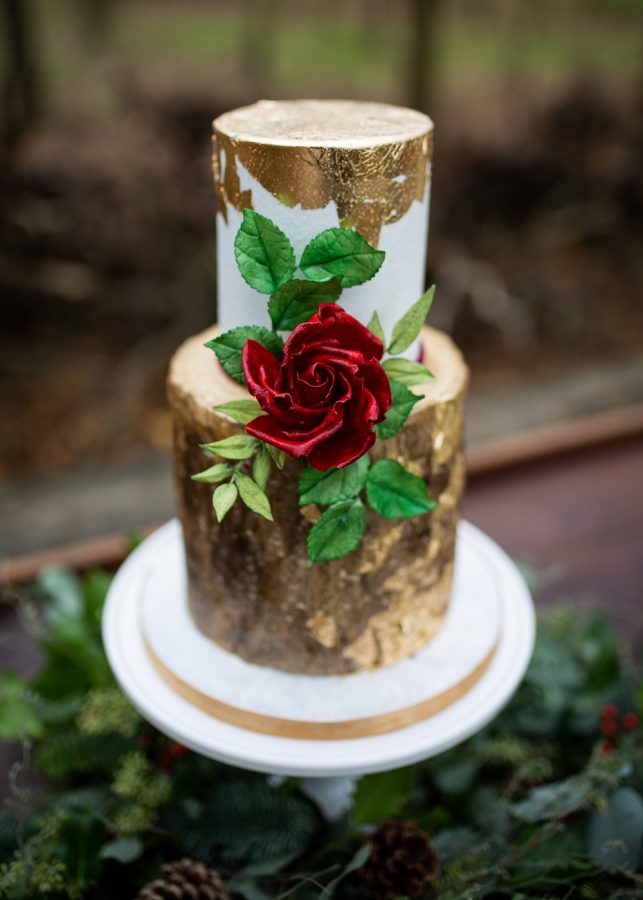 Winter Woodland Wedding Make-up Celfie Hair and Makeup
"Inspired by the Winter theme I chose a bold lip colour to compliment the deep colours in
bouquet and a warm brown smokey eye."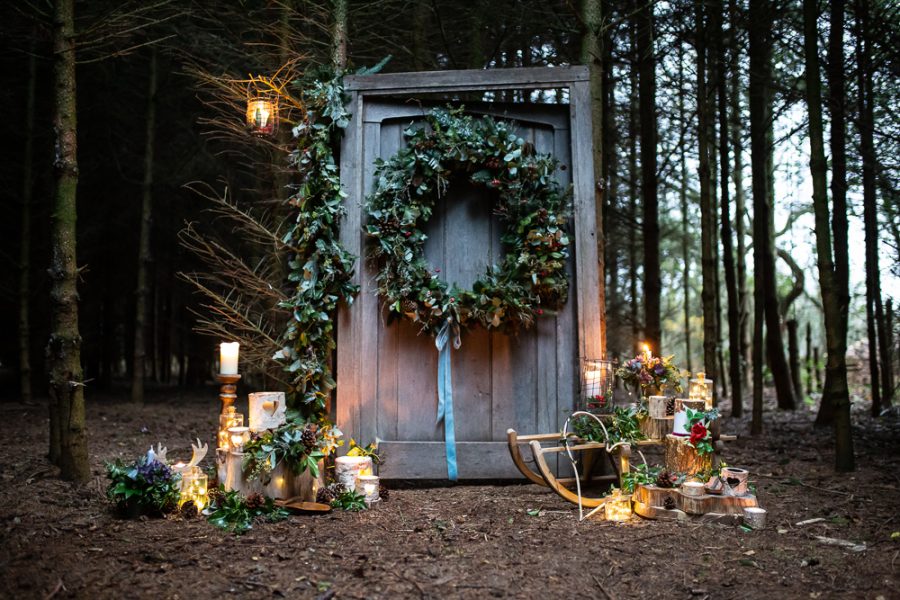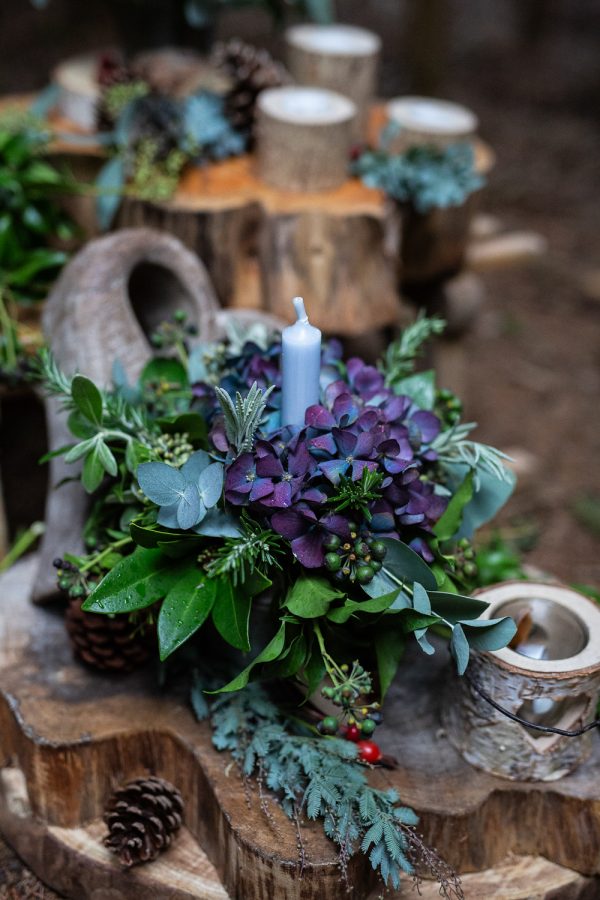 Winter Woodland Wedding Reindeer- Somerset Reindeer Ranch
"Somerset Reindeer Ranch is a small, professional, family run business nestled in the heart of Somerset in the sleepy village of Chilthorne Domer near Yeovil. Winter is our most special boy, with a very rare coat cover, white as the driven snow. Only one in ten thousand Reindeer are born white so we consider ourselves very lucky to have him living with us. He is one of our sleigh pullers, and what a wonderful sight he makes!
"White Reindeer are considered to be lucky charms in Scandinavia. Comet joined the herd in the summer 2014 and is our second sleigh pulling Reindeer, and is mostly paired up with his buddy Winter. His is silver, super fluffy and our strongest Reindeer, often trying get up some speed with the sleighs, he thinks he is a racehorse and enjoys thrilling Santa!"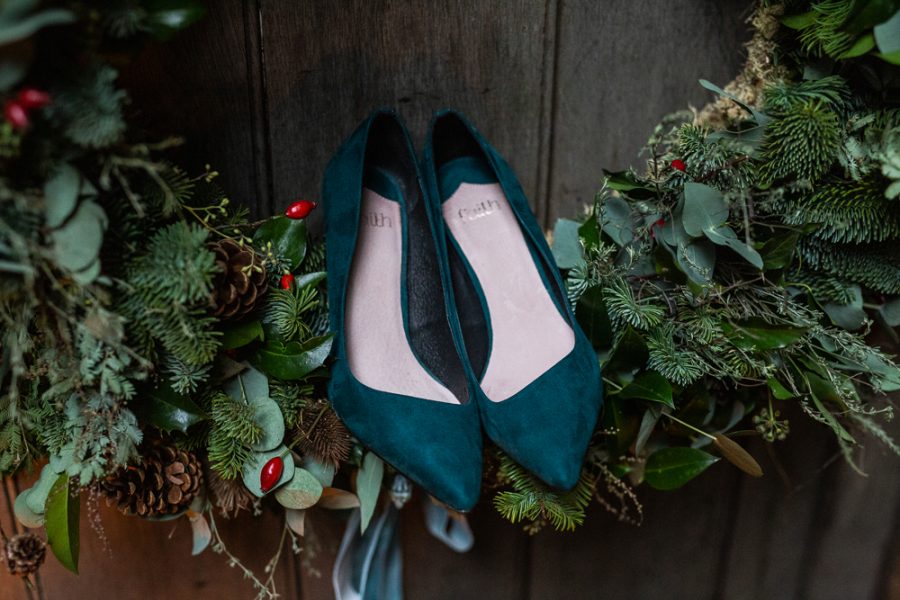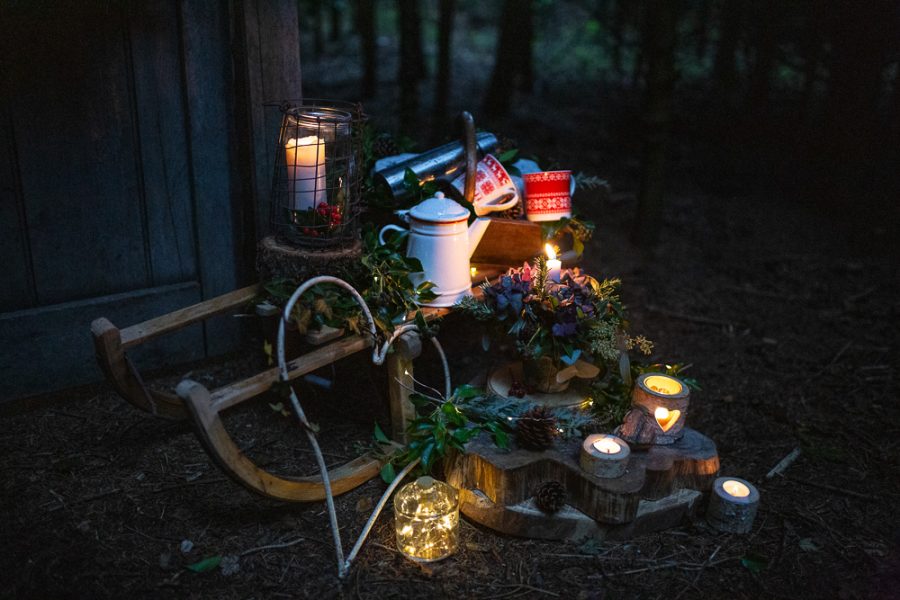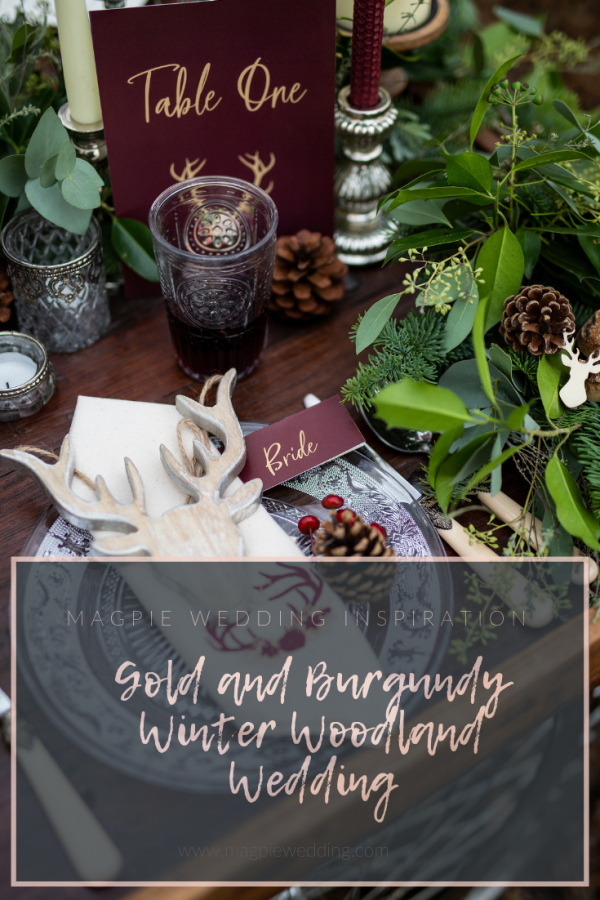 The Team- Winter Woodland Wedding Inspiration with Burgundy and Gold Touches
Crown, Hair Accessories and Embroidery work – Tessa's Tiaras @tessastiaras
Venue – The Old Milking Parlour at Cavokay House @oldmilk1
Photography – Photography By Chantel @photographybychantel
Florist – Caroline Clements Flowers @caroline_clements_flowers
Styling and Props – Rustic Rentals @rustic.rentals
Dresses- Bridal Reloved Street @bridalrelovedstreet
Stationery – Pastel Designs Signature @pasteldesignsuk
Hair and Make up – Celfie Hair and Makeup @celfie_hairmakeup
Cake – Joanna Pyda Cake Studio @JoannaPydaCakeStudio
Hair – Hepcats Barber Shop and Beauty Parlour @hepcatsofnam
Reindeer – Somerset Reindeer Ranch @somersetreindeerranch
Looking for more wedding inspo for your big day? Check out our online magazine BOND BRIDE