We love indie designers who focus on creating original designs that are both ethical and cool at the same time. So today we are chuffed to be sharing the first collection by Karen Whybro, the owner and founder of Rock The Frock. And to think only 4 years ago she was a primary school teacher, disillusioned with education and dreaming of opening her own boutique, so style savvy brides could cut through the crap and find their dream dress.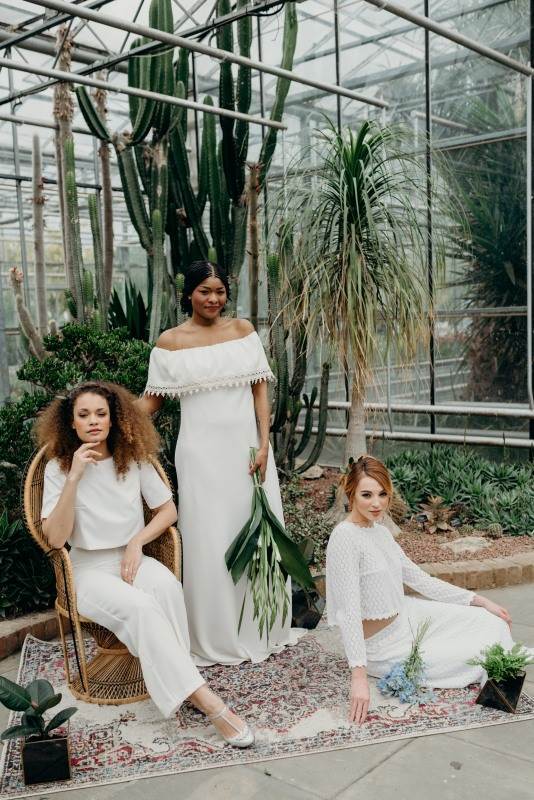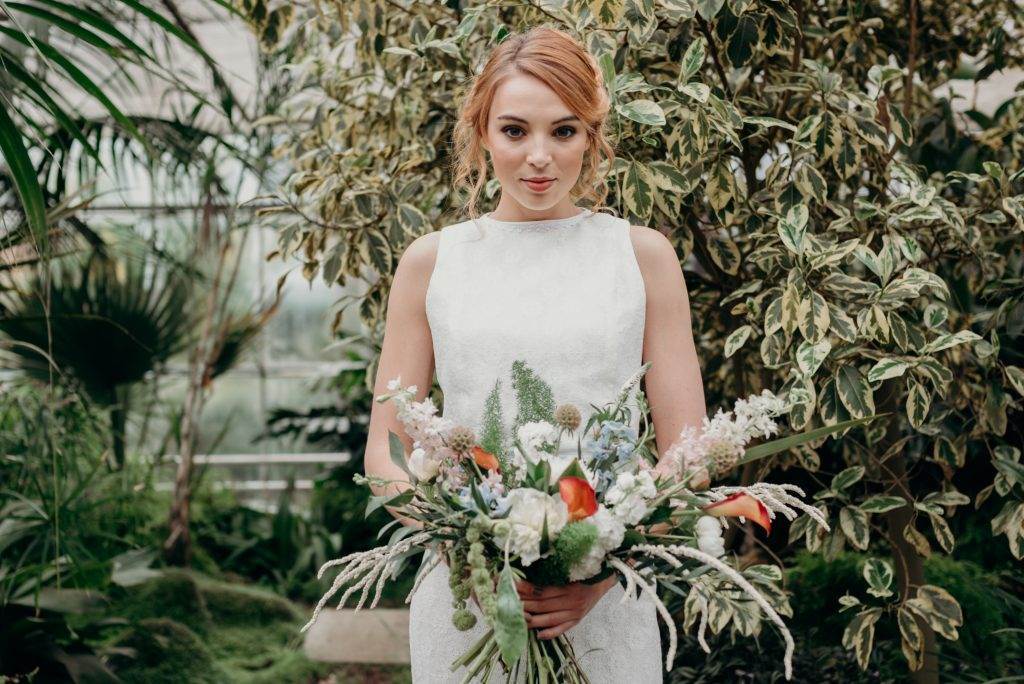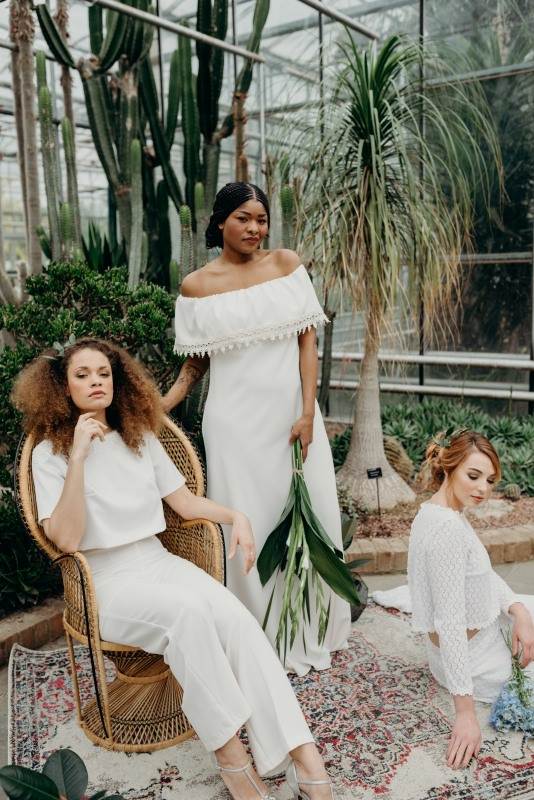 This collection, called Rock The Frock vol.1 has influences from the 1960s and 1970s, but with a modern bride in mind. There are trousers (remember Bianca Jagger wore a suit to her wedding when she married Mick Jagger), bridal separates that are both wearable and on trend, capes (gosh we love a cape!) and also details that stand out to make this feel different from other designers. Let us introduce you to the collection, with names based on the women who rocked our world.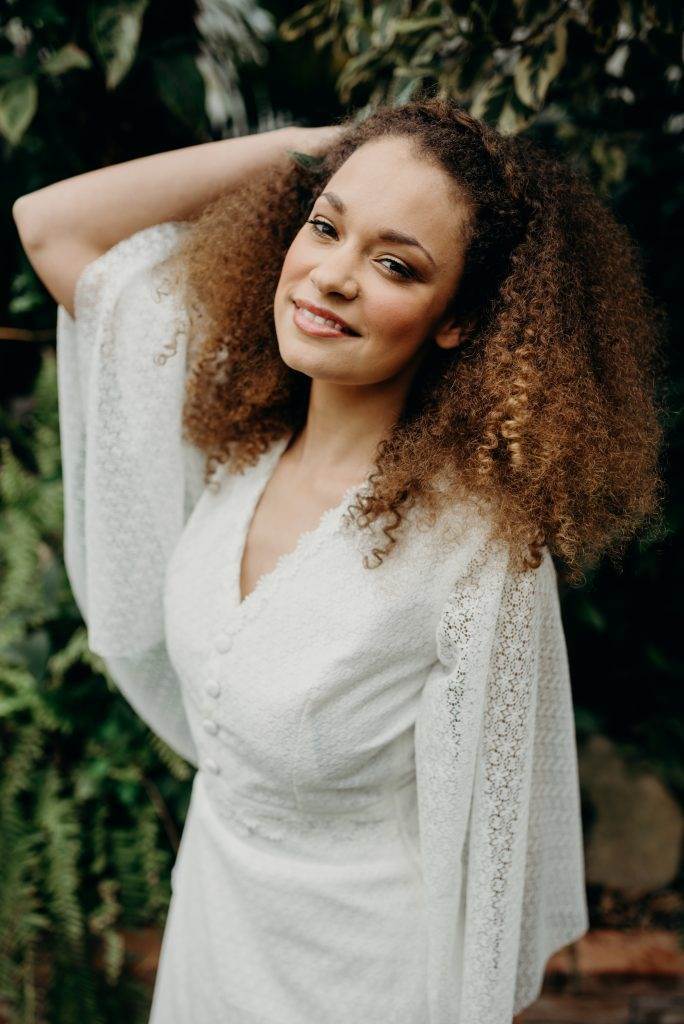 This is the Cass Cape dress because who DOESN'T want to wear a cape on their wedding day? A dress made for a super-hero of a bride, with a beautiful intricate lace cape forming part of the dress & tiered skirt to add a classic detail to a modern take on the boho look.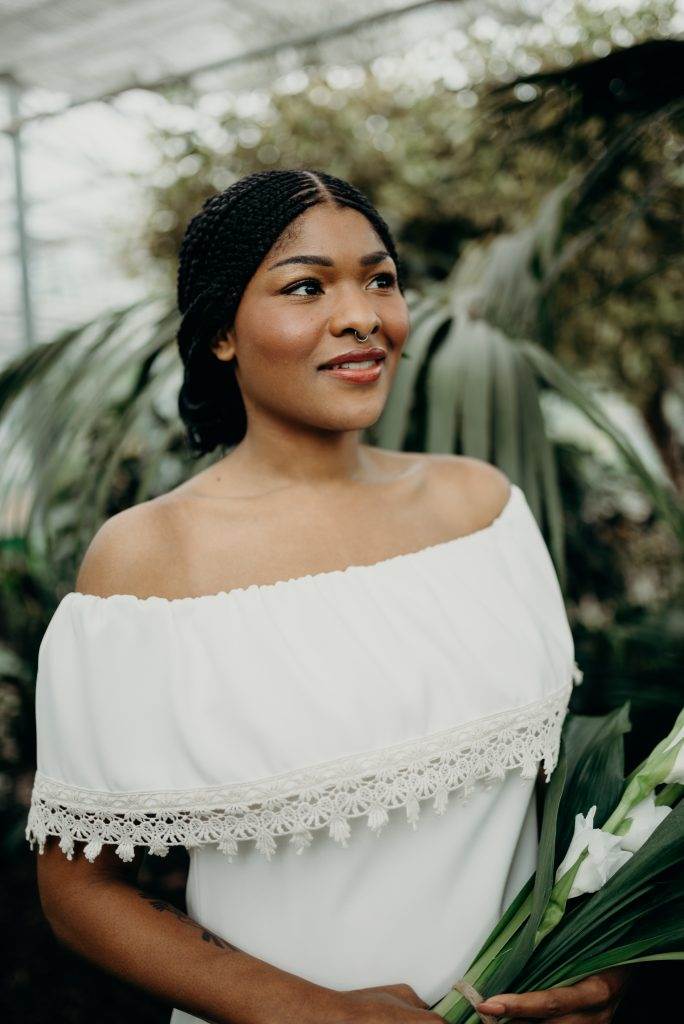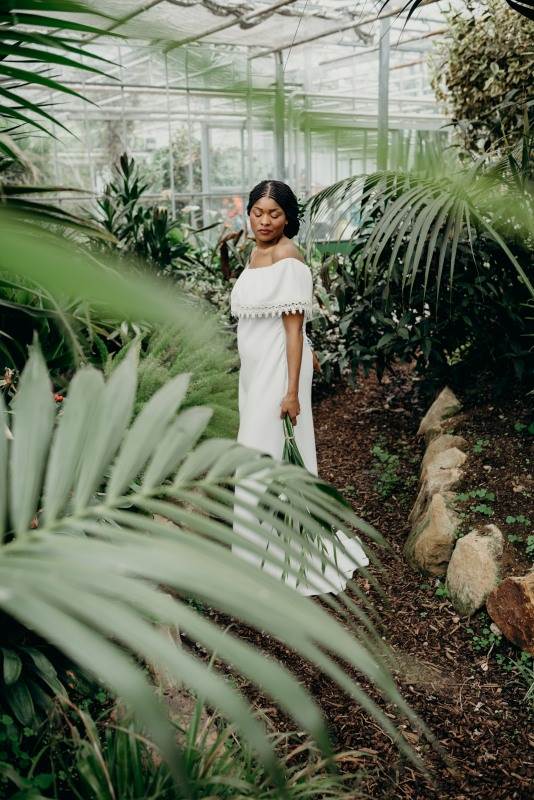 This is Margot. Inspired by the beautiful Margot Robbie, this dress is heavily influenced by the 70s style, with its Bardot neckline but with a relaxed feel & hippy feel. Edged with crochet lace for an authentic vintage vibe and made in luxury crepe to look and feel amazing!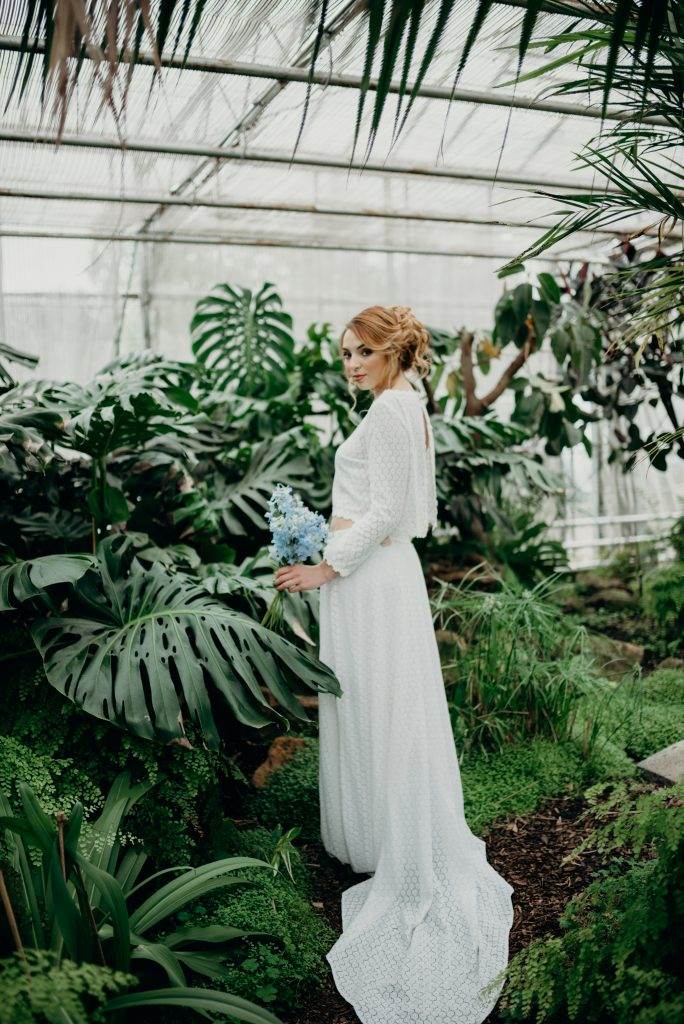 This is Jane. Inspired by fashion icon Jane Birkin, the open back top and matching skirt evoke the feelings of 60s flower power with the daisy motif lace and relaxed fit.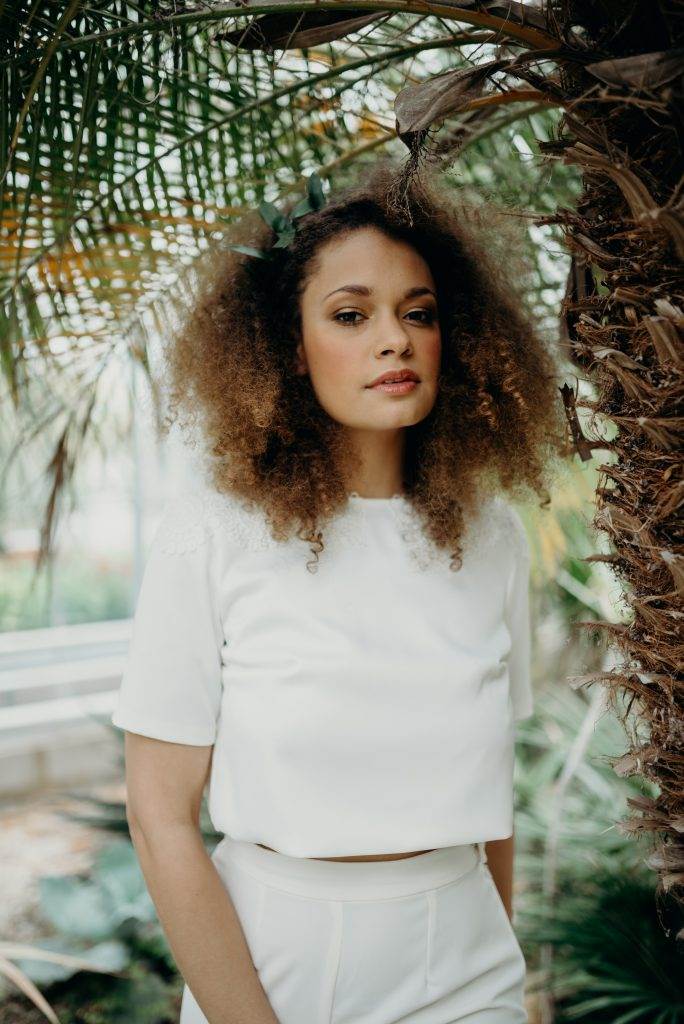 This is Bianca. Bianca Jagger was the first lady of rock n roll weddings and we ADORE her effortlessly cool style. The Bianca top and trousers were made in her honour for brides who want a laid back but smart style for their wedding, whether it be a cool city affair or intimate pub wedding!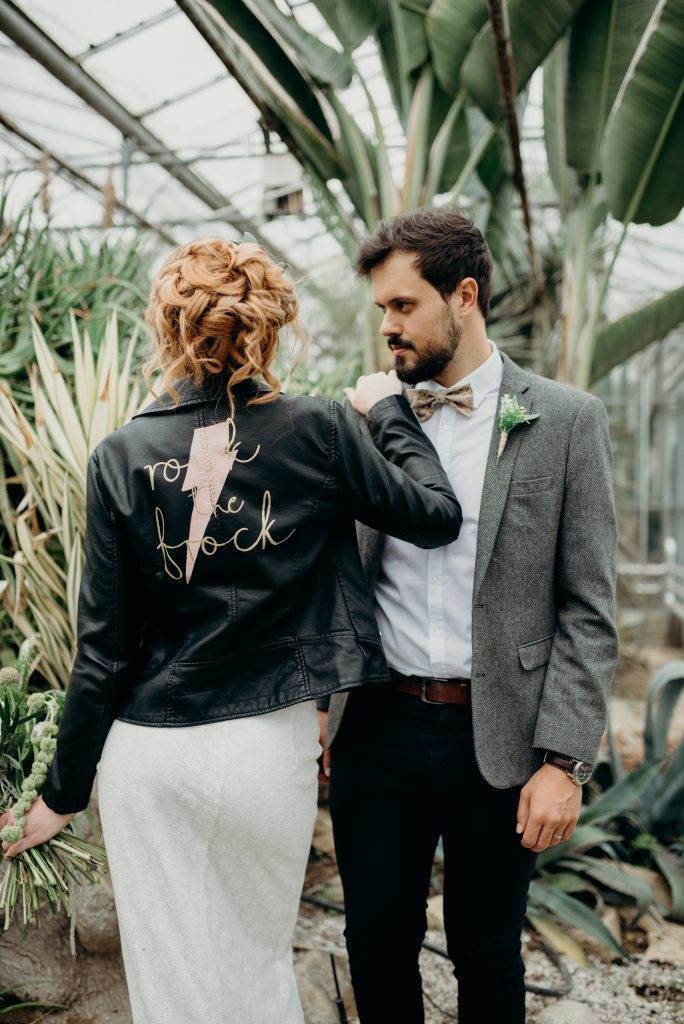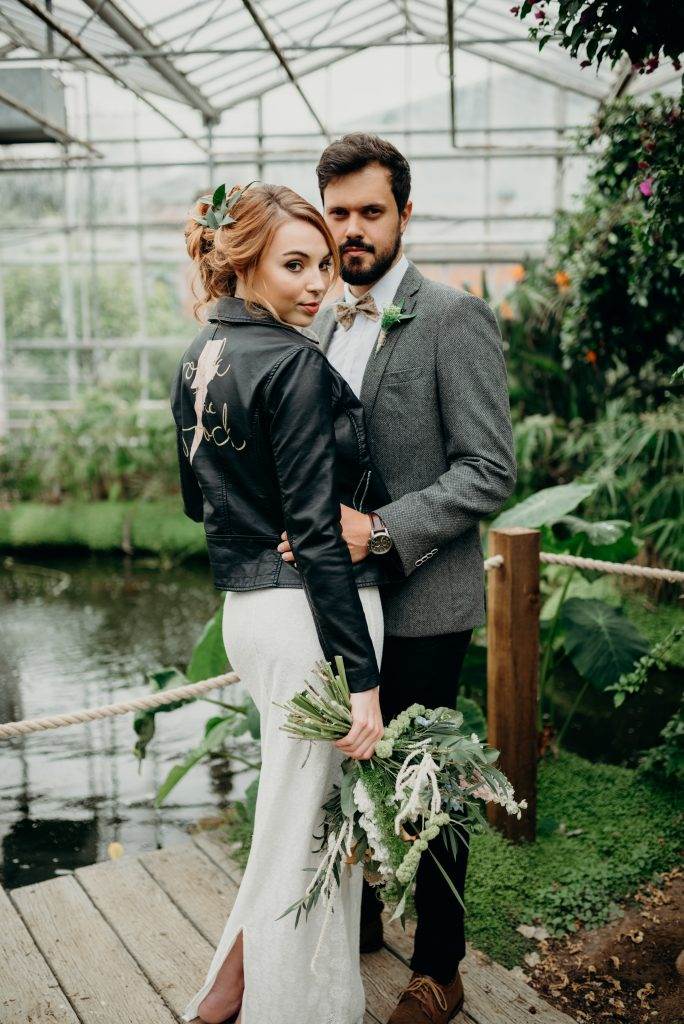 The Rock The Frock collection was photographed with a botanical theme – a look that doesn't appear to be going anywhere soon! Teamed up with a hand painted leather jacket – another key trend for 2018. Get more leather jacket bridal inspiration on this blog.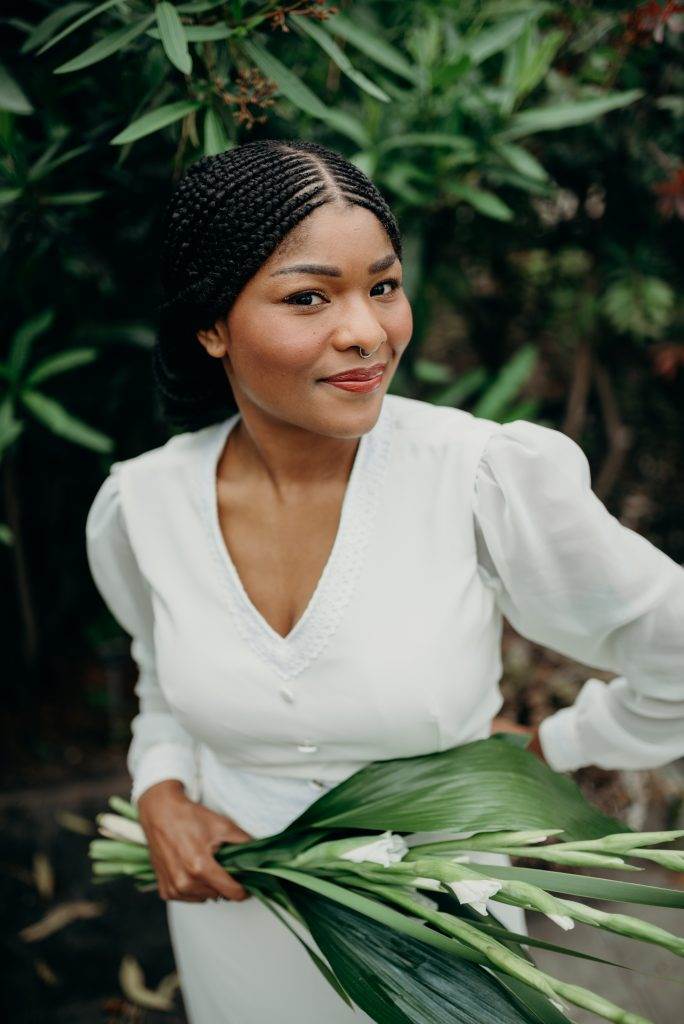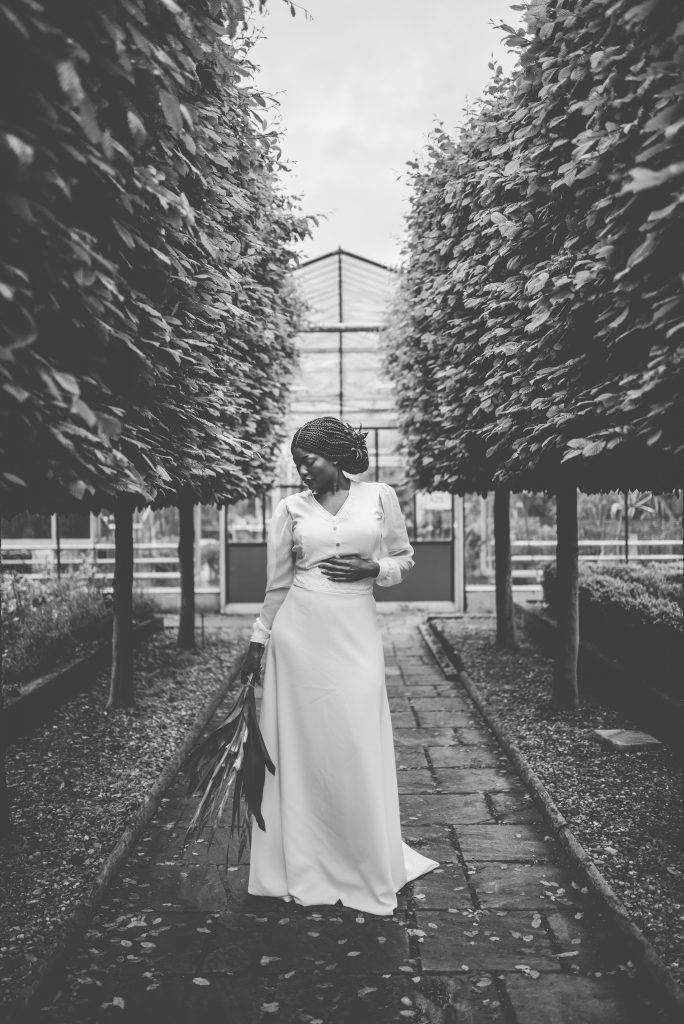 This is Joni. Relaxed, effortless 70s style with inspiration coming from the ultra cool Joni Mitchell. The Joni dress incorporates soft chiffon sleeves with lace cuff and waist detail for added pretty!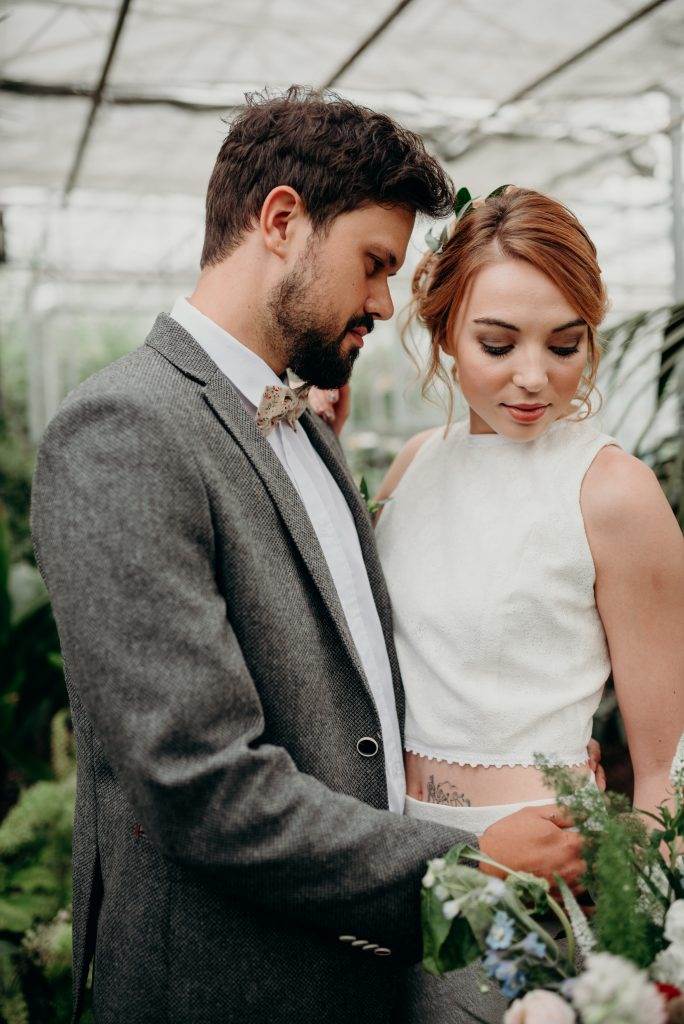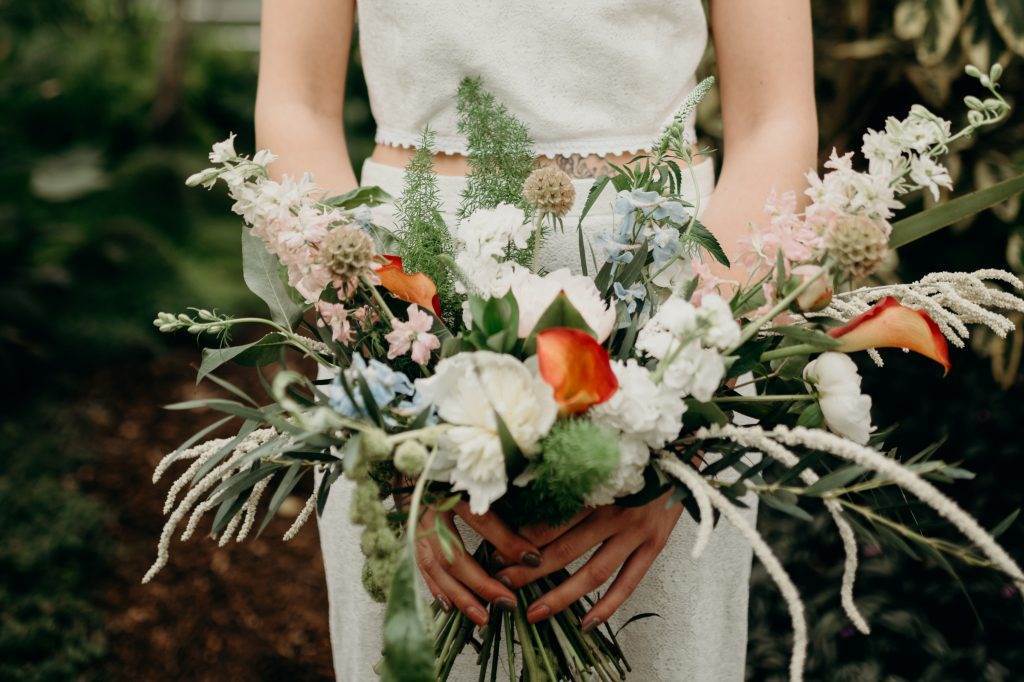 This is Nancy. A more modern take on the boho style that continues to dominate bridal style, the Nancy separates are named after Karen's biggest influence – her baby daughter. Designed with a city bride in mind who wants the edge of separates mixed with the prettiness of lace, the Nancy top is racer style with a narrow skirt for clean lines and modern mood.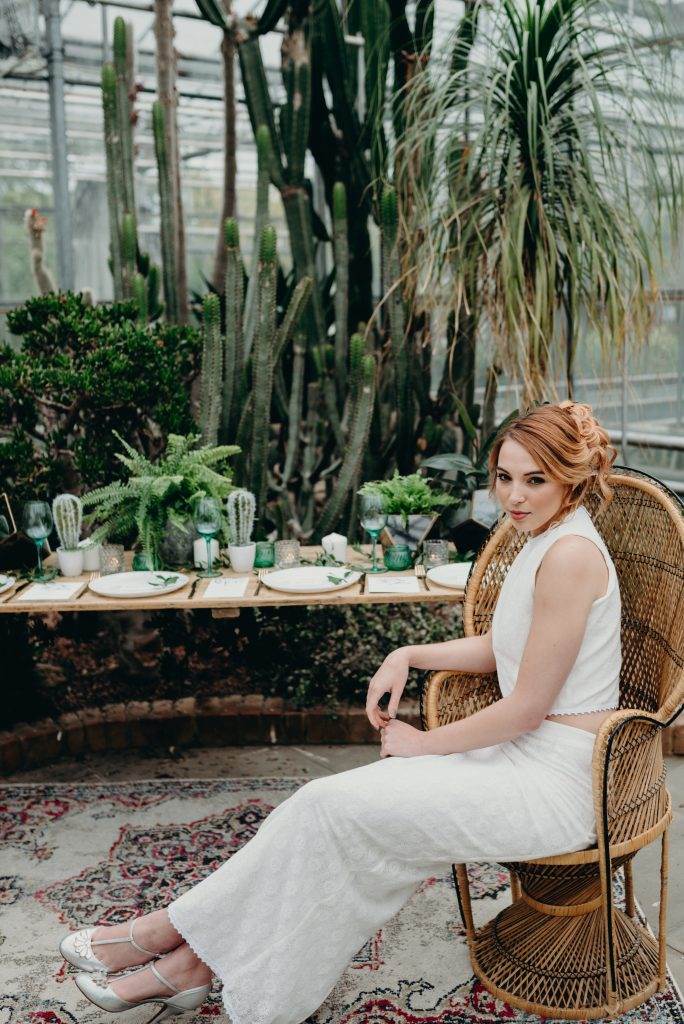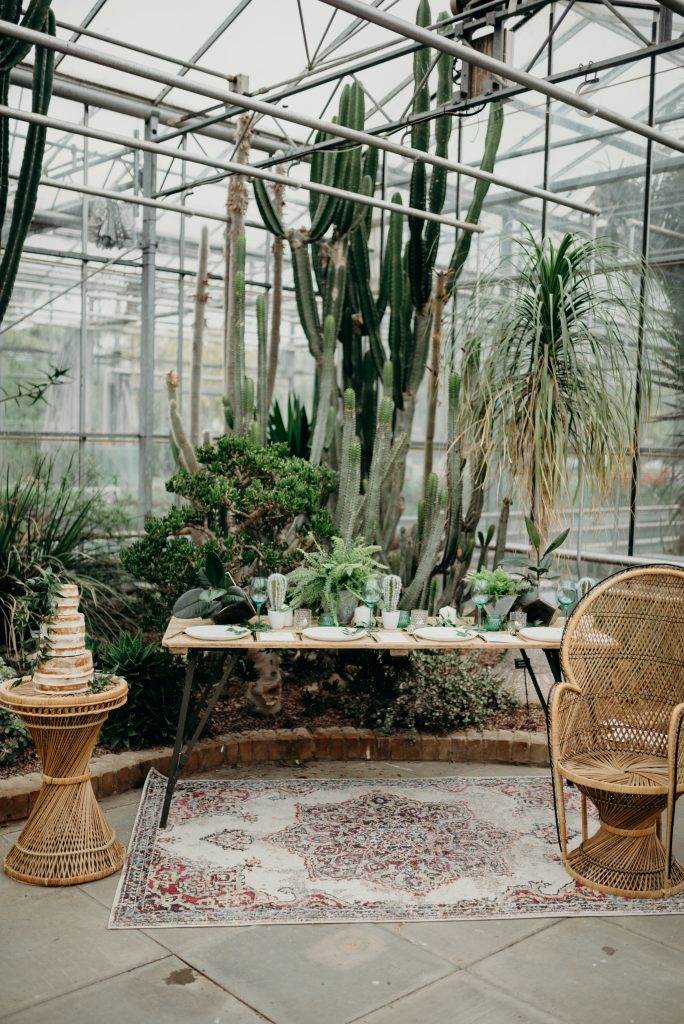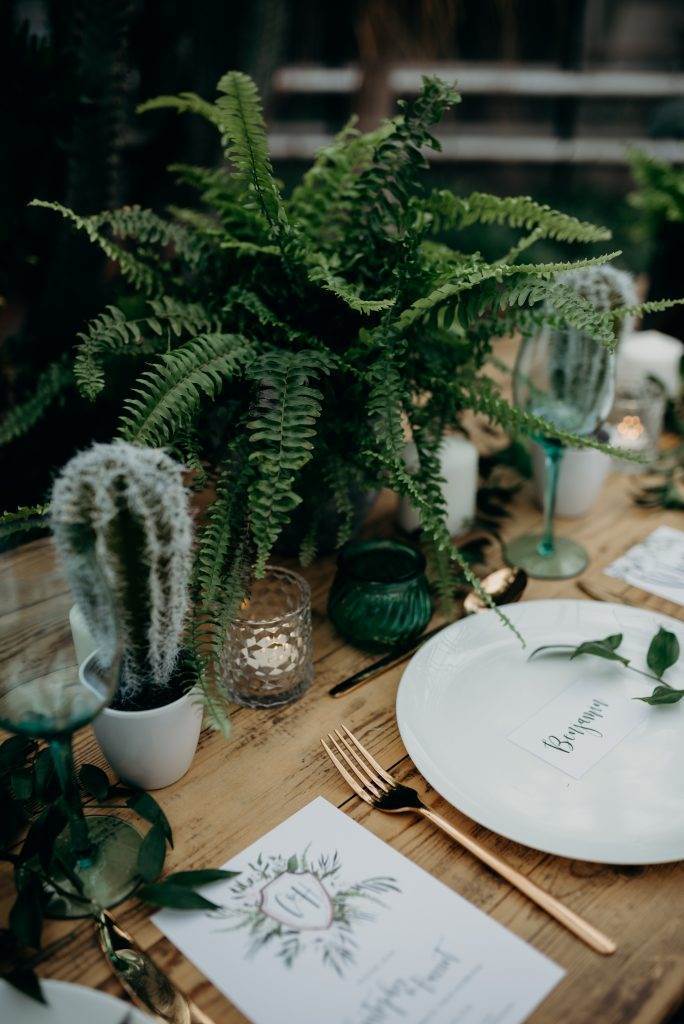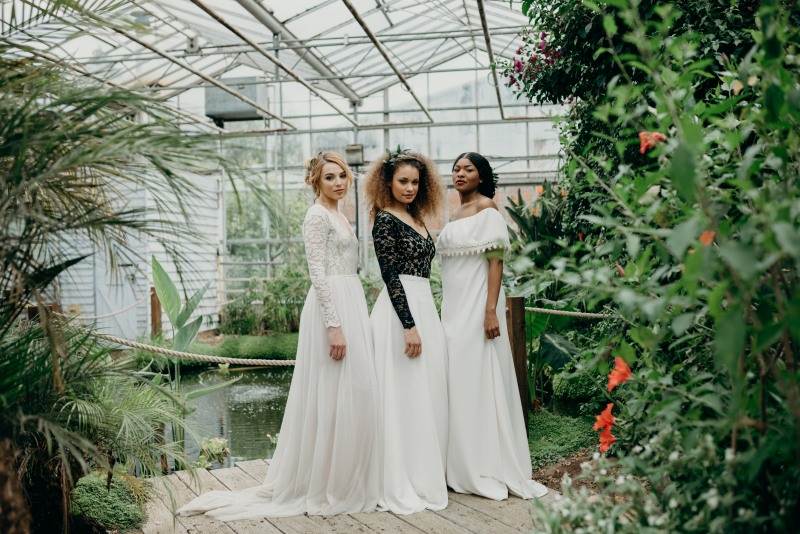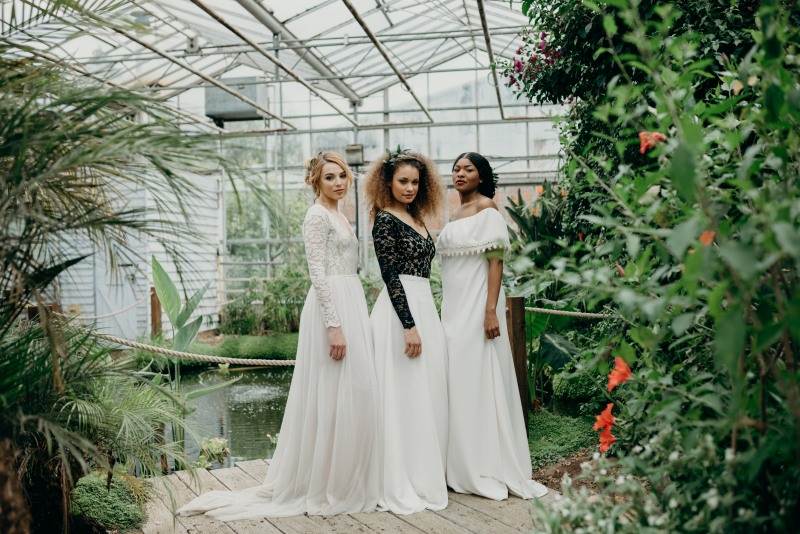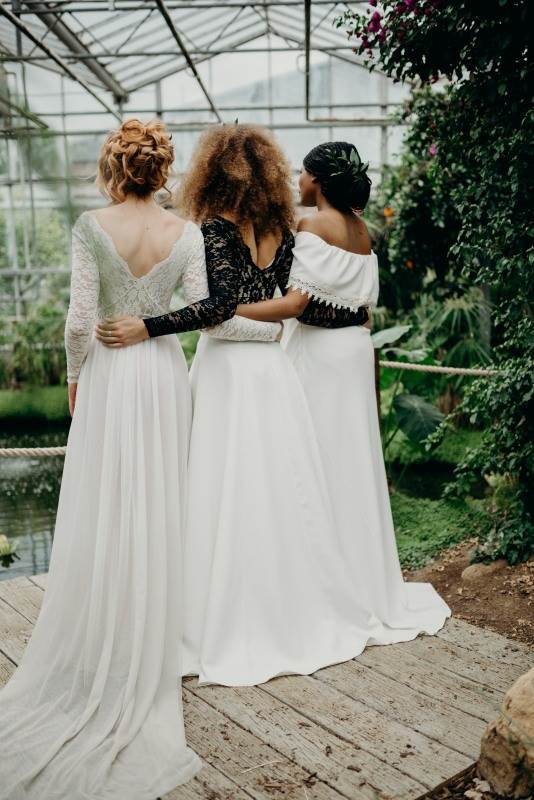 This is Maria. Inspired by Madonna's 1980s entire lace wardrobe, the Maria crops and bodies can be mixed and matched in so many ways! From a classic look paired with a tulle or silk skirt to a more modern style mixing up colours and textures, the Maria tops and bodies are designed to be worn many ways and even after the wedding day!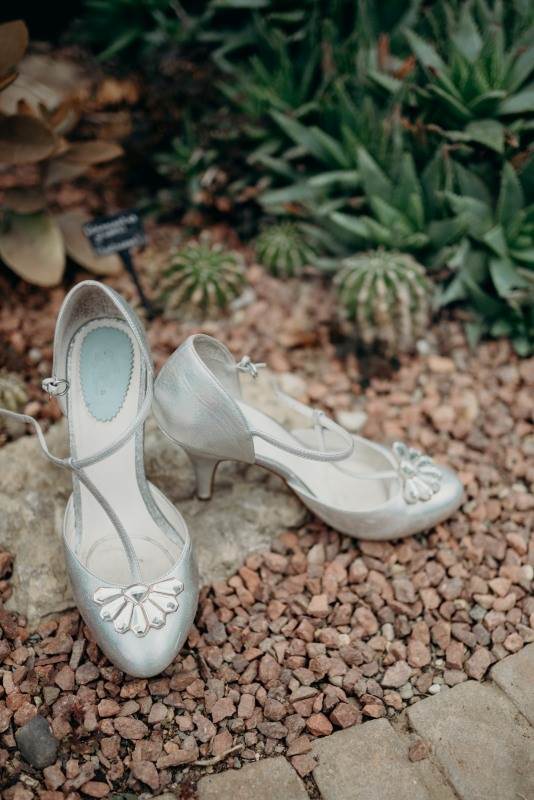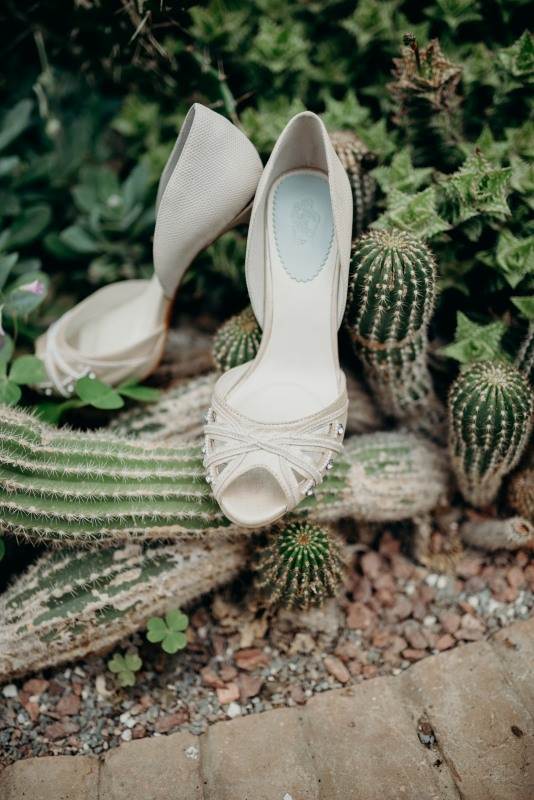 Credits for the shoot go to:
Photography: Gather The Light
Venue: Writtle University
Hair: Lisa Alger Wedding Hair and Makeup
Make Up: Claire Marie Makeup
Styling: Rock The Day
Flowers and plants: The Flower Arranger
Cake: Frenchmade
Stationery: Wonderland Invites
Shoes: Merle and Morris
Model: Chloe Papworth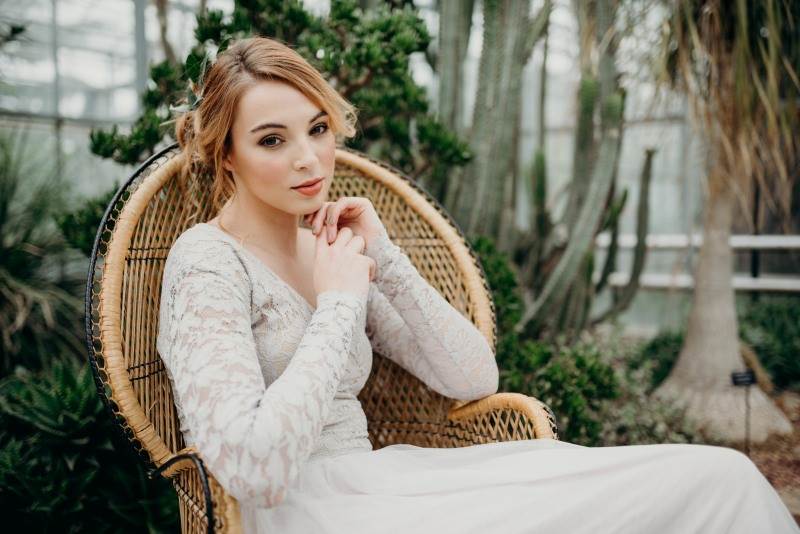 Disclaimer: Rock The Frock is a paid client of Indie PR – the creative indie PR company owned by Kate Beavis, the director of Magpie Wedding. Find out more here: http://katebeavis.com/indie-pr