With a passion for vintage inspired dresses you might wonder how to achieve a desired silhouette for your wedding look. When it comes to vintage inspired gowns this can be a particularly difficult experience so we are pleased to announce that you will be able to get expert advice on choosing your wedding lingerie at our next event in London Chiswick on November 13th.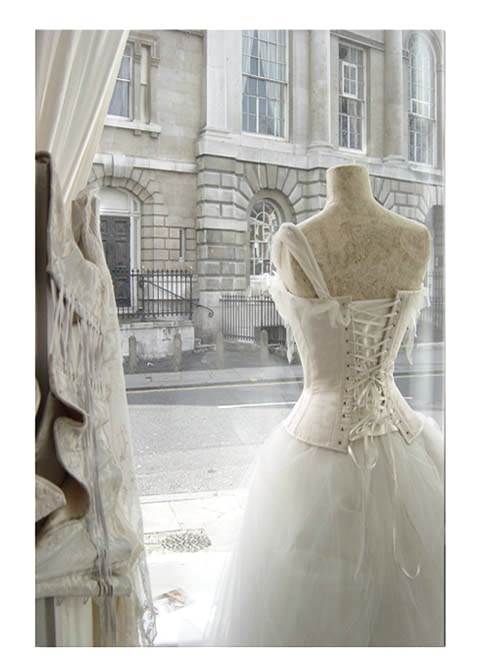 Bridal Corsetorium is a specialist brand that focuses on high-end collections that shape the body to any desired silhouette and is run by artisan corsetiere, Kunza. In today's blog we catch up with her to gain an insight into how to choose the perfect underwear to attain your desired shape. You might have seen her stunning corsetry at luxury boutiques such as Coco de Mer or period dramas such as Downton Abbey or more recently Poldark. With more than 10 years of designing luxury contemporary and period foundation garments, her limited-edition collections merge traditional finishing couture techniques with modern designs that take inspirations from the past without being stuffy.
Customers can choose from unique 18th century inspired wedding gowns or opt for the ultimate lingerie to create the desirable glamour look of Hollywood's Golden Age in the early 20th century. A selection of authentic laces, trims and other antique decorations from Victorian times to the early 20th century can be part of any customised design. These also include original antique wedding veils, headpieces, gloves etc. which can be purchased or be part of your attire. Whatever you choose these unique underpinnings will give the ideal outline to any shape or size.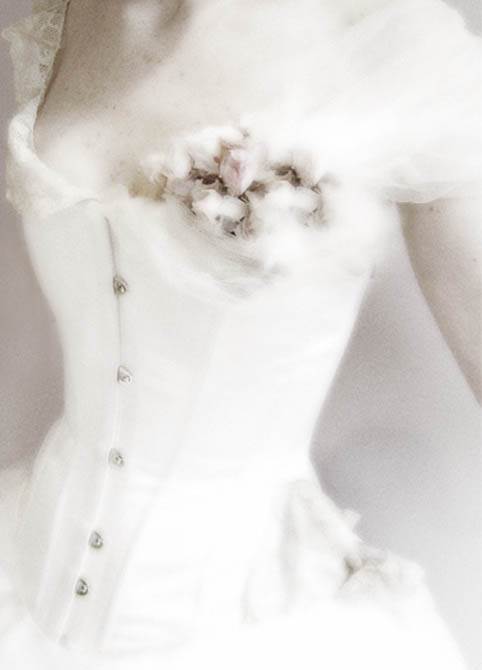 In London, future brides-to-be will be able to explore and try various shapes and lingerie styles for different vintage eras including corsets, waspies, suspenders, bras etc.
You will also thrilled to hear that one of our lucky VIP guests will also have the chance to win some luxury lingerie worth £95 that day.
We spoke to the designer of Bridal Corsetorium to get some expert advice on how to find your perfect vintage wedding dress.
Why is the correct underwear especially important with vintage dress styles?
"Nowadays we have so many options to choose from and brides often make the mistake by focusing on the wedding dress only and then decide on the lingerie
at the last minute. This can be an unfortunate mistake, since any lingerie will shape the body differently and therefore needs to be selected before any wedding dress
fittings. A stunning 50's wasp waist dress or any other vintage shape will not work without the correct underpinning. It is crucial to find lingerie to create the
desired silhouette first and then start the search for the perfect wedding attire. Even modern bra styles will change the proportions of the body and can cause a
problem with the fit of the dress. The same goes for contemporary wedding dresses. Unfortunately, a lot of brides will do last minute 'panic purchases' with lingerie and often need to buy several lingerie sets to find something that works under the dress."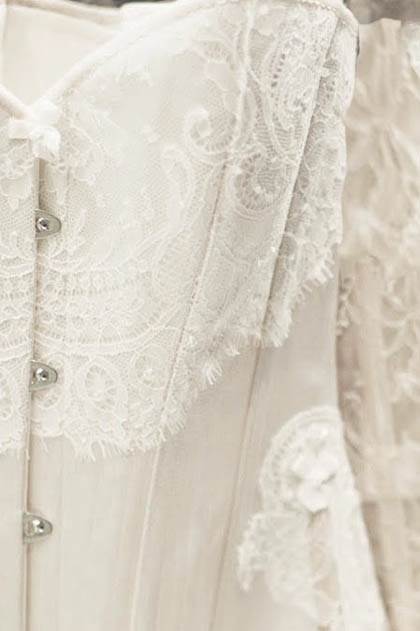 Which lingerie styles will work best with our bride's choice of dress?
"First of all, it is very important to identify your body shape: petite, busty, plus size, hourglass, lean and so forth.
The next question needs to be: what do you want to achieve? We cater for all different sizes and shapes and will give advice on what will work best. Depending on the style of your wedding dress it is always a good idea to have two sets of underwear: a practical set during the day and more romantic lingerie to change into for the wedding night. Elaborate lingerie might look stunning but will be very impractical to wear. It might show under the dress or might be not very comfortable. I always advise customers to 'show-off' those frills and ribbons at your honey moon or wedding night. If you choose to decide on a corset gown, you will not need to worry about any ill-fitting underwear or the pressure of finding the perfect lingerie set."
A question they sometimes ask is "how can I minimise my waist"?
"Waist training is a popular choice in the moment and with celebs like Kim Kardashian, this has been a big trend for several years now. A lot of the vintage dress styles do have a small waists but please remember ladies: in those days a corset or waspy was worn from an early age to shape the waist. Nowadays there are a lot of elasticated, modern shape-wear options available, which will help to soften an exciting shape and these will smooth the silhouette. These modern options will never mould or minimise the waist though. A good fitting cincher of quality will be a good choice to do this. Make sure the item is made from good quality components as cheap lingerie can become agony after wearing for a while and will not give enough support. Most companies use only plastic boning and artificial fabrics to produce very affordable styles for the mass market.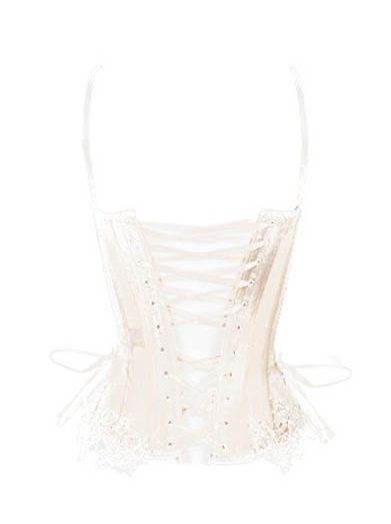 My personal tip is to invest in good quality underwear made from silk or superior quality to make you feel and look stunning on your wedding day and many years to come…."
Kunza has so much more advice to share so make sure you stop and speak to her in Chiswick. Maybe talk to her as you are trying on dresses so she can help to advise you. And don't forget her giveaway to one lucky VIP guest! Buy your VIP tickets here.