It's no secret that Sally Lacock takes a lot of design inspiration from past eras and vintage fashions, and one decade she has always had a soft spot for, fashion wise, is the Seventies.
From the laid back relaxed vibes that emanated throughout fashion during this era, to the key trends such as the flared sleeves and floaty hems, not to mention such iconic fashion moments as Diane Von Furstenberg designing the wrap dress and Disco fever taking over, there was certainly a lot going on.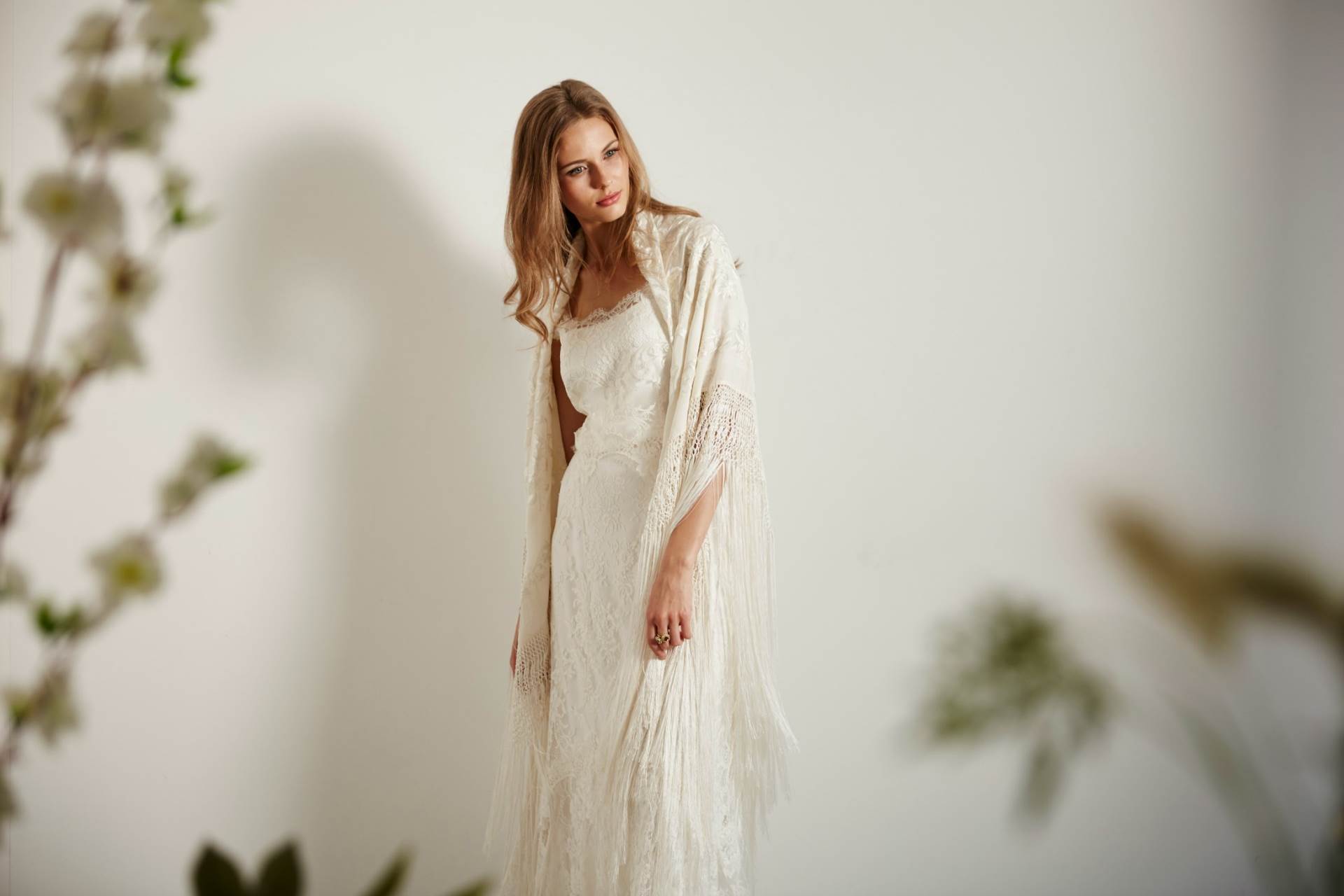 Seventies Wedding Dresses
When it came to bridal wear, high fashion played a big part introducing very modern looks for the day such as Bianca Jagger opting for a modern statement tailored suit and giant floppy hat for her wedding to Mick Jagger, as did looking back to bygone eras and drawing from Victorian style through to the 1940s for inspiration. This is seen in now highly collectable square shouldered Ozzie Clarke pieces and high necked Victorian inspired Laura Ashley, showing how designers have always been inspired by the past to create the new. Sally Lacock has channelled the high lace collar into a modern bridal separates piece, the Juniper halter neck top.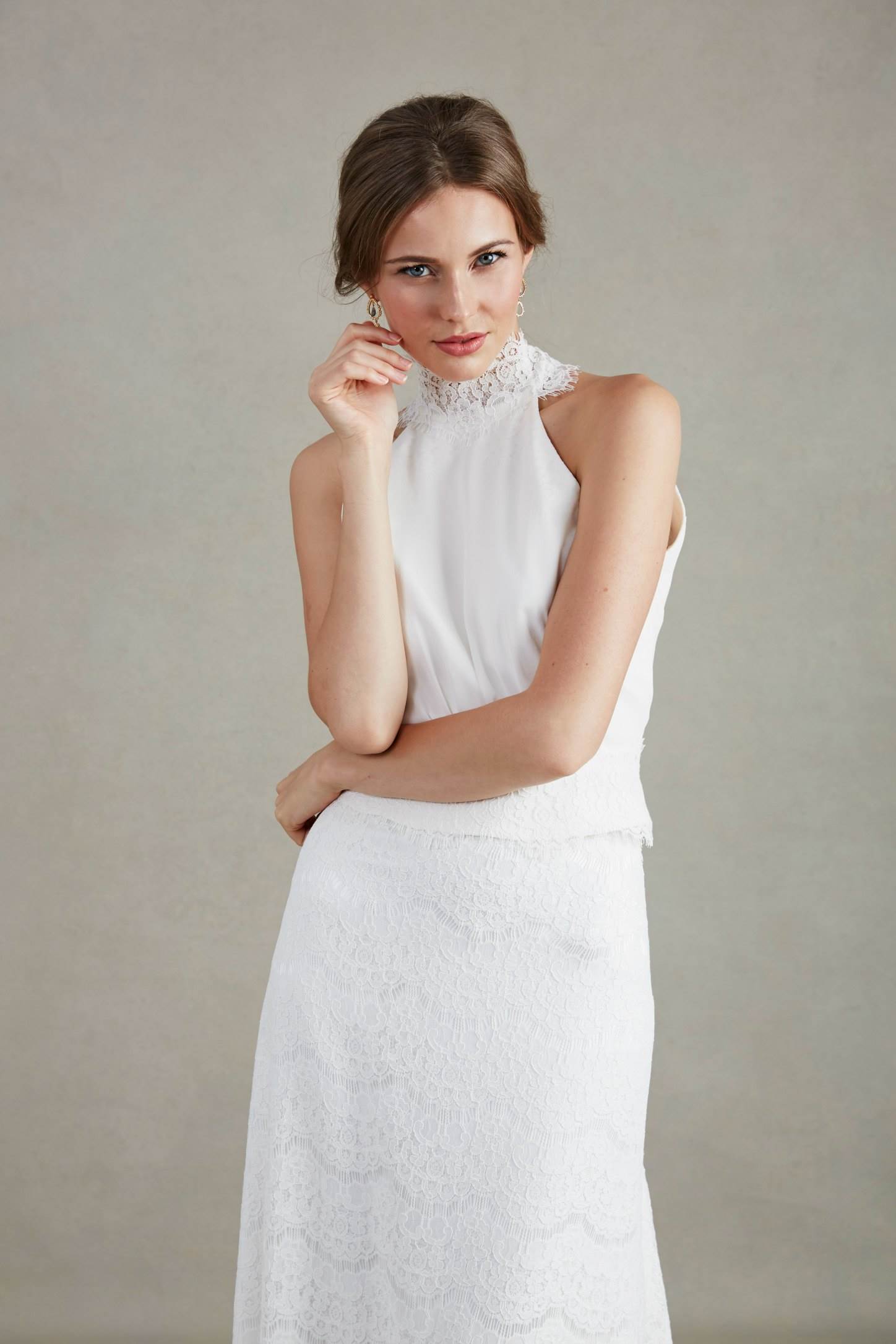 The Juniper halter bridal top from Sally Lacock's latest bridal separates collection. Image by Alice Whitby
Then of course there was insouciant fashion icon Jane Birkin, who defied tradition and opted for a simple pretty white lace dress with no fuss or frills for her marriage to Serge Gainsbourgh. This relaxed look and undone style is once again hugely popular with modern boho brides and is reflected in some of Sally Lacock's key styles notably the Carly dress, Georgie dress and also within her brand new bridal separates collection.
Cicely skirt with chamomile cami and mint top. Images by Alice Whitby
The comeback of the trend
The Seventies influence has been sneaking back into fashion for a good few seasons now, and towards the end of 2015/ beginning of 2016 those flares, trumpet sleeves and suede fabrics were all anyone wanted to be seen in. Of course this has translated into the bridal market too, and we've noticed more brides looking to bring a little of the fun and retro styling of the seventies into their bridal looks.
While Sally Lacock wouldn't describe her dresses as trend led (She offers an ever evolving collection so that you can still find your favourites no matter what season or trend you get married within), She does happen to have a few dresses that have taken their inspiration from this era but been designed for today, and might suit those seeking a Seventies vibe brought right up to date.
Thyme skirt with Stevia blouse and Lovage Cami. Images by Alice Whitby
Georgie dress and Carly dress. Images by Jeff Cottenden
Key Seventies influenced Wedding Dress Styles
First up we have to mention the Honor dress (as worn by our real bride Holly recently), which has some classic Seventies influences. While the beautiful French lace and scalloped neckline keep it elegant and timeless, those gorgeous flowing tulle sleeves and hem add some of that carefree fun which the Seventies was well known for. The column shape without a train was also popular during this time, and the whole look is very relaxed.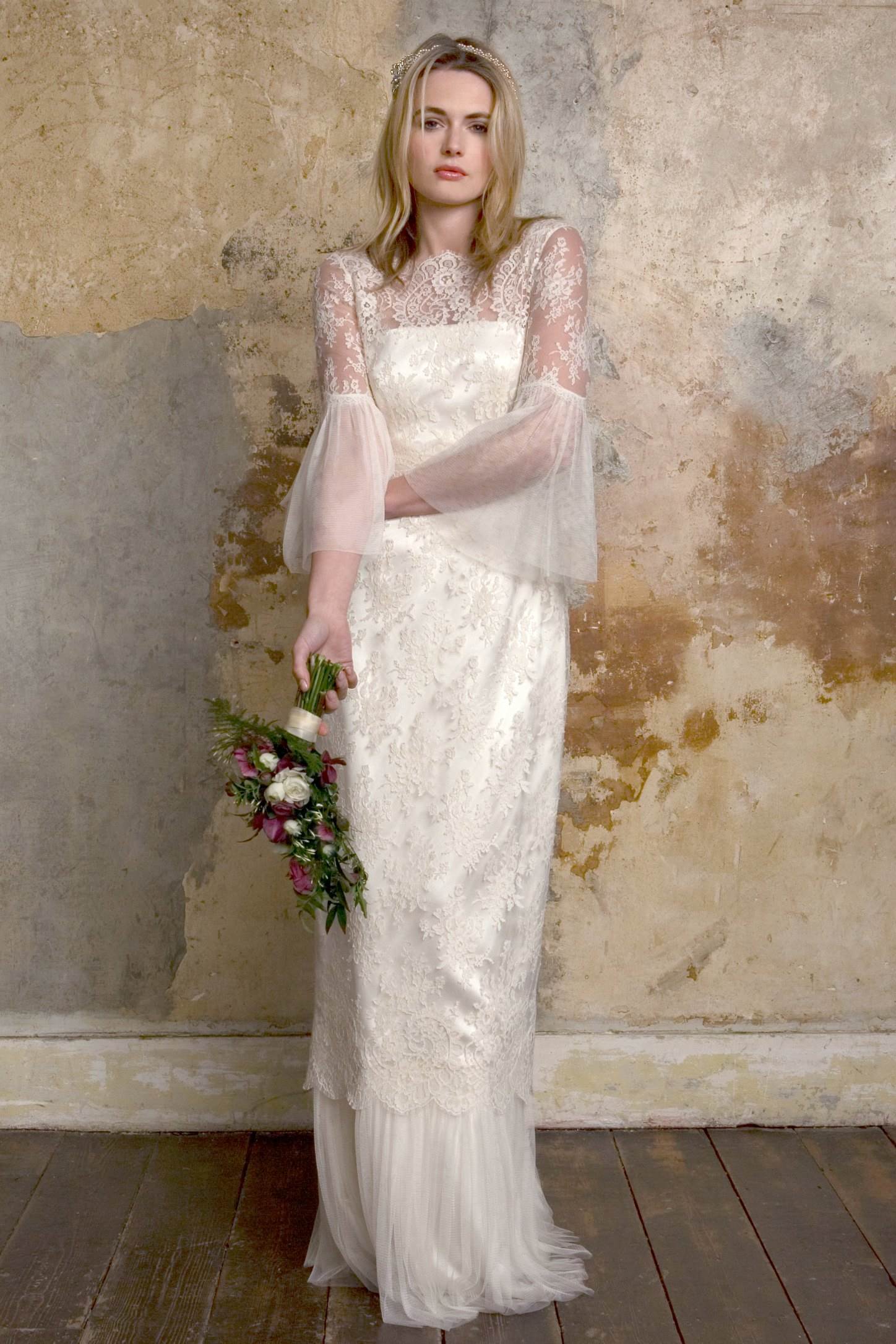 Honor dress Image by Jeff Cottenden
In the early Seventies, the hippie vibe was turning distinctly bohemian, with more of an emphasis on long and floaty pieces worn in a carefree fashion. The Jasmine dress really epitomises this era (as worn by real bride Rachel), with those delicate kimono lace sleeves being its key design feature and the slight wrap effect at the bust has a strong Seventies influence. Add a wide floral silk belt and your Seventies bridal look is complete.
Jasmine dress by Sally Lacock. Image by Jeff Cottenden and Alex Miller
We think you could wear almost anything from Sally's collection and achieve a 70s vibe depending on how you style it on the day. Wearing hair relaxed and loose and adding a Juliet cap veil or a vintage shawl gives instant 70s boho appeal. If you are not into high necks try wearing a choker with a low neck and channel the look in your own modern vintage way.
Sally Lacock will have a large collection of sample wedding dresses and bridal separates available to buy on the day at the National Vintage Wedding Fair at Chiswick town hall , with some very special prices.
(This post forms part of our exhibitor package)