There's an intimate wedding and then there's an intimate wedding – this beautiful wild and free intimate elopement inspiration is all about the couple, and only the couple. Created and coordinated by Run Wild Elopements, it shows the private moments of this dreamy real life duo at Lake Pier, Dorset. Photographed by Leonie May Photography, it definitely gives us the goosebumps, we catch up with the team behind the shoot…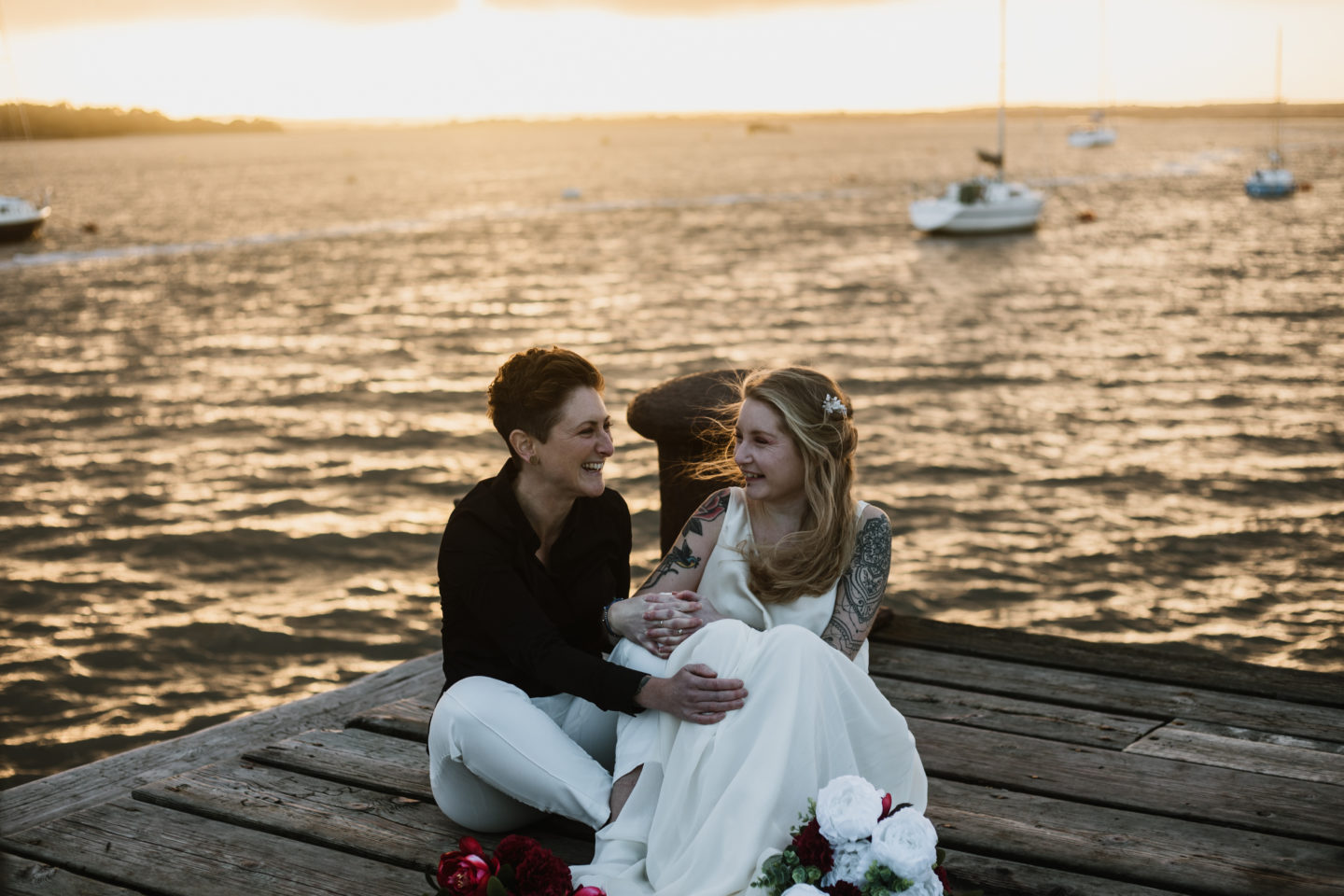 "At Run Wild Elopements we believe that couples should be able to get married wherever their heart desires and we work tirelessly to make it happen in that perfect place that is special for you, getting all the licenses and permissions required to conduct your ceremony there. Lake Pier is one of our favourite places in Dorset and we have a good relationship with Dorset council as their beaches are some of the most beautiful in England. The pier is a perfect place for an intimate ceremony over the water, particularly as the sun sets, followed by a stroll on the gorgeous beach."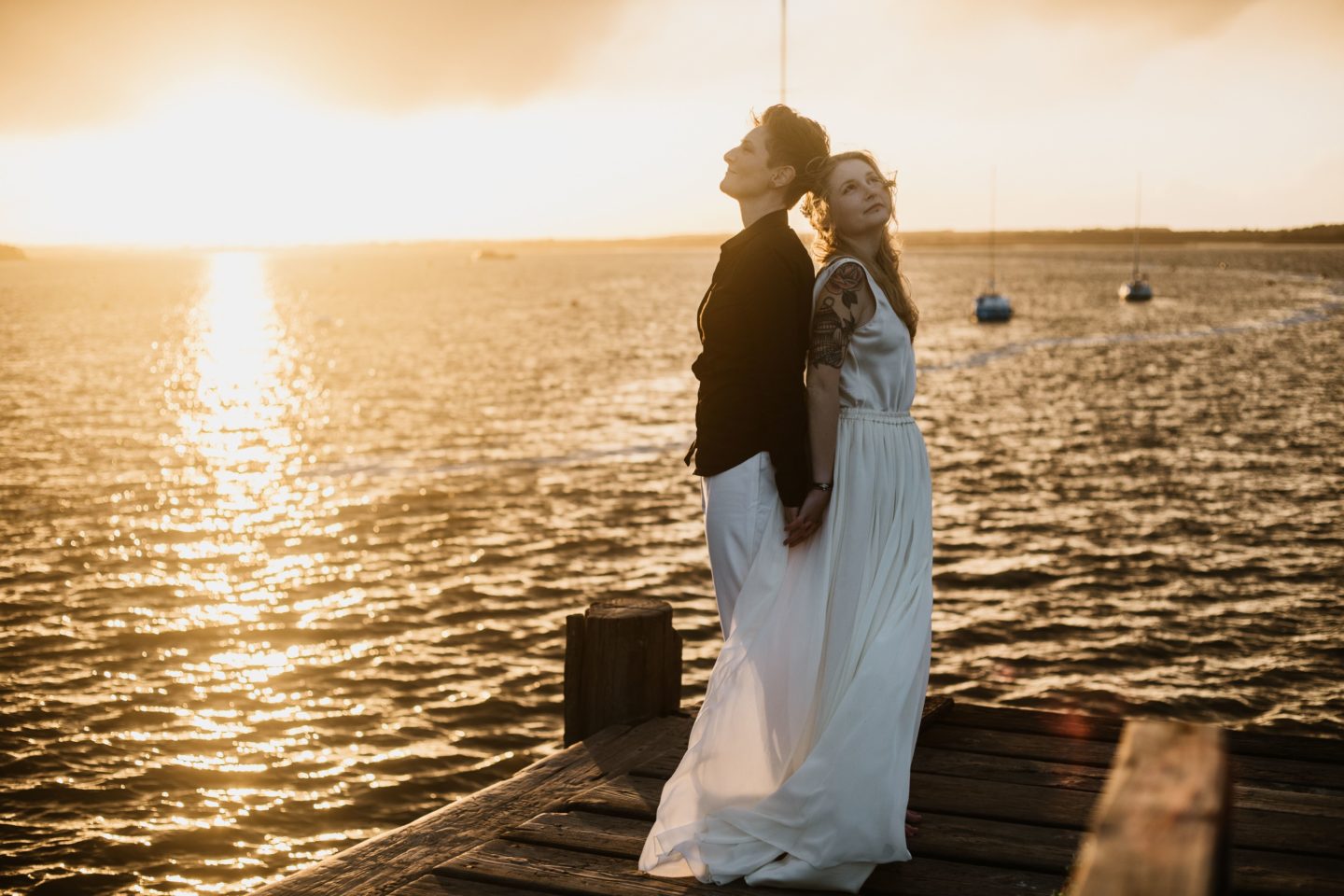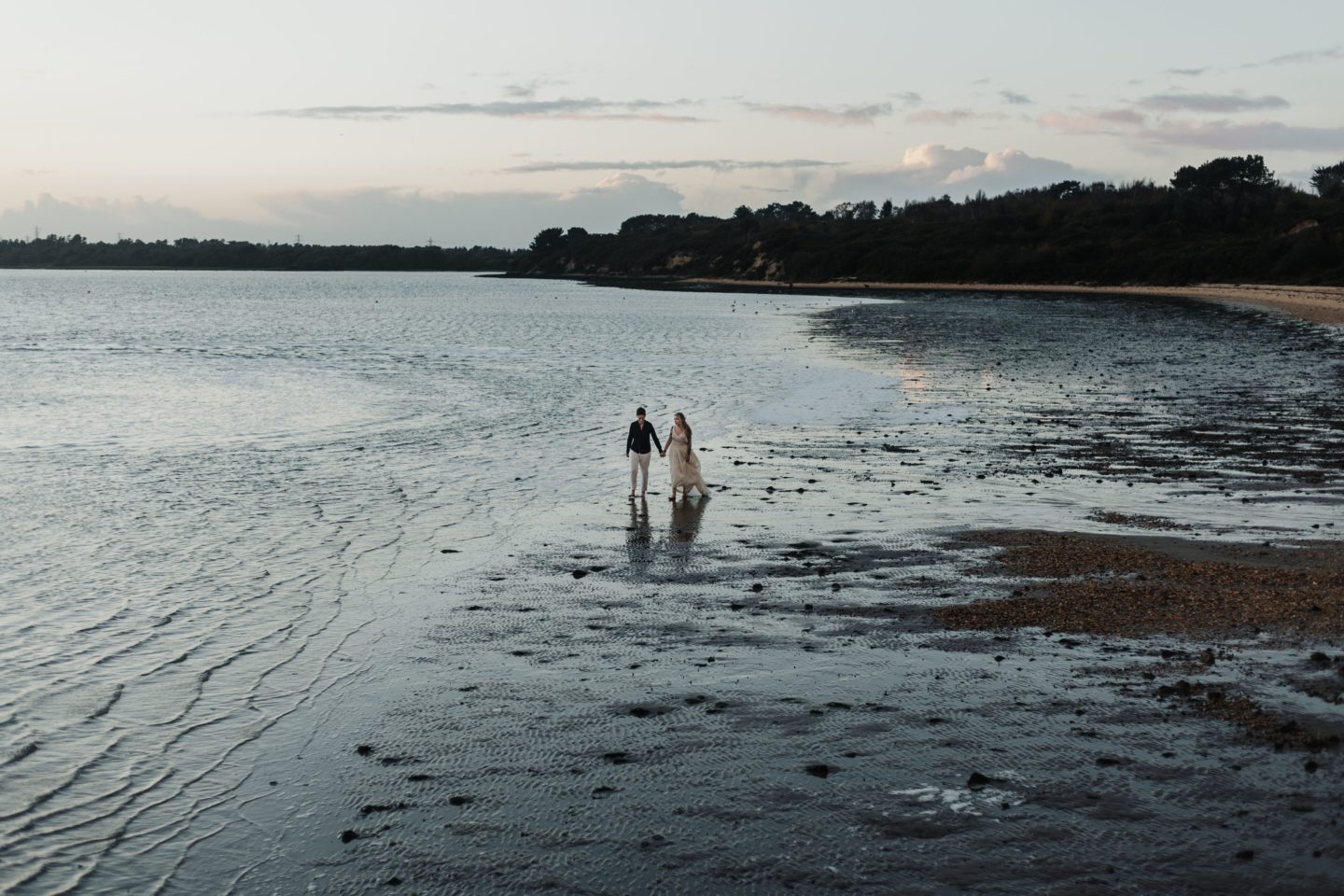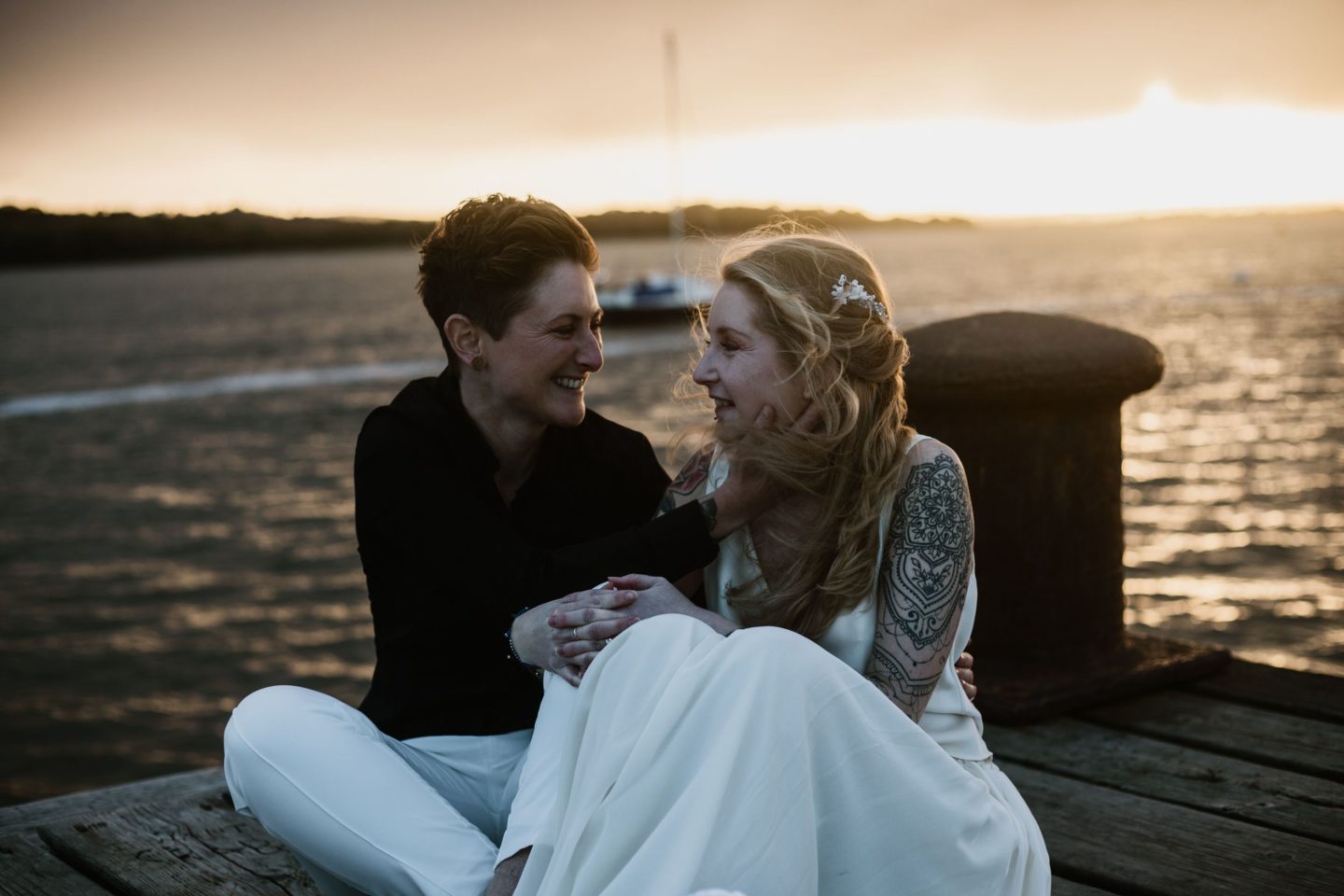 "With this shoot, we wanted to show how simple can still be beautiful when it comes to elopements and that love is all that matters on these very special days! Our favourite suppliers provided a gorgeous dress, hairpieces and flowers and we had an amazing time splashing about in the water watching Emily & Carol laughing together and celebrating 10 years of marriage becoming official."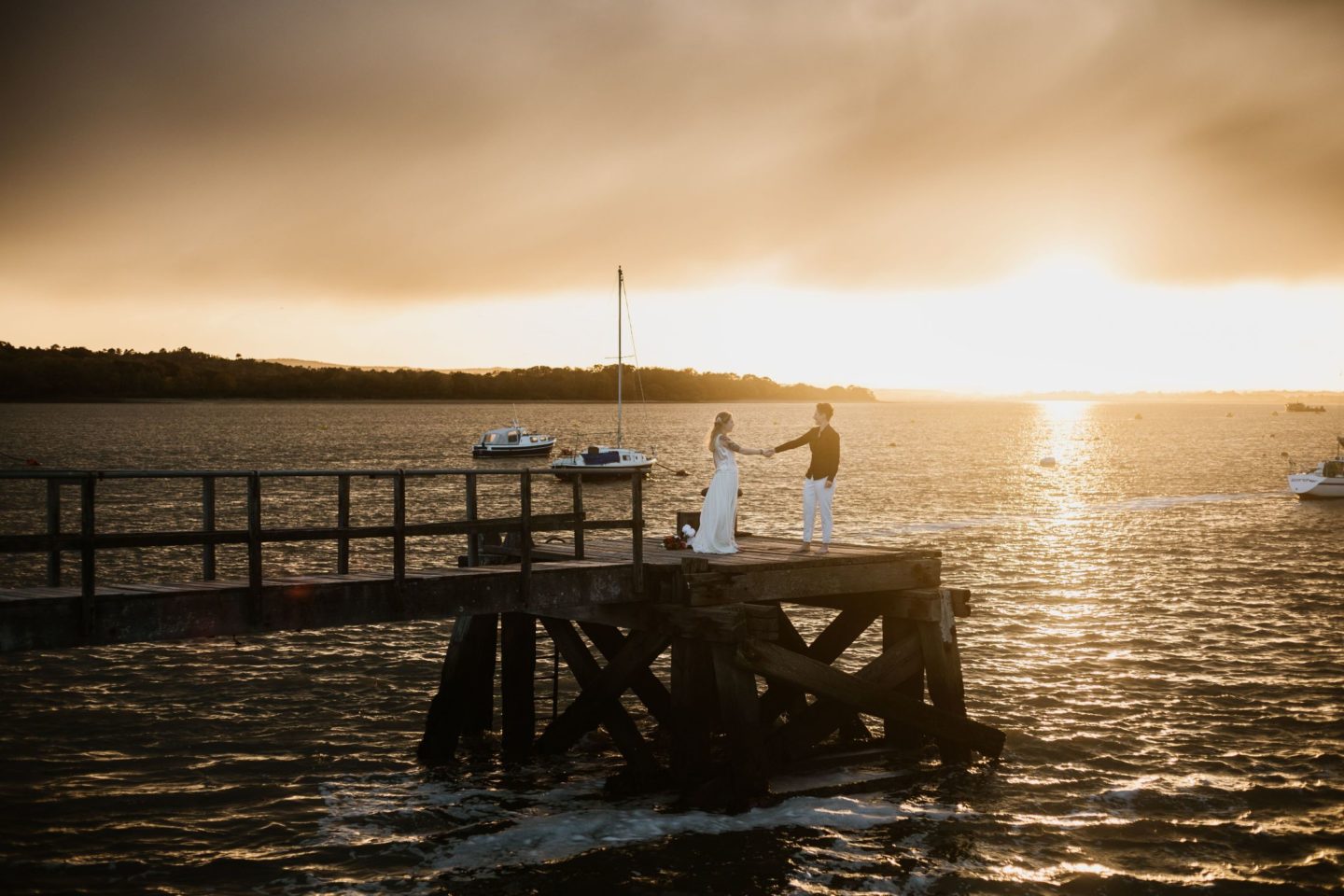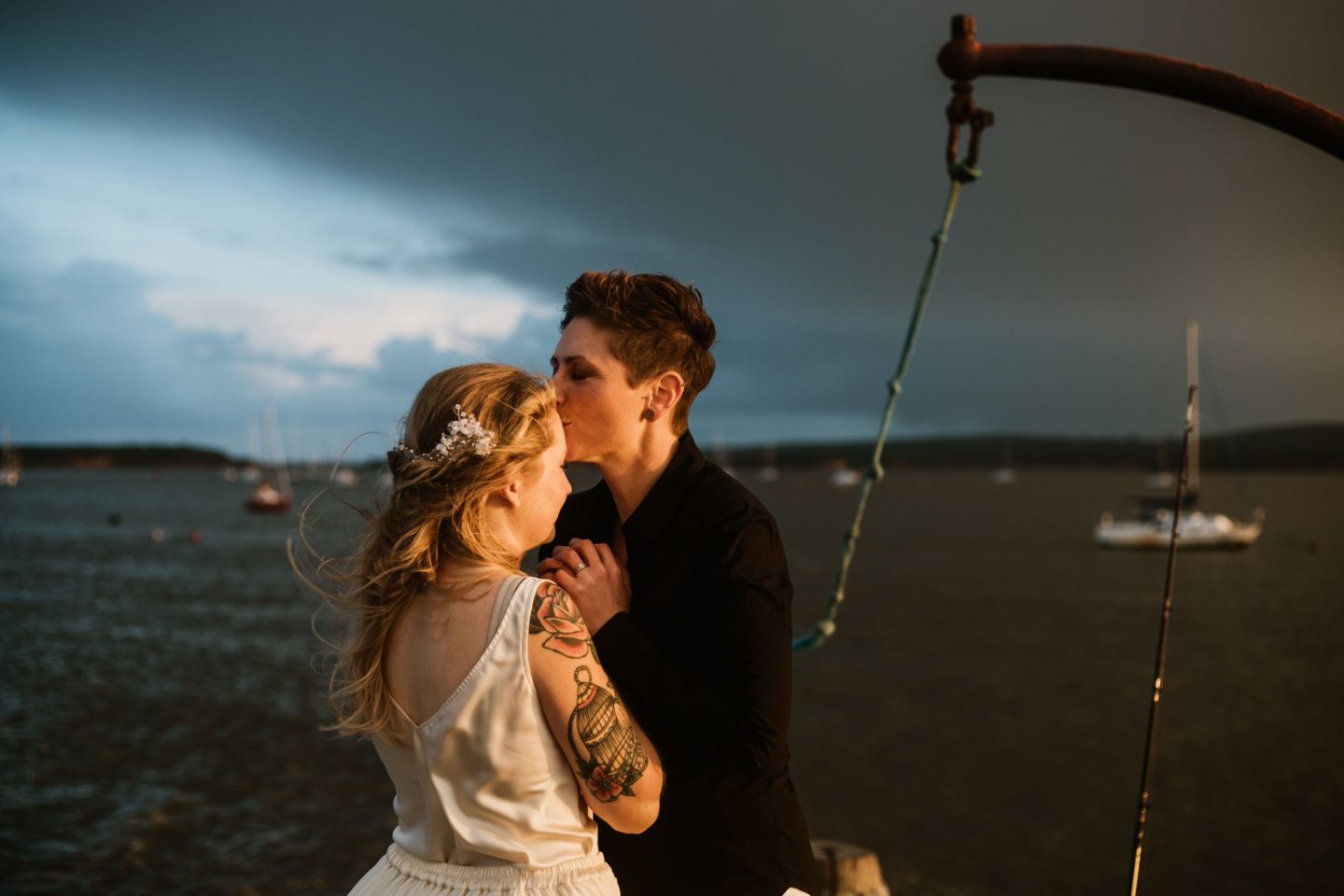 Inspiration
"Elopements aren't anything new; but with the restrictions that 2020 brought, it is a style of wedding that more and more couples are starting to think about. At Run Wild Elopements we LOVE a good runaway wedding! They are intimate, romantic, and always beautiful because they are just about the two of you and celebrating your love. Elopements these days can be tricky; there are lots of rules in place about where and when you can get married and they sadly are not 'run away into the sunset' moments anymore because of this. So, for a stress-free beautiful elopement, we would definitely recommend using an experienced elopement company such as ourselves. We know all the rules, how things will work, all the logistics and everything you will need for your day (planner, photographer, hair and makeup, videographer, celebrant) come as a whole package!"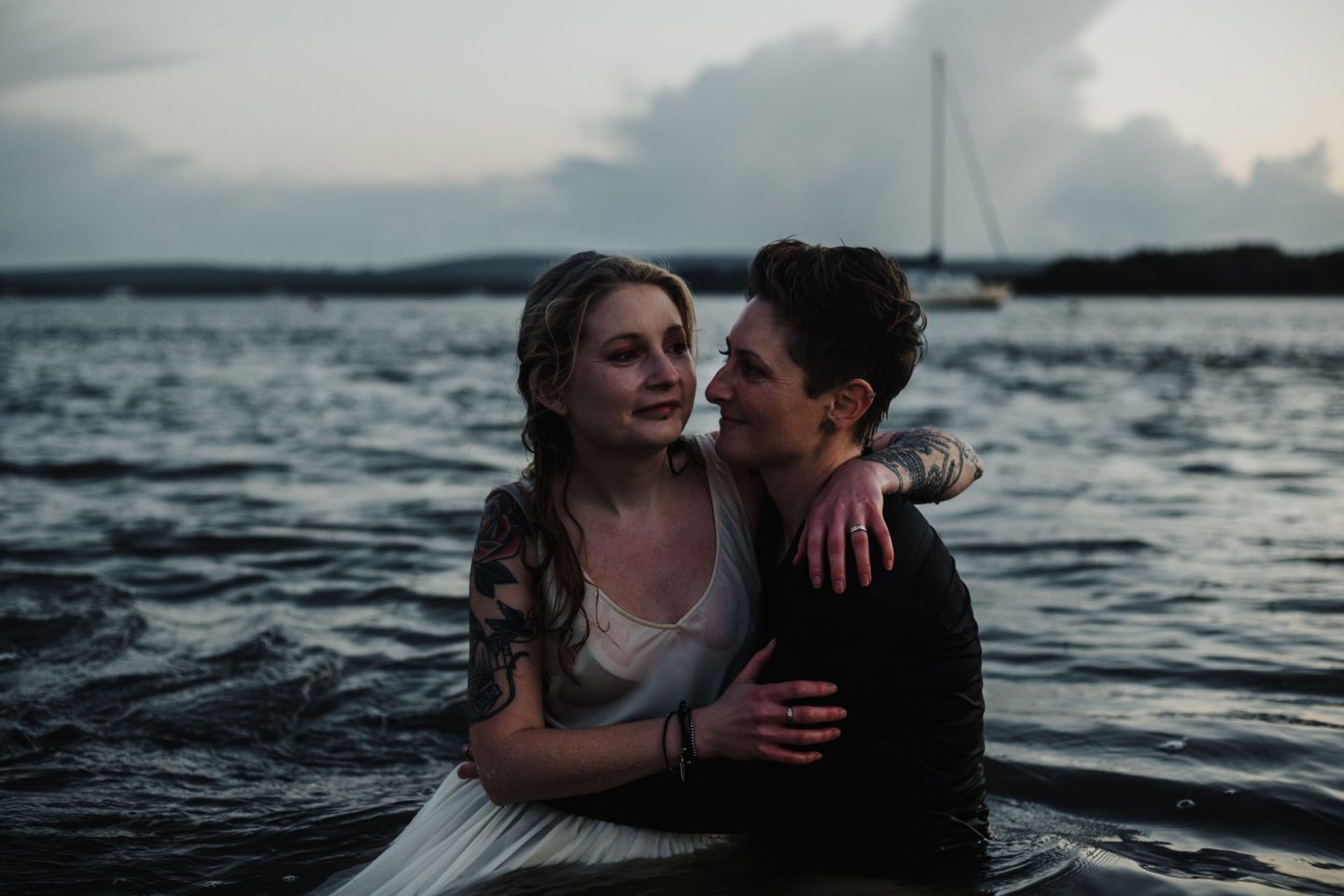 "Emily & Carol are such a wonderfully inspirational couple! After having been in a civil partnership for 10 years, they decided to make their partnership an official marriage and we wanted to create a shoot that would celebrate this and give them some gorgeous images to cherish forever. Lake Pier is one of our favourite spots in Dorset and it is even more breath-taking at sunset so on a beautiful day at the beginning of November we created some elopement wedding magic here!"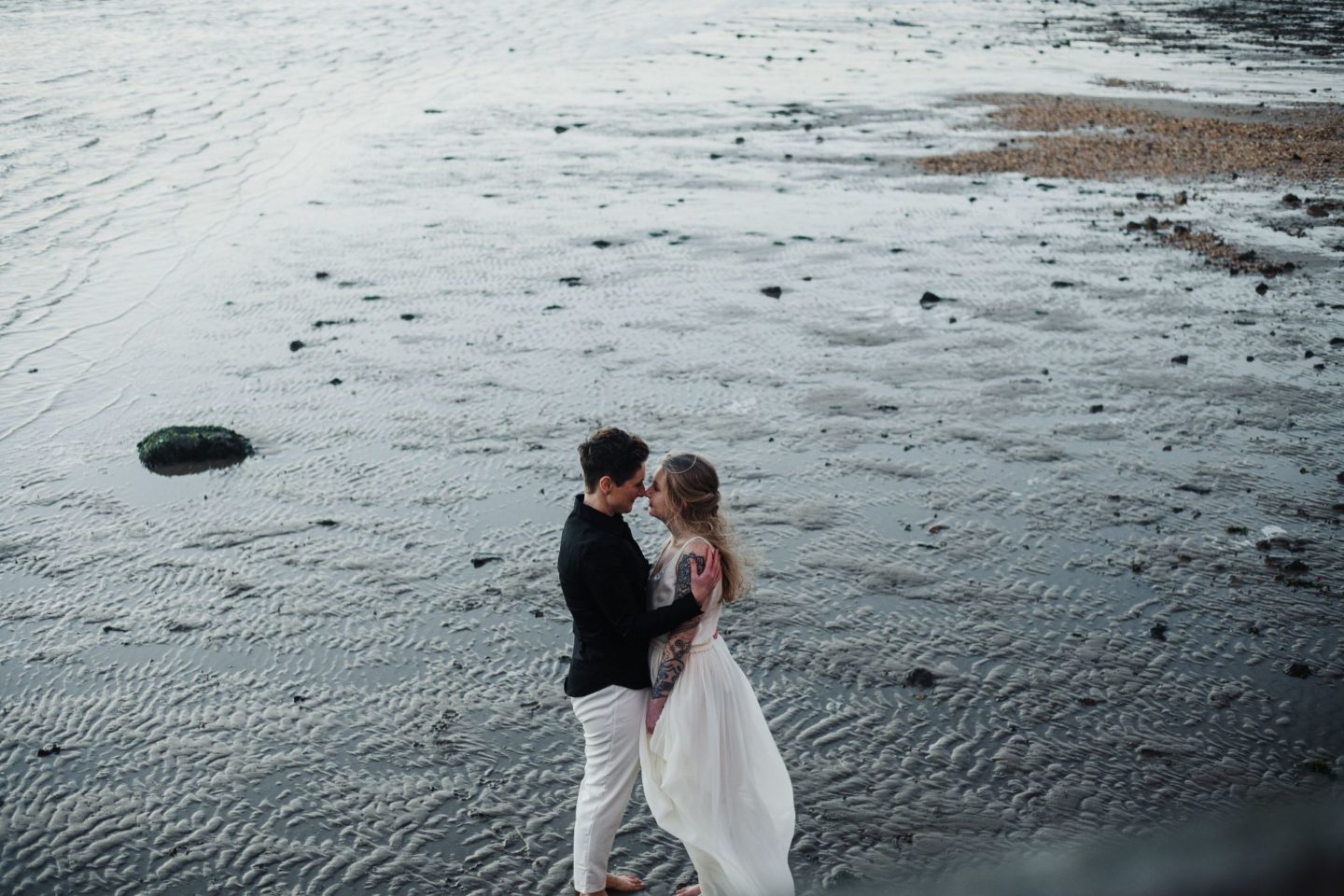 Photography
Photographer – Leonie May Photography
For me it's really important to showcase the epic couple amongst epic scenes in nature, there is literally no better backdrop. We are super keen to show that your wedding can literally be whatever you want it to be, want to climb rocks? Want to go for a sea swim, do it! It's your wedding day and it should be about what you love doing the most! It's also really important to me to shoot when the light is at its best, this happens to be just before sunrise/sunset and the hour after it goes, we call this blue hour and it creates such moody atmospheric lighting, I love it! We had so much fun capturing our couple in the sea at Hamworthy, my boots were soaked as I just dove in too but it was beyond worth it!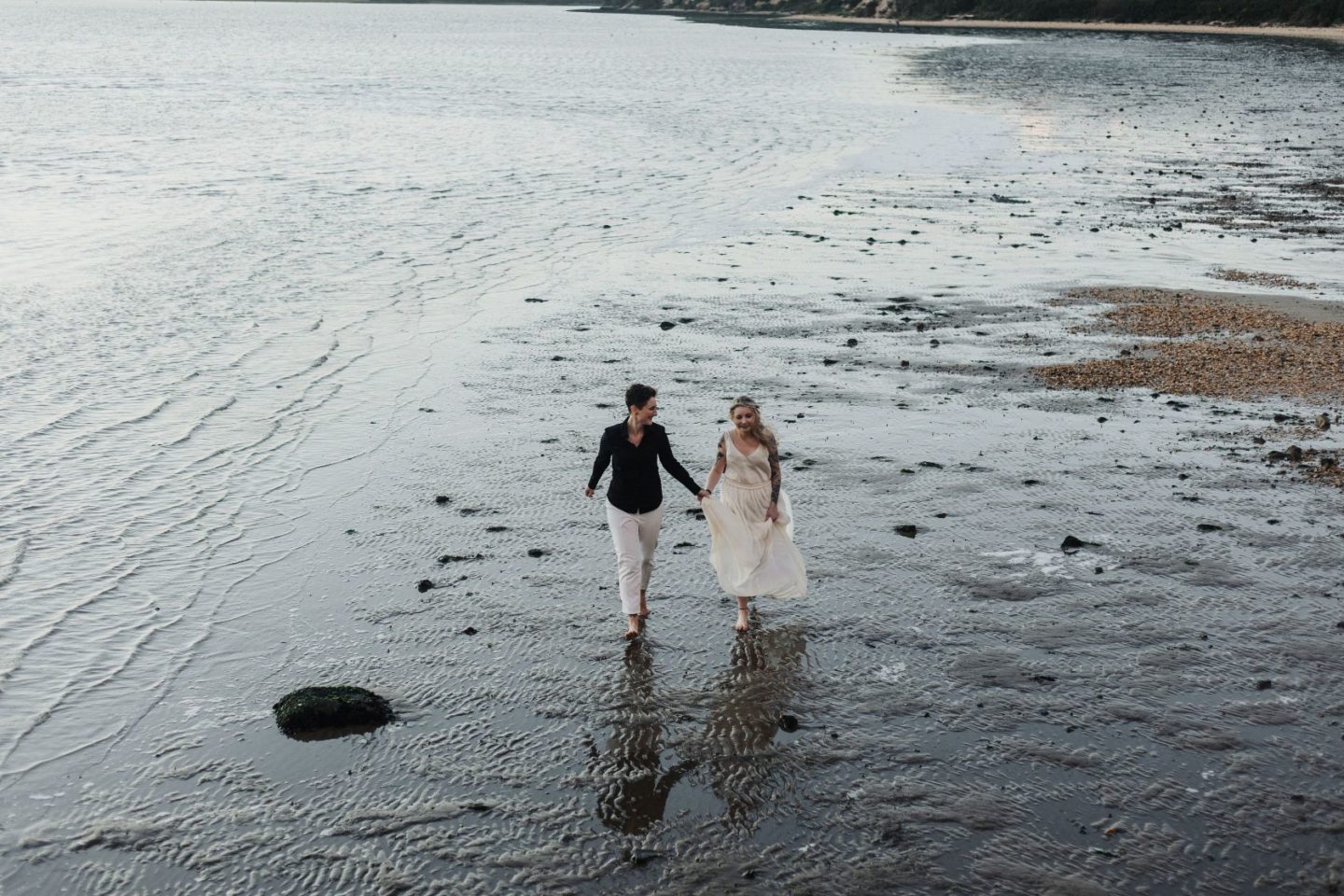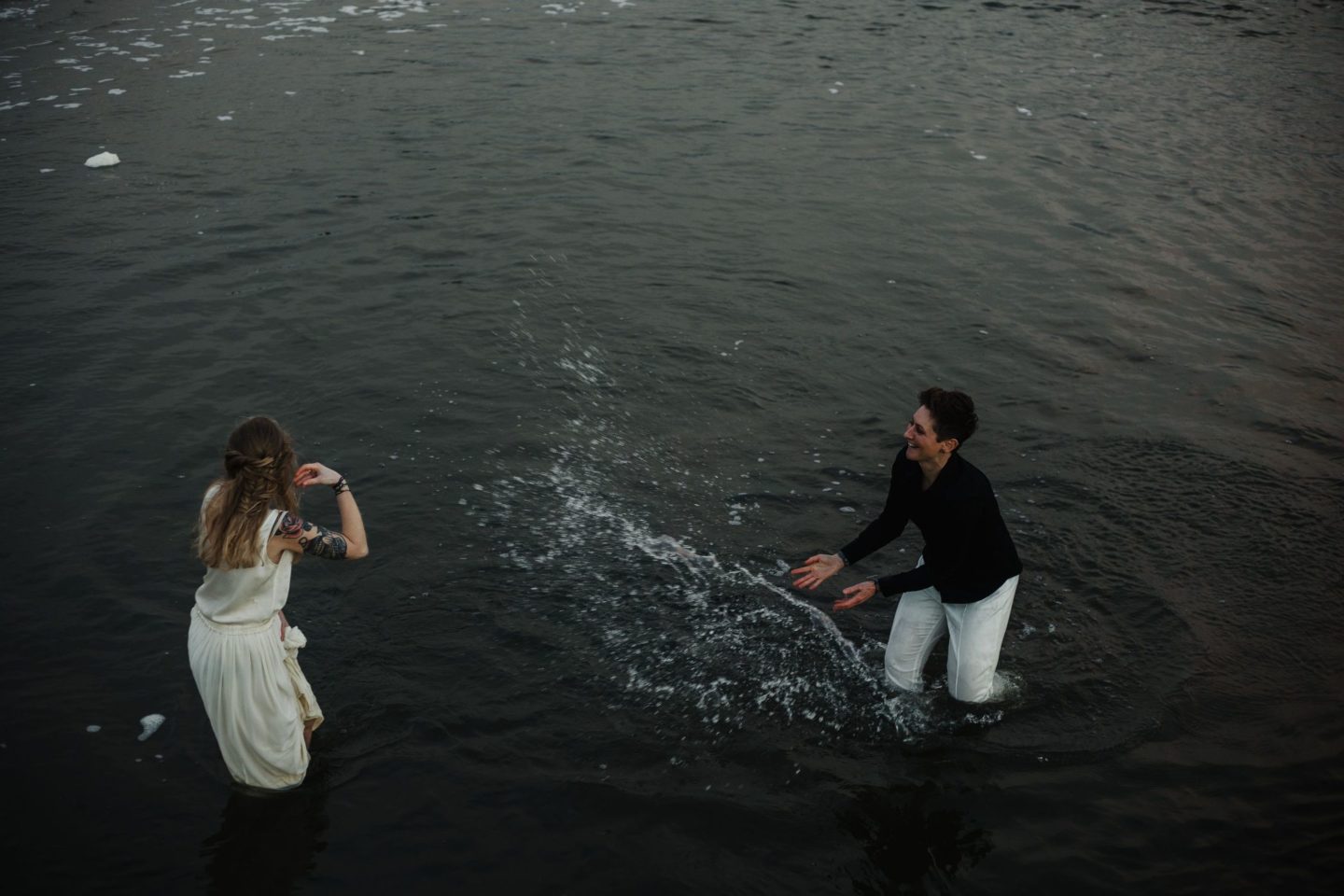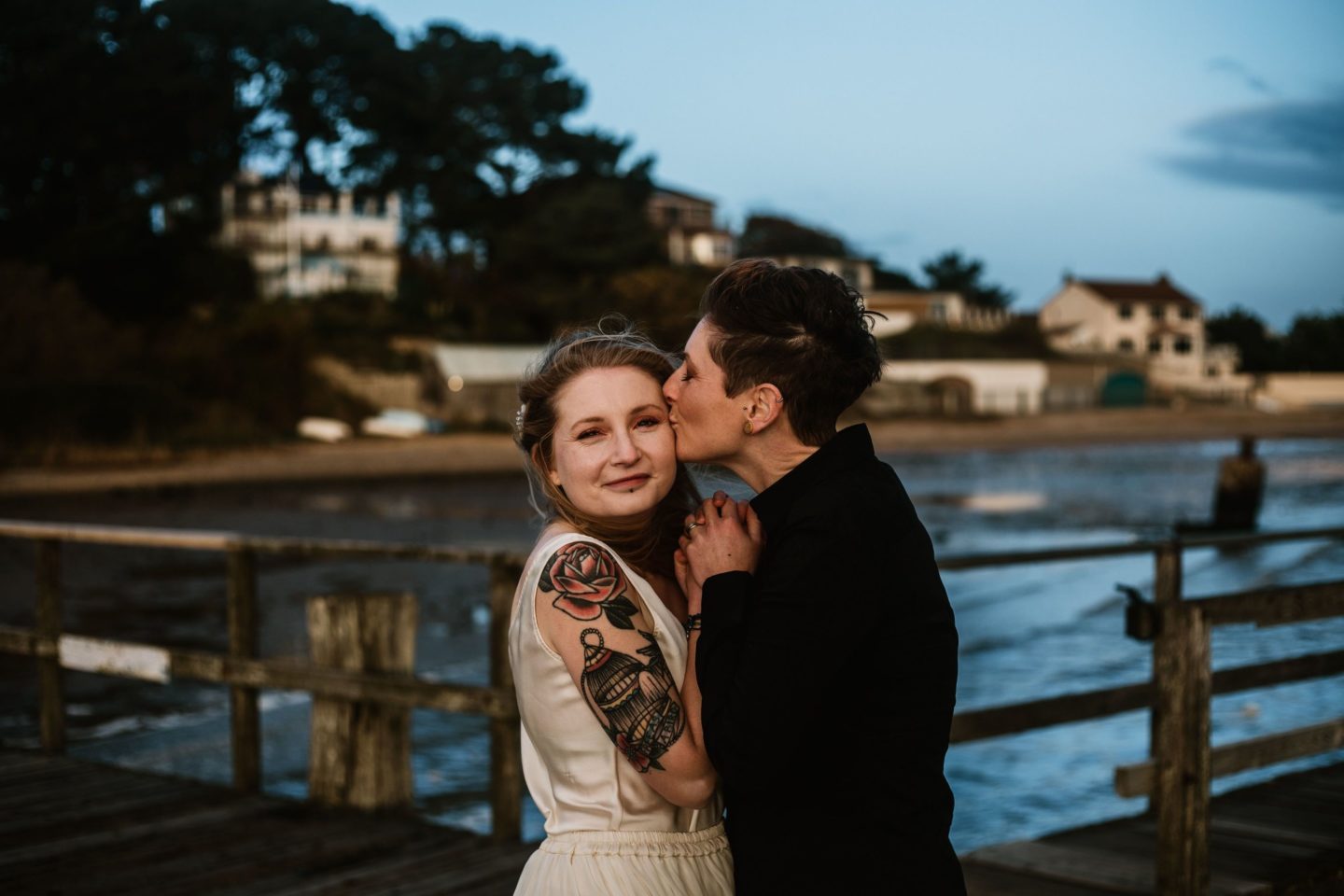 The Brides
Bridal – Matchimony
"Both Carol & Emily wanted simple looks for this shoot that would also not be too heavy when they went for a sea swim together! We went for this gorgeous simple cream satin separates set from Matchimony for Carol and a white trouser suit from Missguided for Emily paired with a fitted black shirt."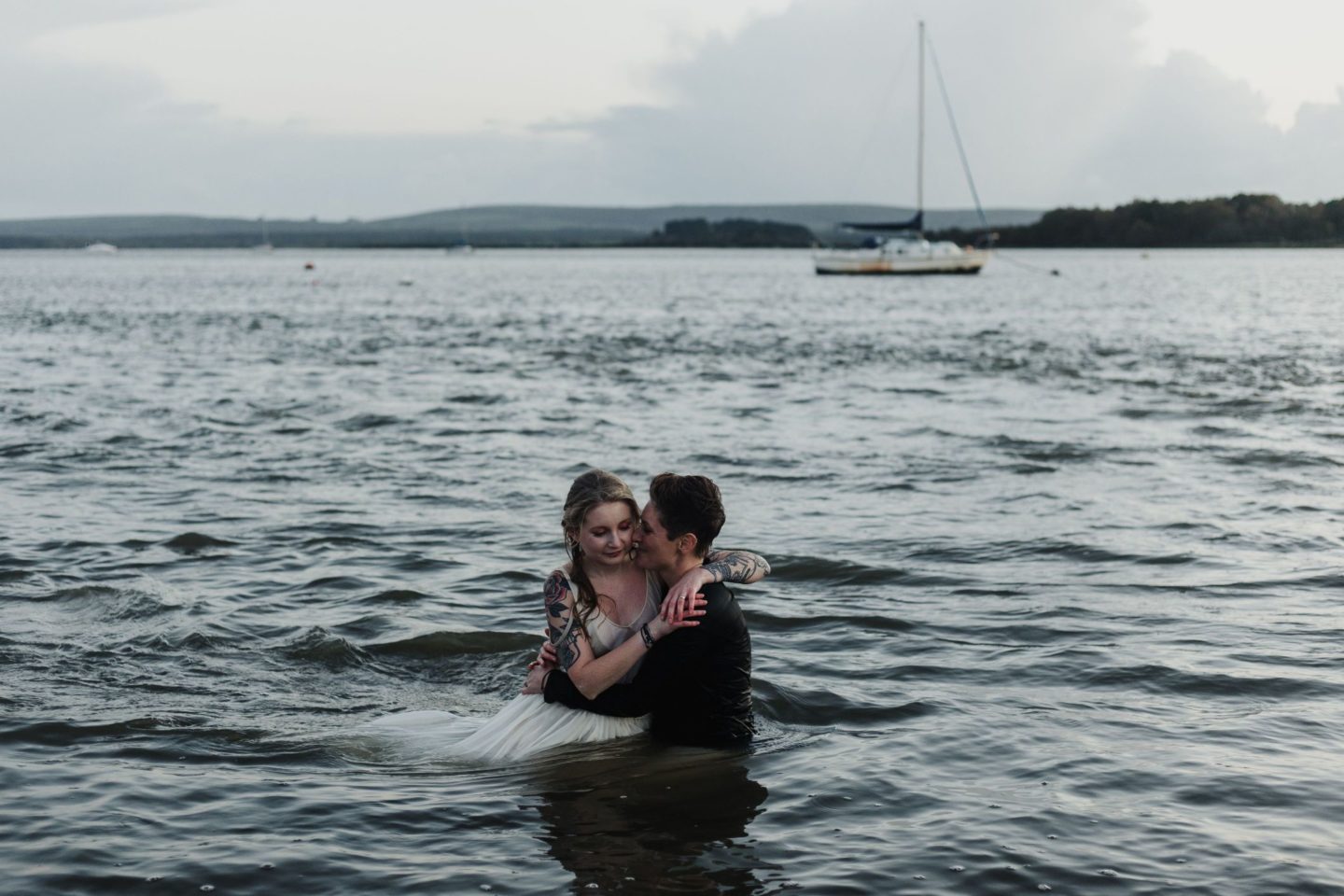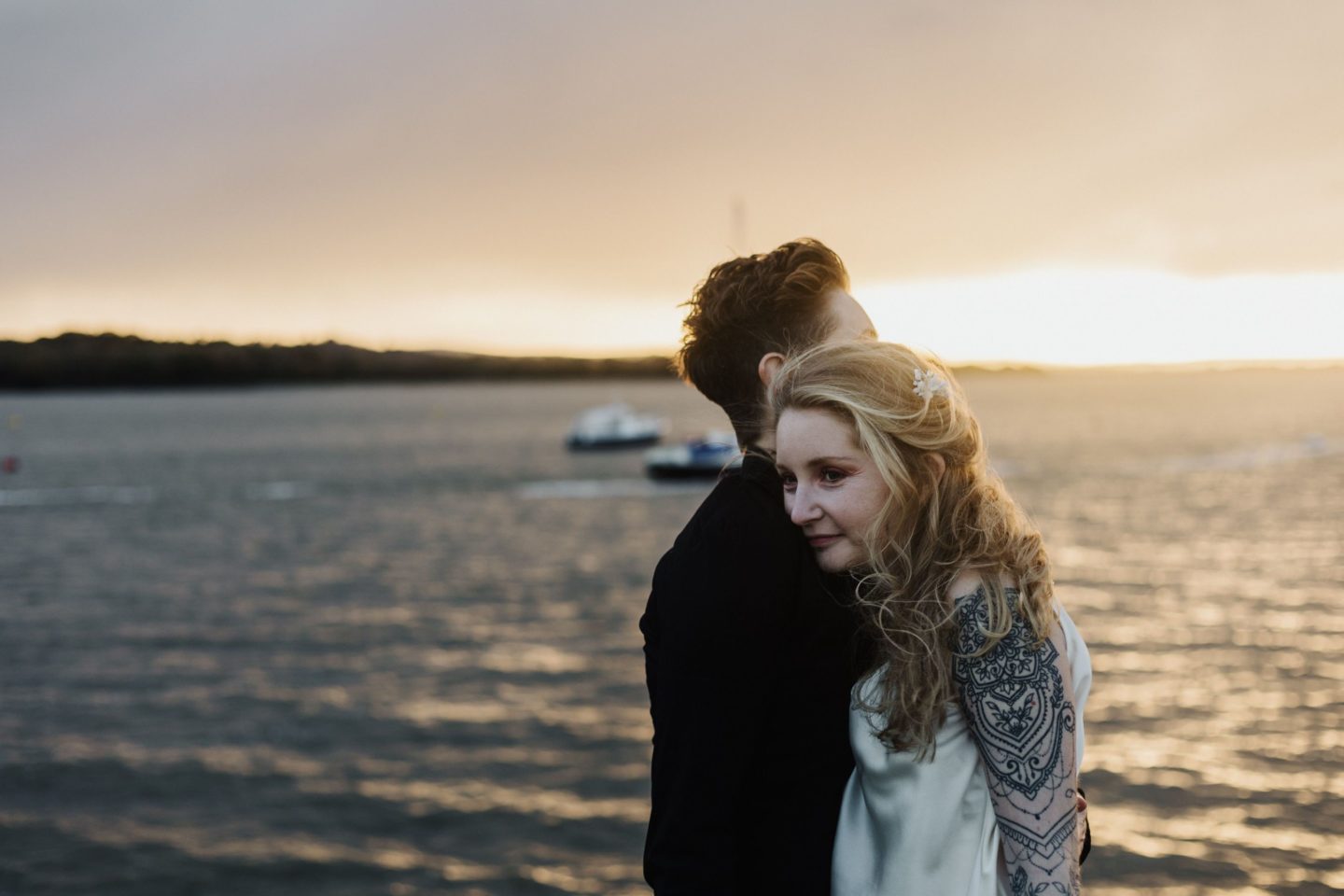 Hair and Makeup – SJB Hair and Makeup
For Lake Pier I kept things very natural, for both ladies, Carol had the most beautiful hair colour, so to showcase the tones I went with a rustic, textured, and loosely pinned hair down, make up a soft pink eye and nude lip with very natural skin. Emily's short hair was shaped into a textured side sweep, with a barely-there makeup look, with a focus on bringing extra dewiness to her skin to showcase her olive tones.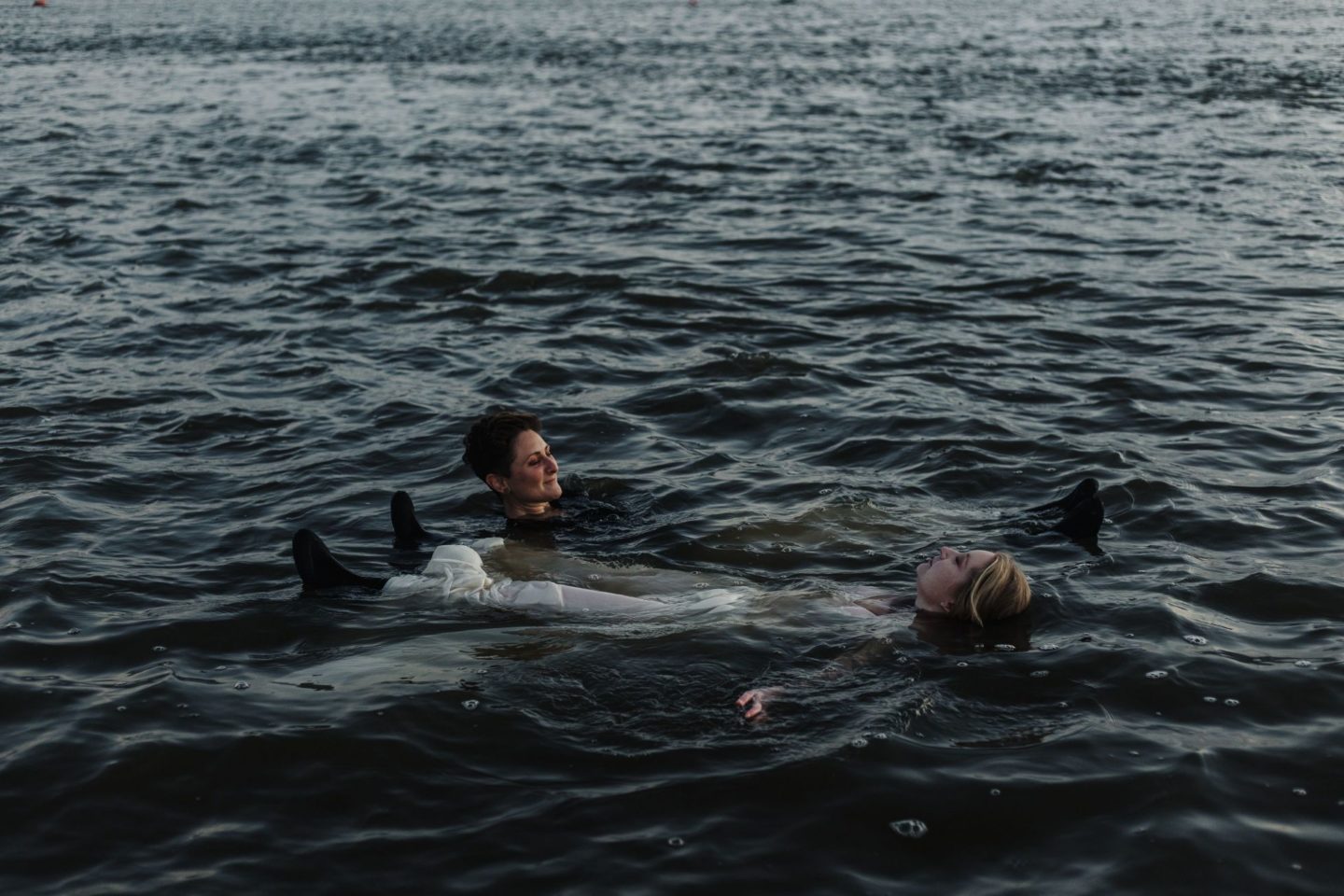 The Details
Flowers – Lily Among The Thorns
"For this shoot, we created two bouquets – one large and one small. To add to the wilderness elopement vibe, the bouquets were loosely tied in lace and featured huge red and white peonies and lots of foliage."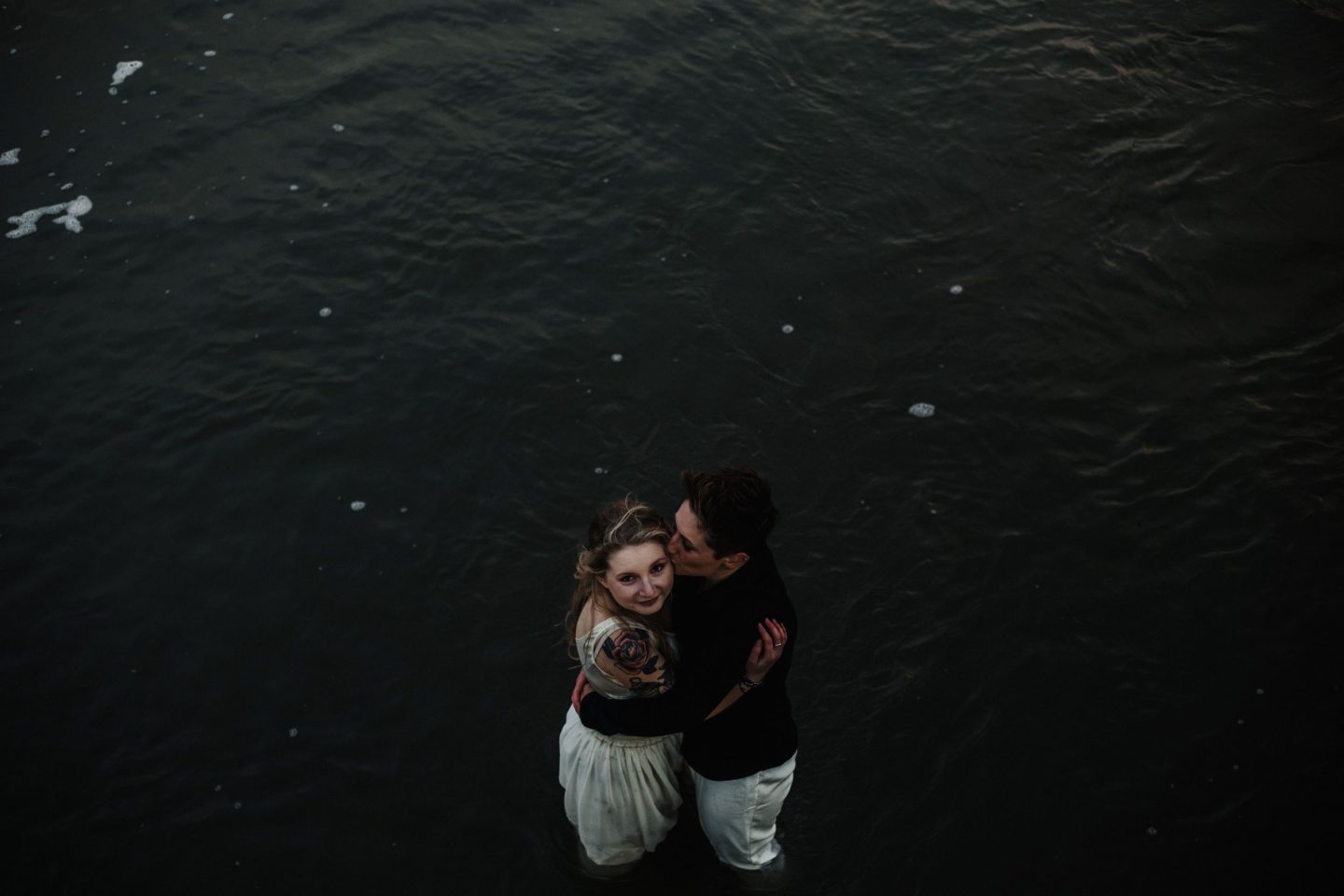 Accessories – Ritz and Sass
"For this shoot, we used a gorgeous handmade silver hairpiece from Ritz and Sass for Carol which added a bit of sparkle to her beautiful yet simple style."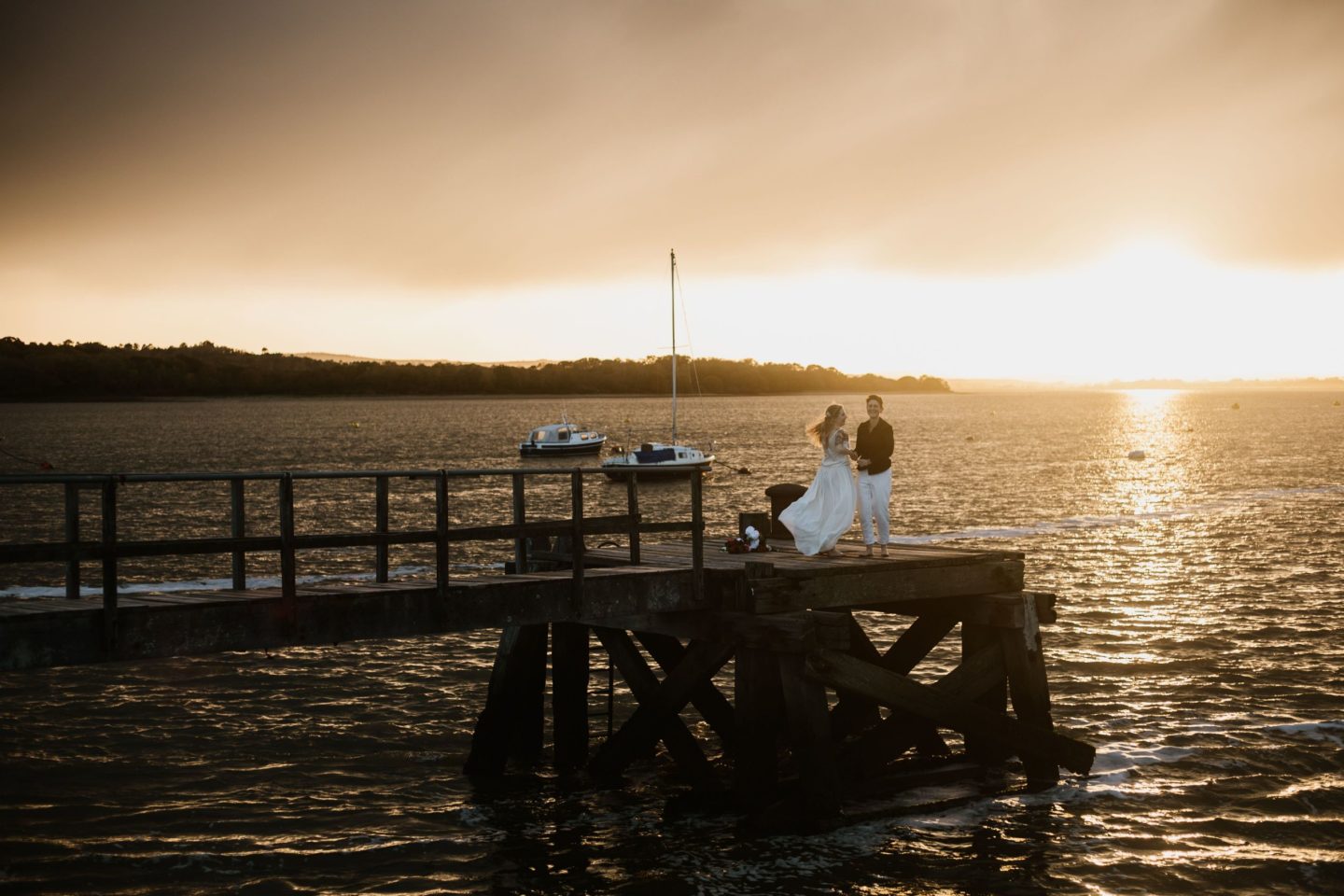 The Team – Wild and Free Intimate Elopement At Lake Pier, Dorset
Photographer Leonie May Photography @_leoniemayphotography
Concept and Coordination Run Wild Elopements @runwildelopements / Wedding Planner and Stylist – Lily Jones Events @lilyjonesevents / Hair and Makeup SJB Hair & Make Up @sjbhairandmakeup / Dress Matchimony @matchimony / Flowers Lily among the Thorns @lily_among_the_thorns / Accessories Ritz and Sass @ritzandsass
IF YOU LOVED THIS INTIMATE ELOPEMENT INSPO WHY NOT PIN IT TO YOUR WEDDING PINTEREST BOARDS?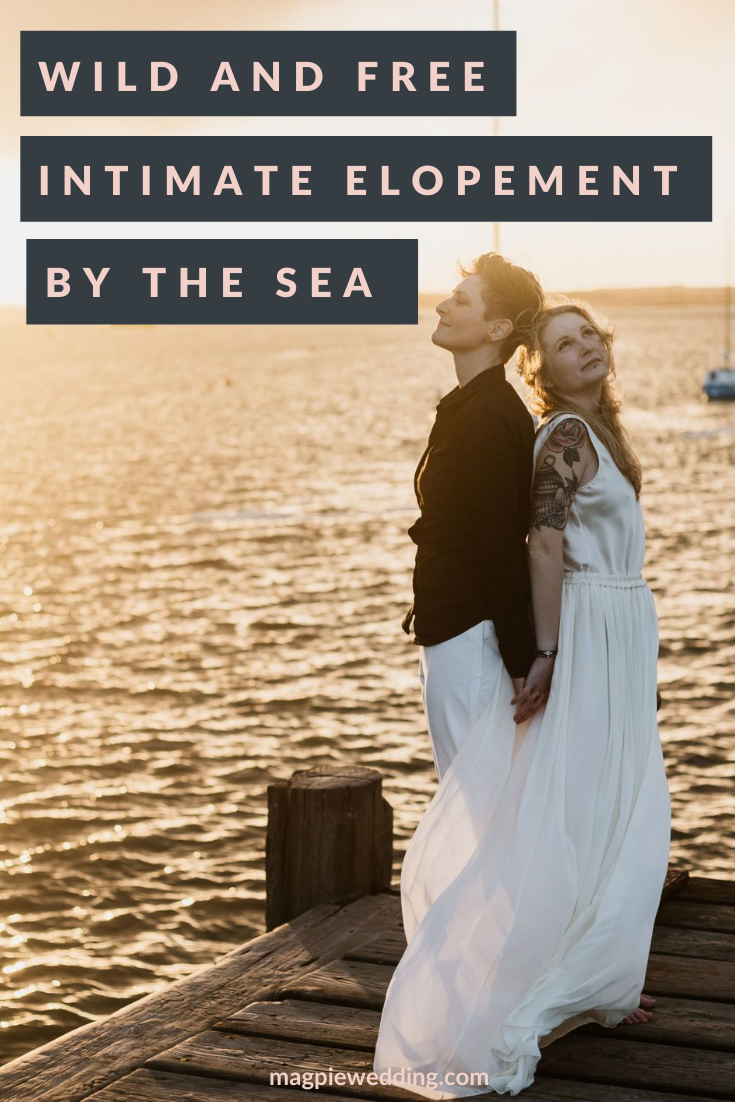 If you loved this intimate elopement you may also like;
Our Top 7 Personalised Gift Ideas For Your Fiance or Partner
Cool Bride Style With Poppy Perspective Wedding Dress At The Old Library, Birmingham
Ethical Wedding Inspiration With Sandra Jorda Wedding Dress In Barcelona, Spain