We heart an ethical wedding and this beauty on the blog today is full of sustainability from start to finish. Created by Ariadna of El Taller de Nice Day and Andrea and Erik of Photografeel it's full of rustic European details with a boho luxe vibe. Set at the Spanish venue This Must Be The Place in Barcelona it oozes creative details and takes a laid back approach to your wedding inspiration. We catch up with the team behind this ethical wedding inspiration shoot.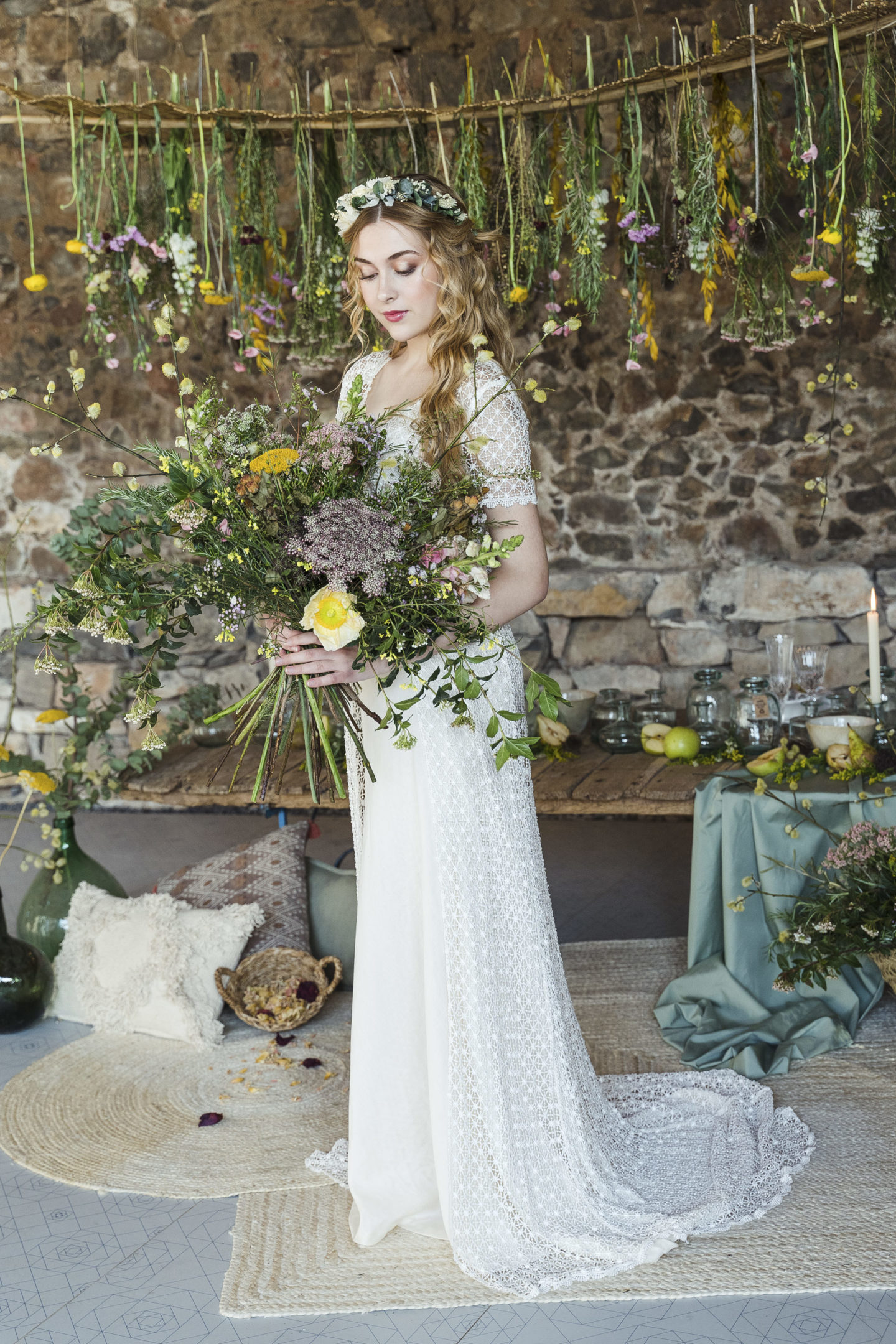 The Inspiration
"In Greek mythology, GAIA is depicted as the mother goddess, Mother Earth. Goddess of nature. At a time like the present, words like ecology and sustainability are over heard. We see them day in day out. Generally, we are all much more aware of their meaning, and so, we want to take responsibility in all areas of our lives. Including on our wedding day. The values that "Gaia" represents are ethereal values. Sustainability, the balance of all the elements. The choice to create from a place of consciousness. Stopping and breathing on such an important day. The tranquility and calm of such an ephemeral moment. Those values are also translated into the materials we use. The magic of natural light. Organic textures. The most sustainable and respectful materials possible, that can only be created by someone who aligns with this philosophy. Using local talent and local products. Natural environments. The smallest details count. All of this forms a whole, and that whole is "GAIA"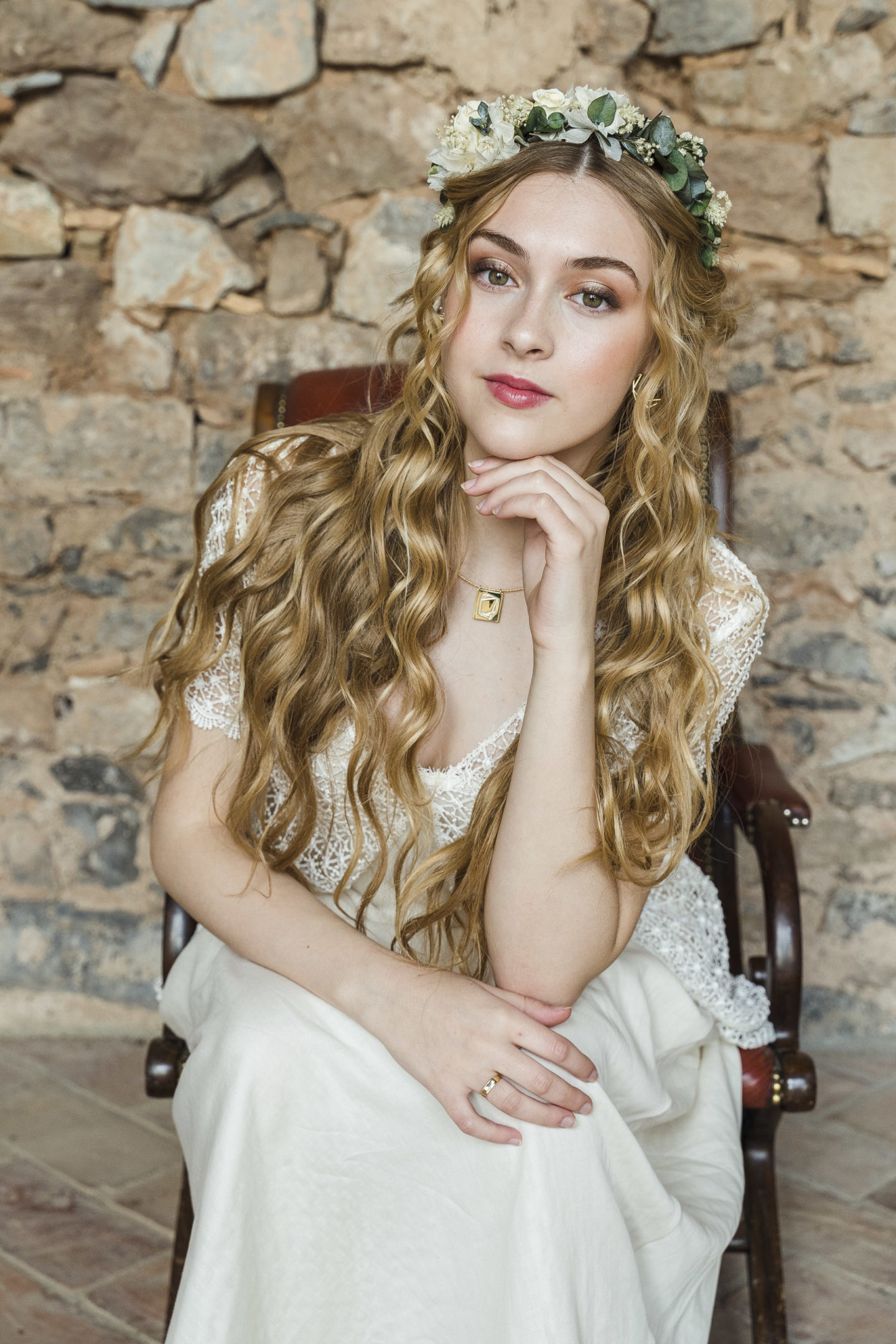 "The idea for GAIA came about from wanting to unify our two passions: wedding and living a conscious life. We worked on this shoot from a space of consciousness and light on a personal level. As photographers, we are aware of how volatile the moment is and how little presence we usually give to the moments we feel. How seldom aware we are that happiness resides in the smaller things in life, and that is what we wanted to transmit through the photographs."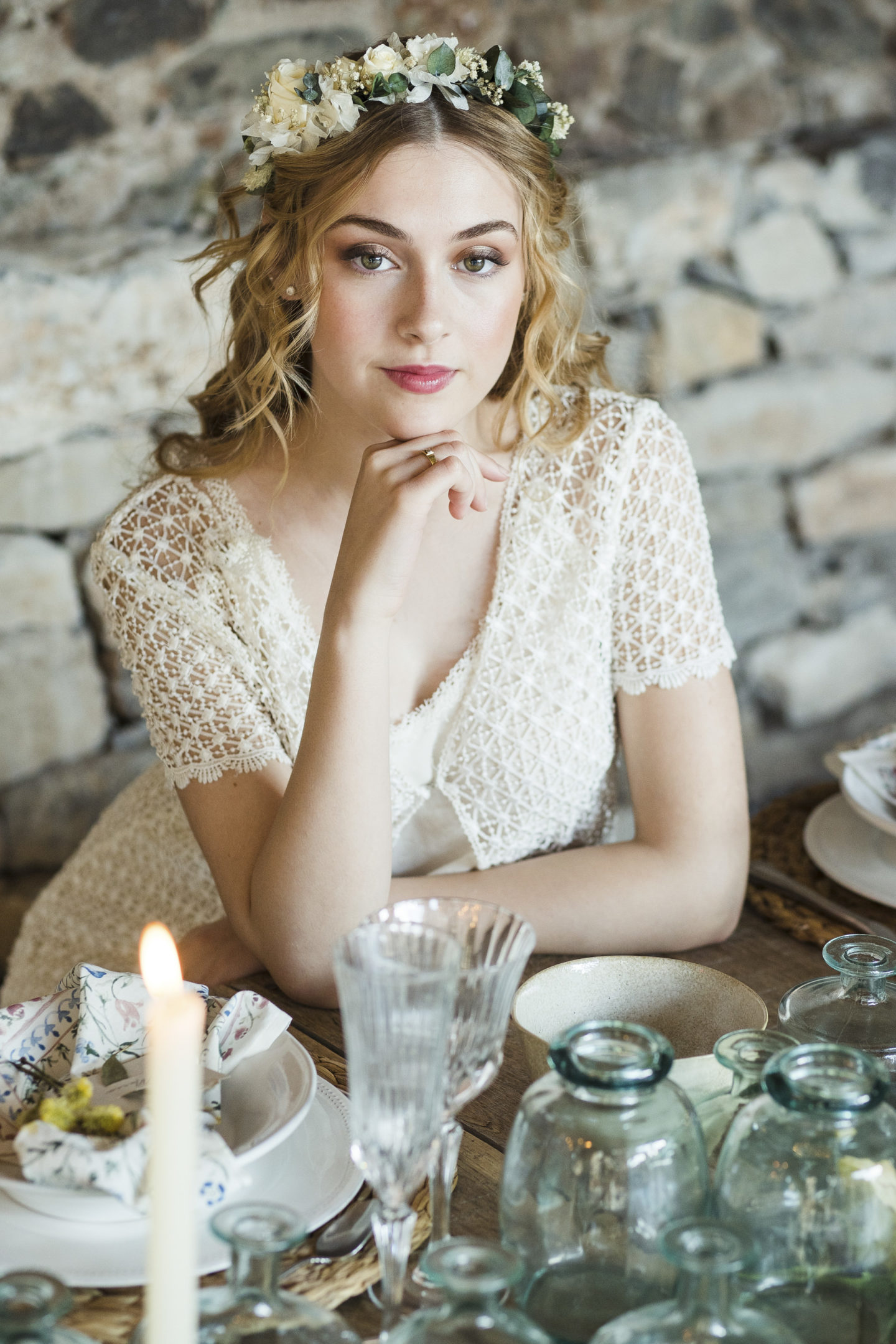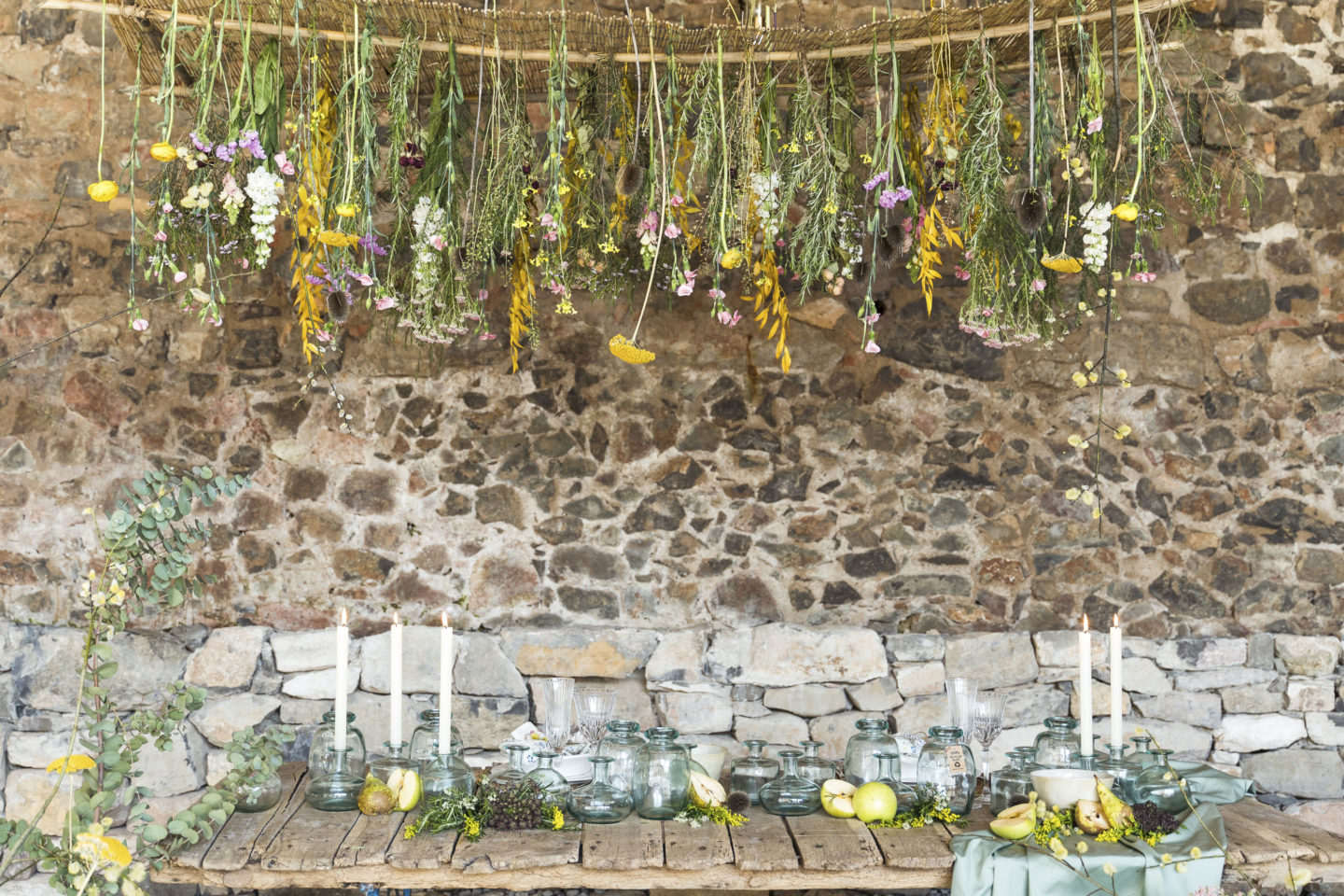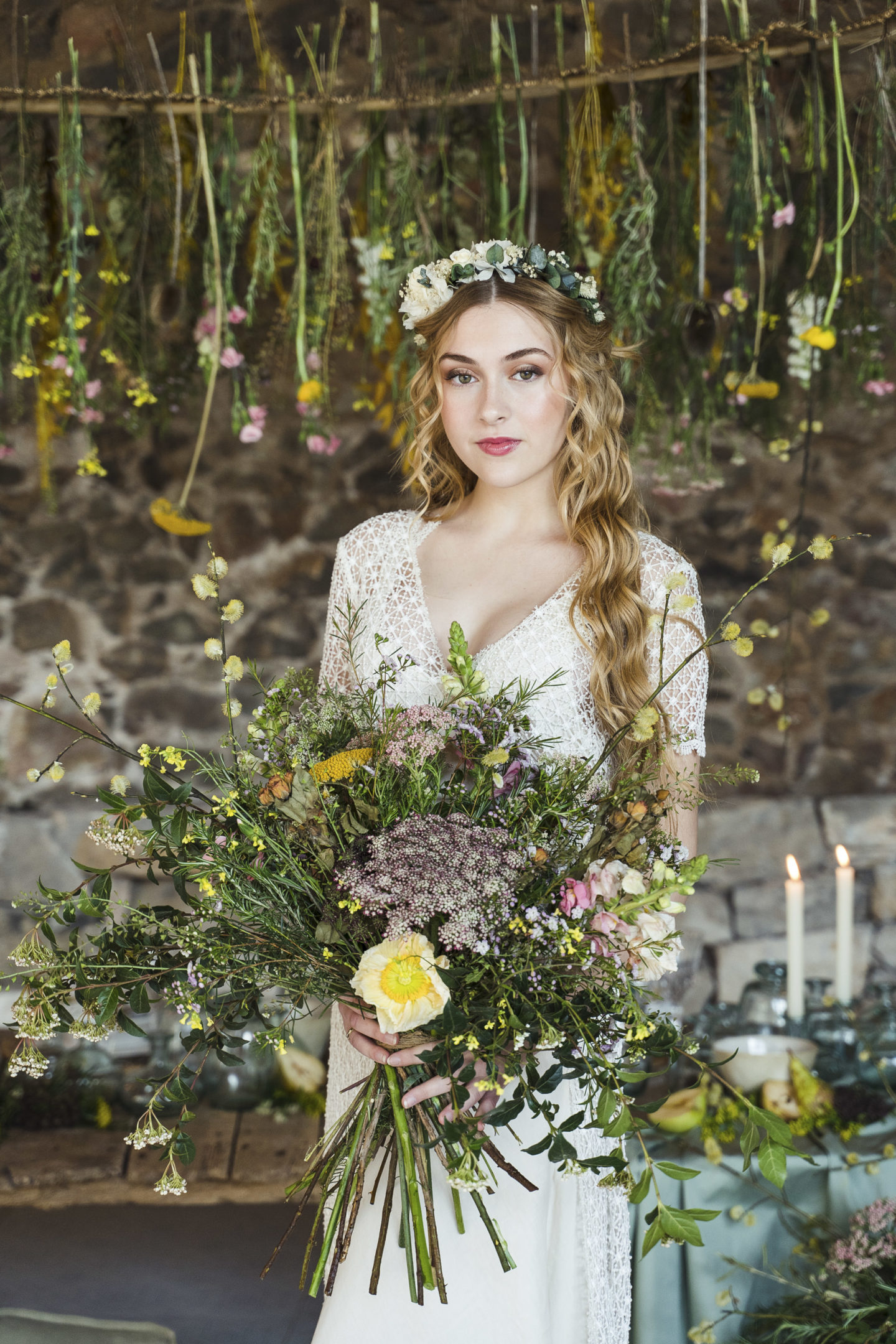 The Styling
"Ariadna Medina from El Taller de Nice Day is a wedding planner and designer on the Costa Brava specialising in innovation and creating very different weddings with distinctive wedding styles. When preparing the organisation and decoration of a wedding, she says it's a must to create an inspiring moodboard completely personal to each couple. The style of the moodboard will serve as inspiration and will connect all of the wedding decor. It is very important to get to know the bride and groom's taste because they need to see themselves reflected at the wedding through the decoration, therefore creating wonderful memories of their day. El taller de Nice Day's speciality is wedding decoration, creating different decorated places being always respectful of the environment where the wedding is celebrated and reusing natural elements to be more sustainable."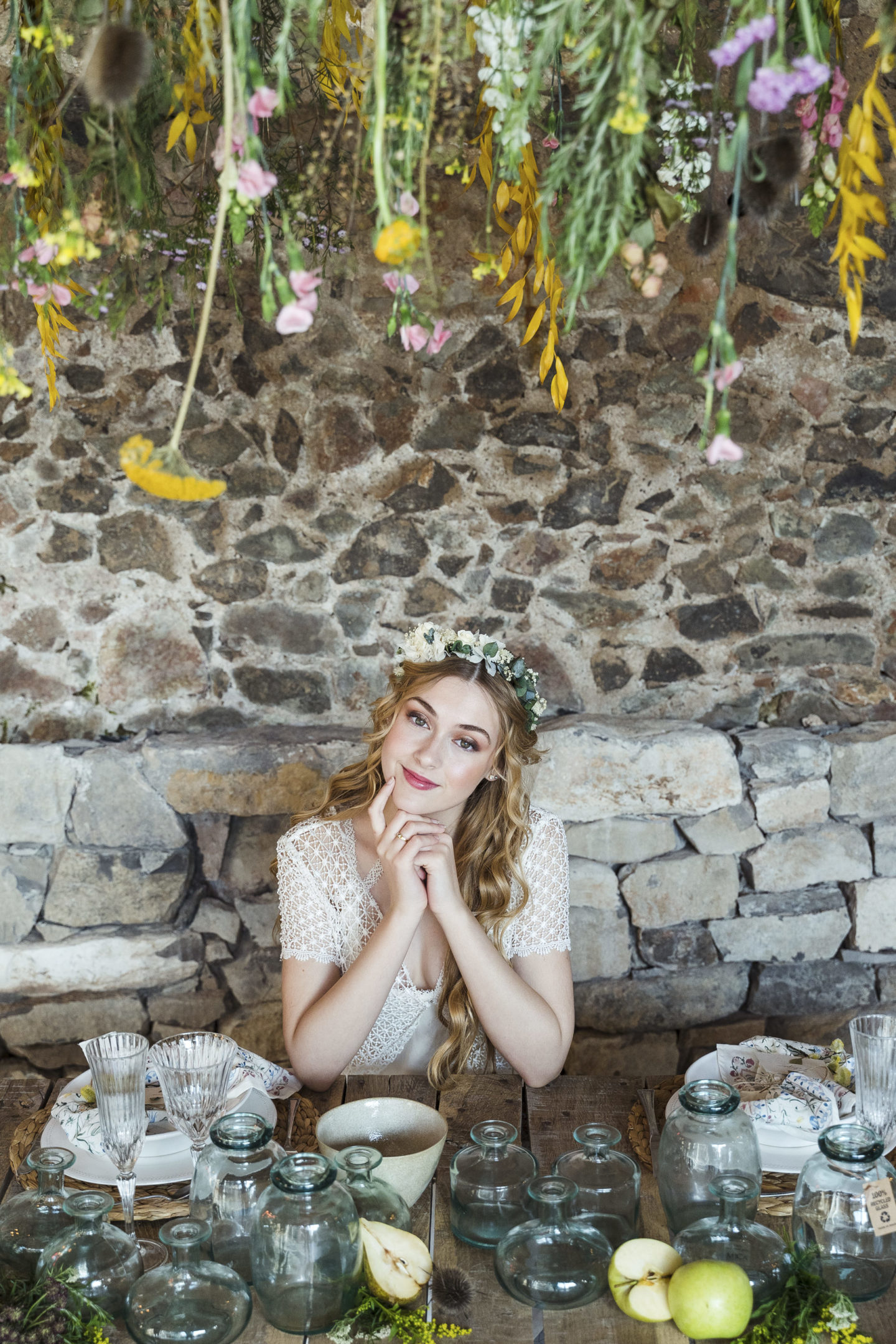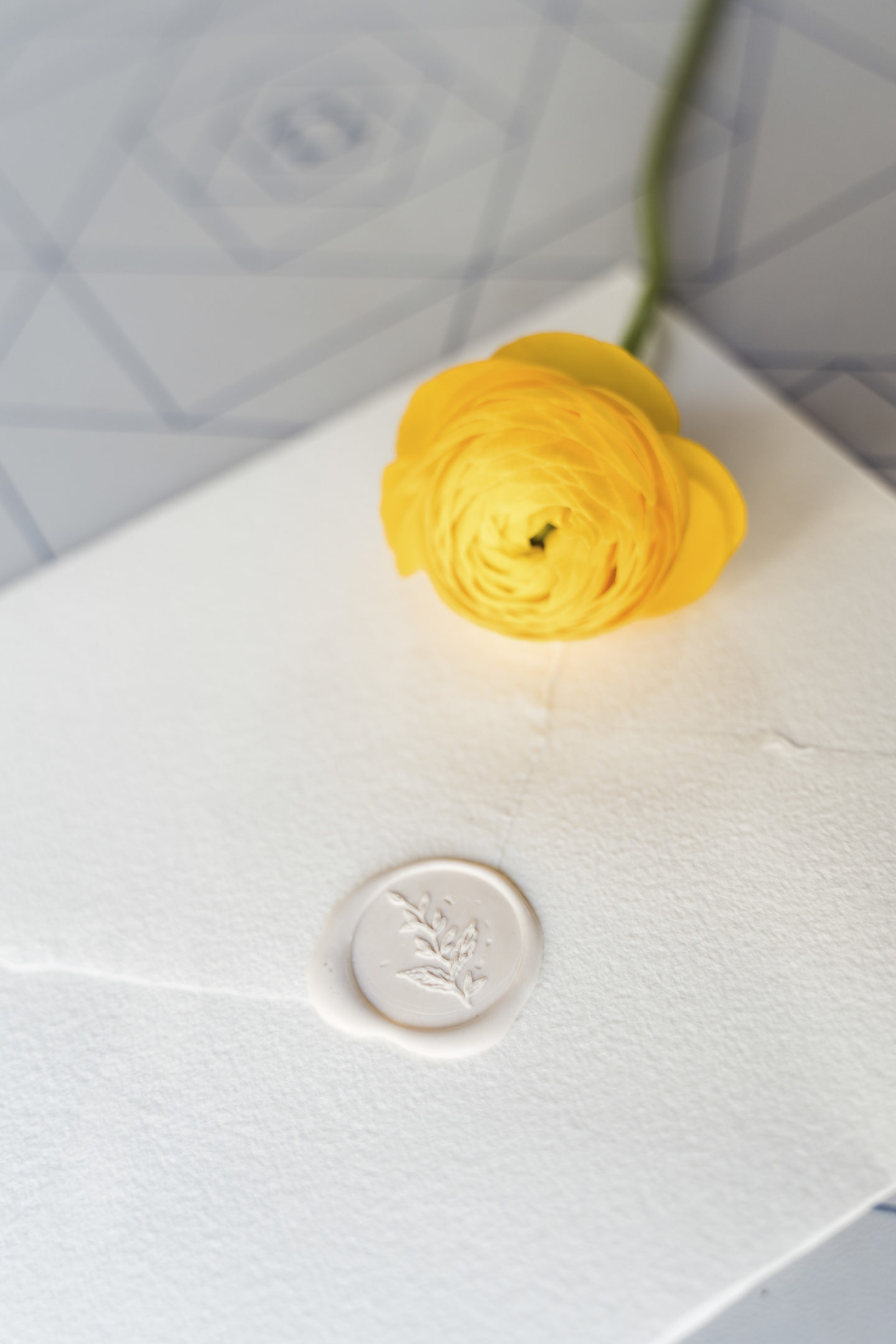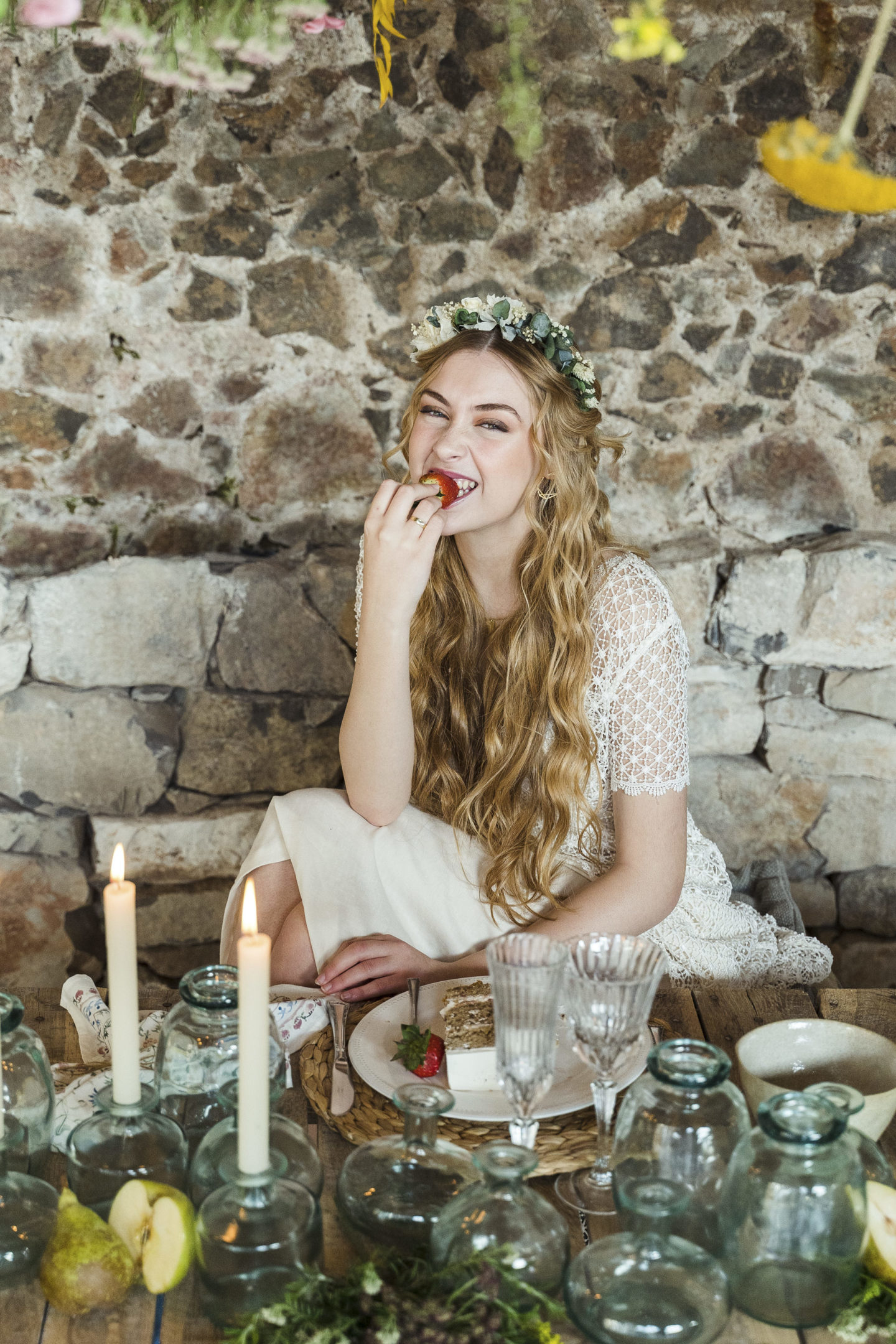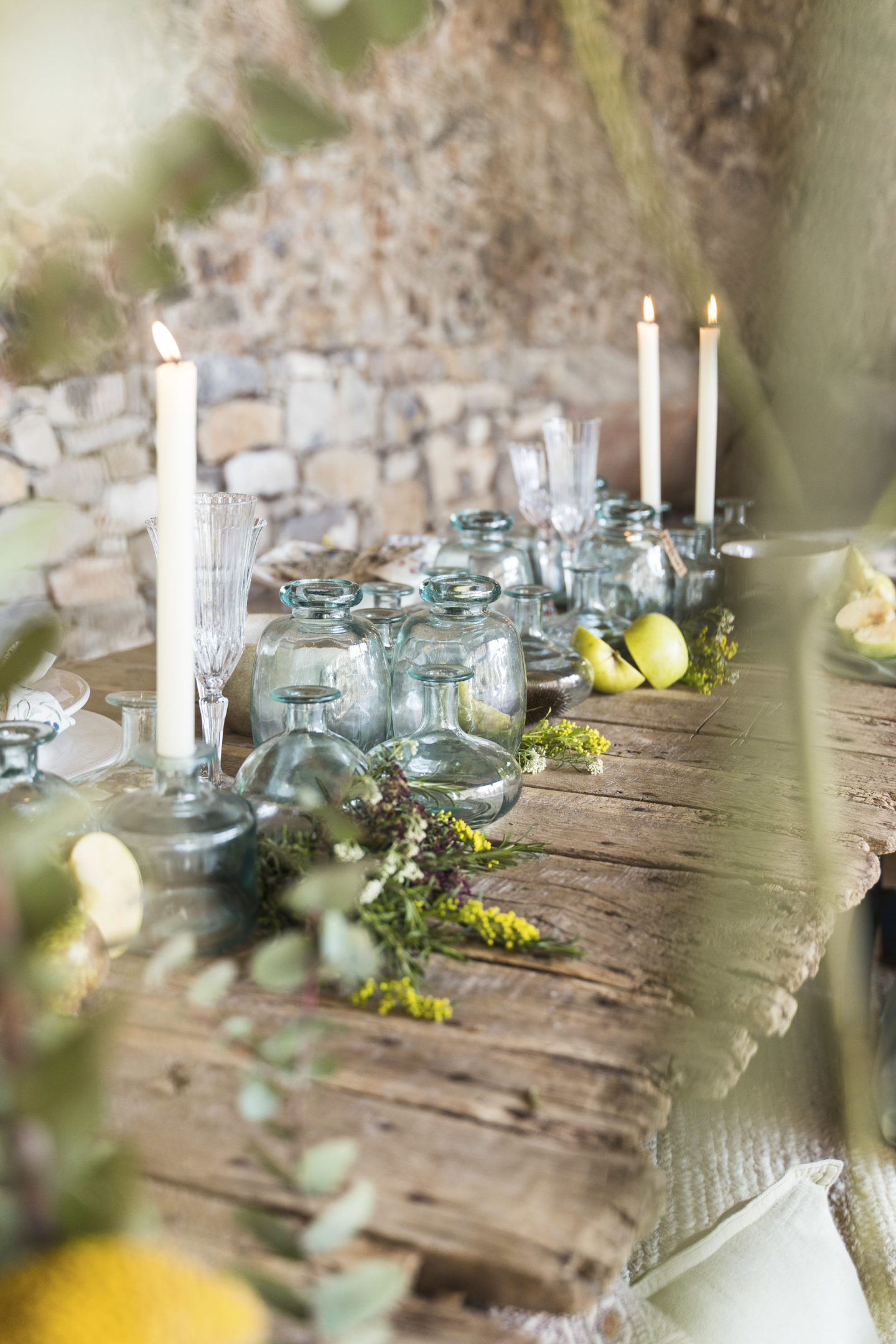 The Venue
"Duncan Turner & Jo Gallagher, originally from the UK, are the owners of This Must Be The Place, a typical Catalan farmhouse dating back to the 15th century is set in 12 hectares of Catalan countryside with the most amazing views out to the Pyrenees. The venue is perfect for rustic, outdoor, romantic, stylish weddings. They have renovated and created the venue in a Modern Rustic style with the three Rs in mind (reduce-reuse-recycle). By reusing materials that were originally on the farm, they have been able to create several stunning indoor and outdoor spaces and plenty of up-cycled furniture. The original wooden beams, floorboards, old metal barn and terracotta tiles all form part of the redesign. They share a common sustainability statement with their regular suppliers and have installed two recycling stations in their space. They work primarily with local suppliers and in this way support the local economy and provide their couples and their guests with delicious local 0KM breakfast hampers. For the GAIA shoot there were many options in line with the look and feel. The venue has various interior and exterior spaces all perfect for this rustic natural look of the GAIA shoot."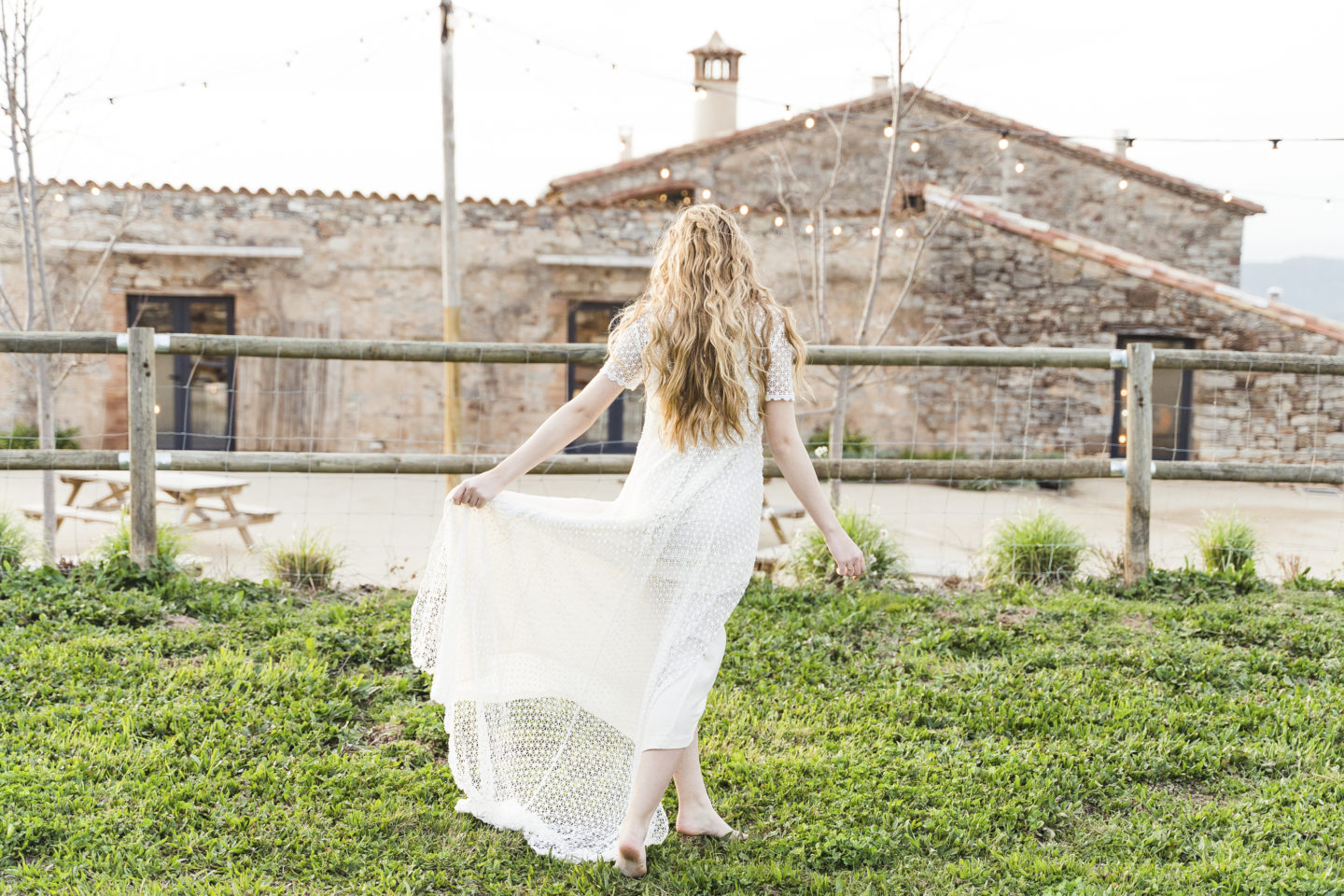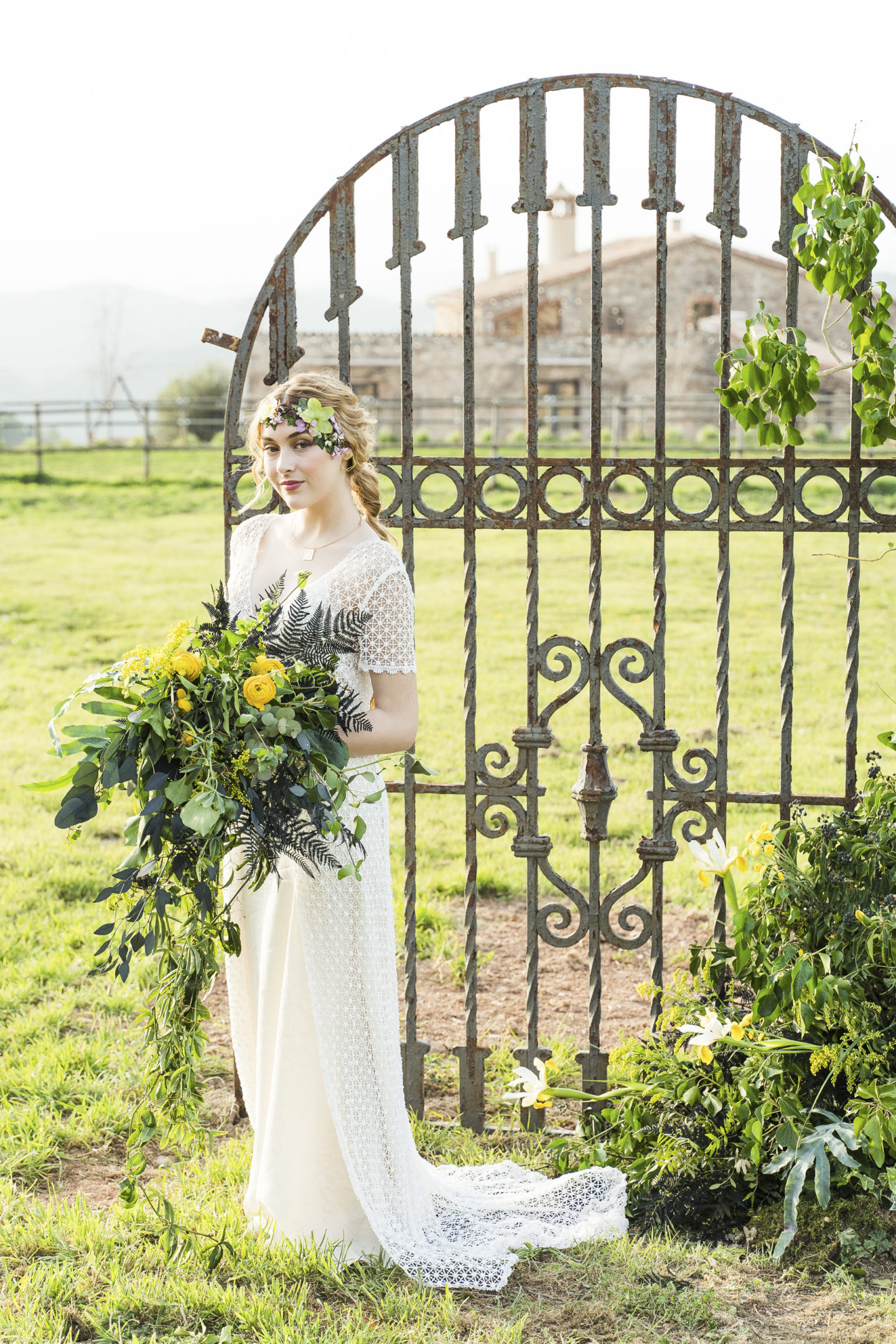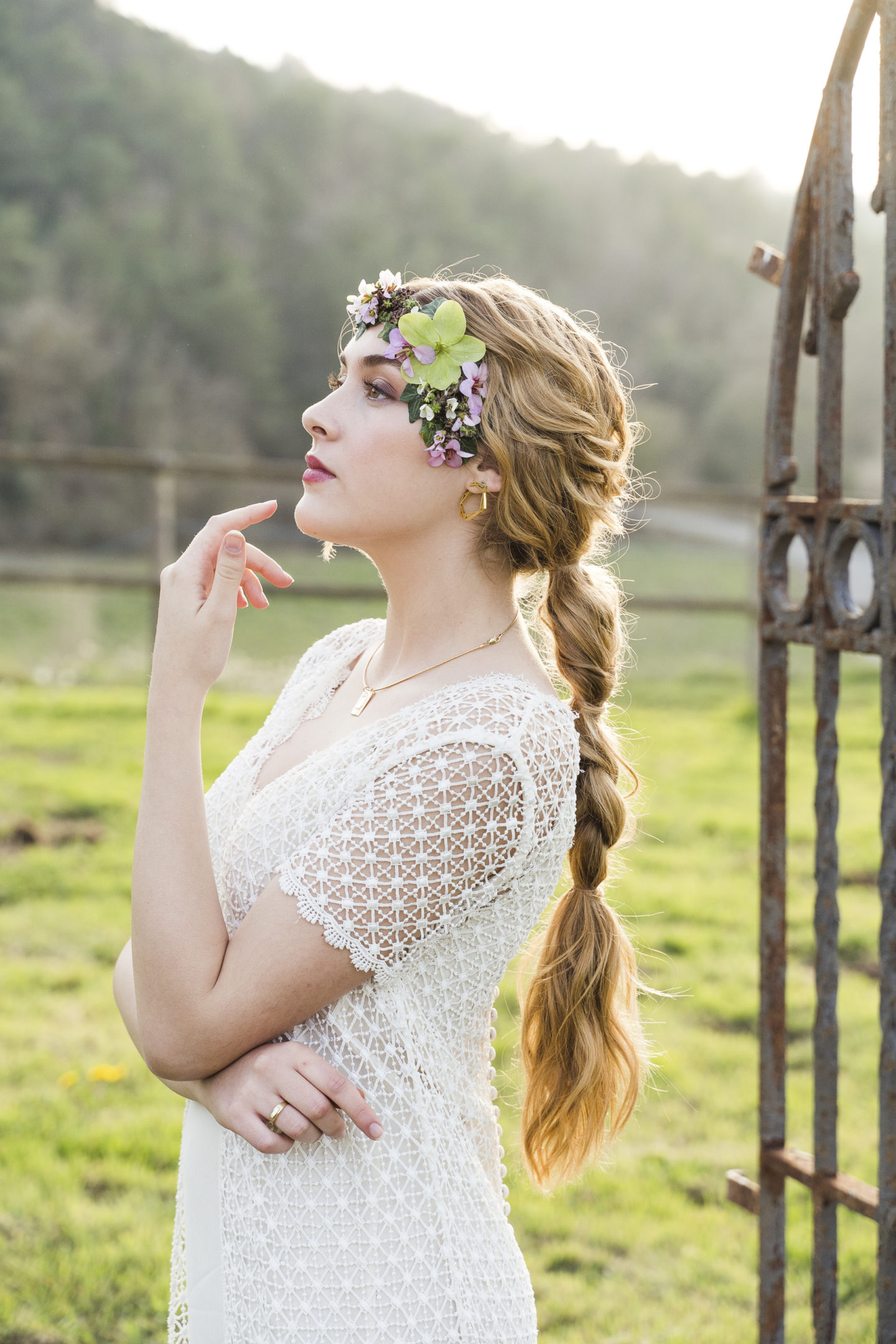 The Photography
"Andrea and Erik, from Photografeel, believe that the quiet and calm atmosphere is really important on your conscious wedding day. If you create spaces that invite you and your guests to be relaxed in, it will be reflected in your wedding photographs on so many levels. The light is also a determining factor. If you want to get these dreamy tones, the warm and natural light look, avoid harsh lighting or direct-sun on the ceremony space or other exterior spaces. Extra tip: If it is possible, ask your photographer to take a few pictures during the golden hour -a couple of minutes before the sunset- to get those magical orange tones in the background of your pictures. Try to forget that the photographer is there. In that way, you will get the most amazing candid photos with your partner, friends and family! And the most important tip: Keep calm, it's your conscious/relaxed/ethical- wedding day!"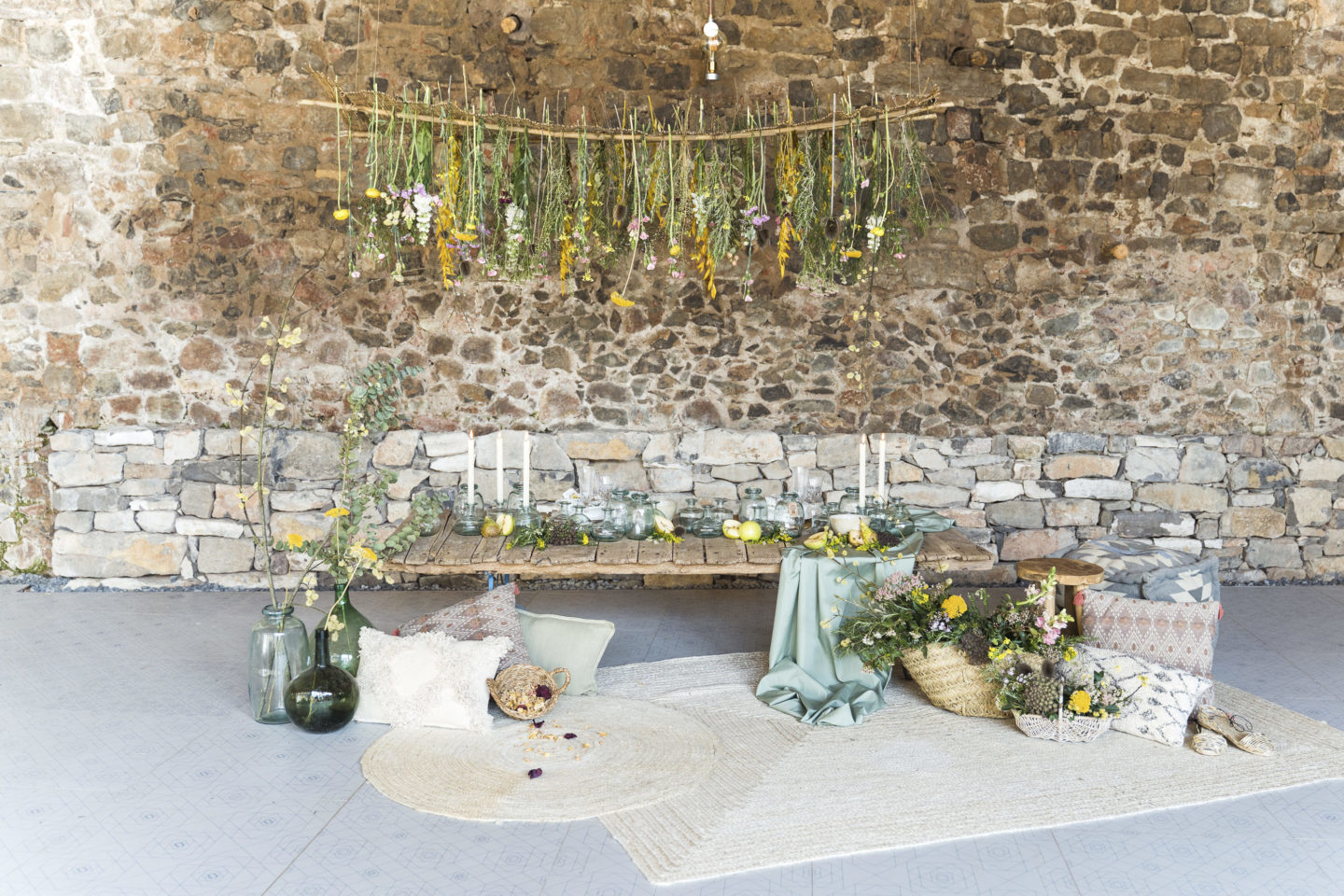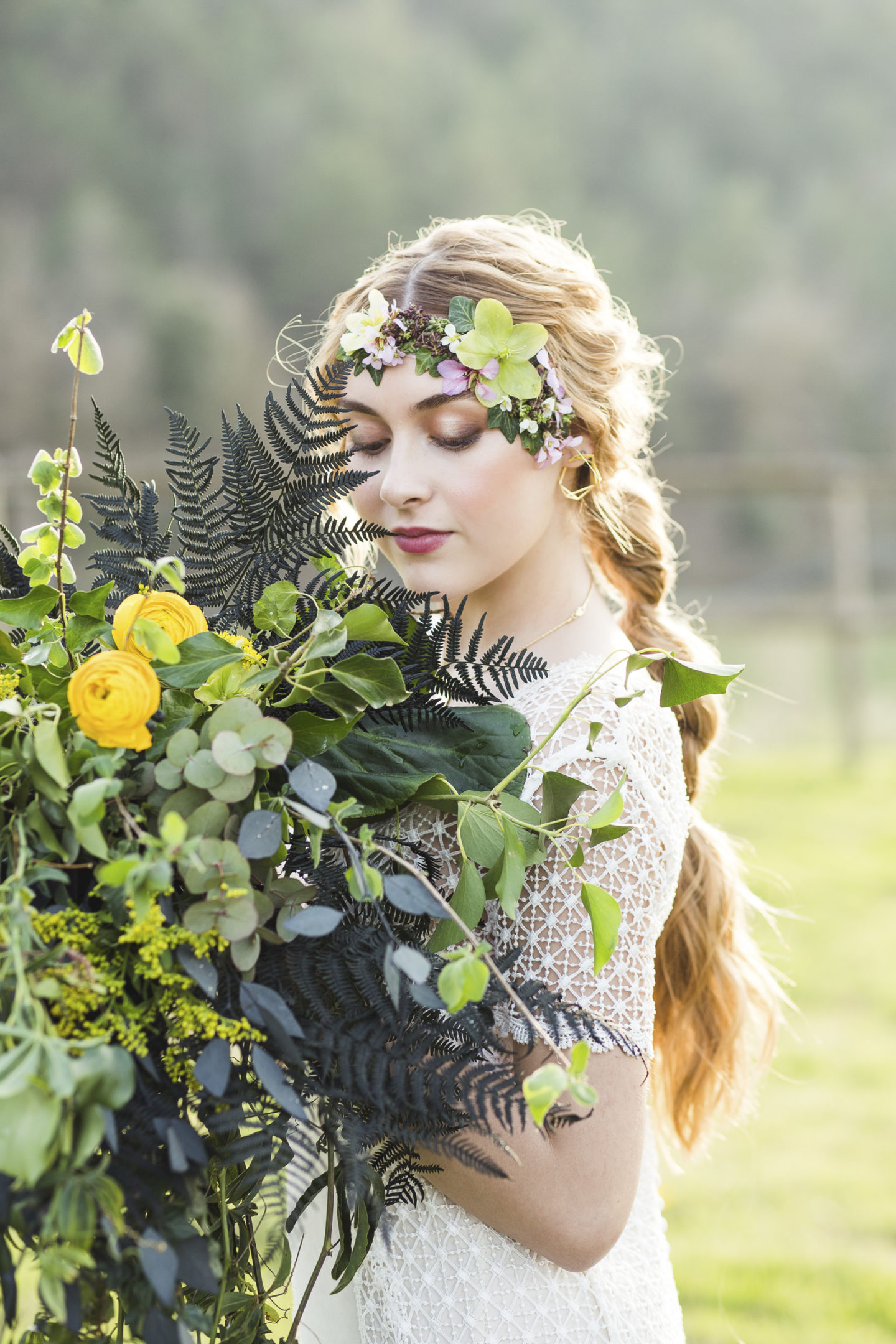 The Bride
"Sandra Jorda is a sustainable wedding dress designer, she makes her dresses in an artisan way with organic fabrics, such as organic cotton used on the dress of this styled shoot. She also uses fabrics that come from recycled materials. Sandra Jordà makes all her dresses at her atelier based in Girona, a city next to Barcelona. According to Sandra, the best way of making a sustainable wedding dress is by choosing to up-cycle existing materials together with using local ateliers where the working conditions meet social welfare standards. Traditionally, the wedding dress is made to be used for one day and kept in the closet forever. It means an excessive waste of natural resources. She recommends that you transform your dress to use over and over again for other special occasions. And she says that way you will be able to keep keep enjoying your wedding dress beyond your wedding day and forevermore."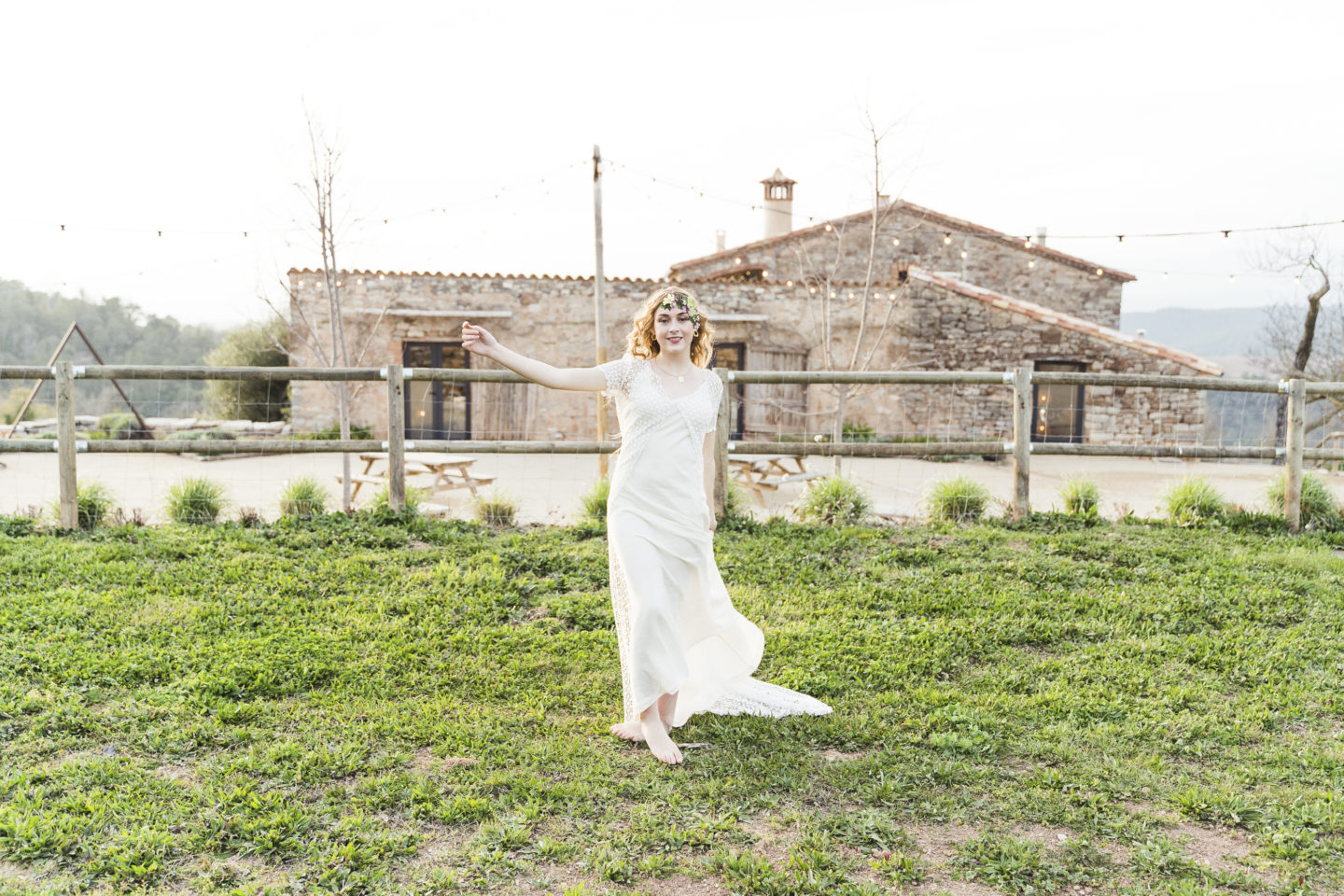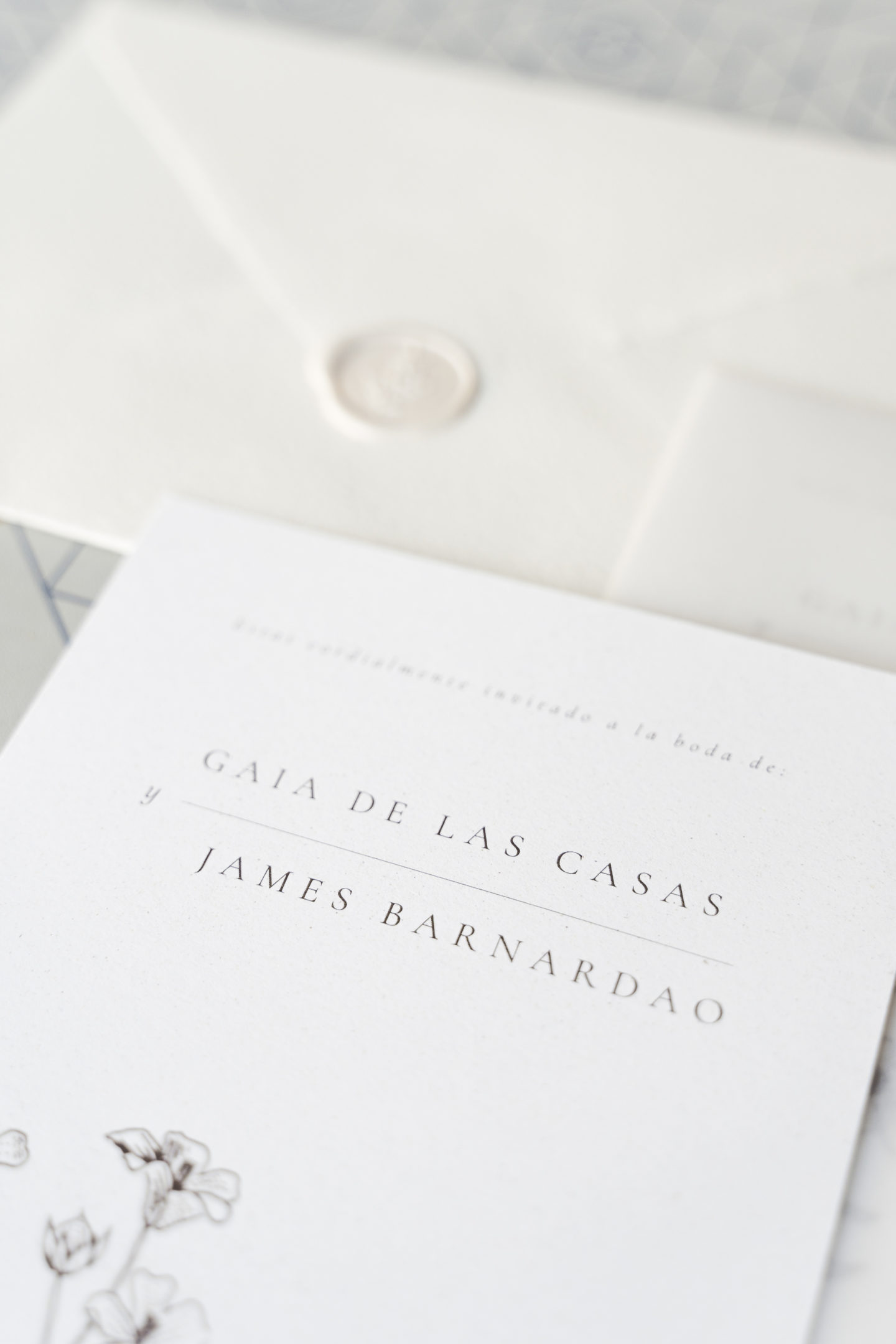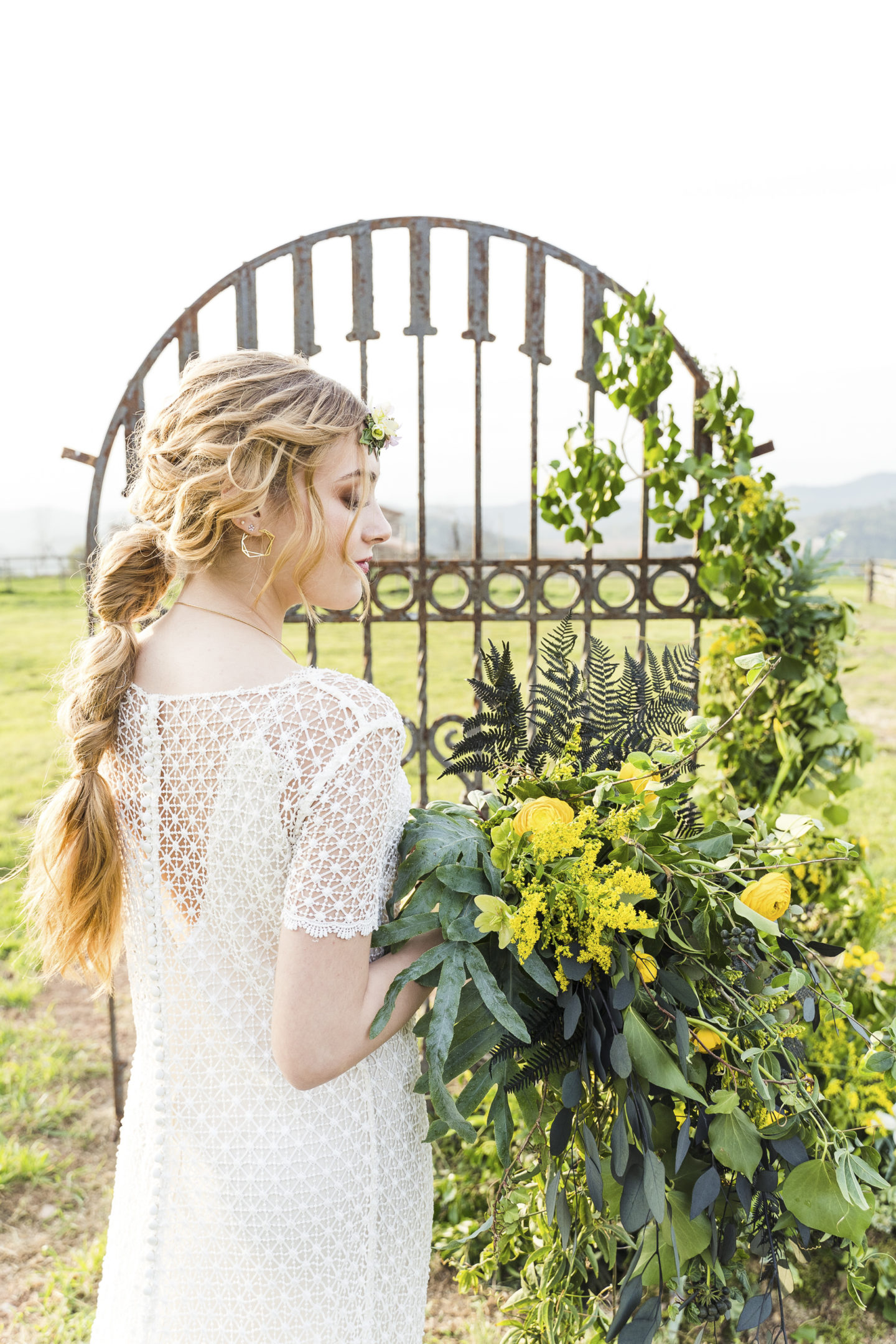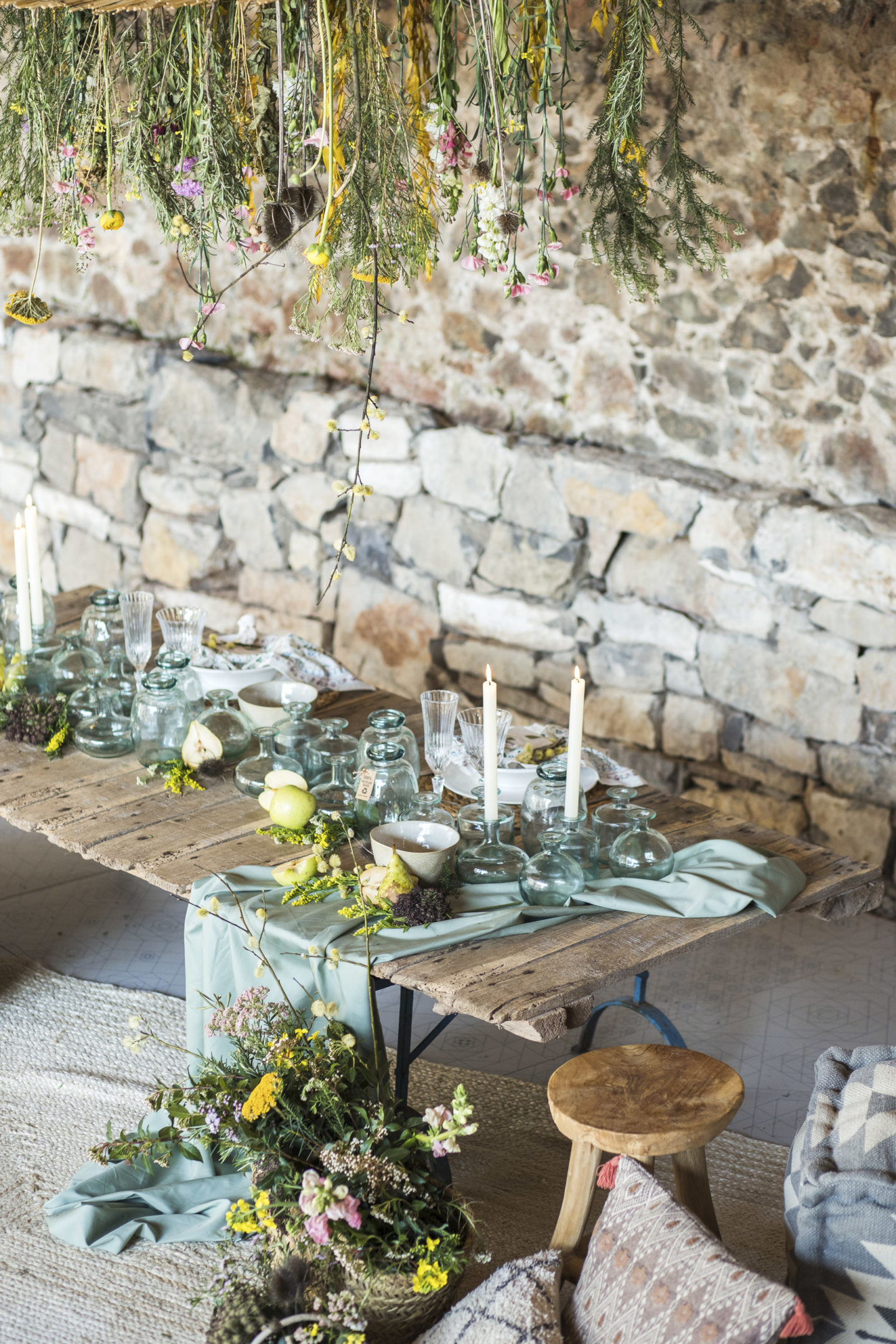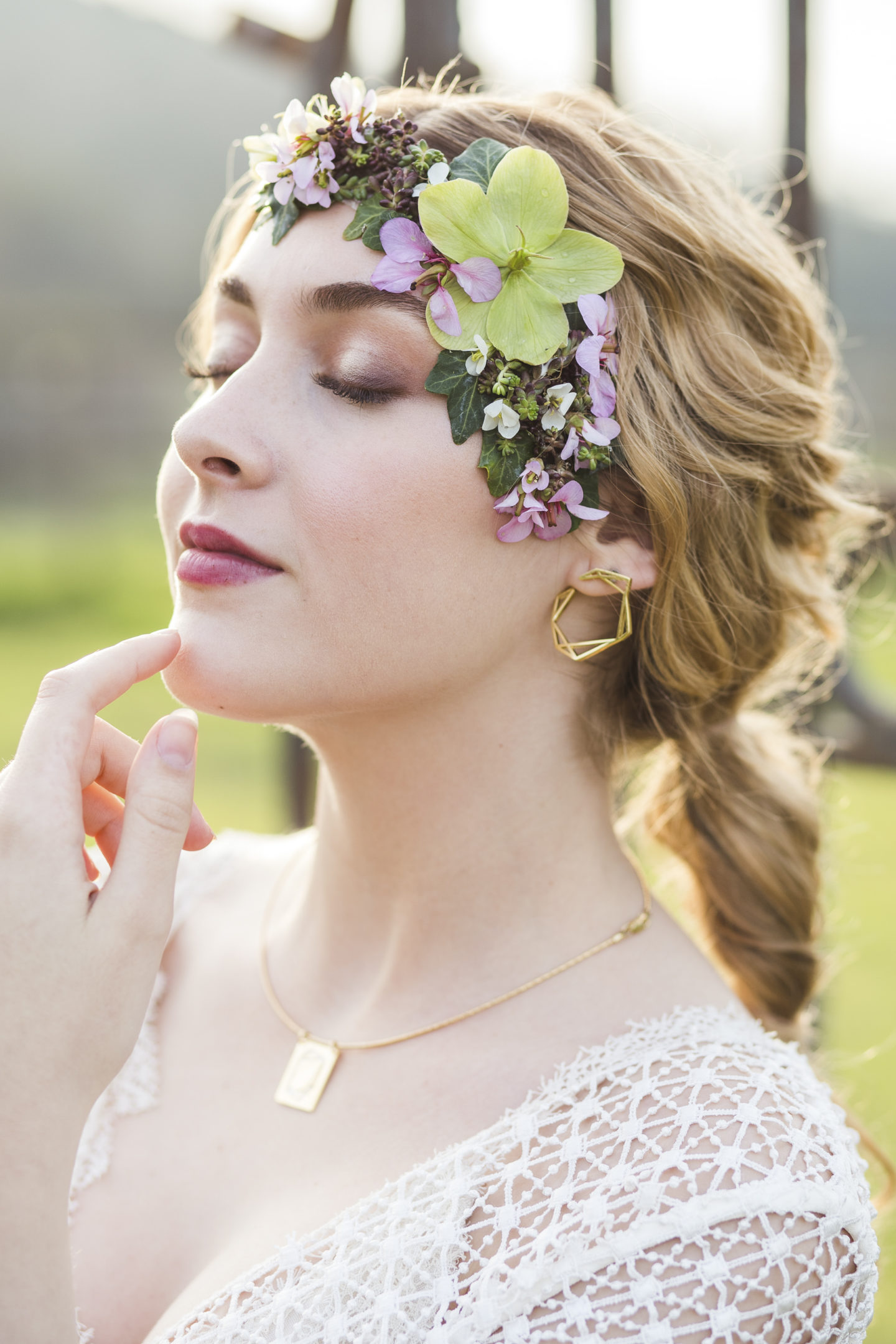 Gina Teruel is a bridal makeup artist and hairstylist based in Barcelona. She says "My work consists in preparing the bride for her big day from a really natural point of view focusing on enhancing her natural beauty and who she is. All my tools and products are vegan and cruelty-free: from skincare to makeup and hair products. I always carry reusable and sustainable tools in my makeup kit, making sure that I avoid, as much as I can, single-use products. In order to get this natural boho look seen on the model, I suggest not using a lot of product and working with cream textures in the lighter points, choosing a nice reddish lipstick and applying it with your fingers on lips and cheeks. For the eyes, use natural neutral tones and a satin shadow in the center of the upper lid, apply some mascara and you are good to go! To get the hairstyle use a curling iron to curl your hair in different directions in order to get a more natural boho look, use a texture spray to give the hair some thickness and fix it naturally."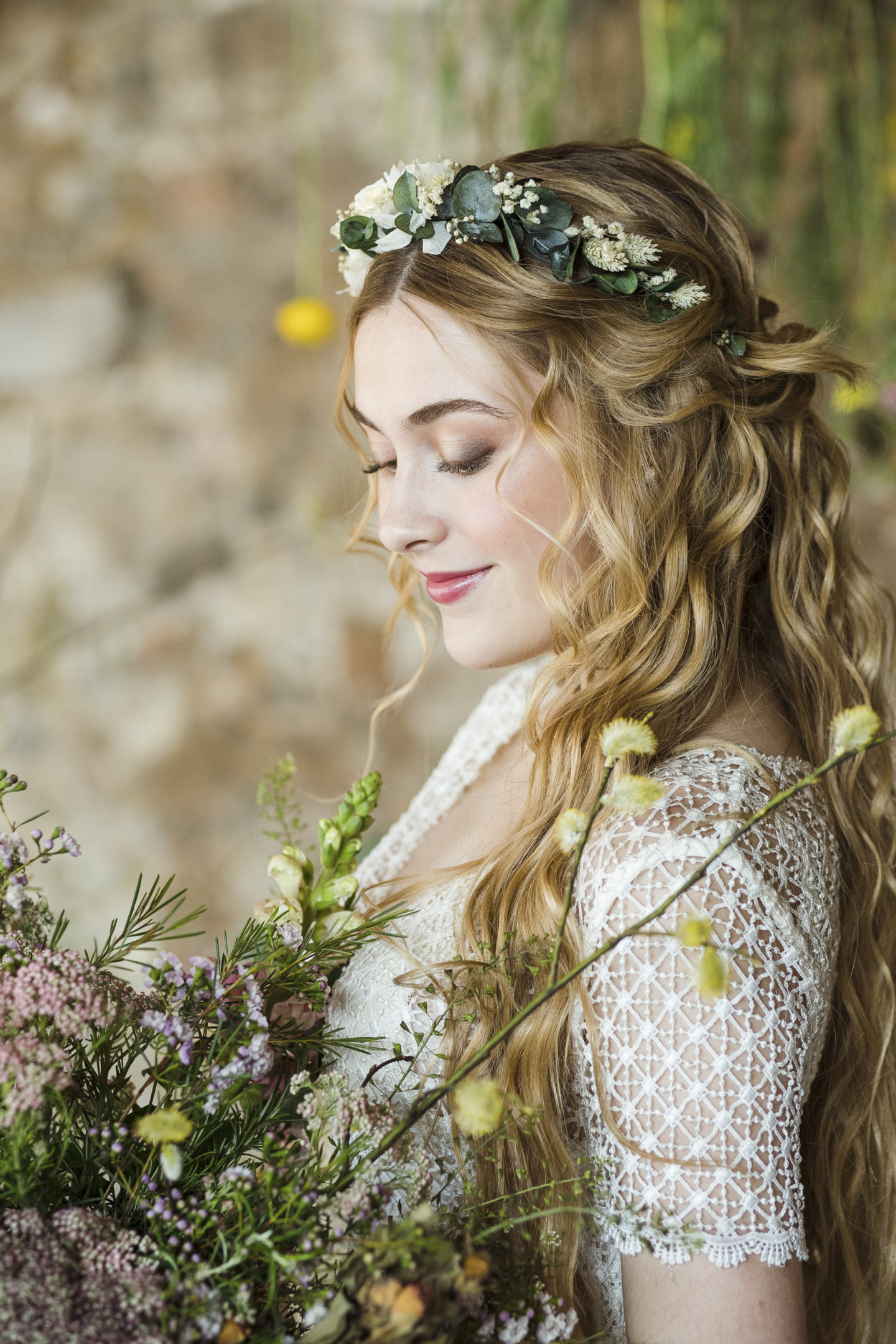 The Details
Raquel Maspoch from Abelia i Mel , a florist on the Costa Brava specialising in sustainable weddings, recommends choosing seasonal flowers to create this look used in the GAIA shoot. She states that since flowers change with the seasons, the floral decoration will express the exact moment in which the wedding is celebrated. According to Raquel, it is essential to hire florists who work with organic and local flower farms. It is also important that they process the vegetable waste into organic fertilizer. She comments that sustainable weddings can have several main styles, although the most common is rustic and natural. She recommends prioritizing the use of natural and reusable materials such as wood, clay or wicker. She also advises the use of containers with no floral foam but that can stay moist. You can see examples on cane over the wooden table, wicker baskets or recycled glass bottles in the photos from this shoot."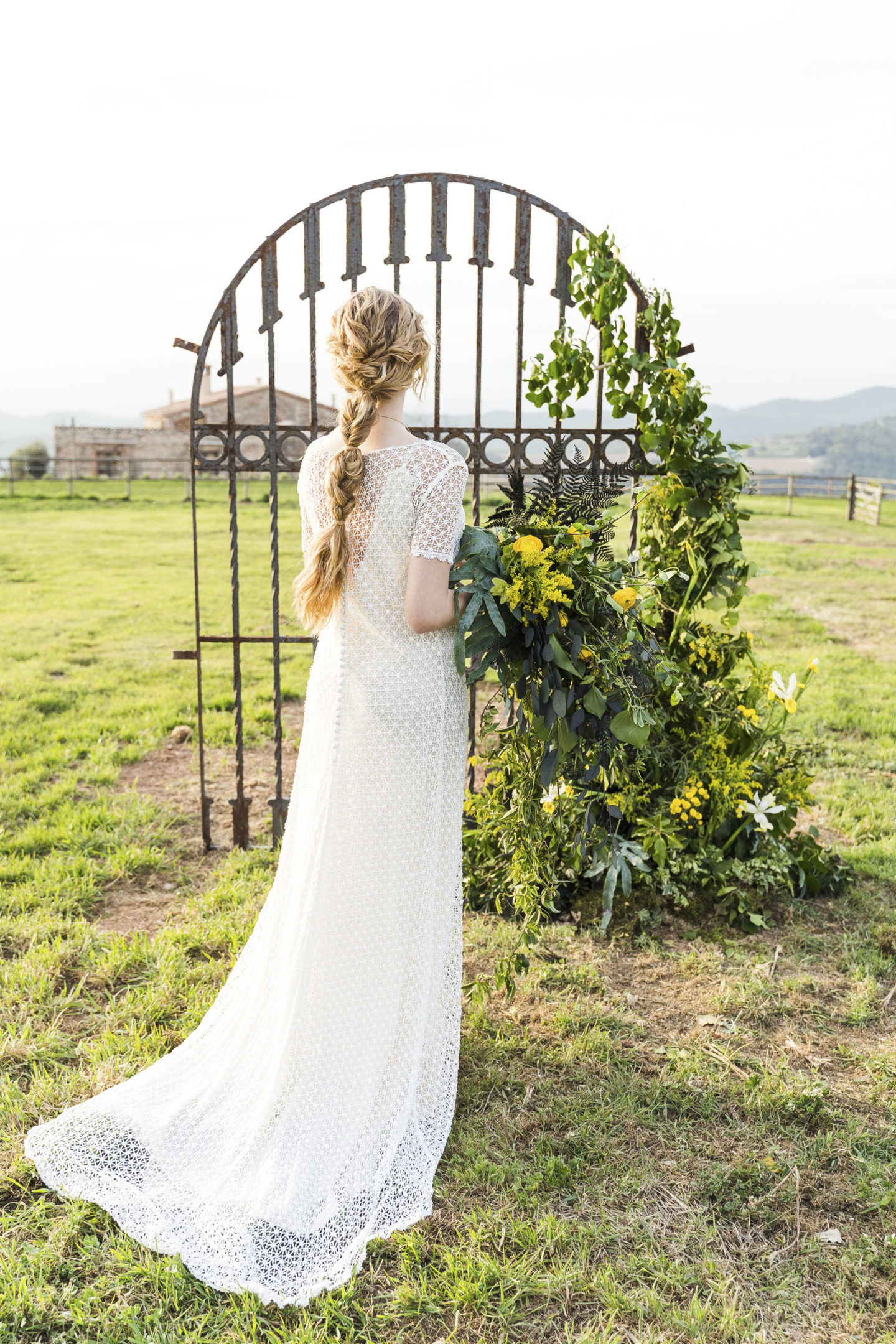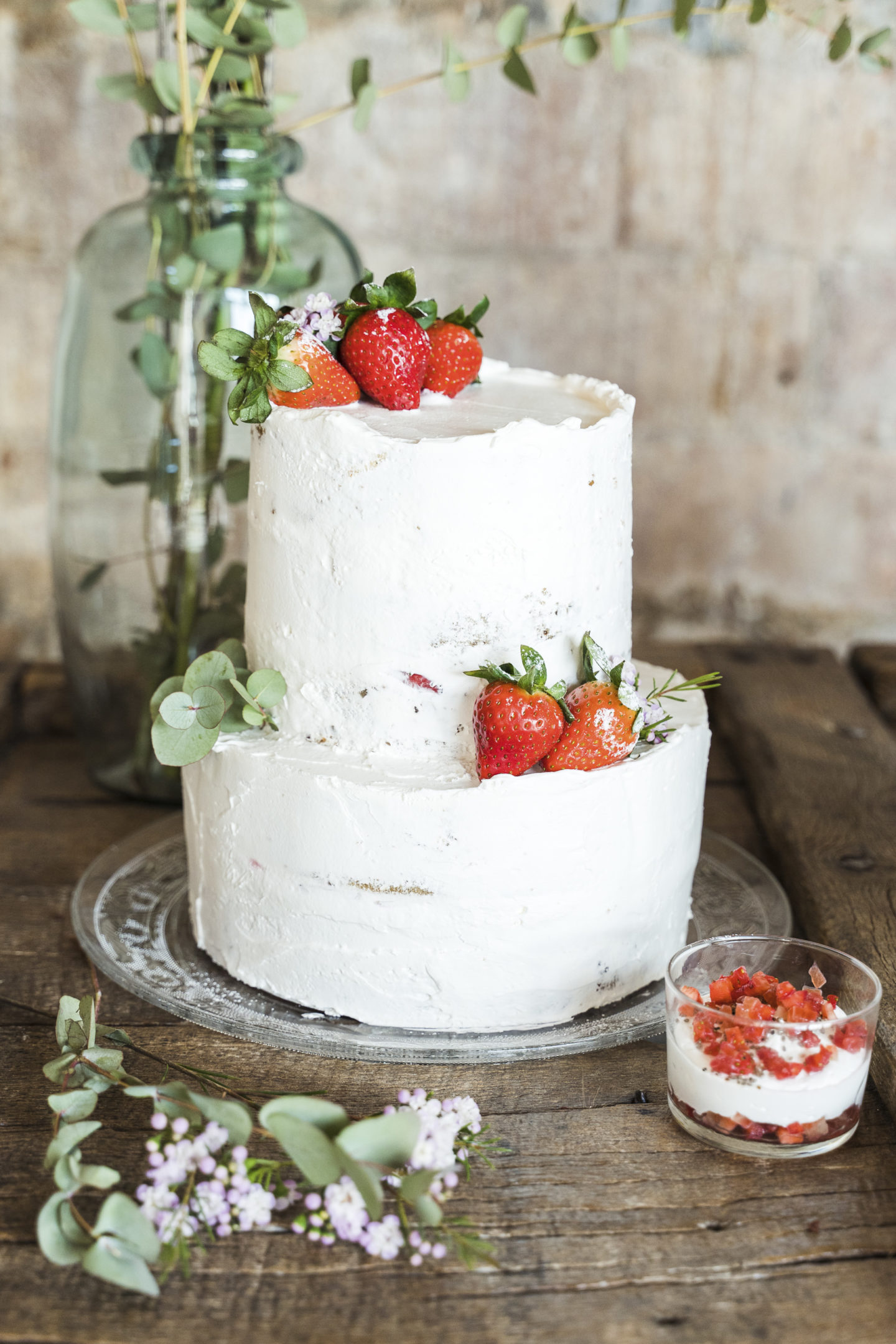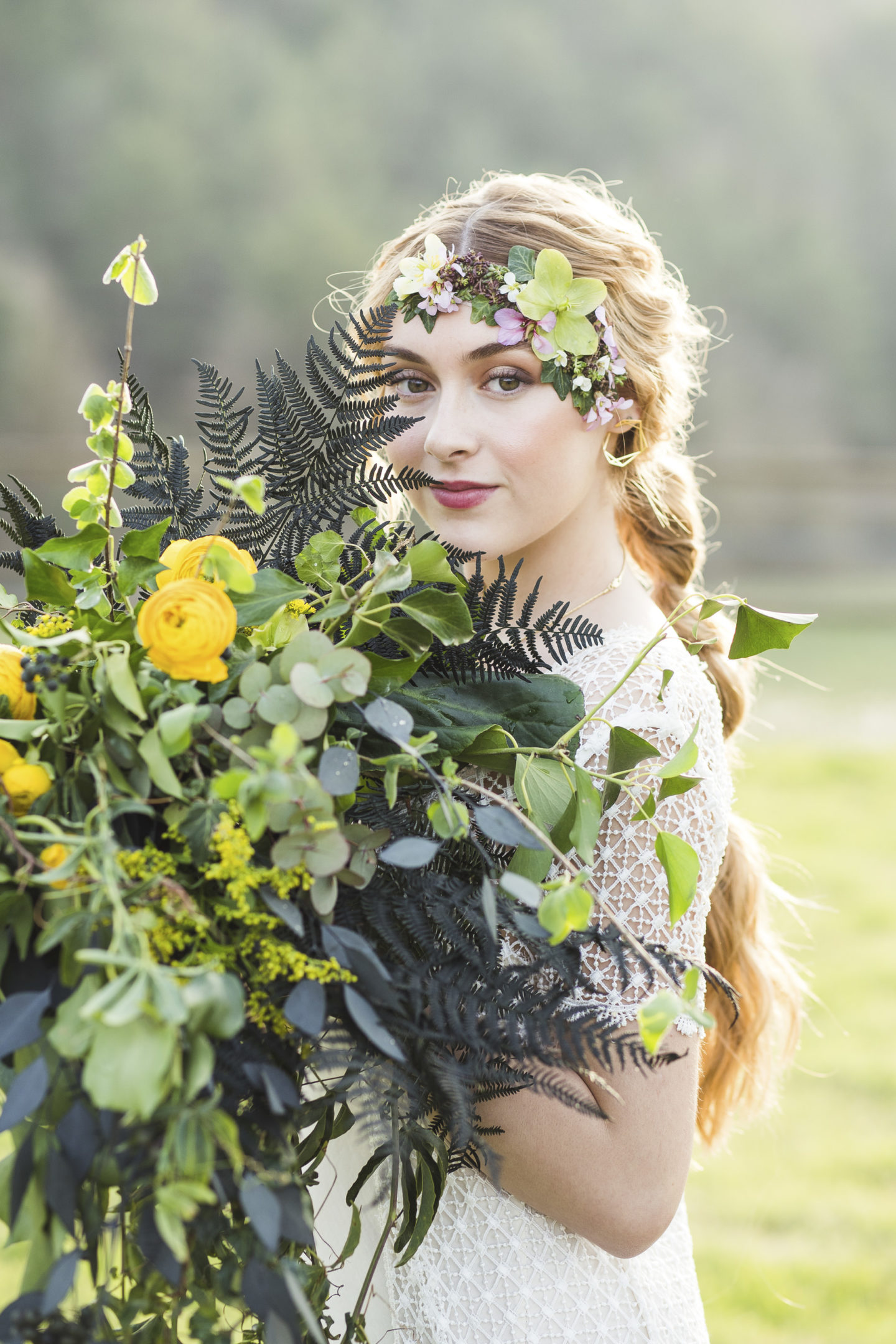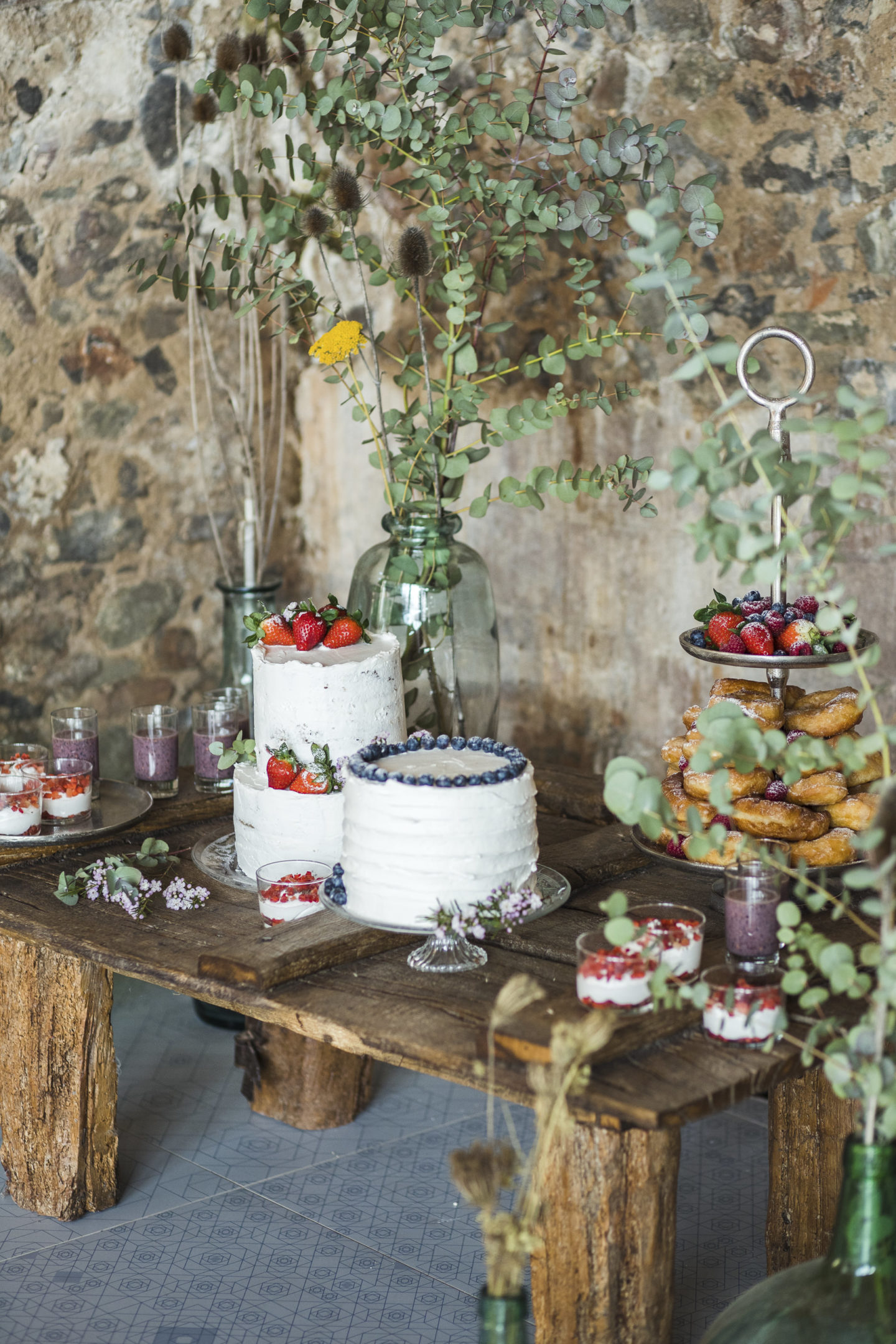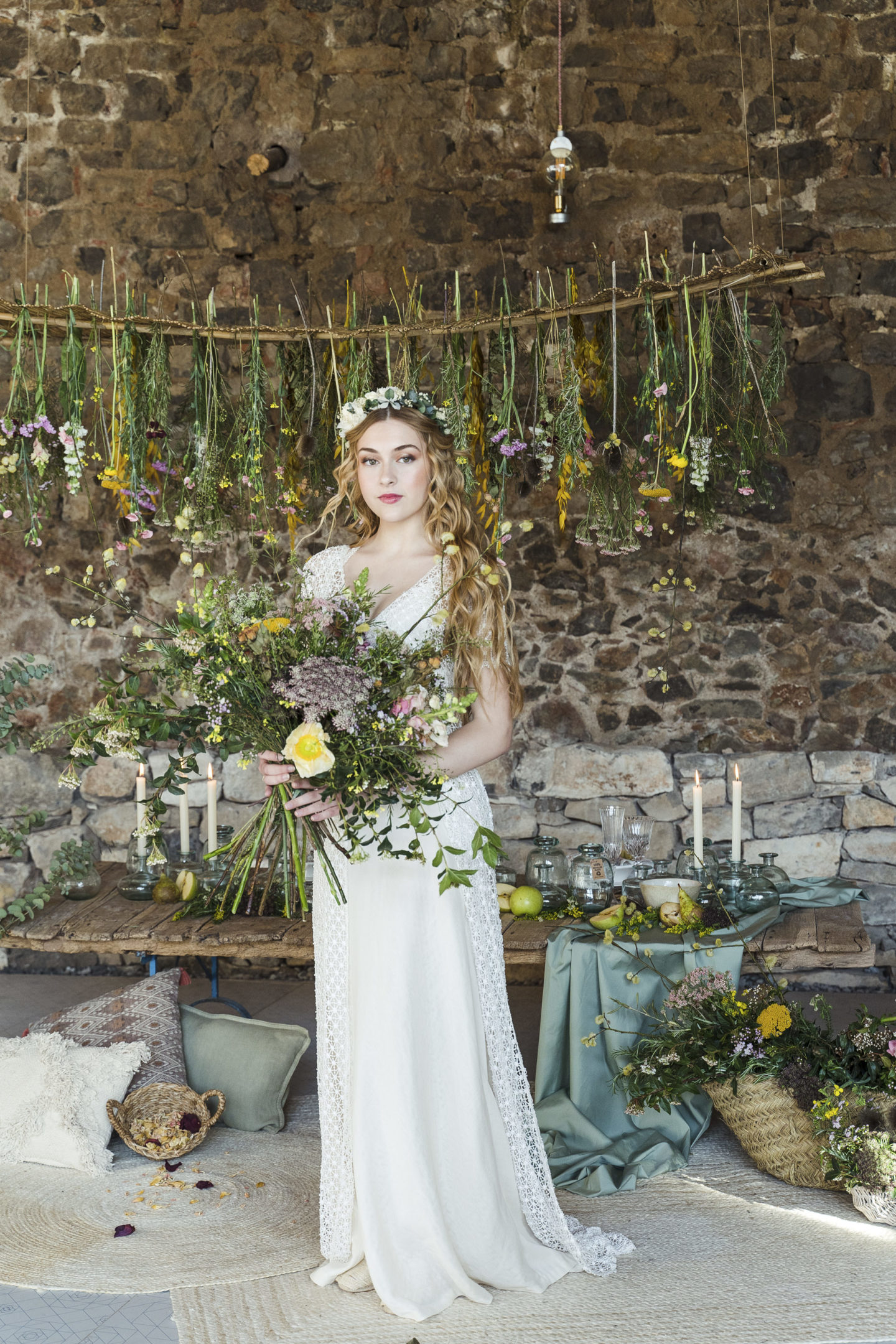 "Fiorella Di Landro from Cakes by Fio is a plant-based bakery based in Barcelona. She specialises in the elaboration of desserts and personalized cakes, following a vegan, ecological and sustainable way of life. To get the GAIA look on your dessert table, she suggests following a simple and minimal style but with a natural and rustic touch that you can obtain just by starting from a neutral base and adding some flowers and seasonal fruits. By adding these elements you add some color and life to your candy bar.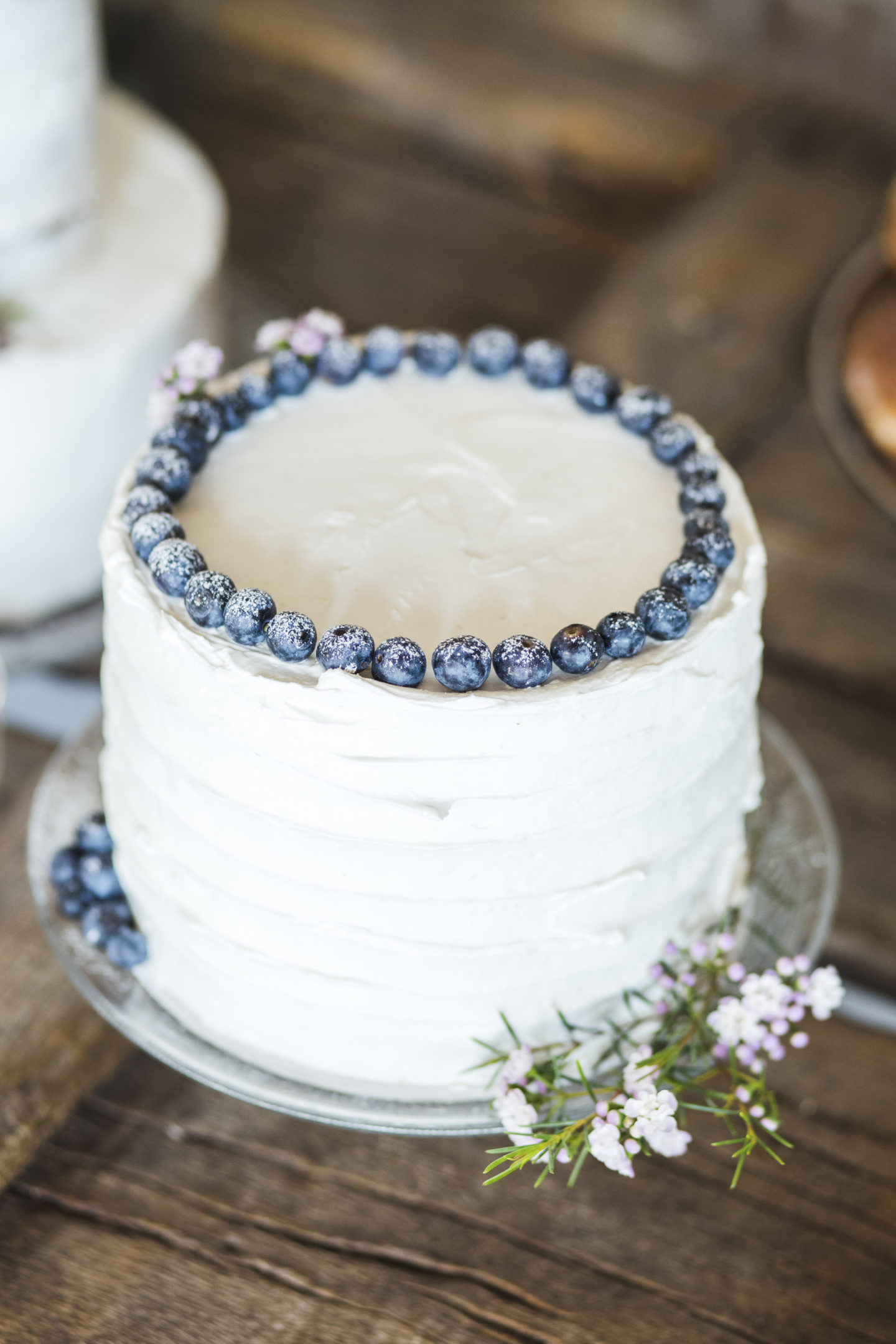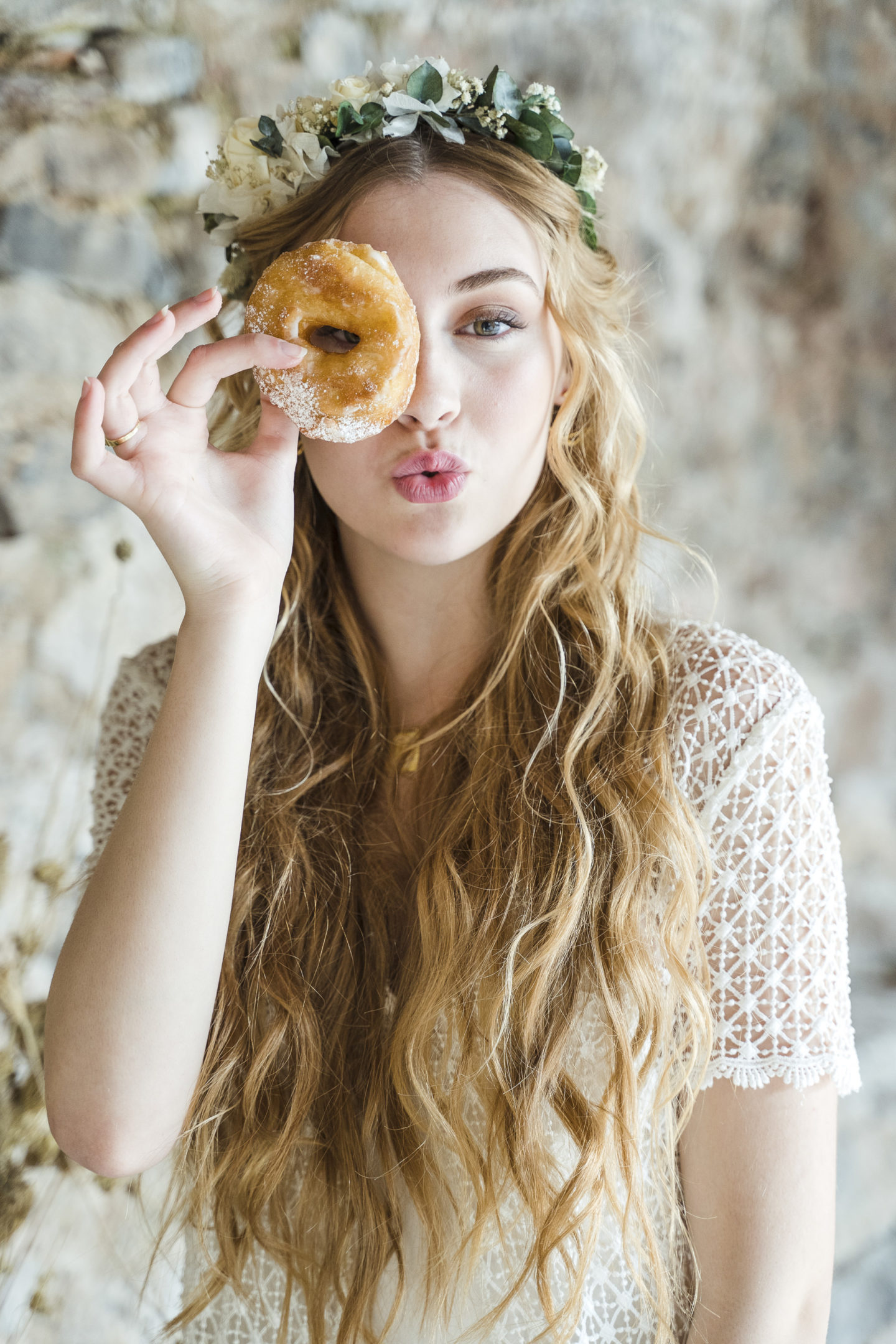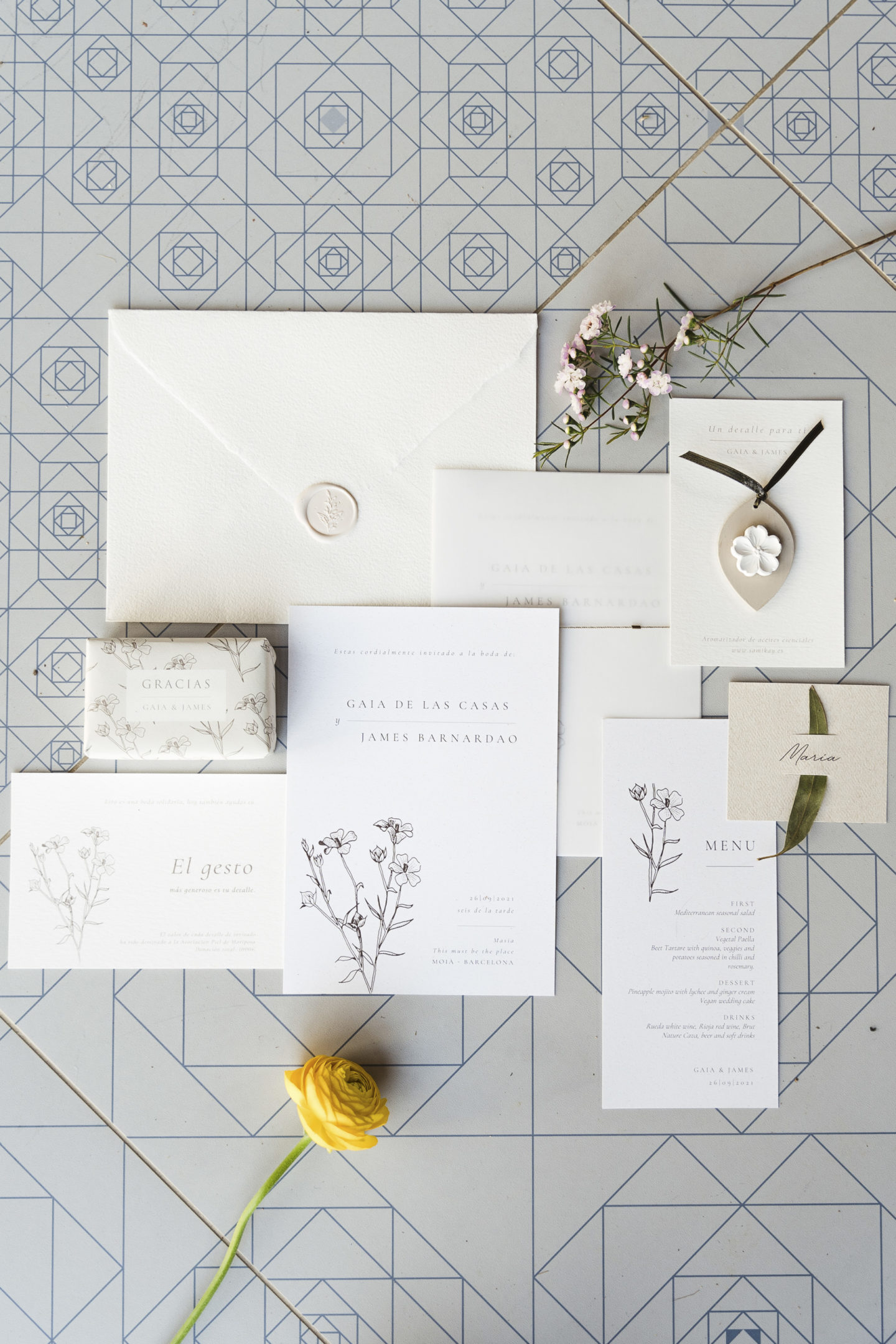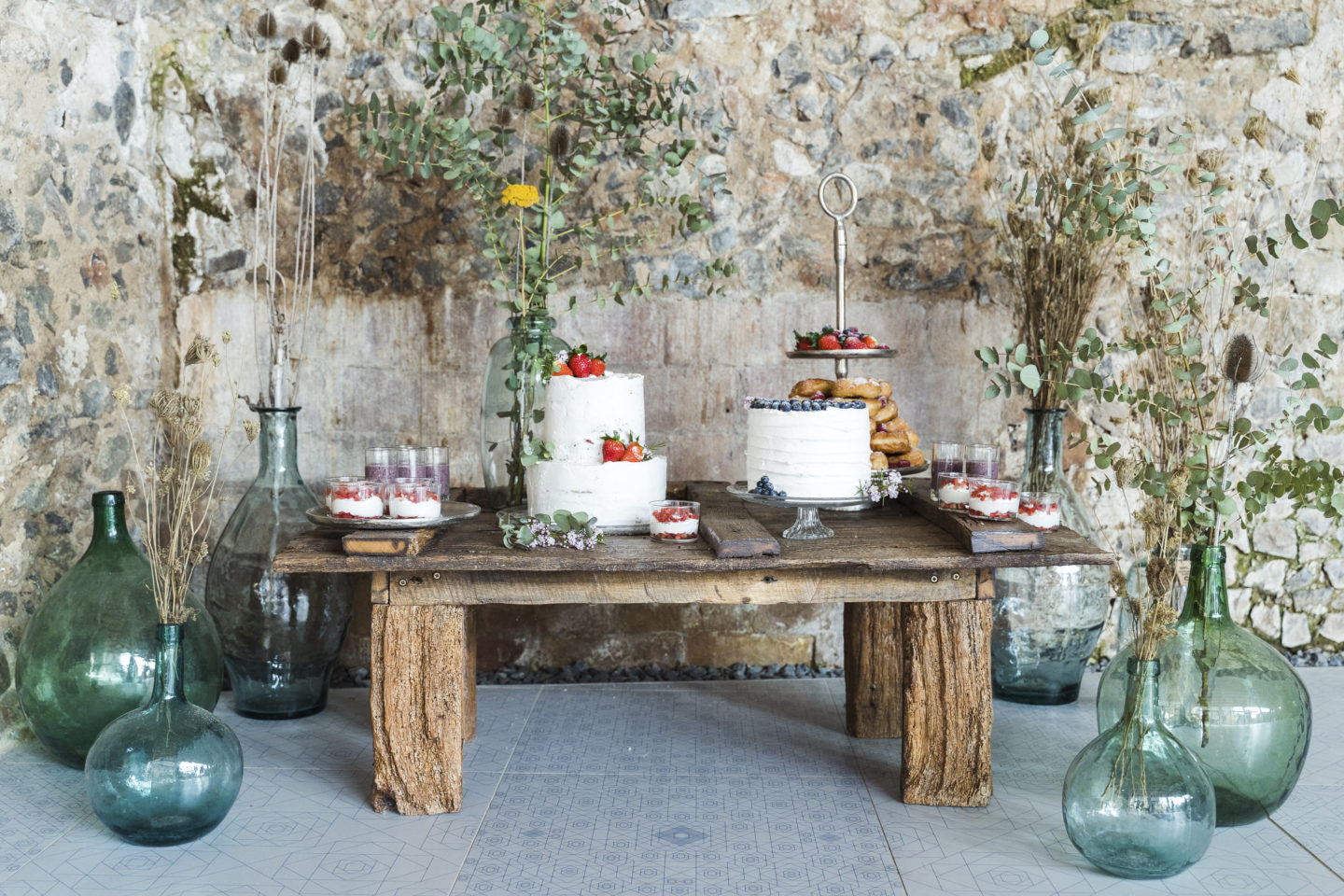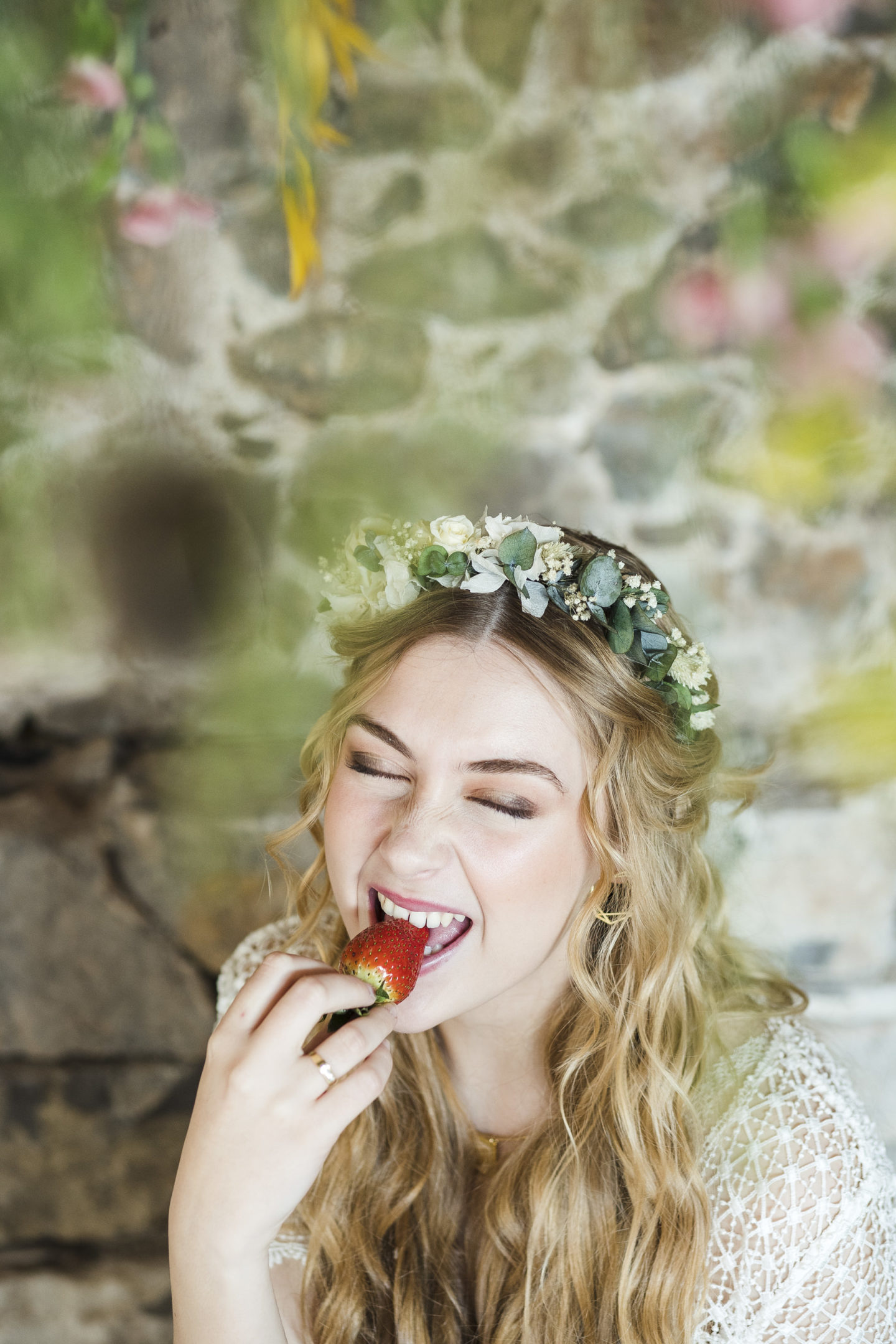 Sandra Quispe, form Samikay Studio is a graphic designer and a paper lover. She specialises in the creation of high-end, conscious and ecological wedding stationary. She champions the cause for the responsible use of paper. For her, the first essential tip that you need for your wedding stationary is to choose an artistic and minimalist design inspired in plants or the same seasonal flowers that you will use on your wedding day. Your day can also have a particular natural aroma as a link between the elements and that scent can be present on your wedding stationary elements but also on your invitation. She achieves this by using essential oils on the stationary. She also advocates for a wedding invitation made with ecological and compostable paper or made using the "up-cycling" process. Another pretty good option is seed paper which you can also plant. She is a huge believer in the digital area and she also suggests creating a digital invitation online, where you can put all the information about the wedding for your guests to access.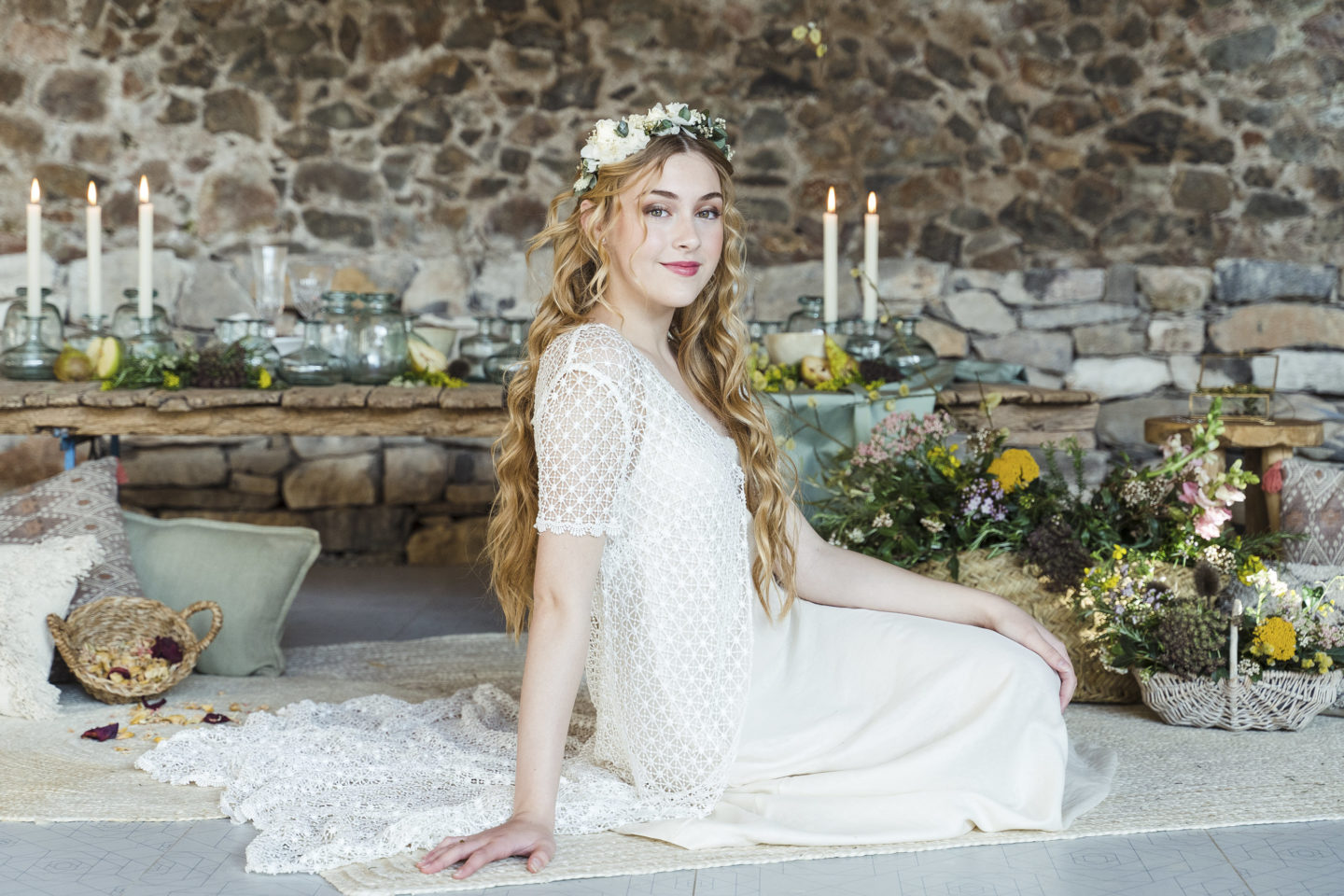 The Team – Ethical Wedding Inspiration With Sandra Jorda Dress In Barcelona, Spain
Photographer – Photografeel @photografeelbodas
Dress – Sandra Jorda @sandrajorda_weddings / Jewelry – Luz de Nehca @luzdenehca / Headwear – Hip and Love @hipandlove_ / Florist – Abelia i Mel @abeliaimel / Make up / Hair – Gina Teruel @ginaterueel / Venue – This Must Be The Place @thismustbetheplacebcn / Model – Paula Baserba @paulabaserba / Stylist – El Taller de Nice Day @eltallerdeniceday / Stationery – Samikay Studio @samikayestudio / Candy bar – Cakes by Fio @cakebyfio / Yoga Clothing – Organic Cotton Colours @organiccottonco / Organic Teas – Tegust @tegustinfusions
IF YOU LOVED THIS ETHICAL WEDDING INSPIRATION WHY NOT PIN IT TO YOUR WEDDING PINTEREST BOARDS?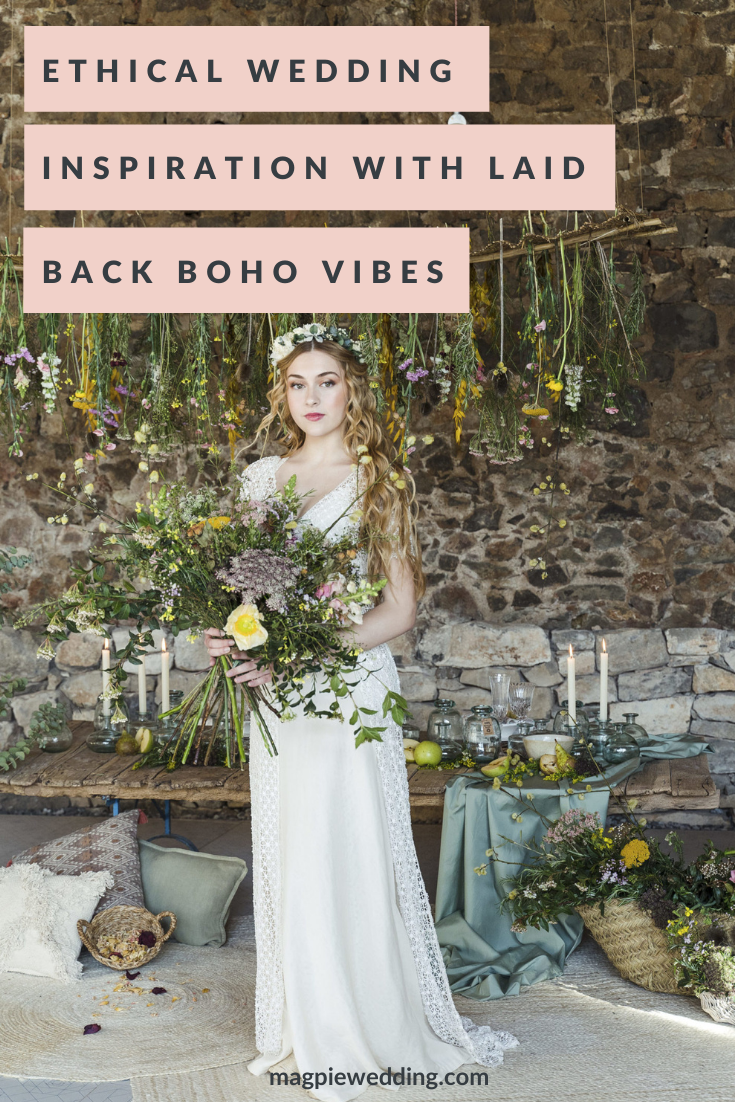 If you loved this ethical wedding inspiration you may also like;
Colour Pop Wedding With Vintage Touches at Wick Farm Bath, Somerset
Elegant Black Tie Wedding With Hollywood Glamour At Wadhurst Castle, Kent
Intimate Lake District Wedding With A Vintage Campervan and Folklore Vibe