Today's blog post comes with an overload of free-spirit, with boho inspiration from a team of suppliers who created a Lake District Wedding with a truly intimate vibe and a beautiful rustic, moody colour scheme. Concept creator and photographer Jenny Appleton was the brains behind this beautifully natural shoot; the models are a real couple who shared their free-spirited world, quite literally, as the campervan featured is their home! We catch up with the team behind this Lake District Wedding…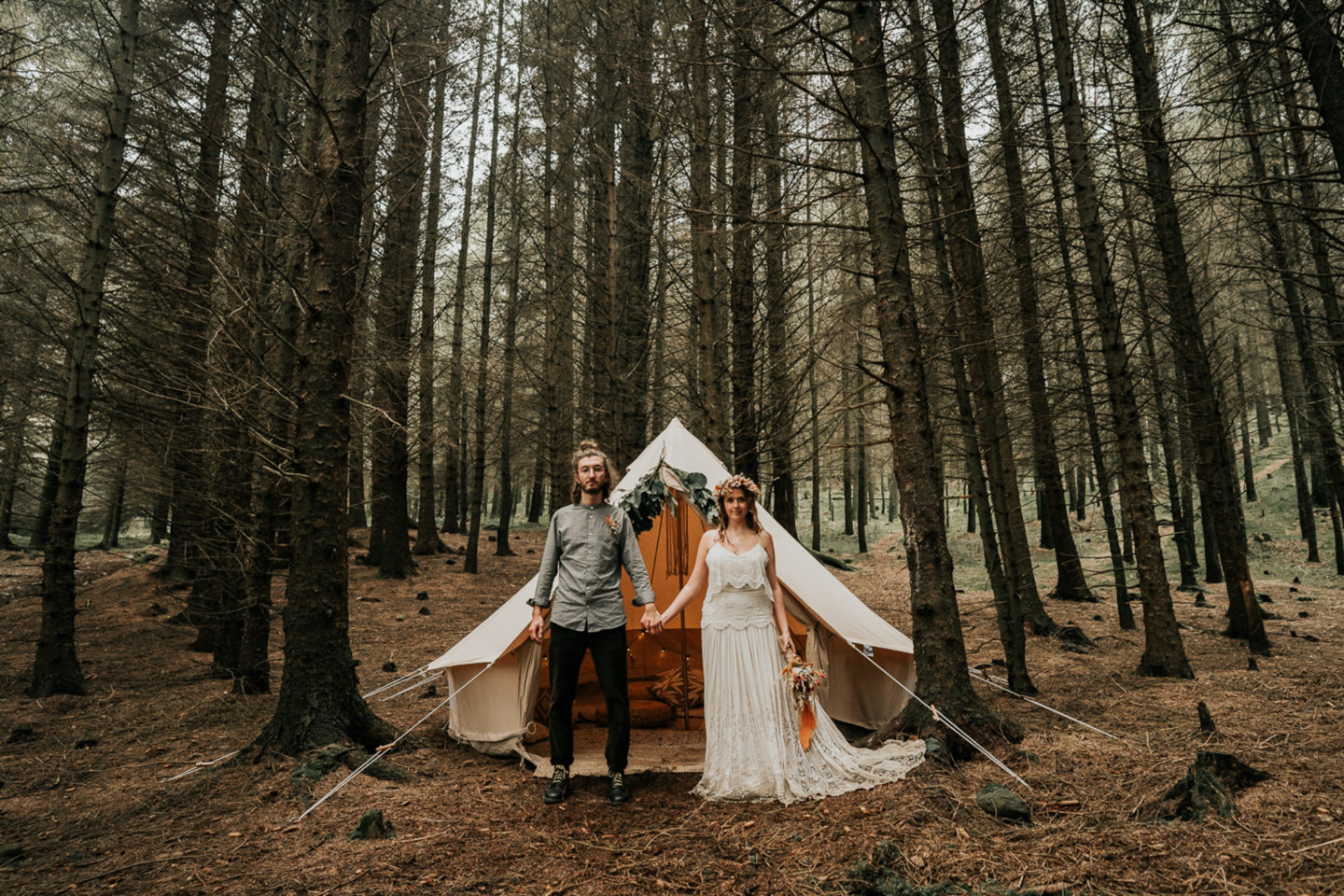 "This shoot was based around the two models Laura and Aaron. Laura and Aaron are a real free-spirited couple who live in their very own modified camper van that they have lovingly hand-crafted together from scratch. They live off the land and travel all around the world. We wanted the styling to be as if they had stopped off at The Lake District to get hitched! Wild, ethical, and raw. Simple yet elegant and to really reflect them which I felt was really important."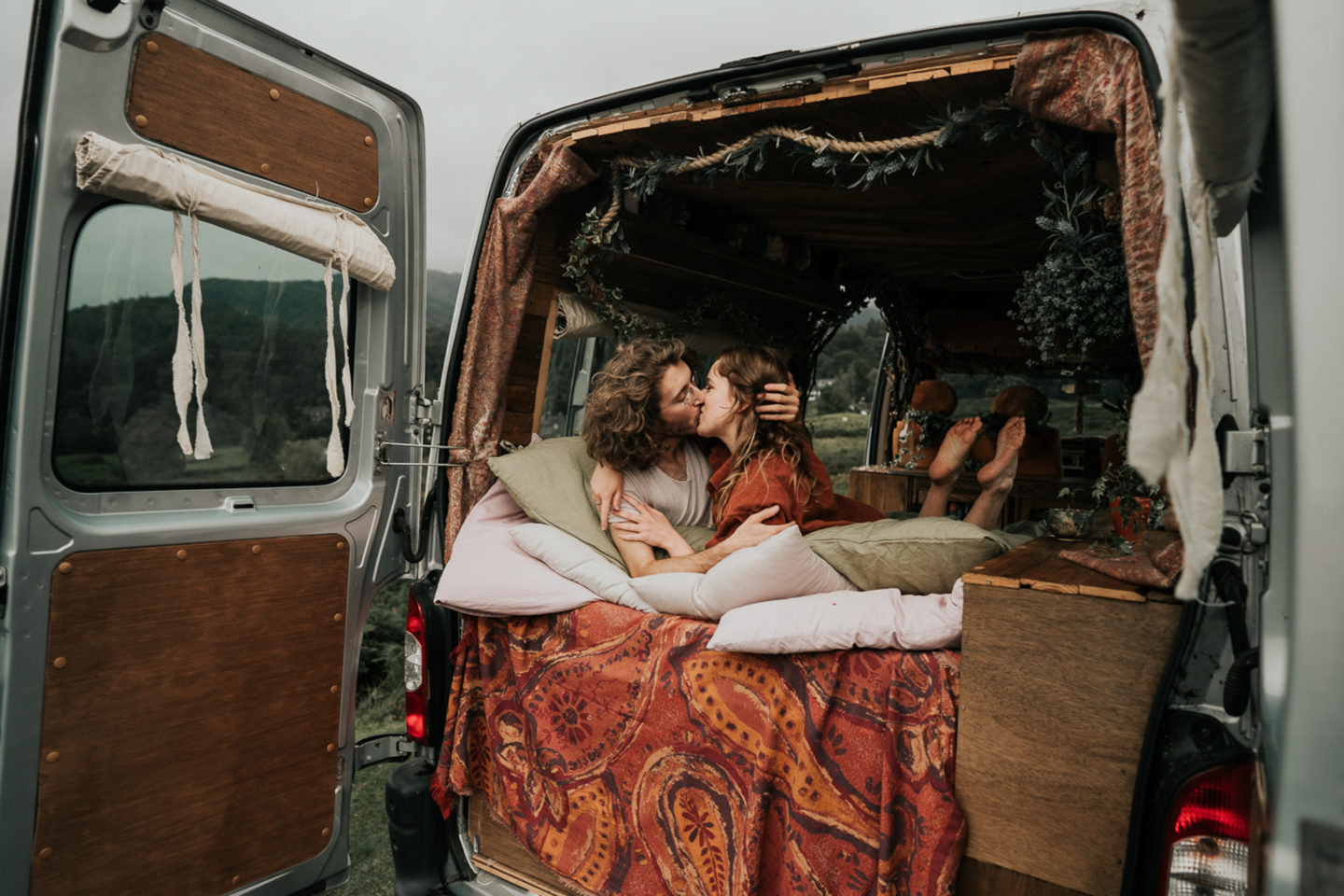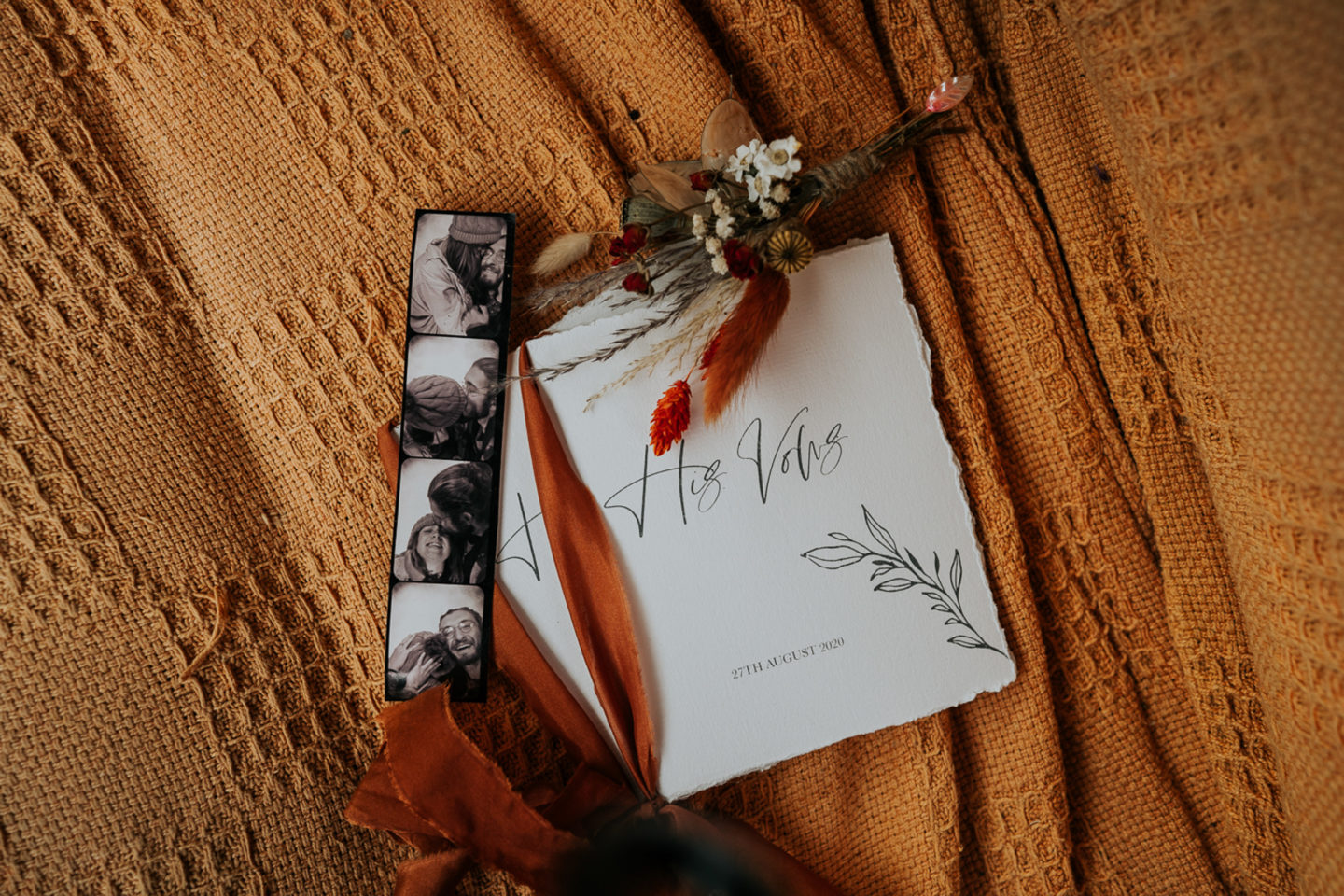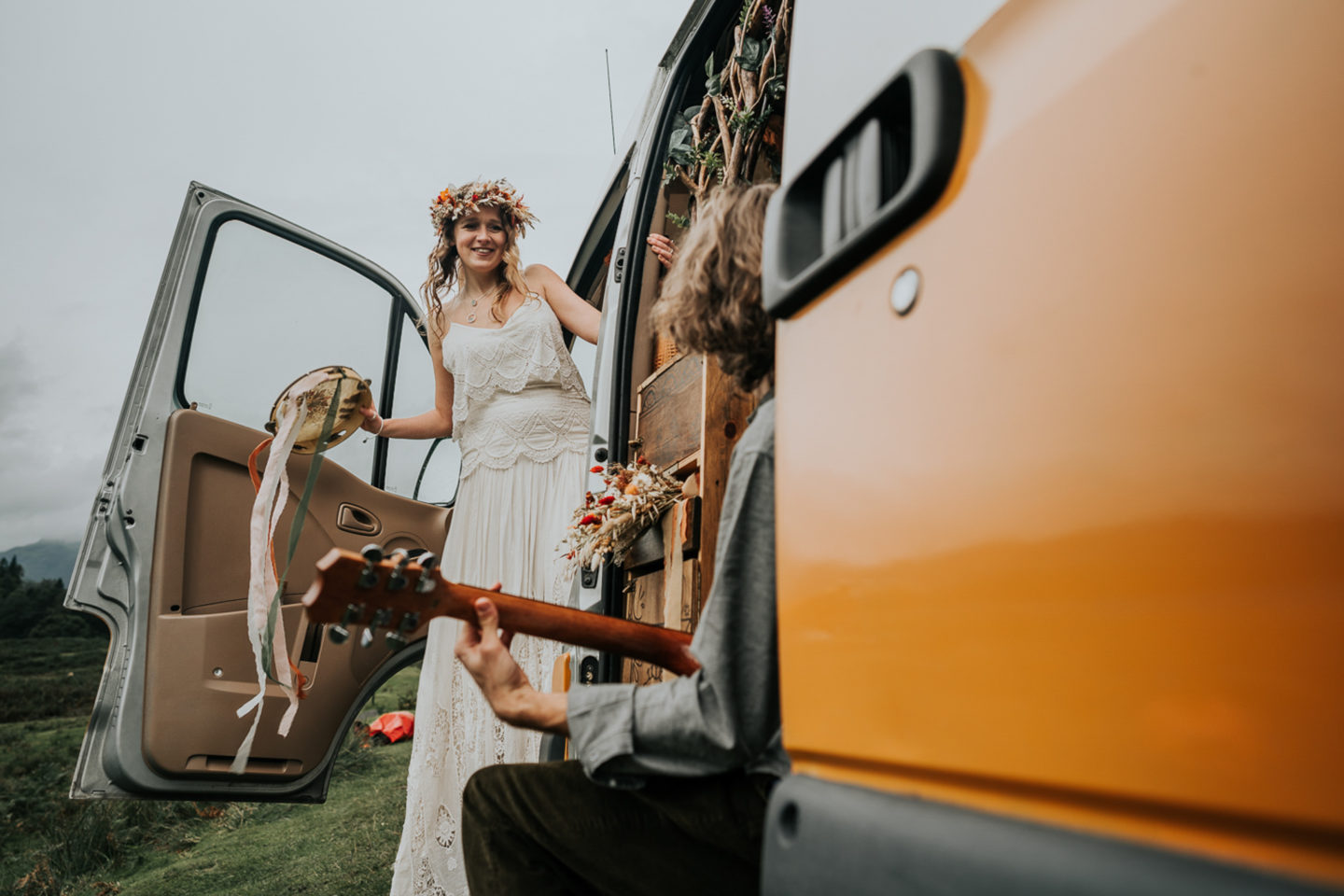 "The prep was all done in their van in a lay-by with the stunning Lake District peeking through the back doors whilst they made a brew on their stove and Laura had her hair and make-up done by Kerry Baker. Kerry kept the hair and make-up extremely natural using only vegan products to just accentuate Laura's features. Laura doesn't really wear make-up, so we knew we had to keep this natural and true to her look. Her hair was left wild with some simple braids plaited randomly."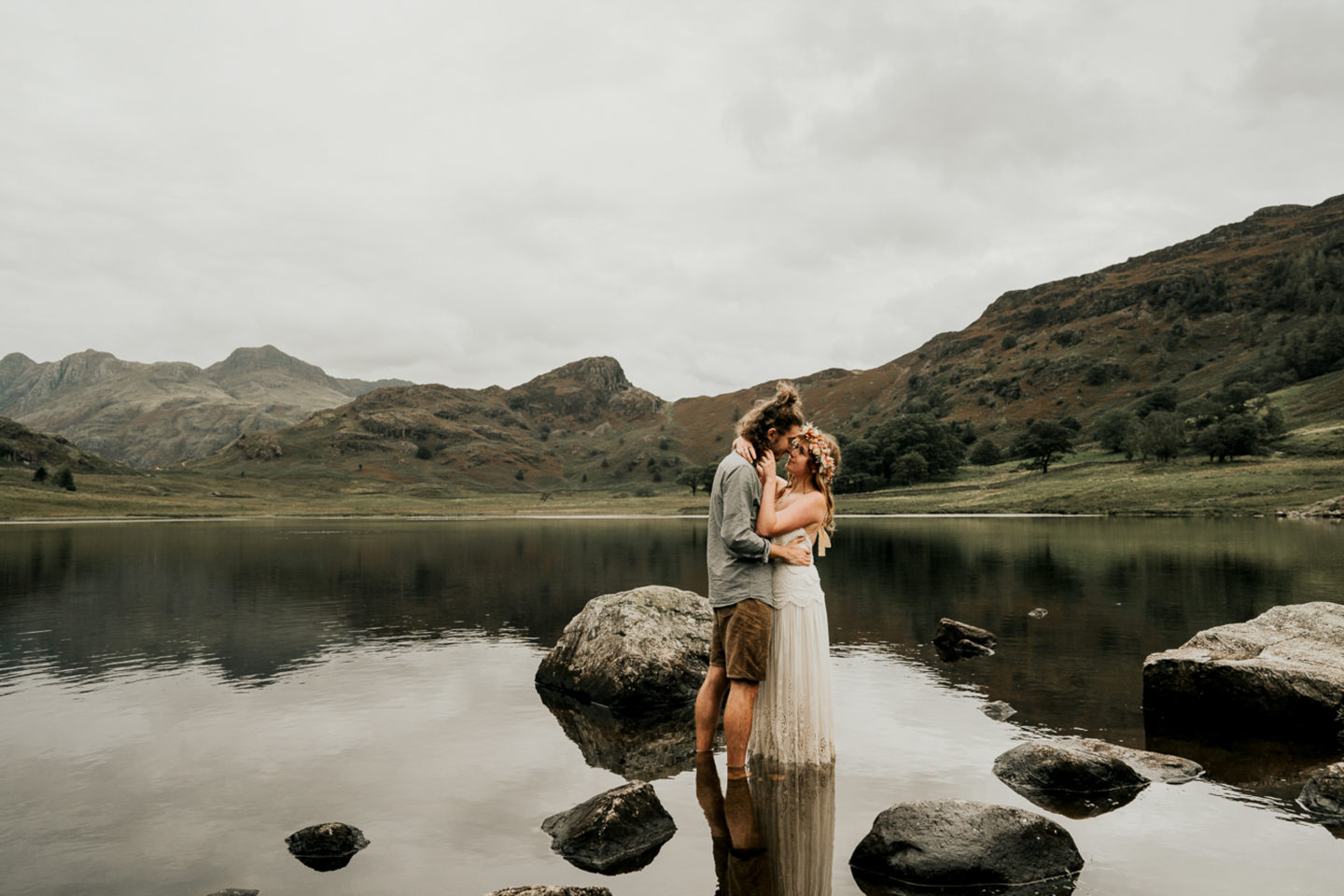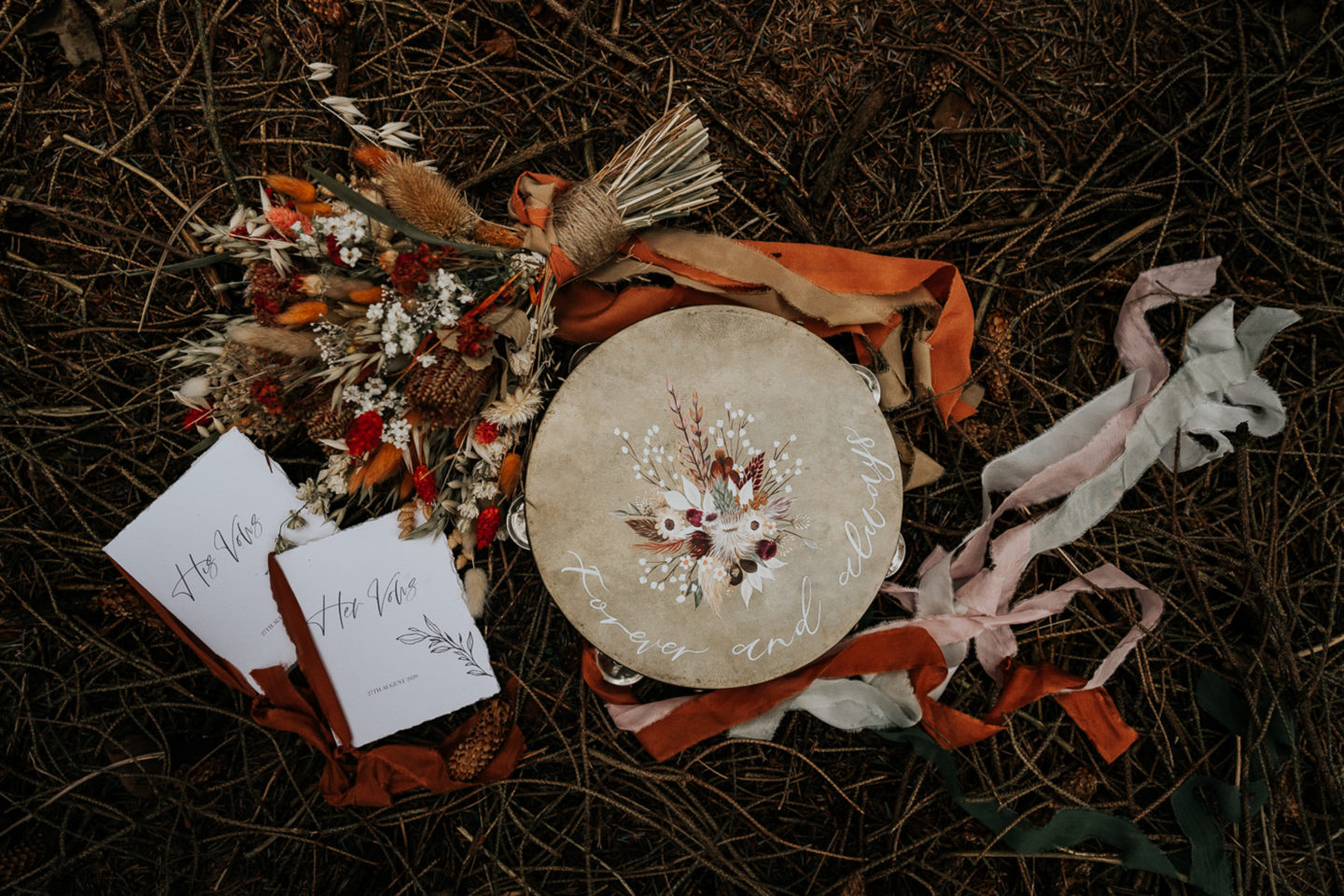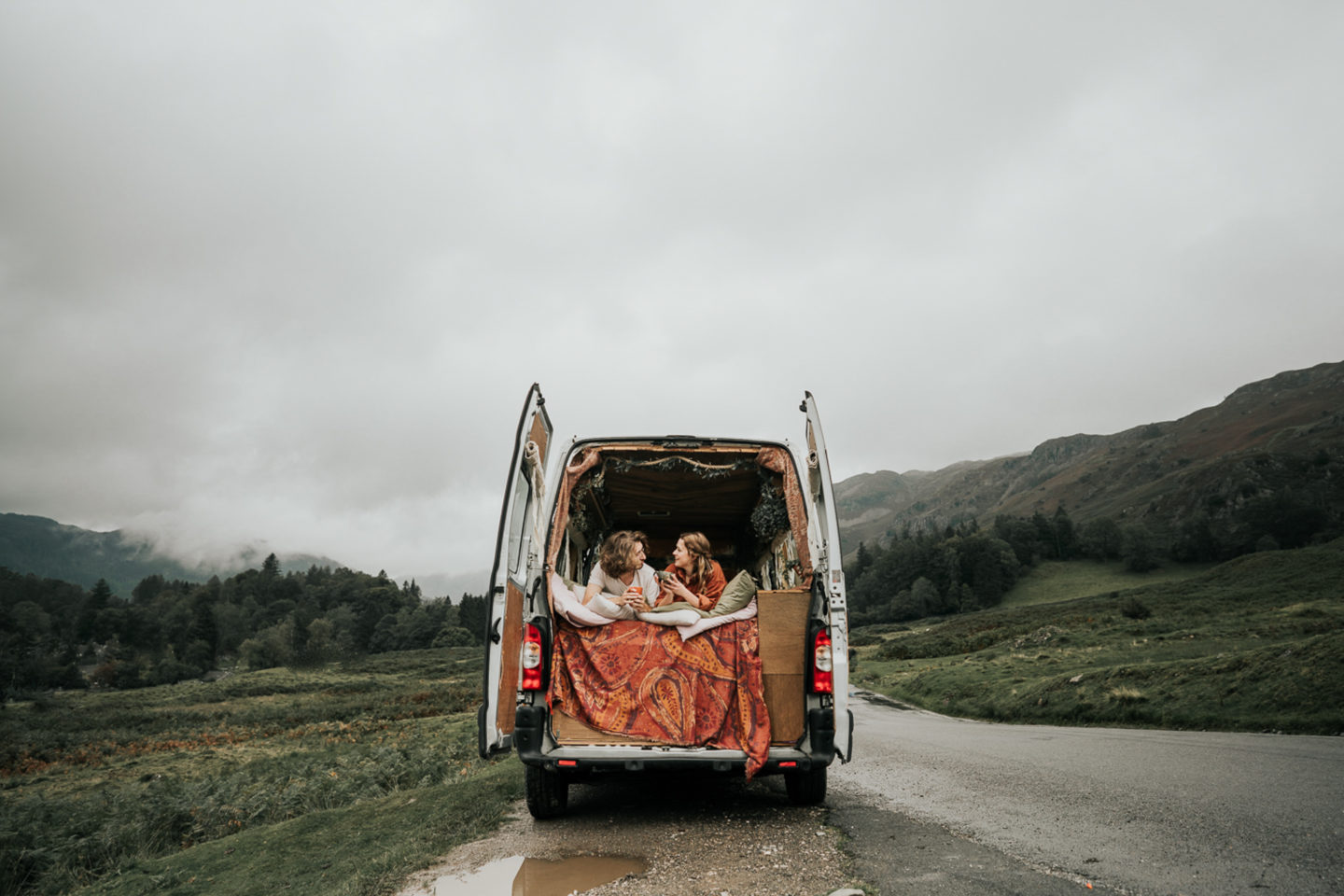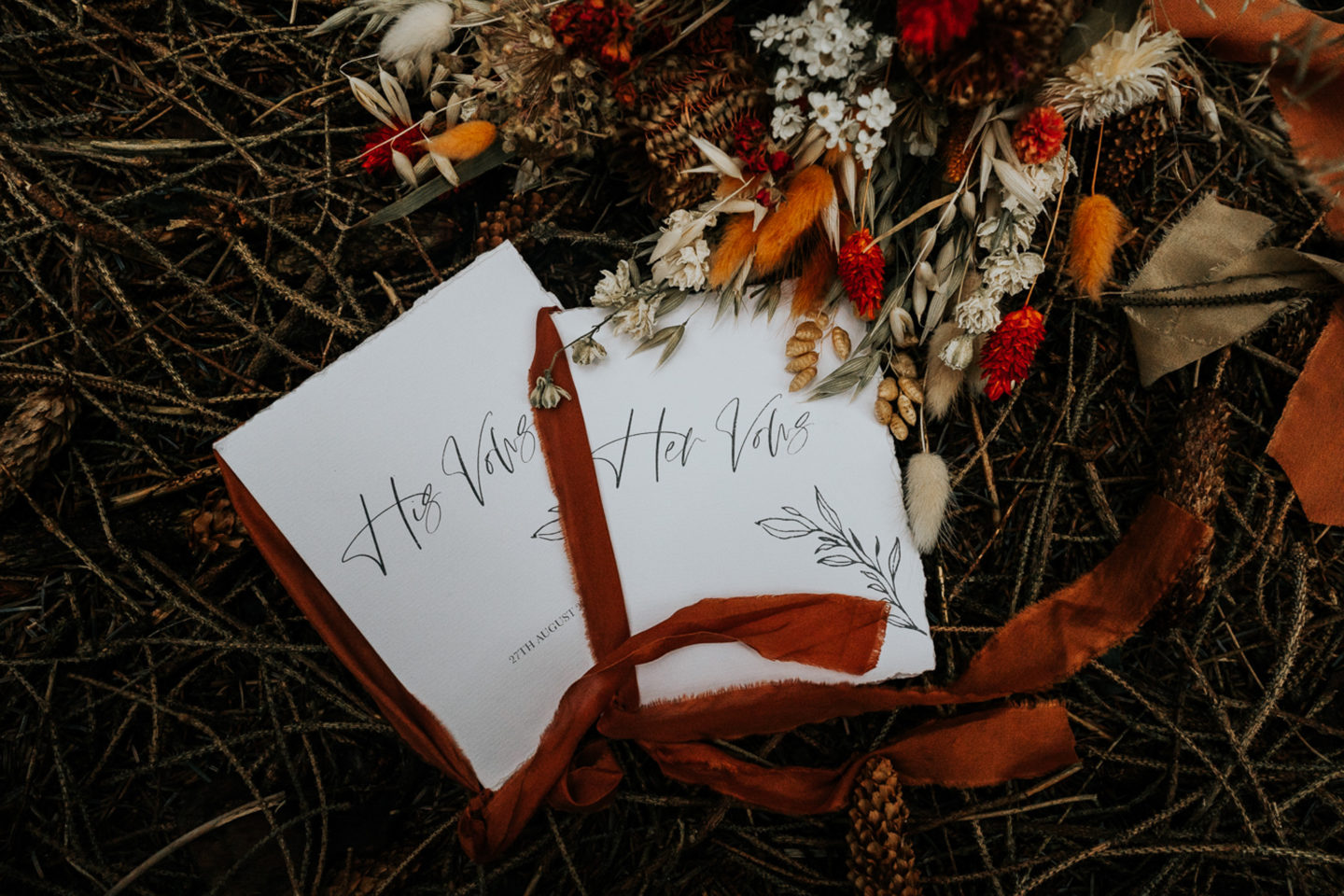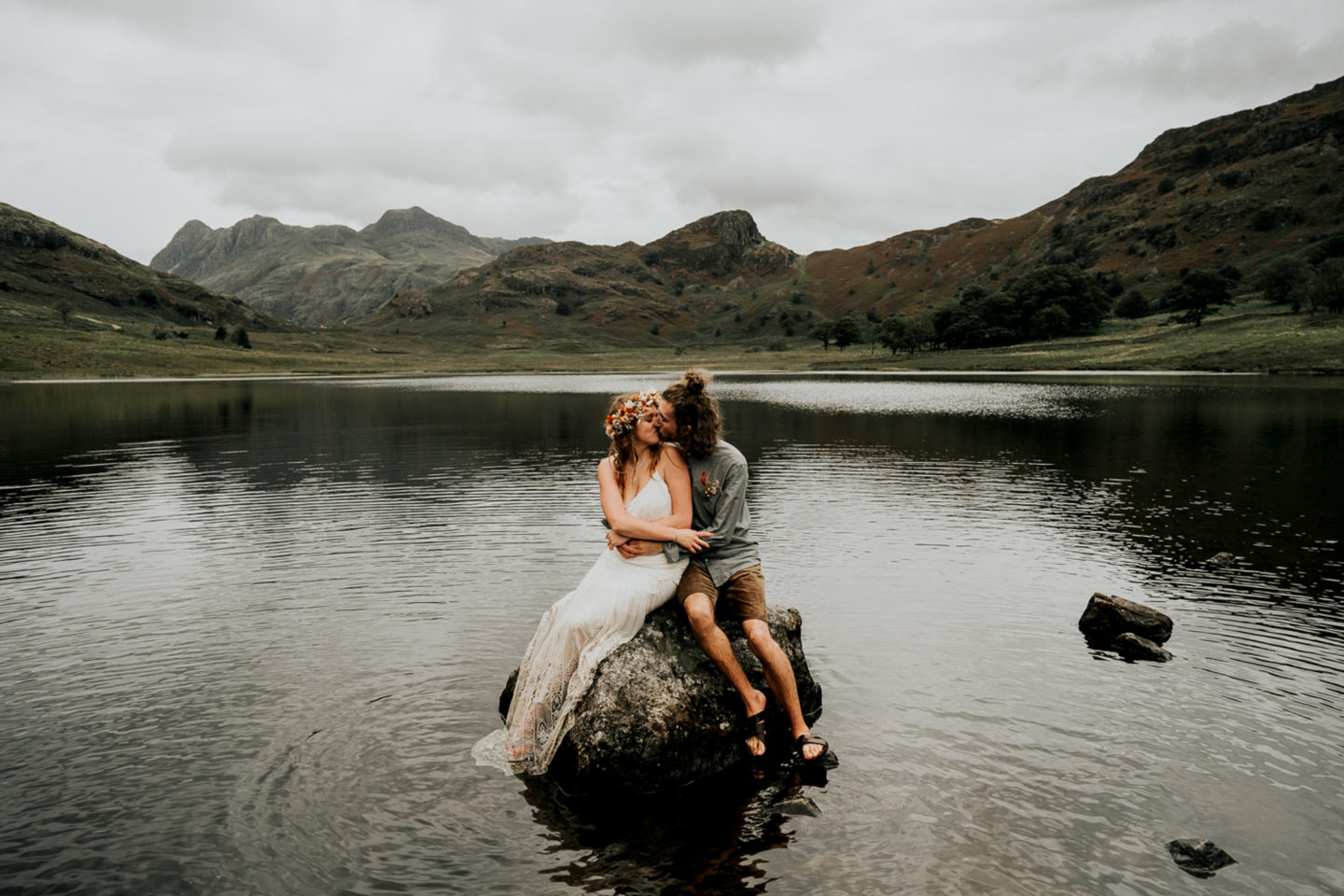 "Laura wore some ethically sourced handmade jewellery by Beachcomber Jewellery. Beachcomber gathers sea glass from her local beach and uses recycled silver to turn them into stunning pieces. The dress was a second hand/ex sample Ruedeseine Bridal dress that we purchased from Jean Jackson Couture. We wanted to use a second-hand dress to promote recycling and reusing."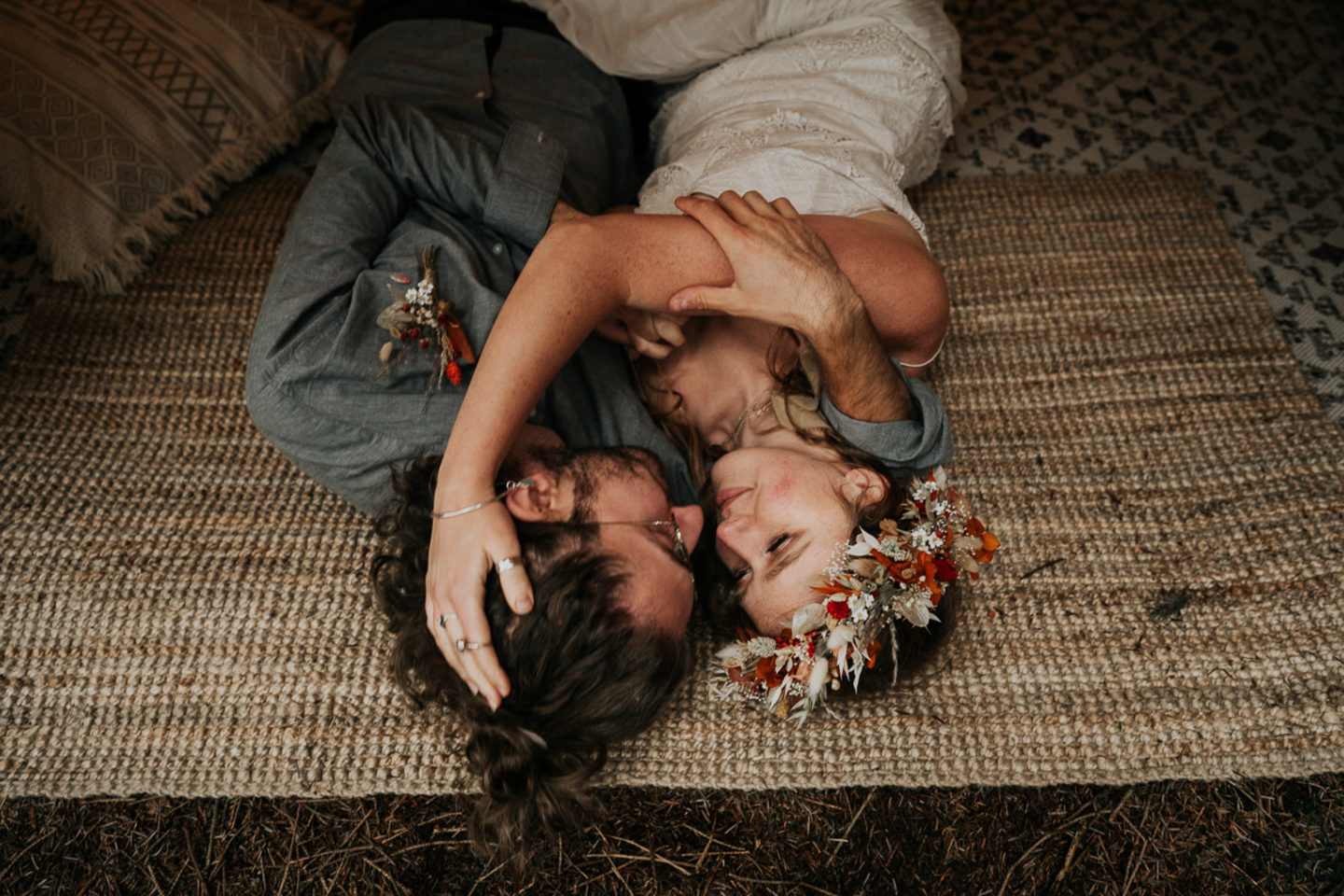 "They had a little sing song sat on the roof of their van with Aaron on the guitar and Laura on vocals and tambourine! The tambourine was an original 1960's hand painted tambourine by Mamain C Studio. Natasha from Mamain C Studio hand paints pretty much anything. From jackets to tambourines! She also created the stunning vows book for Aaron and Laura.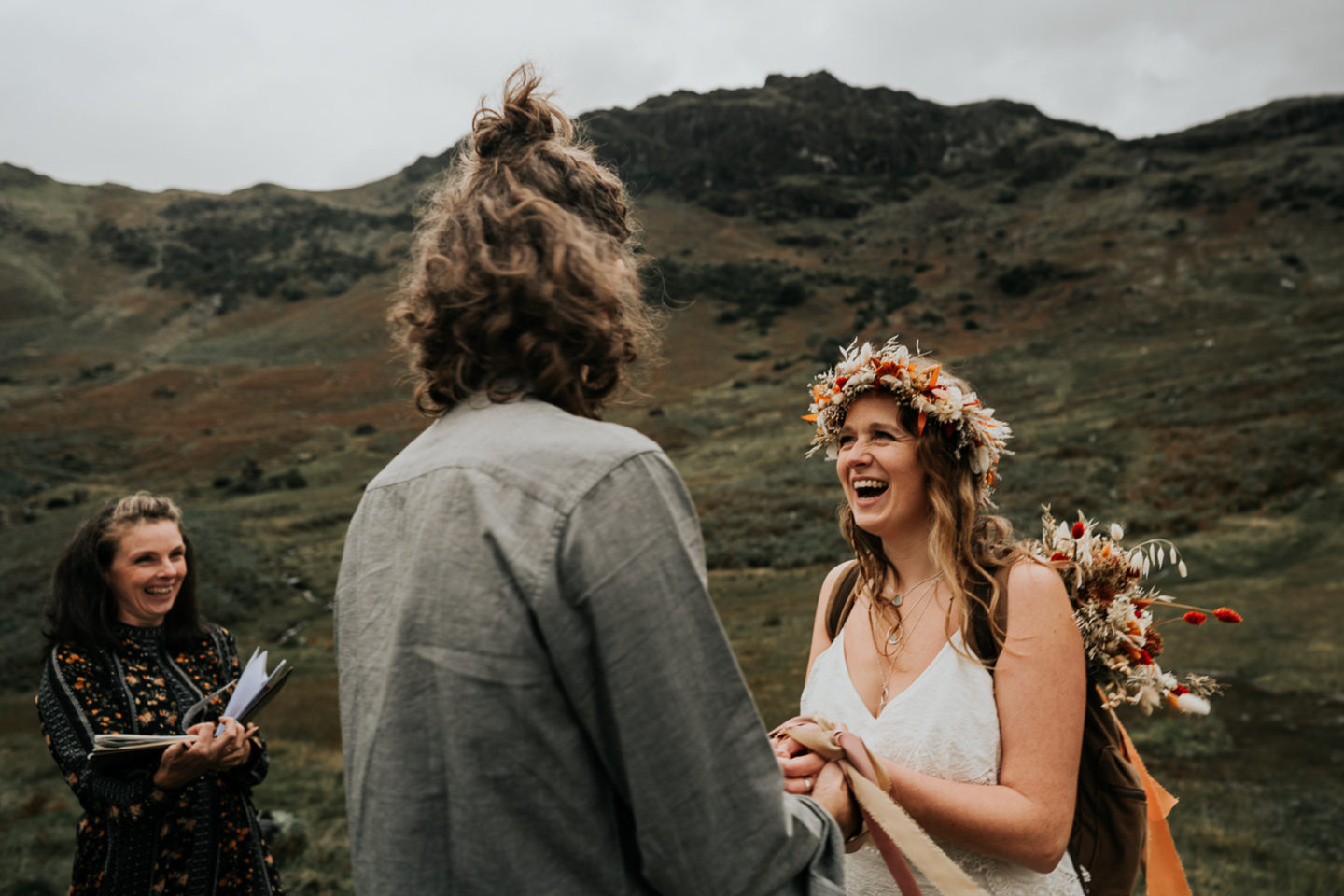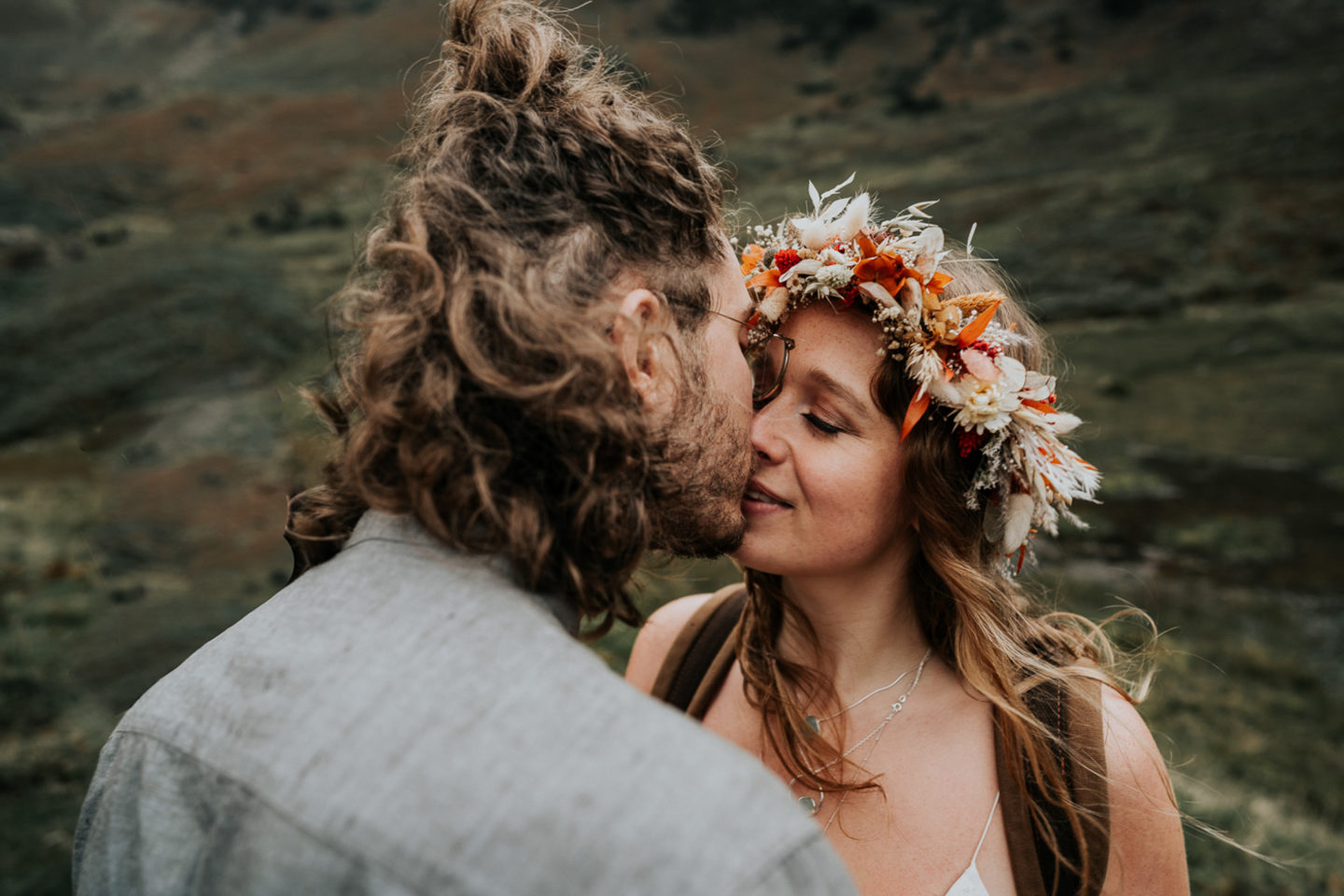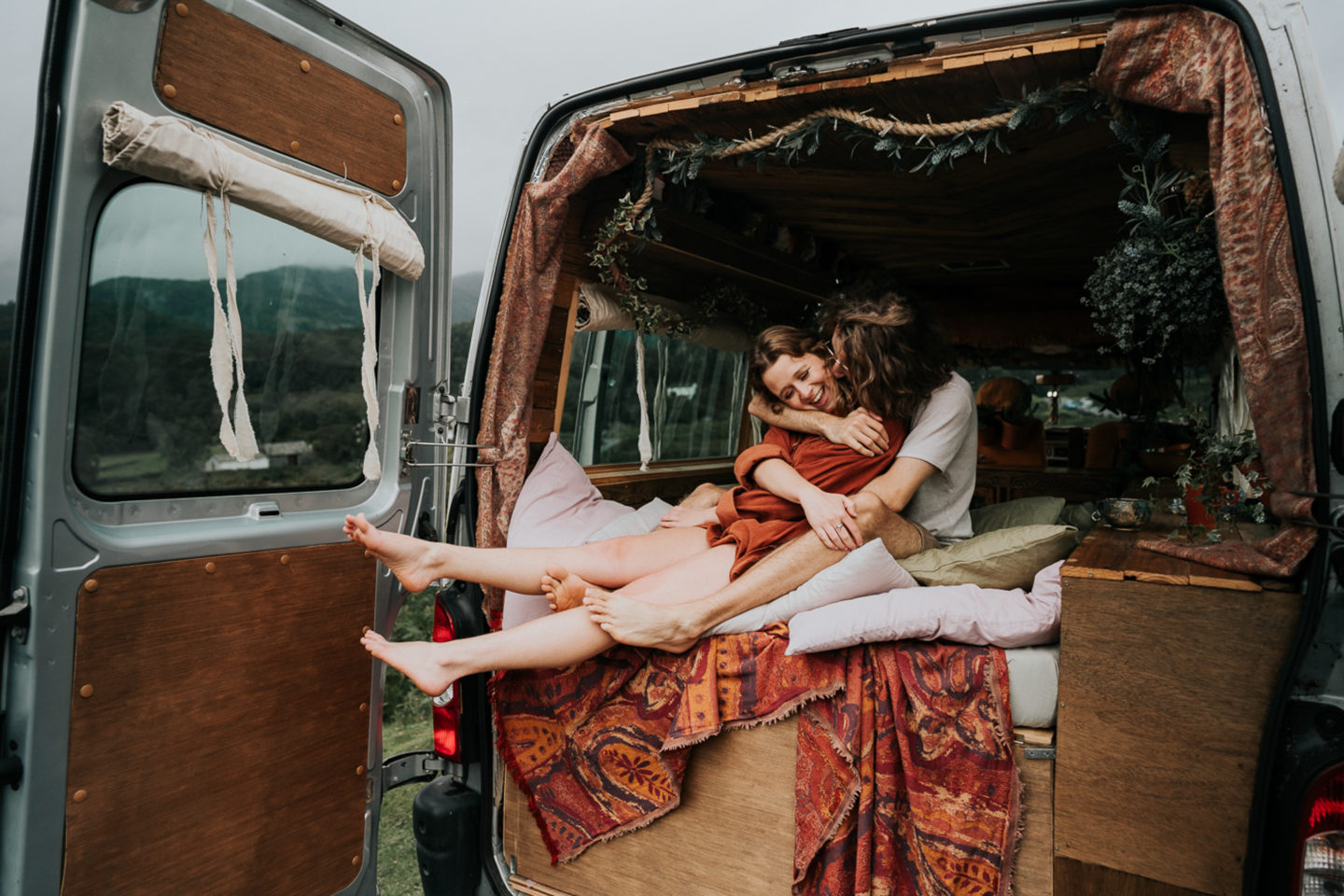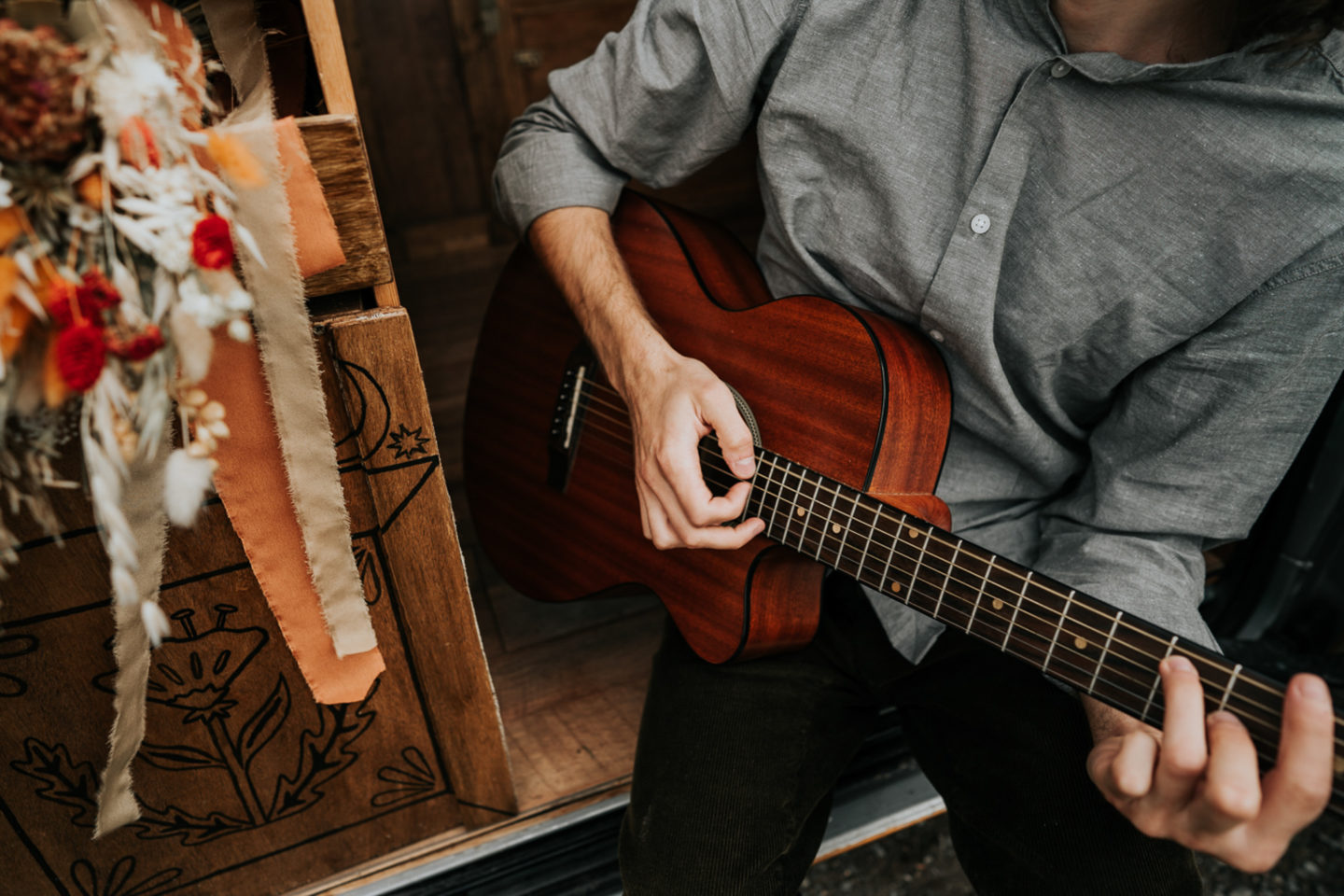 "The bouquet and flower crown were made of dried flowers by Folkey Dolkey and now beautifully decorate their van whilst they're costing around the world! Folkey Dolkey is a dried flower florist so rather than your flowers dying after a few days they last for years and years! The colours we chose were neutrals and warm oranges that complimented the landscape and the warm rages of their camper van."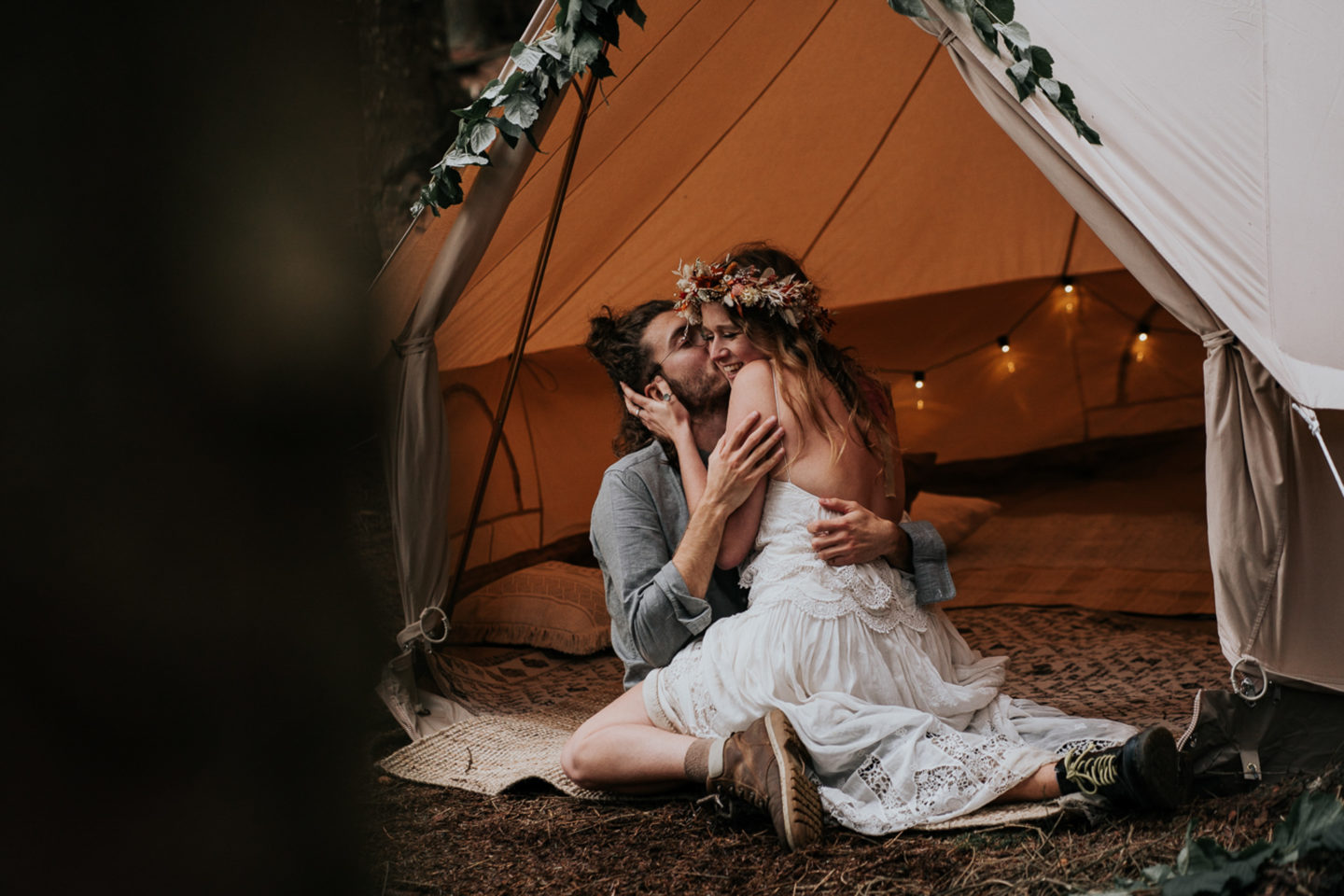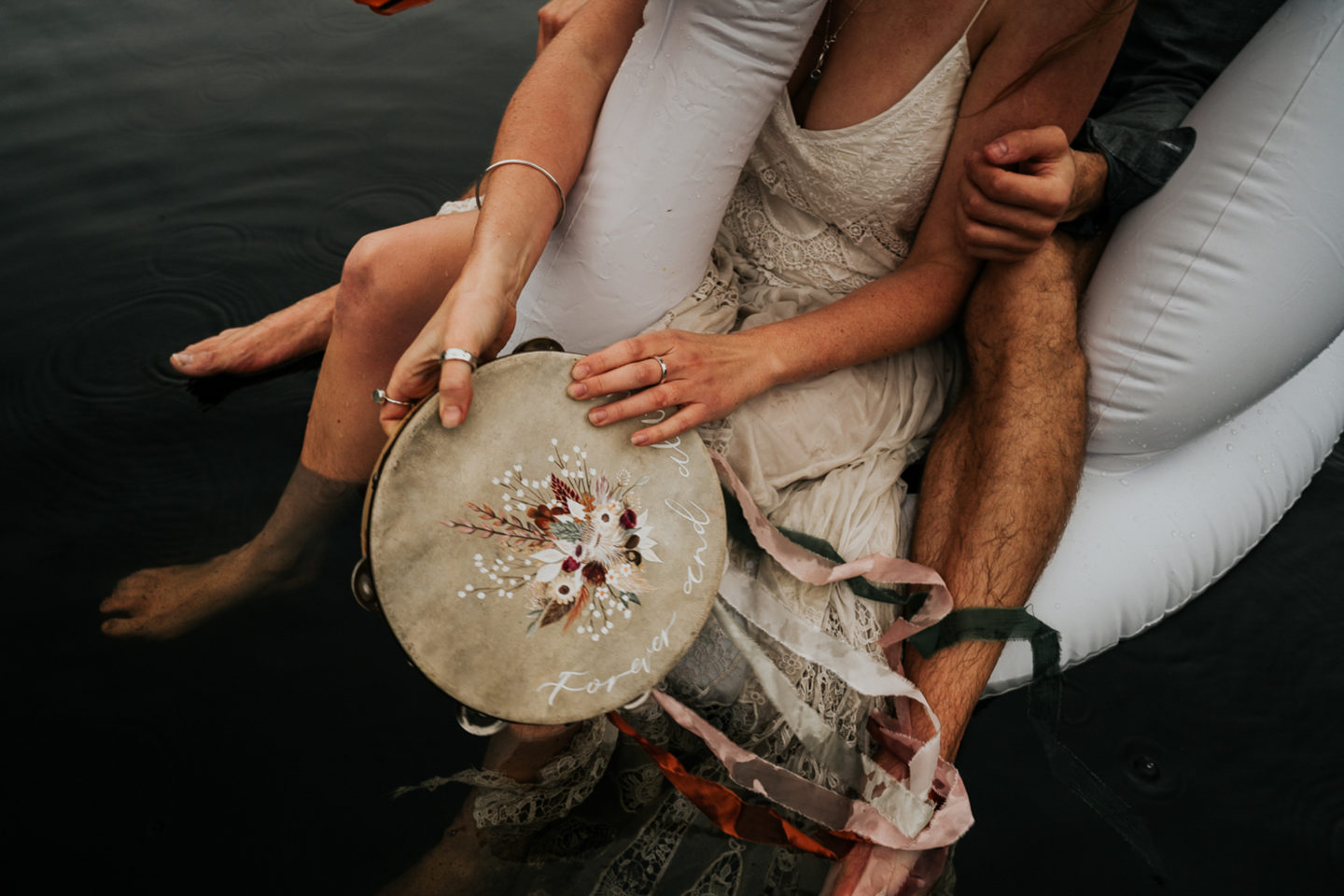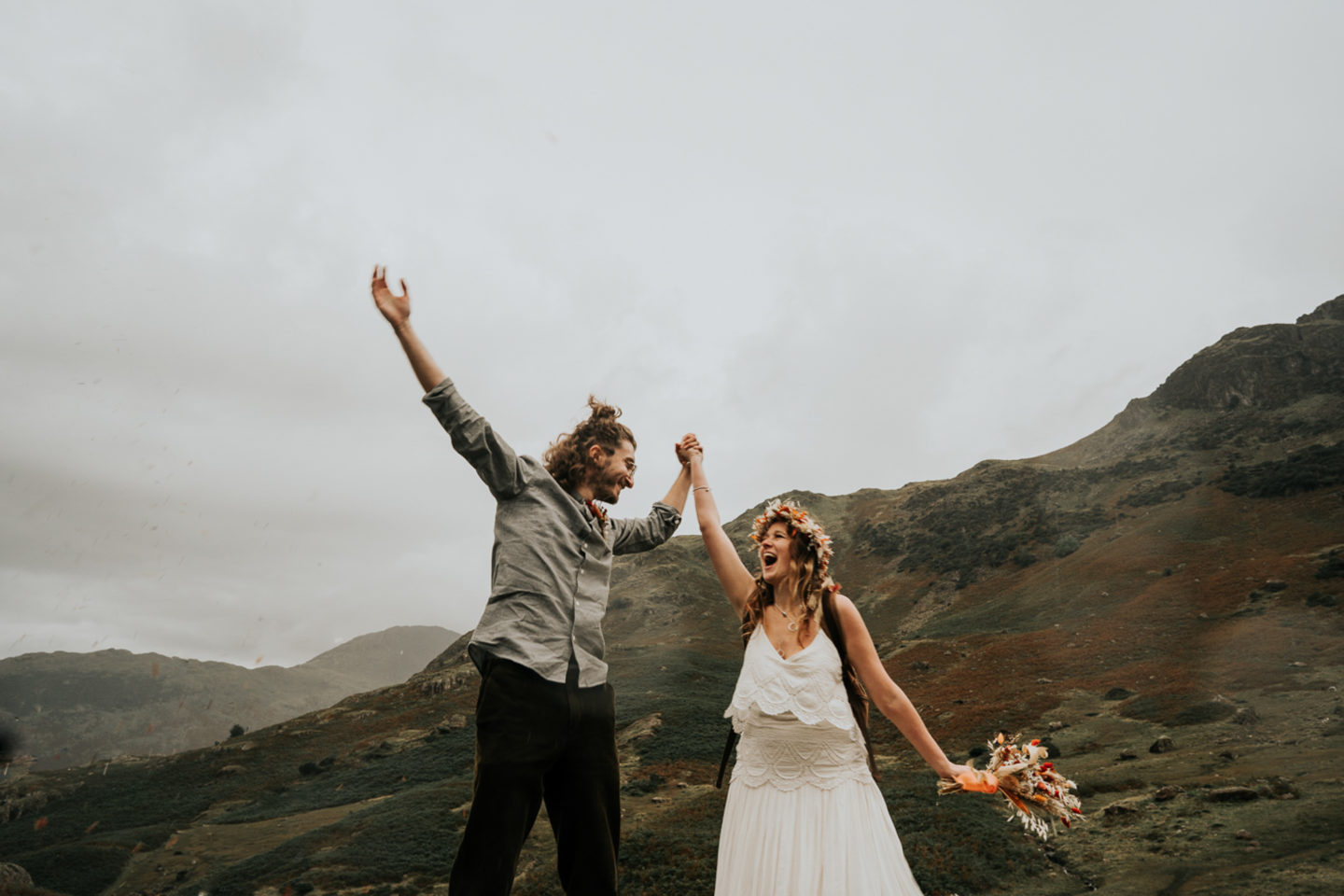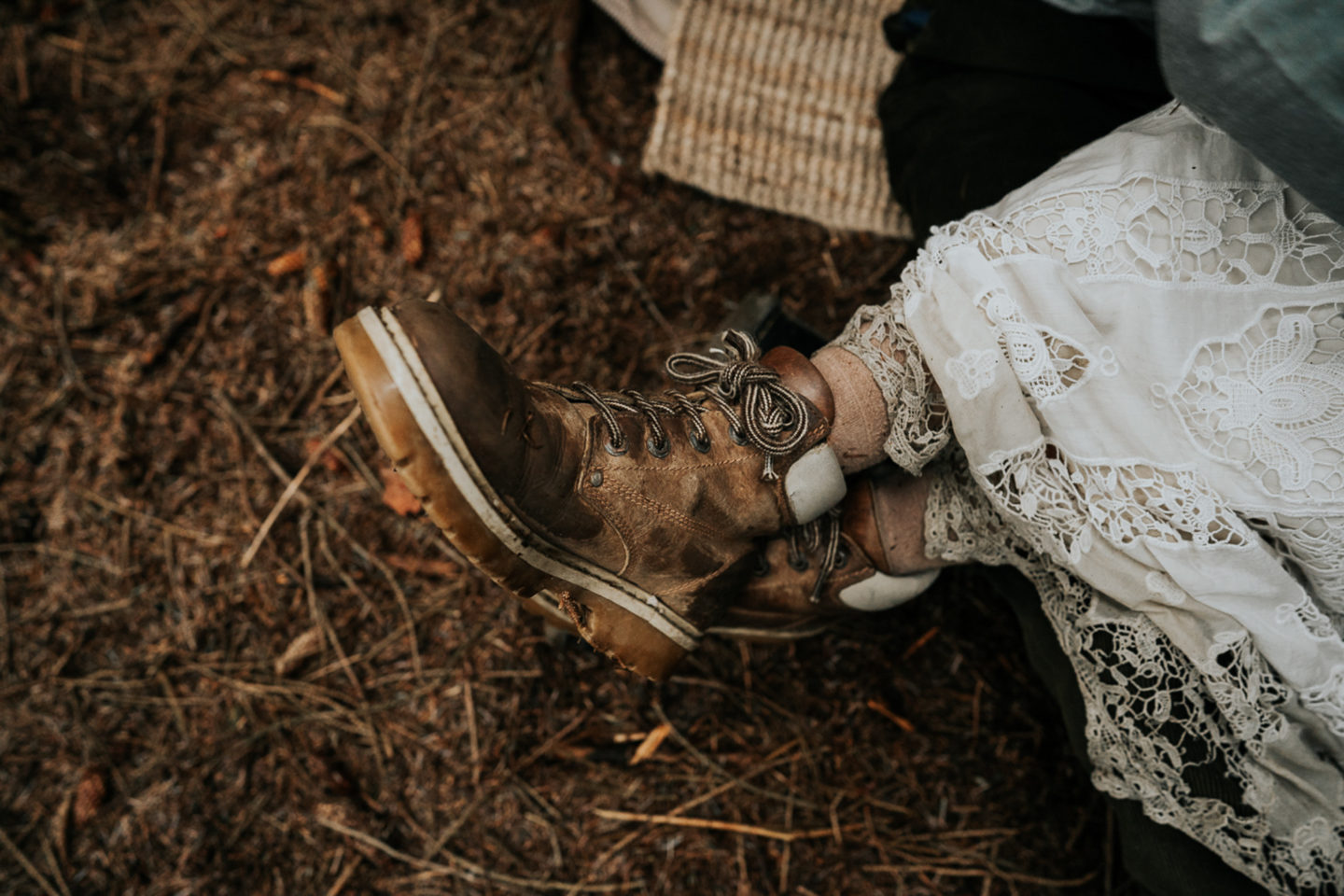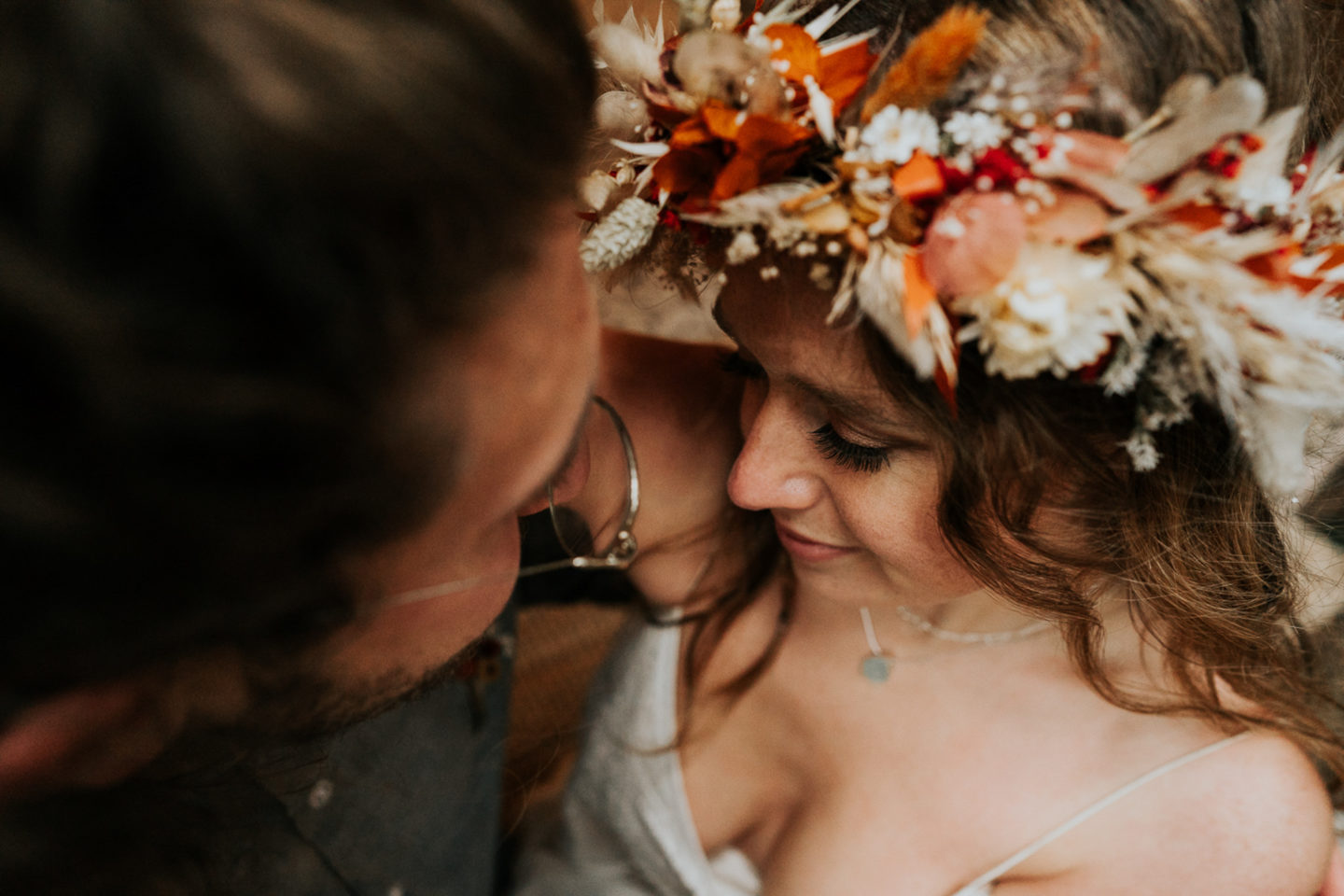 "We went off to Blea Tarn where they were "married" by C P Celebrant complete with a handfasting ceremony. It was the most beautiful service…it looked like something out of the film Braveheart it was just so magical. We then headed off to the forest where Bohemia Bell Tents had set up and beautifully styled a tent for two. We chose one of their smaller tents, but they supply tents of all shapes and sizes! The tent was beautifully styled with cosy fabrics and pillows so the couple could have some alone time together."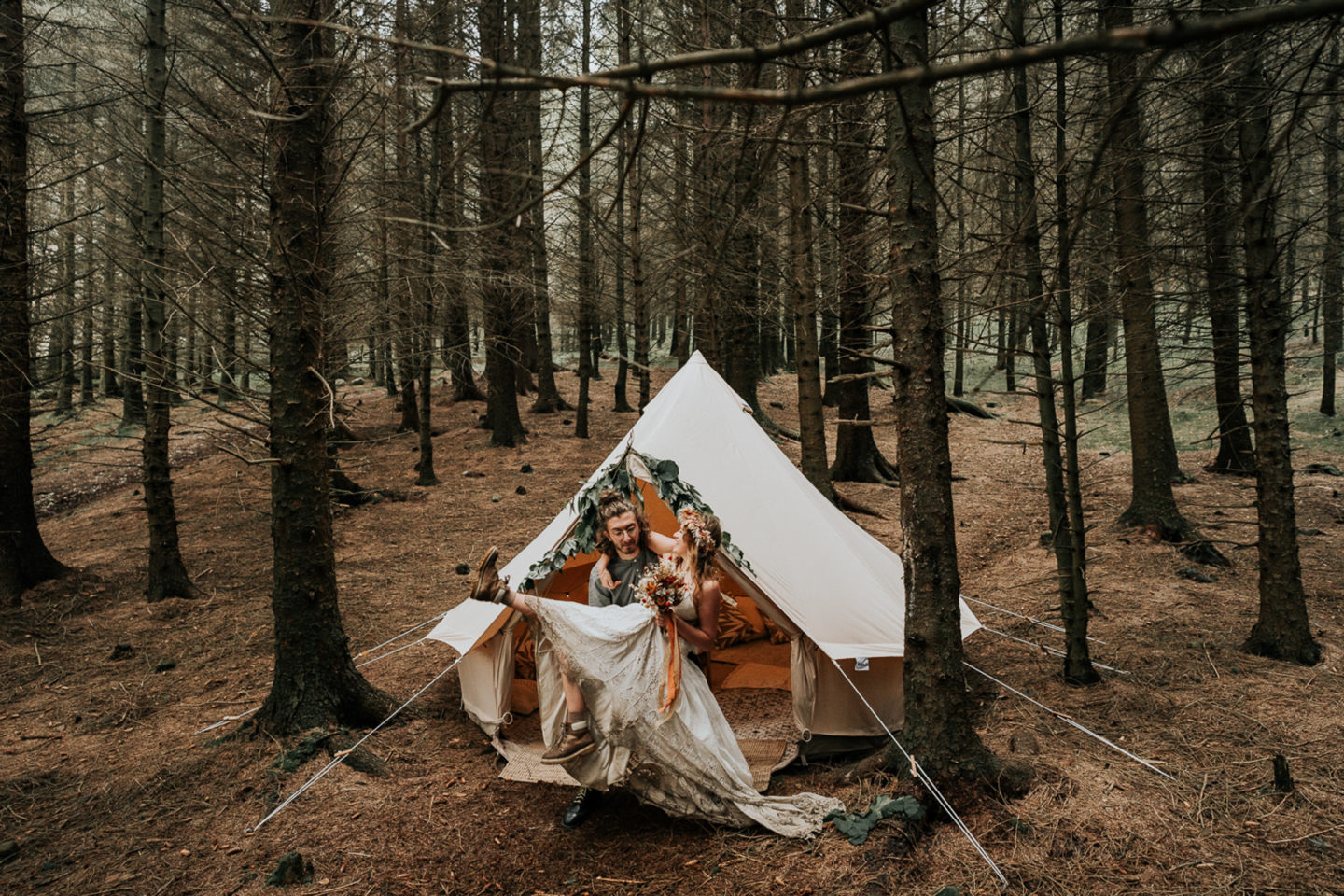 "The couple then went for a little sail across the Tarn in their inflatable swan for some awesome couples' portraits with the stunning mountains in the background! I wanted the shoot to be simple, personal, wild and raw and I think that was achieved. With the current climate on weddings, I wanted to show couples that eloping or having a micro wedding can be every bit as special as the big white wedding. The day was full of love, laughter and tears and Laura even said that when they get married, she wants it to be exactly like the shoot!"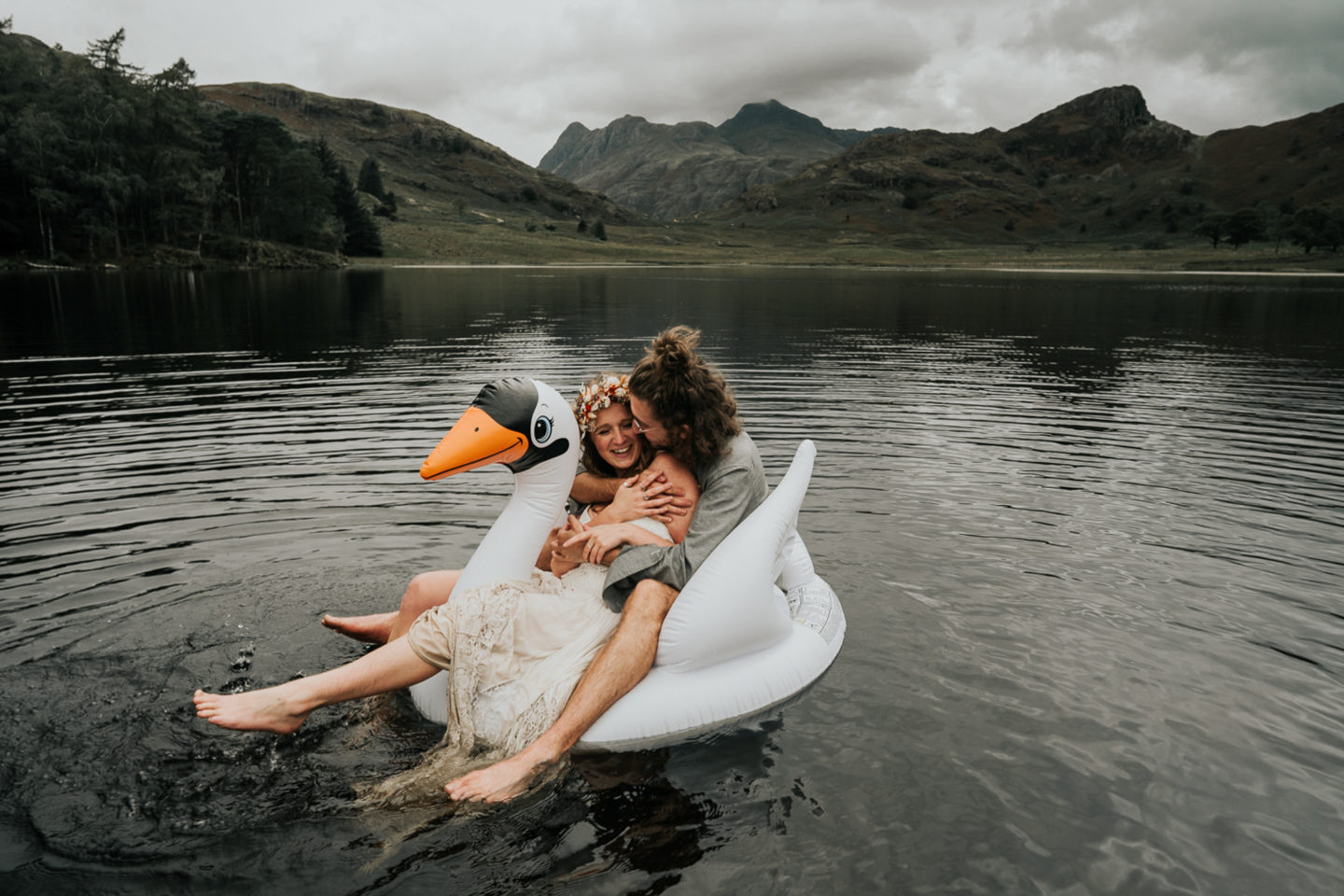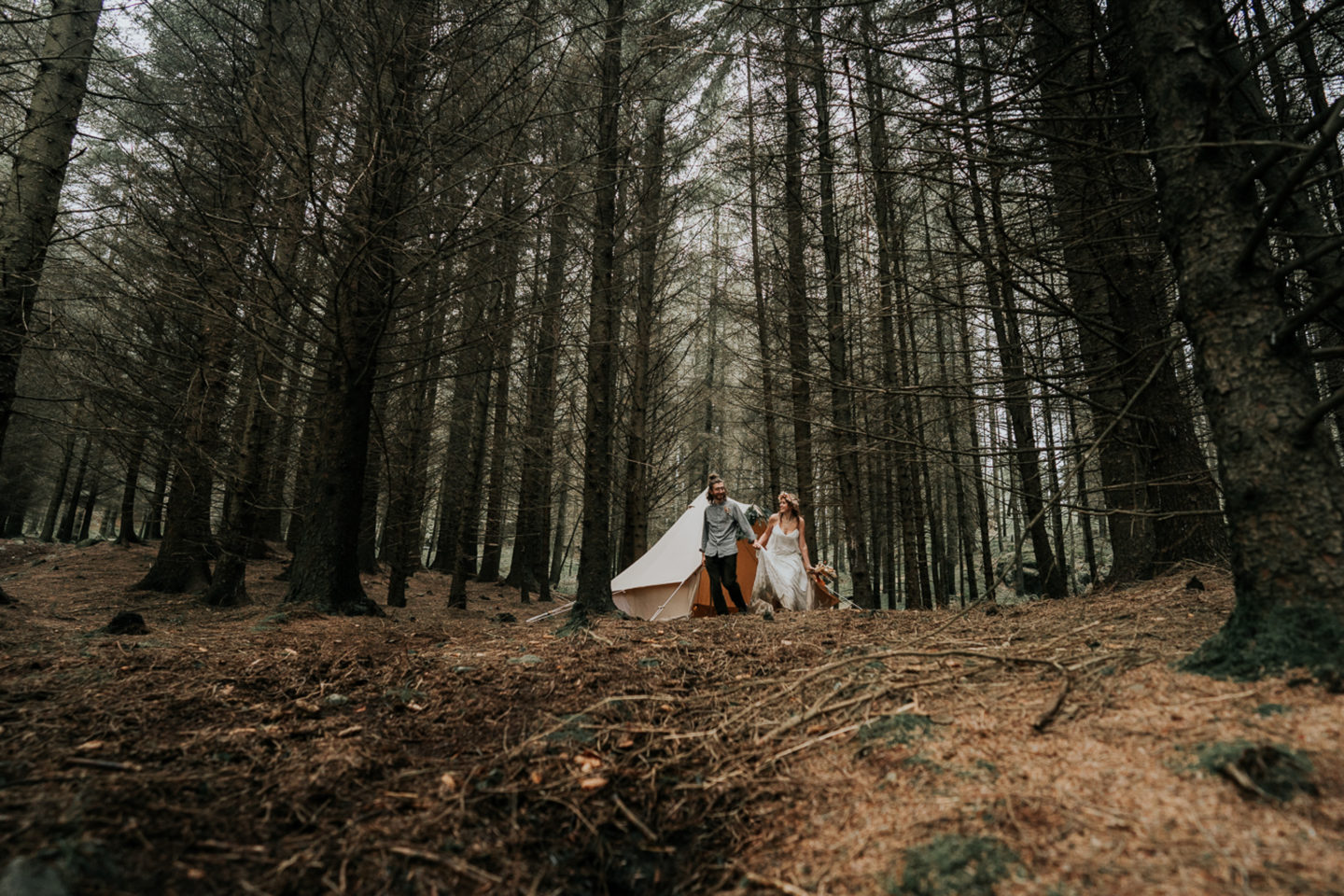 "I wanted the images to capture all the raw emotion and wildness of the magnificent landscape and all the giggles in-between. I wanted the images to tell a story of "their day" from being in their pyjamas having a brew in their van they call home to saying their vows on the top of a windy hill."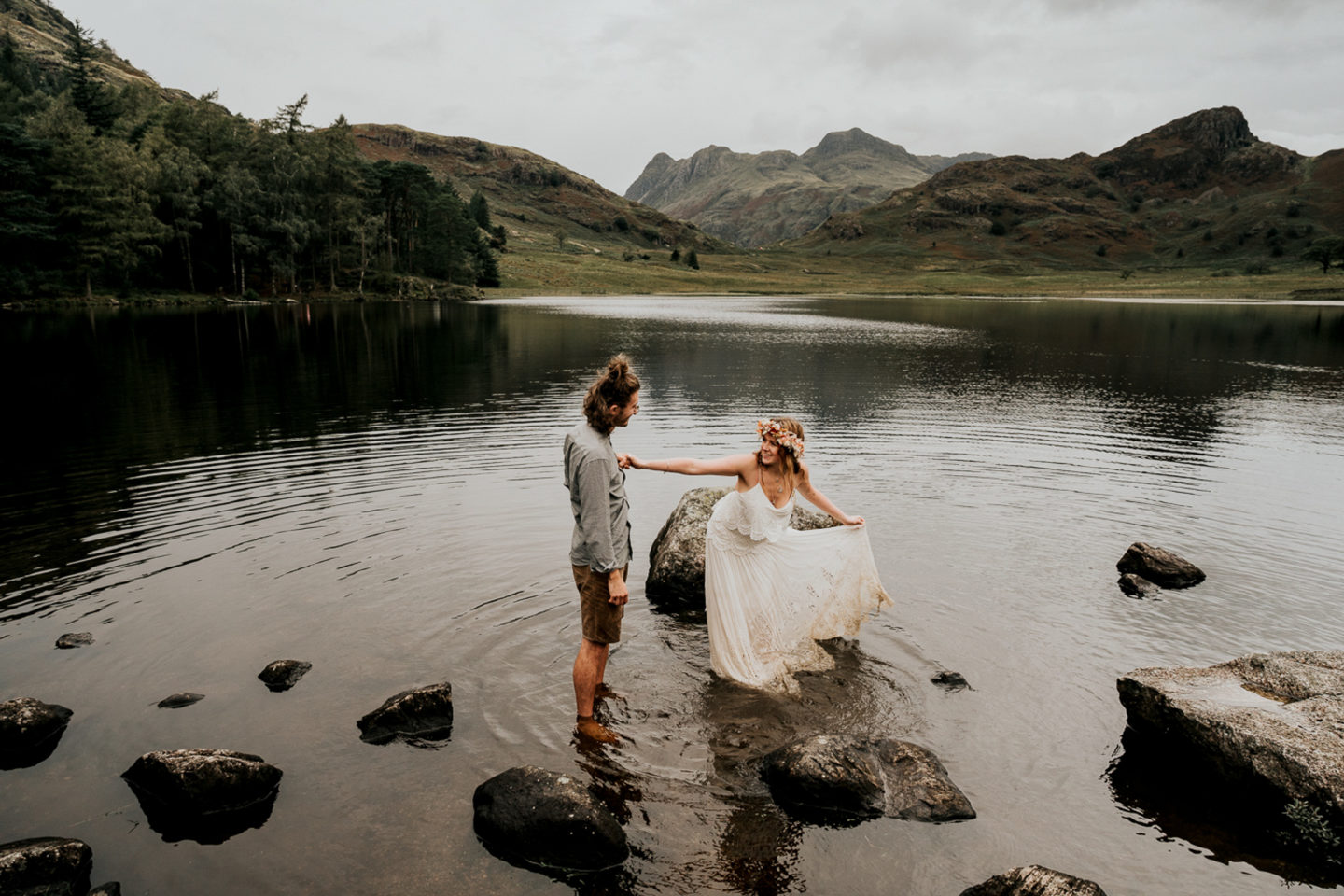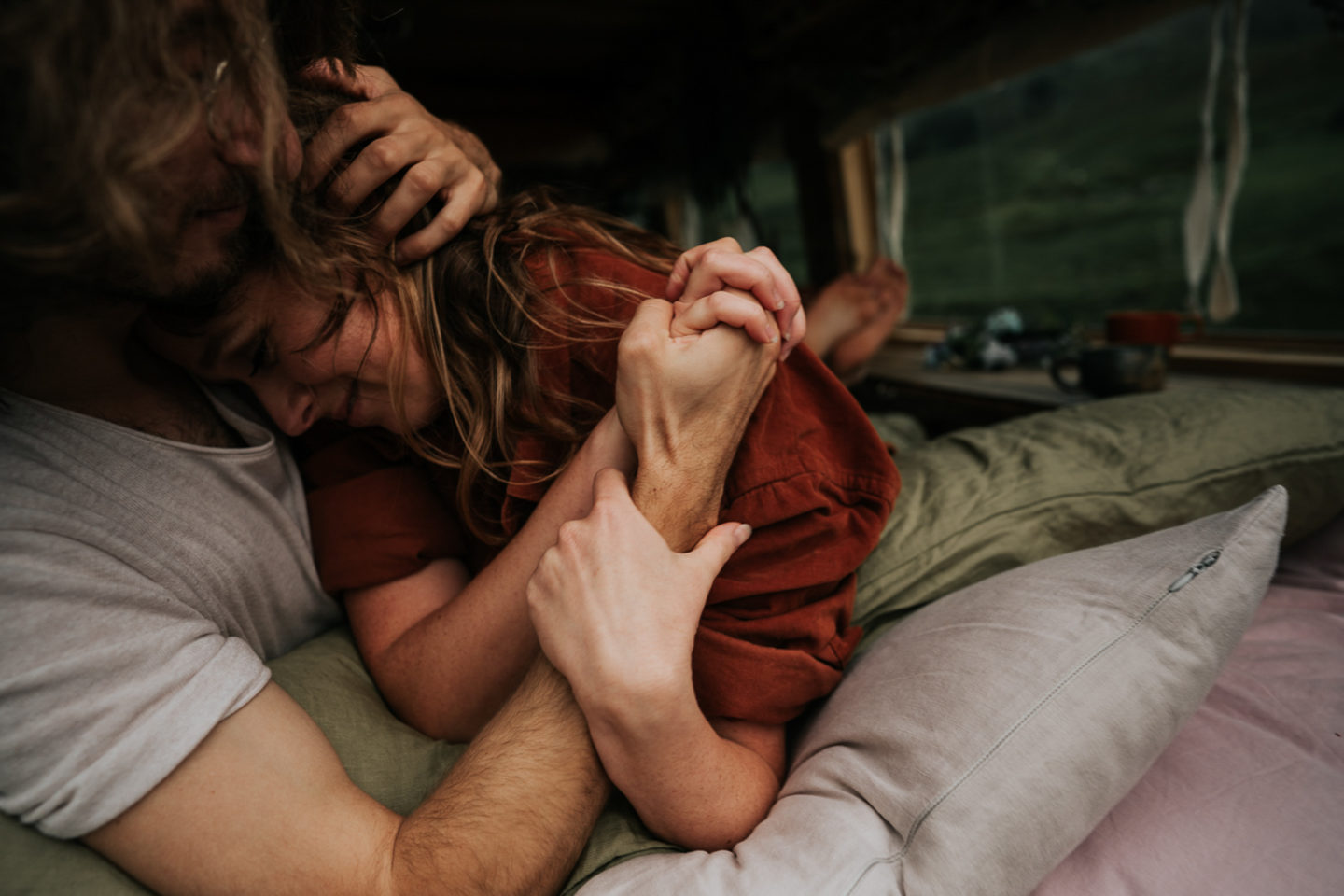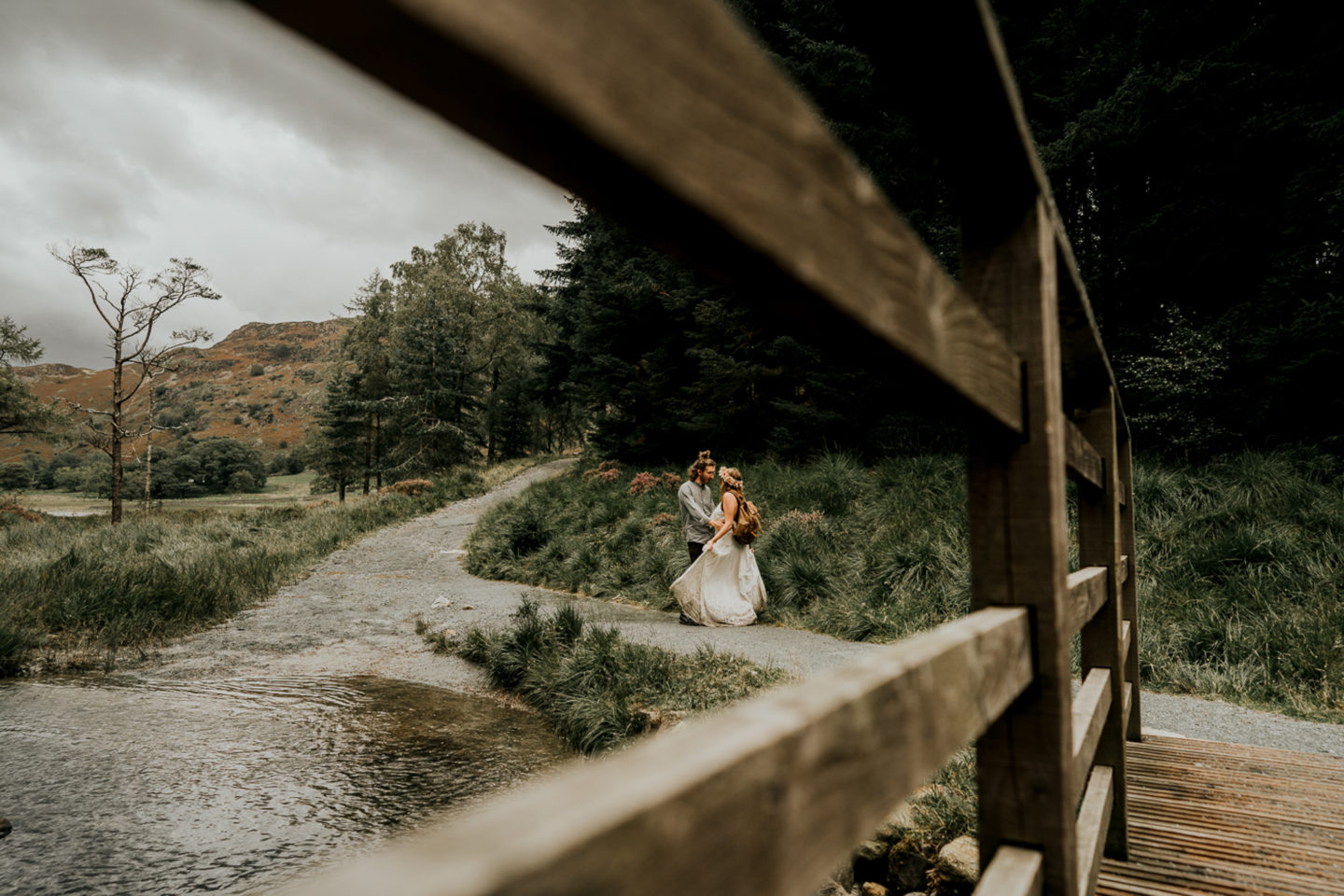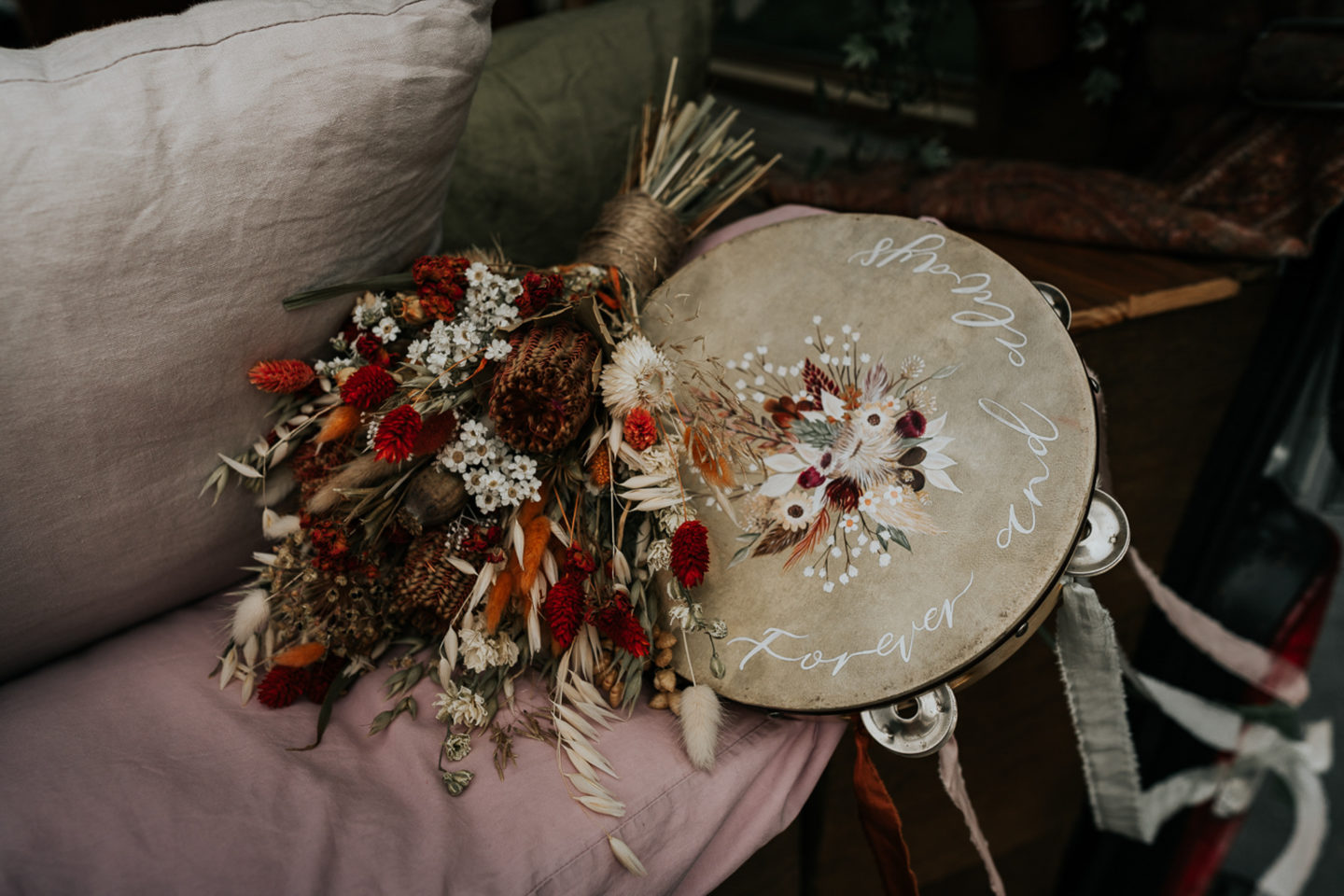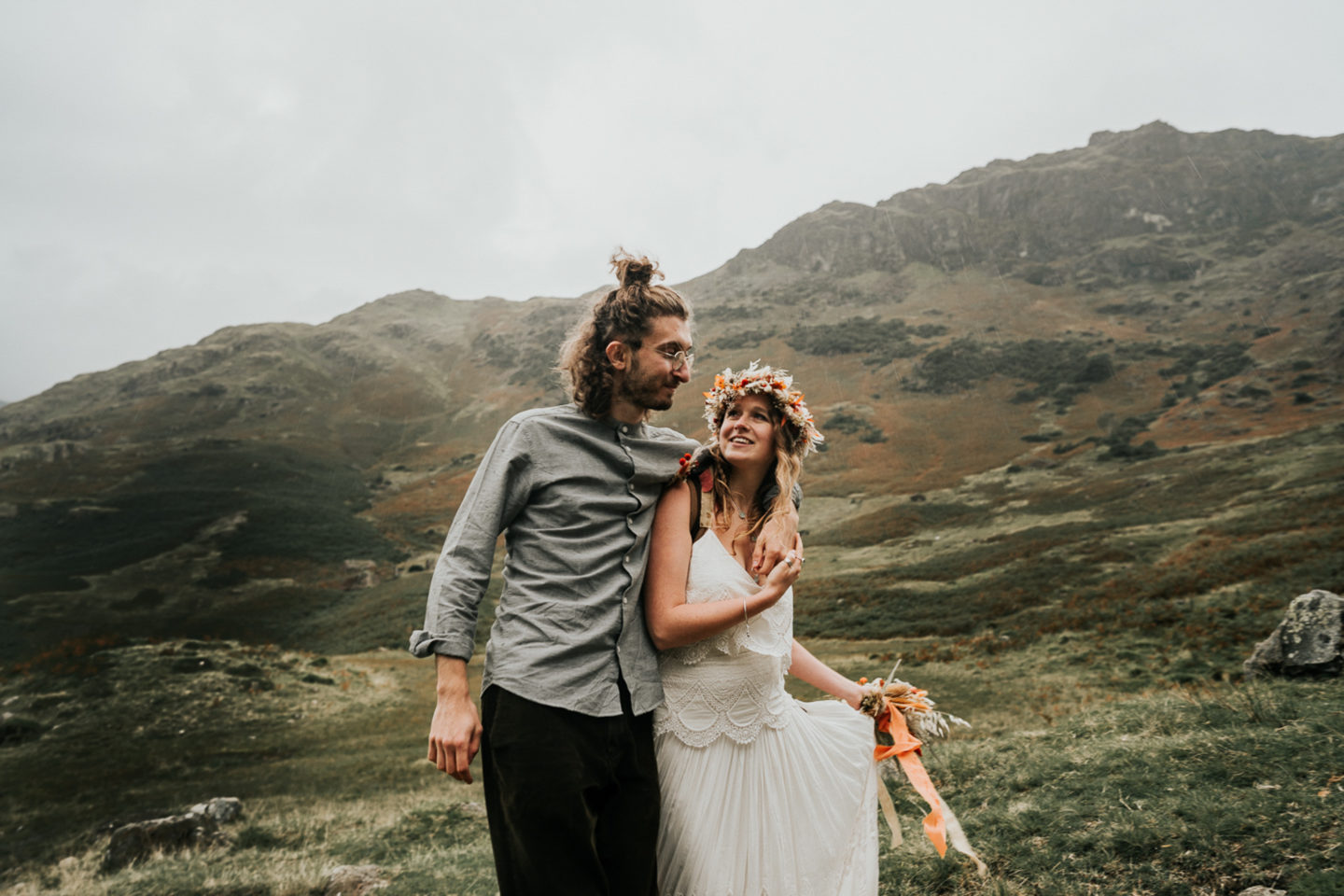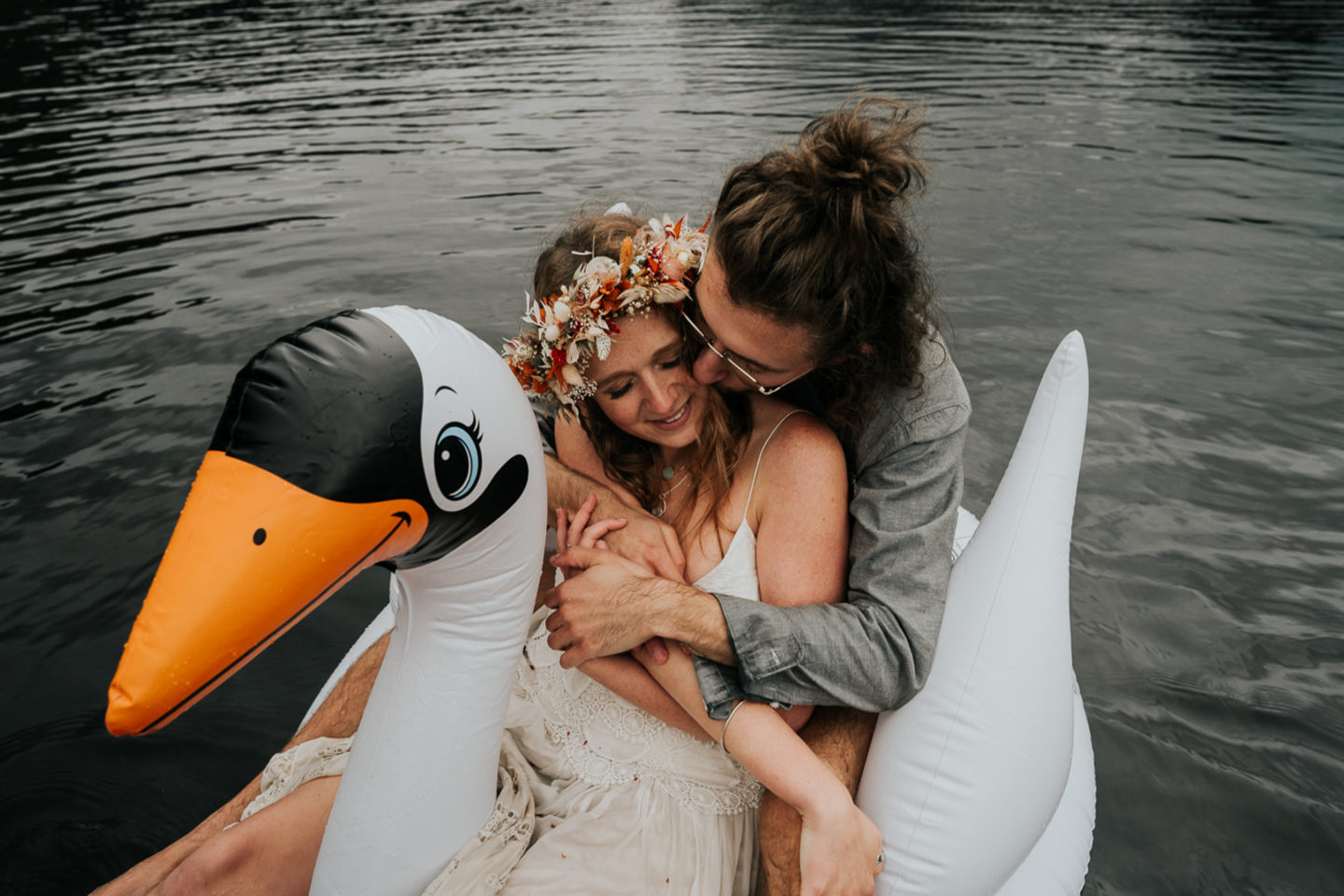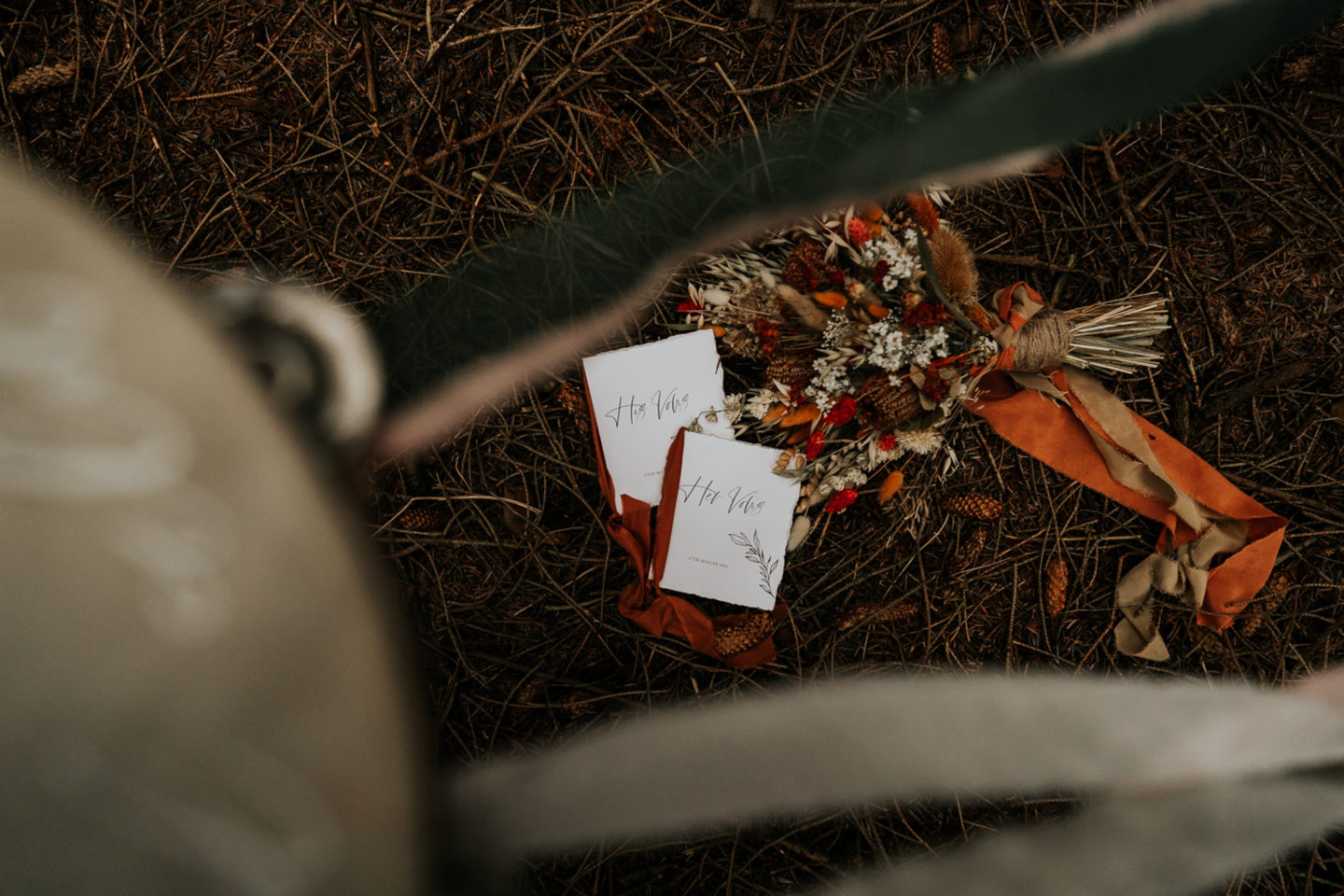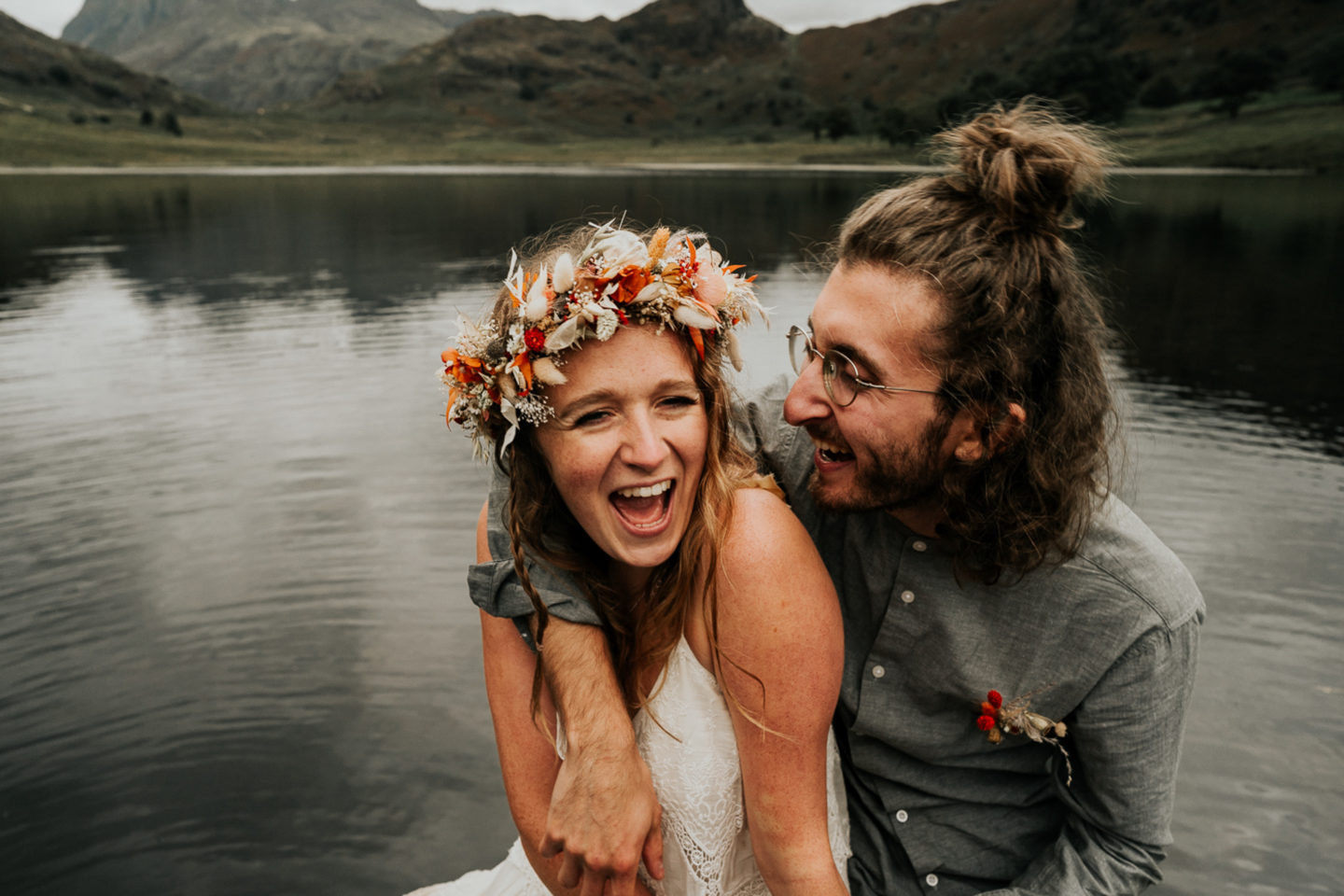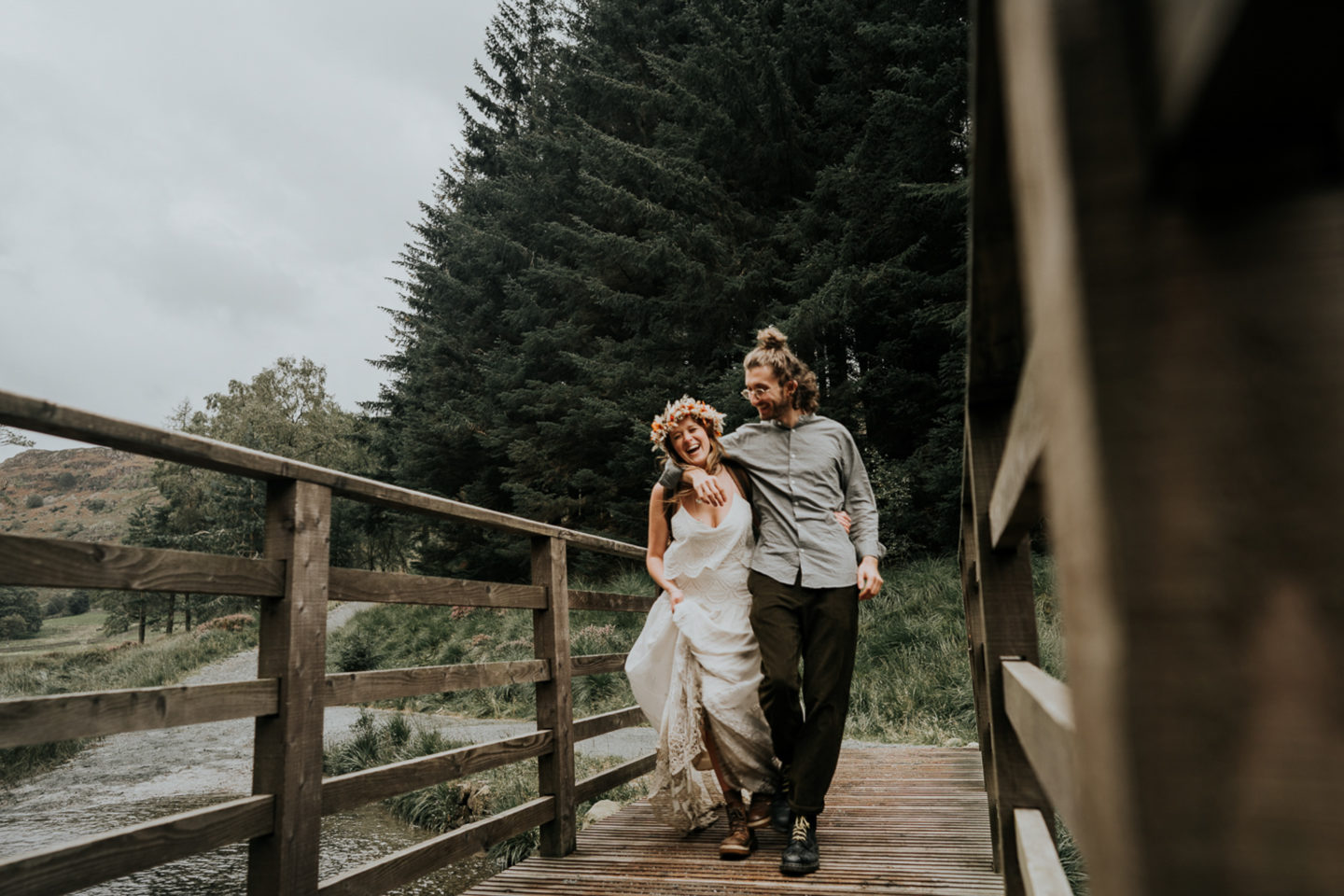 The Team – Intimate Lake District Wedding With A Vintage Campervan and Folklore Vibe
Photography and Film Jenny Appleton Photo and Film @jennyappletonphotoandfilm
Dress Jean Jackson Couture @jeanjacksoncouture / Dress Designer Rue De Seine Bridal @ruedeseinebridal / Flowers Folky Dokey @f.o.l.k.y.d.o.k.e.y / Stationery and Temborine Mama Inc Studio @mamaincstudio / Jewellery Beachcomber Jewellery @beachcomberjewellery / Ribbons – Silk and Purl @silkandpurl / Celebrant Charlotte Pennefather Celebrant @cpcelebrant / HMUA Kerry Baker MUA @kerrybakermua / Tent Bohemia Bell Tents @bohemiabelltents / Couple @parkingonthewildside
IF YOU LOVED THIS LAKE DISTRICT WEDDING INSPIRATION WHY NOT PIN IT TO YOUR WEDDING PINTEREST BOARDS?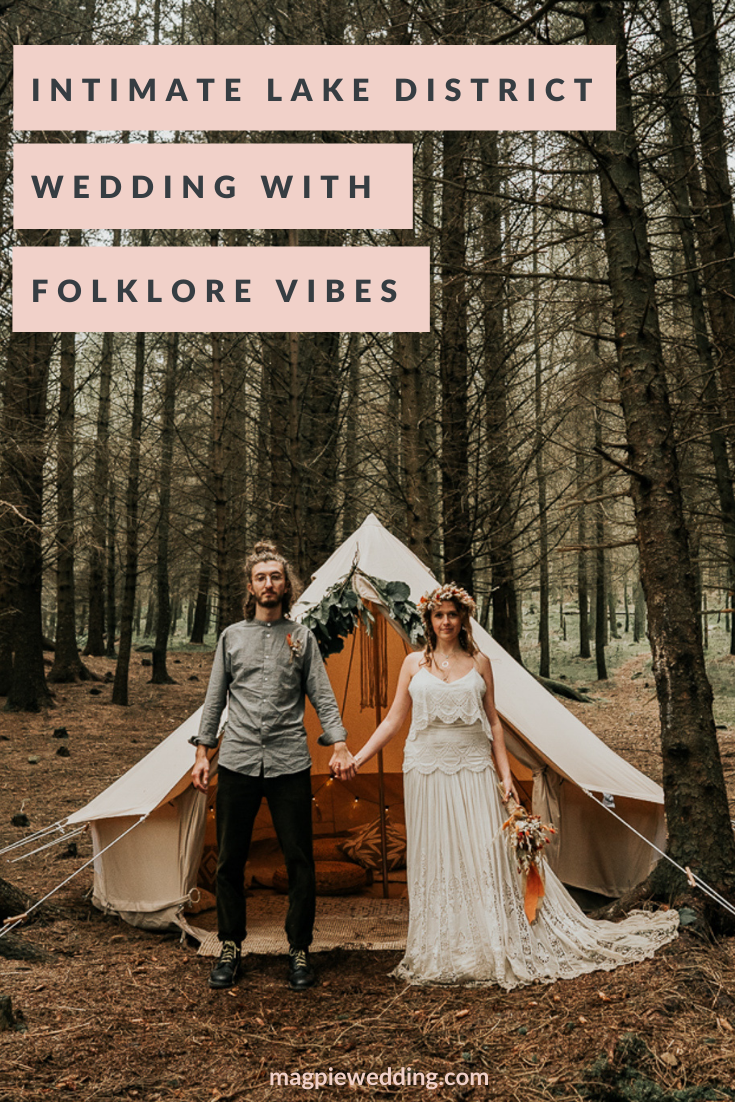 If you loved this wedding at Wick Farm Bath you may also like;
Colour Pop Wedding With Vintage Touches at Wick Farm Bath, Somerset
Our Favourite Ideas For Having Pets At Weddings