Eco-friendly, check, bold florals, check, not just a white wedding, check! So much love for this styled shoot, a wild flower Eco friendly wedding with sunflowers galore, vegan cakes and intimate laid back styling, and its sure to give you lots of ideas on how to be Eco friendly for your own big day. Here we catch up with the team and beautiful couple behind the shoot…
"The 'Wild Flower Wedding' shoot idea first came about as we wanted to share our passion for the planet by promoting more Eco friendly weddings and to help Shakira and her family to have a voice to change the wedding industry by ensuring that people of colour are represented within promotional material of the industry."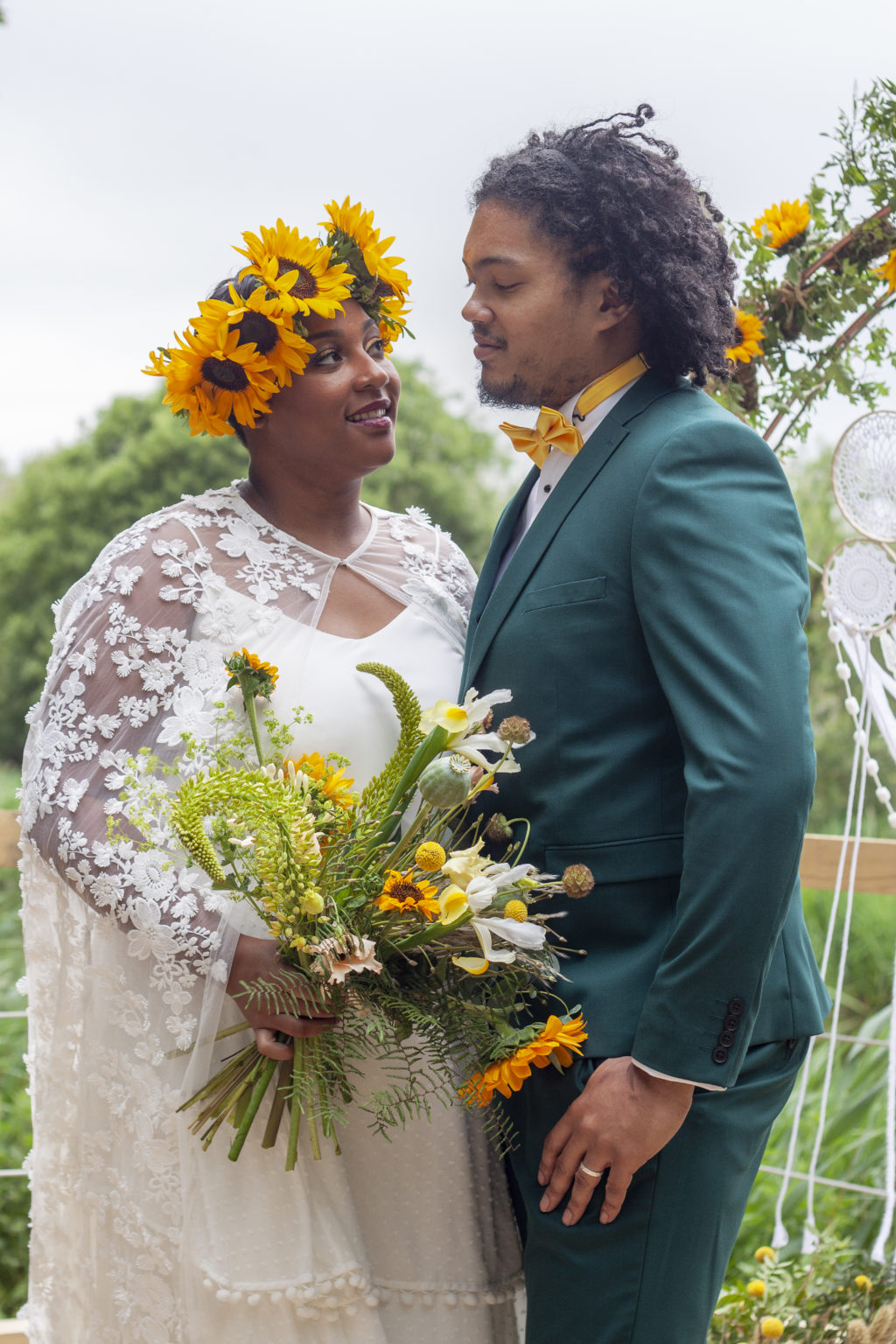 Here's what they had to say…
"We are Robert and Shakira, the husband and wife behind Not Just A White Wedding. Through our personal experience of marriage we have had an awakening of the issue of under representation of black people in the wedding industry. Throughout years of planning our beautiful wedding we encountered countless examples of what a ''white wedding'' should be however, none of those examples contained any depiction true or otherwise relating to us as a black couple and to us as a race. What little examples of blackness we came across, were restricted to token models with European attributes standing in for what looked like a box ticking exercise."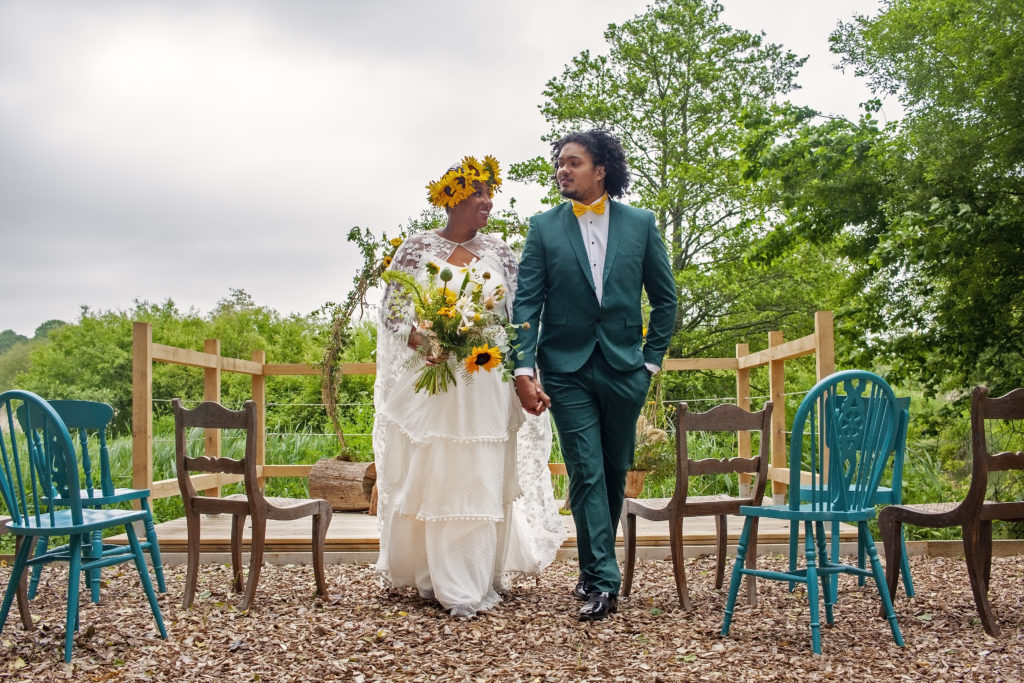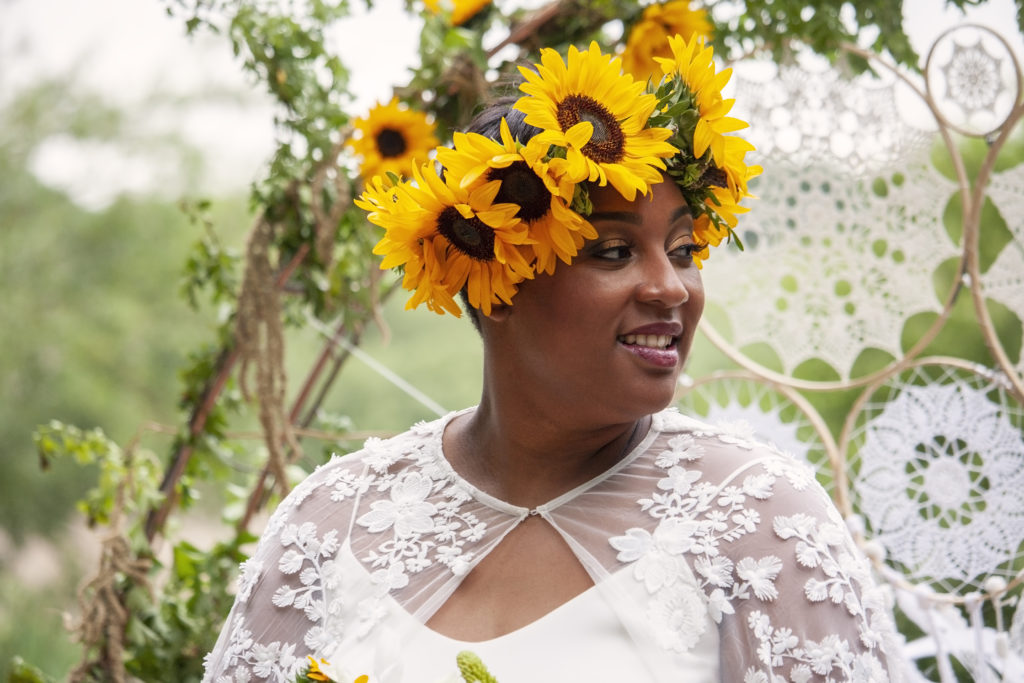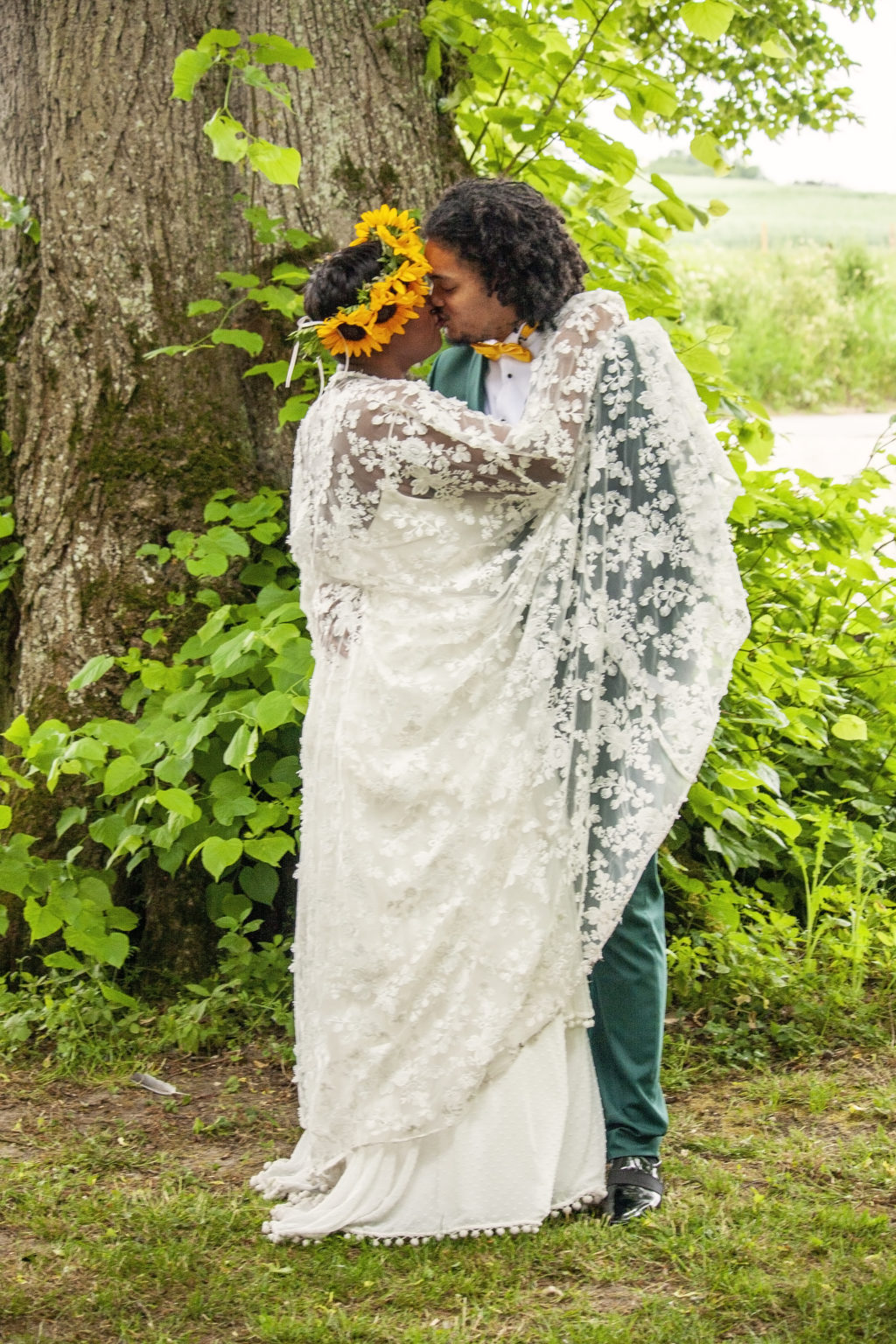 "Trying to draw inspiration was excruciating as the first point of contact eg. Wedding magazines, Pinterest, Instagram seemed to champion any race other than black – Though mixed race relationships seemed to be prevalent and tokenised (yet again) Black love, doesn't get a look in and seems to be knowingly relegated to the furthest reaches of the internet. In order to see anything remotely representative of us, we have to hashtag the life out of every platform.. #blackbride #blackbohobride #afroweddinghair #blackmakeupartist the list is endless and even with a plethora of hashtags we would still come up short – Why are we so hard to find, are we THAT niche.. ?"
[line]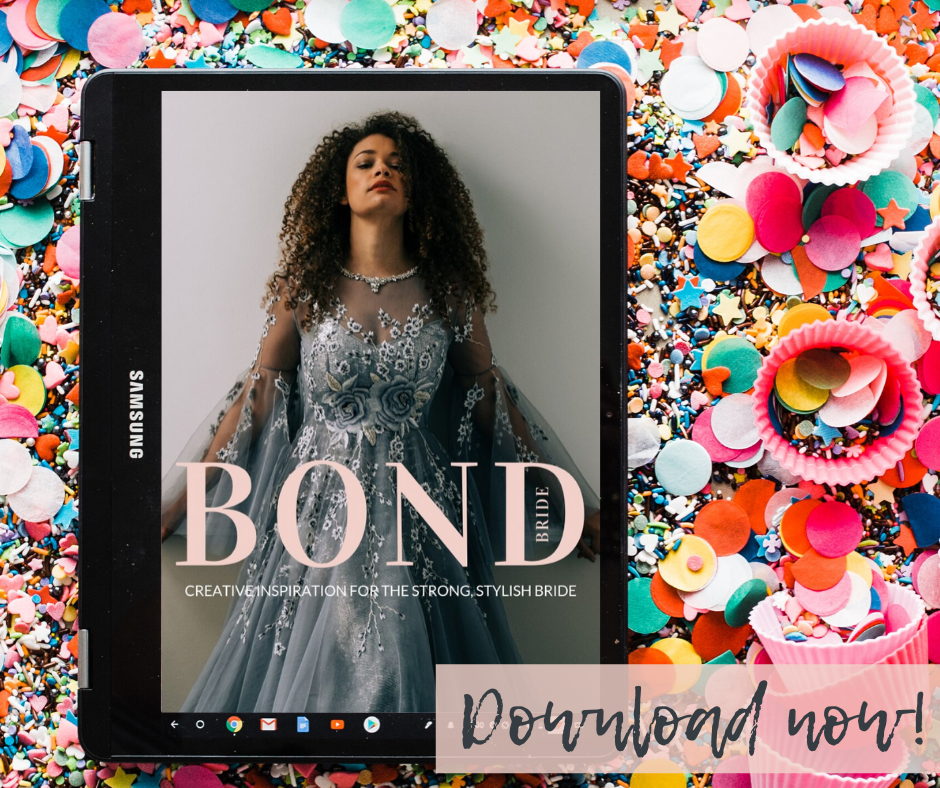 DOWNLOAD BOND BRIDE MAGAZINE ISSUE 2 HERE
[line]
"What we once considered as an oversight, on our part, when delved into little deeper we realised that this must be a conscious decision and it's this type of thinking that we need to quash."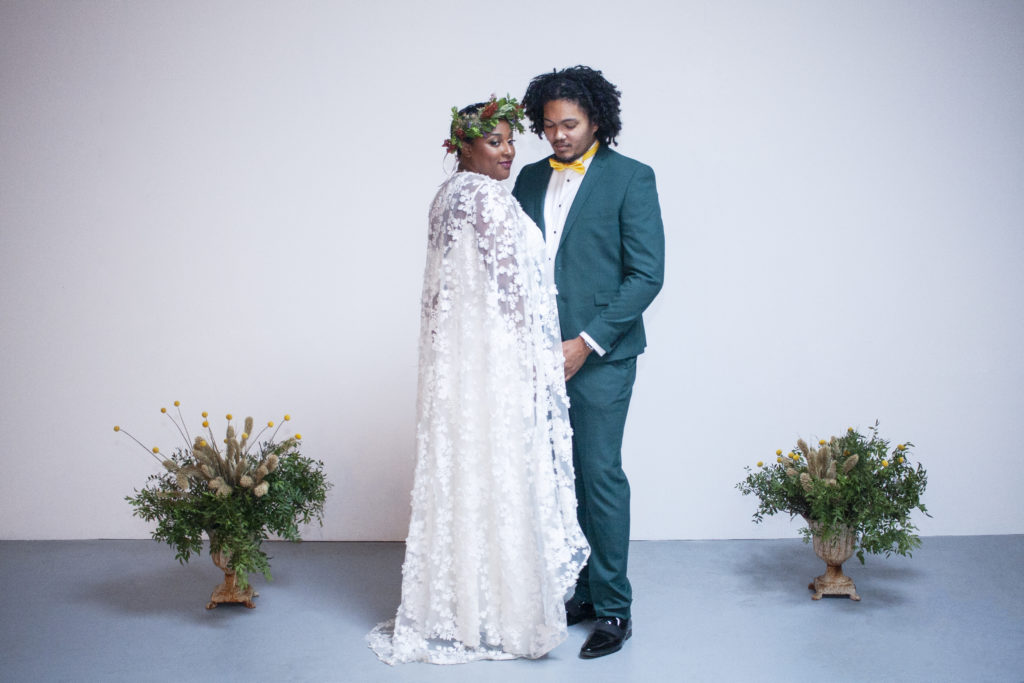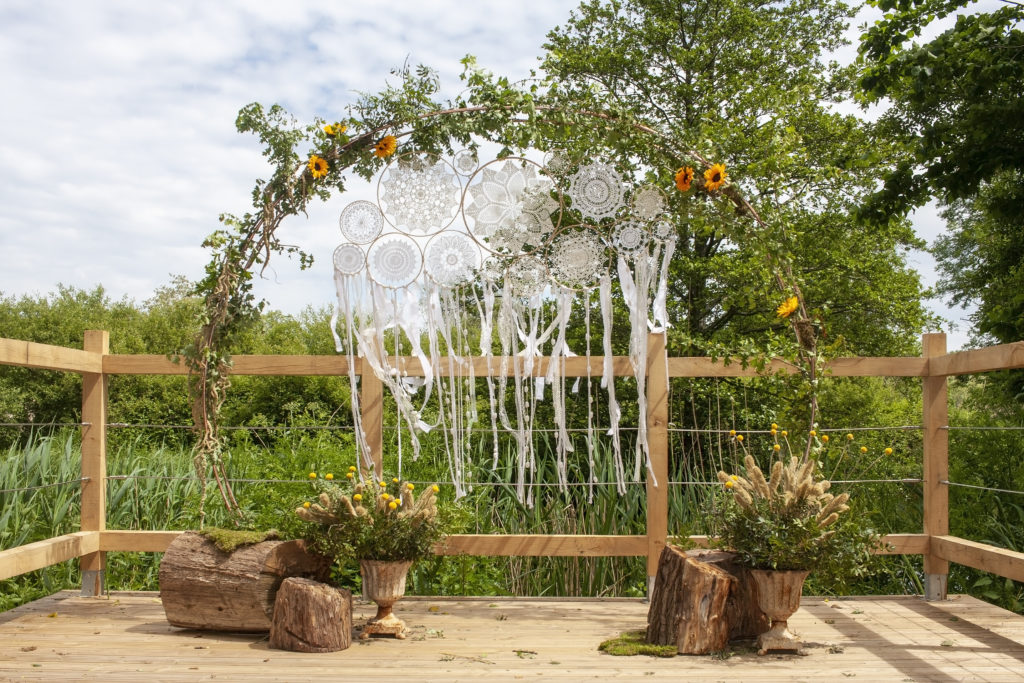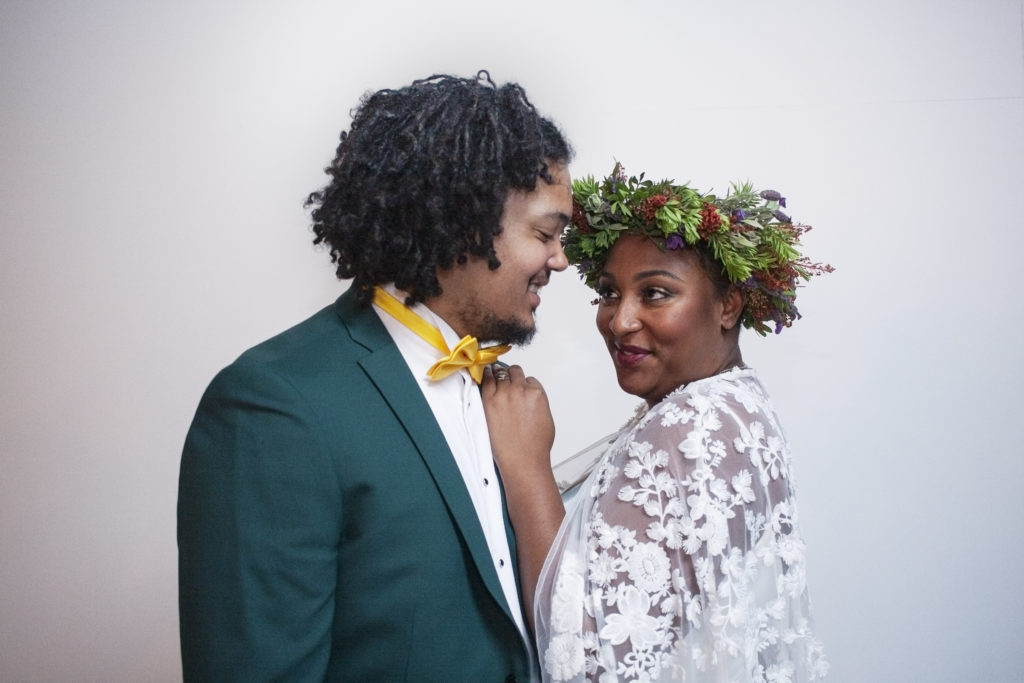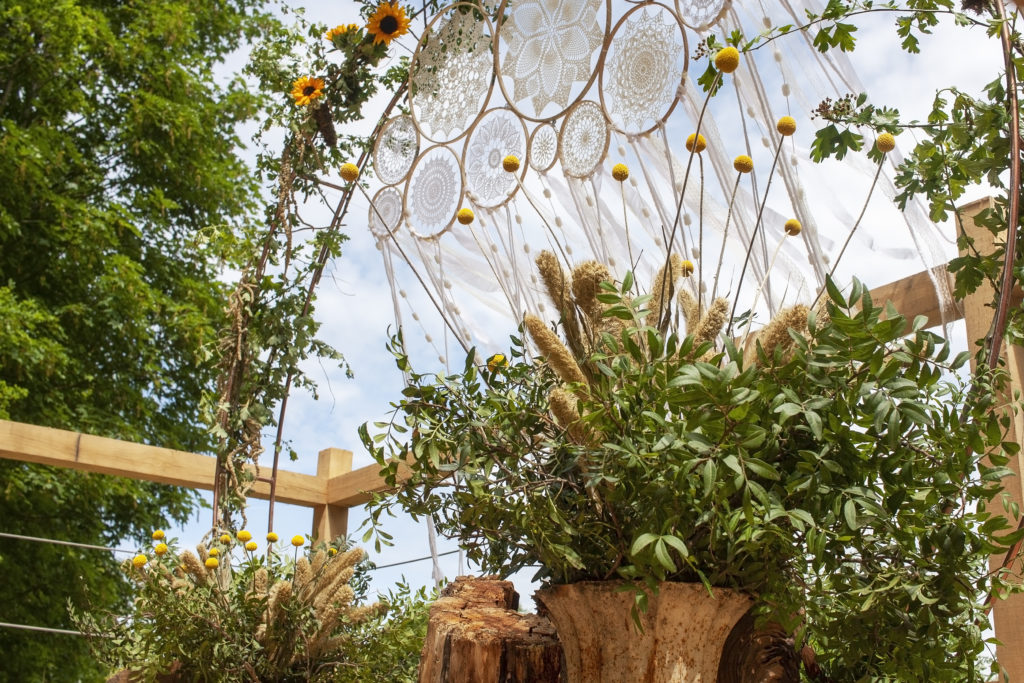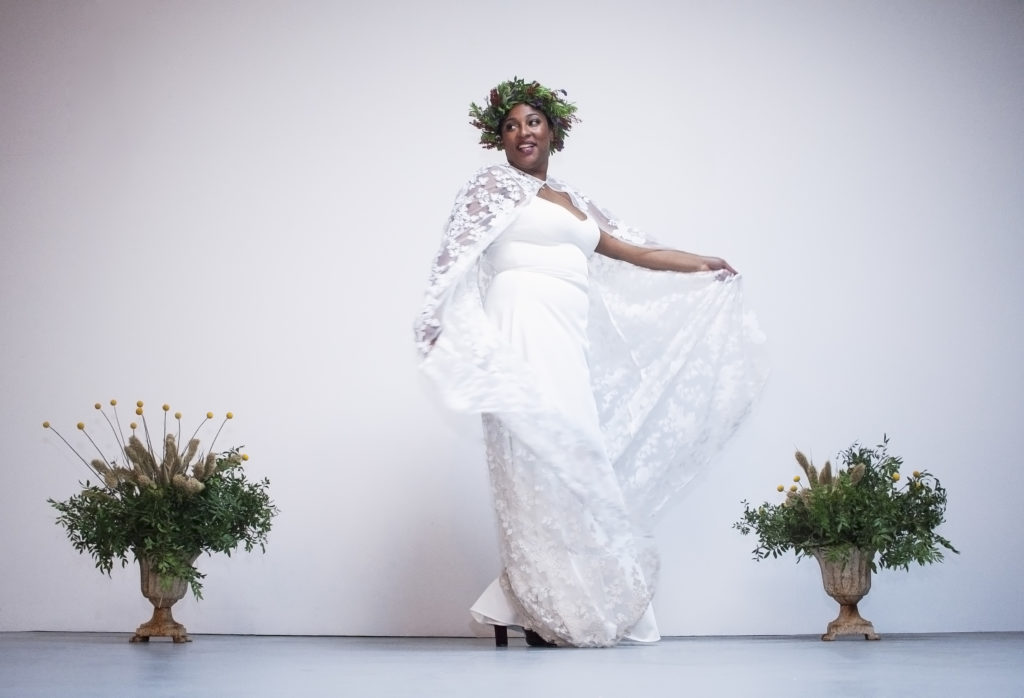 "Not Just A White Wedding (NJAWW) is a space that celebrates blackness, a space that normalises seeing black married couples in love, black brides & grooms, black bridesmaids, black page boys, black flower girls, black guests – something which was absent throughout our journey! We want to create a platform that celebrates the normality of our culture."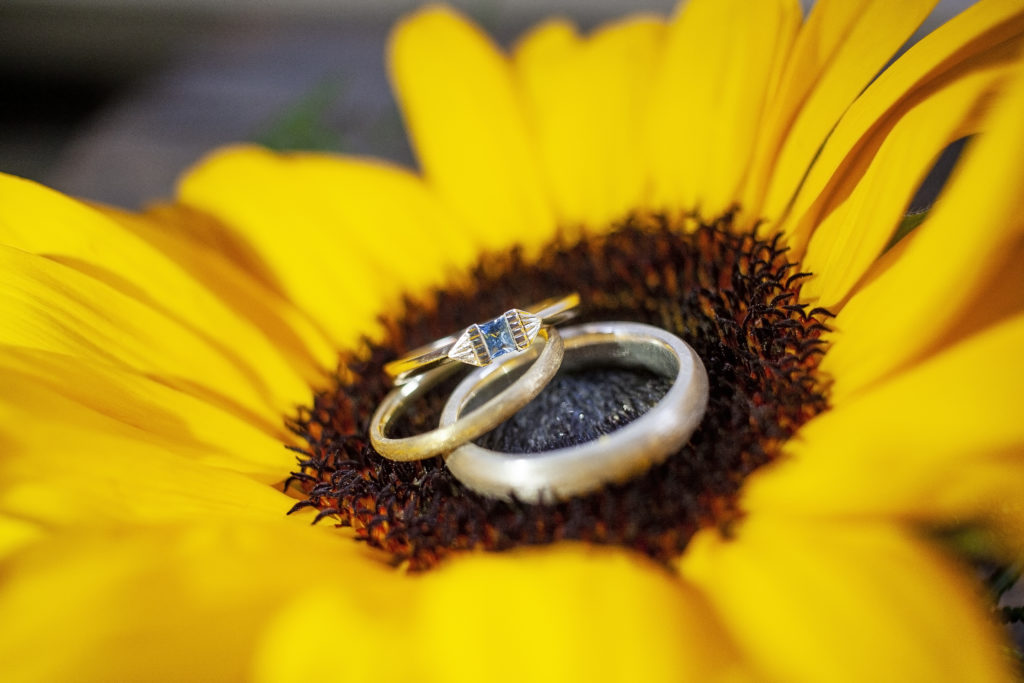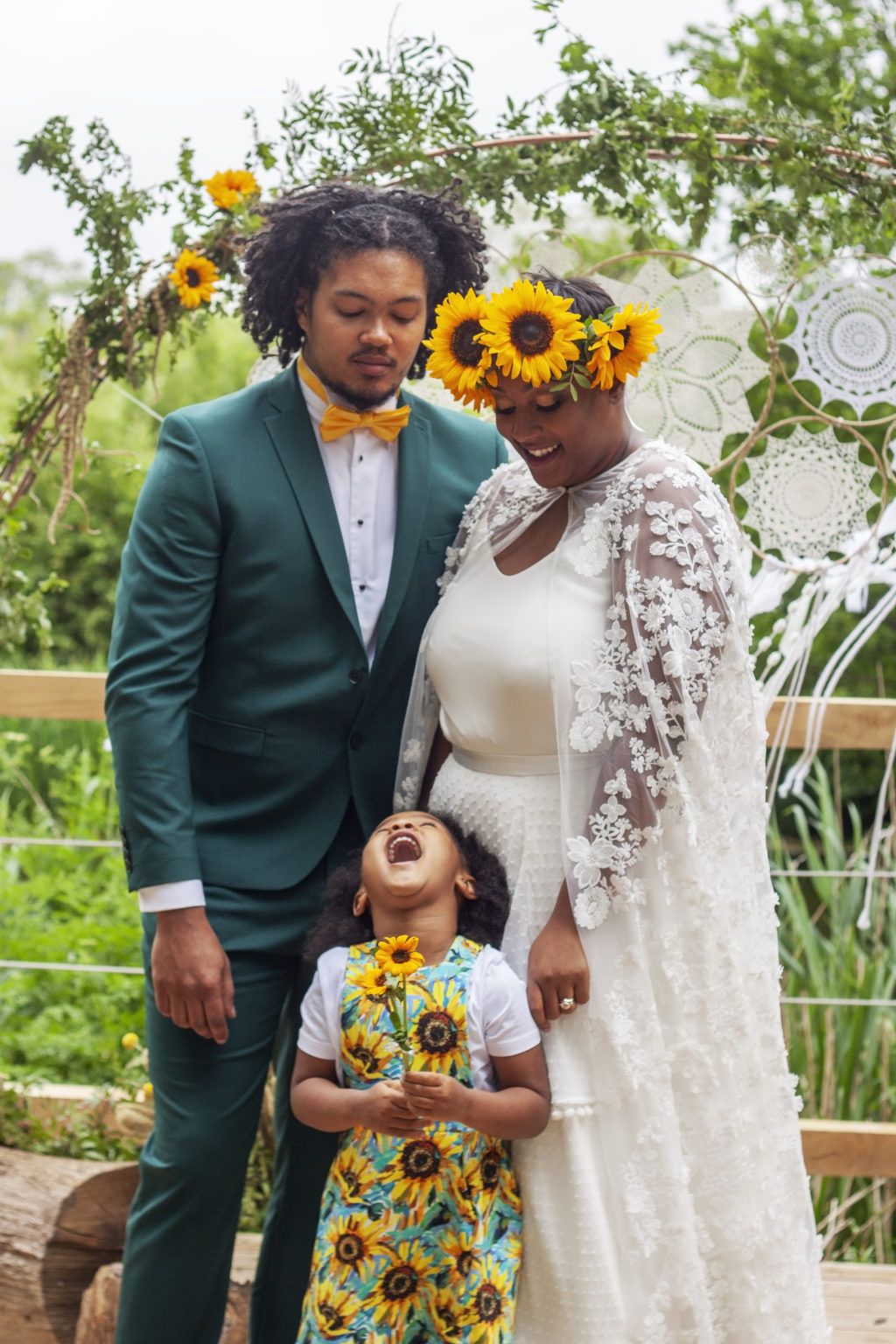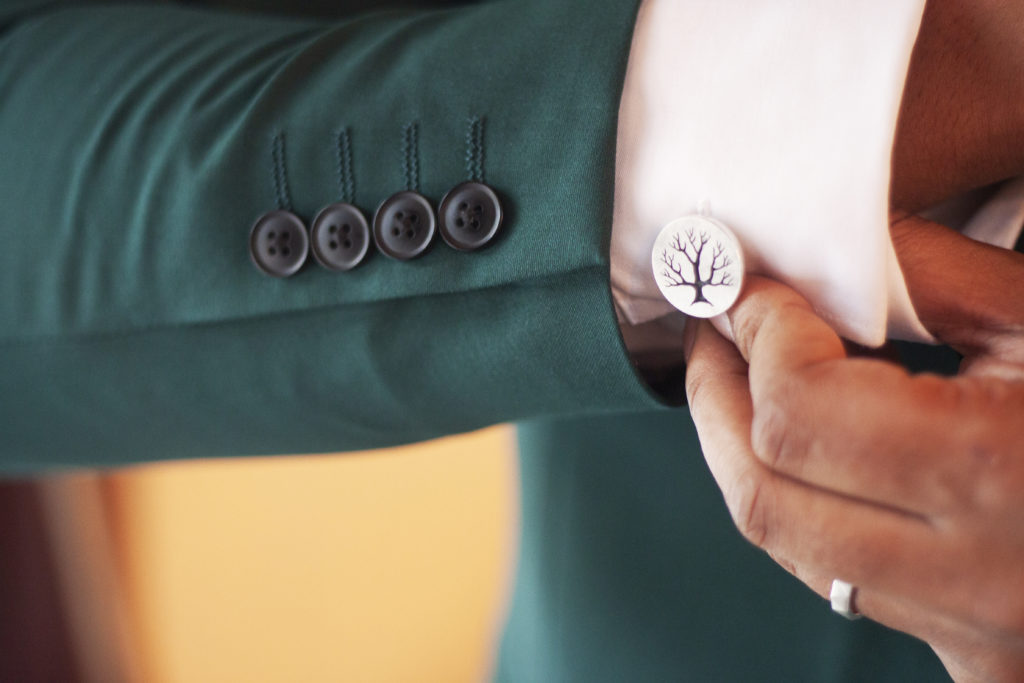 "We're so thrilled to have been part of this shoot with Aurora Collective at the STUNNING Barn at Avington. It was an opportunity for us to be SEEN, recognised and appreciated as a black married couple, in love. We hope to spread love & awareness and get the wedding industry pulling up it's socks!"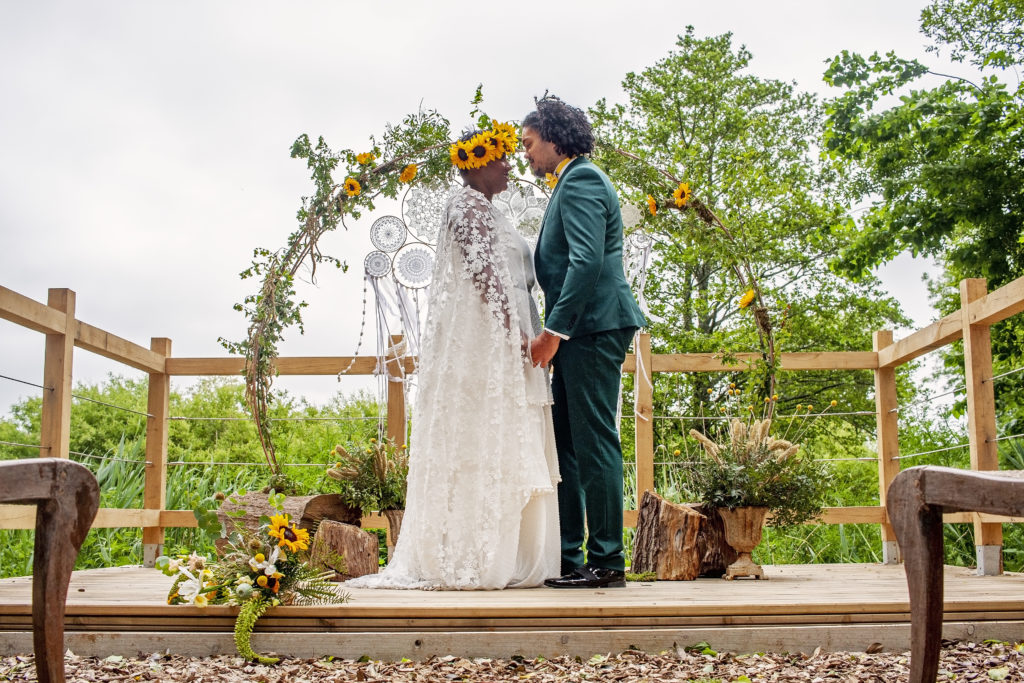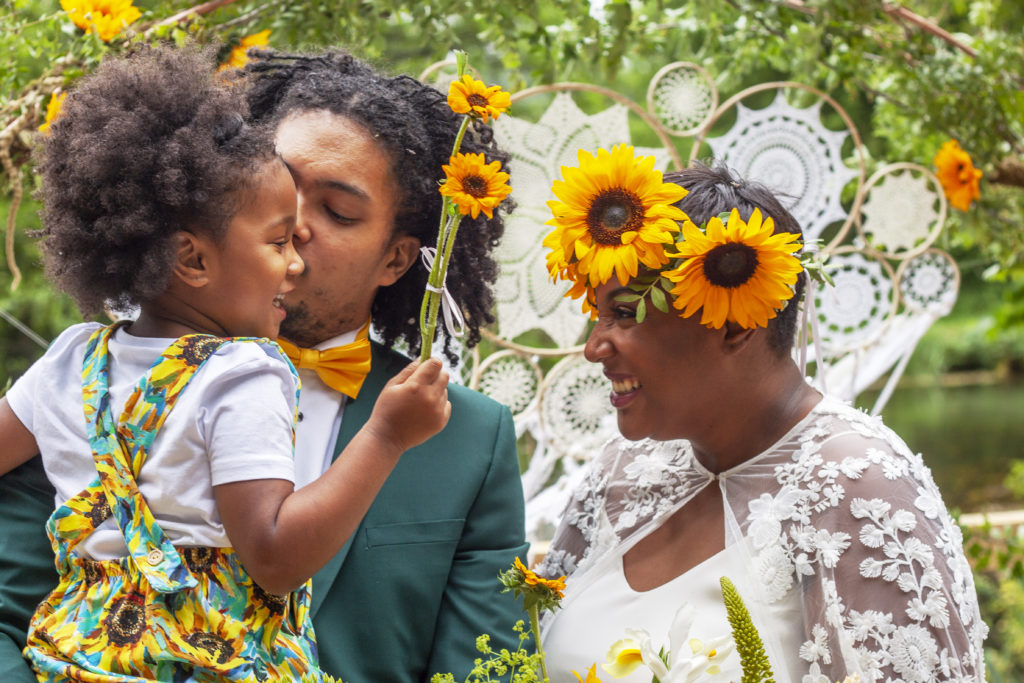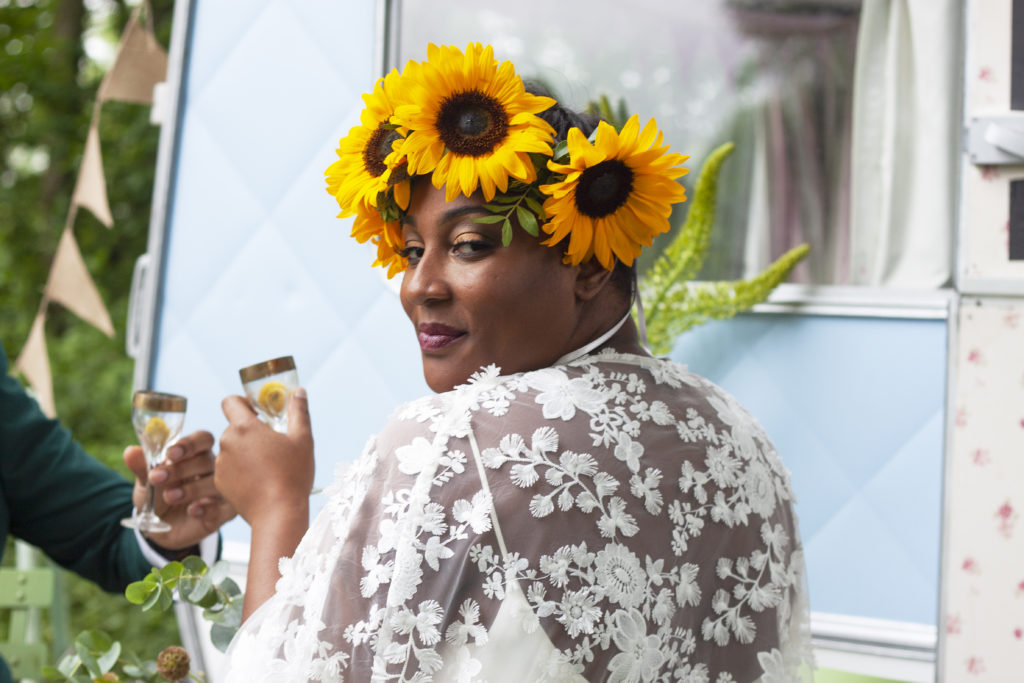 "This is just the beginning; this is a conversation which is long overdue… Change is long overdue."
"We were inspired by a variety of Bohemian style weddings and wanted to incorporate a twist of quaint British summertime touches. Weddings should be about family and fun, so a more laid back style was essential."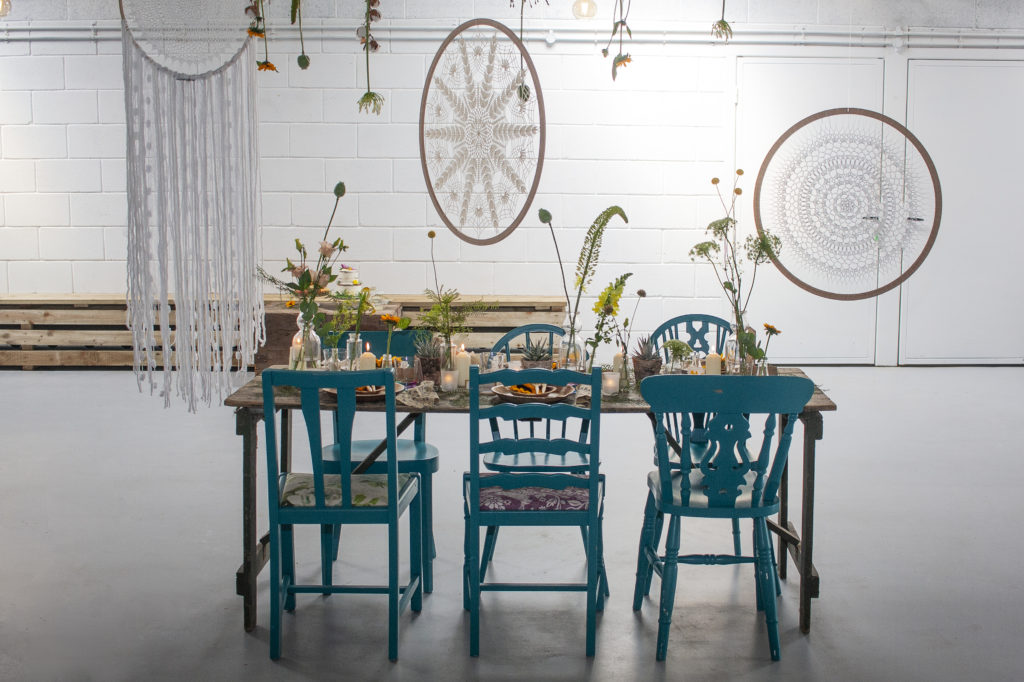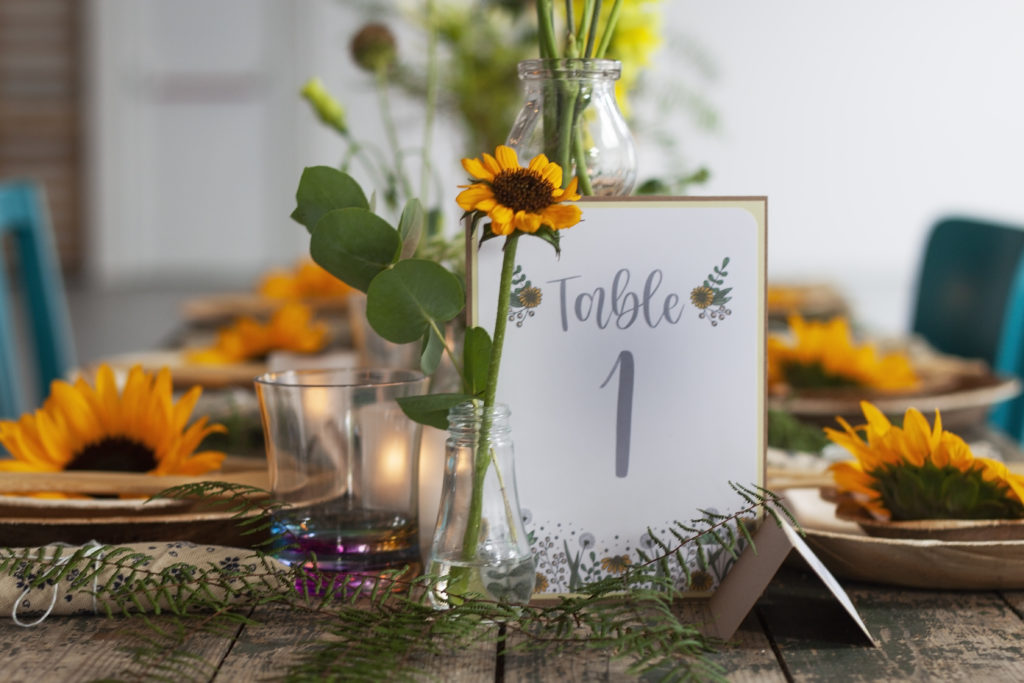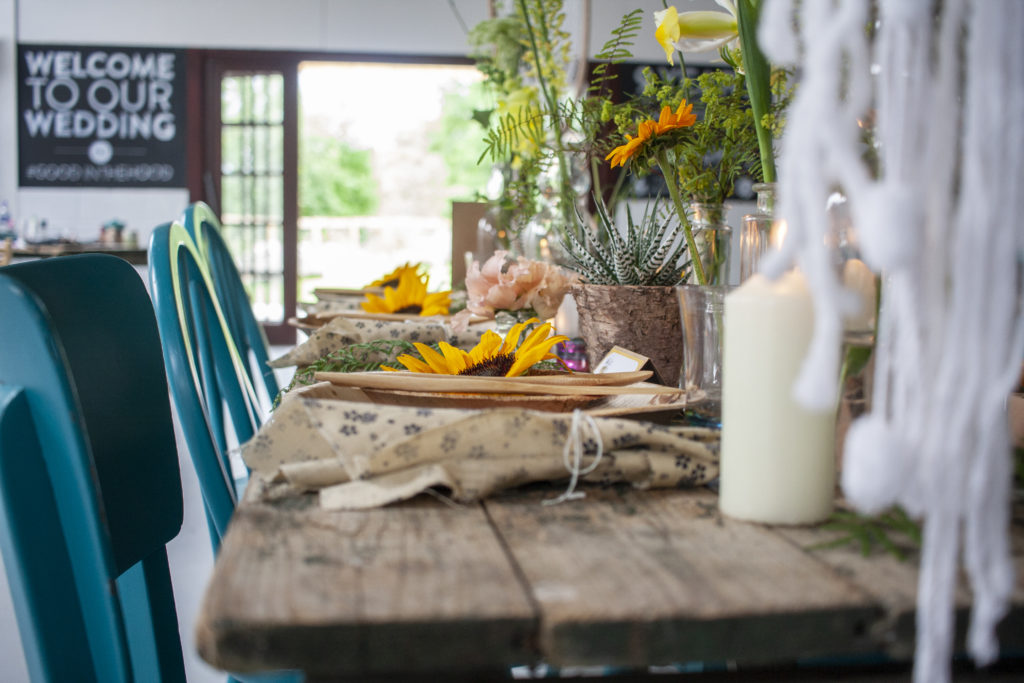 "The shoot took place at The Barn at Avington, a new and exciting venue located in the beautiful Hampshire countryside. With an industrial feel in the barn, it is a blank canvas for stunning backdrops. The riverside ceremony area provides the perfect setting for a summer wedding."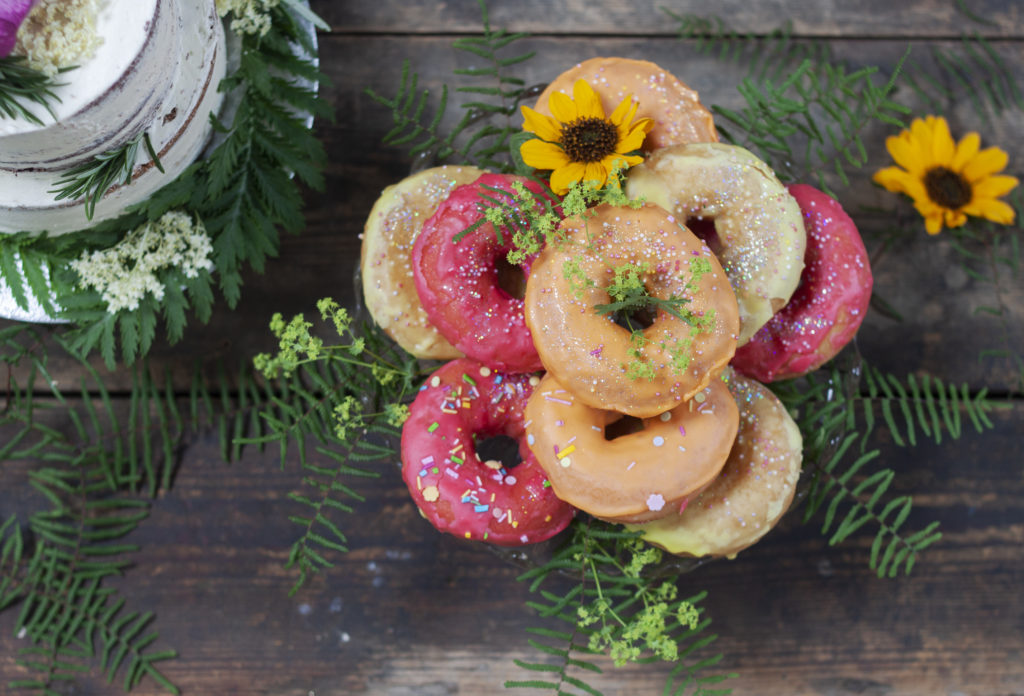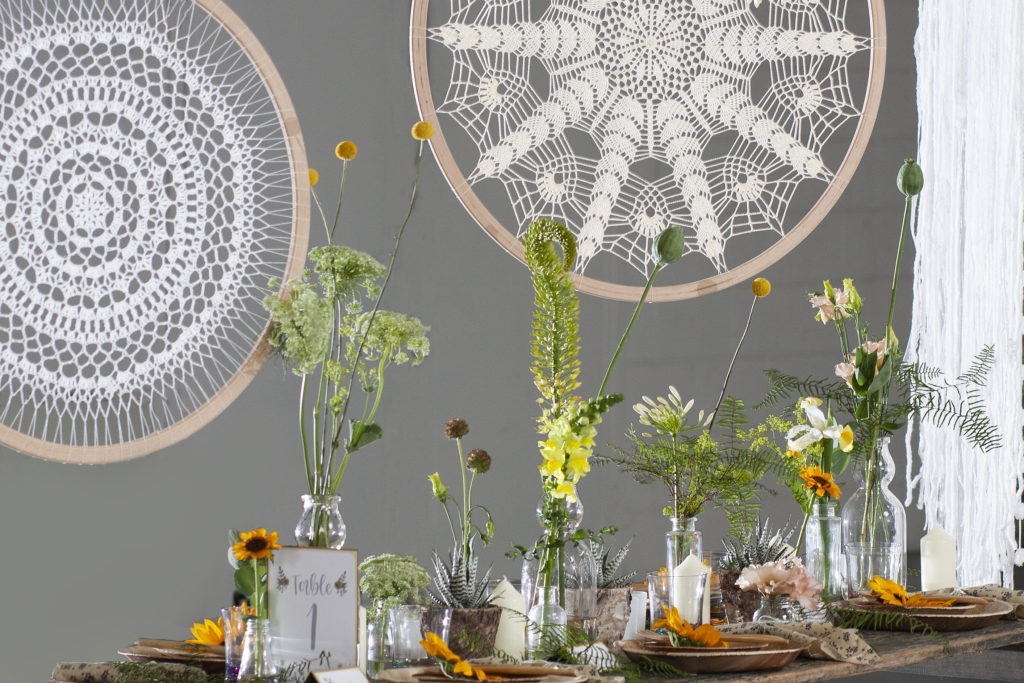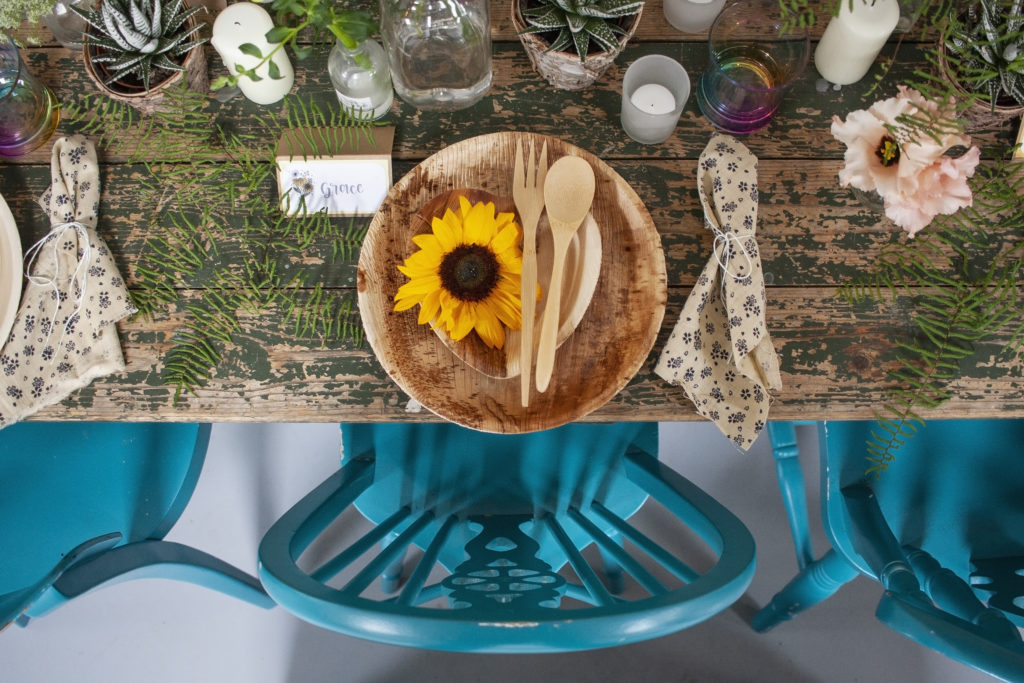 "Eco aspects: Vegan Cake, Palm Leaf and Bamboo Tableware, Eco confetti, up-cycled decorations, ethically sourced and recycled Jewellery by Daniel Derby, seasonal selection of plants and flowers."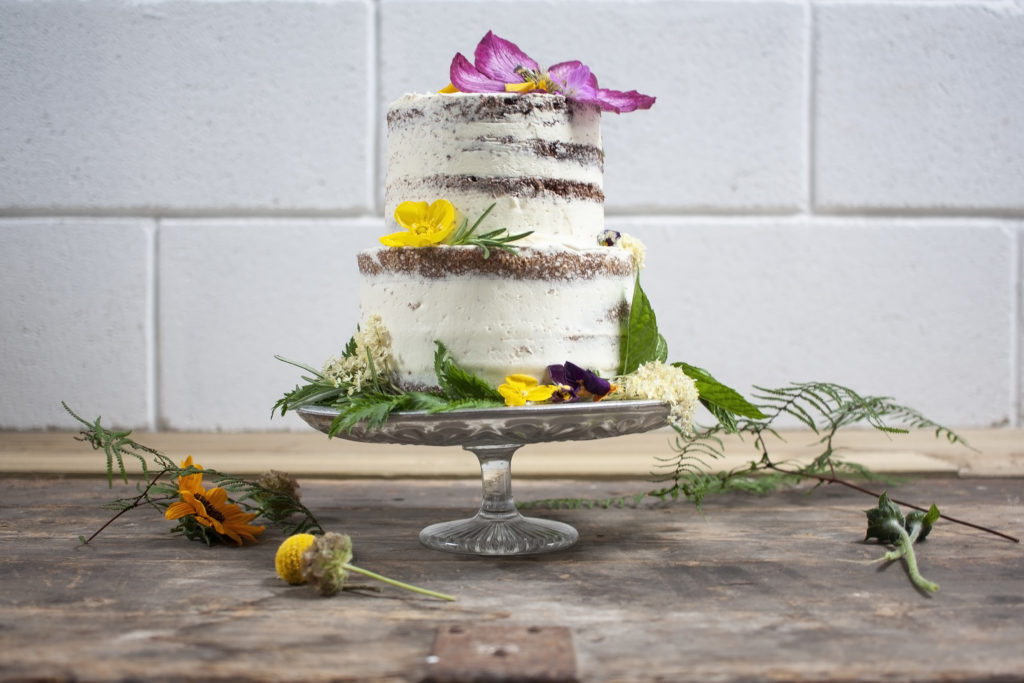 Photography- Aurora Collective
Photography and Video, as well as styling and coordination, by Aurora Collective We aimed to capture a natural look with warm finishing touches. Ensuring that Shakira and Rob were able to communicate fully about how they wanted to be represented was essential. Putting the whole family at ease led to lots of lovely natural smiles and moments.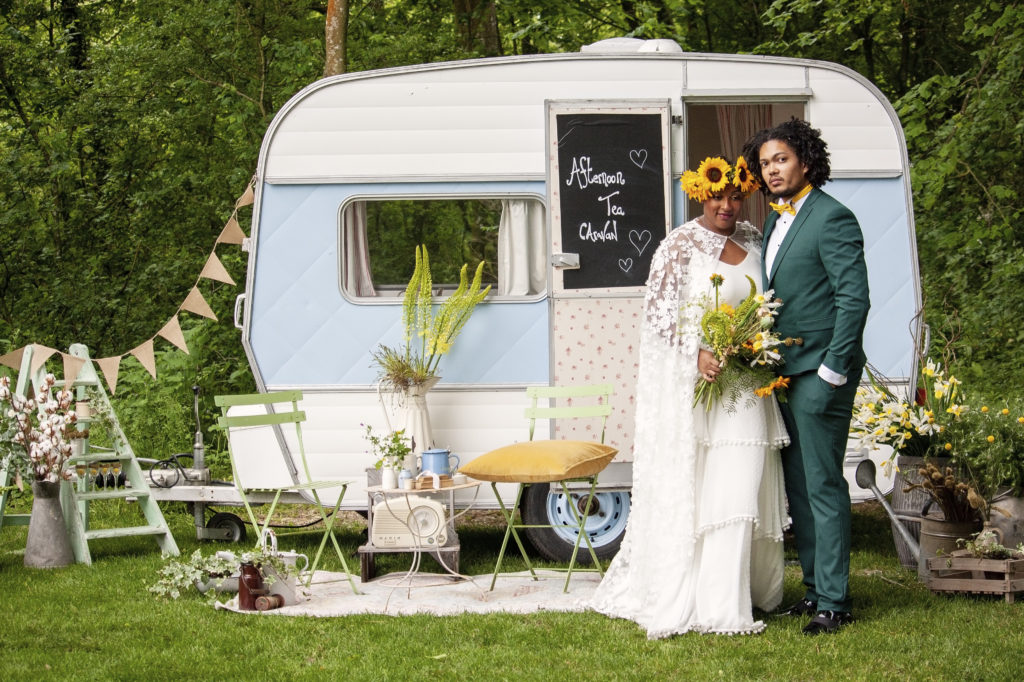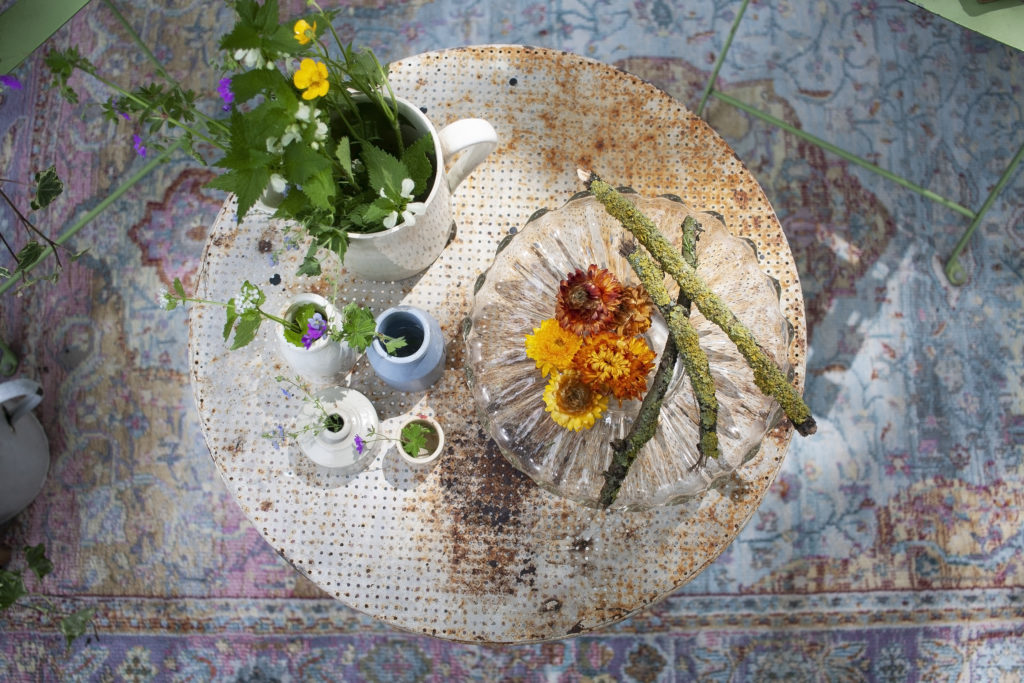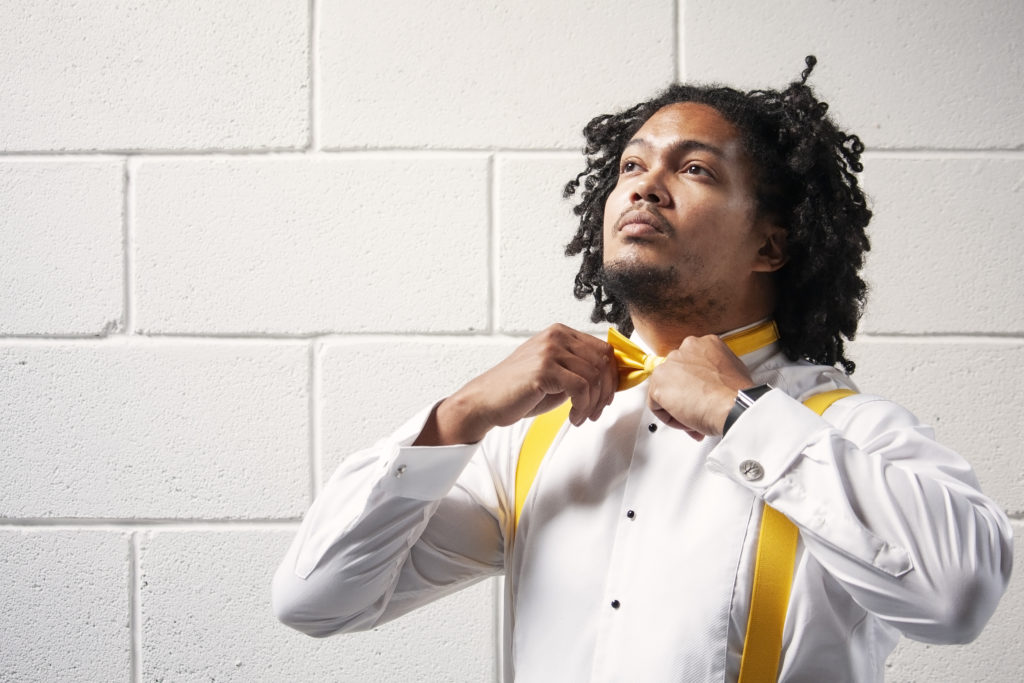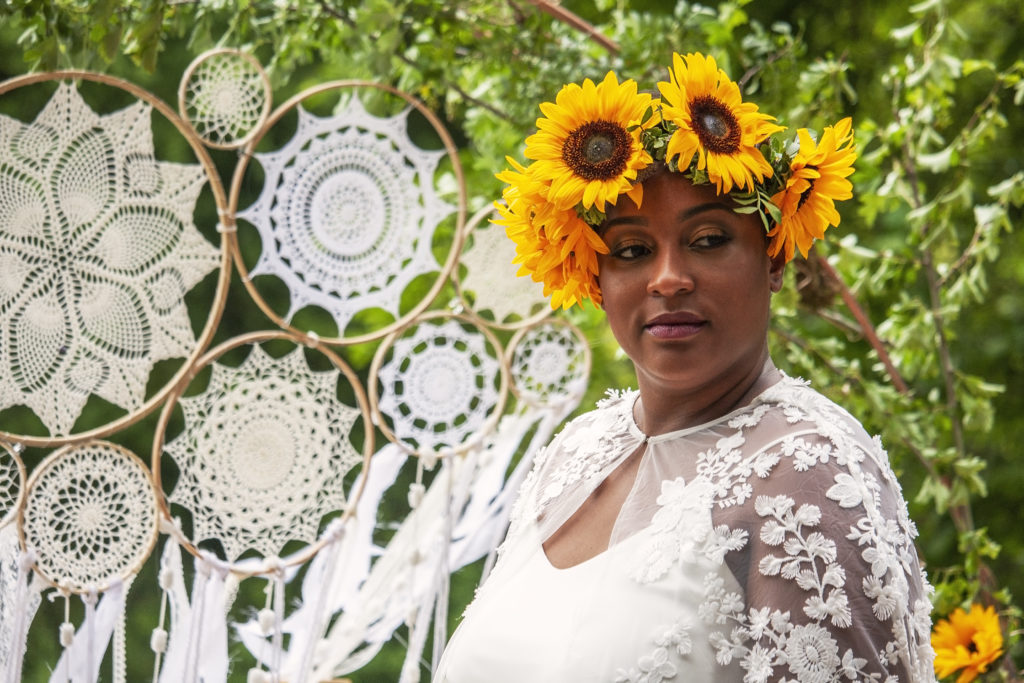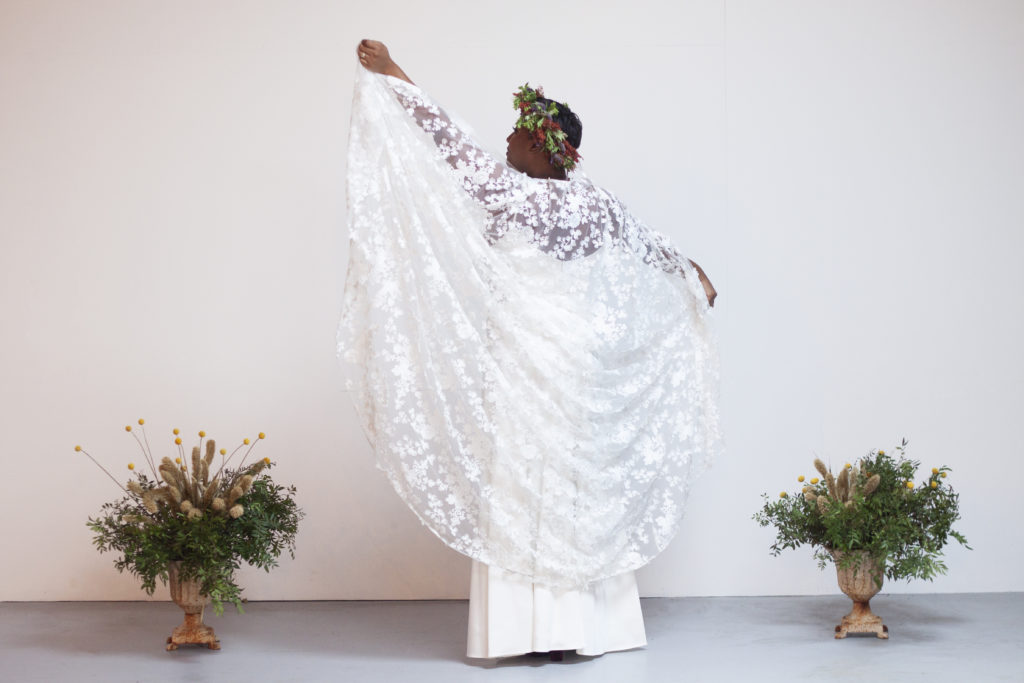 Bridal- Paper to Lace and Nortier Shallow
"The Dress – by Paper to Lace – Stunning in its simplicity, the bias-cut silk slip is beautiful on its own or layered with one of our skirts or capes. It is lined with silk satin which feel luxurious against the body."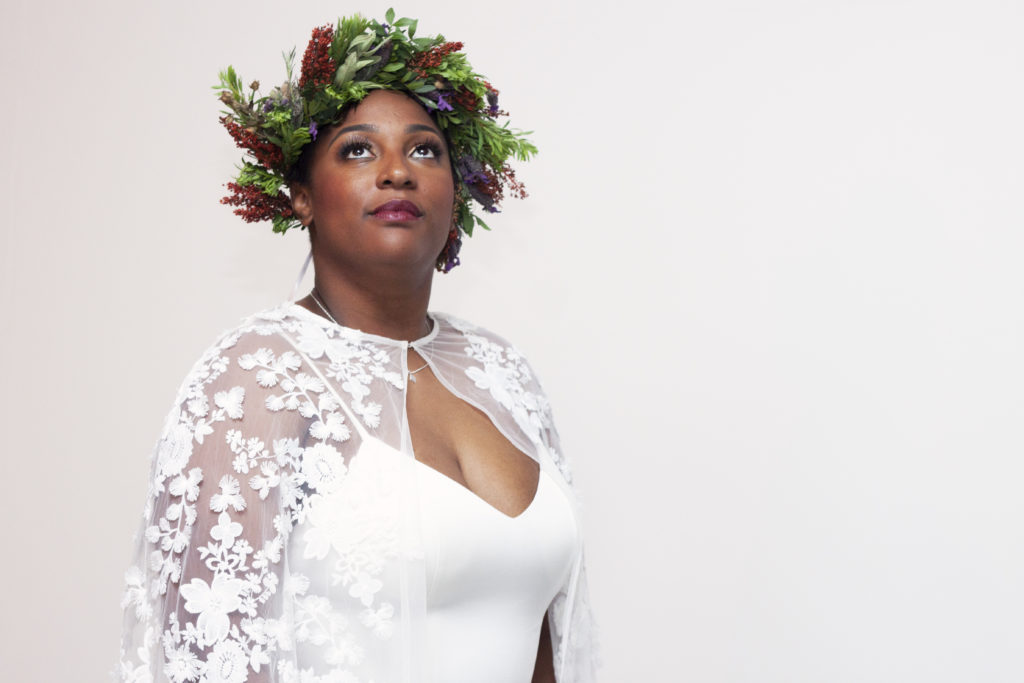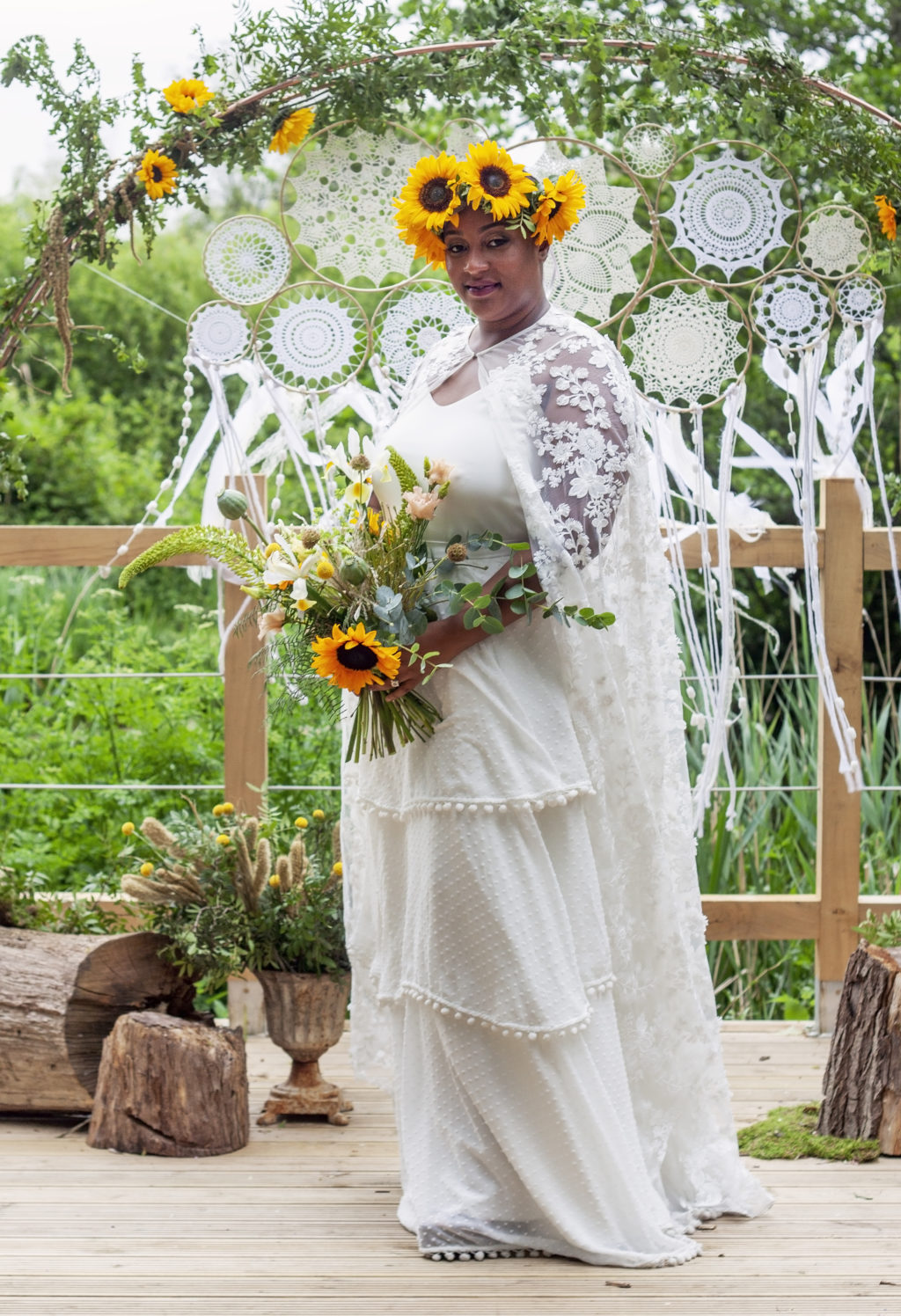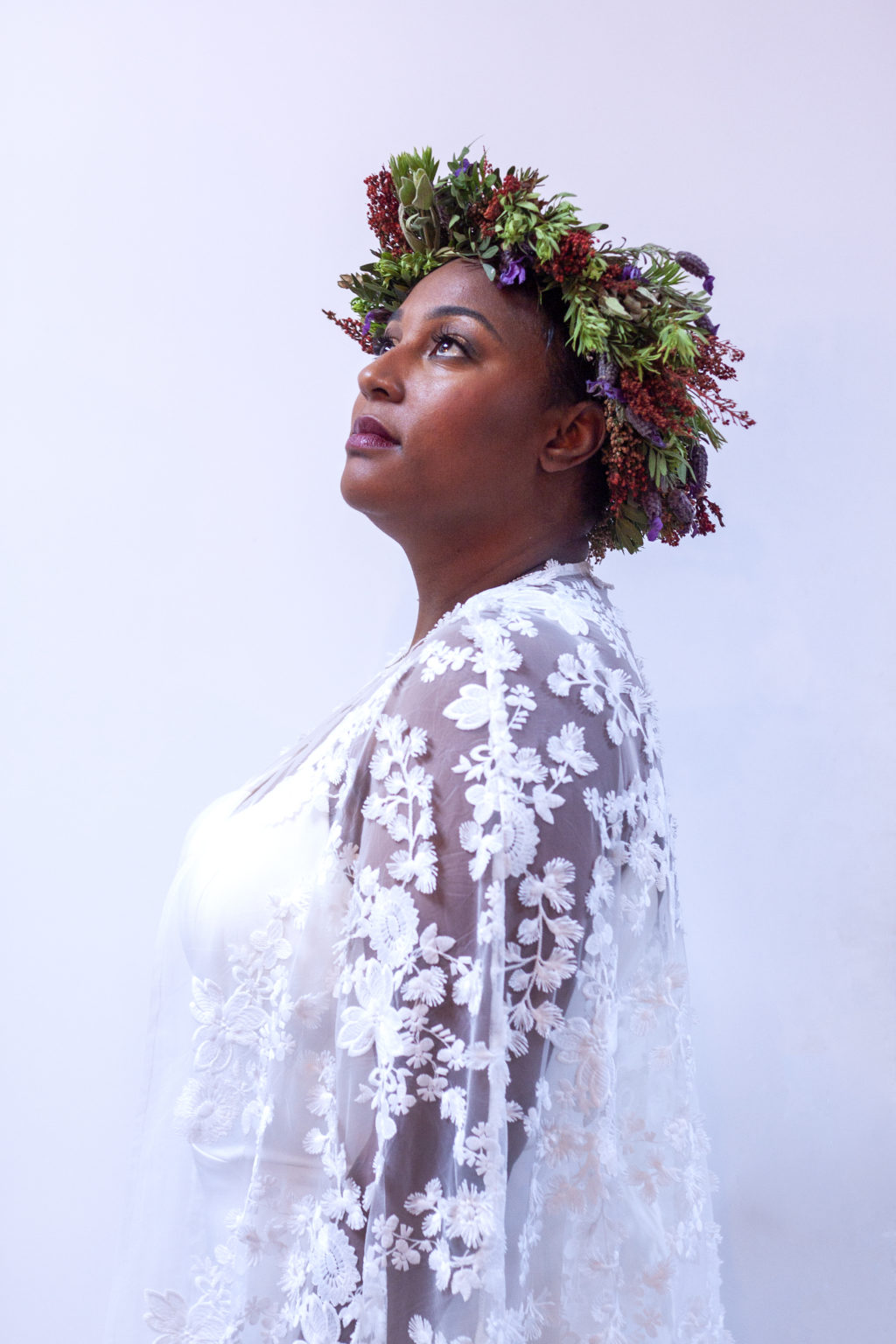 "The Skirt – by Paper to Lace – Inspired by Stevie Nicks and made from three tiers of dot chiffon with pom-pom trim, the Stevie skirt is full of volume and ideal for unleashing one's inner bohemian rockstar."
"The Bouquet. – Naturally tied with sunflower, foxtail, lily, iris, craspedia heads, poppy seed heads, apricot lisianthus, white agapanthus & eucalyptus"
"The Cloud Busting Cape -Dramatic and romantic, this floor length cape features 3D embroidered flowers. It makes a great alternative to a veil and is a fabulous way to transform your look throughout the day."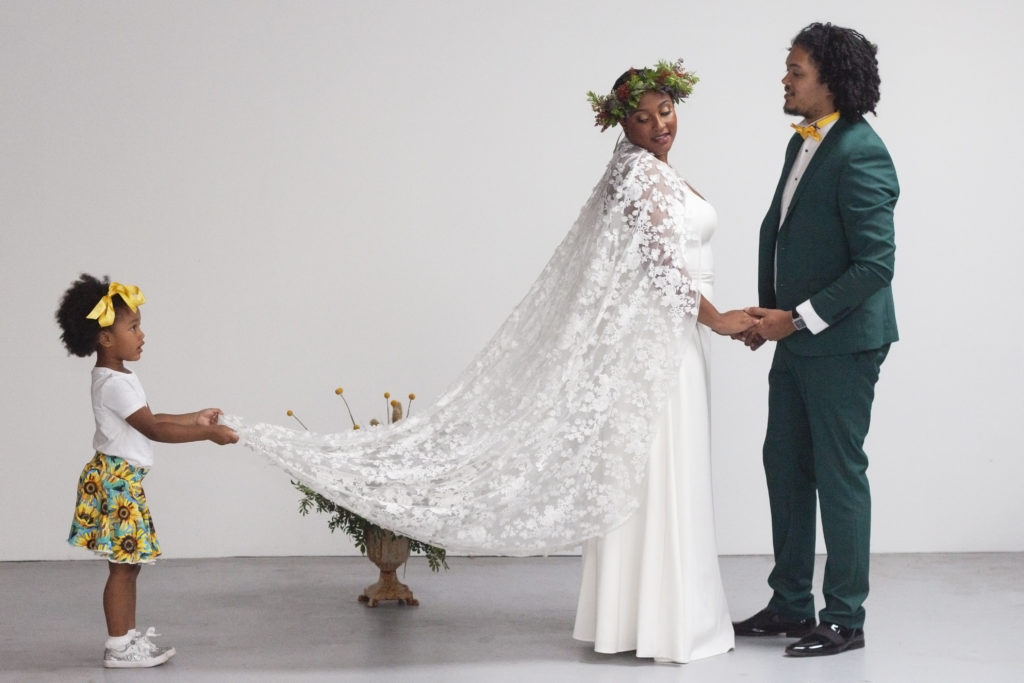 "How often do you get to wear a cape? Especially a floor length lace cape of dreams."
Flowers – Luv Shifting Flowers
"The Moongate was adorned with pistach bush, young oak branches and clusters of sunflowers and dried green amaranthus. In the rustic urns are naturally dried grasses and yellow craspedia heads. Around the caravan are white iris, tall foxtail lily, allium, yellow snapdragons, nigella seed heads, scabious seed heads, and dried grasses, craspedia, cotton and willow twigs."
"The hanging decoration has agapanthus, allium, cotton, sunflower, poppy seed heads and fox tail lily, this is echoed on the table with the addition of fluffy white ammi majas, palest peach lisianthus, white iris, fluffy green alchemilla, with dried umbrella fern and spiky aloe plants."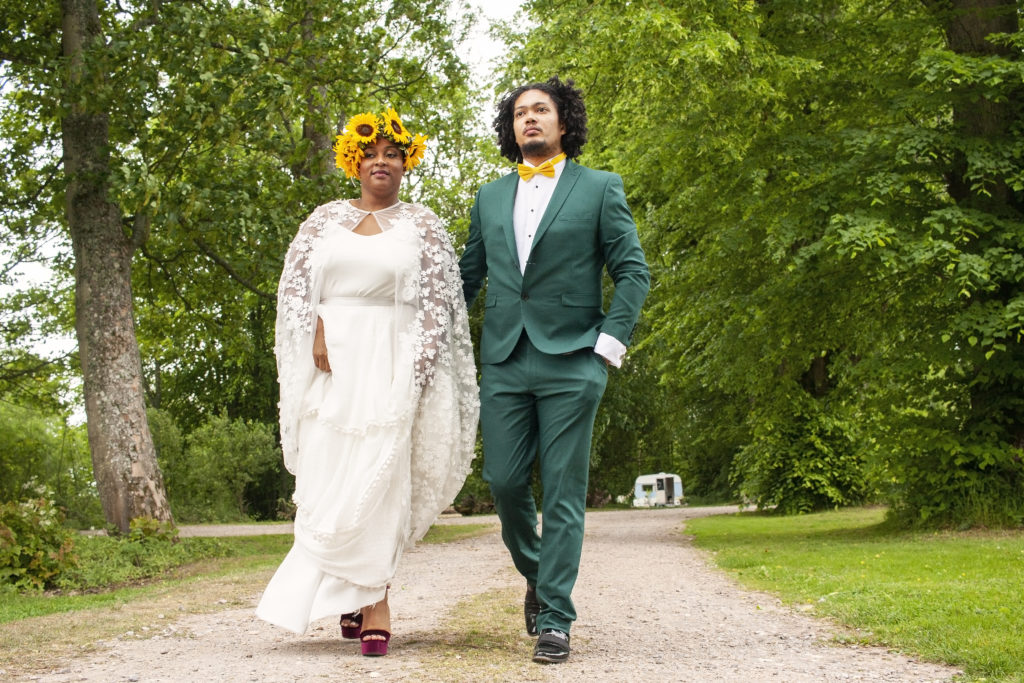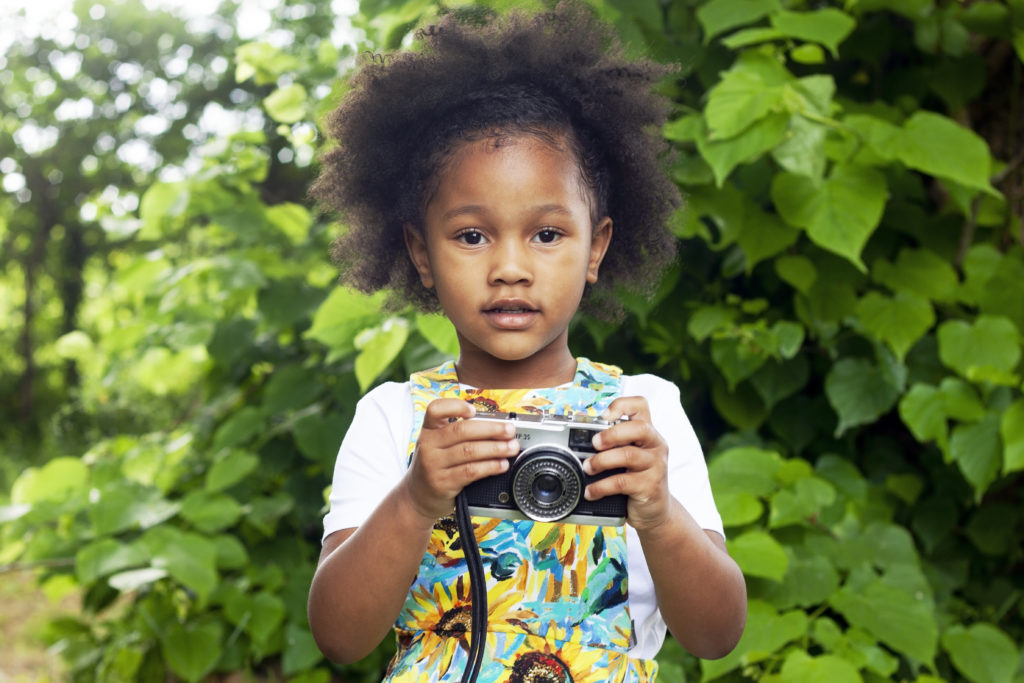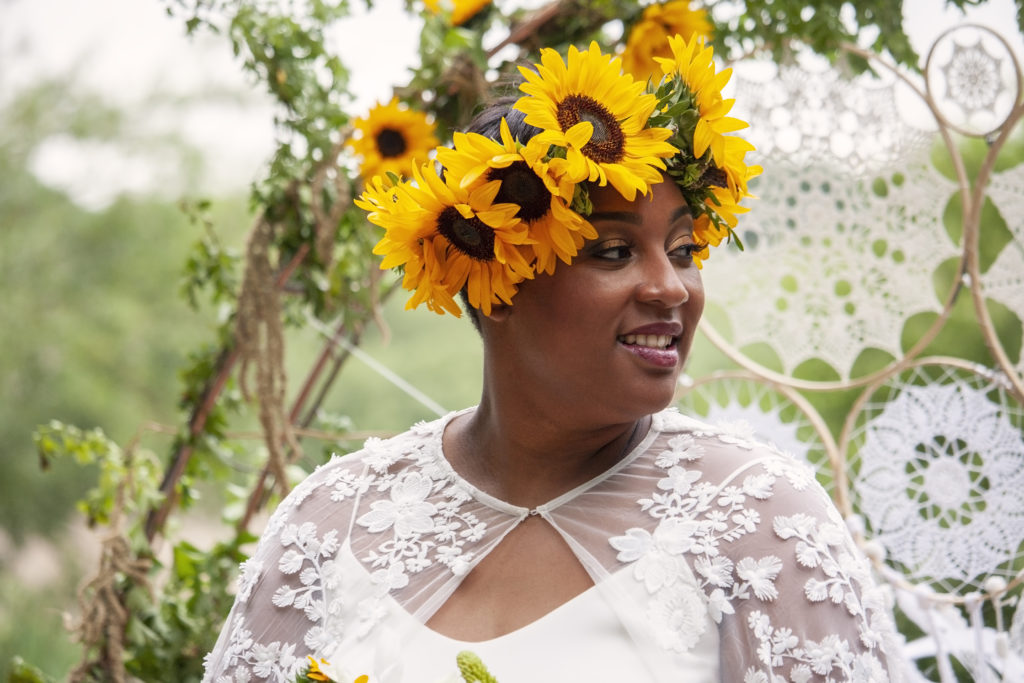 Makeup – Rachel Maslin MUA
"The makeup for this shoot was chosen based on a couple of things. The theme of the shoot being wild flowers and considering the intense colours that would be all around, I wanted to try and keep the makeup quite earthy yet enhance Shakira's natural beauty. The golden tones on the eyes was something I felt would work well given the vastness of sunflowers throughout the shoot and the berry red lipstick leant itself to the green, purple and red tones within theme and suited Shakira's tone perfectly. The base simply required a light coverage of foundation so as not to mask Shakira's naturally beautiful skin. A little flutter of wispy lashes of course completed the look!"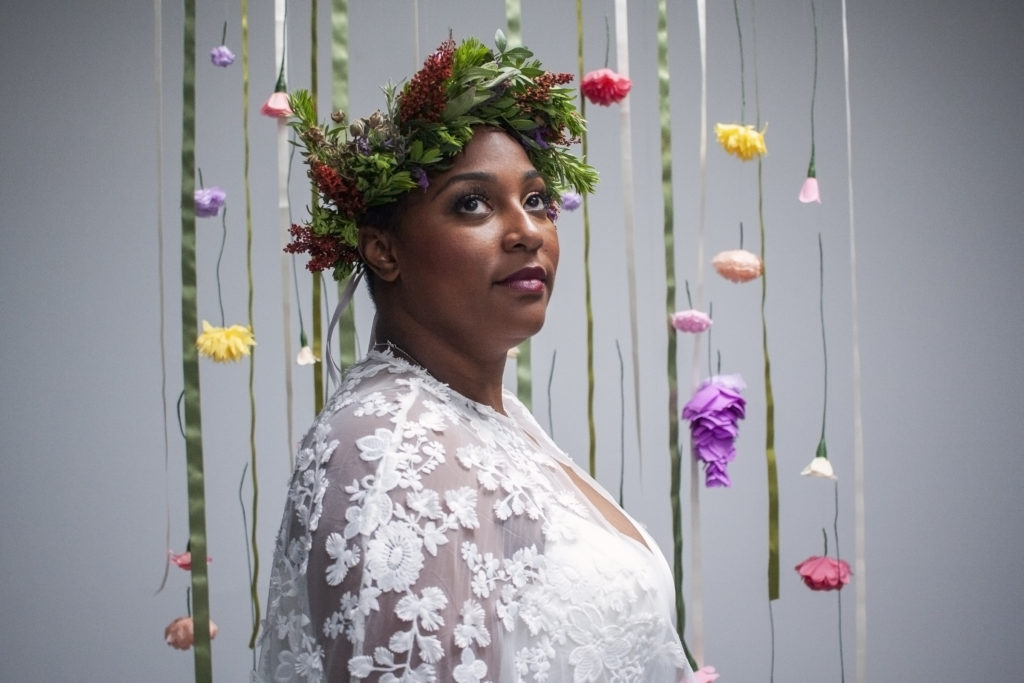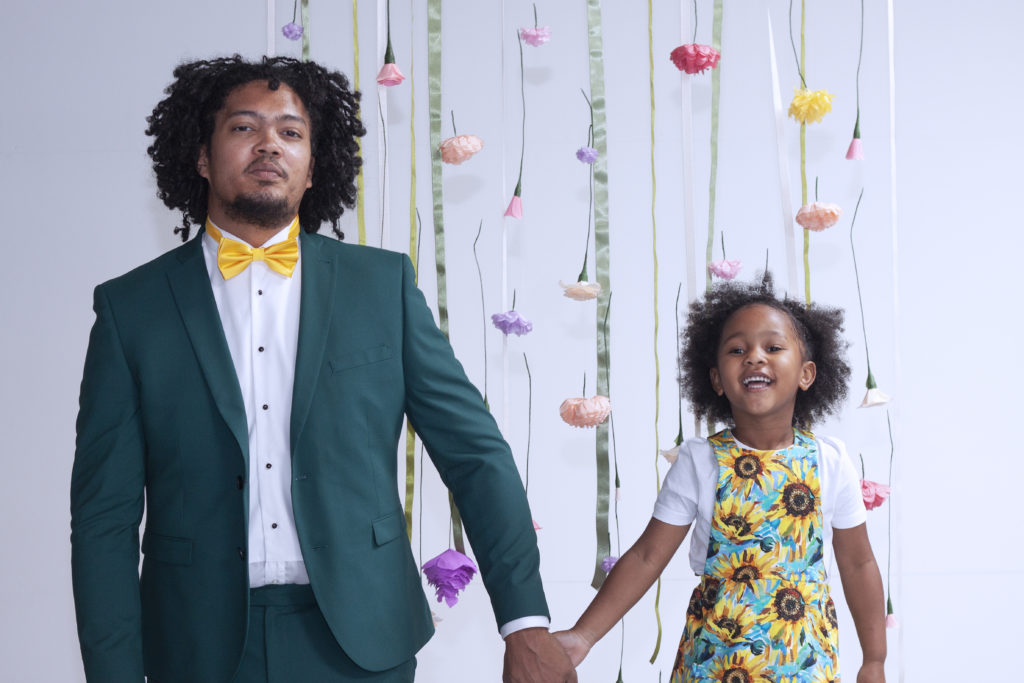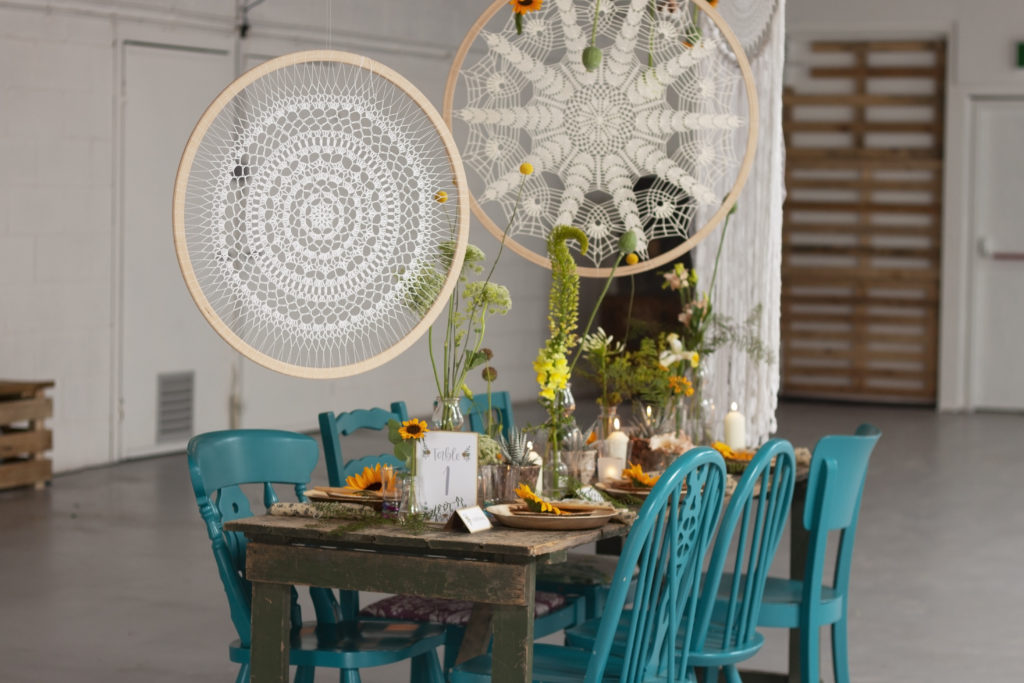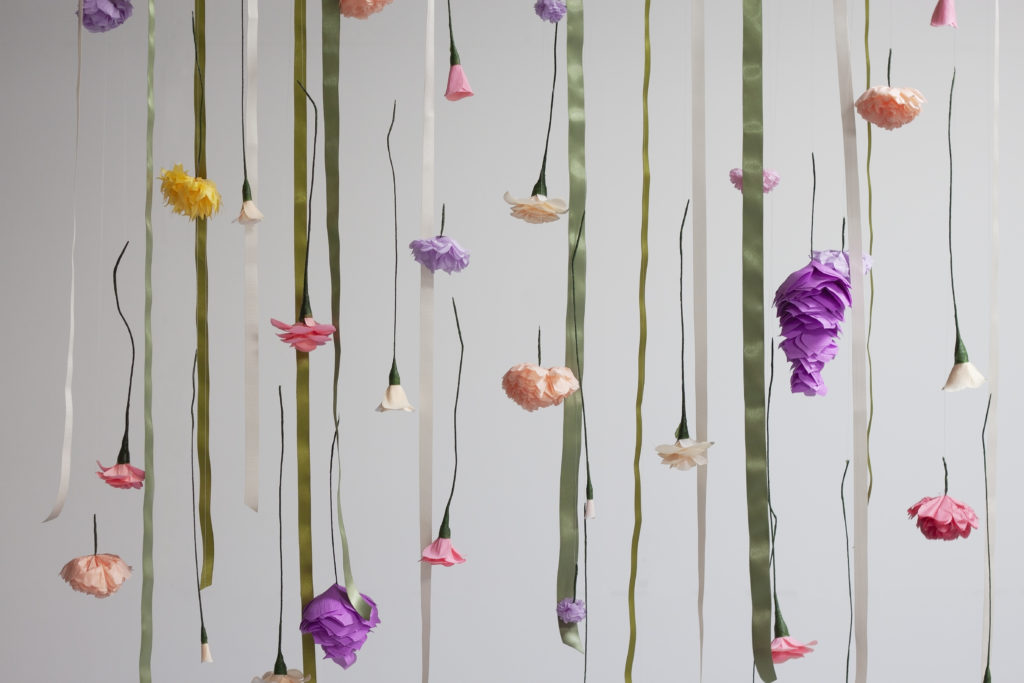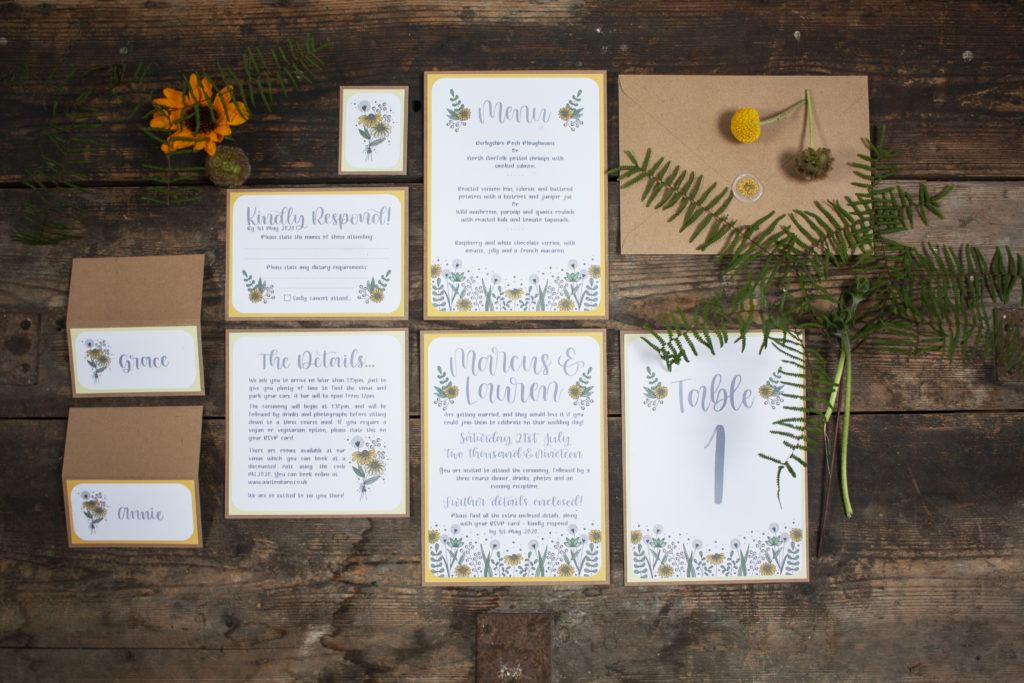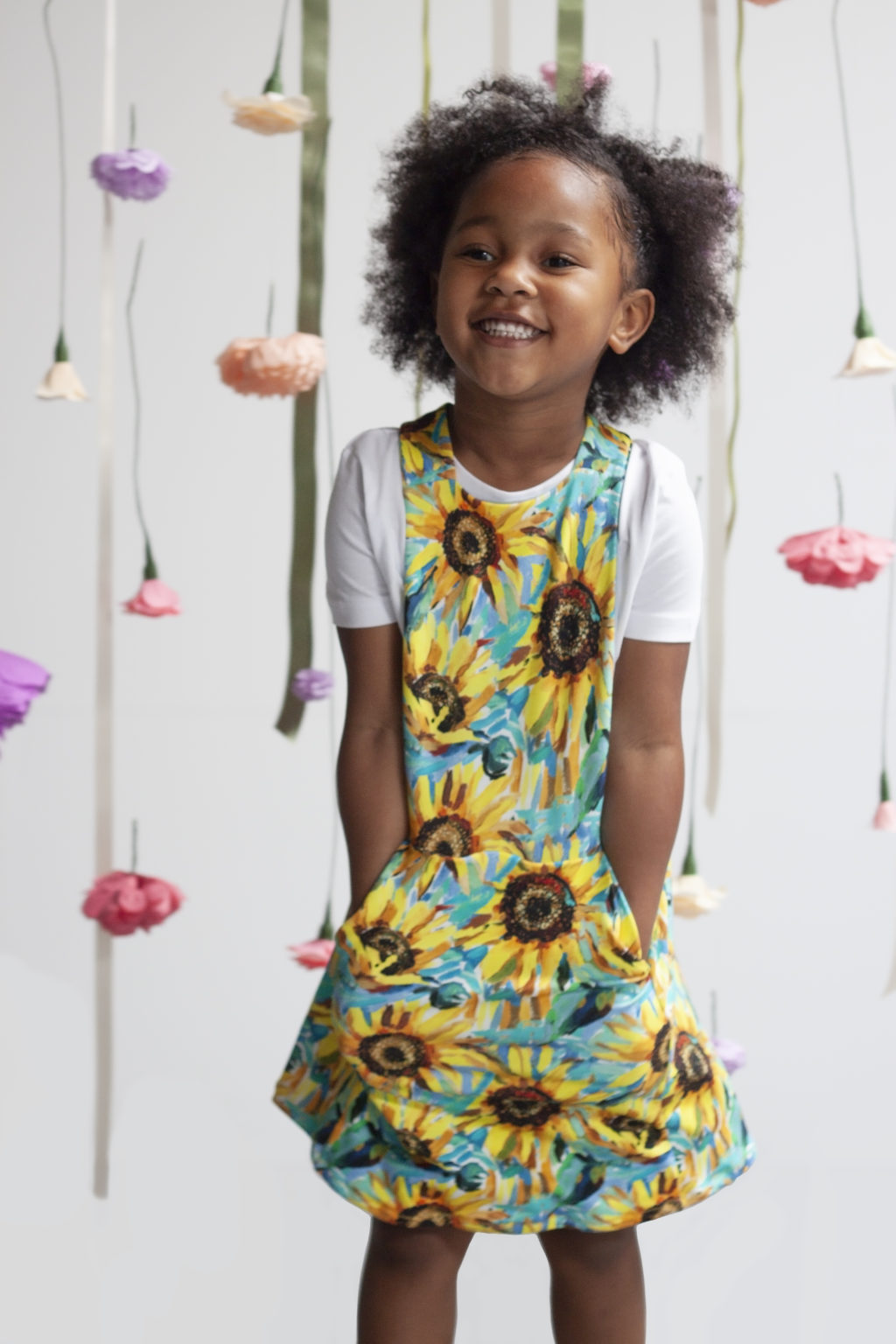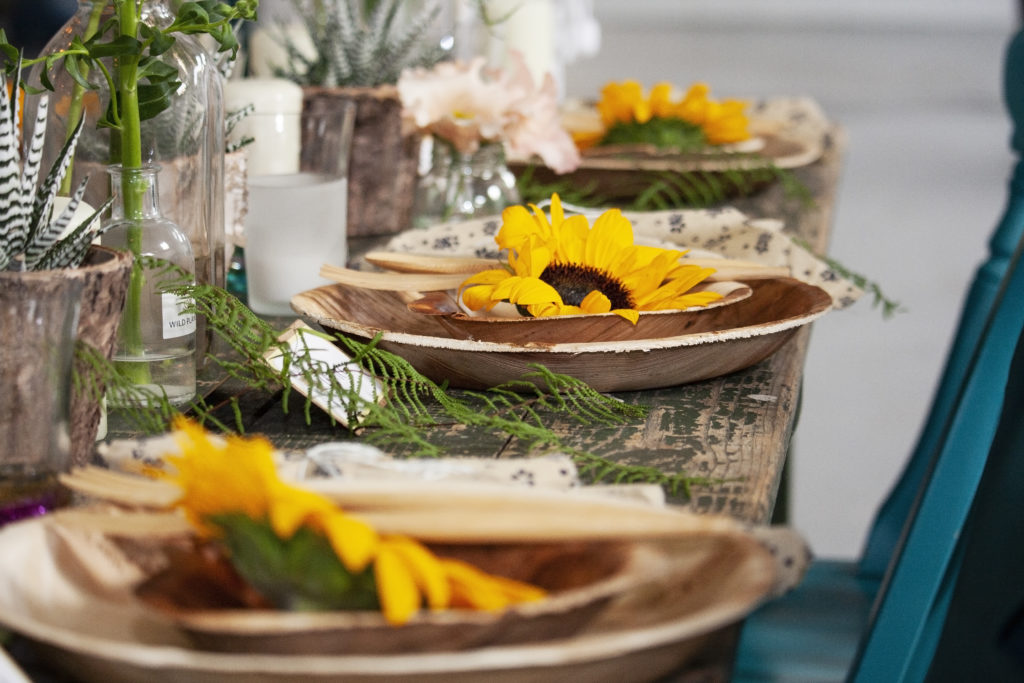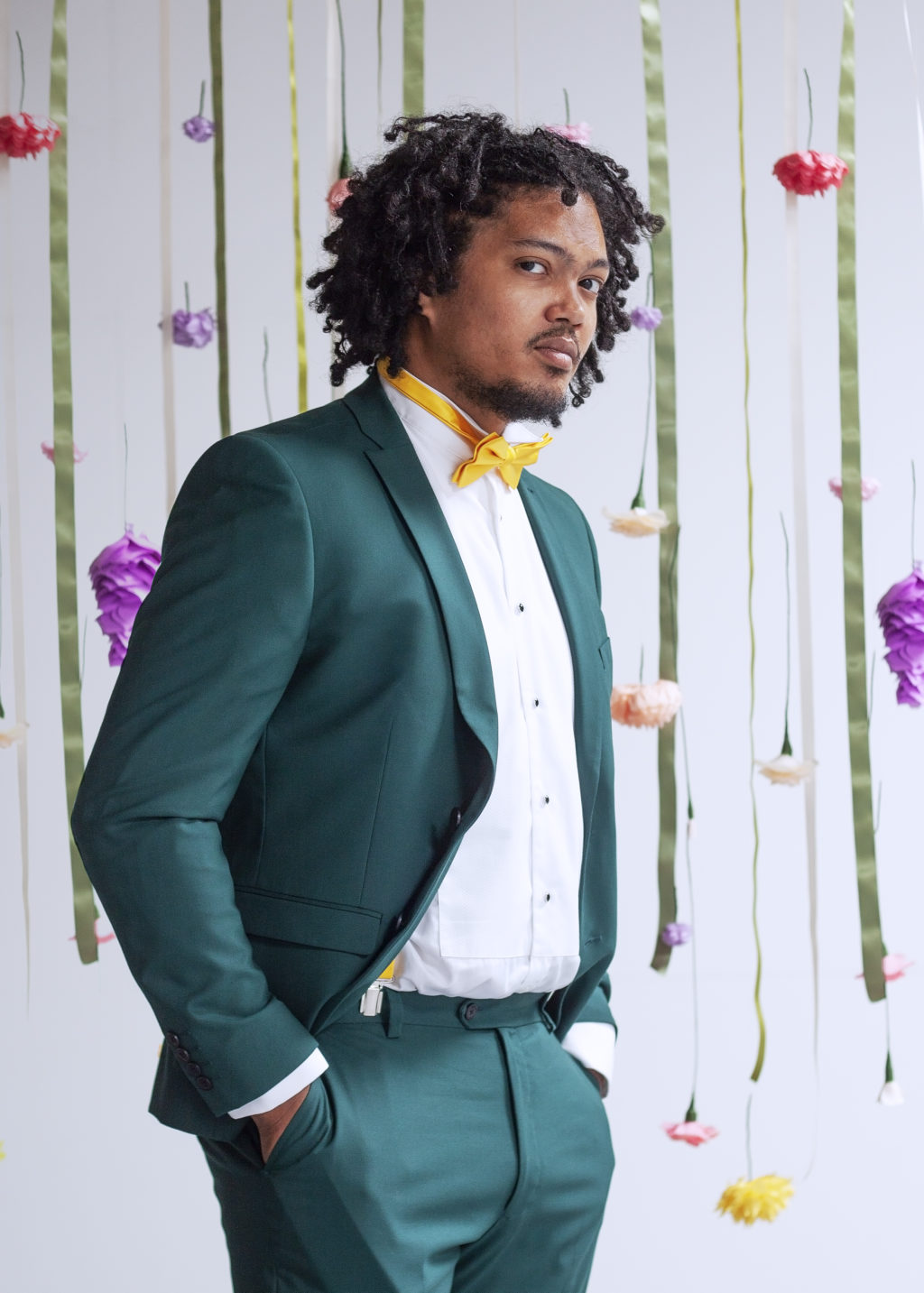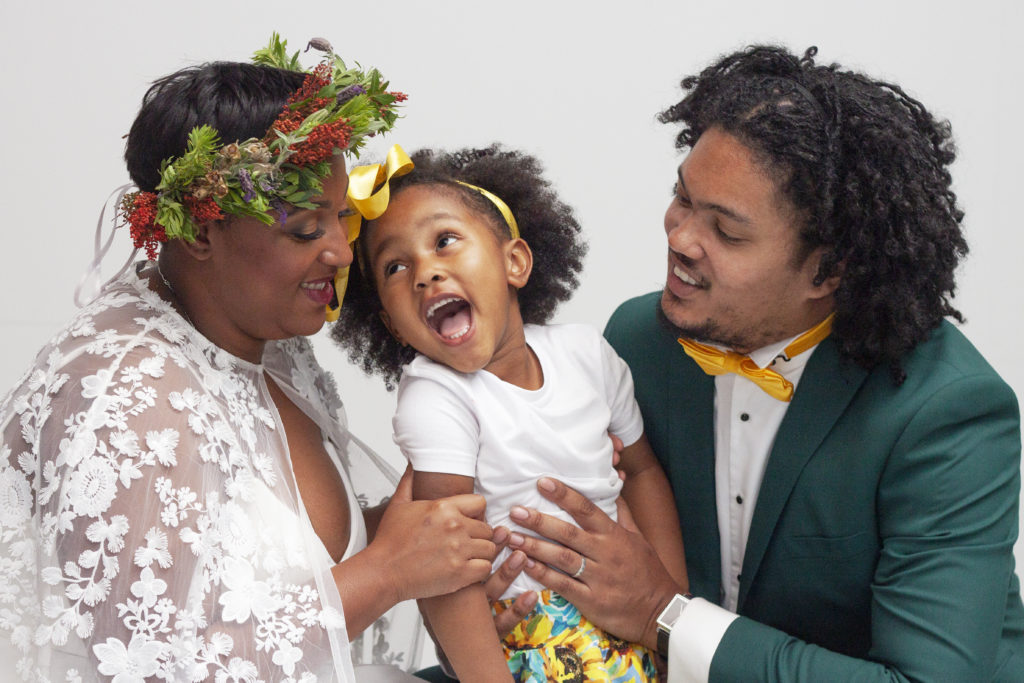 The Team –
Photography, video and coordinator – Aurora Collective @auroracollectivegram
Models – Shakira, Rob & Esme @notjustawhitewedding I Venue – The Barn at Avington @barnatavington I Stylist, coordinator & Floral Crown – Beth A Weddings @bethaweddings I
Flower hanging backdrop – The Wedding Spark @theweddingspark I Furniture and moongate– Purple Door Props @purpledoorprops I Doughnuts, cake and caravan – Martha holli's @martha_hollis I Florist – Luv Shifting Flowers @luvshiftingflowers I Tableware – Little Cherry @littlecherrytableware I Wedding Dress, skirt and Cape – Paper to Lace @papertolace I Second Wedding Dress – Nortier Shallow @nortiershallow I Dream Catchers – Not just for Nana's @notjustfornanas I Cocktails & Favours – The 43 Club @the43club I Jewellery – Daniel Darby Jewellery @danieldarbyjewellery I Stationery – Lunar Handlettering @lunarhandlettering I Make up – Rachel Maslin MUA @rachelmaslinmakeupartist I Menswear – Next I Bridesmaid outfits – Hubbley @hubbleycrafts I BTS Video & Photography – Jack Balsdon & Lewis Kenting @jackphotogram @lewiskenting I Chillout area & stylist – The White Stone Angel @thewhitestoneangel
IF YOU LOVED THIS LOOK PLEASE PIN IT!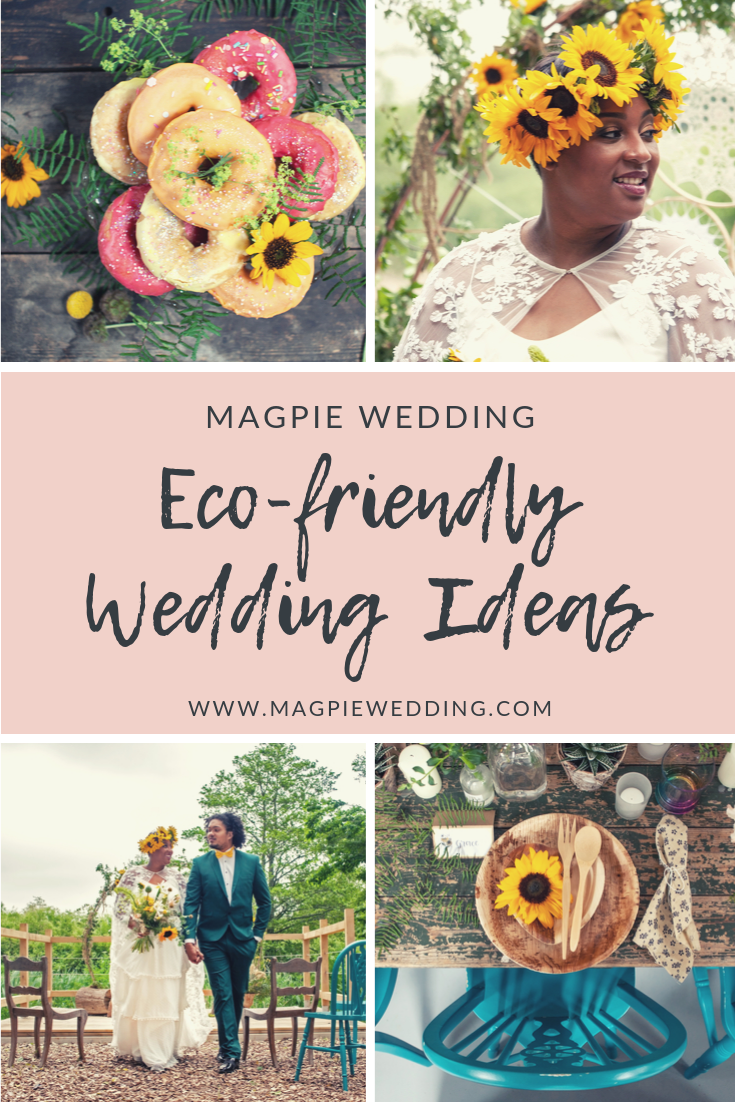 Having an Eco friendly wedding? You may also like:
ECO-FRIENDLY WEDDING FAVOURS: OUR TOP 10 IDEAS FOR YOUR WEDDING DAY
ETHICAL VINTAGE ELOPEMENT IN CAMBRIDGE WITH 1940'S DRESS AND STYLING