A beautiful lakeside wedding with dreamy boho vibes for today's styled inspirational shoot at Kentfield Country Estate, Offham, Kent. The team behind it wanted to create a small and intimate wedding filled with style and personal touches. Kent Celebrant Natalie of Rose & Grace Ceremonies and Wedding Planner & Stylist Natasha of Natasha Spencer Events wanted a concept that showed couples you can still have a dream wedding day, even with all the uncertainty, and aptly named it 'Love Will Find A Way"; we catch up with the team to hear all about it…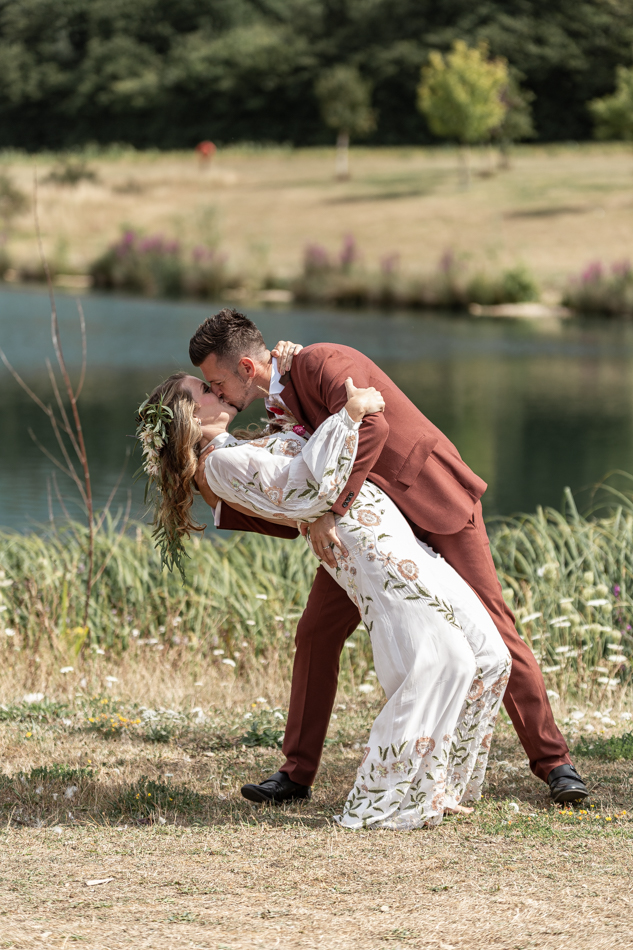 "In the year that many couples have had to re-think their dream day, we wanted to inspire couples with a wedding that is small and intimate but bursting with style and personal touches – from a unique ceremony, all the way through to the bespoke styling of a honeymoon bell tent. We wanted to create an atmosphere of love and passion, focusing on the couple and reflecting their personalities in every detail."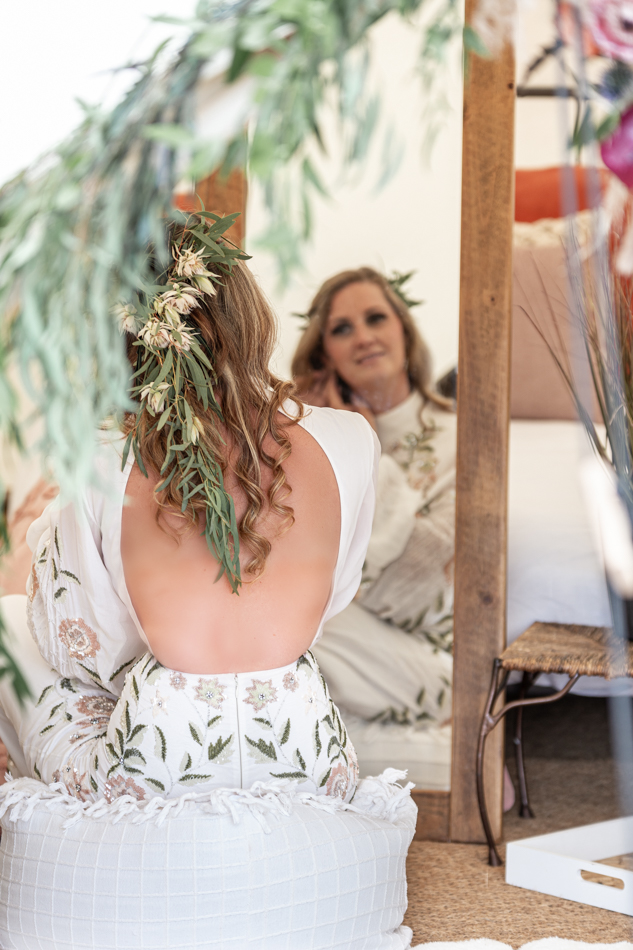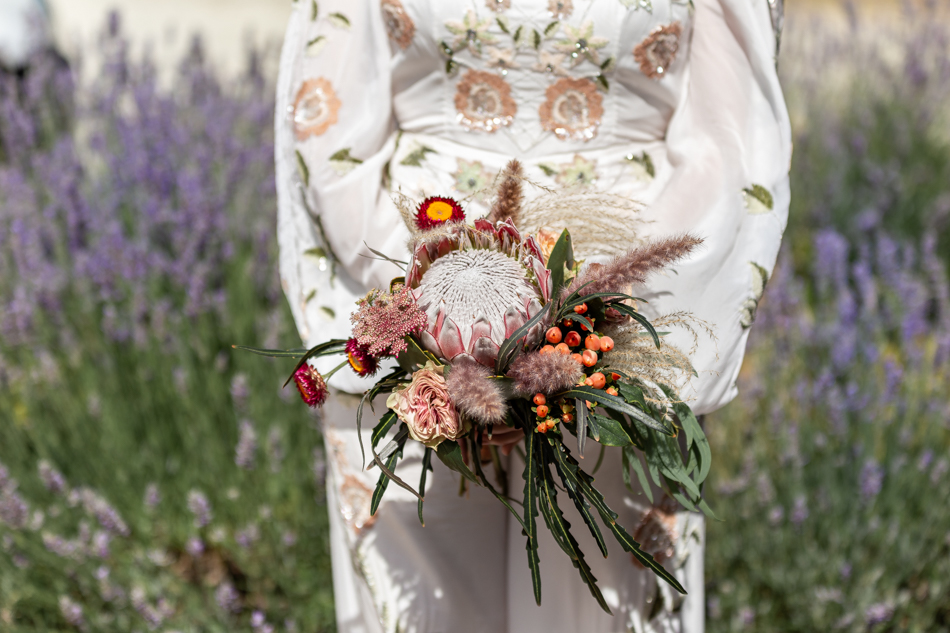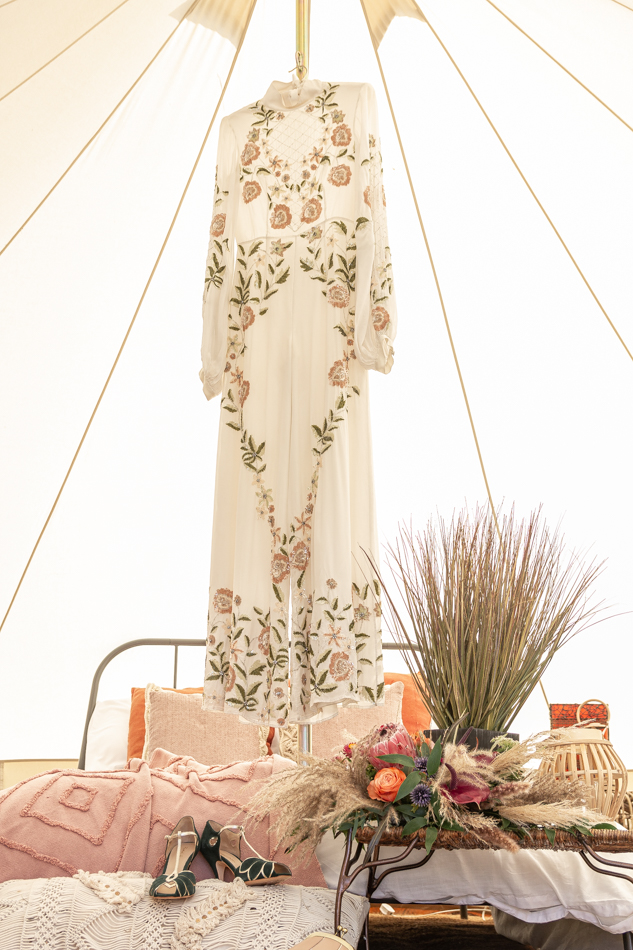 Styling – Natasha Spencer Events
"When Natalie and I first met, we discussed our ideal clients and the style of wedding we both love … relaxed, emotional and personal. We both admire couples who want to scream about their love from the rooftops and show their friends and family exactly who they are as a couple. The idea of an intimate gathering of closest friends was at the heart of our shoot. Inspired by this, the beautiful surroundings of Kentfield Estate and the seasonal late summer colours, we kept the style rustic and earthy with tones of pinks, purples and burnt oranges to stand out against the lush greens and watery tones of the landscape. From the stunning Bowen Dryden jumpsuit provided by The Bridal Boutique of Jules to the show-stopping cake by Blossom & Crumb, this shoot brought together so many of the beautiful details that we love about weddings. We gave the suppliers involved a brief but with the ability to showcase their talents and products. They did not disappoint!"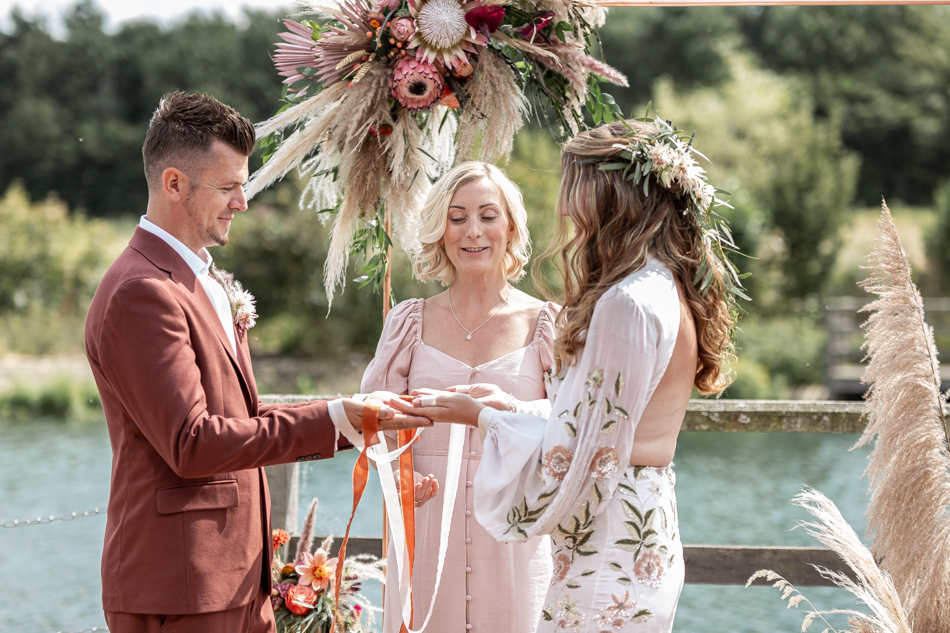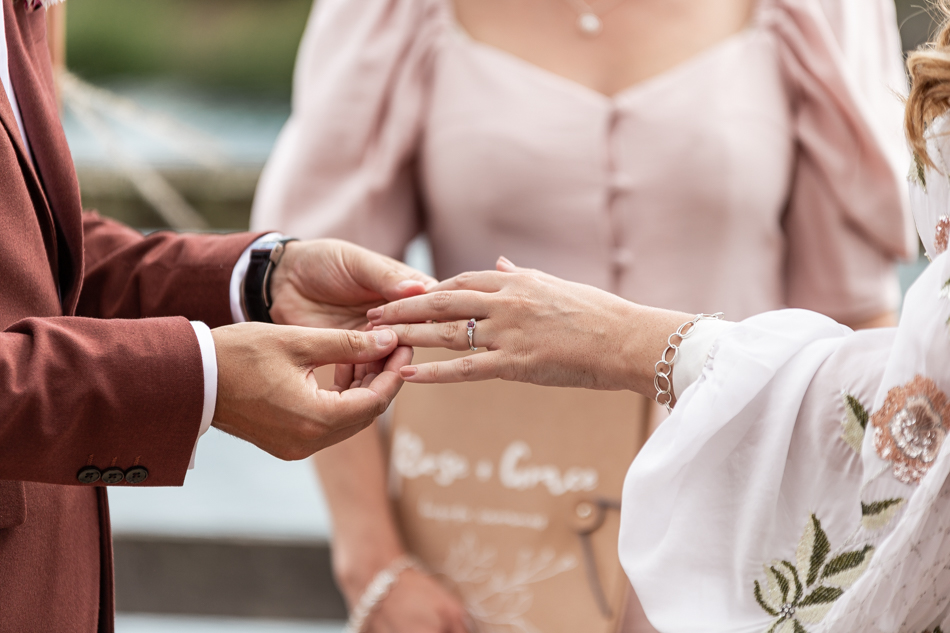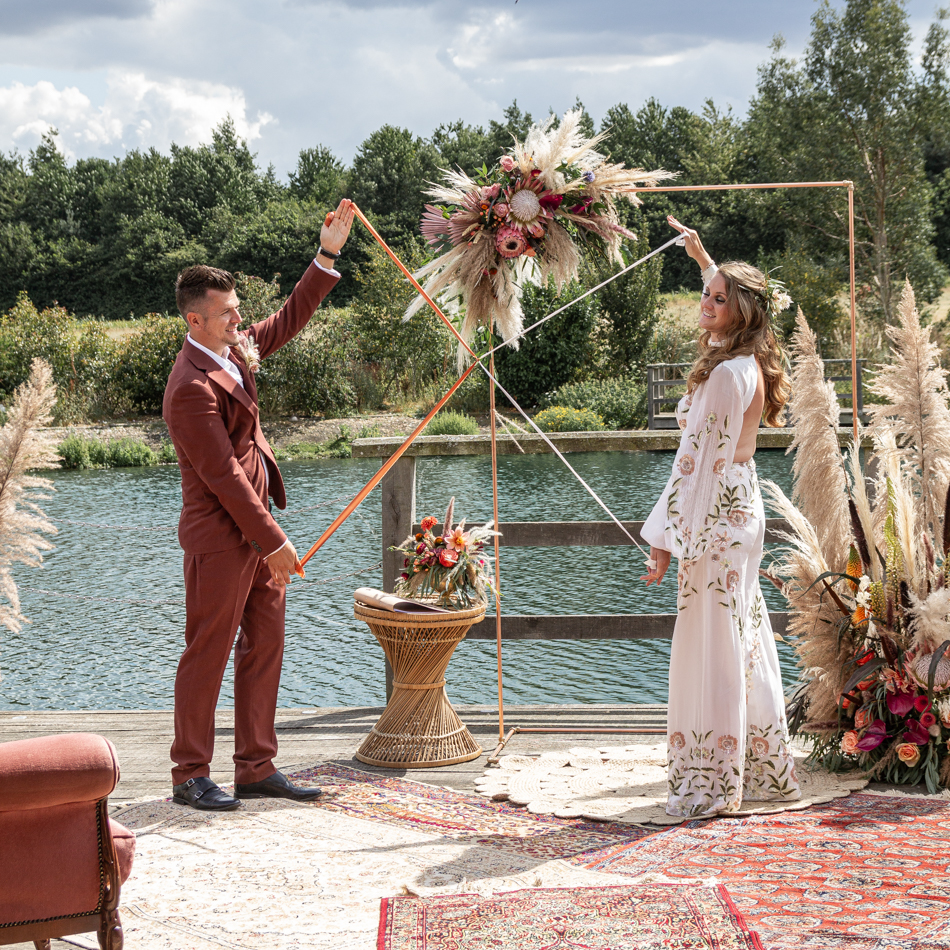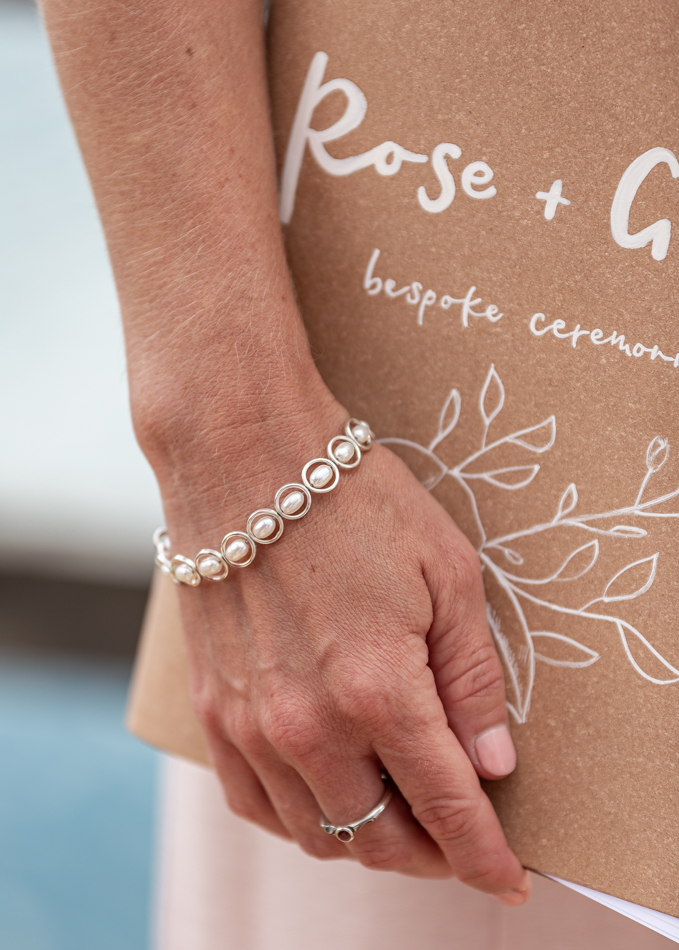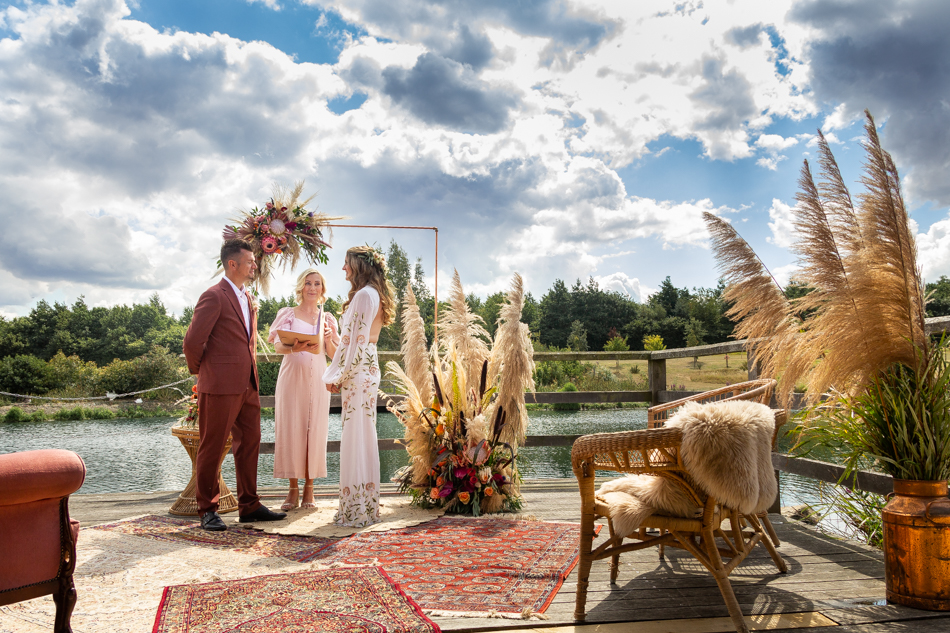 Celebrant -Rose & Grace Ceremonies
"The ceremony itself was set up on a small, wooden jetty with the beautiful lake behind. It incorporated a modern hand fasting using hand-dyed silk ribbons by Silk and Purl, alongside personalised vows and a ring exchange. The rings were provided by Lawley Fine Jewellers, who design and craft handmade, bespoke jewellery in their Kent studio. We were lucky enough to have a real couple model for our shoot, so, as I do for every couple, I wrote Harriet and Blane their very own ceremony. This meant that we could create true romance and capture the special moments as if it were a real ceremony. We hope that 'Love Will Find A Way' will inspire couples to design a wedding they love, no matter how big or how small, and one that truly reflects their own personalities."
Photography – Alison Wonderland Photography
"From a photography point of view this styled shoot was a dream! The Bride and Groom on this shoot were a real couple, so the connection was real, and just as all my couples do, with just a little guidance, they relaxed and lost themselves in the special moments. A top tip for wedding couples is to imagine in many years' time, looking through your well-loved album … what images do you see, how will your story go, what will fill you with emotion? Your wedding photographer should be someone you feel happy and excited to discuss this with. The theme here was 'love will find a way', with natural, soft, earthy tones, the vibe boho, low key and romantic. Knowing this in advance, I was able to capture all of these elements and tell the story of the day. Remember to have lots of chats with your photographer about what you would like them to capture. After all, the love story of your day will be read in picture form and treasured for generations to come."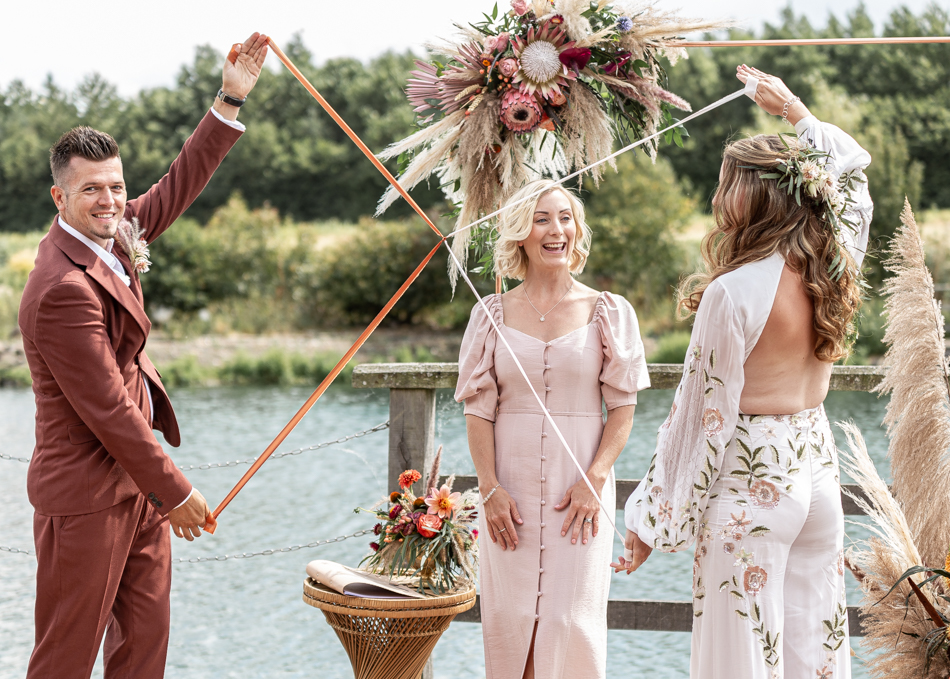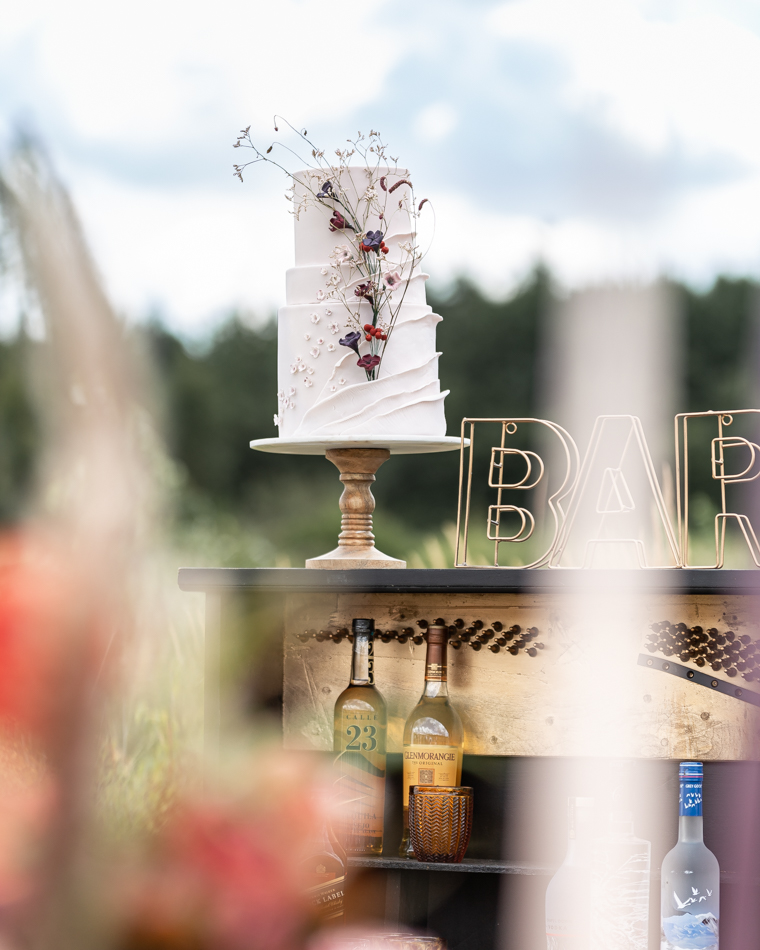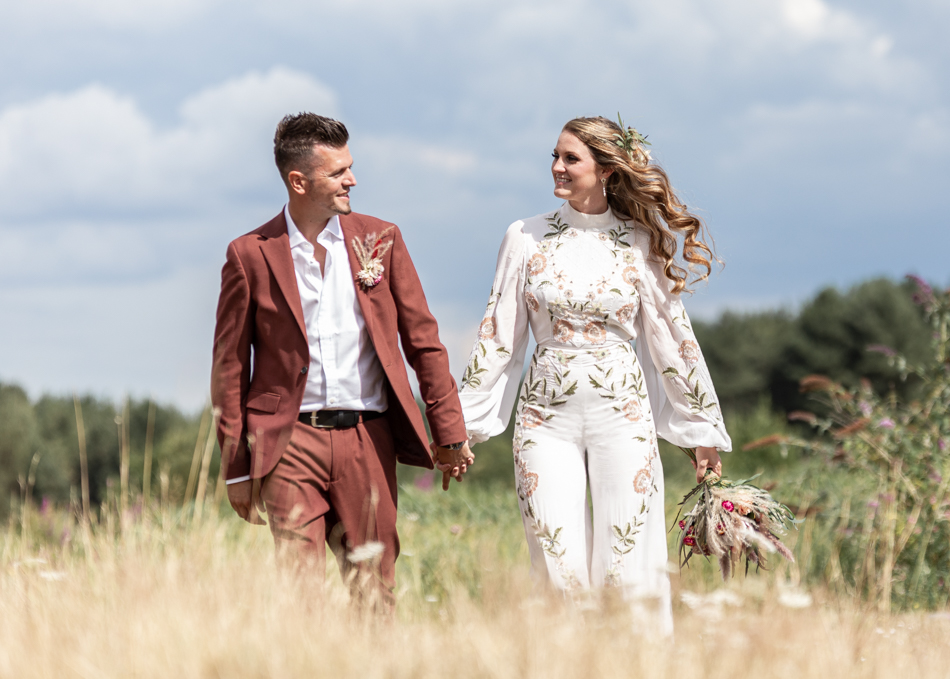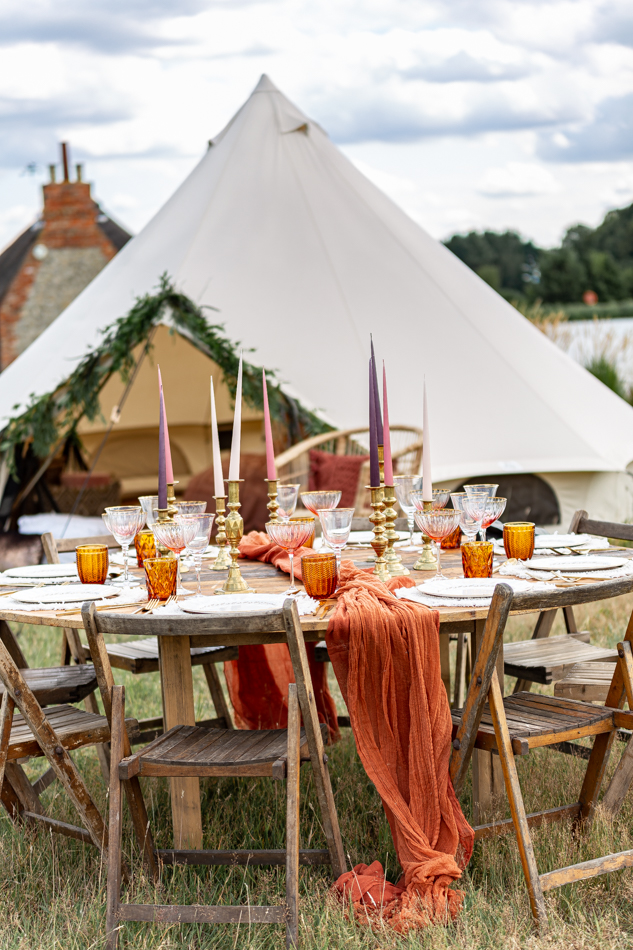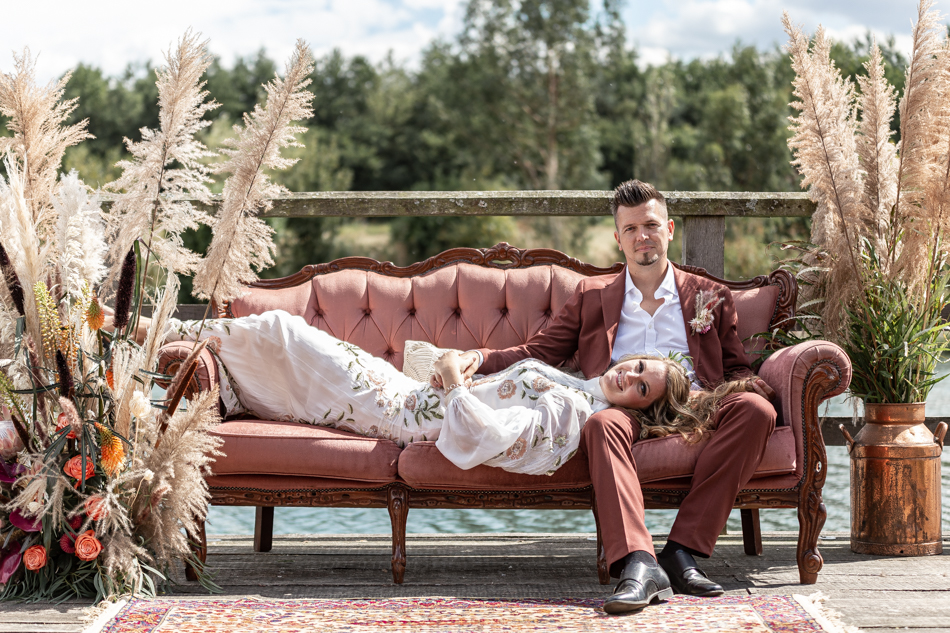 Venue – Kentfield Country Estate
"Our beautiful estate in the heart of Kent provides the perfect countryside-wedding venue for couples who wish to enjoy a ceremony and celebration in a tranquil lakeside setting. We are off the beaten track and offer total privacy yet only a 5-minute car drive to the bustling village of West Malling. Whilst we have the stunning lapa as a ceremony space and the abundant nature, Kentfield is a blank canvas for couples who wish to create a unique and bespoke day. The photo shoot comprised fantastic wedding day suppliers and we created a wedding that we would all want to attend! For those couples inspired by the relaxed, informal and rustic design of Kentfield, we are very happy to show them around our beautiful estate."
Catering– The Swan
"Over the years we have worked closely with Kentfield Estate providing catering to a range of celebration events held under the lapa beside the lake so we know the venue well. For every wedding we ensure that we tailor the food and drink to suit the couples' needs. When designing your wedding breakfast it is important that you choose the type of food that will fit with the vibe of your day. For 'Love Will Find A Way' we created sharing platters, which fit perfectly with an informal wedding, since guests become relaxed when helping one another to delicious spreads of food!"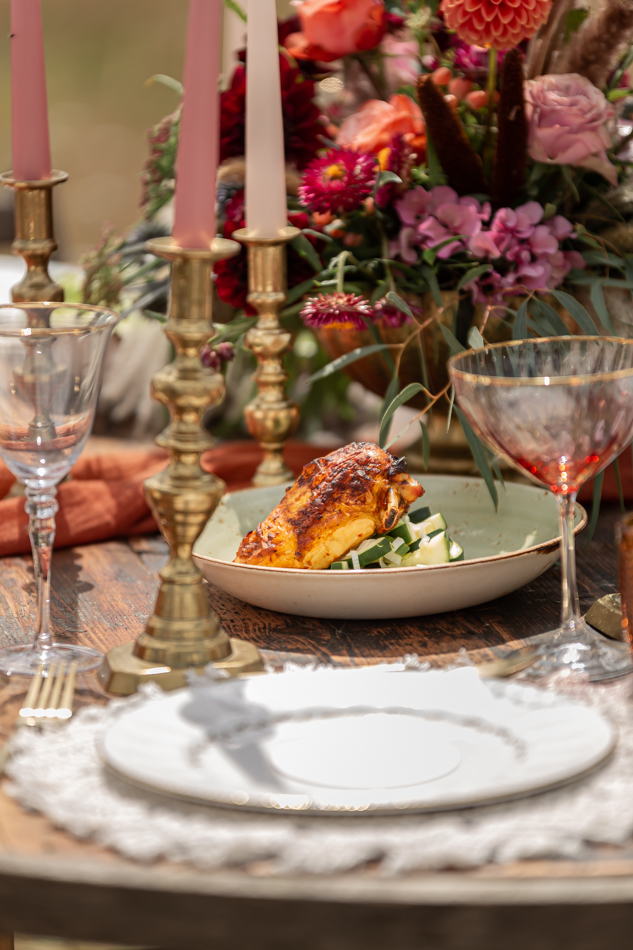 Flowers – Coco & Bloom
"When planning the floristry for this boho, elopement photo shoot, Coco & Bloom's inspiration was the natural backdrop of the organic lakeside location. We wanted to incorporate native flowers and waterside grasses, pampas and reeds. This led us instinctively to select dried flowers paired with fresh bloomsin autumnal tones ofrich orange, dusky pink and deep reds. This is a flower palette that can be used throughout the year and we loved the opportunity to incorporate seasonal blooms in the arrangements from our very own cutting garden. Our selection of garden roses included Lilac Wonder, Dividend, Kahala and Bourbon Street, which we added in alongside protea, echinacea, sunflowers and an array of silver and natural foliage to create different textures.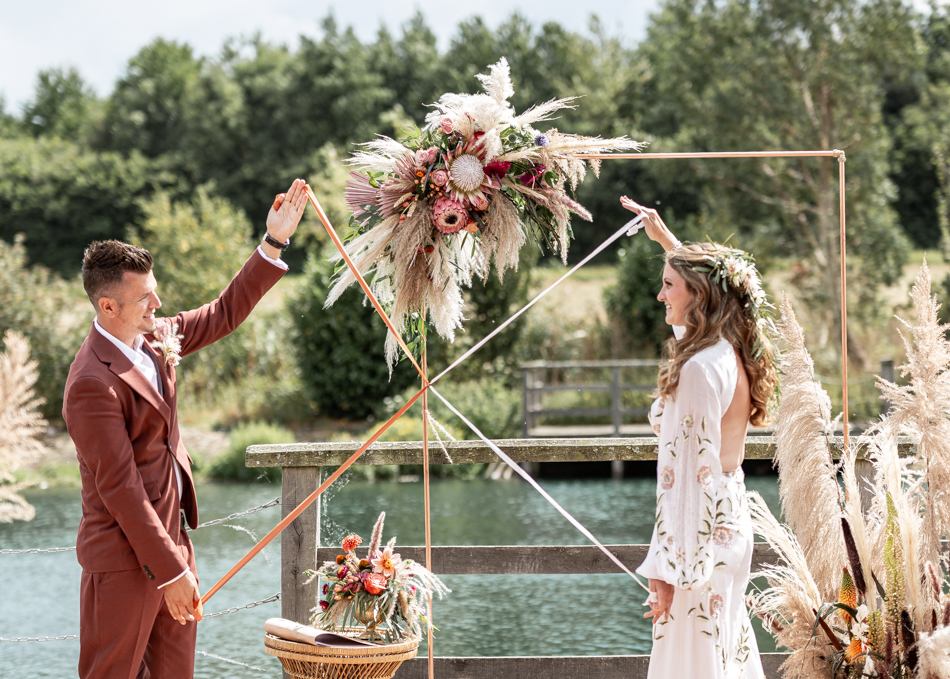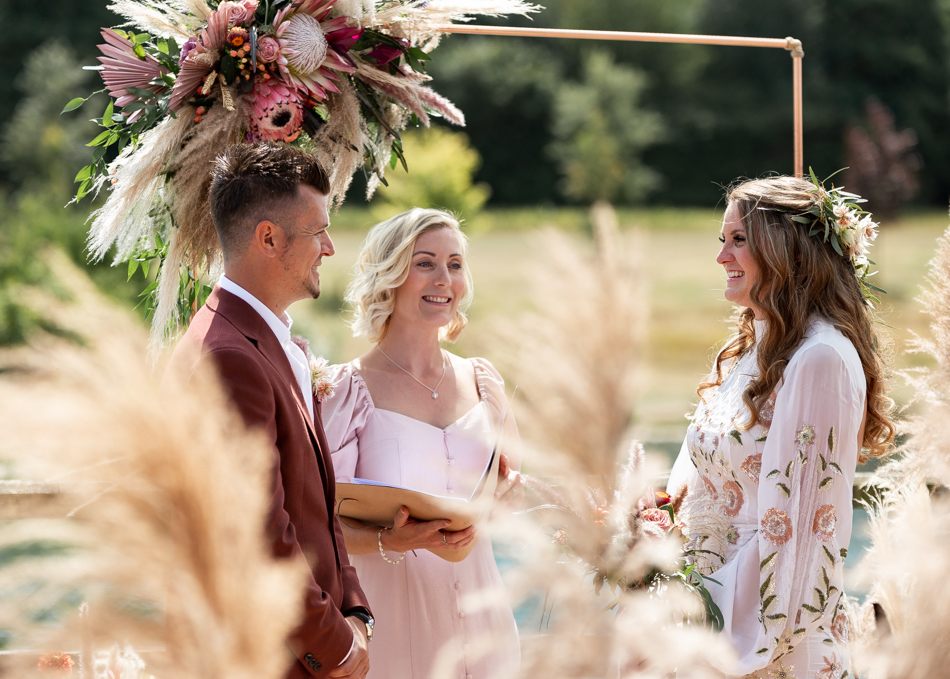 Signage – Whilst Jude Sleeps
"Bespoke lettering and signage enables couples to have something personalised and unique on their wedding day. When choosing the wording for the hand-painted welcome sign I wanted to represent the frustrations of all the couples that have had to postpone their wedding day, but also capture the joy of the day finally happening, and so the name 'Love Will Find A Way' was born. The beauty of paint is the colour options it gives you. Like I did for the welcome sign, you can have it mixed to perfectly match your colour scheme. My favourite piece for this shoot was the hand painted ceremony backdrop -seeing it moving in the wind adorned with the amazing flowers from Coco and Bloom filled me with such joy! A fabric banner is a great choice for a ceremony backdrop – it's versatile, it can look great inside and out and it's a perfect way of transforming a large space into one that has style and personality."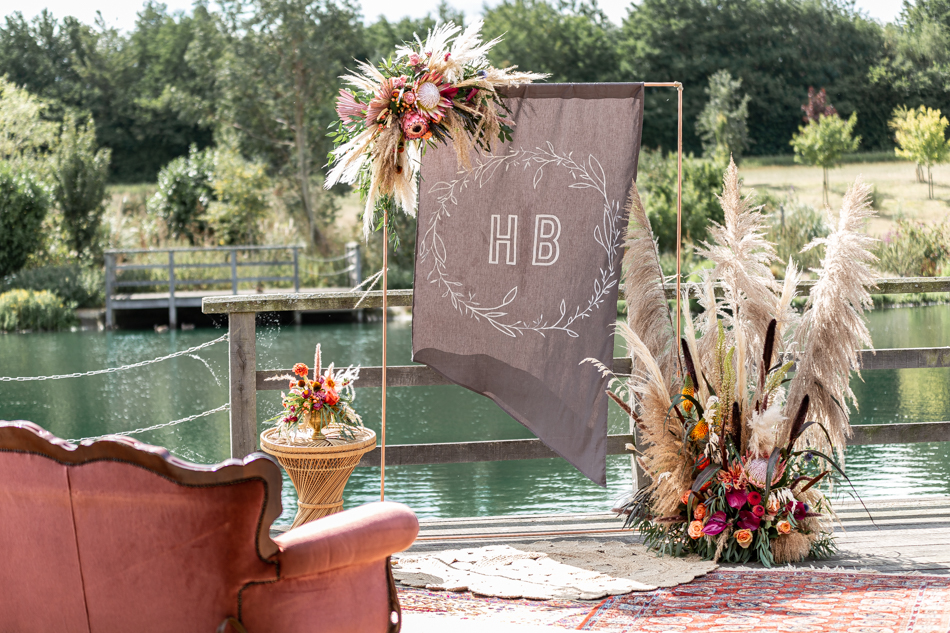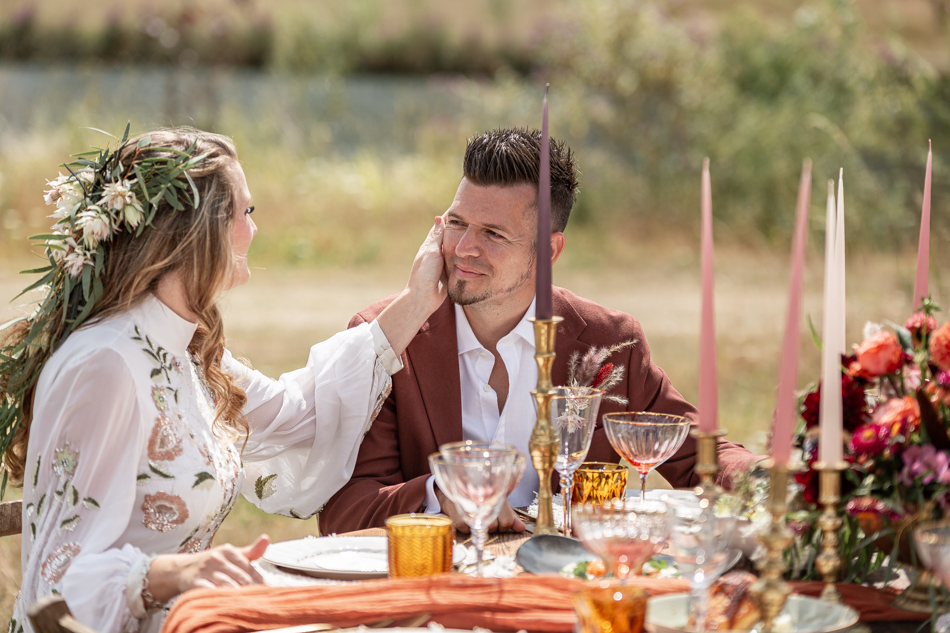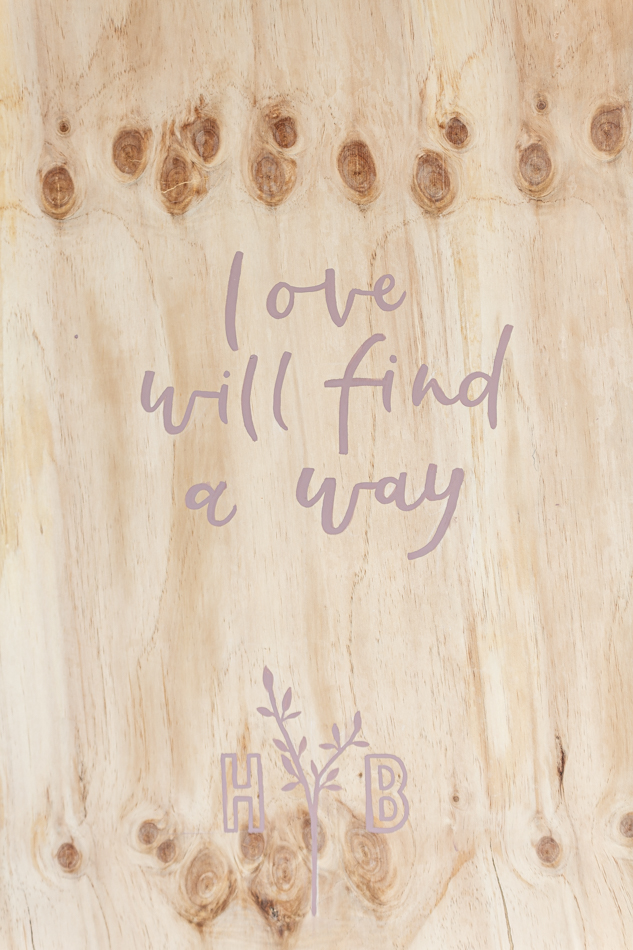 Hair – Kent Bridal Hair
"Kentfield Estate provides the most beautiful and natural backdrop for a wedding. I wanted the style of the bride's hair to tie in with the rustic landscape as well as her gorgeous bohemian jumpsuit. We had decided that we would incorporate a flower piece into her hair so I created very natural, loose curls so as to let the statement flower piece do the talking. I selected the flowers from Coco and Bloom's beautiful selection on the day so that the hairpiece would match perfectly with the other florals in the shoot. I'm so pleased with the finished look. Pinning real stems into the hair is a wonderful way of creating a statement piece for a soft, boho look."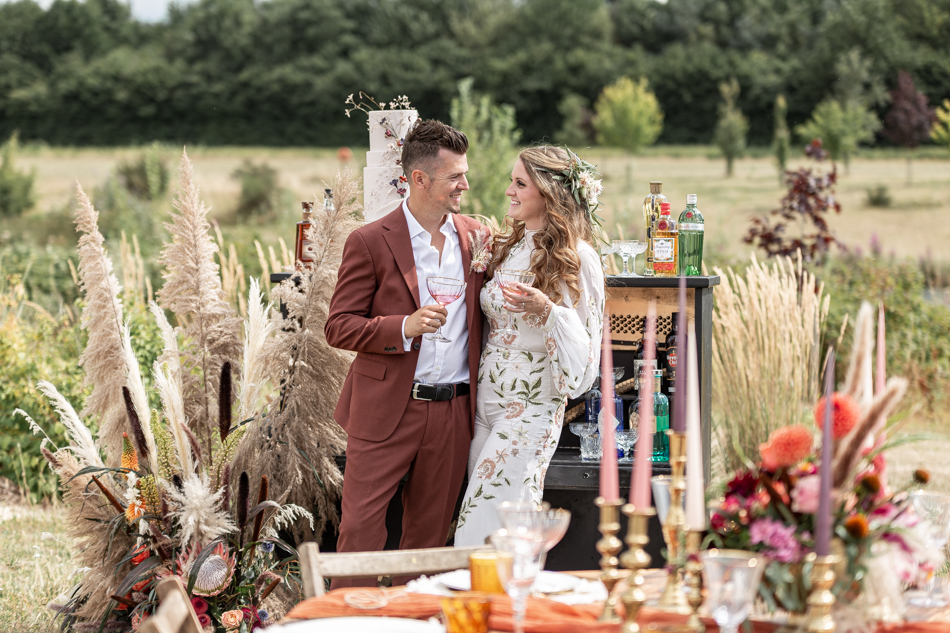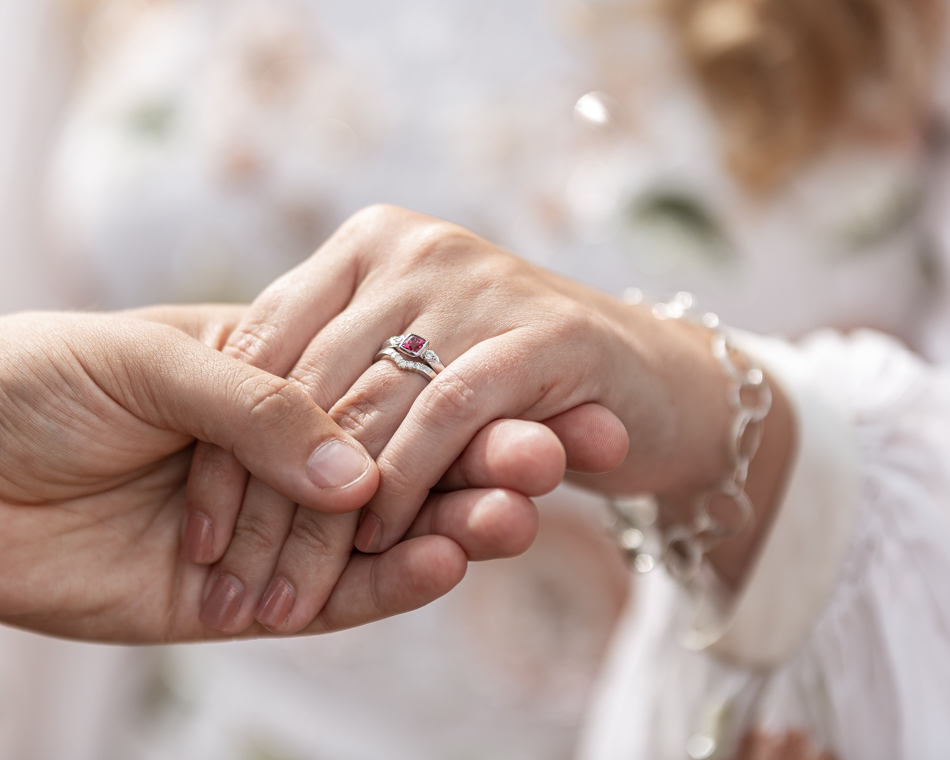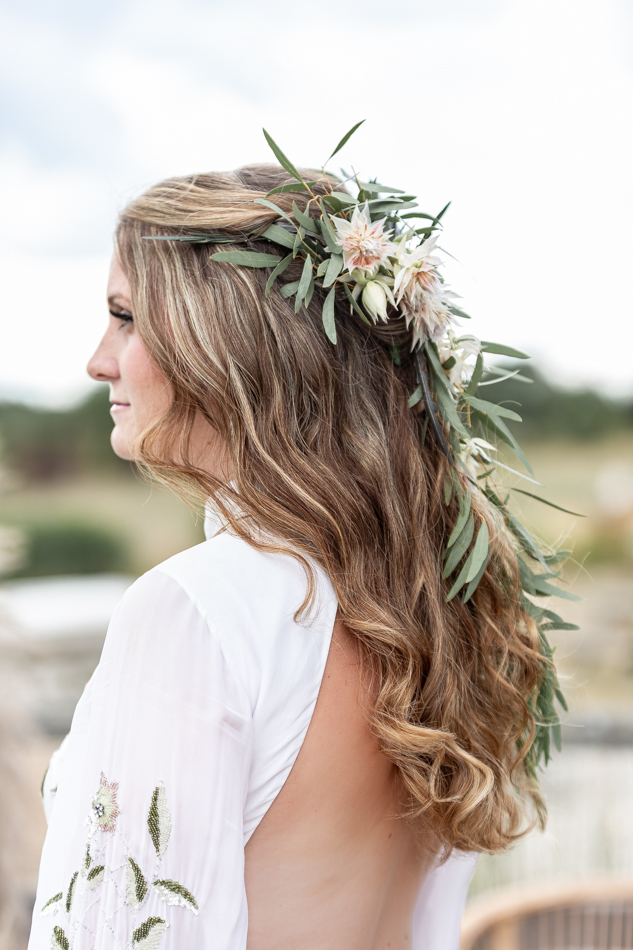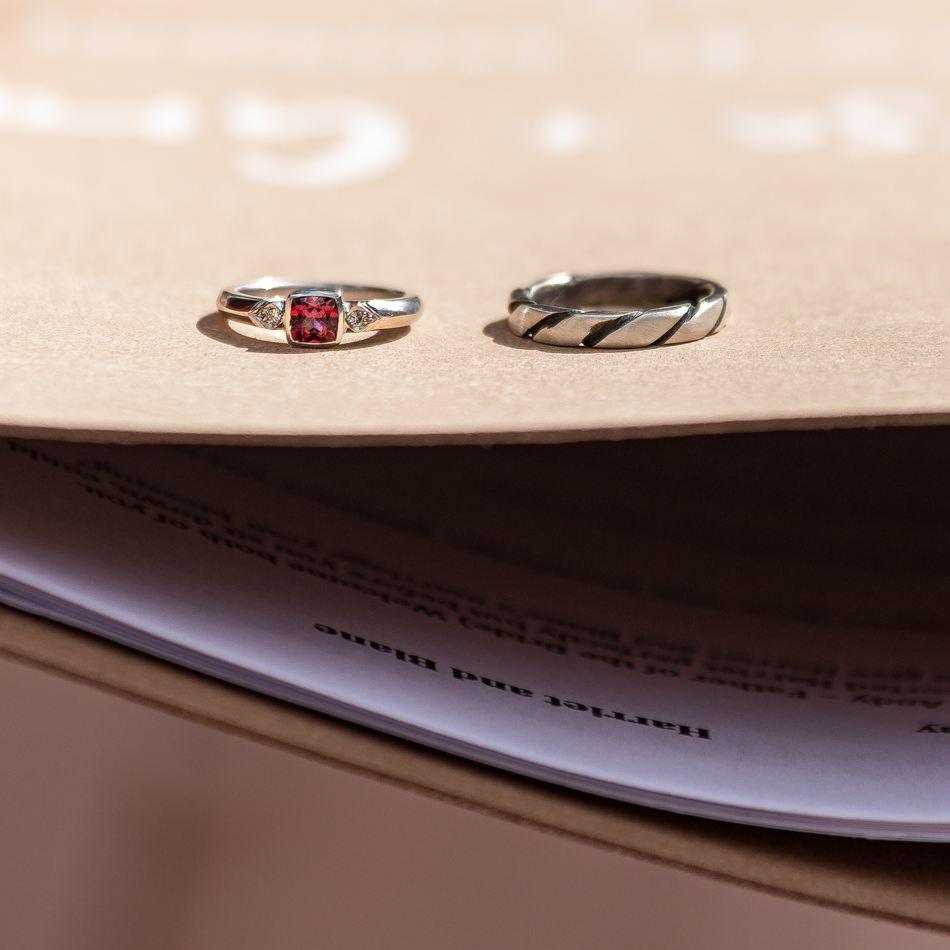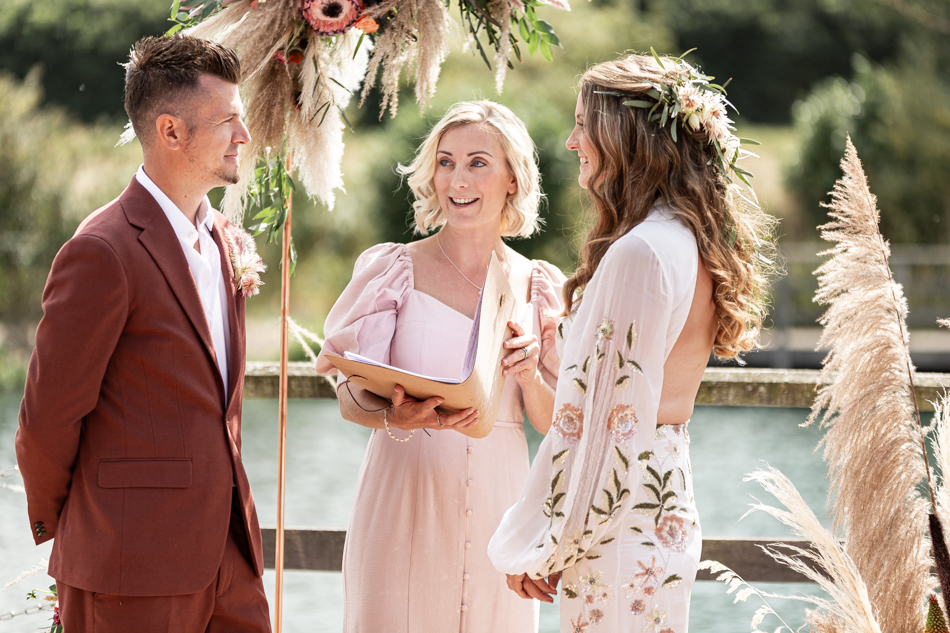 Jewellery – Lawley Fine Jewellers
"We opted for a rhodolite and diamond trilogy ring for the bride (Harriet), complimenting the deep pinky-red tones of the colour palette, with a diamond wishbone wedding ring and a silver twist ring for the groom (Blane). Harriet also wore ruby and pearl vintage style earrings. We accessorised Natalie, the Celebrant, with a rhodolite stacker ring, a delicate pearl drop necklace and pearl bracelet, all very much in keeping with the styling and colour scheme."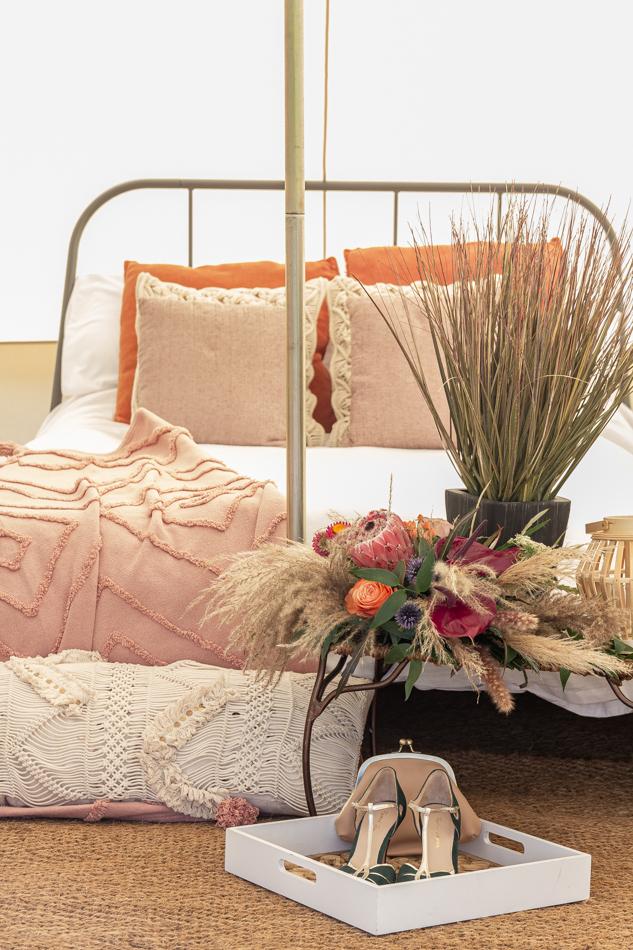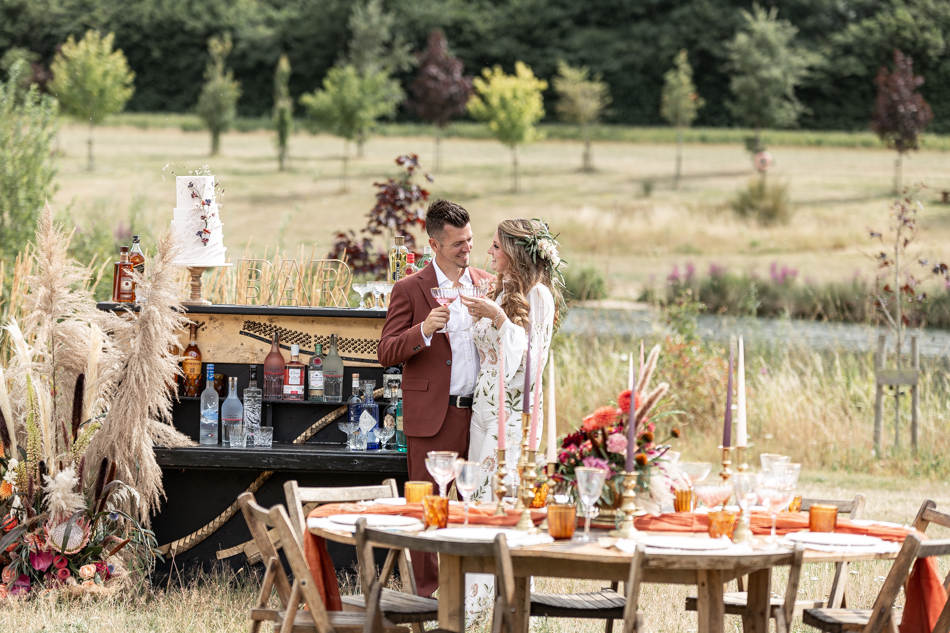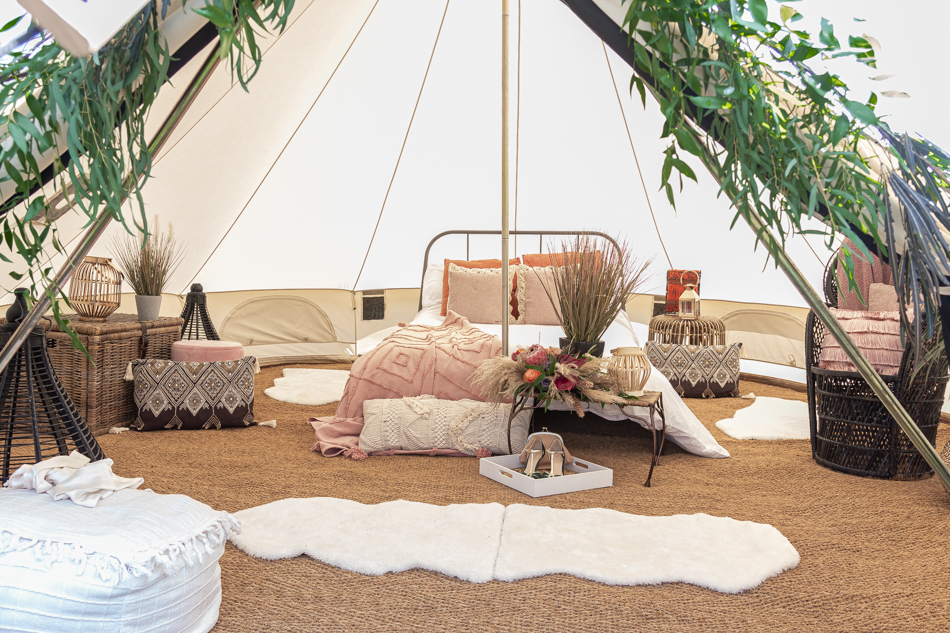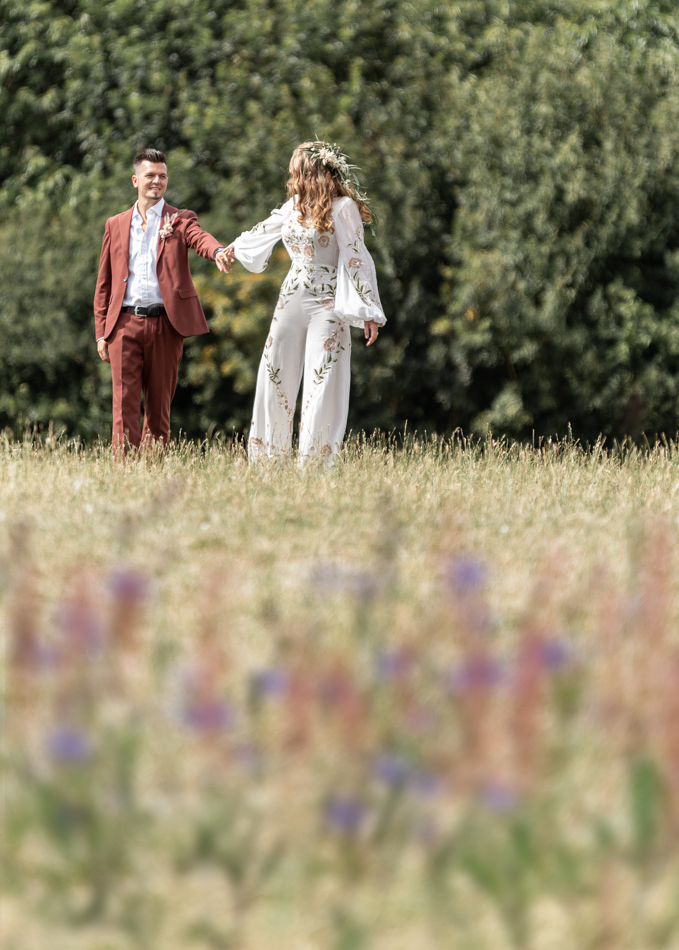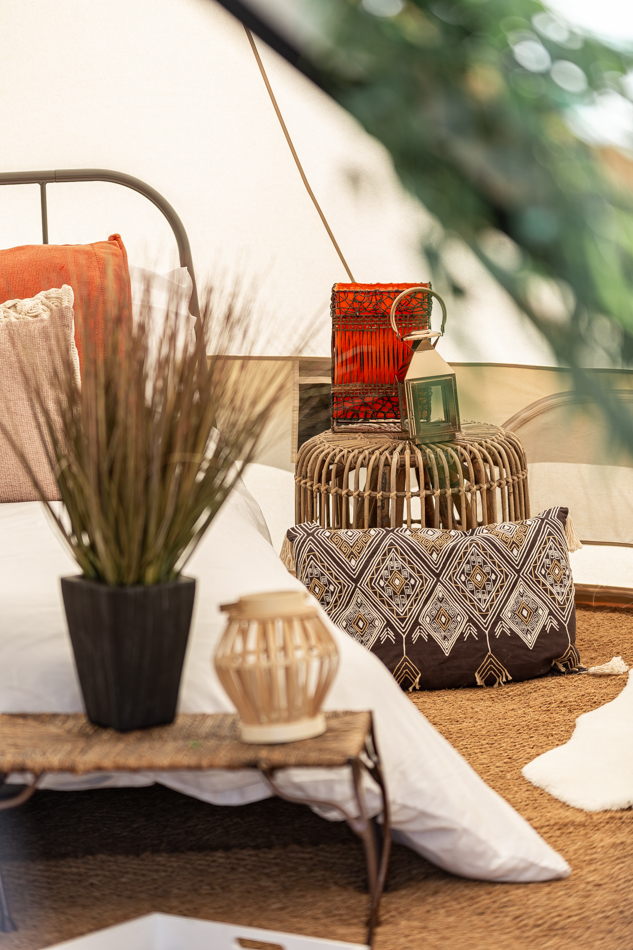 Honeymoon Bell Tent – Life's a Pitch
"It's always a pleasure and a privilege being asked to style a honeymoon bell tent, whether it's for a wedding or a photo shoot. We get to hand pick our most luxurious furnishings and produce something that's not only comfortable and stylish, but compliments the colours and theme of the day. This tent featured a comfortable bed with coordinating bed linen, striking vintage peacock chair, with elegant boho soft furnishings and handmade accessories. We thoroughly enjoyed selecting the ideal props from our stockroom to create the perfect tent for 'love will find a way'. It's such an inspiring concept given the unusual times we find ourselves in. Outdoor weddings are becoming an increasingly popular choice and bell tents provide the ideal on-site accommodation, allowing your nearest and dearest to continue the celebrations around the clock in comfort and style."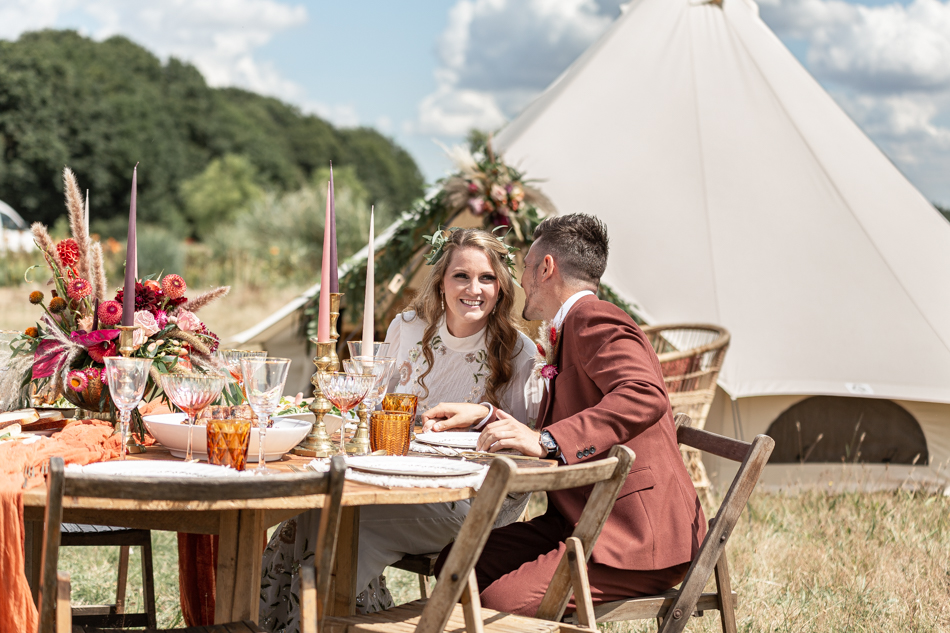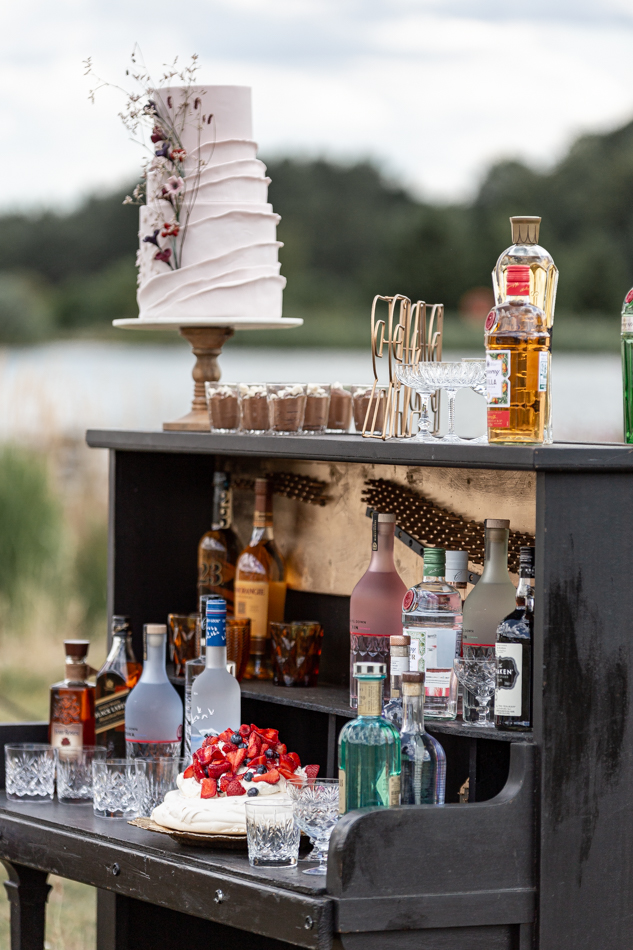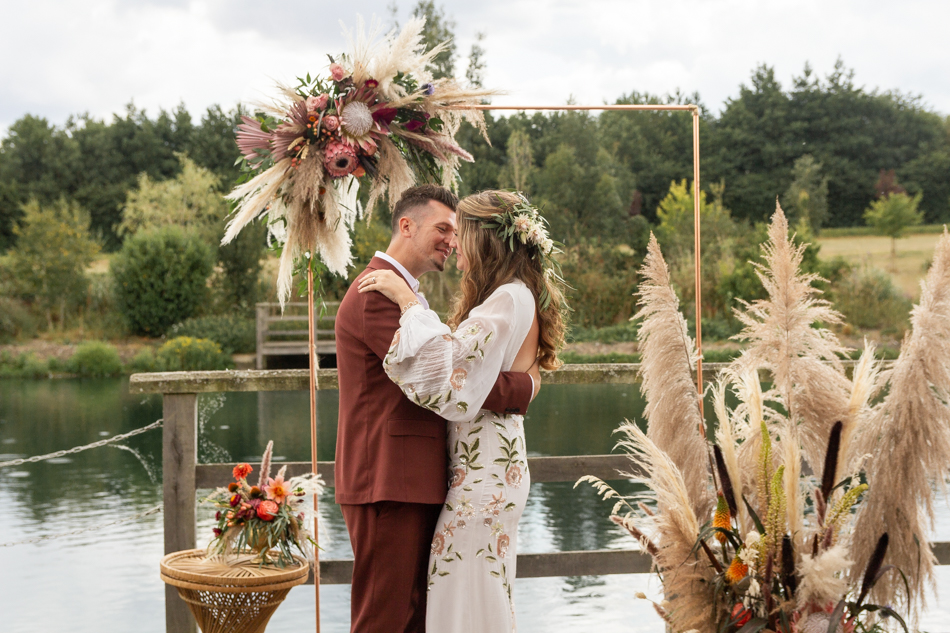 Furniture & Props – The Little Wedding Warehouse
"To create the stunning ceremony area our copper frame was adorned with beautiful florals and a bespoke fabric sign. We softened the flooring of the jetty with Persian rugs and added a relaxed seating area with guests able to choose between our classic pink velvet, or woven wicker sofas. In keeping with the rural setting of Kentfield Country Estate, we wanted the tablescape to have a rustic but luxurious feel. We paired our reclaimed wood round table (handmade by us) with our vintage folding chairs. Adding texture to the table, and framing the beautiful china provided by A
Touch Of Vintage, were our unique macramé placemats. The table was finished off with gorgeous glassware and brass candlesticks, and the whole vision tied together with striking florals. Last but not least was our piano … from dinner to drinks, it makes the perfect statement bar or sweet treat station!"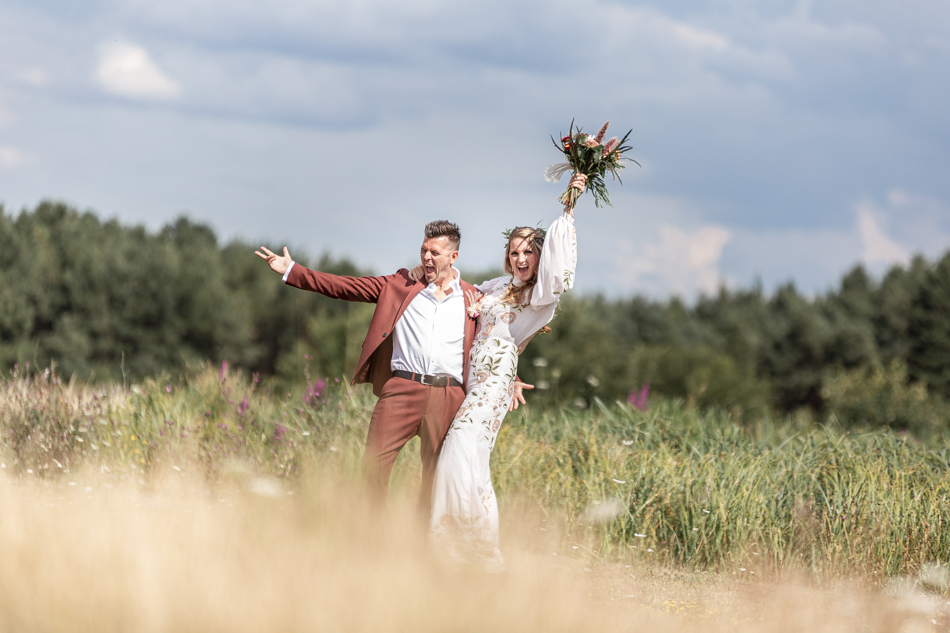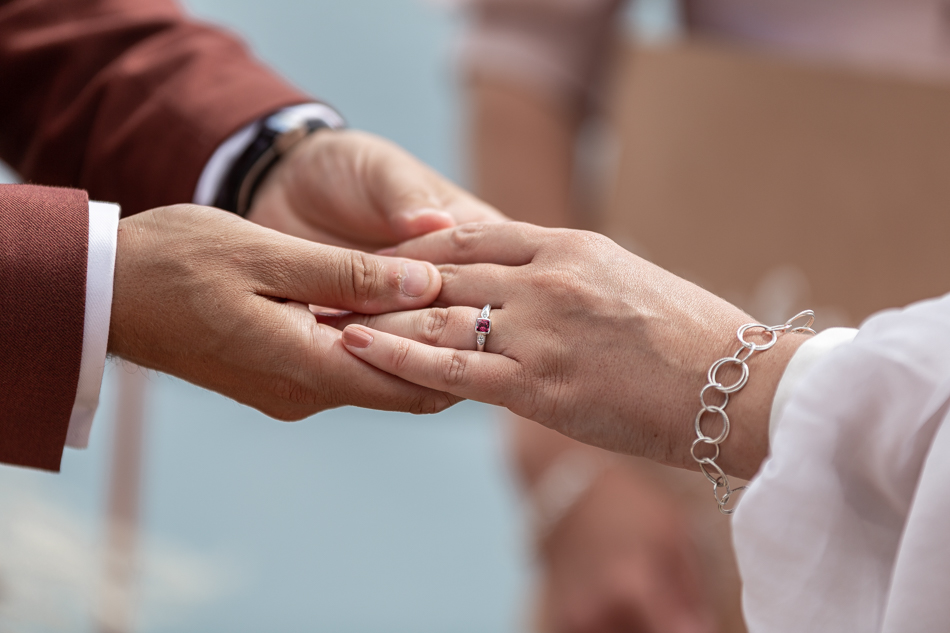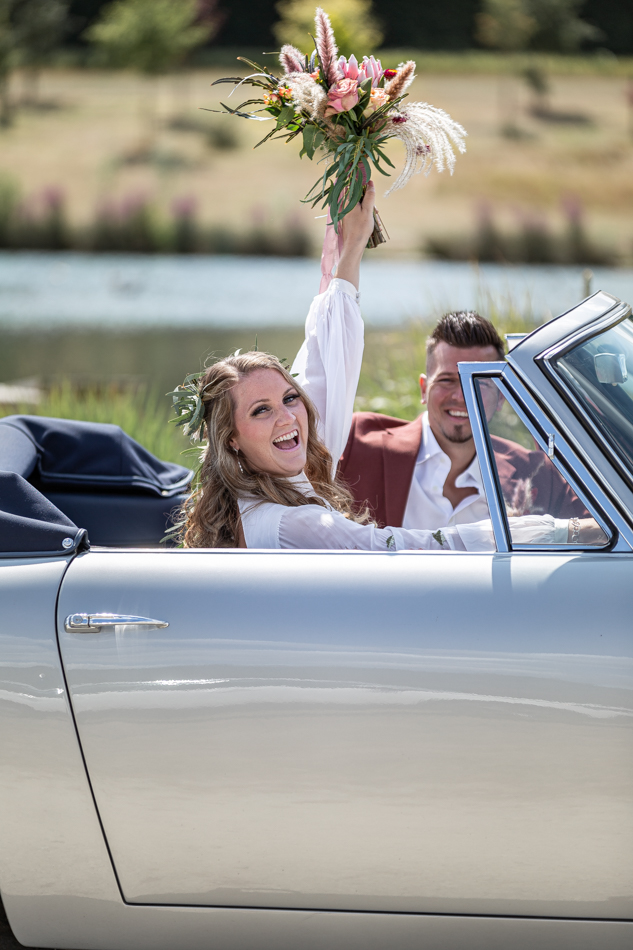 The Team – Lakeside Boho Wedding With Personal Touches At Kentfield Estate
Photographer – Alison Wonderland Photography @alisonwonderland.photography
Venue – Kentfield Country Estate @kentfieldestate / Coordination, Planning and Styling – Rose & Grace Ceremonies @roseandgraceceremonies and Natasha Spencer Events @natashaspencerevents / Videographer – Jacob Cameron Hill @jacobcameronhill / Celebrant- Rose & Grace Ceremonies @roseandgraceceremonies / Models – Harriet & Blane @real_life_couple_models / Bell Tent and Honeymoon Suite – Life's a Pitch @lifes_a_pitch_kent / Florist – Coco & Bloom @cocobloom2019 / Hair – Kent Bridal Hair @kentbridalhair / Bridal Jumpsuit and Shoes – The Bridal Boutique of Jules @thebridalboutiqueofjules / Furniture and Props – The Little Wedding Warehouse @thelittleweddingwarehouse / Cake – Blossom & Crumb @blossomandcrumb / Jewellery – Lawley Fine Jewellers @lawley_design / Venue management and Food – The Swan @swanwm / Signage and Celebrant Folder – Whilst Jude Sleeps @whilstjudesleeps / Groomswear – Suits to Suit @suitstosuituk / Crockery and Glassware – A Touch of Vintage @atouchofvintageuk / Handfasting Ribbon – Silk & Purl @ silkandpurl
IF YOU LOVED THIS BOHO WEDDING WHY NOT PIN IT TO YOUR WEDDING BOARDS?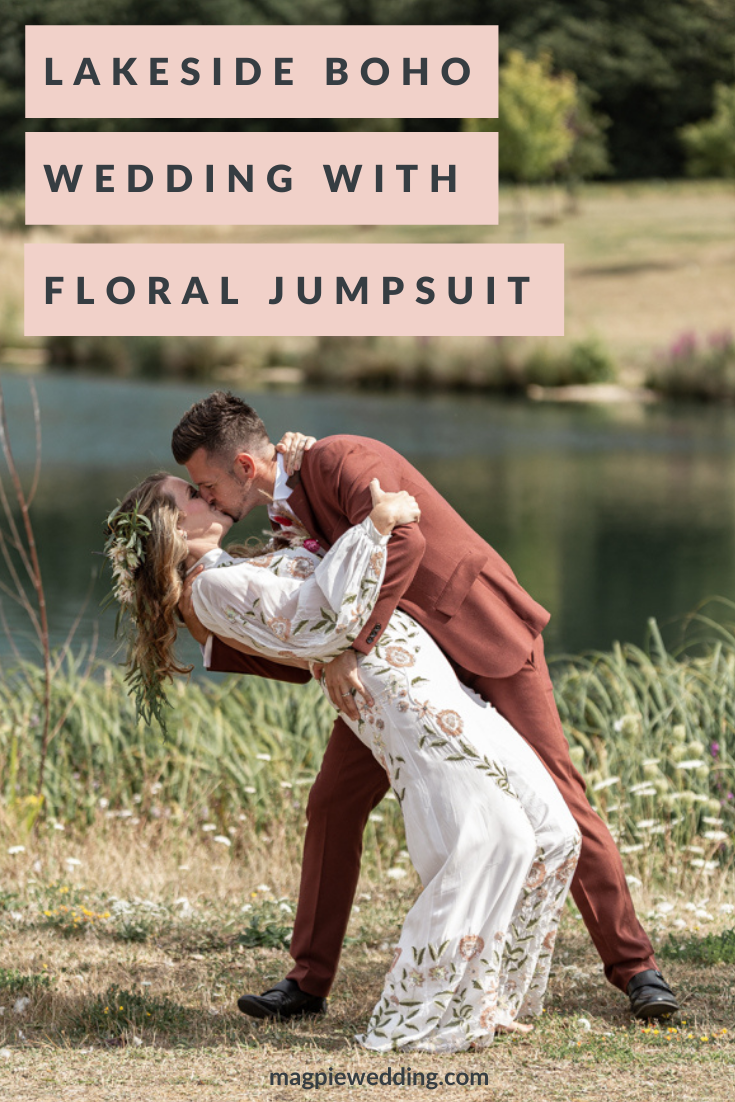 If you loved this wedding at Kentfield Estate you may also like;
Dreamy Blush Wedding With Bespoke Floral Dress at The Boathouse At Newmillerdam
8 Ways to Reduce Stress And Feel Your Best On Your Wedding Day
1970s Glam Rock Wedding Inspiration at Marden House Mansion