A modern vintage wedding vibe is displayed beautifully in todays inspirational blog. With lush green tropical vibes, bold and bright clashing colours and a 1970's boho, modern vintage wedding dress. Set in an alternative venue it showcases a relaxed setting with well executed styling and tons of personality. Co-ordinating the shoot was Sarah from Sarah Wayte Photography, here we catch up with her, and the rest of the team involved who tell us all about the creation of this modern vintage wedding shoot.
Modern Vintage Wedding Inspiration with Clashing Colours and Tropical Vibes
"I have been a fan of the mid-century modern style in interior design for a while now and was surprised the trend had not really leaked into the wedding industry as yet, so I decided to put a styled shoot together to show how it could work in styling your modern vintage wedding day."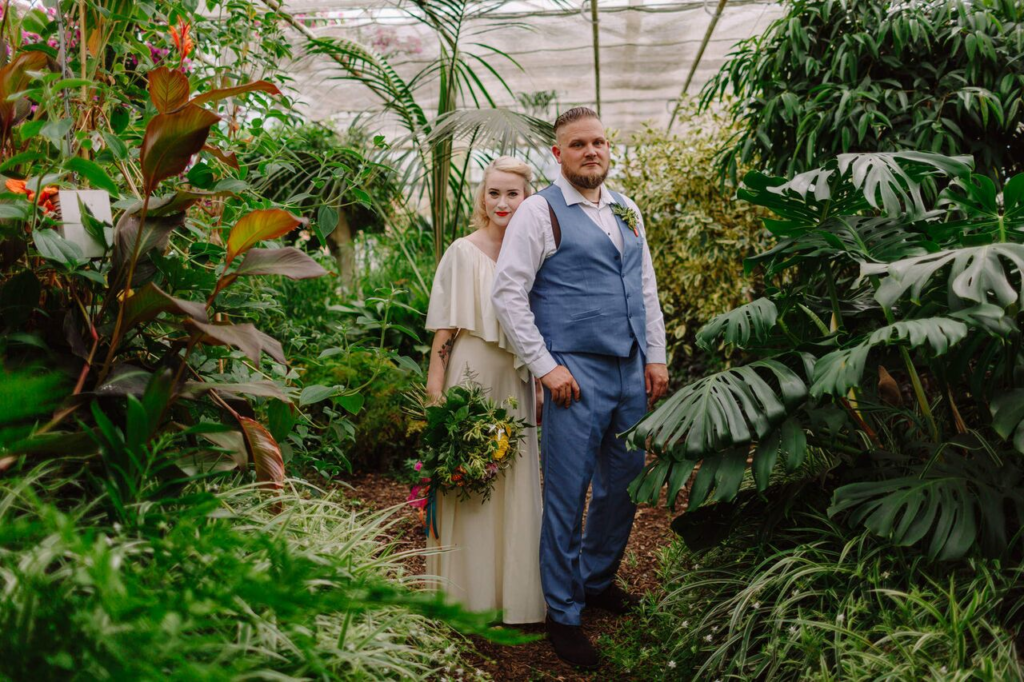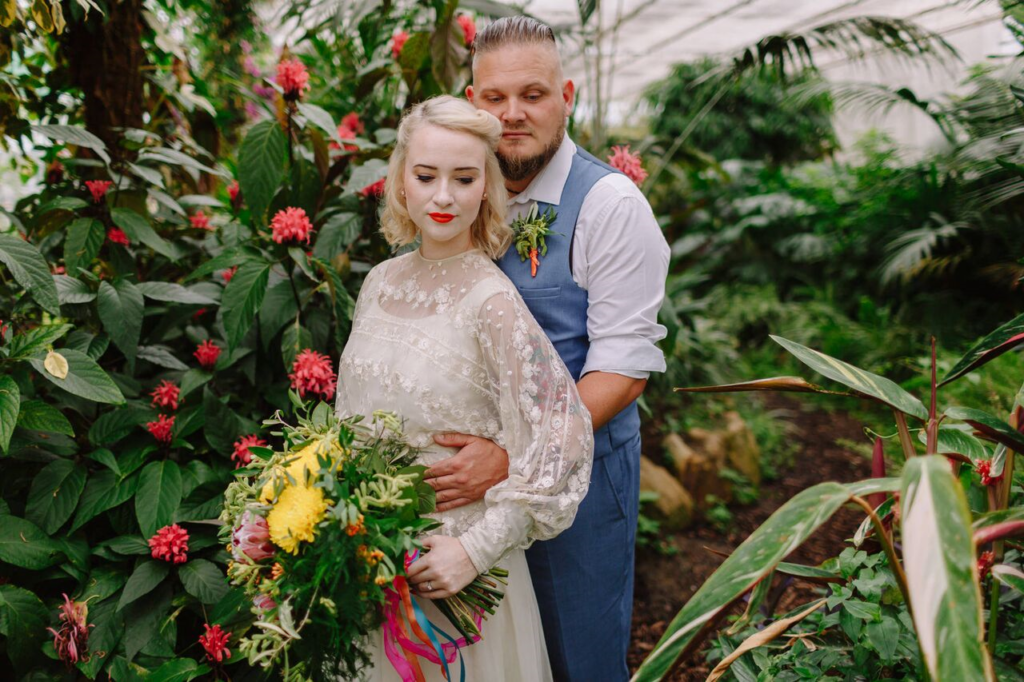 "Mid-century modern is quite a loose term, as I quickly learned, and covers a variety of styles from the 1940s through to the 1960s and 1970s whilst also taking influences from more modern and contemporary looks such as botanical, industrial and the popular scandi style (thanks Ikea!). There's a real sense of 'anything goes' but I love the idea of using key vintage pieces and giving them a modern, contemporary twist. I'm a girl who also loves bright and bold colouring, so I knew that this would have to feature when putting this shoot together."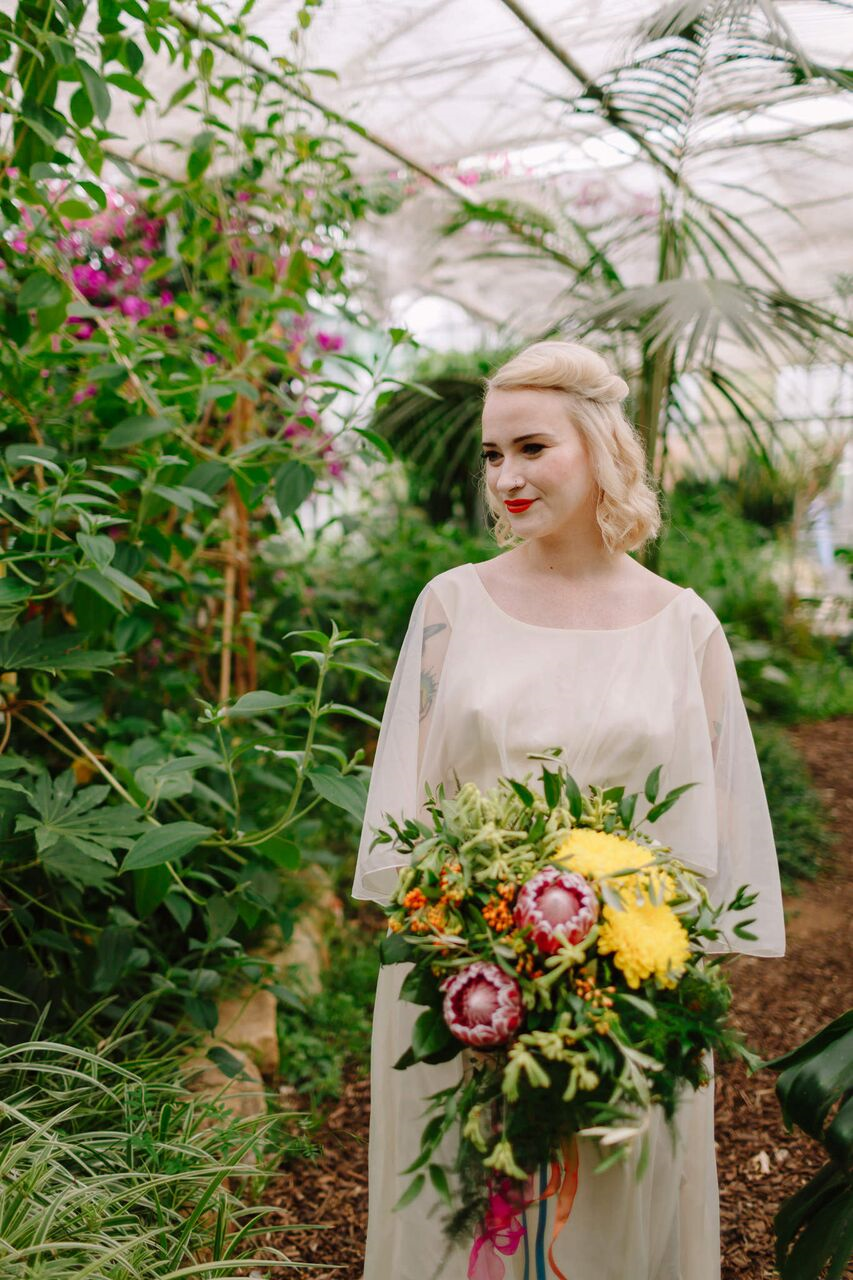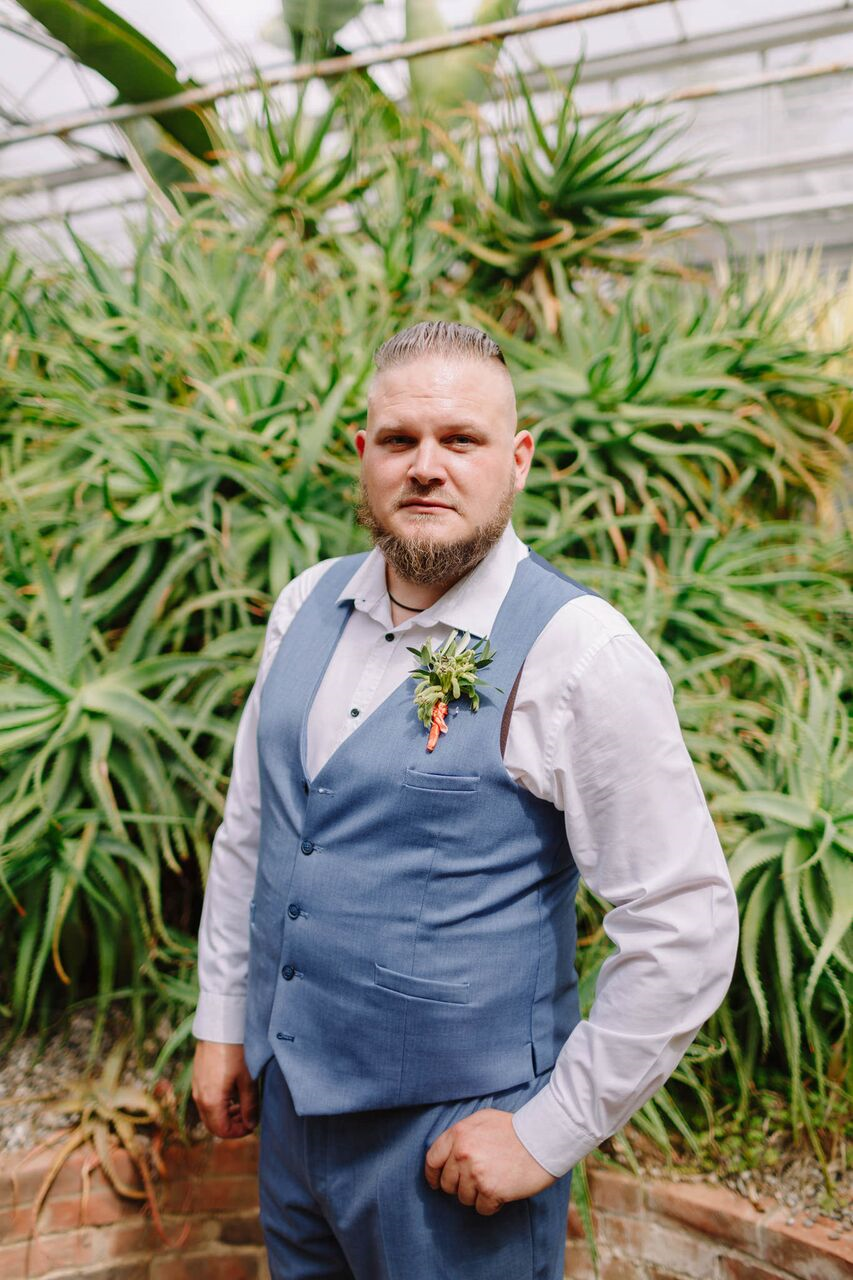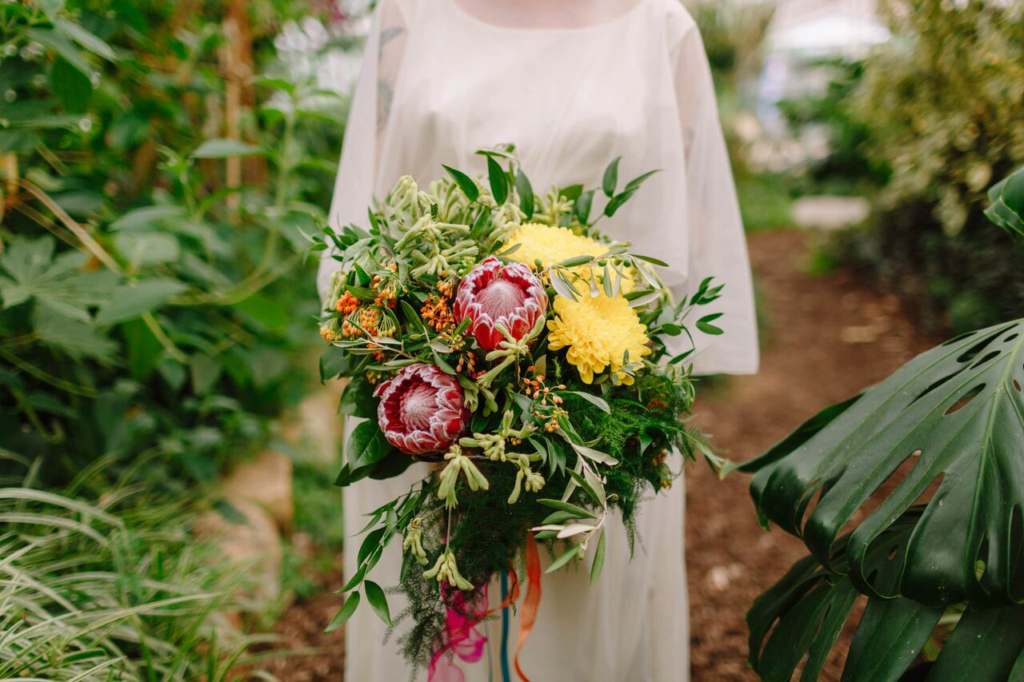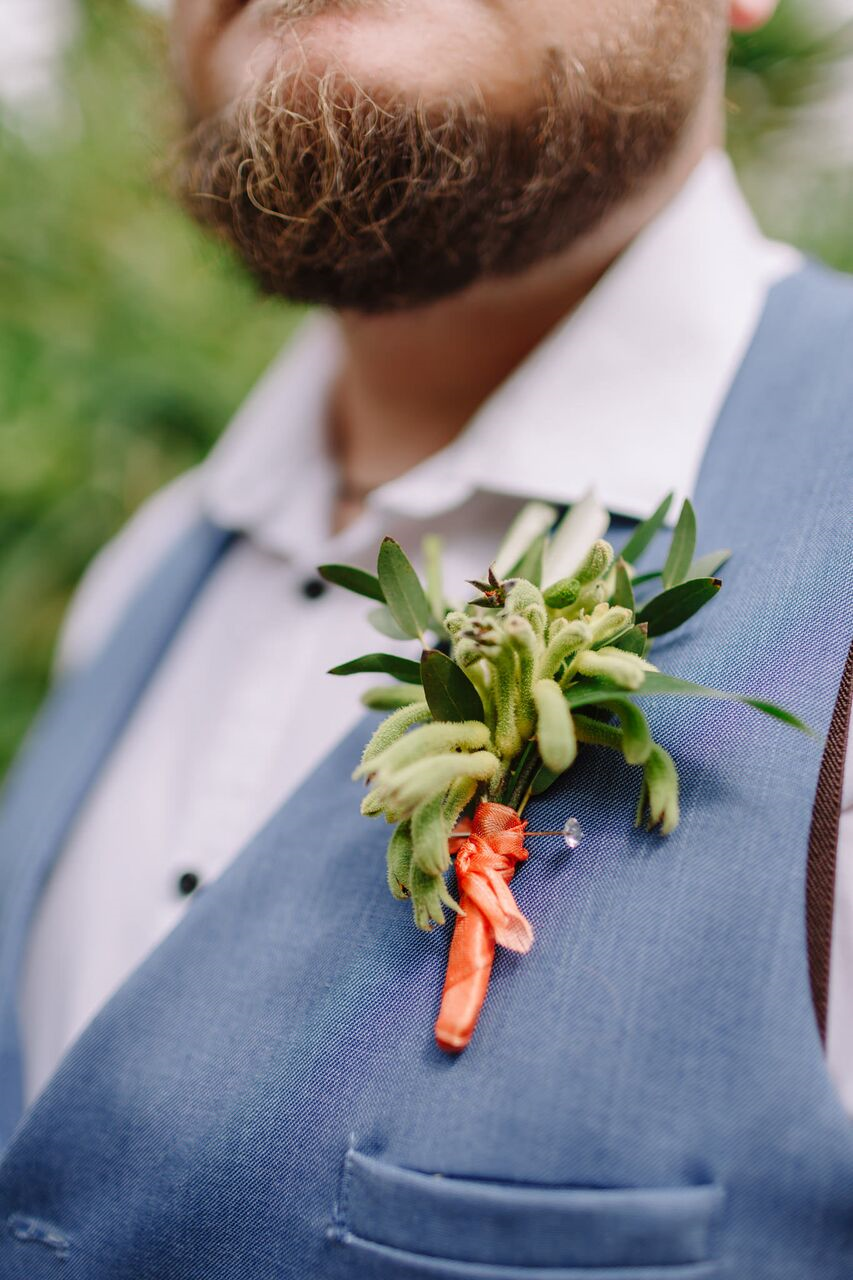 "I knew I wanted somewhere light and bright to stage the shoot whilst also wanting to feature an Essex location. Essex as a county is still quite traditional when it comes to wedding venues (although there are now a few great alternatives starting to pop up) with lots of stately homes, hotels and barns but I knew I didn't want this typically traditional backdrop. I wanted a mix of industrial and botanical to really bring the shoot together but finding a location like this in Essex was not an easy task. Eventually I found the glasshouses at Writtle University College and when I visited, I knew this was the place with the metal framing, lots of glass, the tropical plants and those awesome cacti creating the perfect backdrop. As it turned out, Writtle does host wedding receptions and other large events so they were open to having a styled shoot there."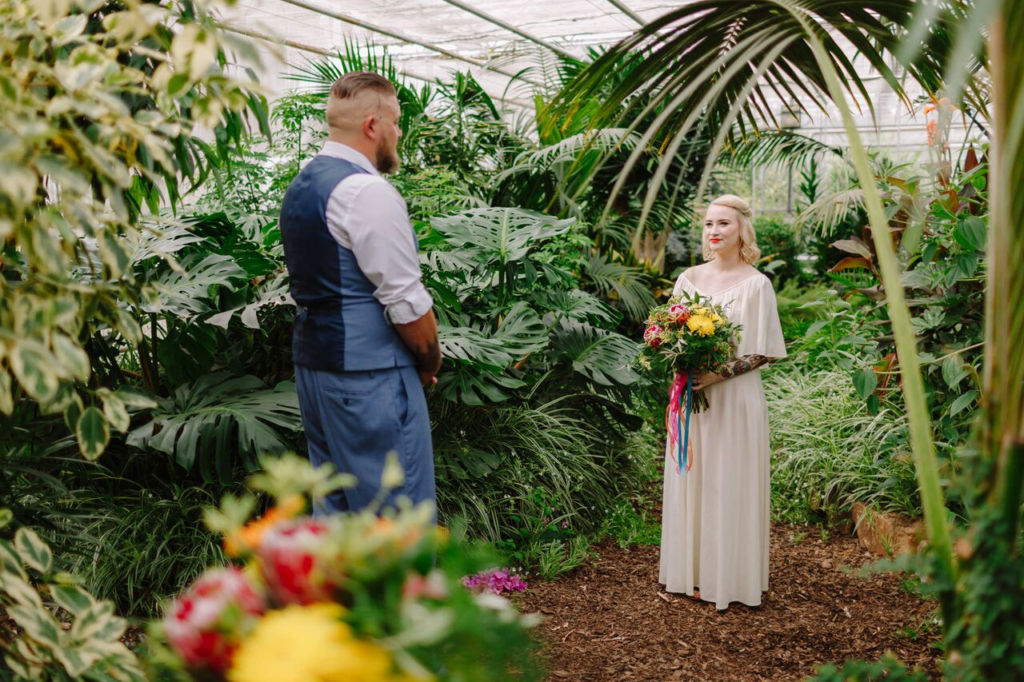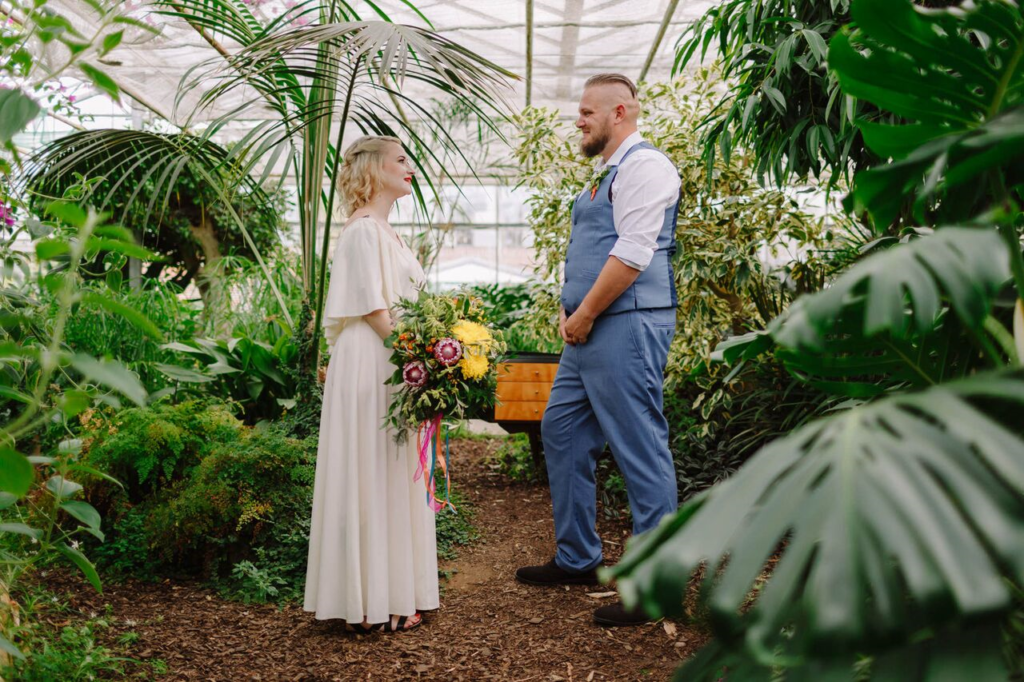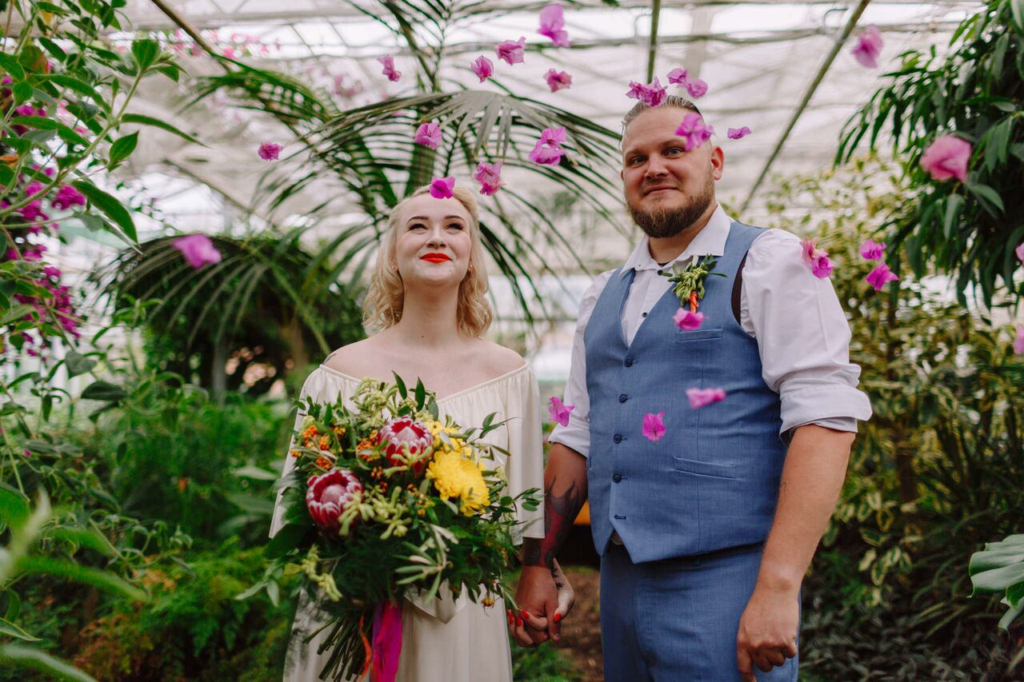 Styling – Party Squared
"Having free reign to be creative with bright colours and patterns was great. I like using a variety of textures and surfaces in my styling and was thrilled to have such a beautiful and interesting backdrop. I particularly loved styling the colourful, bold and unique top table in
front of the giant cacti and creating a romantic ceremony backdrop for our gorgeous couple, amongst those lush green tropical leaves, with a beautiful vintage dressing table."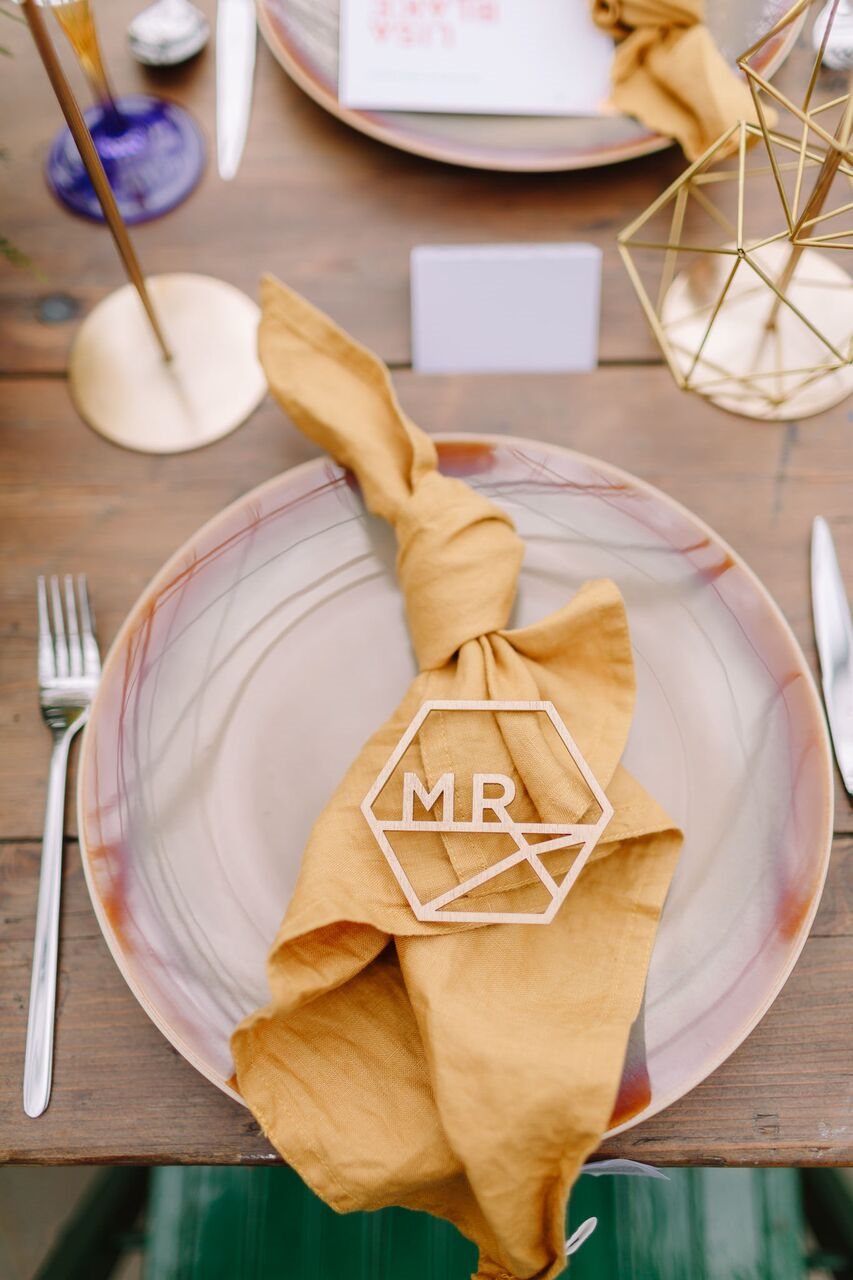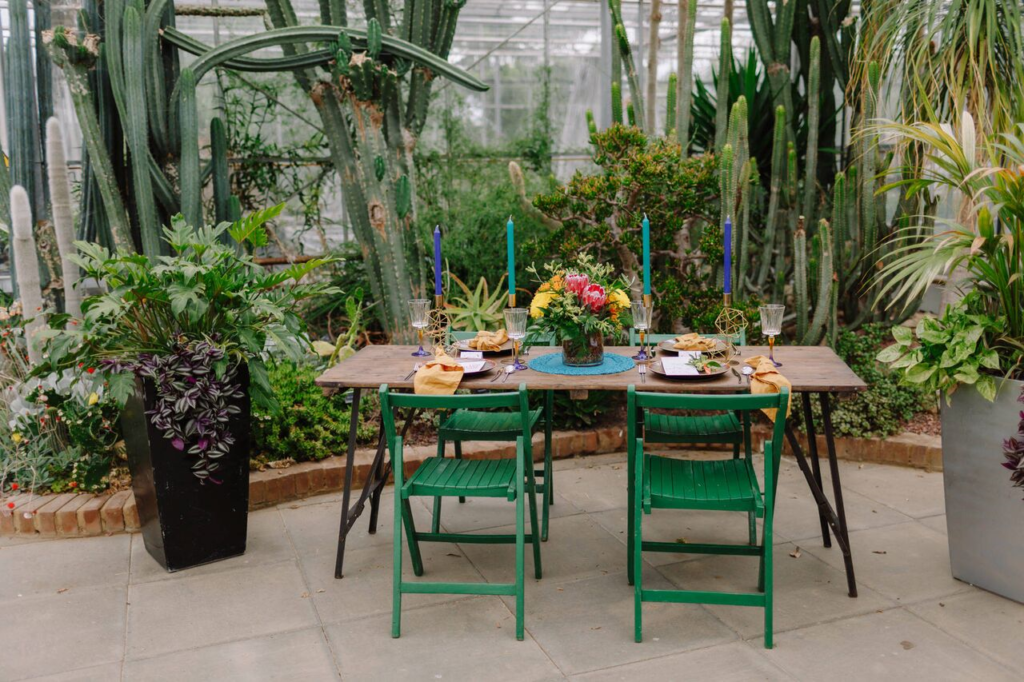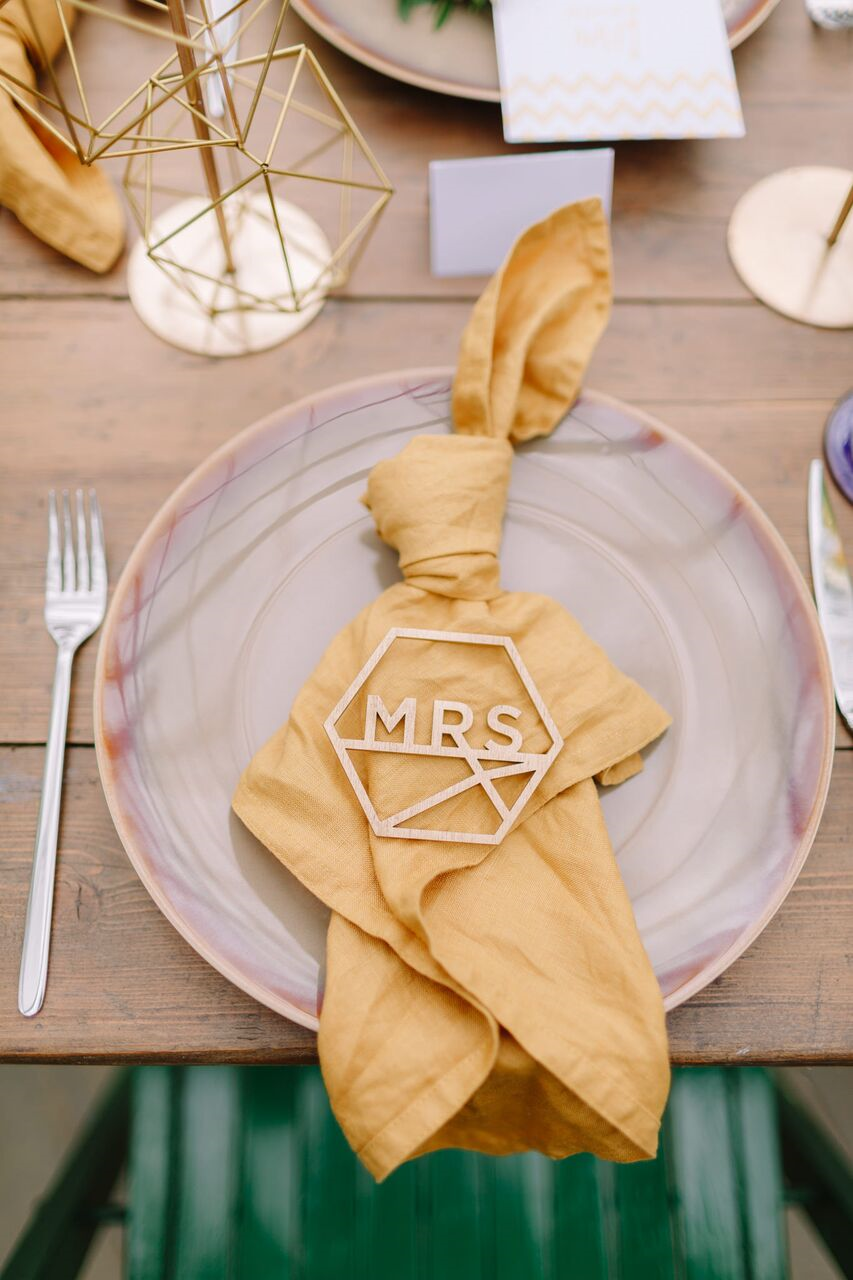 "Mixing elements from different eras kept the styling fresh and created a unique tablescape, cake table and ceremony space. I used vintage inspired crockery and glassware combined with modern gold himmeli candlesticks and vibrant dinner candles on the trestle table; just one of the beautiful vintage pieces chosen from Metroretro's fantastic collection. All of the suppliers fully embraced the concept, visual inspiration and styling and I think that shows in Sarah's stunning photos."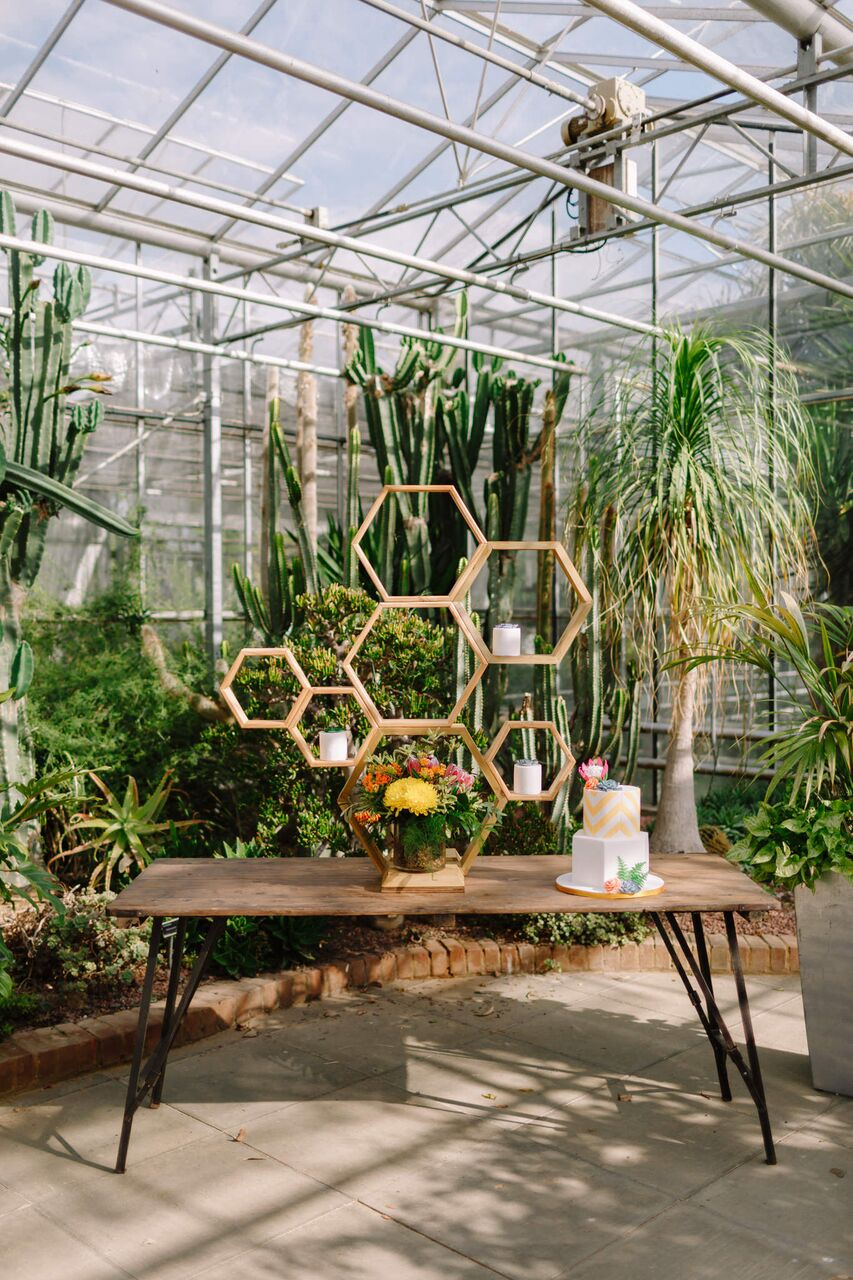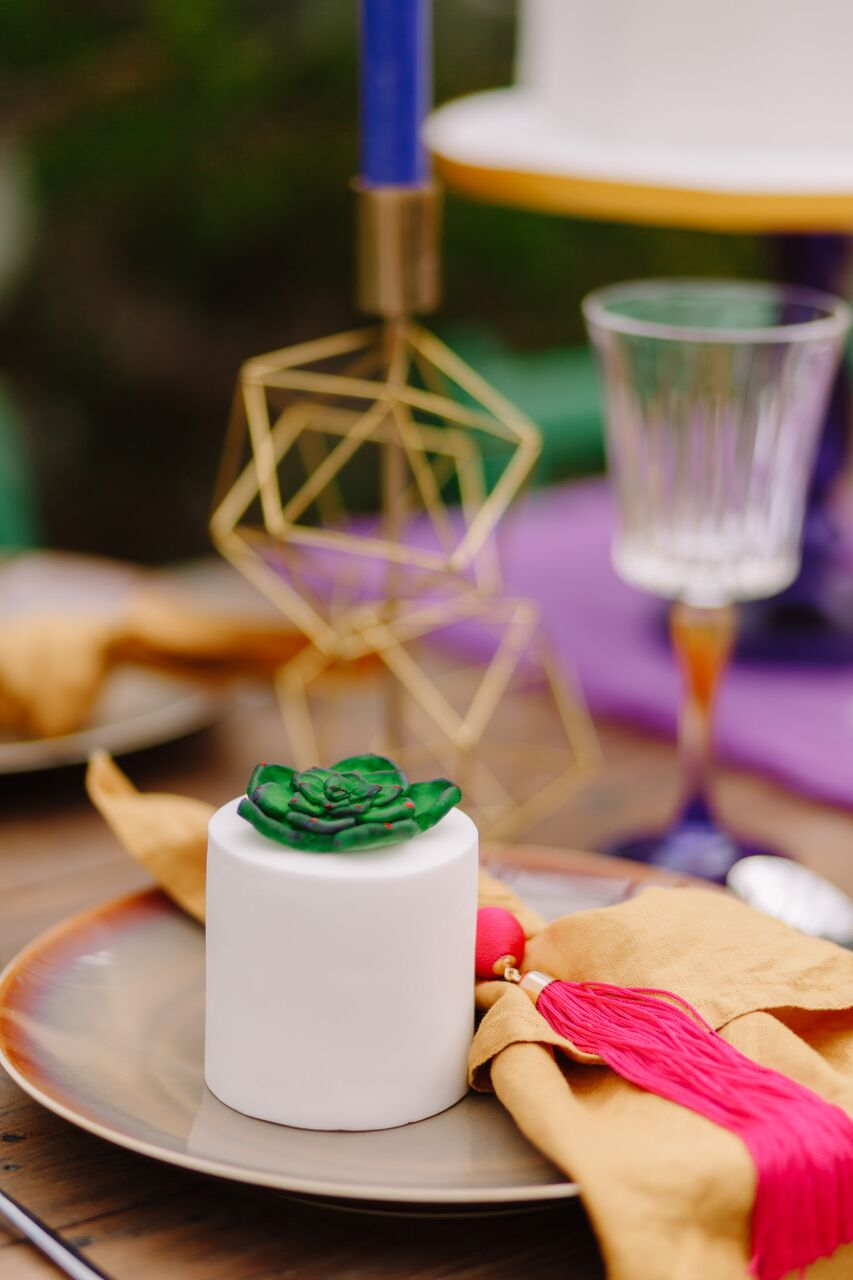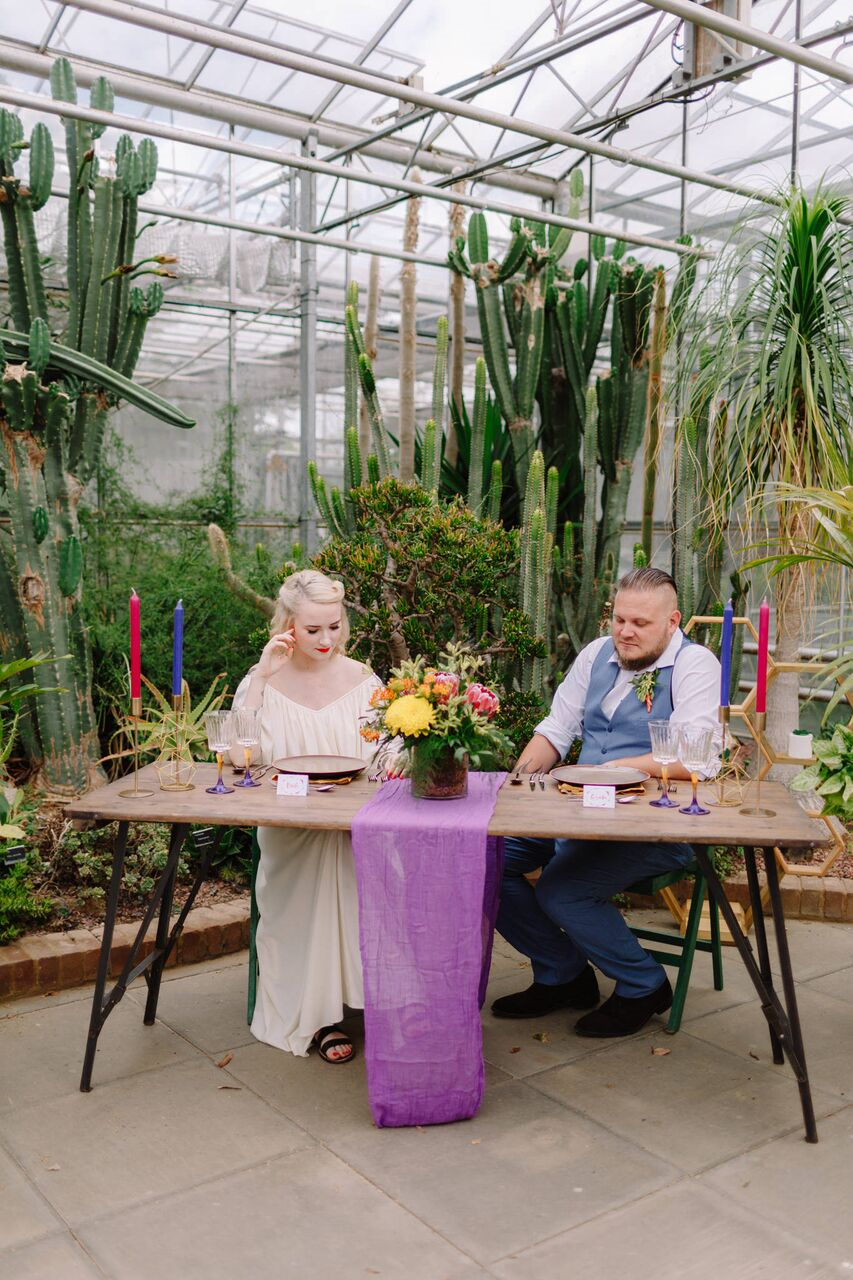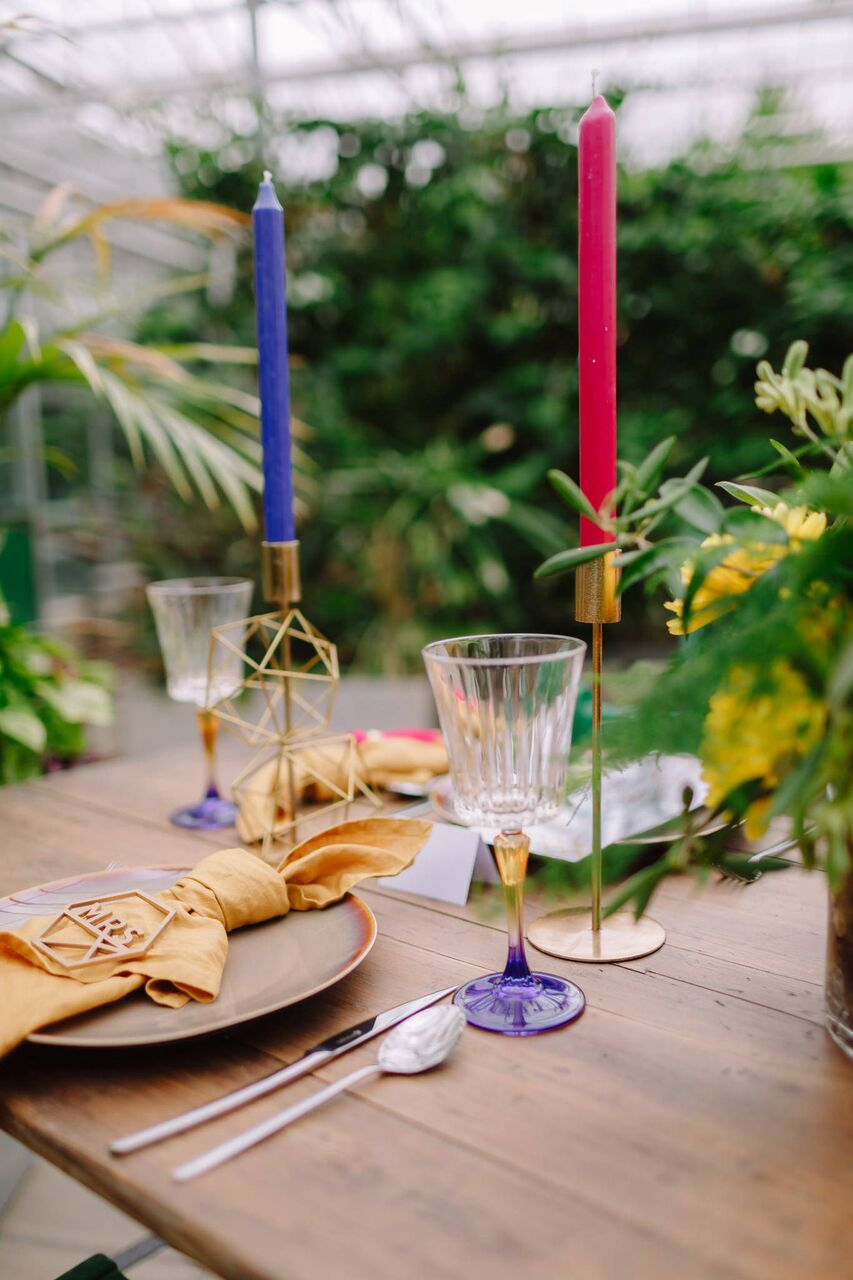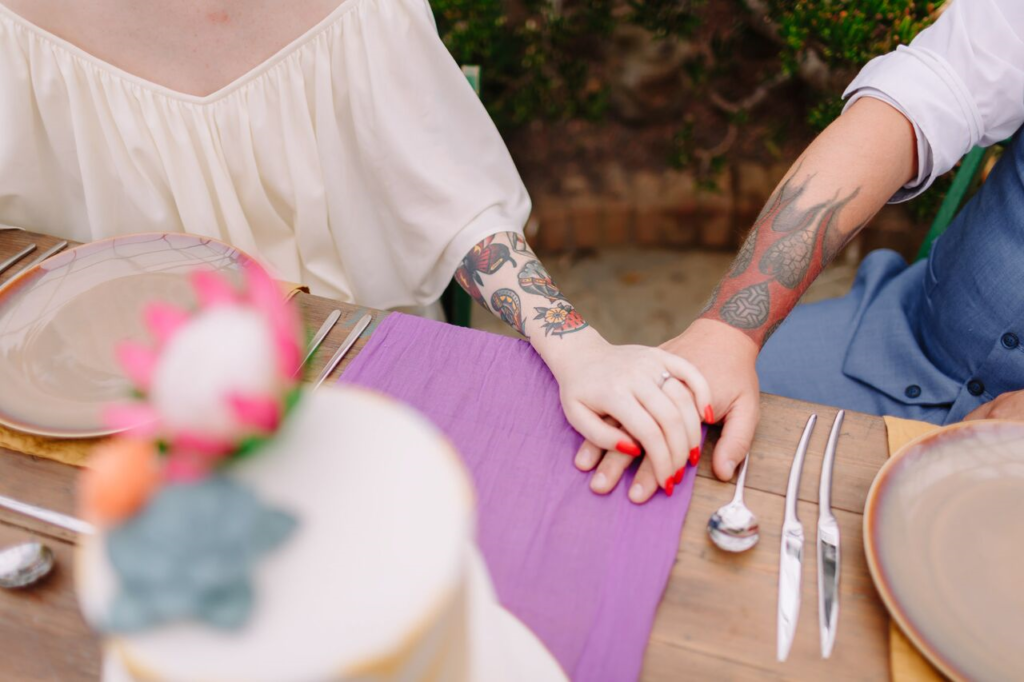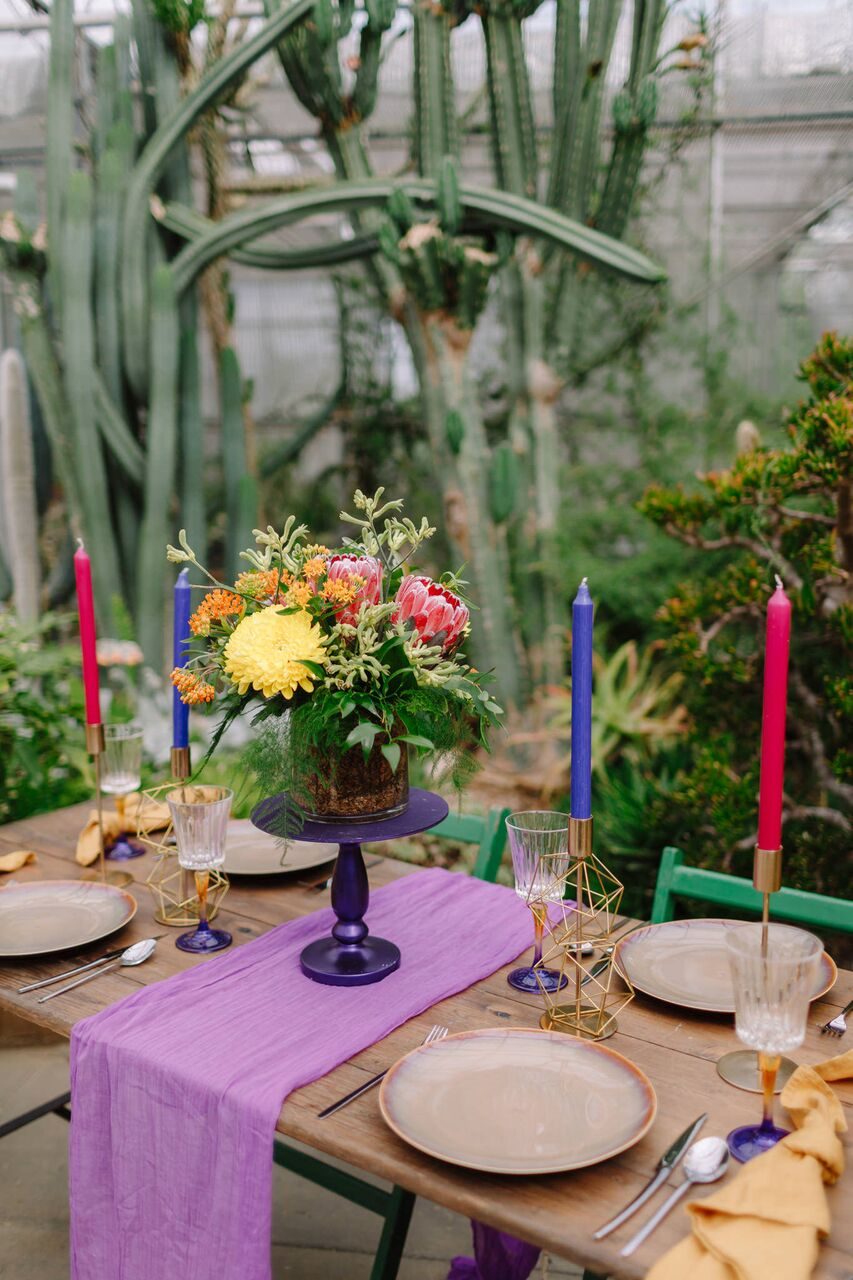 Photography – Sarah Wayte Photography
"As a wedding photographer, my style is very much relaxed and natural, and I place a lot of emphasis on the heart and soul of a moment rather than technical perfection, so organising a styled shoot was completely outside my usual comfort zone of just blending in and capturing what happens! Thankfully, I had a great team of suppliers to help me put it all together."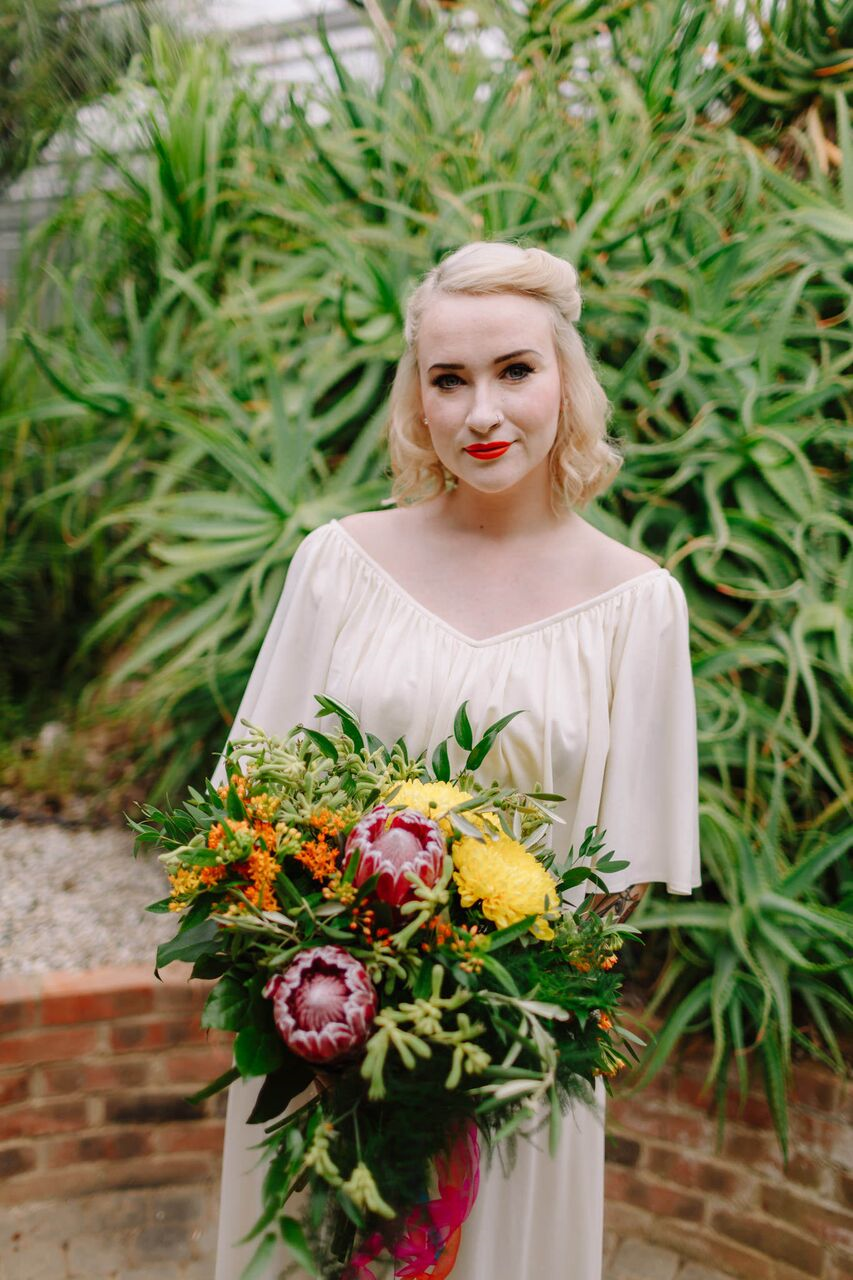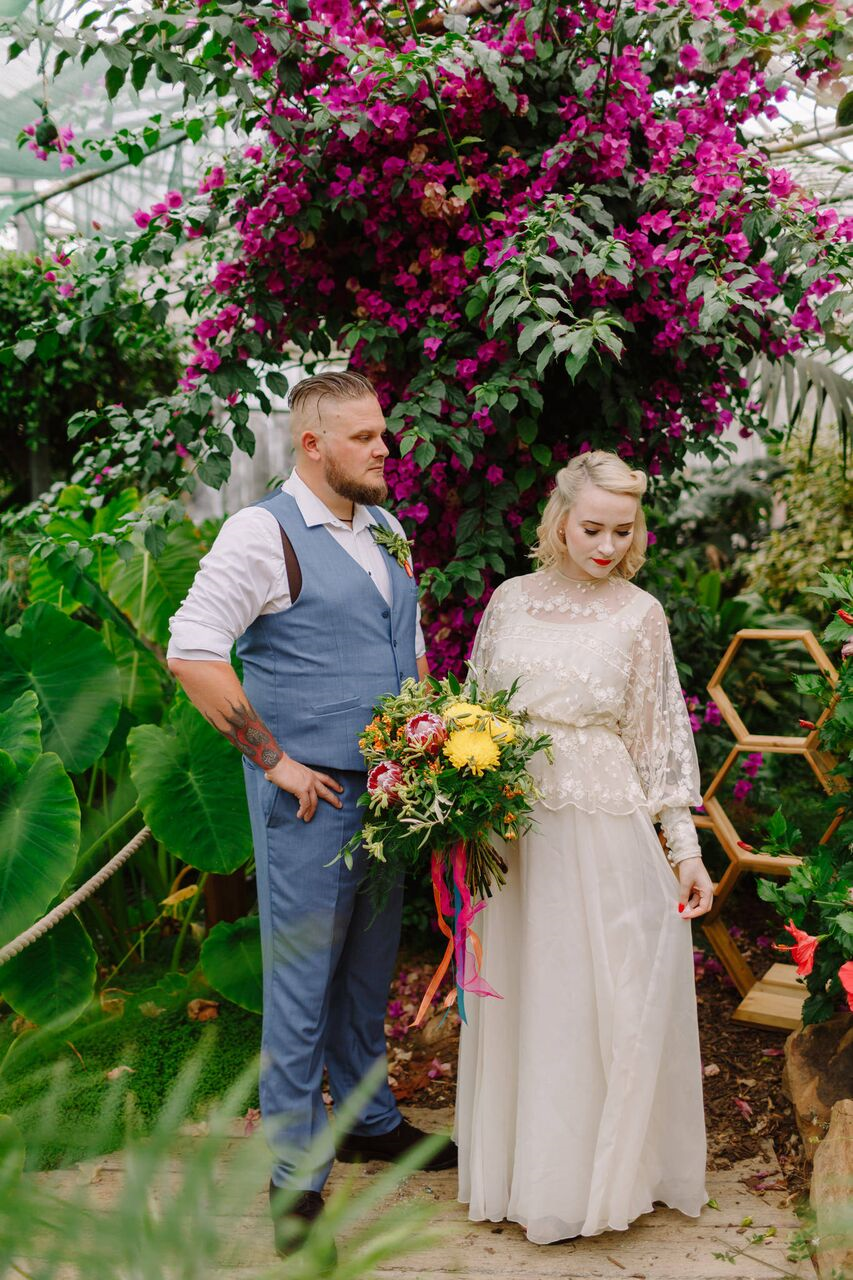 "I love weddings that are bold, bright and daring, and that reflect the personality of the couple, instead of just being another cardboard cut-out day. The styling of this shoot really reflected that individuality, but in an achievable way. Honestly, this is exactly how I would style my wedding if I got to do it again! It reflects my love of colour and vibrancy and my passion for honest, natural and beautiful imagery that give couples a permanent reminder of one of the best days of their lives."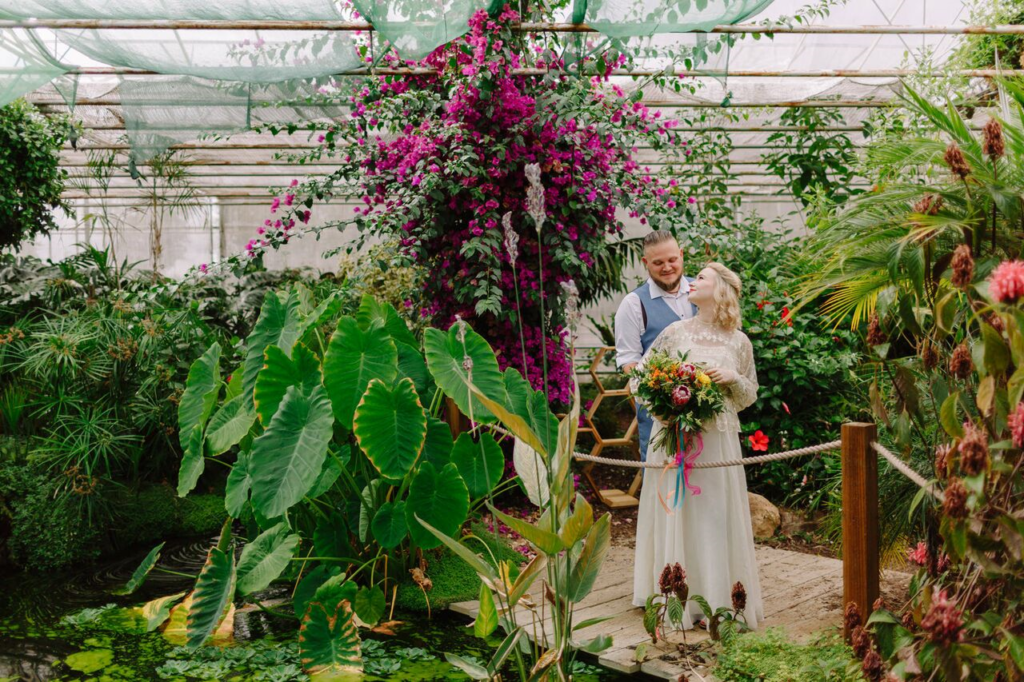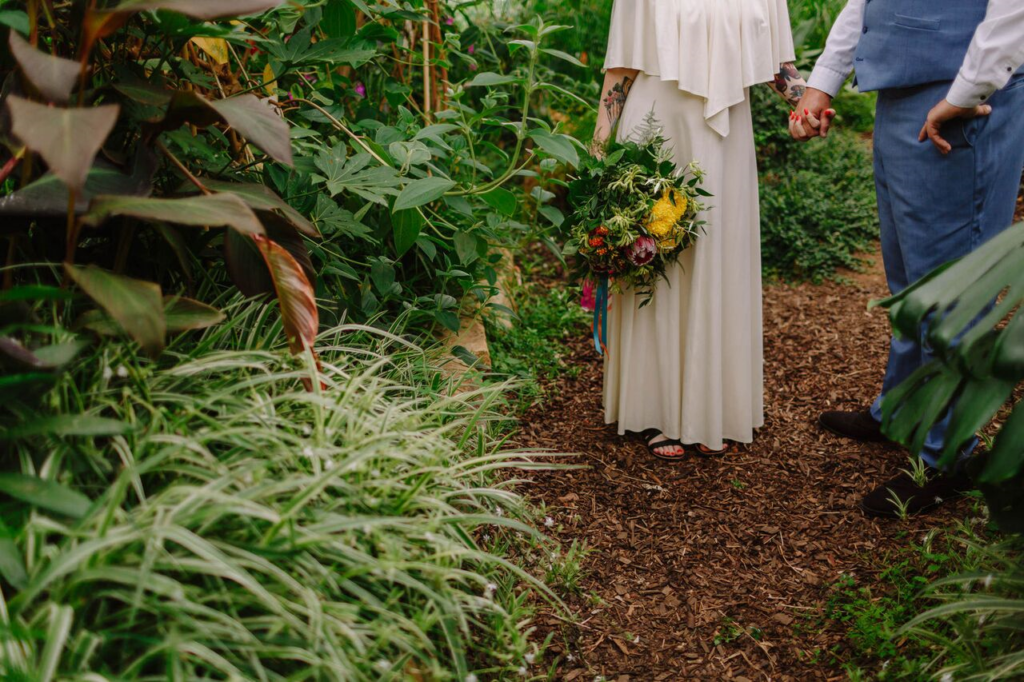 Dresses – Cambridge Vintage Bridal
"Dresses were supplied by the lovely Siobhan from Cambridge Vintage Bridal. She has a huge stock of amazing vintage wedding dresses lovingly restored and the three dresses chosen for the shoot all originated from the 1970s. The flowy look of the dresses gave a relaxed feel to the overall look and stood out beautifully in amongst the greenery and glass of the venue."
Hair – Bridal Hair by Jennie
"We wanted a hybrid of urban meets mid-century vintage and I wanted to show that shorter hair can also be versatile. I added a roll for a twist of vintage at the front, carried a twist through to the back with tousled waves to give the style more edge. This look will work with most weddings. Adding flowers will give a more bohemian feel or brushing out to create smoother waves will give you Hollywood glamour."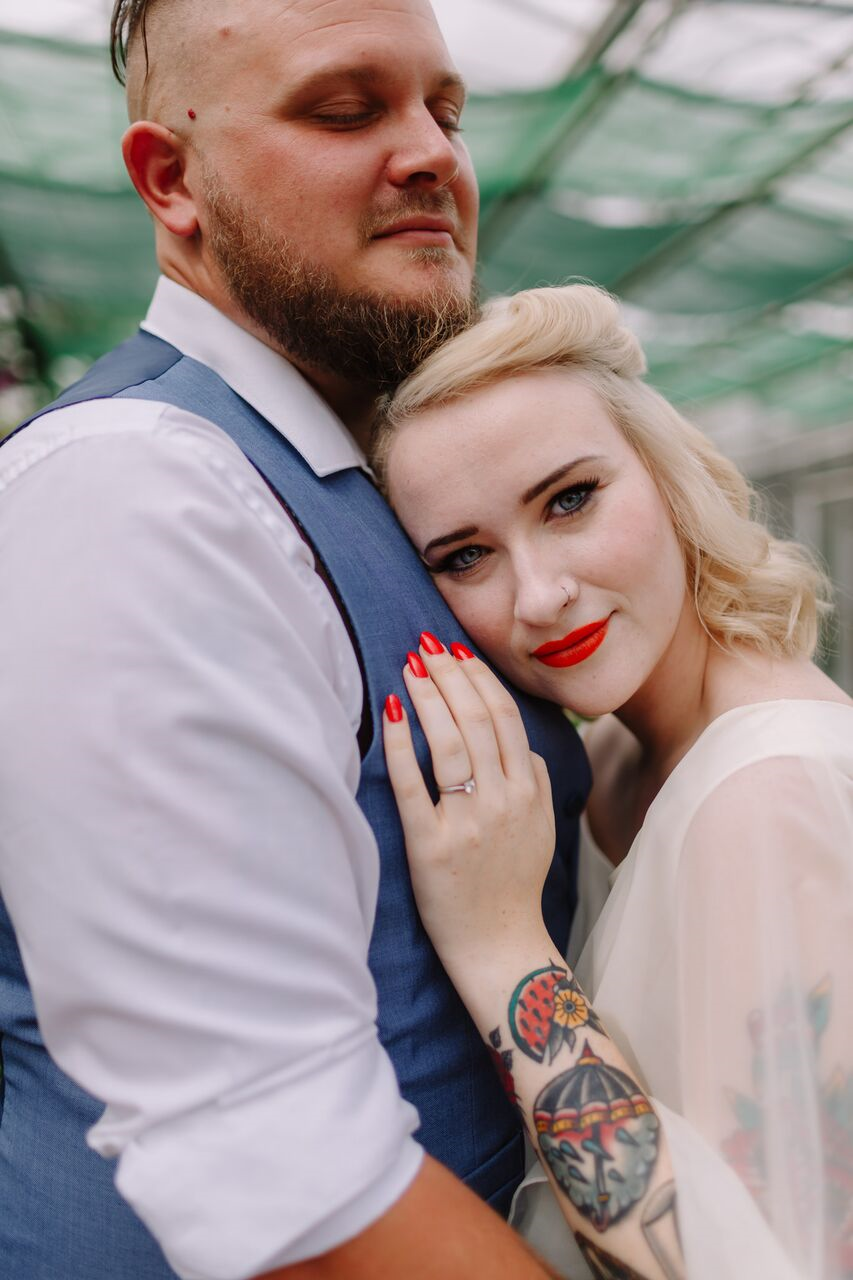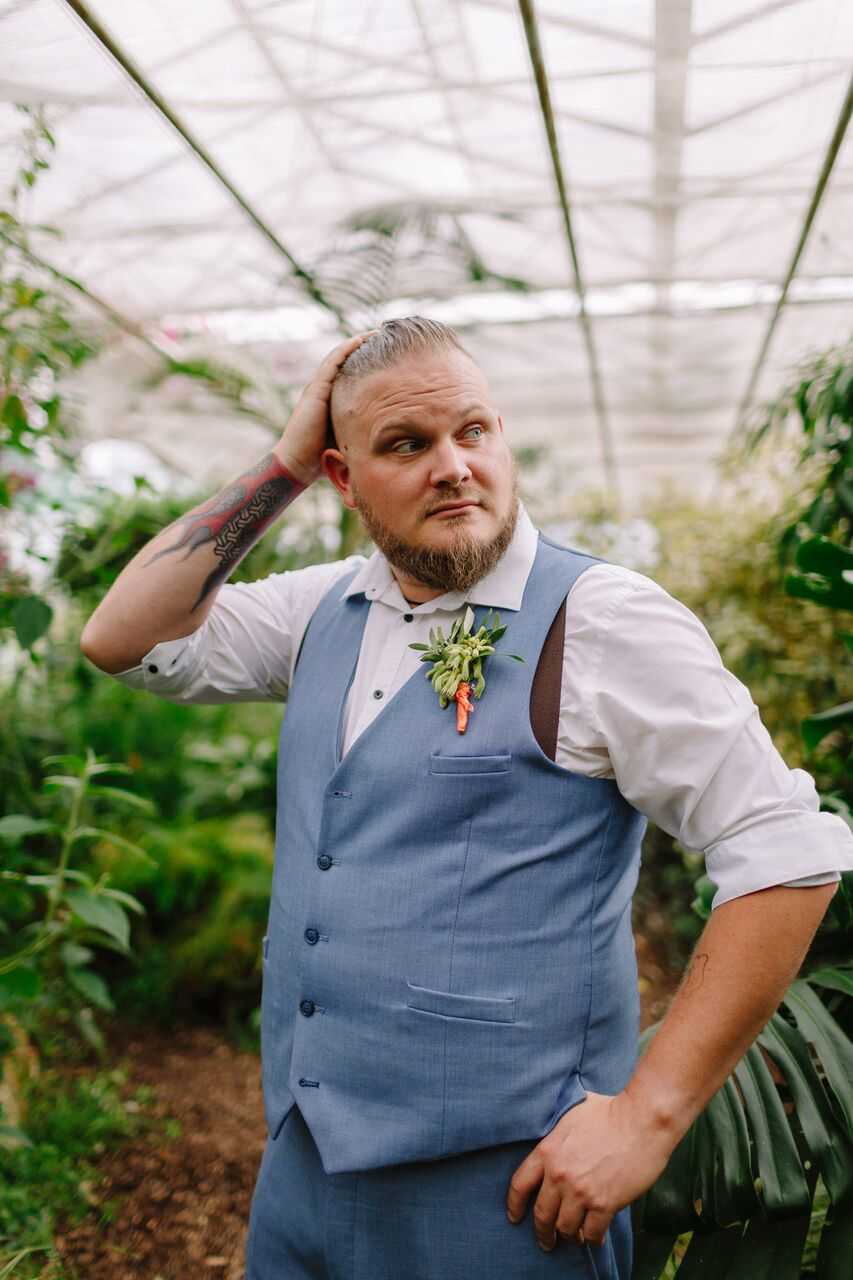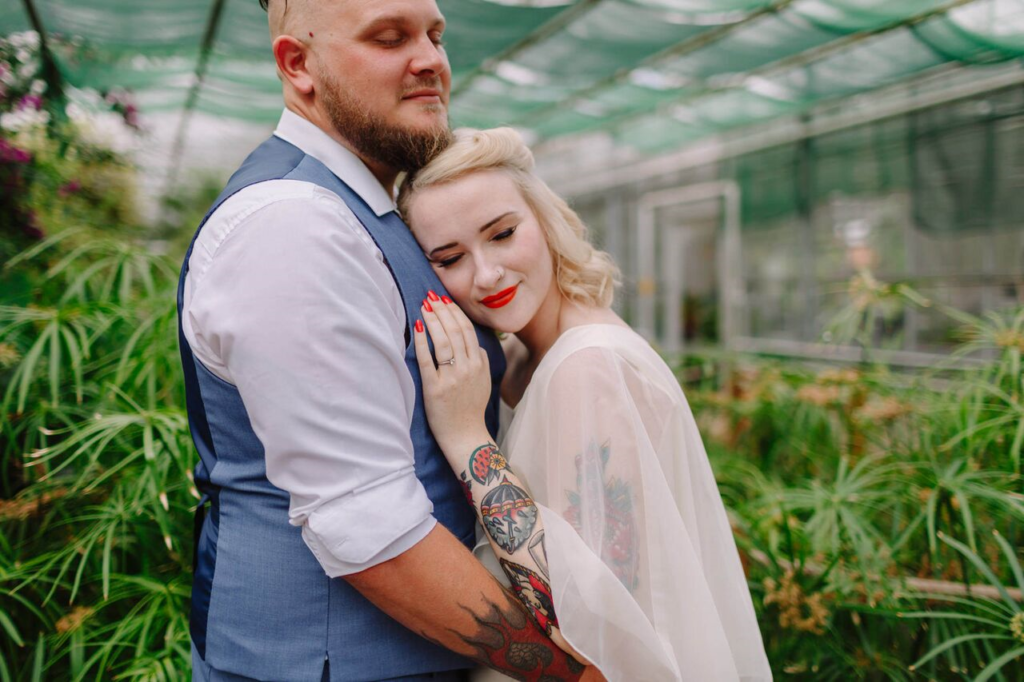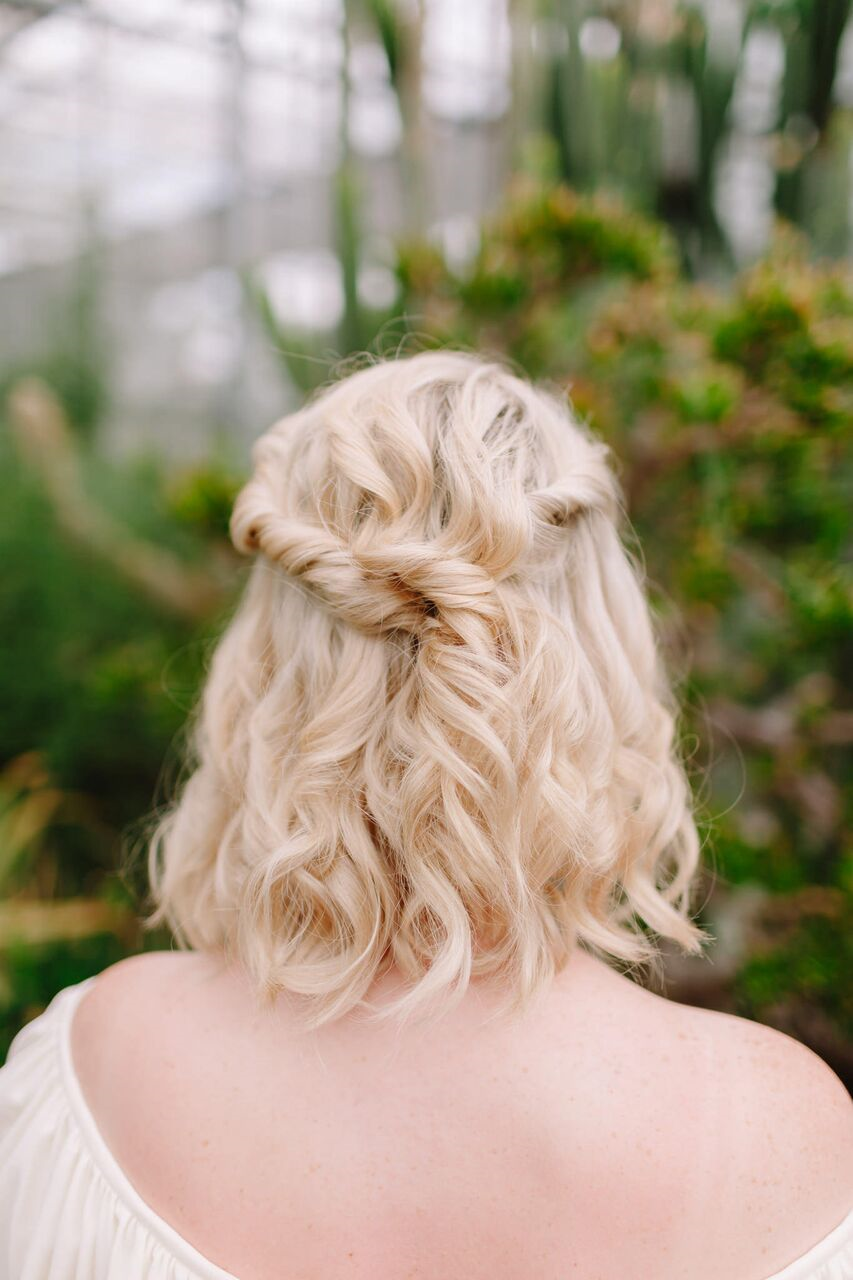 Make-Up – Alexandra Sullivan
"I wanted to give our bride a fresh, radiant look as I felt that suited the overall theme of the shoot. Louise has gorgeous skin so I opted for a foundation that really showcased this using Makeup Forever Ultra HD foundation 'Strobe Cream' from Mac Cosmetics. The Toofaced 'Sweetpeach' palette was perfect for creating depth and enhancing Louise's eyes and I chose a bold lip colour to complete the look. The overall look was classic vintage with a modern, fresh twist."
Cake – Crumbs to Creations
"Mustard yellow is very on trend, you can find it in everything from clothes to interiors magazines. Sarah and I love it, so it had to feature as it also fits well with the retro feel. I like textures and we wanted to play with shape as well, this inspired the mustard yellow chevron and the hexagonal bottom tier incorporated the geometric element, which is still a very popular theme especially with things like hexagonal biscuit favours stamped with a guest's name as place settings, for example. There were succulents to decorate the cake with and I made mini cakes topped with them to match the main cake. Wedding cakes can be far from the traditional standard three tier!"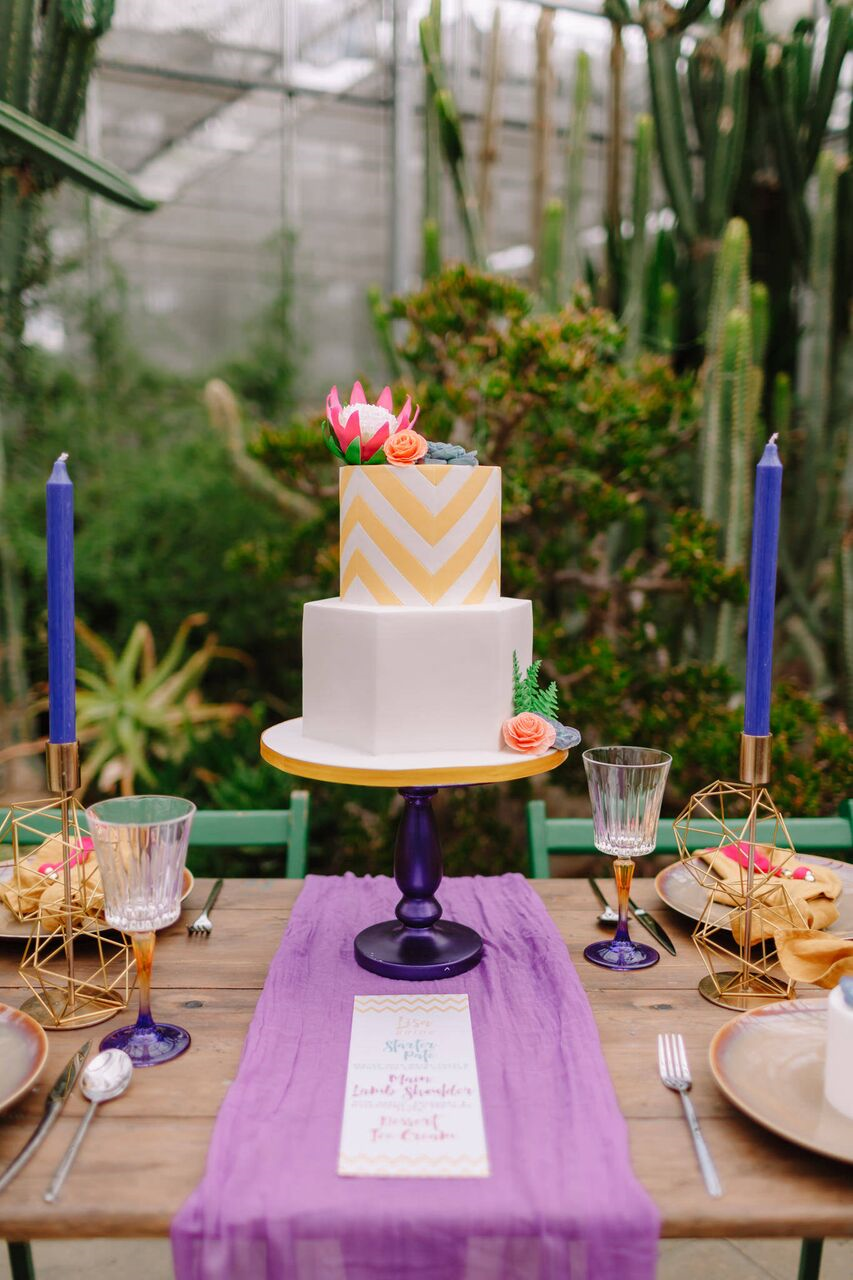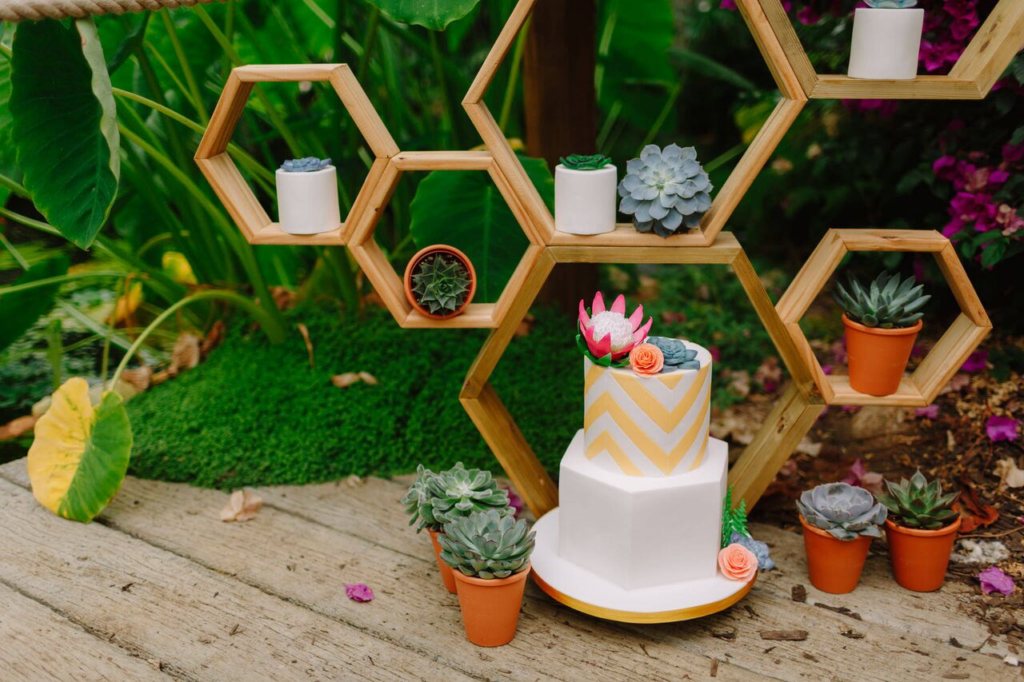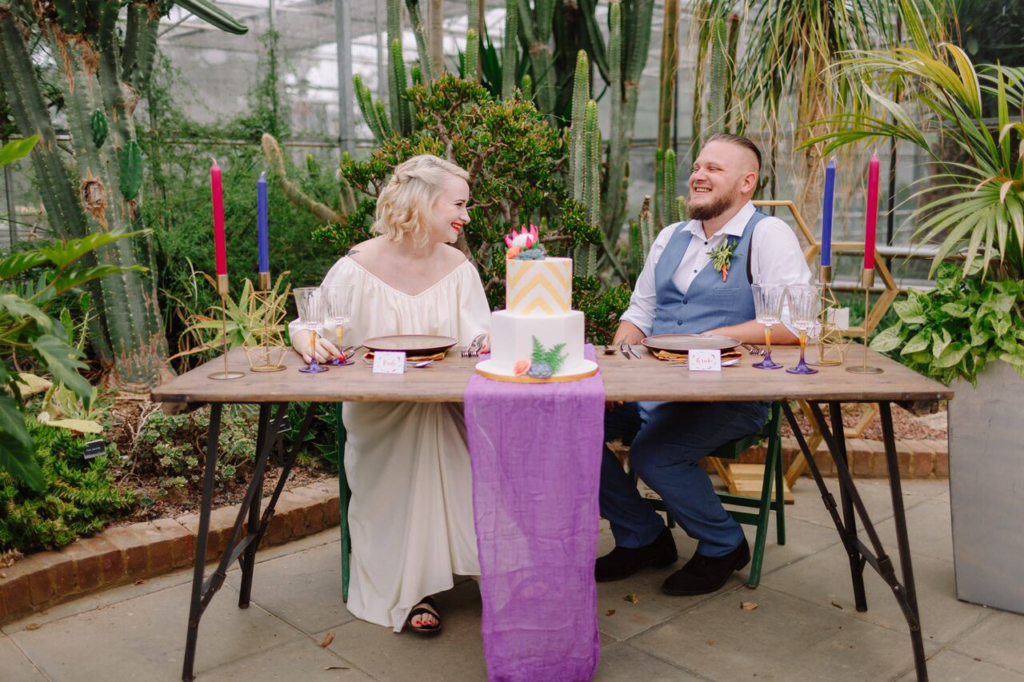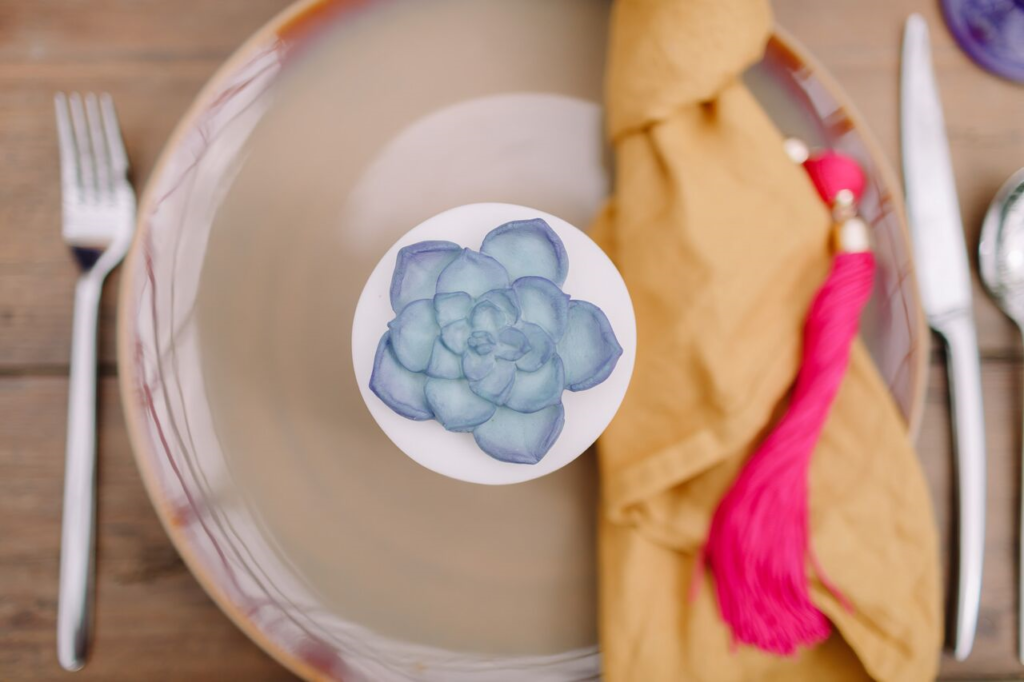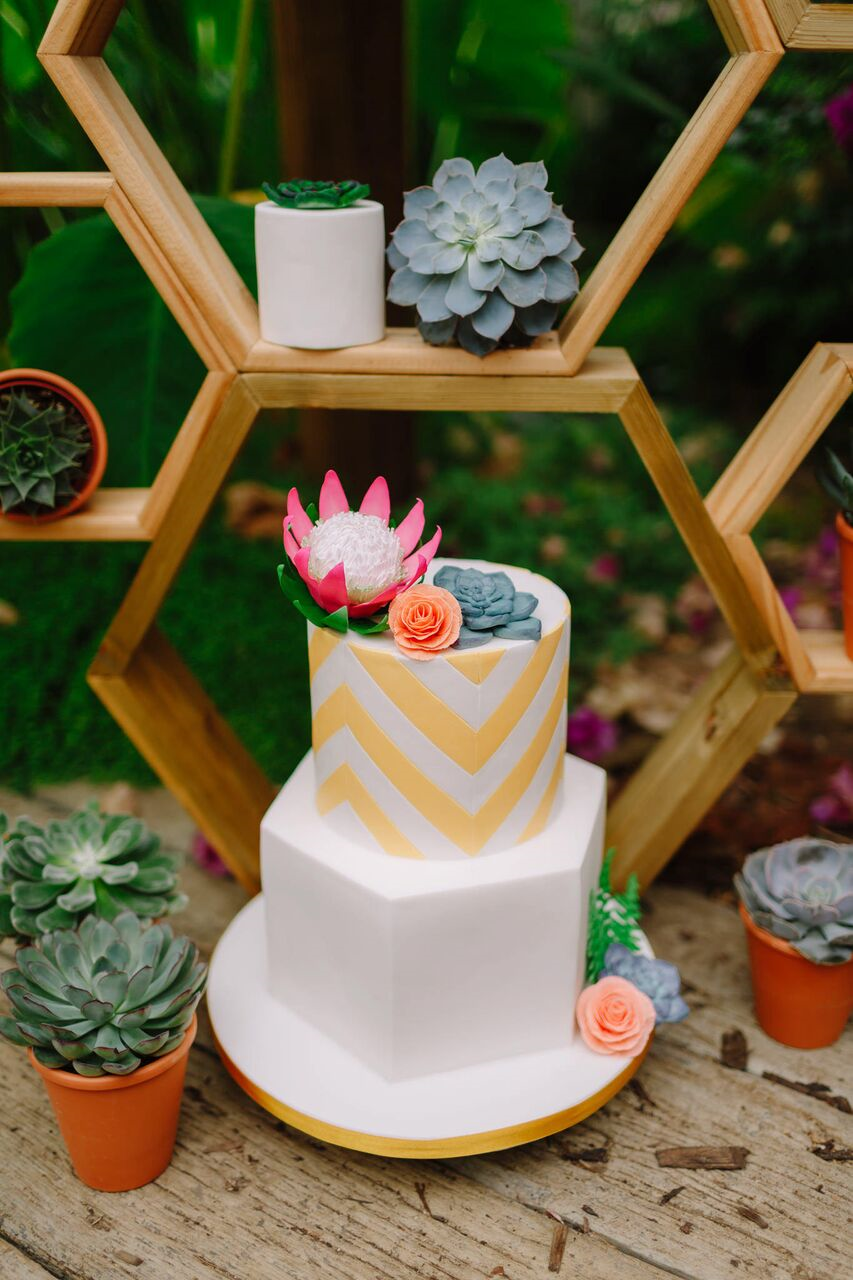 Flowers – Heavenly Petals
"When Sarah first approached me with her ideas, I knew traditional flowers just wouldn't do. I was asked to produce a large unstructured bouquet with lots of texture and the mood board showed lots of bright, bold colours with hints of vintage styling. I created a bouquet of yellow Chrysanths, orange Asclepia, Kangaroo's Paw and mixed foliage including Asparagus and Olive, with the Pink Lady Protea being the crowning centrepiece and giving both a colourful, bold look to the flowers as well as a modern twist on more traditional bouquets.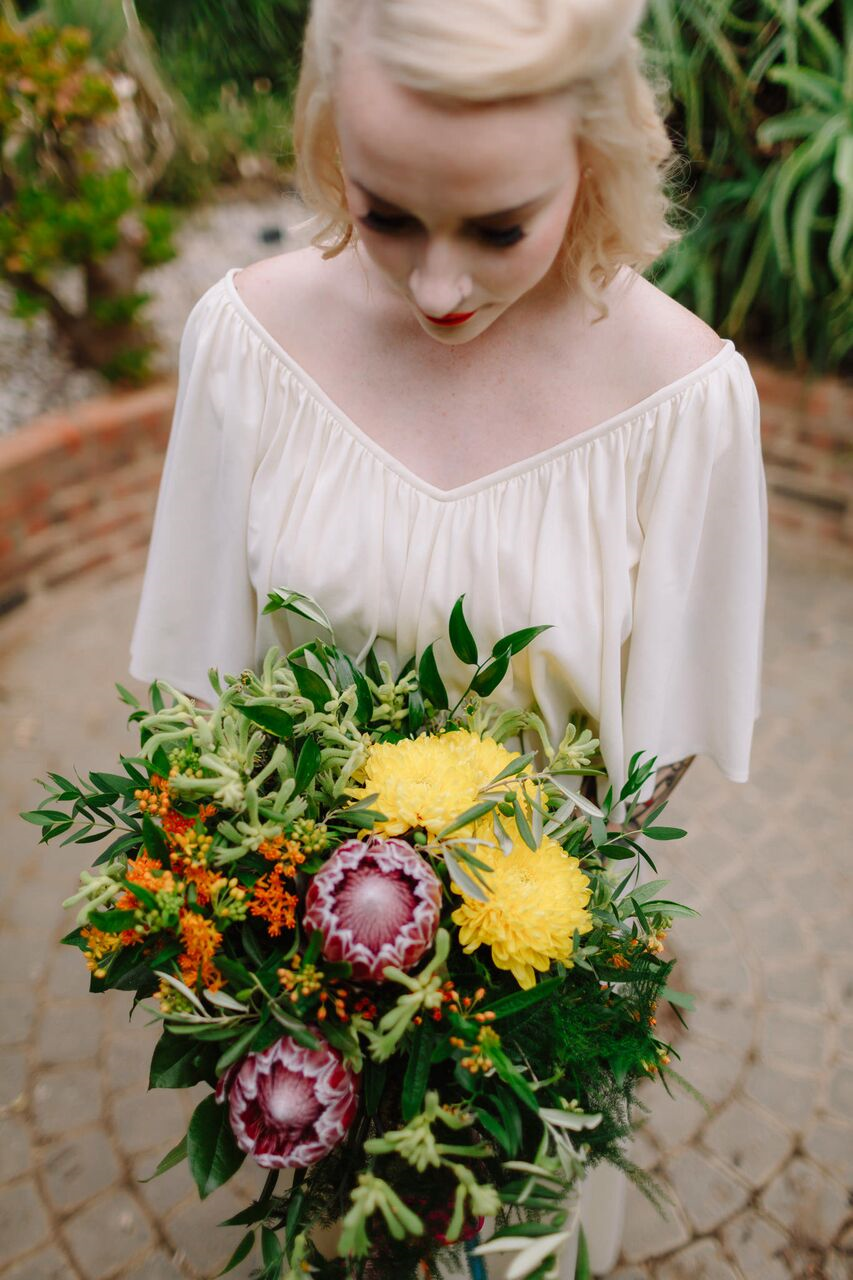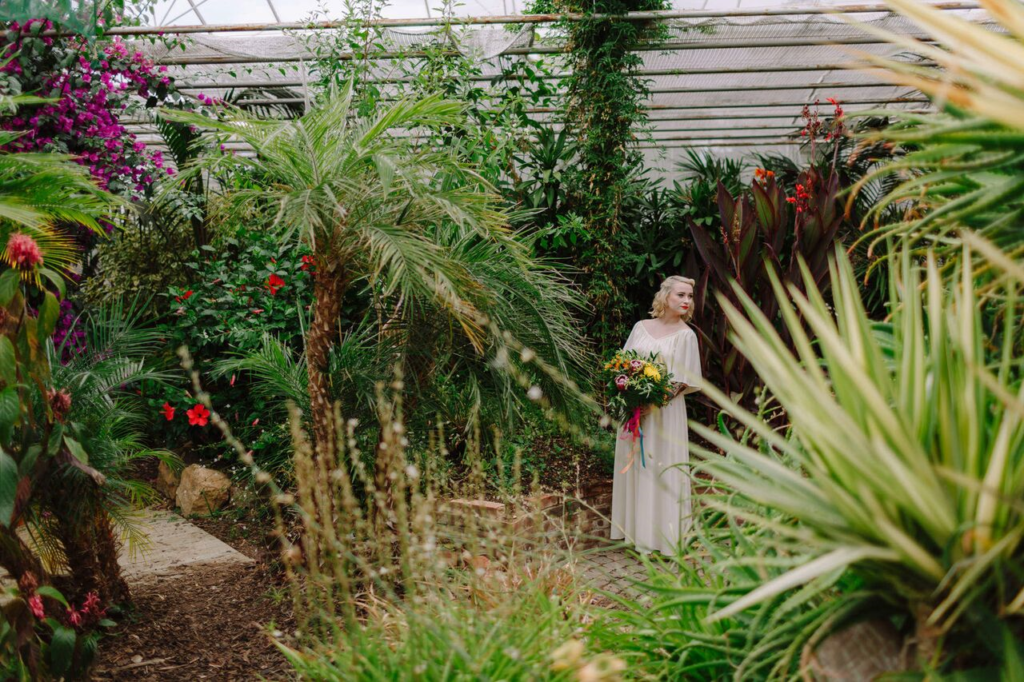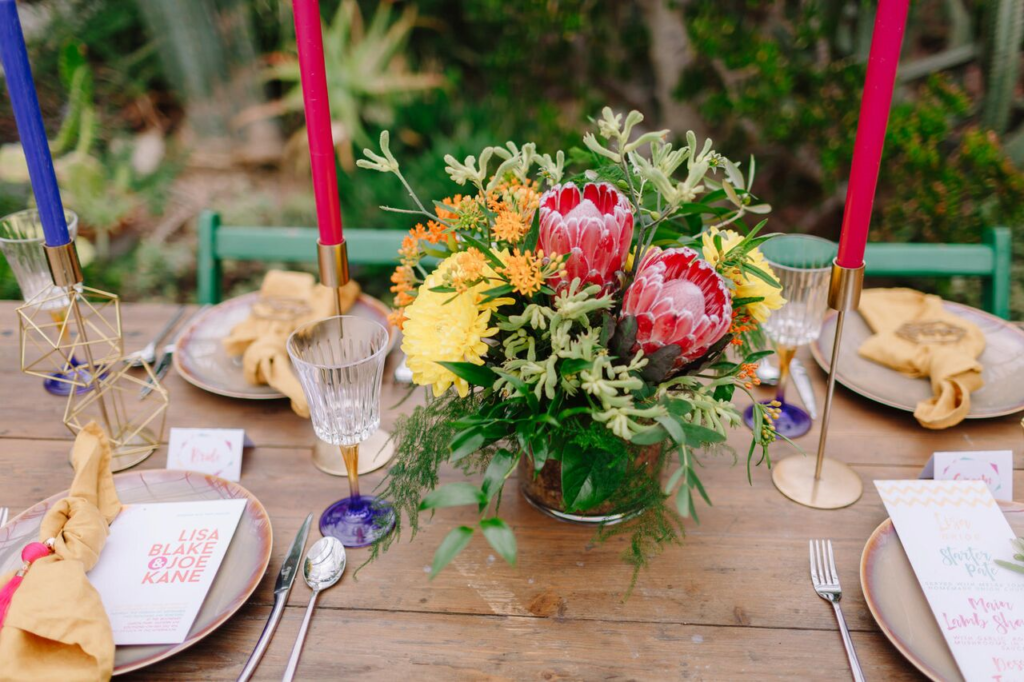 "Hopefully these flowers will show that just about anything goes when it comes to bridal bouquets and you don't have to stick to traditional Roses or Gypsophilia – bold, dramatic bouquets can be equally as timeless and far more memorable! Sarah's images really captured the vibrancy and life in the shoot and I'm very proud to have been involved in it."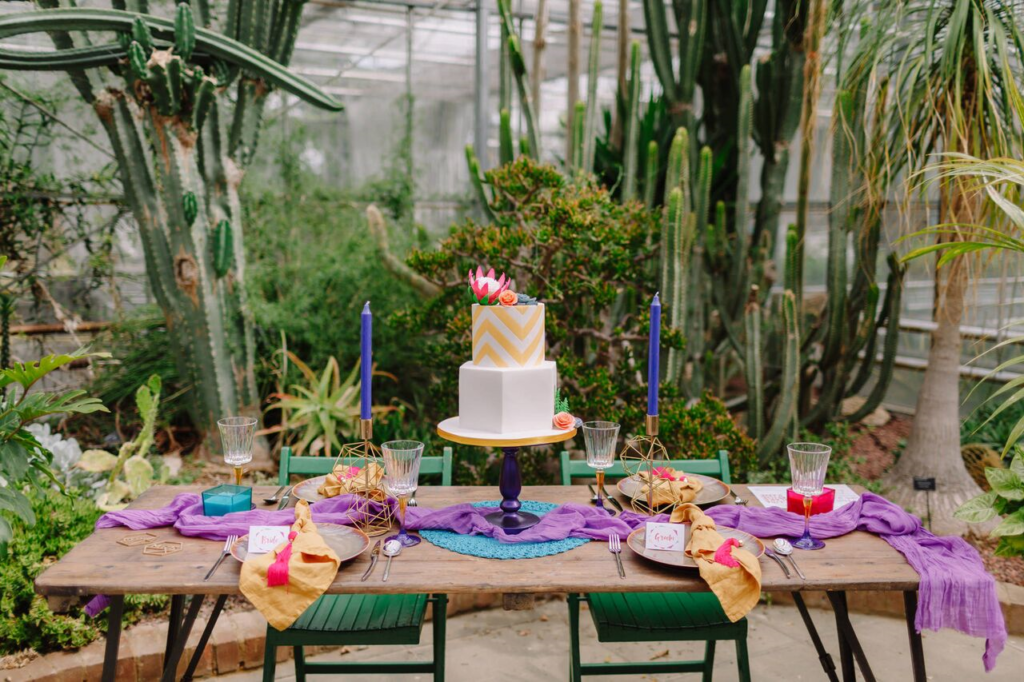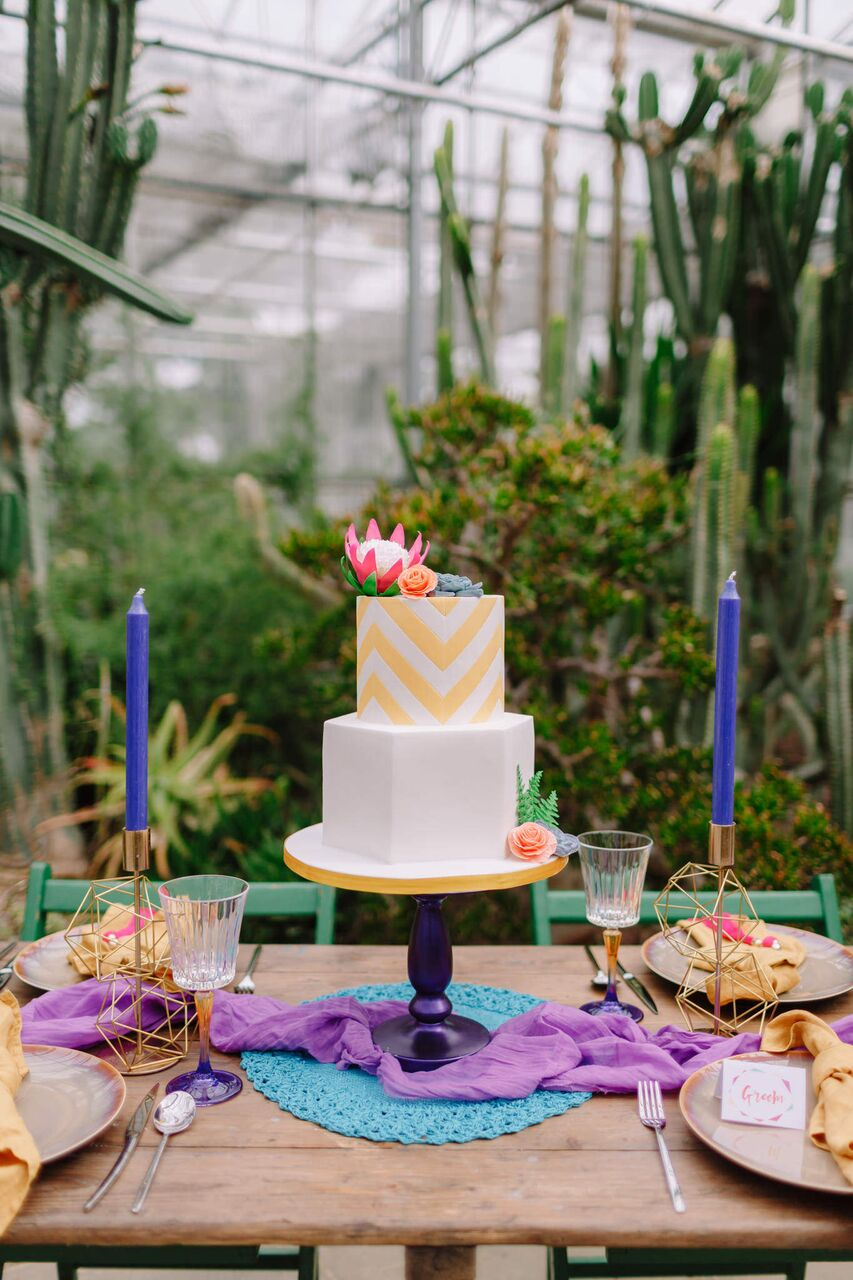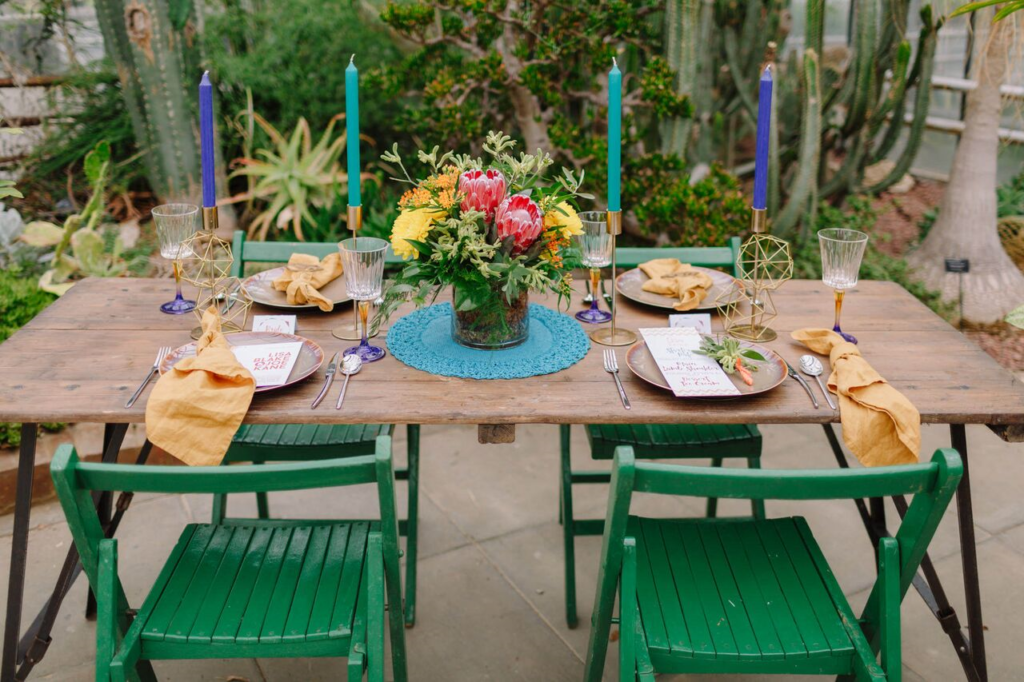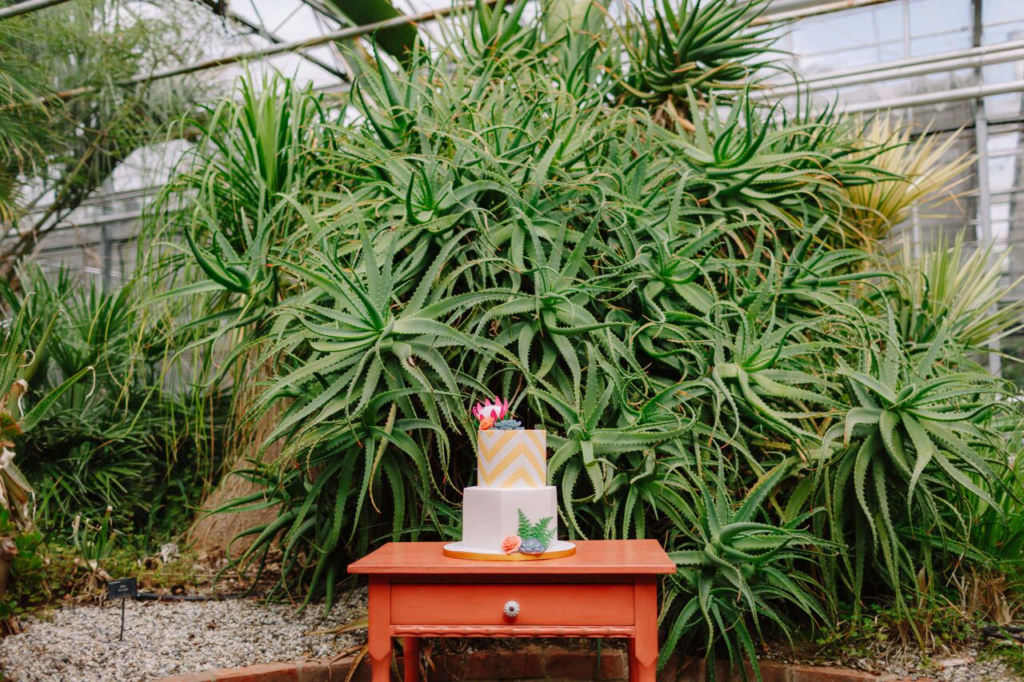 Furniture – Metroretro Vintage Furniture
"The furniture used in the shoot was supplied by Saxon from Metroretro Ltd. Exploring his warehouse of treasures was a lot of fun and it was difficult to whittle our choices down. We opted for a 1950s trestle table with green folding chairs which is still very on trend, a faux bamboo writing table was the perfect cake table and a stunning 1950s dressing table created a dramatic backdrop for the ceremony set up. A few key pieces will pull a look together like this perfectly, while adding a unique twist."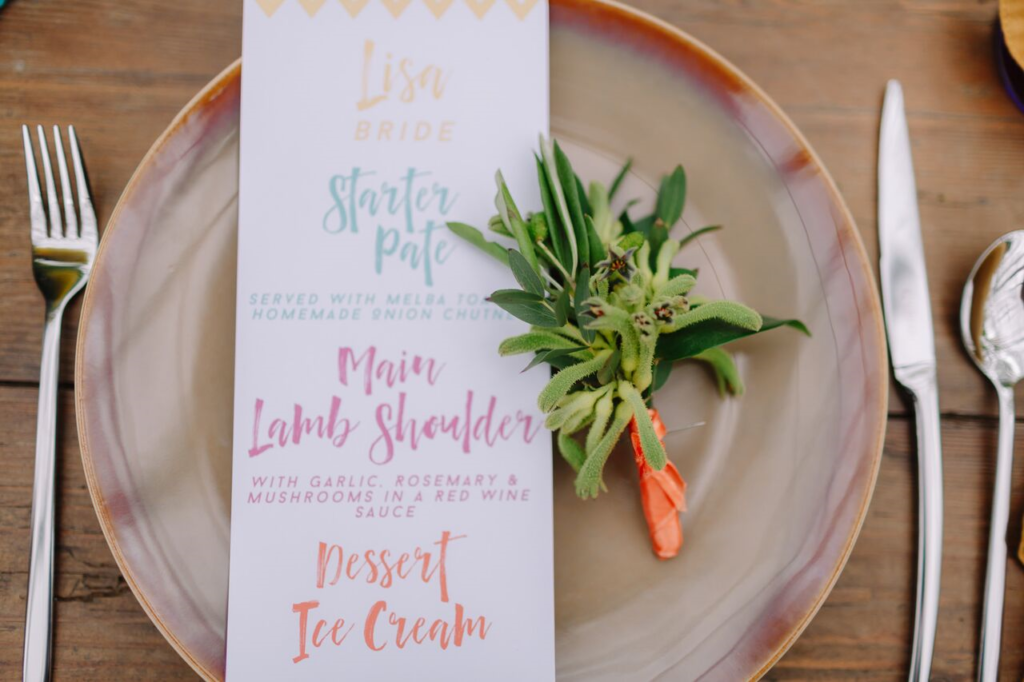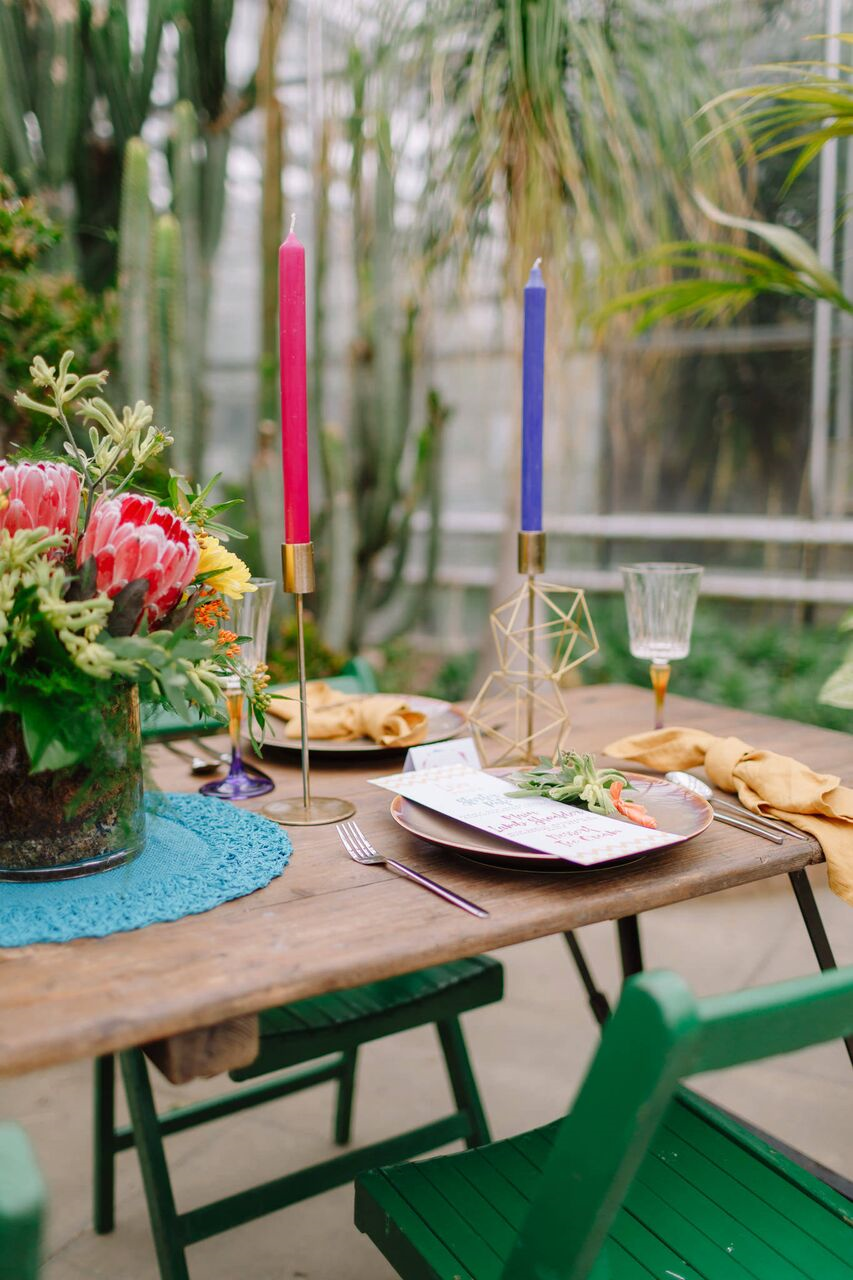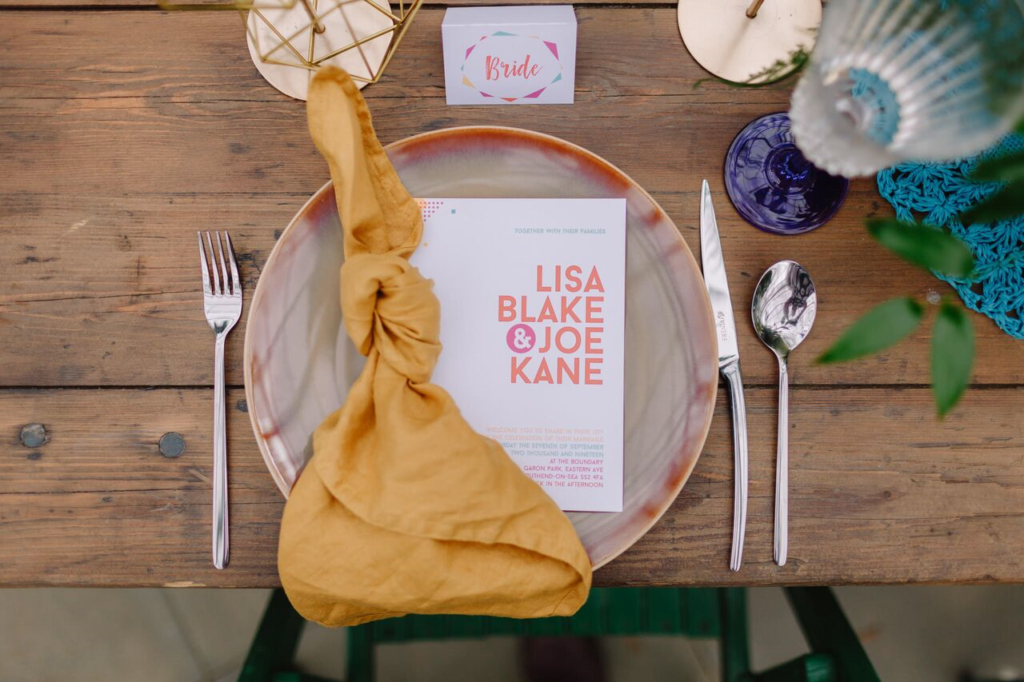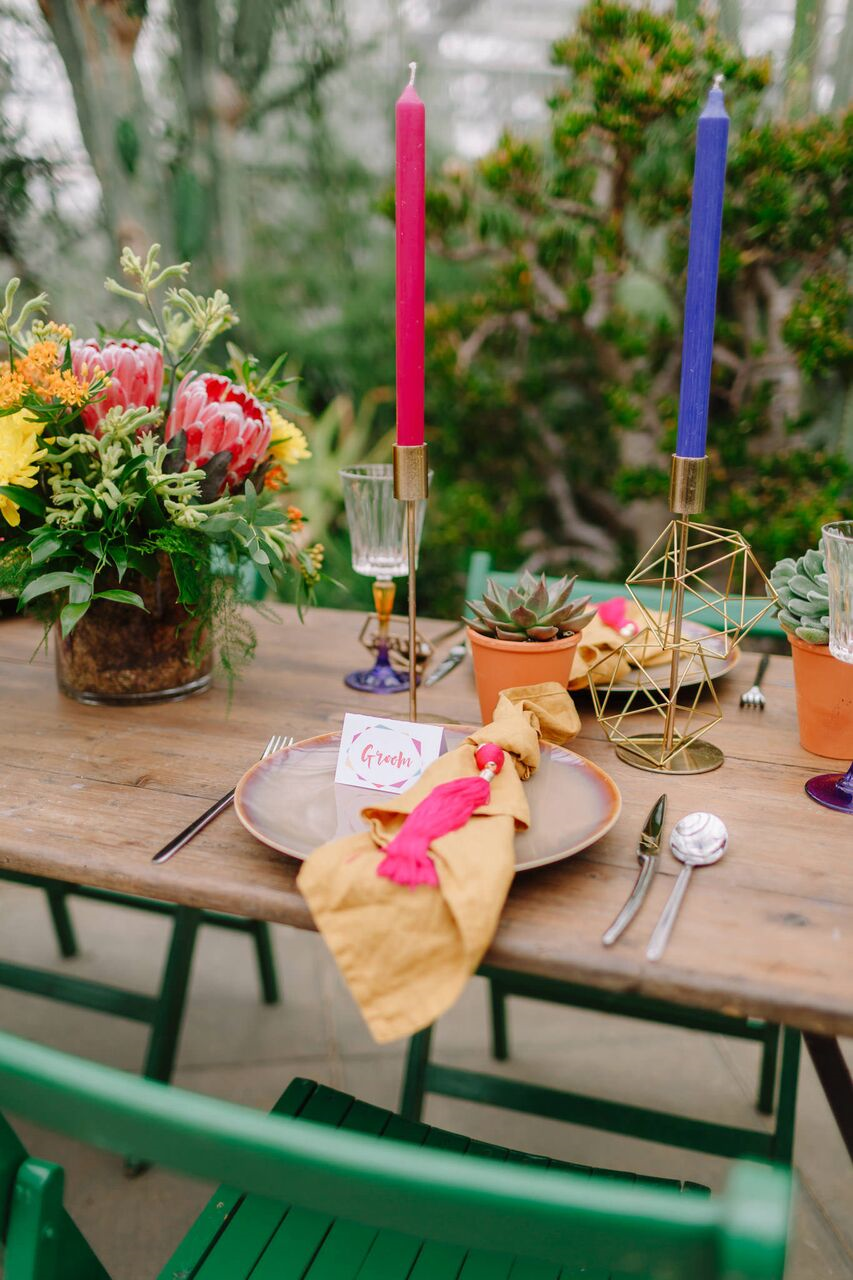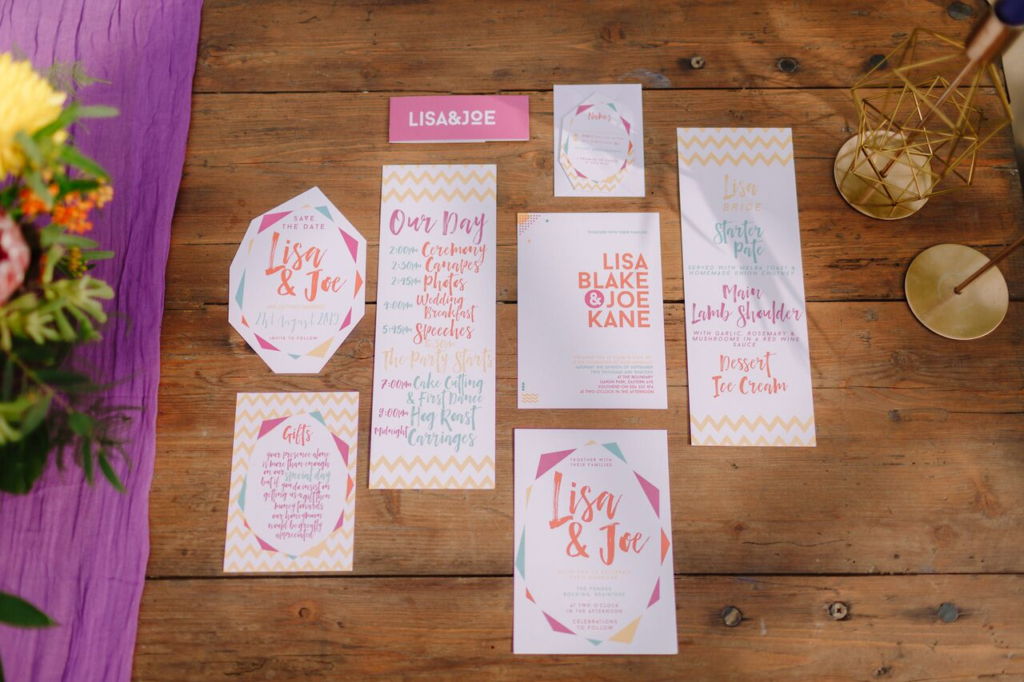 Stationery – PSXO Designs
"Ema from PSXO Designs immediately understood the brief for this shoot and produced some really unique, bold and refreshing stationery to finish off our table set up. She incorporated the bright colours with strong fonts and geometric patterns to really tie the whole thing together for a really unique looking set of stationery items that would fit in with any mid-century modern wedding."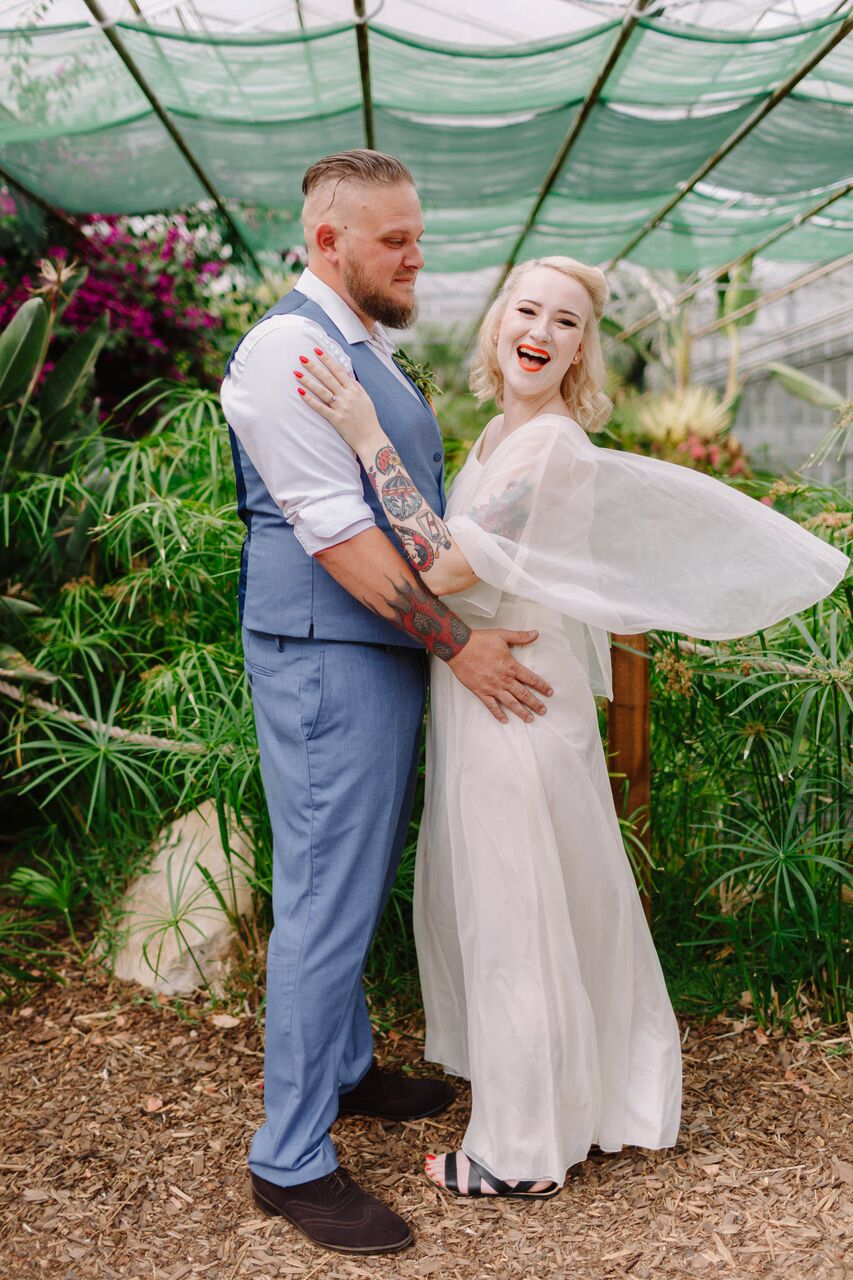 The Team – Modern Vintage Wedding Inspiration with Clashing Colours and Tropical Vibes
Photography- Sarah Wayte Photography @sarahwaytephotography
Styling – Party Squared – @partysquared_weddings
Hair – Bridal Hair by Jennie @bridalhairbyjennie
Make-up – Alexandra Sullivan @alexandrasullivanmua
Dresses – Cambridge Vintage Bridal @cambridgevintagebridal
Furniture – Metroretro Vintage Furniture @metroretroltd
Flowers – Heavenly Petals @heavenly_petals
Stationery – PSXO Design @psxo_design
Cake – Crumbs to Creations @crumbstocreations
Venue – Writtle University College @writtleuniversitycollege
Louise Mathers (Bride/Model) @louisevstheworld
Stuart Wilkinson (Groom/Model) @wilkybarkid
Looking for more modern vintage wedding inspiration check out Rustic Sunset Wedding Inspiration with a touch of vintage