Make boring wedding chairs a thing of the past by styling them to co-ordinate with your theme! There are many ways to do this – from ribbons to foliage – which you can create yourself or hire a stylist to help you with. Chairs come in all different shares and designs these days – some can be hired, come can be bought, and some the venue already will have. With all this choice in mind, some of our favourite stylists have shared some ideas with us today, on how they create interesting chair looks, that can brighten up any design.
Alice from Fleur De Lace loves colour and ribbon, lots of ribbon! "Chairs are often forgotten about at weddings, sadly… but there are loads of ways you can make them that little bit more awesome. One of the most popular items I stock and dress at weddings are chair ribbons; they work really well tying them onto the back of the any style of chair and is a great way to take your colour scheme onto the chair, to carry it through the whole design."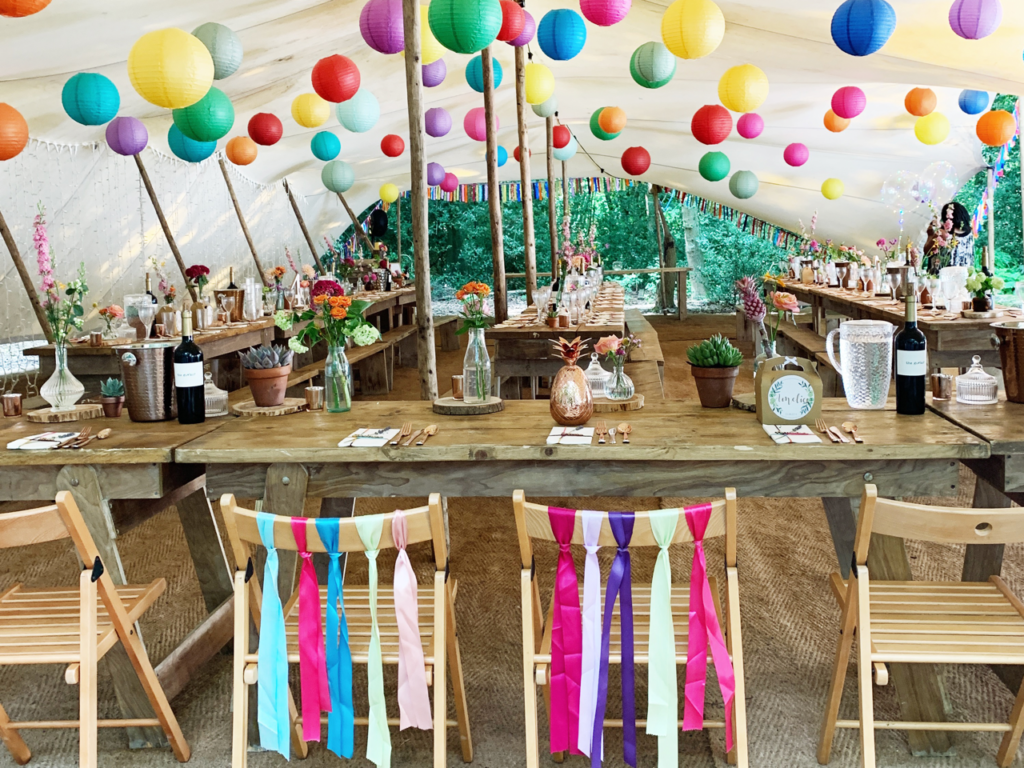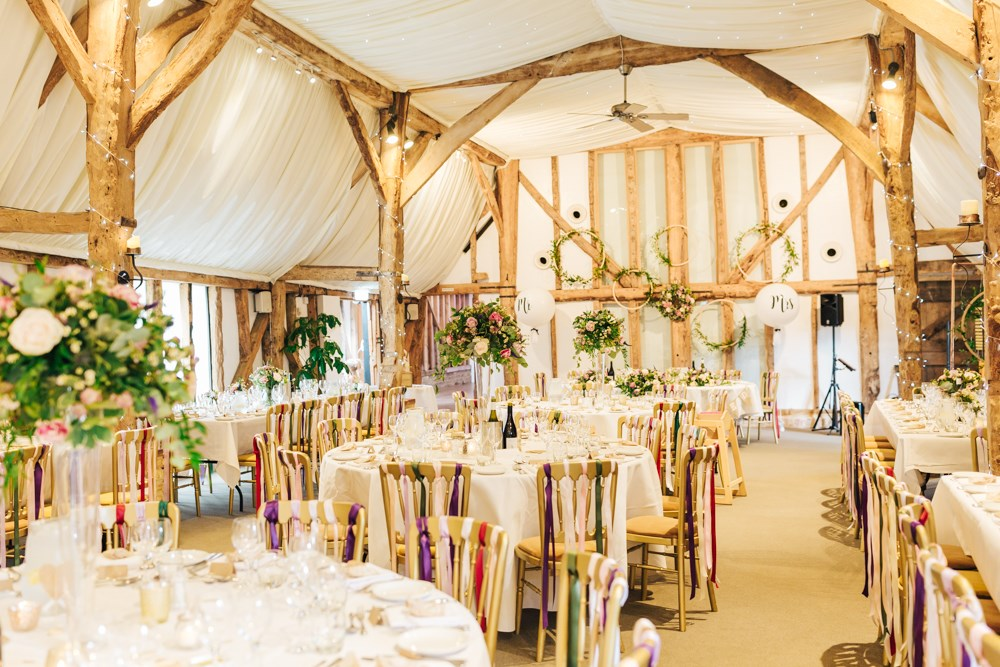 "Ribbons on chairs can also work tied over chair covers on, adding a pop of colour over the traditional white. This worked really well with the couples pretty, pastel theme, matching their paper lanterns. If you want personalised ribbon bunting, check out Boho Temple!"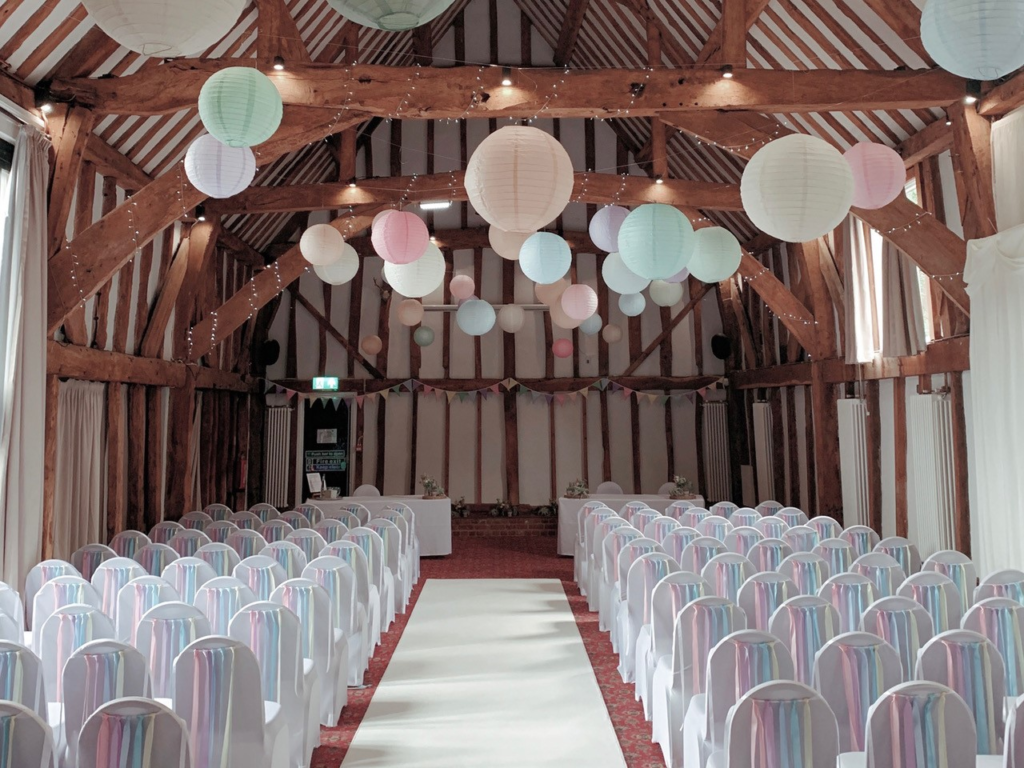 Venue: Knebworth Barns
"We often find that people don't know how to decorate there chair because of the design. These Chair Backs (wood cut by us at Fleur de Lace) are lightly covered in olive and pinned to this classic highjack soft furnished chair."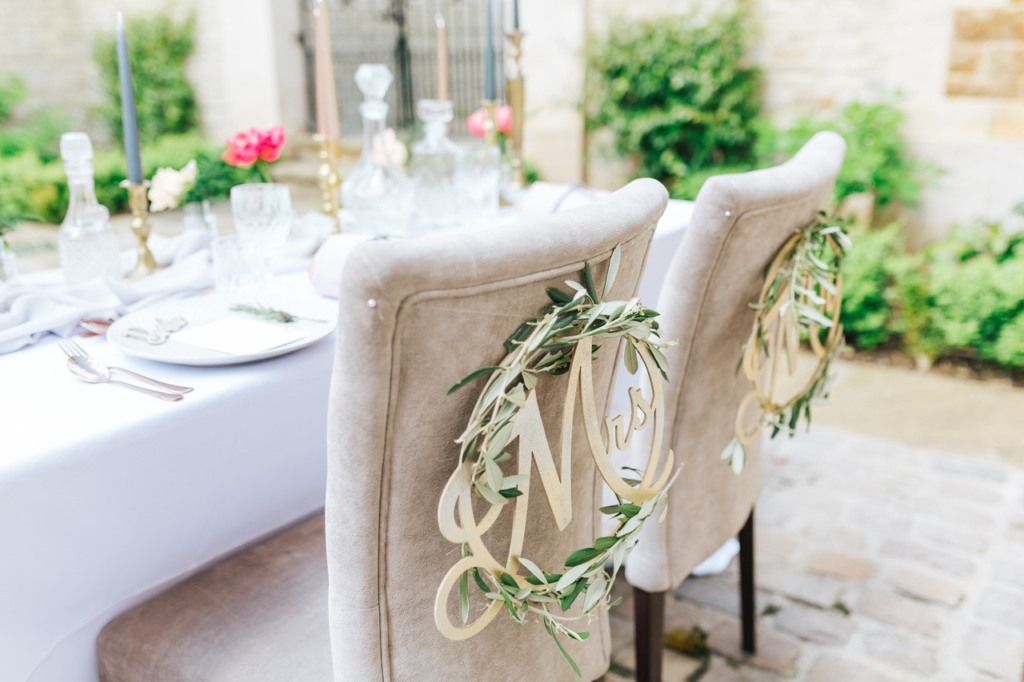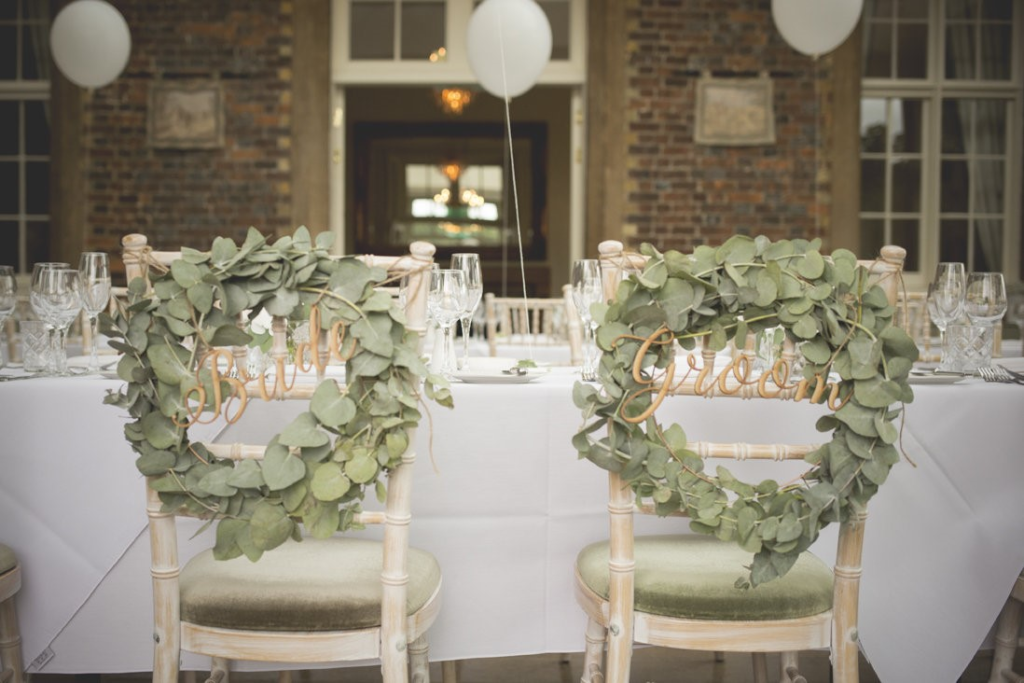 Jen from My Pretties UK whose work has been featured a few time on Magpie Wedding shared her ideas with us today.
"I always think a lovely swish of chiffon or silk can really elevate a standard wooden chair. Then you can get creative with how they're tied; ribbon always looks classy and can match your colour scheme, twine is great if you're having a rustic wedding. Adding some fresh foliage or lavender that smells lovely too will really make in impact. I'm not a fan of cover chairs personally, I think if your budget can stretch to pretty wooden chairs it's definitely worth doing. I'm big into the Boho trend as are a lot of my clients, these cool macrame chair backs can turn any standard chair into a bohemian dream!"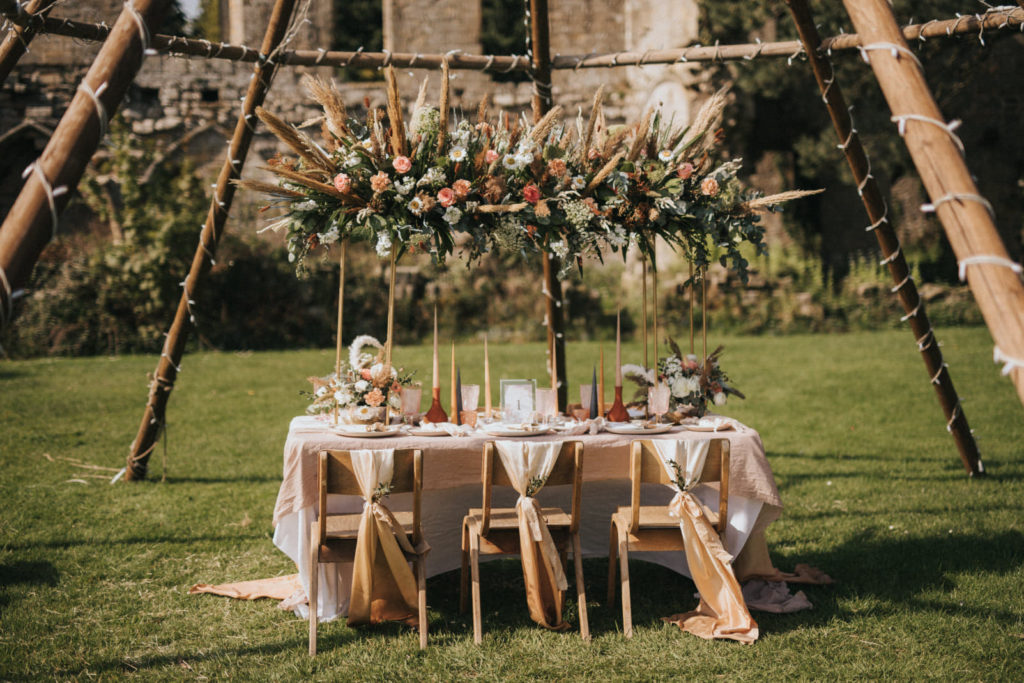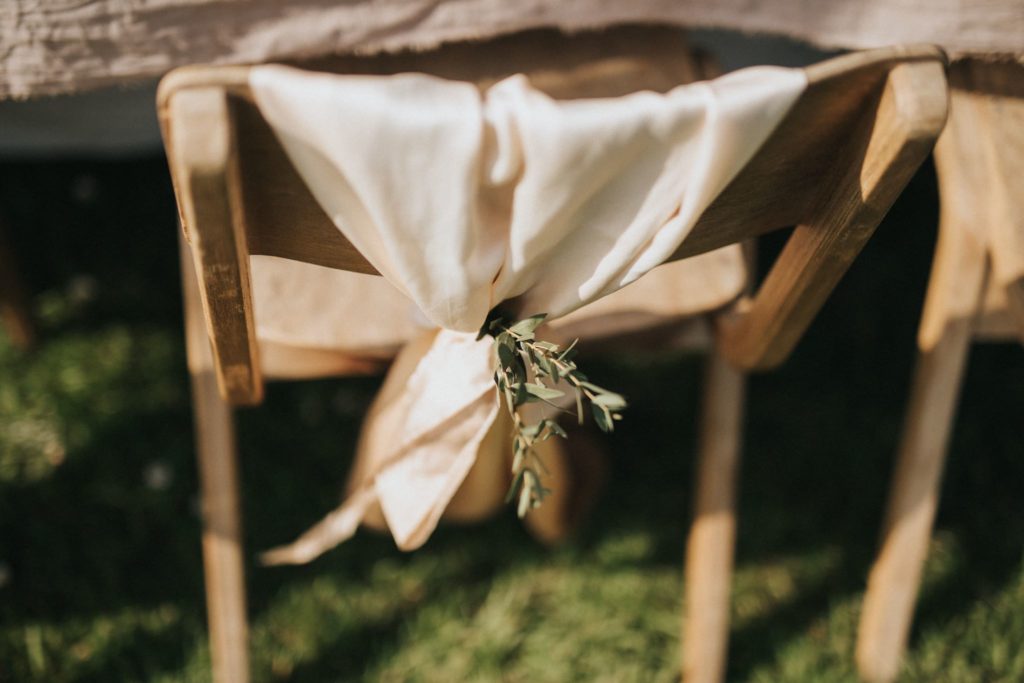 Photographer: James Green Studio
Another idea is to use the chairs to direct your guests where to sit – you could print a menu onto linen and drape it over the chair back or embroider your guests names onto napkins and position over the backs. This look features linen by Extra Special Touch.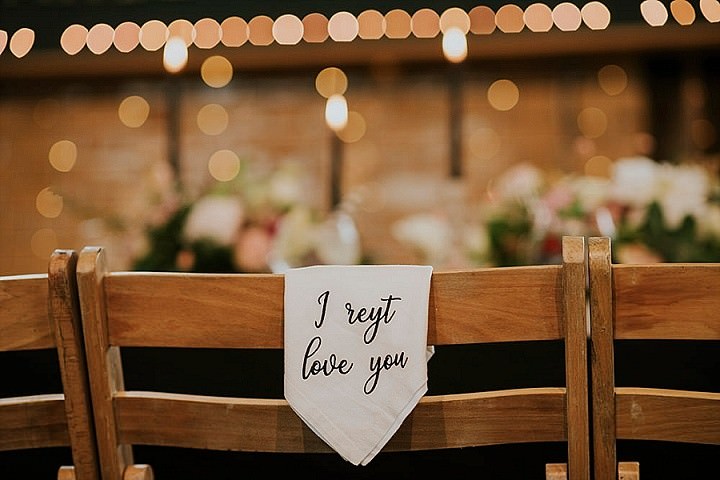 Photographer: Key Reflections / Stylist: Francesca Cliffe Events
Or hang a bunch of flowers, fresh or dried, tied together with a velvet ribbon. This looks great for a rustic wedding and for chairs that are a bit worn like these. Extra Special Touch can also embroider names on the ribbon, so can again be used for place names.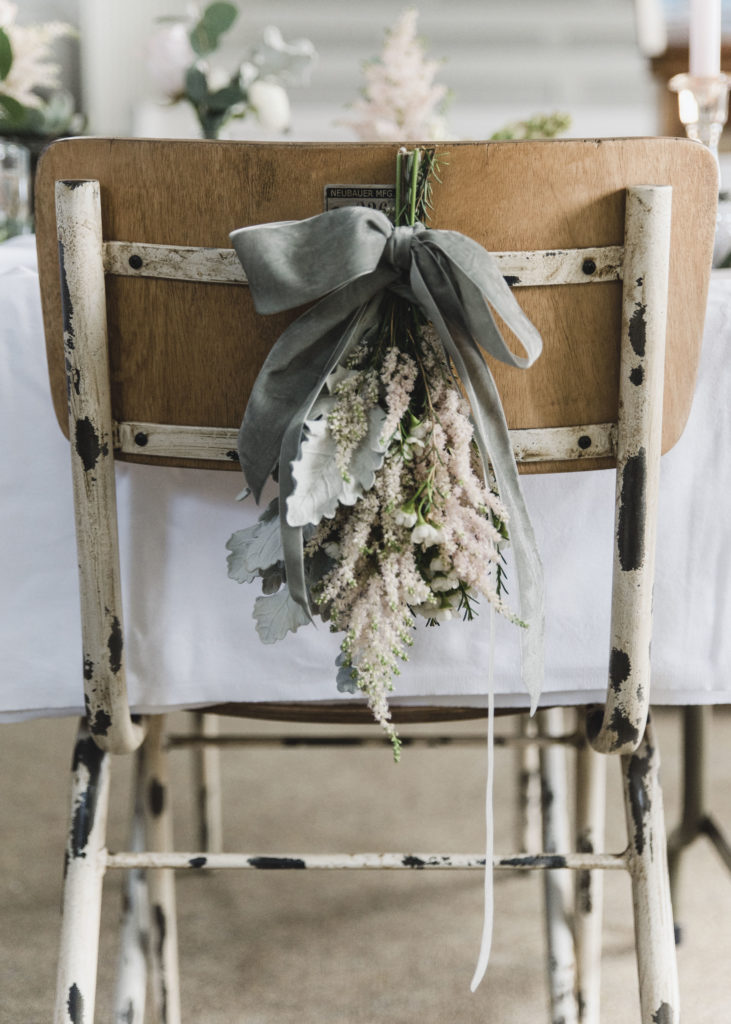 Finally if you don't like the chairs you can always cover them – we like these vintage chair covers by Betty Loves Vintage, for something a little different. Helen the designer and owner says, "Each chair cover has been lovingly handmade from reclaimed vintage fabrics, that have been sourced from local charity shops and vintage fairs. They are a unique, creative and sustainable alternative to the dreaded mass produced Lycra wedding chair covers. I also love how unique and creative the couples who hire them are! Each having very different wedding styles from bright and bold to pastels, delicate country garden to full on clashing retro with chintz prints."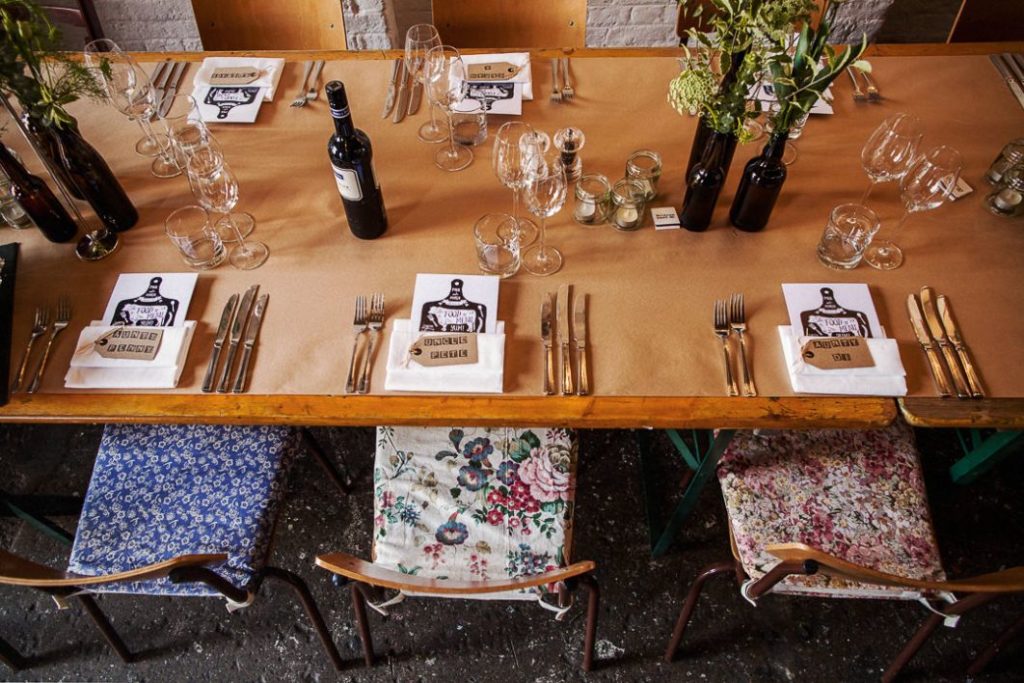 Photographer: Matt Parry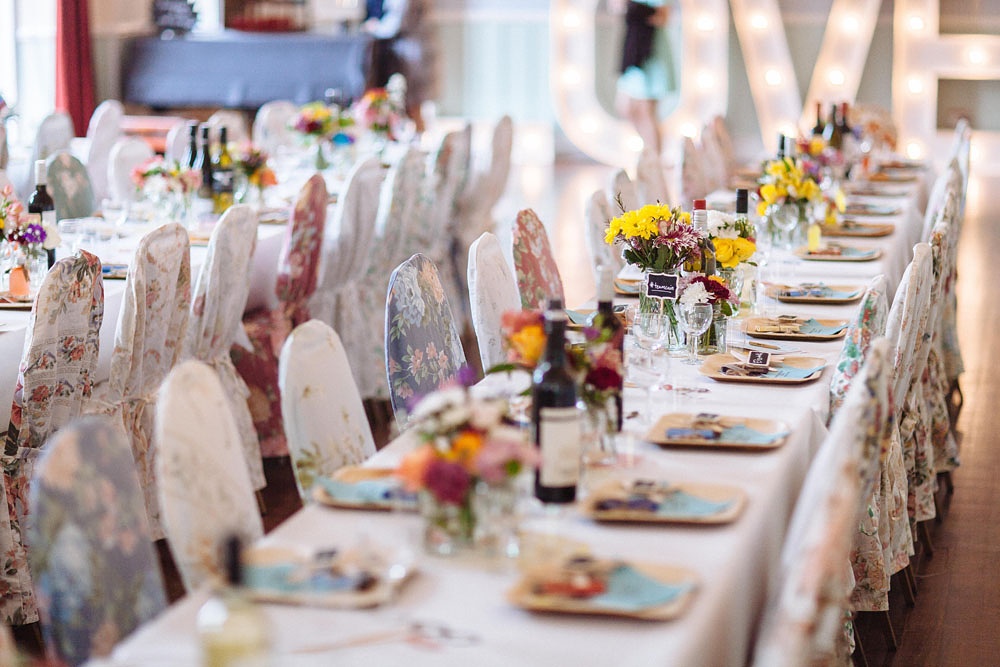 Photographer: Steven Fanstone / Venue: Mycenae House
Whichever look you choose, don't forget that you can choose your wedding chair too. From acrylic see through modern wedding chairs, to wooden folding chairs, from rustic outdoor benches to church chairs from Rosehill Furnishings, there is now so much choice for the ceremony through to the wedding breakfast. To keep it looking effortless and chic one final tip for you – don't make them look too perfect. Tie loose knots, add simple handpicked herbs, or tie the ribbons at varying lengths will add to that cool vibe.
IF YOU LIKED THIS BLOG THEN PIN IT!