The great thing about bouquets made from paper, fabric or brooches is that you can keep them forever. Today I share how I made my own brooch bouquet for my own vintage wedding, using enamel brightly coloured jewellery.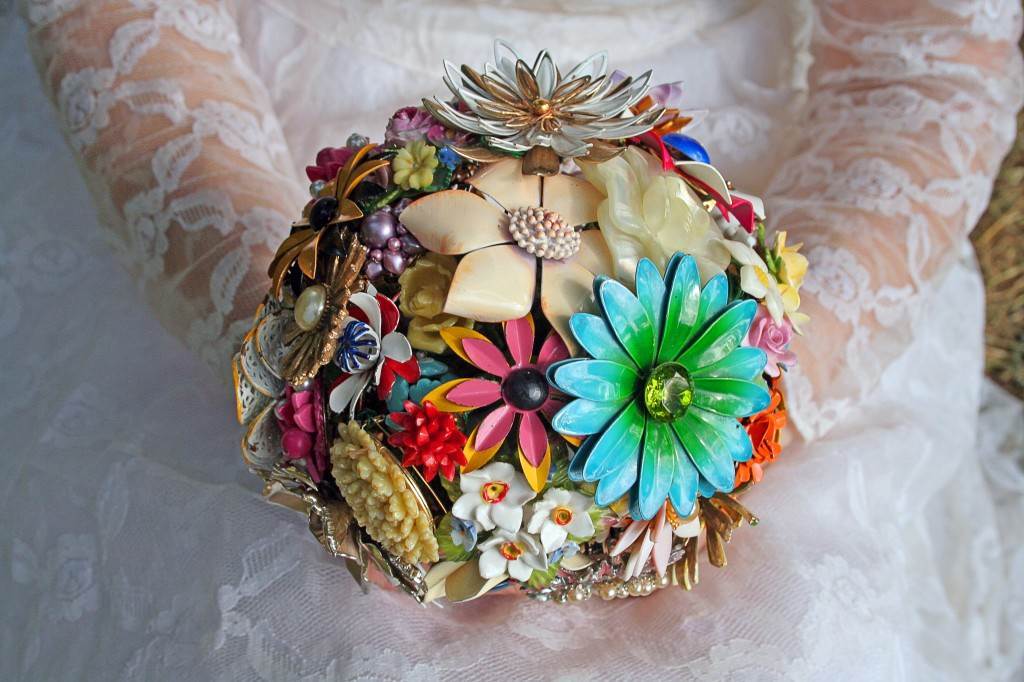 What you need:
Brooches, lots of them! You actually need a lot more than you think so gather as many as you can. I also used vintage clip on earrings.
Florist wire in single strips. I used 14 inch wire. This can be bought online, or directly from a florist or craft shop.
Florist tape
Ribbon and pins
Elastic bands
Wire cutters may be needed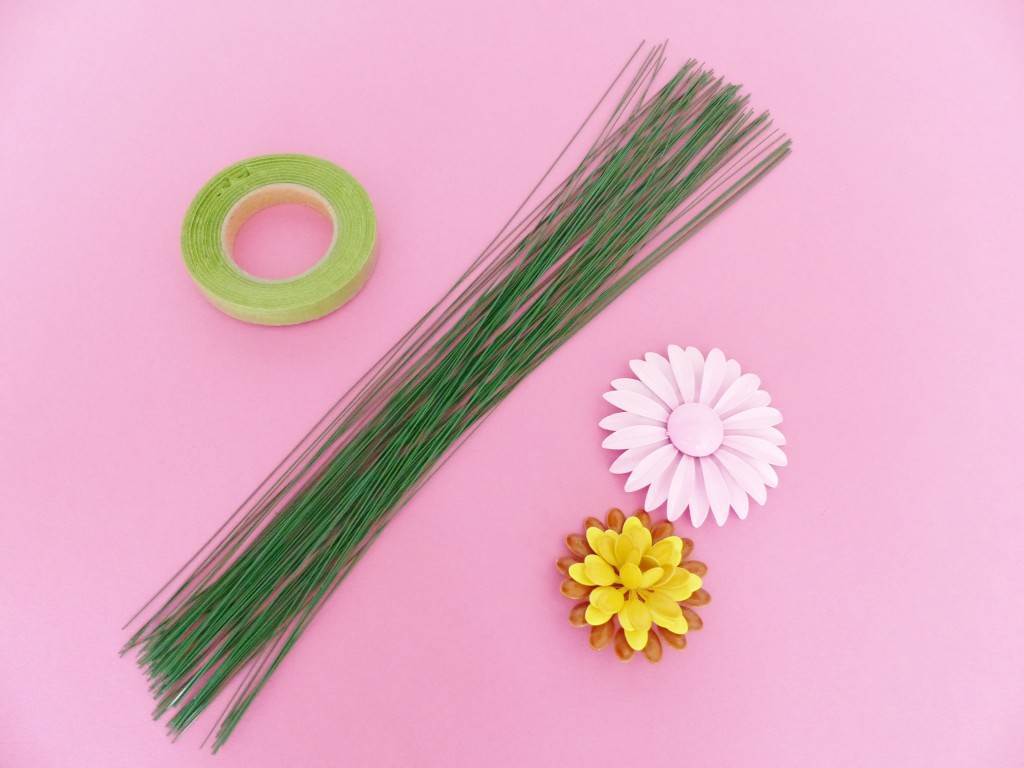 1. Choose your brooches and earrings. It is a good idea to select differing shapes and sizes but I found that brooches that are 2 inches wide work the best.
2. Making sure the pin is fastened, start to wind the wire around the whole length starting at one end and finishing at the end, making sure it is secure and tight. When you get to the end, wind it back over what you have done, back to the halfway point so the remaining length of the wire is central to the back of the brooch.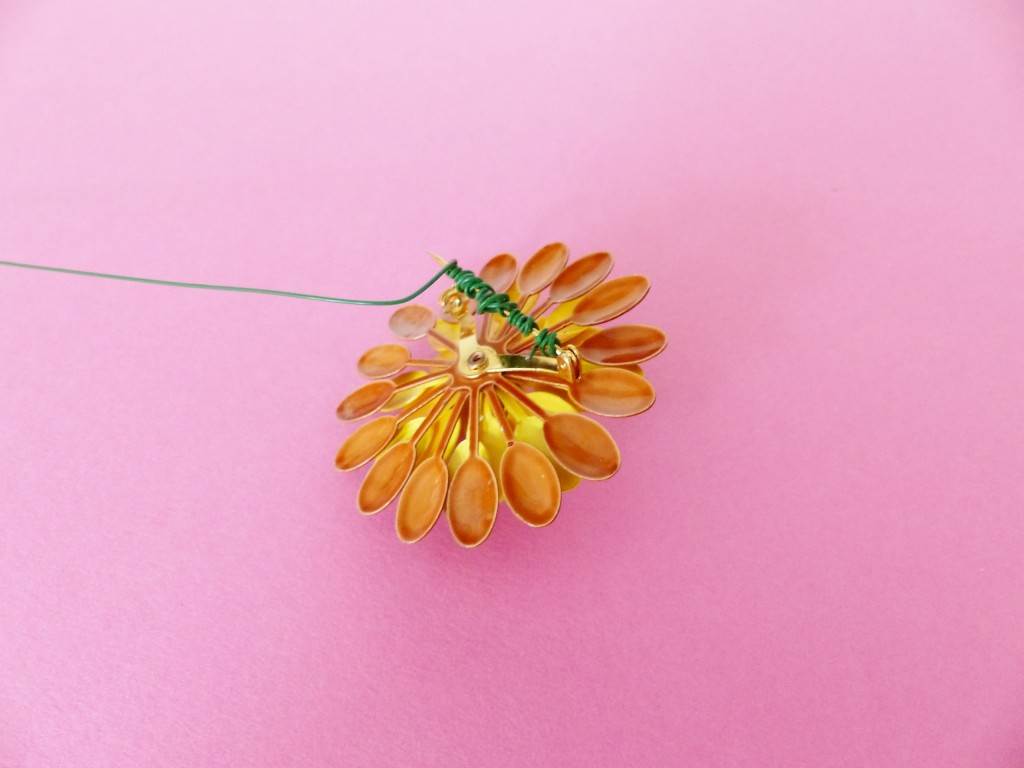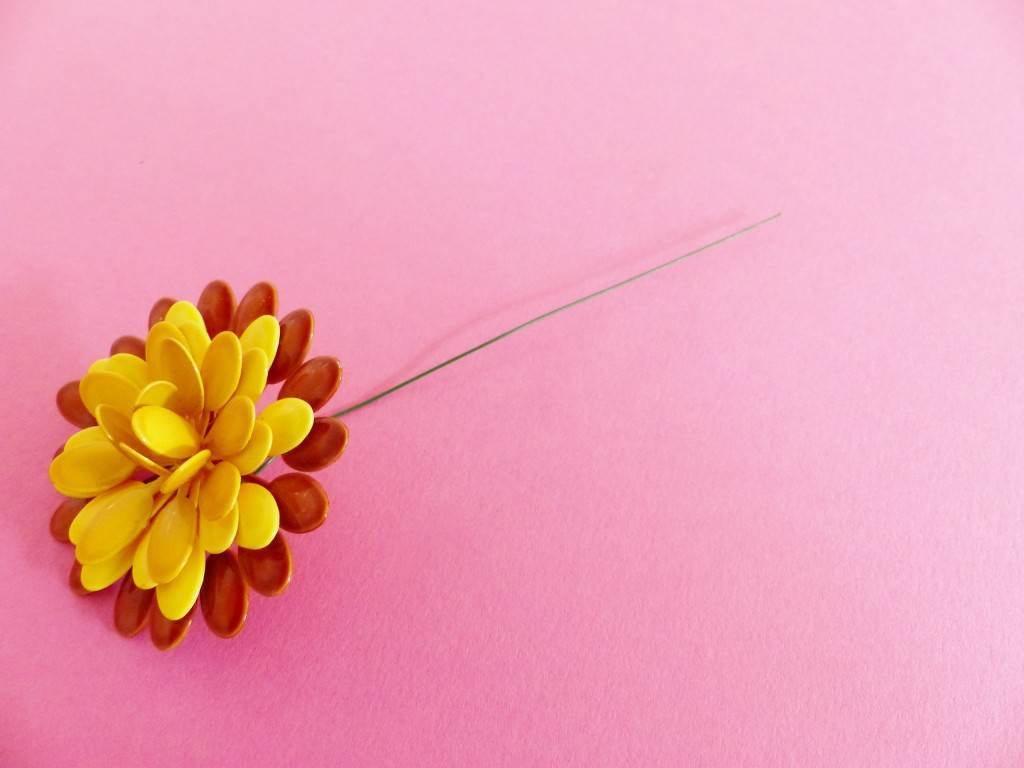 3. Repeat this on all of your brooches. If you are using clip on earrings, wind the wire tightly around the clip part.
4. As I chose anything over 14 inch wire, you will now find the stem part is very long. At this point cut the wire to your desired length or fold it upwards to make a thicker wire stem. Repeat with all your stems.
5. Wind florist tape up the whole length of the stem, tightly. You will now have what looks like a finished flower. Repeat with all of your brooches.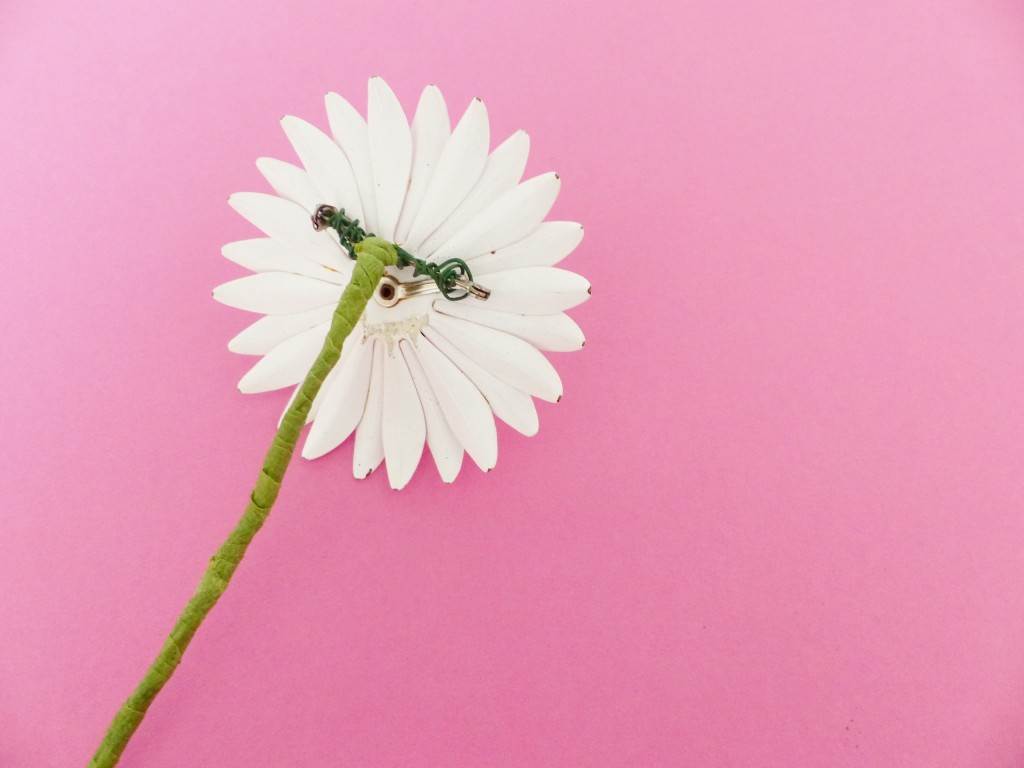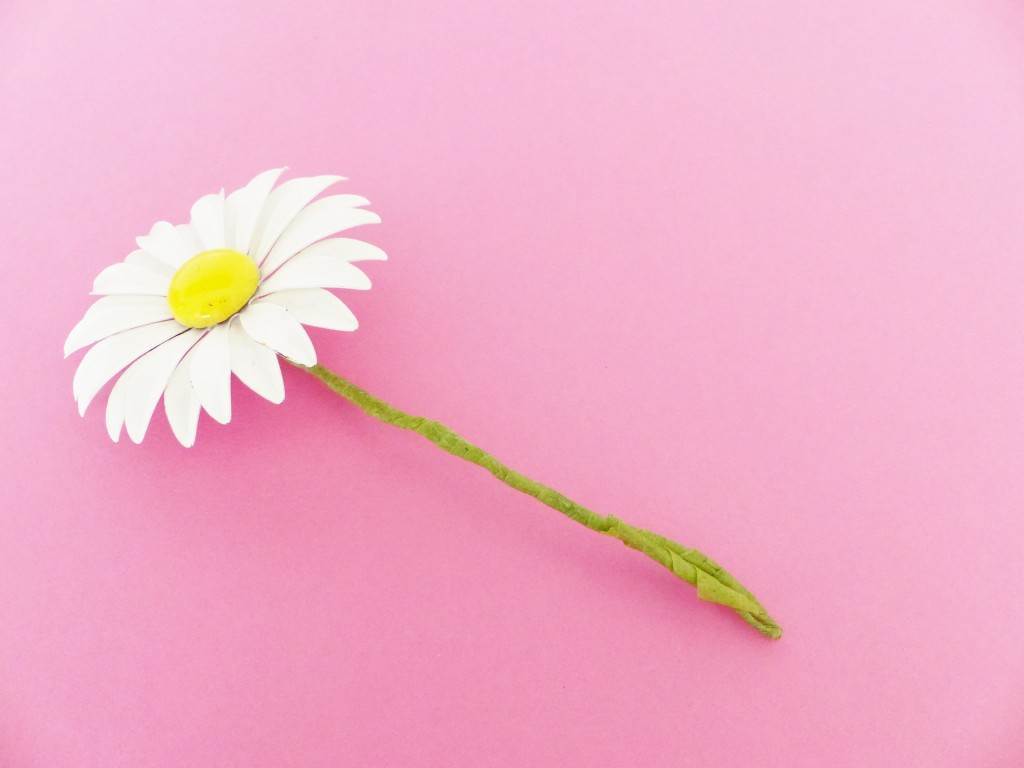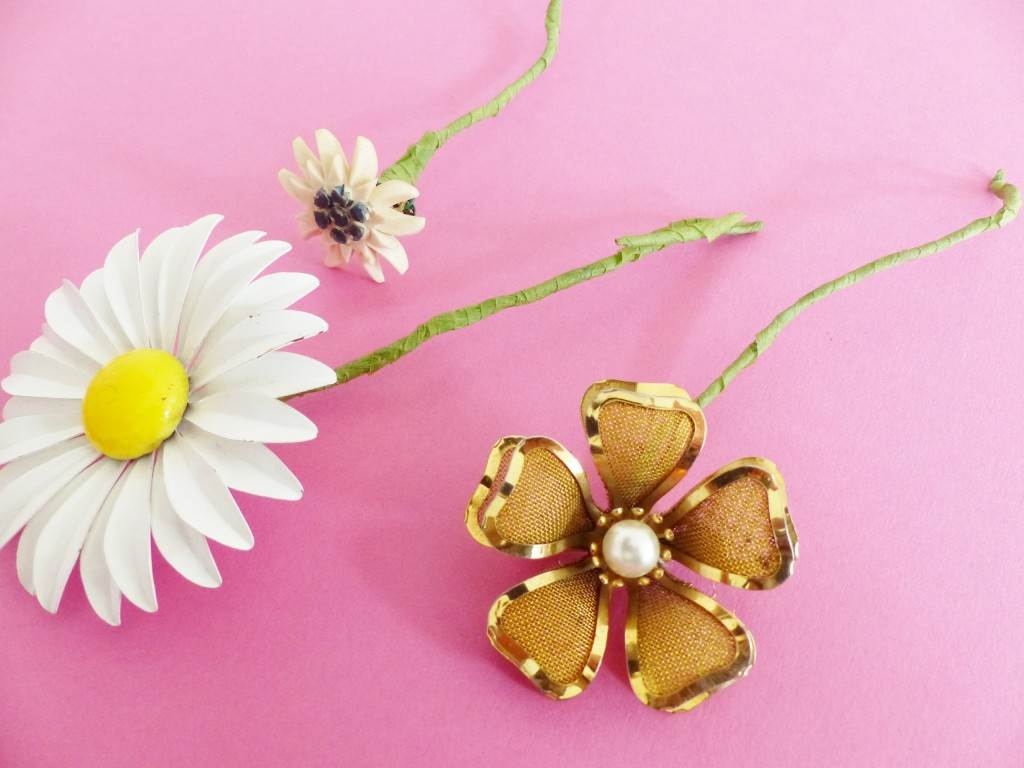 6. Now it is time to start to arrange the flowers together. This can be quite fiddly so I used a vase to position them in. When you have a few combinations together that you like, you may wish to bind these together with florist tape. But beware, this is a hard to undo so you may wish to wait until you have the whole bouquet together.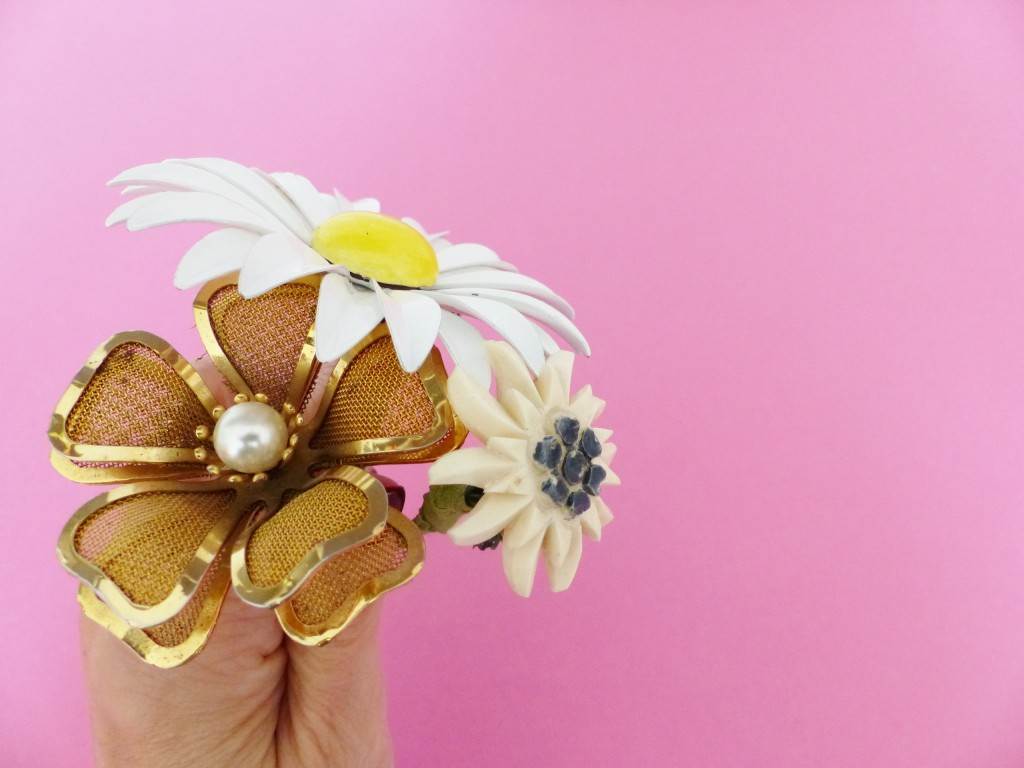 Make sure you distribute the colours and shapes evenly throughout your bouquet so it is balanced. Don't worry if a few smaller ones fall in when you are putting them together; simply pull them out, leave them in for background colour or of course you can start over.
7. When you have the whole bouquet together, tie them with a fine elastic band. Then you need to cover the whole main stem with more tape to fully bind it all together.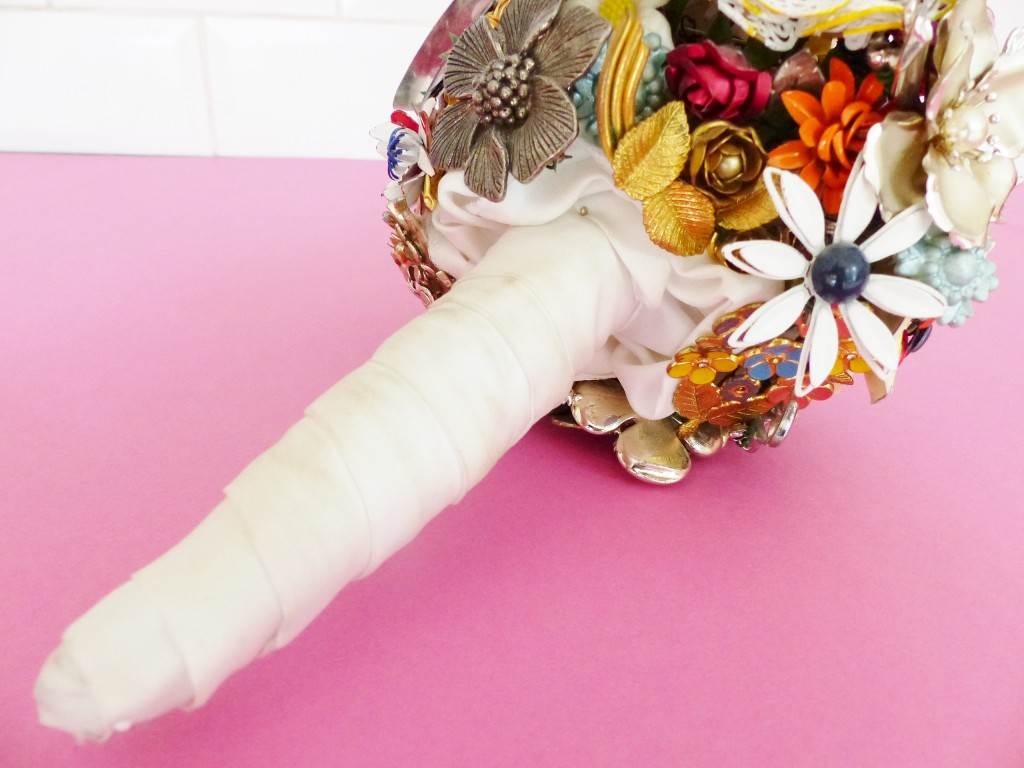 8. Finish up by winding ribbon over the stem with small dress pins to hold it place. I chose ivory ribbon as it felt more neutral against all the colour in the brooches but as you will see this means it has got a little grubby! I found there was a bit of a gap underneath the bouquet, so instead of creating a material ruffle as some brides prefer, I gently pushed more of the ribbon up inside.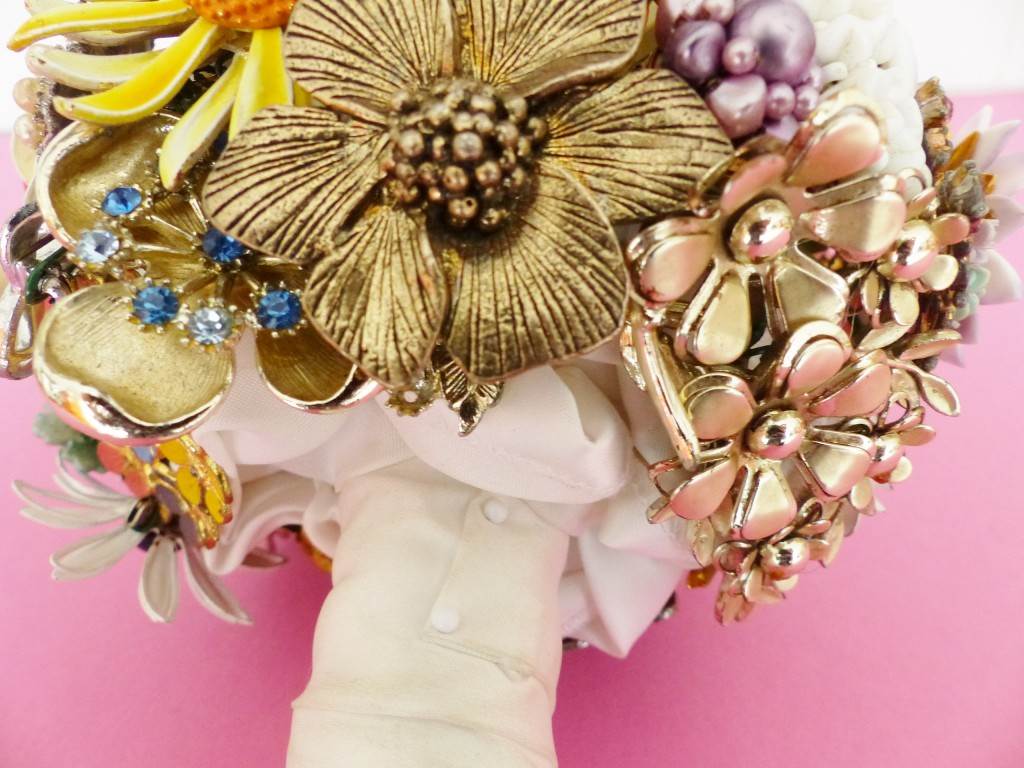 Top Tips:
Don't worry if the wiring and taping isn't perfect as you won't see it once it is all in place. Just make sure it is secure
This is a great idea for broken jewellery as you can hide the damaged part underneath another petal. Check out ebay for job lots of brooches where maybe some are damaged.
It is a nice idea to use flower shapes to replicate a real flower. It is also a nice idea to choose some that are extra special to you such as one worn by your grandma.
Take you time. It can be quite fiddly but if you take it slowly you will enjoy the process. Get your friends involved!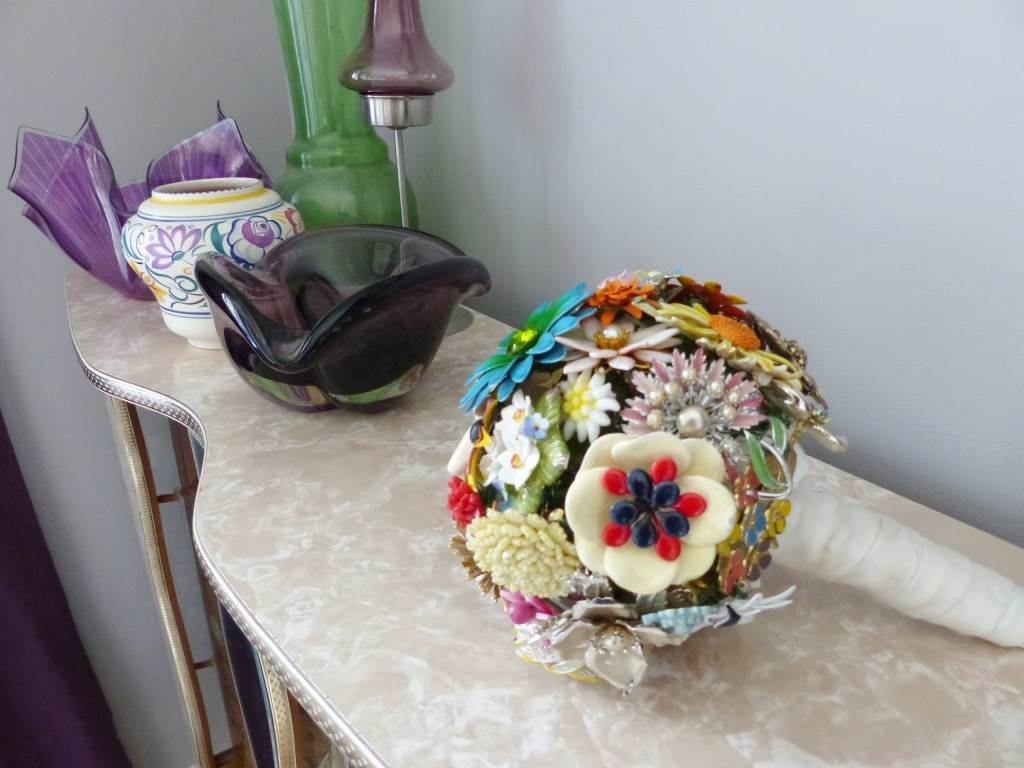 I really loved my bouquet and it now sits proudly in my bedroom, to bring a smile to my face daily.