When you have a space to fill and you want to inject some personality a wedding chill out area is a must. A stylists dream to get truly creative with furniture, florals and all the small details that together make a big impact. As owner of the styling company The White Emporium, I get asked a lot to recreate eclectic relaxed zones so here are my top tips for creating the perfect ambience with the right level of chill and style.
It is all in the details, the perfect wedding chill out area is full of character and personality, it isn't just seating with the odd table thrown in – it's about the thought about the right candle stick, the expertly placed stack of books and the weathered rug. It should be inviting, intriguing and quirky.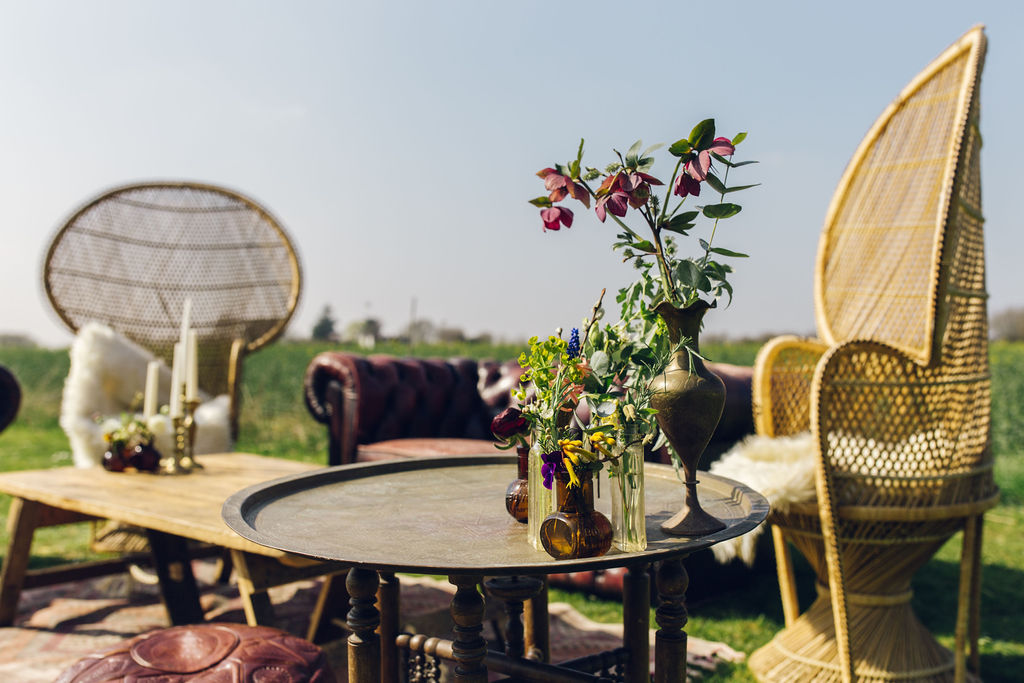 Photo Credit: Chloe Lee Photo. Styling: Anthology Vintage Hire
Character is key and what better way to show character than through pre loved furniture and décor; I love sofas and chairs that are a little rough around the edges, squishy and longing to be sat on.
It's not just for the boho lovers – who doesn't want to lounge on large artisan floor cushions around a smouldering fire pit? But there is also place for the more moody and refined wedding chill out zone. Large dominating leather sofas make grand gestures, evoking feelings of dark panelled cigar rooms, whilst 70s rattan peacock chairs have a more free–spirited, laidback vibe. Can't find vintage ones? Look to online companies such as LionsHome for your cushions and chairs.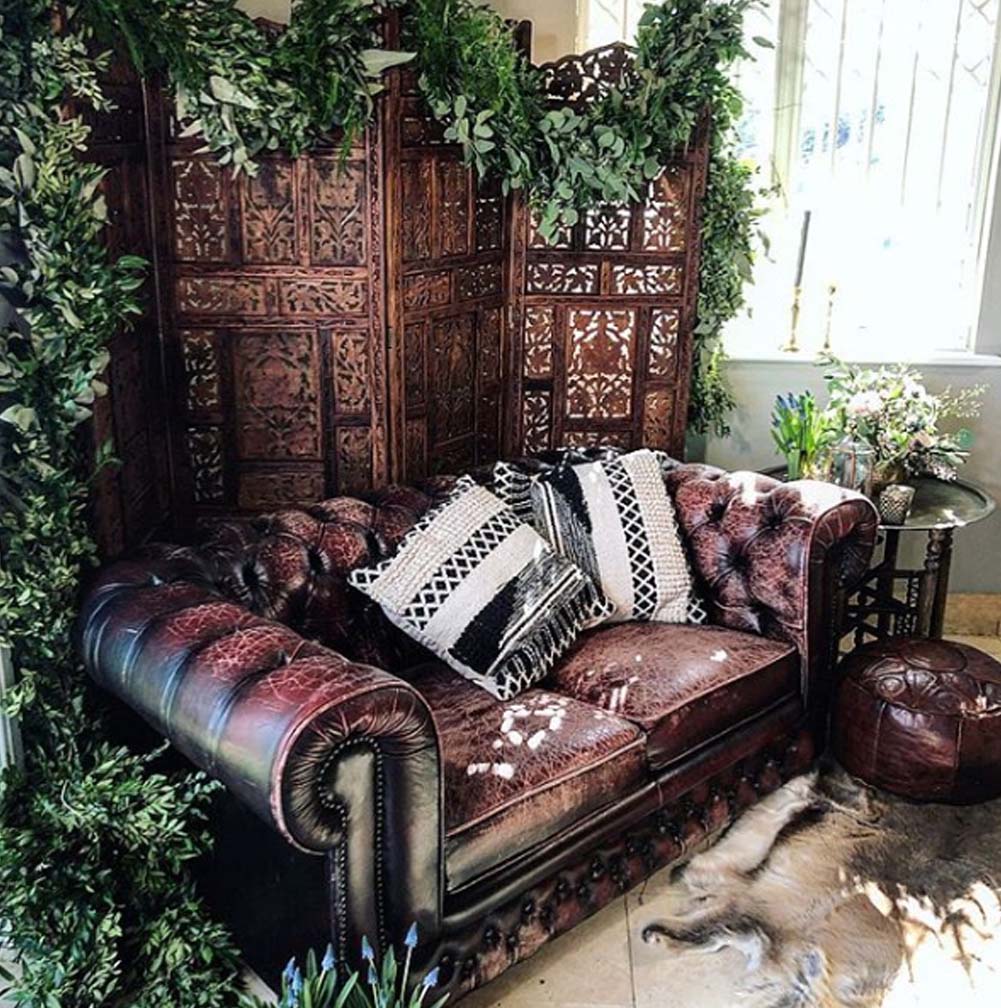 Photo Credit: Paul Hinwood Photography . Styling: Anthology Vintage Hire
Bring the outside in and the inside out. Anything goes and I love playing around with concepts, create dramatic living walls to add a sense of heightened drama and I am all for filling vessels full of eucalyptus, ow the smell is divine. Whilst flip outside and add trays, books and candle sticks to your perfect picnic styling.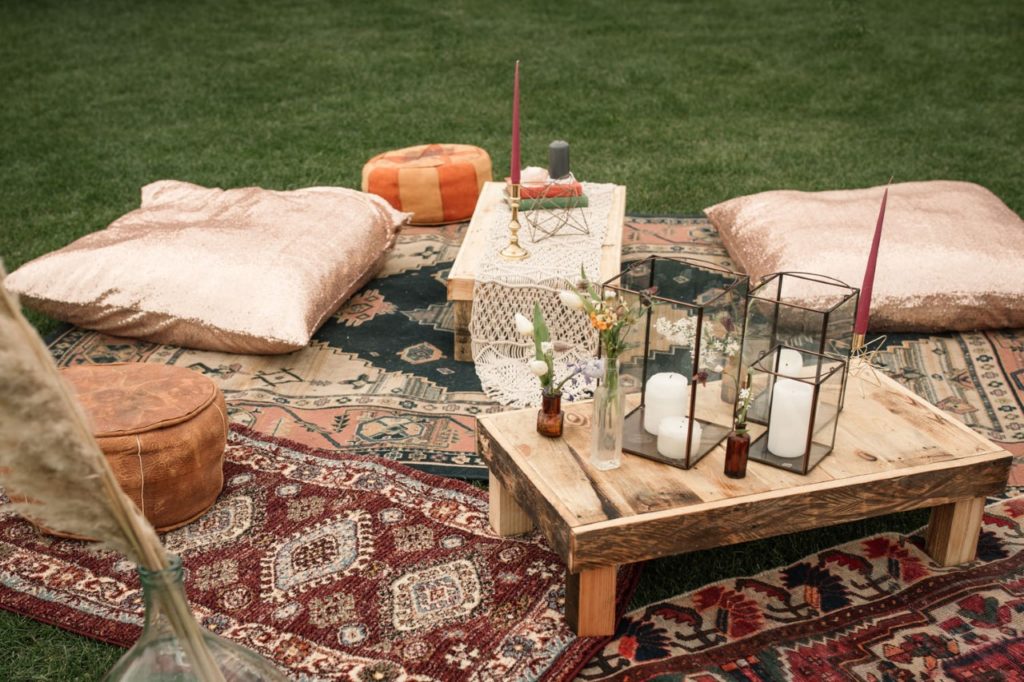 Photo Credit:Becky Harley Photography . Styling: The White Emporium and Eclectic Collection
It's all about mixing and matching, the old Persian rug contrasting against the new velvet sofa, the retro wicker peacock chair sat next to the metal table. The modern floor cushions scattered amongst the scuffed leather pouf. Mix textures, styles, old vs new and colours. Keep the floral style in keeping with the rest of your wedding to tie it all together.
Use rugs to define zones – you don't neccesarily want the easy going relaxed, slouchy vibes spreading through the whole wedding; the dance floor needs to be pumped and energised, so use rugs to help define the chill out zone. I love the Persian and Aztec rugs for injecting colour and pattern.
Lighting is key, pick an area of your venue benefitting from dappled or soft light, in the evenings light candles to add to the ambience. If your styled setup is outside, perfect as you have the evening sun to soften the mood and make the perfect backdrop.
The moral of the story is pretty much anything goes and don't be afraid to go for it, let your imagination or your stylists run wild.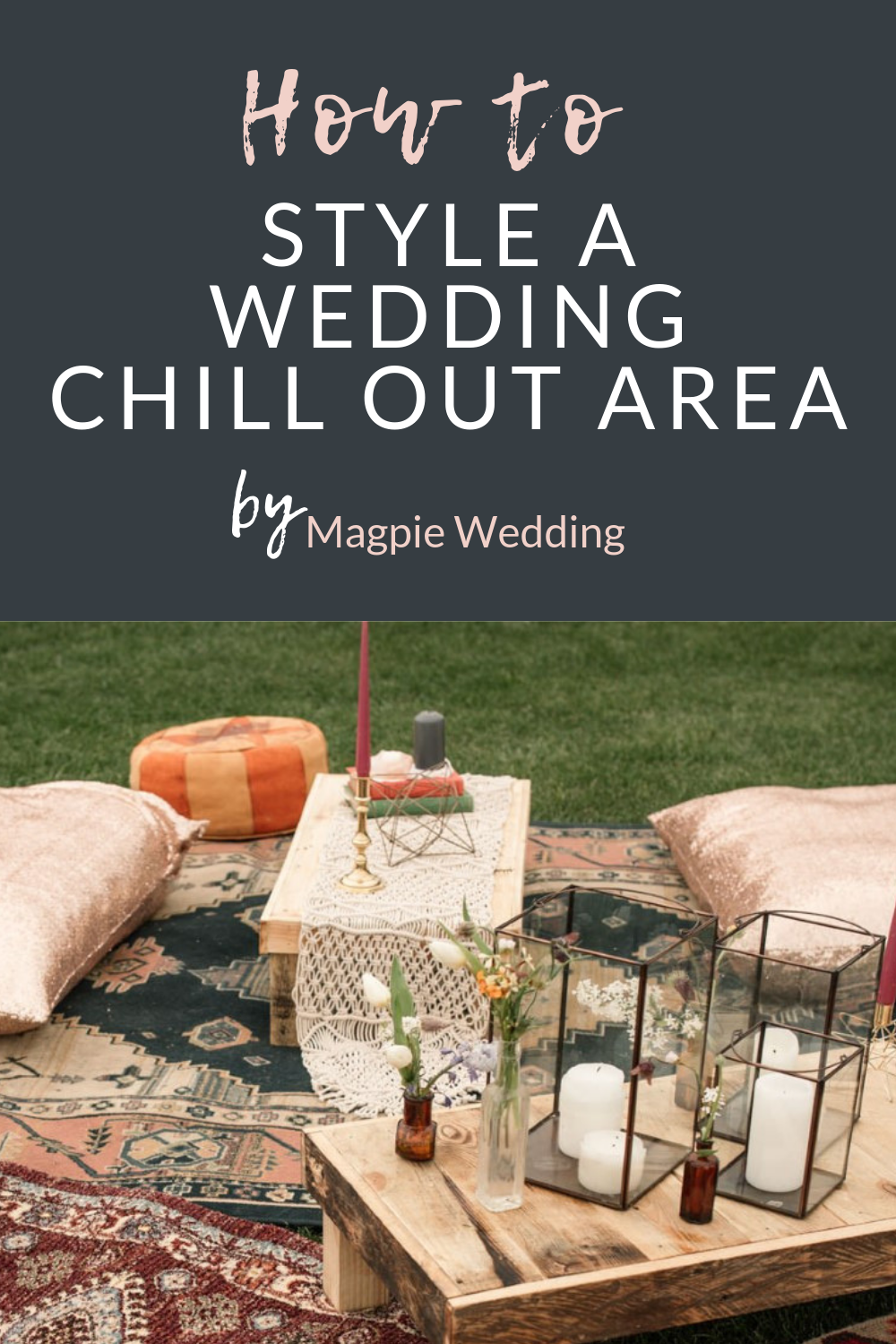 This is a collaborative post with LionsHome