Feeling loved up and want some dreamy Valentine's wedding inspo? We've got you! This stunning shoot based across the pond in Black Hills Receptions South Dakota USA is a picture-perfect elopement adorned with beautiful Valentine's styling. With bright red hues mixed with soft peaches and coral hues, it's a romantic dream! We catch up with one of our faves, coordinator Justin Straw Designs who tells us a bit more about this Valentine's Wedding…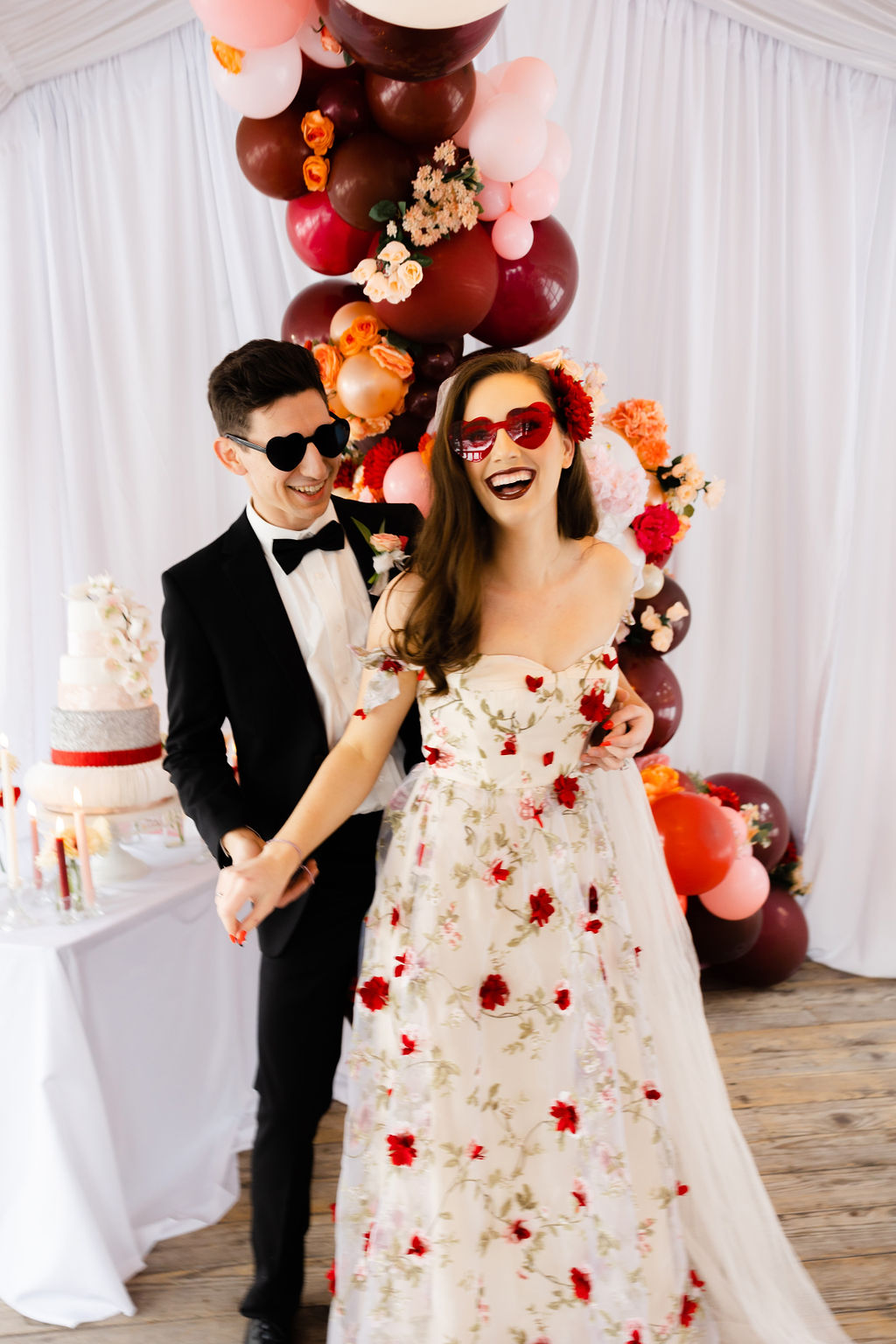 Inspiration
I love being able to use the holidays as inspiration for our weddings. This shoot has all the classic elements from Valentine's Day that we all know and love but with a modern twist. I loved using the classic Valentine's Day colour scheme but changing it up by adding peach and coral hues. To turn this into reality for your own wedding day draw on your own personal experiences of the holiday season and mix them with classic features, keeping the details chic and sophisticated.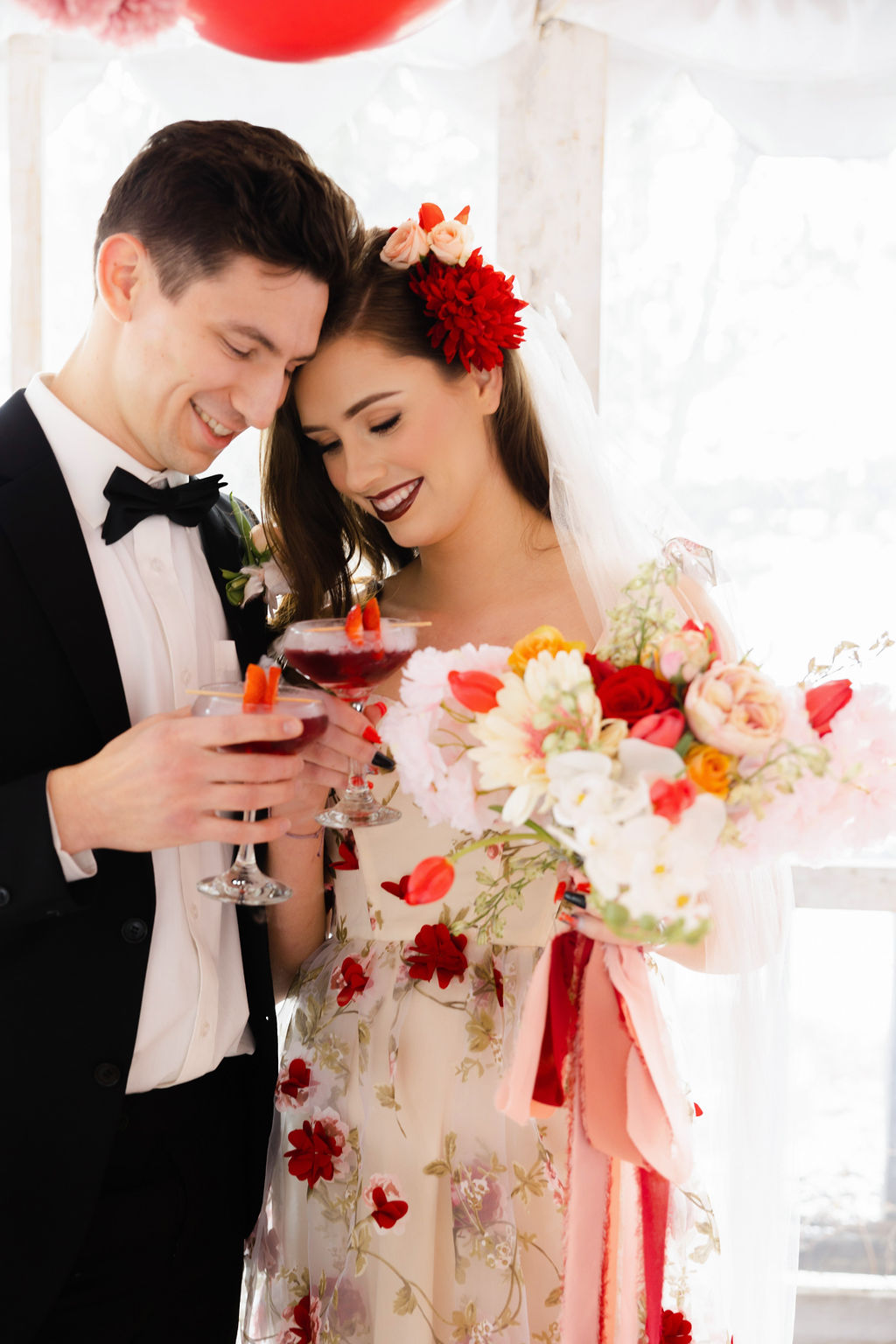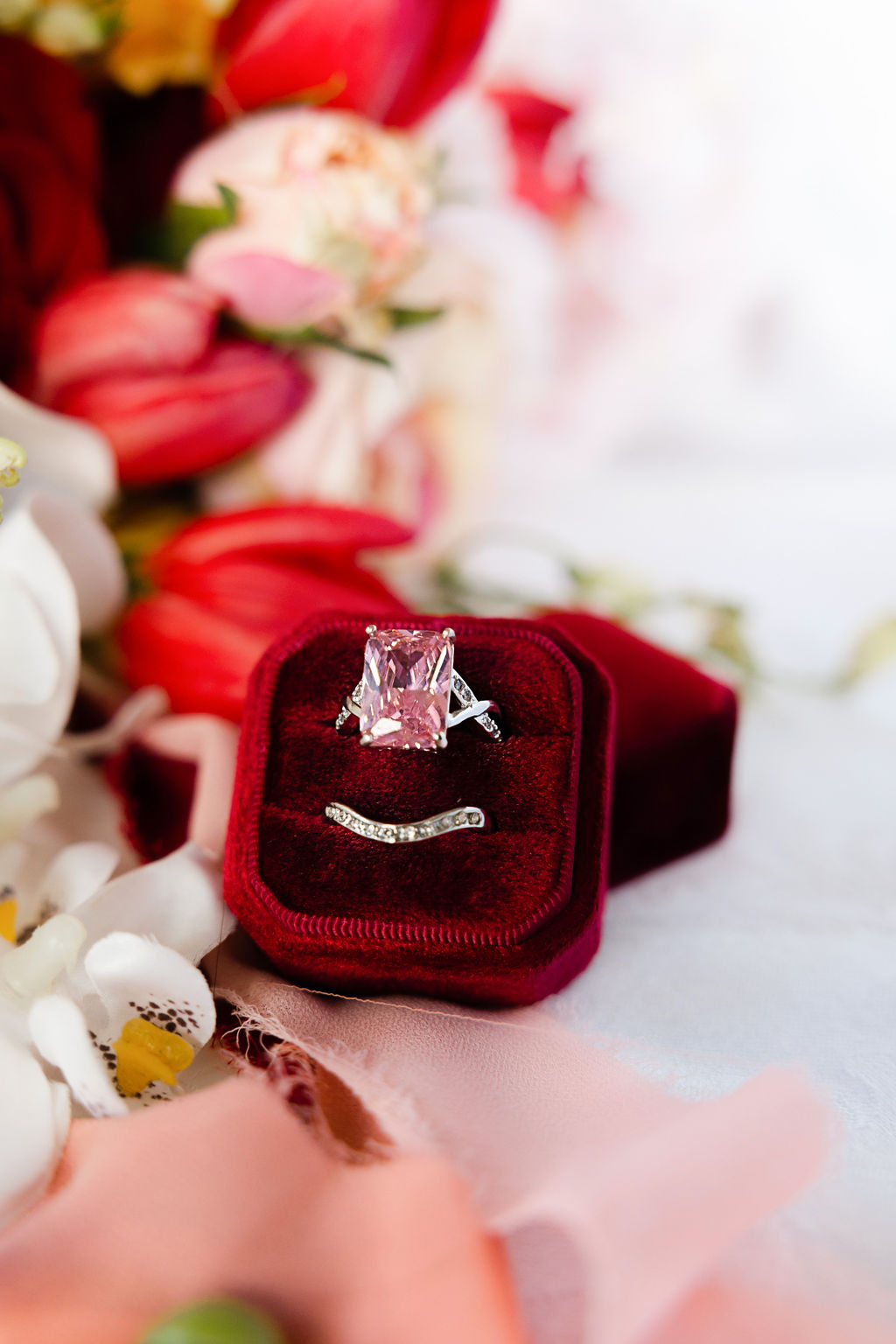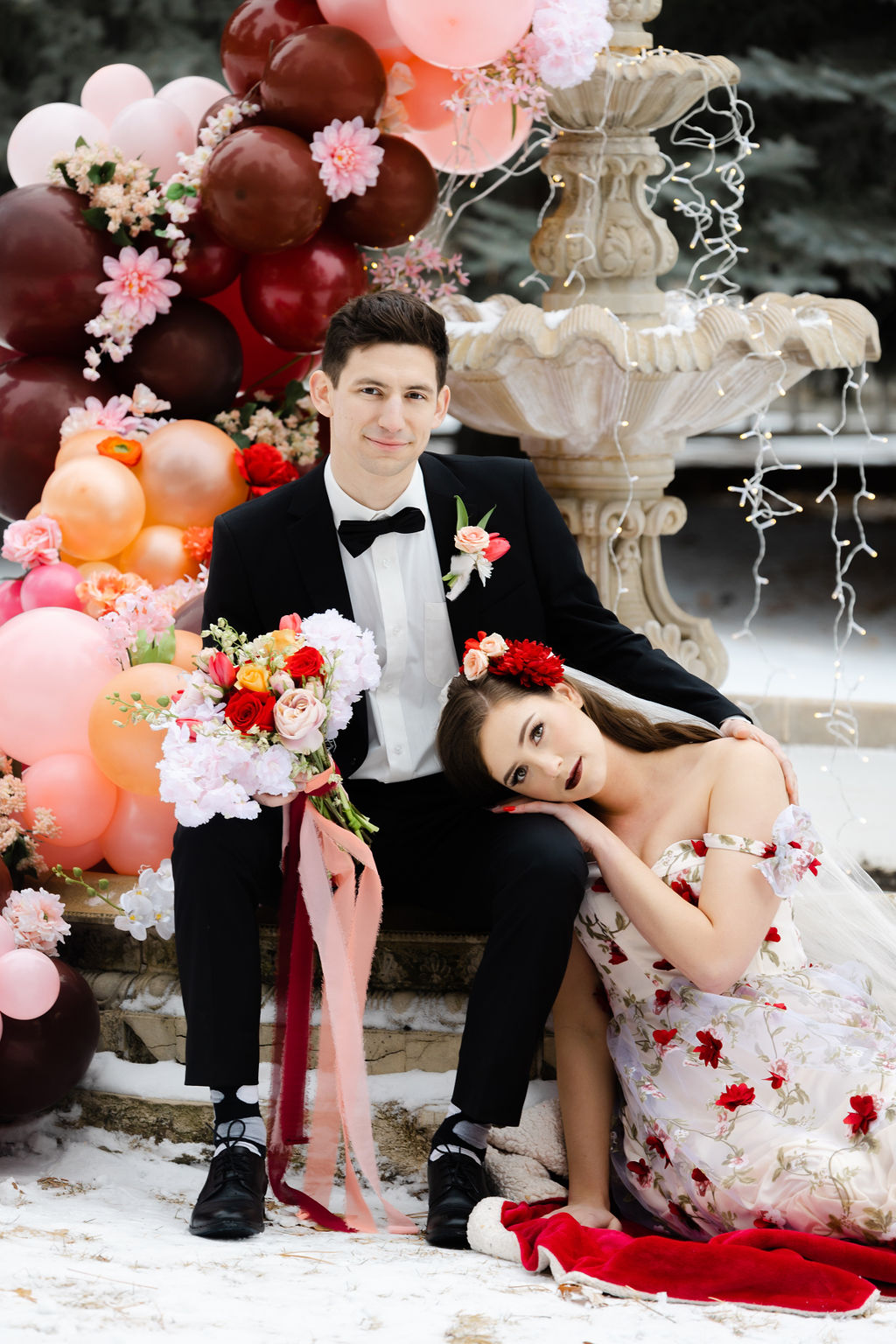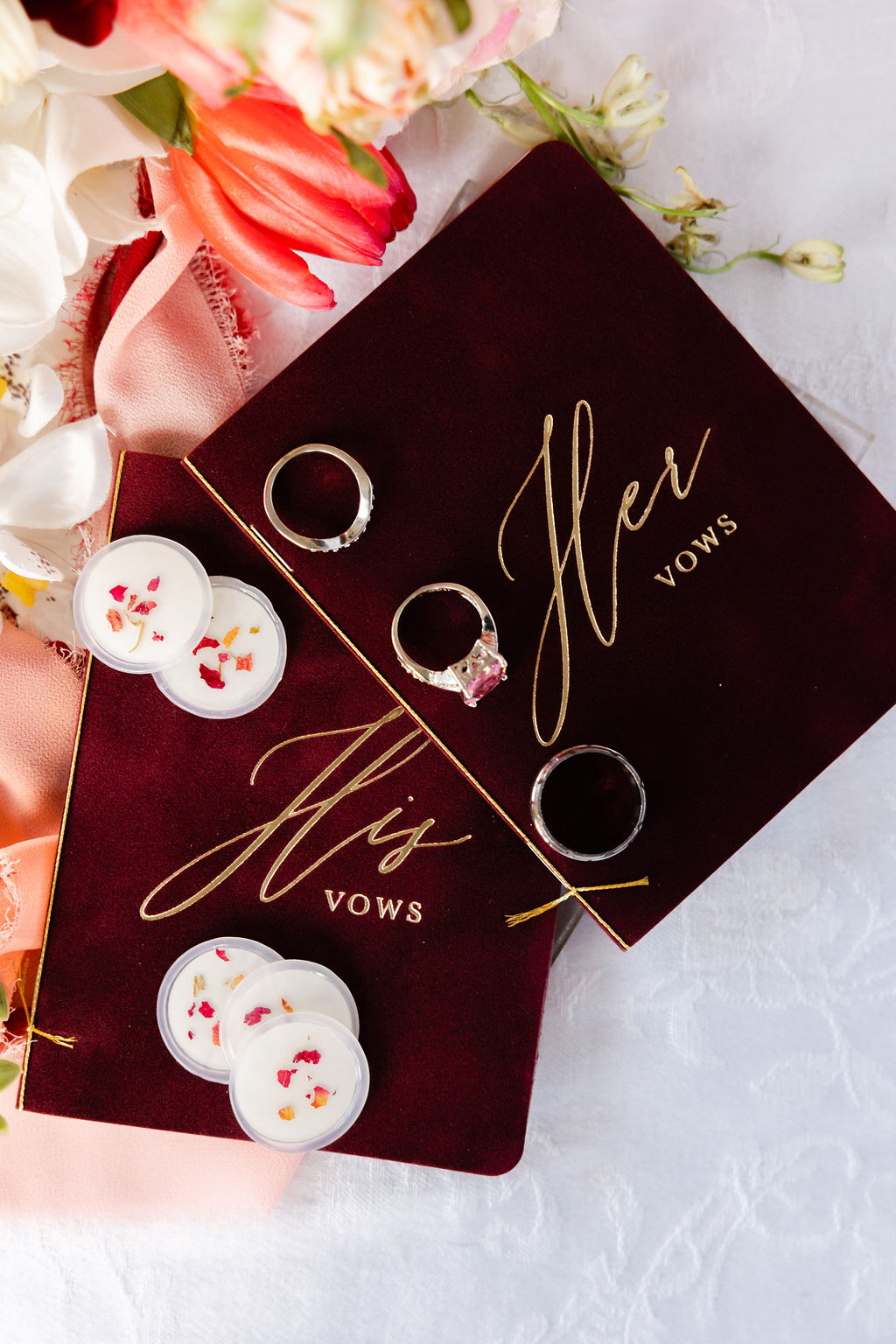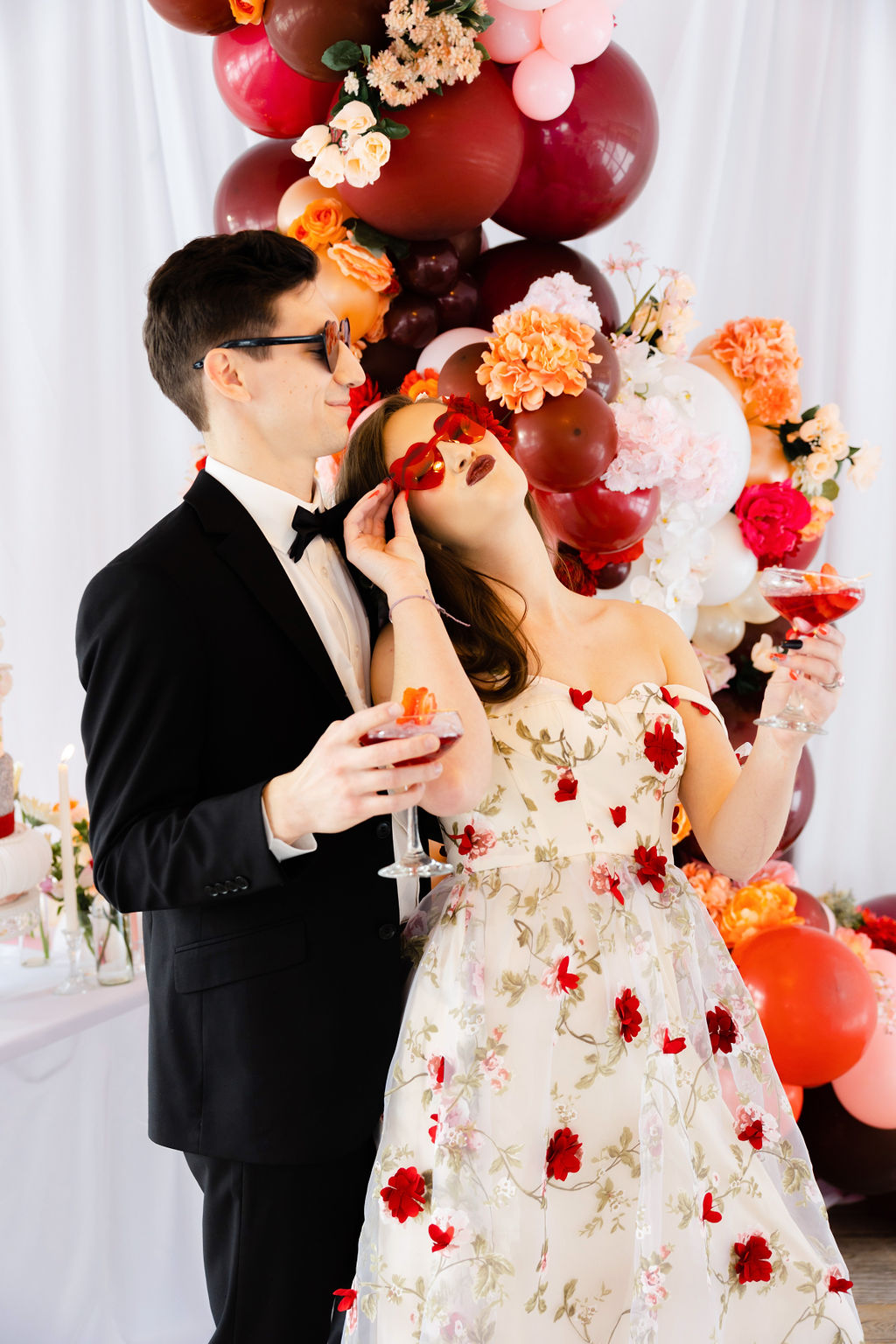 Venue
This is one of my favourite venues and we chose it for all of its classic details! We loved the idea of the heavily draped ceiling and their amazing fountain. I really wanted to use the fountain in winter. The dripping lights and balloons were the perfect addition. Use your surroundings and be creative when it comes to your wedding venue!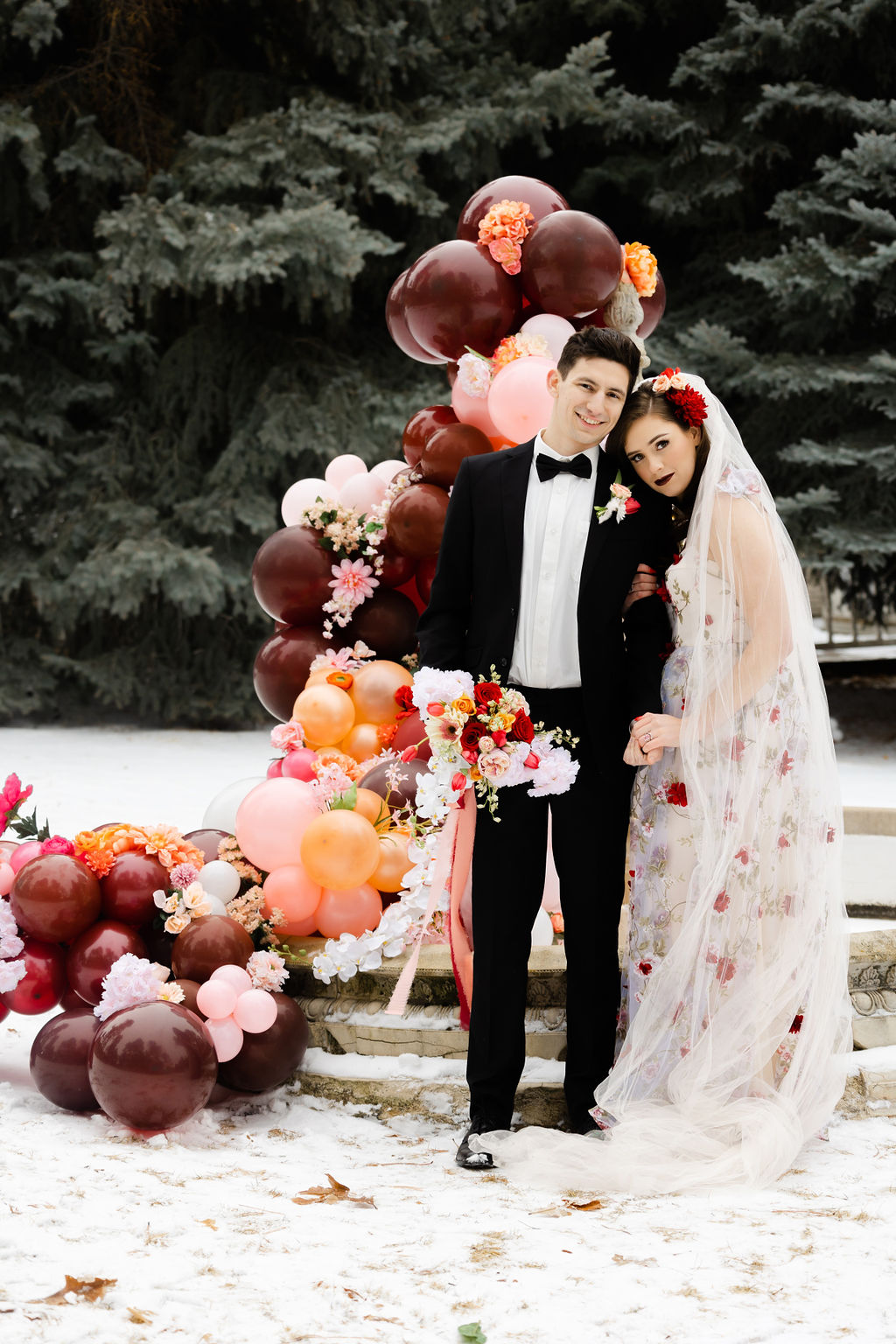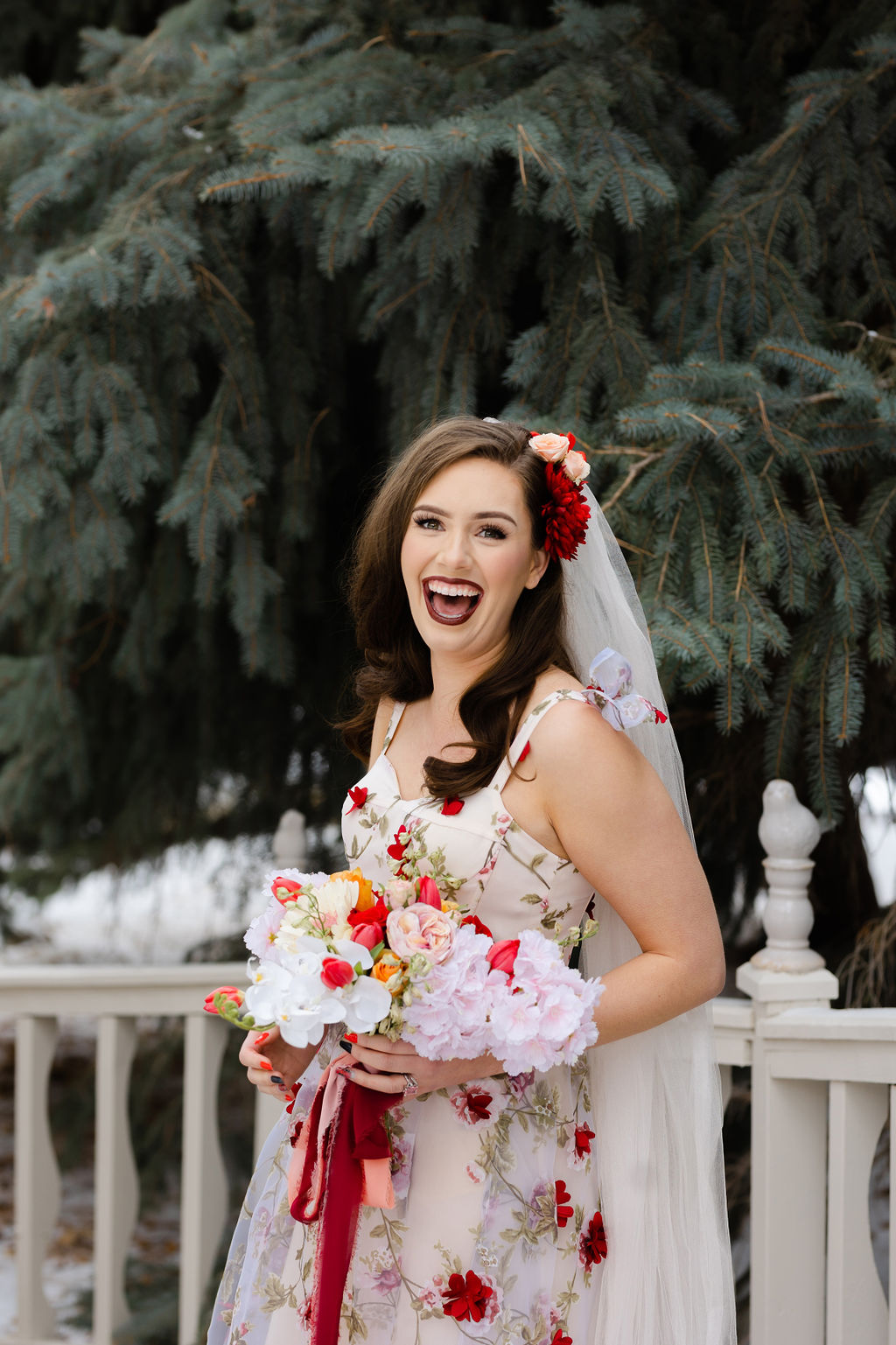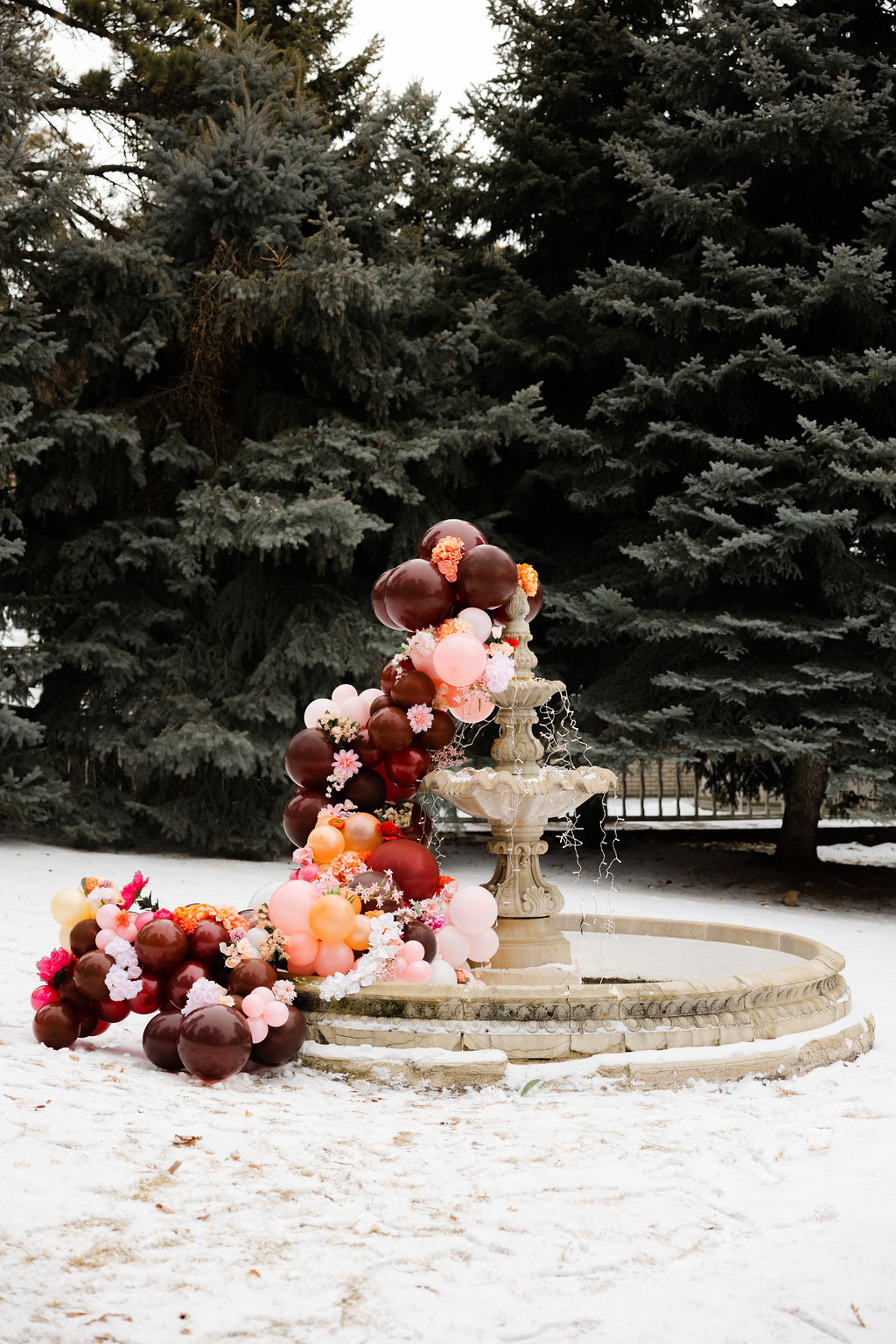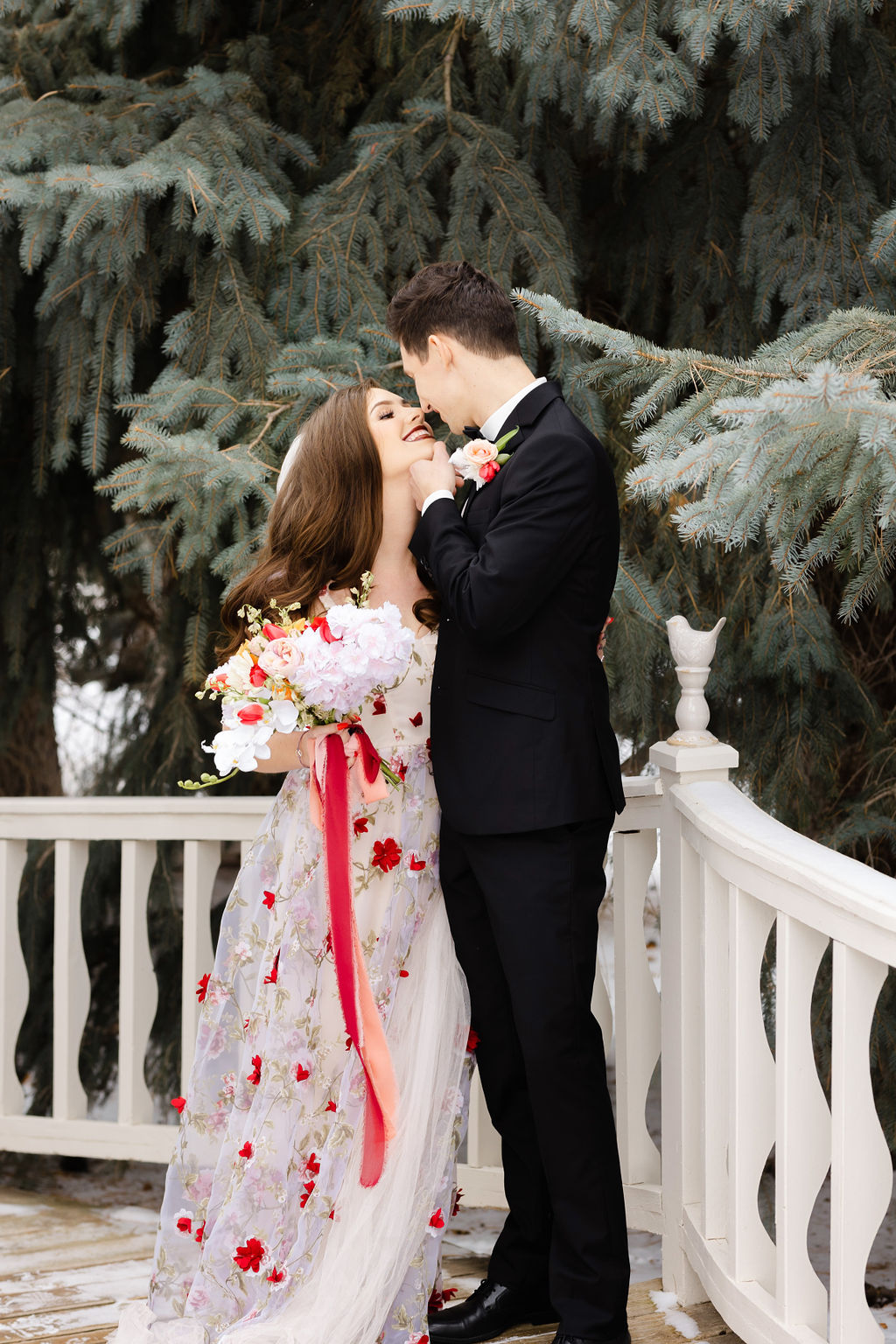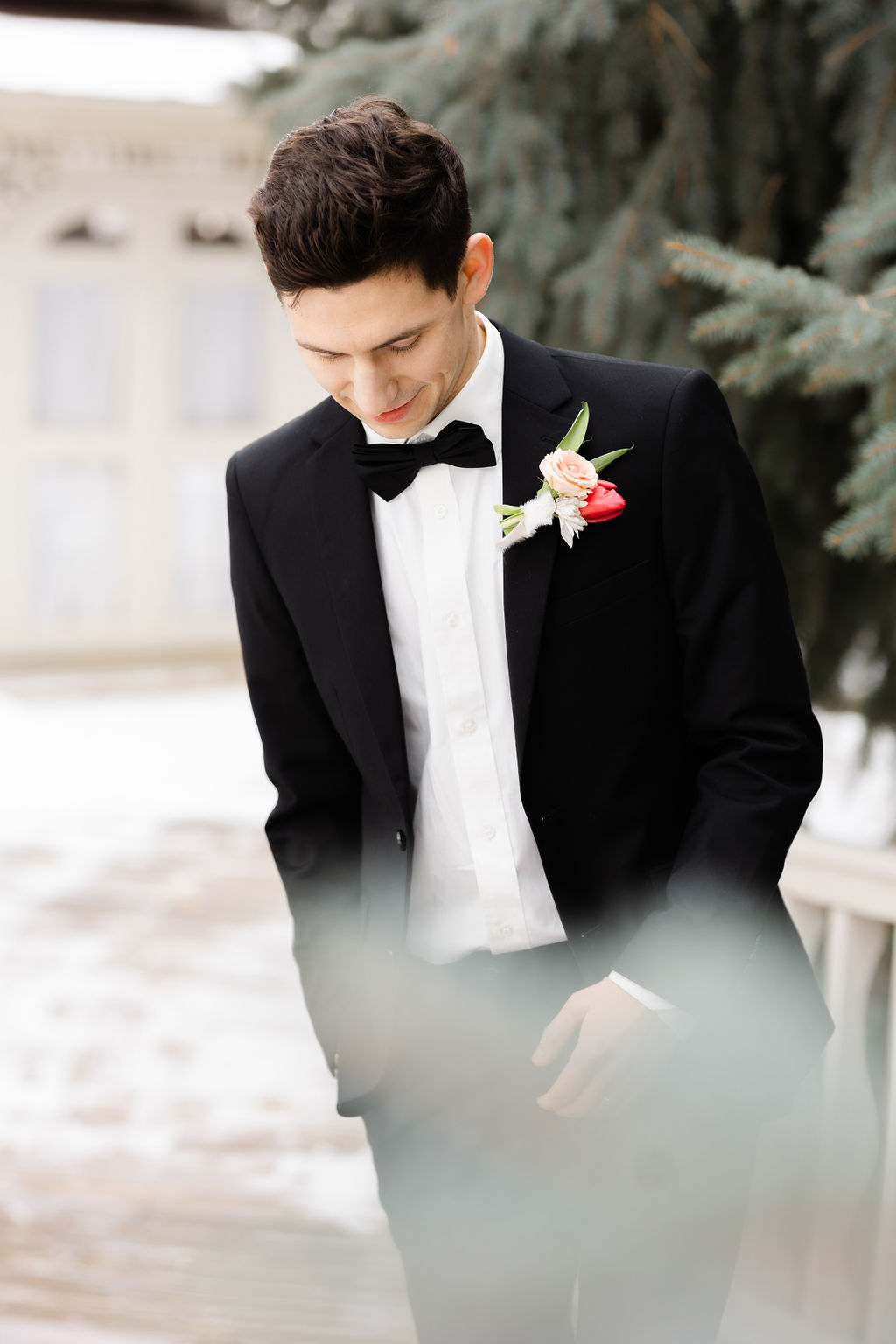 The Details
For the styling, we layered beautiful classic details with modern touches. I loved the beautiful vintage plates with our velvet napkins in juxtaposition to our modern balloon installation and flowers on the table. For the flowers, I knew I wanted to do something that felt modern whilst using classic flowers. For the table, we loved the idea of keeping the flowers in classic yet modern cylinder vases with all the stems grouped together. The stationery was kept clean and simple and complimented the tablescape perfectly. Adding personal touches like fun sunglasses to your wedding day can add a really fun moment to your wedding day gallery. Put them on for a couple of minutes and let the fun begin.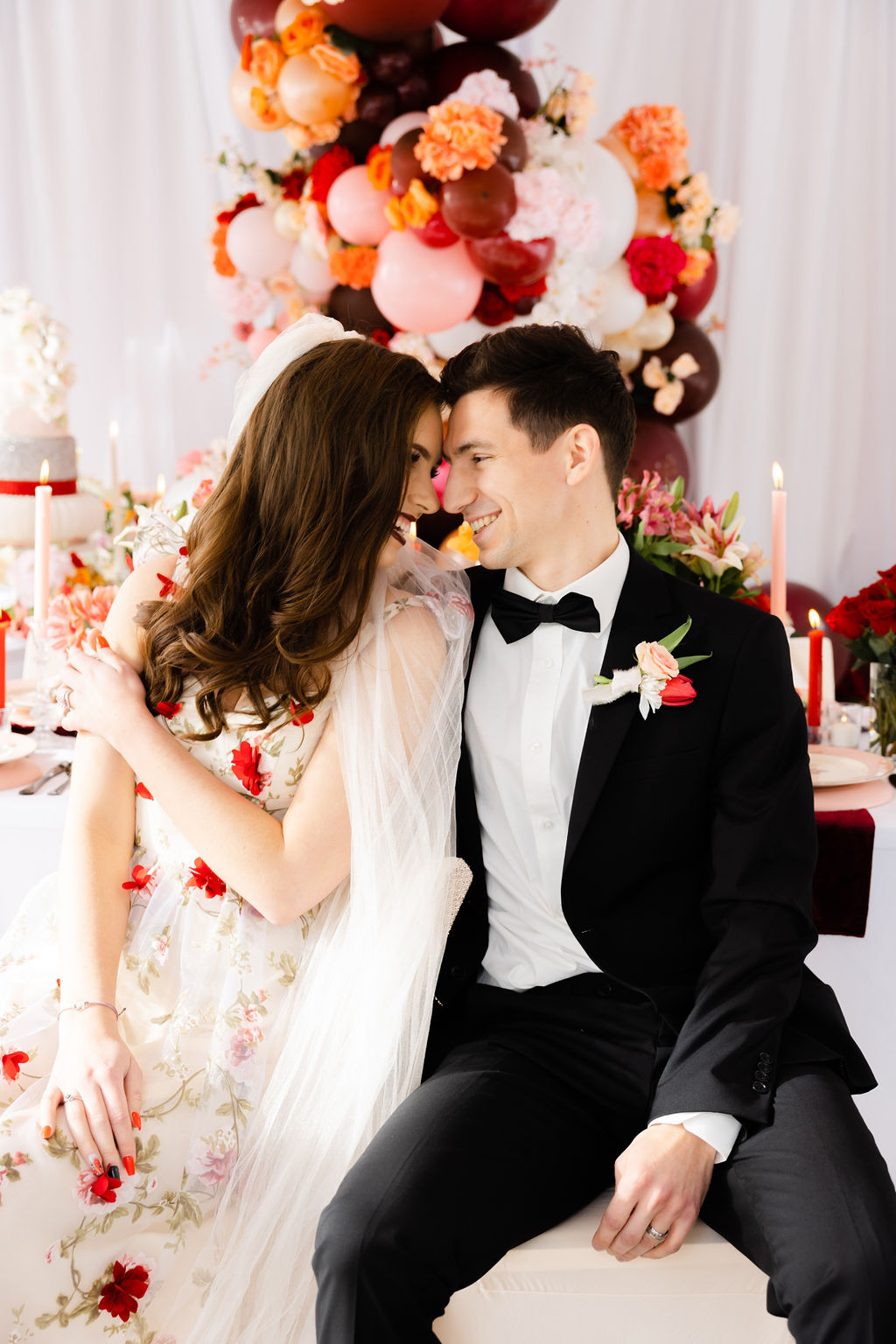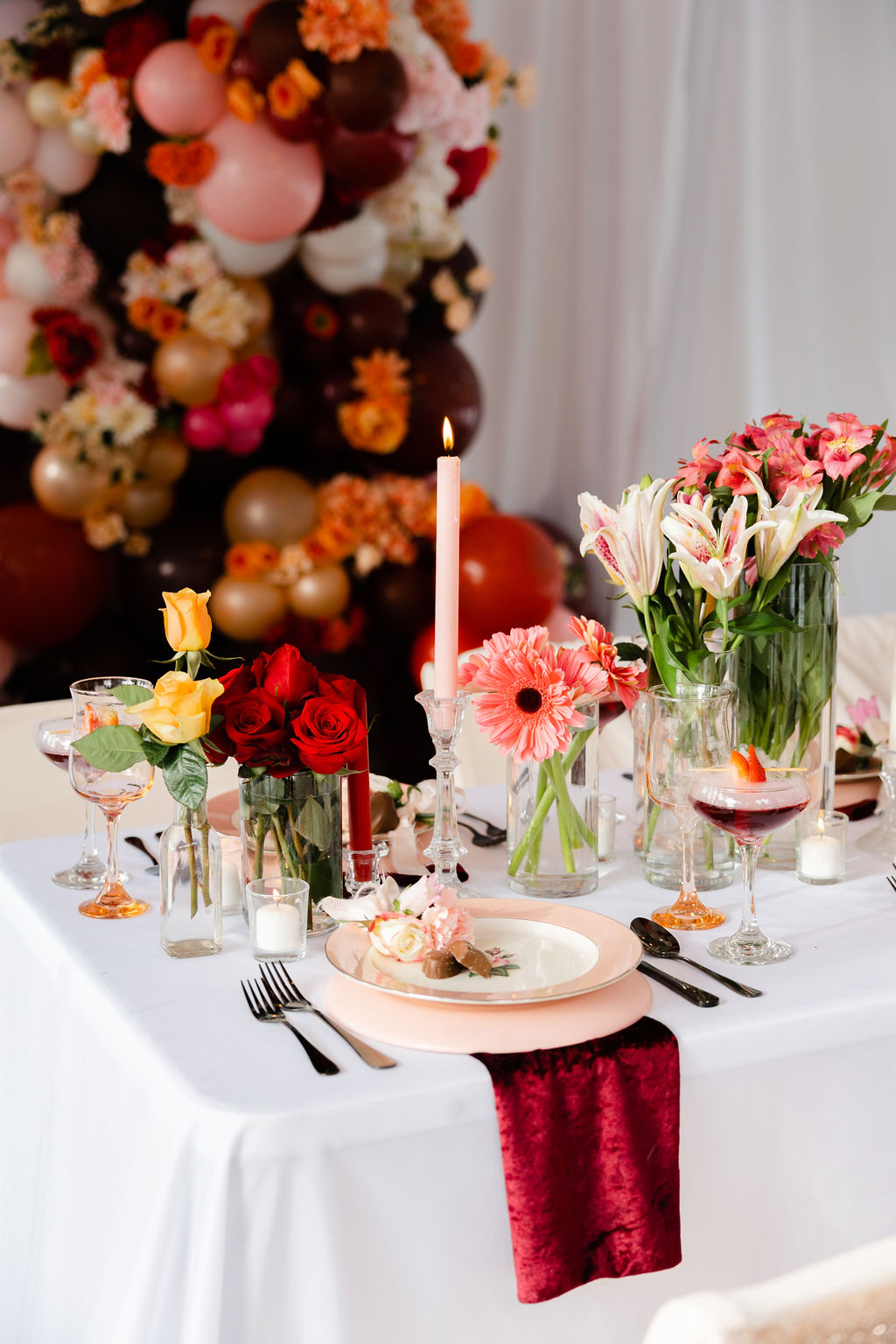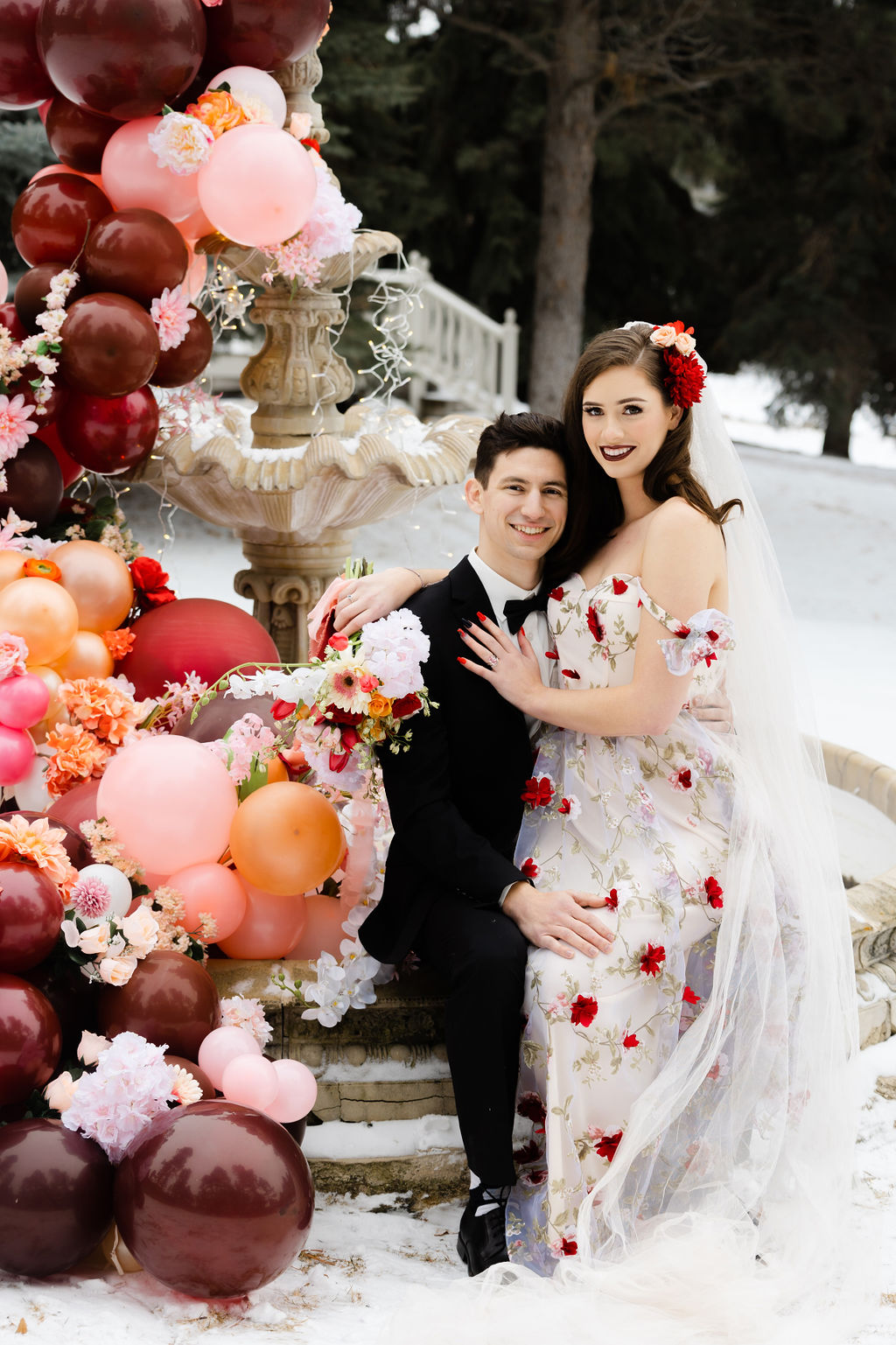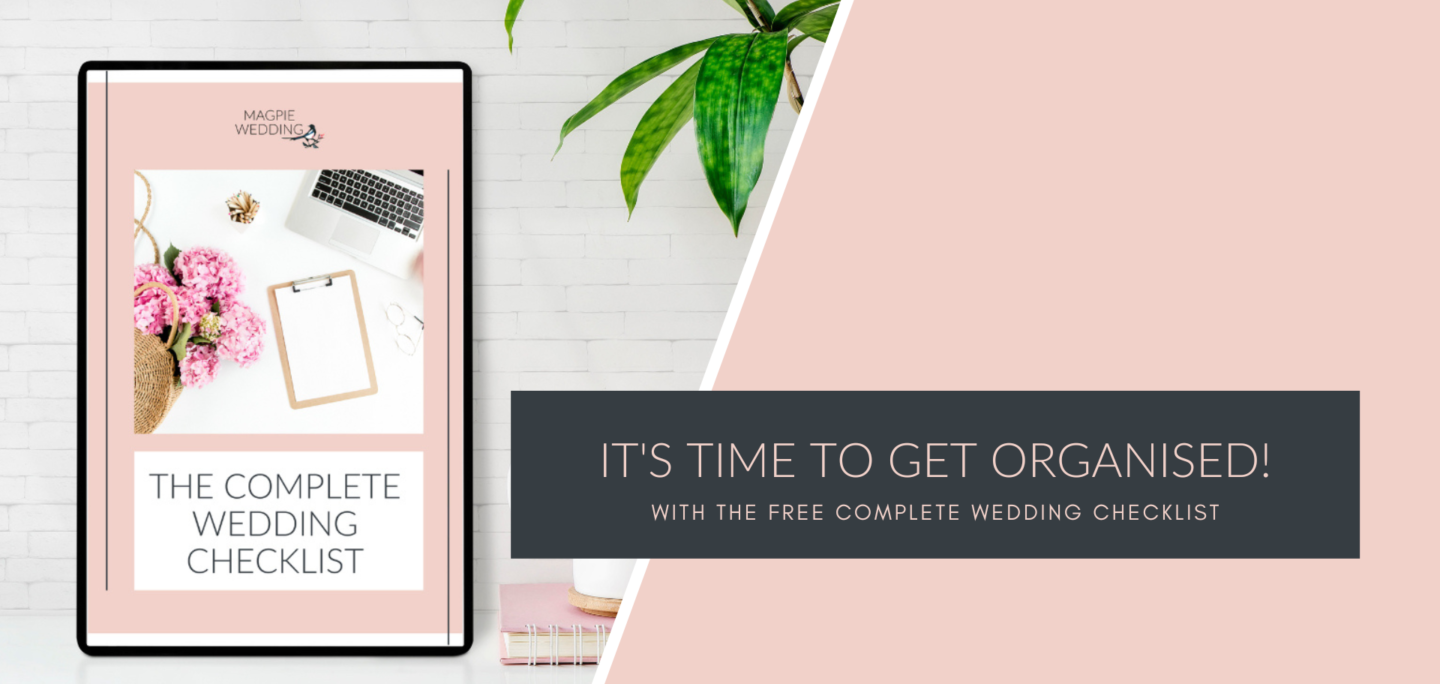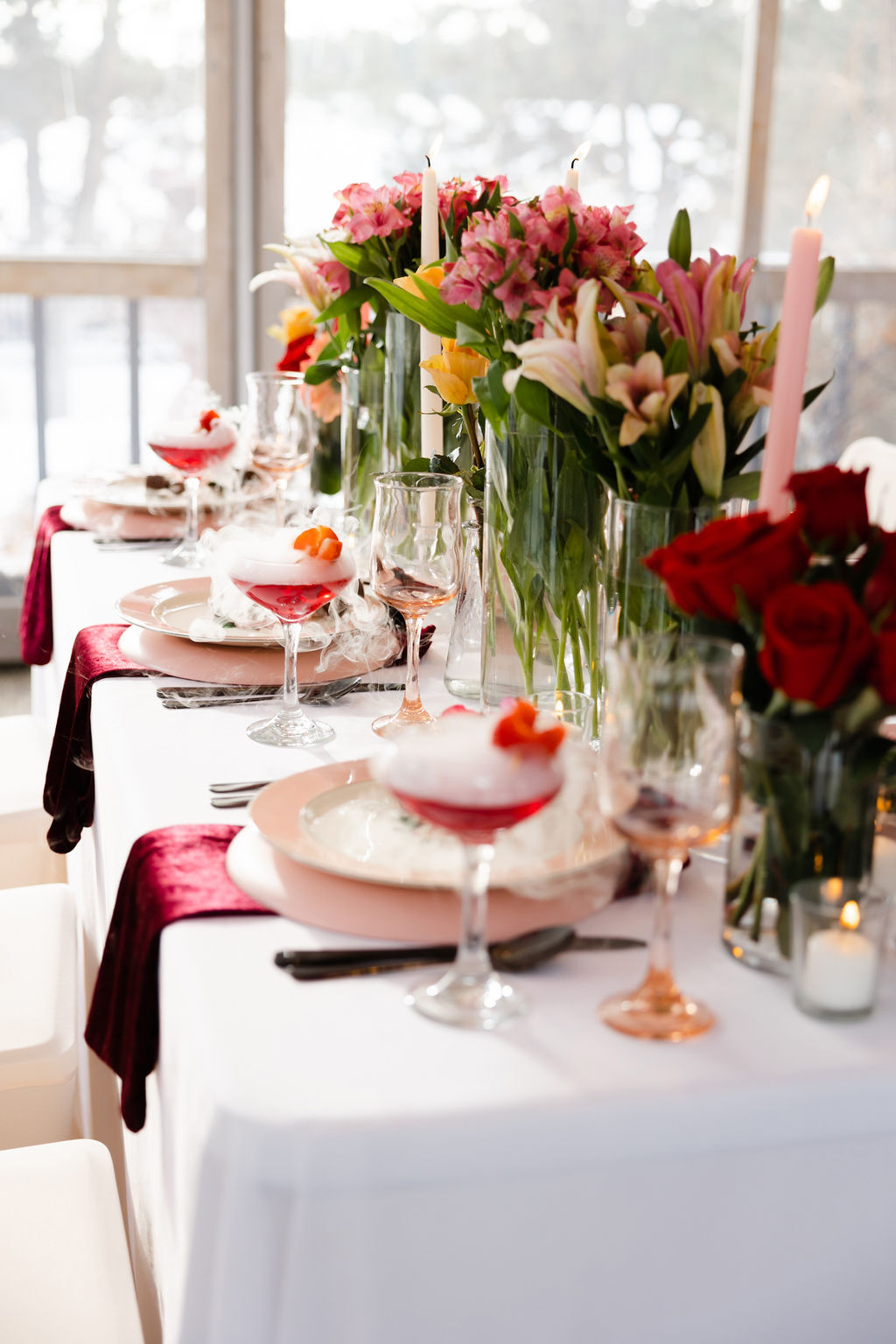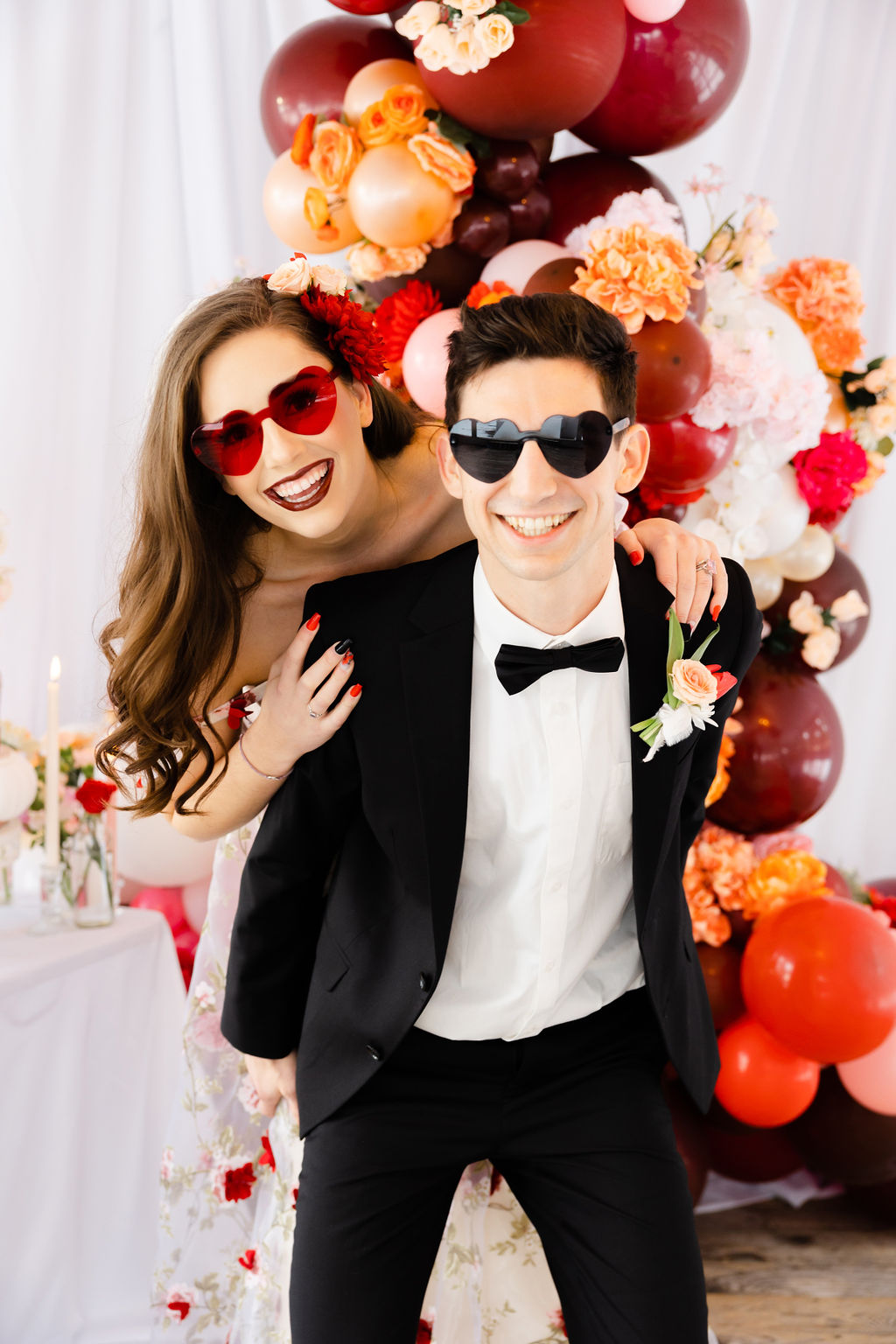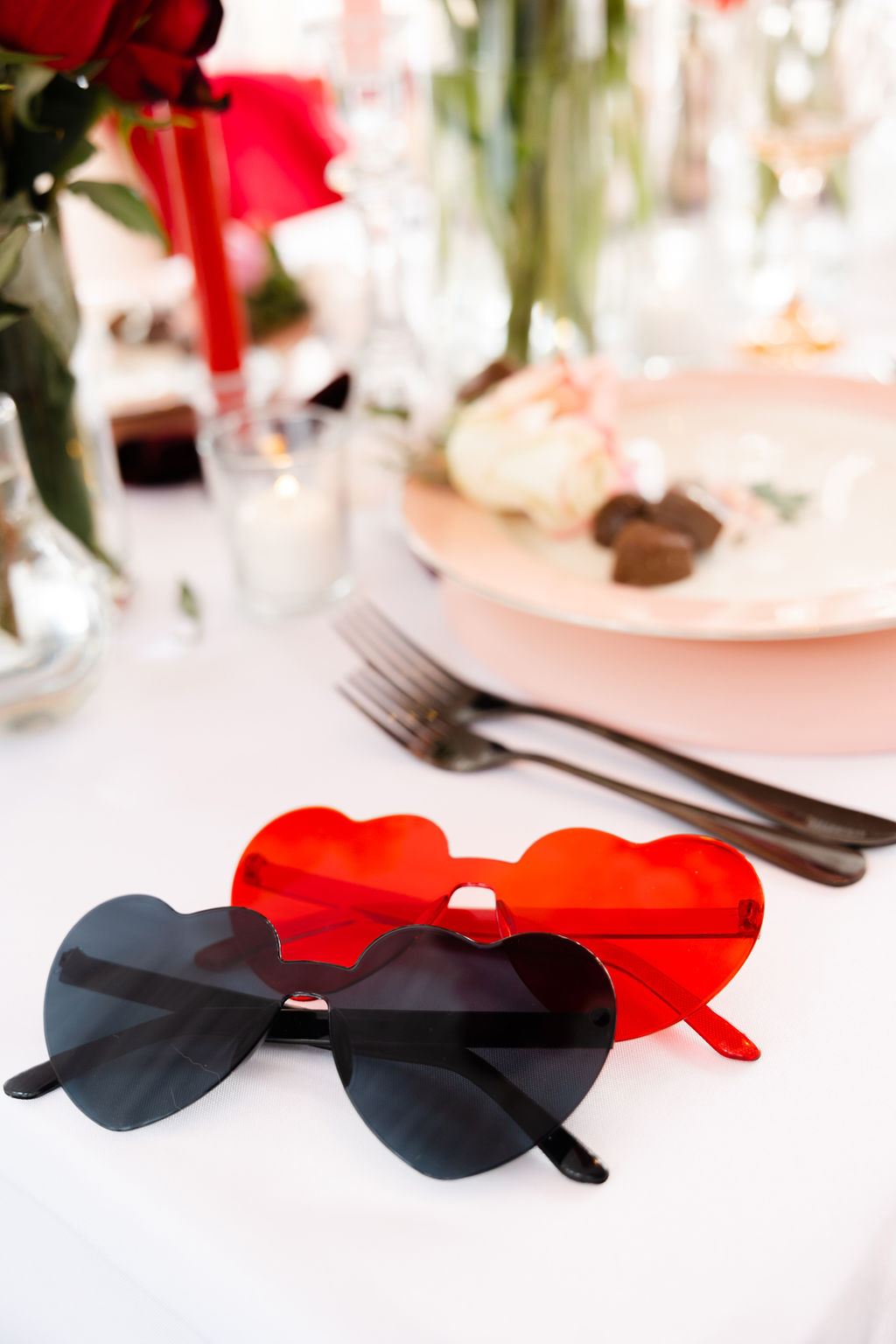 We are definitely loving the floral and embellished dress trend at the moment so we were clear on the style! When we found this beautiful dress we knew this was the one. The beautiful floral print with the three-dimensional flowers was perfect. This dress added a really modern touch with a classic flair. We kept the hair and makeup look very classic for this shoot. We wanted the hair to have beautiful glamour waves with flowers to keep it soft and romantic. For the makeup, we kept it clean and classic and added the wow factor with the beautiful rich red lip. For our groom, we wanted to keep his look classic. His black tux was the perfect way to balance the fun and whimsy nature of her dress.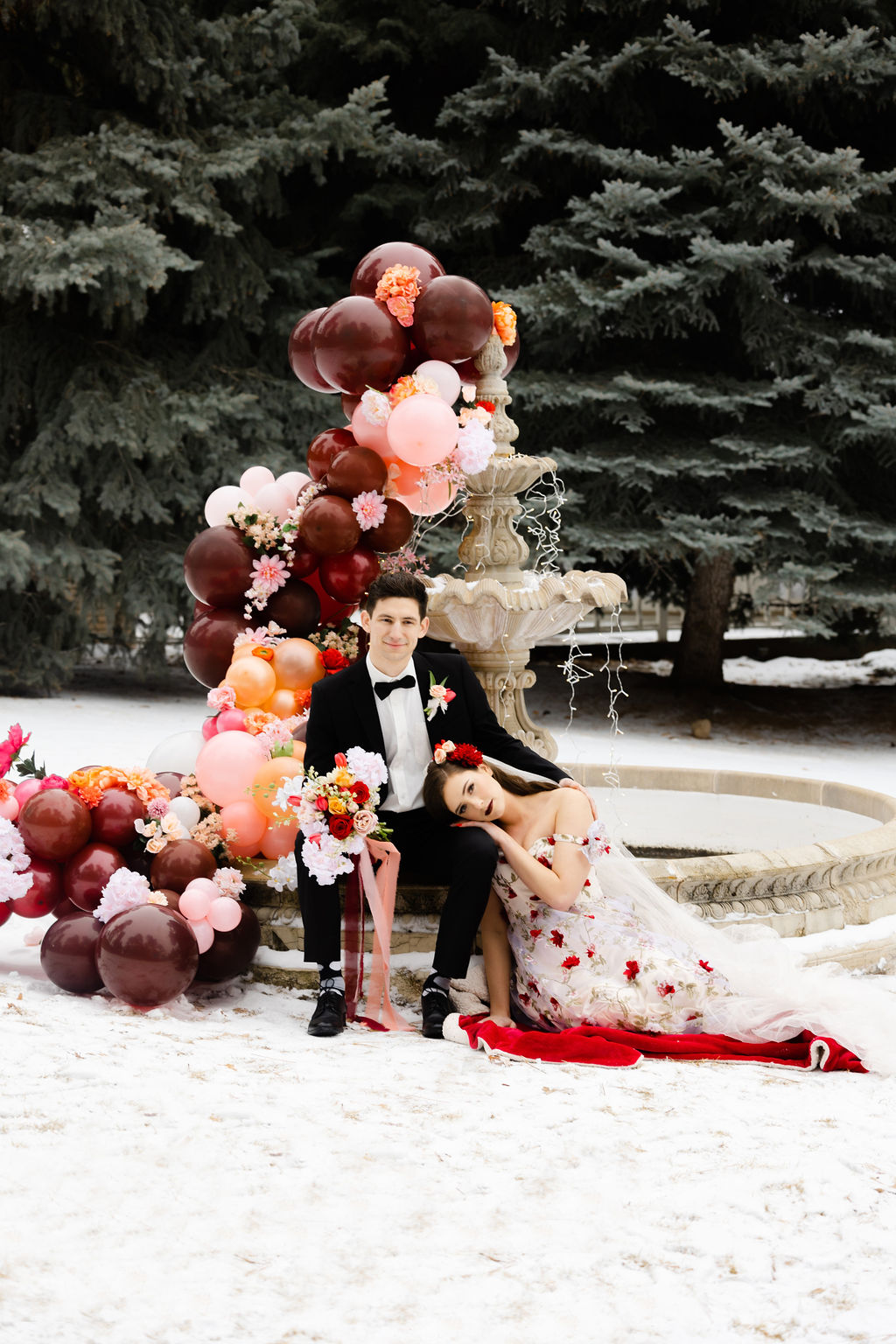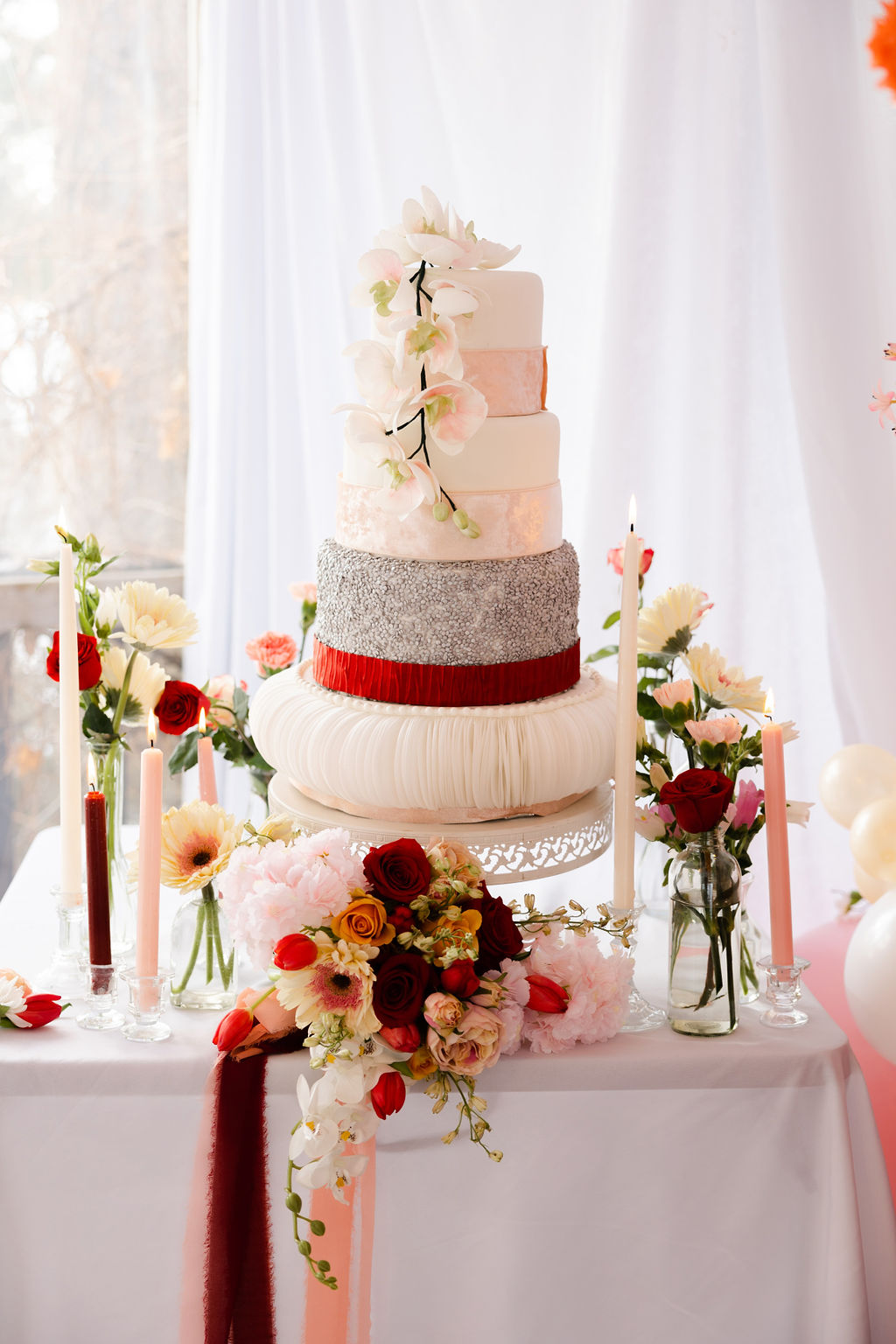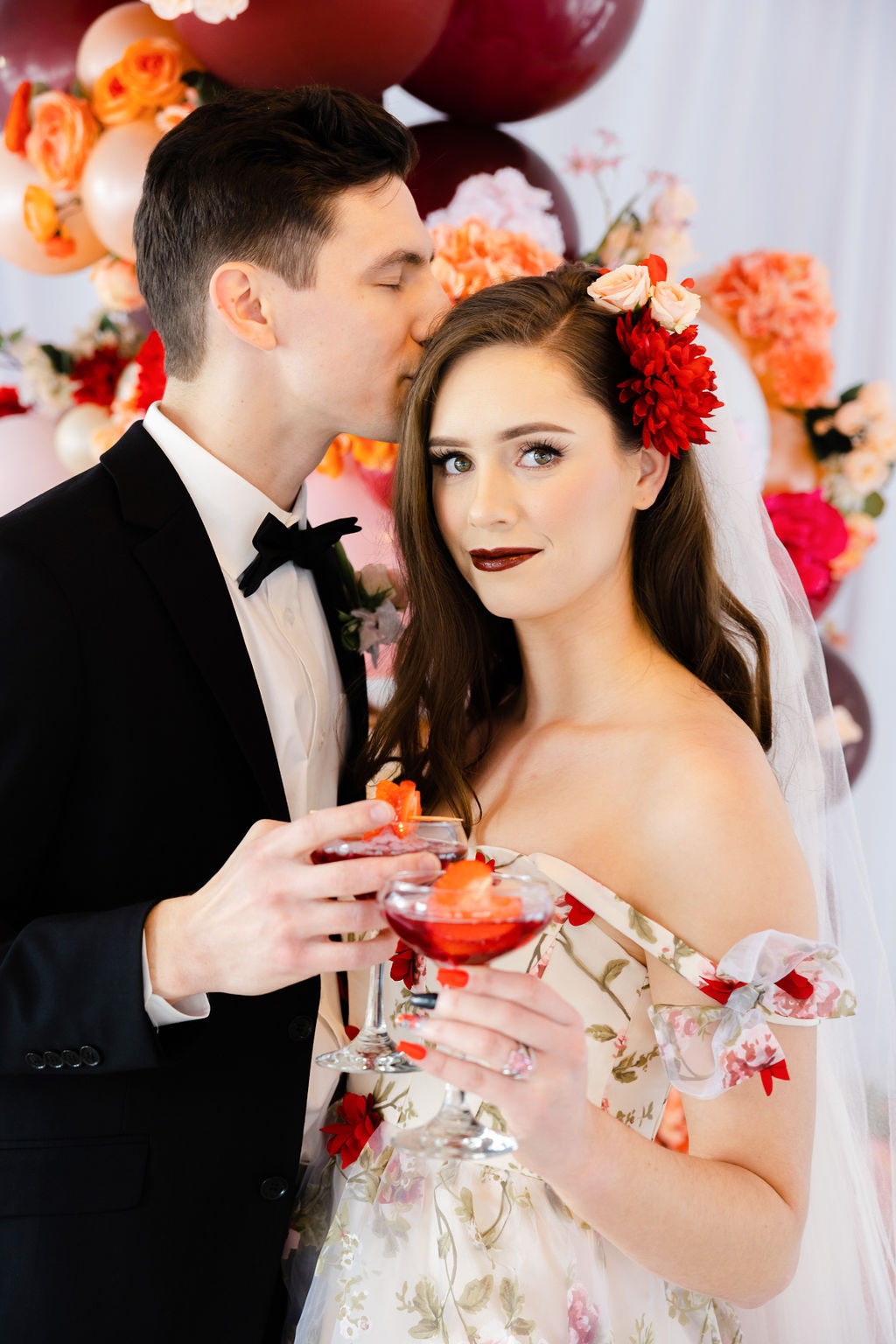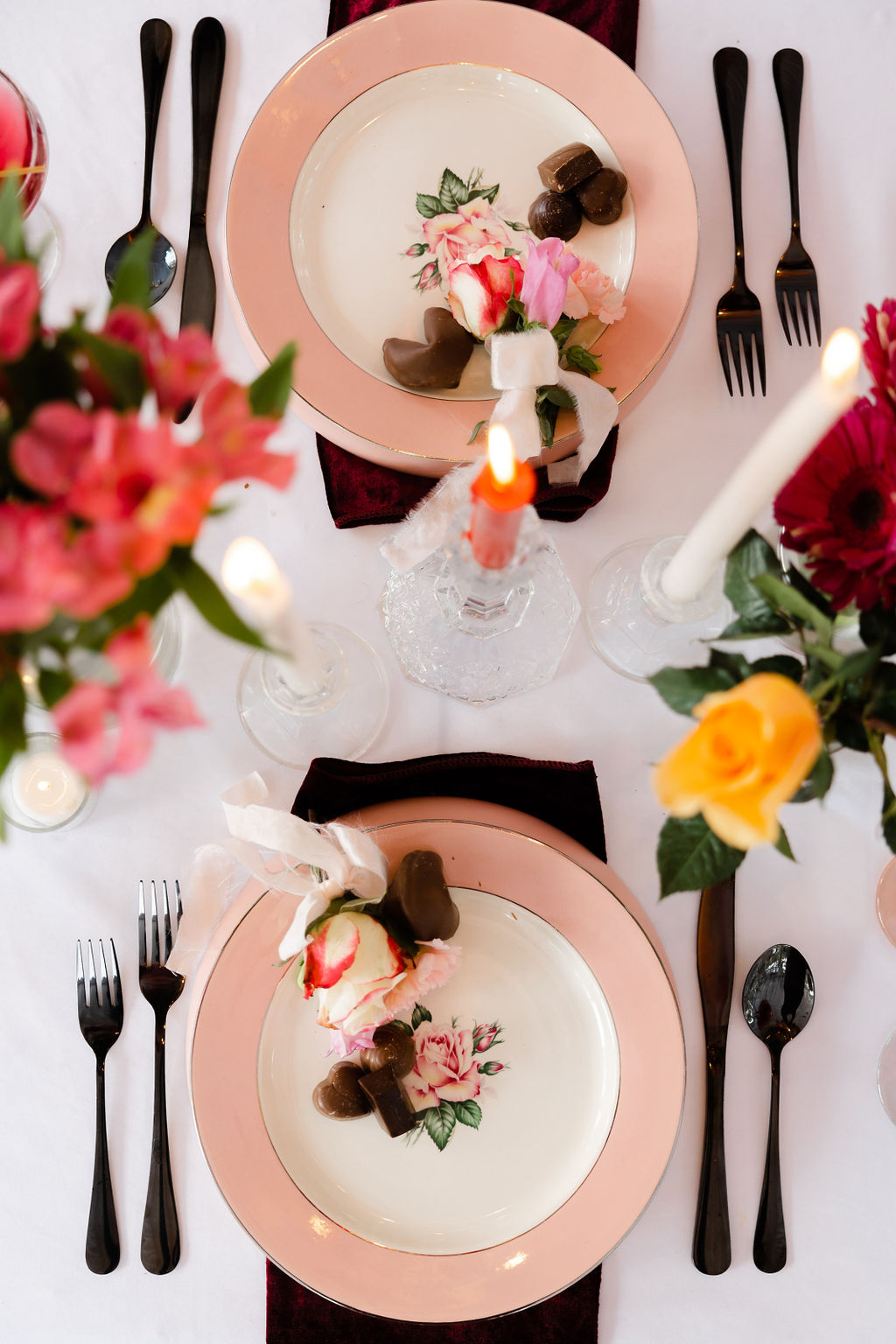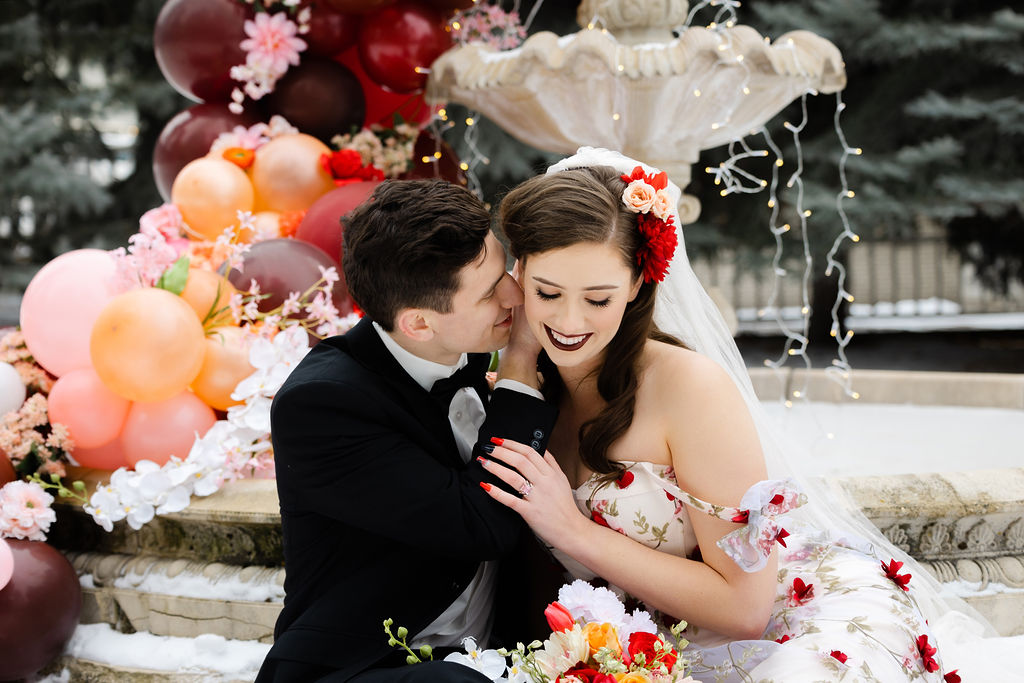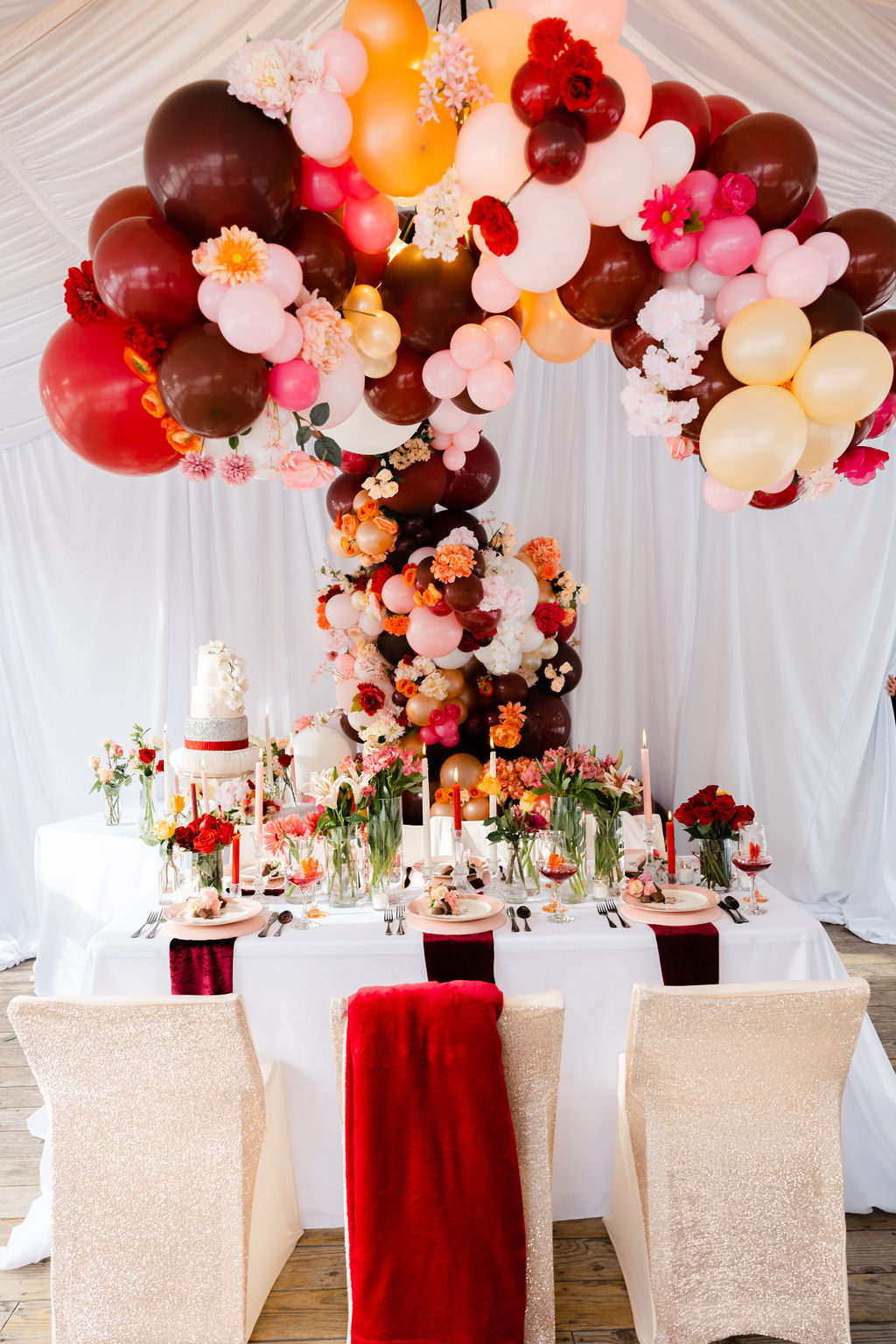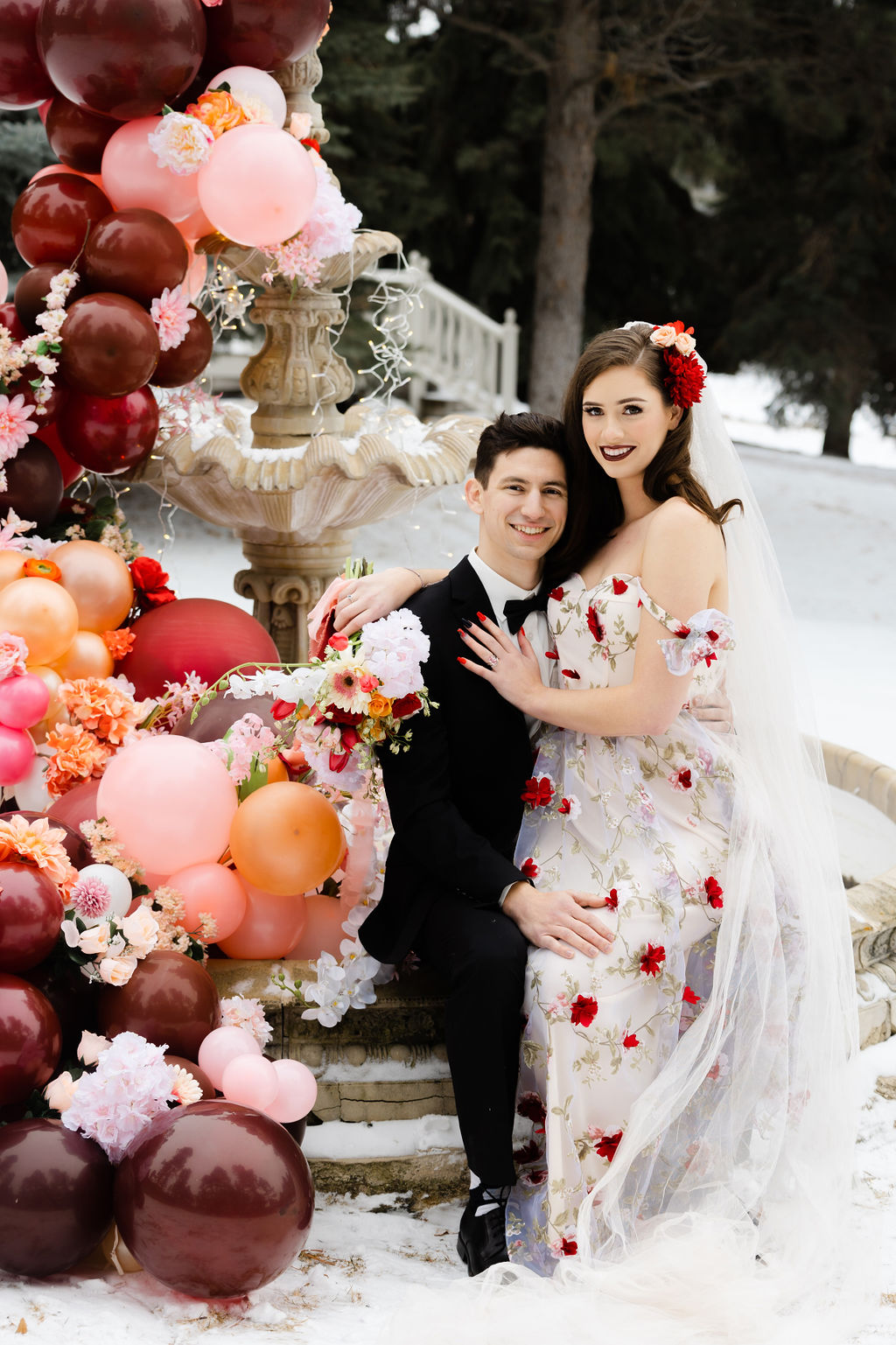 This cake was a showstopper! It was the perfect combination of classic meets modern. The bottom layer with its amazing pillow-like paper technique was soft yet clean and modern. The handmade sugar orchids were the perfect finishing touch.
The Team – Destination Valentine's Wedding With Floral Wedding Dress
IF YOU LOVED THIS VALENTINES WEDDING, PIN IT!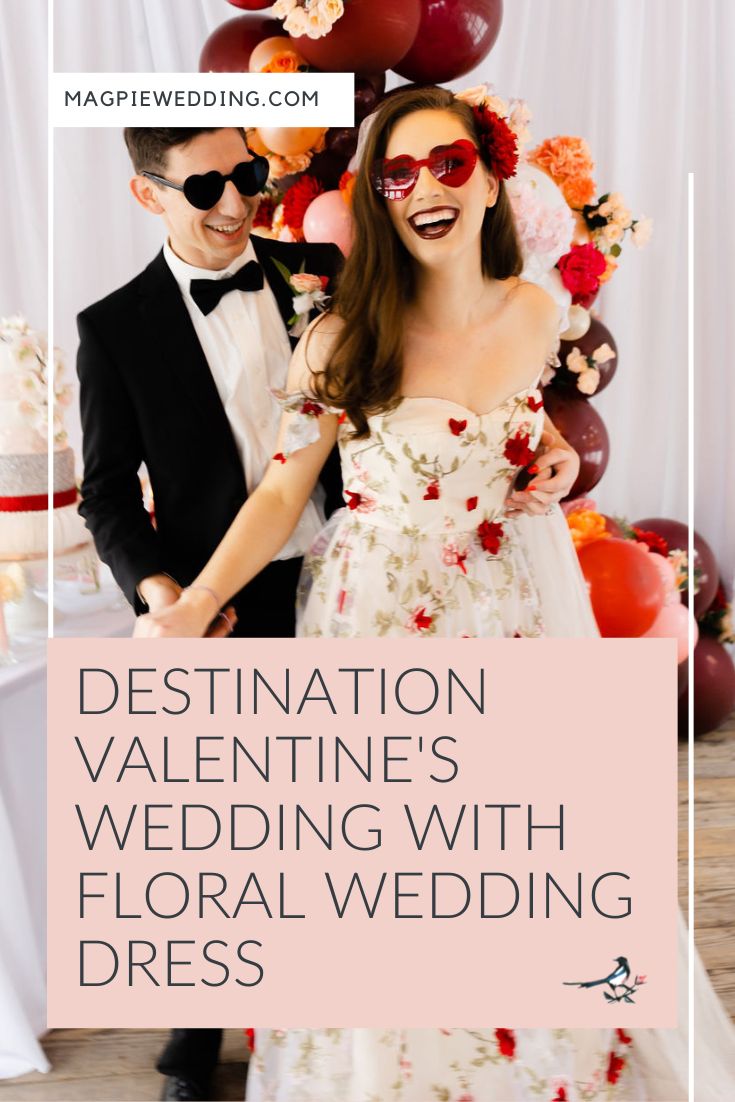 If you loved this Valentine's Day wedding inspiration you may also like;
Romantic Red and Pink Wedding Inspiration at Isla Gladstone Liverpool
Our 5 Favourite Red Weddings: Red Wedding Dresses For the Alternative Bride
How to apply a perfect red lipstick for your Valentine's Day wedding