A piece of vintage costume jewellery is the perfect way to add a detailed finishing touch to a 'big day' totally inspired by the past; to style a dress which takes its design from another era or to accessorise a completely contemporary bridal look that requires a unique twist.
Indeed, there is no doubting that vintage costume jewellery is made for bridal style. What were already heirloom pieces can become doubly so because they were worn on your wedding day. Also, the jewellery's craftsmanship has stood the test of time, their designs have an originality that modern day pieces can't seem to surpass and there is always a certain romanticism and mystery that can be attributed to an object with heritage.
Deciding to wear vintage costume jewellery on your wedding day is certainly easy. Which piece to select is the hard part. Here's a guide to identifying jewellery by decade. Each period is summarised with something to bear in mind when buying jewels for your chosen era and a key designer to look out for on Pinterest, which will help you to add relevantly inspiring pieces to your boards.
The 1920s
During this period, jewellery was influenced by the dawn of a new era. There was a push for all things modern after the shock of the First World War – people wanted to be cleansed of the old and celebrate the new. In the world of design a pure, hard-edged style was craved. This was evident in Bauhaus architecture, cubist art and the dropped-waist, linear-cut silhouette of the Flapper Girl. Jewellery designers looked to celebrate a burgeoning, bright industrial future in their work, creating pieces that looked almost mechanical with their sharp shapes and chrome coloured highlights. Jewellery manufacturer, Theodor Fahrner utilised marcasite in his Art Deco work to create tough, yet feminine pieces – it was a strong material that could be honed into delicate forms. Indeed, the silver tones in his accessories and their detailed nature would make them an excellent choice for bridal wear.
Think: Geometric – Look out for chic, linear pieces.
Pinterest: The work of Theodor Fahrner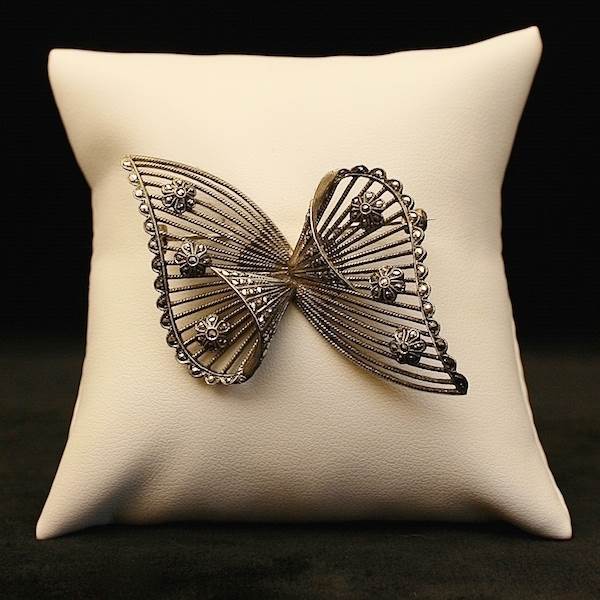 'Bow' Brooch, Theodor Fahrner
The 1930s
The silver screen was an incredibly popular form of indulgence at this time and style was influenced by the beautiful film stars of the day. Jean Harlow, Rita Hayworth and Hedy Lamarr heralded an era of voluptuous glamour, which replaced the androgyny of the Twenties. They wore jewellery that complemented their looks to great effect and the pieces were something that women coveted the world over. One designer in particular, named Eugene Joseff, noticed that 'ordinary' ladies wanted to emulate their movie heroines. He had created alluring pieces worn by the likes of Ginger Rogers and Vivien Leigh in Gone with the Wind and decided to establish a business which manufactured celebrity endorsed jewellery for the masses. The Joseff of Hollywood company became one of the premier producers of Red Carpet calibre costume jewellery and the designs characterised the Thirties. Joseff's stunning pieces, particularly with floral or natural themes, would undoubtedly add opulence to a bridal gown.
Think: Glamorous – Look out for pieces that remind you of old Hollywood.
Pinterest: The designs of Joseff of Hollywood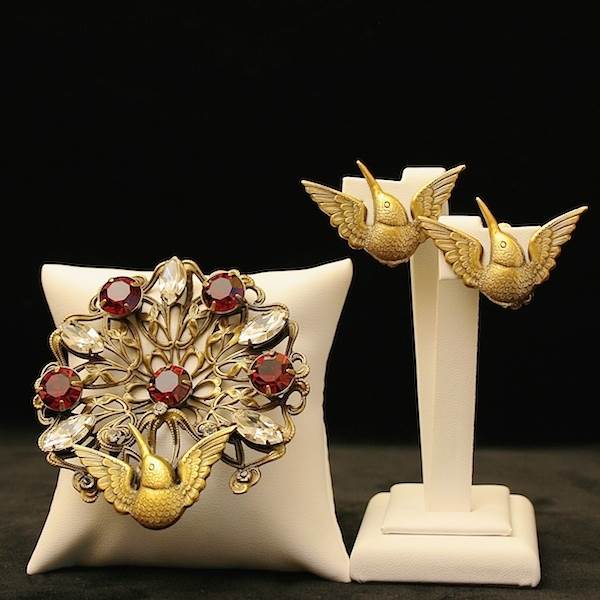 'Hummingbird' Parure, Joseff of Hollywood
The 1940s
This was a decade during which the world was split apart at the seams by war. Shortage of metals due to requisitioning for military purposes and dwindling finances could have meant that jewellery ceased to be produced. But women still desired accessories to mark their elegance. Consequently, jewellery designers had to be creative in their use of available and affordable materials – adapting to the changing times. The Miriam Haskell company, with its chief designer Frank Hess, utilised plastics and wood. Additionally, they incorporated glass beads into their work, many in rich creams and milky whites – a beautiful choice for bridal wear.
Think: Creative – look out for pieces that utilise irregular materials.
Pinterest: The designs of the Miriam Haskell company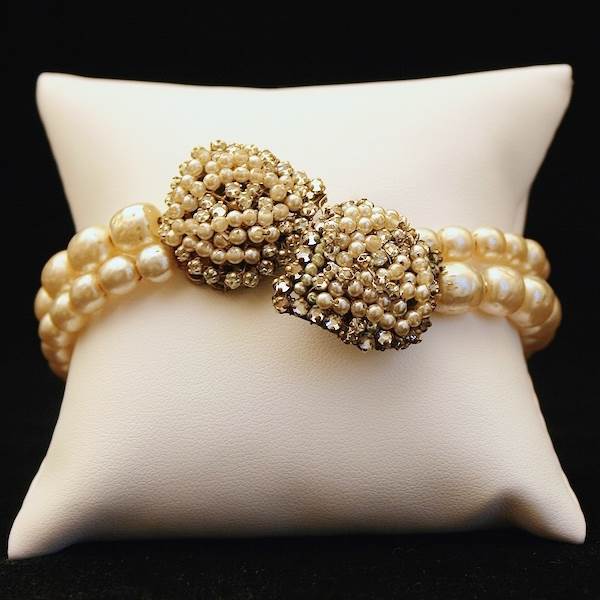 Bracelet, Miriam Haskell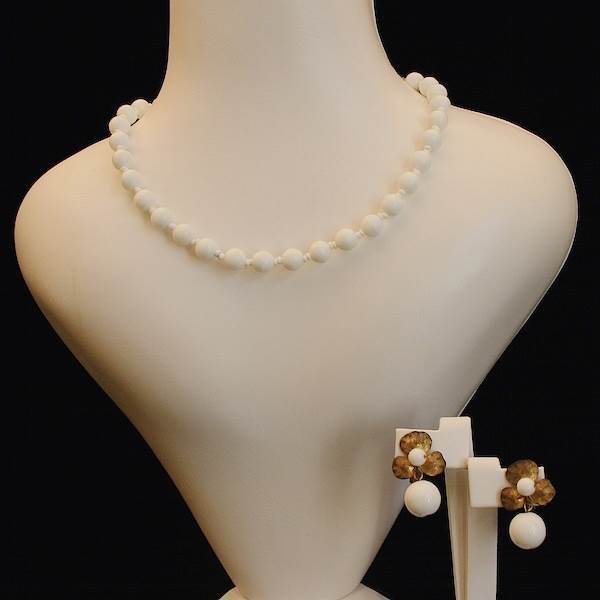 Parure, Miriam Haskell
The 1950s
In this decade, women placed great demands on the jewellery industry. As more and more ladies began entering the world of work, they required pieces for day as well as night. The Trifari company catered for this Fifties dilemma of versatility with great success. They developed their own form of brushed metal called 'Trifanium' and produced it in both gold and silver tones. The pieces made from this were subtle enough to be worn in the workplace, but often had just the right amount of rhinestone detail to make them applicable for evening wear too. Trifari's pieces from this period would be outstanding for bridal wear, due to their incorporation of faux pearls – the perfect compliment to an ivory gown.
Think: Versatile – look out for pieces that will transition from day to night.
Pinterest: The work of Trifari.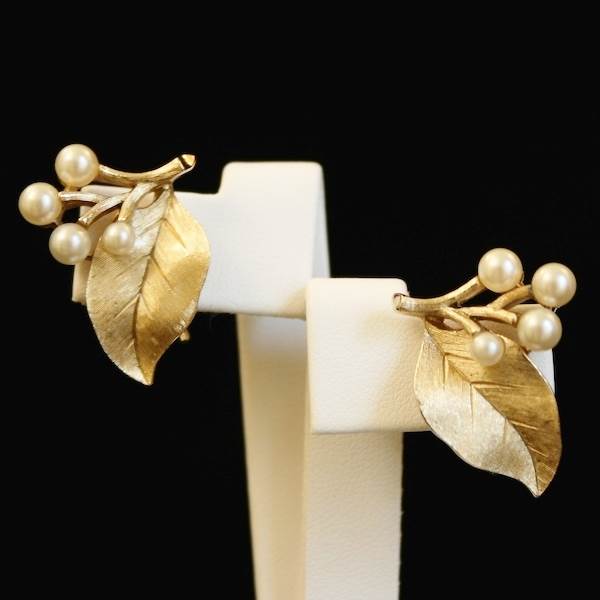 'Branches, Leaves and Buds' Necklace, Trifari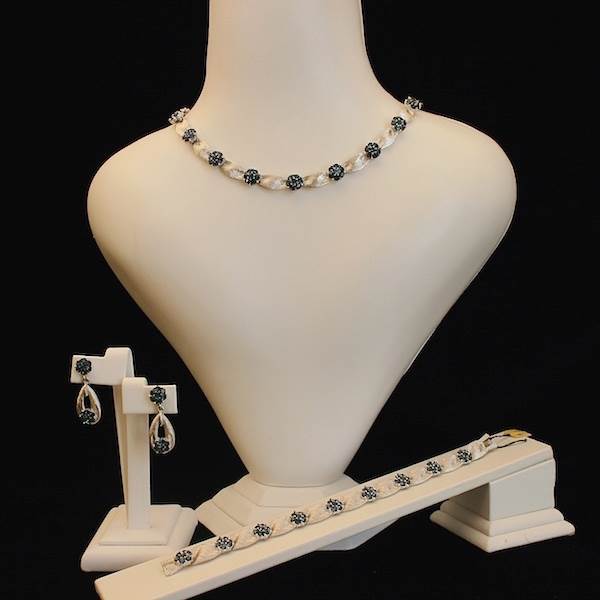 Ribbon Parure, Trifari
The 1960s
Large scale rhinestone jewellery was immensely popular in the Sixties thanks to two main factors. Firstly, the cocktail party was enjoying a heyday and women required an affordable means of meet-ing the glamorous standards of the decade at regular social gatherings. Secondly, showy examples of jewellery excellently accessorised the psychedelic colour ways championed by pop artists and designers, like Warhol and Courreges. Based in New York, the Kramer company produced high quality rhinestone pieces. Their work during the 1960s was undoubtedly bold – either in colour or
form. Brides should especially attempt to source Kramer bracelets, featuring multi-faceted, teardrop diamantes.
Think: Bold – look out for rhinestone pieces that make a statement.
Pinterest: The work of the Kramer company.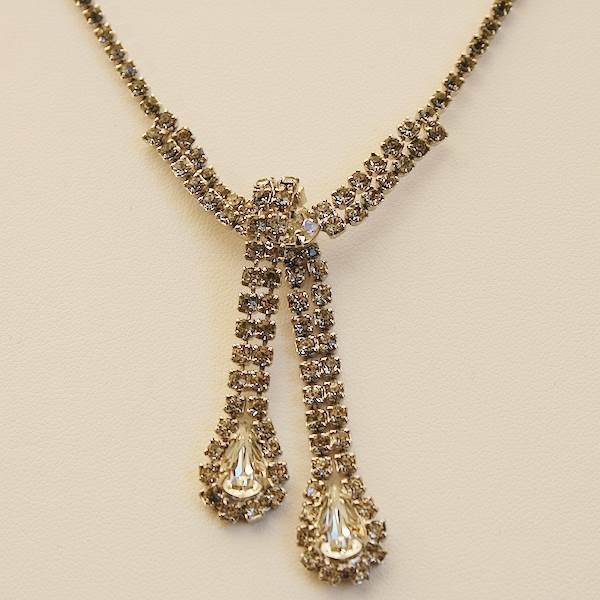 Necklace, Kramer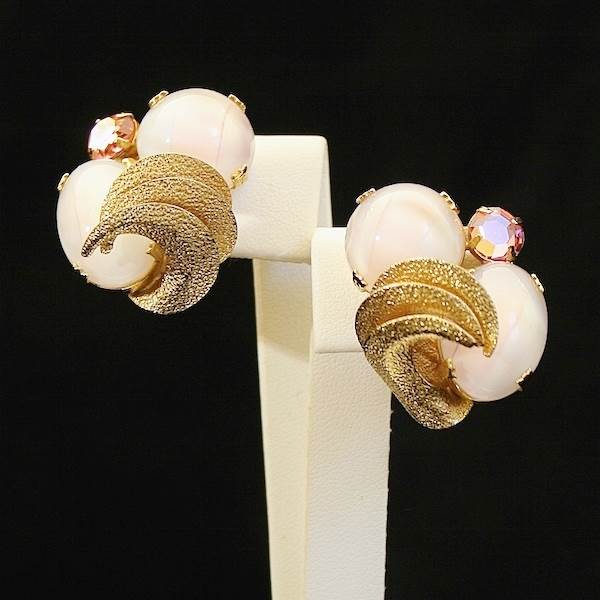 Earrings, Kramer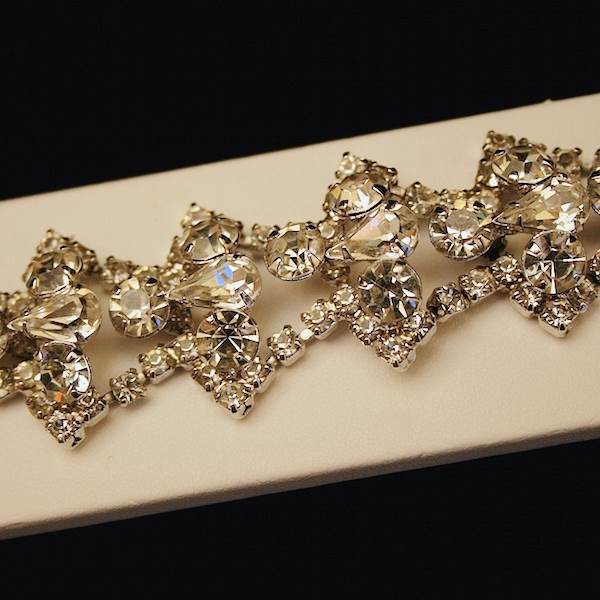 Bracelet, Kramer
The 1970s
Jewels that shimmered under the light of a disco ball were du jour in this decade. The music of artists like Donna Summer, the making of films such as Saturday Night Fever and the opening of clubs like Studio 54 inspired designers to produce glittering examples for the new social scene. Long line and pendulous pieces were popular, as they moved with wearers when they danced. The jewellery produced by Christian Dior in the 1970s was particularly in line with the disco aesthetic. Their pave rhinestone pieces from the decade often featured cream enamel and alluded to the Deco designs of the Twenties. These would make for original and eye catching bridal accessories.
Think: Disco – look out for pieces with sparkle and movement.
Pinterest: The Seventies jewellery of Christian Dior.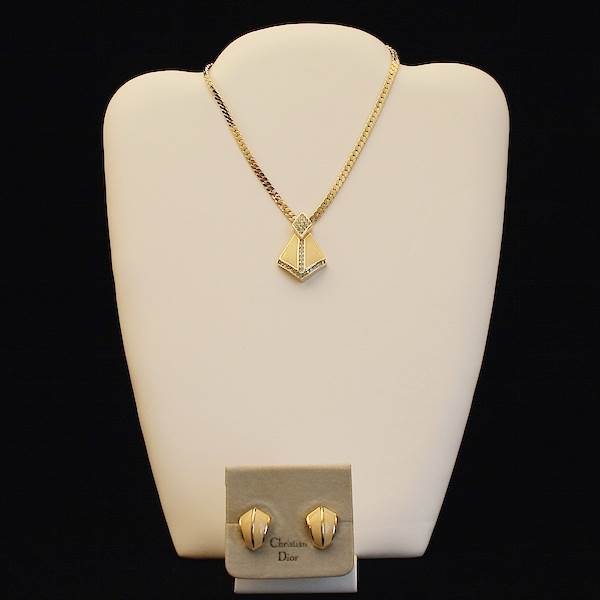 Parure, Christian Dior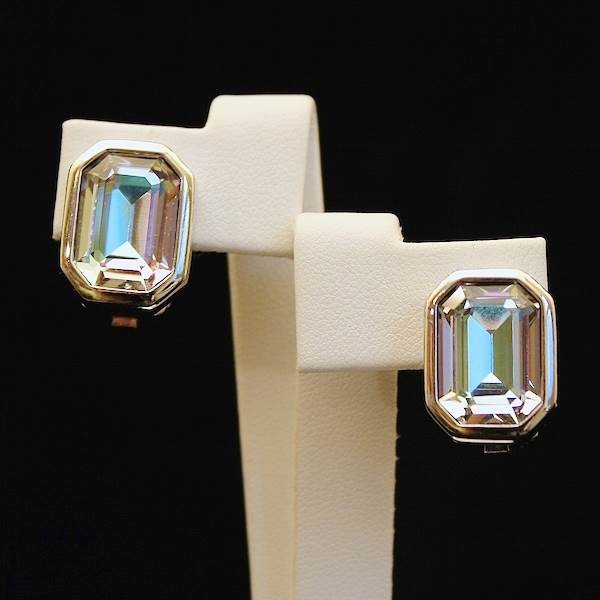 Earrings, Christian Dior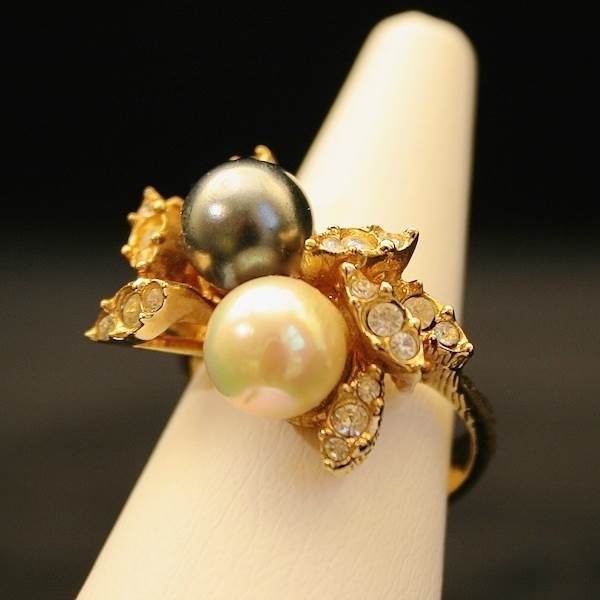 Ring, Christian Dior
The 1980s
As women rose to prominence in the worlds of business and politics, so their accessories evolved to reflect their developing power. Jewellery was typically produced for them in gold tone – a shade of metal that symbolised wealth and authority. The pieces of the Eighties were often super-sized and chunky too. It was a time when female consumers accessorised with excess to demonstrate success. The jewellery produced by the Monet company is particularly evocative of 1980s grandeur. They worked to make female motifs, such as flowers and bows, meet the power dressing aesthetic of the time. Indeed, these pieces would add an extravagant touch to a wedding day look.
Think: Powerful – look out for large scale jewellery with structure.
Pinterest: The work of the Monet company.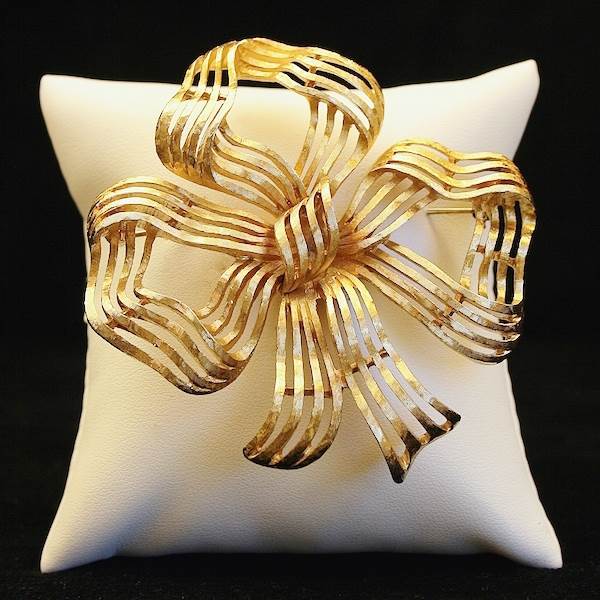 'Bow' Brooch, Monet
Thanks to Gemma Redmond for this informative piece and for sharing your collection. All of these amazing pieces are on sale now through her website, Gemma Redmond Vintage.
Gemma will be with us with her jewellery at Victoria Baths Manchester this Sunday, April 19th 11-4. Buy advance tickets at £3 HERE or pay £4 on the door.