If you're reading this still in the heady haze of post-proposal glee then huge congratulations! Christmas and New Year are the busiest time for proposals, whether they be public displays of romance on far away adventures or a snuggly moment at home in the twinkling lights of the tree. But chances are everyone already wants to know everything about your wedding, even if you haven't had a chance to really think about it yet.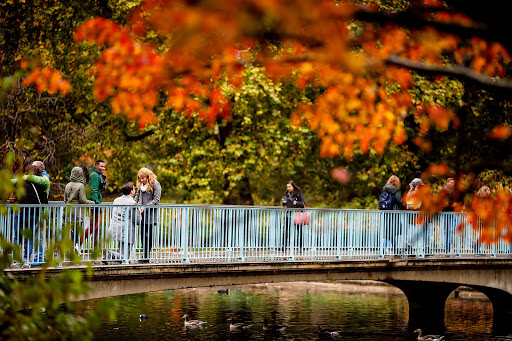 Even as a wedding professional of then six years, when we planned our wedding I was still so overwhelmed at the sheer volume of wedding venues especially London wedding venues. We live in a time where anyone with a half-decent barn can set up a venue, so how do you really choose, especially if you want great pictures? Here are four tips on how to choose your venue with the eye of a professional photographer.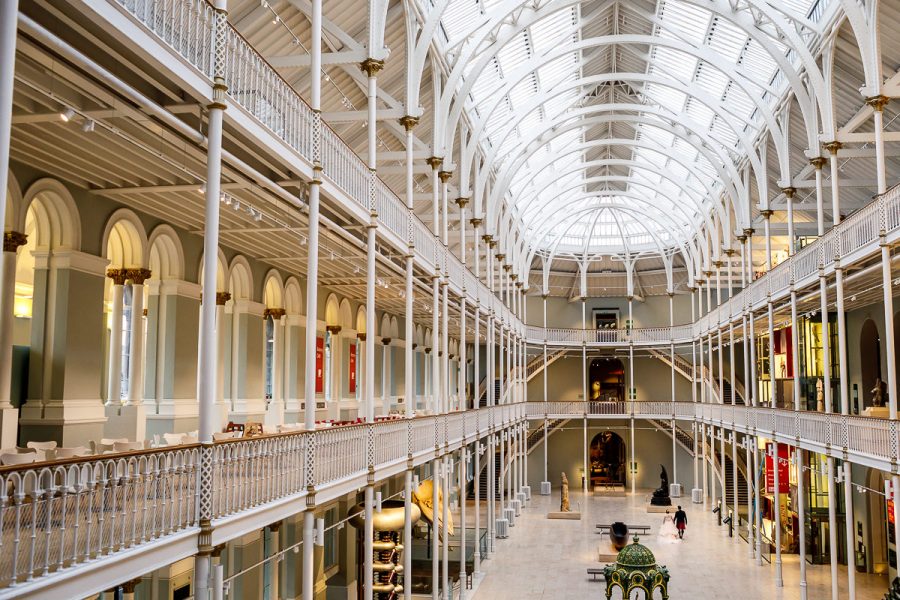 Space
I don't mean getting married in space (although the awesome National Space Centre is the closest option!) but looking at a venue in terms of the space provided. Unless you're going for a destination wedding, here in the UK wet weather options are a must. A number of venues have beautiful outdoor ceremony spaces, but if it's wet you're in little more than a meeting room. And is there enough space for your guests during your drinks, or would it be a squeeze? We had to disregard a gorgeous venue as they tried to convince us the tiny bar would hold our 120 guests if it was wet, and that's not even accounting for us gregarious Italians constantly talking with our hands. It wasn't going to happen.

Space is also important when looking at the style of photos you want. Been swooning over those California-esque sunset photos on instagram? Your urban city hotel isn't going to cut it, no matter how good a photographer you choose.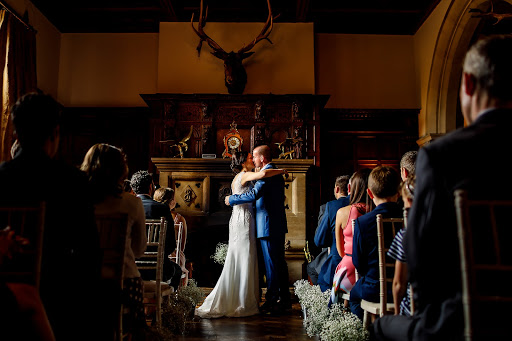 Light and Lighting
Ah lighting. Possibly the one thing you'll hear photographers moan about the most. Most venues have totally missed the idea that consulting a photographer might be one of the best things they could do here. We lose count of the amount of awful mixed led/spotlight combos there are at venues.

If you dream of light and airy photos, you need windows. Look for orangeries or marquees, so the room is flooded with natural light even on a cloudy day. If moodiness is your thing, go for a venue with a darker feel, such as a historical venue with wood panelling. Your photographer choice is then key if you are choosing moody, some will just stick a flash on, which might be damaging to the mood and intrusive to the ceremony, so consider this carefully when going on to book.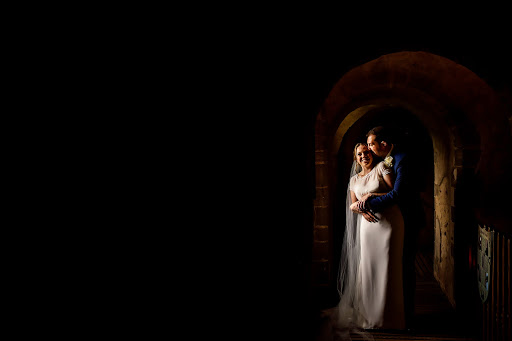 Dreaming of a winter wonderland? Choose a venue that's completely gorgeous to you on the inside, so you never have the need for the outside. The worst culprit for winter lighting is the dreaded red light ceiling heater. Your wedding will have a lovely brothel-esque glow to the day. If you've seen pictures of a venue that are consistently black and white, chances are they have red heaters. These put photographers in a quandary; do they leave the red glow? Spend extra hours editing when they can little afford the time to? Make everything black and white, losing the colour of your wedding day? Flash the hell [literally] out of it in the hope of overpowering the red? Ideally, the heaters are turned off for key events such as the ceremony, but not all venue managers seem open to this, somewhat blind to the awfulness of it all. So if you spy ceiling heaters on your show round, ask to turn them on so you can truly see how it will look on the day, and if you are happy, choose your photographer's style accordingly, so maybe not someone who produces real colour, but one who uses a lot of black and white or who is very competent with flash.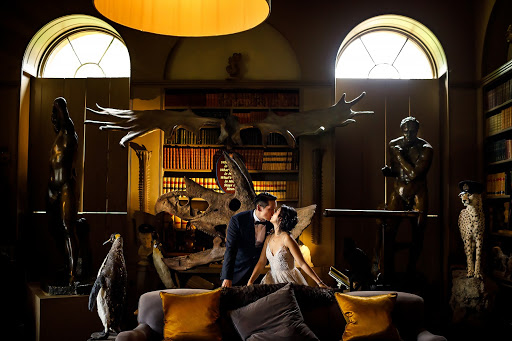 Whilst looking at the ceiling, do you see mixed spotlights in sparse locations, with not much other lighting? This will produce harsh light on people, literally spotlighting like a stage show. Lots of mixed lamps, spotlights, fairy lights? Ask them to turn them on and look at the colour balance. A venue that truly cares about it's lighting will strive to get the same white balance on all of the lights i.e. the same tone of colour throughout. Are some lights more orange than others? Are they mixing blue and warm fairy lights? This will create a discord in the lighting which can look very unpleasant in photos, and not all photographers will know how to (or want to) fix this in the edit.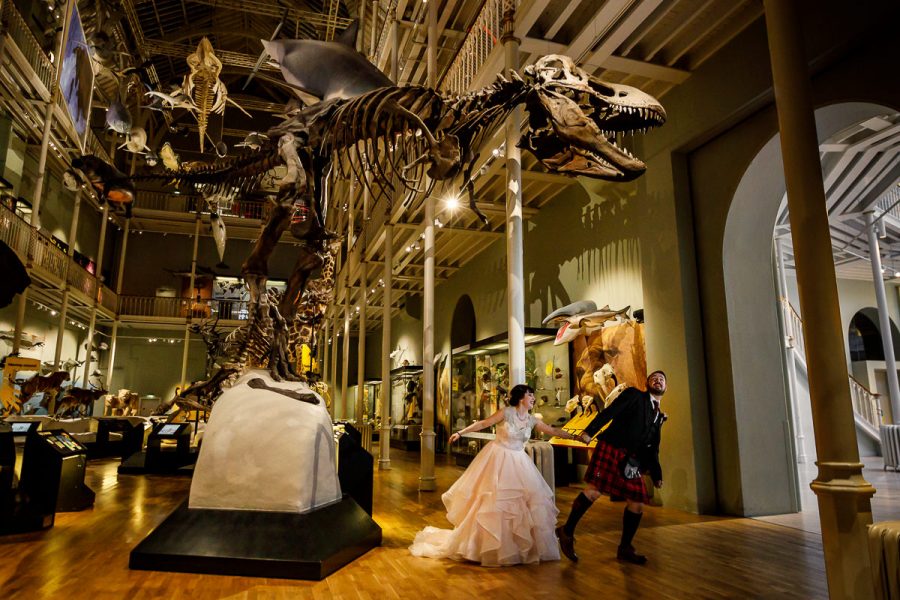 The Quirks
Does your venue have interesting spots for photos? Are there lots of different areas to use or is it much the same throughout? If you're looking for quirkier wedding photos choose a venue that has a more unconventional feel to it. If you're happy with a few shots in a nice garden or pretty room then perfect, but if you love looking at pictures of couples in unusual spaces then bear this in mind.
Restrictions and Staff
This may be a bit controversial, but the venue's restrictions and staff can really make a difference to your day and photos. Are they relaxed about where you can go or are there areas you can't use? Do you get exclusive use or are you likely to bump into another bride?
We've shot at some venues that are extremely precious about their spaces, so much so we question why they have opened up the venue at all. Some will send a member of staff to escort you whilst you have your wedding photos. I can tell you this, nothing spoils the romance of a few quiet moments together as a newly married couple, than having a black-suited manager standing by whilst you try and snuggle up. If this sounds awful to you, keep an ear out for language they might use when you're looking around that suggests they will be with you at all times.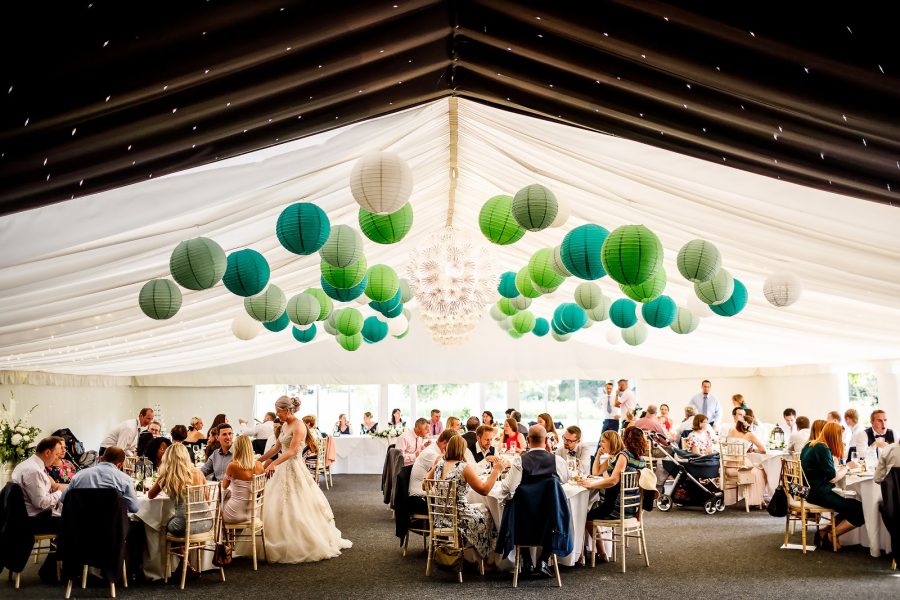 On the plus side, these venues are far outweighed by the amount of wonderfully friendly venues who can't wait to host your wedding. And of course they should be like that, you're likely paying them a heck of a lot of money, and you have huge amounts of choice.
So there you have it, four key points to go to look at potential wedding venues like a pro. Maybe you are not going for the traditional venue set up and are thinking tipi in a field. Lighting is still a must for you – don't be tempted to cut out the festoons/fairy lights from the inside package – trust me, you need the light….
There is something magical about finding your venue though, and then that place being such a special place for you going forward. Happy searching!
To see more of Lina's photography have a look at her and her husband's website.