We are so excited to share the first in a series of articles on wedding planning with a disability. Blogger, Ami Tricker, is getting married in September and having a super hero themed day. We are going to follow her on the last part of her journey and more importantly she is going to be sharing advice for wedding businesses as it hasn't always been easy as often it isn't for any disabled bride . Ami has Transverse Myelitis, Sensory Ataxia, hearing difficulties and central vision loss and today is open and honest about wedding dress shopping while being in a wheelchair.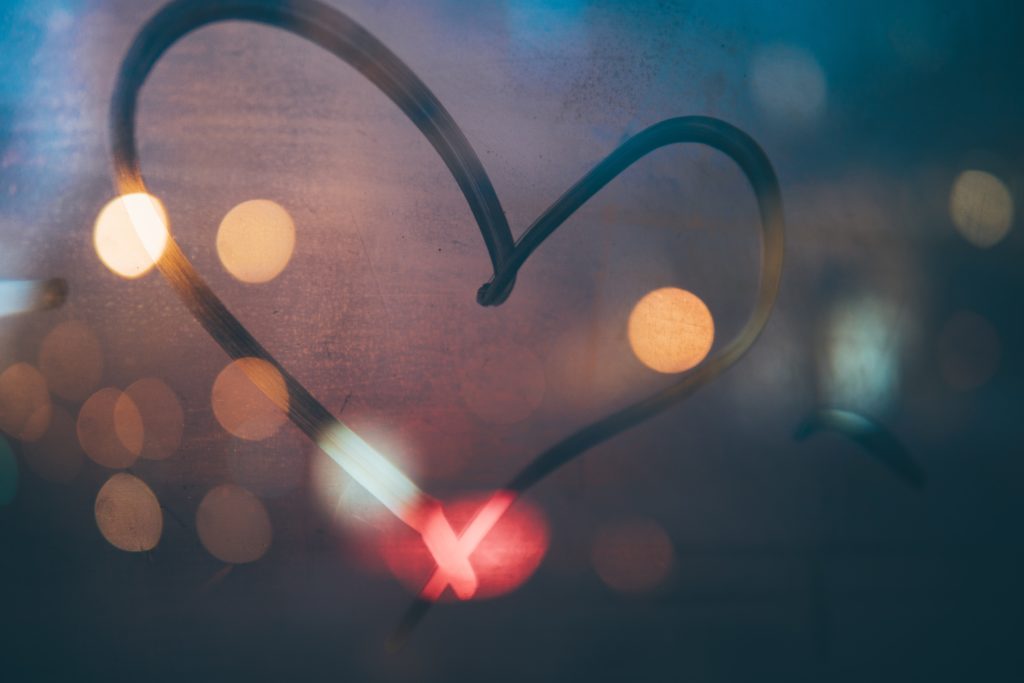 "Planning and searching for the perfect wedding dress is like being on a rollercoaster. The excitement when you flick through magazines and choosing the style you fall in love with, screaming when you think you have found the one and it turns out the complete opposite! Sometimes, you feel like you're going around in circles!
Finding an accessible wedding dress shop was the second hardest part of our wedding planning journey as we live out in the sticks! The nearest city, Norwich, is 45-50 minutes away and although the city retains its characteristic features, it is constantly bringing in new and accessible shops. Out of all the wedding dress shops I found, only one was completely wheelchair friendly – there may be more but I focused on the shop I had found – which was WED2B.
The reason I did not look at any other boutiques, is that I'm not the type of a person to enjoy endless hours of searching for a specific product when I have already found a shop that sells that product. Plus, I become fatigued quite quickly and I didn't want to have a cranky wedding dress shopping experience!
I felt like any other bride would – excited, nervous, emotional. However, I was more nervous as I have quite a few disabilities. I have Sensory Ataxia, Transverse Myelitis, hearing difficulties and central vision loss. I use a walking frame or a standing aid called Ross Return to help me transfer. My biggest worry was trying on a dress, whilst standing with my walking frame. Due to Sensory Ataxia, I have to look at where my feet are placed, if I were to look away then I'm putting myself at risk of falling or slipping.
Now, this article is not a review for WED2B, however I cannot praise them enough for accessibility! The entrance was wide enough to fit about 10, possibly a few more, wheelchairs side by side. Even though the shop was bursting at the seams with wedding dresses, there was plenty of room to manoeuvre and I did not, at any point, feel like I was in the way.
I couldn't possibly tell you how many dresses there were, at a guess…probably about 200! I'm the sort of person to see something I like online, then head to the store (if its accessible) to determine if I love it enough to purchase it. They have a website and after scrolling through the images of models wearing these enchanting dresses, I whittled them down to my favourites 3.
I based my favourite dresses on 3 aspects: Style, Appearance & Practicality
The style of my dream dress was a floor-length, sweetheart A-Line, with a lace bodice and ¾ length lace sleeves. The first dress I chose mirrored my dream dress – I couldn't wait to try it on! The second was a short A-Line with dainty lace patterns and sequins scattering. The final dress was a minimalistic, short A-Line with a satin skirt and lace bodice.
I was expecting a small fitting room, instead there were 8 large and 2 smaller fitting rooms. With so many to choose from, the sales assistant chose which room, otherwise I would have been there all day debating!
Once we were in one of the larger fitting rooms, I quickly assessed if it was going to be spacious enough for the 5 of us (the sales assistant, my Mum, my sister and my friend), including me in my wheelchair. And yes, yes there was! Plus breathing space!
The first dress I tried on was my dream dress. However, when the sales assistant unzipped the bag which allowed the dress to be displayed in all its glory…it was a lot bigger than I imagined. Once I had the dress on, my walking frame in front of me, 1 person at each side of me, and the skirt lifted so I could see my feet, I was finally able to stand up!
For the first time in my life, I felt like a princess. After looking in the mirror, I sat back down in my wheelchair. This was where I messed up big time! Due to the material, I'm not used to wearing, I couldn't tell if I was sitting further back enough in my wheelchair. So when I leaned forward, for the dress to be taken off…Yeah…you guessed right, I fell out of my wheelchair!
It hurt and I cried. I was very emotional. The sales assistant asked if she needed to call the paramedics to help me get off the floor. We kindly declined as I wanted to try and stand up with the assistance of my Mum, sister and friend, once I had calmed down and stopped shaking.
Thankfully, they helped me to stand and place me in my wheelchair. Phew!
On with the second dress and even though I liked the style, j knew it wasn't the one. Now, when the third dress was displayed, once out of the bag, I saw it in a different light. This was my practical option. When the sales assistant held the dress up, I knew this was the one before I even tried it on. It fitted perfectly, it felt perfect. This was definitely my dress!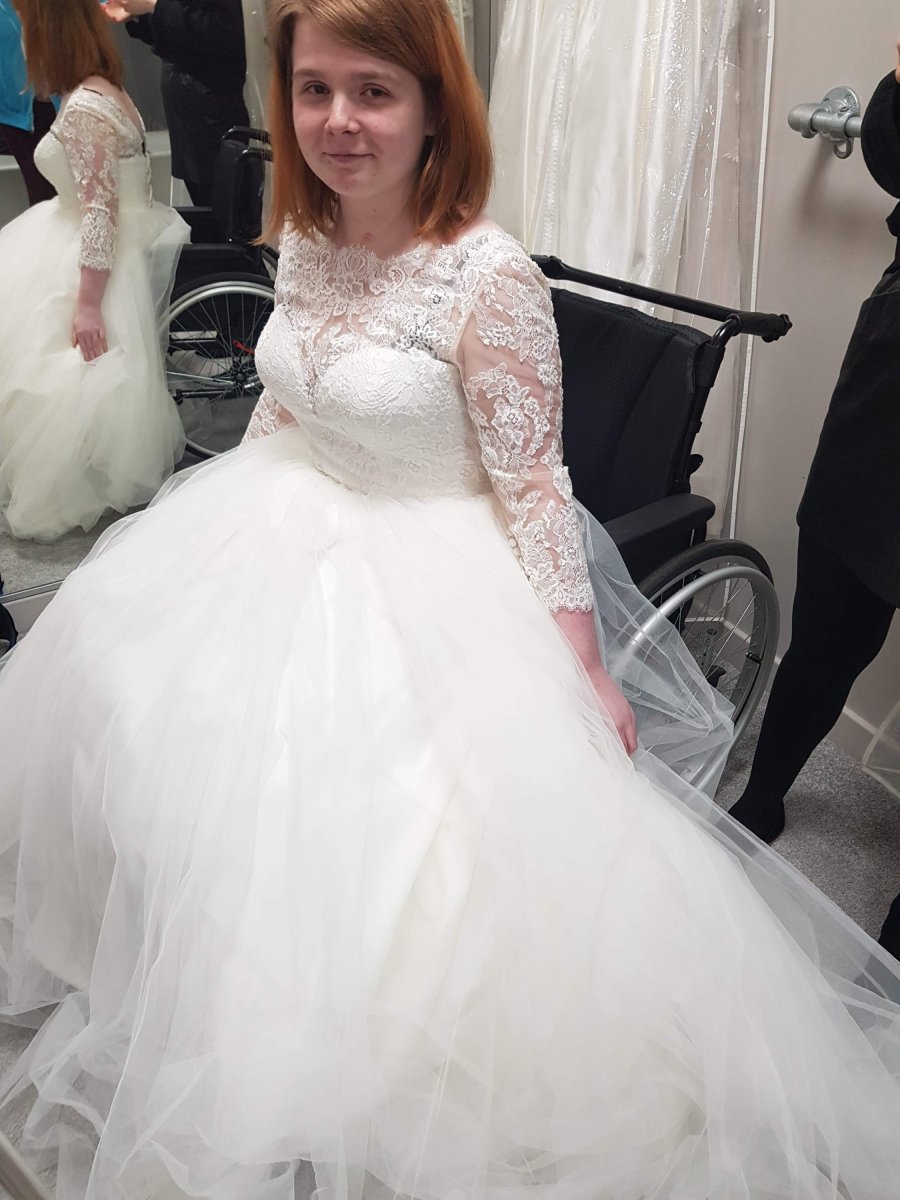 Ami wedding dress shopping – this isn't THE dress though!
Overall, despite the fall, my wedding dress shopping experience exceeded my expectations. I was not treated any different because of my disability, I was treated like many other bride-to-be!"
Ami's Tips For Wedding Dress Boutiques
Accessibility, Facilities & Adaptations for a Disabled Bride
To establish accessibility, have you (boutique owner) considered the following?
Does your boutique have a step(s) at the entrance? If so, please provide a ramp. As ramps come in a variety of lengths, you will be able to purchase a ramp with a specific length which is best suited to the entrance of your boutique. Plus, they are easy to store away! Ensure that all doors are, at the very minimum, 80cm in width to allow wheelchair access.
The size of the fitting room(s): Are they spacious enough for wheelchair users and their assistants (if needed)? Could grab/hand rails be installed to enable those, who cannot stand without the stability of an adaptation, to stand? Could a ceiling hoist be installed to assist those who cannot stand at all? Ceiling hoists are easy to manage and do not hinder the size of the fitting room(s).
Could an adult-sized changing bench be installed? This will be beneficial to those who cannot dress whilst standing. I recommend installing aa wall-mounted changing bench as these can fold up and therefore, will not prevent the remaining space of the room.
As all features mentioned above are easy to store, with regards to the fitting room(s), a curtain would not only enhance the experience for a disabled bride, but for an able-bodied person too. How? The curtain would he drawn back to fully accommodate a disabled person, exposing all features and adaptations and give them the experience they wish for. If an able-bodied person was to use the room, they could! – They then have the option of drawing the curtain to enjoy their experience too. So the brides-to-be have an equal experience!
With regards to disabled toilets, as it is common for boutiques not to facilitate these to the public, are these located near your boutique? Remember that wedding dress shopping, and clothes shopping in general, can easily take up to 2 hours or more. We would have to limit our fluid intake, which would potentially cause more issues for a disabled bride, if there were not disabled toilets located nearby.
Website & Representation
First and foremost, all accessibility features and adaptations mentioned above, would need to be listed on your website. Believe it or not, a percentage of disabled people, including myself, feel like a burden if we were to contact your boutique and ask if you accommodate the above features. Promoting these on your website raises the customer experience on the same level as any other bride-to-be.
Will all attire and accessories be displayed on your website? For those who are blind and visually impaired, could you provide a detailed audio description of the styles and materials used? Please display stock availability to prevent disappointment when in store.
The world of advertising has finally caught up with plus-size models, but where are the disabled models? Nowhere to be seen! We are halfway through 2019…this needs to change! We look beautiful too! Both online and in-store, you (the boutique owner) can provide audio descriptions of the dress/suit that the disabled bride is wearing, compare the practicality of the style according to the mobility aid the bride will be using on their big day.
Respect & Accommodate
I cannot stress enough, the importance of treating a disabled bride different to an able-bodied bride! Is it really too much to ask that we wish for the same level of experience? No it is not. Like I said earlier, small changes = huge positive impact!
Don't be afraid to suggest a style that would suit our requirements but do not assume.
Understand that we need extra support with regards to accessibility and assistance, this does not mean you need to communicate with us any differently. Please accommodate our mobility and standing aids (mention this on your website). We are customers after all.
Services & Designers
If you are an appointment-only boutique or a designer who may work from home or a small studio, could you travel to those who are housebound? Maybe for a small fee covering cost of petrol/mileage? Bring a portfolio of the attire and accessories that you currently have available in your boutique or studio.
If you are a designer, reach out to disabled women and work with them to determine what style of dress or suit that would be practical yet unique to them.
No bride is the same.
These small but effective changes, can change the entire experience for a disabled bride-to-be. We are not different, we just need extra support!
Find out more abut Ami on her website here.